For fans of the realm of fantasy role-playing games, "Baldur's Gate 3" holds a special place. Developed by Larian Studios, this game is an evolution in the RPG genre, resonating deeply with its players through its rich narrative, multifaceted characters, and immersive gameplay.
So it's no surprise that many fans wish to wear their passion on their skin. Here, we delve into the realm of Baldur's Gate 3 tattoos, their symbolism, and who might consider getting one.
The Saga of Baldur's Gate 3: A Brief Overview
The Story Unveiled
"Baldur's Gate 3" is set in the rich universe of Dungeons & Dragons, notably in the Forgotten Realms. The story revolves around a mind flayer parasite planted within the player's character, potentially transforming them into an eldritch being.
Players embark on a journey to remove the parasite, encountering a plethora of characters and challenges along the way.
Notable Characters
The game boasts a diverse array of characters, each with their unique backstories and quests:
Astarion: The charming, yet cunning, vampire spawn.
Shadowheart: A cleric with a mysterious past and a divine artifact.
Lae'zel: A fierce Githyanki warrior striving to return to her people.
Gale: A wizard bearing an unstable arcane curse.
… among others. Each character has their distinctive traits, making them potential tattoo inspirations.
Iconic Baldur's Gate 3 Tattoo Ideas and Their Significance
Mind Flayer Symbol
The central motif of the game, the Mind Flayer or Illithid, symbolizes the looming threat and the internal struggle faced by the player's character.
A tattoo of this creature can signify overcoming personal challenges or embracing one's inner darkness.
Character Portraits
For those who deeply resonate with a particular character's journey or persona, a detailed portrait can be a fitting tribute.
It's a testament to personal identification or admiration of that character's traits.
Runes and Symbols
D&D is rich in arcane symbols and runes, many of which find their way into "Baldur's Gate 3".
These can be more subtle tattoos for fans, symbolizing magic, power, or the mystique of the universe.
Who Should Consider a Baldur's Gate 3 Tattoo?
Die-Hard Fans
For those who've spent hours engrossed in the game, forging their narrative, and connecting deeply with its characters, a tattoo can be a permanent badge of their passion.
Lovers of Fantasy and Lore
Even if you're not exclusively a "Baldur's Gate 3" enthusiast, if you adore the rich tapestry of fantasy worlds, eldritch beings, and arcane symbols, these tattoos might resonate with you.
Personal Storytellers
Players who see parallels between their journey in the game and their personal life might get a tattoo as a testament to their growth, challenges, or aspirations.
Baldurs Gate 3 Tattoo Ideas
The game hasn't been out too long, so tattoos have only started to trickle in.
That said, I'm noticing a huge trend towards Astarion tattoos! He was my pick when I played through the game, so I can't say I'm that surprised.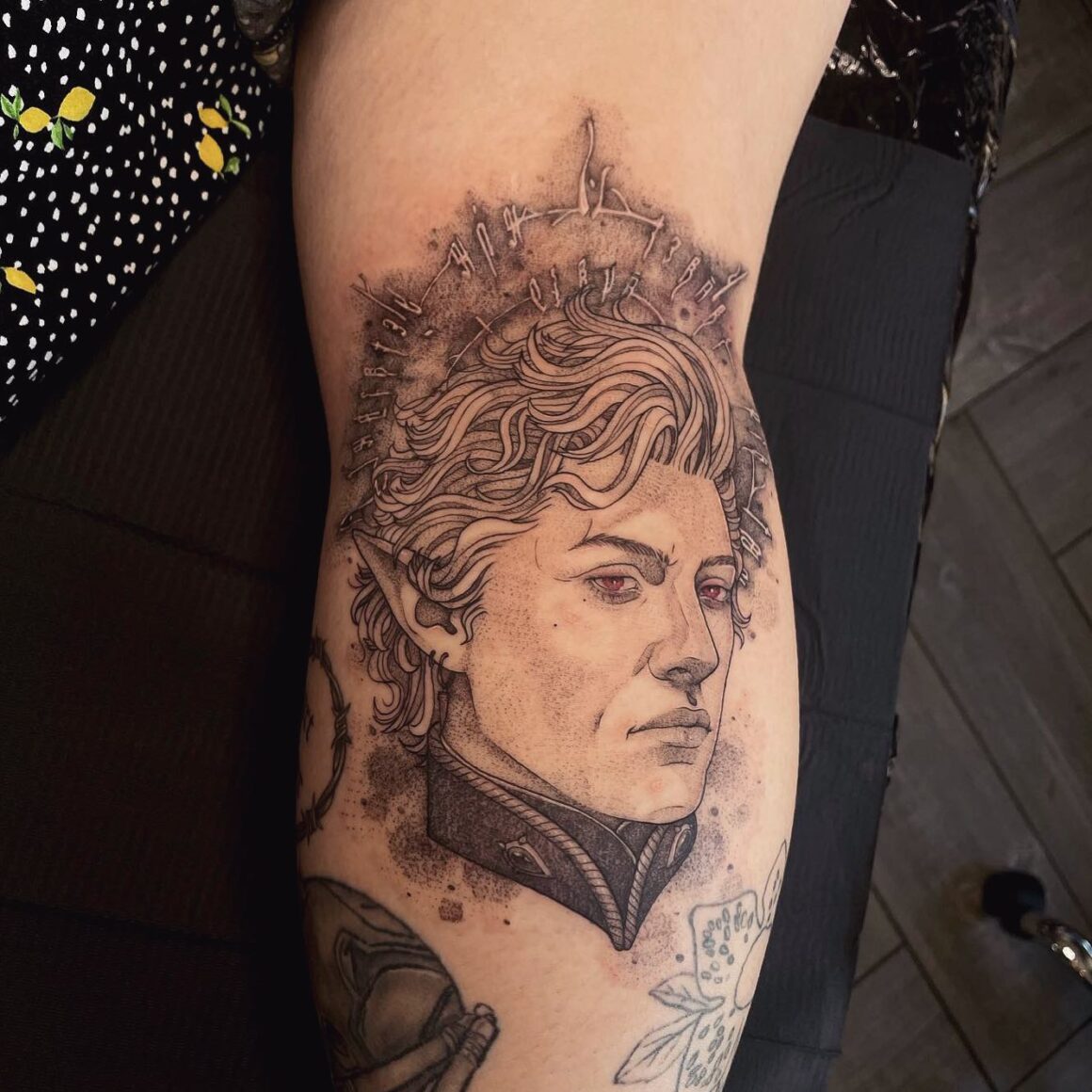 Other Video Game Tattoos
We're huge gamers, and love seeing game related tattoos. If you're looking for more inspiration, I recommend checking out more of our video game tattoos.
Things to Ponder Before the Ink
Design and Personalization
While there are many iconic symbols and characters in Baldur's Gate 3, consider personalizing your design. Make it unique to your experience and connection with the game.
Expert Tattoo Artist
Find an artist who understands, or even better, appreciates the game's aesthetics. Their expertise will ensure your tattoo is both meaningful and well-executed.
Conclusion: A Permanent Ode to a Grand Adventure
A Baldur's Gate 3 tattoo is more than just a piece of art.
For many, it's a testament to hours of gameplay, a story lived and felt, and characters loved and lost. If you're considering getting one, ensure it tells your tale in the rich universe of this epic game.