A tattoo is more than just a piece of art. It's a symbol, a message, sometimes a belief that resides in one's soul, often expressed through the ancient art of ink on skin. The 444 tattoo is no stranger to this sentiment, bearing its own unique meanings and stories. Delve with us into the captivating origins and significances of the 444 tattoo.
Origin of the 444 Tattoo: A Symbol Beyond Numbers
A Spiritual Connection
The origin of the 444 tattoo is deeply rooted in spirituality and numerology.
In many cultures and spiritual practices, 444 is seen as a symbol of protection and encouragement. It is often regarded as a sign that your angels are with you, guiding and protecting you along your life's path.
Numerology and Balance
In numerology, the number 4 is often associated with stability, foundation, and strong grounding, similar to the solid footing provided by the four corners of a square or the four cardinal directions that guide our way.
The repetition of the number in 444 magnifies its meaning and pulls in the symbolism of creation and life cycles.
Symbolism: What Does 444 Represent in a Tattoo?
Guardian Angels
For many, a 444 tattoo represents the presence and support of their guardian angels.
It serves as a reminder that guidance and assistance from higher beings are always available, ensuring they're never alone in their journey.
Harmony and Protection
In various belief systems, 444 symbolizes harmony and protection. It's an emblem that shields individuals from negative energy while aligning their life with balance and positivity.
Personal Growth and Manifestation
444 is also associated with personal growth and the manifestation of inner desires.
A tattoo of this numeric sequence often symbolizes a commitment to personal development and a belief in the power of manifestation.
Who Should Get a 444 Tattoo? A Personal Choice With Universal Appeal
Seekers of Spiritual Affinity
Individuals who find themselves regularly engaged with spiritual practices, or who often seek divine guidance, might resonate with the 444 tattoo.
It becomes a visual representation of their spiritual beliefs and inner journey.
Those in Need of Assurance and Support
People going through challenging times, who seek a perpetual reminder that they're not alone, may find solace in the 444 tattoo.
It acts as a silent whisper, reassuring them of the celestial support and guidance they have.
Advocates of Positive Life Changes
If you're someone who ardently believes in positivity, personal growth, and the energy of the universe, the 444 tattoo might be a symbol that speaks to you.
It could stand as a representation of your commitment to positive transformation and trusting the process of life.
444 Tattoo Ideas
With such a simple concept, the tattoo ideas are endless. You can go for a 444 couple tattoo, something minimalist, or use an interesting location on your body.
Just remember—font choices for this tattoo are going to be the most important. While Microrealism tattoos may look good now, they won't in the future.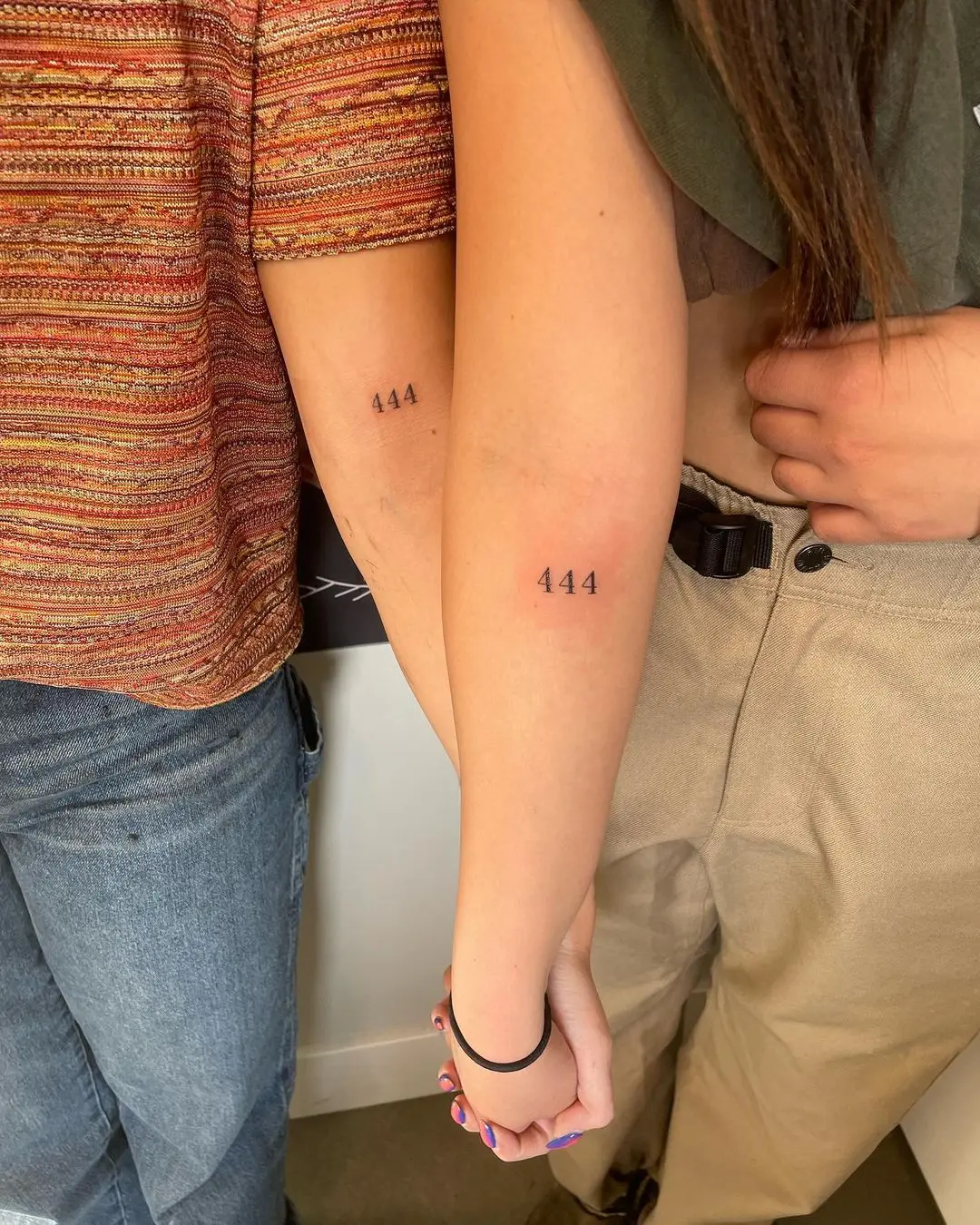 What to Consider Before Getting a 444 Tattoo
Personal Beliefs and Interpretations
Understand your personal beliefs and connection with the number 444. Ensure that it's something that resonates with you on a profound level and isn't just a fleeting fascination.
Tattoo Placement and Design
Consider the placement and design of the tattoo. Contemplate on how and where you'd like the number sequence to be tattooed and whether you want to integrate it with other symbolic elements. Some ideas would be as a shoulder tattoo for women, neck tattoo for men, or even as a small piece as part of a bigger patchwork tattoo.
Professional Tattoo Artist
Choose a professional tattoo artist with experience in numerological tattoos. This will help avoid any tattoo artist mistakes from an inexperienced artist.
Review their past work to ensure they can manifest your vision accurately and aesthetically.
Conclusion: A Tattoo That Speaks Beyond its Numeric Form
A 444 tattoo transcends its numeric form, offering a universe of meanings and significances from spiritual beliefs to personal affirmations.
Whether you're seeking spiritual guidance, desiring a symbol of protection, or wanting a constant reminder of positivity, this might be the ink for you.
Always remember, tattoos are permanent; ensure your choice is rooted in meaning and belief that will continue to resonate with you through life's journey.