Eternally entwined in a celestial dance, the sun and moon have forever cast a spell of wonder upon humanity. Sun and moon tattoos, embodying a myriad of meanings from unity to balance, light and dark, have found a cherished place in the world of ink art. Let's traverse the cosmic journey of these celestial bodies in tattoo artistry.
The Heavenly Dance: Origins of Sun and Moon Tattoos
Ancient Symbolism
The sun and moon have been potent symbols across various civilizations.
The sun often represents strength, power, and rebirth, whereas the moon symbolizes femininity, mystery, and tranquility.
Ancient cultures have worshipped these celestial entities, attributing to them both individual and combined significances.
Yin and Yang
The sun and moon together often symbolize a harmonious balance.
Drawing parallels with the Chinese philosophical concept of Yin and Yang, they represent opposite forces that are interconnected and interdependent, mirroring the dualities in life.
Enigmatic Representations: What Sun and Moon Tattoos Symbolize
Unity and Duality
Sun and moon tattoos often portray the unity of opposites – where the sun is bold and blazing, the moon is calm and serene.
They can signify the unity of two contrasting personalities or concepts in harmony.
Cycle of Life
Together, the sun and moon encapsulate the entirety of the life cycle – from growth to decay, life to death, and renewal to dissolution. It can be a gentle reminder of the transient, cyclical nature of life.
Balance and Harmony
Symbolizing the equilibrium between opposing forces, a sun and moon tattoo might represent personal balance, advocating for harmony amidst the chaos of existence.
Who Should Consider a Sun and Moon Tattoo?
Spiritual Seekers
Individuals who find a deep connection with celestial symbols and spirituality might resonate with sun and moon tattoos as a symbol of their journey and beliefs.
Lovers of Balance and Harmony
Those who seek or cherish balance and harmony in life may find this tattoo symbolizing their inner desires and life philosophy.
Admirers of Celestial Beauty
Anyone who is captivated by the celestial aesthetic and wants to embody its beauty might choose a sun and moon tattoo to carry a piece of the cosmos with them.
Sun and Moon Tattoo ideas
There are so many cool ideas for sun and moon tattoos, but I've put together a list of some of my favorites. These range from mystical tarot tattoos to simple line art, to the ultra-realistic.
If you're looking to come up with tattoo ideas, don't forget your artist as a starting point.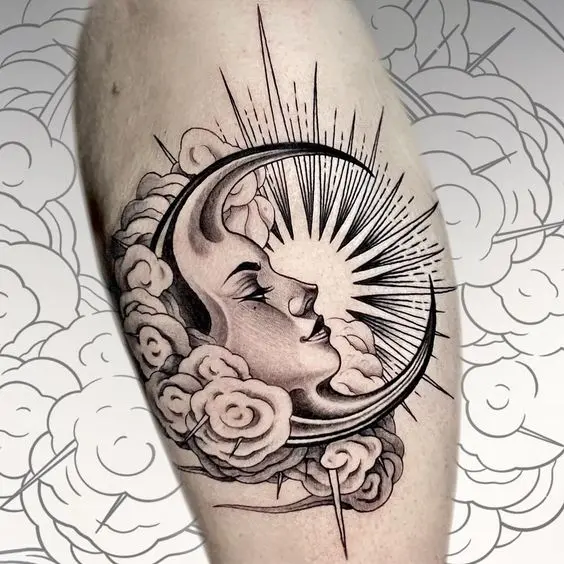 Elements to Ponder Before Getting Your Celestial Ink
Design & Personalization
Consider how you want the sun and moon to be depicted. Explore various designs, and think about how you might personalize the tattoo to make it uniquely yours.
Symbolic Understanding
Reflect on your own connection and understanding of the symbols. Ensure that your tattoo design aligns with your beliefs or the message you want to convey.
Skilled Tattoo Artist
Engage with a skilled tattoo artist who understands your vision and has experience with celestial tattoos to ensure a beautiful and meaningful outcome.
Conclusion: The Timeless Appeal of Celestial Symbolism
A sun and moon tattoo carries a universe of meanings, from highlighting the harmony of opposites to encapsulating the cyclical nature of life.
It acts as a personal emblem that navigates through time, space, and symbolism.
Before you embark on your inking journey, ensure your choice is radiant with personal significance and expertly crafted by a skilled artist.