Often when we think of ship tattoos, we think of sailors with boldly designed pieces taking up most of their biceps. Although, as with all tattooing, every design can be shaped and tailored to fit any wearer – especially ship tattoos.
Ship Tattoo Meaning
Ship tattoos carry with them a variety of meaning, from new journeys to ghostly nostalgia. The ship represents a journey from land to sea, with countless adventures ahead.
Artists can translate the core imagery of these designs into their own style, giving them fresh new meaning. Ship tattoos can be delicate, contemporary, traditional, and bold.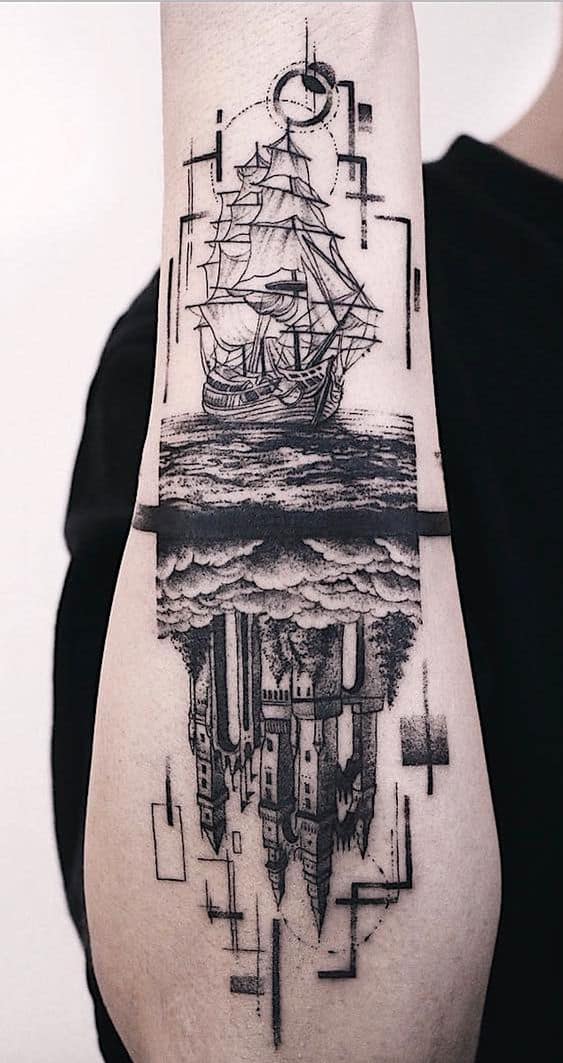 1. Land Meets Sea Ship Tattoo
This ship design feels dystopian, as if part of a dark future where land and sea clash. The artist used the forearm's natural movement to create a dynamic tattoo that flips land and sea over and over again.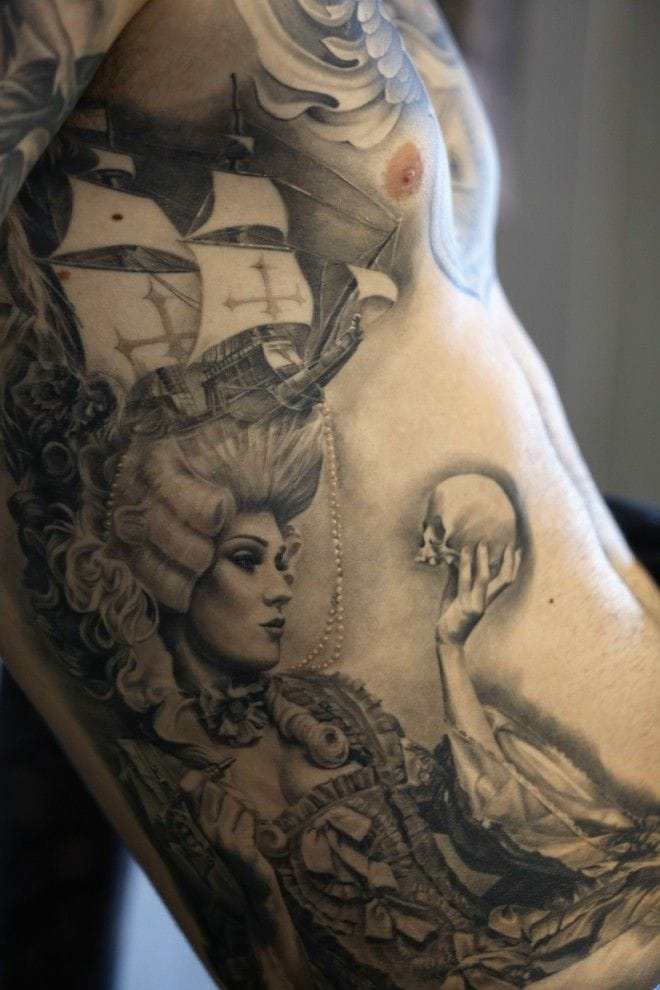 2. Lady of the Sea Ship Tattoo
This tattoo references the era of seafaring pirates with the ship emerging from a victorian woman's wig. Both a classical and ghostly ship tattoo.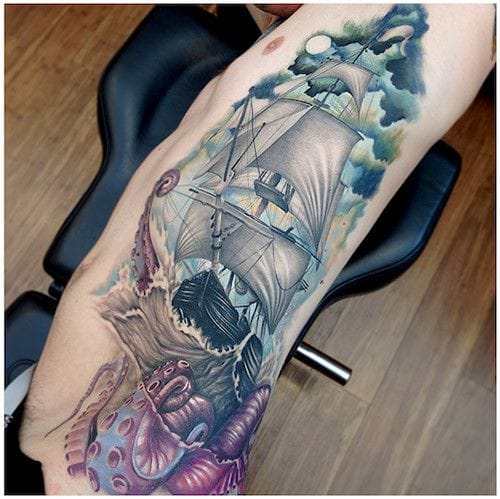 3. Ship Octopus Tattoo
There are a few narratives we all know about ships, one of which is the Kraken, a giant octopus who destroys ships. This depiction of the tale selectively uses color to create dimension and give a refined look to the piece.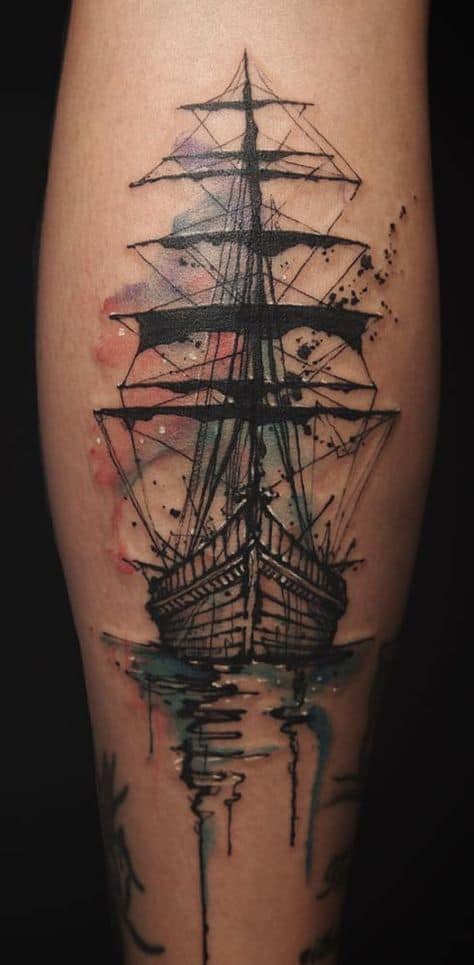 4. Simple Watercolor Ship Tattoo
The watercolor style of this tattoo cleverly brings the design full circle, back to its nautical theme. The silhouette of the ship allows the focus to be on the colorful technique of the water and keen use of negative space.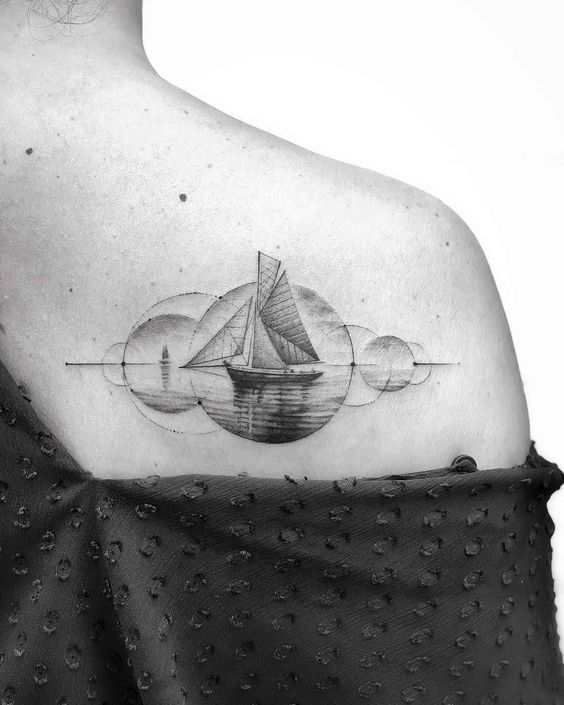 5. Abstract Sea Ship Tattoo
This elegant design plays with the horizon line and landscape behind the ship. Its wide, diamond shape fits well on the shoulder as the tattoo mimics its shape.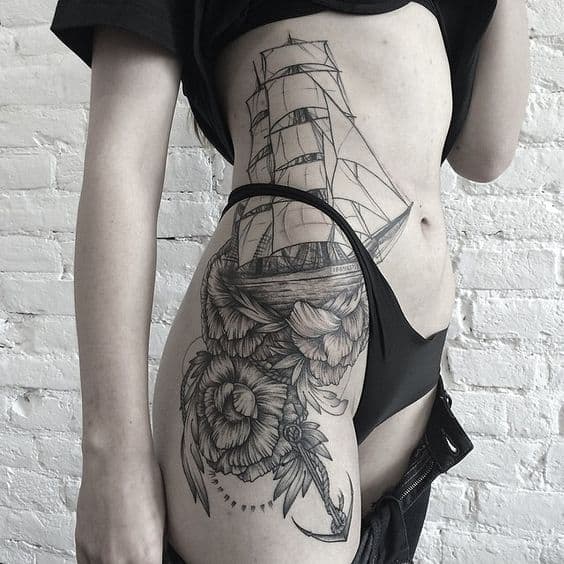 6. Floral Ship Tattoo
The movement and flow of this piece looks like it was made for the hip.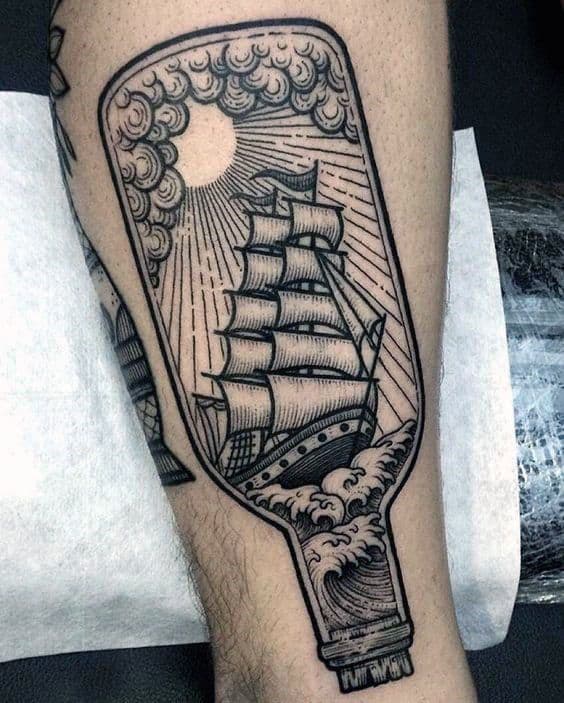 7. Ship in a Bottle Tattoo
This tattoo features unique shading reminiscent of a Tarot card. As the ship charges forward, the artist lets small parts of the waves spill over the lip of the bottle giving the tattoo more movement.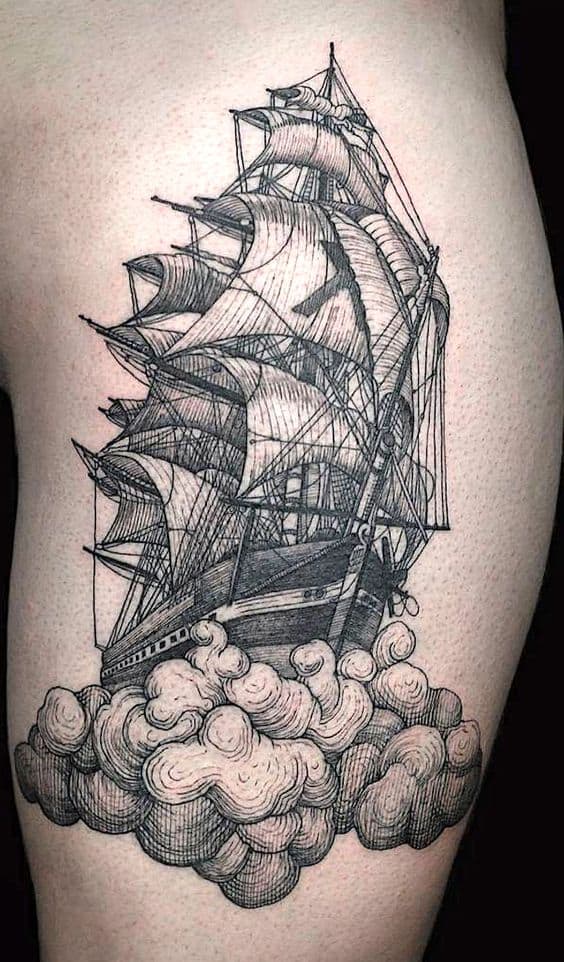 8. Illustrated Ship Tattoo On Forearm
The hatched shading of this tattoo lends itself to a whimsical feeling as the ship floats on a cloud of smoke. This tattoo has the classic feeling of an old ship with fun twist.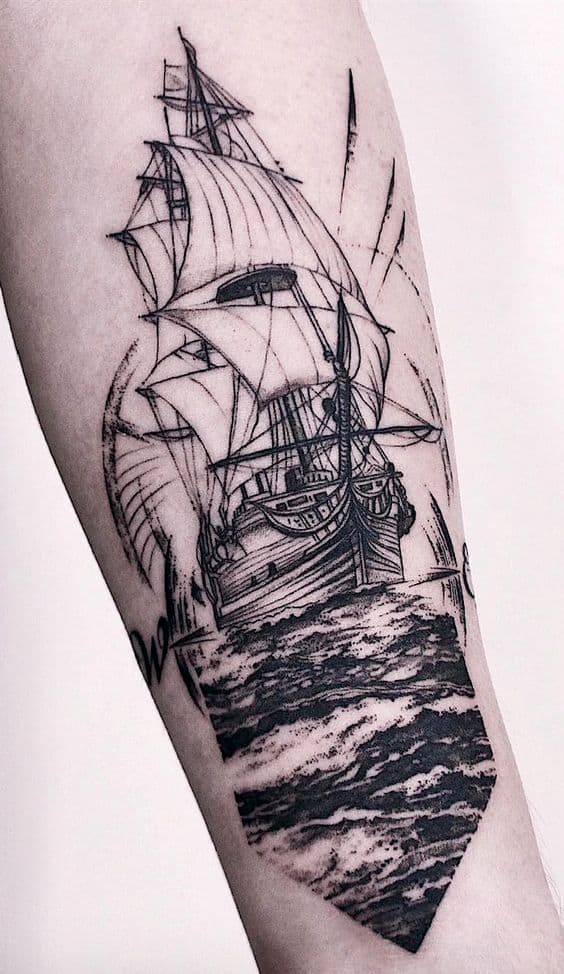 9. Sailing Ship Tattoo
The artist's graphic style translates to the skin like a screen-print, giving this ship tattoo a grungy, rock and roll feeling.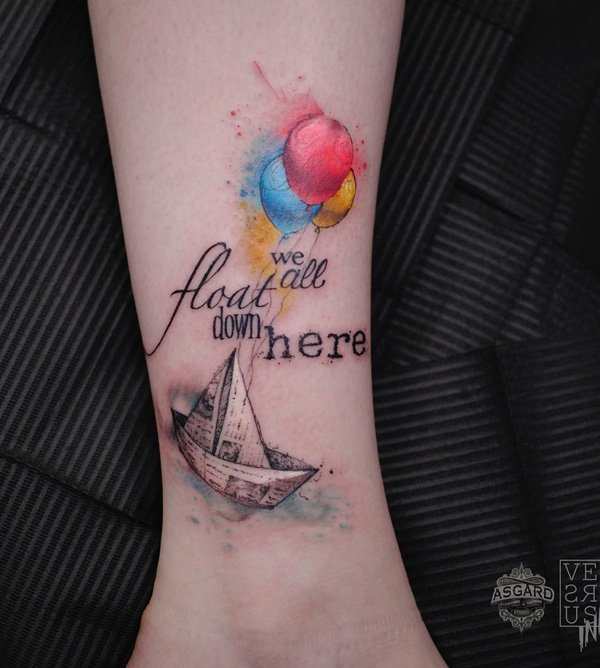 10. Newspaper Ship Tattoo
Not all ships have to be pirate ships! This newspaper boat is a sweet break from big ship tattoos with an inspirational twist.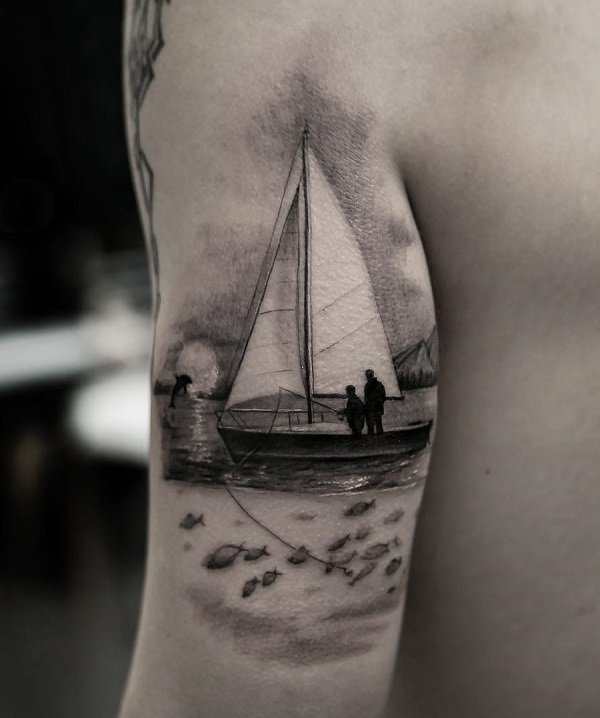 11. Hyper-realistic Ship Tattoo
This delicate black and white tattoo contains most of the same motifs as your typical ship tattoo. With the silhouetted father and son, the tattoo goes from being epic to intimate.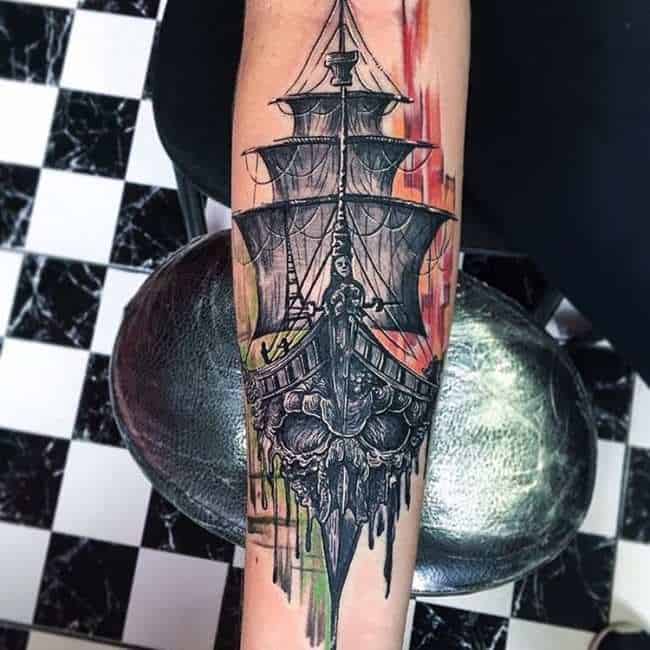 12. Dark Ghost Ship Tattoo
Bold in color and line work, this Flying Dutchman design oozes ghostly nostalgia.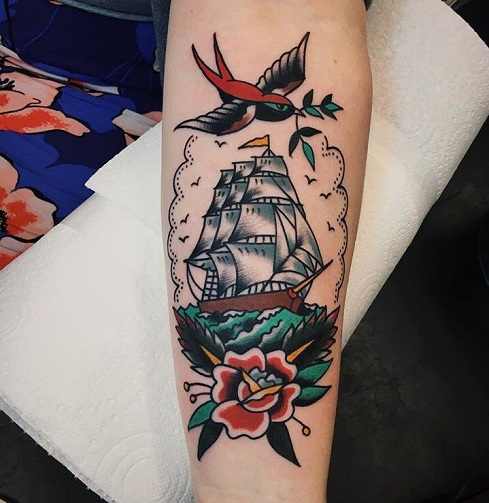 13. American Ship Tattoo
This tattoo brings us back to "tough as nails", sailor tattoos. The American Traditional style combined with softer imagery gives us a contemporary take on this classic design.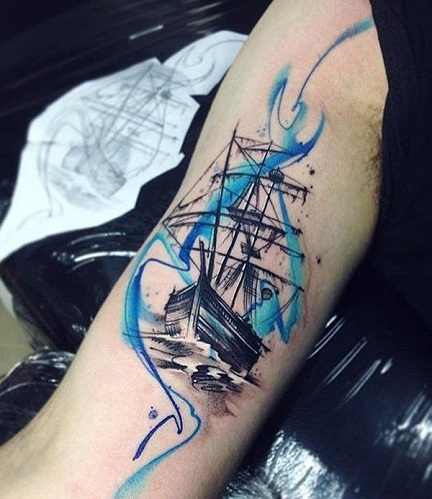 14. Northern Lights Ship Tattoo
On its own, the black and white ship might blend in with the rest. Once the blue lights are woven through, this tattoo stands on its own.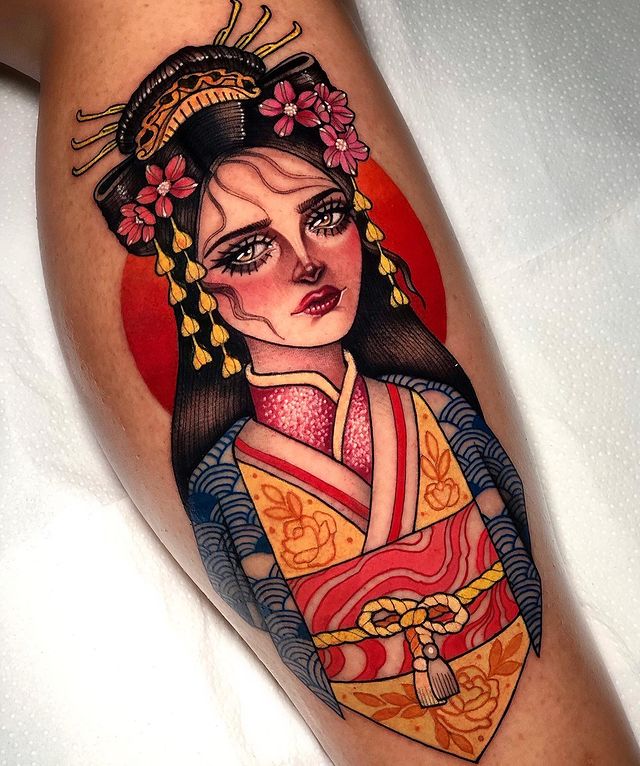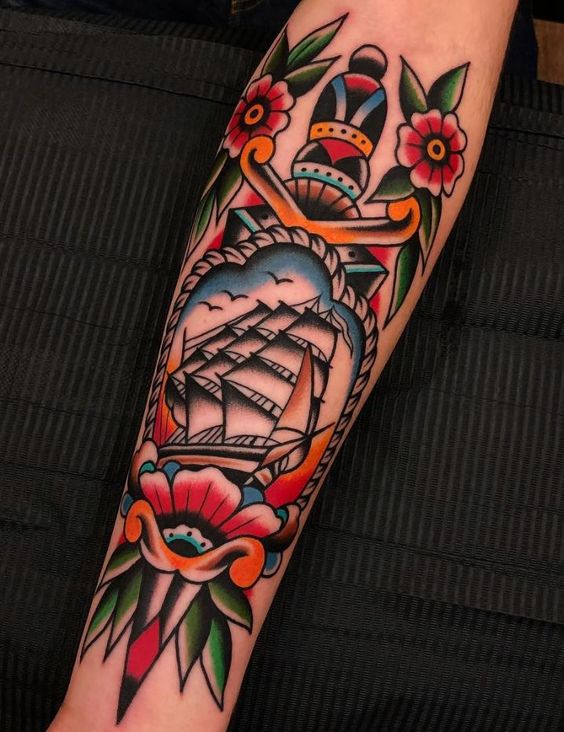 15. Traditional Pirate Ship Tattoo
The bright colors and florals of this seemingly American Traditional design have the undeniable flair of Chicano Style tattooing.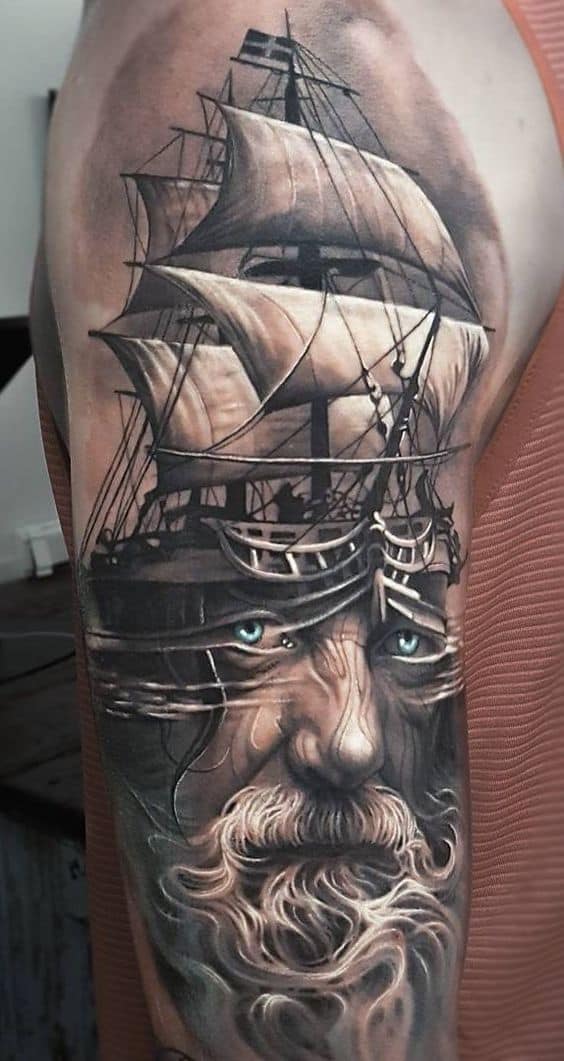 16. Realistic Ghost Ship Tattoo
Often tattoo artists will use selective pops of color to create drama and pull focus, this tattoo is a great example of the practice. The design beautifully merges a portrait into the ship, showing great artistry.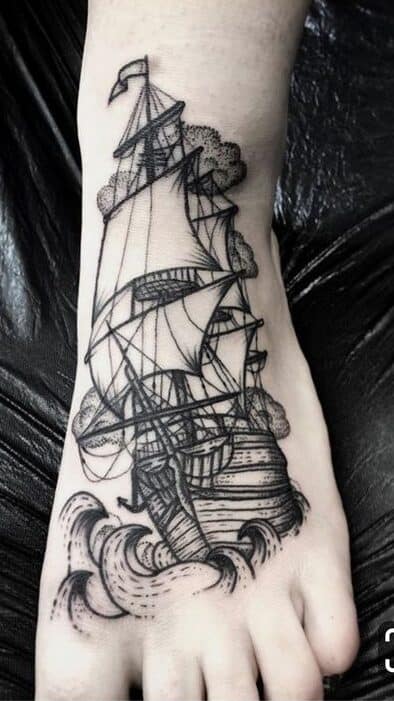 17. Waves and Ship Tattoo
What sets this tattoo apart is the placement. Surprisingly, the foot's shape gives the tattoo great dimension and fits the composition perfectly.
18. Delicate Ship Tattoo
This delicate design has a very feminine feel to it. Florals often accompany tattoos as accents, but here they give the ship a feeling of blossoming.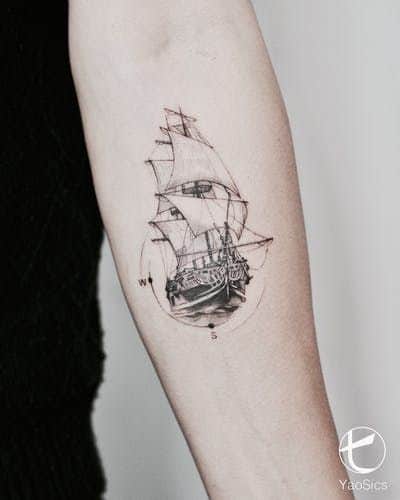 19. Compass Ship Tattoo
This simple tattoo uses a compass to frame the ship, giving the whole design a circular composition. Without the compass, the tattoo wouldn't fit as neatly on the upper forearm.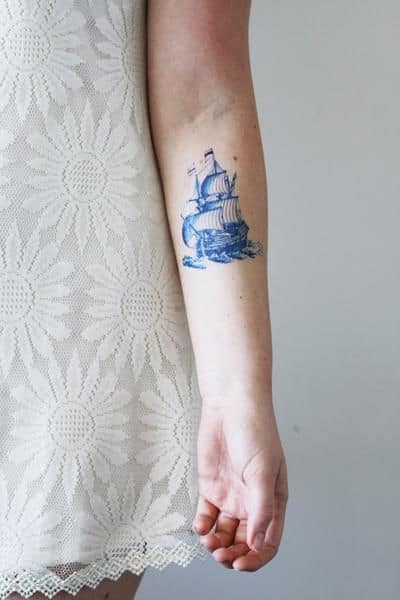 20. Blue Ship In Storm Tattoo
There's something undeniably clean and charming about a monochromatic tattoo. Using blue to draw out a ship takes an ordinary design and makes it special.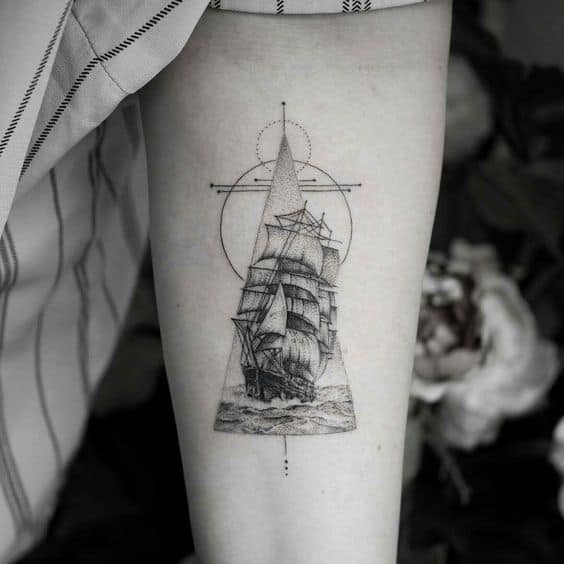 21. Geometric Ship Tattoo
Adding geometric accents is a foolproof way to jazz up a classic design. The shapes give artists the option of playing with negative and positive space, creating dynamic 3-D designs.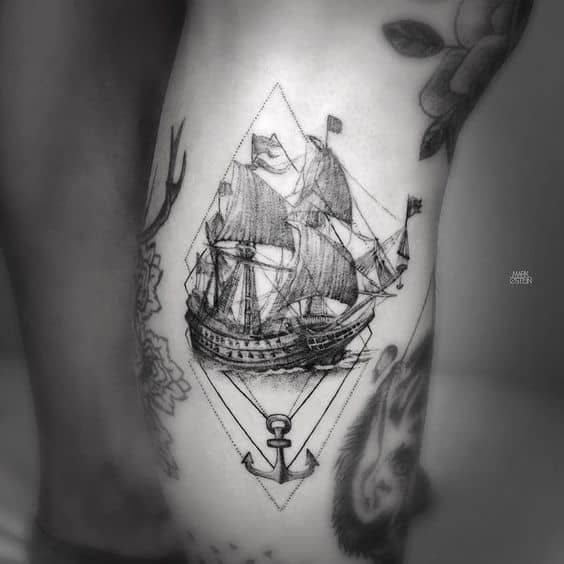 22. Anchored Ship Tattoo
Not only has this artist added multiple diamond shapes to the ship design, they've attached an anchor to one of them. This makes every part of the design meaningful.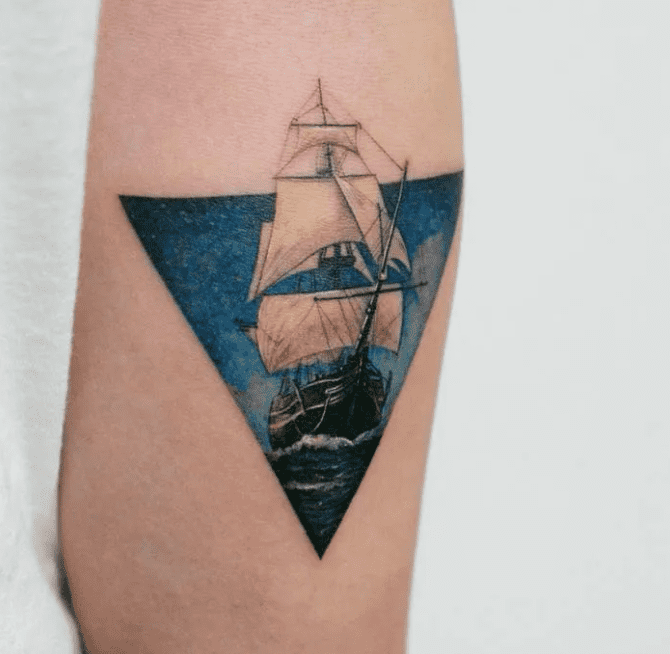 23. Small Ship Tattoo
This tattoo is reminiscent of old American seascape paintings. It evokes a homey, vintage nostalgia.
24. Fun Ship Tattoo
Deviating from the typical pirate ship, this sea vessel's flags, paddles, and propellers have a whimsical feeling unlike the rest.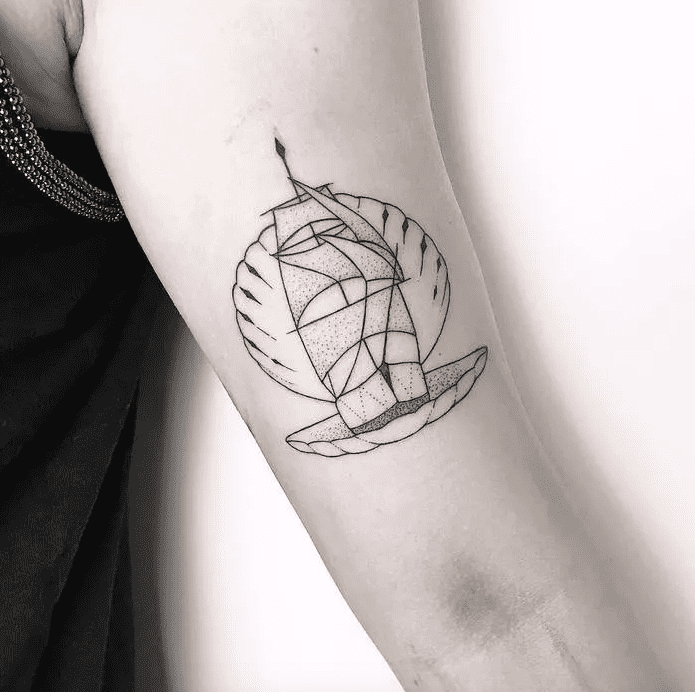 25. Seashell Ship Tattoo
While clearly referencing the shore, this ship sailing out of a clamshell reminds us of the Birth of Venus. The clean line work and minimal stippling make this a minimalist interpretation of a ship tattoo.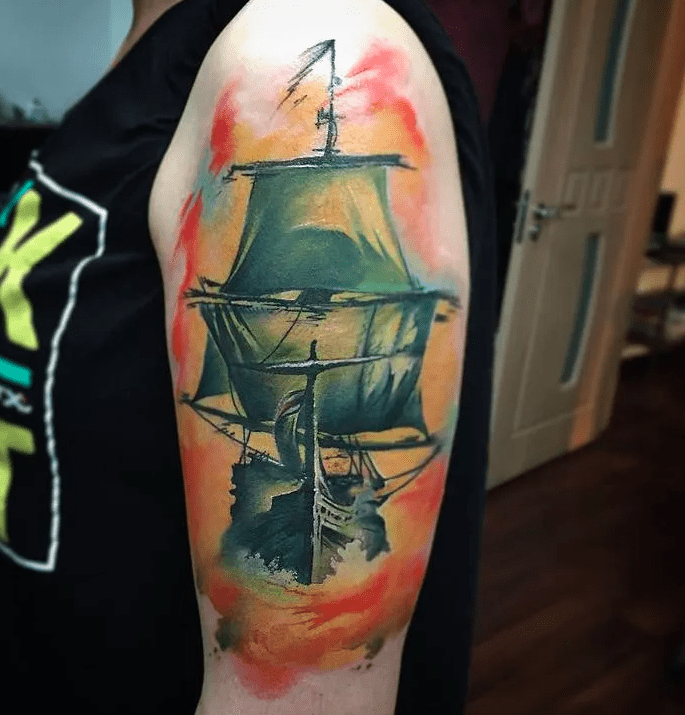 26. Water Stain Ship Tattoo
With almost no line work, this watercolor tattoo feels like it could wash away at any minute. The dark, ghostly greens of the ship riding along fiery waves have an ominous, mythical feel.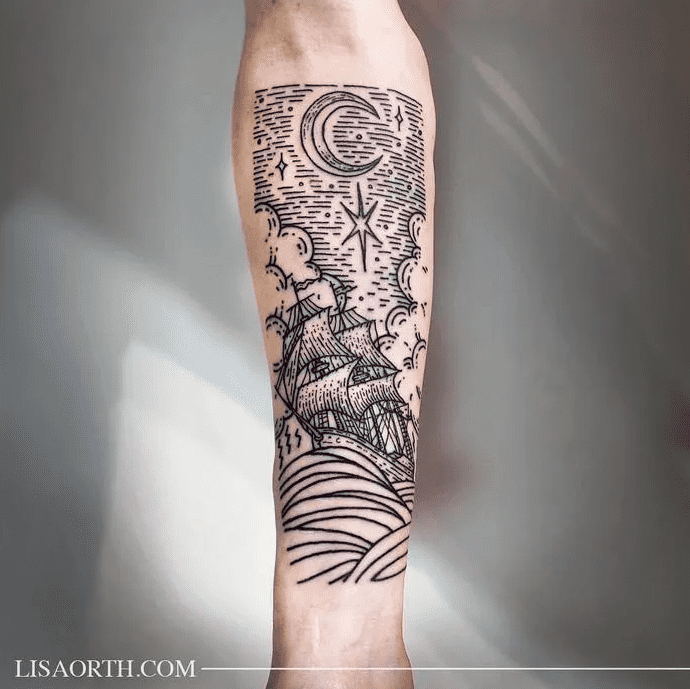 27. Literary Ship Tattoo
The composition of this design fits perfectly on the forearm. Its line based shading is a fun, quirky touch. If only it had a lighthouse in the background!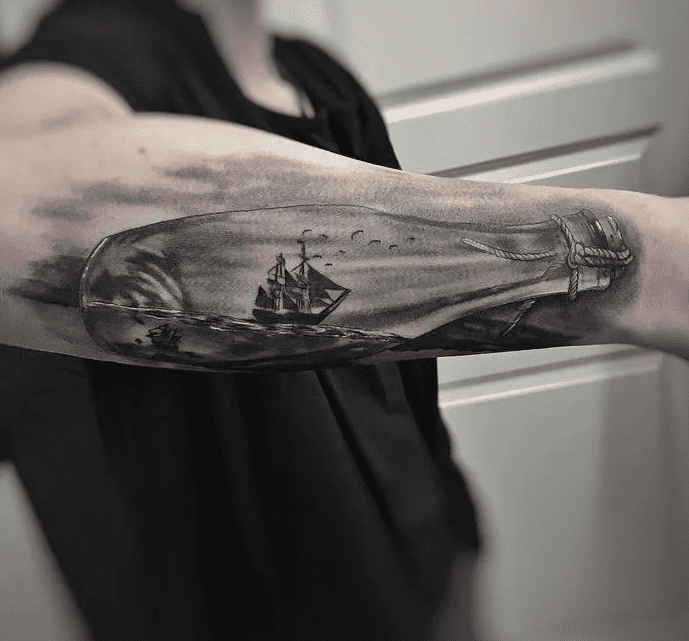 Melancholy Ship Tattoo
The grey shading of this tattoo shows a cloudy day at sea. Despite the lack of negative space in the design, details like birds and a sunken ship are still visible.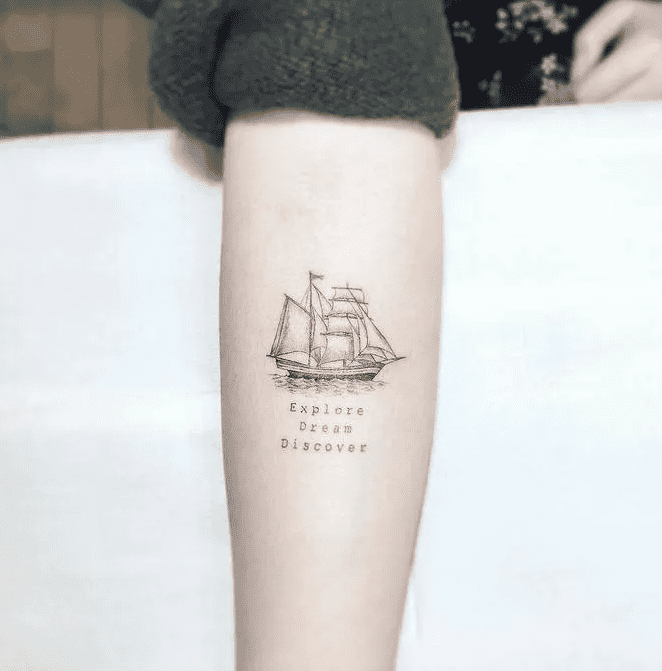 28. Cute Ship Tattoo
A sweet interpretation of the ship theme, clearly serving as a reminder to its owner to always explore. Also, a crisp way to incorporate text into any simple ship design.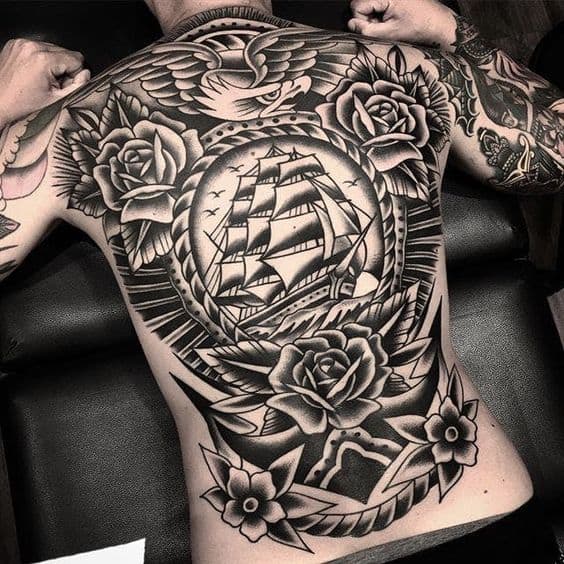 29. Bold Ship Tattoo
Finally, a big, bold, American Traditional back piece. This design is intimidating and strong, but nonetheless gorgeous.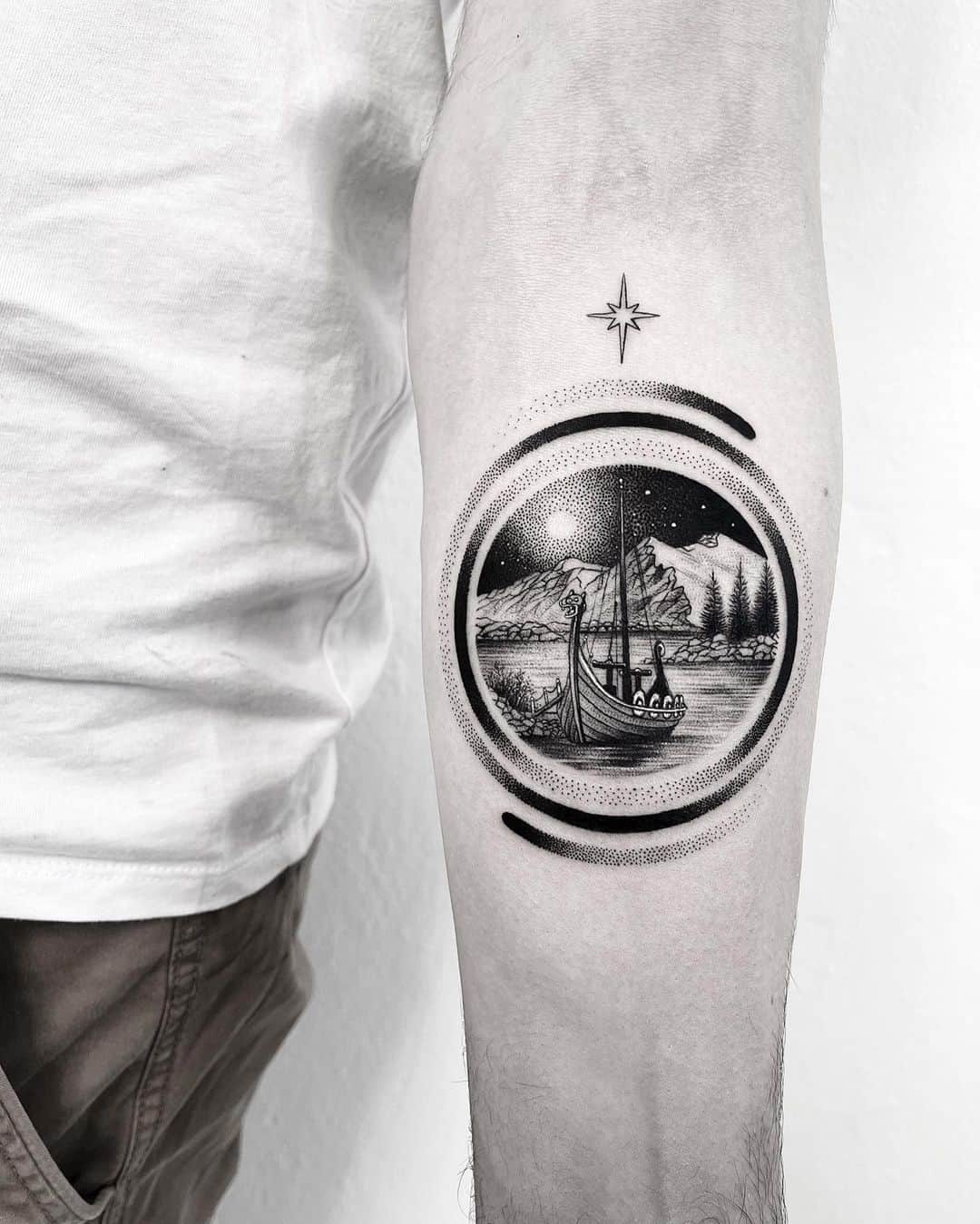 30. Viking ship
Here's a cool ship design that's slightly different from the rest. Instead of going with a traditional ship design, this artist went a little bit old school and gave this piece a little nordic flair.
The dot effect in the sky is a nice touch to break up the otherwise block of ink.