Sigil tattoos are getting more and more popular, and it's no surprise to the potential for huge variation in designs, deep meanings, and placement opportunities anywhere on the body.
I was a bit confused about the history of sigils, so I dove into Wikipedia to learn more about them.
What is a sigil?
In magical practice, a sigil is a sign or symbol thought to have special significance. Ancient civilizations in Mesopotamia provided the oldest instances of sigils, which date back to around 4000 BC.
Many different societies throughout history, from ancient Egypt and Greece to Roman and medieval Europe, have made use of sigils.
Symbol making and sigil use are common to many religions and civilizations, including ceremonial magic, shamanism, and medieval grimoires.
Alchemists and magicians of the Middle Ages often used sigils as symbols for various natural phenomena, such as the planets, elements, and so on. Talismans were also made out of them to help in divination, bring good fortune, ward off evil, and other similar purposes.
There are several modern applications for sigils. You may utilize them to concentrate your thoughts and bring about a desired outcome in any contemporary ceremonial magic or ritual.
Modern kinds of witchcraft, such as chaos magic, also make use of sigils, which are symbols designed to reflect an individual's or group's aspirations. In addition, they may be helpful tools for meditation.
To get into the unconscious, psychologists utilize sigils, which are symbols that reflect a person's innermost wishes.
Sigils may be used in this manner as a means of self-development and betterment. Symbols having deep meaning to their owners are often used as sigils, which some individuals then employ as decorative art on anything from walls to clothes, and of course, tattoos.
Sigil tattoo ideas
Now that we all know a little bit more about what a sigil tattoo means, let's get some examples going. I went scouring Instagram and found some really inspiring designs, ranging from simple blackwork tattoos, all the way to some bordering on micro realism.
Enjoy.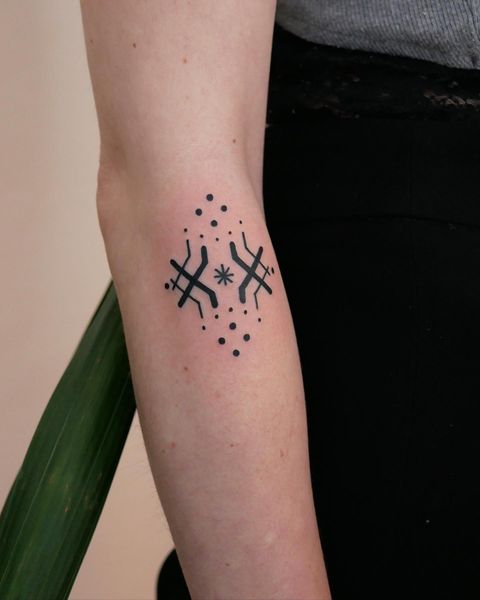 Frequently asked questions about sigils
How do you design a sigil tattoo?
Creating a sigil typically involves writing out a desire or intention in a clear, concise statement, then simplifying the statement into a collection of individual letters.
These letters can then be combined and rearranged by your tattoo artist to create a unique symbol that represents the desire or intention.
What are some common uses for sigils?
Sigils can be used for a wide range of purposes, such as manifesting wealth, love, success, or good health.
They can also be used to protect against negative influences, or to bring about a specific outcome in a situation.