As someone who has worked in the salon industry for almost 17 years, I was pretty stoked when it was time for an article about hairstylist tattoos. Hairstylists come with some dynamic personalities, to say the least, and believe me when I tell you that life is never boring when they're around.
Hairstylist, hairdresser, barber… call it what you want. It's a deeply personal craft, and it comes with a lot of passion that often starts at a very young age. Hair is an artistic medium, like clay or paint. It's no surprise that many of these people choose to adorn their bodies with tattoos to reflect that passion.
From scissors and combs to elaborate designs featuring hair and color, these tattoos serve as a badge of honor for those who live and breathe hairstyling. So whether you're a stylist yourself, or just curious, join me as we dive into this journey of devotion to creative expression.
Vidal Sassoon Bob Tattoo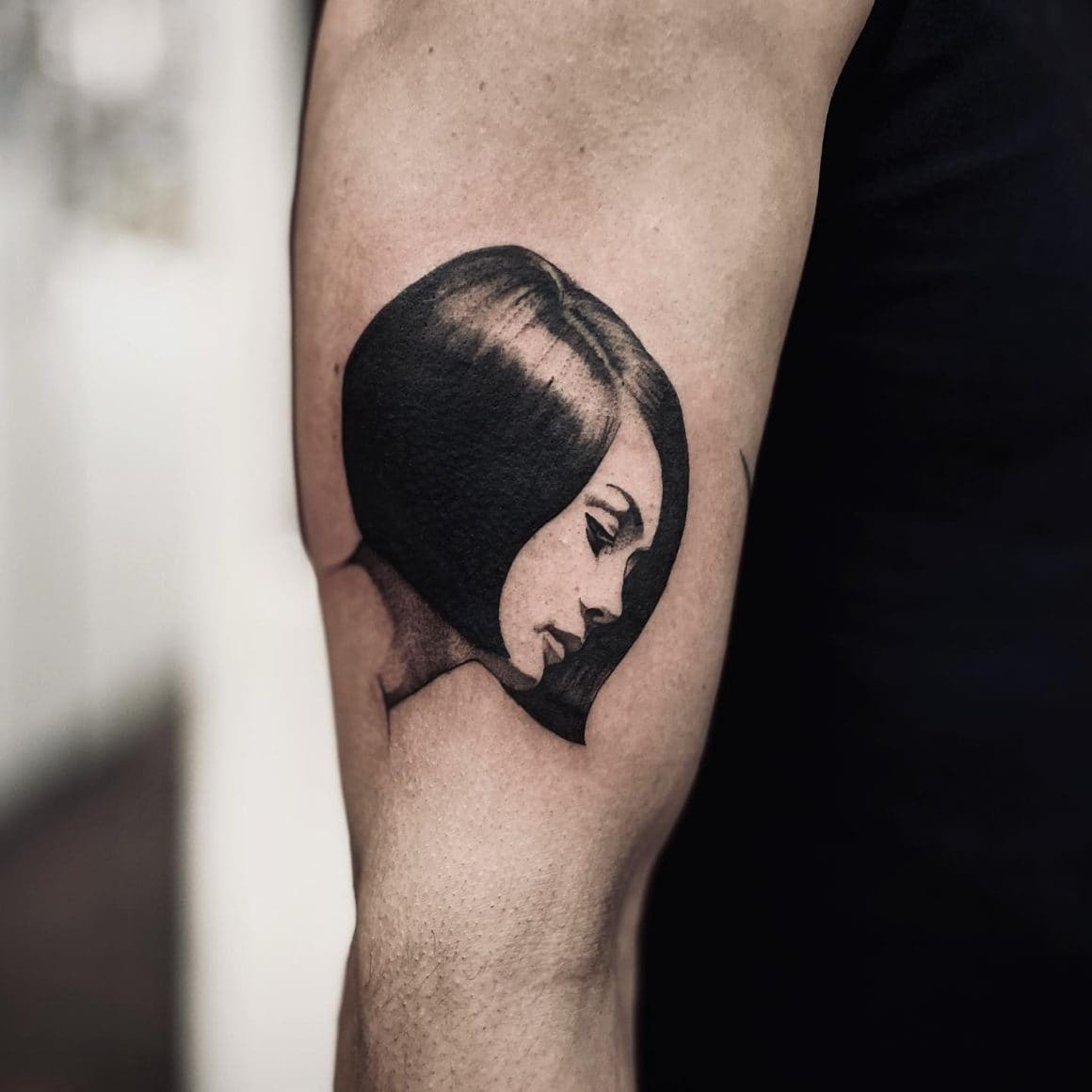 Ah, the Nancy Kwan bob from Vidal Sassoon.
One of the most iconic cuts in the hair industry, this is the perfect tattoo to kick off our list.
Traditional Hairstylist Tattoo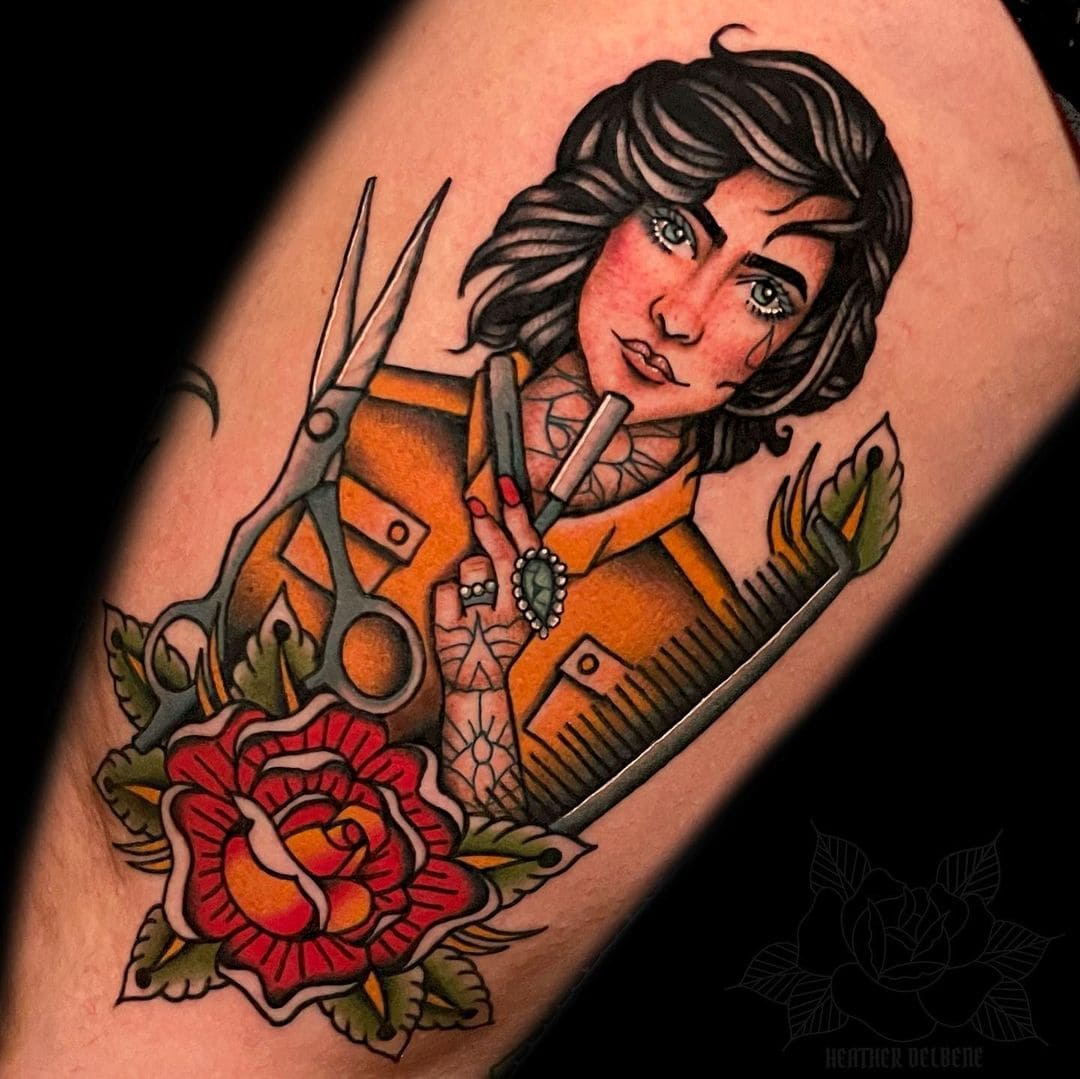 This looks like it's straight out of a comic book, and I can't get enough. Absolutely beautiful.
Tiny Straight Razor Face Tattoo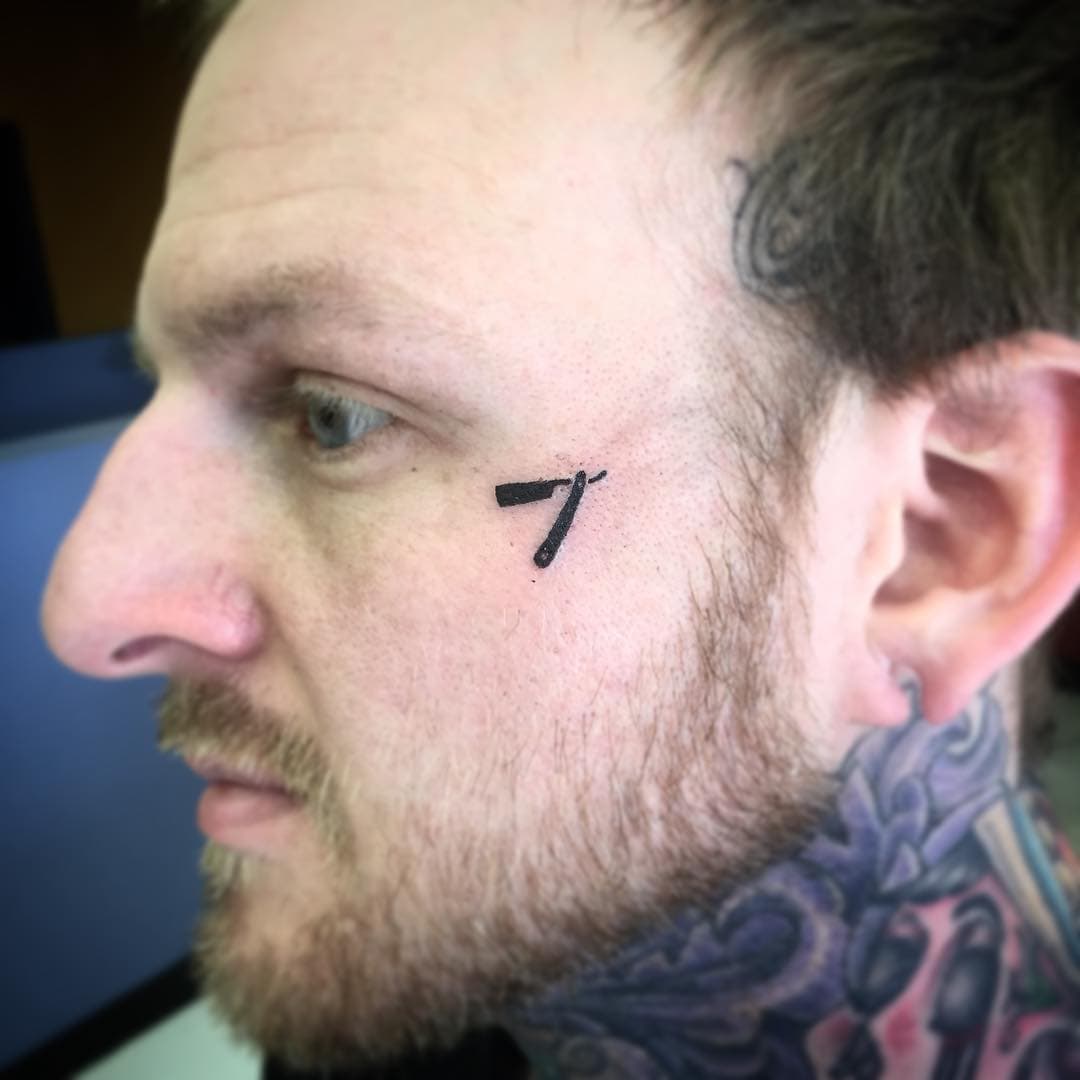 This is badass. The simplicity makes it, and the placement doesn't hurt.
Head over to our list of face tattoos if you're looking for a jobstopper of your own (unless you're a stylist, in which case you're probably safe!).
Rainbow Hairstylist Hand Tattoo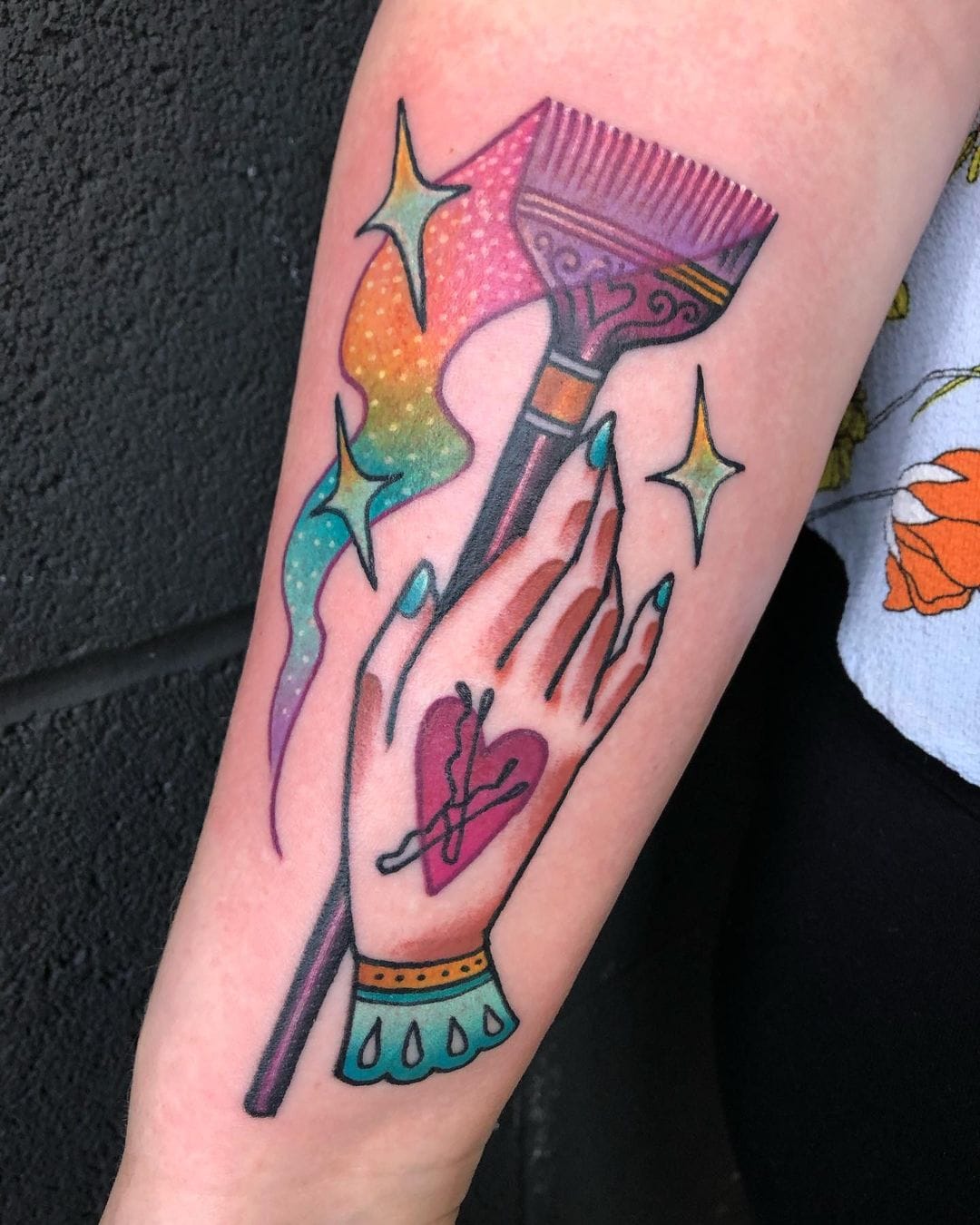 I really enjoy the traditional styling of this, mixed with non-traditional colors and a little extra pizazz with the sparkles.
Blow Me Tattoo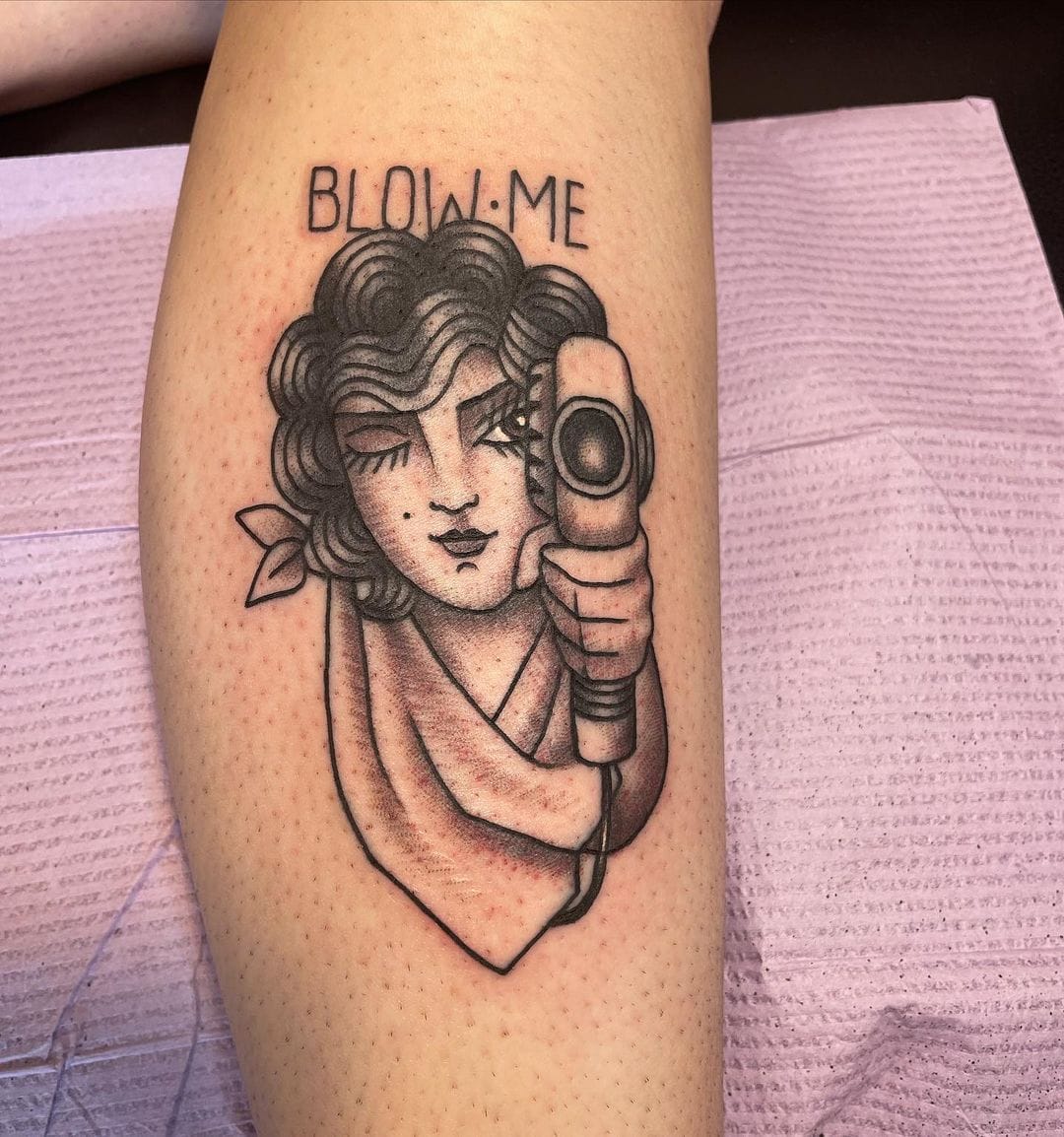 Get it? Because of THE BLOW DRYER.
It's a joke that never stops in the hair world, but the shoot-out edge is a refreshing take.
Straight Razor Tattoo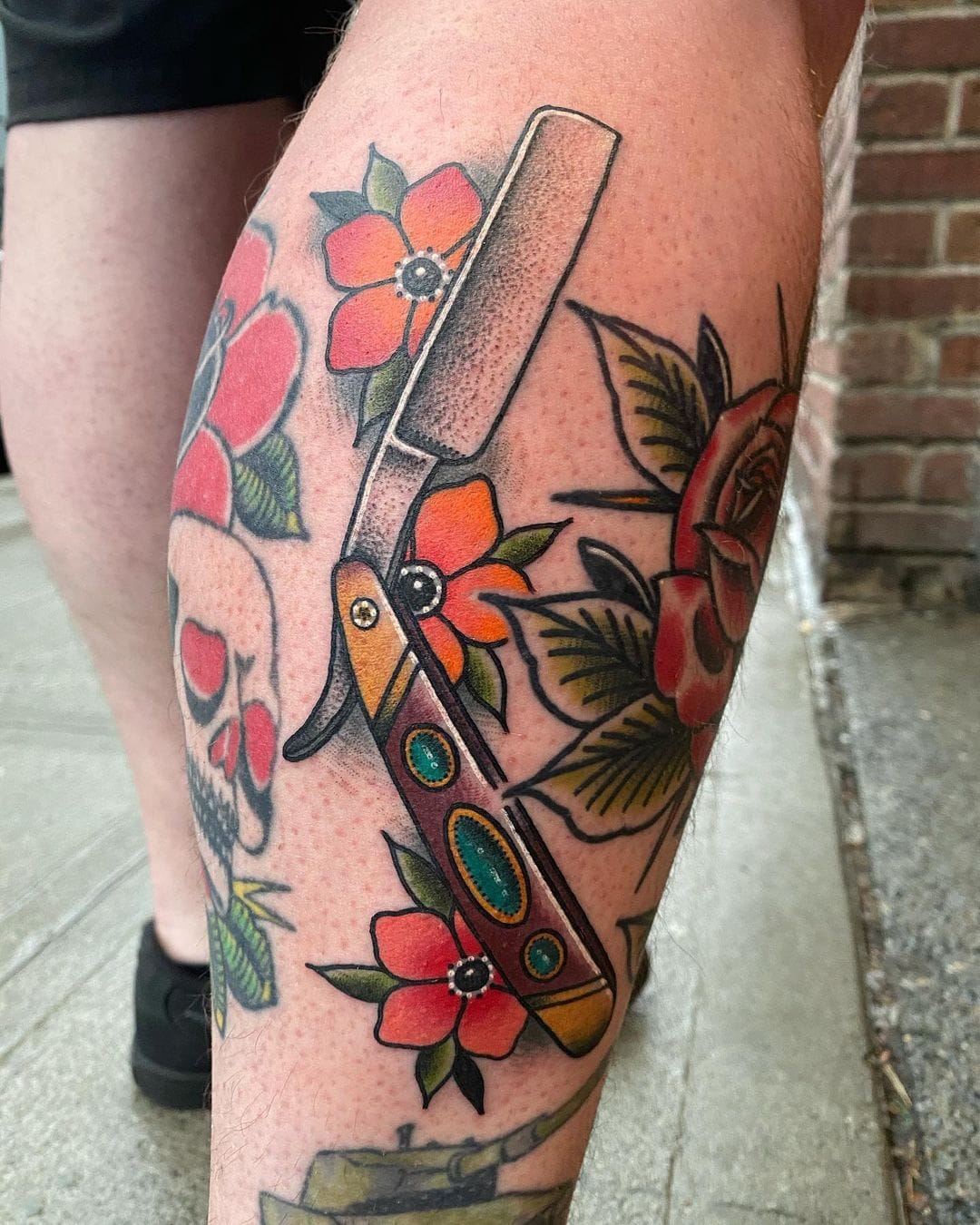 Even the handle of the blade looks vintage on this piece.
It looks like this razor has been passed down from father to son, and has some stories to tell.
We've got a killer list of more leg tattoos for men if you're in the market.
Blackwork Scissors And Flowers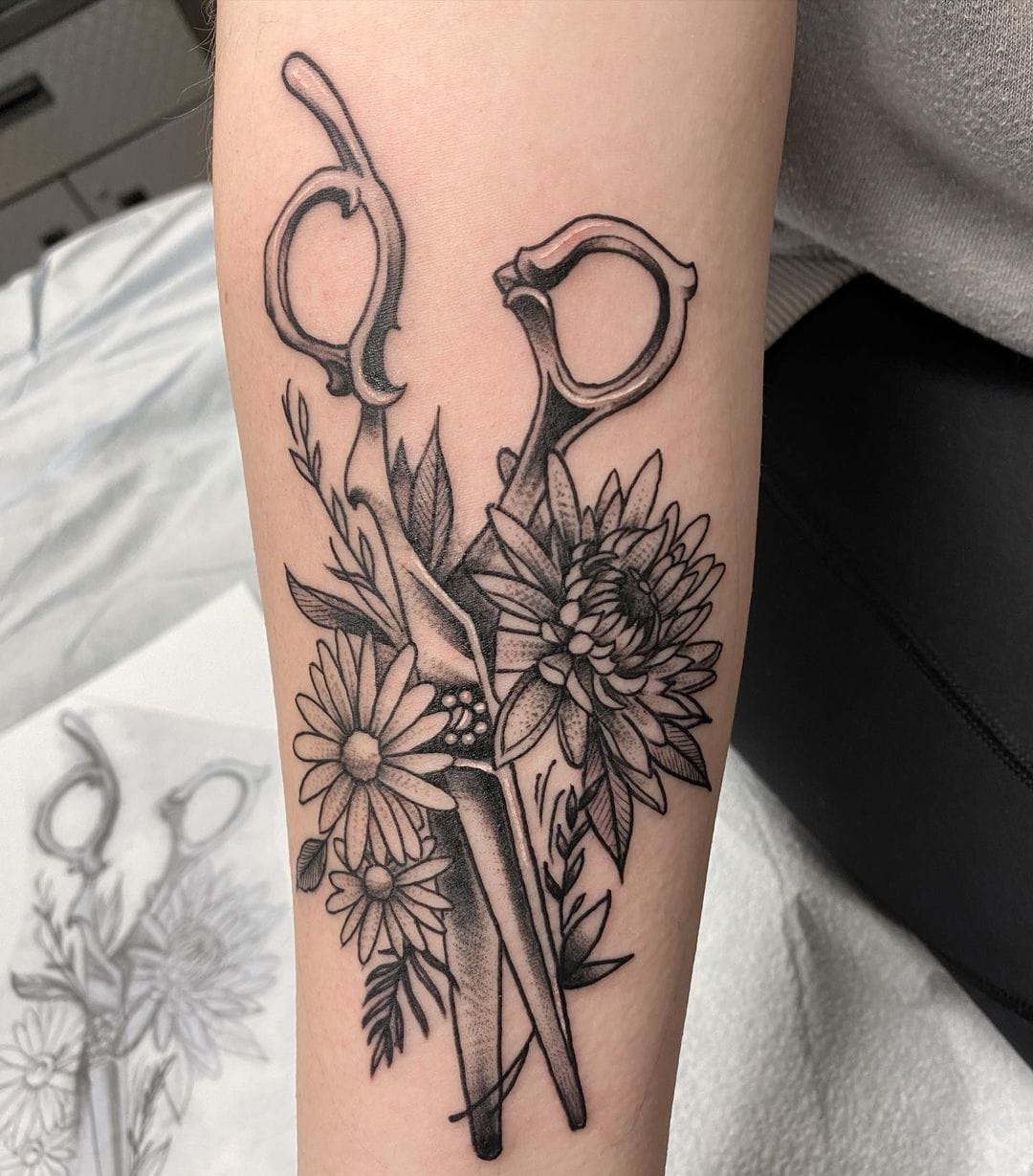 A nice classic-styled combo, this beautiful piece is easy on the eyes.
Color Scissors And Flowers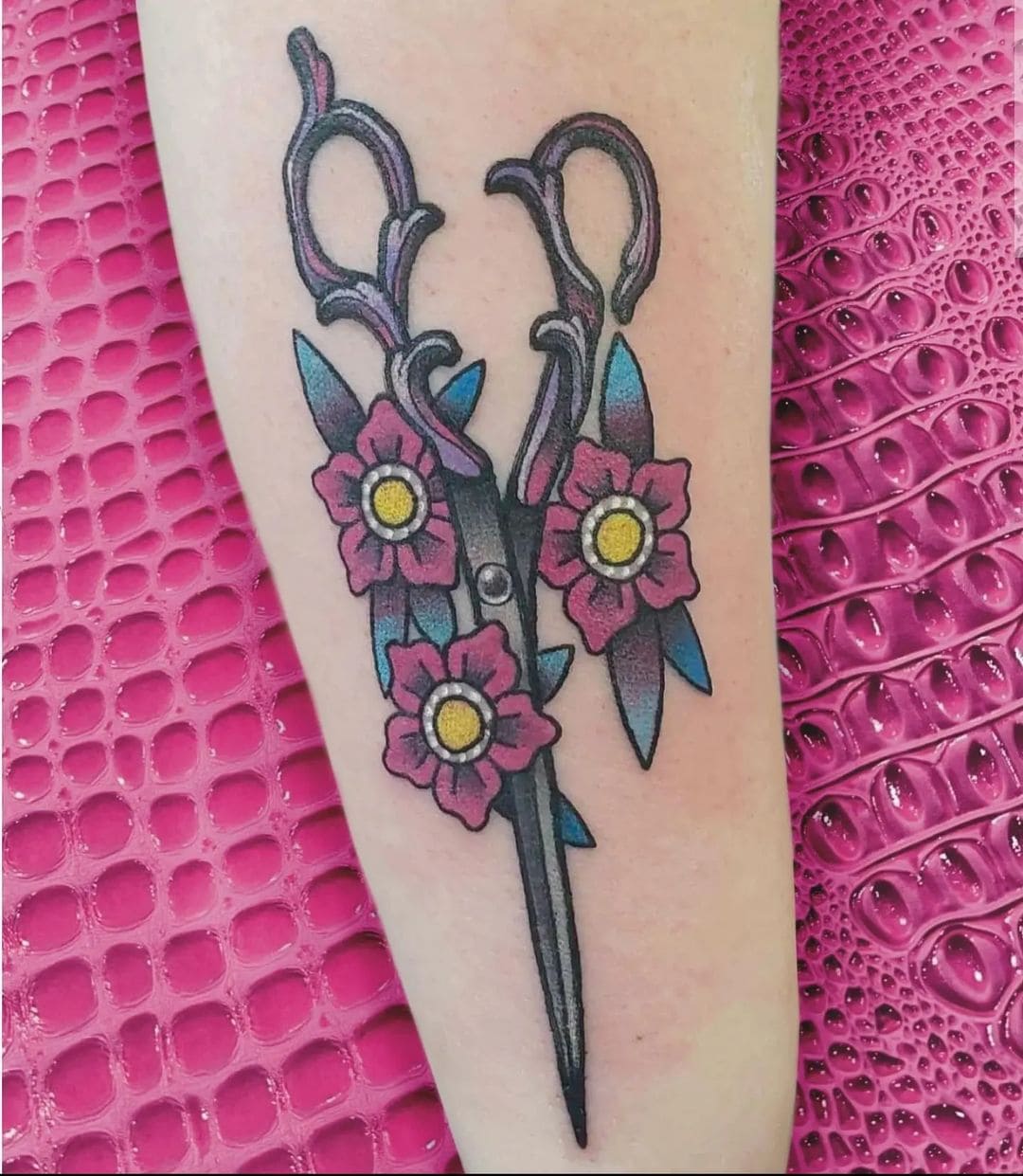 Another option, but with some soft yet vivid color this time! We got somethin' for everyone, folks.
Vintage Scissors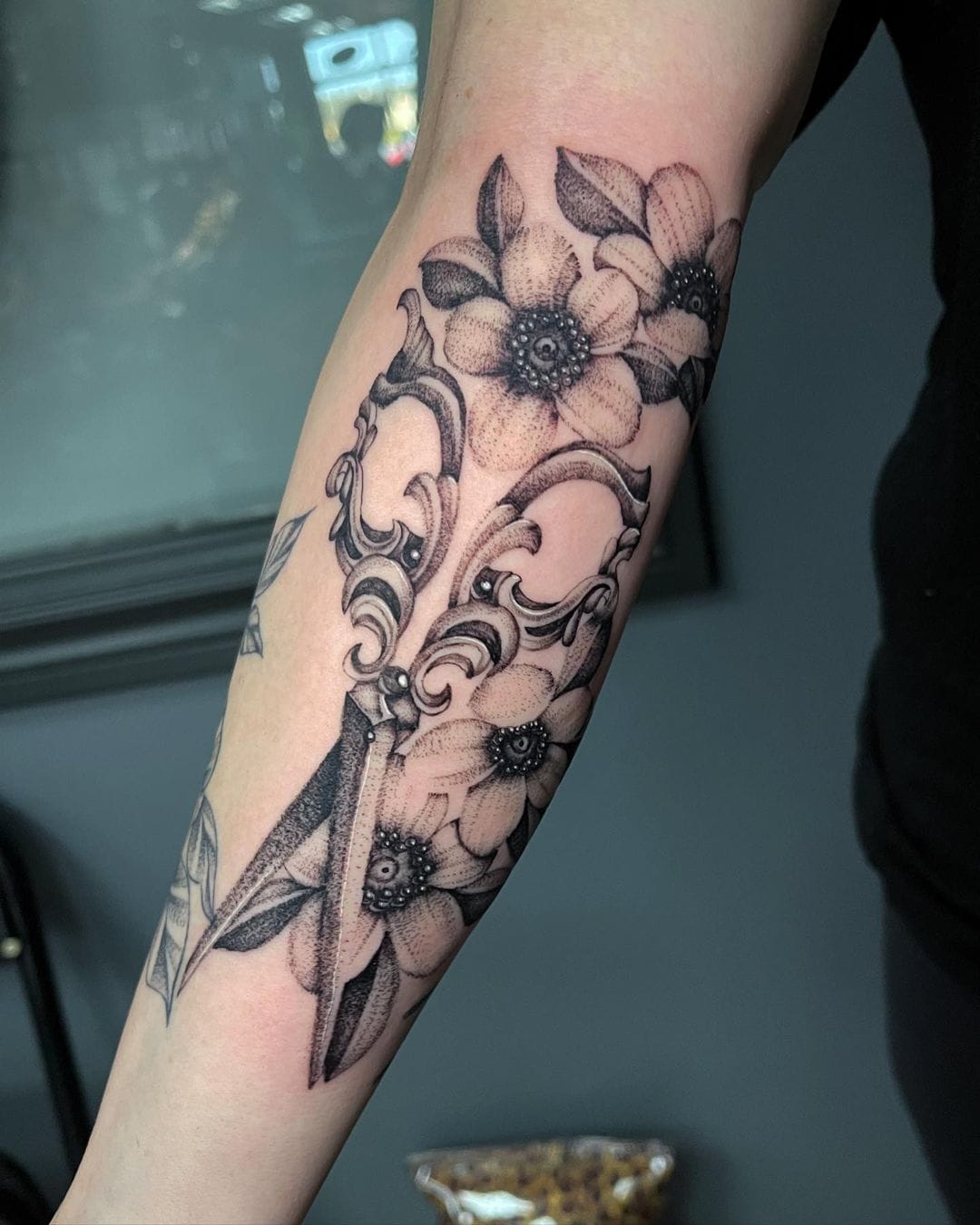 Though these aren't exactly hairstylist shears, they still hit the mark for a gorgeous scissor tattoo with a stunning antique feel.
Flowing Hair Tattoo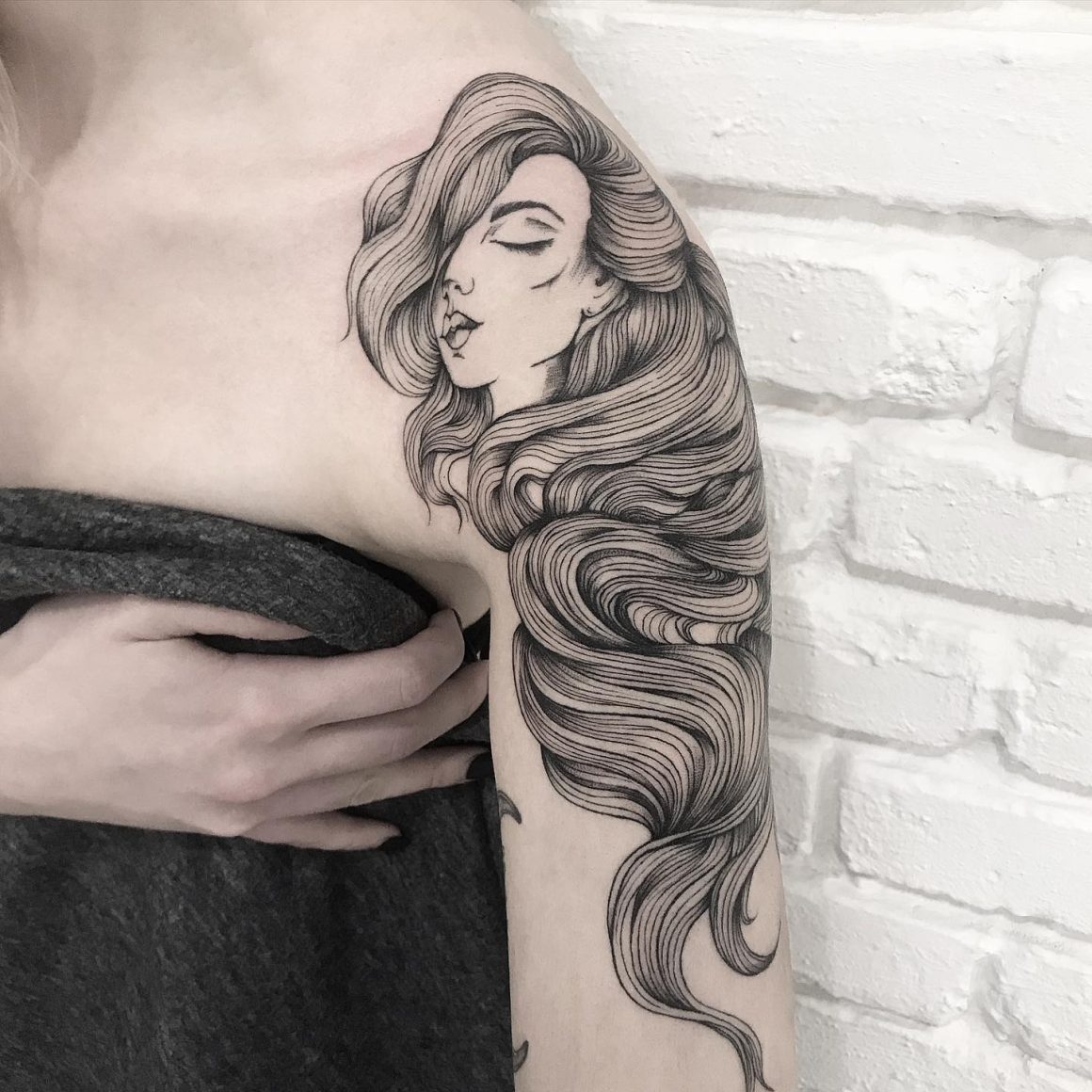 An arm full of flowing tresses is a perfect statement for someone who loves their craft.
Bold Hairstylist Tattoo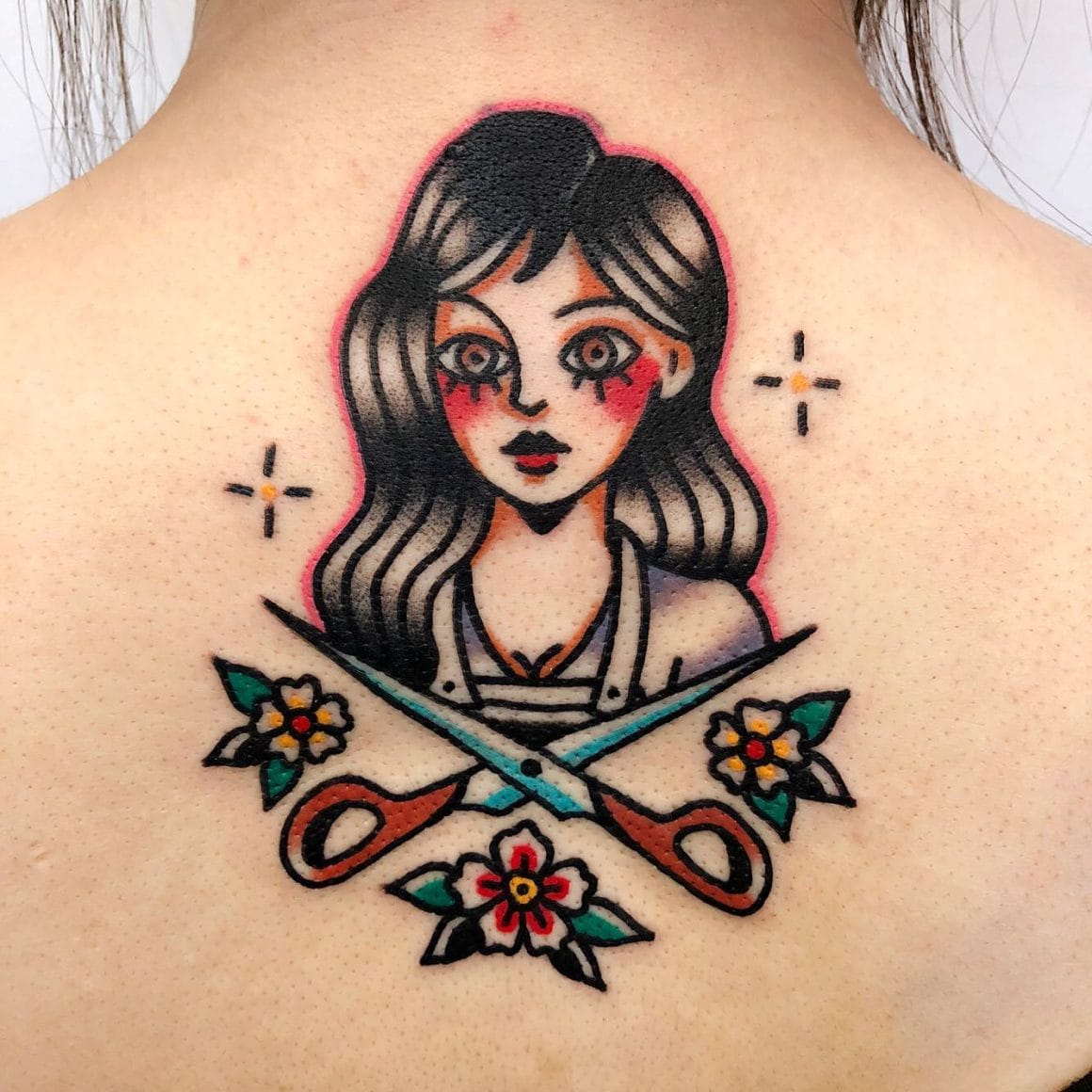 This fantastic coverup is so cute! The linework packs a punch, and it's easy to get lost in the artist's handywork with the colors here.
Bonus accuracy points for the addition of the hairstylist's apron. If you're looking for inspiration, click on over to our neck tattoos for women article to find what you need.
Glamorous Hair Tattoo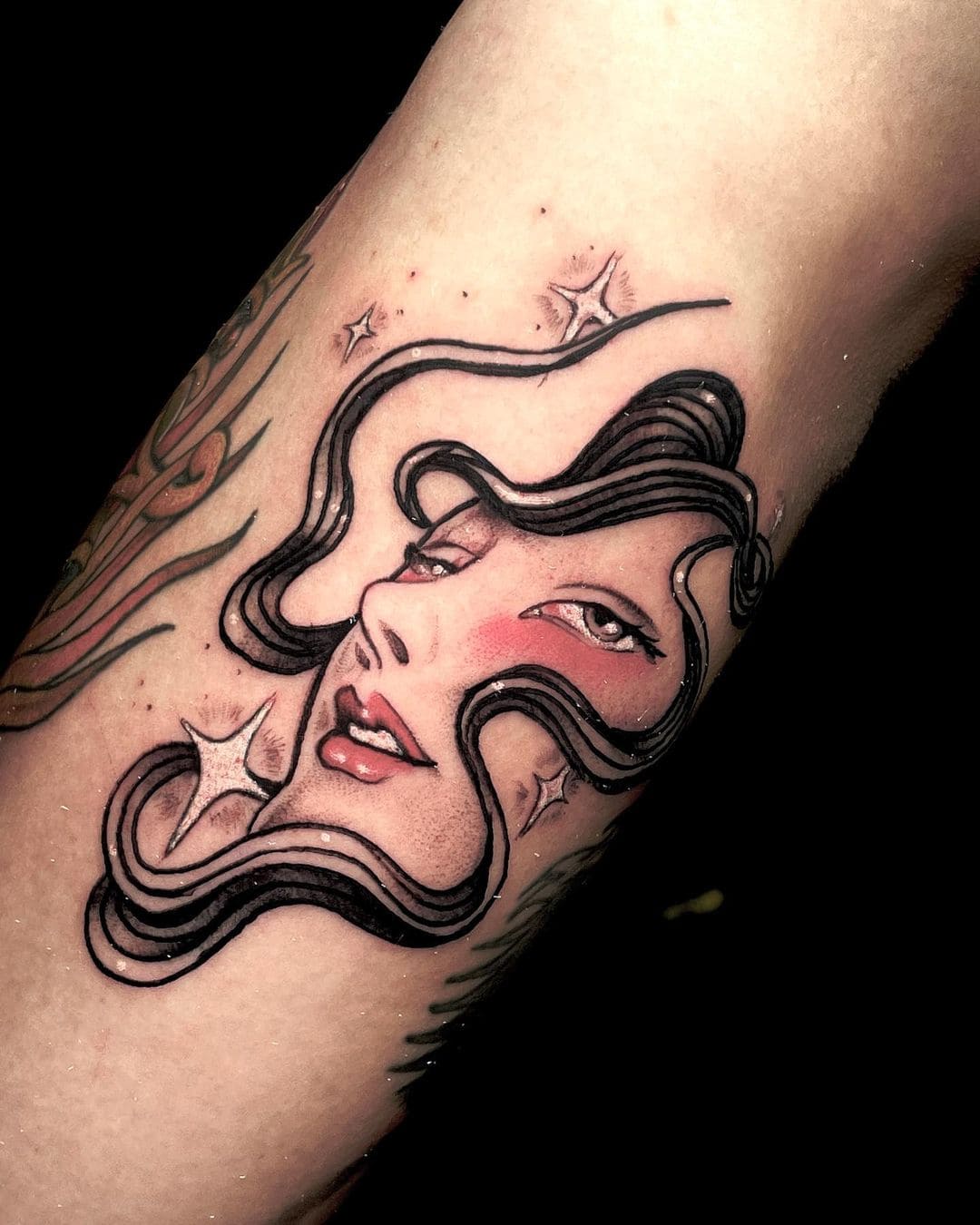 It's all about the glam baby. Somehow the artist made these stars actually look like glitter, which is excellent for this dreamy piece!
Hair Color Paintbrush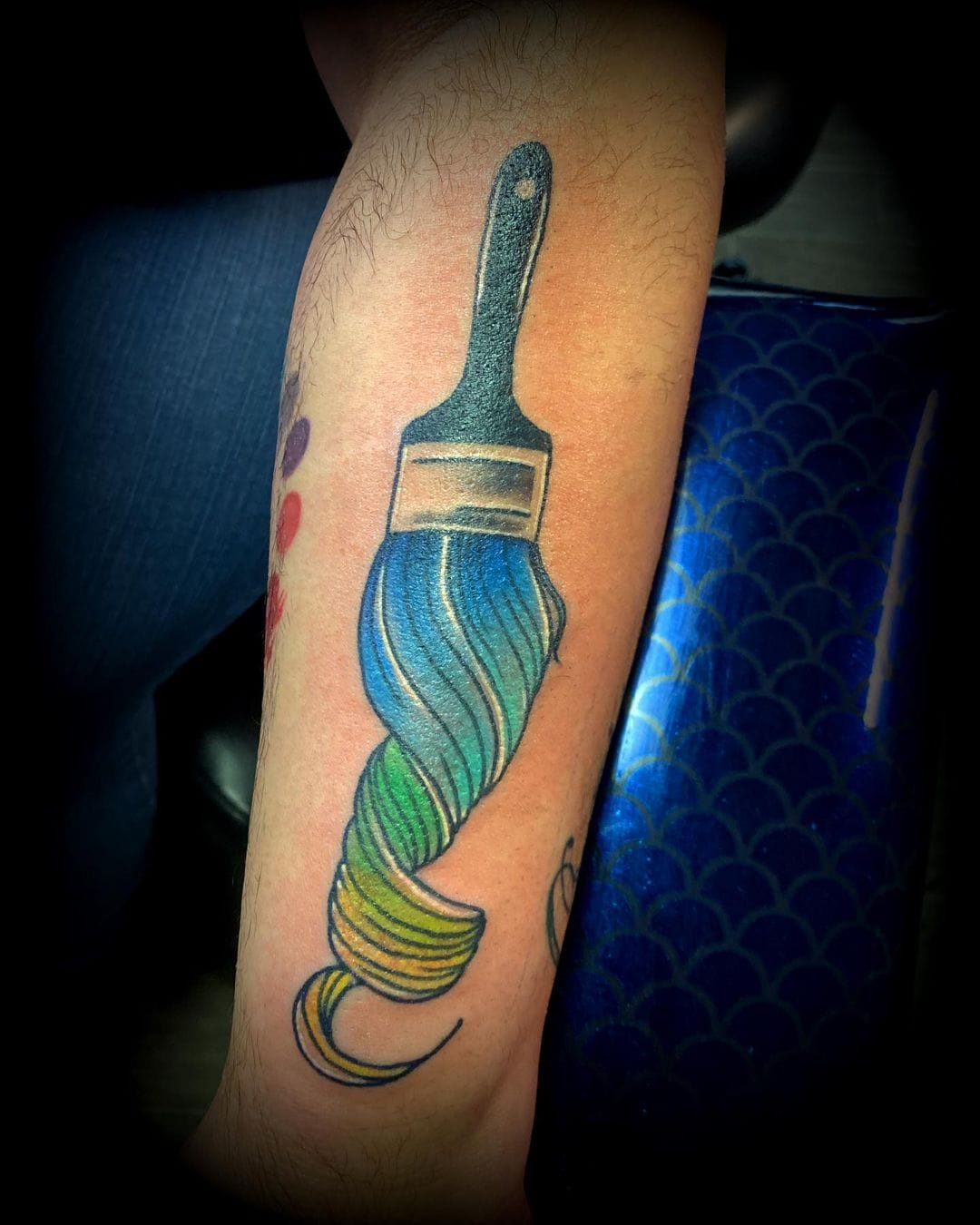 The skill that hairstylists have with a color brush can be otherworldly.
This wearer clearly has a passion for painting hair, as shown in this creative tattoo.
Flower Bobby Pin Tattoo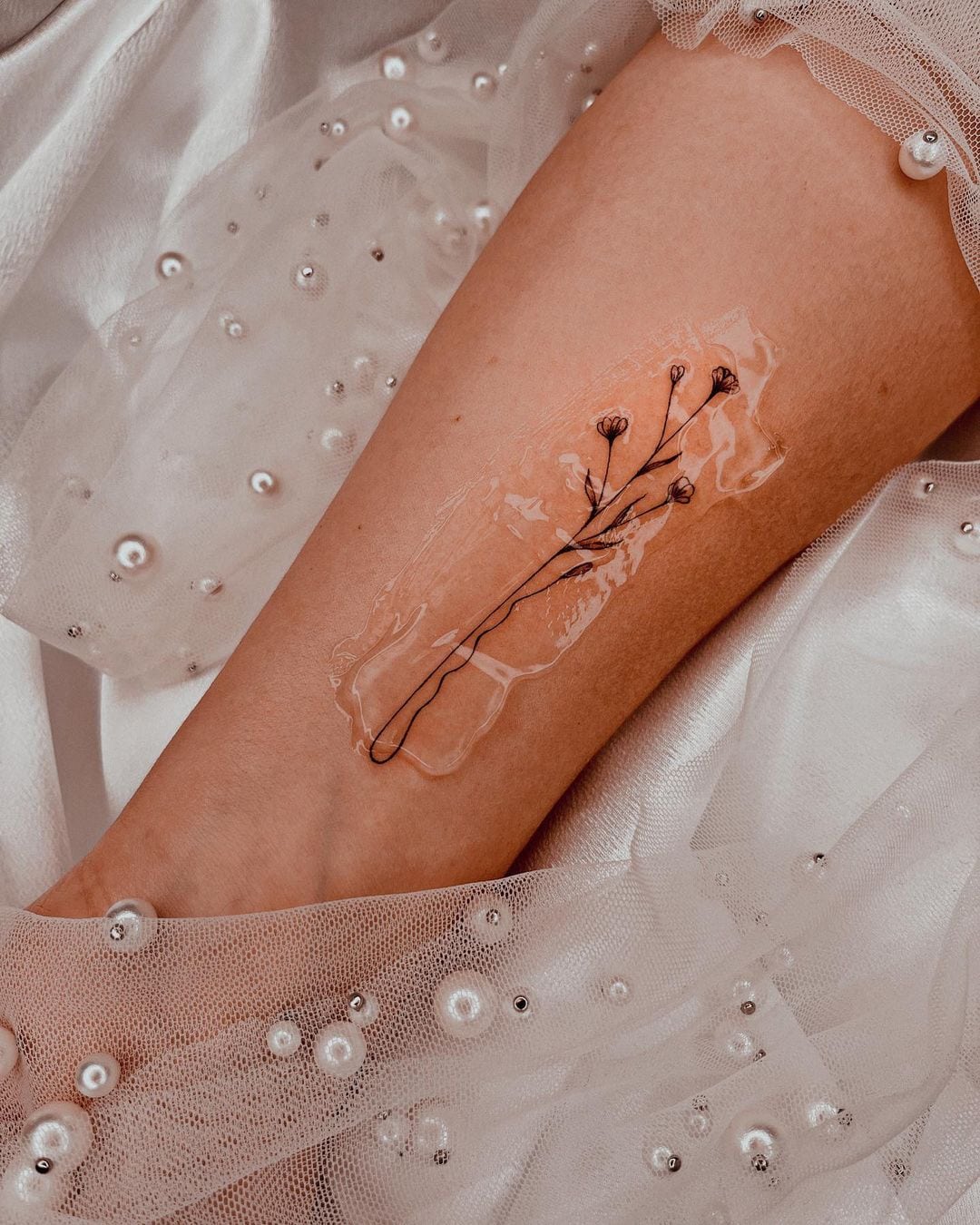 Bobby pins hold a tiny special place in our hearts. I love these delicate flowers adding a little extra personality to something so uncomplicated.
Dualist Tattoo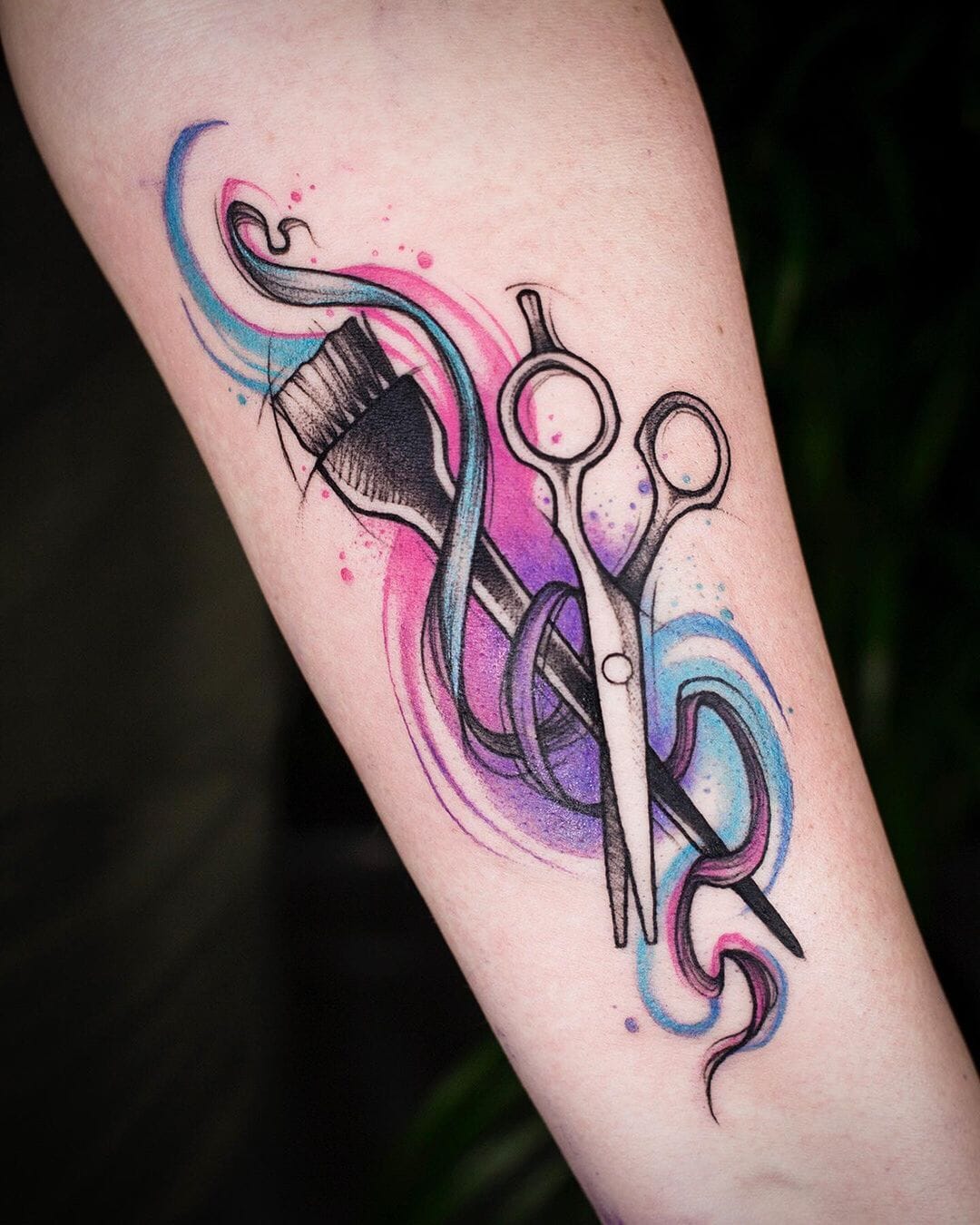 Oh you do color and cuts? Well, we've got the tattoo for you. Check out the long piece of hair intertwining through these tools.
That color brush is brand spanking new. IYKYK. (IYDK, they don't look like this for long.)
Beauty School Tattoo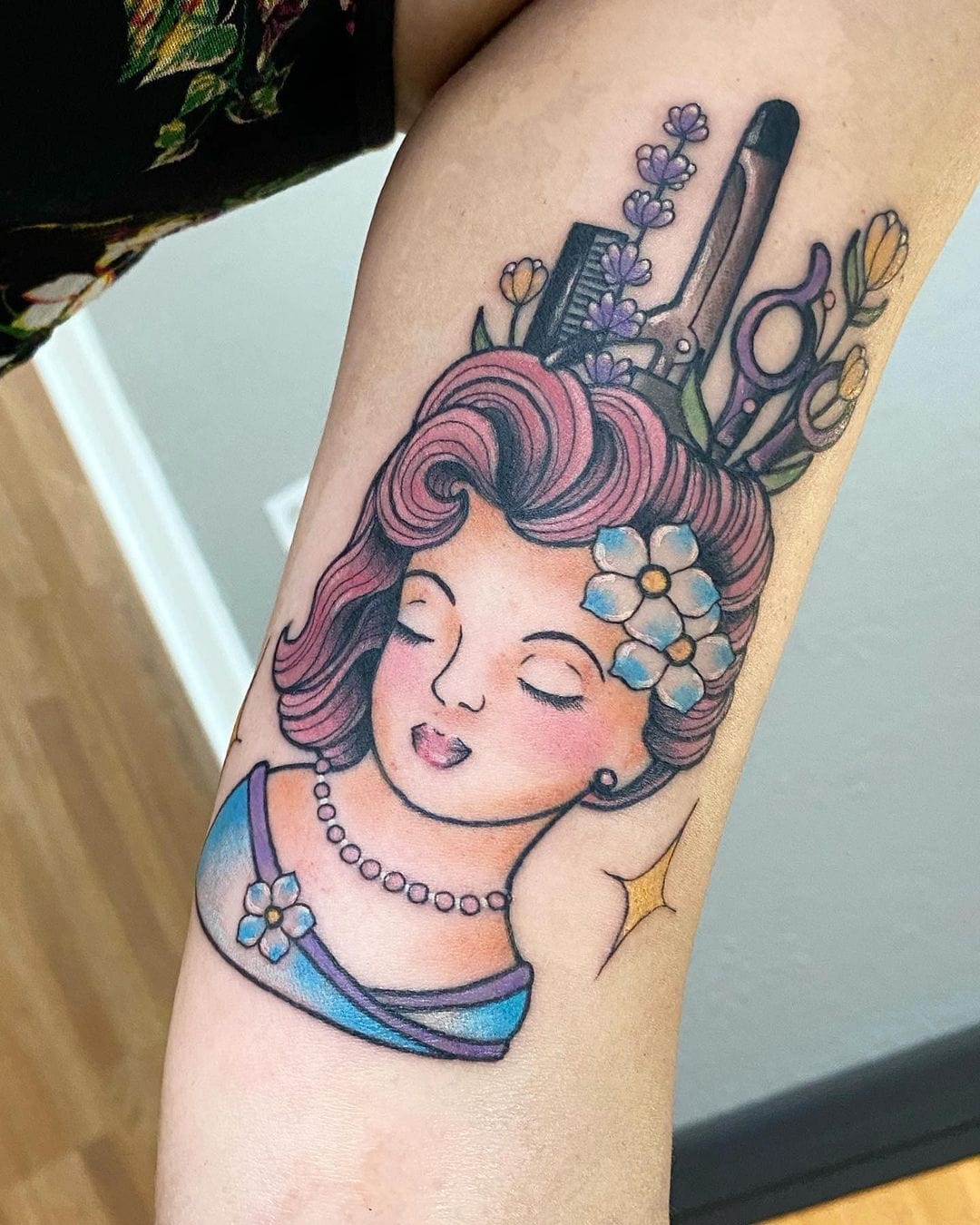 I'm getting old-school cosmetology school vibes from this. I can smell the perm solution in the air, and it's making me feel nostalgic.
Tiny Scissor Tattoo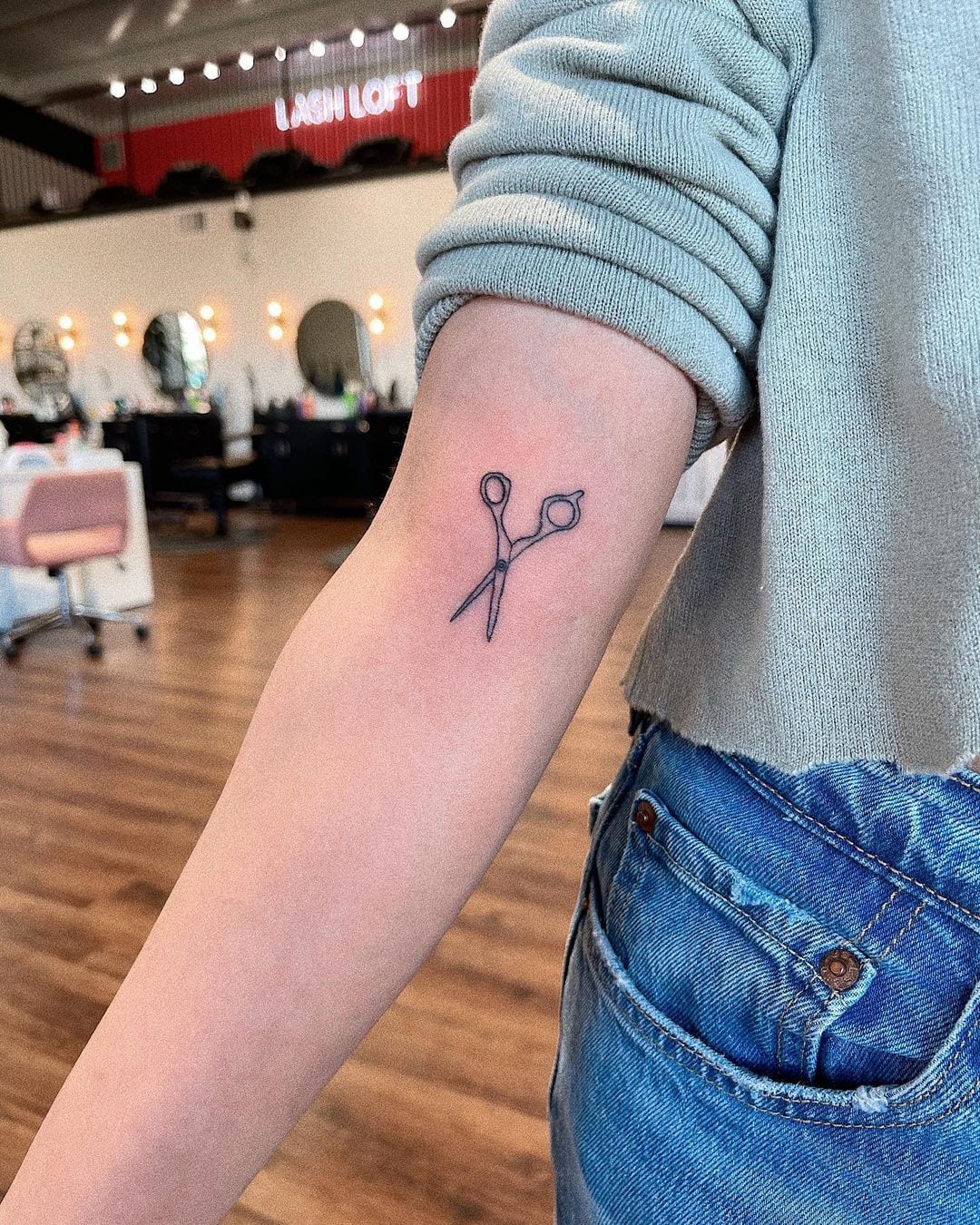 Oh it's just so sweet and simple. Love.
Hairstylist Collage Tattoo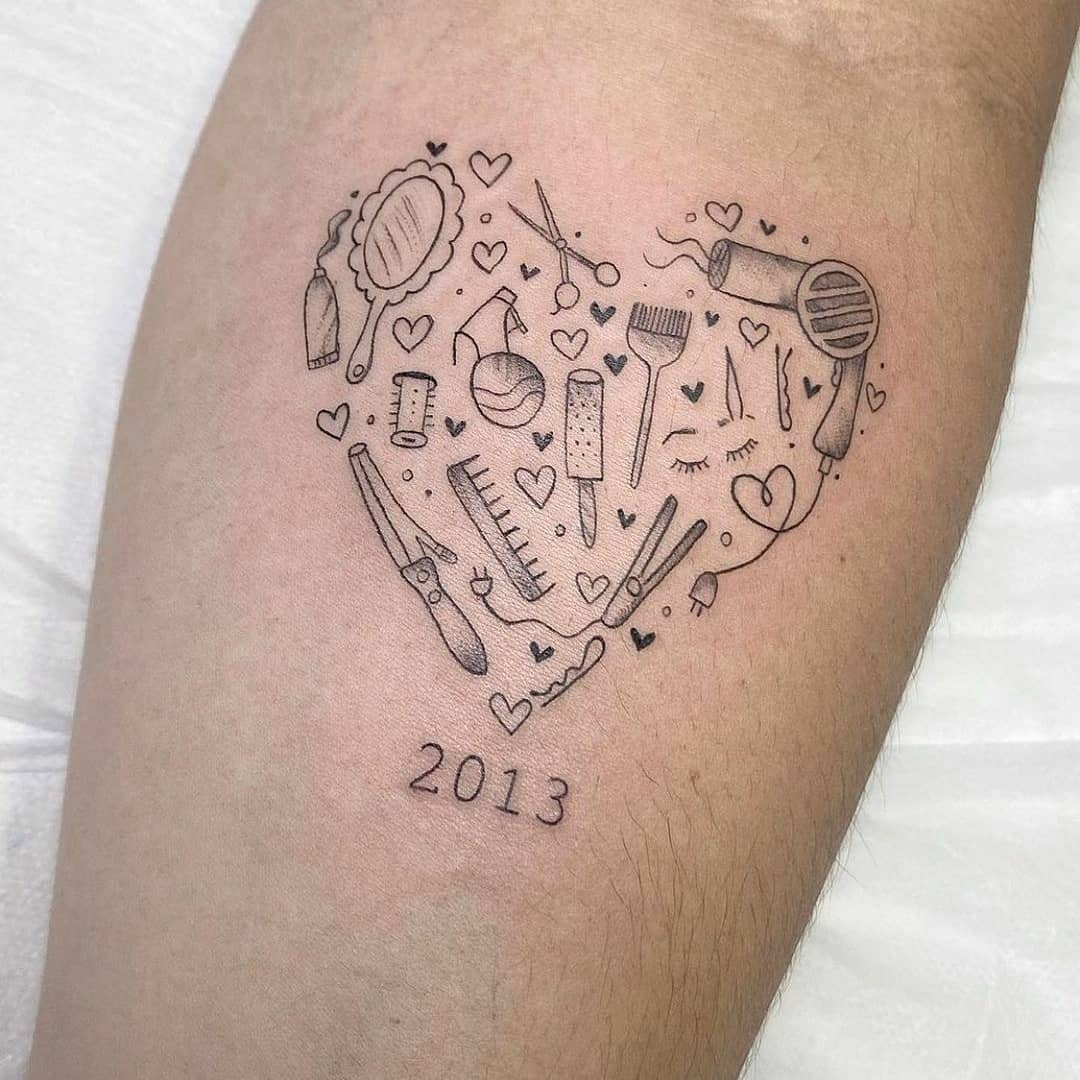 This has everything! Even cords for the tools and tweezers on that eyebrow.
What a happy tattoo.
Ruler Finger Tattoo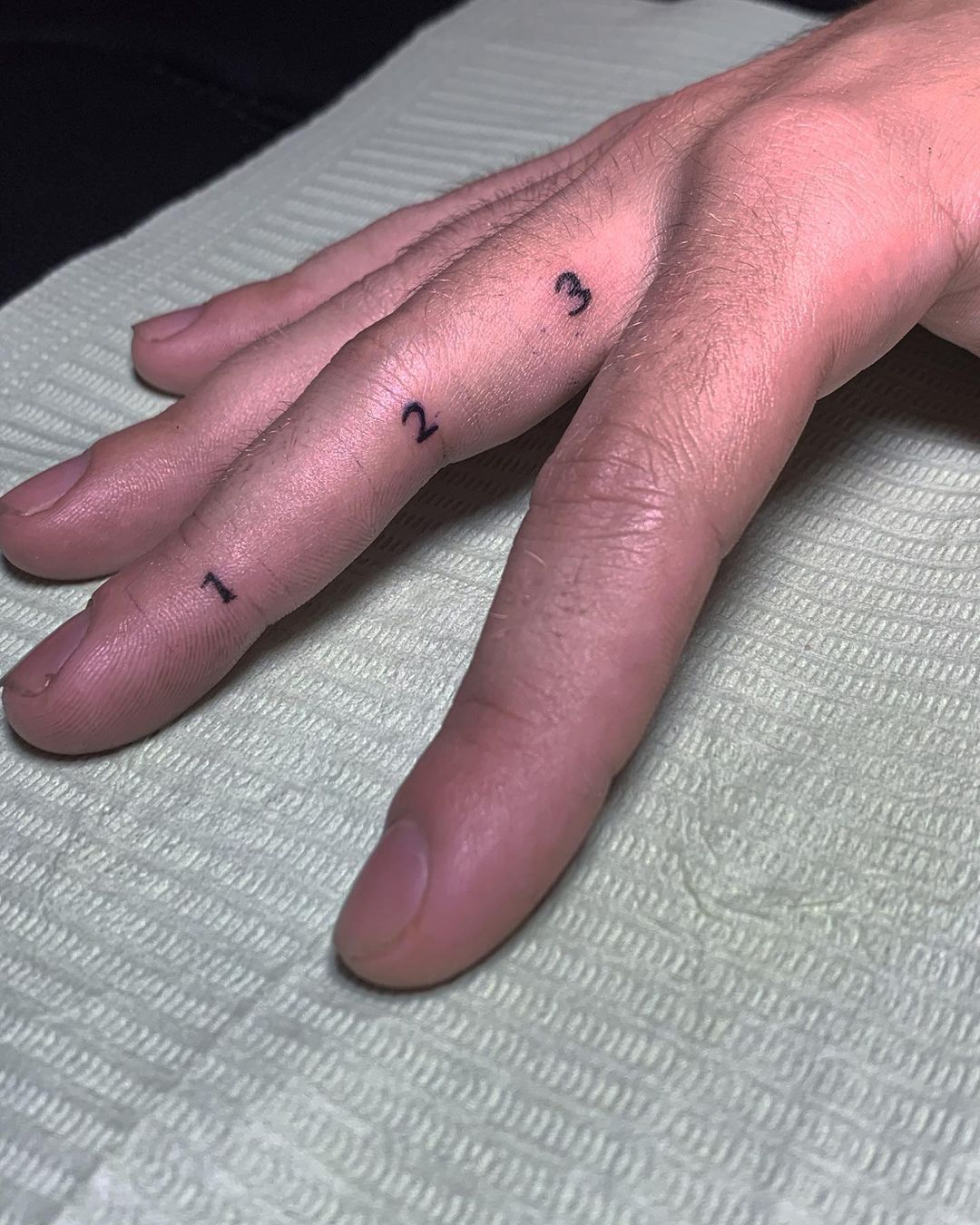 You want how many inches off? You'd be surprised how much "an inch" can vary from one person's opinion to the next.
It's a challenge every hairstylist has come across. Luckily, this is a great solution!
Color Brush Cover Up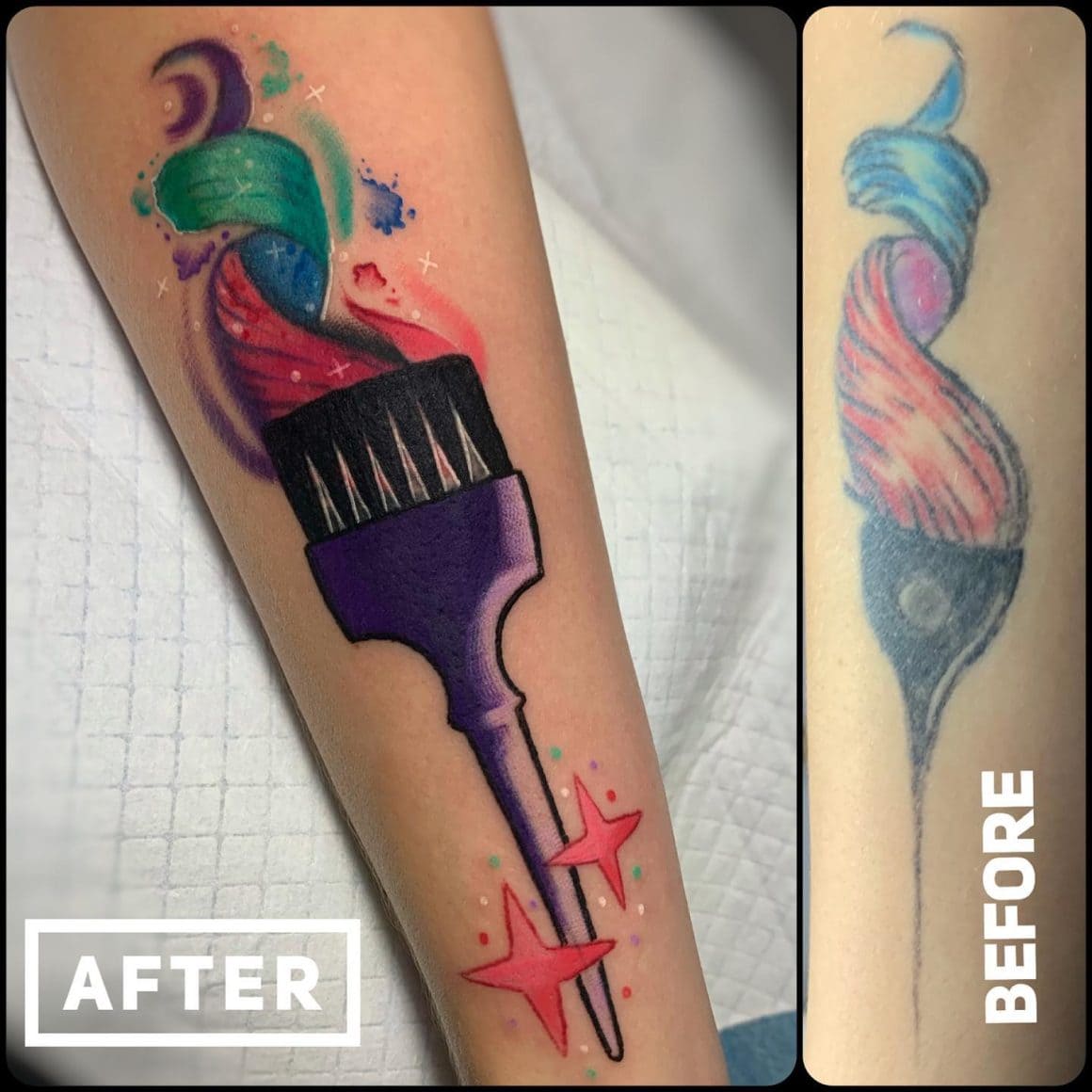 Well, this is an improvement! Those little colored watercolor splashes are a nice touch.
Matching Hairstylist Tattoos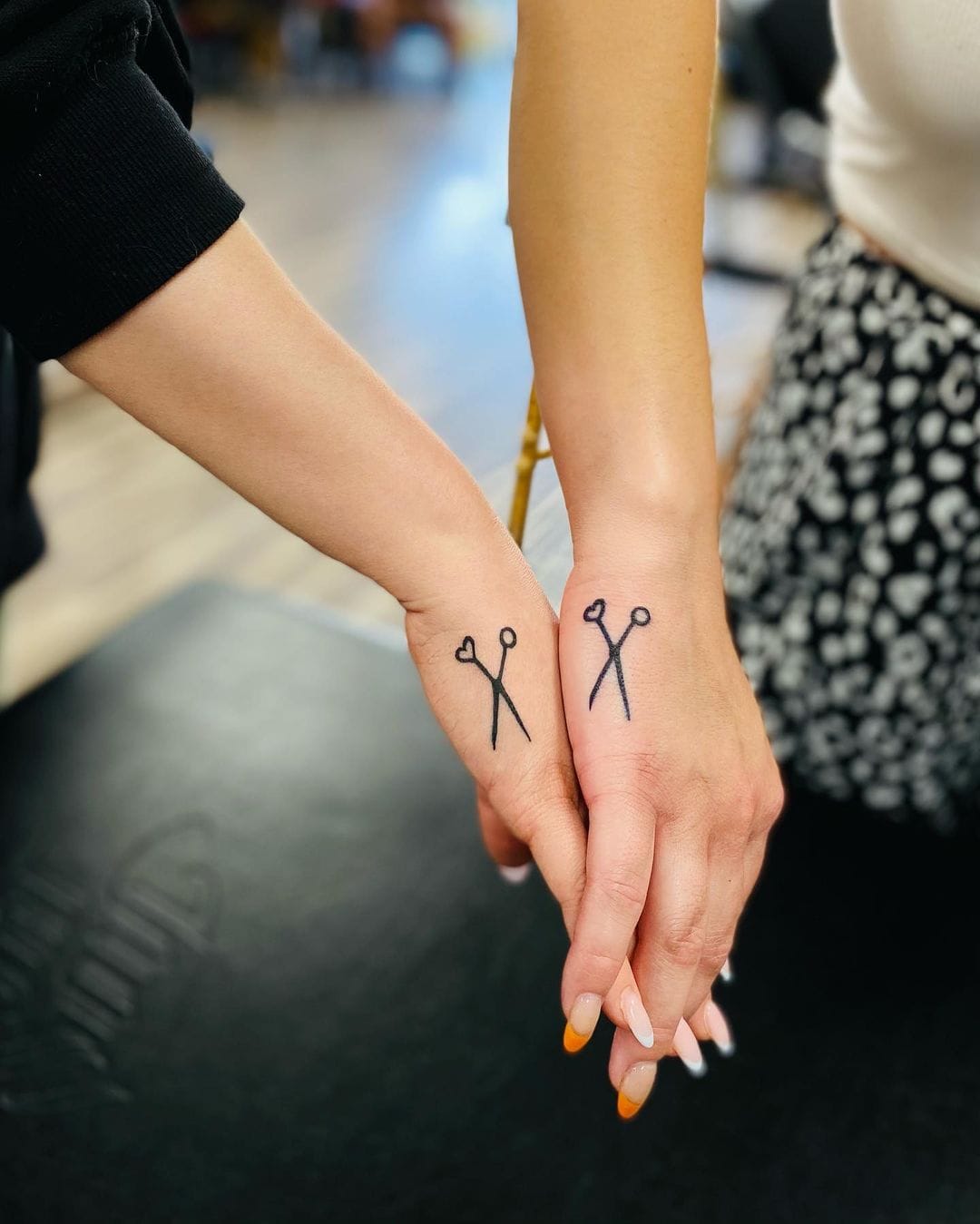 Sometimes you meet your BFF soulmate, and when that happens, you get matching tattoos.
Guilty.
We've got a cutie pie list of BFF flower tattoos that you might like if this tickles your fancy.
Bobby Pin Tattoo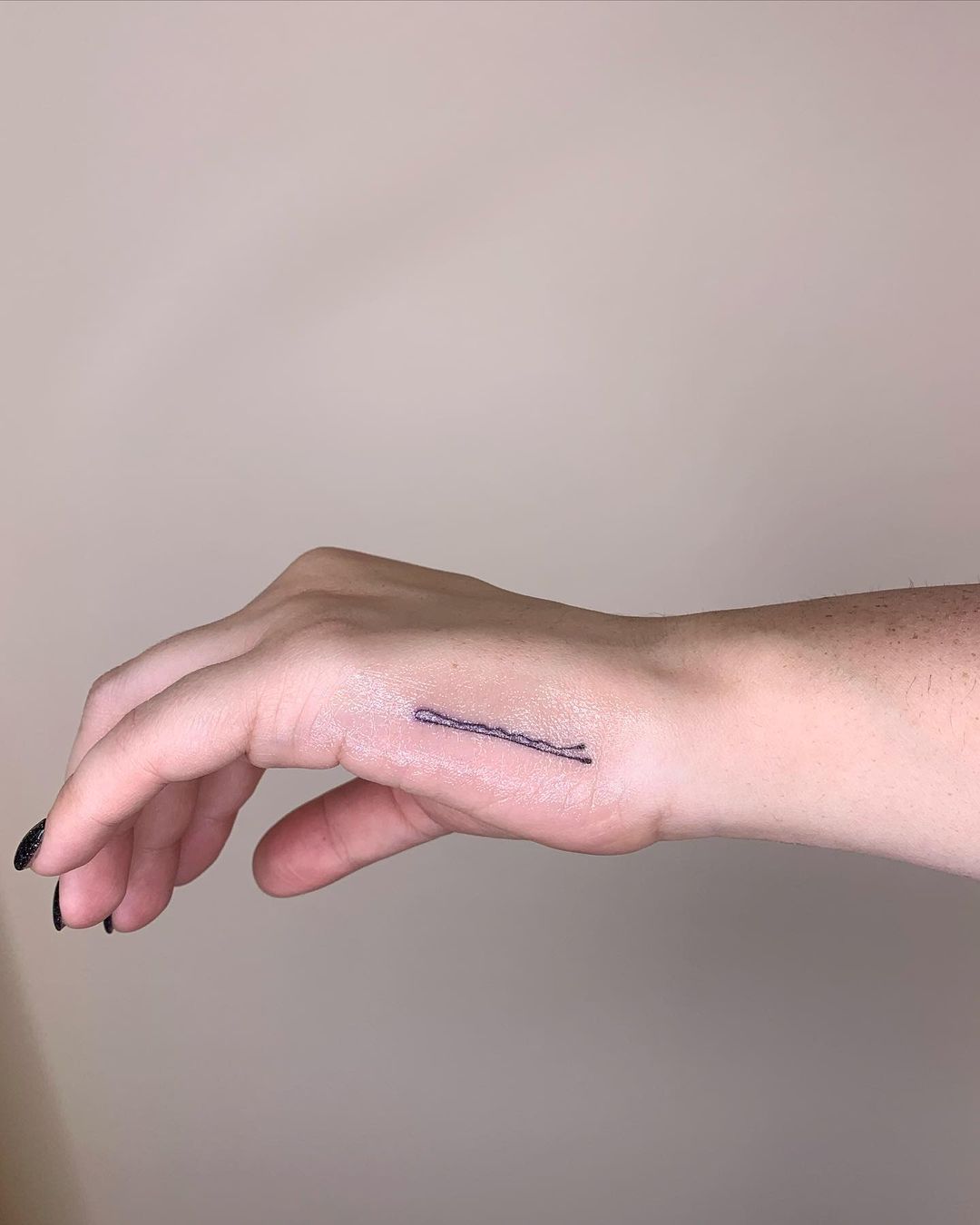 No muss or fuss, just a clean, simple lifelong commitment to hair.
It's a gang that we're happy to be in.
Barber Pole Tattoo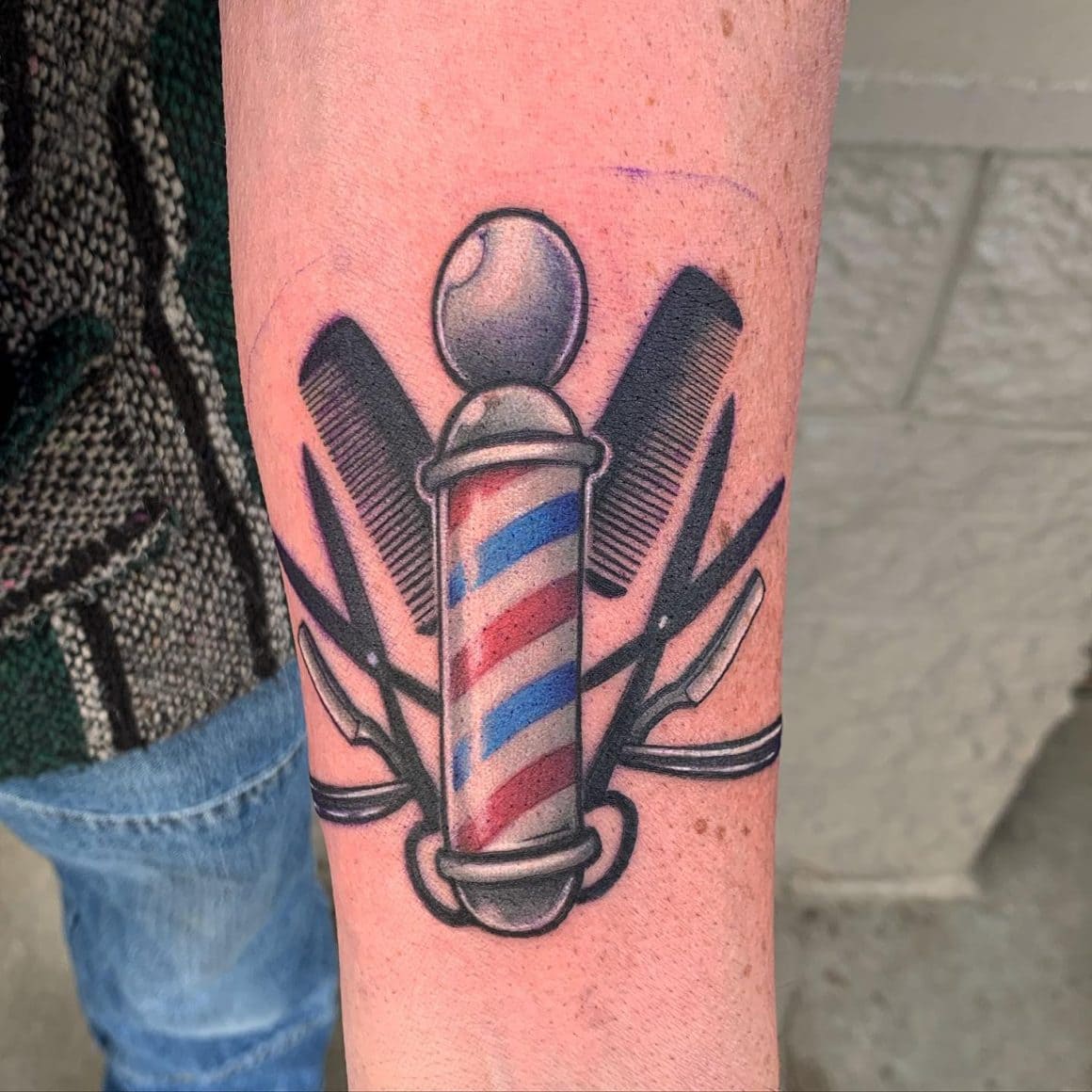 Classic! The barber pole is a universal sign that immediately gives you thoughts of shaving cream and mustaches with twisted ends.
Would you like a hot towel? Coming right up!
Scissor Sword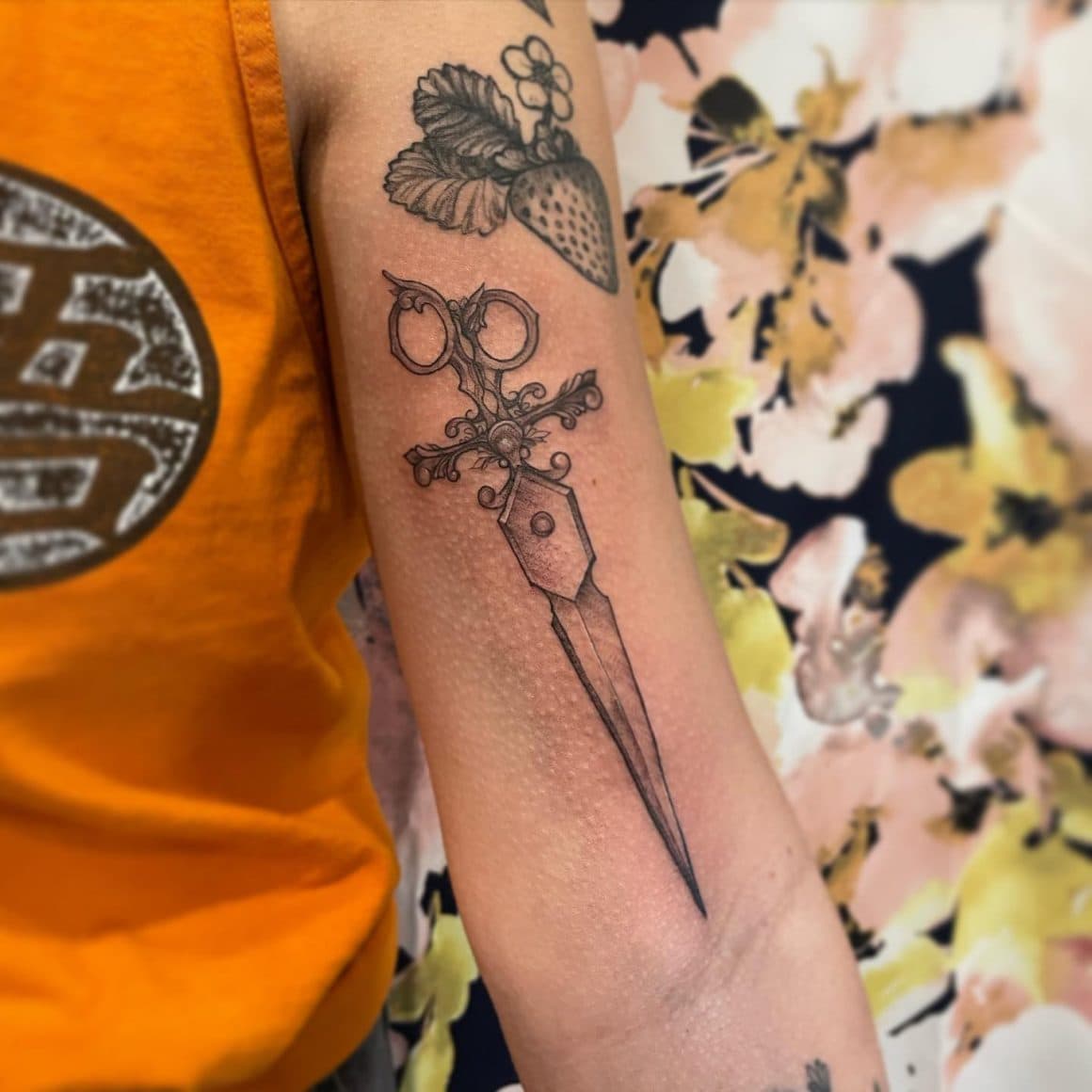 Now that's a way to say you're a fierce hairstylist.
Your tools are a weapon, literally and figuratively, and you're a beast behind the chair.
Summary
Hopefully after going through all of these magnificent tattoos, you've got some ideas for your own next piece. Or, if you're not a hairstylist, maybe you appreciate your own stylist's creativity a little more!
If you notice a hair-themed tattoo while they're snipping away, don't hesitate to ask. They'd probably love to tell you about how it all started.