With the advancement of technology on tattoo machines (and artist skill), the amount of detail a tattoo artist can achieve these days is mind-blowing.
Micro realism is somewhat of a new style, where the artist tries to convey as much realism as possible inside of a small tattoo on the body.
Artists use fine needles, a lot of layering, and subtle gradients to make the tattoo look almost like a photo.
Here are some of our favorites.
1. Beer Micro Realism Tattoo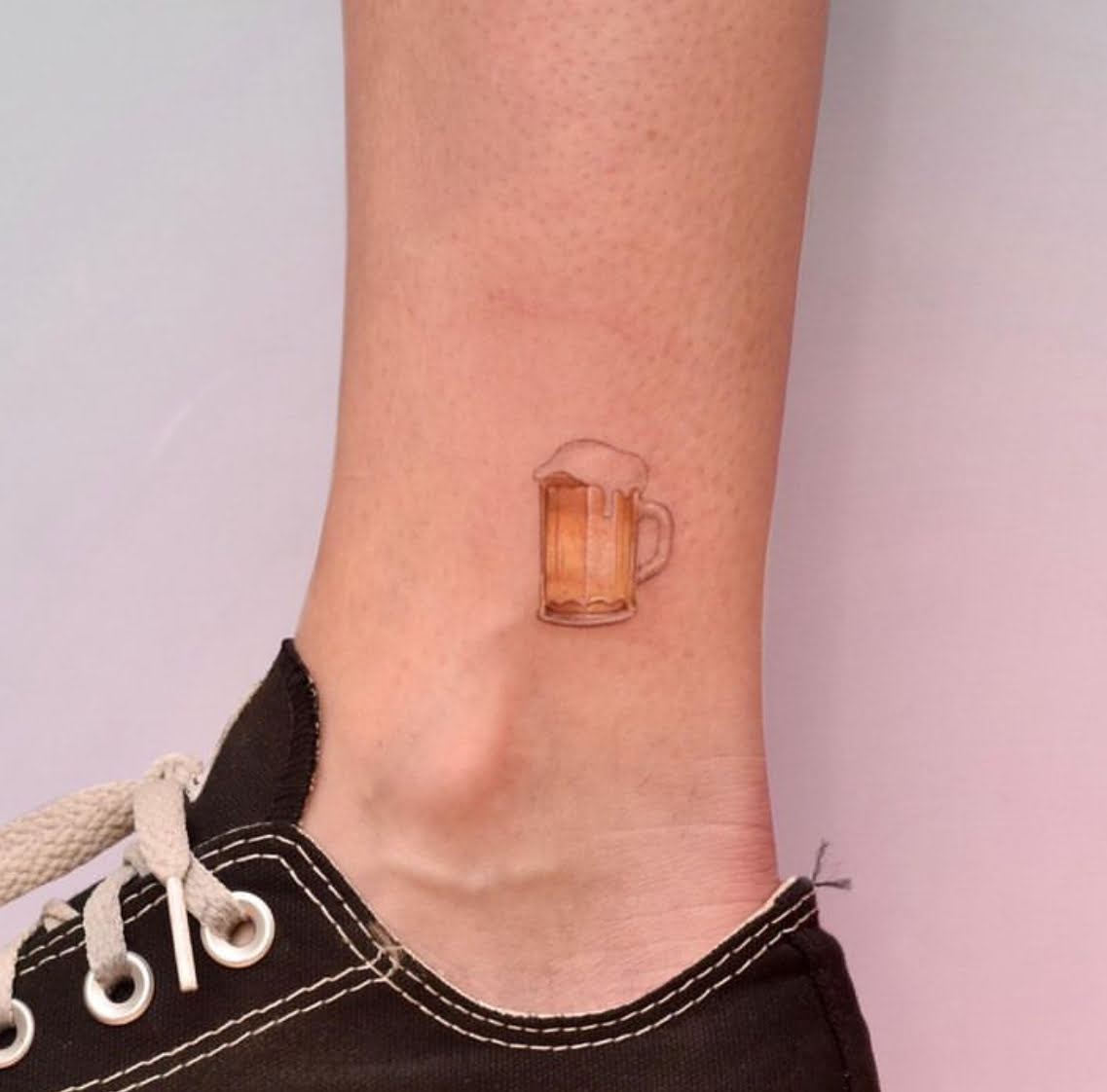 Cheers! One way to celebrate your love for beer is a tiny little pint glass on the ankle. Check out that perfect foam and realistic lighting down the side of the glass.

2. Girl With A Pearl Earring Micro Realism Tattoo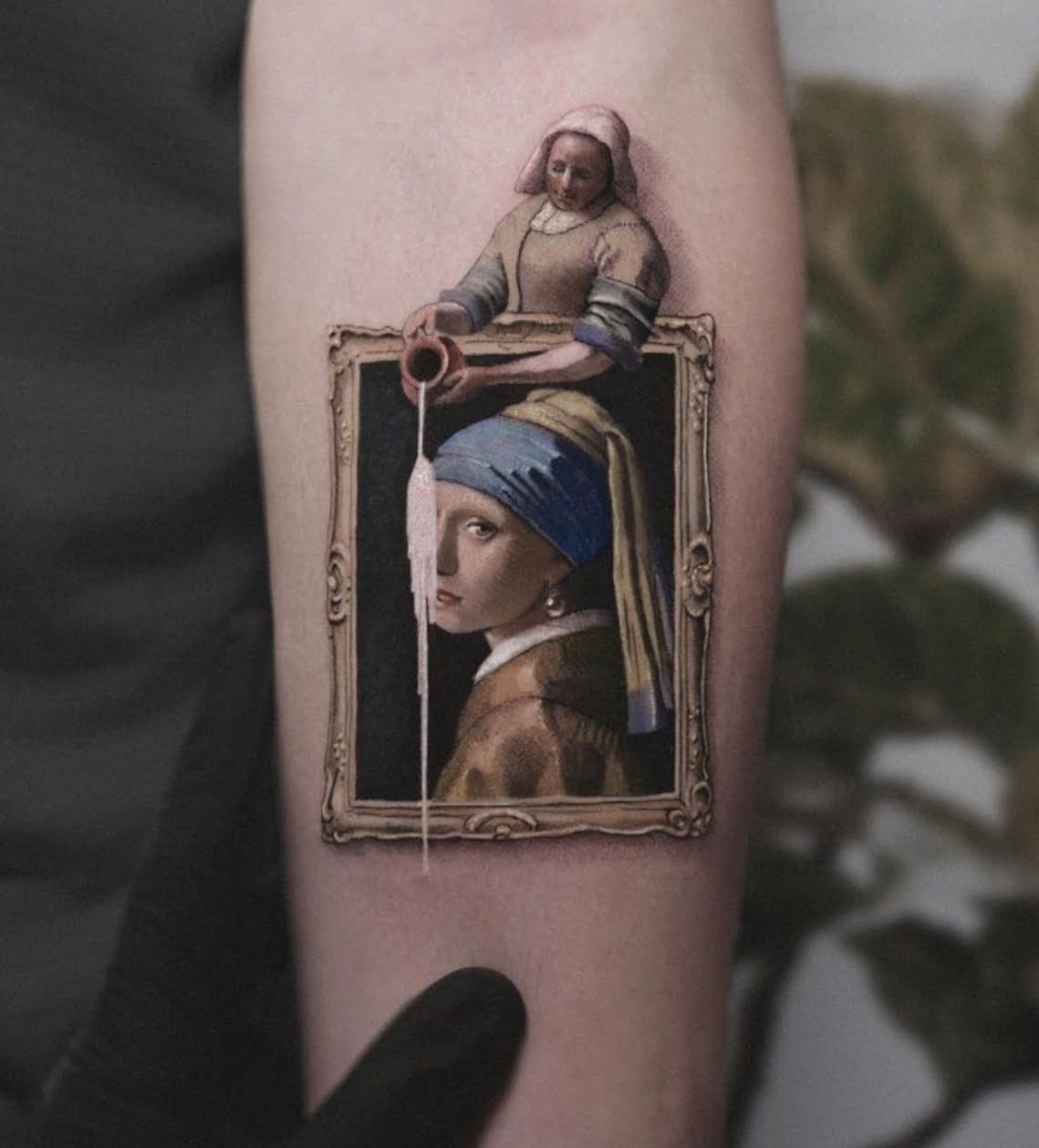 What a beautiful tribute to Vermeer. It's hard enough to nail classic artwork like this, let alone combine two pieces so seamlessly from one artist.
Kudos to the artist on this one.
3. Fire Micro Realism Tattoo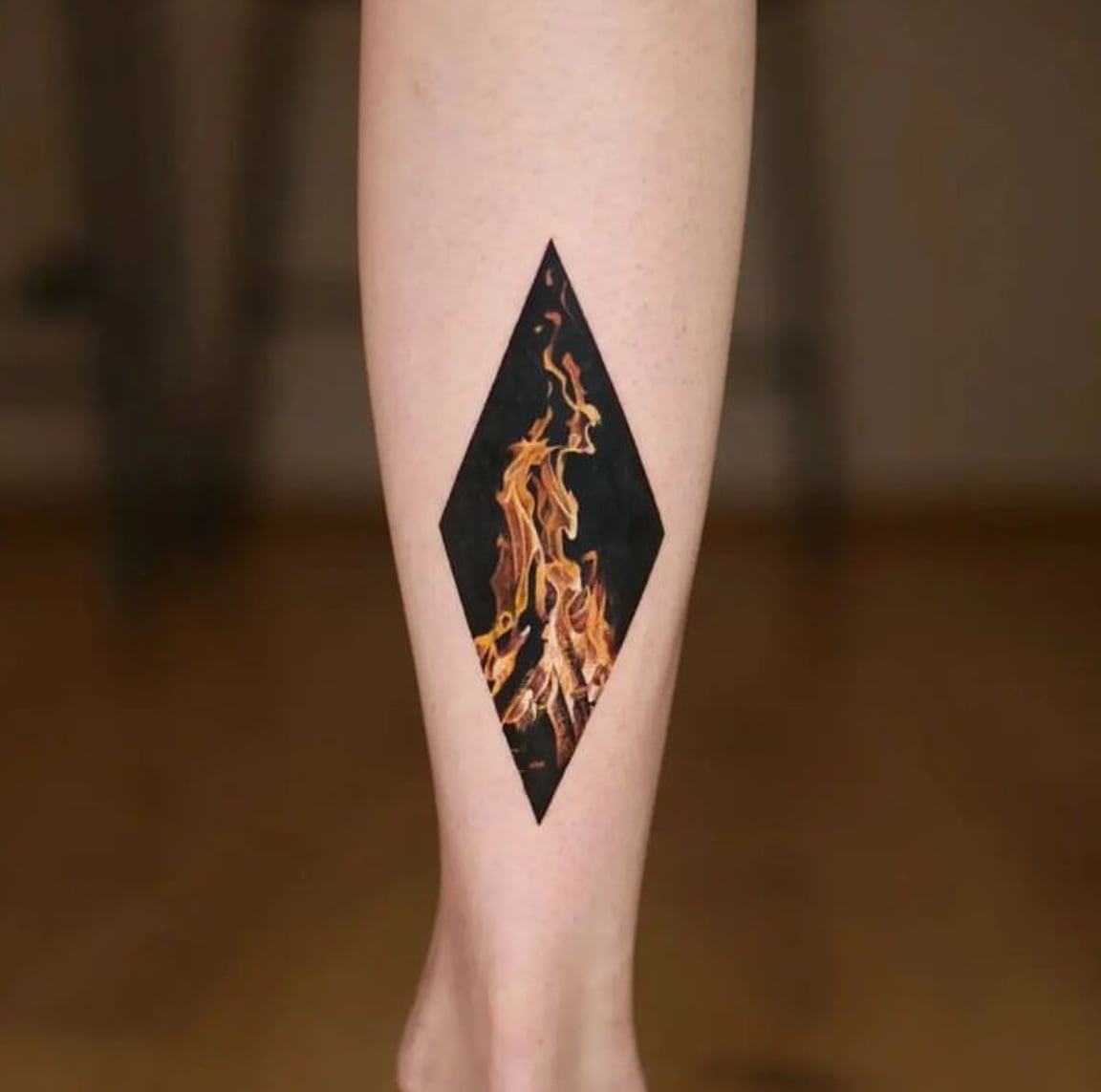 Fire is notoriously hard to tattoo, but the way this artist framed the flames against a black diamond make them almost pop out of the skin!
4. Half Statue Head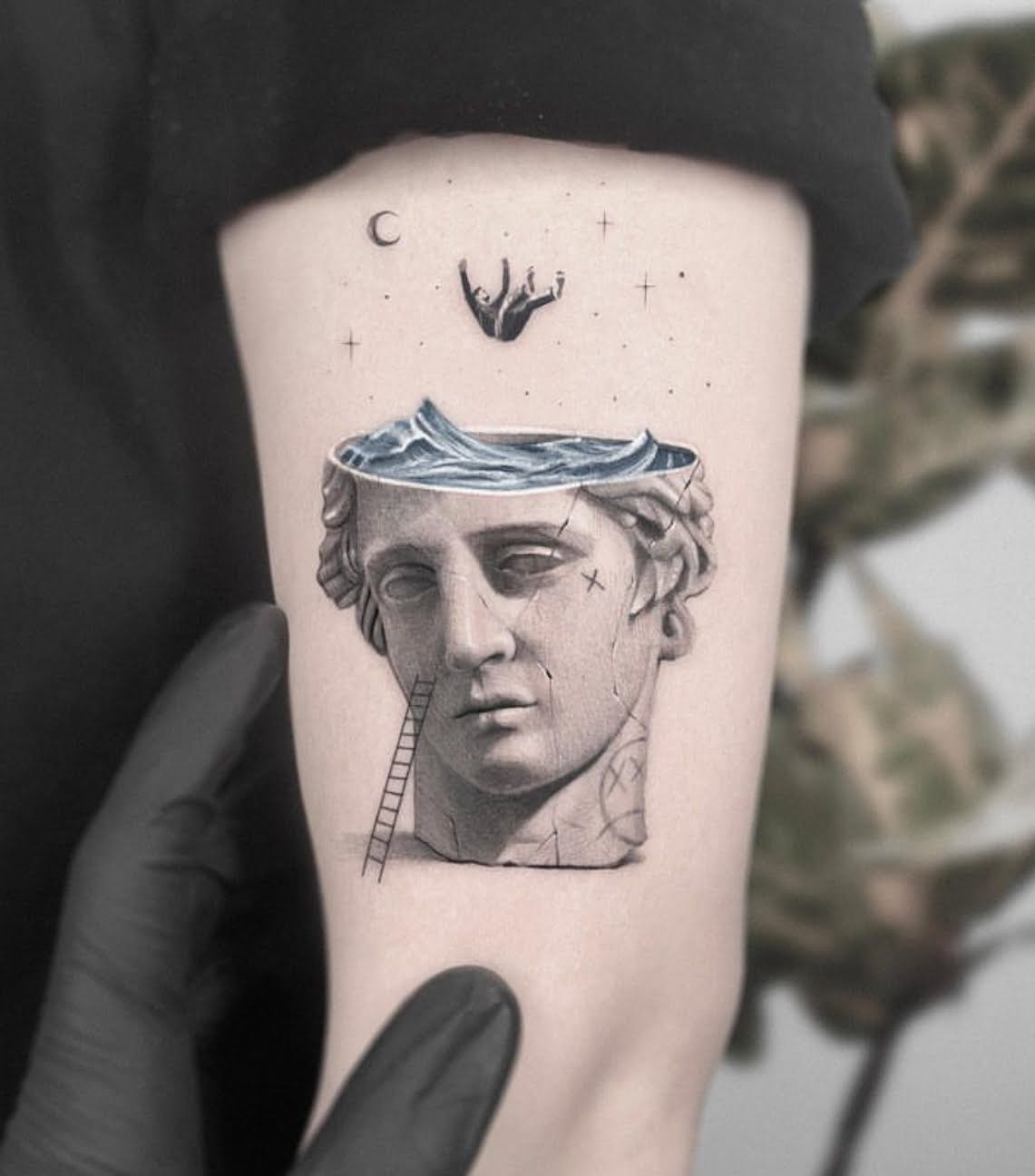 These are some of my favorite kinds of tattoos. They combine realistic imagery with multiple themes, leaving you with a one of a kind art piece on your body.

4. The Joker Micro Realism Tattoo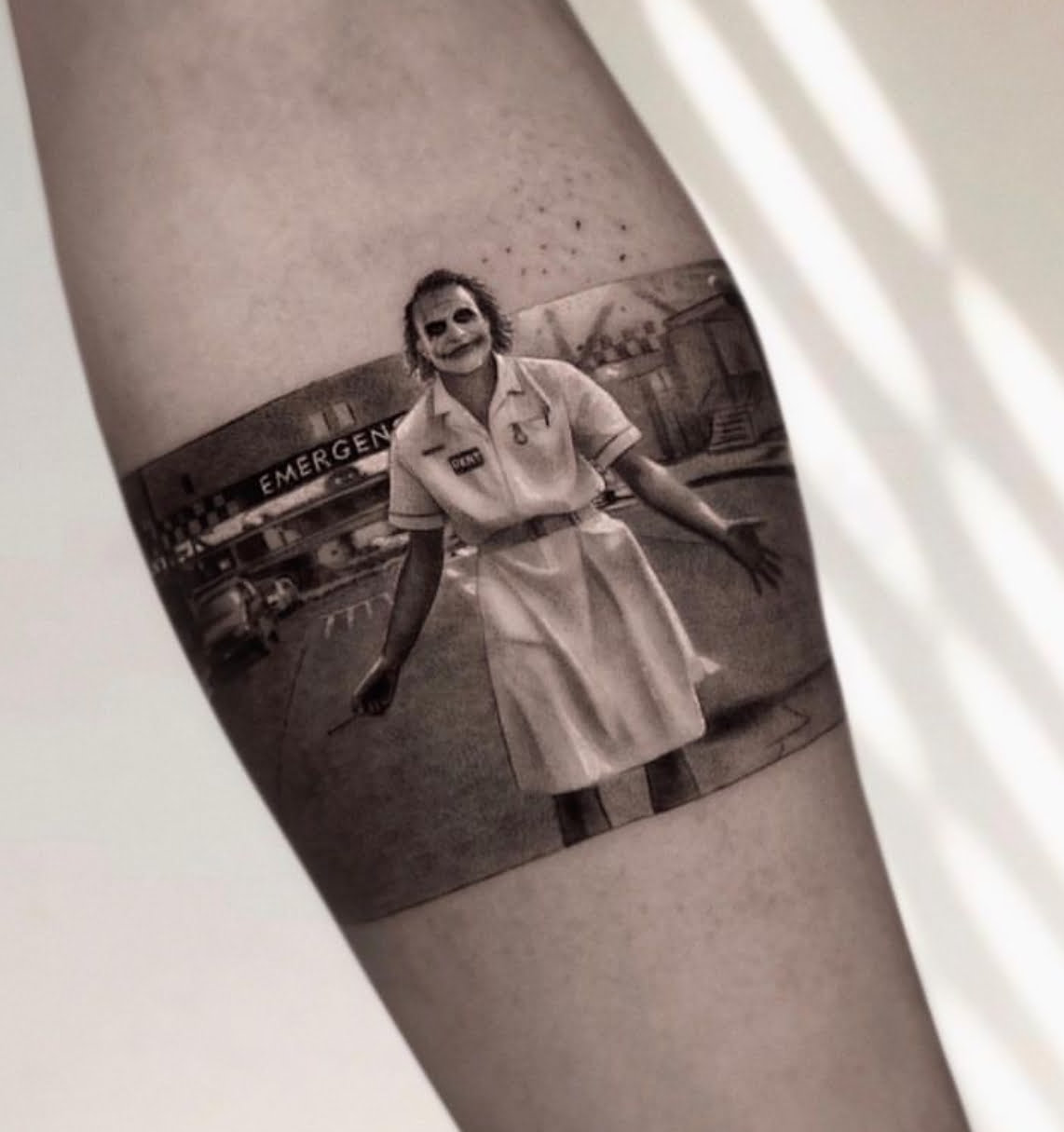 This artist did such a great job on this piece that I'm visualizing the rest of this scene play out in my head.
This tattoo is on the border of being too big to be classified to be "micro", but we wanted to include it anyway.
5. Cat Micro Realism Tattoo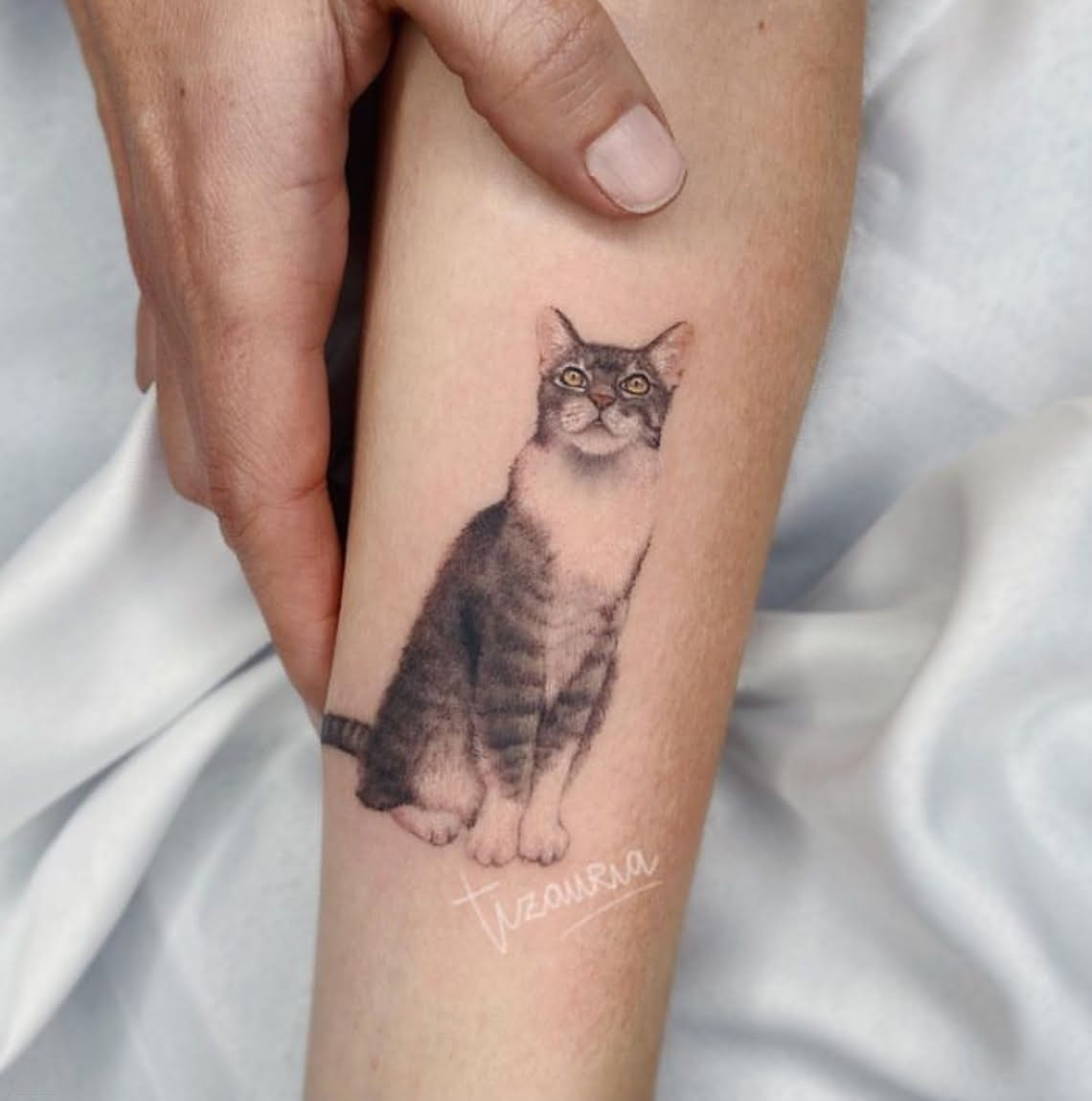 Getting your little loved ones tattooed on your body is nothing new, but we would say that this style is a top contender for something you might want to consider.
6. Woman portrait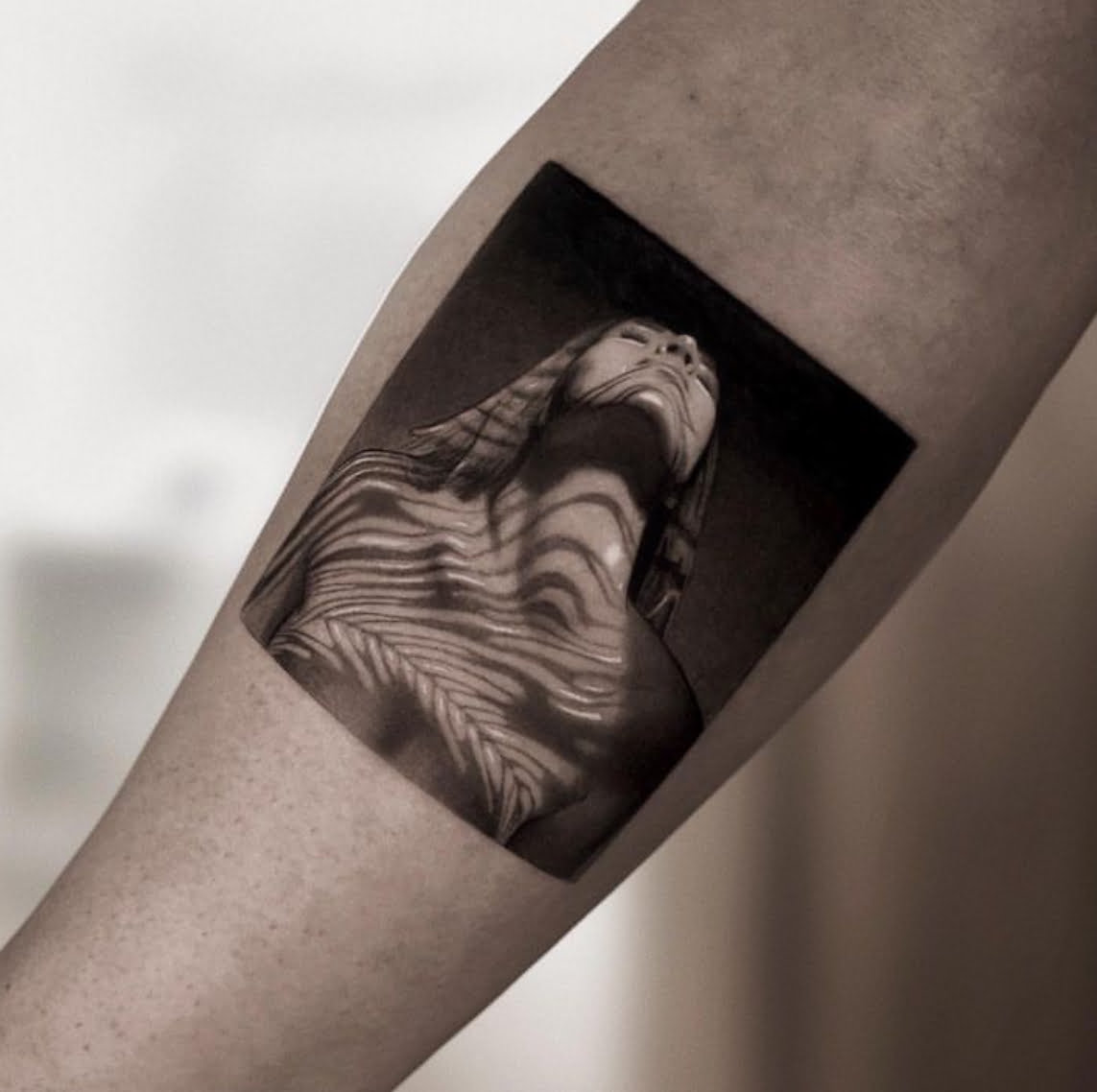 I mean, where do we even begin with this one? Few artists out there can absolutely nail the realistic lighting needed for this sort of design, but this artist has done it with ease.

8. Whisky On The Rocks Tatoo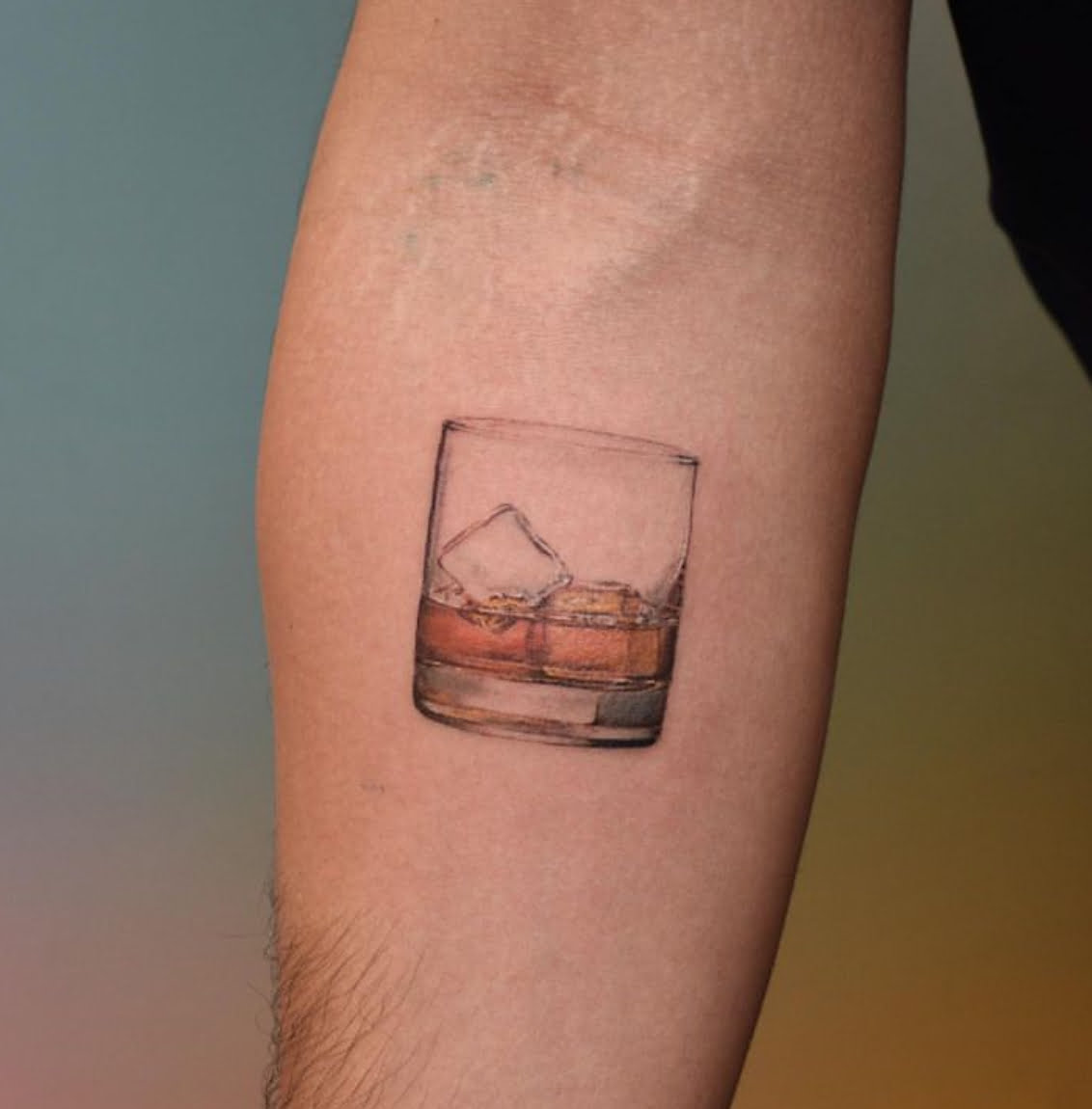 I'm getting some serious Mad Men vibes from this, and I'm not complaining. The forearm is such a great spot for this sort of style, because it has just the right amount of space.
I love how the ice is leaning up against the other, as well as the wall of the glass. It gives it just the right amount of dynamics.
9. Golden Beetle Tattoo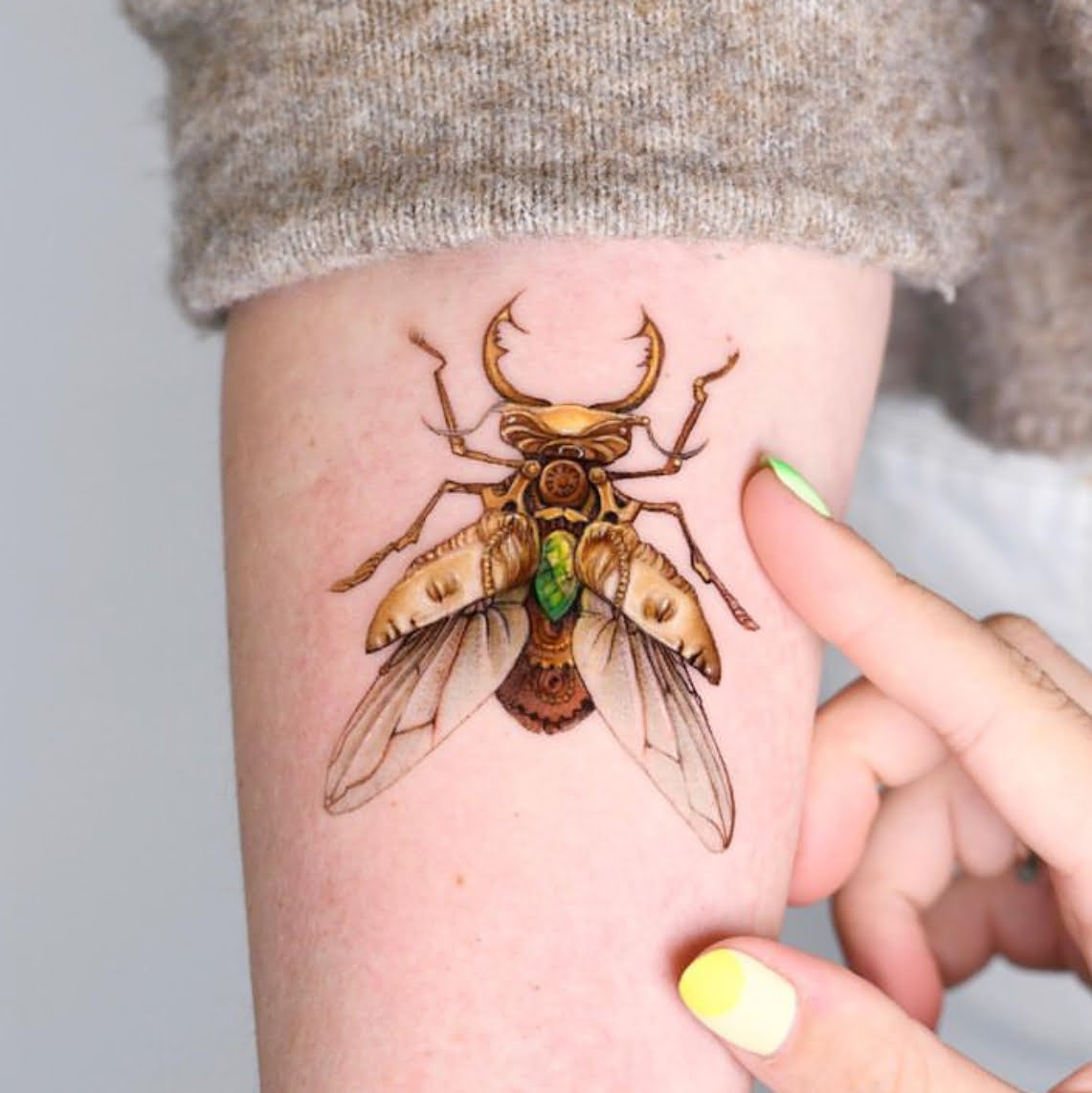 The more I look at this piece, the more I like it. At first, I thought it was just a beautiful golden bug, but then I noticed the emerald jewel on it's back. Then to top it all off, you have a childlike face opening up, revealing the wings.
Breathtaking.
10. Mac Miller Micro Tattoo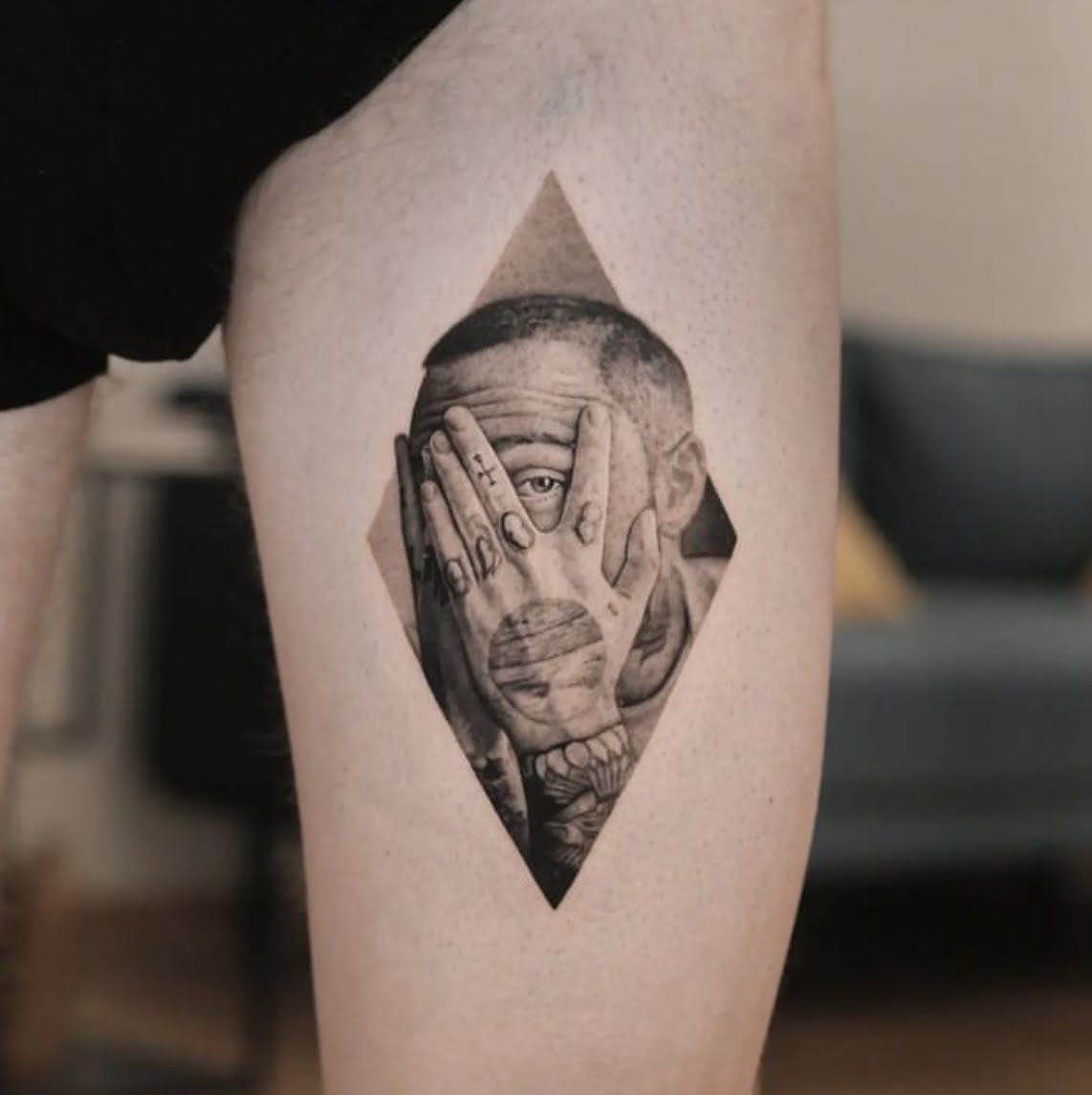 RIP to the legend Mac Miller who left us too soon.
This is a beautiful portrait of the artist looking at us through his open fingers, and you can almost feel the pain in his eyes.
11. Bouquet Of Flowers Tattoo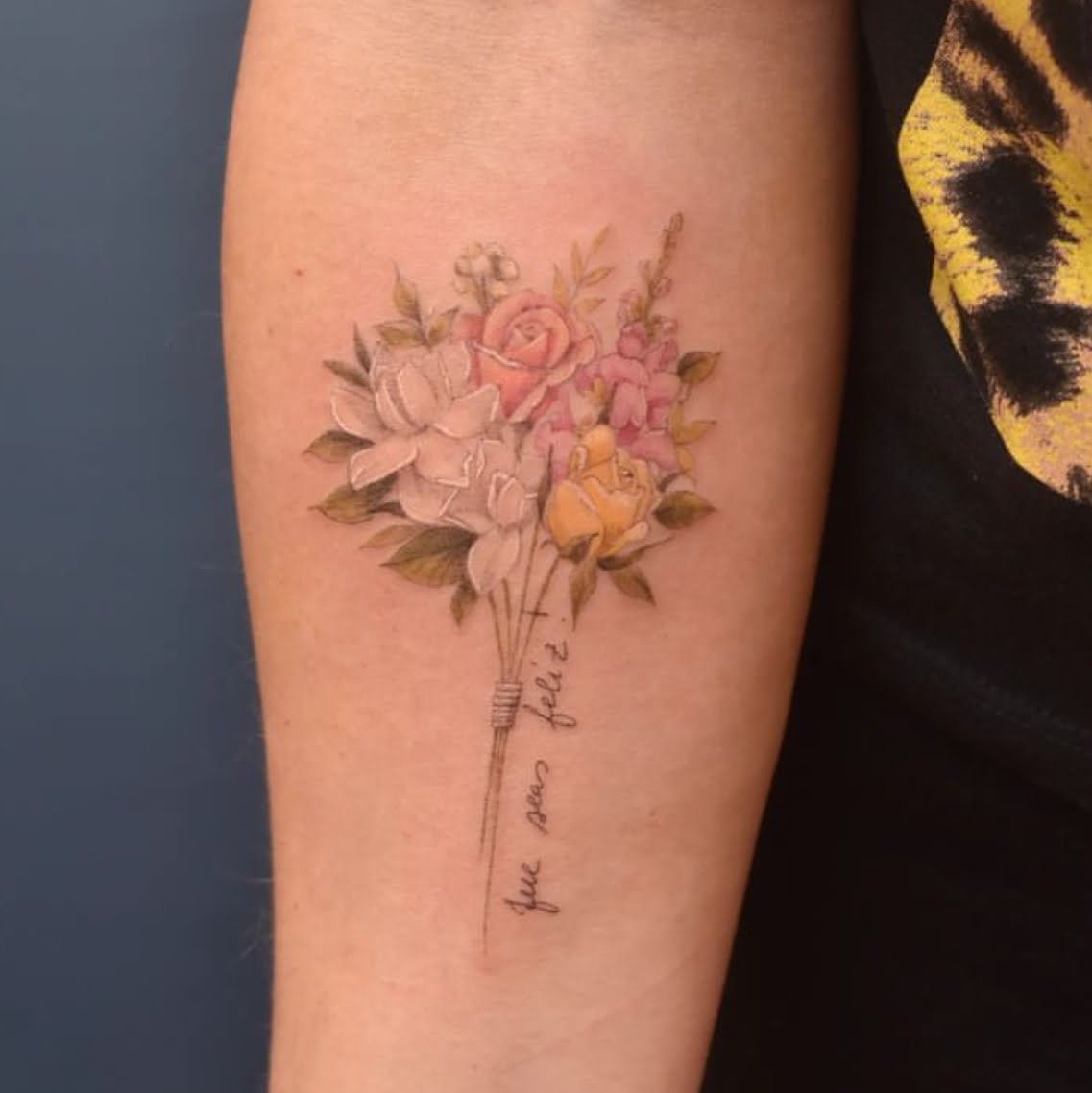 This adorable bouquet of flowers with soft pastel colors feels right at home on this forearm. We're a fan of flower tattoos on the site, which you could probably tell from our sunflower tattoo and daisy tattoo articles.
12. Upside Down Portrait Tattoo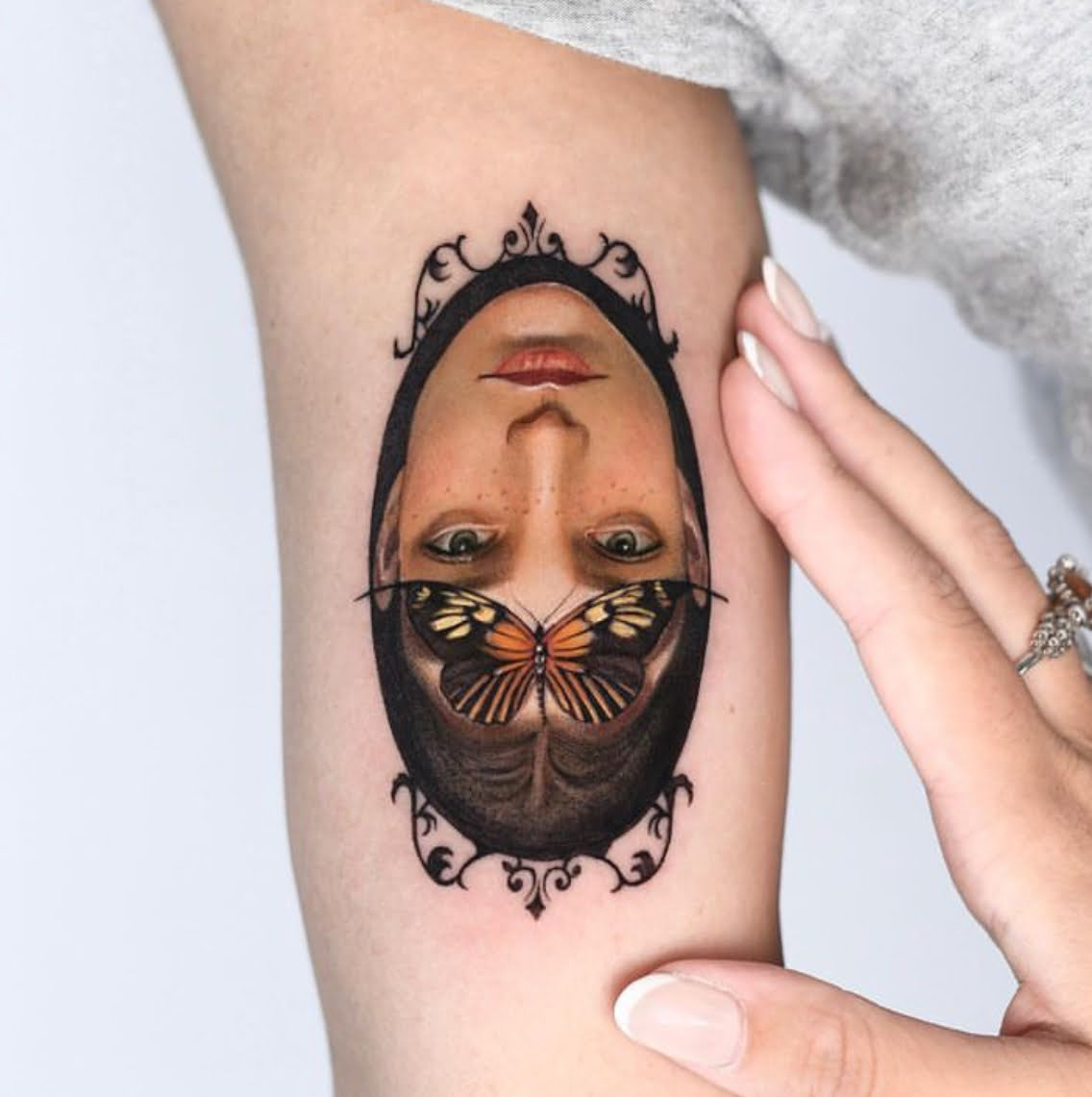 I had to do a double take the first time I saw this. The amount of detail and realism done at a small enough size to fit on her arm is stunning, and I love the addition of the butterfly on her forehead.
13. Sunrise Arm Tattoo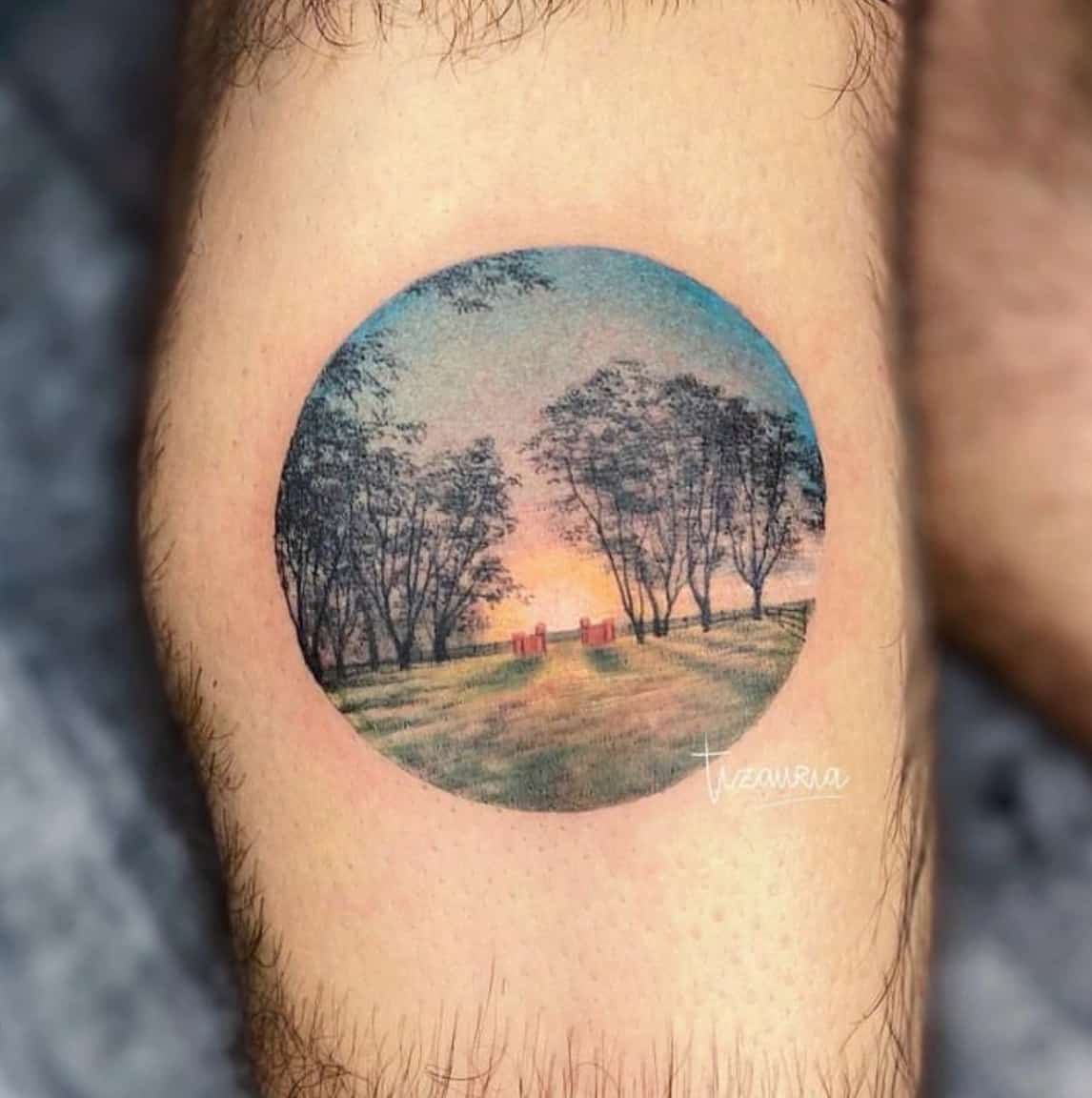 Sunrise or sunset? I'll leave that up to your interpretation, but either way, it gives me a calming feeling that makes me want to pull up a chair into the middle of that scene.
14. Fruit Medly Micro Realism Tattoo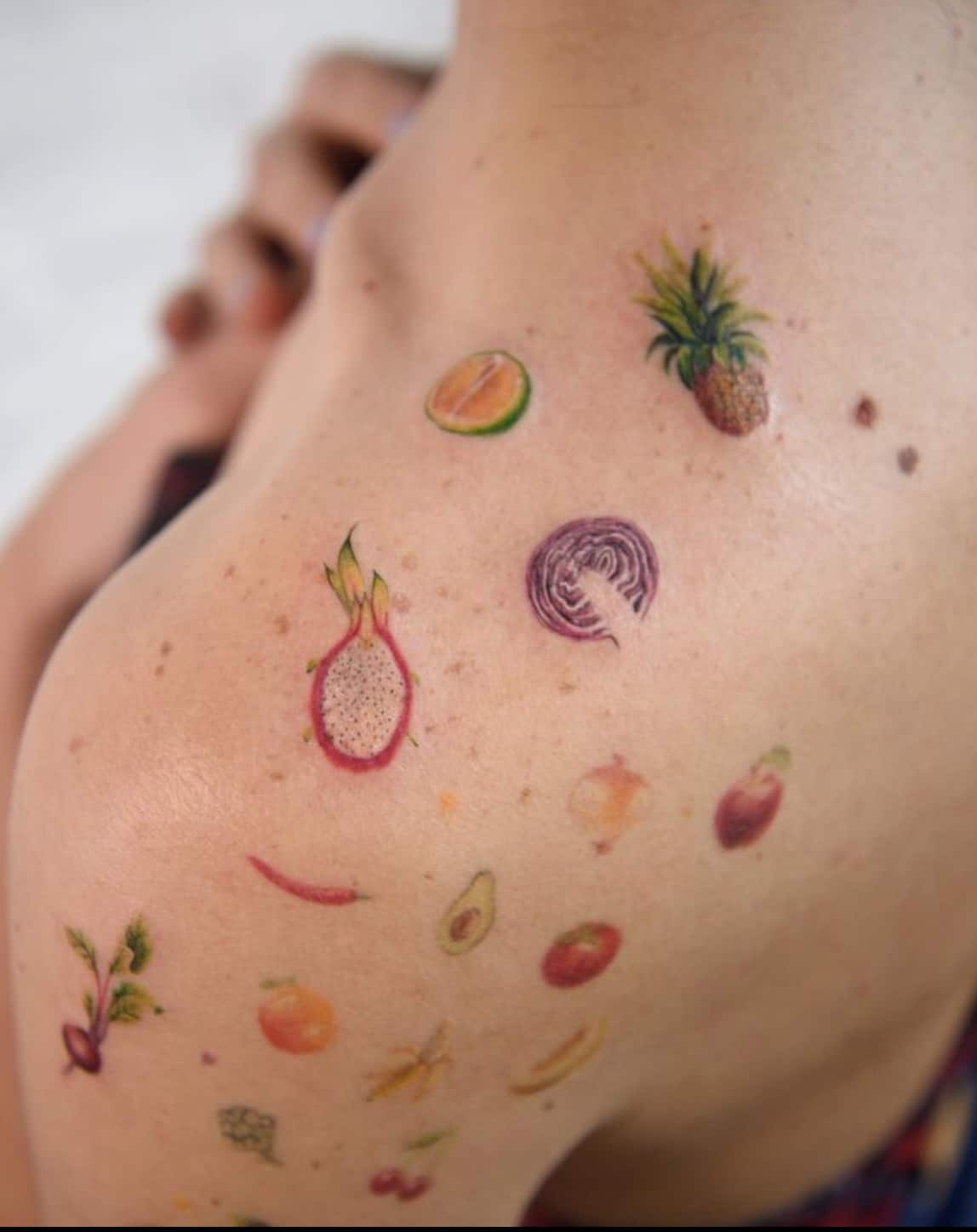 This person sure loves their fruit! We've got a patchwork tattoo article, but something done with only realistic fruit, that's something I don't think I've ever before. I think that beet in the bottom left is my favorite.
15. Bill Evans Micro Realism Tattoo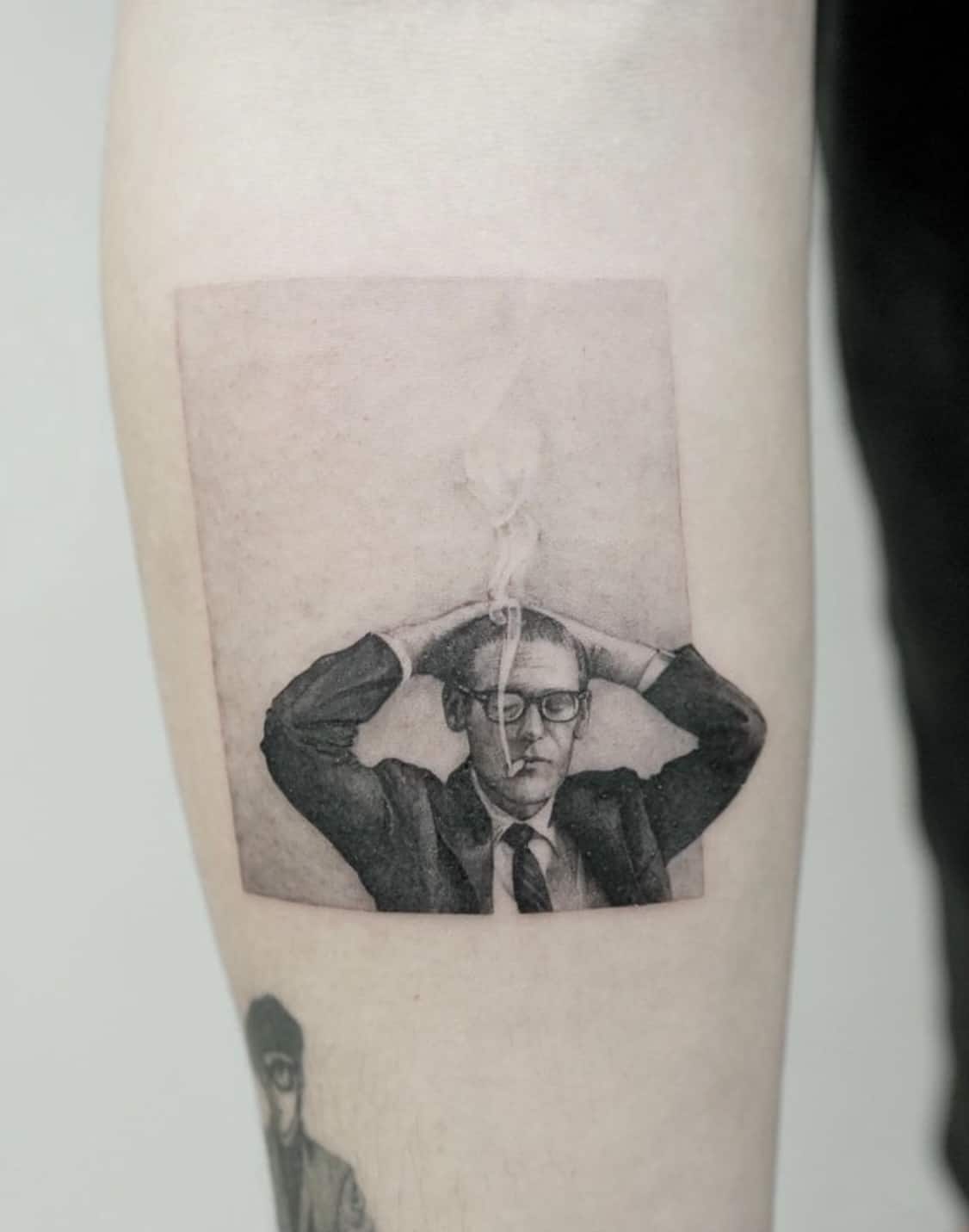 Bill Evans is one of the greatest jazz musicians of our time, and this little self portrait feels right at home at a smokey jazz club late at night.
16. Train Snow Globe Micro Realism Tattoo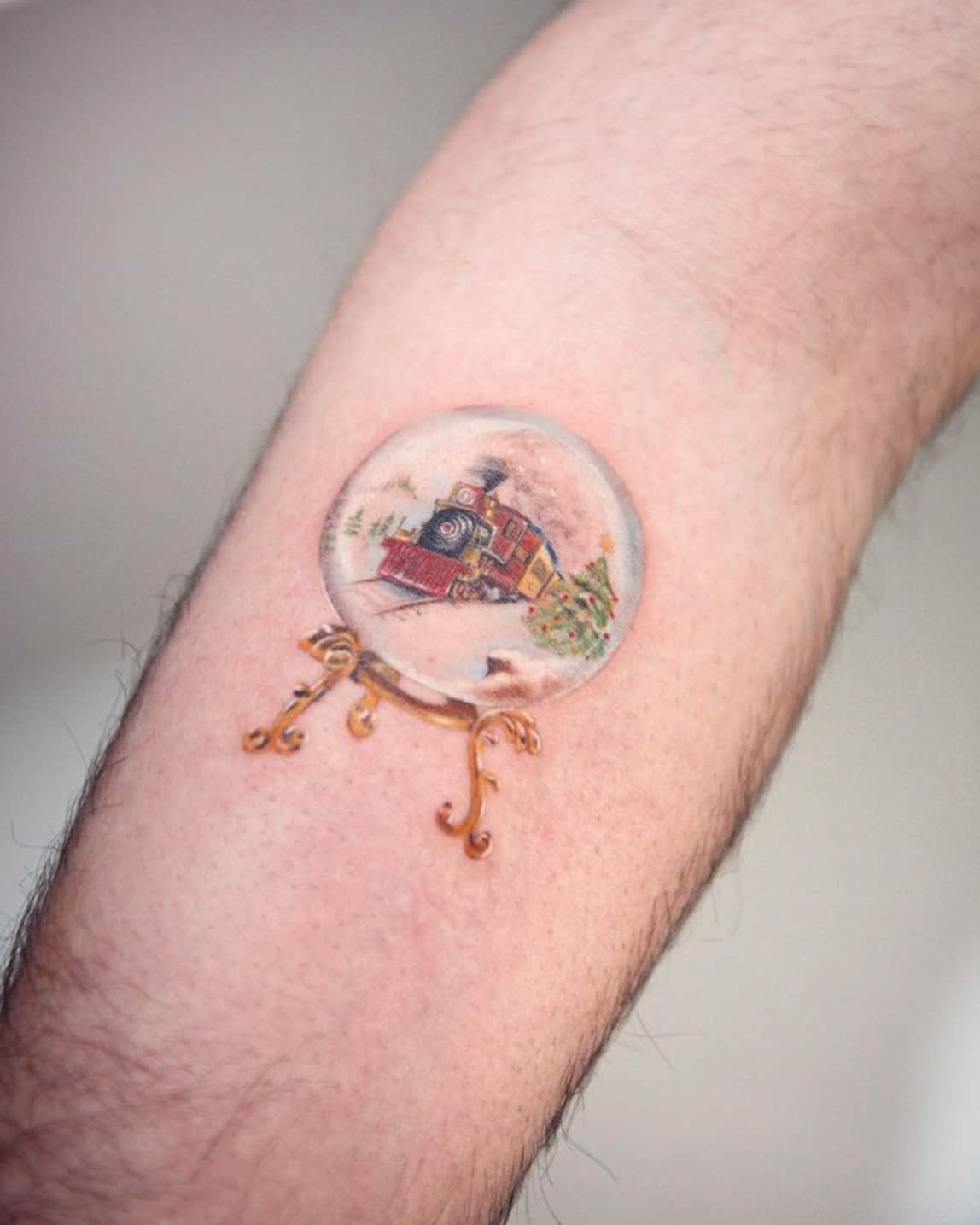 Choo choo! This festive little snowglobe tattoo features a red train coming towards the viewer, with a touch of Christmas spirit by showcasing a decorated tree.
17. Couples Shoe Tattoo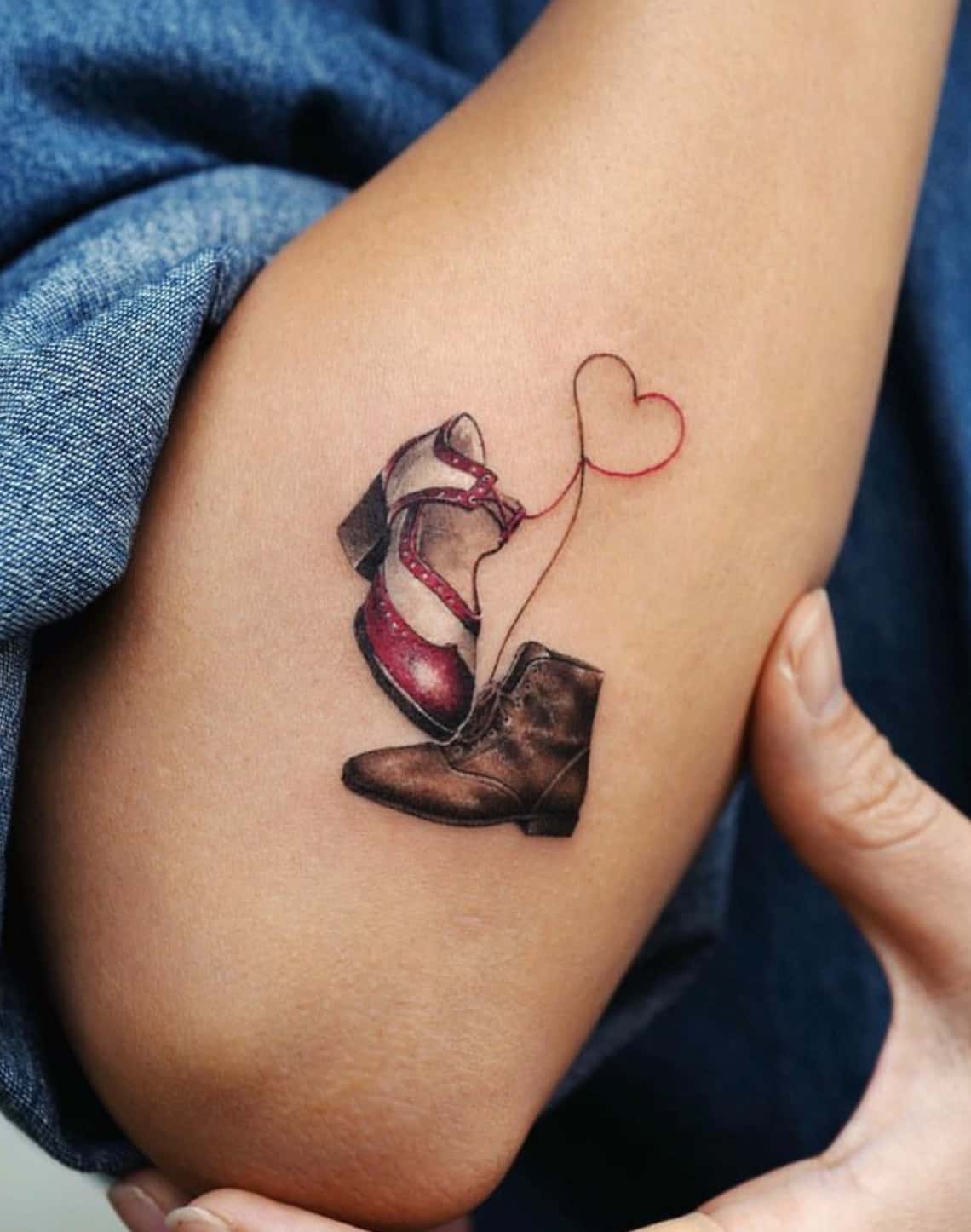 To me, this feels like a unique little tattoo designed specifically for a couple, with each of their laces on their favourites shoes tied together into a little heart.
18. Coffee and Contemplation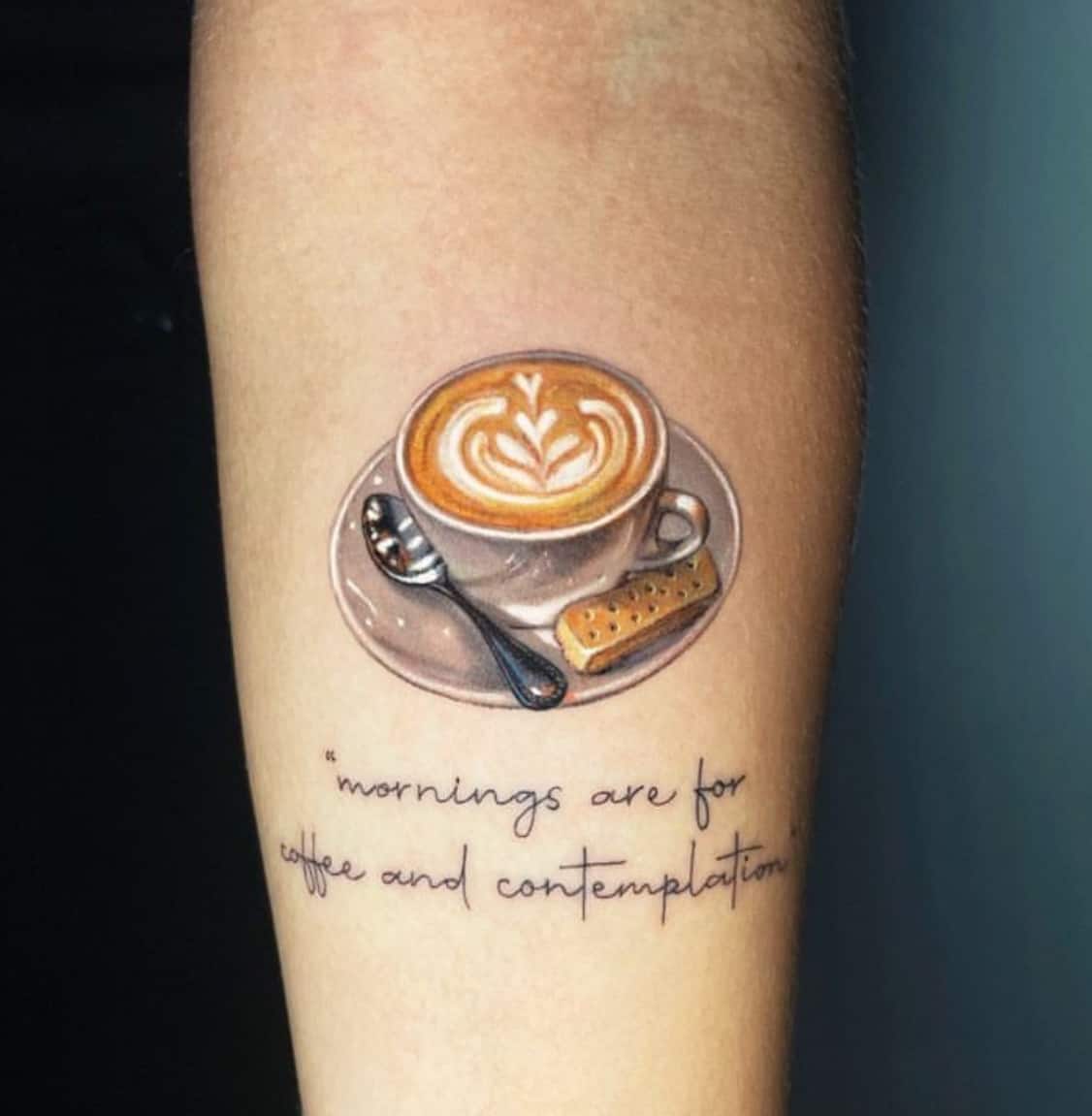 As someone who needs that first cup of coffee in the morning to function, this tattoo is speaking directly to me. I never have those little biscuits at home though, we should probably get on that…
19. Snail Disco Ball Tattoo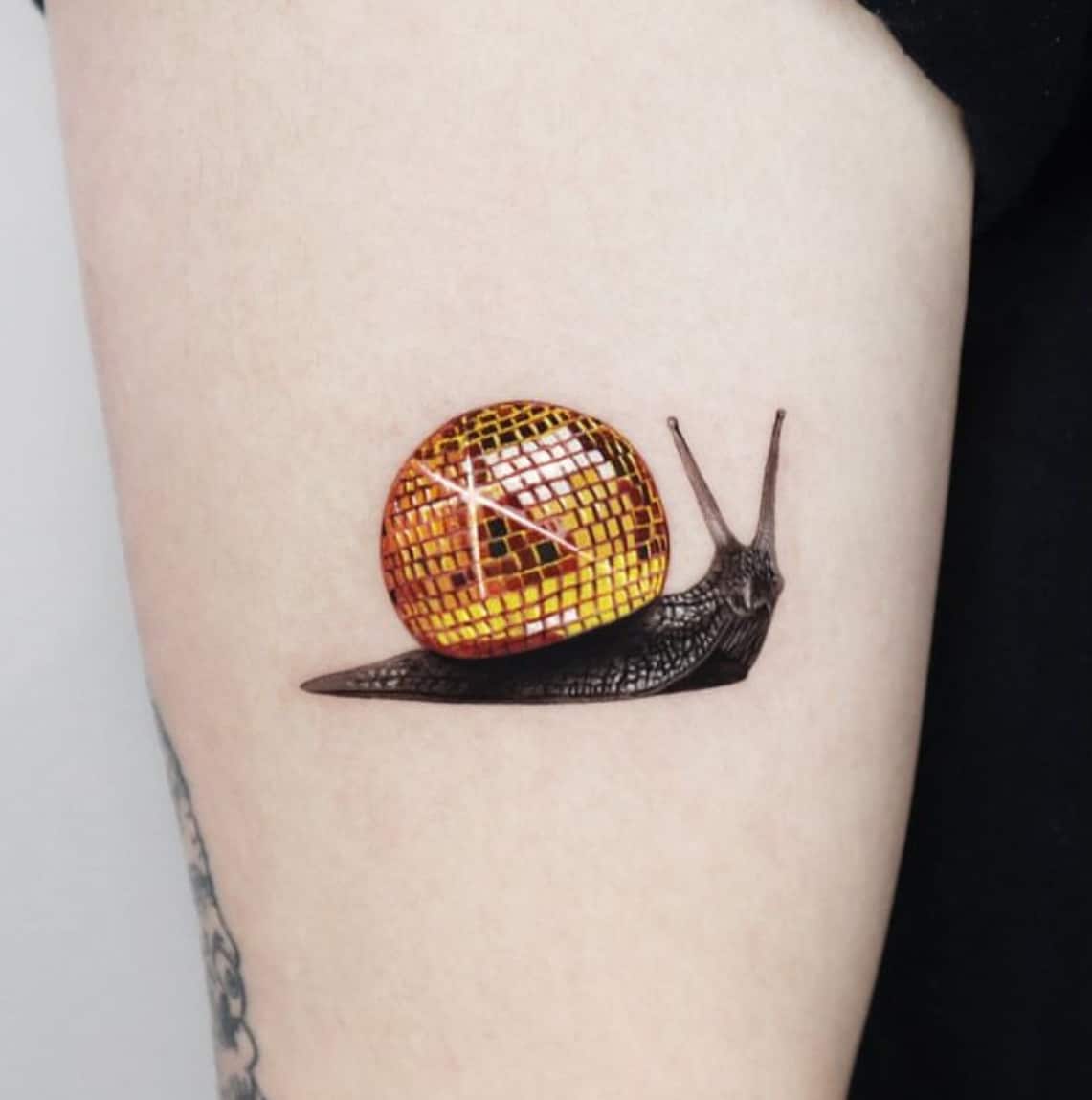 Out of everything in the world, I never expected to see a snail combined with a disco ball. Yet here we are, and the concept not only works, but it also looks absolutely perfect.
Dance on, little guy.
20. Holding Up a Crown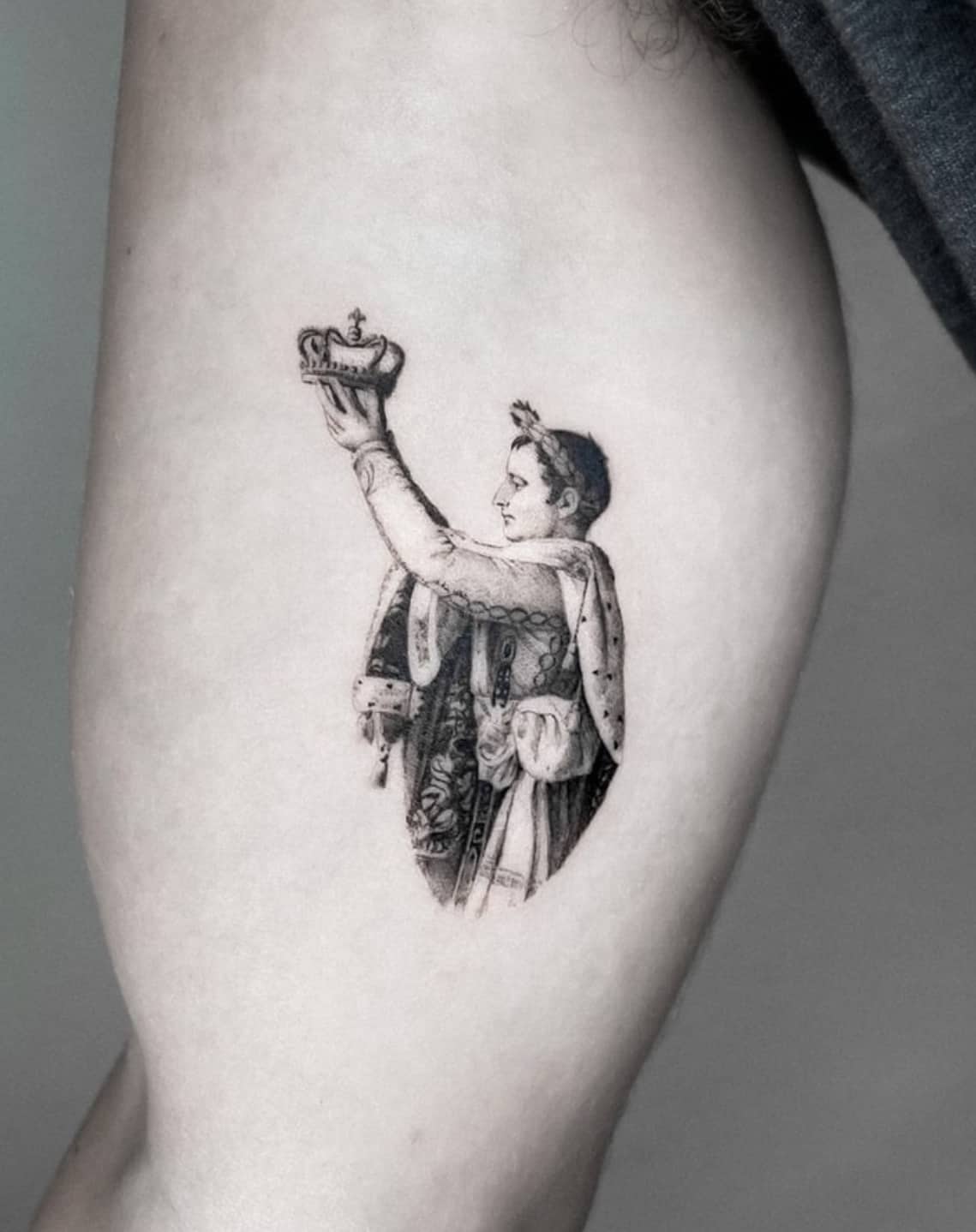 What do you think is happening here? Is it a king giving away his crown, or is someone placing the crown on someone's head outside of the frame? Either way, it looks cool.
21. Micro Realism Goat Tattoo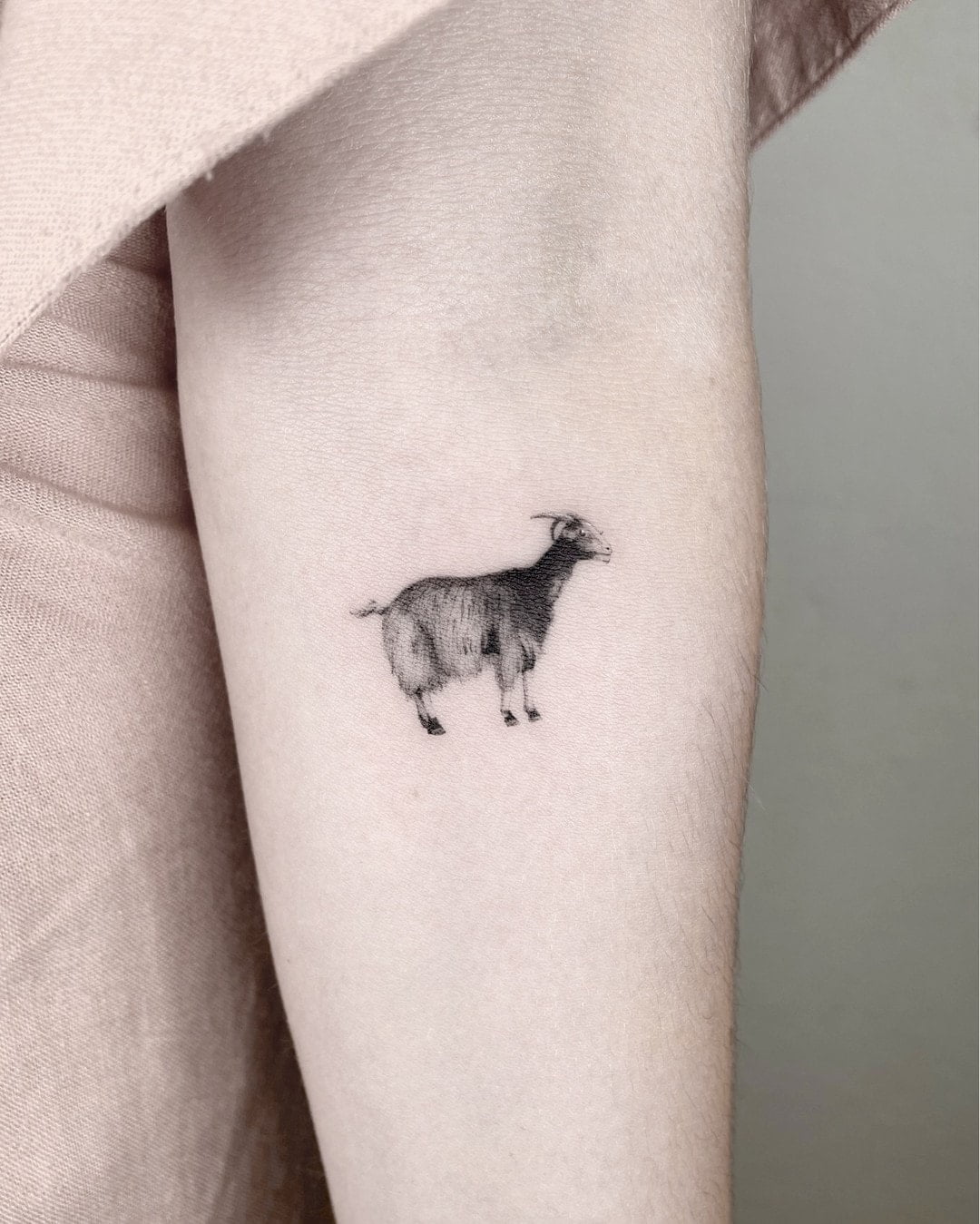 This artist specializes in micro realism tattoos, and I liked this little goat due to how much detail is packed into such a small size on the inside of the arm.