Neck Tattoos have always been known for their rebellious nature and boldness. These kinds of tattoos are becoming more and more popular in modern society and the corporate world; this is an excellent step in the right direction, as it is essential that an individual be allowed to express themselves freely.
I scoured around the internet to find the best neck tattoos for men out there; here is what I found!
Back of the neck tattoos
You'll never feel like you have to watch your back with a hardcore tattoo on the back of your neck. Placing neck tattoos in this area would be wise if you work in the bustling corporate world; it's easy to hide with hair, scarves, and white collars.
Here are a few that I found the most appealing…
1. Geometric Mandala Neck Tattoo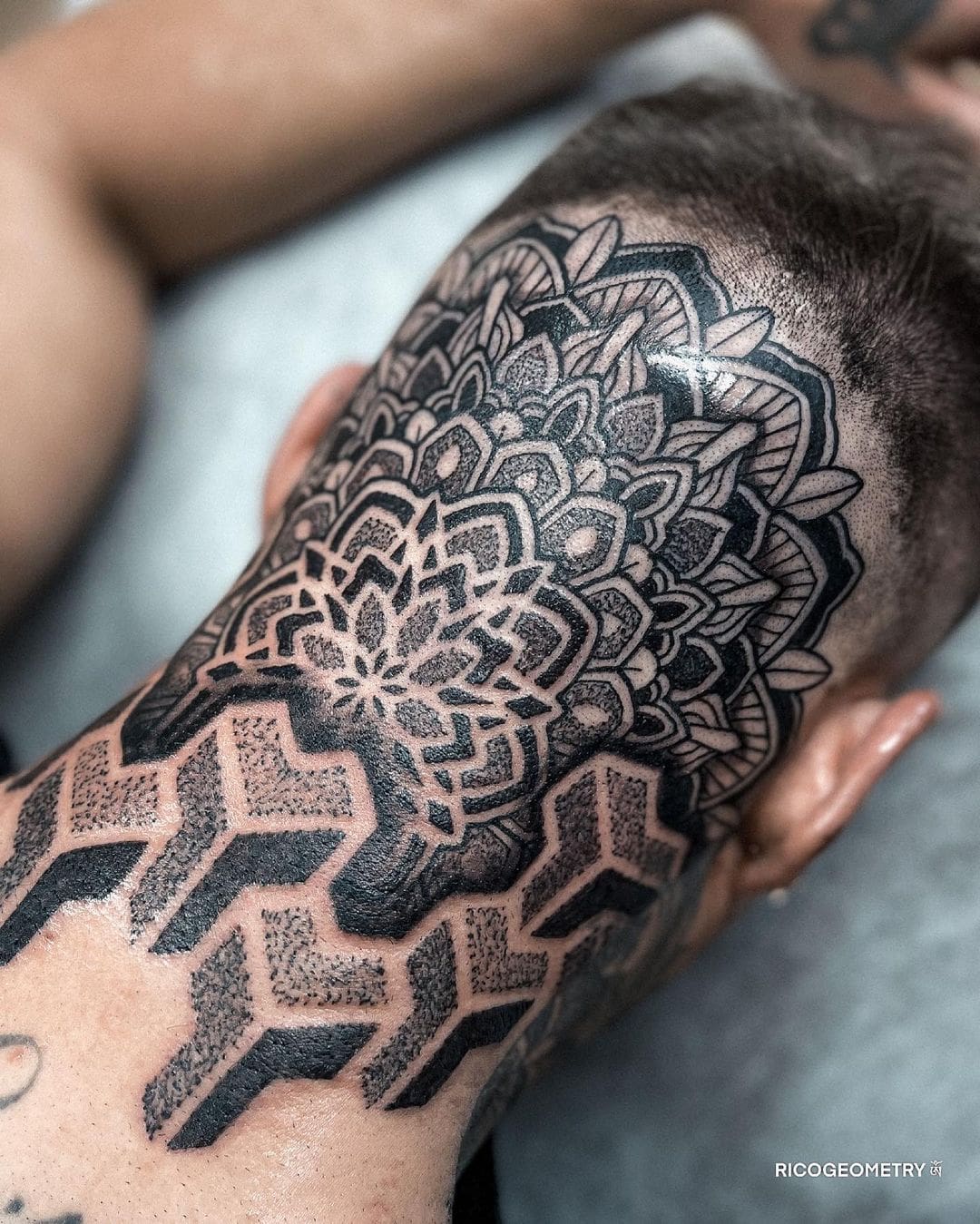 You want bold? Here you go. This beautifully geometric tattoo is stunning, and the symmetry is captivating.
2. Hannya Mask Neck Tattoo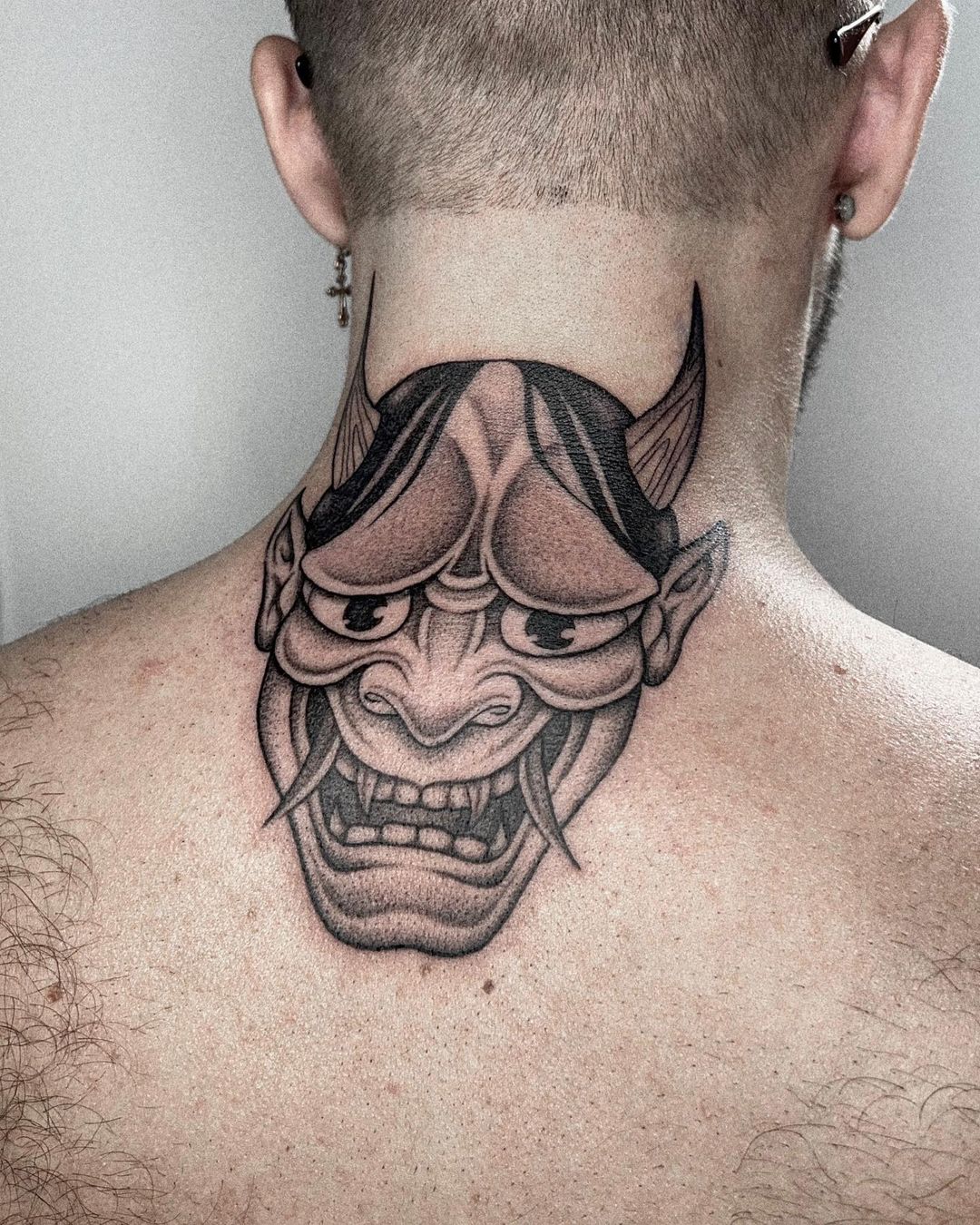 Hannay masks are a great style if you want something a little bit frightening, but at the same time, a little bit traditional.
3. Neo-Tribal Back Of The Neck Tattoo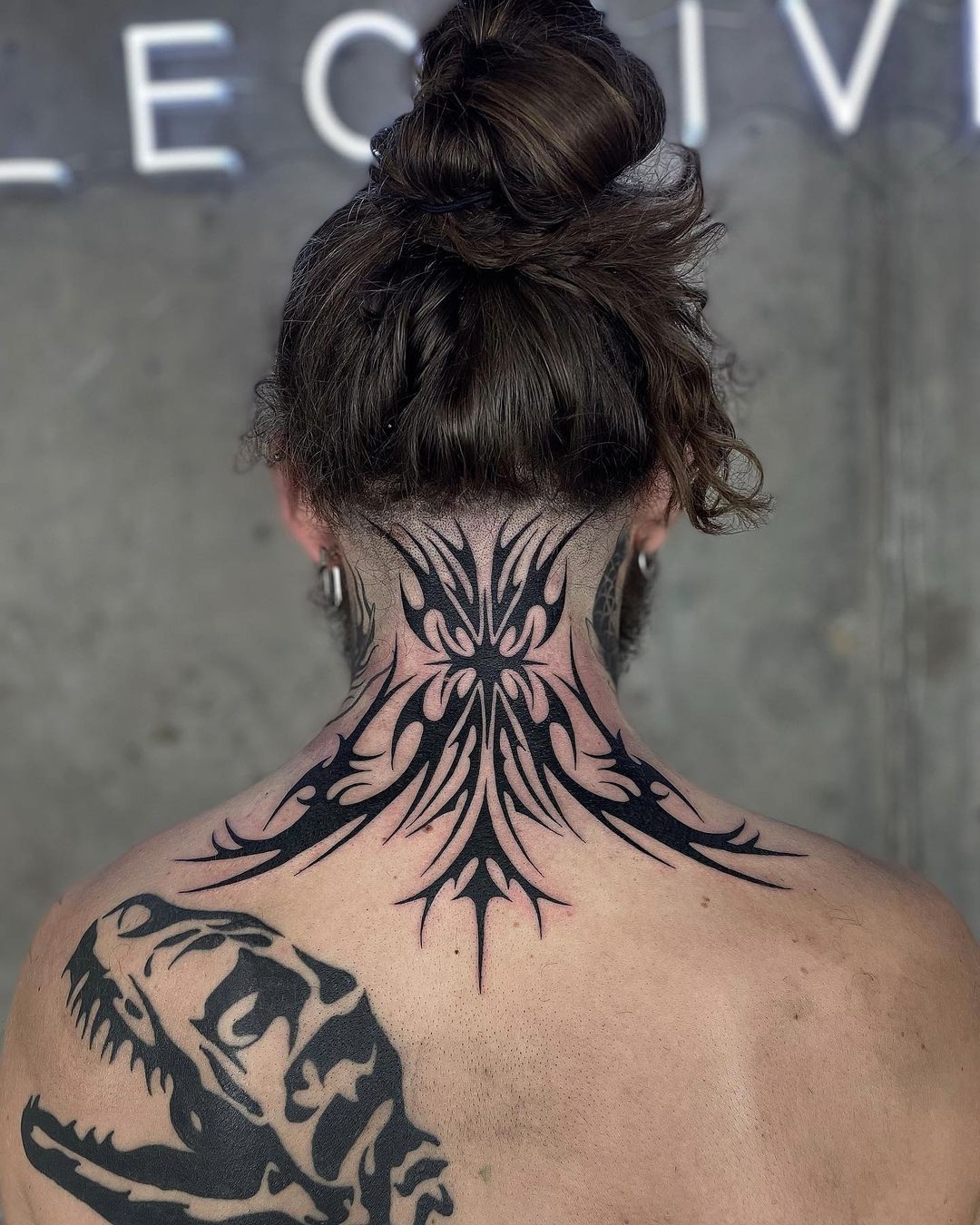 This neo-tribal piece is suited perfectly for the neck with its wide, flowing design.
It matches the curves of the neck perfectly and depending on the length of your hair, can either be hidden or visible.
4. Abstract Calligraphy Neck Tattoo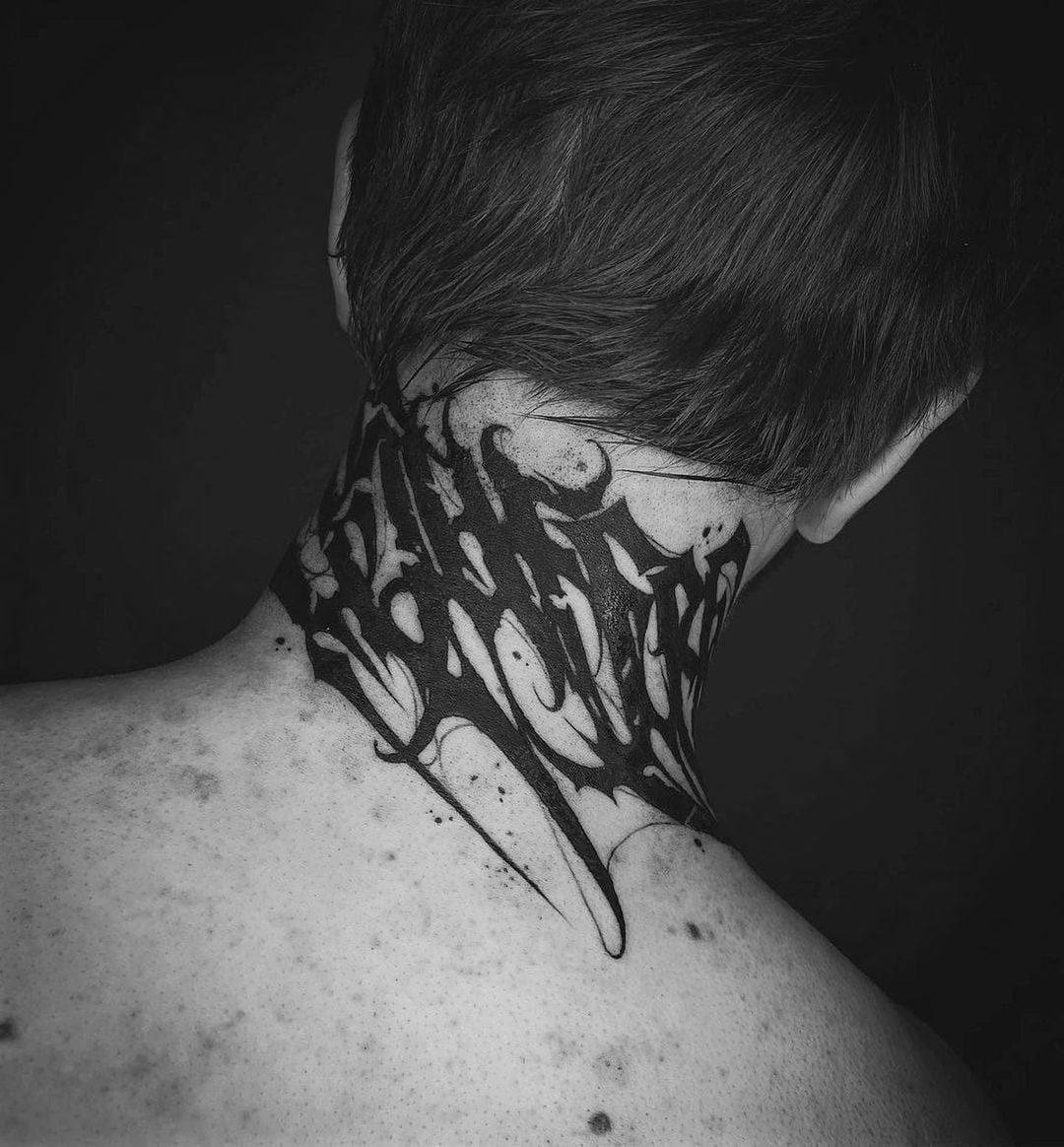 Whoa, this one is wild!
At first, I thought it was another neo-tribal design, but when you look closer, you can see that it's a calligraphy tattoo in a graffiti-style font.
5. Black Work Demon Tattoo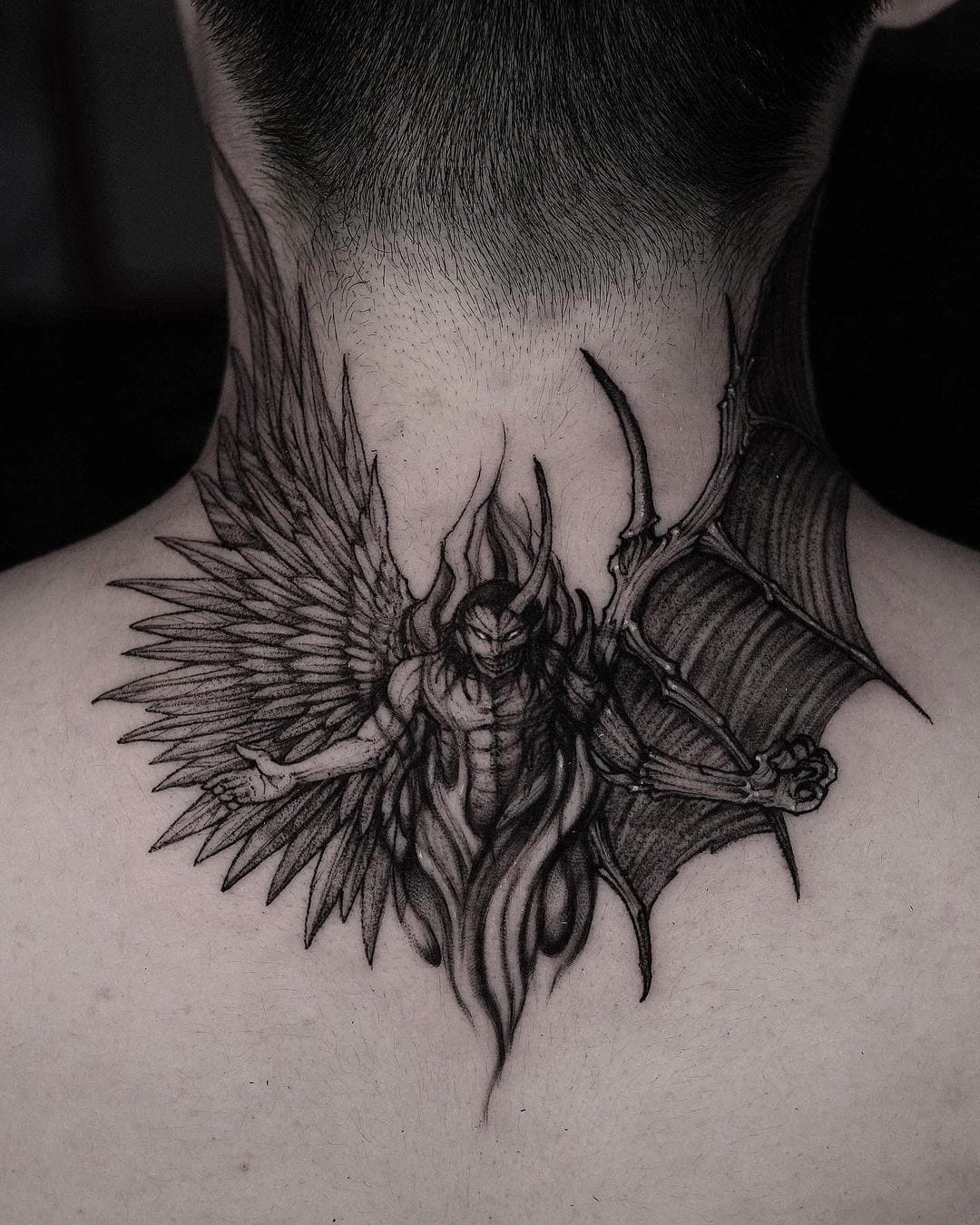 I like these designs where part of the tattoo pops out of the shirt neckline, in this case, just the wings.
Neck tattoos for men don't get much more badass than this.
6. Ornamental Dot Work Neck Tattoo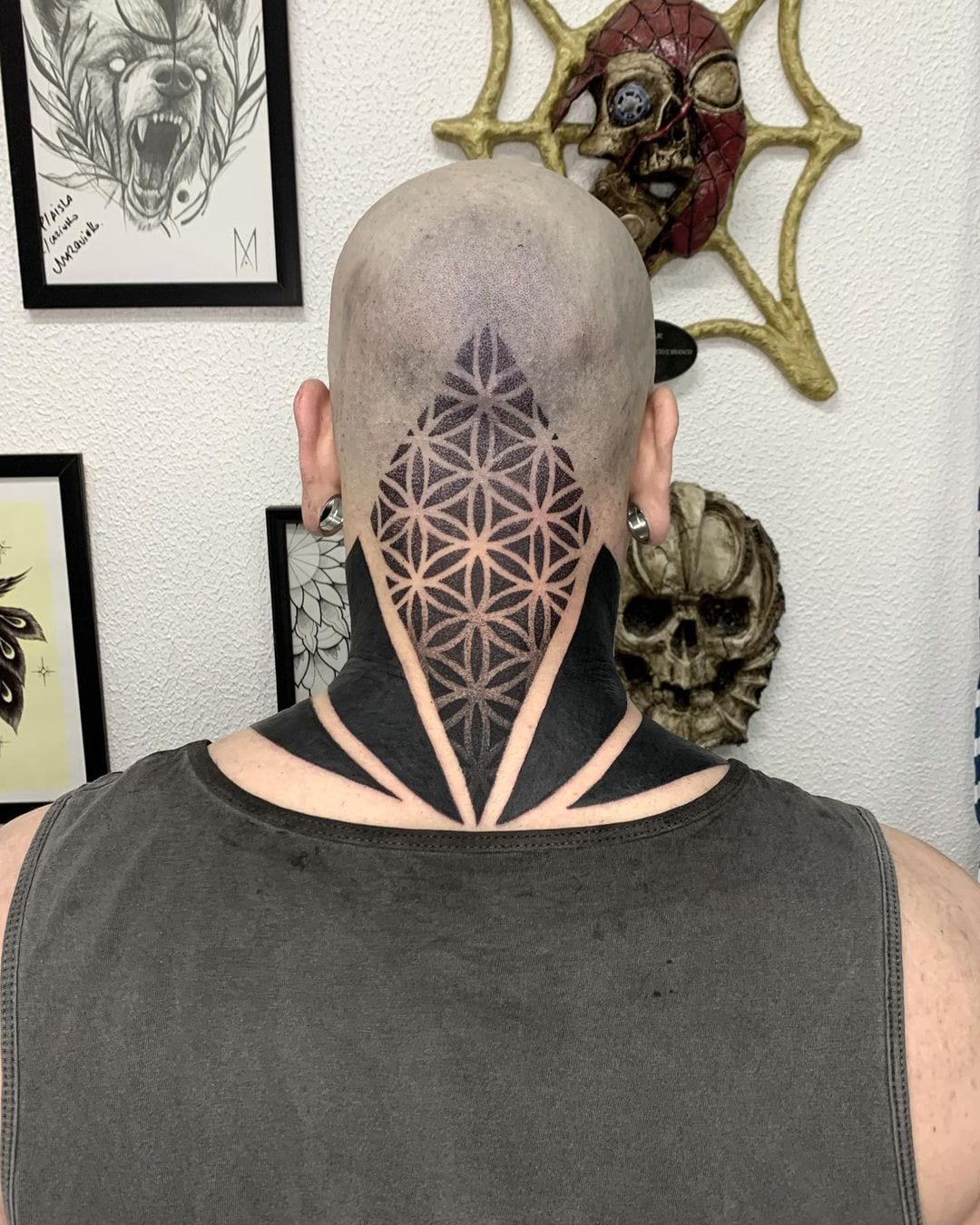 This tattoo has such a striking contrast between the blacked-out portions at the bottom, and the fine dot work in the middle of the neck.
What a perfect balance.
7. Occult Moth Neck Tattoo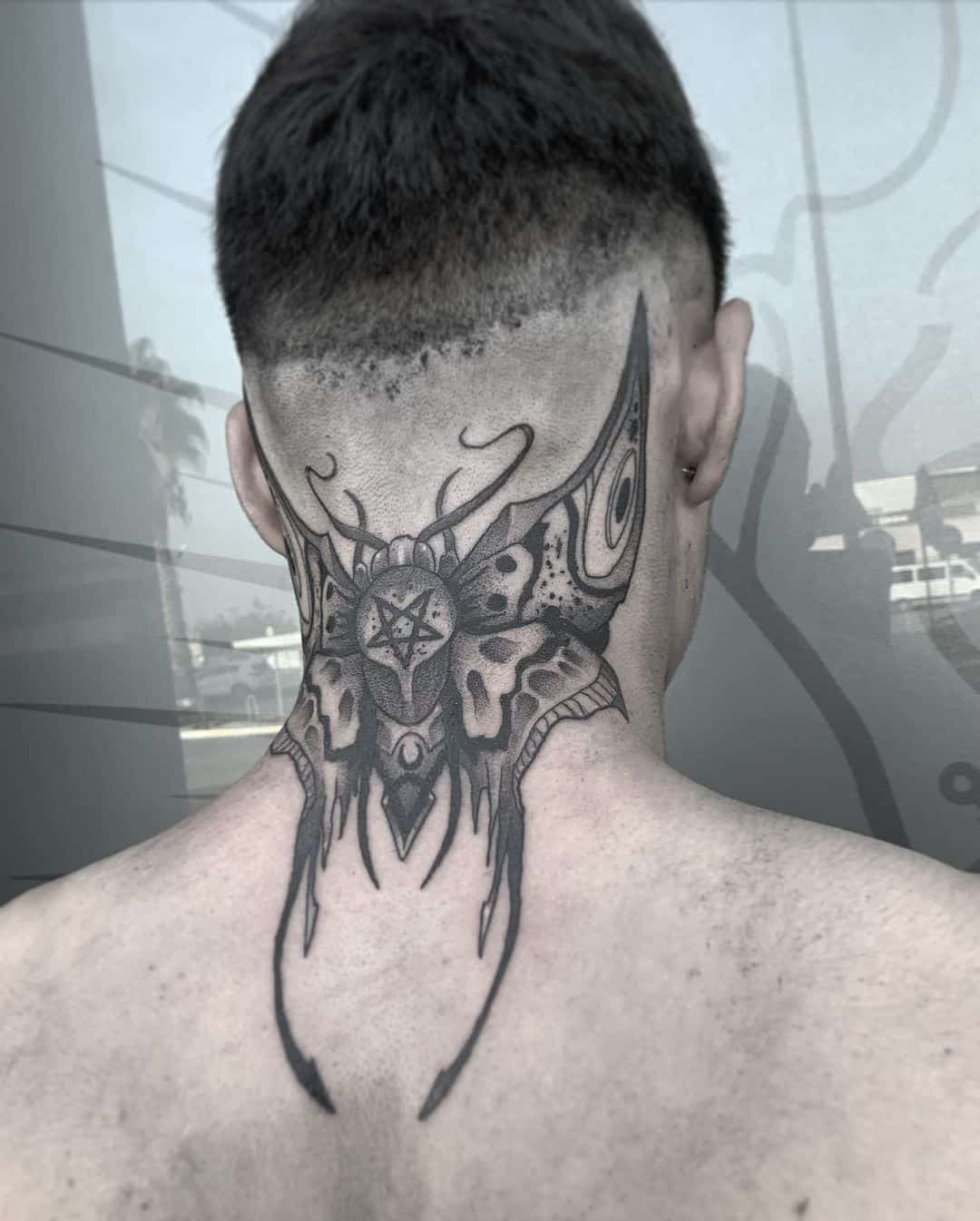 I love the occult imagery used in this piece; it makes the moth appear more masculine, which is why he is on this list! The placement of this piece is also outstanding, I love that it goes all the way down to the upper back.
The line work here makes this piece super bold, they are clean and sharp like a knife! The shading is dark and saturated, which complements every aspect of this tattoo.
8. Winged Neck Tattoo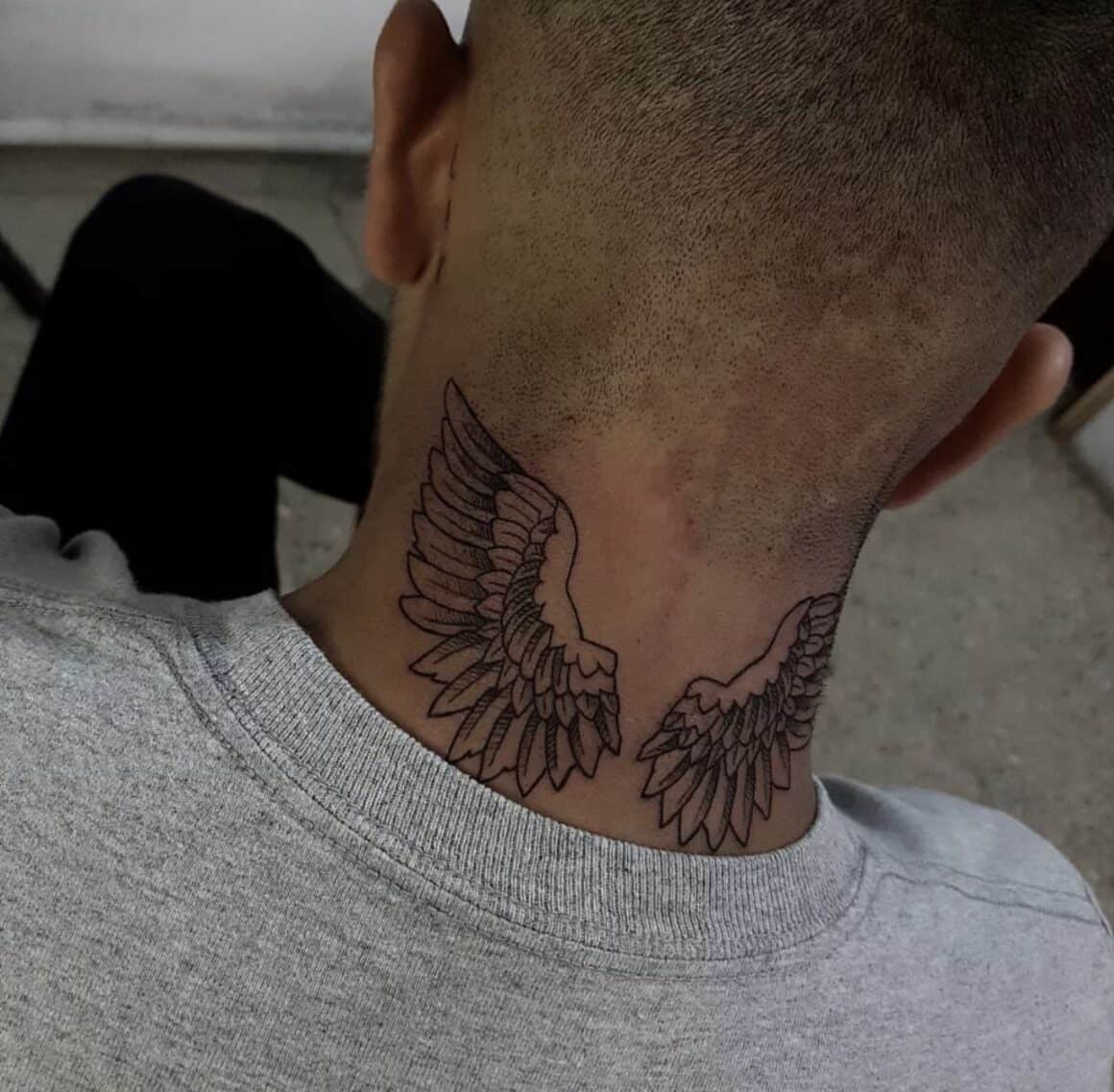 Another classic over here… wing tattoos! I love the simplicity of the tattoo as a whole, it suits the client very well.
My favorite part about this tattoo is the placement, I think it aligns perfectly with the natural curvatures of the body; well spotted by the artist.
9. Angel Neck Tattoo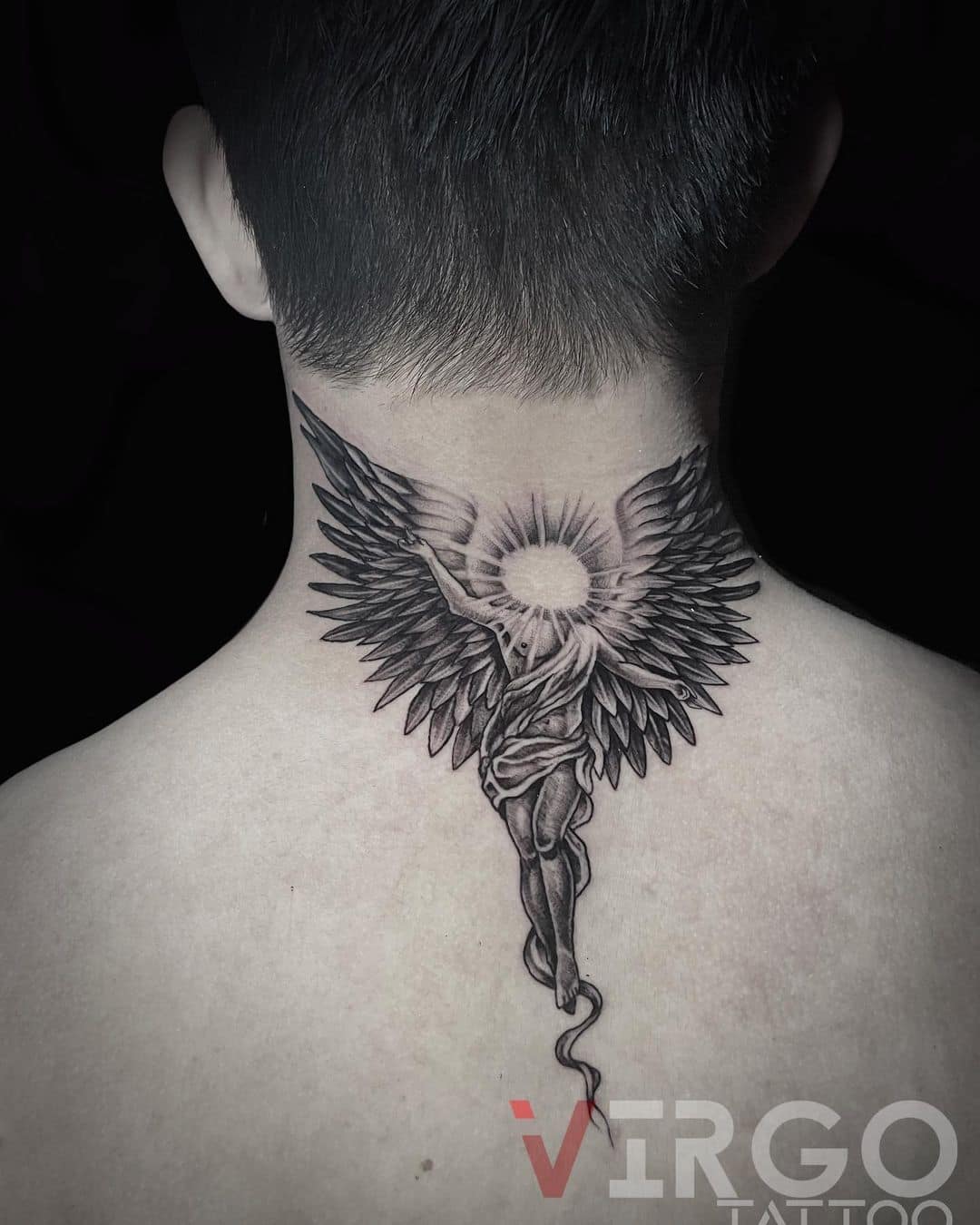 Where do I even begin with this absolute beauty? I will start by saying how perfect the placement of this piece is; I love how the angel's body falls into the upper back!
Throat tattoos
Throat Tattoos are the boldest area you can place a neck tattoo for men, as it stares you right in the face.
There are many different styles you can tattoo in this area, as you will see in my extensive list below.
10. Black Work Demon Throat Tattoo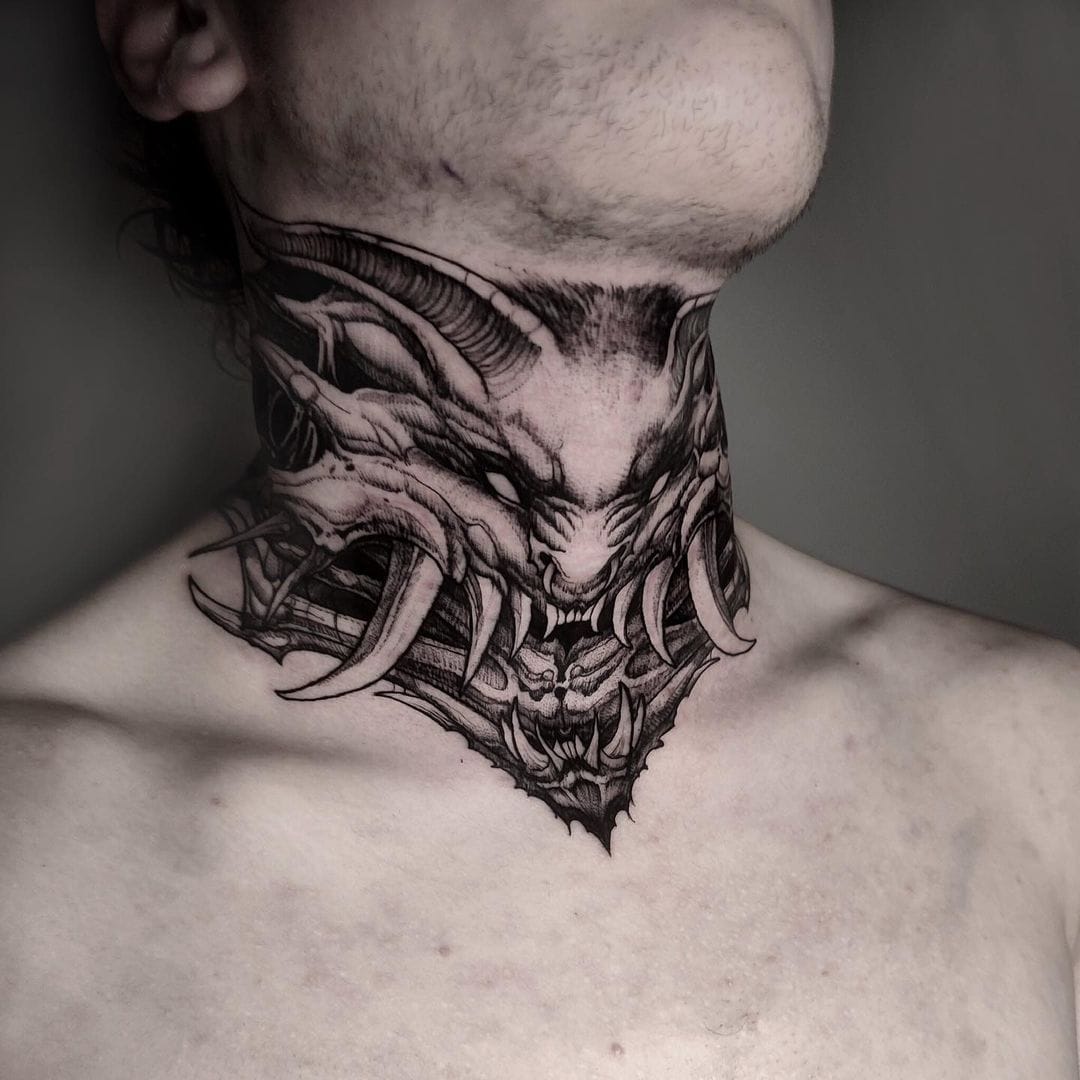 I love the blackwork style of this demon tattoo. It has so much intricate detail that the more you look at it, the more details pop out.
11. Colorful Neo-Traditional Moth Tattoo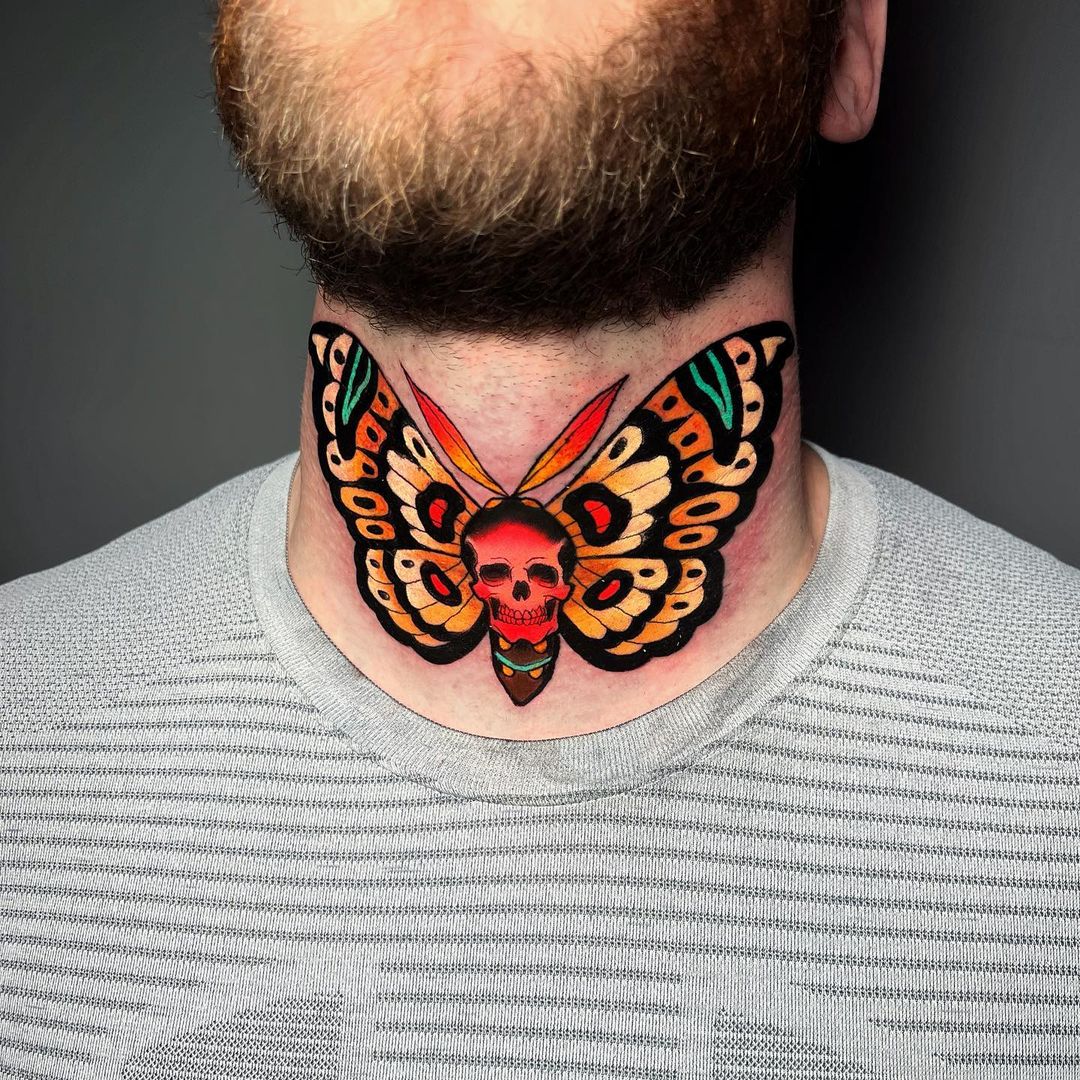 This is a n interesting take on a traditional moth tattoo, only instead of a normal moth body, it's using a human skull instead!
12. Dark Ornamental Throat Tattoo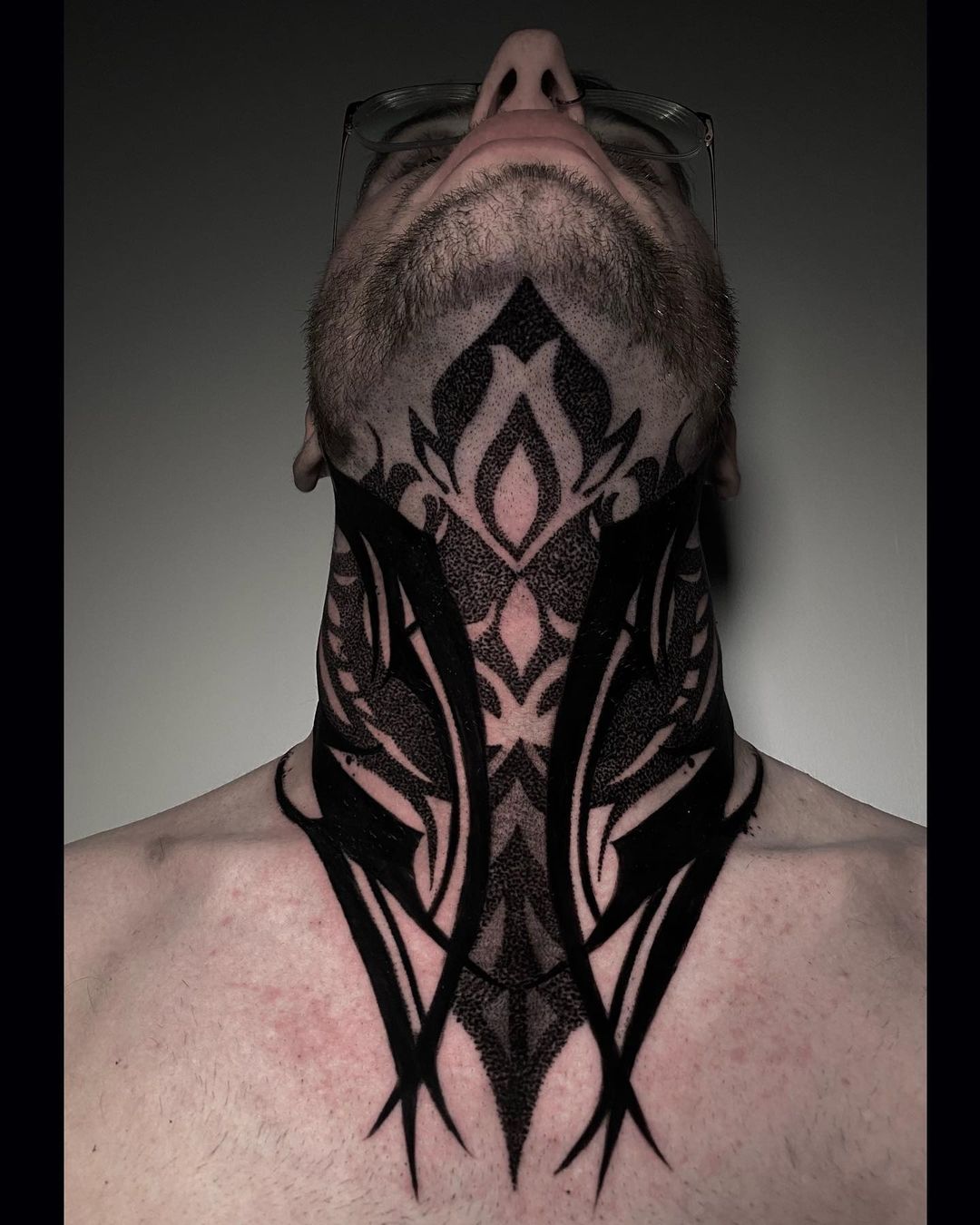 At first, I thought this was a blast over tattoo, but it looks like the complimentary (yet strikingly different) tattoo styles were all done at once.
This piece has such an interesting dimension to it.
13. Floral Neck Tattoo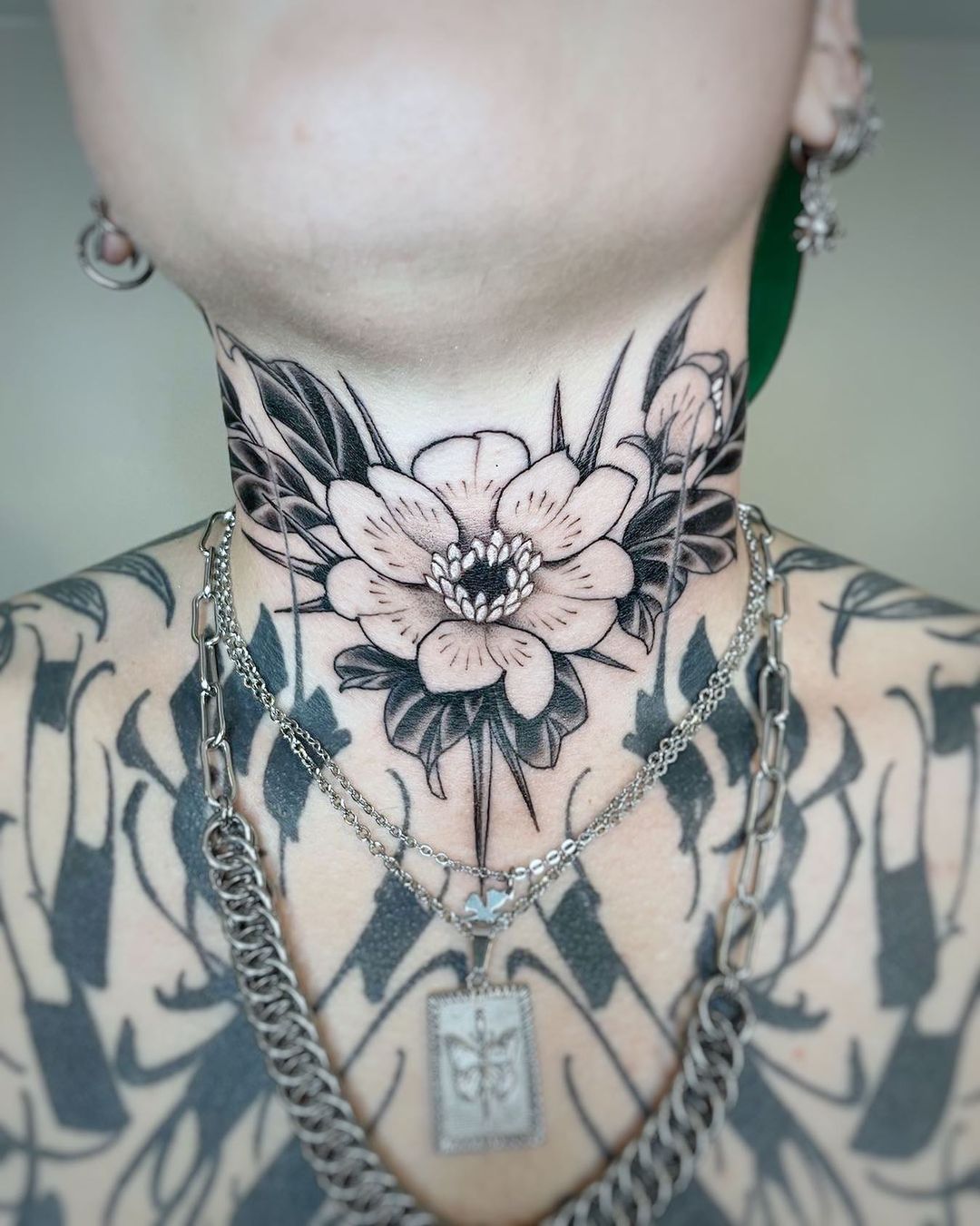 I'll always love a good plant tattoo, and this delicate flower is no exception. It's placed perfectly symmetrical on the night, and those tiny bits of white highlight make this thing absolutely pop off the skin.
14. Best Friend Skeleton Neck Tattoo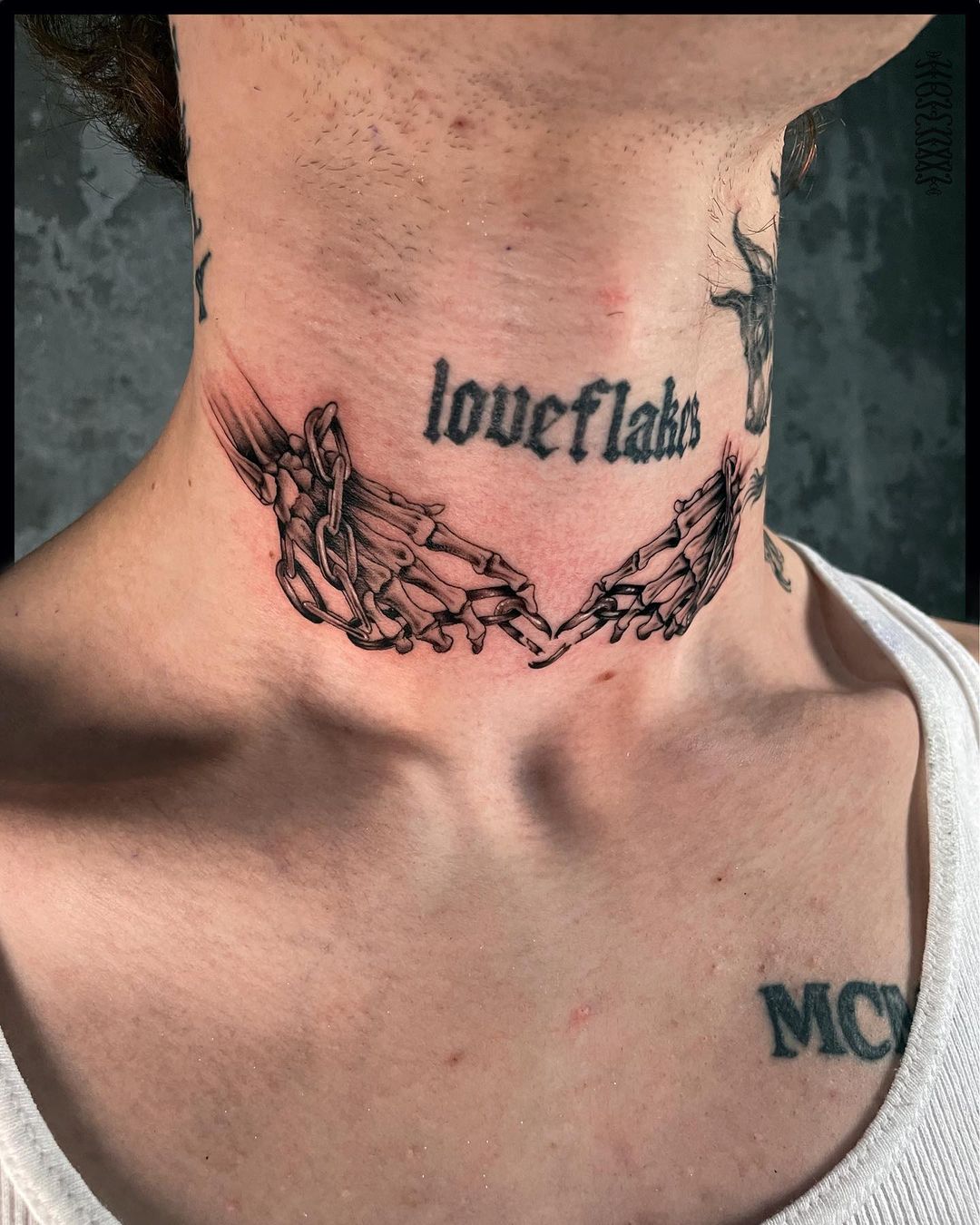 This is an interesting design with a meaning that's completely open to interpretation.
What do you think of when you see these skeleton hands breaking apart a chain link? Note that the broken link resembles a heart as well.
15 Bright Neo-Traditional Moth Neck Tattoo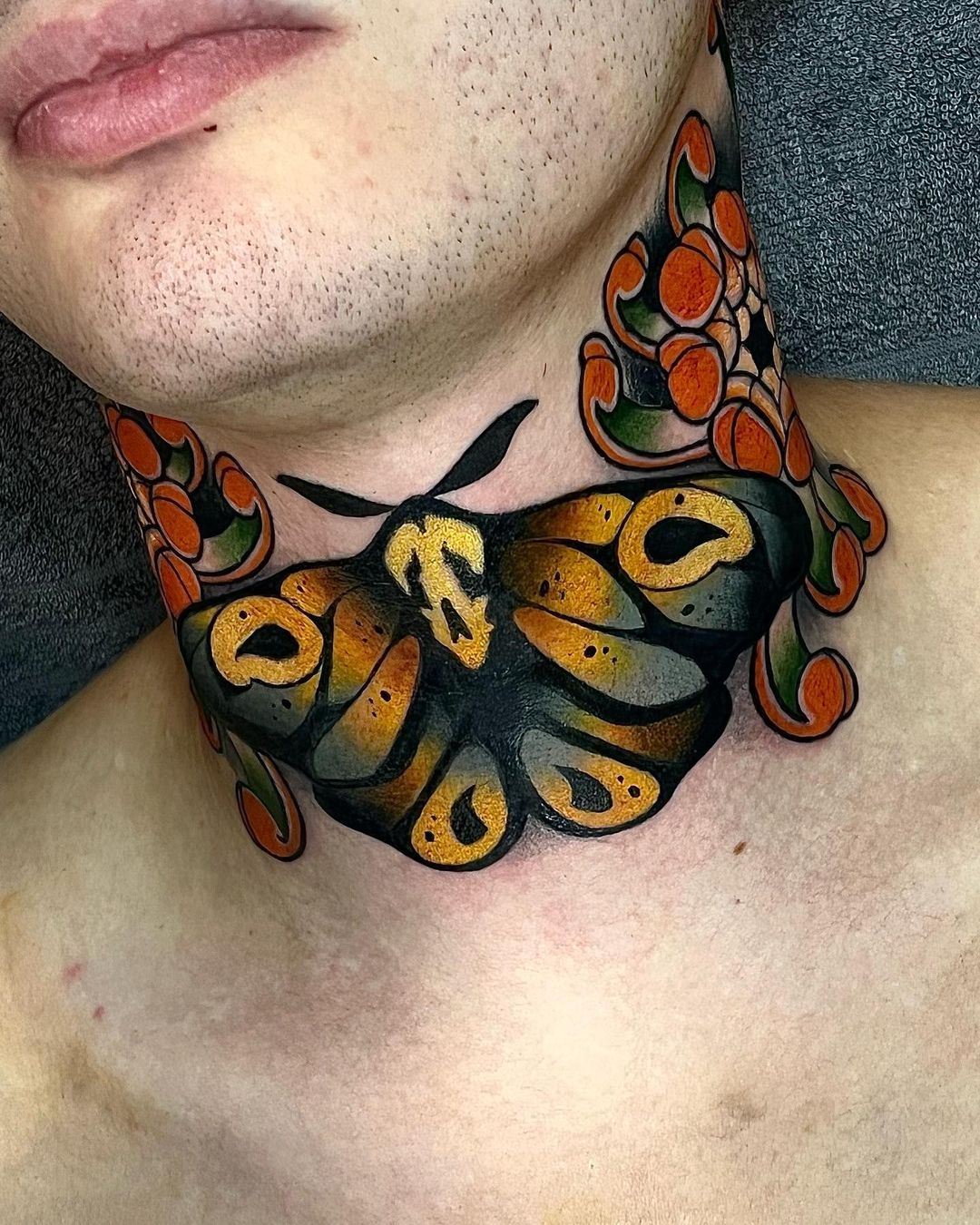 This piece makes the list because of its interesting geometric design, and the colors that almost look like gold flakes.
It also compliments his existing neck tattoo perfectly.
16. Japanese Cloud Tattoo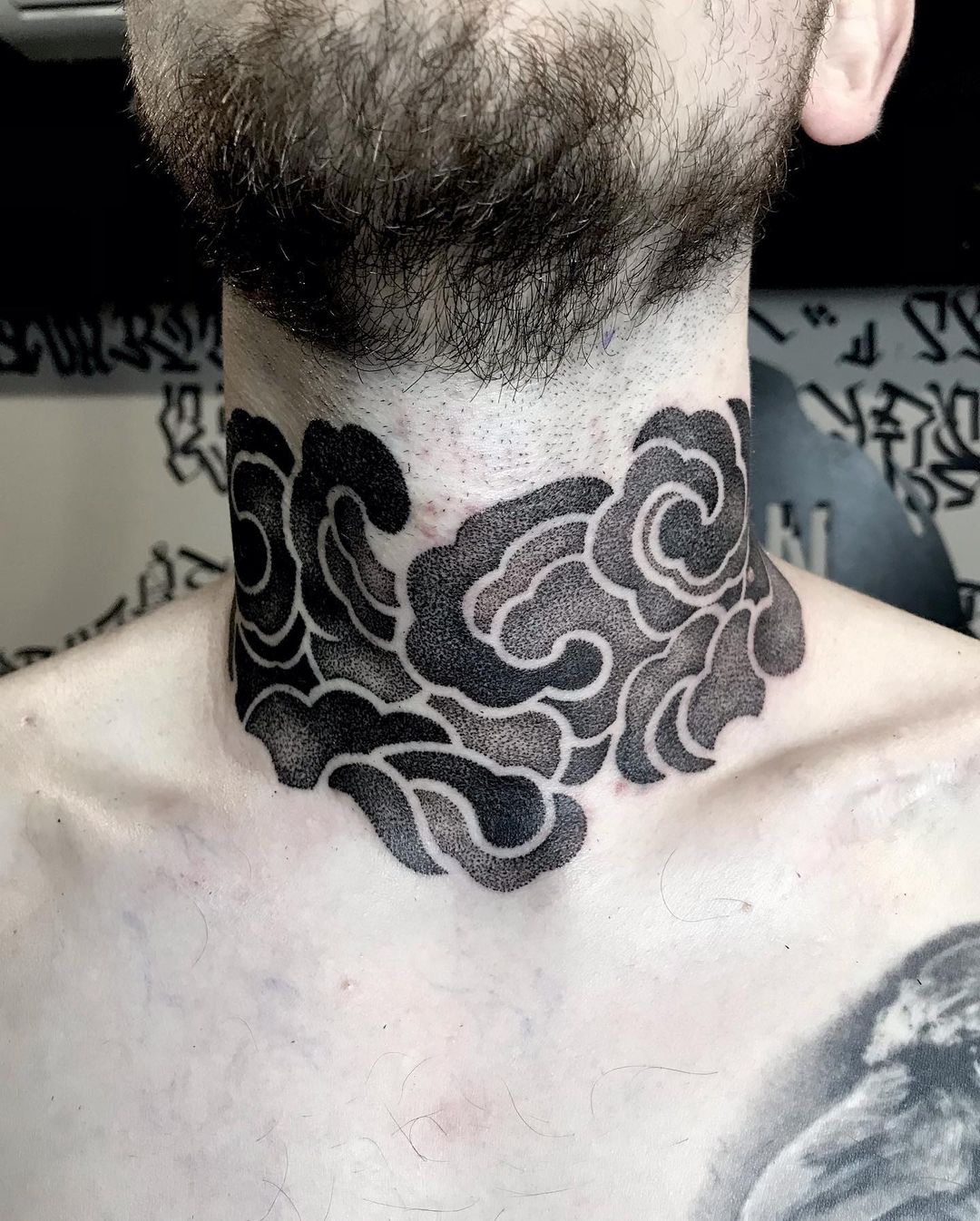 One of my favorite Japanese artists is Hakusai, and this style of cloud reminds me of some of his artwork.
It's a style you'll see a lot of on full body Japanese work.
17. Animal Skull Neck Tattoo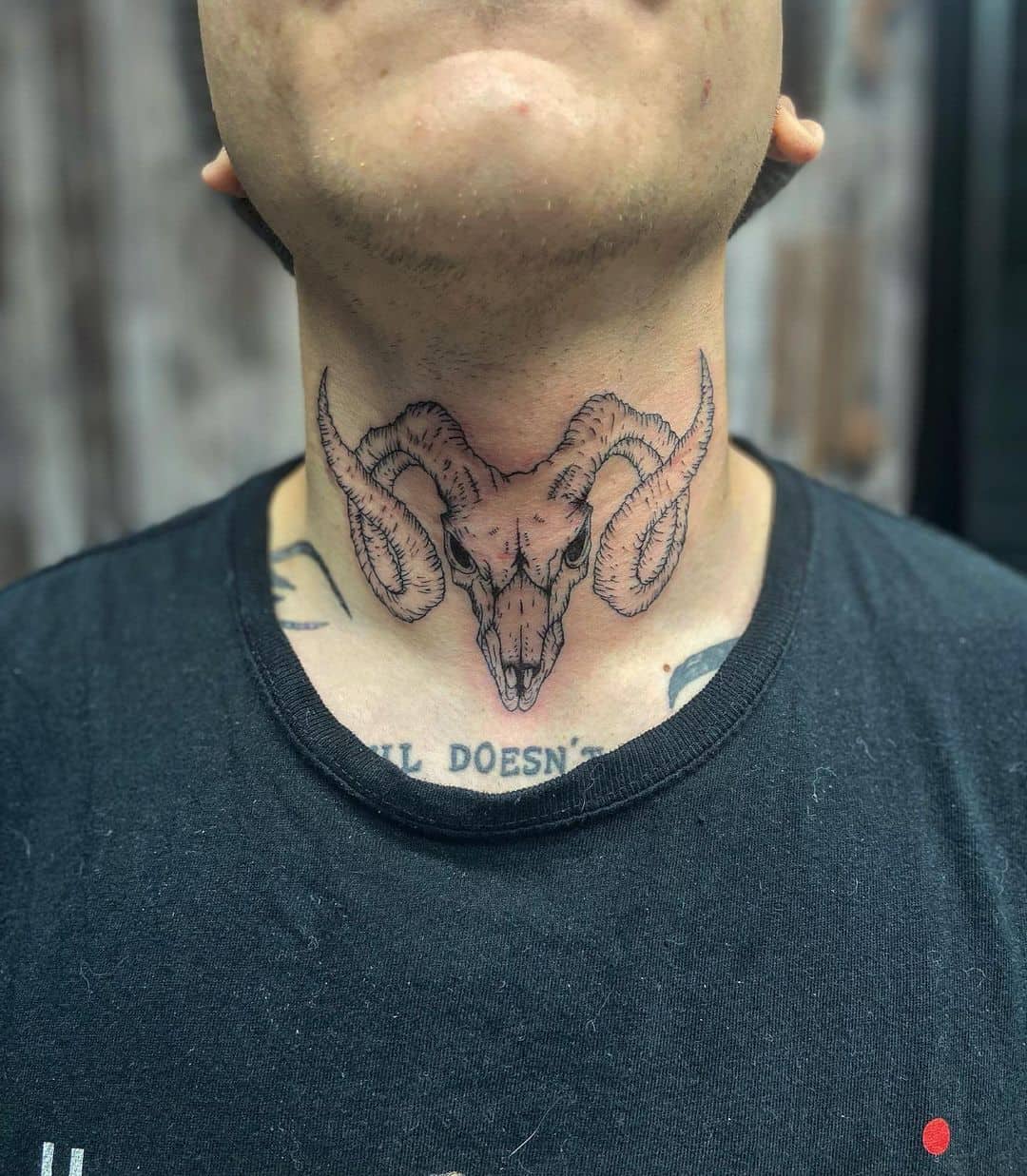 Less is always more, especially when it comes to neck tattoos. I have always found bull skulls to have a certain level of masculinity to them; that is why this gem is on this list.
My favorite part about this piece is the incredible fine lines, and how clean and crispy they are! I like that this entire is just line work and no shading has been used; a very unique piece.
18. Dot Work Ornamental Neck Tattoo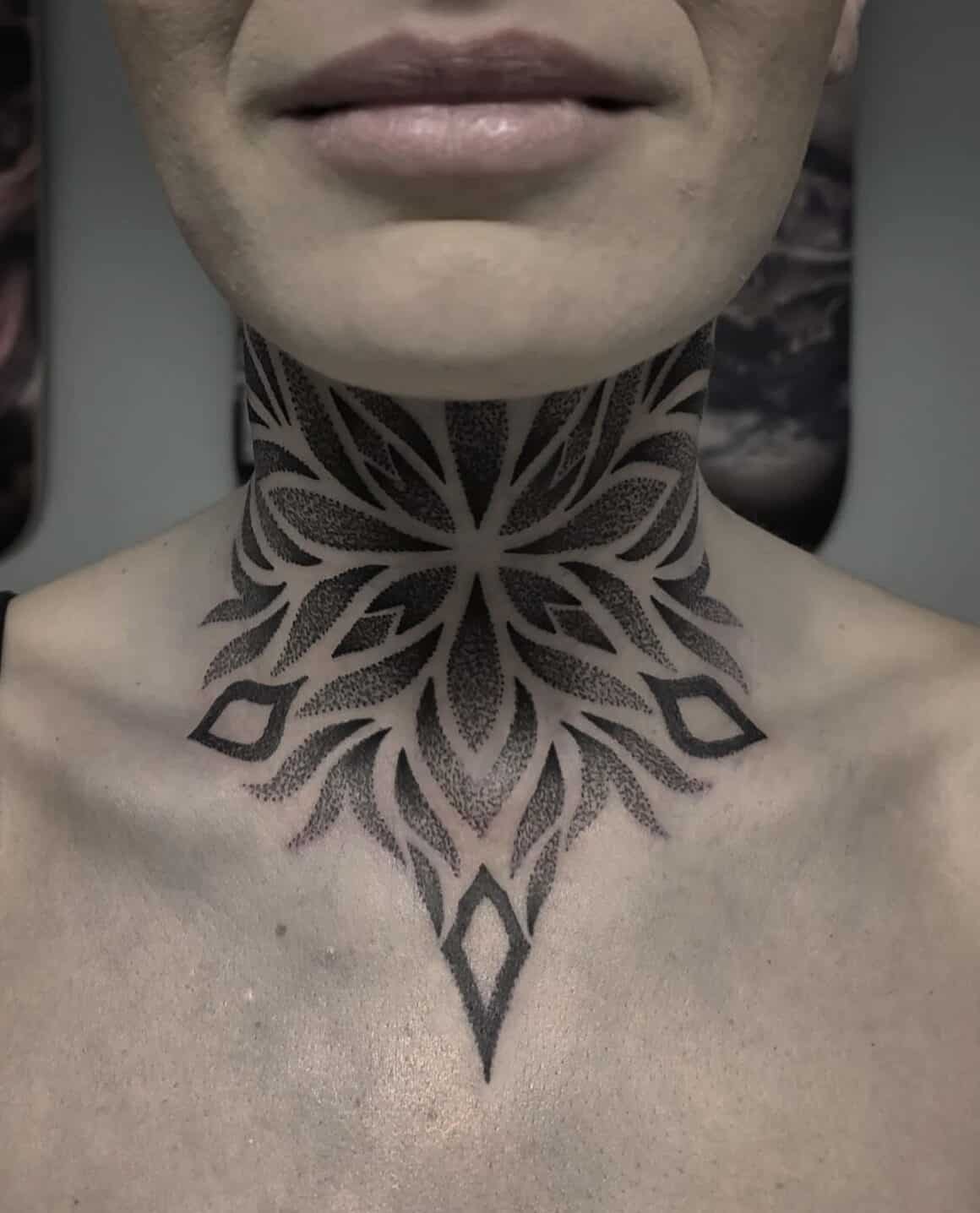 This piece is perfectly placed and done in the perfect style for a neck tattoo. I love the symmetry displayed here as well as the mandala element.
My favorite part about this piece is the dot work shading used; it creates a softer look and definitely is suited for a neck tattoo of this size.
19. Ornamental Black Work Neck Tattoo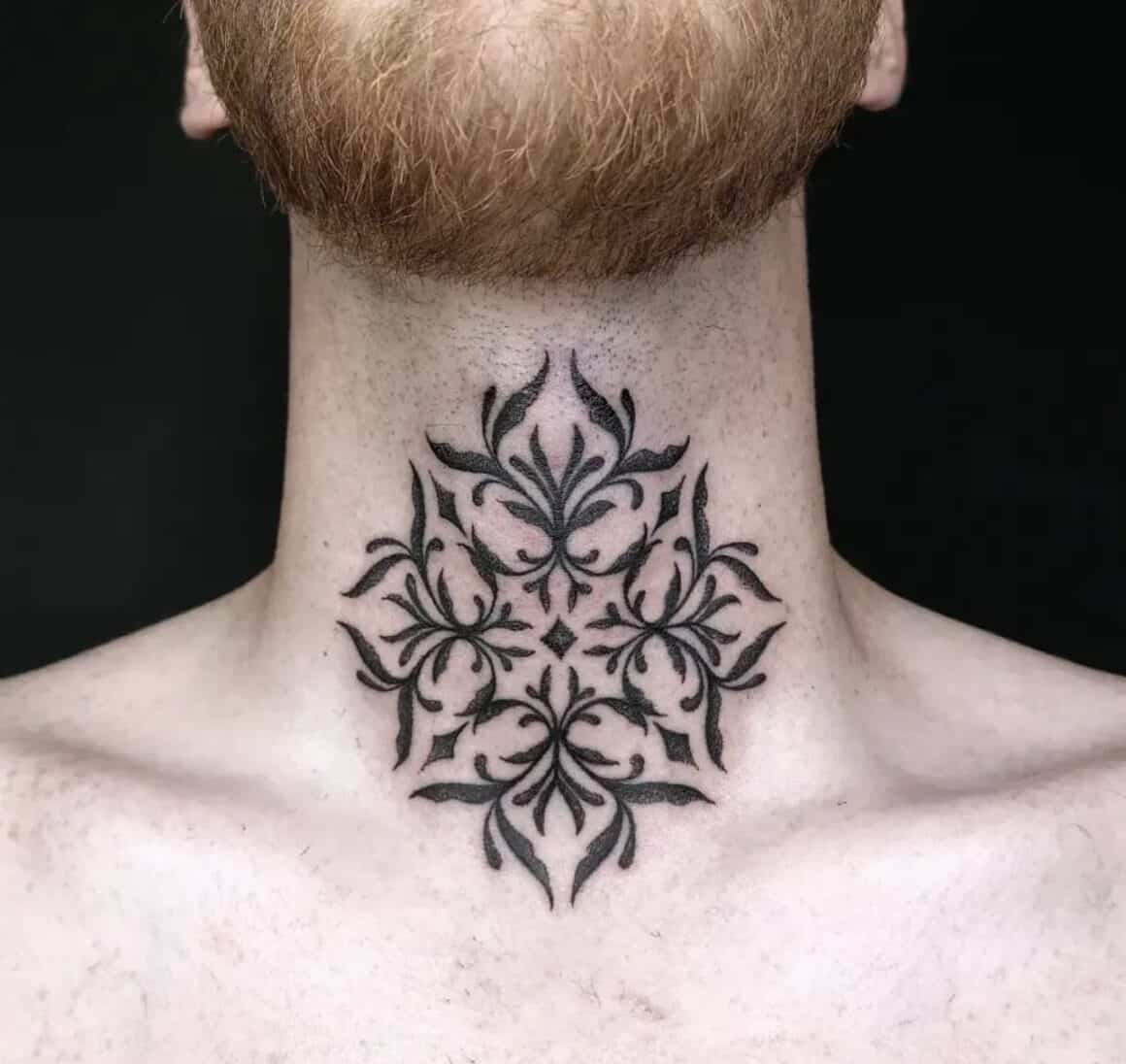 Ornamental tattoos just knock it out of the park for me honestly, this piece is gorgeous! I love that the artist used the design of a mandala; I am a fan of what they represent.
My favorite feature of this piece is the dot work shading and the placement of this piece; everything about this tattoo just seems to complement each other.
20. Black Trash Neck Tattoo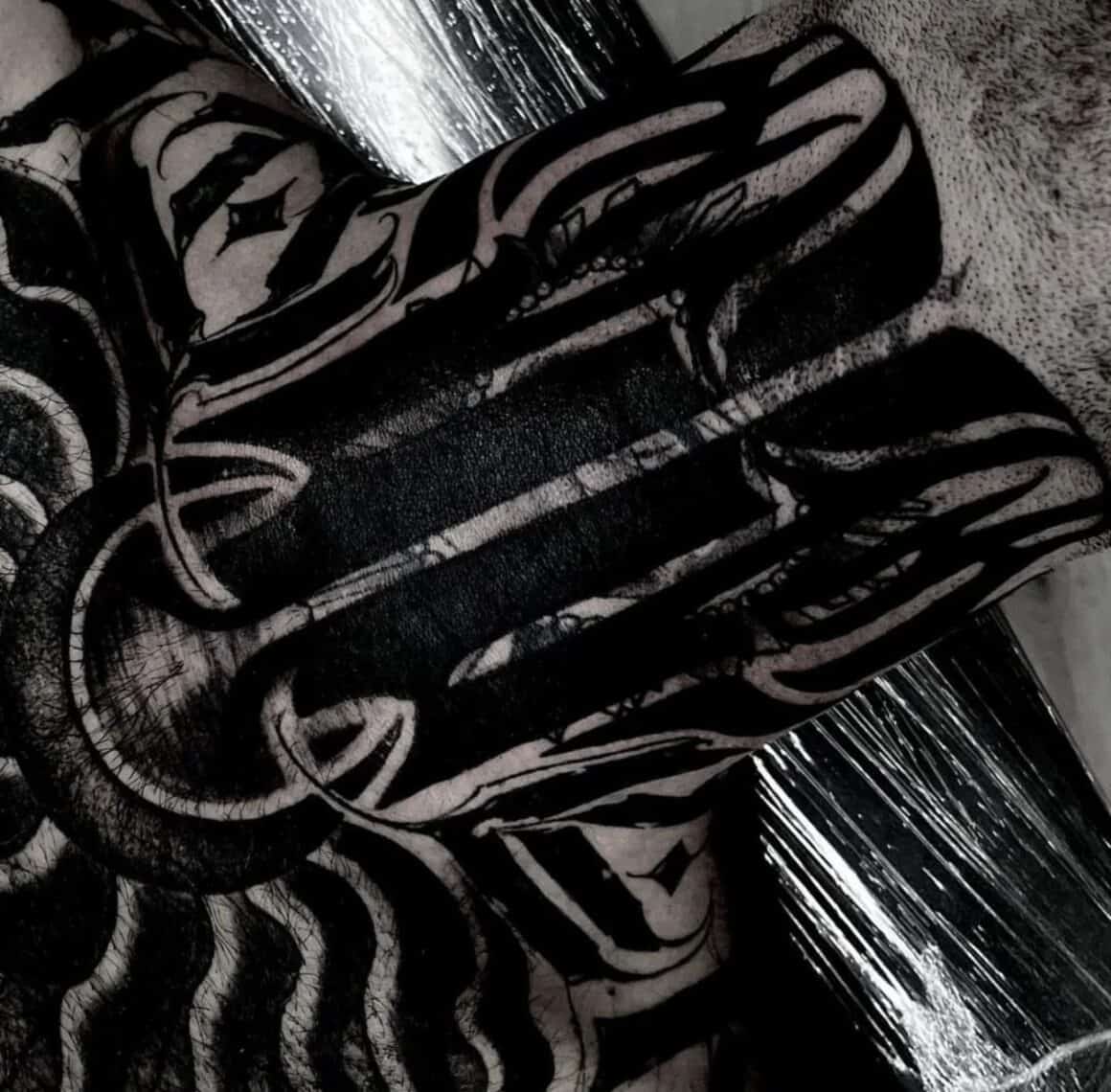 Okay… now this actually might be my favorite; I cannot take my eyes off of this piece! This tattoo style is another rare one, so I am grateful I could find one of these gems to add to this list.
I adore the tribal aspect of this design. The blackout shading is by far my favorite part of this whole design. This is a masculine tattoo through and through.
Side of the neck tattoos
Getting a tattoo on the side of your neck is the perfect spot if you want a bigger piece done. The skin is nice and firm so the ink takes well to this area. Let's take a look at some of my favorite neck tattoos I found.
21. Realistic Portrait Neck Tattoo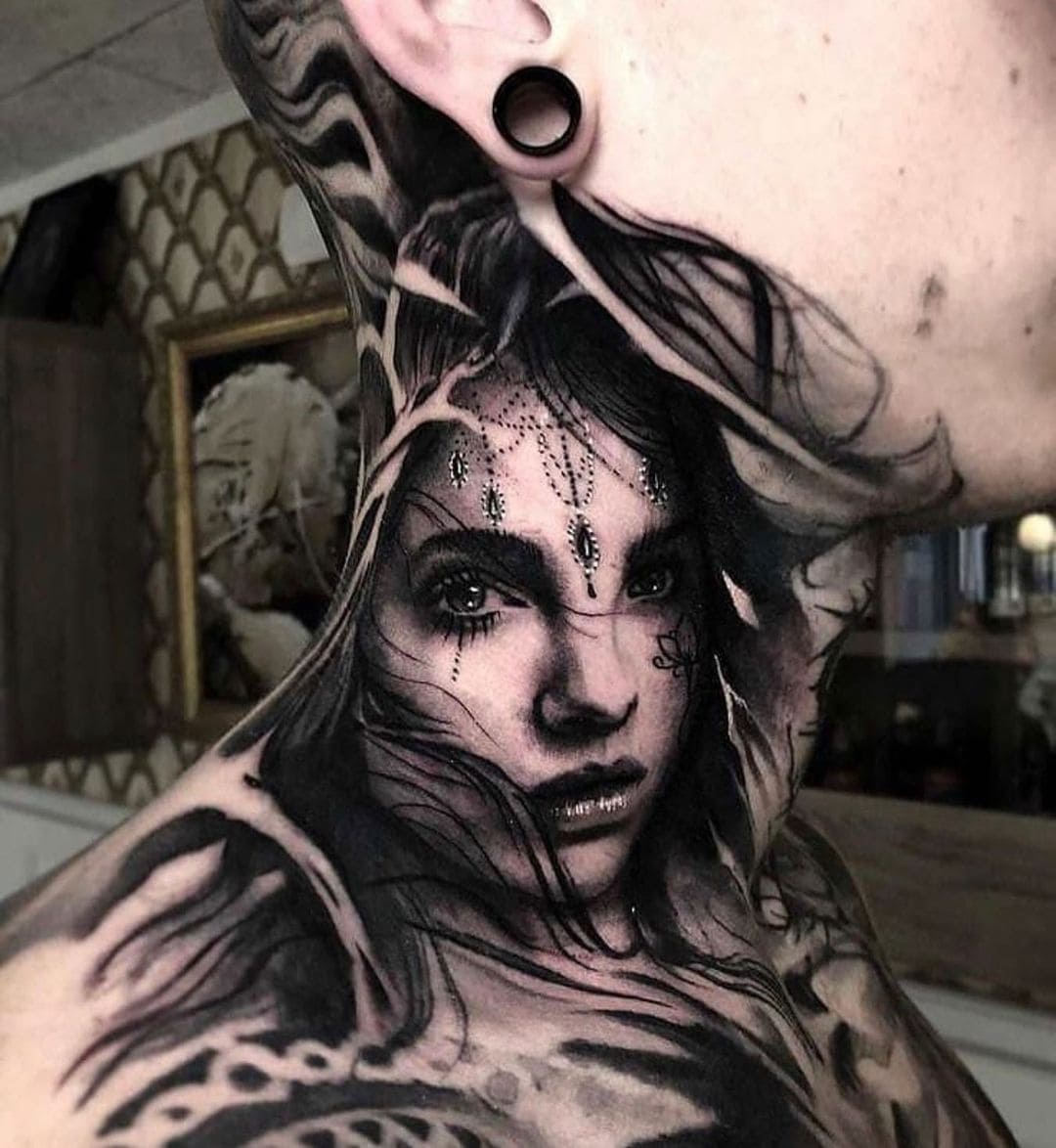 Let's start this list off with a bang with this realistic portrait tattoo of a woman on the side of the neck.
Keeping it simple with the monochromatic look, with little bits of white ink to make her jewelry pop.
22. Black Work Sacred Heart Tattoo
There is so much detail in this sacred heart tattoo, that it's safe to say it falls under the micro realism style. Not only is it wrapped in barbed wire, but its getting stabbed by 3 separate swords. Ouch!
23. Black Work Bug Tattoo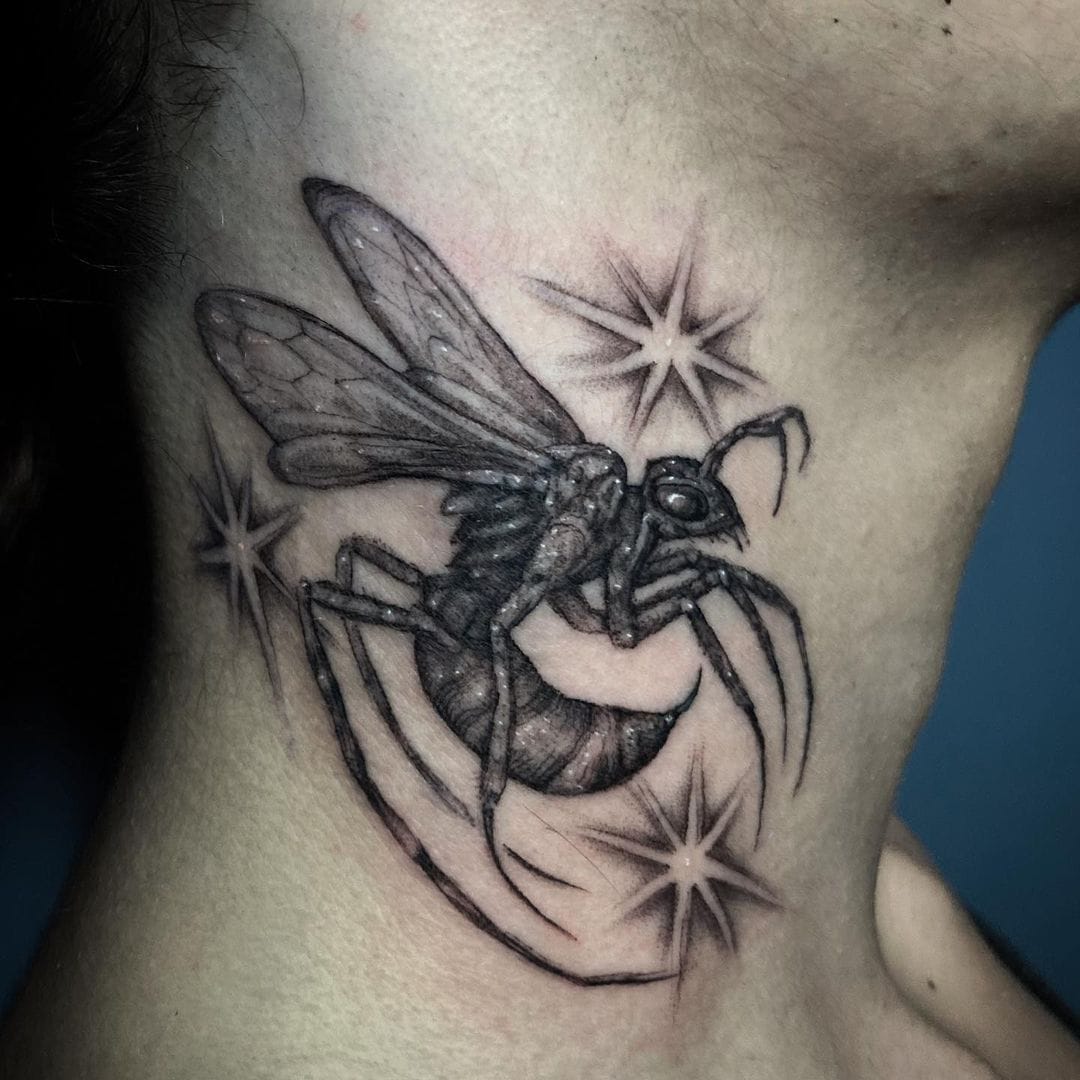 No tattoo list would be complete without at least one insect design. This hornet is looking ready to go, so don't mess with this one!
24. Dot Work Mandala Tattoo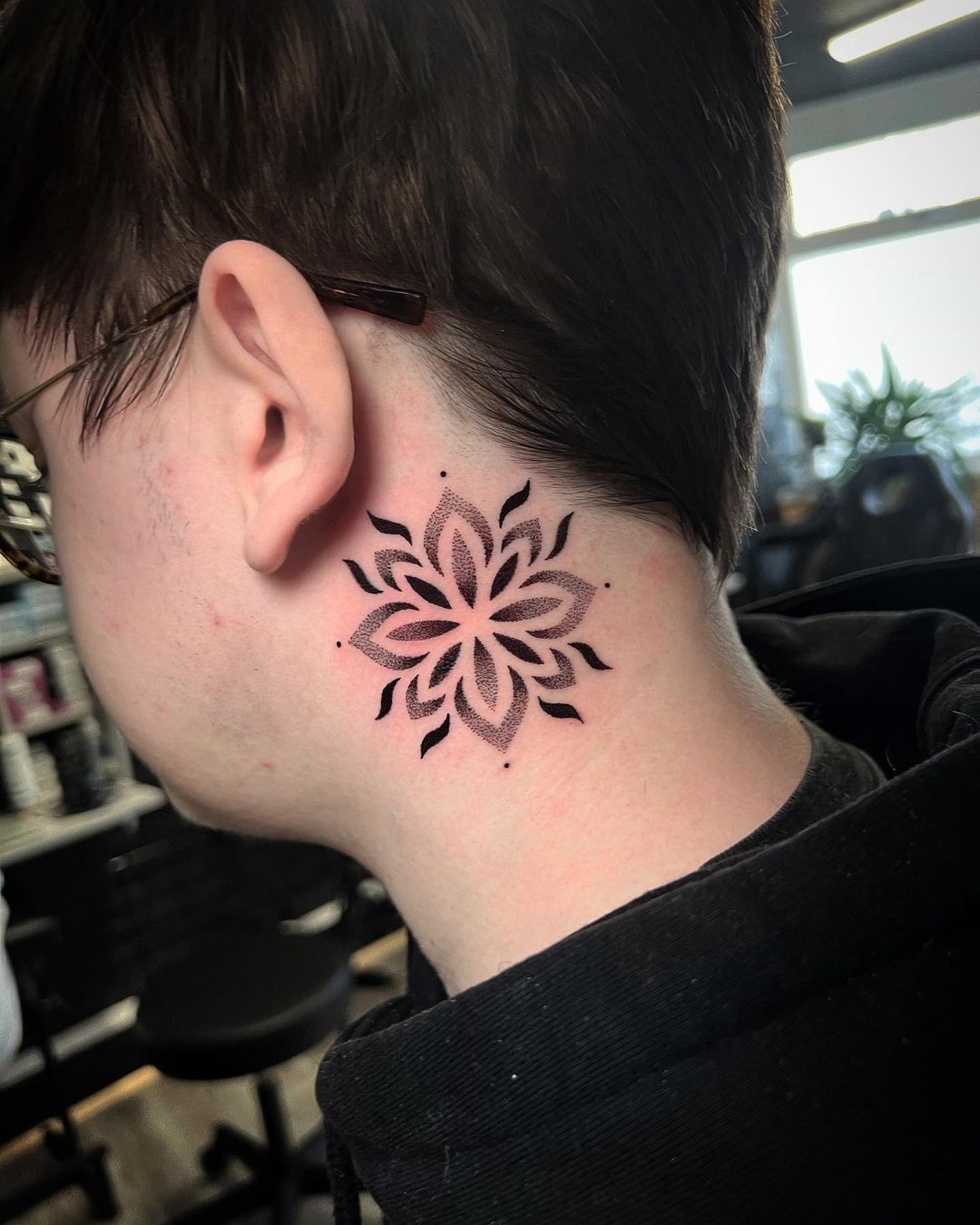 Dot work and mandalas, can you name a better mix?
It's such a perfect style for these designs because the geometry is the star of the show, and the dot work is the element that provides all of the contrast.
25. Realistic Olive Neck Tattoo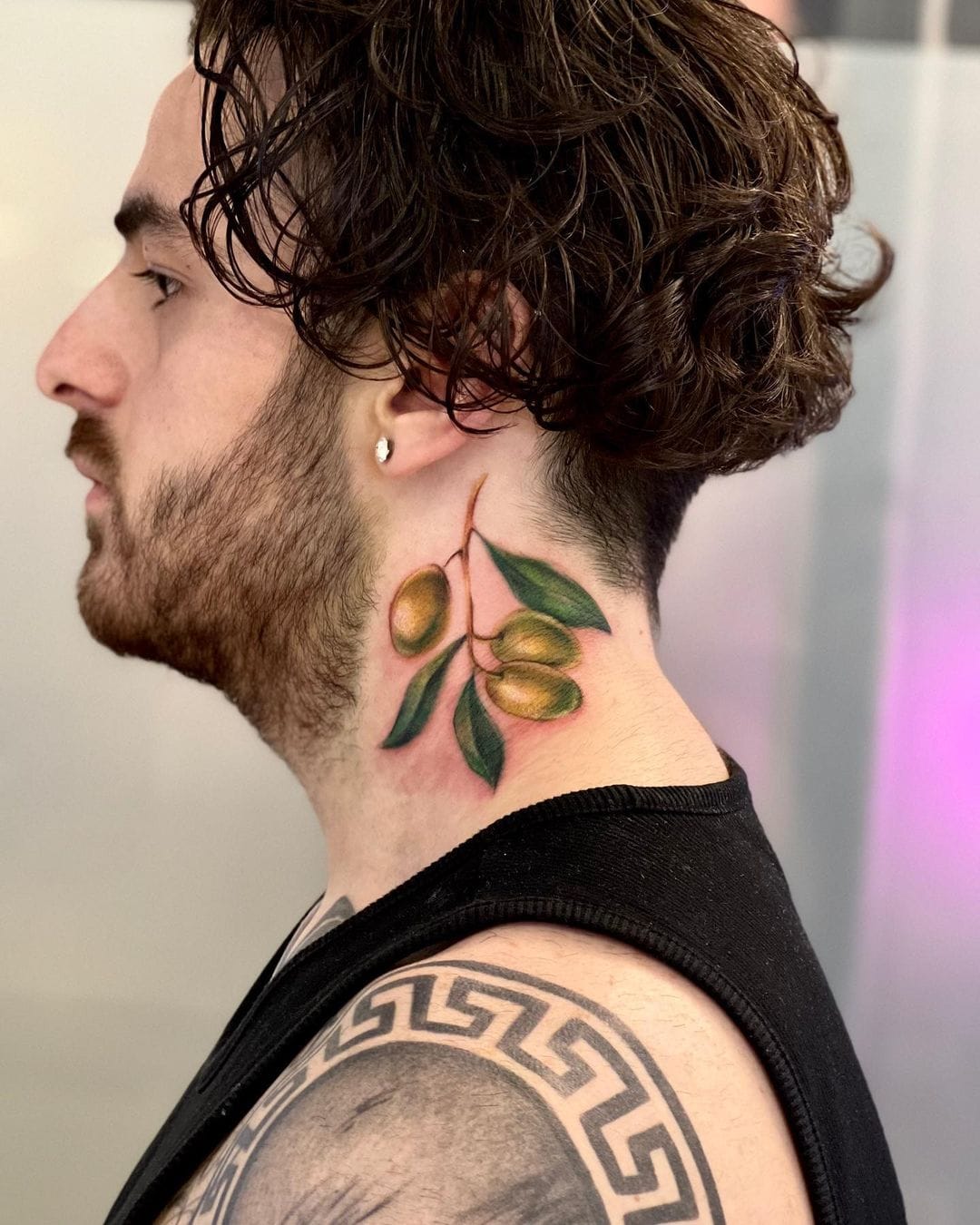 I have a feeling this guy is Greek based on the Greek key design on his shoulder and the newly inked olive on his neck.
Nothing beats consistency!
26. Script Neck Tattoo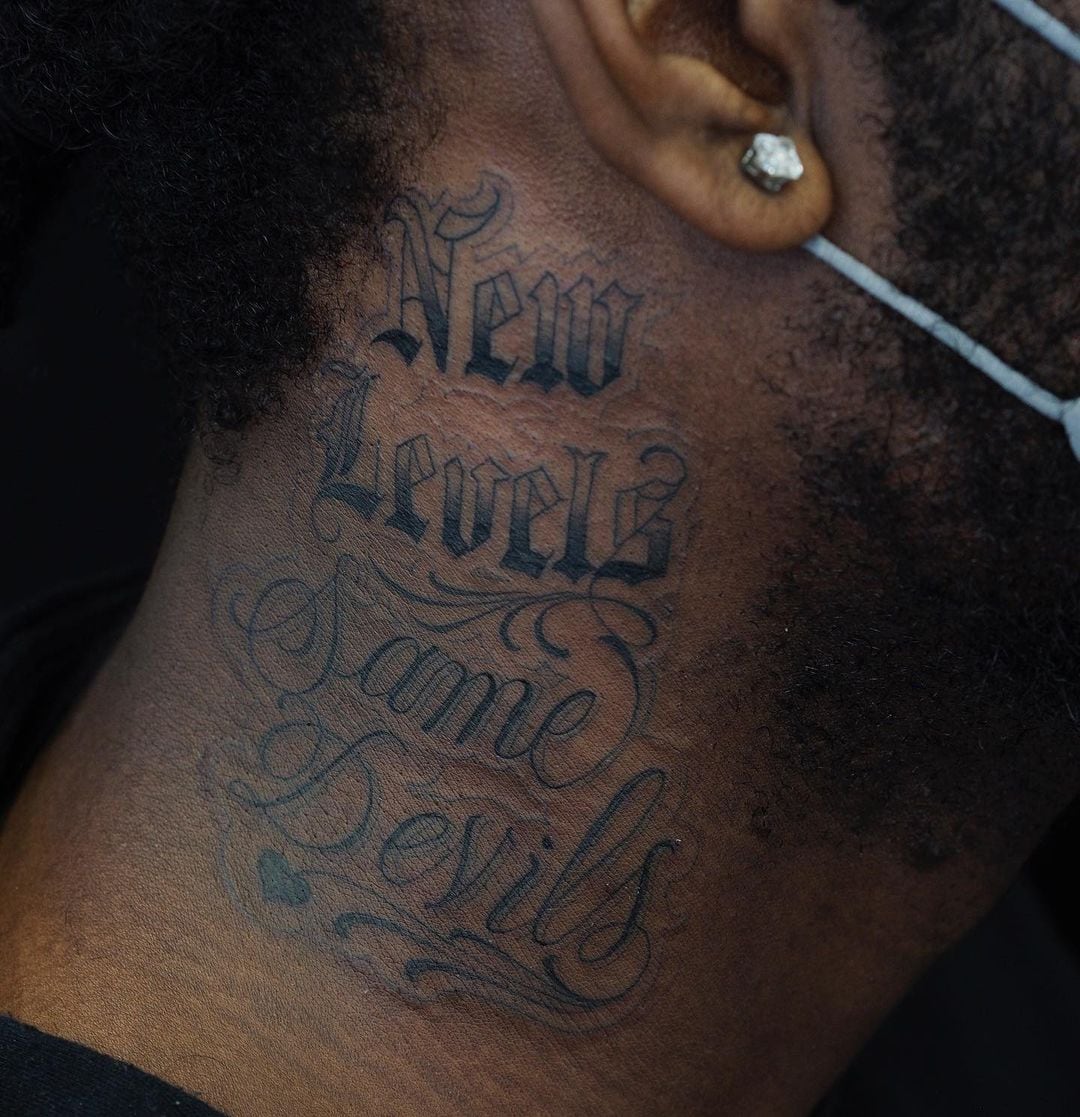 Another classic idea for a neck tattoo is some simple script using a phrase that you love.
In this design, the contrasting words are met with contrasting type styles as well. Nice touch!
27. Realistic Swallow Neck Tattoo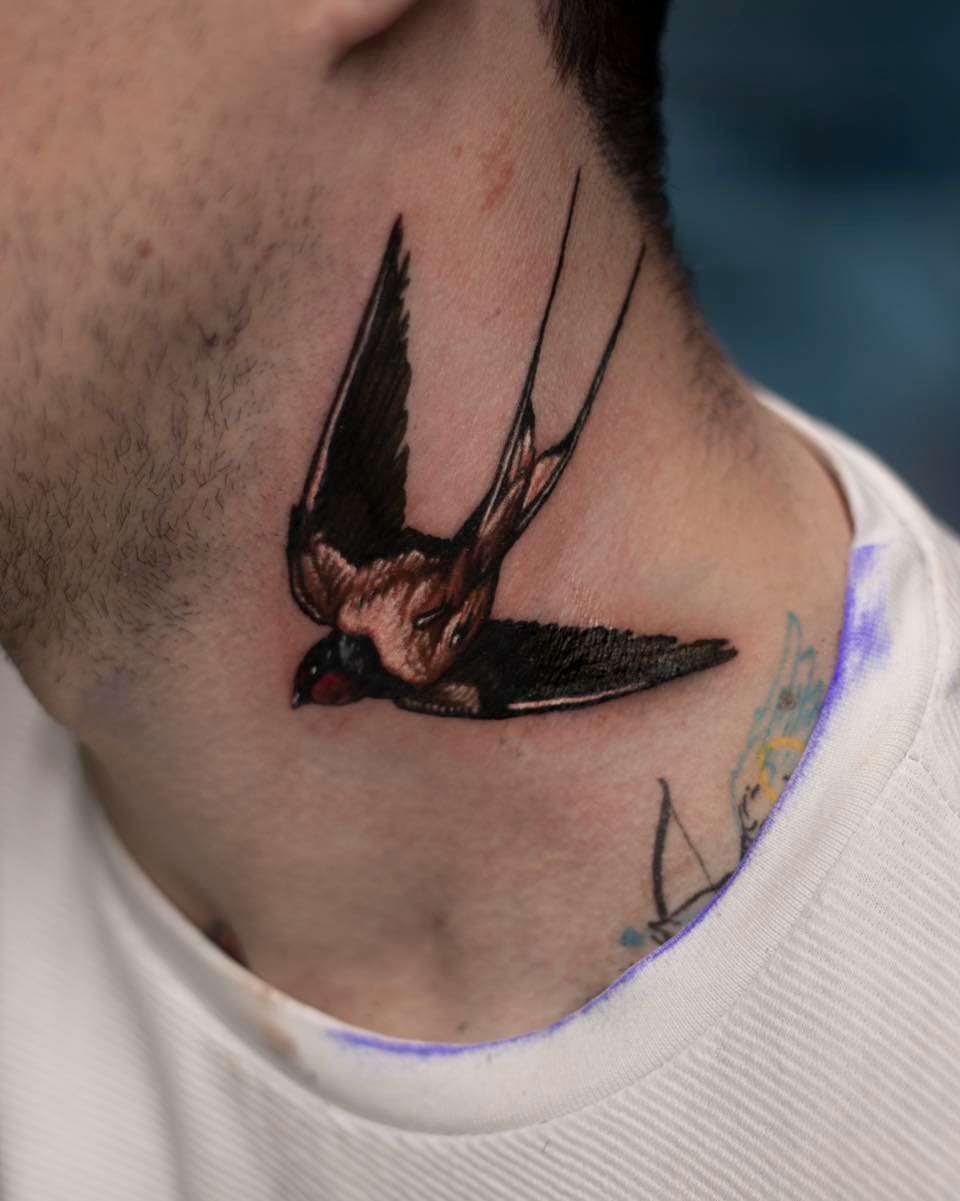 The swallow is such a classic tattoo design, and was originally inked on sailors for traveling 5,000 nautical miles (9,260 km).
If you're a sailor, this is a great tattoo to get, loaded with history.
28. Fine Line Bamboo Neck Tattoo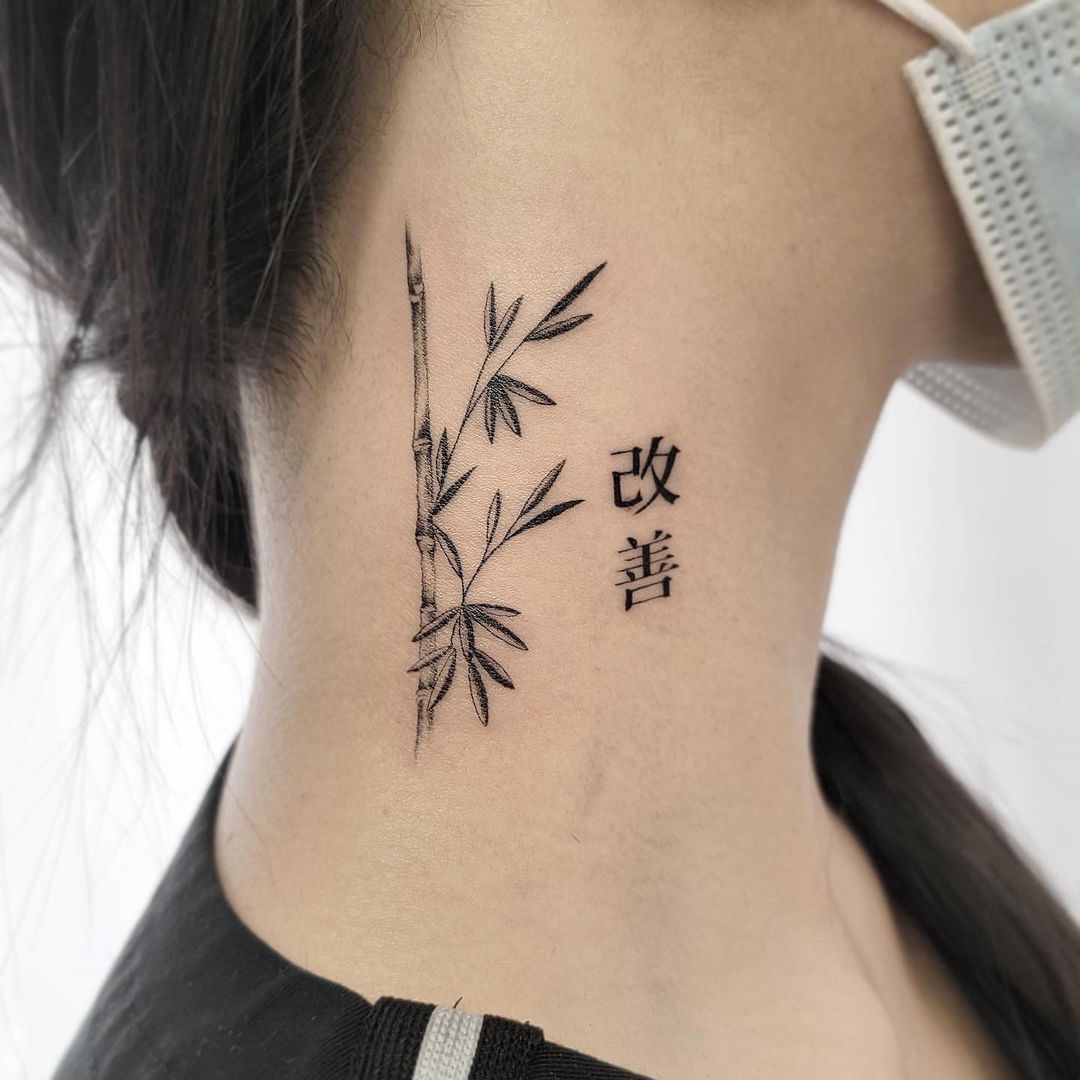 Minimalism is the name of the game with this design, allowing a single bamboo branch climb vertically up the neck with some matching symbols.
29. Black Work Feather Tattoo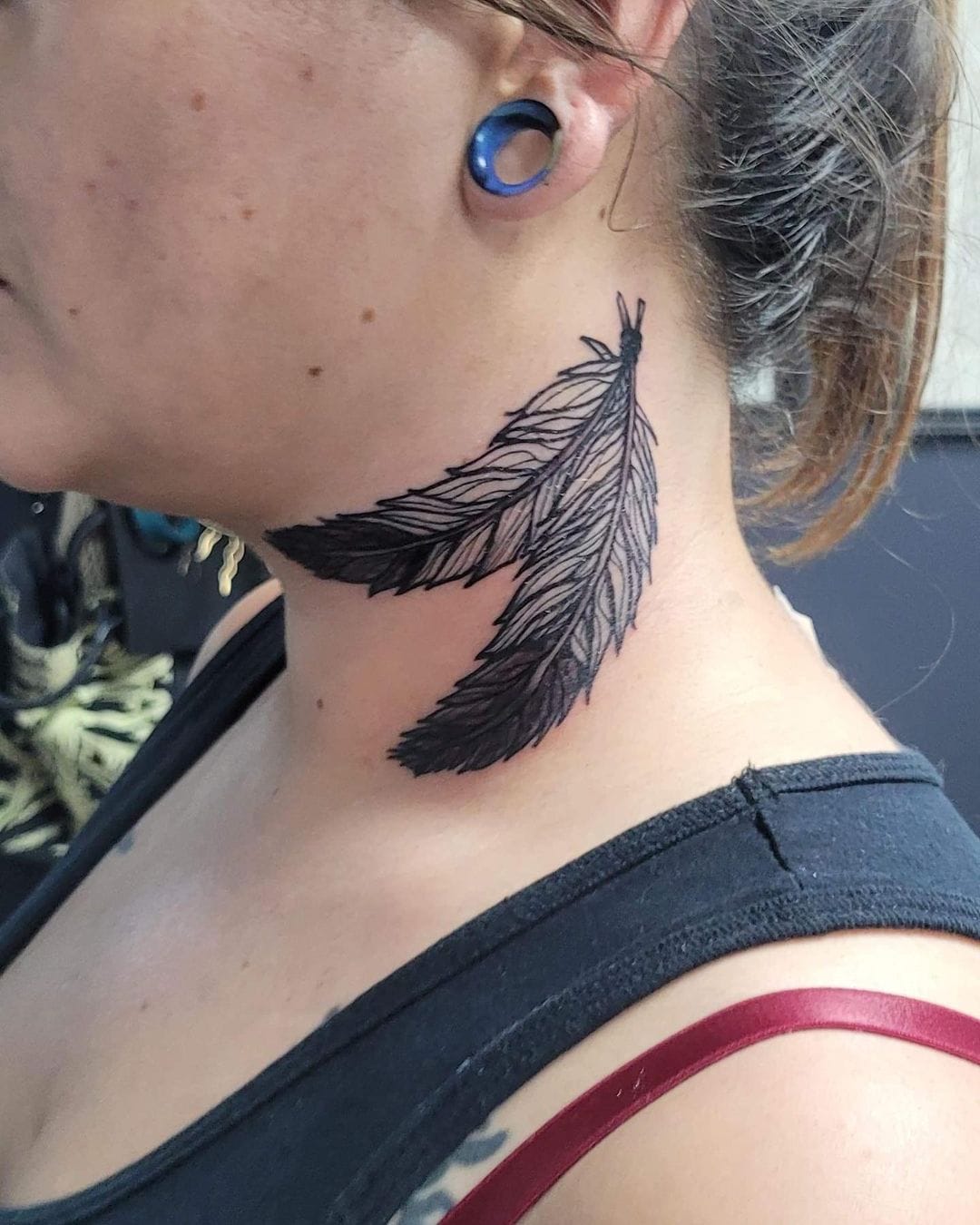 I love how this feather looks like it's blowing in the wind, perfectly curved to this woman jawline. I like how the artist added some extra contrast at the end of the feather with some darker ink.
30. Traditional Lady In A Rose Tattoo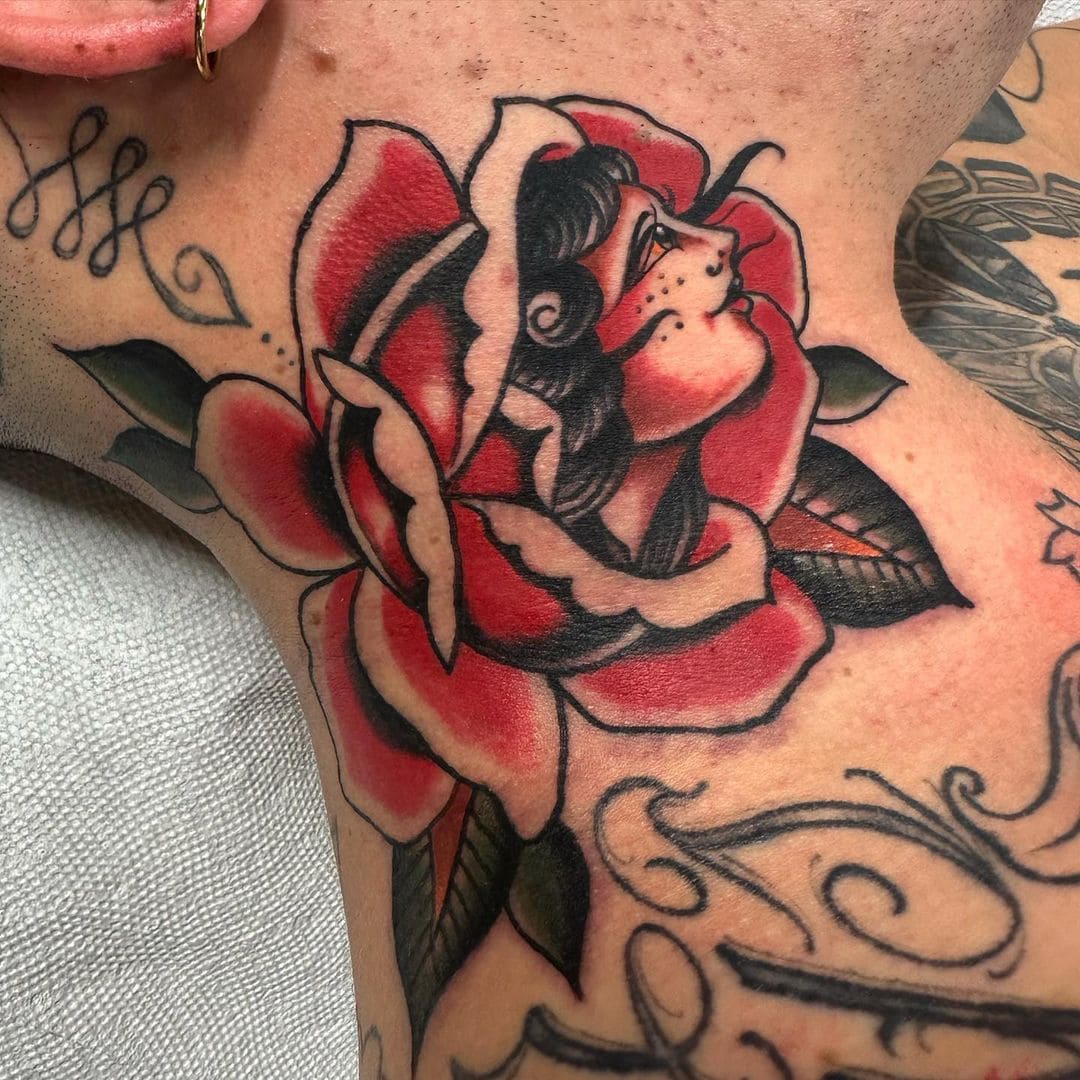 These Sailor Jerry style flash tattoos never get old in my opinion. There is something so classic about about these designs on the beck, and I like the addition of the portrait of the woman.
31. Neo-Traditional Tiger Neck Tattoo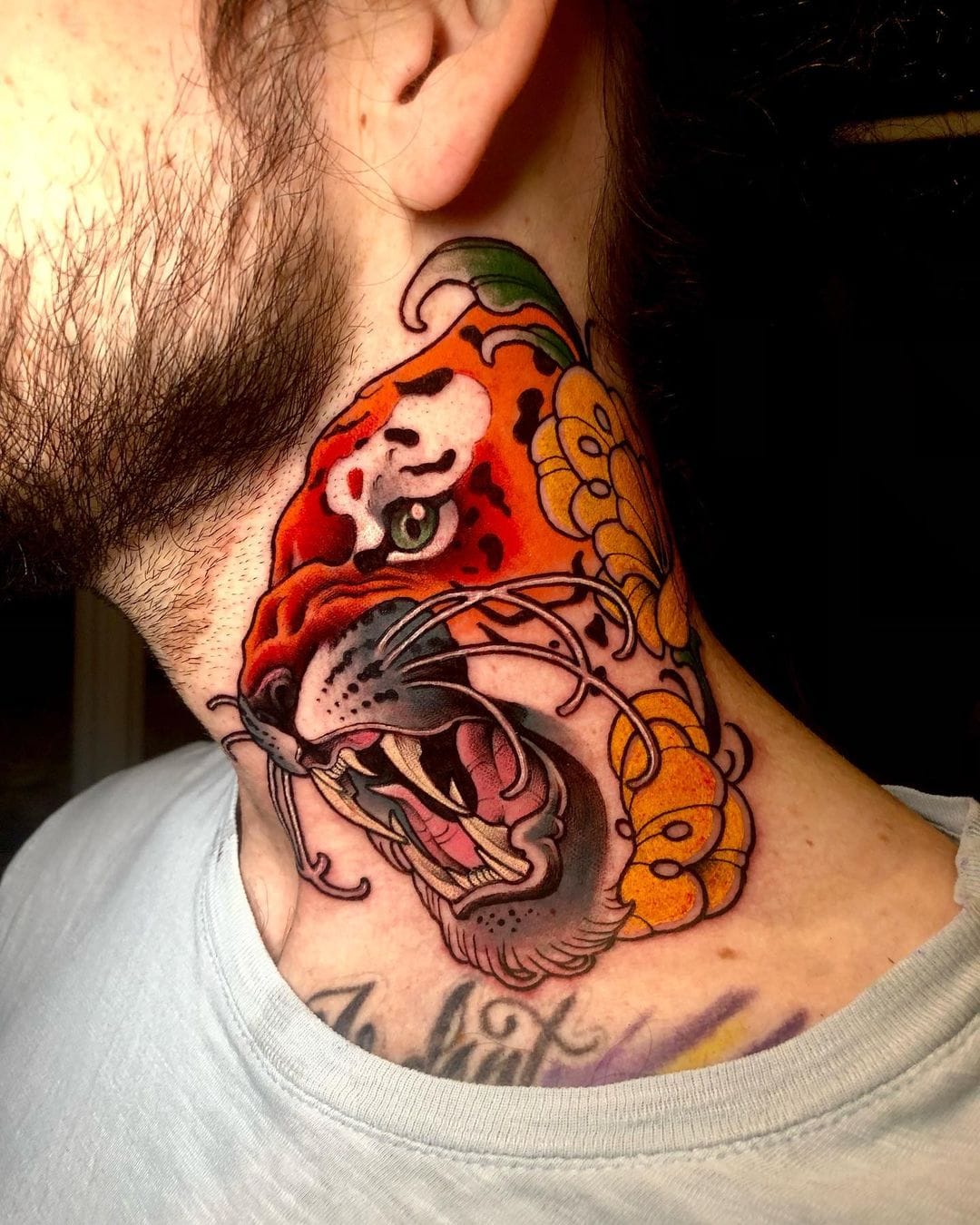 I love this tiger tattoo, especially with its roots in asian design characteristics.
The colors absolutely pop on this thing, and I can practically hear the roar coming out of it.
32. Traditional Coffin Nail Tattoos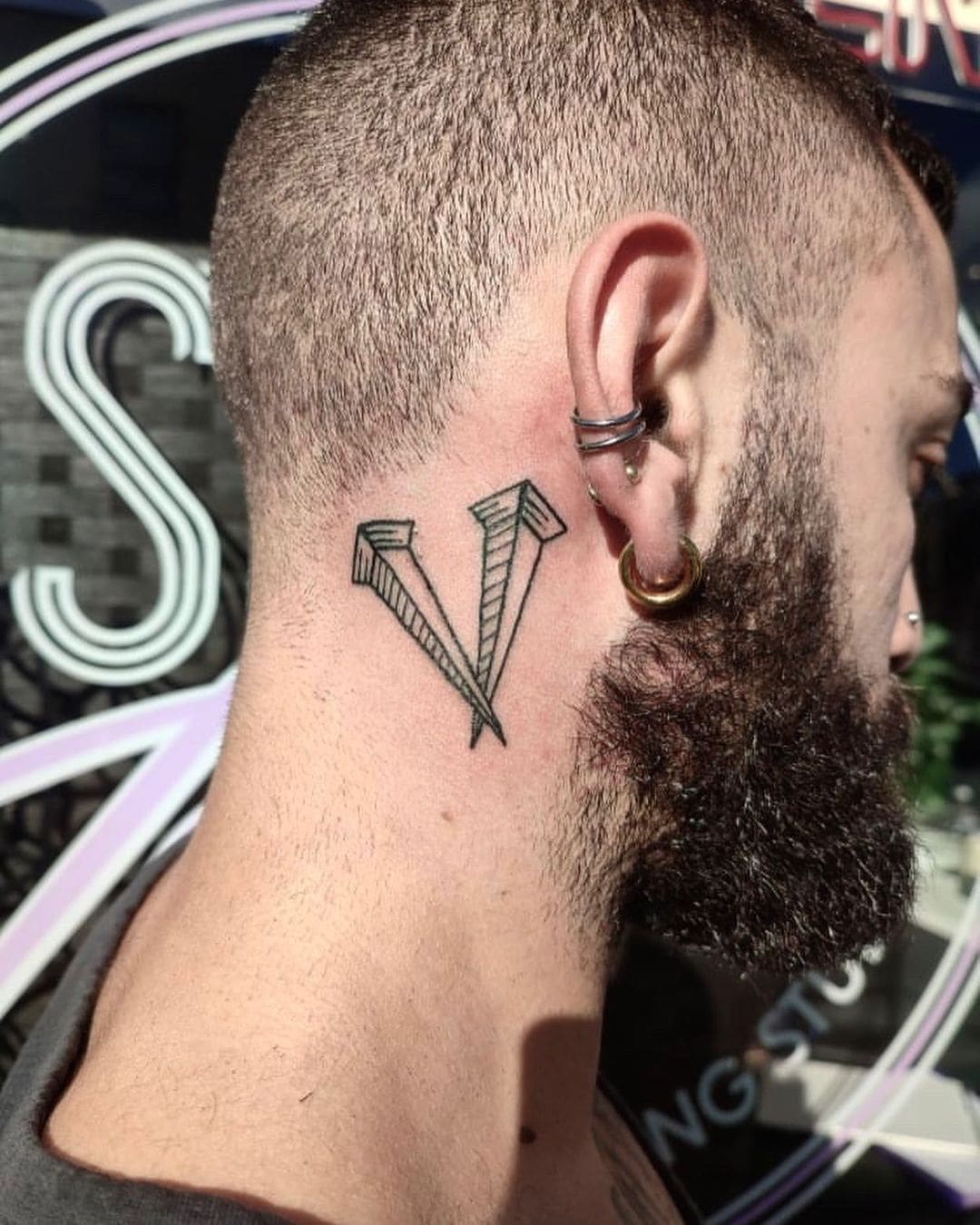 Coffin nails or railroad spikes? You decide.
Either way, it's a simple, minimalistic piece that doesn't scream for attention, and is open to interpretation.
33. Traditional Monster Tattoo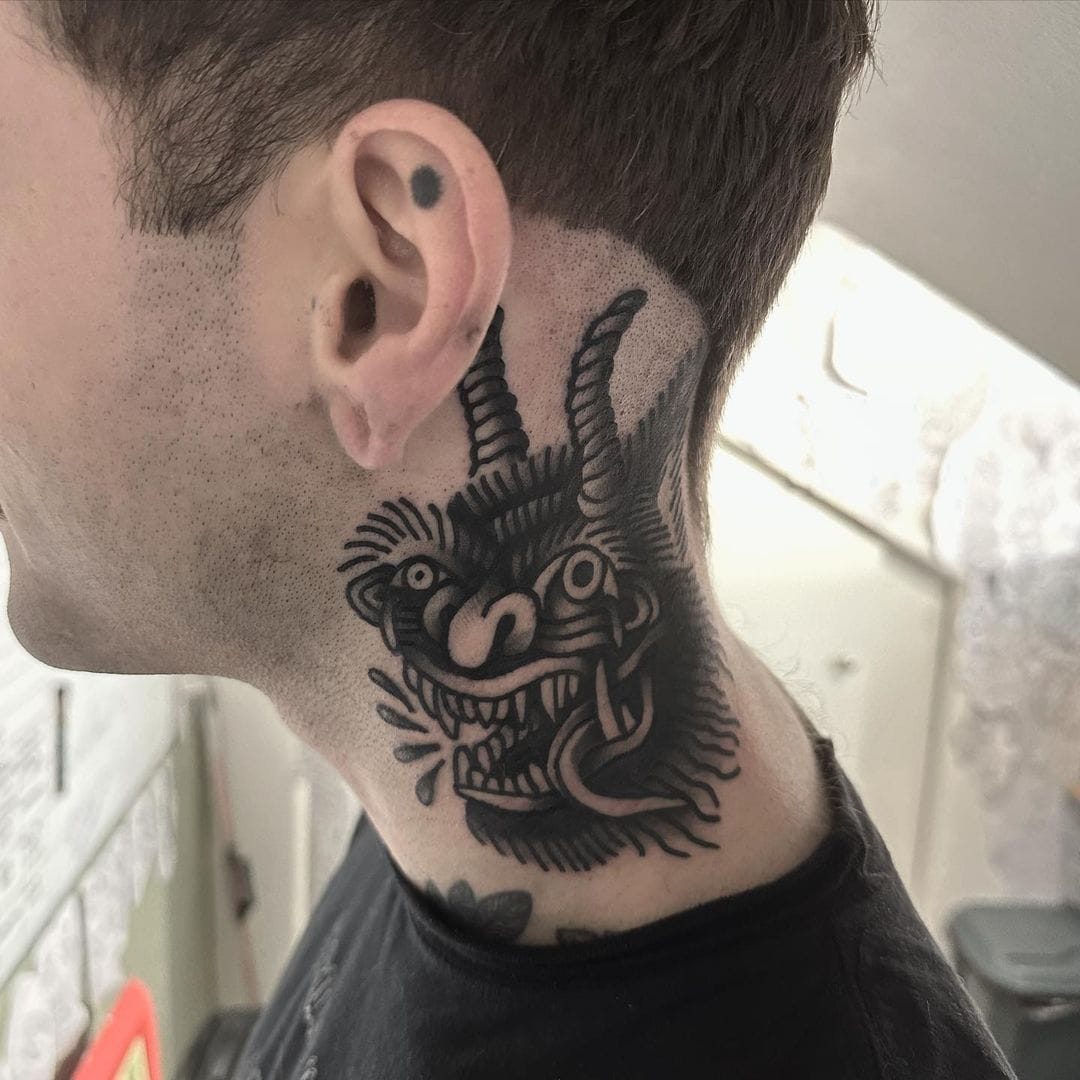 There is something so satisfying about Chinese dragons that I never get sick of.
Their menacing faces and long bodies give us so many great opportunities for interesting tattoo designs.
34. Traditional Bird Neck Tattoo
Nothing beats a bird tattoo in the traditional style, and this side of the neck tattoo is no exception.
35. Black Work Medusa Neck Tattoos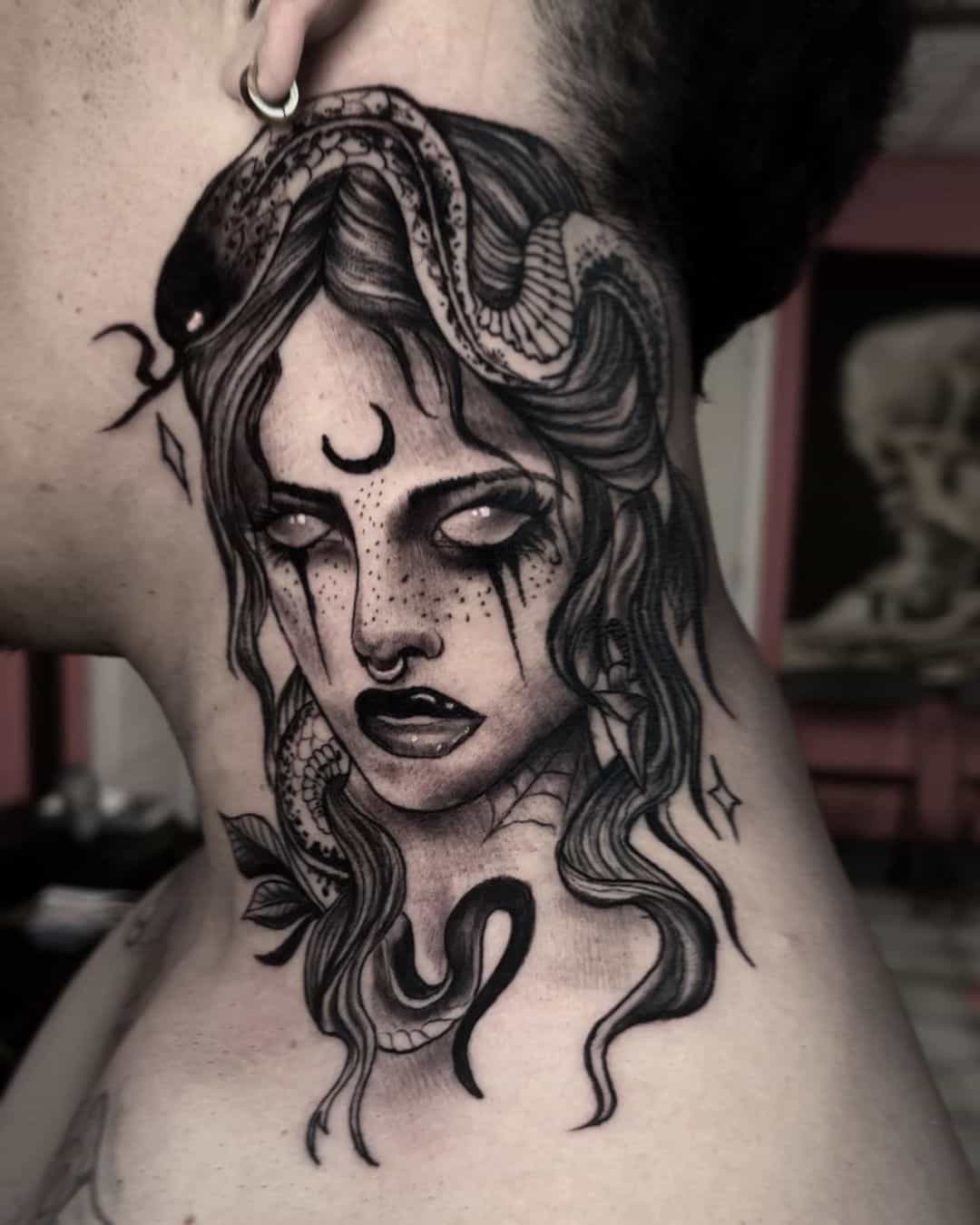 This tattoo is just a ten out of ten in all aspects. My favourite part about this piece is the size and overall design. I love her daunting eyes and crescent moon on her forhead that mimics a third eye; I am living for the witchy vibe this bad girl gives off!
I love the black work approach the tattooer took on this piece, it suits the design very well.
36. Bold Red Rose Neck Tattoo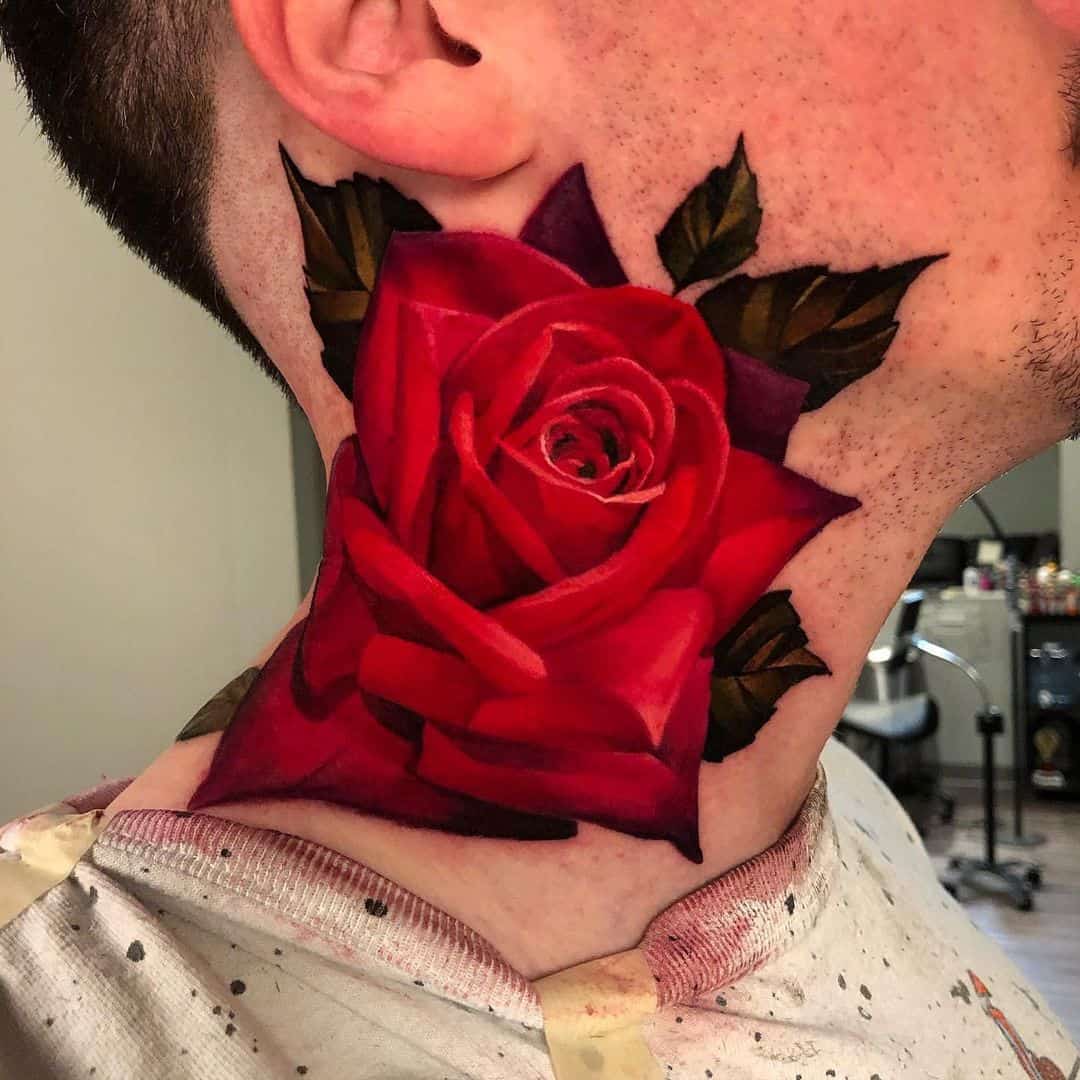 The bright and beautiful saturated red is the best part about this entire tattoo. This one stands out from the rest; I don't think I have ever seen a neck tattoo as bright as this one!
My favorite part about this tattoo is the realistic technique the artist used, which pairs very well with the bright colors. The lines are very soft and small, which makes this tattoo even more realistic.
37. Script Neck Tattoo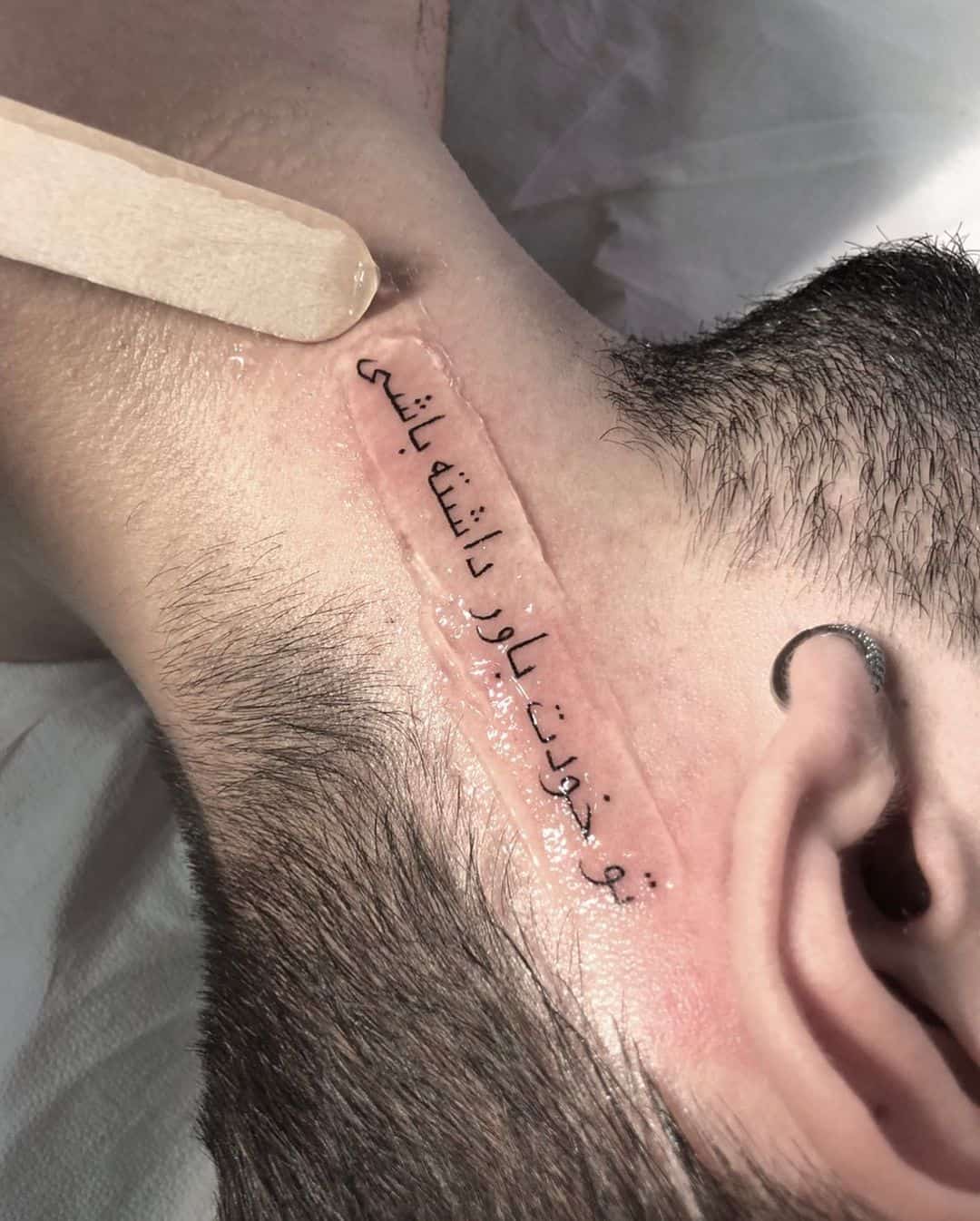 I just had to add this one to the list; script is one of the classics. I love the fine line technique the artist used here, it makes the tattoo bold surprisingly.
I love the simplicity of the tattoo combined with the placement. I admire the artist's ability to pull beautiful, clean thin lines on a difficult area.
38. Sketch Style Black Work Tattoo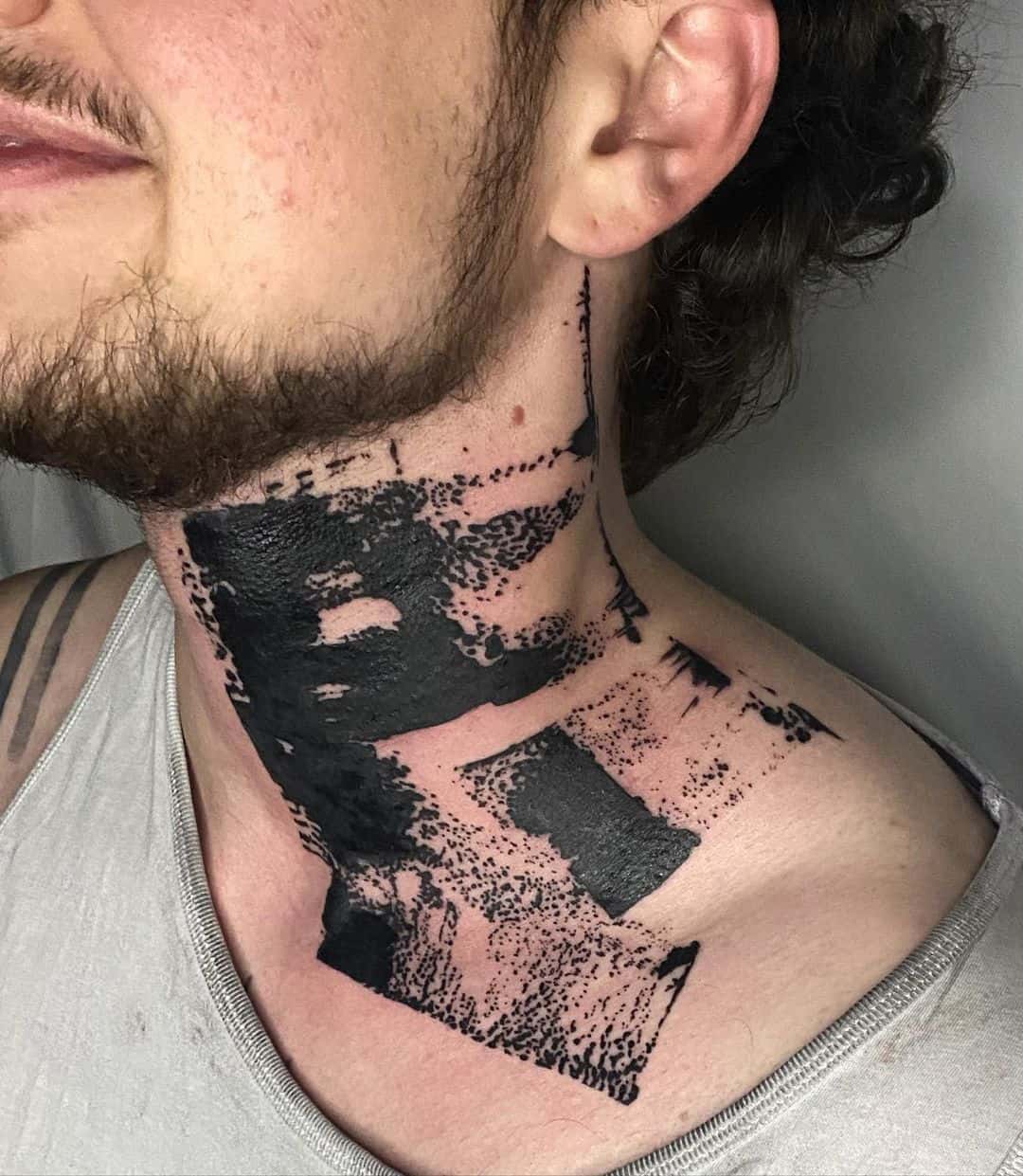 What I love most about this tattoo is how incredibly unique this entire piece is; from design all the way down to placement. This artist has a phenomenal skillset.
I love the abstract technique the artist used. I have not seen many of these kinds of tattoos, they are quite rare. I wouldn't mind getting one of these on myself now that I think about it!
39. Butterfly Barbed Wire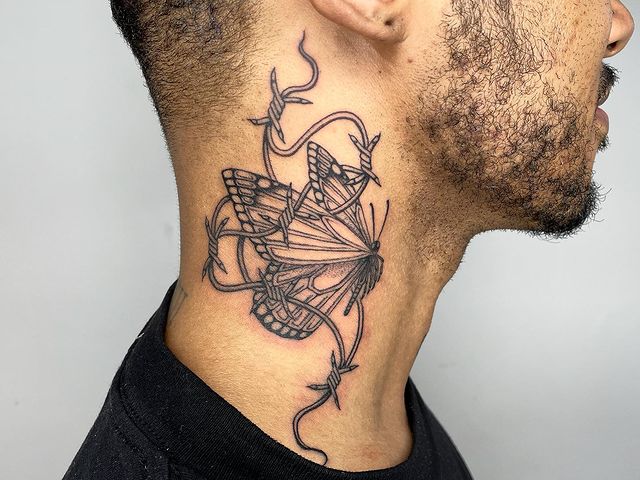 Here's something a little different.
Butterflies are pretty common these days (as well as moth tattoos!), but the artist took a little liberty with this design and added some intertwining barbed wire.
40. Traditional Wolf Tattoo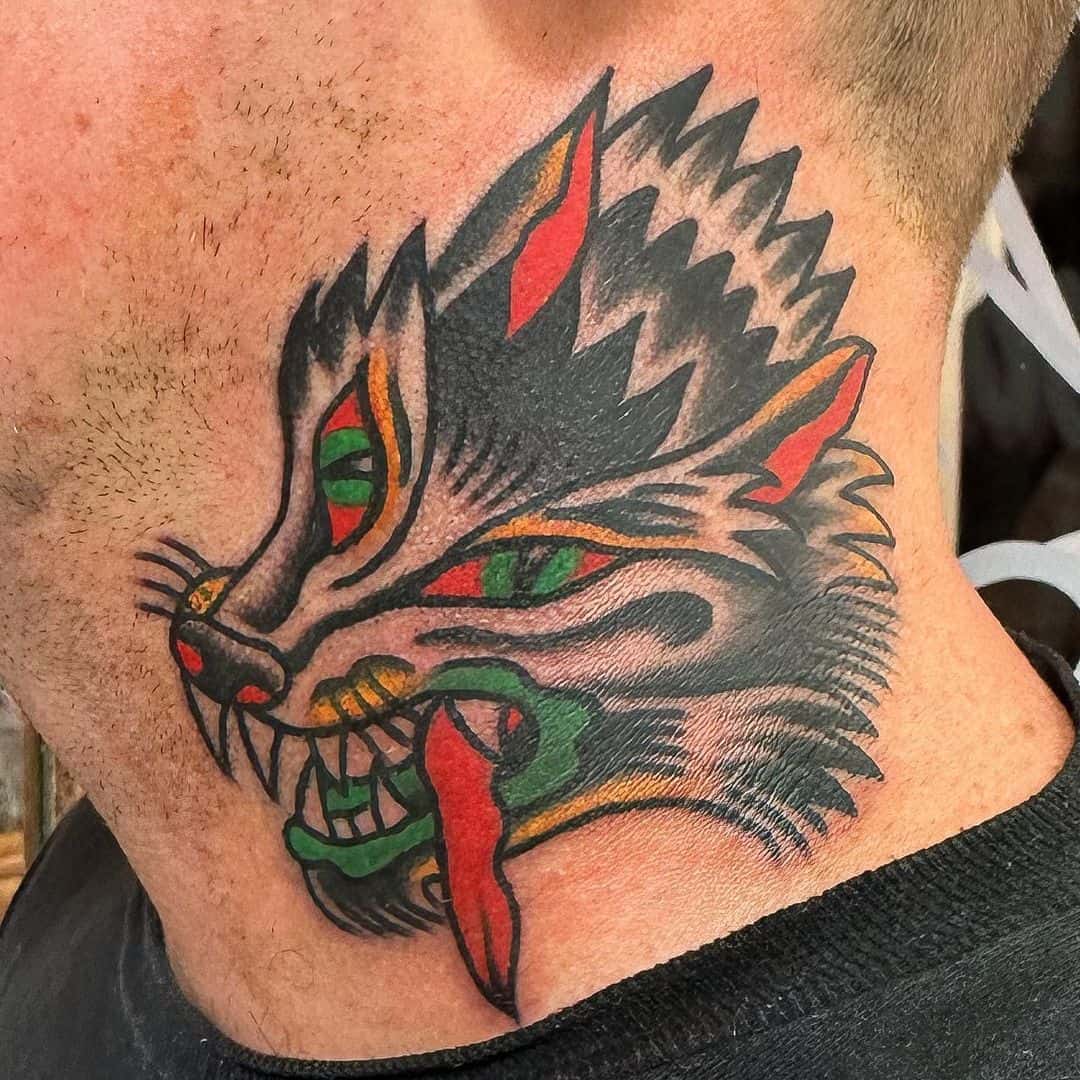 I am sure you know very well that this list will include tons of traditional pieces! This is a classic old-school traditional wolf piece, and I am living for it! My favorite part about this piece is the design of the tattoo, I love the wolf's beserk expression with his tongue all over the show!
What I admire most about this tattoo are the beautiful, bold lines. I love the weight of the lines too, they complement the minimal shading used here. Overall one of my favorite pieces on this list!
41 Realistic Scream Neck Tattoo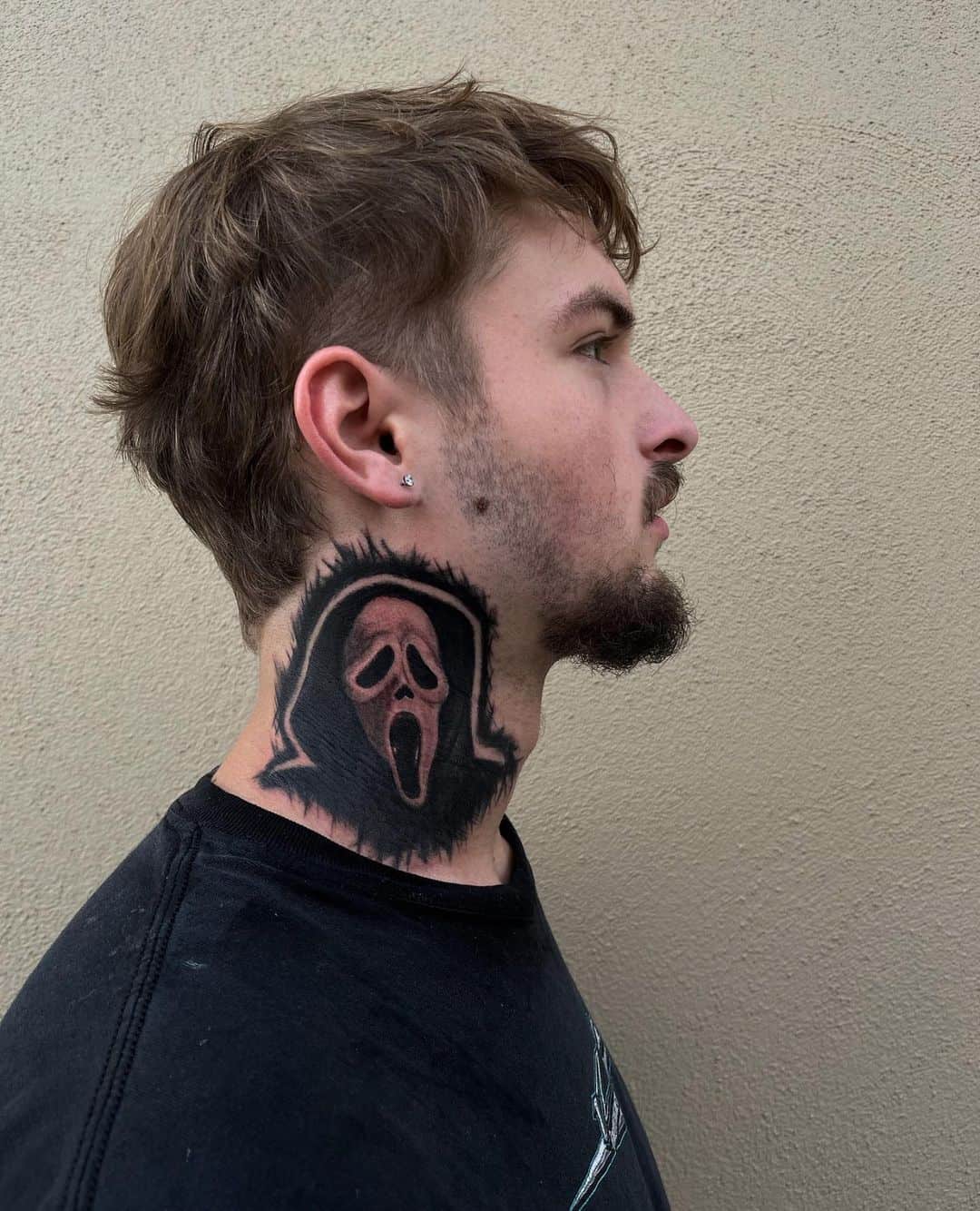 This is one of the boldest tattoos on this list and our bravest participant yet. The part that stands out to me the most about this piece is the amount of black ink used; this makes this tattoo a statement piece.
The placement and overall design is fantastic; I like the tribute to Scary Movie, we have a die-hard fan right here!
42. Traditonal Black Snake Neck Tattoo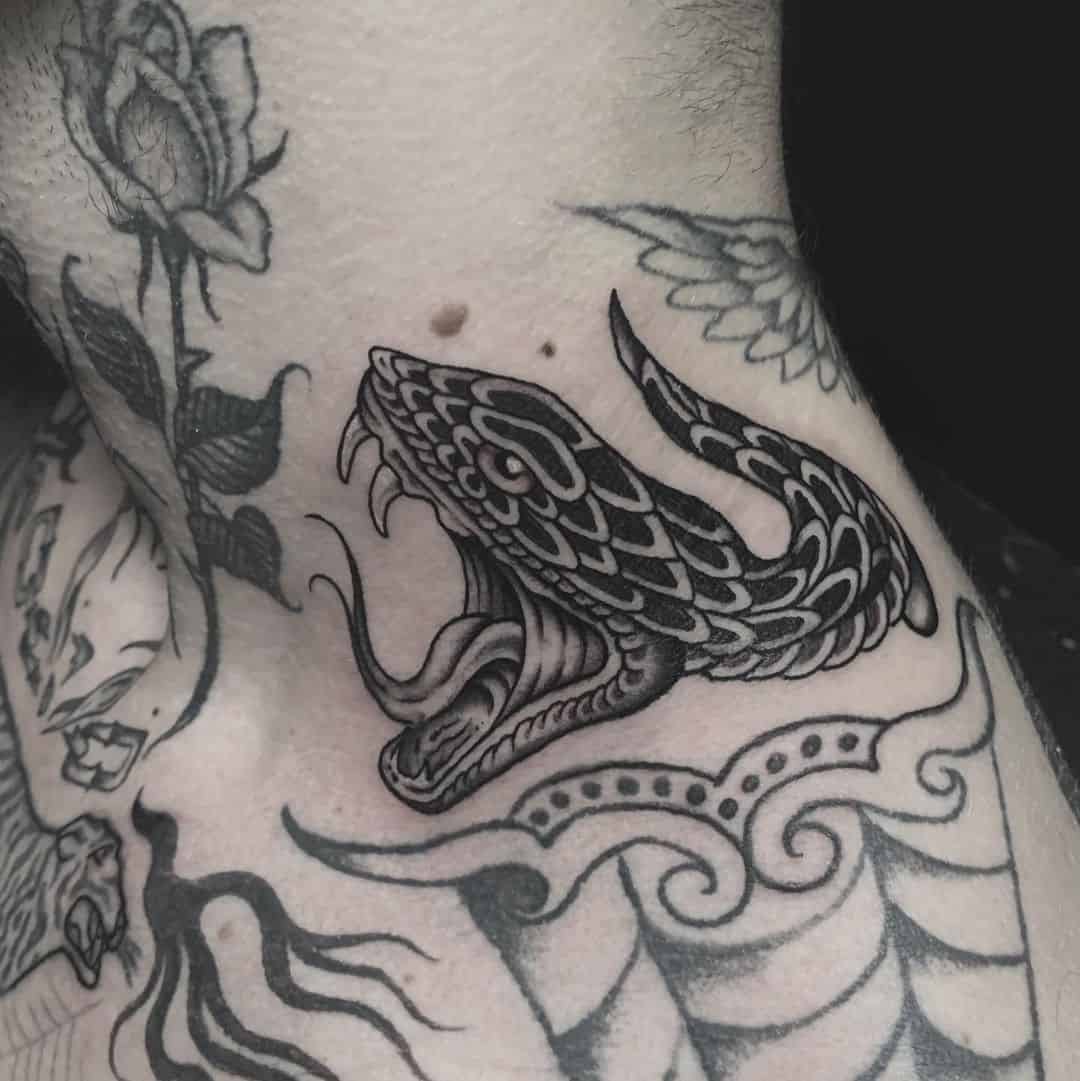 Well, would you look at that… another traditional piece on this badass list! I love the placement of this piece, it complements the size of the tattoo.
I love the clean lines the artists managed to pull to perfection on this piece. My favorite part about this snake tattoo is the shading the artist used inside the snake's mouth, it makes the piece bold and powerful.
43. Sacred Heart Neck Tattoo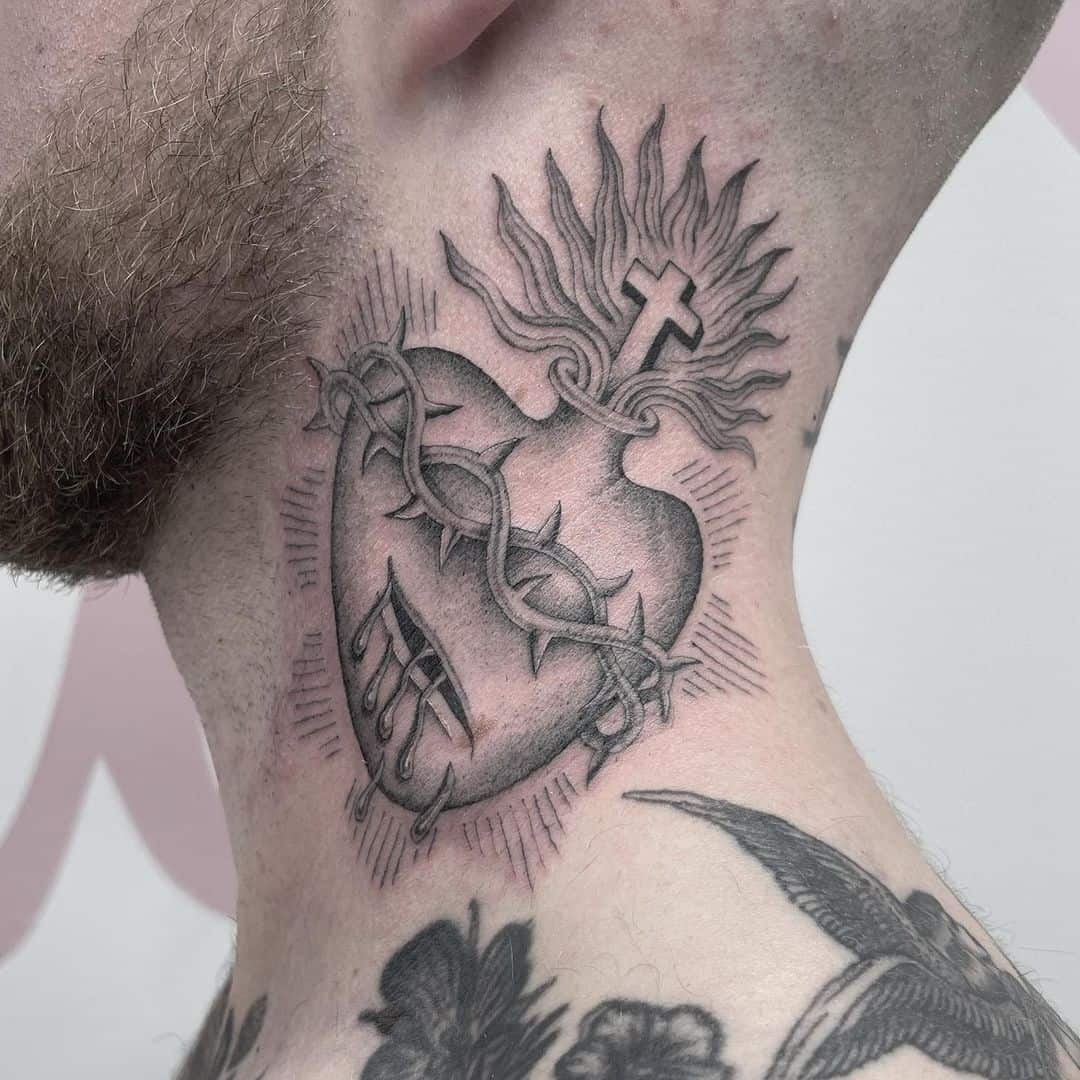 This beautiful old school traditional sacred heart has already stolen my heart! What makes this piece unique is how the artist used a more greywash ink rather than a saturated black; this is an interesting take, I like it!
I admire the thin lines used in this piece; somehow the artist still managed to maintain the traditional while making all of these unique changes.
44. Neo-Traditional Gargoyle Neck Tattoo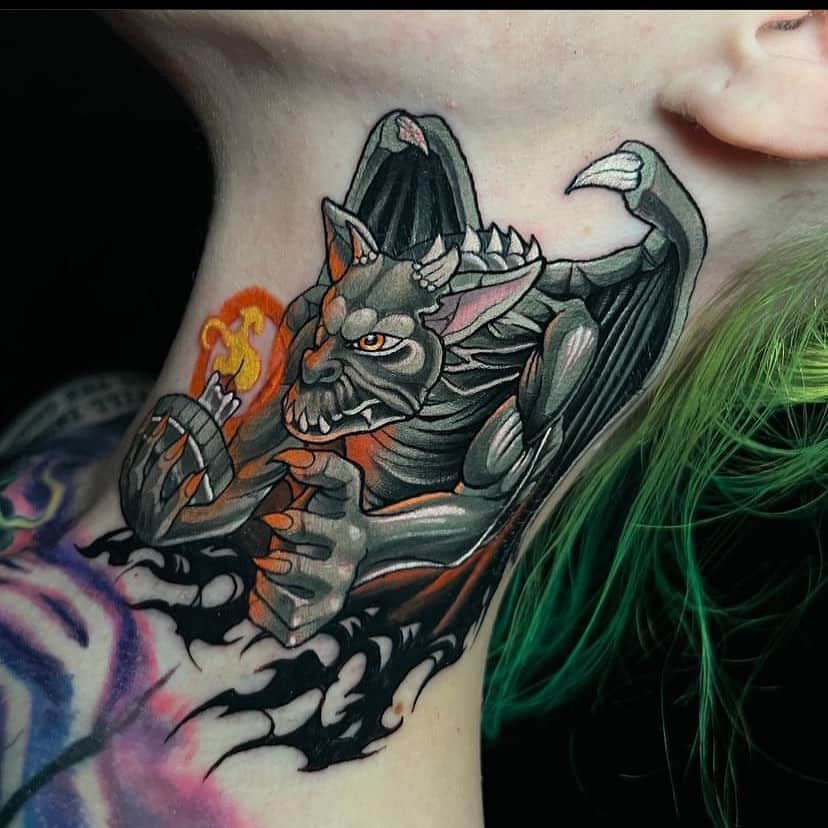 Finally, a little bit of color to this extensive list. I love the imagery the artist played around with. The cartoon-like design is a really interesting take as it juxtaposes the monstrous gargoyle!
My favorite part about this neo traditional tattoo is the flawless shading followed by the clean lines. I like the black work element underneath his feet, it makes the rest of the tattoo stand out remarkably.
45 Realistic Demon Neck Tattoo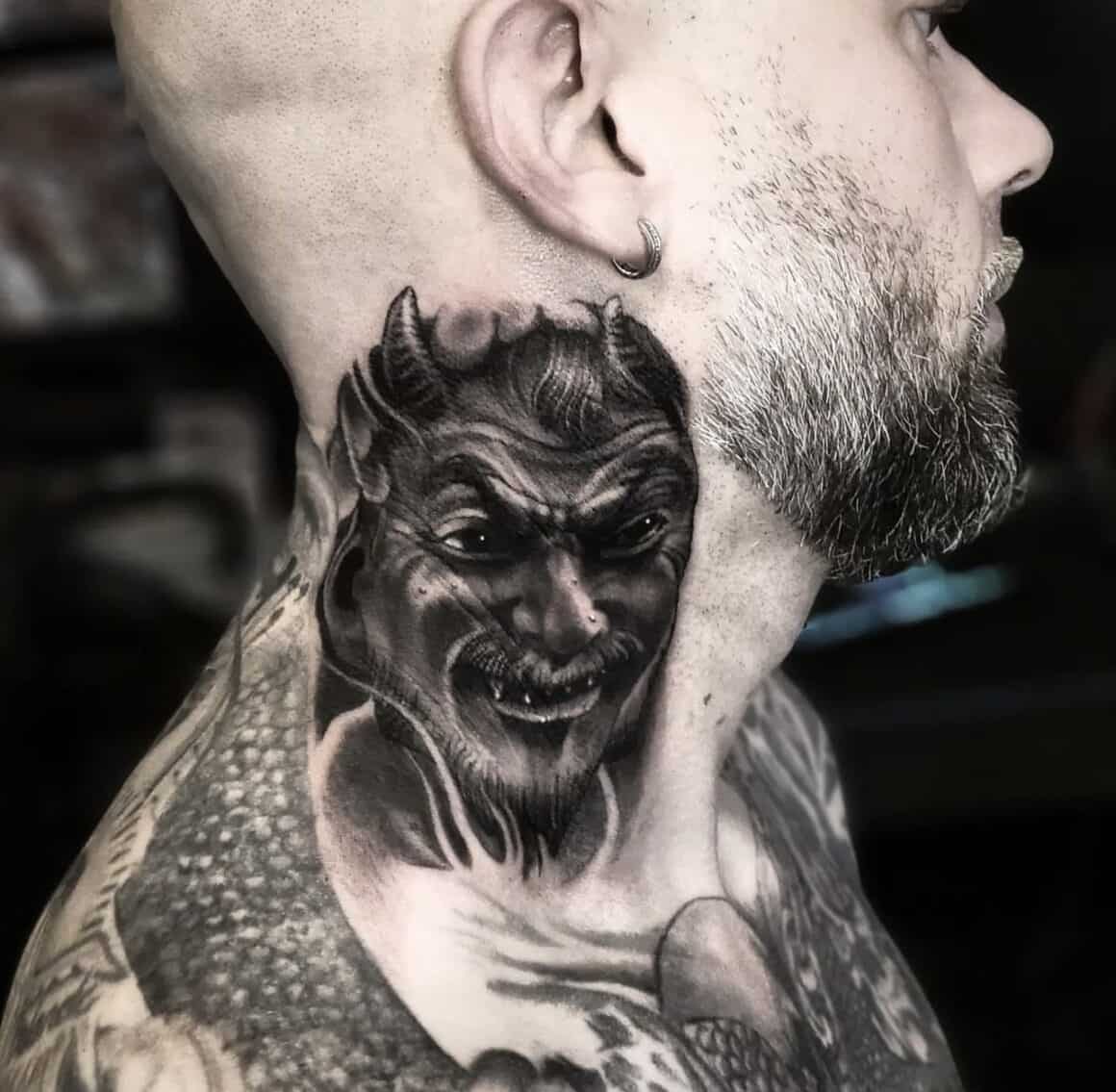 I admire the level of skill it takes to execute this kind of piece; realism that actually looks good on a neck is hard to pull off, so well done to this artist!
I love the placement and the design, you can see this was a custom piece and obviously very special to the customer. I love the darker tones used by the artist, it makes this piece the stunner that it is.
46. Neo-Traditional Dog Neck Tattoo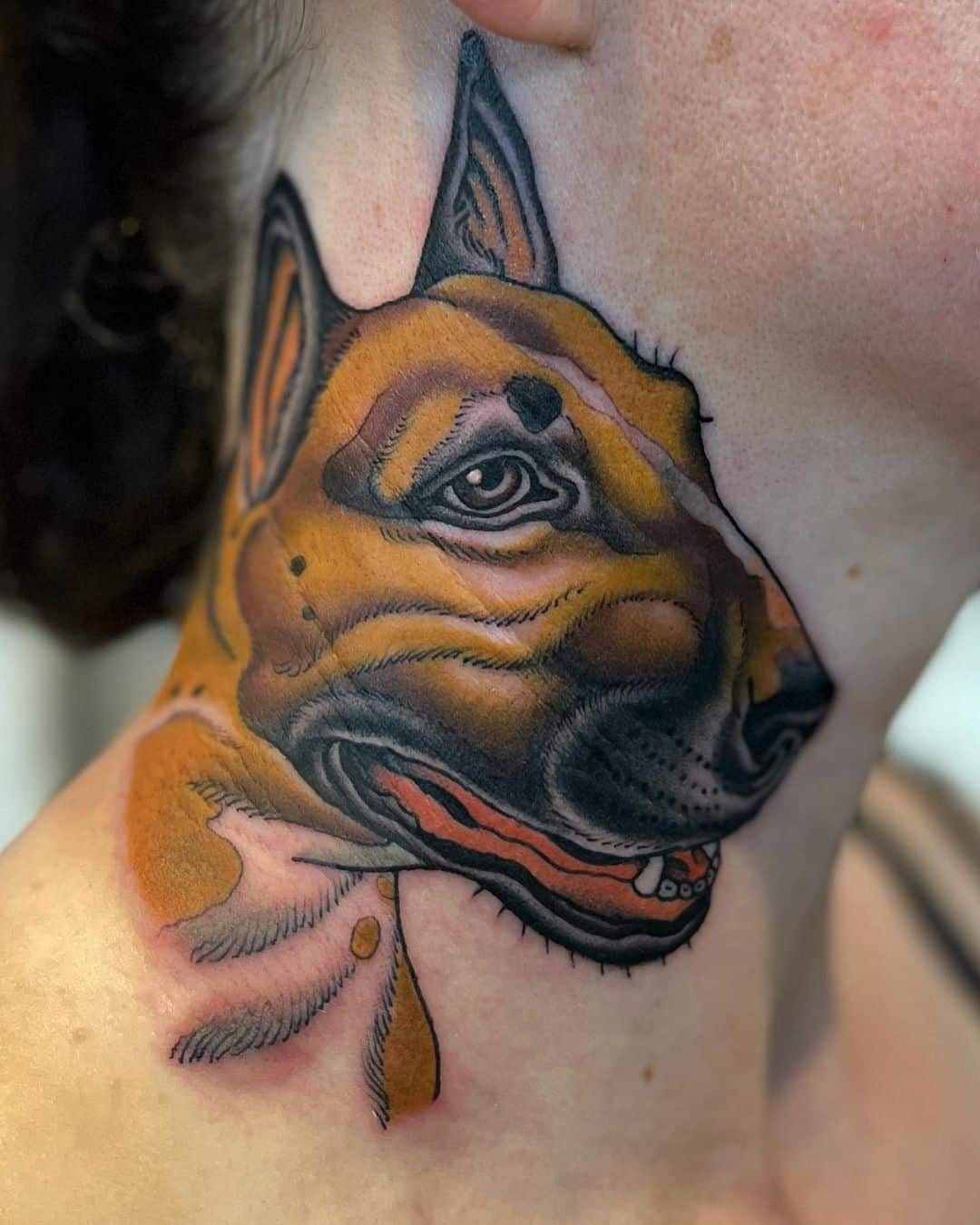 This is another artist who is very good at their craft! This is most certainly a custom piece, the dog is probably owned by the brave person getting their neck tattooed; they must love their dog very much.
I love the browns in the dog's fur that almost has a golden undertone, that is a very unique touch! My favorite part about this tattoo is the phenomenal clean and crispy lines!
47. Capricorn Neck Tattoo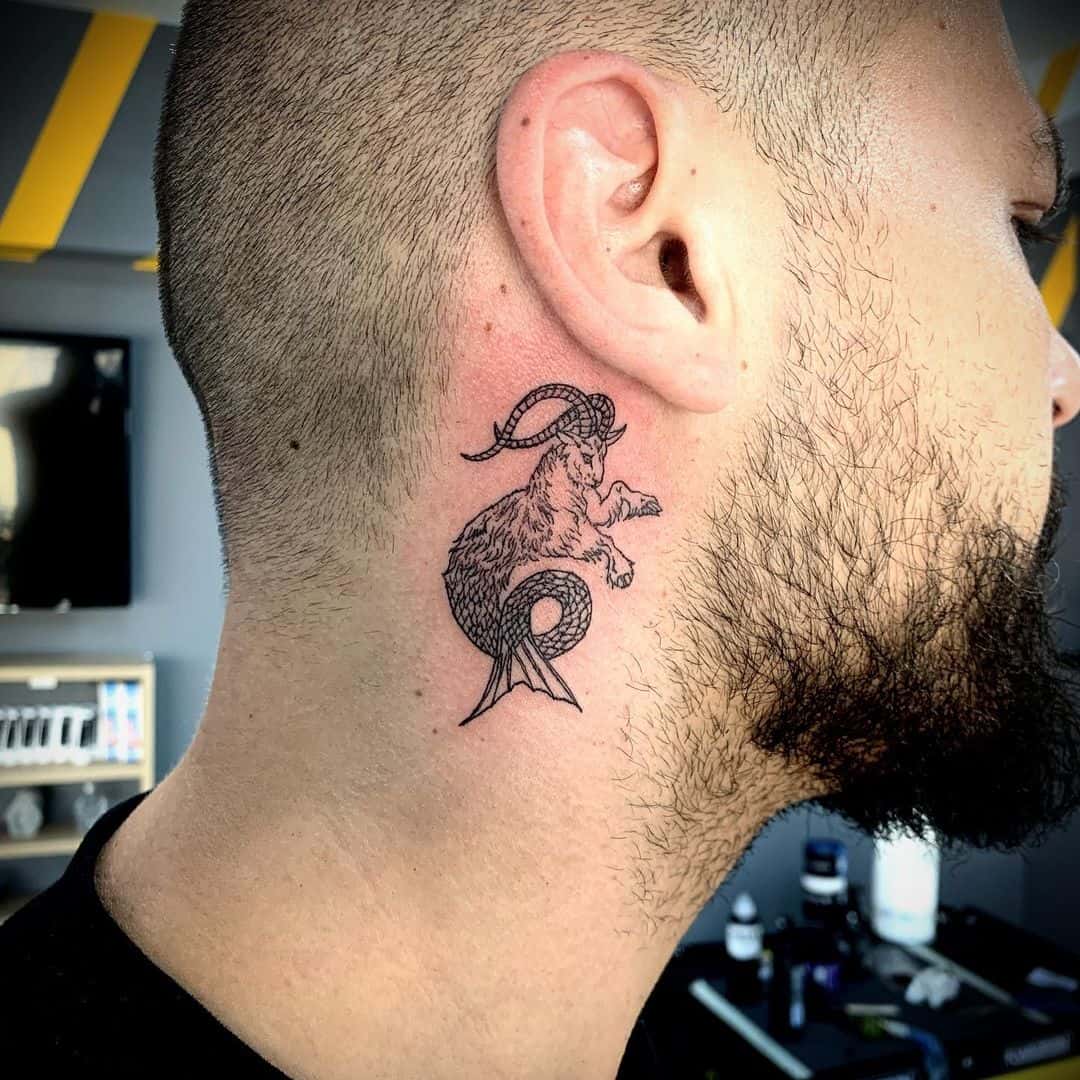 Ohh… This is an absolute marvel of a tattoo! I love the Capricorn imagery the artist used here; another obvious custom design, which I love.
I love the simplistic approach the artist used here, the absence of shading makes this powerful creature stand out more than it already is, and that is saying something!
Small neck tattoos
Neck tattoos don't have to be the bold, rebellious bad boys you think they are; sometimes, they can be inconspicuous and dainty, hiding in the scruff of your neck.
Even though small neck tattoos appear soft, they can also pack a powerful punch. Here are some of the best ones I have found.
48. Simple Cross Neck Tattoo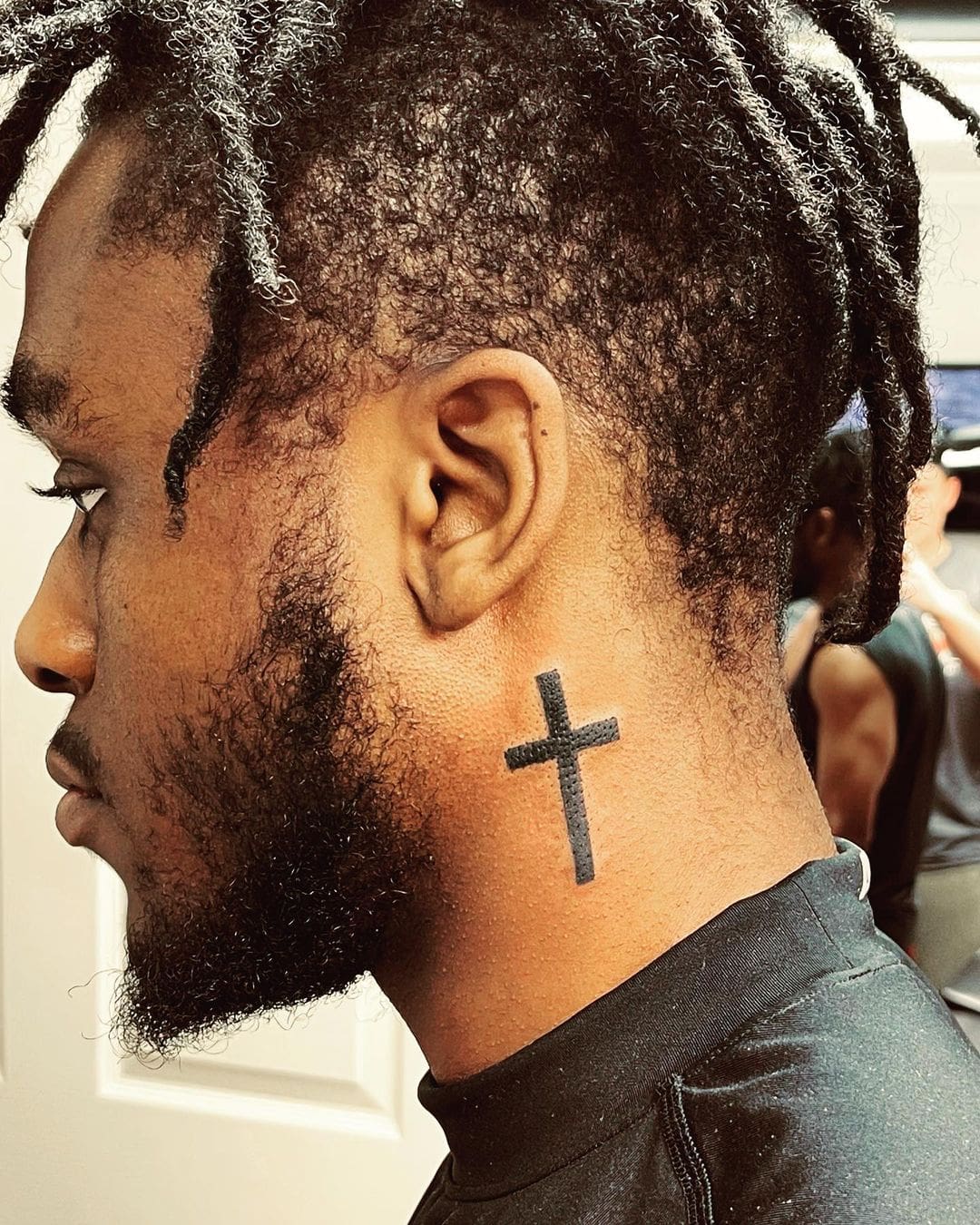 Keeping it simple is always a safe bet. This minimalistic cross tattoo is a great size for the side of the neck, which gives it lots of breathing room.
49. Minimal Fine Line Tattoo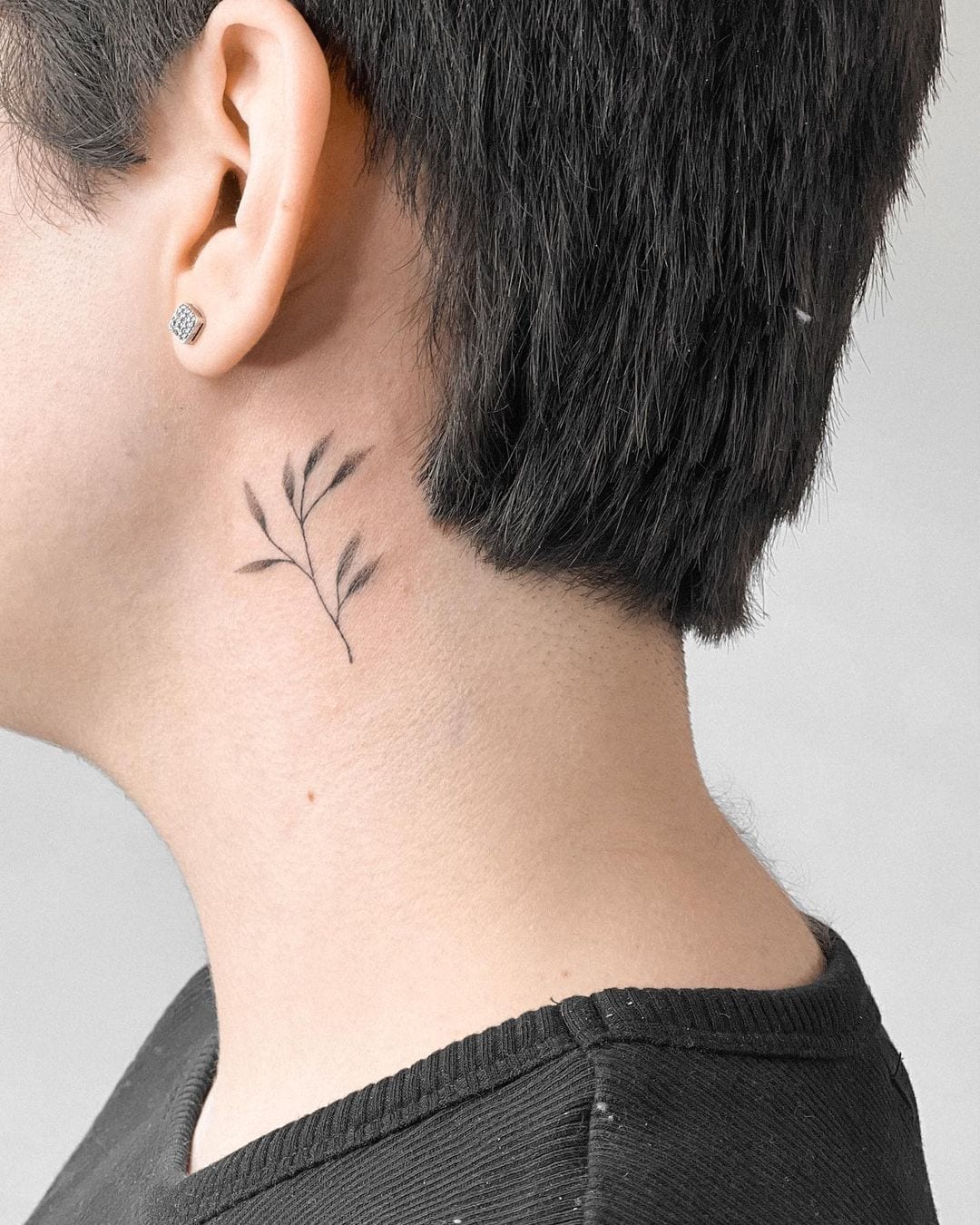 Sometimes the smaller pieces can provide the biggest impact. This subtle plant tattoo is not super loud, which is what a lot of people are looking for.
This fine line style is a great choice for the neck, as there isn't too much space to work it. Might as well make the best use of it!
50. Spider Neck Tattoo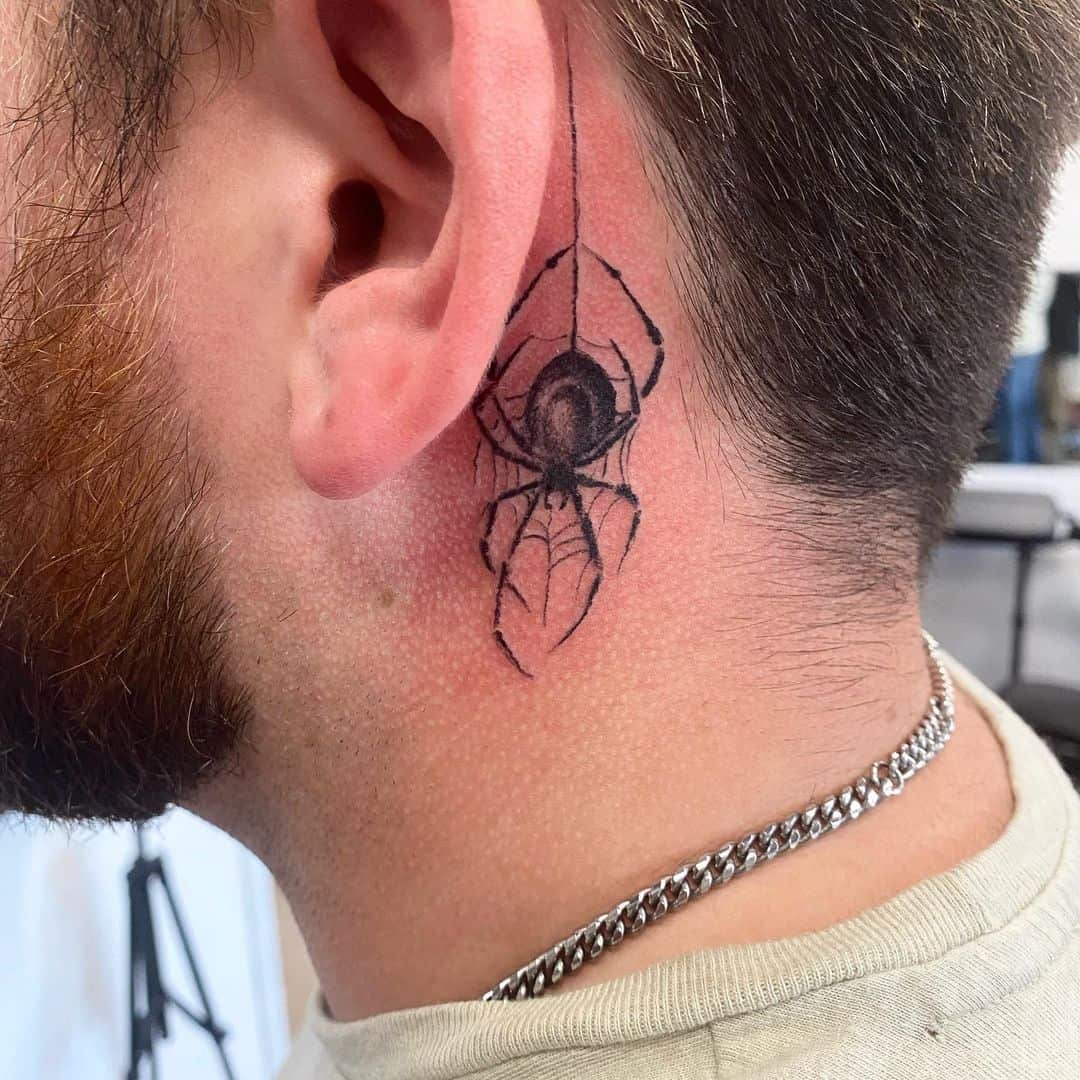 This cute little critter ain't so cute… a black widow will kill you in an instant; this is why I like this tattoo, it screams DANGER!
I think the placement of this spider tattoo is artistic and unique, it suits the design very well. The lines are soft and make the sider appear aloof and mysterious. Ten out of ten for this piece!
Frequently Asked Questions
How much is a neck tattoo?
Depending on the size, style and experience of the artist doing the tattoo, expect to pay anywhere from $60 to $500
How bad does a neck tattoo hurt?
Pain will range depending on the placement on the neck. Expect the most pain on the throat, and a little bit less on the sides and back.
Is a neck tattoo unprofessional?
Experts say that neck tattoos can often be looked as as unprofessional, especially when it comes to client facing jobs.
What is the tattoo on DMX throat?
DMX has a tattoo on his throat that says "Exodus 1:7" meaning "The Children of Israel Were Fruitful, and Increased Abundantly."
Which tattoo is best for neck?
This all comes down to personal preference. The most popular neck tattoos we see involve animals, symbolism, text, flash style, and geometric patterns.
Summary
We hope that his list of neck tattoos for men has helped inspire you for your next piece. If you're looking for more inspiration, check out: