The God of War Greek mythology-inspired video game series has enchanted players for the last 17 years. The story follows Kratos, a spartan warrior after he was tricked into killing his family by Ares, the Greek God of War. Their battle, and the wars within it, unfold over the release of 15 video games.
The imagery of God of War has inspired fan tattoos ranging in style and content. Playing off of classical greek statues, Nordic designs, and contemporary interpretations, artists are always finding new ways to interpret the story and characters of God of War.
1. Haunting Kratos Tattoo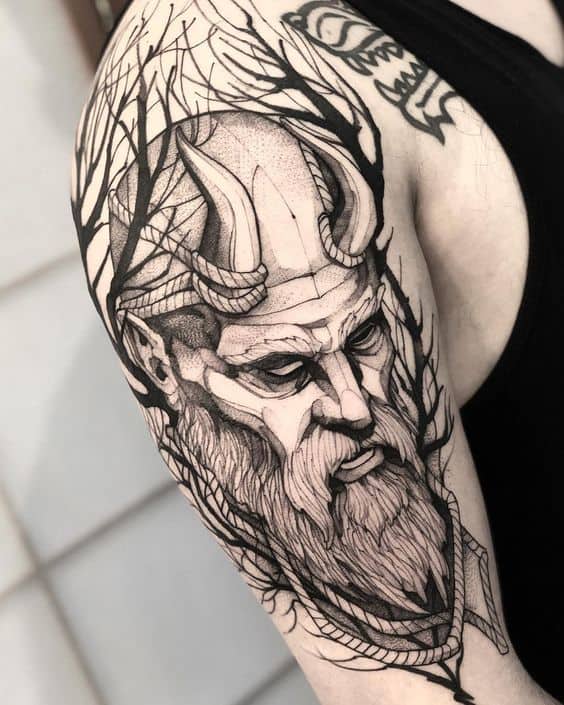 This design incorporates different artistic styles to creatively render Kratos' portrait. The ropes are cleverly used to entrap the character and frame him in the design.
2. Father and Son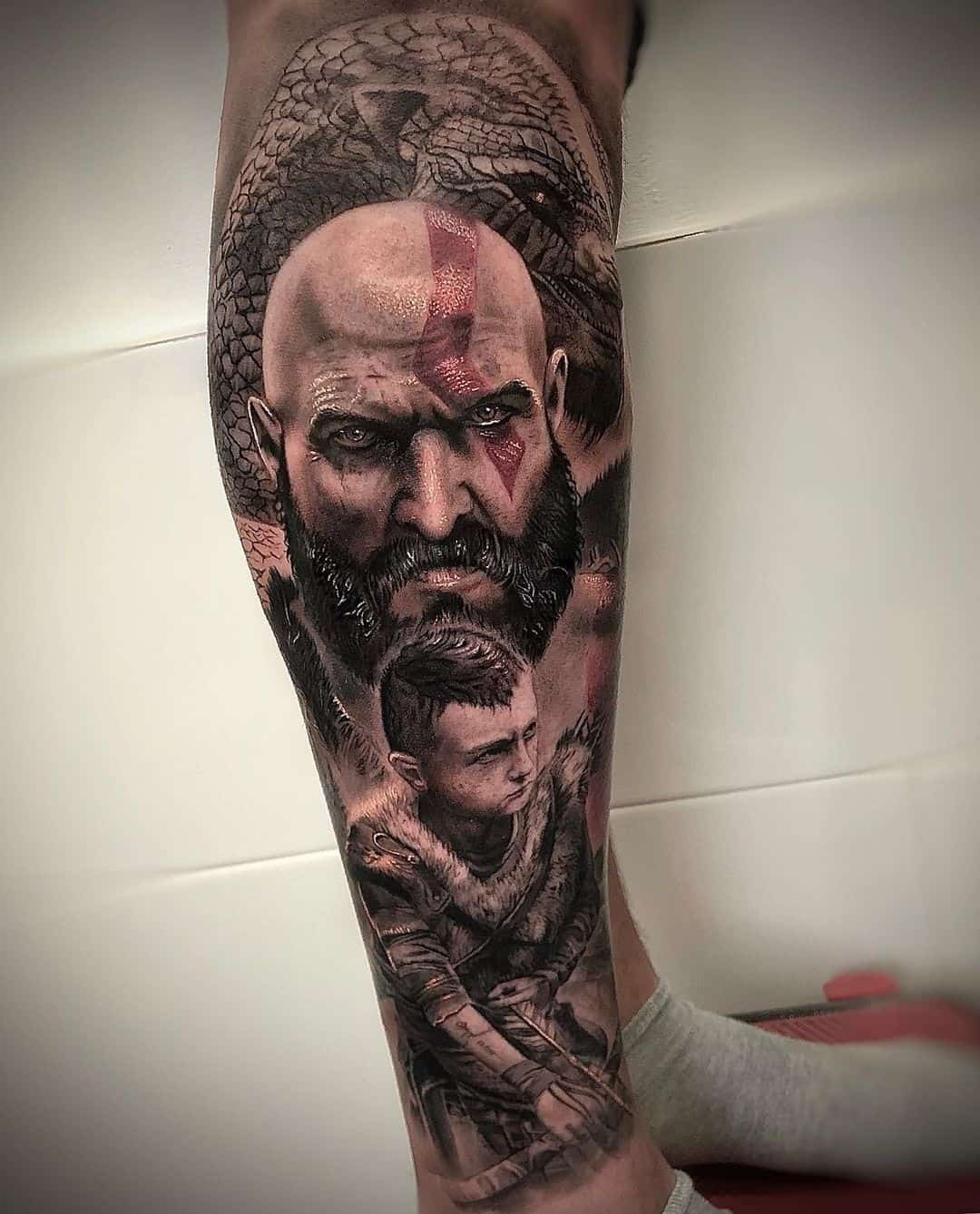 I mean, just look at the detail in this thing. I love the monochromatic look of this piece, and the slight touches of red and white make it pop in all the right places.
The father-son portrait is also an interesting take, and I like this one in particular because this was the first game in the series I played.
3. Magical Kratos Tattoo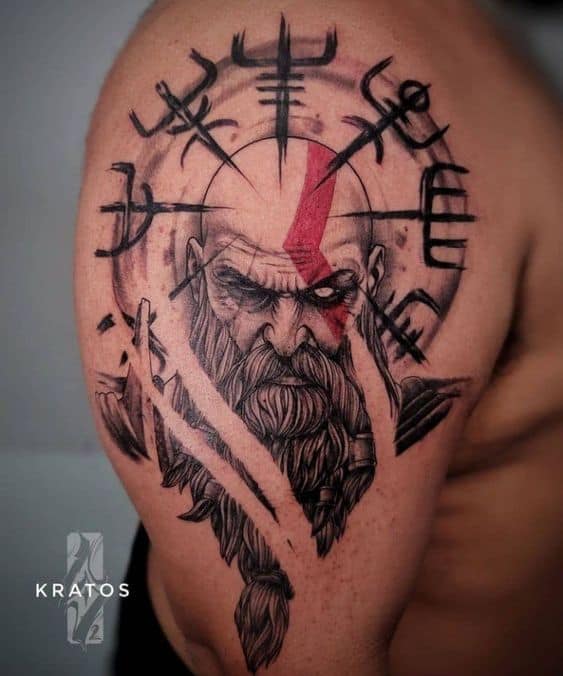 Despite carefully executing the character's portrait, the artist could still play with negative space. This gives the tattoo new dimensions.
4. Macabre Skull Tattoo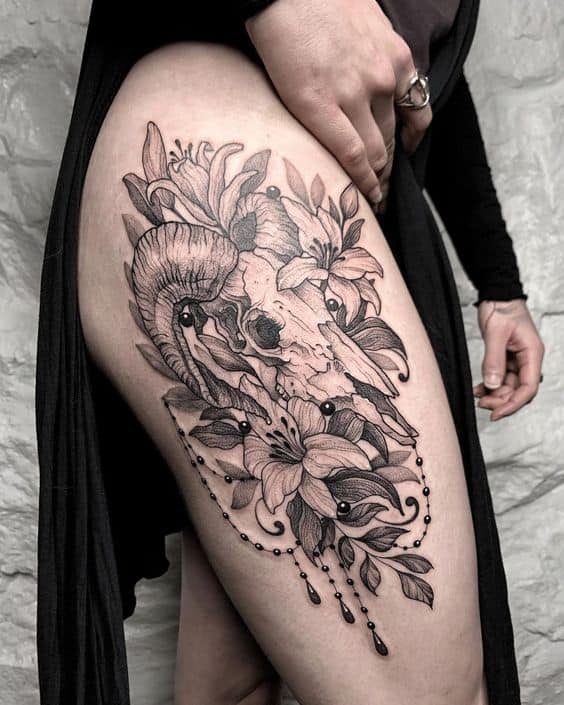 Rams play an important role in God of War, serving as a tool given to Kratos. This beautiful depiction remains delicate despite the heavy line work.
5. Sketched God of War Tattoo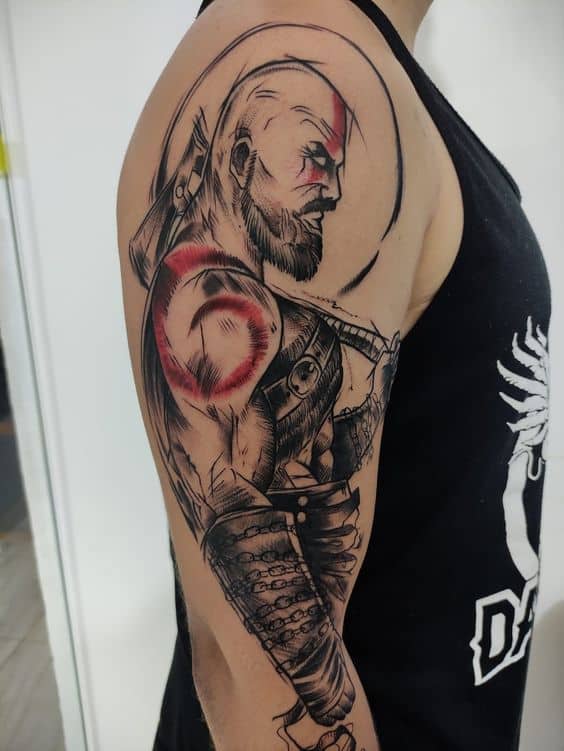 This tattoo gives the feeling of a story board, like one of the first sketches of the character before the game was created. The tattoo placement and position of the character also mimic the wearer, who is always seen in profile with the tattoo.
6. Simple God of War Tattoo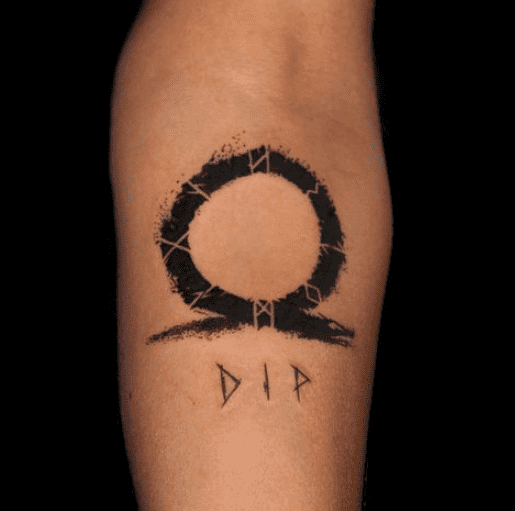 This graphic design is an interpretation of the Omega symbol, which in the game is the greek symbol for war.
7. Kratos Eye Tattoo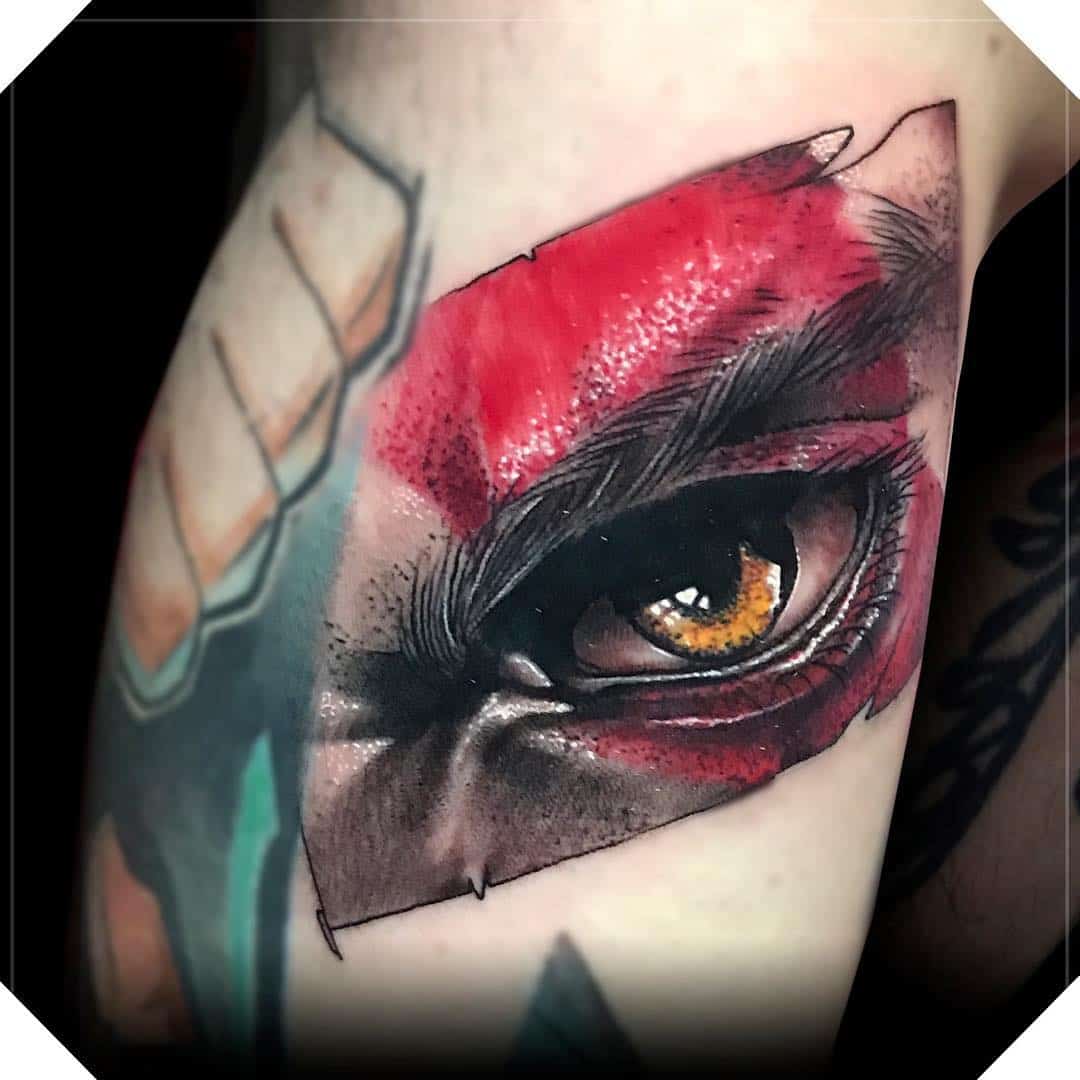 If you're looking for a little bit of Kratos ink, this might be right up your alley. Instead of a big portrait, this zoomed-in piece keeps it a little more open to interpretation, but if you've played the game, you know this is Kratos.
This style seems to be getting a lot more popular these days as well. If you're into these stylized tattoos focused on tv show and game characters, check out our list of Arcane tattoos to get a League of Legends, and Netflix series fix.
8. God of War Symbol Tattoo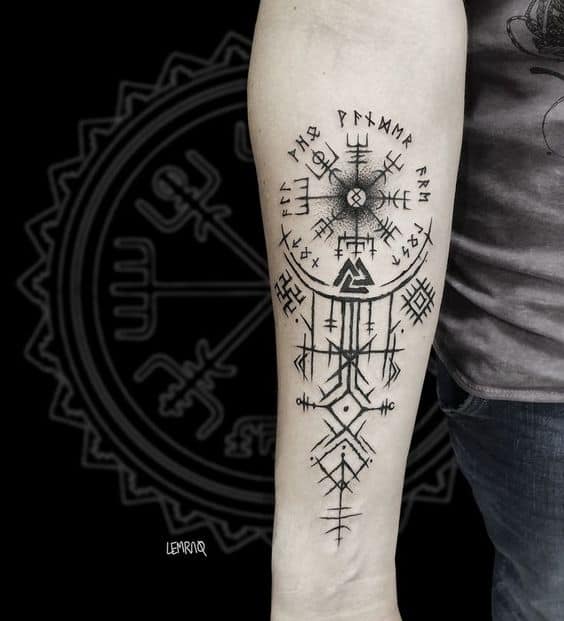 Minimalist line tattoos are timeless. Keeping with the theme of war, this tattoo uses scratch marks to draw out symbols from the game.
9. Axe Tattoo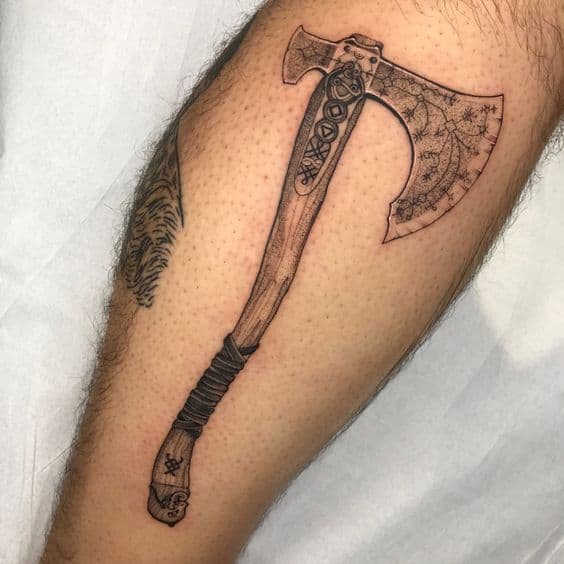 While clearly being a reference to God of War, through the symbols and design, this axe tattoo is also open to interpretation. Tattoos like this one are fun for fans because you have to look closely to know what you're seeing.
10. One-Eyed Portrait Tattoo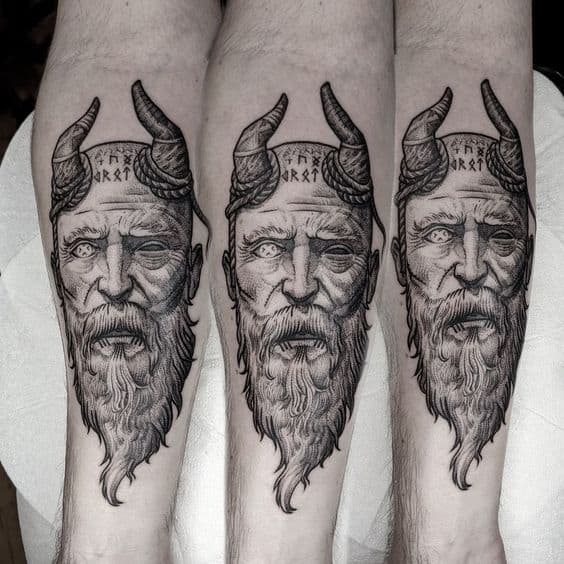 This tattoo successfully embodies the rough energy of God of War while being hauntingly beautiful.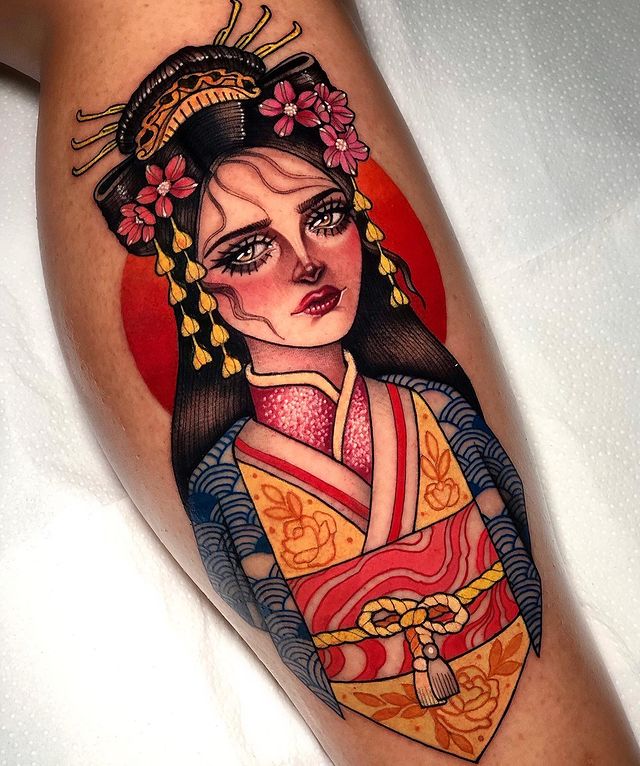 11. Omega Character Tattoo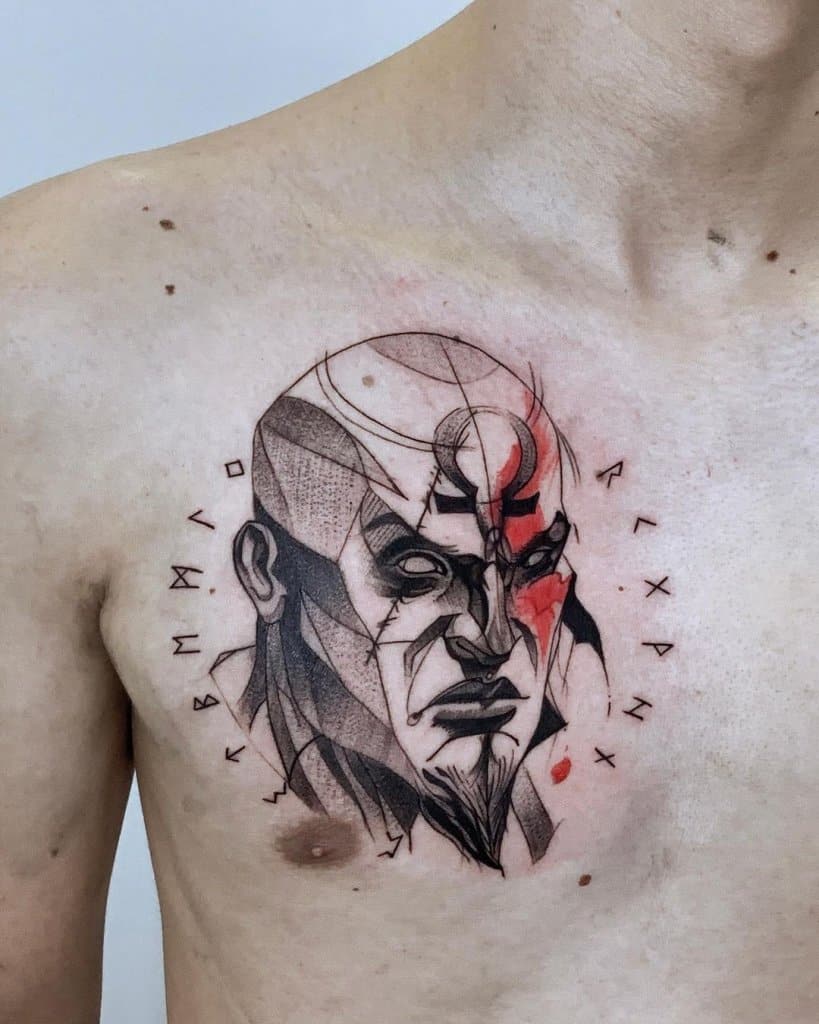 The character depiction, framed with greek symbols and Omega proudly on the character's forehead, make it a Kratos portrait to remember.
12. Multi-Faced God of War Tattoo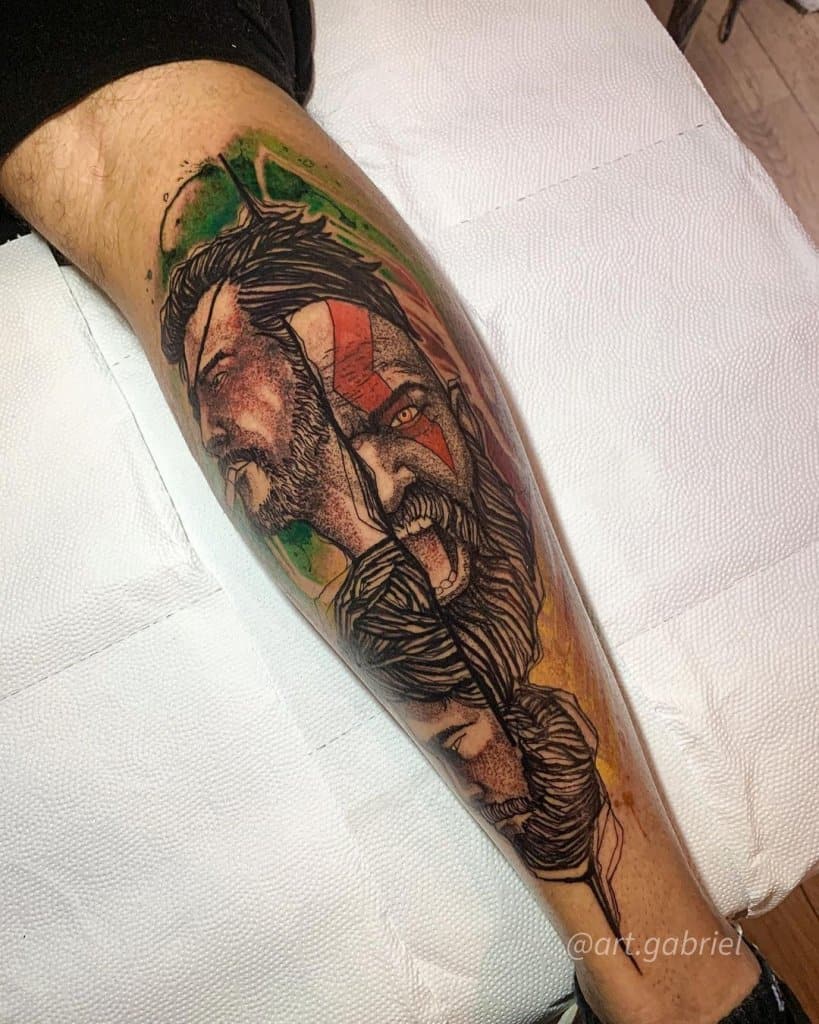 This tattoo was clearly stylized by the artist. The quality of the line work feels like charcoal on paper, but doesn't sacrifice any of the details.
13. Simple Kratos Tattoo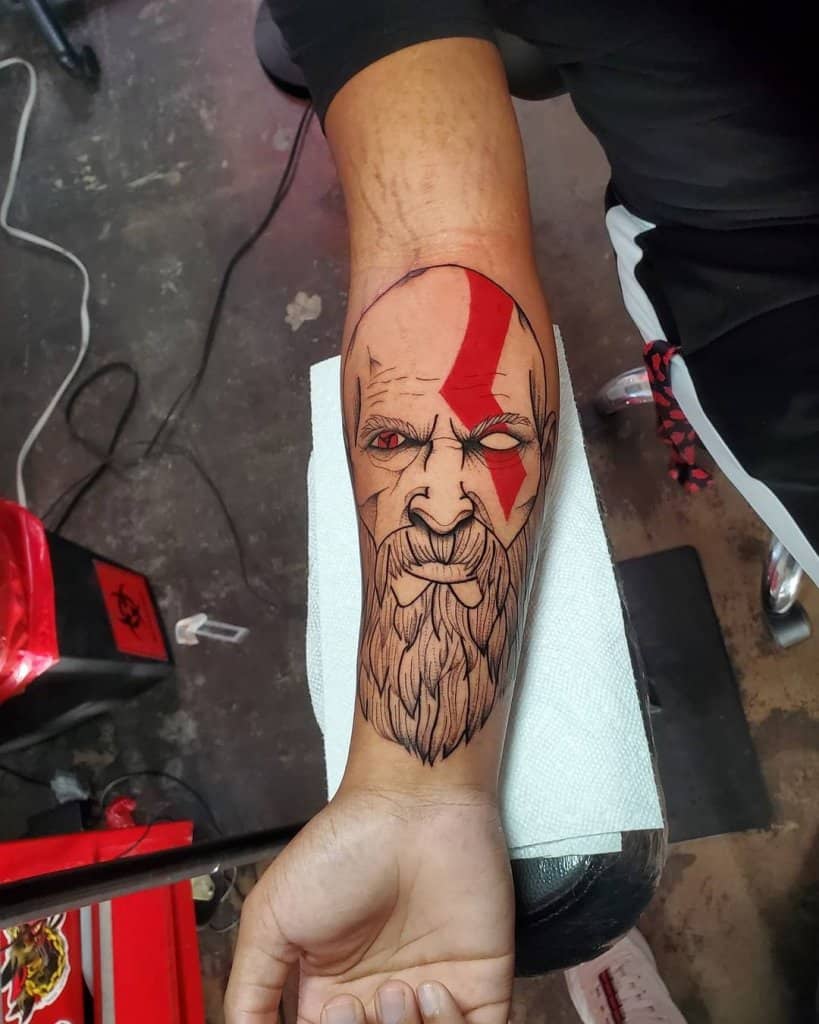 Unlike other depictions of Kratos, this tattoo doesn't feature realistic shading. Instead, it uses minimal line work and a pop of color to create the character.
14. Hræzlyr Tattoo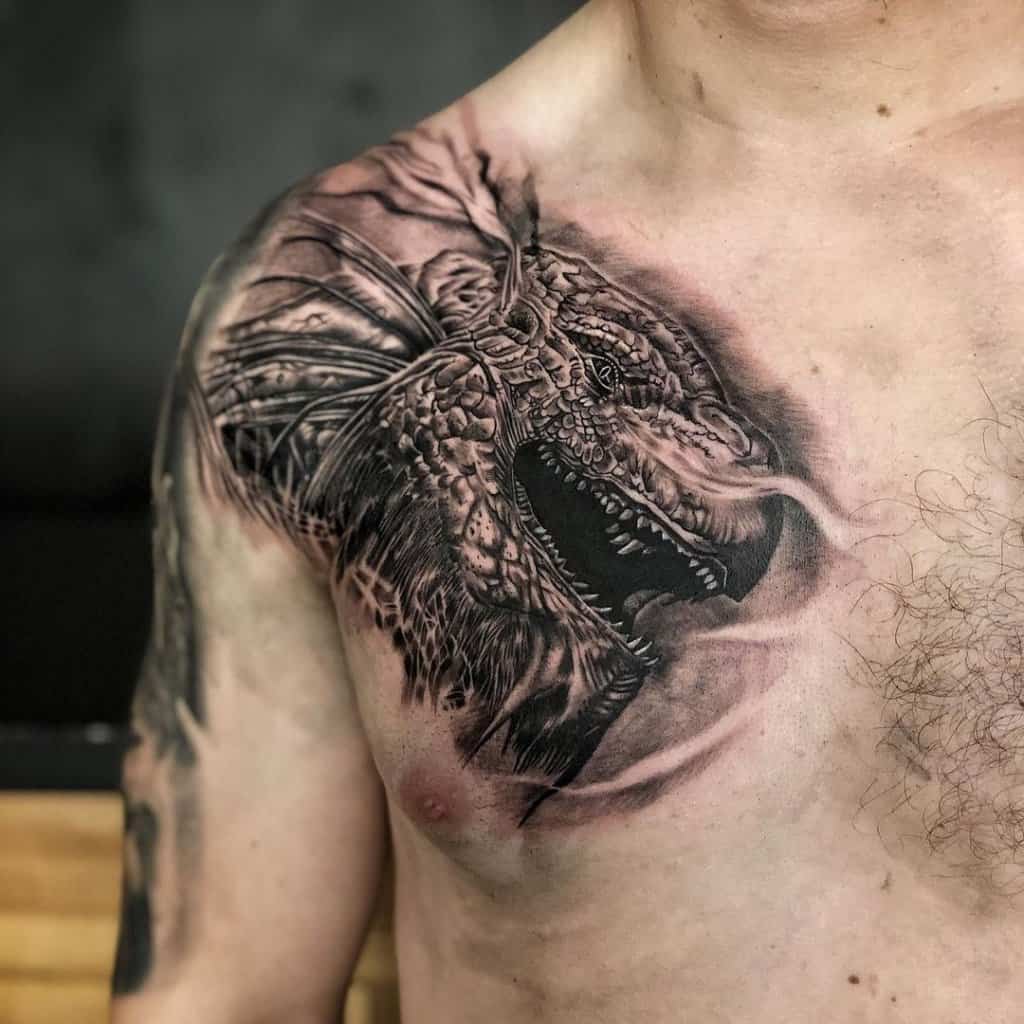 This boldly shaded, hyper-realistic tattoo represents Hræzlyr, the dragon at the heart of the mountain. Its placement on the chest matches the intensity of the design.
15. Dagger Tattoo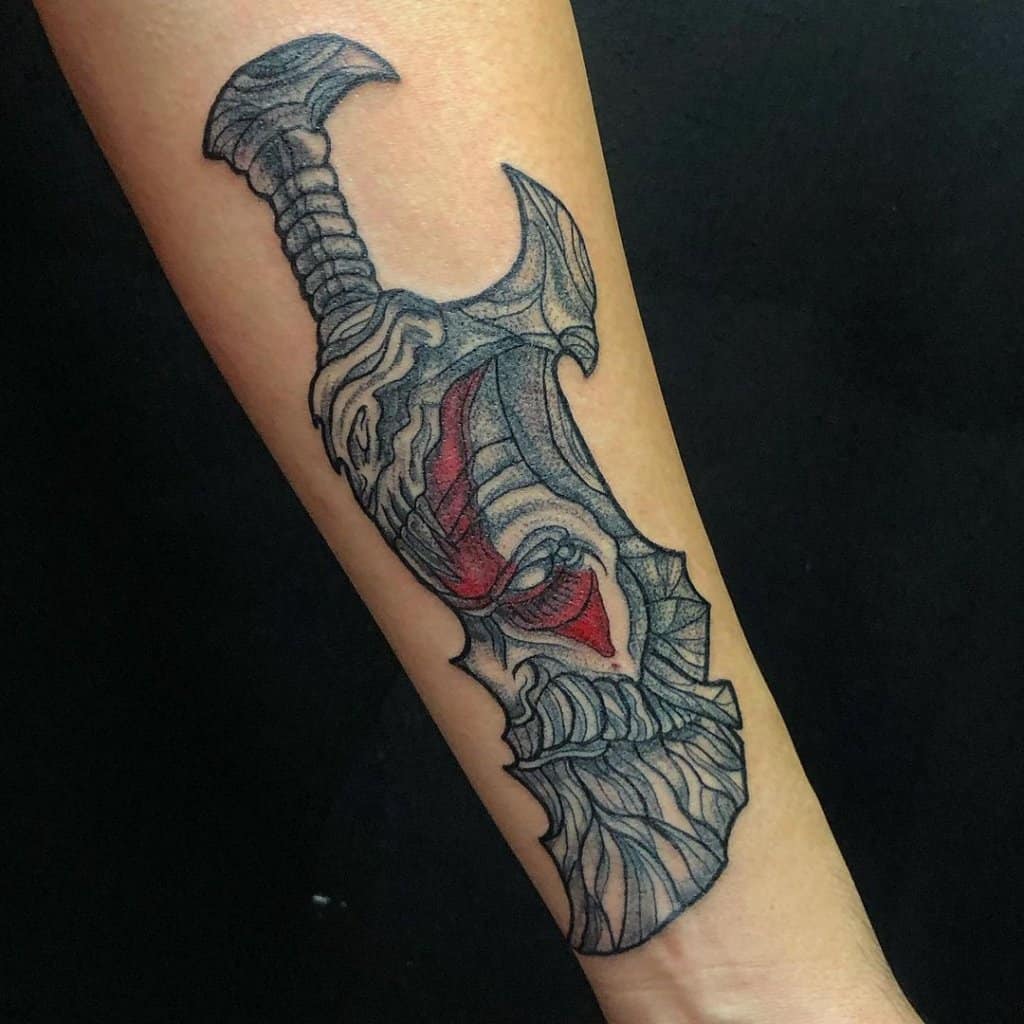 This design is clever in its combination of character portrait and weapon. The line work and shading are personalized to set it apart from the rest.
16. Realistic Kratos God of War Tattoo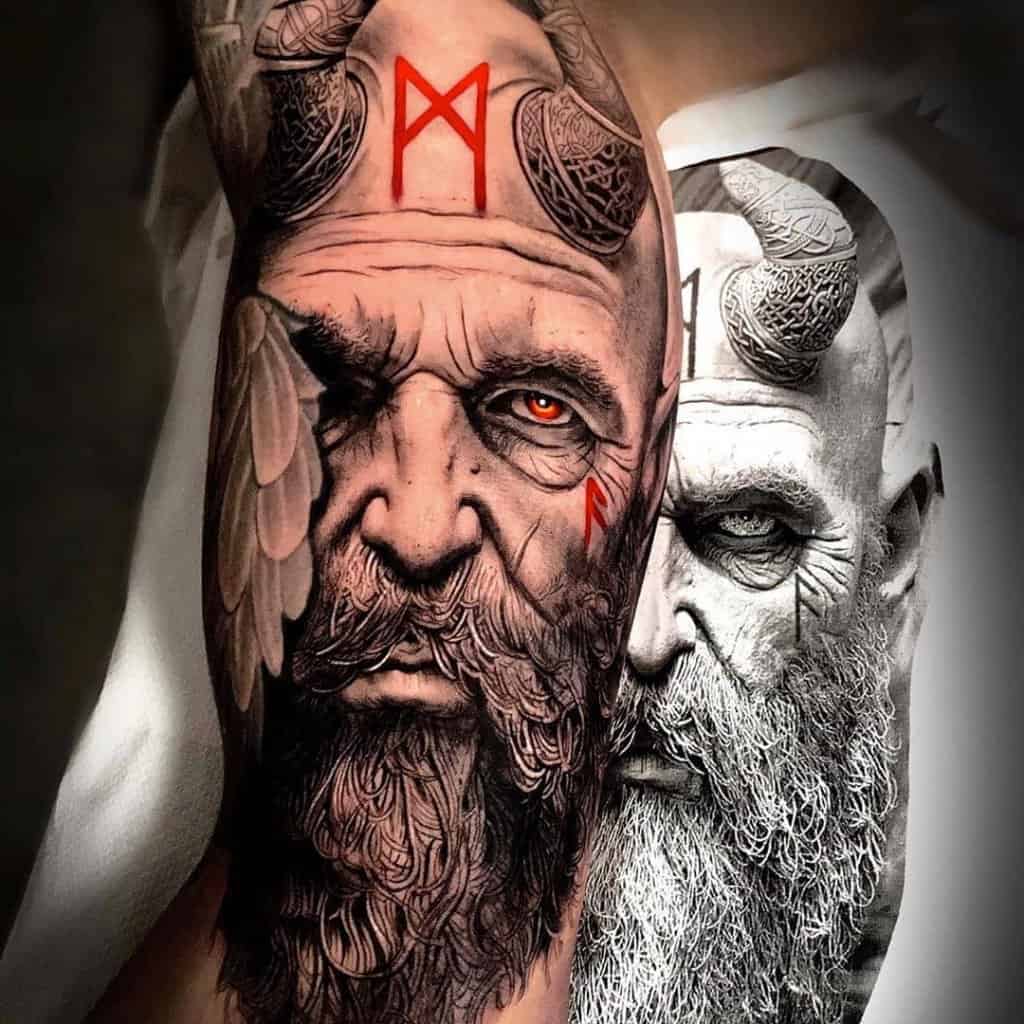 You can feel the time this tattoo took just by looking at it. The shading is delicate and deliberate. The artist got every detail, even down to the mole by his nose.
17. Graphic God of War Tattoo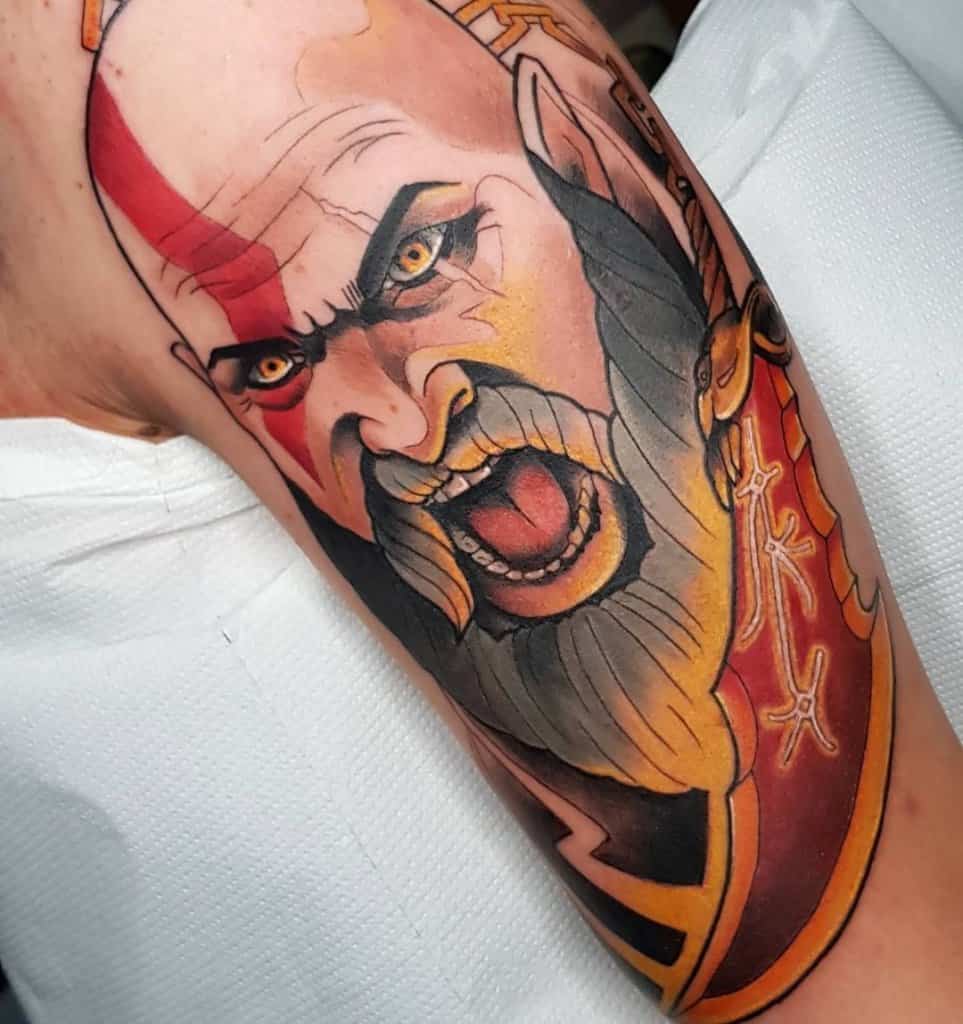 This God of War Kratos tattoo uses bright yellow and red to create an eye-catching design. The character's facial expression is aggressive, playing into the energy of God of War.
18. Simple Red Omega Tattoo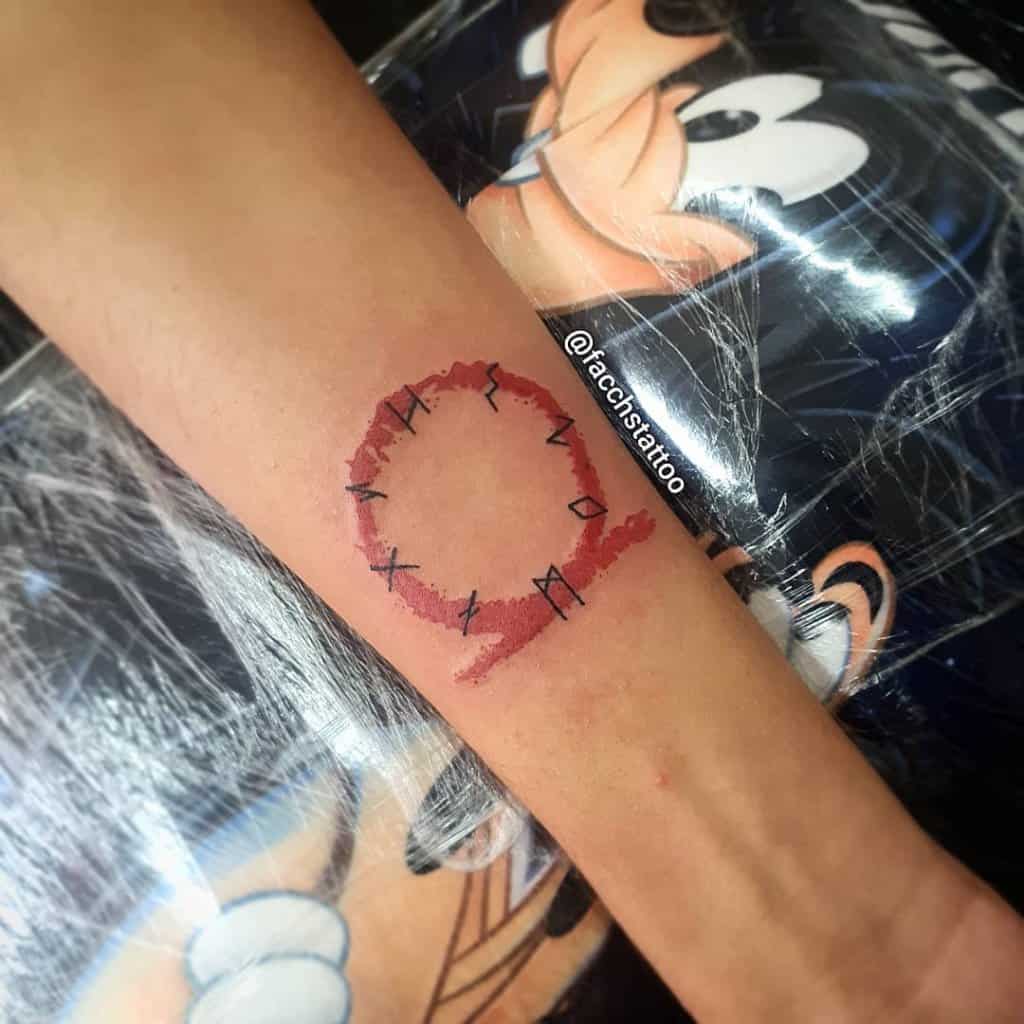 Another example of a simple God of War tattoo using Greek symbols to reference the game. What makes this tattoo stand out is the color contrast between red and black.
19. Stylized God of War Tattoo
This tattoo combines several images from God of War. The artist put their spin on it by fragmenting the portrait, including a snake, and mixing in minimalist patterns.
20. Kratos and Zeus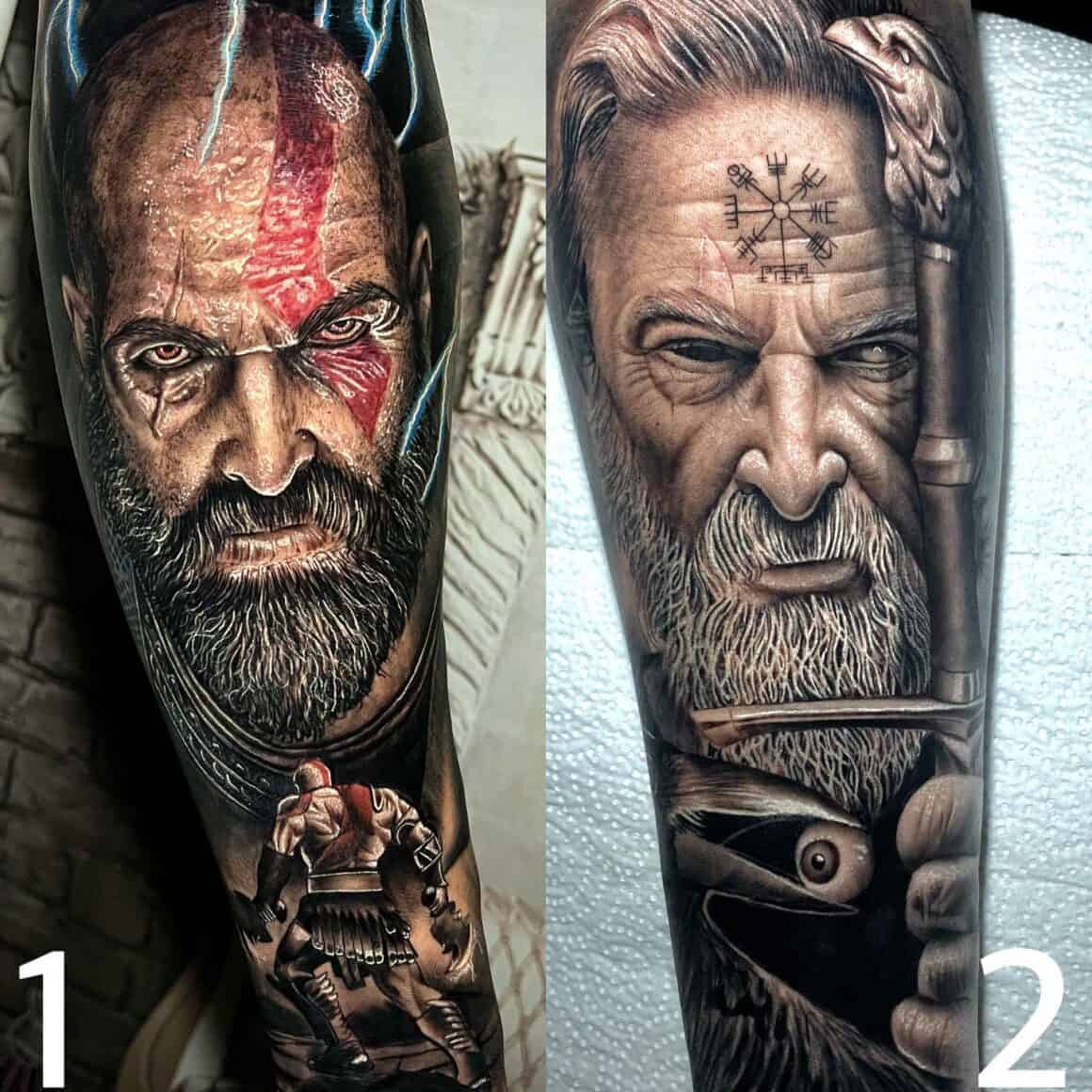 This is another insanely detailed piece of Kratos, but he also has a matching tattoo on the other arm of Zeus. Can you name a more powerful duo?
What does a God of War Tattoo mean?
Getting a God of War tattoo means you've got a deep love for this iconic gaming franchise. Kratos represents power, family, and a will to persevere through any challenge.
Meaning of a God of War tattoo?
Getting a God of War tattoo means you've got a deep love for this iconic gaming franchise. Kratos represents power, family, and a will to persevere through any challenge.
Summary
This series gives you plenty of opportunities for ink, whether you want an epic battle scene with Kratos himself or something a little more minimalistic using the various symbols from the game.
If you're looking for other video game-related art, check out our Horizon Zero Dawn tattoos.