Grand Admiral Thrawn, the blue-skinned, red-eyed Chiss from the Unknown Regions, is one of the most intriguing characters in the Star Wars Expanded Universe. His strategic genius, cultural appreciation, and cool demeanor have inspired fans to express their admiration through Grand Admiral Thrawn Tattoos. This article will explore the common themes, best places on the body, art styles, and meanings behind these tattoos.
Grand Admiral Thrawn: A Symbol of Strategy and Culture
Grand Admiral Thrawn, originally named Mitth'raw'nuruodo, is a character who embodies strategy, culture, and a unique perspective on the Force. His journey from an exiled Chiss to a Grand Admiral in the Galactic Empire is a testament to his character's growth and development. Thrawn's tattoos often reflect these traits, serving as a symbol of strategic brilliance and cultural appreciation.
Tattoo Themes and Designs
Grand Admiral Thrawn tattoos come in various designs, each capturing a different aspect of his character. Here are some common themes:
Thrawn's Portrait
A popular choice for a Thrawn tattoo is a portrait of the character, often depicted with his striking red eyes and blue skin. These tattoos capture Thrawn's unique appearance and his calm, calculating demeanor.
The Chiss Ascendancy
Thrawn is a member of the Chiss Ascendancy, a faction from the Unknown Regions. Tattoos featuring the symbol of the Chiss Ascendancy symbolize Thrawn's heritage and his connection to this mysterious faction.
Thrawn and Art
Thrawn is known for his appreciation of art and its use in understanding his enemies. Tattoos featuring Thrawn with a piece of art represent this unique aspect of his character.
Art Styles
Grand Admiral Thrawn tattoos can be done in various art styles, from realistic portraits to stylized, cartoon-like designs. Some fans opt for a black and white design, while others prefer the use of color to capture Thrawn's vibrant appearance. The choice of style will ultimately depend on your personal preference and the vision you have for your tattoo.
Grand Admiral Thrawn Tattoo Ideas
Do you have a Thrawn tattoo? Contact us and we'd be happy to add it to our list.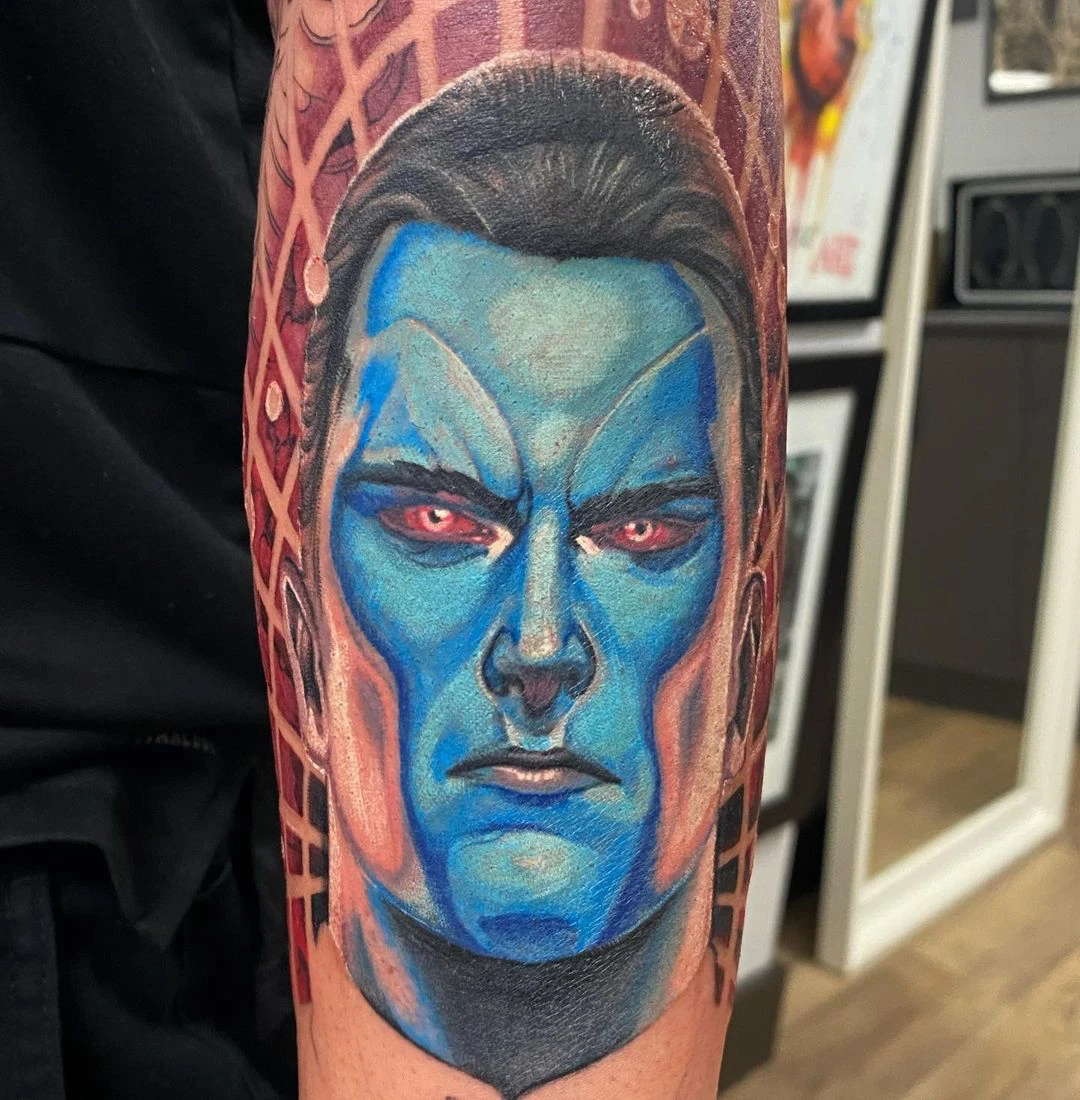 Best Places for a Grand Admiral Thrawn Tattoo
The best place for a Grand Admiral Thrawn tattoo depends on the design and your personal comfort. Smaller designs, like the symbol of the Chiss Ascendancy or a piece of art, work well on the wrist, ankle, or behind the ear. Larger pieces, such as a detailed depiction of Thrawn, are better suited for the back, chest, or thigh. Remember, the placement of your tattoo can also affect the pain level during the process, so choose a spot you're comfortable with.
Thrawn's Influence on the Star Wars Expanded Universe
Grand Admiral Thrawn made his first appearance in "Heir to the Empire," a novel by Timothy Zahn. This book, along with "Dark Force Rising" and "The Last Command," form the Thrawn Trilogy, which played a significant role in expanding the Star Wars universe beyond the original films.
Thrawn's character was so well-received that he was later included in the Star Wars canon, appearing in the animated series "Star Wars Rebels" and getting his own canon book series by Zahn, including "Thrawn," "Thrawn: Alliances," "Thrawn: Treason," and the "Thrawn Ascendancy" trilogy.
What does a Thrawn tattoo mean?
The meaning of a Thrawn tattoo can vary depending on the individual, as tattoos are often deeply personal and can have unique significance to the person who gets them. However, generally speaking, a Thrawn tattoo could symbolize several things:
Admiration for the Character: Grand Admiral Thrawn is a beloved character in the Star Wars universe, known for his strategic brilliance and unique perspective. A tattoo of Thrawn could symbolize a deep appreciation for this character and the qualities he embodies.
Love for Star Wars: A Thrawn tattoo could also signify a broader love for the Star Wars franchise. Thrawn is a character from the Expanded Universe, so a tattoo of him could indicate a deep engagement with the Star Wars lore beyond the main films.
Appreciation for Strategy and Art: Thrawn is known for his strategic mind and his unique approach to understanding his enemies through their art. A Thrawn tattoo could symbolize an appreciation for strategy, understanding, and the power of art.
Connection to the Chiss Ascendancy: As a member of the Chiss Ascendancy, a Thrawn tattoo could also symbolize a connection to this faction and its values.
Related Articles
If you're interested in other Star Wars tattoos, you might also enjoy these articles:
Conclusion
Grand Admiral Thrawn tattoos offer a unique way to express your admiration for this iconic Star Wars character. Whether you choose a simple design of the Chiss Ascendancy symbol or a detailed portrait of Thrawn, your tattoo will be a testament to the enduring appeal of this master strategist.