Lando Calrissian, the smooth-talking, cape-wearing smuggler turned hero, is one of the most charismatic characters in the Star Wars universe. His unique style, charm, and pivotal role in the original trilogy have inspired fans to express their admiration through Lando Calrissian Tattoos. This article will explore the common themes, best places on the body, art styles, and meanings behind these tattoos.
Lando Calrissian: A Symbol of Charm and Ingenuity
Lando Calrissian is a character who embodies charm, ingenuity, and resourcefulness. His journey from a self-serving smuggler to a key figure in the Rebel Alliance is a testament to his character's growth and development. Lando's tattoos often reflect these traits, serving as a symbol of personal transformation and a tribute to this beloved character.
Tattoo Themes and Designs
Lando Calrissian tattoos come in various designs, each capturing a different aspect of his character. Here are some common themes:
Lando's Portrait
A popular choice for a Lando tattoo is a portrait of the character, often depicted with his signature cape and charming smile. These tattoos capture Lando's charisma and style, making them a favorite among fans.
The Millennium Falcon
Before Han Solo, Lando was the original owner of the Millennium Falcon. Tattoos featuring Lando with the iconic ship symbolize his past as a smuggler and his skills as a pilot.
Lando and Lobot
Lobot, Lando's loyal aide in Cloud City, is often featured in tattoos alongside Lando. These designs represent their friendship and Lando's leadership in Cloud City.
Art Styles
Lando Calrissian tattoos can be done in various art styles, from realistic portraits to stylized, cartoon-like designs. Some fans opt for a black and white design, while others prefer the use of color to capture Lando's vibrant personality and style. The choice of style will ultimately depend on your personal preference and the vision you have for your tattoo.
Lando Calrissian Tattoo Ideas
Believe it or not, there are very few tattoos of Lando out there. I'm sure this will change when new Lando content comes out, but if you've got a Lando tattoo, contact us and I'd be happy to add it to this article!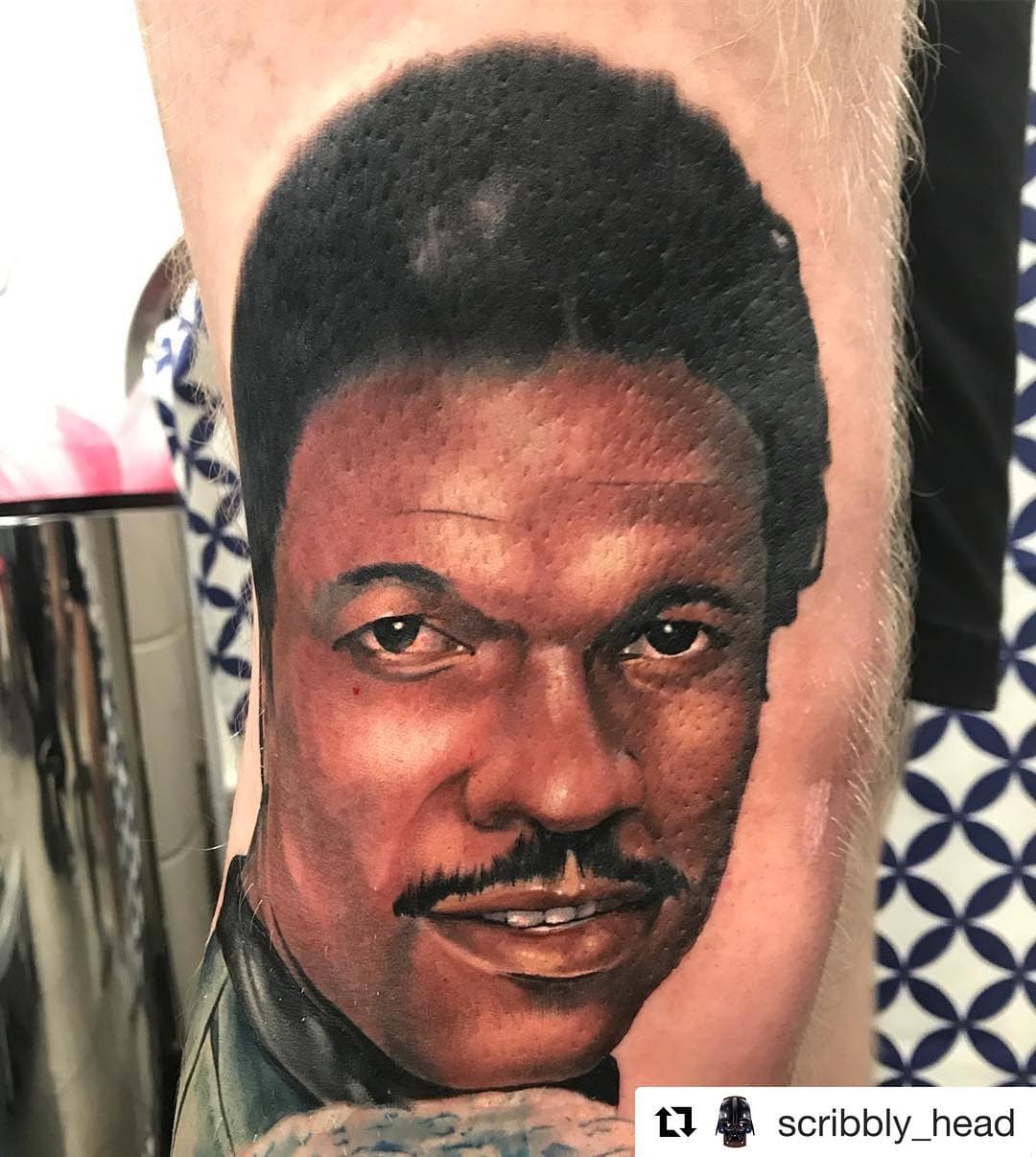 Best Places for a Lando Calrissian Tattoo
The best place for a Lando Calrissian tattoo depends on the design and your personal comfort. Smaller designs, like Lando's signature cape or the Millennium Falcon, work well on the wrist, ankle, or behind the ear. Larger pieces, such as a detailed depiction of Lando, are better suited for the back, chest, or thigh. Remember, the placement of your tattoo can also affect the pain level during the process, so choose a spot you're comfortable with.
Related Articles
If you're interested in other Star Wars tattoos, you might also enjoy these articles:
Conclusion
Lando Calrissian tattoos offer a unique way to express your admiration for this iconic Star Wars character. Whether you choose a simple design of his signature cape or a detailed portrait of Lando in action, your tattoo will be a testament to the enduring appeal of this charismatic scoundrel.