Ahsoka Tano, the former Jedi Padawan of Anakin Skywalker turned independent Force-wielder, is one of the most compelling characters in the Star Wars universe. Her unique character design, marked by her colorful Togruta head-tails and facial markings, has inspired fans to express their admiration through Ahsoka Tano Tattoos. This article will explore the common themes, best places on the body, art styles, and meanings behind these tattoos.
Ahsoka Tano: A Symbol of Strength and Independence
Ahsoka Tano is a character who embodies strength, resilience, and independence. Her journey from a young, eager Padawan to a wise, seasoned warrior is a testament to her character's growth and development. Ahsoka's tattoos often reflect these traits, serving as a symbol of personal strength and a tribute to this beloved character.
Tattoo Themes and Designs
Ahsoka Tano tattoos come in various designs, each capturing a different aspect of her character. Here are some common themes:
Ahsoka's Facial Markings
Ahsoka's facial markings are a distinctive feature of her Togruta species. These markings are a popular choice for tattoos, often depicted in their vibrant blue color. They can be inked as a standalone design or incorporated into a larger piece featuring Ahsoka's portrait.
Dual Lightsabers
Ahsoka is renowned for her unique fighting style, wielding dual lightsabers with a reverse grip. Tattoos often depict these lightsabers, one green and one yellow, symbolizing her combat prowess and her role as a peacekeeper.
Ahsoka with Morai
Morai, the convor owl associated with the Daughter of Mortis, is often seen with Ahsoka, symbolizing her connection with the Force. Tattoos featuring Ahsoka with Morai represent the spiritual aspect of her character.
Art Styles
Ahsoka Tano tattoos can be done in various art styles, from realistic portraits to stylized, cartoon-like designs. Some fans opt for a black and white design, while others prefer the use of color to capture Ahsoka's vibrant facial markings and lightsabers. The choice of style will ultimately depend on your personal preference and the vision you have for your tattoo.
Ahsoka Tano Tattoo Ideas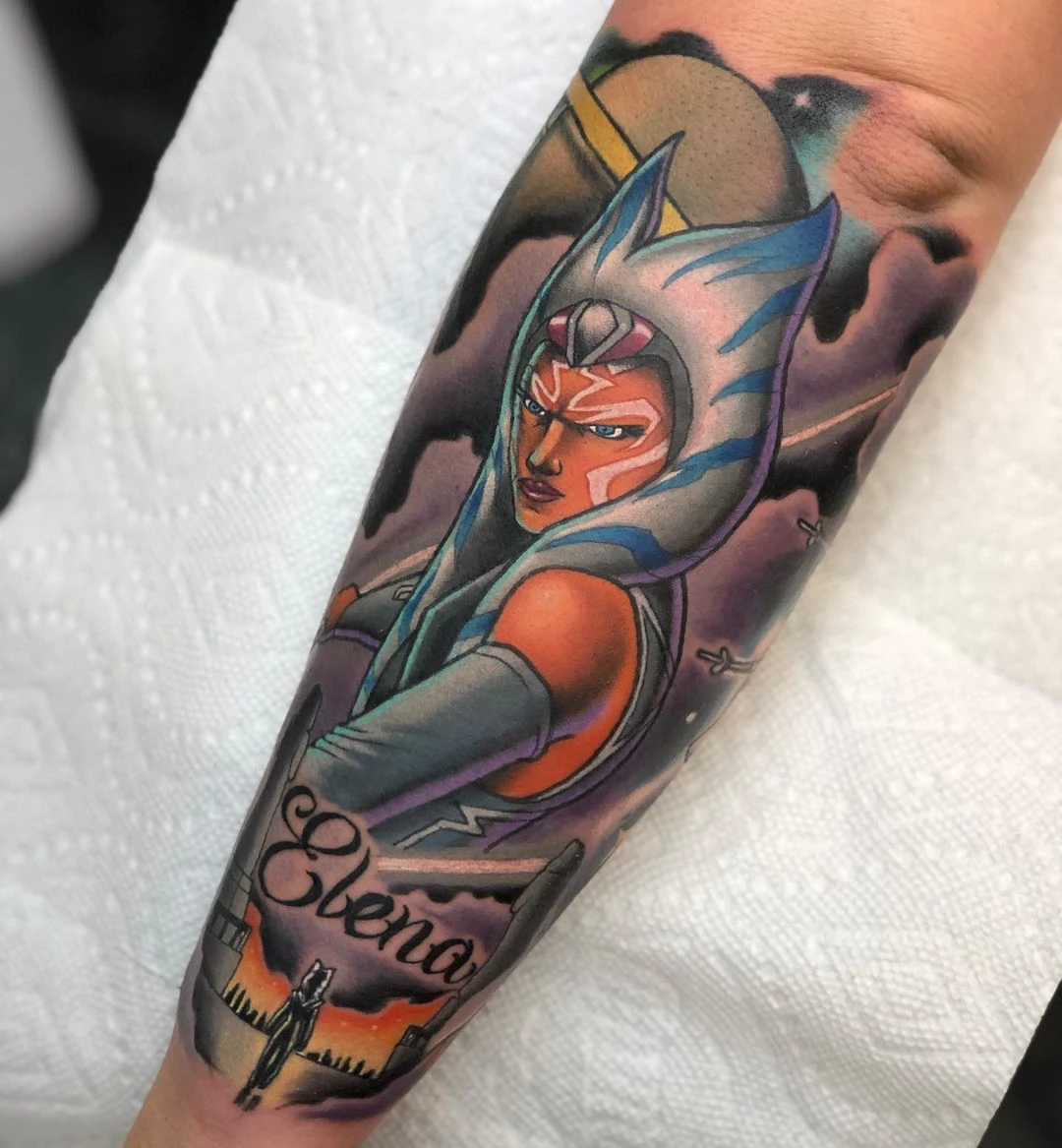 Best Places for an Ahsoka Tano Tattoo
The best place for an Ahsoka Tano tattoo depends on the design and your personal comfort. Smaller designs, like Ahsoka's facial markings or her lightsabers, work well on the wrist, ankle, or behind the ear. Larger pieces, such as a detailed depiction of Ahsoka, are better suited for the back, chest, or thigh. Remember, the placement of your tattoo can also affect the pain level during the process, so choose a spot you're comfortable with.
Related Articles
If you're interested in other Star Wars tattoos, you might also enjoy these articles:
Conclusion
Ahsoka Tano tattoos offer a unique way to express your admiration for this iconic Star Wars character. Whether you choose a simple design of her facial markings or a detailed portrait of Ahsoka in action, your tattoo will be a testament to the enduring appeal of this beloved heroine.