The trend of leg tattoos for men has been getting more and more popular, and for good reason. The huge canvas of the leg provides ample opportunity for tattoo artists to create bold and striking designs that serve as a testament to self-expression.
Whether you aspire to display your creativity, celebrate your cultural heritage, or simply stand out as an individual, leg tattoos provide the ideal platform to communicate your unique story. In this article, we delve into the intricacies of various types of leg tattoos for men, illuminating the diverse meanings and symbols behind each design.
From tribal tattoos, rich in cultural significance, to Japanese tattoos steeped in tradition, to contemporary minimalist designs that exude understated elegance, leg tattoos offer a versatile and diverse medium for artistic expression. Whether you prefer full-leg sleeves or more discreet ankle tattoos, leg tattoos allow you to add a personal touch to your appearance.
Calf tattoos
The placement of calf tattoos have a few benefits compared to other spots on the leg. Calf muscles are often less sensitive than other areas, making the tattooing process less uncomfortable.
It's also easily concealable, allowing you to showcase your tattoos when you choose or keep them hidden for more professional settings.
In terms of design ideas, the options are virtually limitless.
From abstract patterns, to nature-inspired designs, to meaningful symbols and quotes, calf tattoos can incorporate a wide range of themes. You can also experiment with different styles, such as traditional, realistic, watercolor, or blackwork, to find the perfect match for your personal taste.
Wolf Calf Tattoo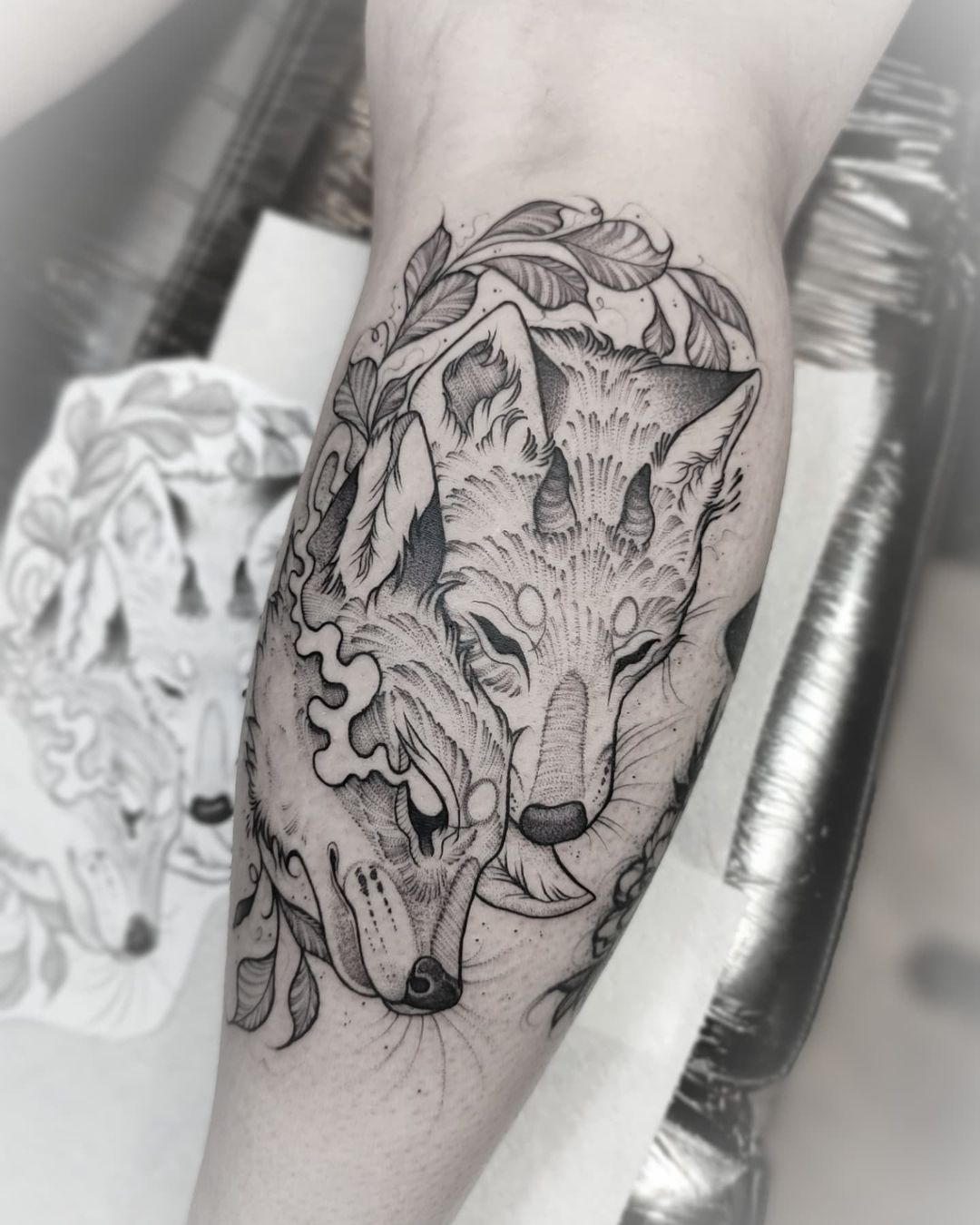 Animal tattoos are already a great choice, and these stylized wolves are no exception.
Spiderman Venom Calf Tattoo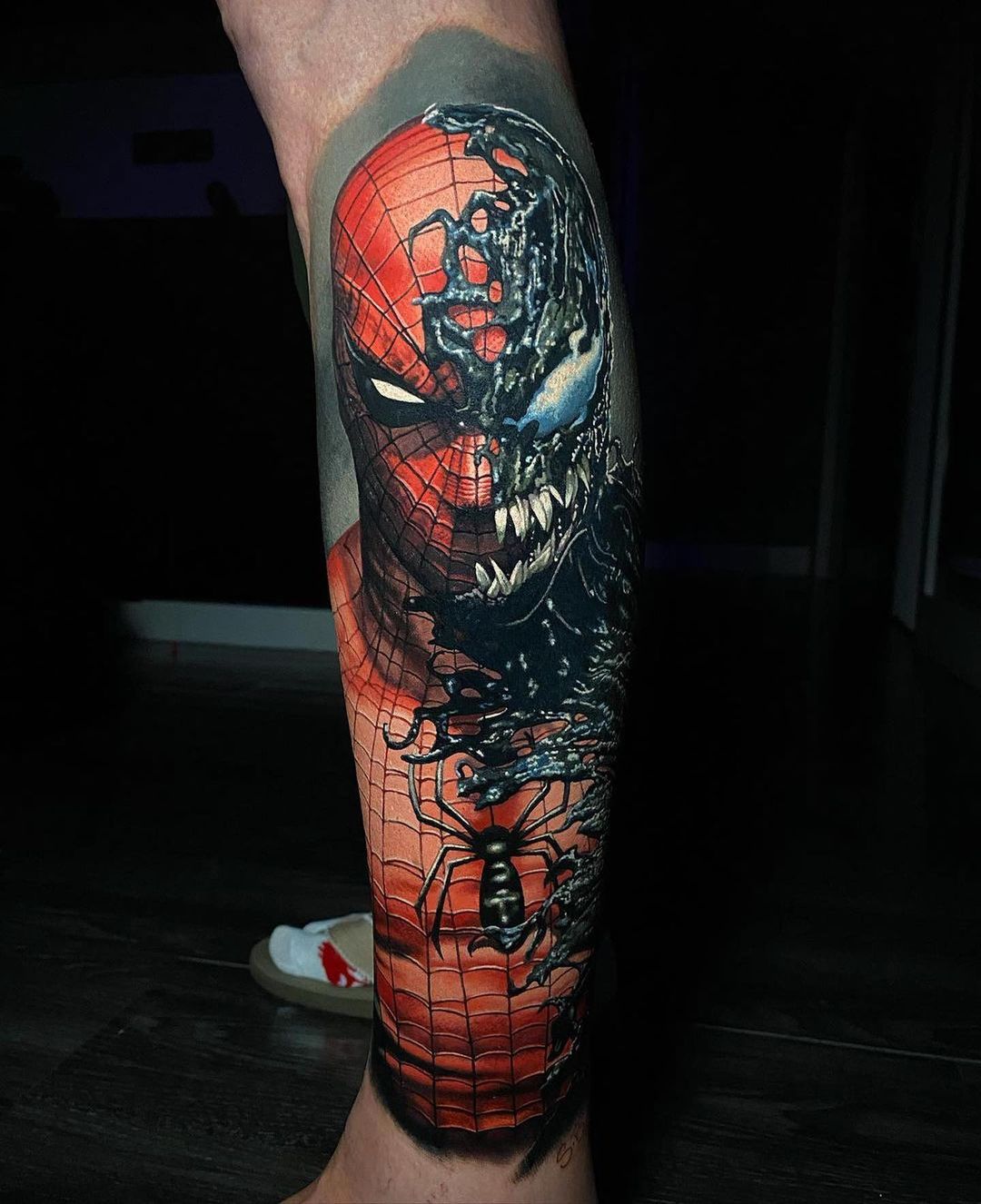 I absolutely love how the artist managed to blend two of the most iconic characters in the Marvel universe into one piece.
Traditional Pattern Calf Tattoo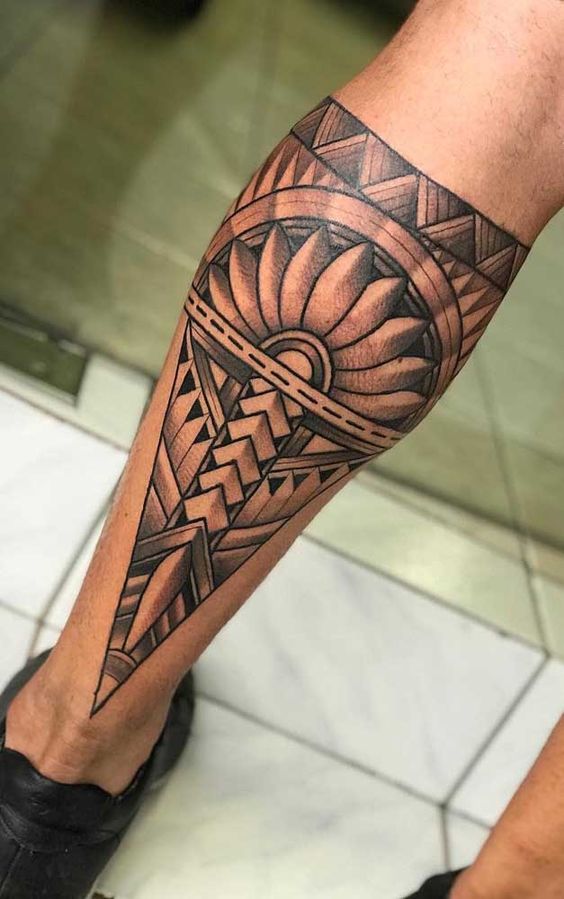 You can never go wrong with geometric tattoos, and I like how this one in particular follows the natural shape of the lower leg.
Manga Calf Tattoo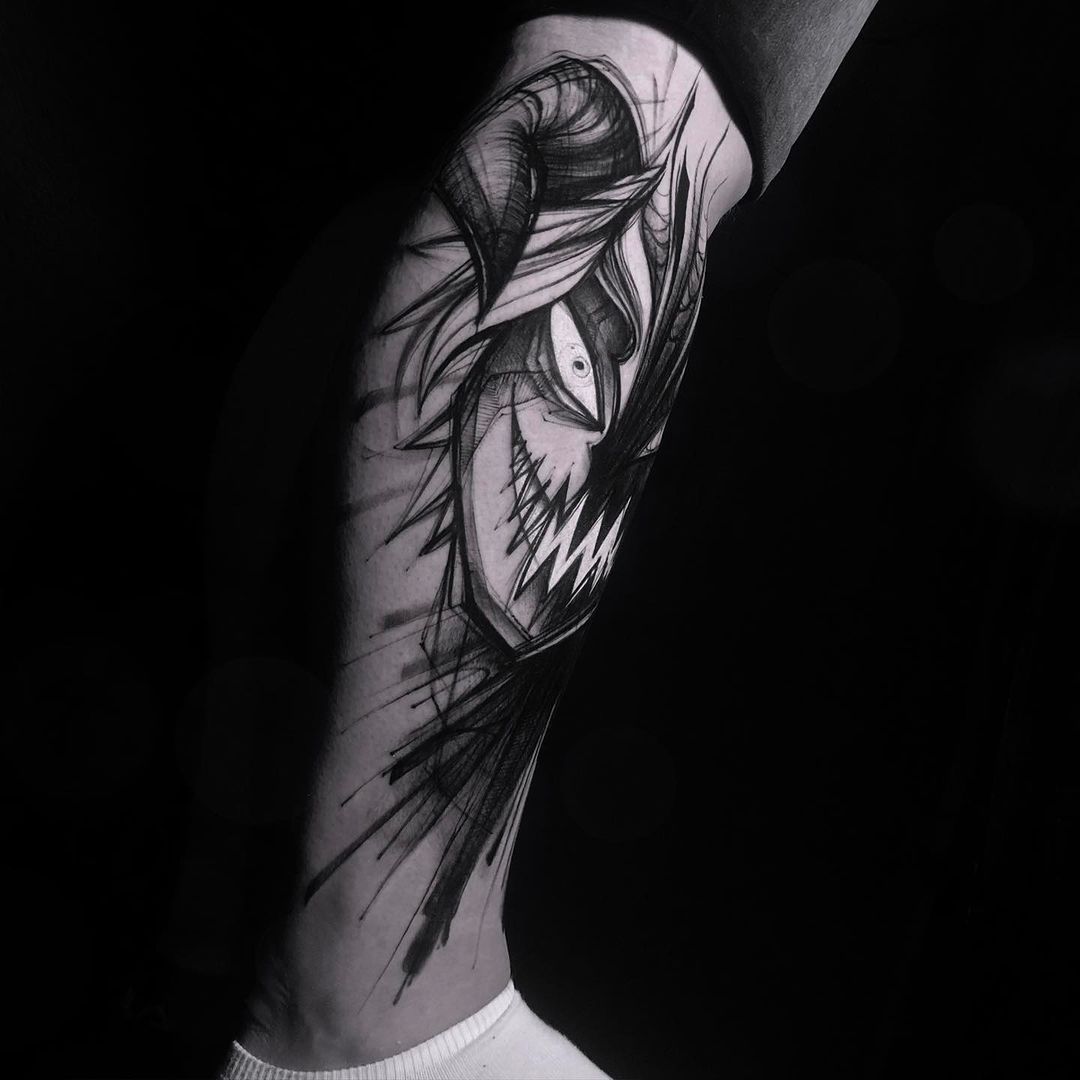 We've got a ton of anime inspired tattoo lists on this site, and I love how expressive this one lower leg tattoo is.
If you want to check out some others, here are some of my favorites:
24 Amazing Spirited Away Tattoos For Inspiration
21 Killer Phantom Troupe Tattoos
Lion Calf Tattoo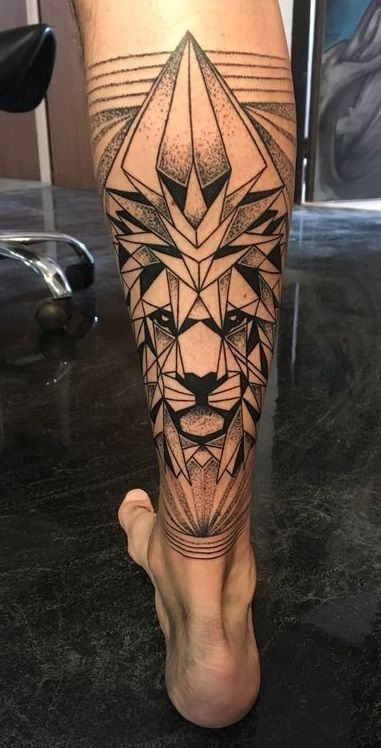 This is a great mix of a classic tattoo animal, mixed with a super unique design.
Pattern Calf Tattoo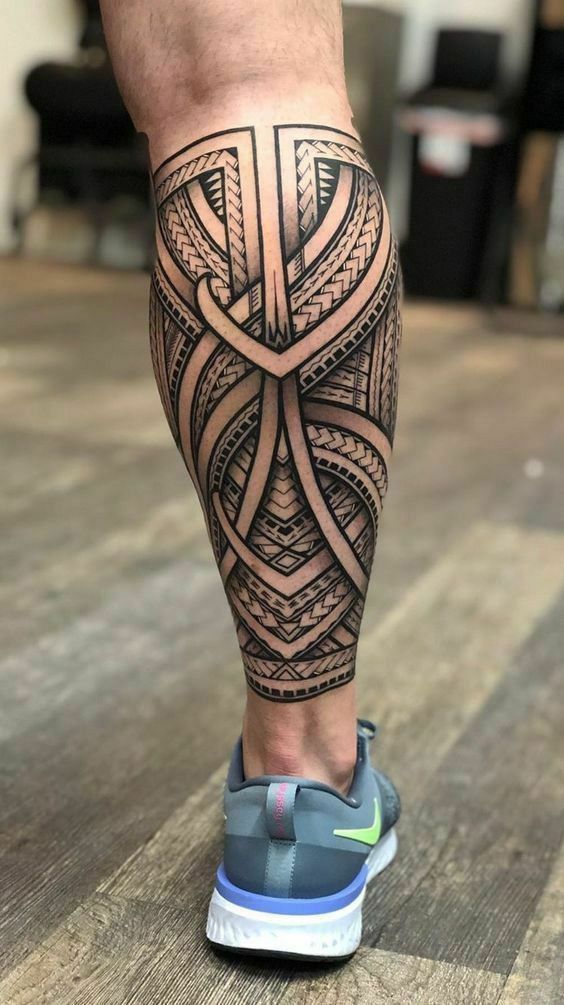 Not only does this tattoo look great on it's own, the added shadows giving it just that extra bit of depth is such a nice touch.
Traditional Flash Calf Tattoo
We can't have a list of leg tattoos without at least one traditional piece. If you're looking for a modern take on this style, make sure to check out our neo-traditional tattoo list.
Angel Wings Calf Tattoo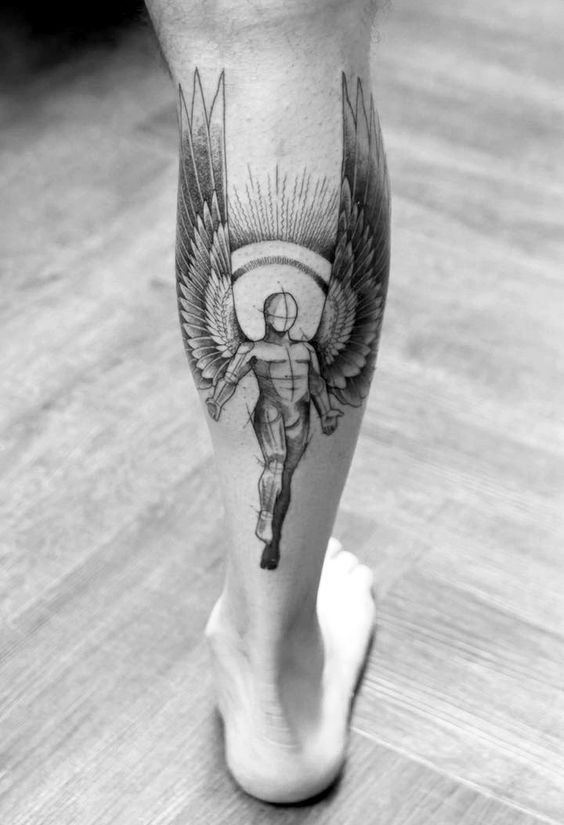 This is another great example of the benefits of working with your tattoo artist with your design ideas.
They'll often be able to offer suggestions of scale and placement to make the design flow beautifully with the lines of the leg.
Fantasy Owl Calf Tattoo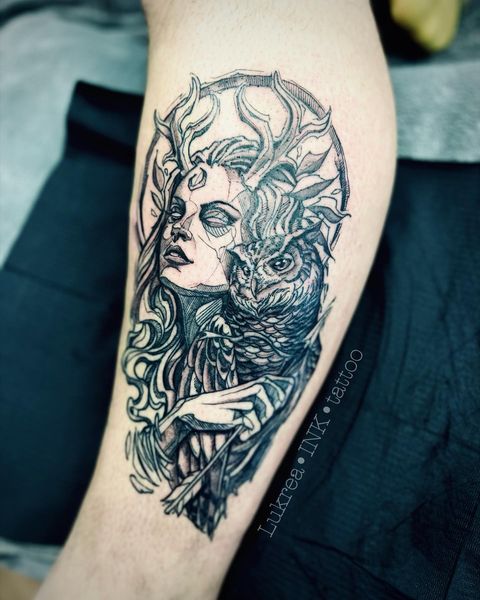 Fantasy tattoos are another great source of inspiration. In fact, this one almost looks like a Horizon Zero Dawn tattoo (but not quite).
Embracing Skulls Calf Tattoo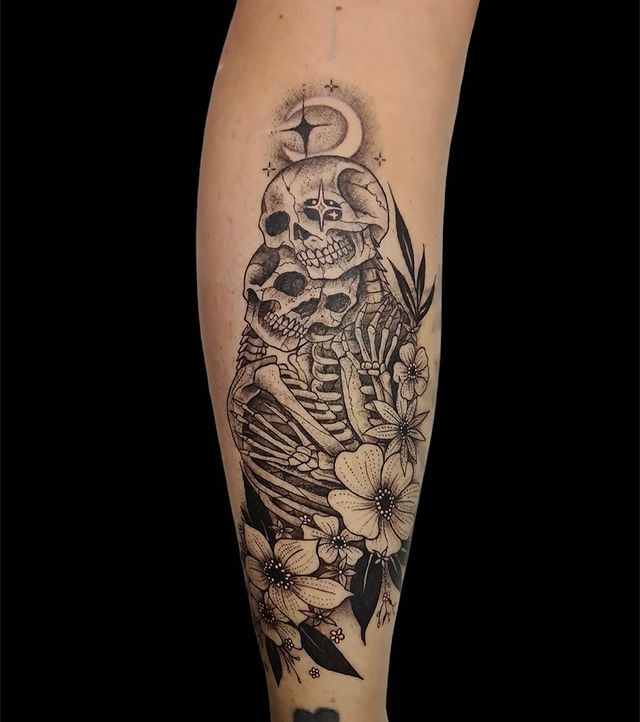 Here's another classic piece, which is often used to immortalize someone you've loved.
Thigh tattoos
With its versatile placement, a thigh tattoo can serve as a highly visible statement piece, gracing the front of the leg with bold and striking imagery, or offer a more discreet and intimate form of expression on the back of the thigh. Whether you seek minimalist elegance or a sprawling and intricate design, the thigh provides a canvas that is simply waiting to be brought to life with ink.
As for the ideas that can be brought to life on this versatile canvas, the possibilities are pretty much endless. You can ink your thigh with abstract patterns, nature-inspired imagery, meaningful symbols, portraits, quotes, or anything else that speaks to your unique style and individuality. Experiment with different styles, such as traditional, watercolor, blackwork, or realistic, to create a piece that truly reflects your spirit.
As a bonus, this location is one of the least painful on the body.
Biology Class Thigh Tattoo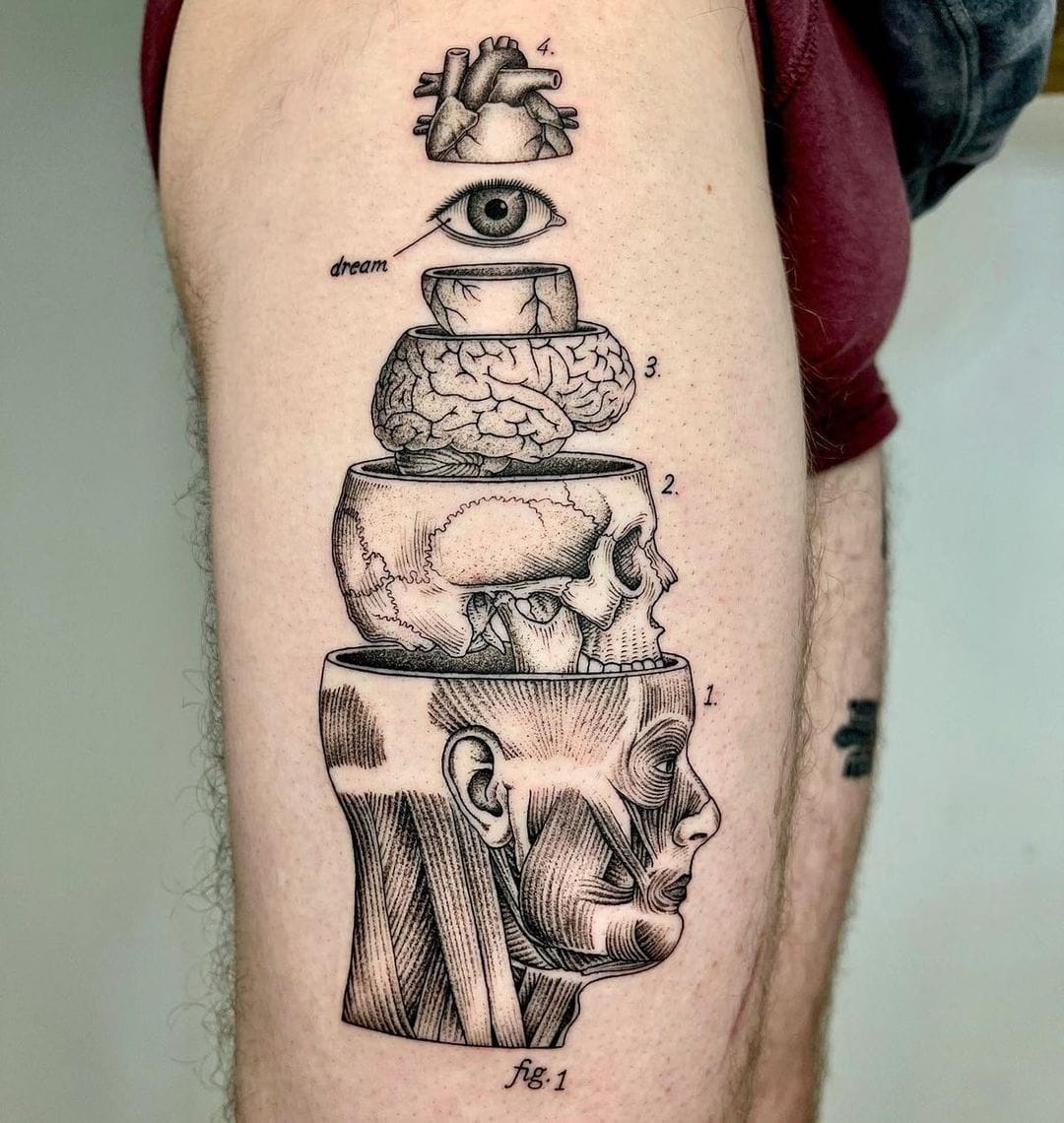 I'm not even sure how to describe this one, but it looks like it came out of a biology textbook. Bonus points for originiality.
Geometric Wolf Thigh Tattoo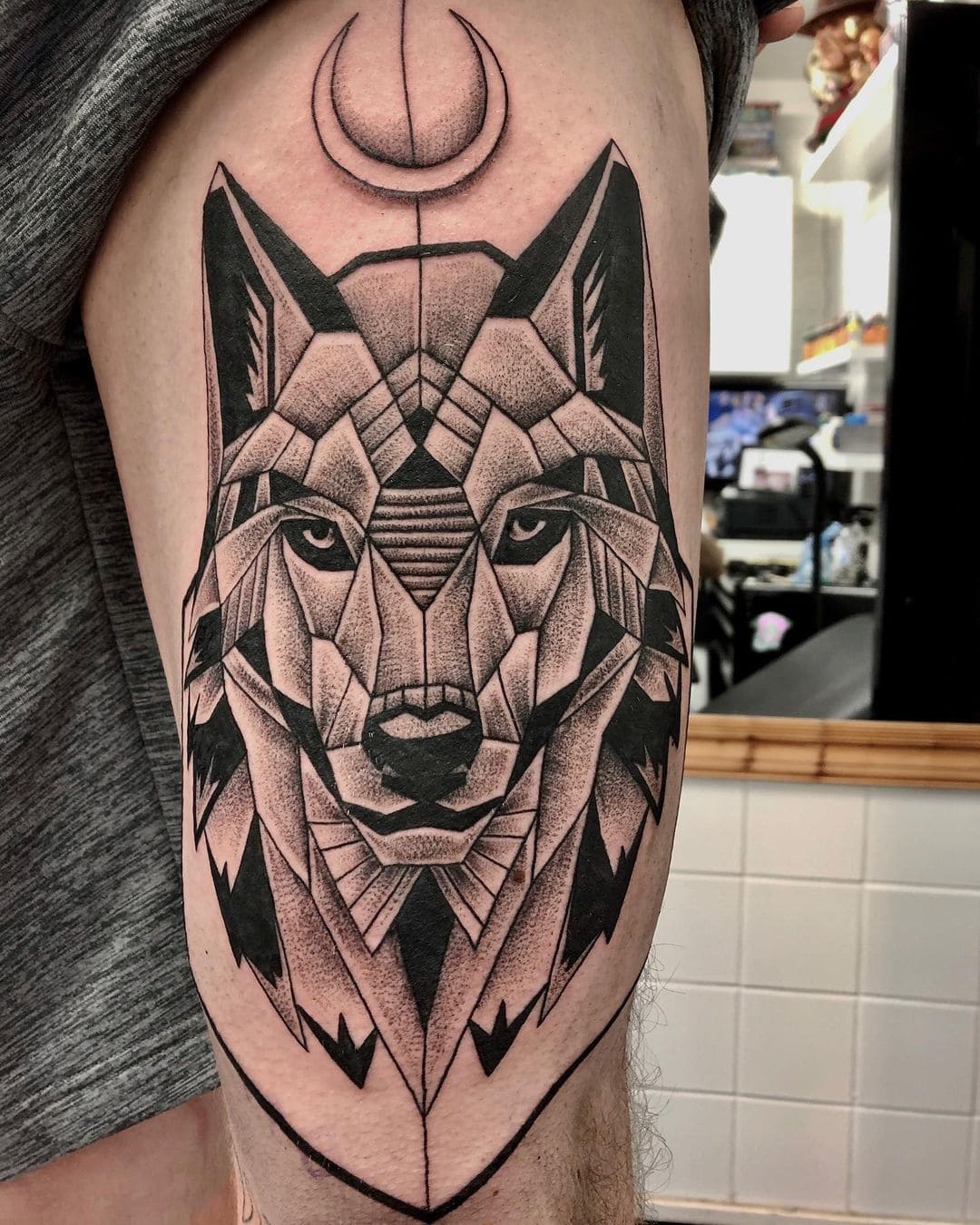 Demonic Skull Thigh Tattoo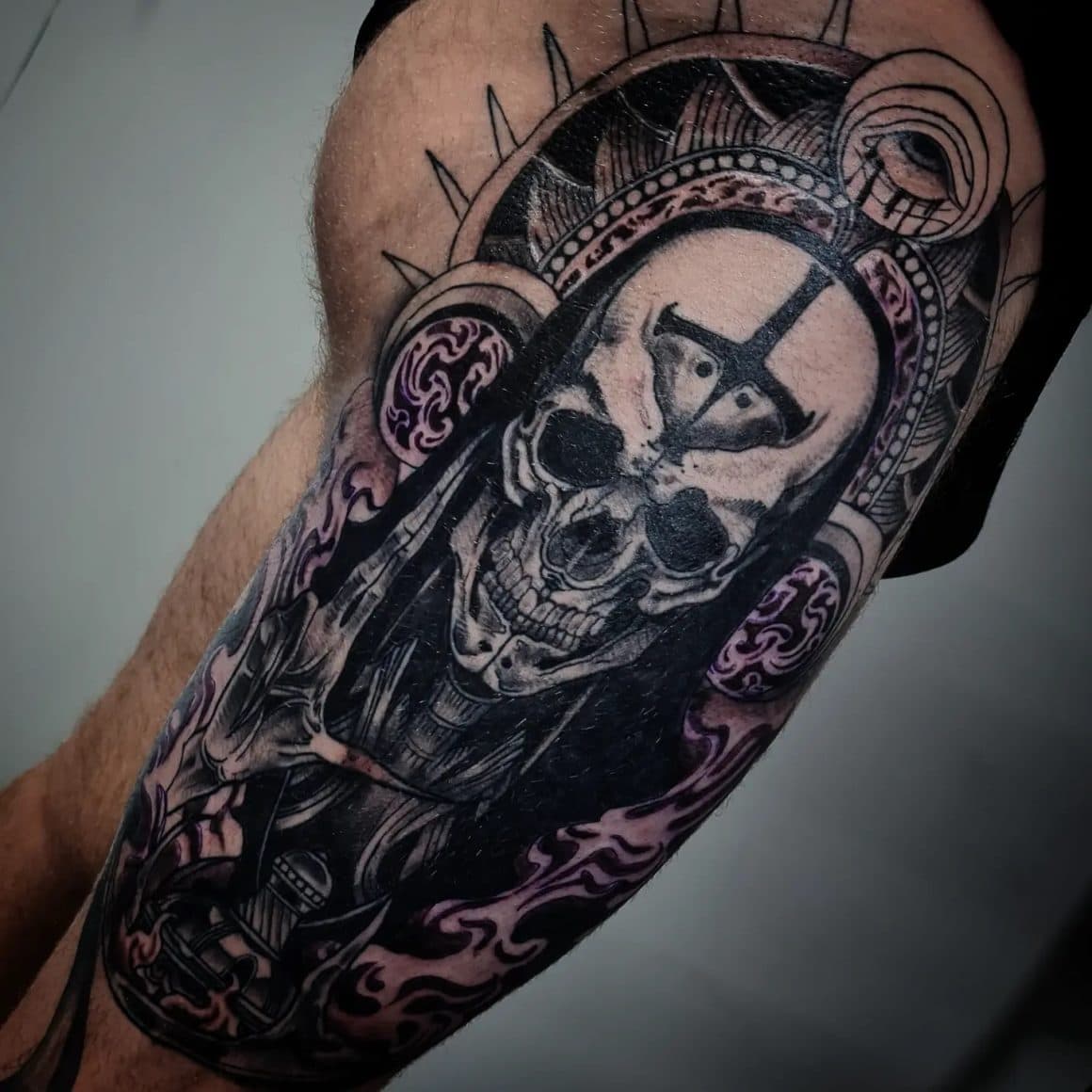 Screaming Mythical Figure Thigh Tattoo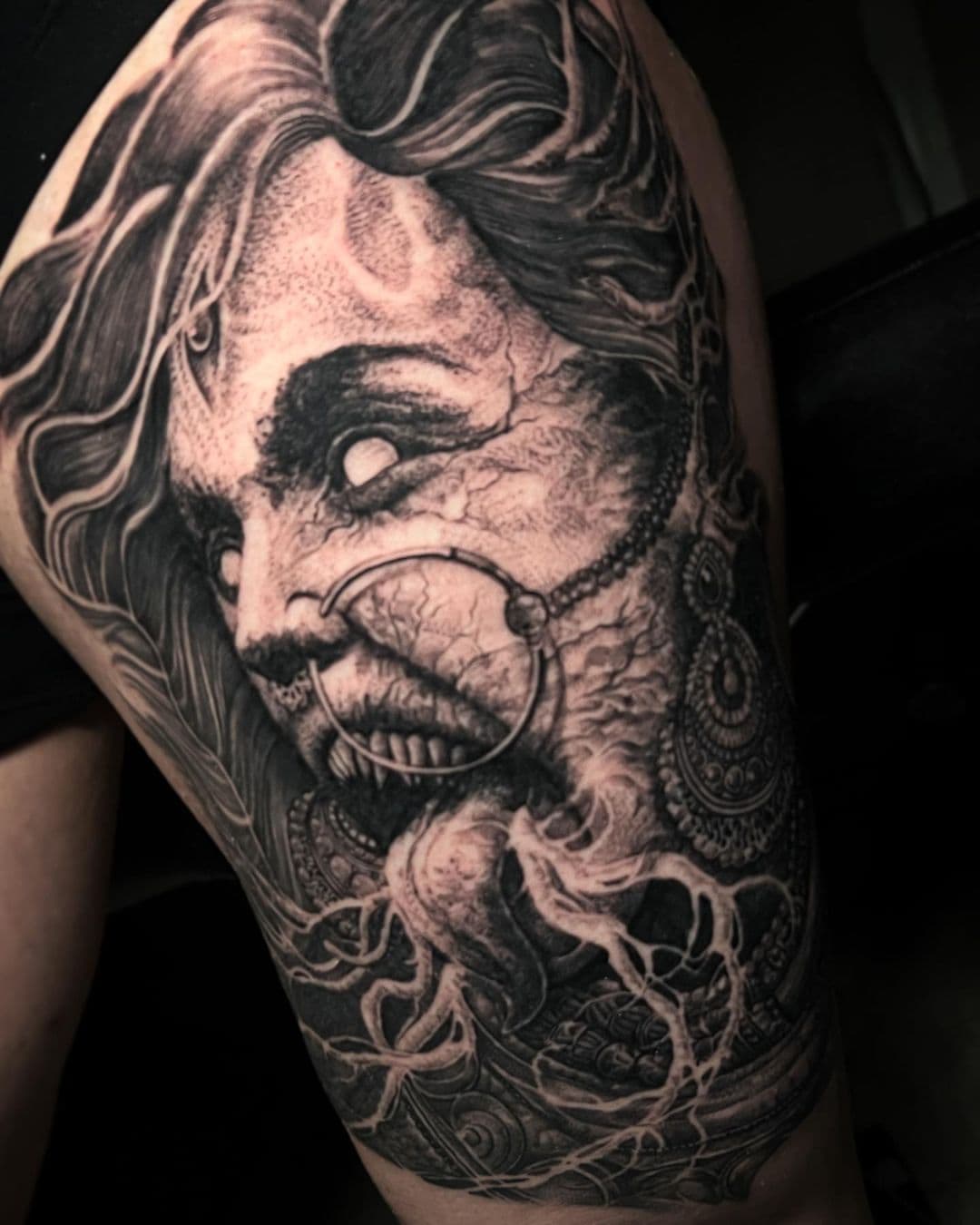 Realistic Cheetah Thigh Tattoo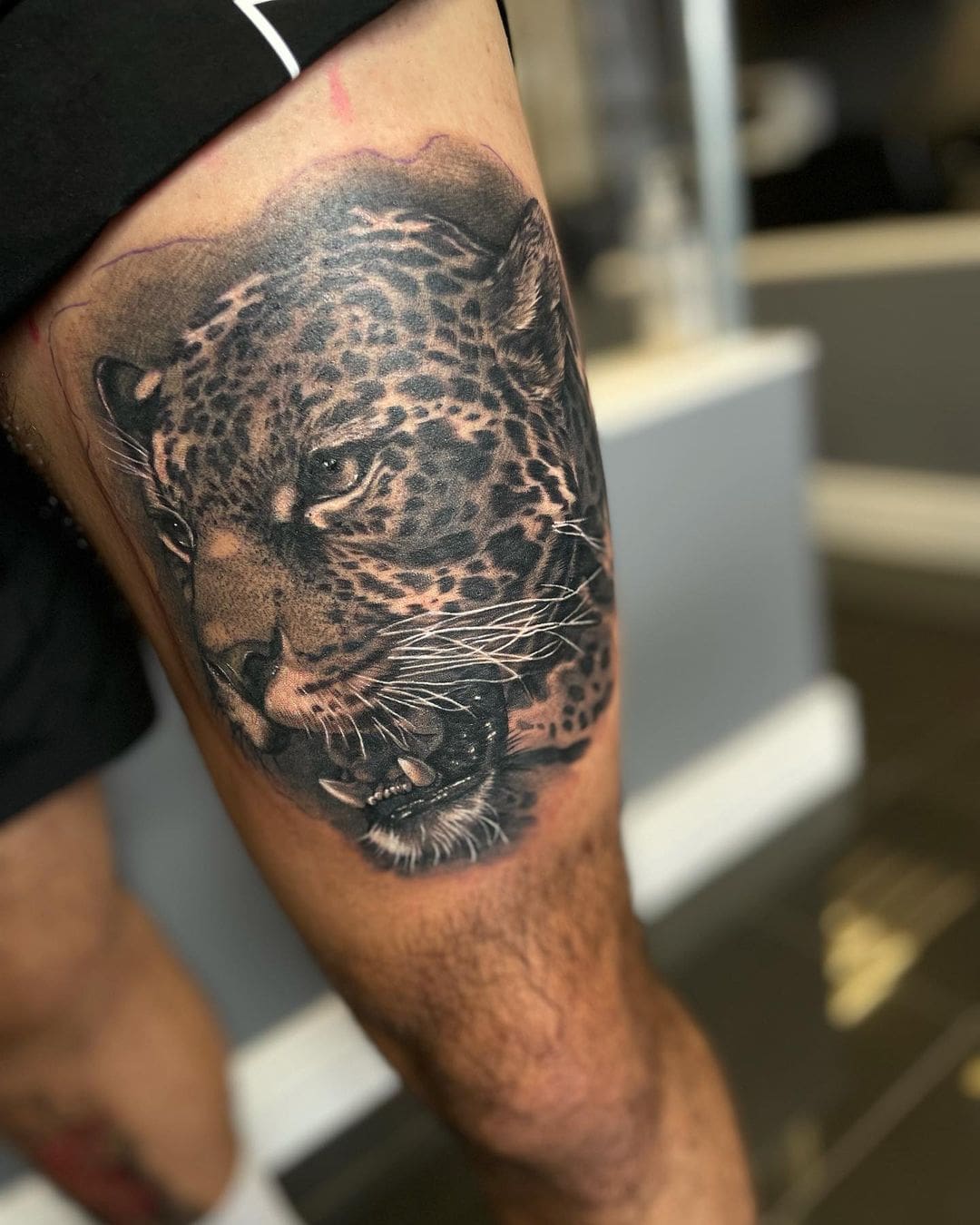 Intricate Lion Thigh Tattoo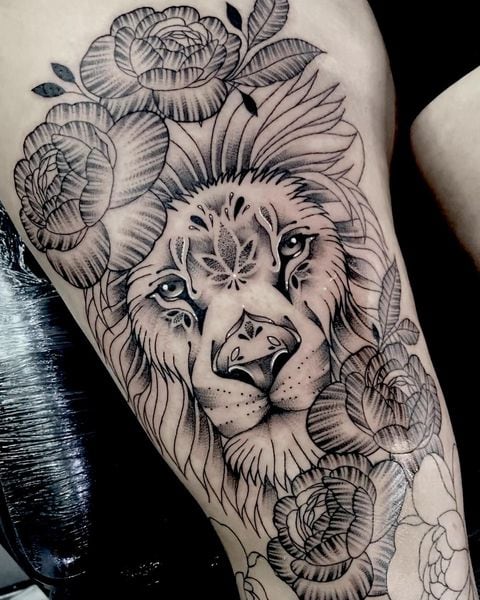 Woman With Head Dress Thigh Tattoo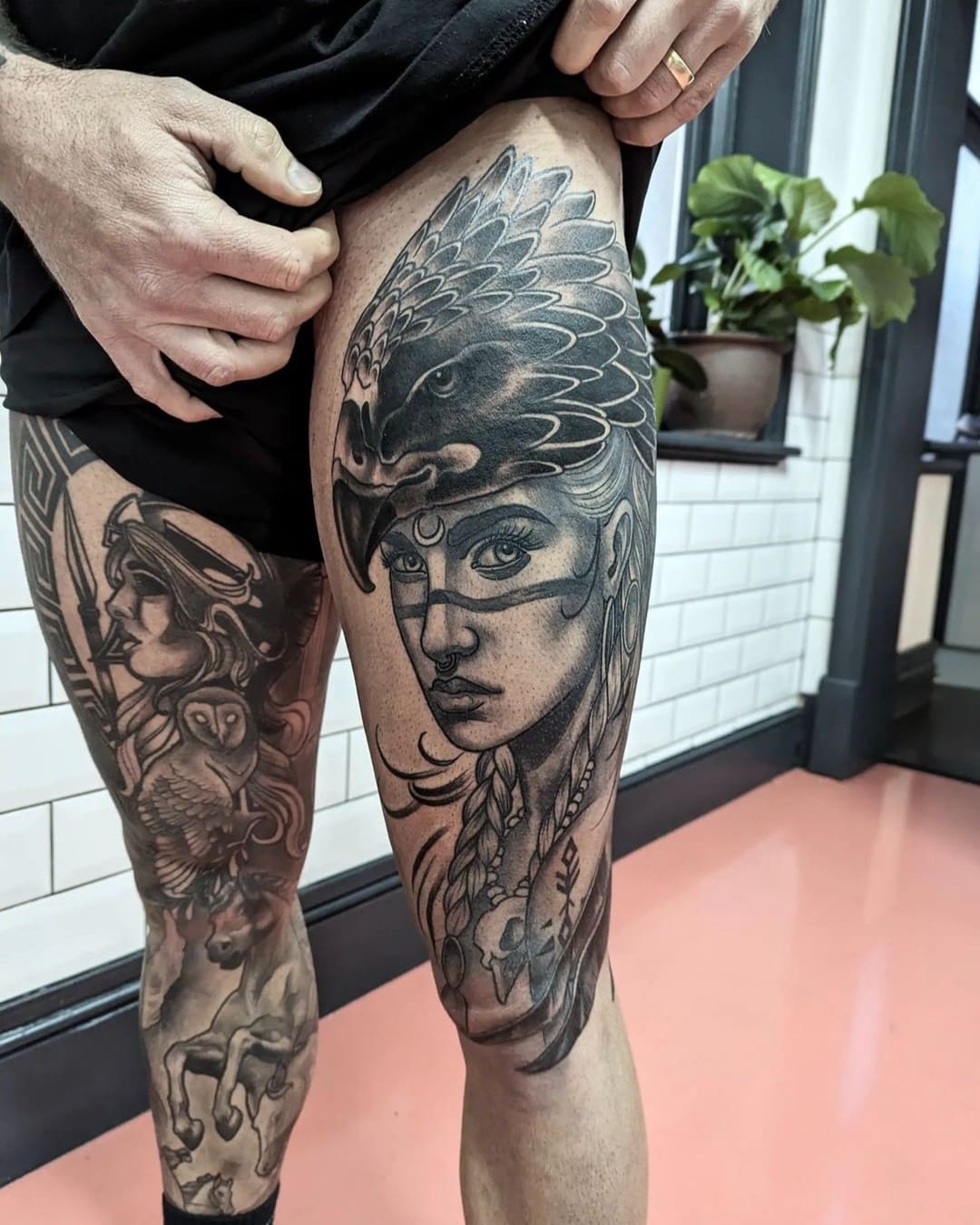 Mandala Thigh Tattoo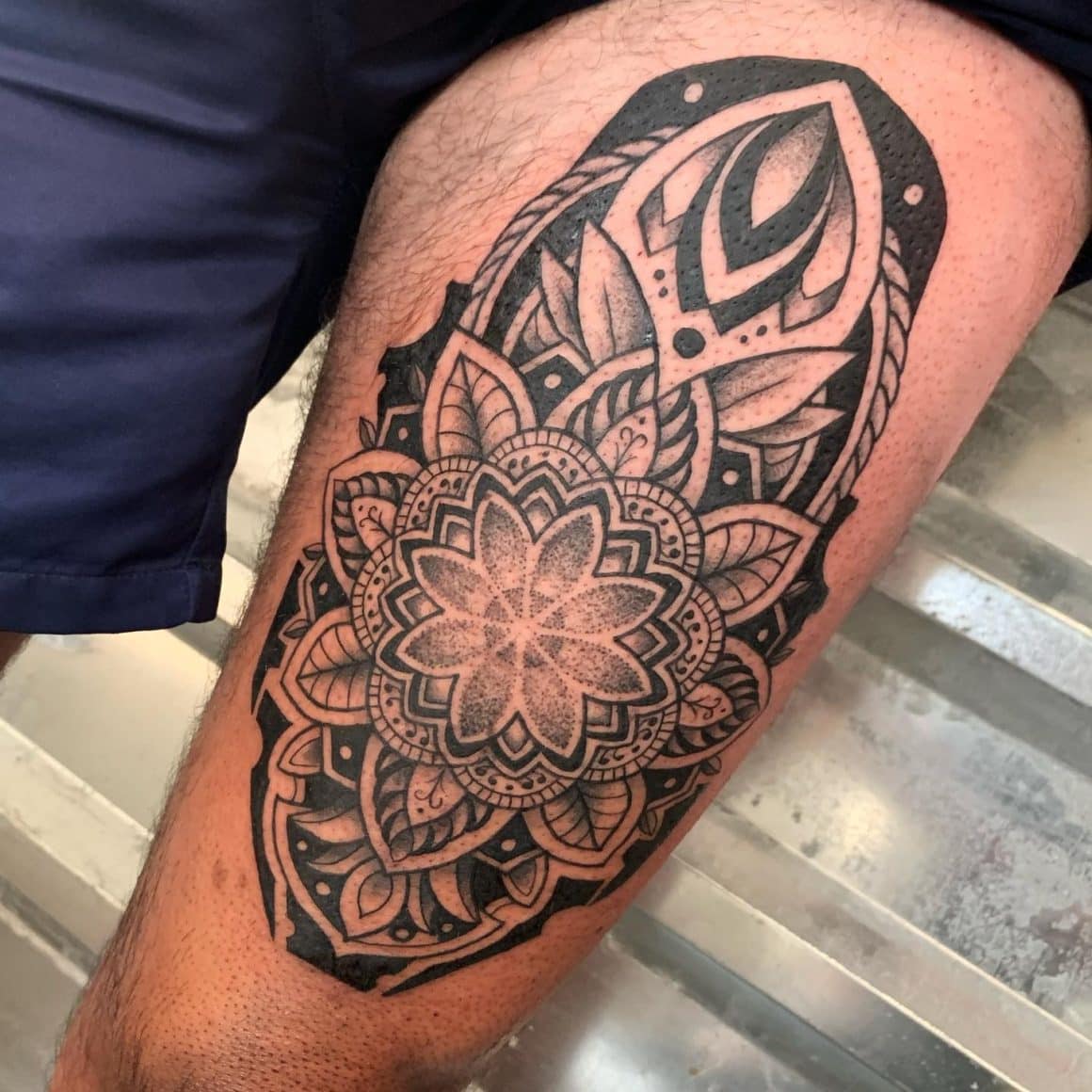 Leg sleeve tattoos
Looking for something really bold?
A full leg sleeve tattoo represents a commitment to self-expression and artistry, embracing the entire lower limb as a canvas for one's unique vision.
This bold and eye-catching placement can range from a seamless and flowing design that wraps around the leg, to an eclectic and varied collection of patchwork tattoos that come together to create a cohesive and impactful statement.
Jason Negative Space Tattoo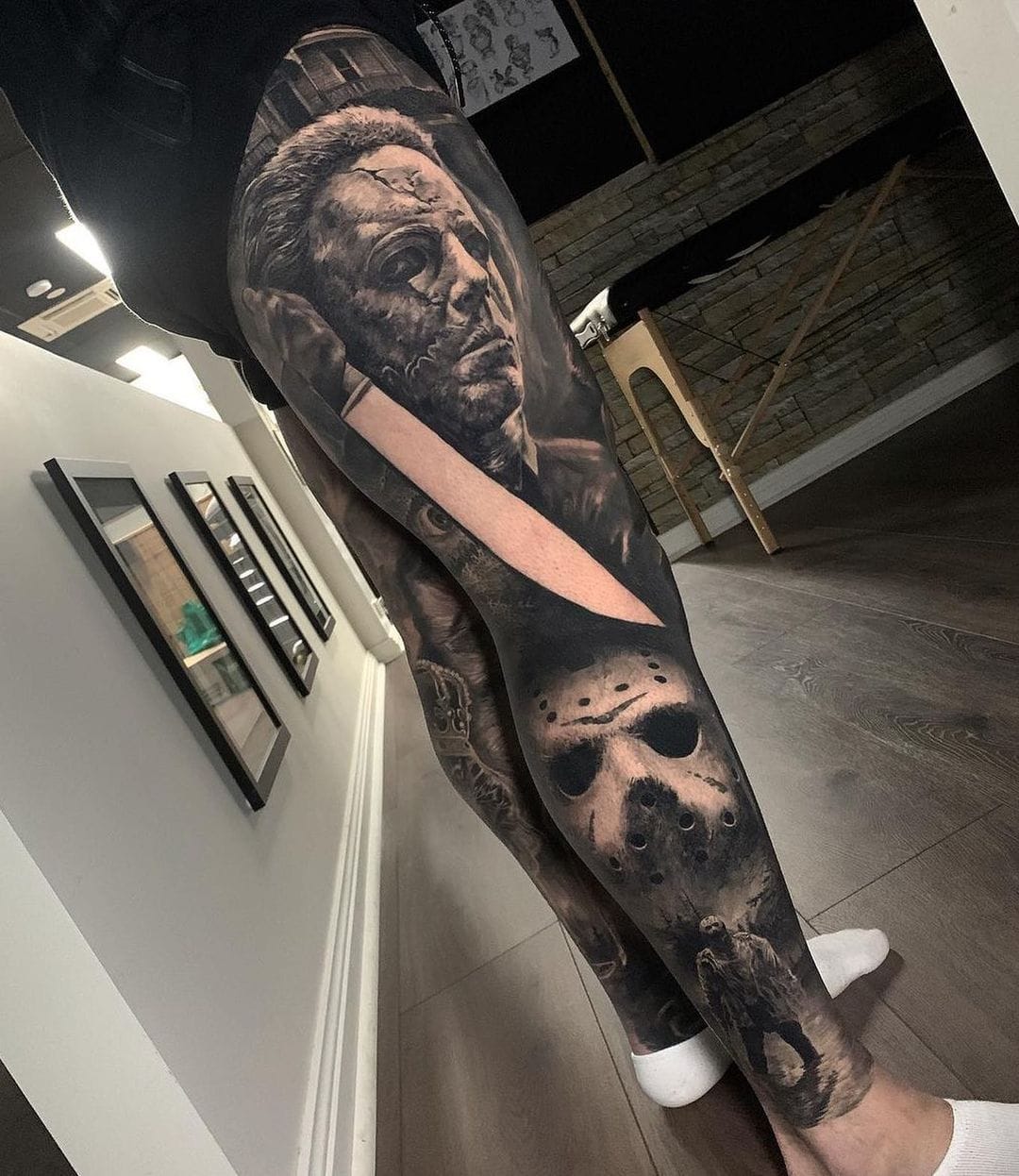 I'm actually speechless at the use of white space on this leg piece. Absolutely perfect.
Full leg script tattoo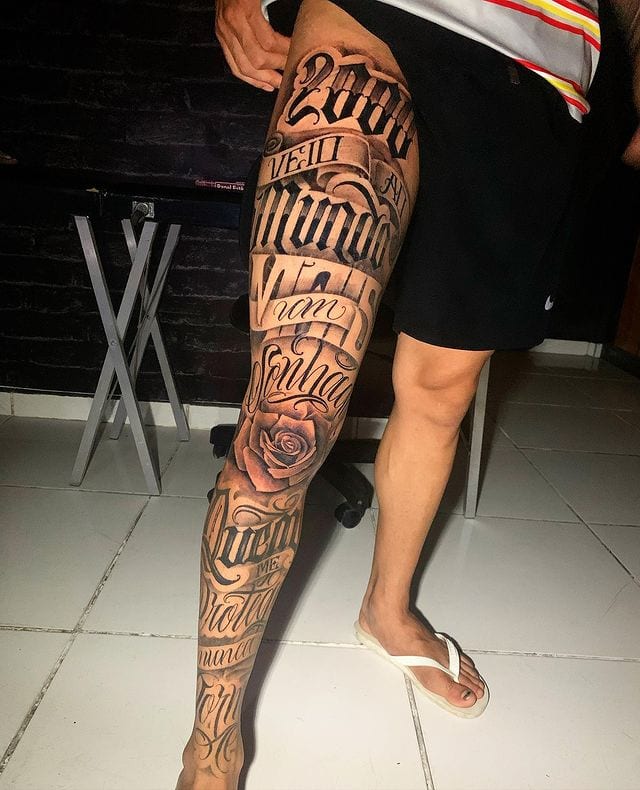 How's this for a statement piece? Lots of great looking type on this, with some great shadows to tie it all together.
Japanese leg sleeve tattoo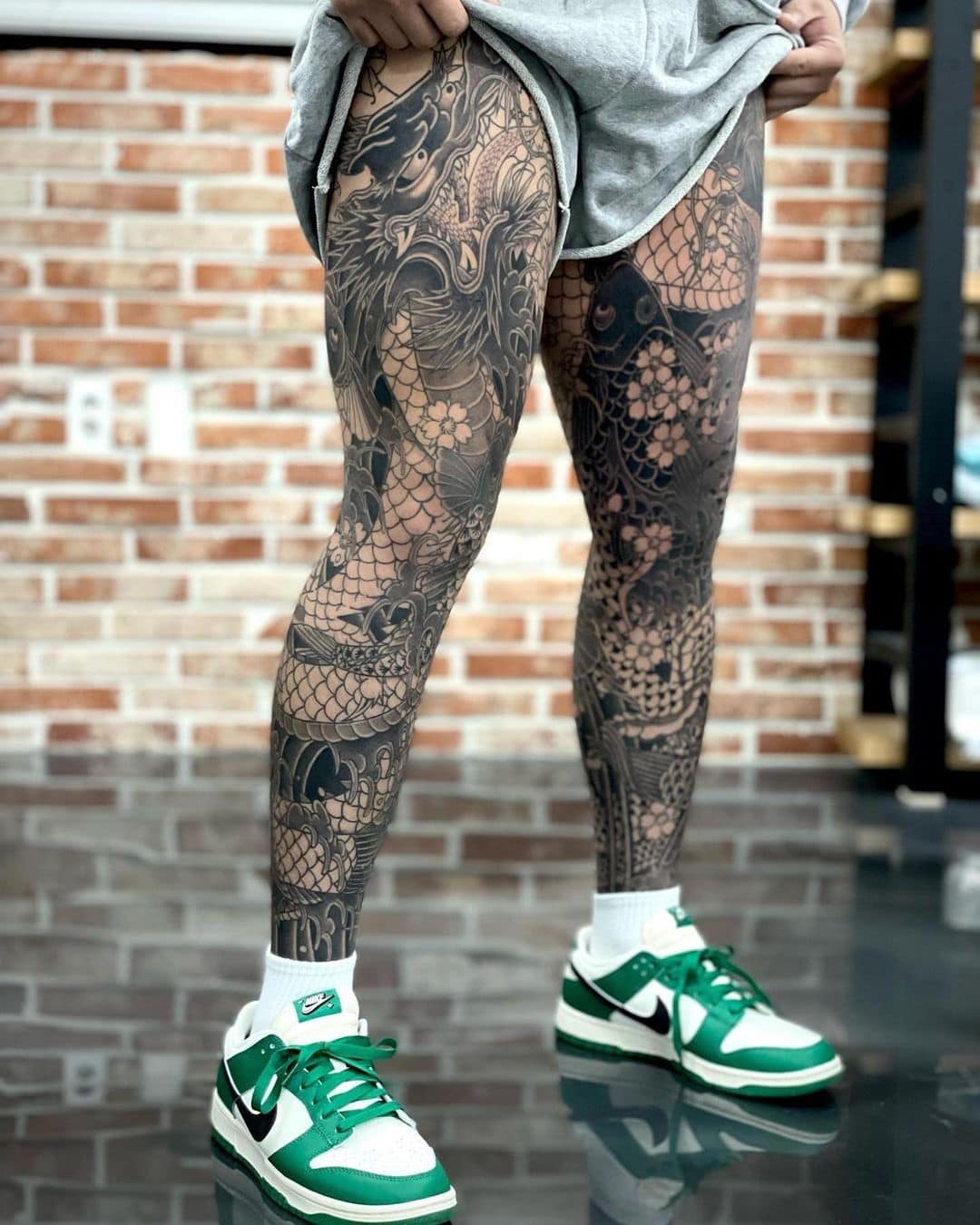 What a stunning piece, combing all sort of Japanese motifs like dragons, and cherry blossoms.
Peacock Leg Sleeve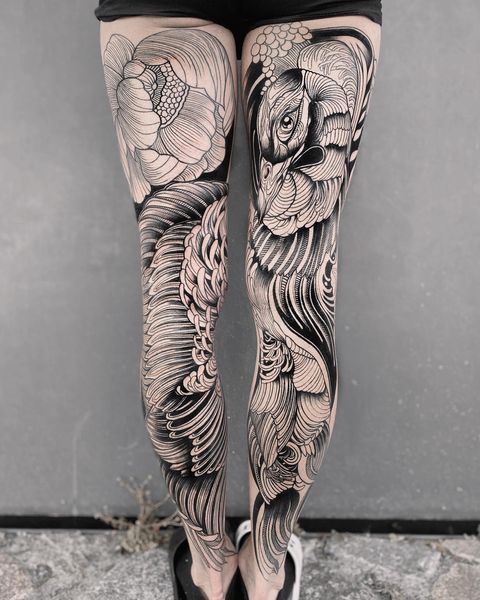 Wow, the amount of detail packed into this design is wild. I love how the design spans over both legs as well.
Surreal Leg Sleeve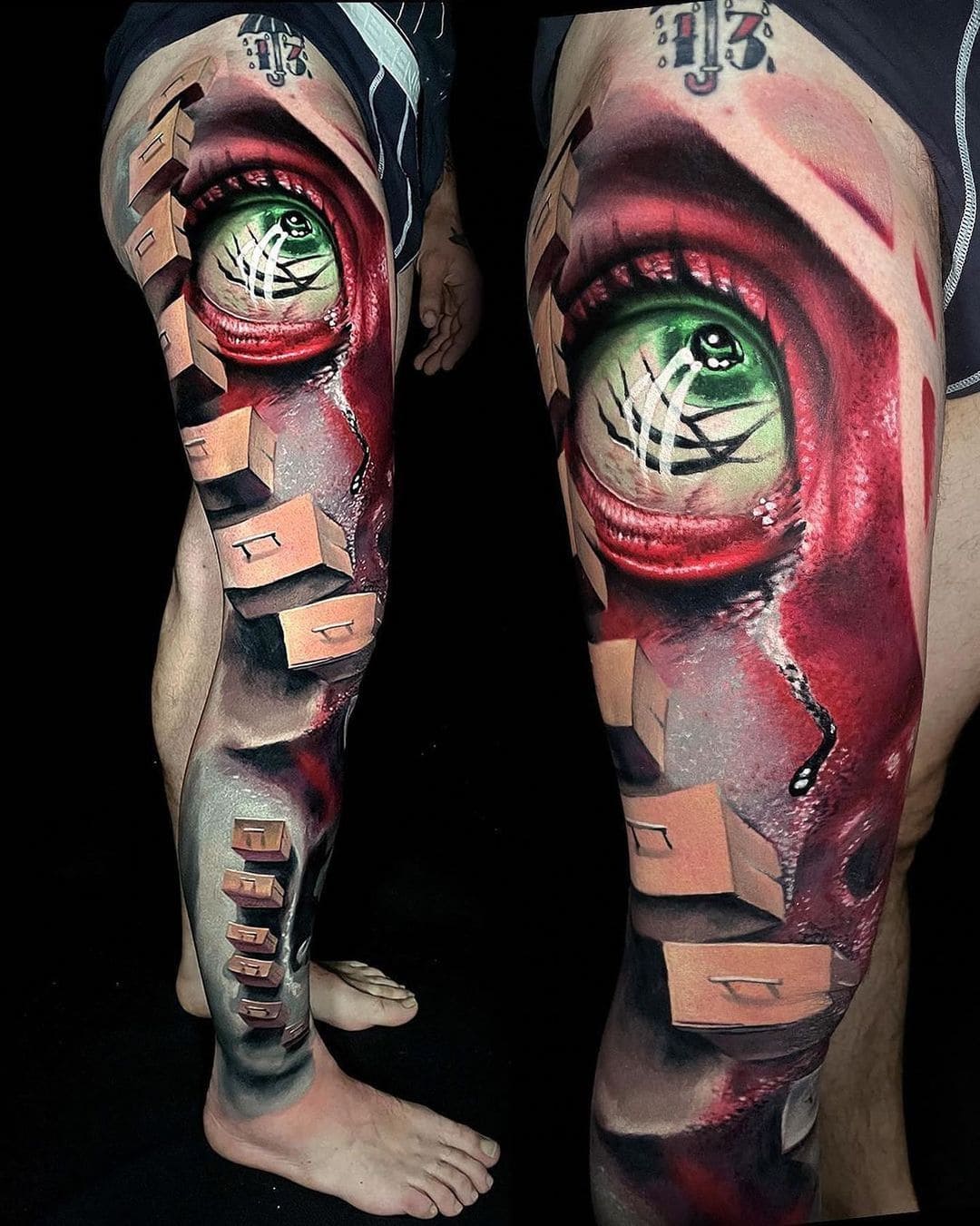 If you want to really make an impression, don't forget about the wild world of surrealist tattoos, this being a great example.
Colorful flowers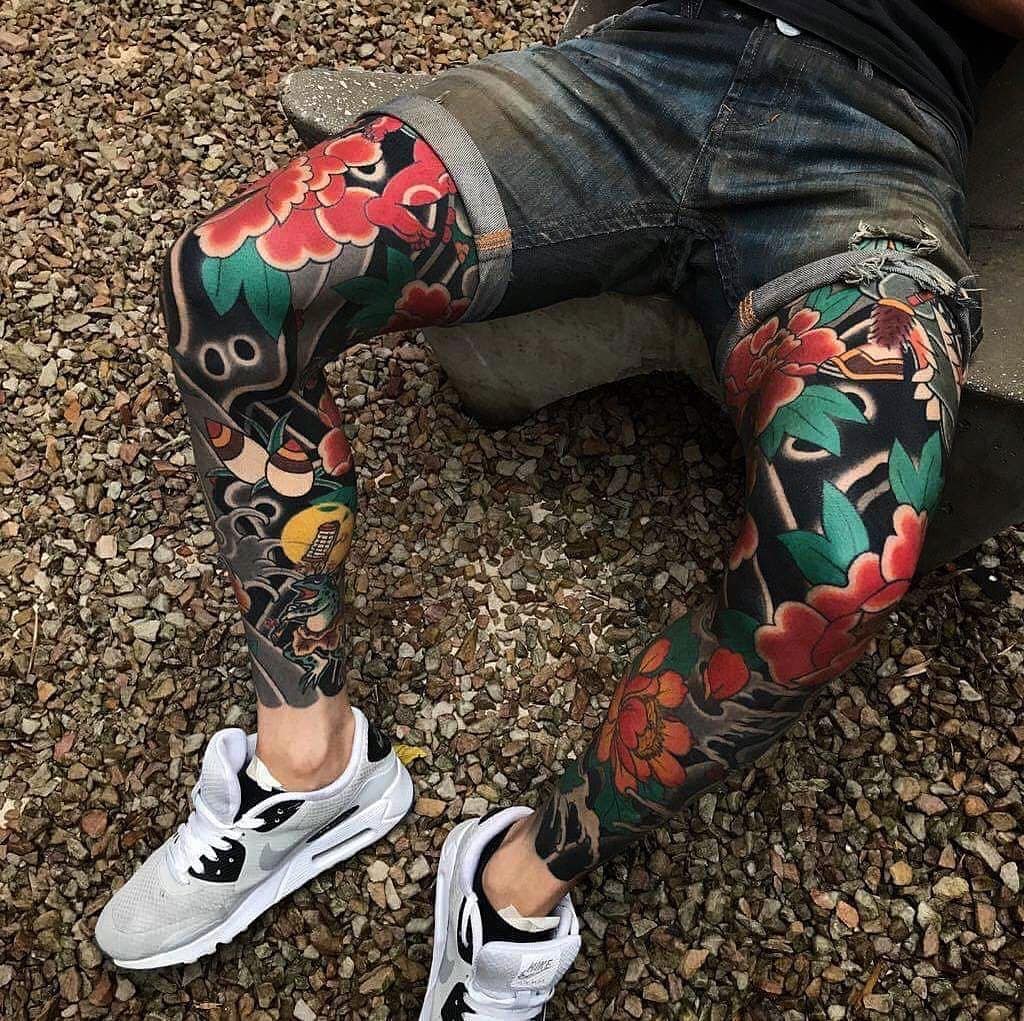 Here's another Japanese inspired piece with a bold design, and punchy colors.
Foot tattoos
Feet are another great location to get tattooed because of their unique location and ability to be shown or hidden pretty easily.
The only downside is that this area of the body is going to be a bit more painful than the others on this list.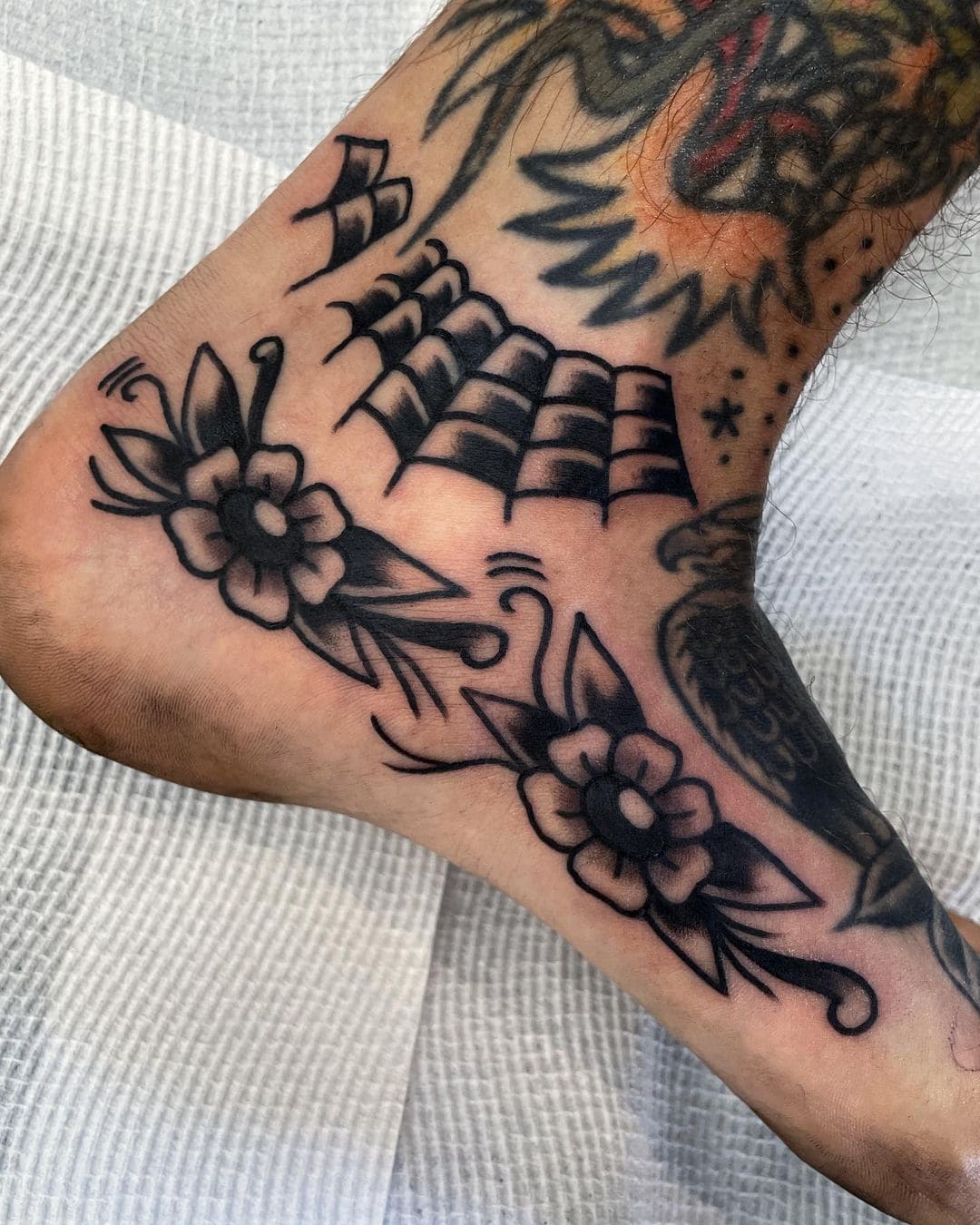 It's hard to resist some classic traditional tattoos, and these pieces on this are pretty rad.
Raven foot tattoo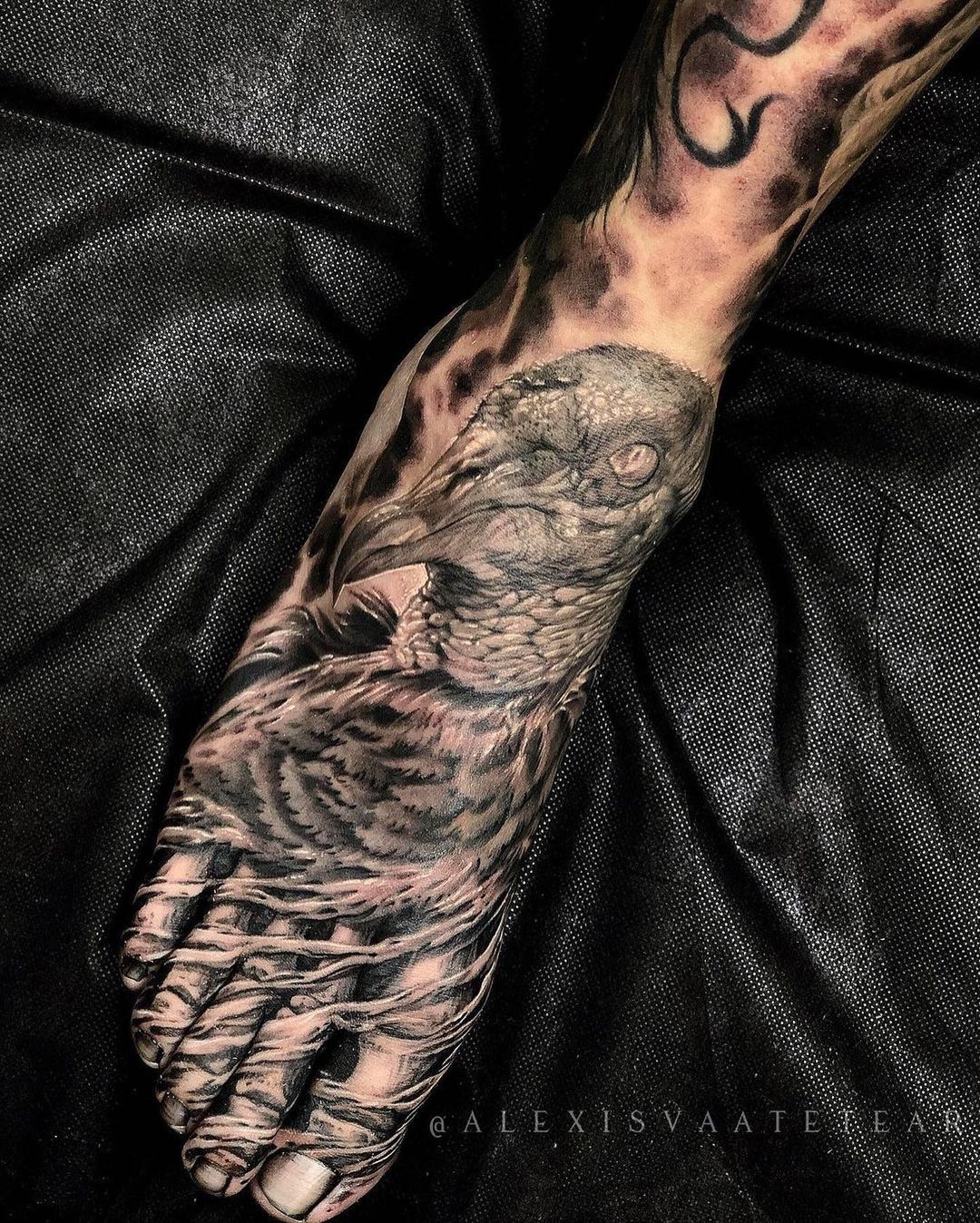 I think there is one word to describe this tattoo — Ouch. That said, it looks like the pain was worth the end result.
Japanese Wave Foot Tattoo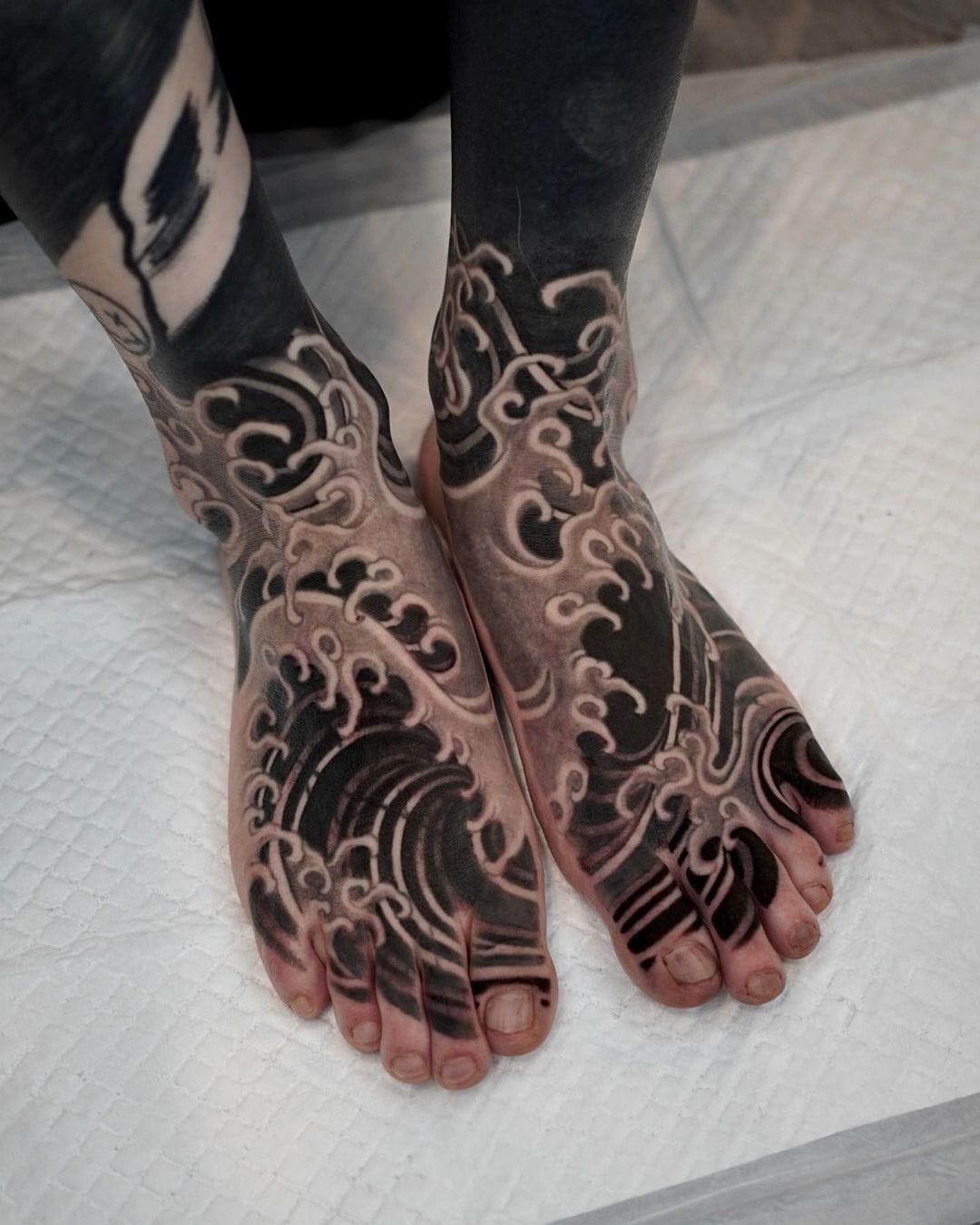 This is actually a cover-up tattoo, using some classic wave designs to get the job done.
Knee tattoos
Knee tattoos designs should be considered a little bit more carefully due to how the skin will stretch and contract depending on how the leg is being bent.
That said, it's another great location for a single piece, or to get covered when you're getting your entire leg done.
Traditional patchwork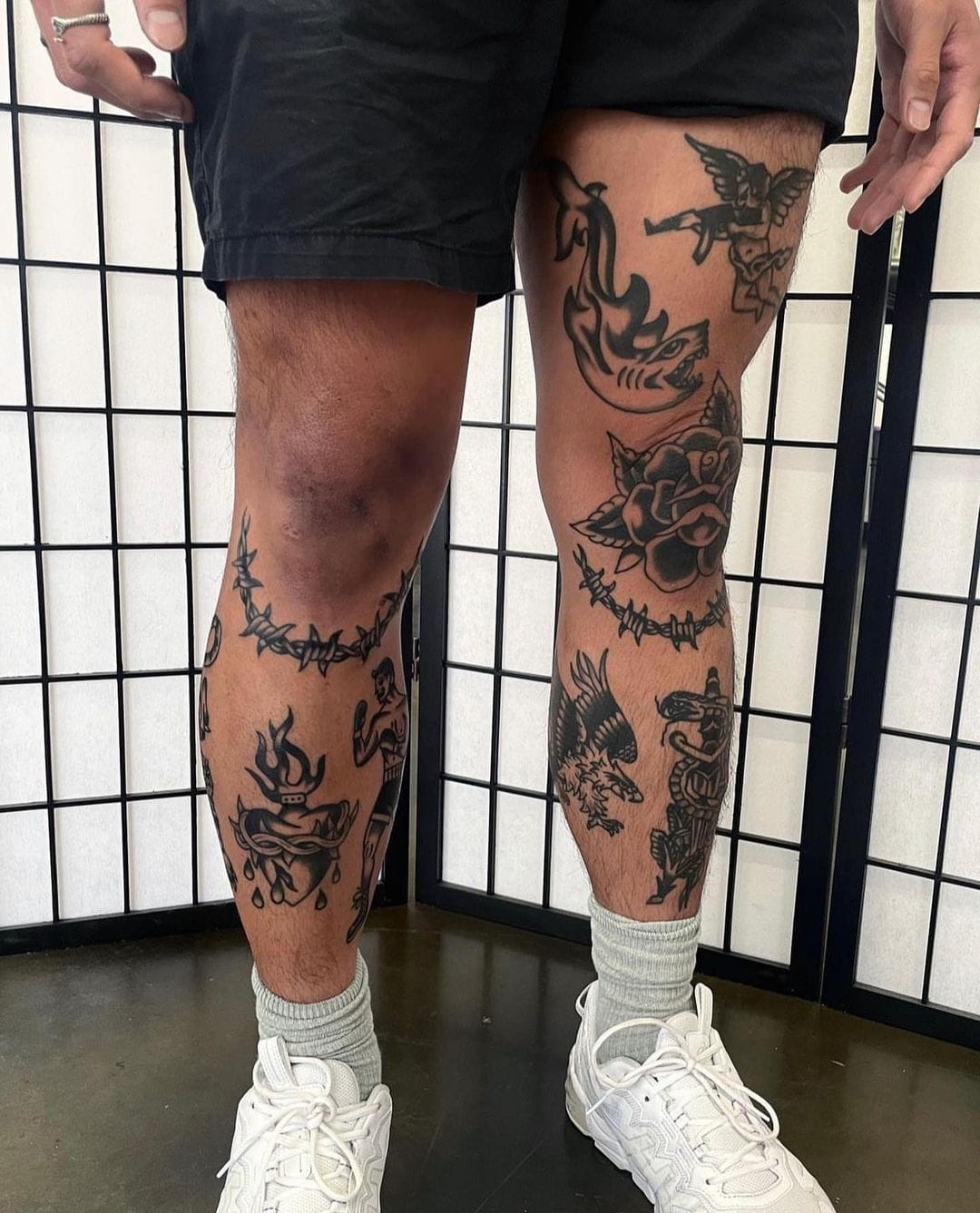 While the rose on the knee is the thing I noticed first, it's hard to miss the rest of his impressive patchwork tattoos. He's covered in some classic traditional flash, but my favorite has to be that sacred heart.
Spiderweb knee tattoo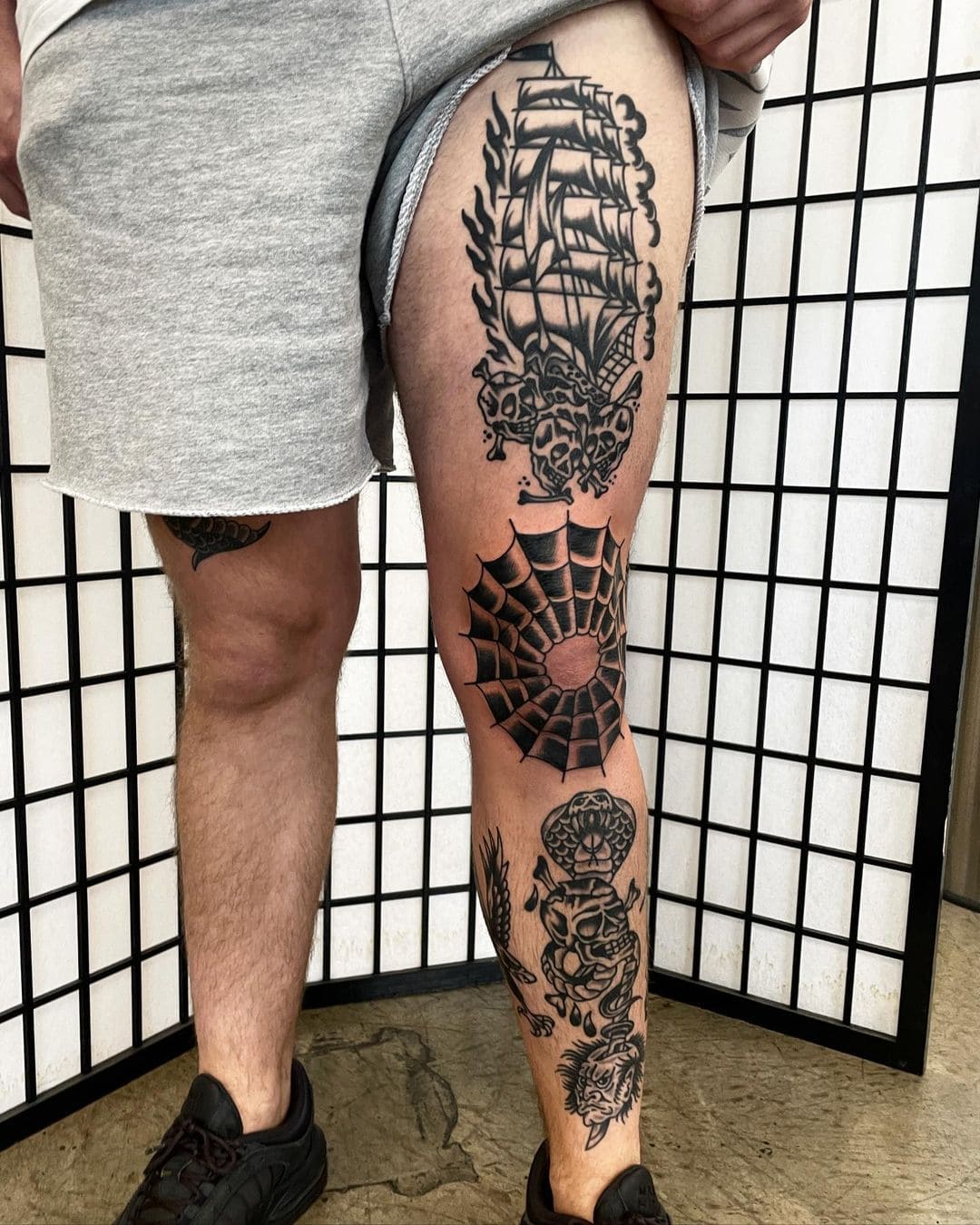 I'm a sucker for a traditional spiderweb tattoo, and what better place to get it than the knee? Well, the elbow comes close second.
Minimal line knee tattoo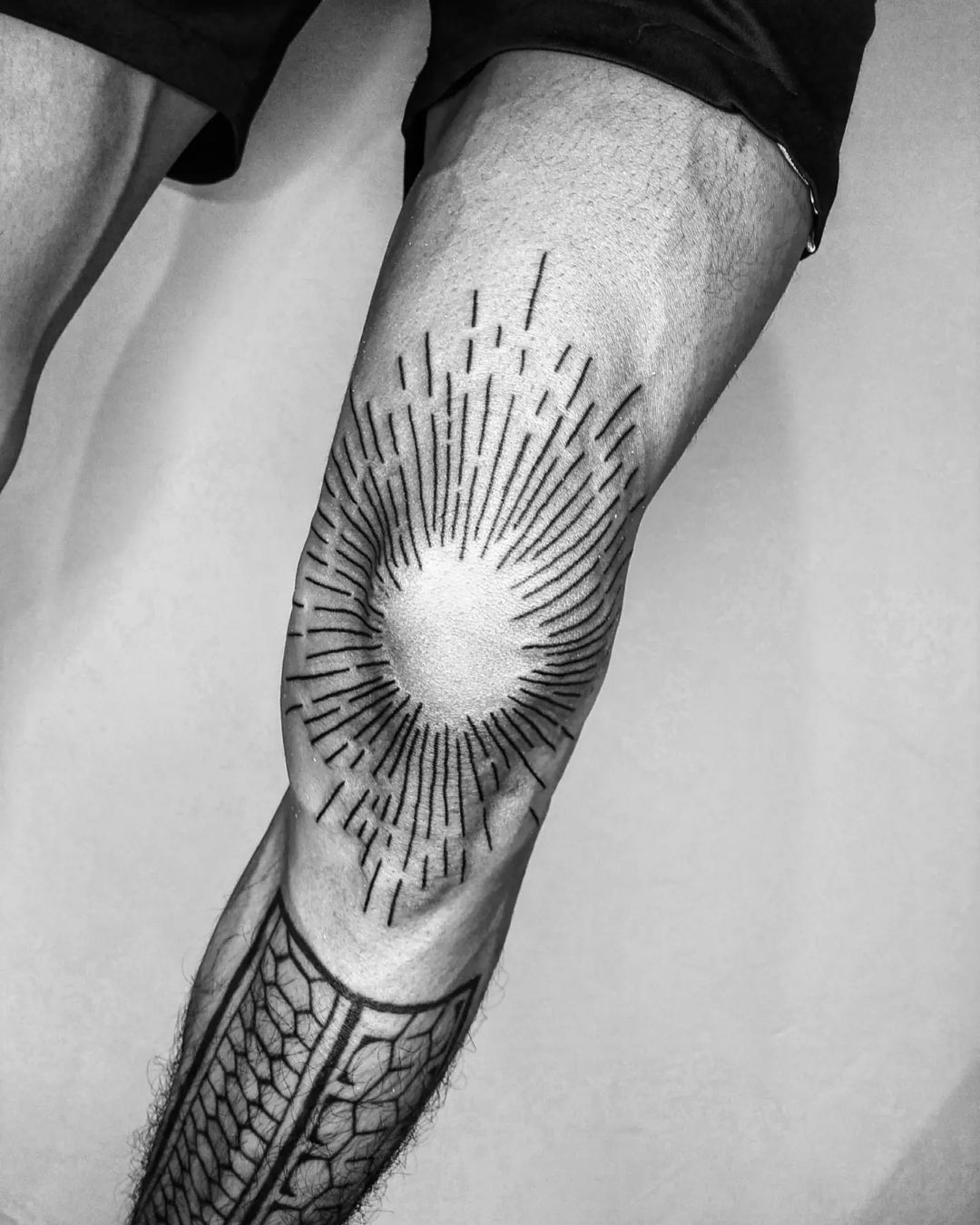 Sometimes you don't need to get fancy, and some simple line art does the trick.
Flowing Rose Knee Tattoo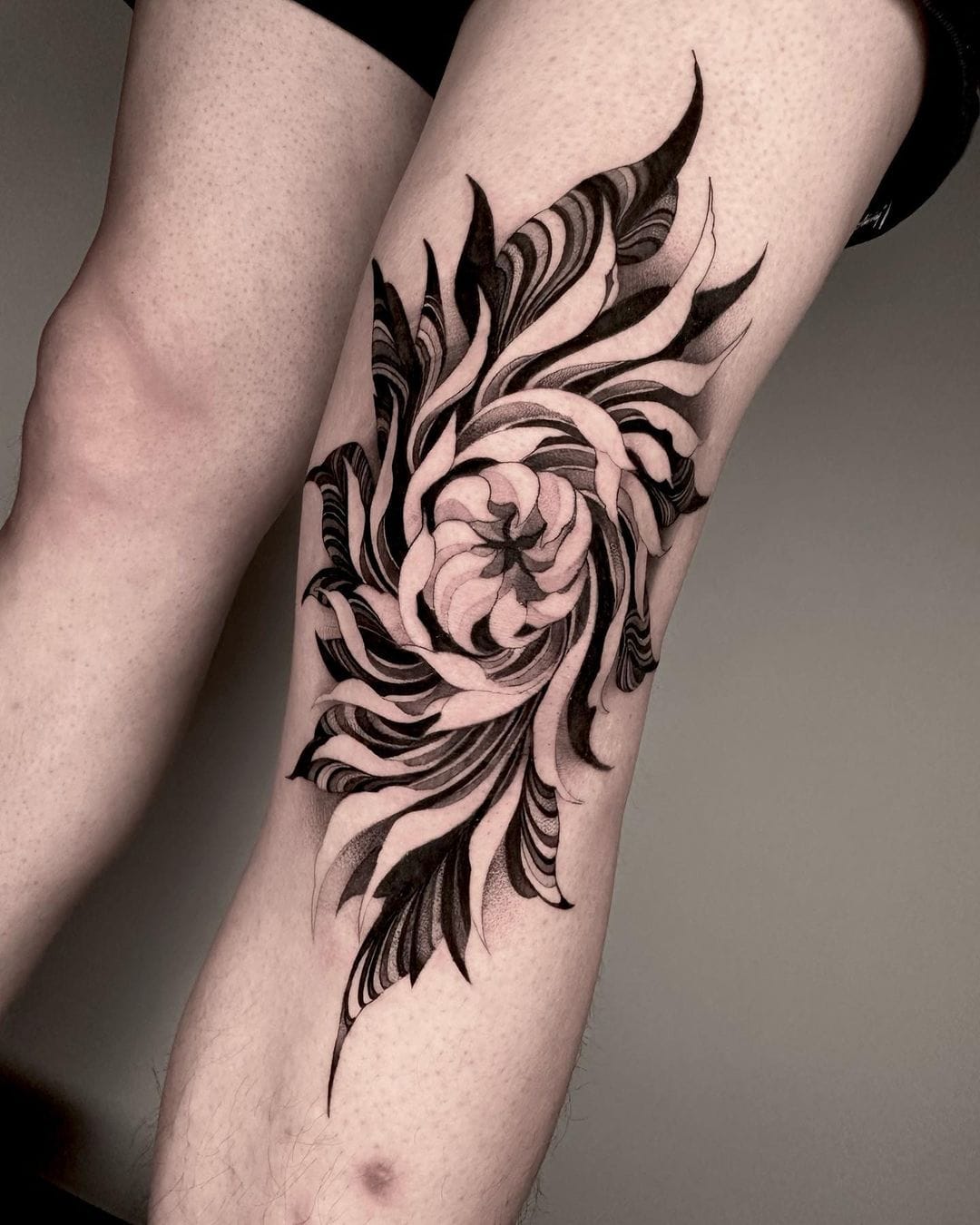 This is a unique take on a classic rose tattoo, and I love how the artist created such an expansive piece with all the individual petals.
Mandala Knee Tattoo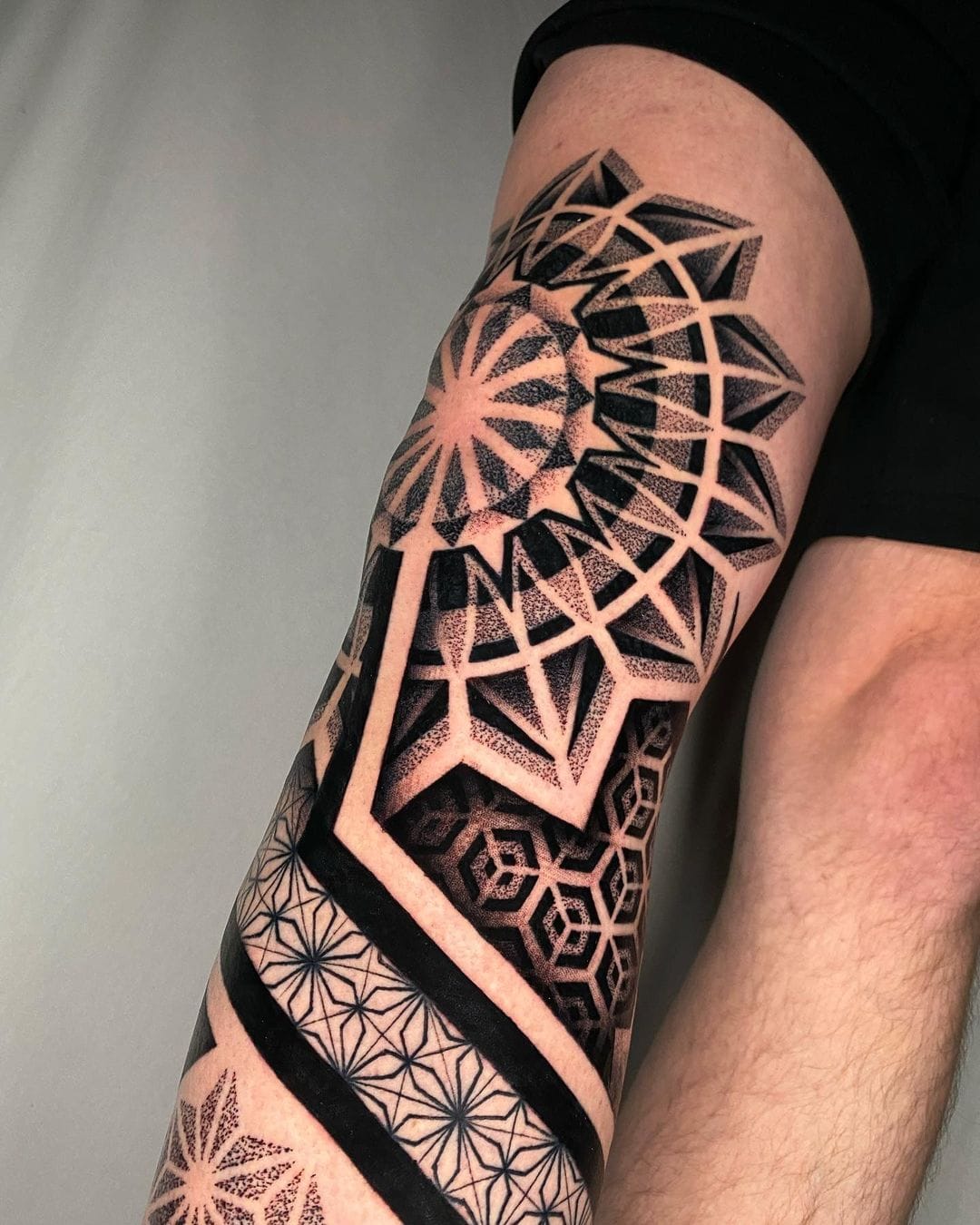 Sure, technically, this is more than just a knee tattoo, but I love how the mandala is centered directly on the kneecap, making it the focal point of the entire leg.
Moth and Skull Knee tattoo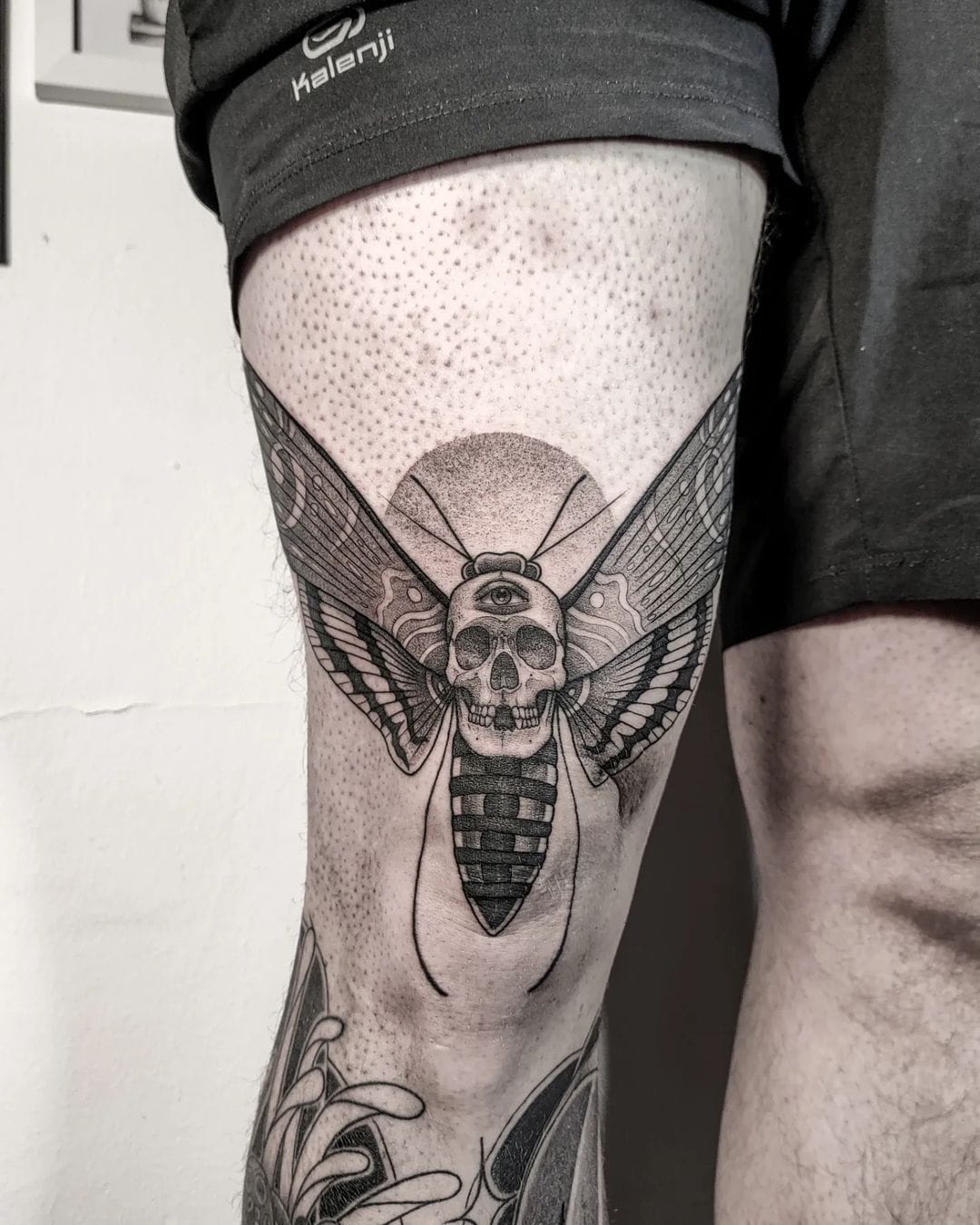 The artist knocked this one out of the park. I've seen a bunch of skull & moth combinations, but there is something about the details in this one that make it really special.
3D Knee Tattoo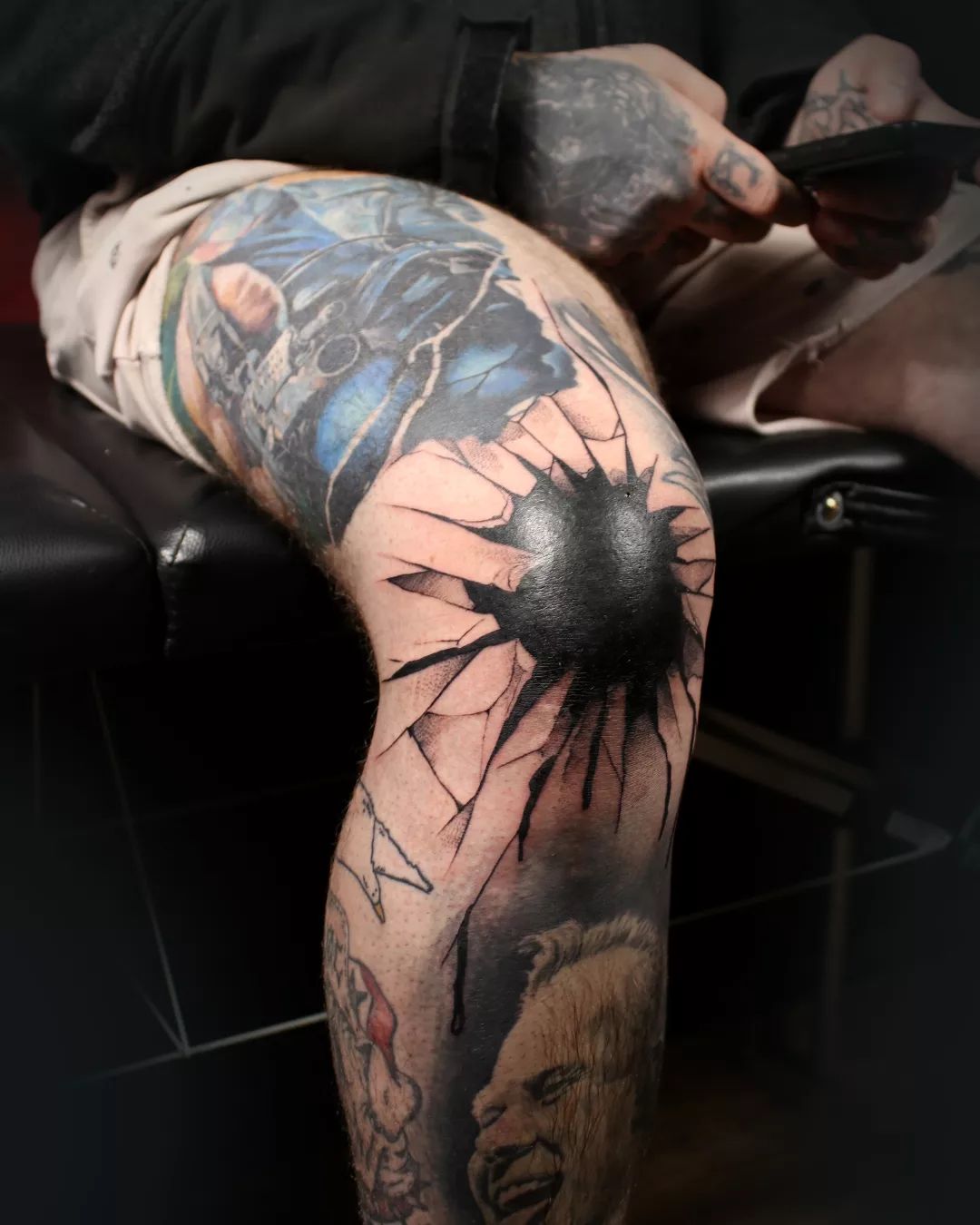 I had to include at least one of these 3D tattoos on the list, and I liked how this broken glass design is centered directly over the knee.
Summary
As you can see, there is a ton of options when it comes to men's leg tattoos.
If you're looking to get one of your own, I'd recommend starting with a location that you want, then working with your artist to come up with the perfect design.