What's the difference between neo traditional and old school?
Neo Traditional Tattoo designs are not to be confused with their close relative, Old School Traditional.
Neo Traditional styled tattoos have an extensively more diverse color palette and use of imagery. So… there is a lot more to play and experiment with; an artist's dream!
These tattoos take on a more illustrative look, using bright, saturated colors and bold lines.
Sometimes they can appear cartoon-like and have a three-dimensional feel about them!
Let's look at the top 20 neo traditional tattoo ideas I found across the web for your next addition.
1. Goddess Kali Tattoo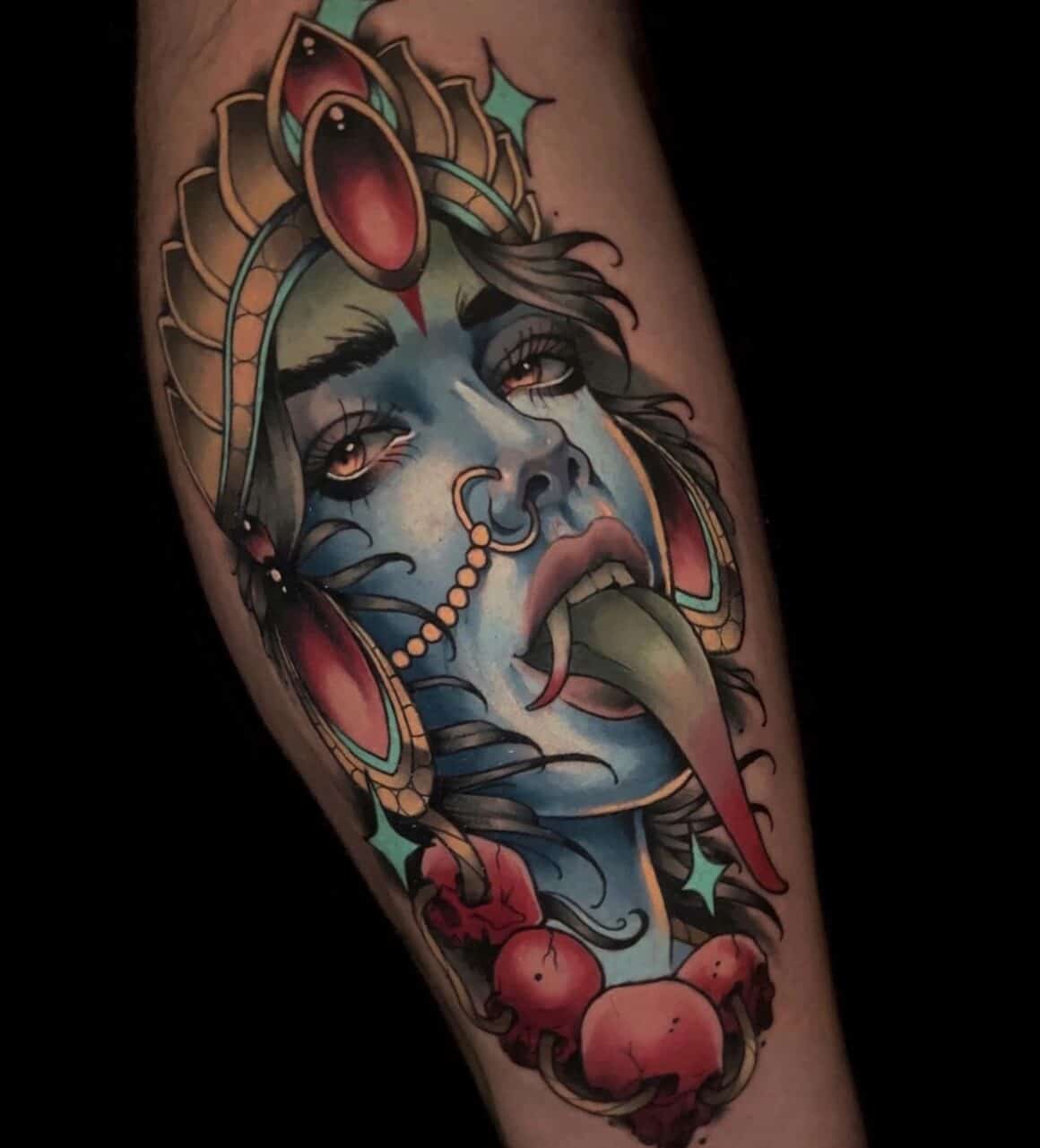 Hindu Goddess Kali comes in all kinds of styles in the tattoo world; I love her in Neo-trad the most.
Kali represents death, destruction, and rebirth; she is said to rule mercilessly and behead any man who dares try double cross her!
The part that stands out most to me is her tongue in this piece; I feel she is trying to play tricks and lure her admirers somewhere dangerous… beware Goddess Kali!
2. Demon Lady Neo Traditional Tattoo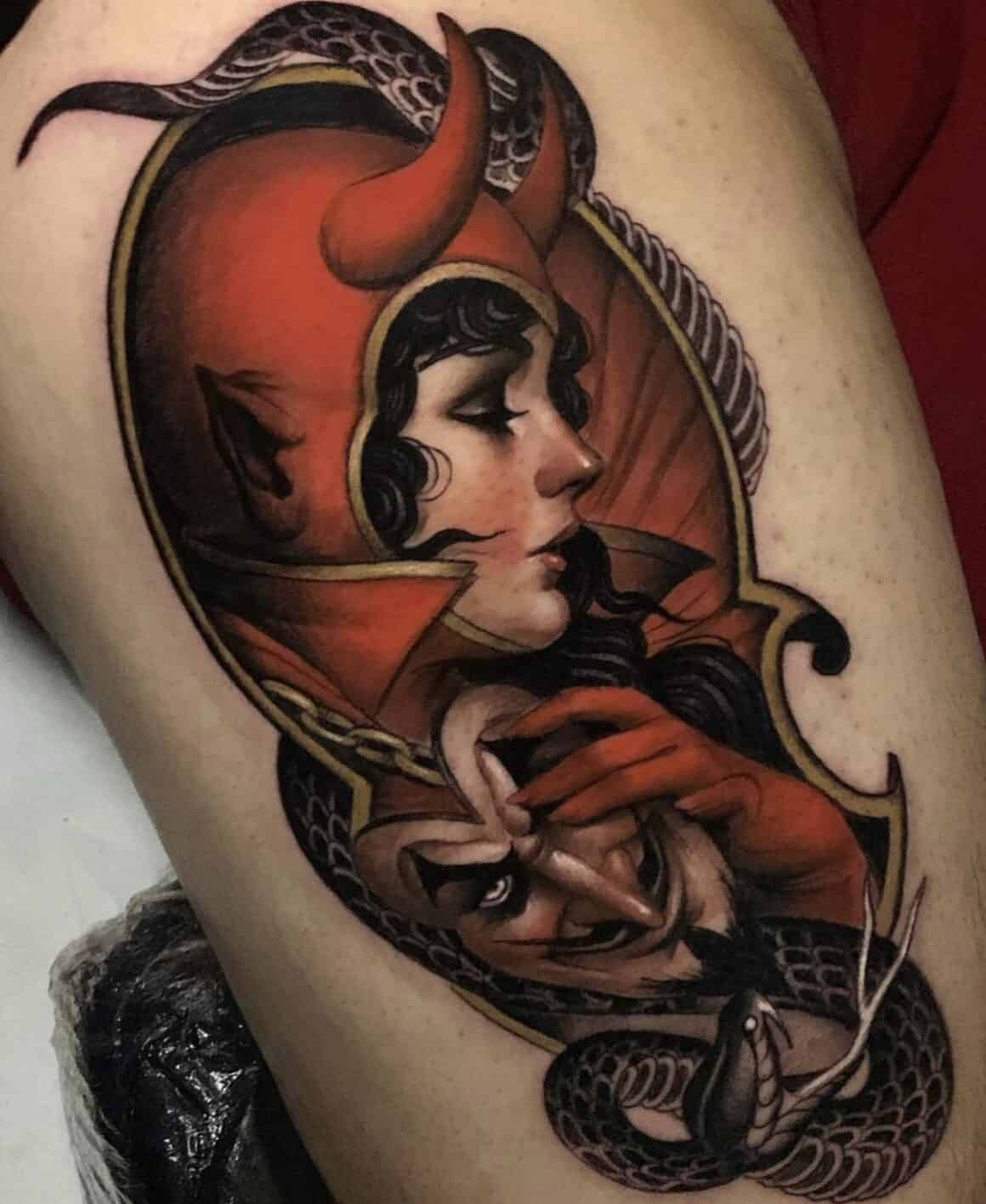 This tattoo has beautiful, deep colors which stand out the most to me.
I like the element of "Good vs. Evil" in this piece; we are given a contrast between a woman and the devil, perhaps a woman and her evil side.
The shading is superb, and the lines are clean and bold.
3. Beetle Hand Tattoo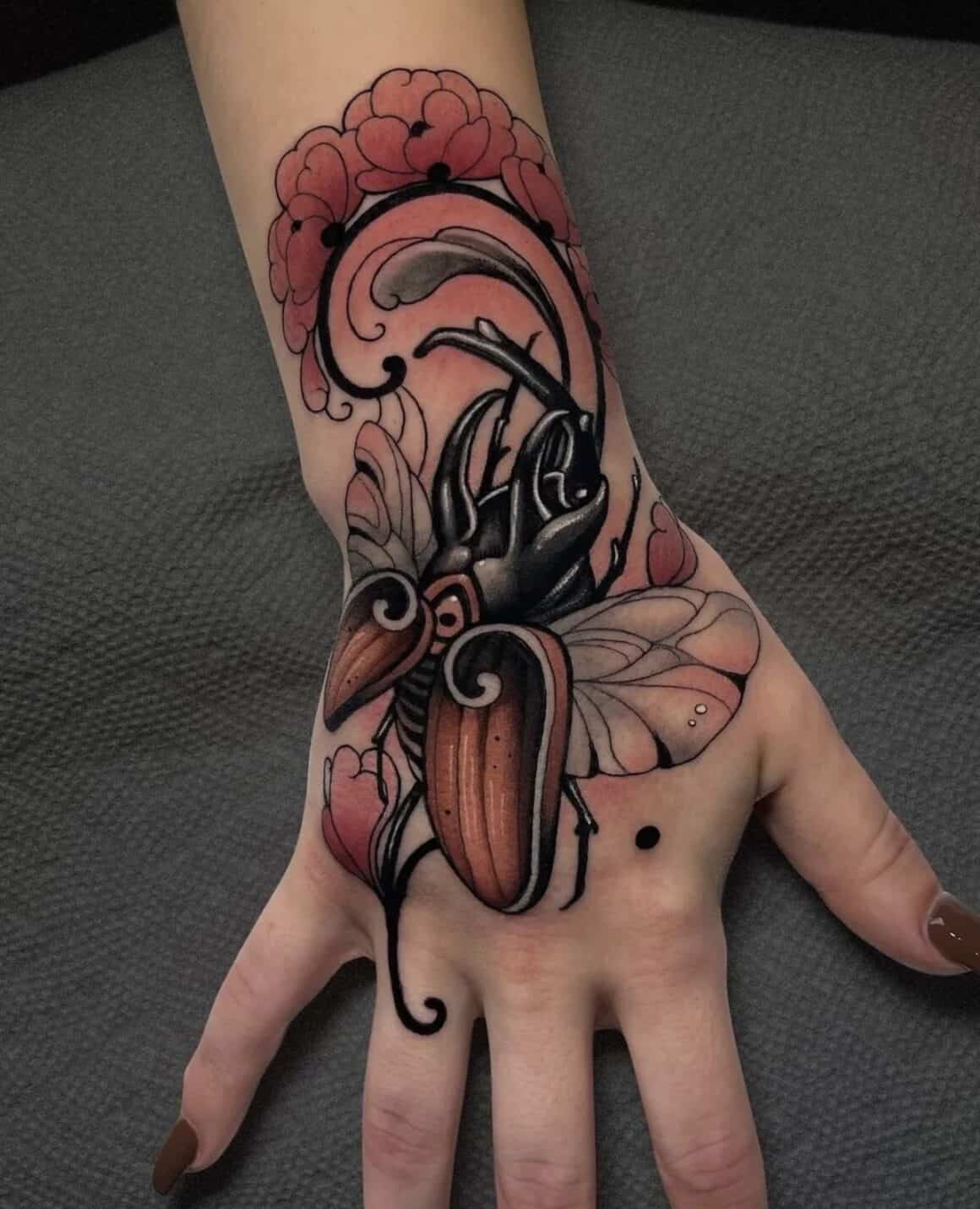 Whoever said you couldn't get a job with hand tattoos was lying; I would hire this person in a heartbeat so that I could ask where to get cool tattoos!
This is a beautiful piece, from the imagery used, placement, colors, and design; this one gets a ten in my books.
My favorite part about this tattoo is the beetle's strong wings that look like two coffee beans; I think that is a fantastic extra touch.
For more like this, check out our 20 powerful hand tattoos for women selection.
2. Jesus With A Sword Tattoo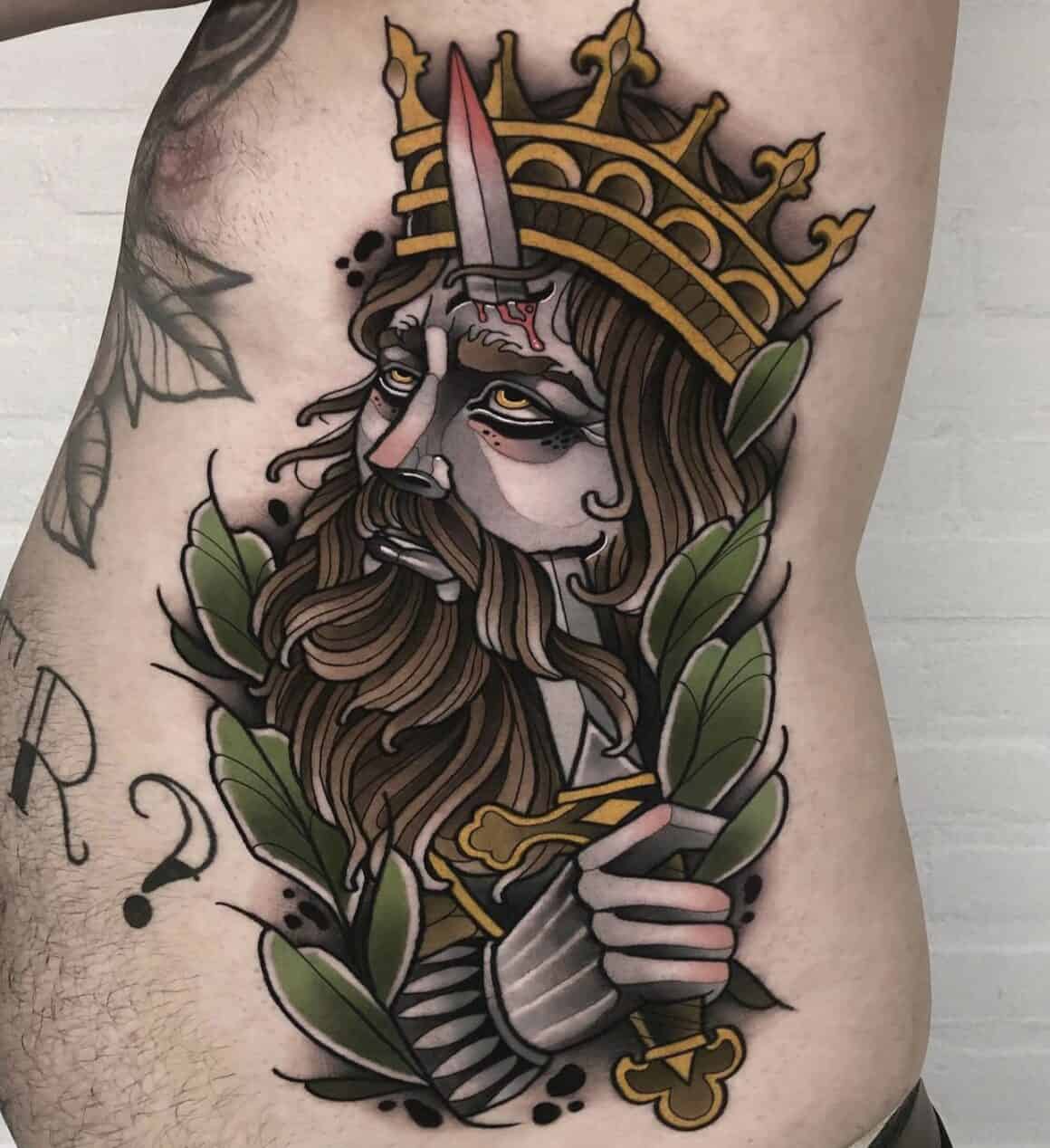 Jesus tattoos carry a ton of symbolism with them. These tattoos symbolize power, faith, loyalty, and love; they are undoubtedly meaningful to their owners.
This tattoo has a wonderful amount of bold colors that are balanced with the boldest lines I have ever laid my peepers on.
I admire the olive green used in the tattoo, it adds a uniqueness to it; I like it! My favorite part about this piece is the self-inflicted sword wound!
5. Crimson Red Moth Tattoo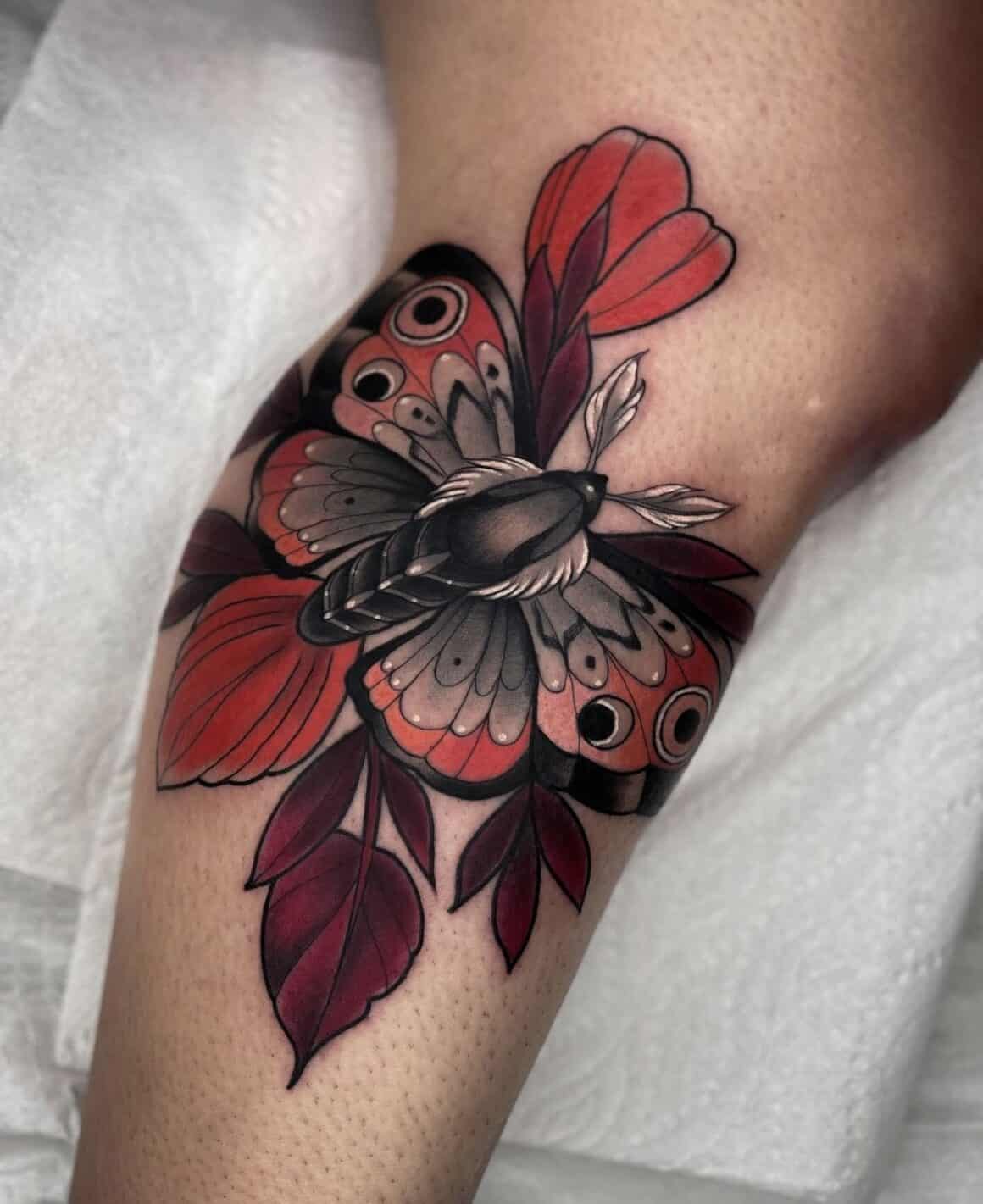 Whenever I see a moth tattoo, I immediately associate them with darkness and the night, something I find comfort in.
Moths symbolize inner transformation, and I think anyone getting one of these little buggers holds them of high value.
I love the use of the many shades of red, especially in the bottom leaves. To top it all off, the bold lines hold the red in place and make the entire tattoo stand out.
6. Split head of Lord Brahma neo traditional Tattoo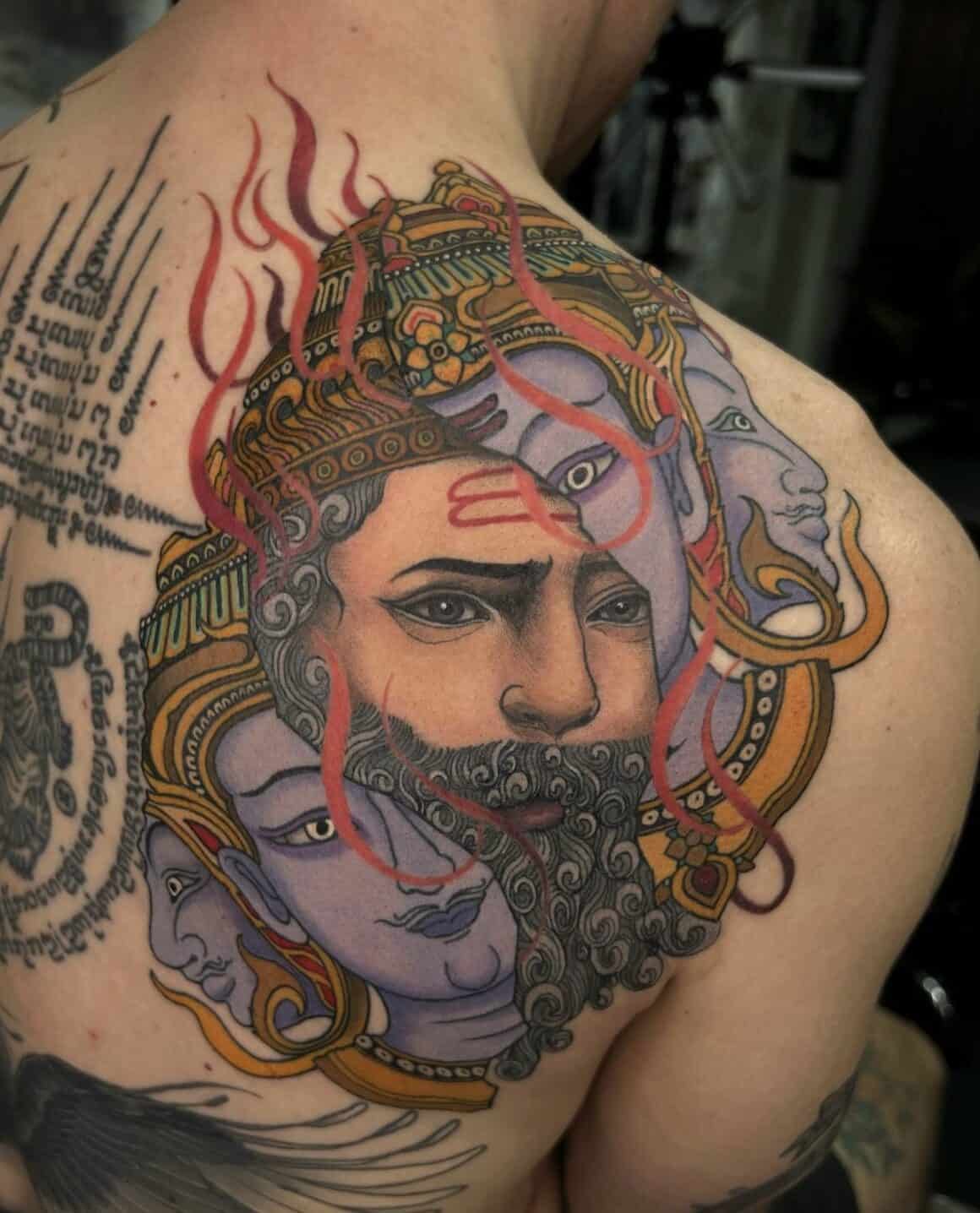 I love the artistic element and skill used by the tattooer; you can see this was a custom design right off the bat!
I have a fascination with the Hindu religion and the Gods they worship, so this tattoo by symbolism alone already is in my good books.
According to the Hindu religion, Lord Brahma is the God who created the world and everything in it. I love the use of purple here, something we don't tend to see often, as well as the clean lines. This is a masterpiece!
7. Floral Band Tattoo
There is nothing quite like a Neo Traditional tattoo band.
The beautiful blood orange is the most striking part; it has been packed into the skin with care and precision, and it shows! I love the floral pattern and bold lines used to complete this tattoo's finished look. Beautiful work!
8. Kitsune Tattoo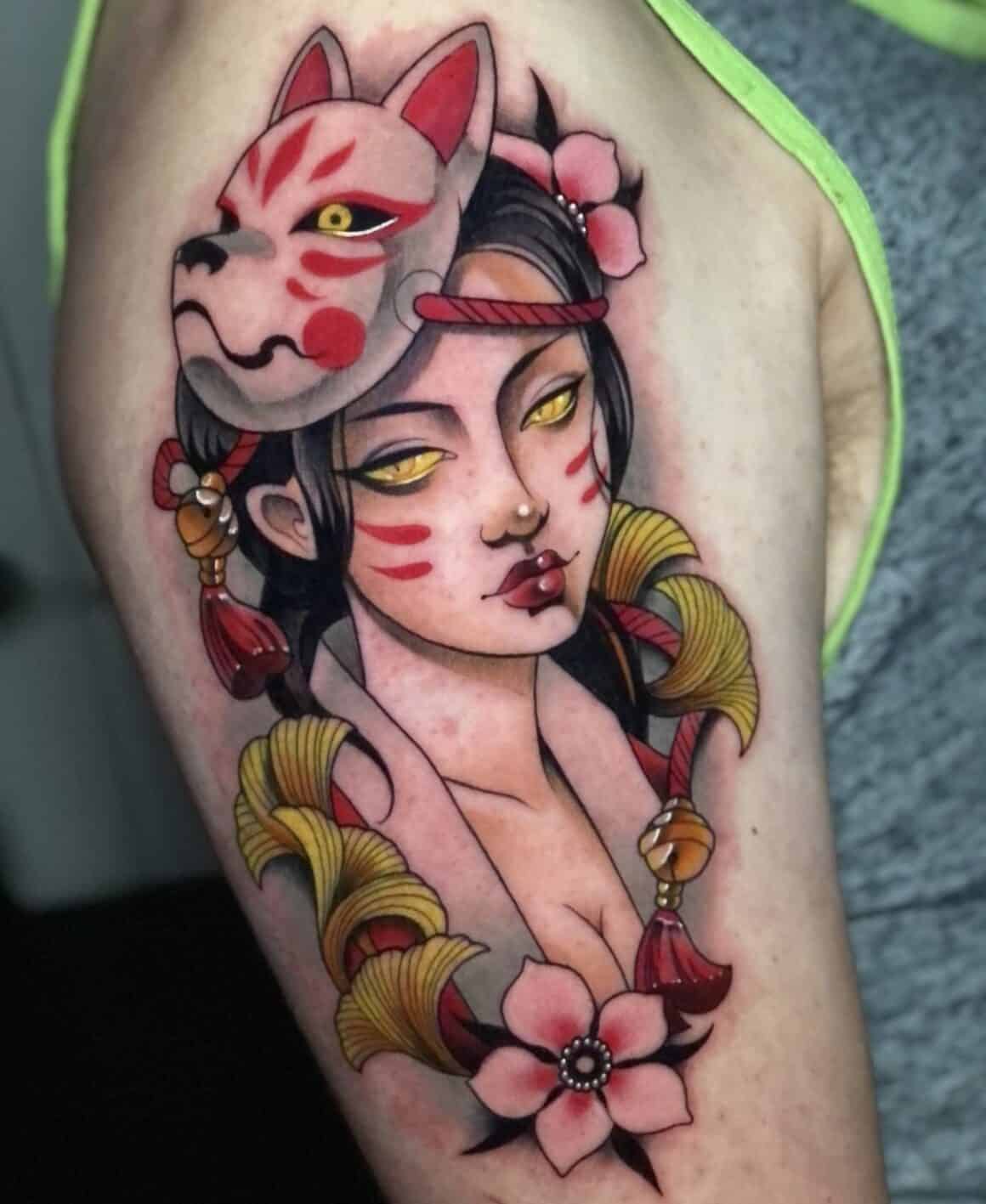 My favorite part about this tattoo is how the artist managed to pull off a porcelain look on the skin; phenomenal artistic skill!
The Kitsune mask on the head brings a nice amount of balance to the entire tattoo, and the line work is clean and pristine, just how it's supposed to be.
9. Skulls And Potions Tattoo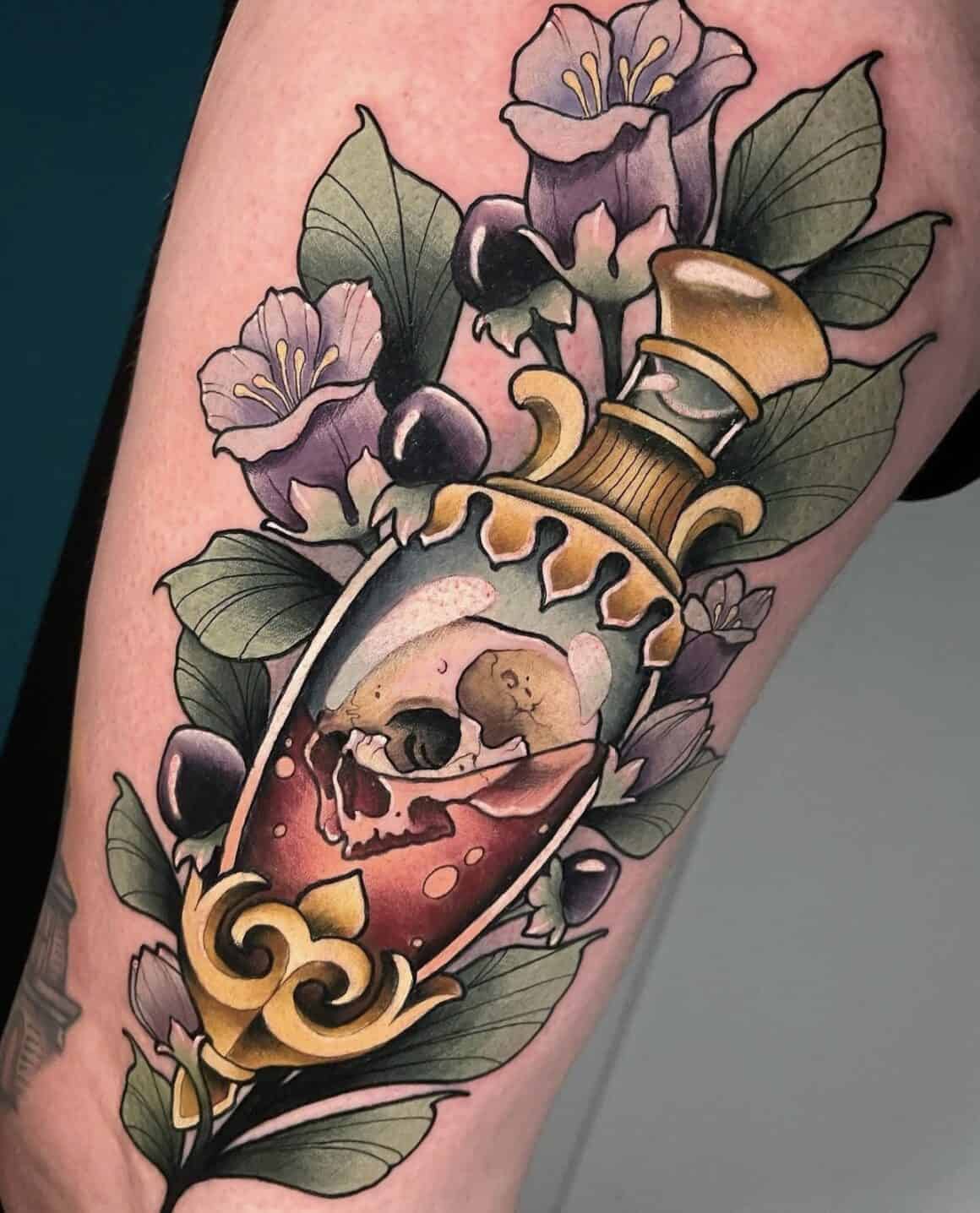 I love these witchy Neo Traditional tattoo renditions of mythical folklore. I feel like a witch in the medieval days would be carrying this little gem in her pocket; this tattoo has given me the powers to time travel!
I love the imagery inside the bottle with the intricate little skull placed in what appears to be after works wine.
Overall this tattoo encapsulates myths and legends and boy am I here for it!
10. Fox Warrior Tattoo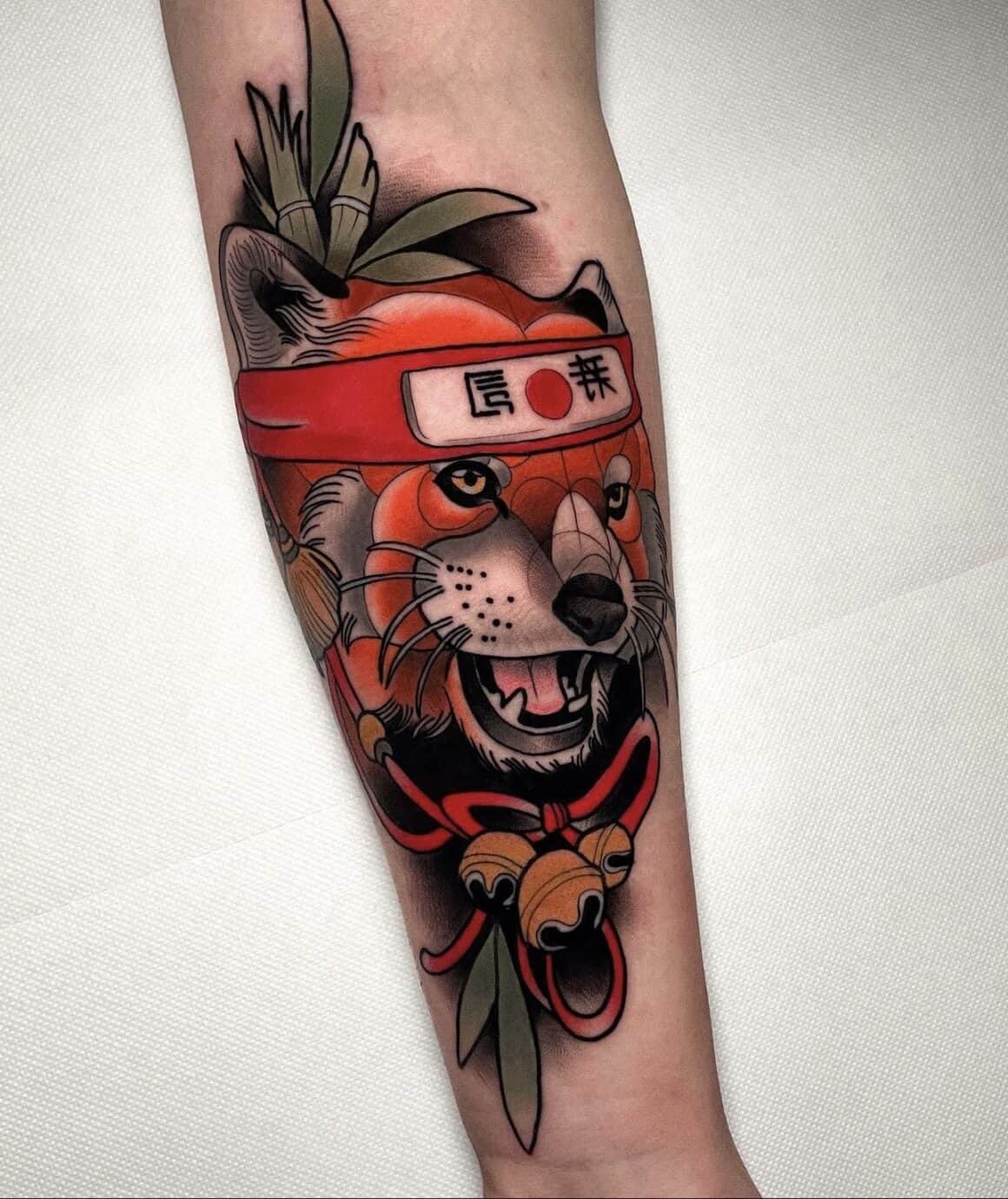 This little foxy character has stolen my heart already; I love his little collar with the bell details and the deep orange that the artist has used.
The shading throughout this entire tattoo has been done with a professional hand and deserves admiration and recognition.
My favorite part about this tattoo is our little foxy friend's headband, such an awesome extra feature.
11. Three-eyed Frog Tattoo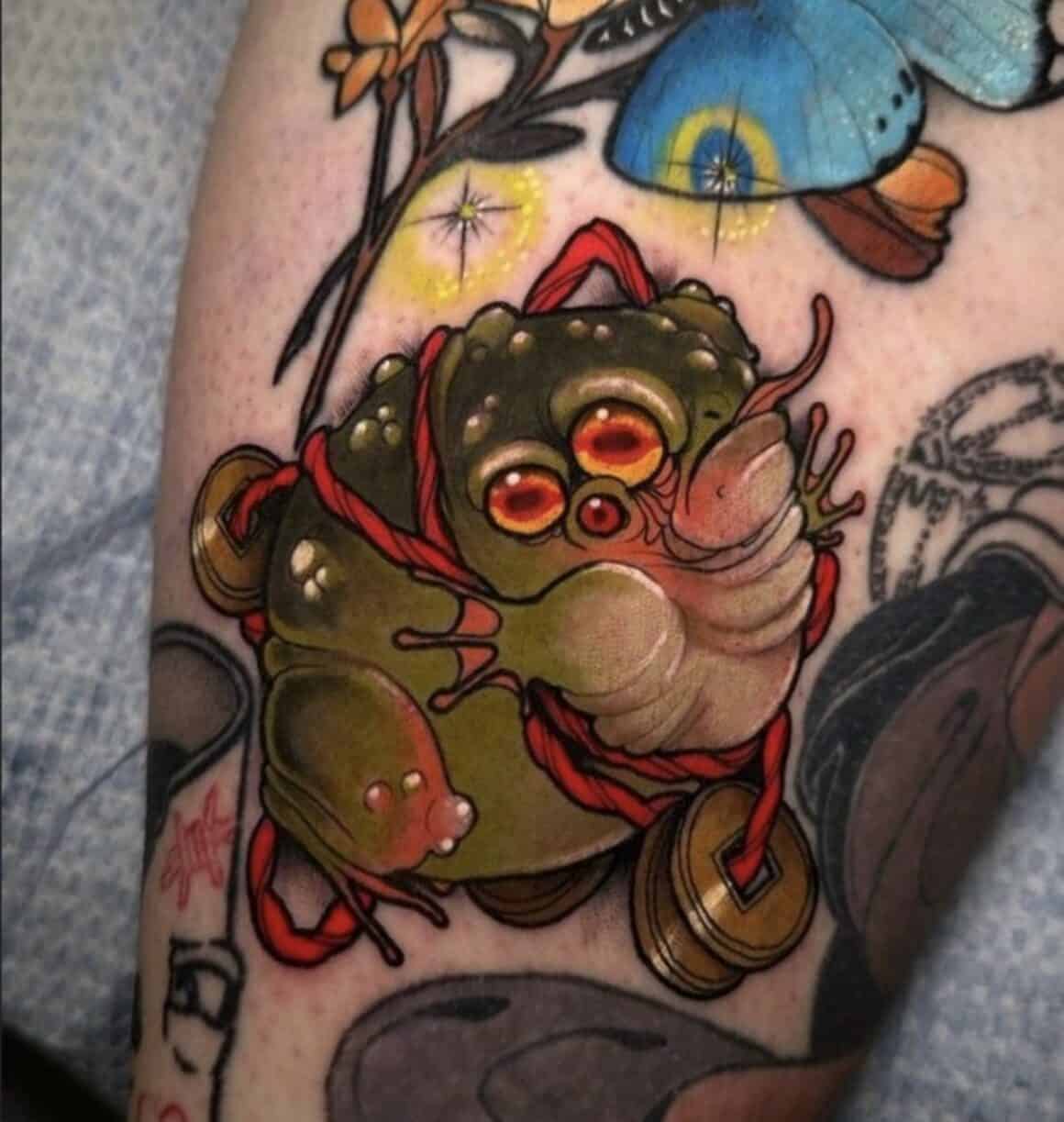 Boy… where do we even start with this guy? I am blown away by his adorable features, especially his chubby little body!
The part that stands out to me most about this tattoo is his three eyes; I think that is such a unique feature. I love his Neo Traditional collar and his cute toes.
This is definitely the cutest tattoo on this list by a mile.
12. Banana Love Snake Tattoo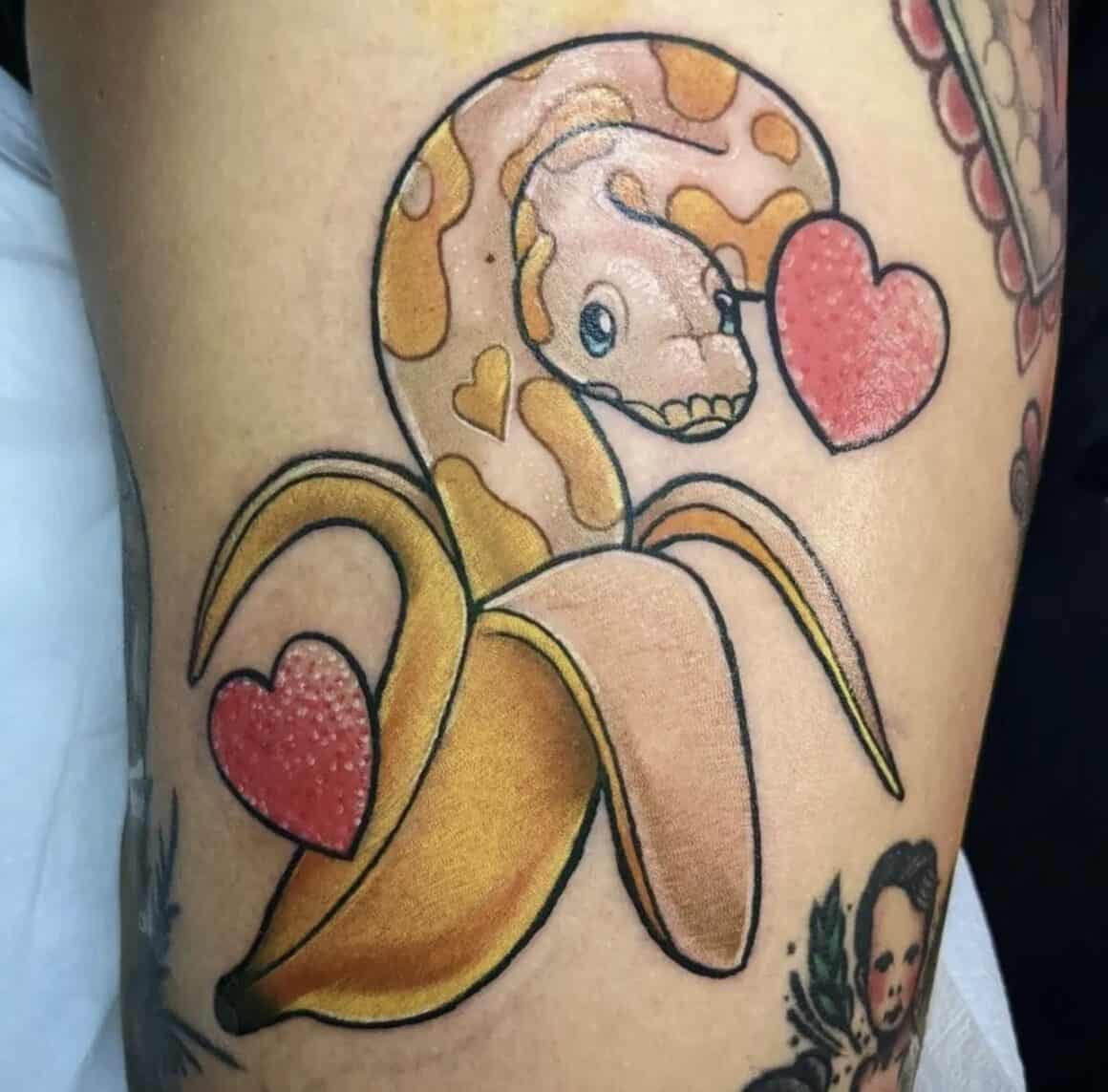 I think the artist went wild with their creative expression, and it shows. The cute albino snake coming out of the banana is such a nice touch.
Looking at the nitty-gritty details, we can tell that the artist has mad amounts of artistic ability; the saturated banana yellows and bold lines are a killer combo.
13. Man in A Predicament Tattoo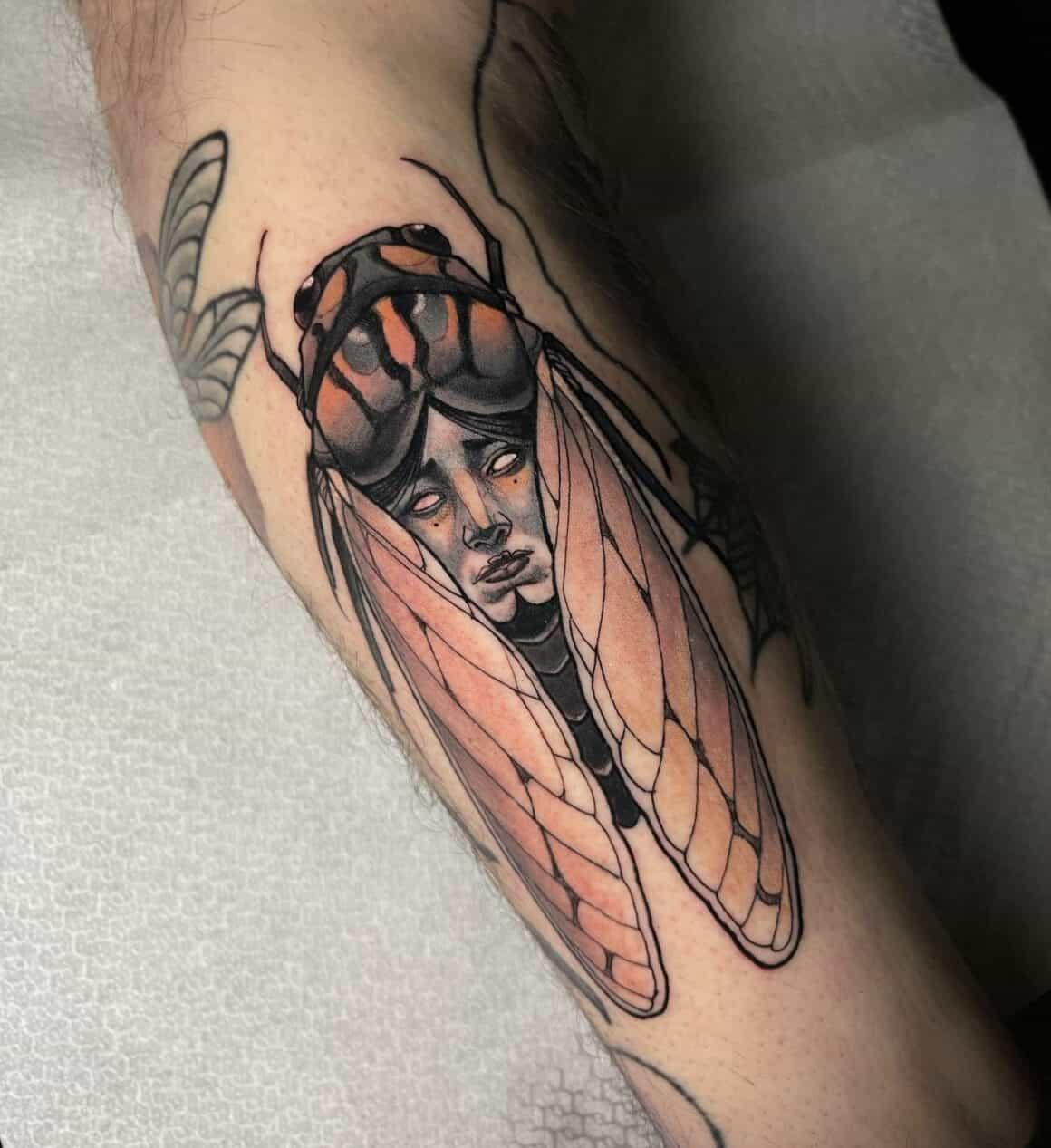 When I first laid my eyes on this piece, I immediately thought of the Mothman prophecies, even though this is clearly a man stuck inside a fly!
I love the expression on the man's face and the color palette the artist chose for this piece; you can never go wrong with turquoise and orange.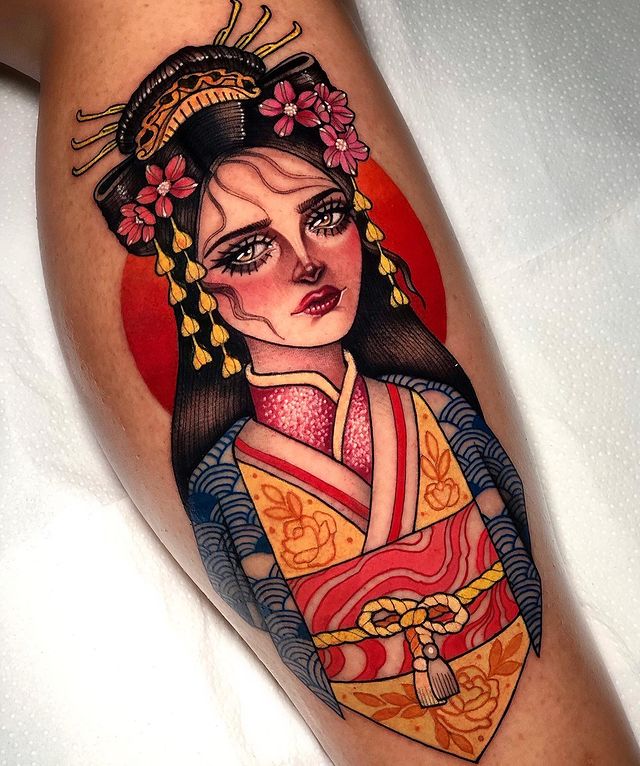 14. A Mans's Best Friend Tattoo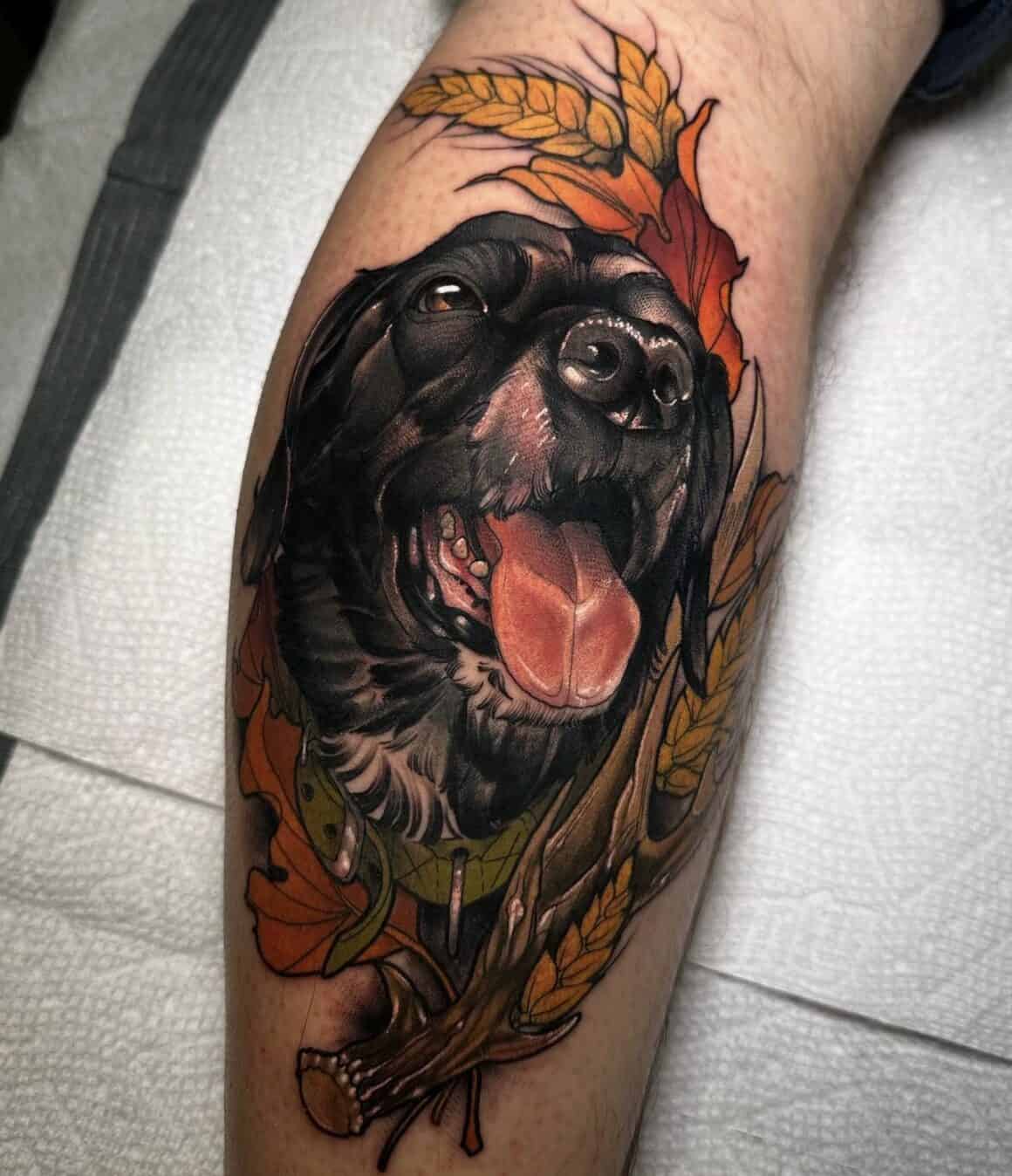 A dog is everyone's best friend; that I can assure you of!
I love the realistic approach in the technique that the artist has taken, it gives the dog texture, which I think makes this tattoo unique.
Check the contrast between the dark colors of the dog and the fern as his chosen background; altogether, it makes the tattoo pop!
15. Cheeky Parakeet Tattoo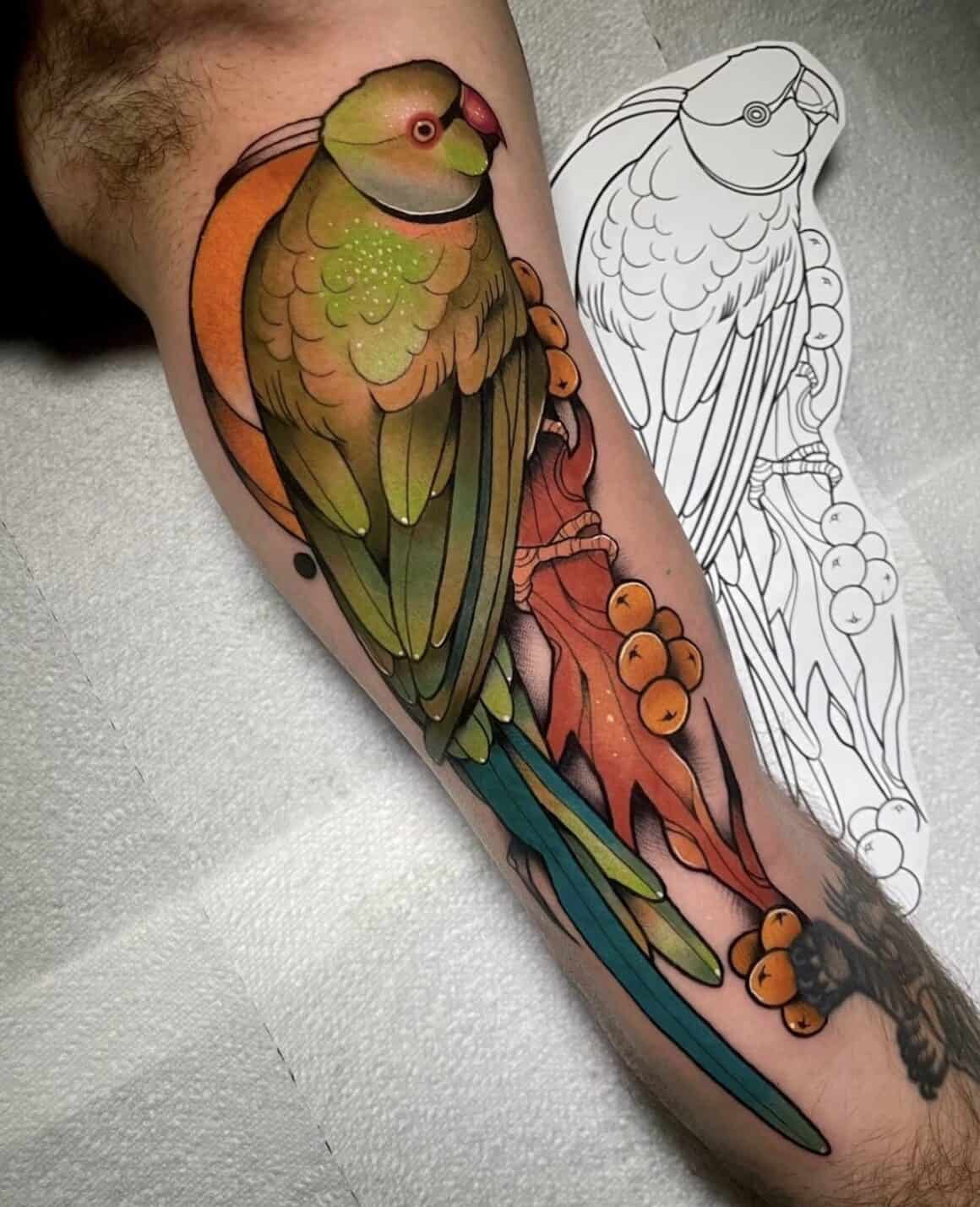 One of my favorite animals are parrots and any bird in that family.
The part that caught my eye the most on this fantastic specimen is the bright, bold colors. This is one of the most colorful pieces I have seen in a while… and I eat, live, sleep and breathe tattoos!
16. Ethereal Fox Tattoo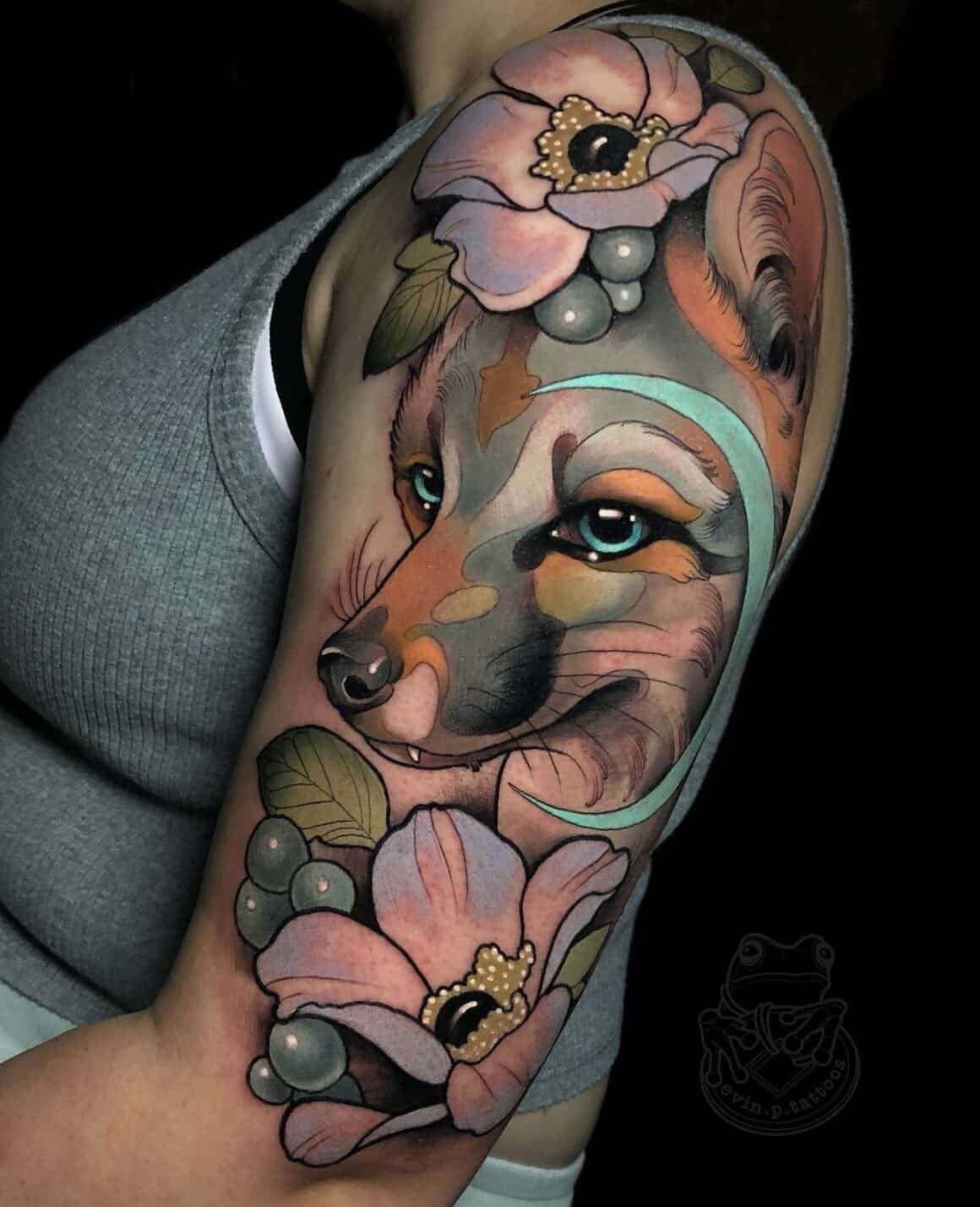 This piece reminds me of a delicious fruit bowl!
The colors are gorgeous and the imagery used is phenomenal. My favorite part about this piece is how the artist has incorporated blue hues in the foxes' face; it adds depth and makes our little friend stand out from the rest!
The bold lines used for the flowers give this tattoo that little it of extra boldness… which I love!
17. Giraffe Amongst The Flowers Tattoo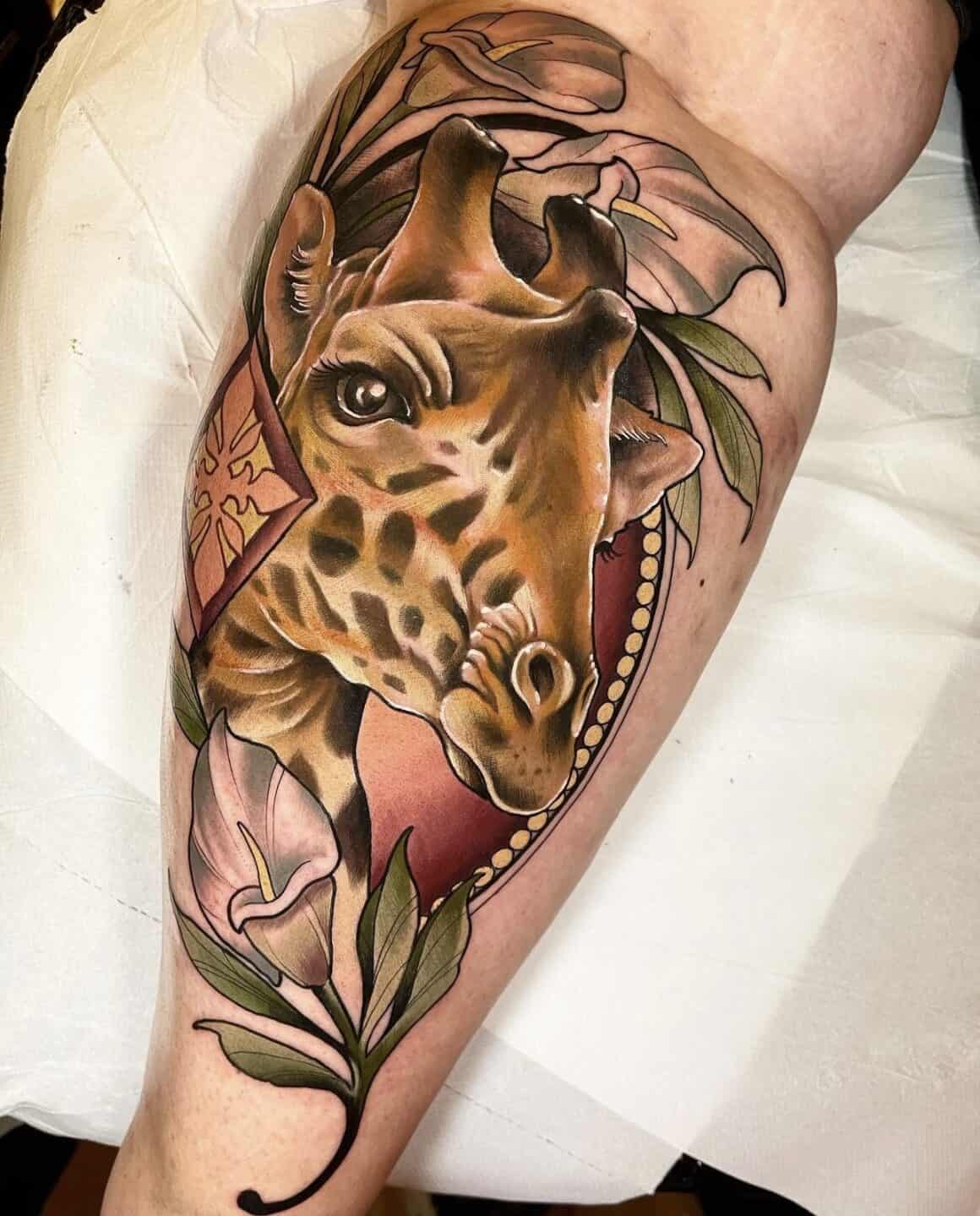 The giraffe is one of my favorite animals; I love its dopy eyes and long eyelashes.
This piece stands out to me for many reasons, one being the proportions and placement and another being the smooth shading technique the artist used to give the giraffe a soft, gentle appearance. Overall I rate this tattoo ten out of ten!
18. Crescent Moon Owl Tattoo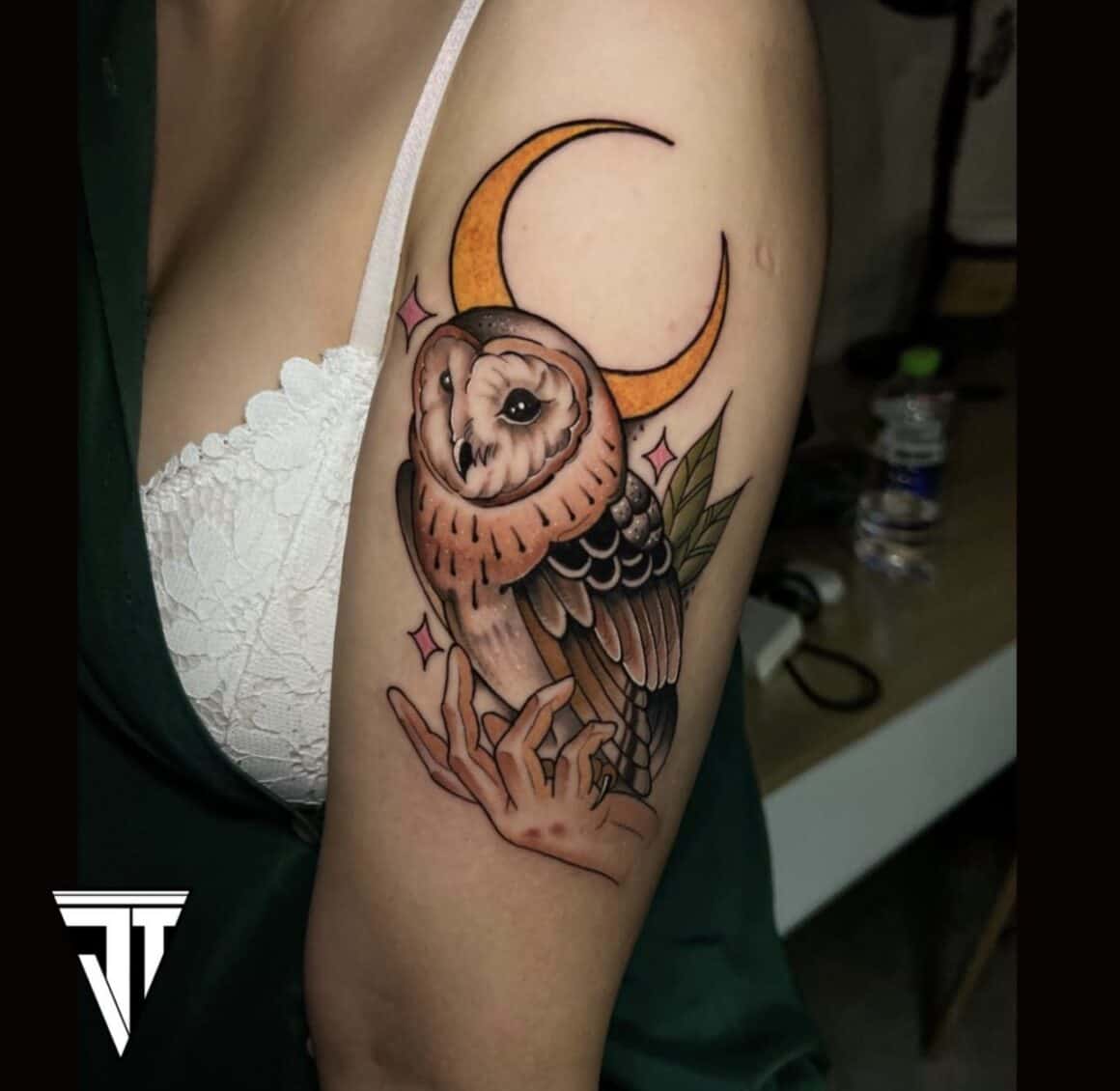 Owls symbolise wisdom, grace and longevity.
I know a custom design when I see one; this could be a painting, let alone a tattoo! The crescent moon above the owl's head gives this piece a "witchy" feel which complements this piece perfectly.
What initially grabbed my attention was the shading done in the hands, the artist's skill here really shines through!
19. Sloth Munching On His Lunch Tattoo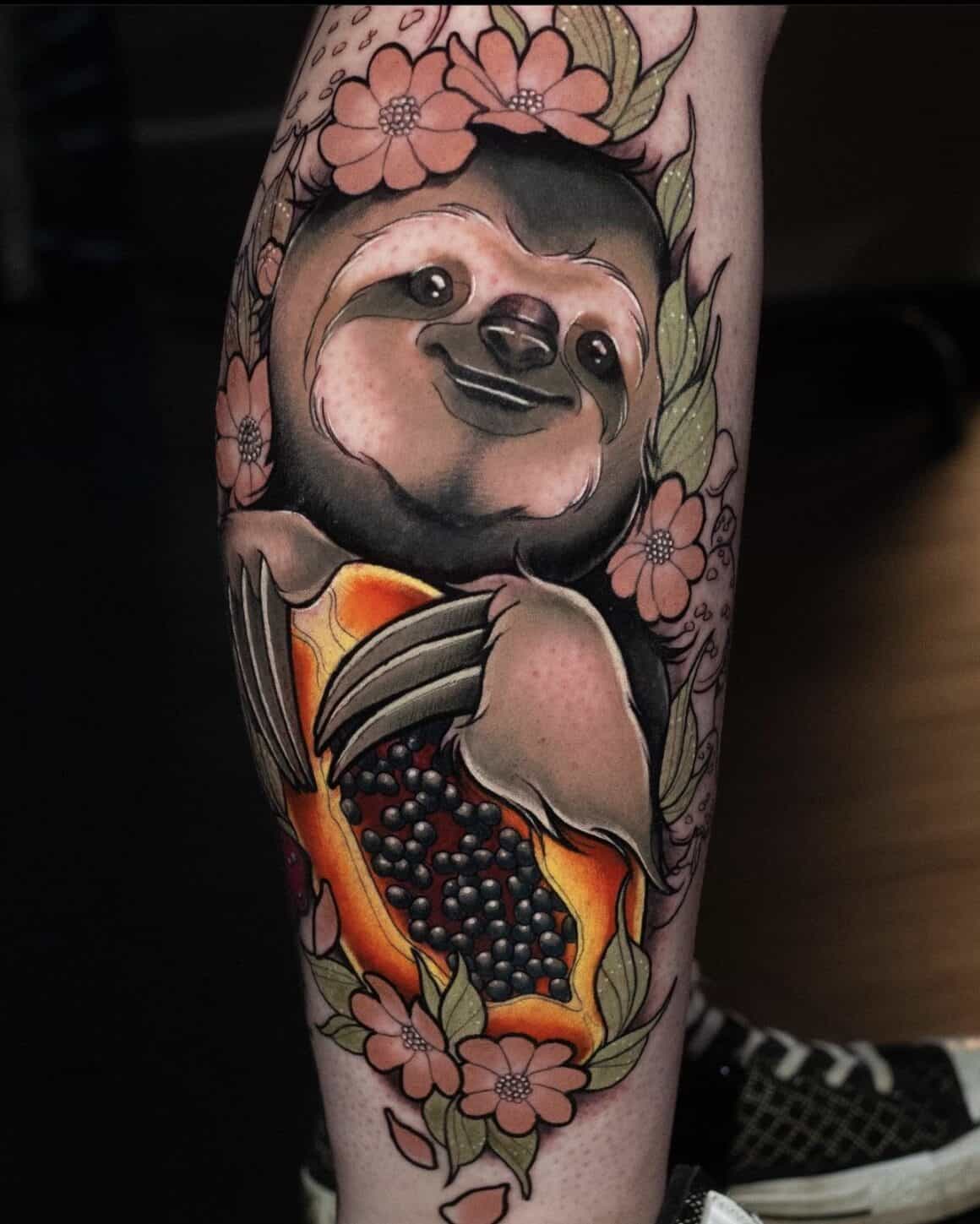 The imagery here is what makes this tattoo what it is! I love the papaya the artist incorporated into this piece; my favorite fruit!
The colors used in the fruit are outstanding, the artist's skill is admirable.
I particularly like the flowers that are resting on top of the sloth's head; such an adorable touch.
20. Badass Bear Tattoo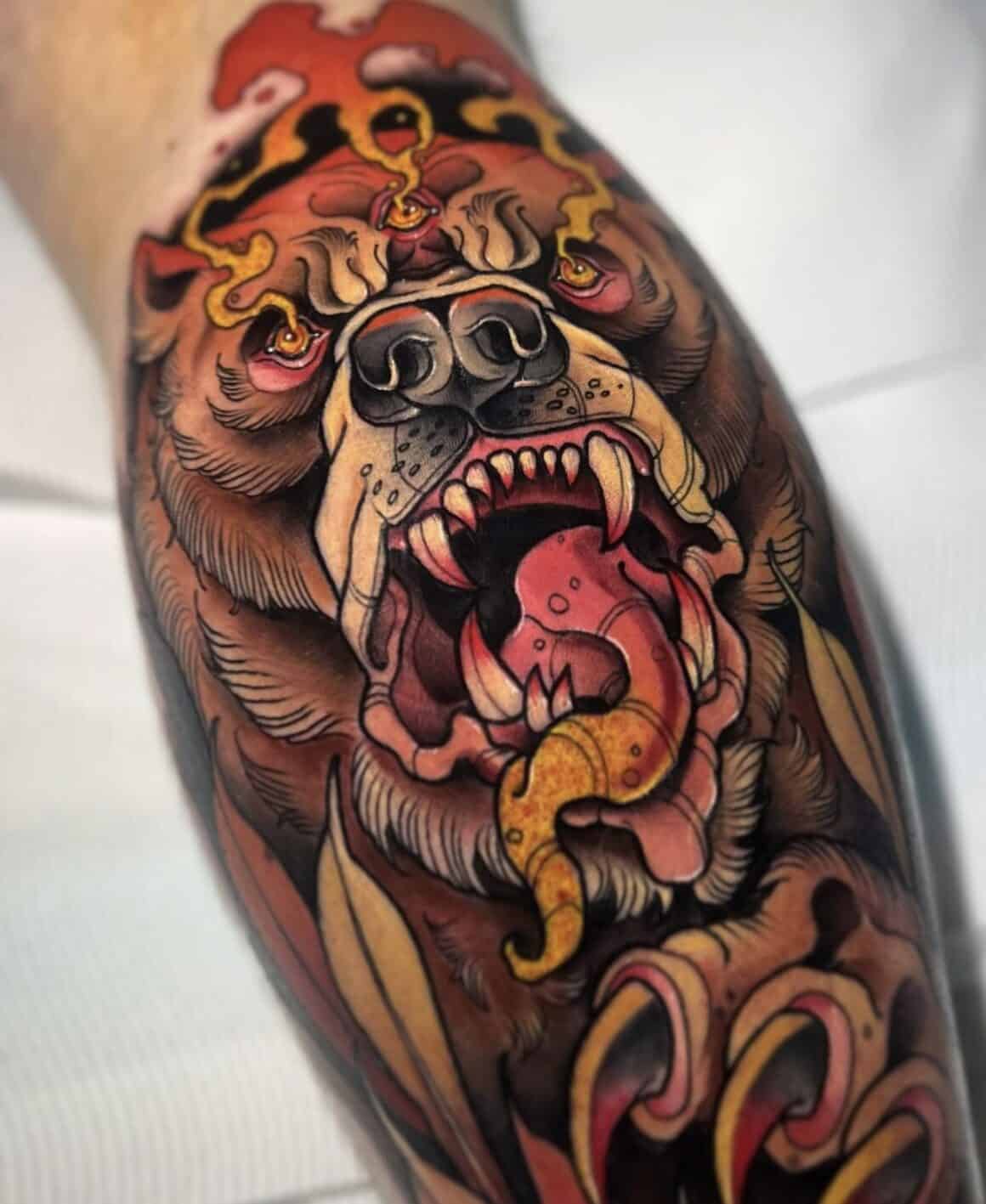 Since we're on the topic of neo traditional animals we have this awe-inspiring specimen of a bear tattoo.
The third eye is said to be the gateway to the inner realms of a person's psyche; I think this is so rad. The color pallet the artist used here is warm and inviting, I want to reach out and touch the bear!
21. Neo Traditional Flower Tattoo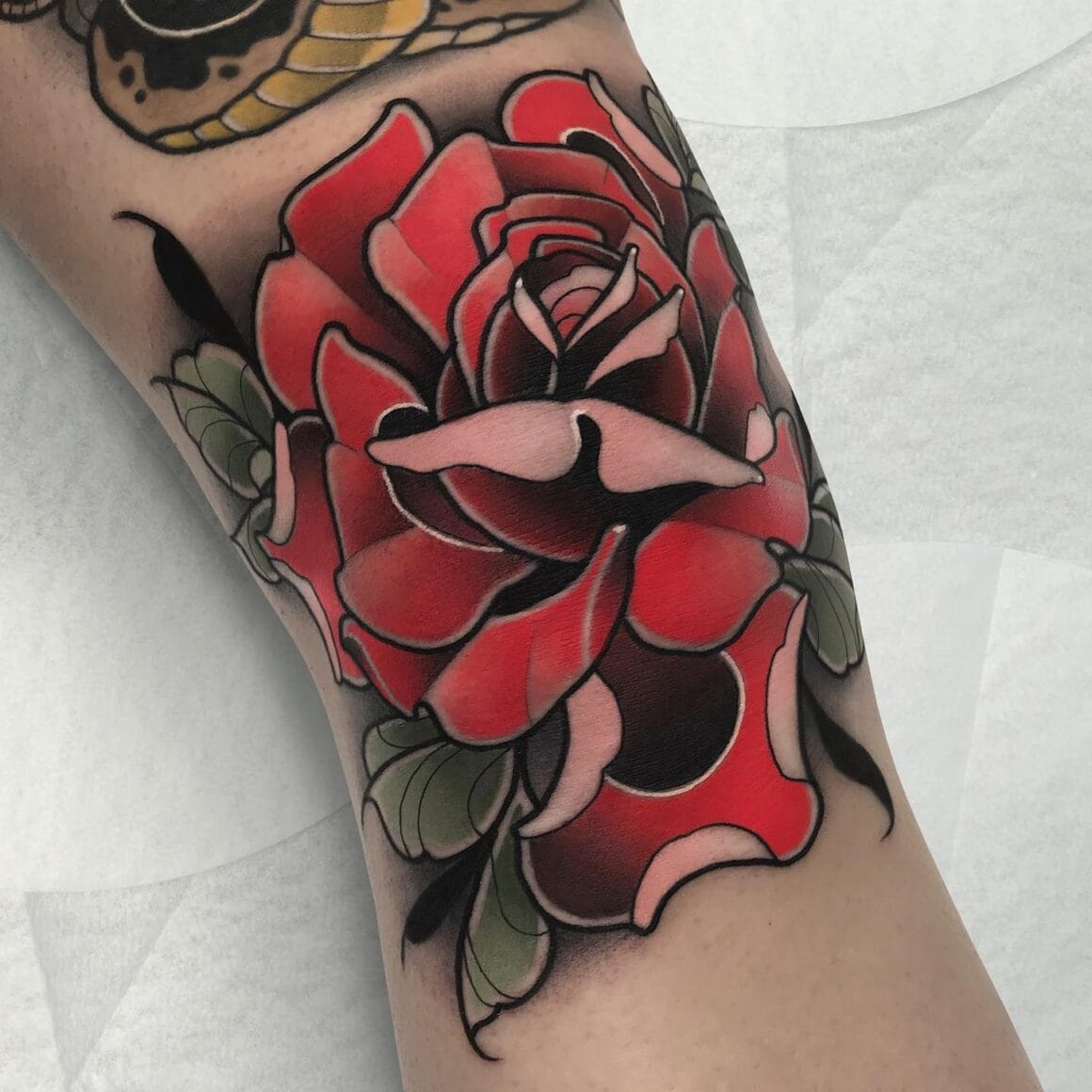 What kind of list like this wouldn't have at least one flower on it? This beautiful rose stands out with it's rich red gradients, and subtle white outlines.
22. Neo traditional bird tattoo
What a great modern take on the classic sparrow design. The leaves surrounding the bird frame it nicely, adding the perfect amount of extra detail.
23. Neo Traditional Portrait Tattoo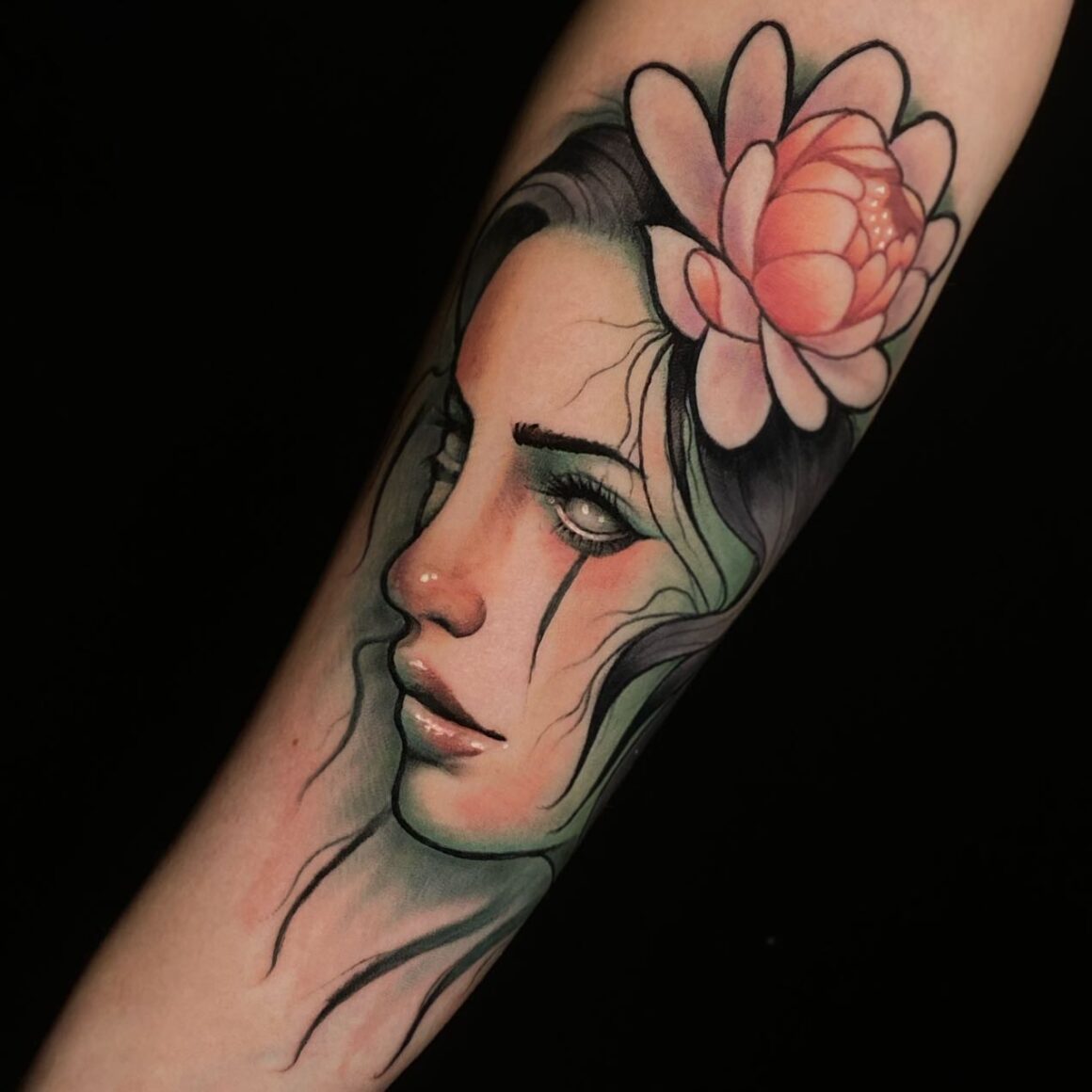 Detail is the name of the game for this beautiful tattoo. These colors are something I wouldn't have expected, but they complement each other so well.
24. Neo traditional candle tattoo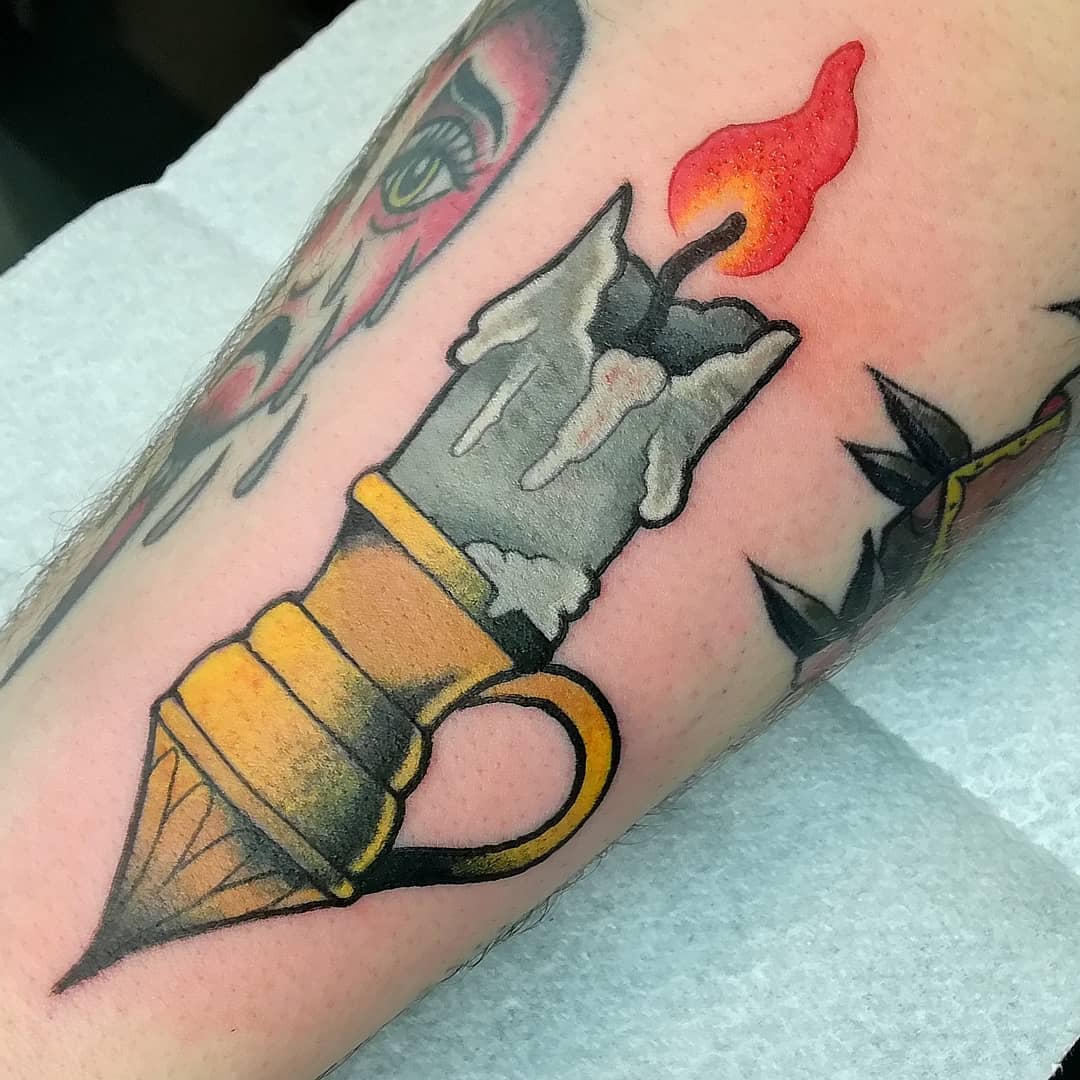 I found so many great candle tattoos that it was hard to choose just one, so enjoy all 4 of these with their own unique identity!
25. Neo traditional Skull Tattoo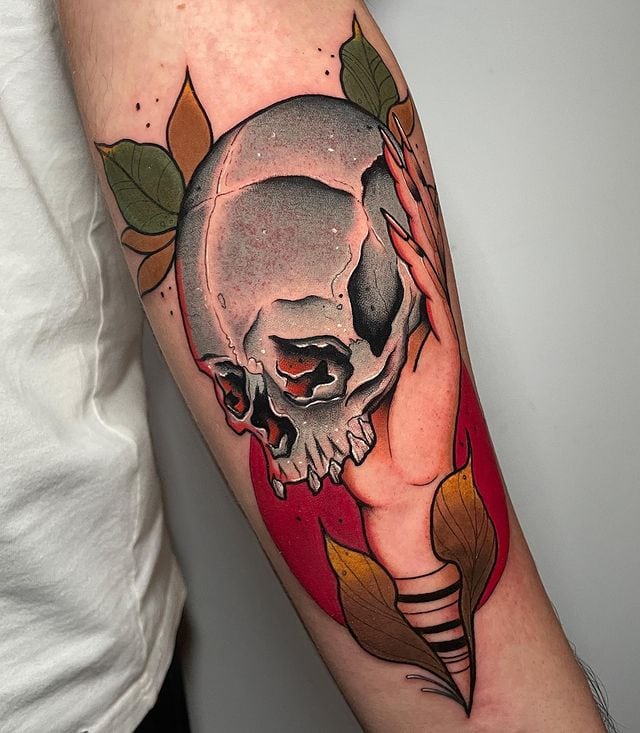 Skulls are always a great choice when it comes to a classic tattoo design.
Here are two different takes on the skull, but with widely different interpretations.
26. Neo traditional owl tattoo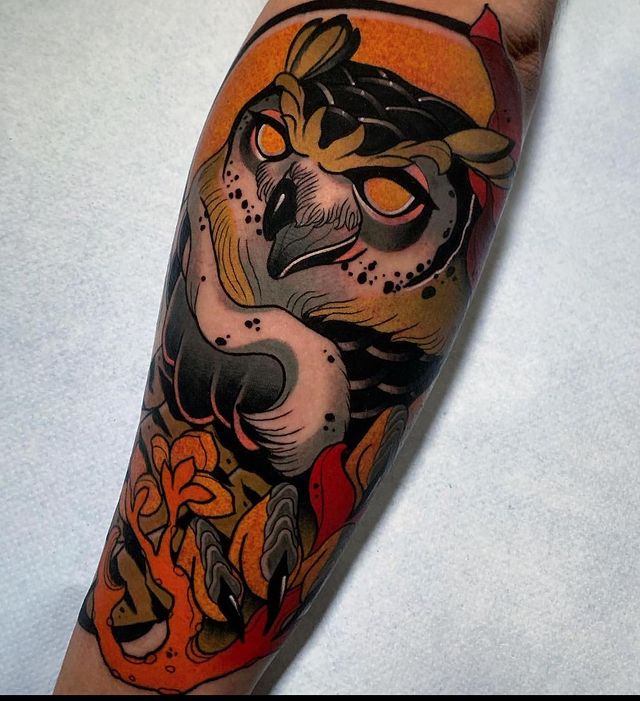 Check out this regal little creature. It almost feels like the tattoo artist took a little inspiration from the classic Japanese style, especially with the treatment of those features.
27. Neo Traditional Heart Tattoo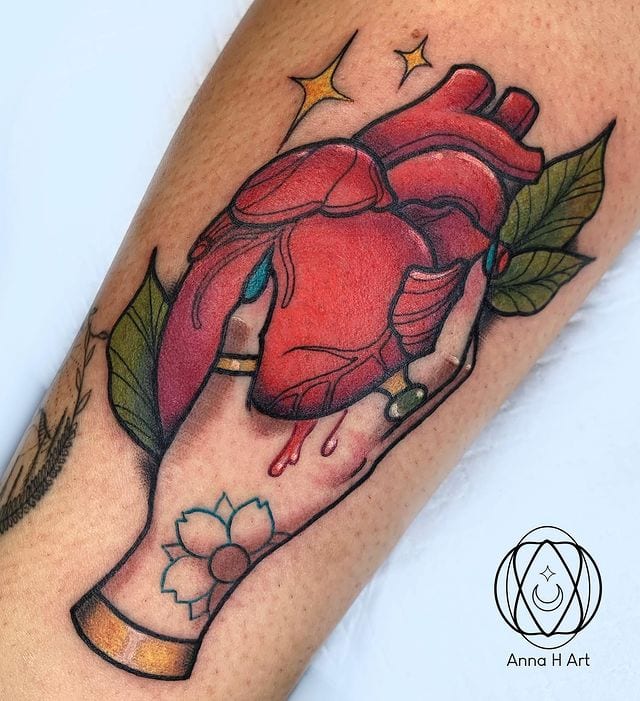 Heart tattoos are another staple of this style, and there are so many directions to take them in.
These 3 showcase a realistic version, a symbolized broken heart, and a sacred heart style, all sure to impress.
28. Neo traditional medusa tattoo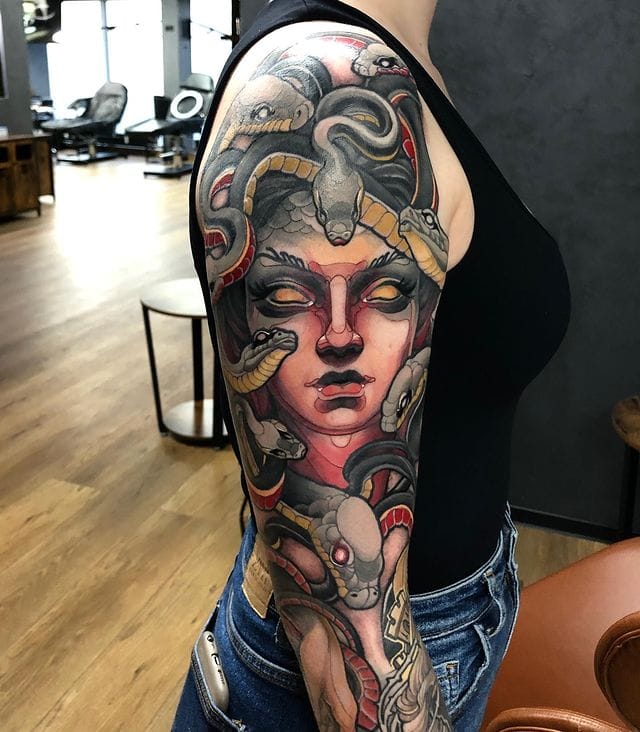 The detail on this medusa tattoo is absolutely insane.
The framing of all the snakes around her face perfectly illustrates the horror I would have coming face to face with this mythical creature.
29. Red Haired Girl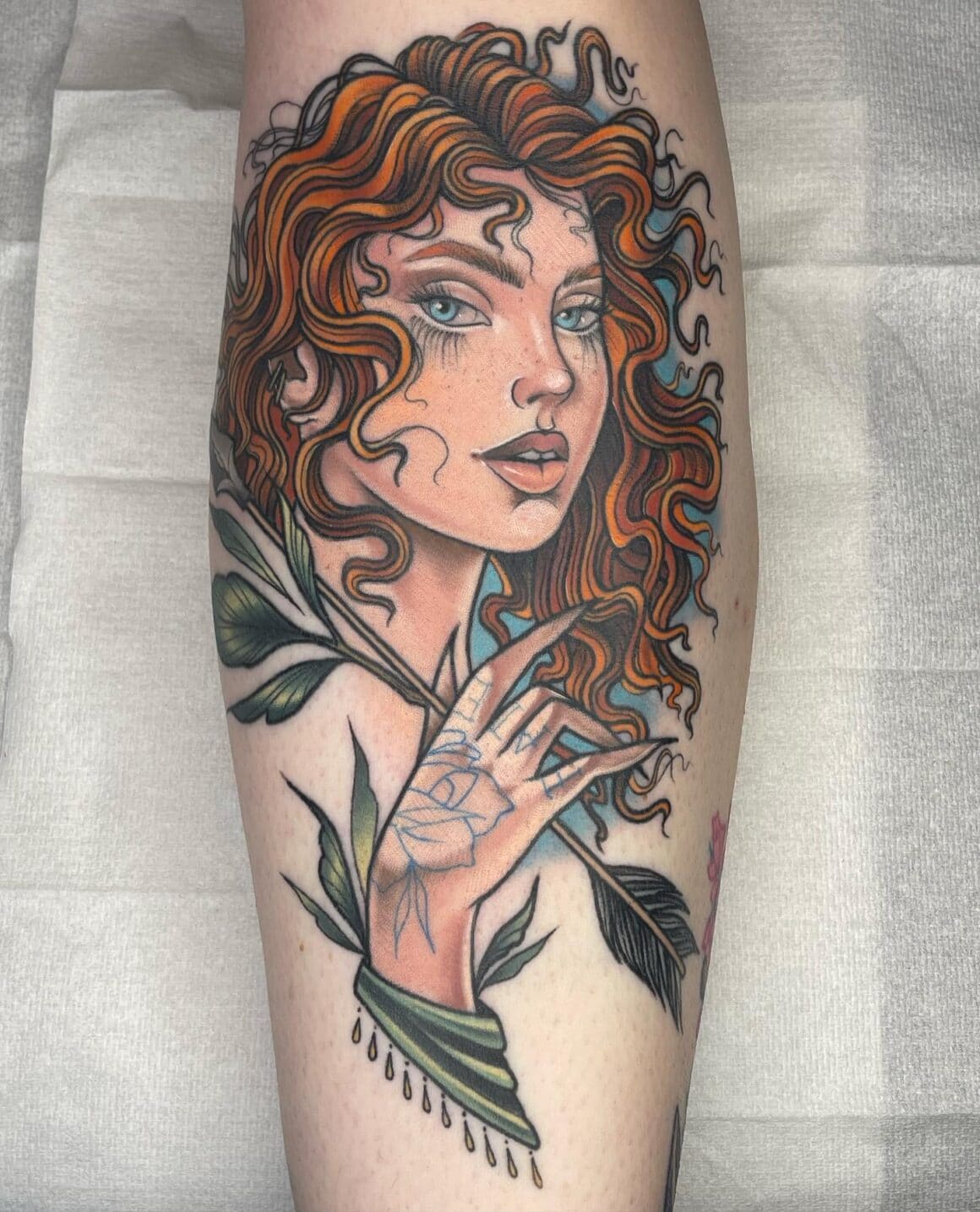 The technique in this is just insane! From all of those subtle gradients to the bright pops of color, everything about this is perfect.