Face tattoos are bold, and beautiful and leave a lasting impression. Historically, face tattoos go back a long way. Face tattoos can have meaning in family heritage, tribal roots, and social status in certain cultures worldwide. These kinds of tattoos can also link to spirituality and the metaphysical realm; this makes them an exciting type of tattoo to create and work with!
Face tattoos are versatile and can be done in an array of different tattoo styles and techniques. It's imperative that you have an artist that knows what they are doing in this regard, as it will be on your face forever!
Take a look at my top 20 face tattoos I gathered for your viewing pleasure.
Face Tattoos For Women
1. Snake Scale Face Tattoo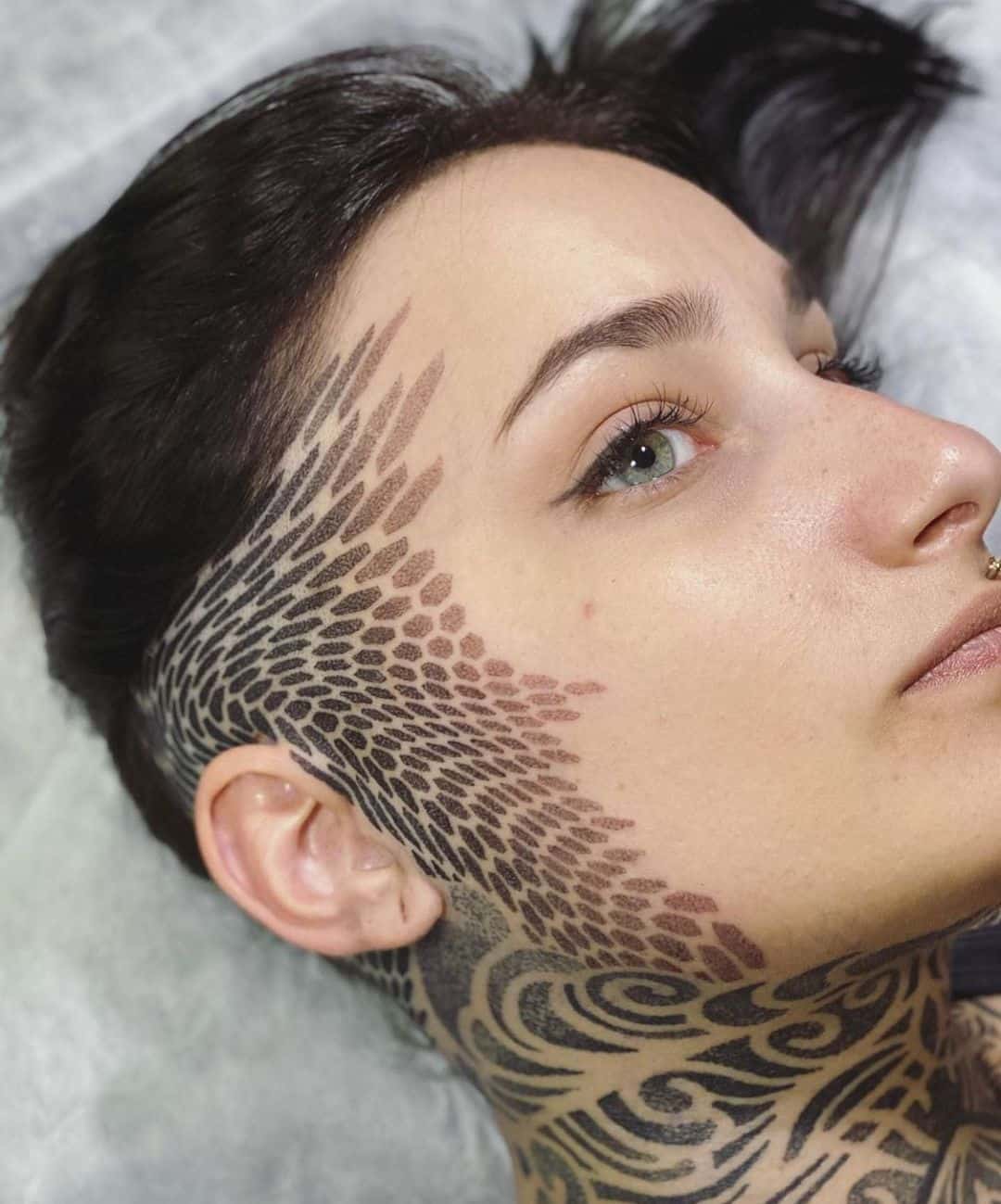 This takes first place for being the most unique piece on this list! I think this tattoo is totally badass, I would consider getting this done on myself!
My favorite feature about this tattoo is the shading and placement, the artist really knew how to execute his craft here. This is an absolute masterpiece!
2. Geometric Mandala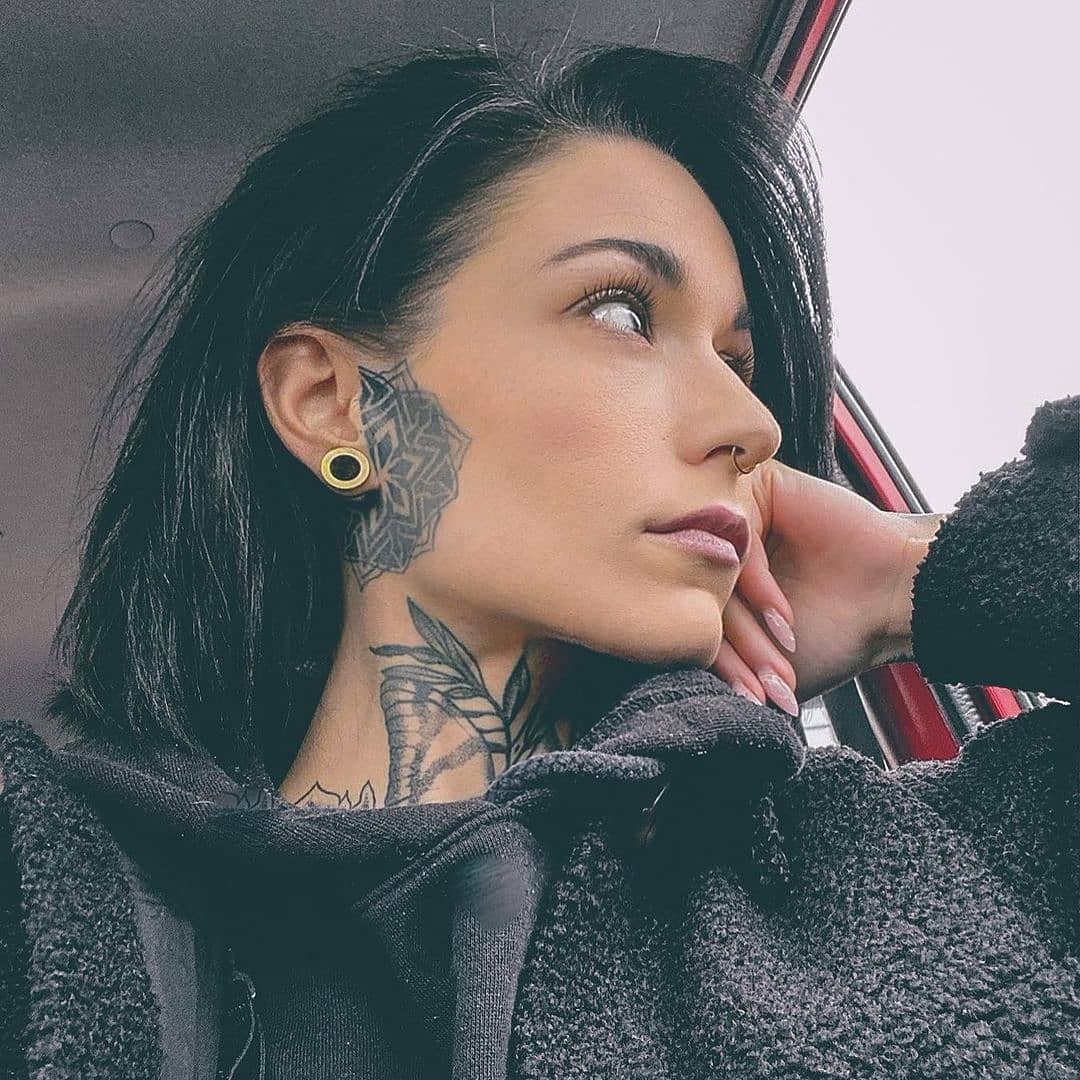 This piece works so well on the client. The geometric nature of this mandala compliments the gorgeous angles of her bone structure, and the choice to stick to black ink looks fantastic with her dark features.
The meaning of a mandala tattoo has a bit of variation but rests in the spiritual realm. The word "mandala" translates to "circle" in Sanskrit, and meanings revolve around balance, the universe, and the circle of life and its impermanence. Because of this, typically a mandala tattoo holds a certain significance for the wearer.
3. Henna Mandala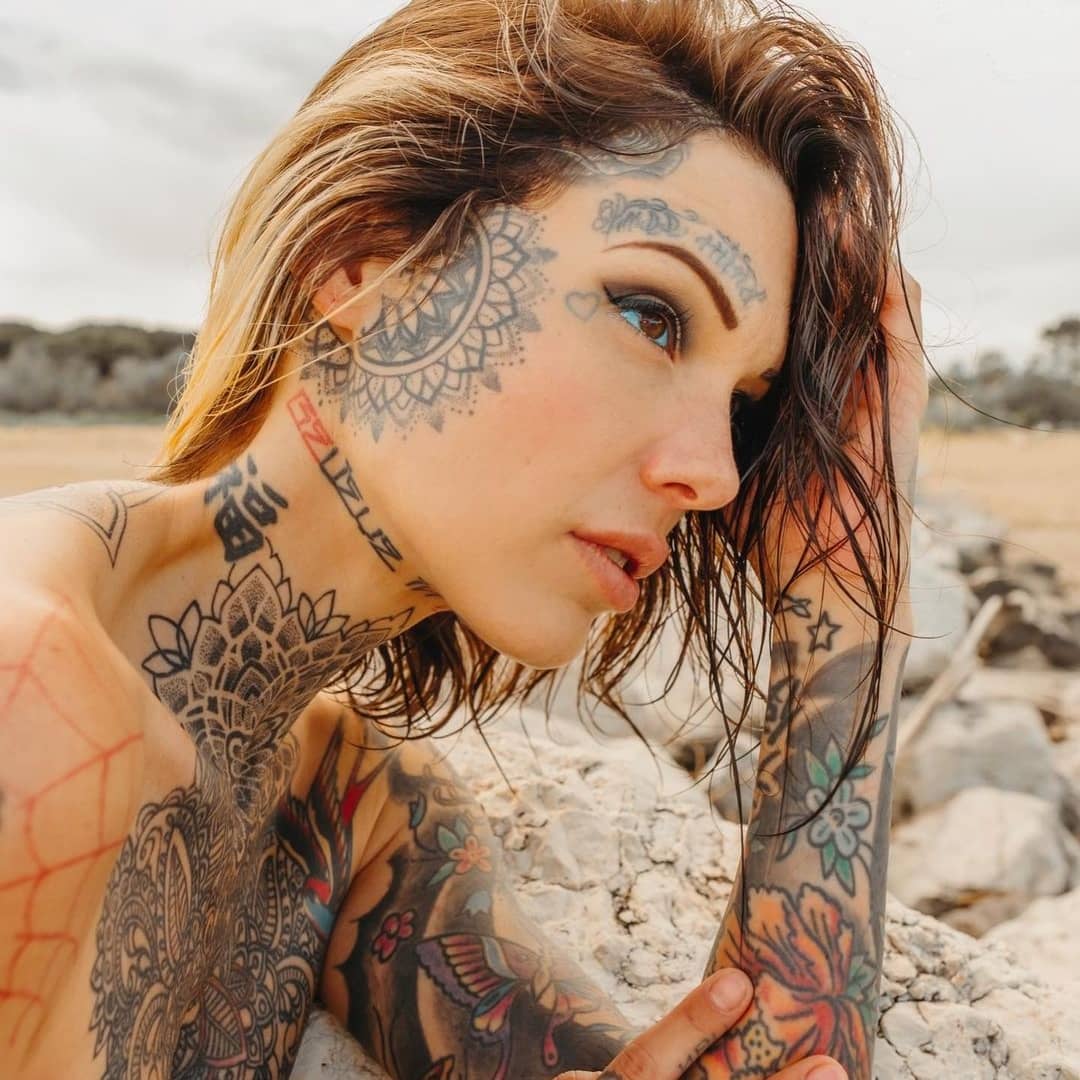 A different take on the mandala, this style has a bit of a henna tattoo element to it, softening it up a little. This allows it to settle in nicely with the variety and playfulness of her other tattoos.
I like it when these wrap around the ear lobe, almost acting like an adorning piece of jewelry.
4. Talon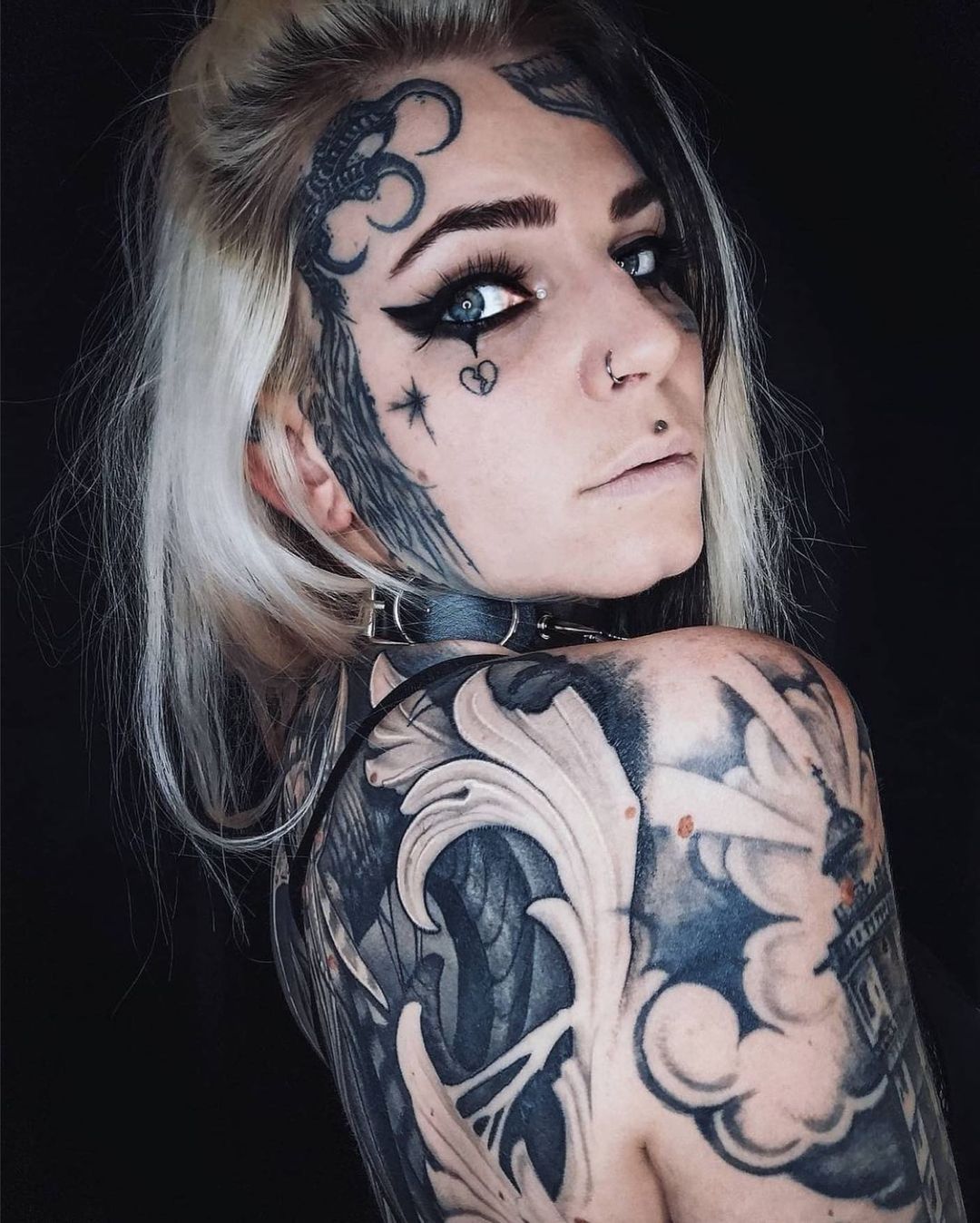 Although this beauty has some great face tattoos, we're focusing on the talon up top. A unique concept, this definitely makes a strong statement.
5. Flower Frame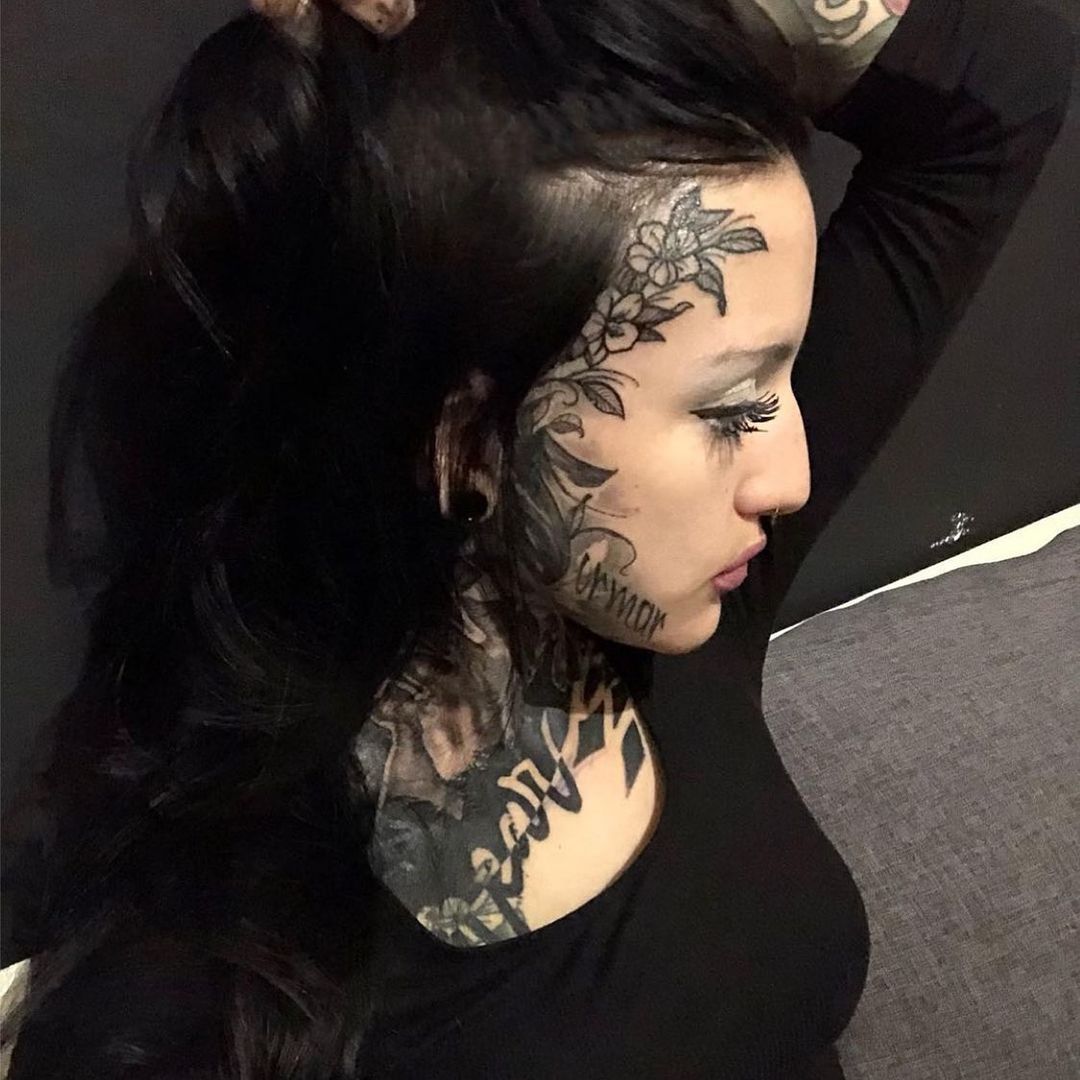 Often face tattoos can feel quite bold (which isn't a bad thing), so I like how this flower piece feels a bit more delicate.
The flowers are framing her face in a way that's hard to not admire. I'm on board with this one.
6. Geometric Temple Piece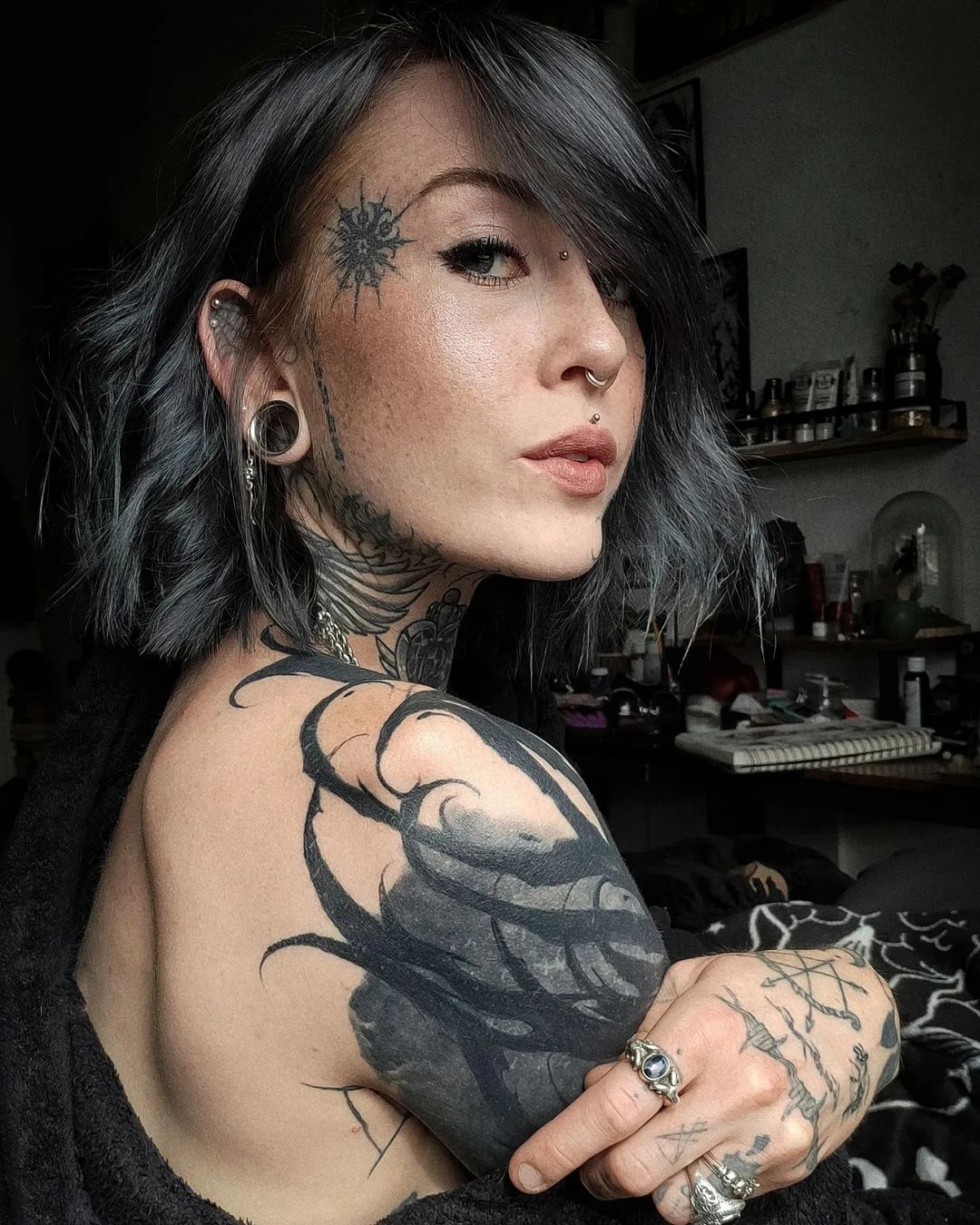 Though I'm not quite sure what to call this shape, I really enjoy the placement on her temple. It has a feminine element, and how it interacts with her eyebrow is an in interesting touch. Bonus points for looking so cool on her freckled skin. Girl crush in 3… 2…
7. Tribal Face Tattoo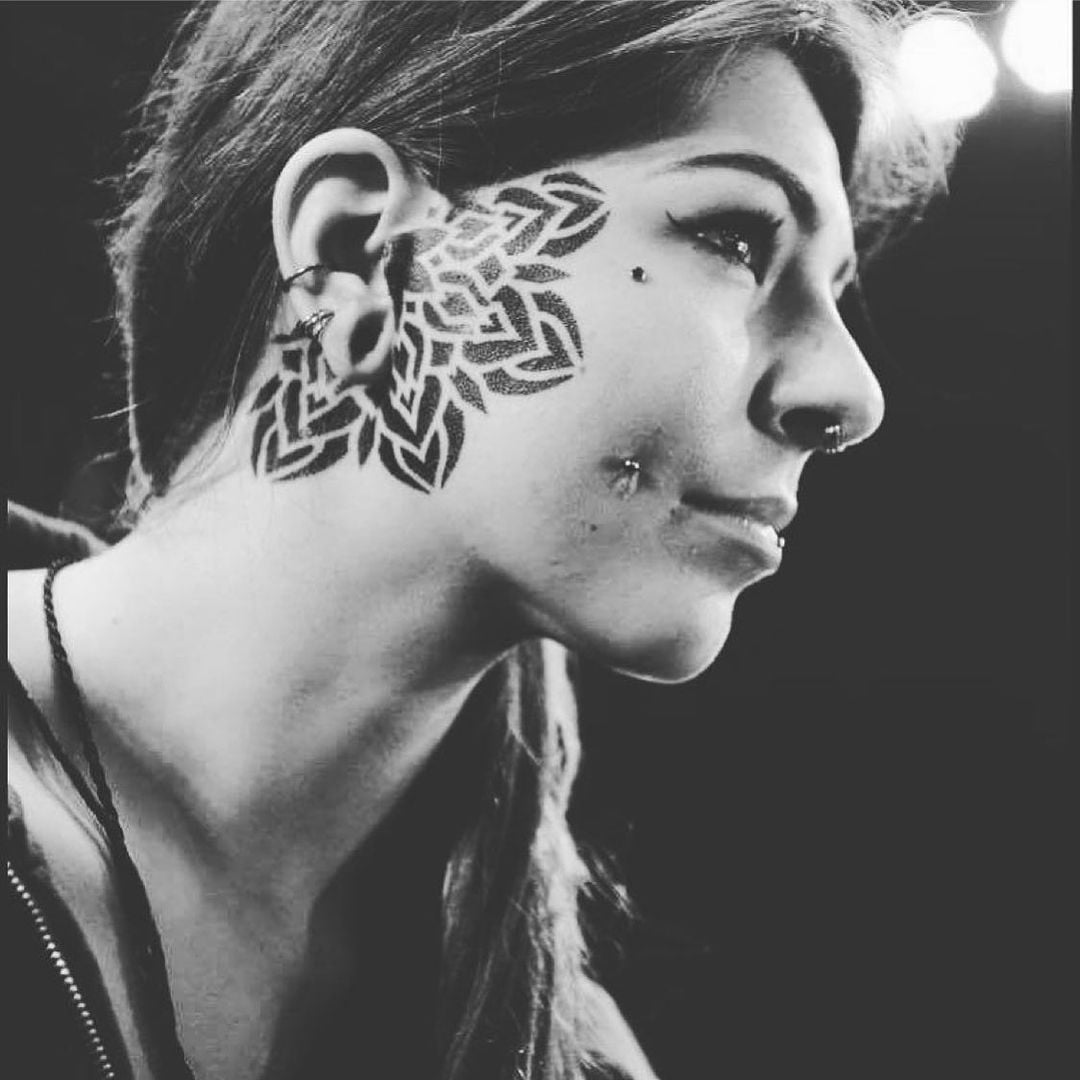 Adding to our mandala options, this tribal piece has a different flavor.
A bit more bold, a bit more primitive, and it looks real good.
8. Contemporary Face Tattoo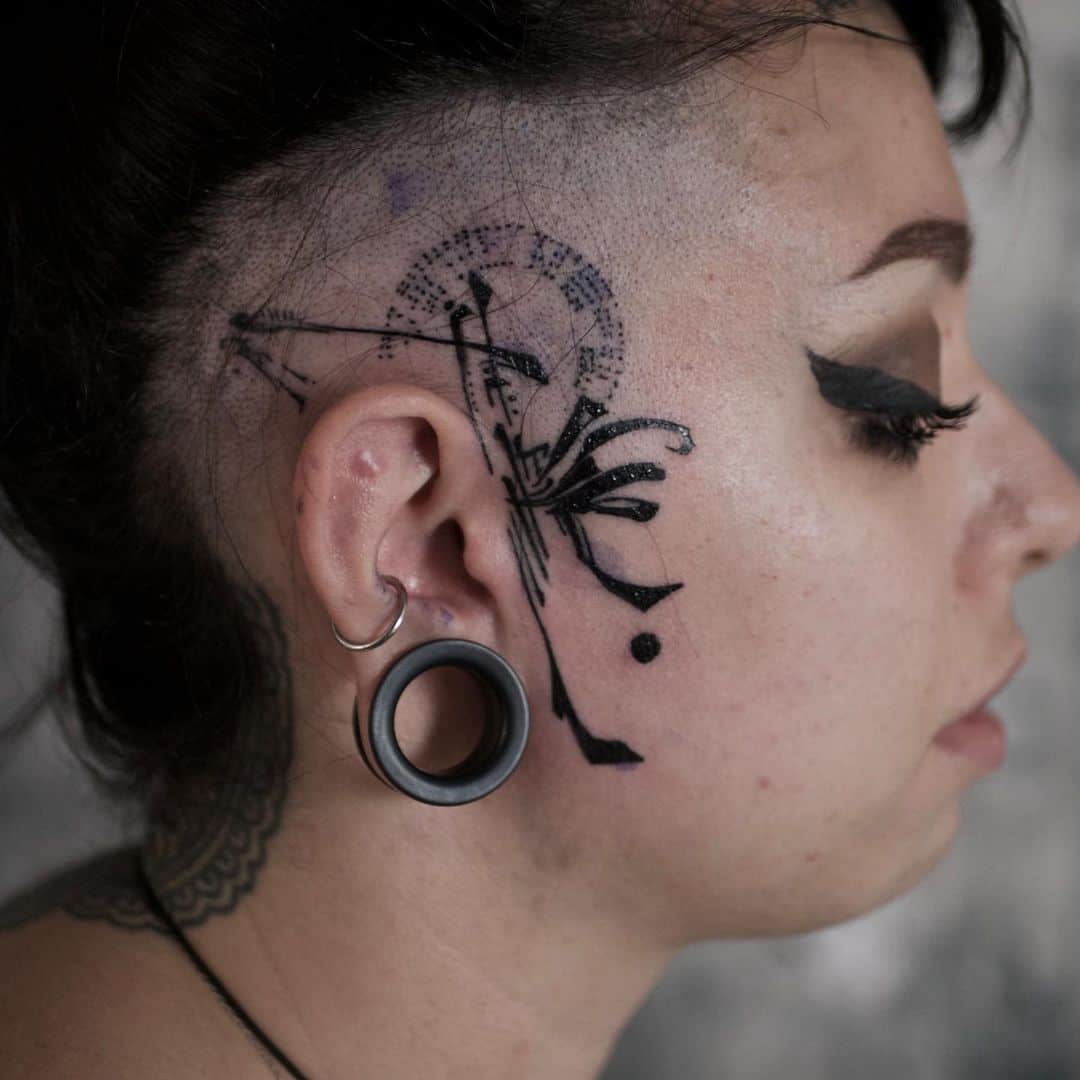 This is a relatively new style of tattooing, but I am living for it! I love the placement of this piece; it fits perfectly behind the person's ear.
My favorite part about this tattoo is the dot work element at the very top, creating a nice feeling of balance. Overall this tattoo is a hit and deserves all the recognition it can get.
9. Bold Lined Floral Face Tattoo
This is one of the boldest ornamental pieces I have seen to date. I absolutely adore the entire design of this tattoo. All the elements are balanced to perfection.
The line work is impeccable and definitely the best part about this tattoo. The weight of the lines is heavy and damn… I do like a heavy line!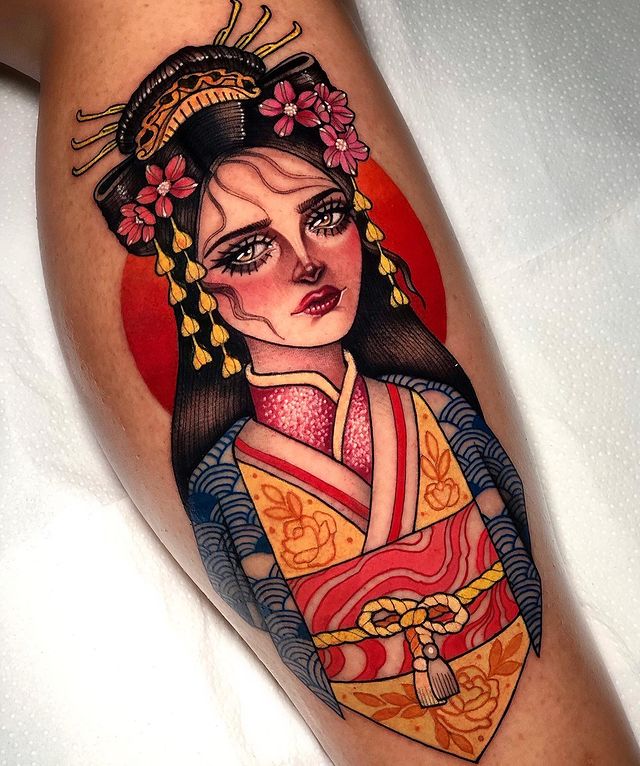 10. Dark Lettering Face Tattoo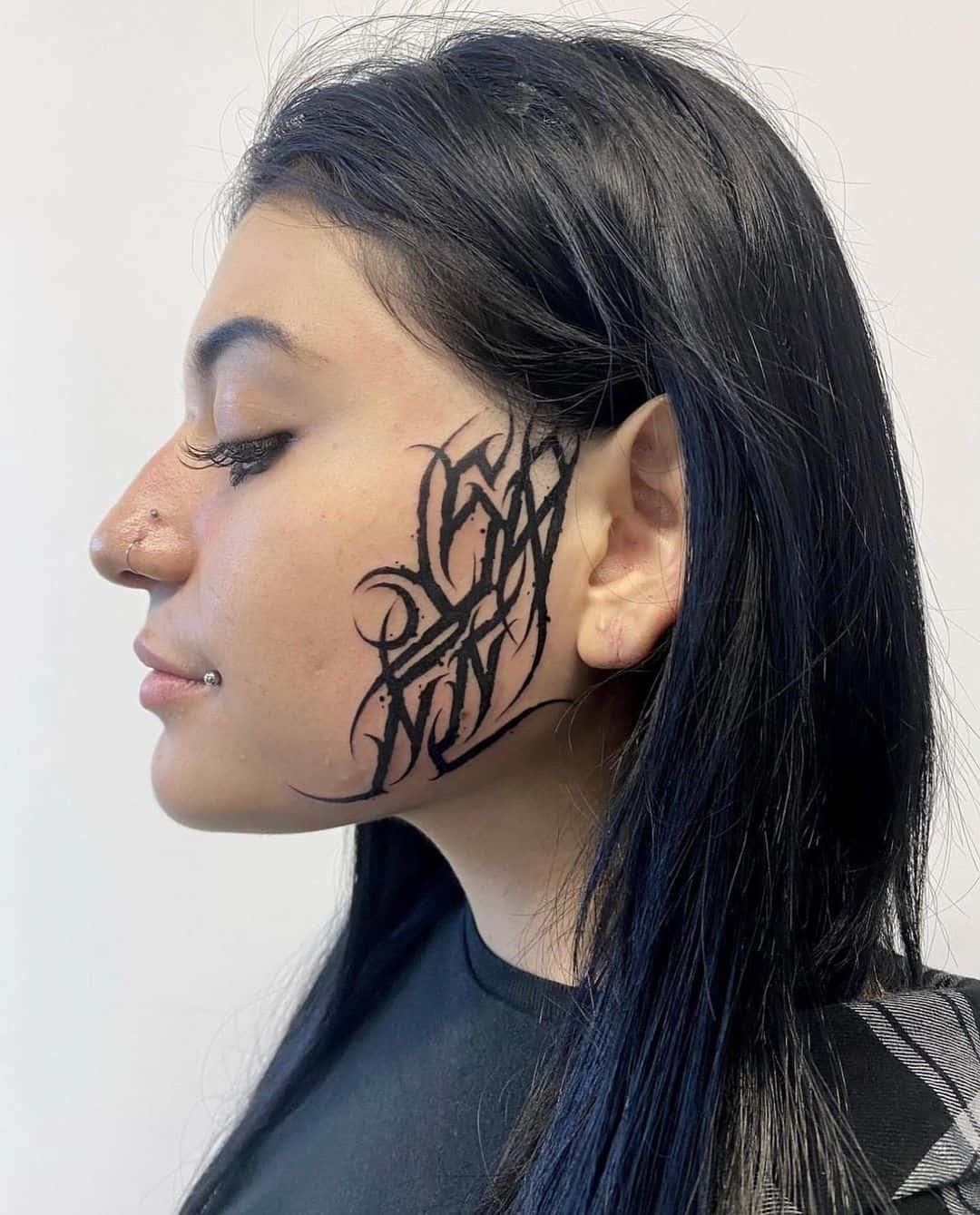 This is hands down my favorite tattoo on this list!
The best part about this tattoo for me is the placement, the tattoo fits the curvature of her cheek and jawline to perfection! I admire the dark black ink the artist used, giving this tattoo that "wow factor".
11. Moon Face Tattoo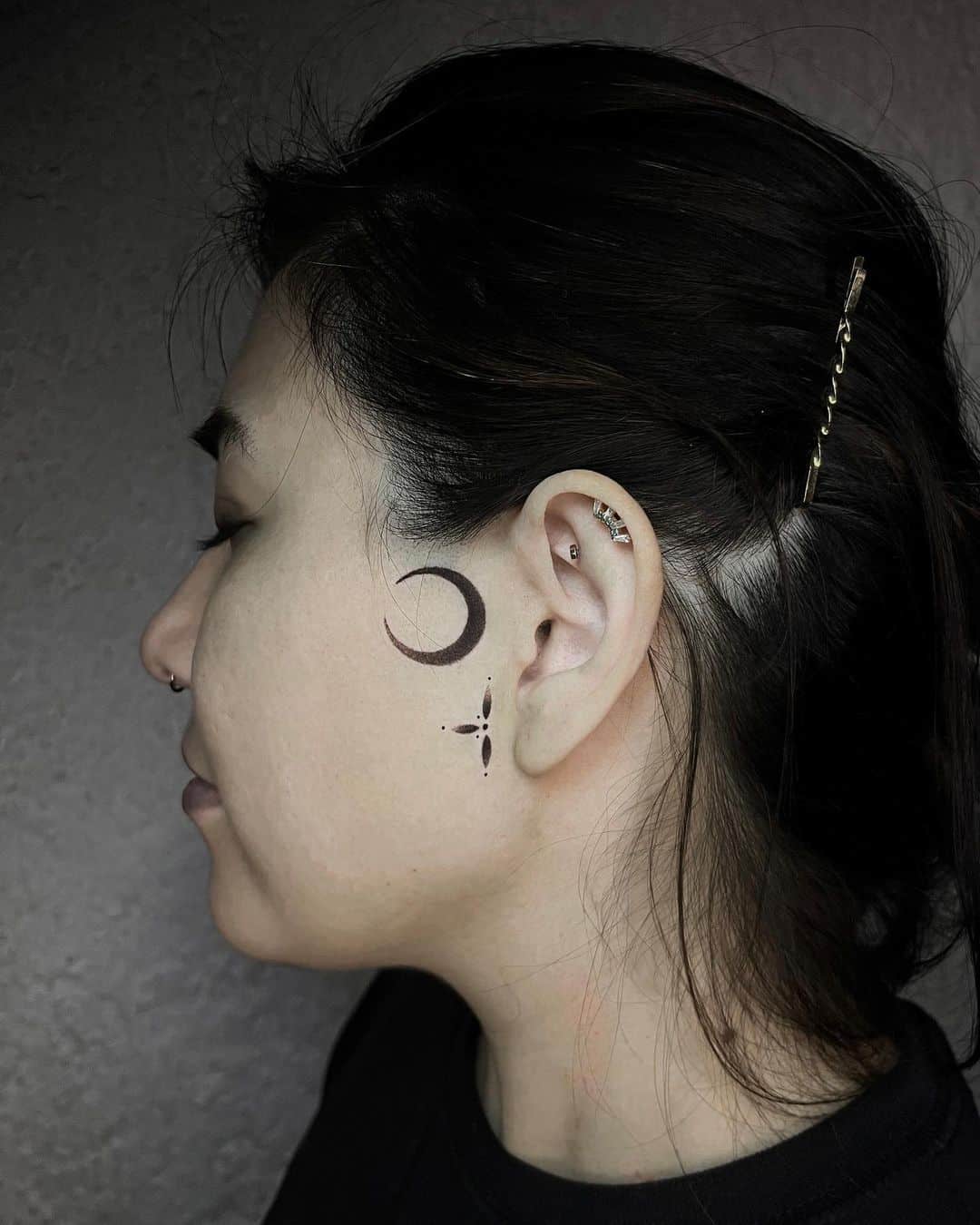 Simplicity at its best! I totally love the placement of this piece. It's feminine and gorgeous. I think the hand-poke technique was a wise move here, as it's less harsh and invasive. This complements face tattoos well and is a preferred technique.
My favorite part about this tattoo is the imagery used here; I think the choice of a crescent moon encapsulates feminine beauty well.
12. Dot Work Abstract Face Tattoo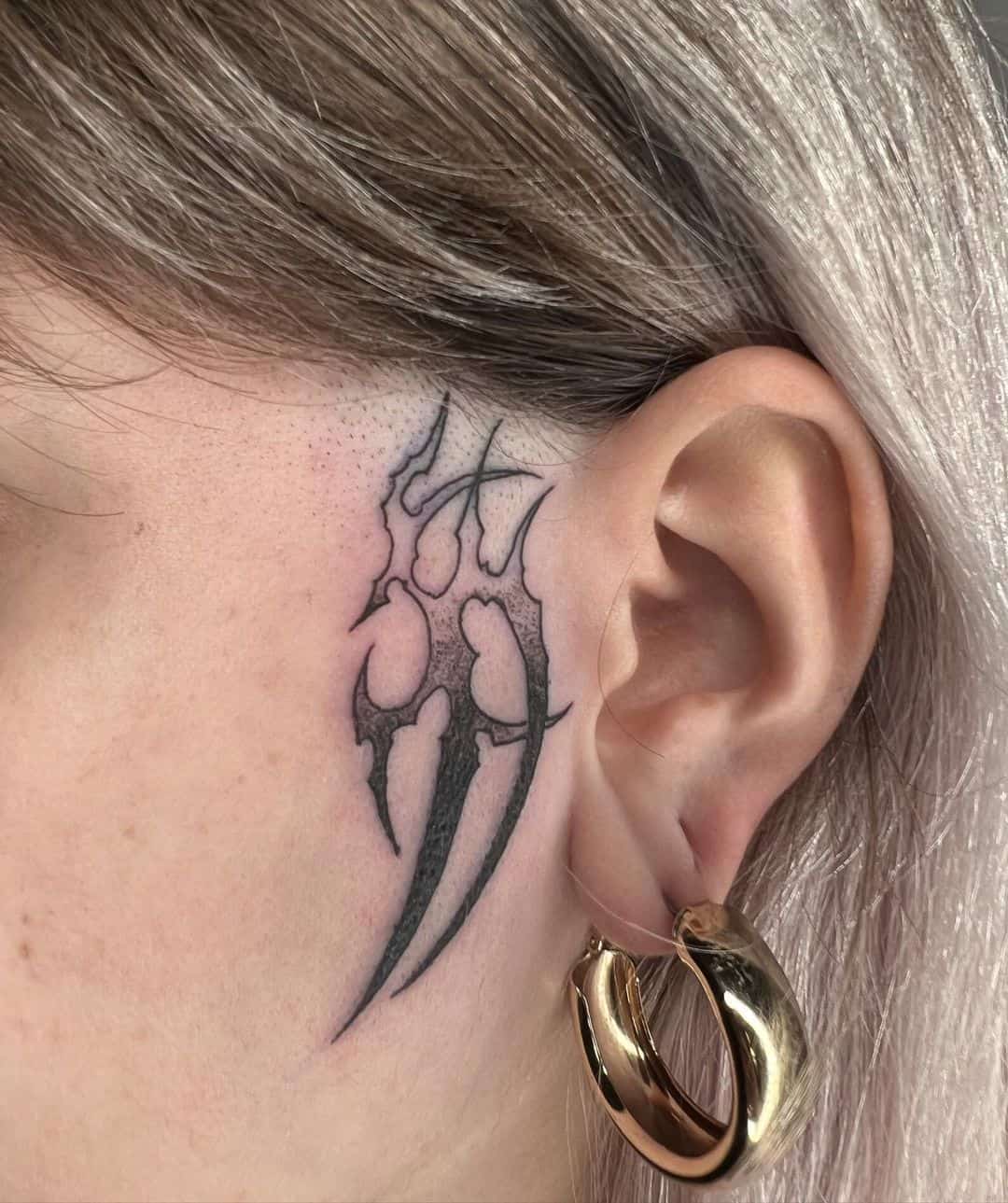 I love this Neo-Tribal piece, and the placement complements the design extremely well. The gradient dot work shading is an interesting touch to this tattoo.
My favorite part about this is the placement and size of the design, not too big and not too small!
Face Tattoos For Men
13. Realistic Black Work Spider Face Tattoo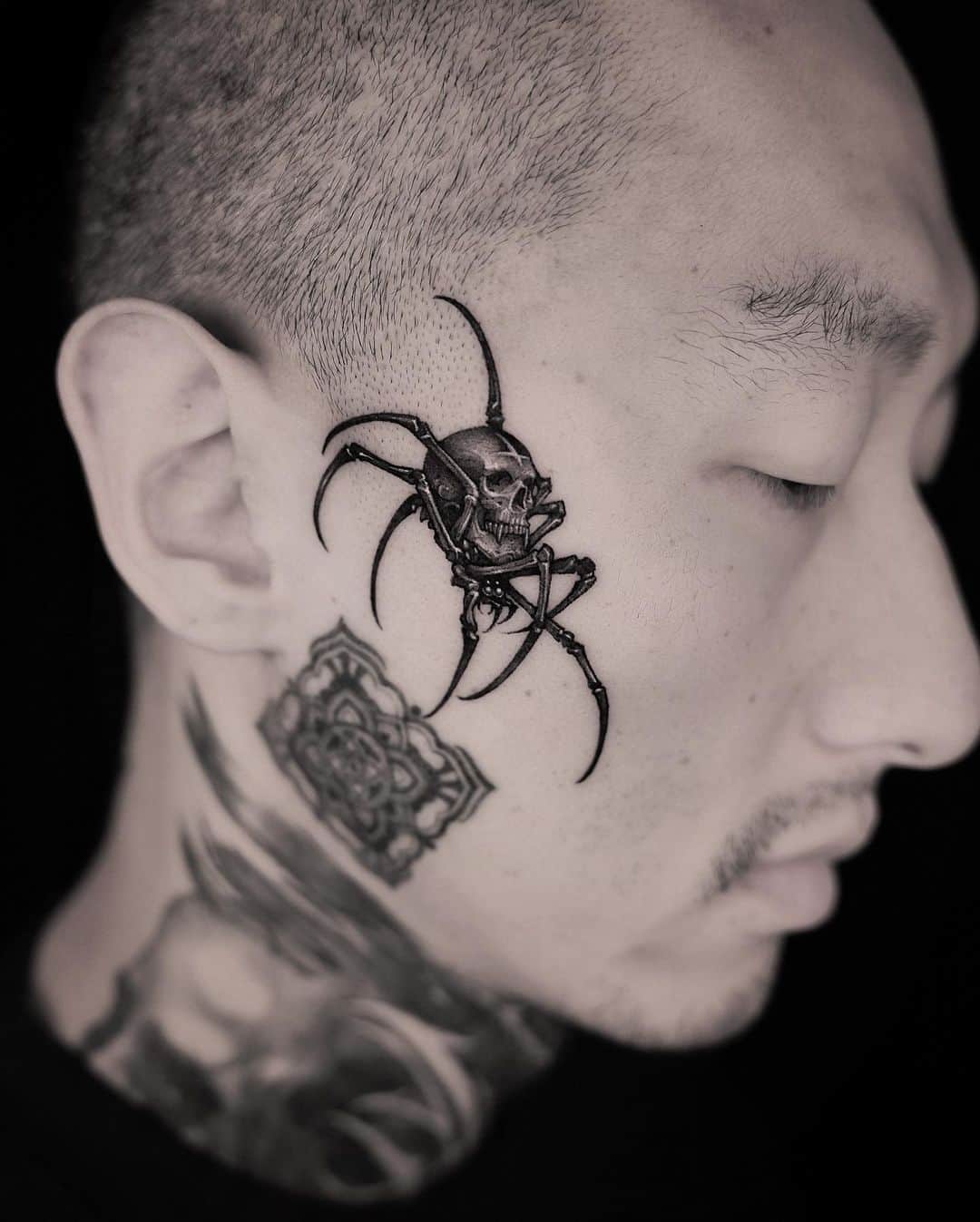 I absolutely love the intricacy of this piece. The line work does its job of keeping the ink tight and bold! The shading is phenomenal. This entire piece blows me away.
My favorite part about this tattoo is the imagery. I love that the spider's abdomen is a skull, a unique twist that I appreciate.
We've got a great list of spider tattoos if you're looking for more of this creepy-crawly style.
14. Floral Black Work Face Tattoo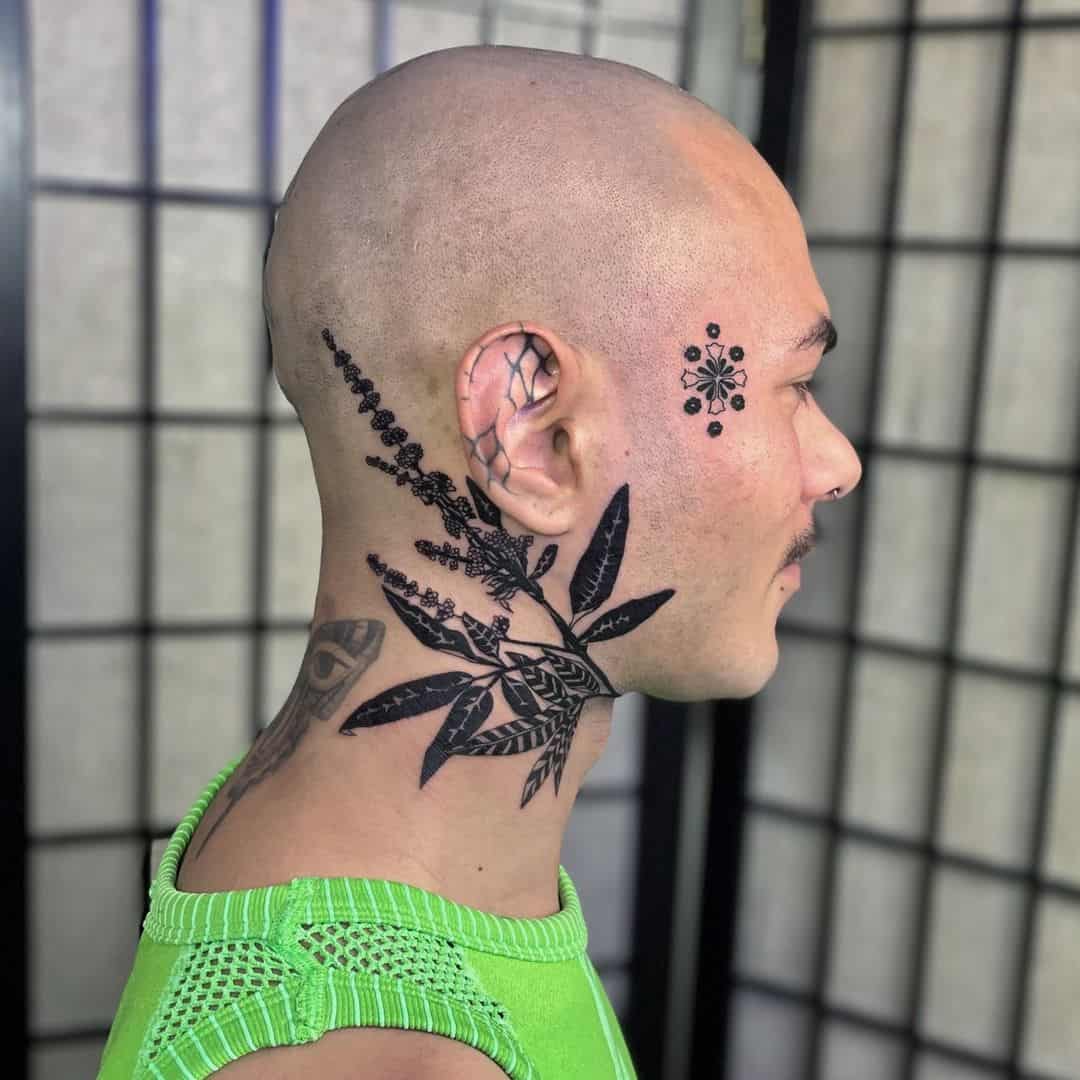 I love the black work technique used here, the darker tones make the tattoo stand out. I think the size of the tattoo is its best feature, making the tattoo appear powerful.
My favorite part about this is the extra dainty ornamental flower piece on the upper cheek; that makes this tattoo a knockout!
15. Patchwork Face Tattoos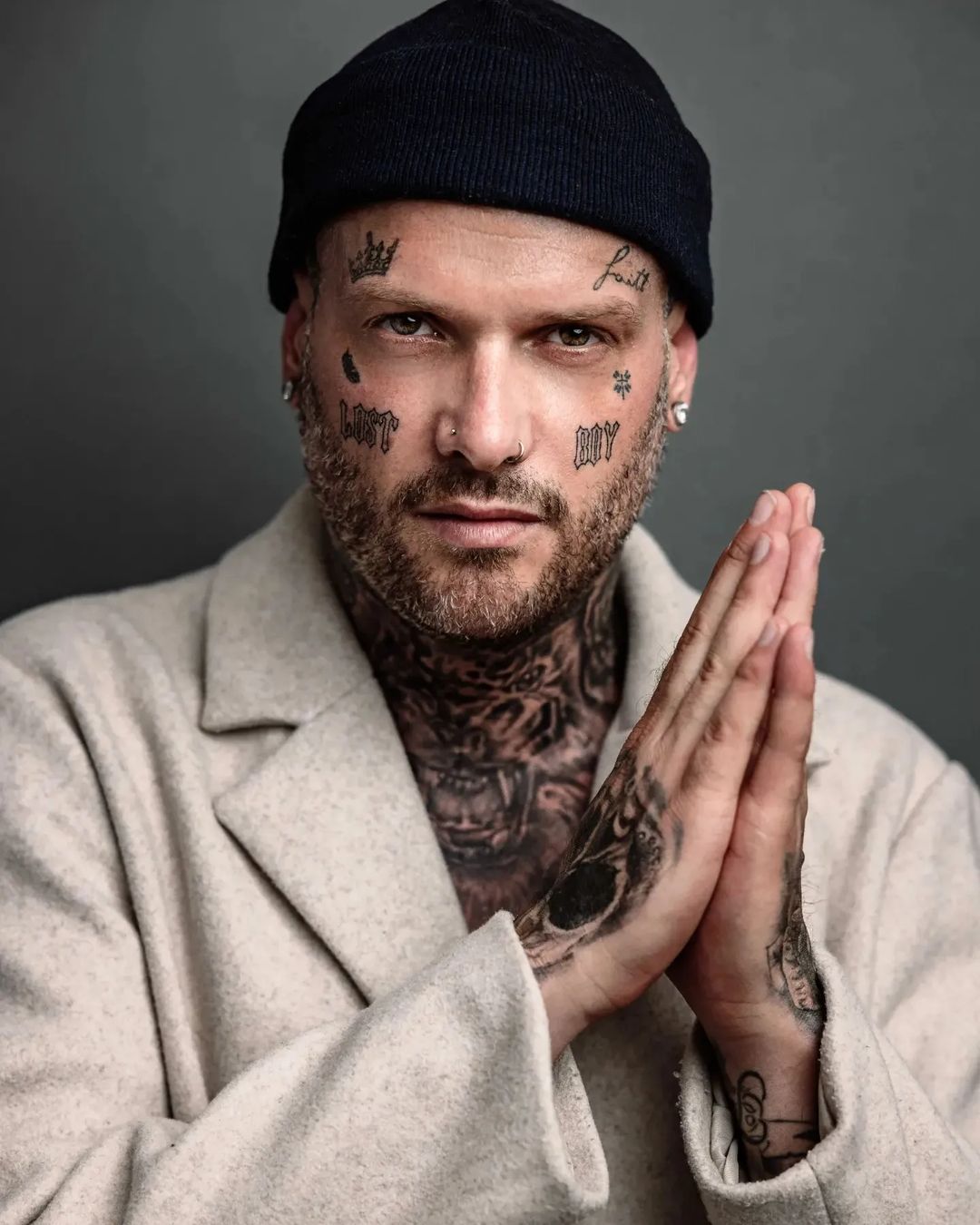 I love the look of well-done patchwork face tattoos. If the client is wanting a balanced effect, that can be tough especially when you're not always adding symmetrical images.
I feel like this piece (pieces?) is well done, I'm curious to see if they choose to add more.
Wander over to our patchwork tattoos list for more of this style.
16. Kiss From A Rose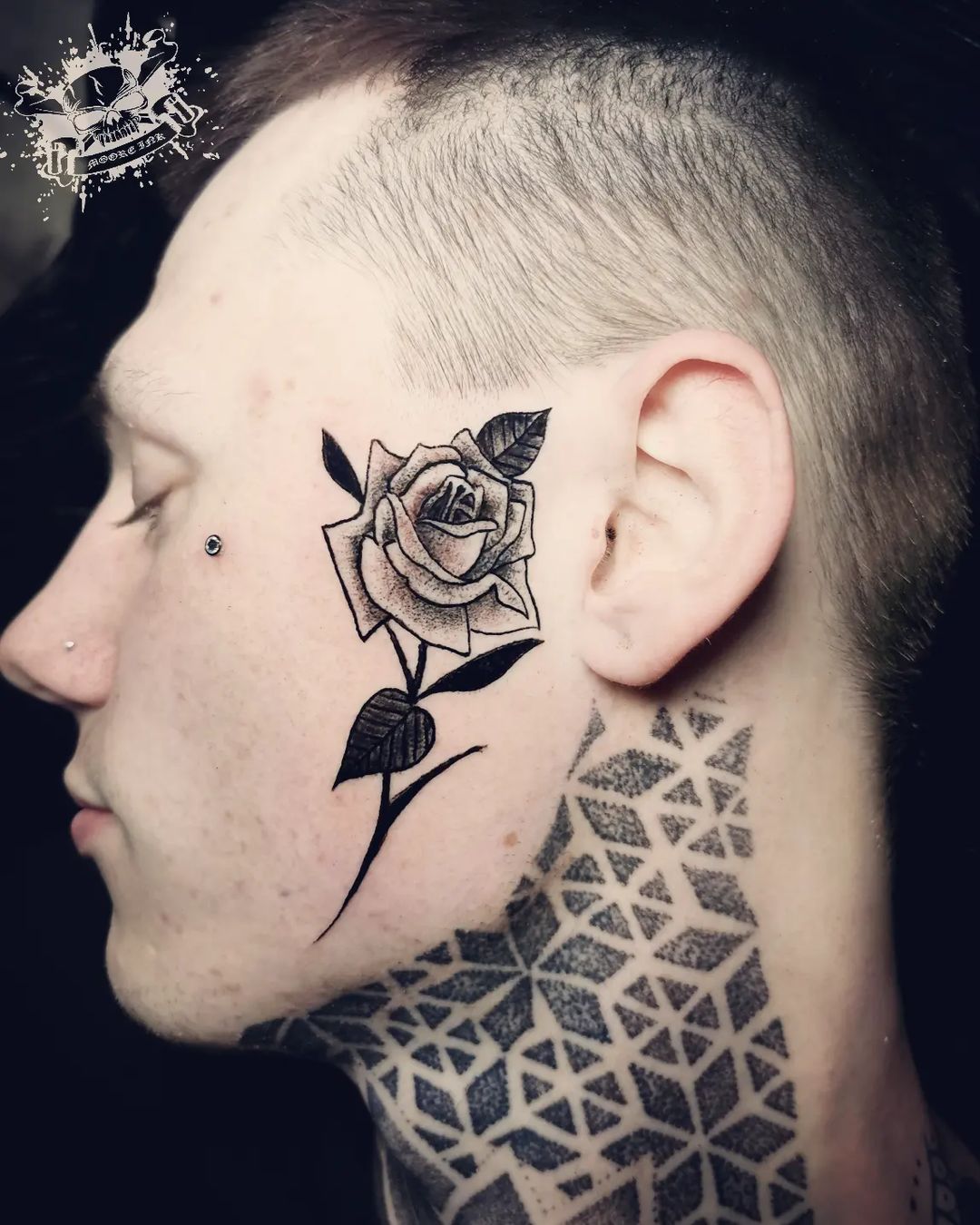 This piece is so crisp I just can't. The dot work falls in place perfectly with the client's neck tattoo, but the contrast of the bold solids sets it apart just right.
17. White Ink Lightning Tattoo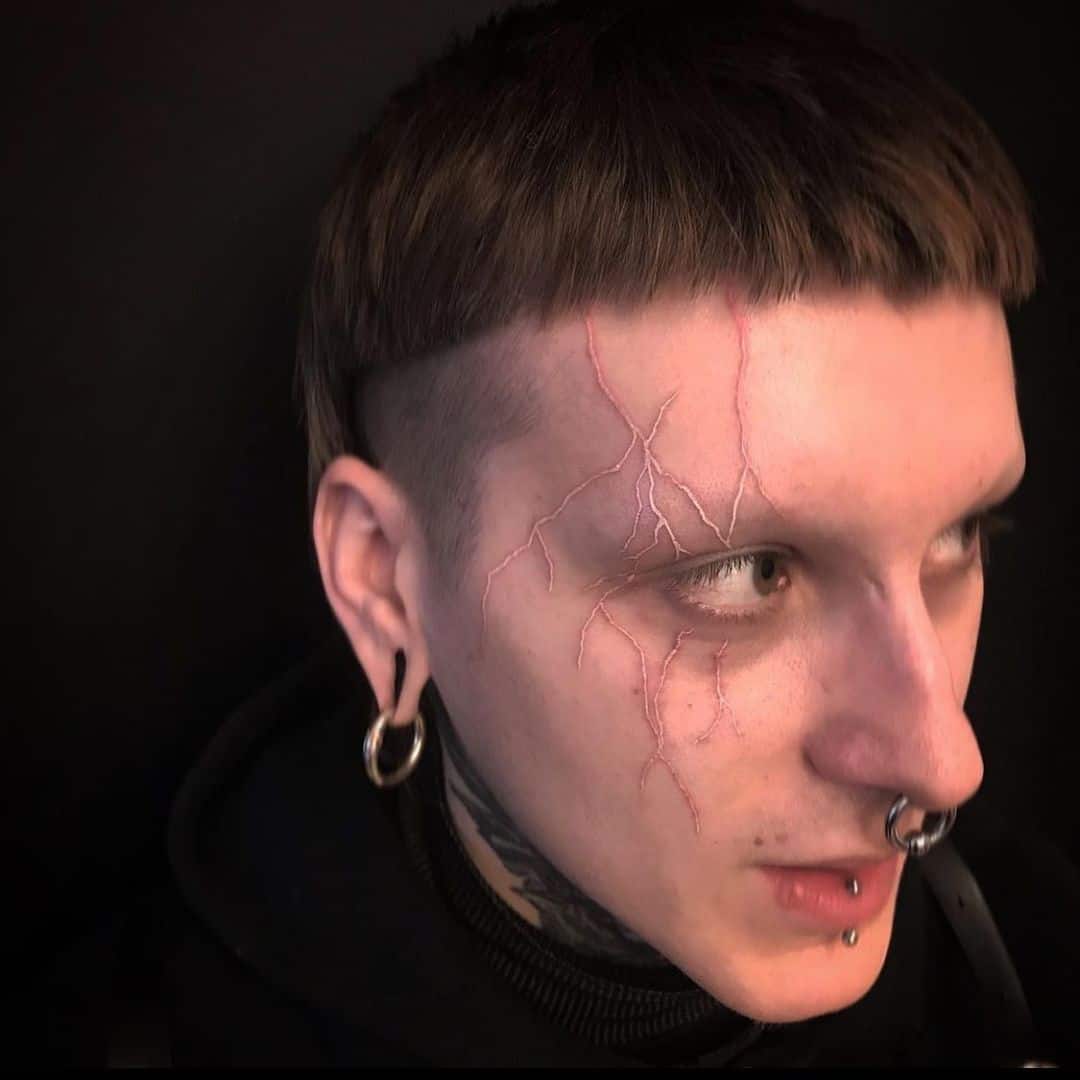 This tattoo is very different but in a good way! I love the placement of the tattoo, it gives the illusion of a scar that falls over their eye. Super edgy take!
My favorite part about this tattoo is the white ink the artist used instead of black, which gives the lightning a more realistic feel. Well spotted by the artist!
18. Dot Work Flame Face Tattoo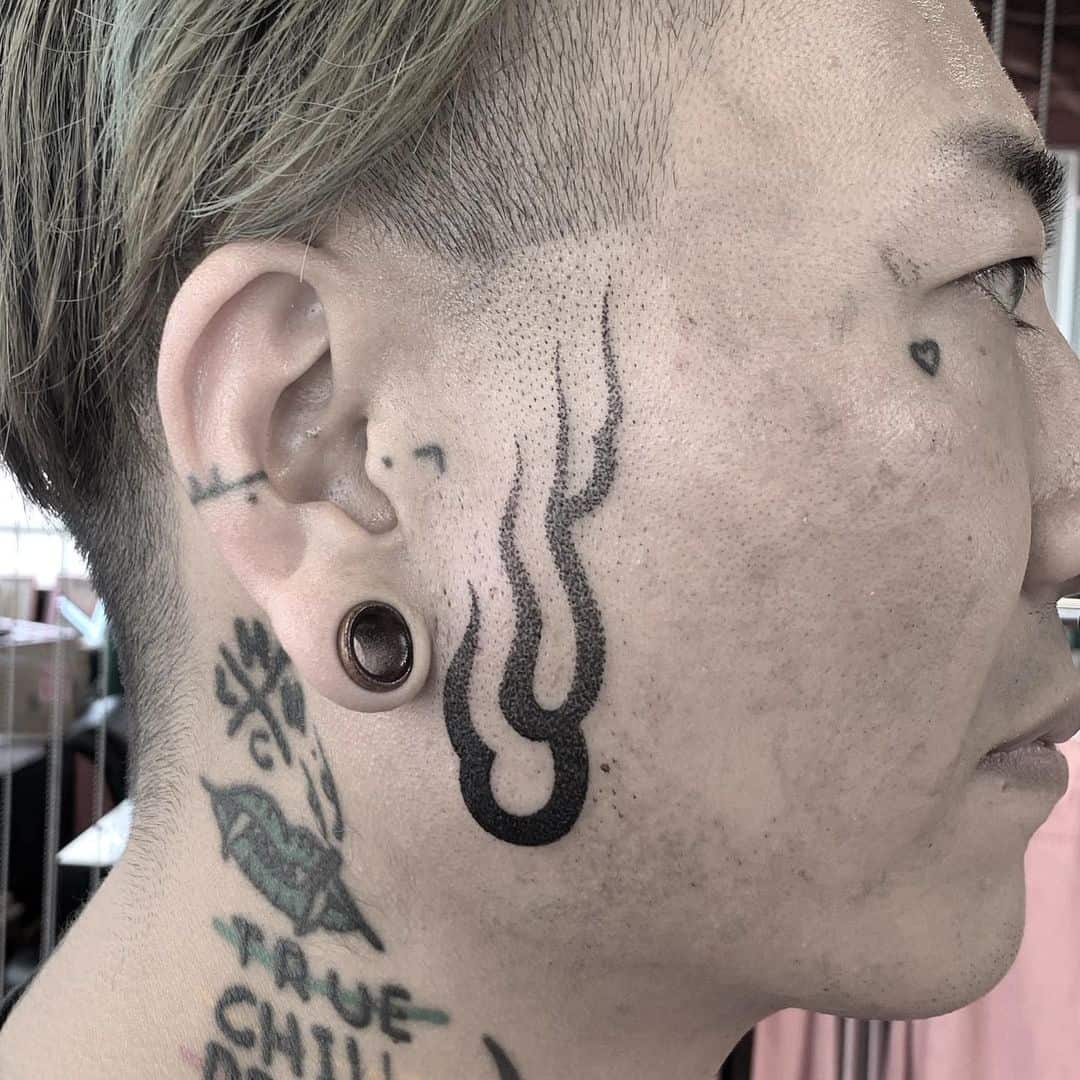 I love the simplicity of this face tattoo. The simple dot work shading technique the artist used gives a softness to this hardcore piece.
The placement and size of the tattoo stand out to me, because of this everything complements each other well.
19. Geometric Ornamental Face Tattoo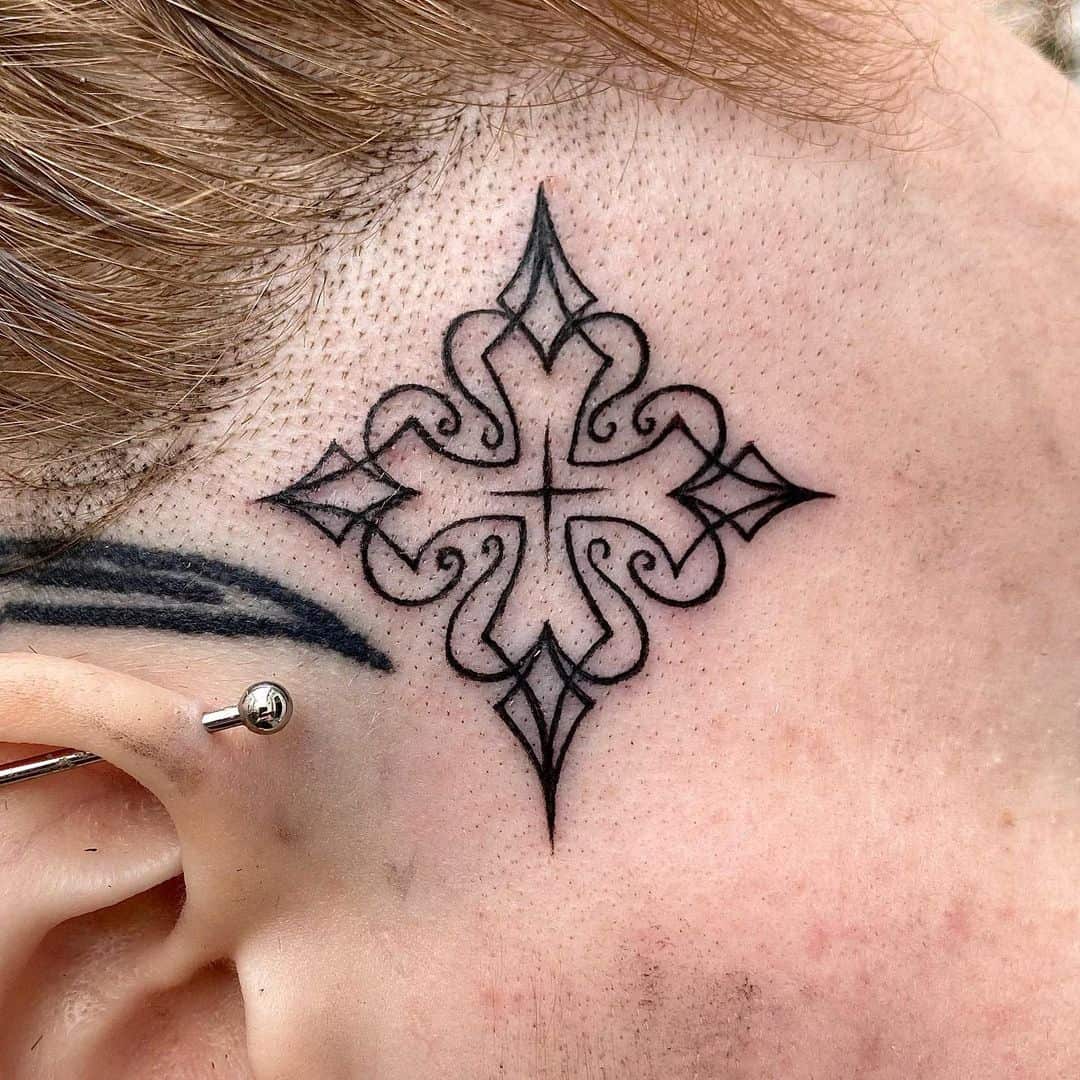 I love the minimalistic approach the artist took here, the lack of shading puts emphasis on the line work, which has also been executed to perfection. Overall I rate this tattoo… out of this world!
20. Black Work Snake Face Tattoo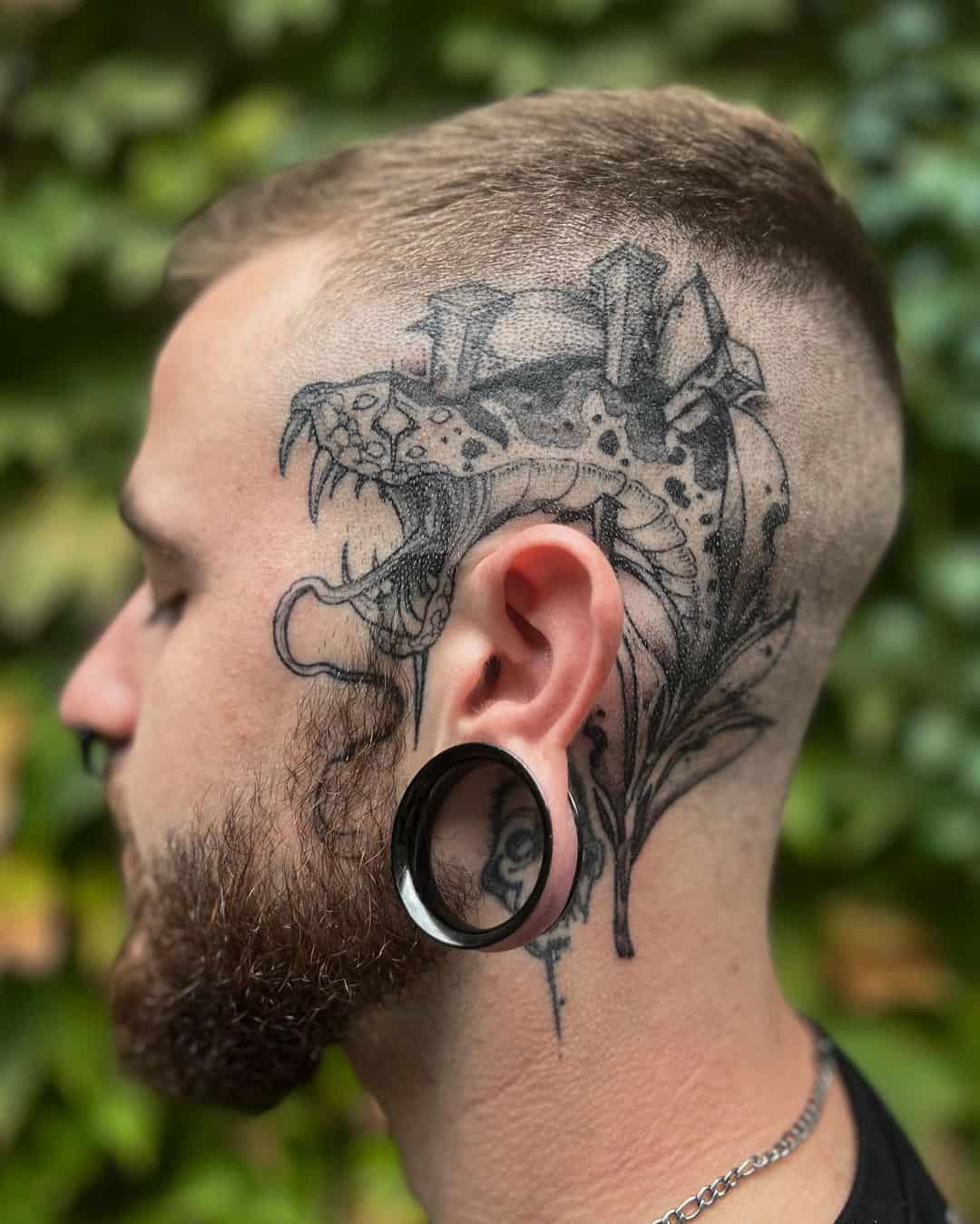 This one is bursting with boldness and power which I absolutely adore. I love the play on imagery and the uniqueness of the coffin nails that pierce the snake along its back.
The placement here is very intentional, I love how the snake wraps around the man's ear like it's ready to strike at any moment.
Ya like snakes? Go see our hand-picked list of snake tattoos.
21. Traditional Face Tattoo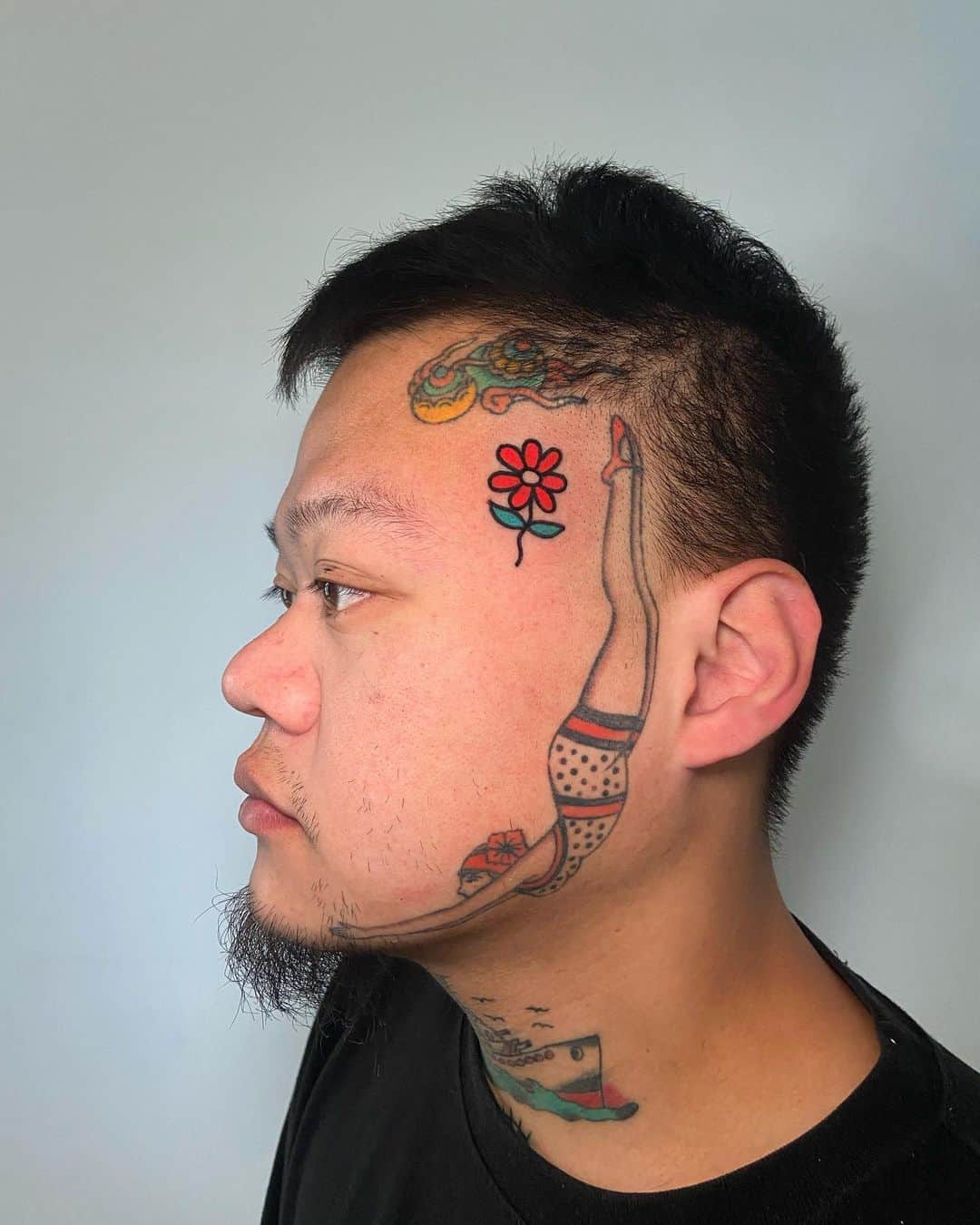 Of course, we needed some color on this list, and we're missing a traditional piece. This has both!
The traditional lady diving off of the man's face, down his chin is such a creative way to utilize the body's natural lines.
22. Bold Abstract Black Work Face Tattoo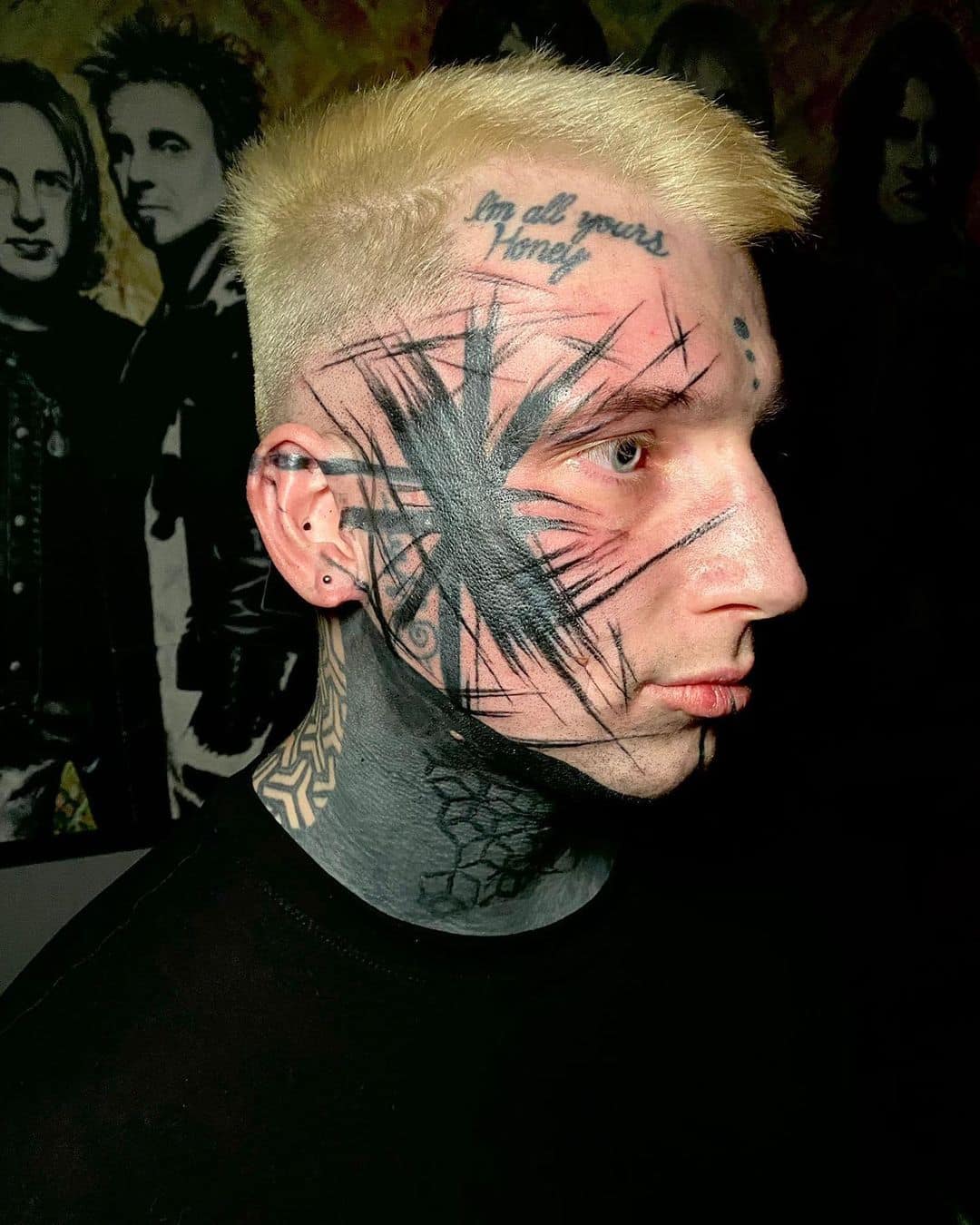 I absolutely love a bold, brave face tattoo. The design is super unique and fits on the client's face perfectly.
The use of blackout shading makes the tattoo even bolder than it already is, and that is saying something!
If you like this dense dark black ink, make sure to scope out our blackout tattoos article.
23. Small Hand Poked Ornamental Face Tattoo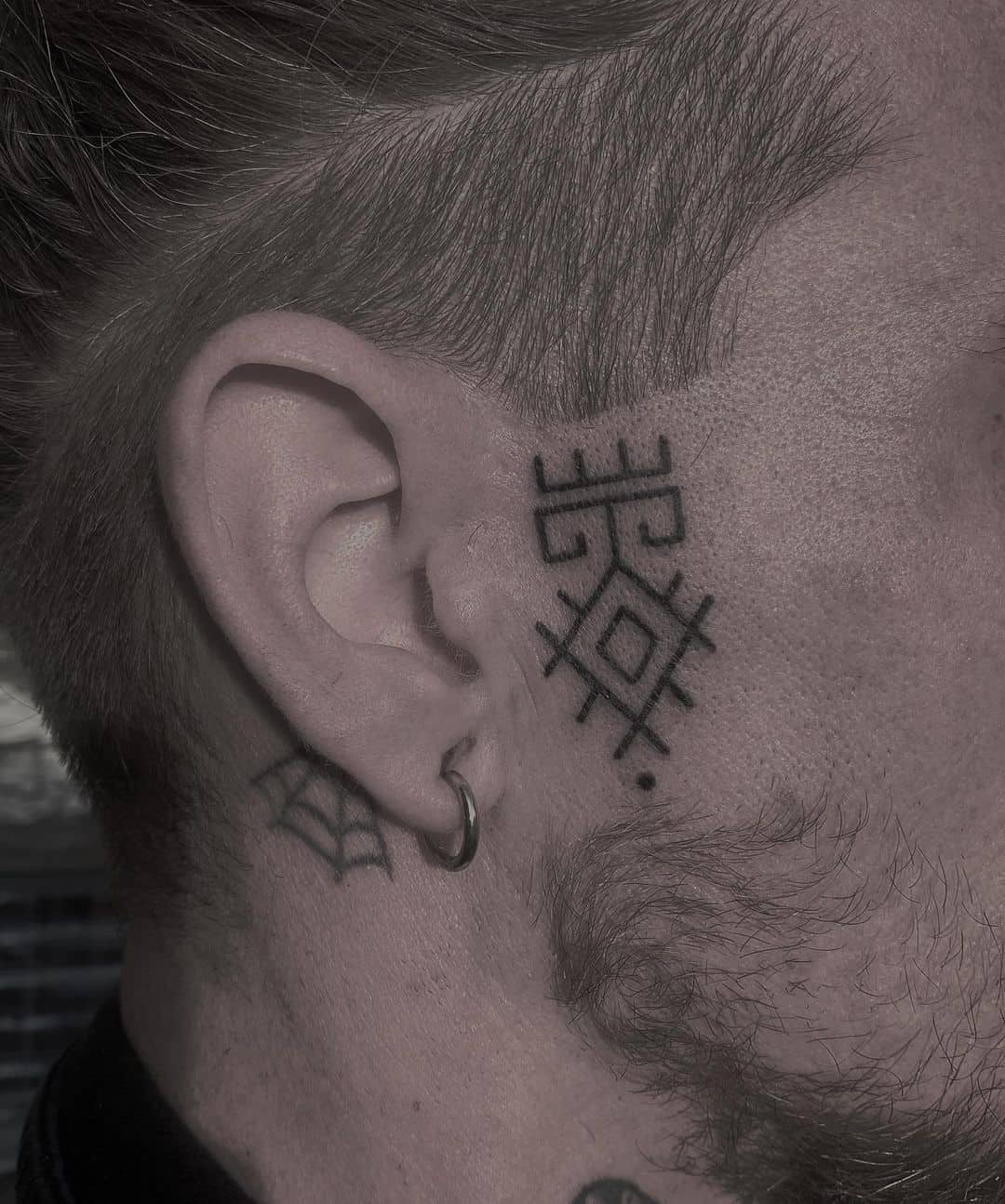 Hand Poked tattoos are a great choice for face pieces because they are gentle and less invasive. I love the simple design here, and the choice of ornamental imagery is perfect.
The simplistic approach the artist took when executing this stunner of a piece is my favorite part.
24. Black Out Flames Face Tattoo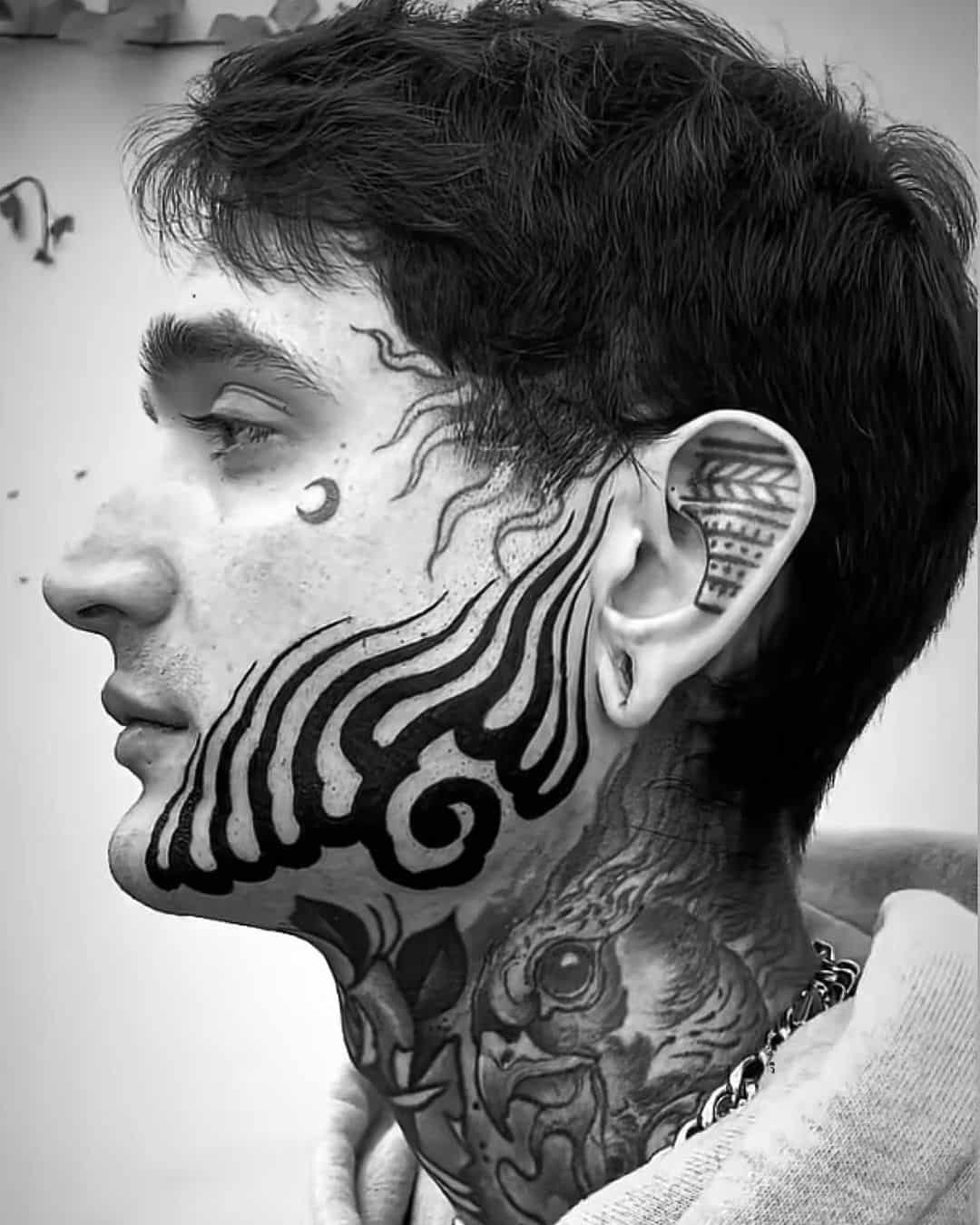 Finally one of the more hardcore pieces on this list. I love the boldness that this tattoo encapsulates. This tattoo makes heads turn, that is for sure!