Thighs are prime real estate for large designs, offering a broad blank canvas for artists. Tattoos on the upper leg can also be hidden beneath clothes, revealed selectively by the wearer.
1. Koi Thigh Tattoo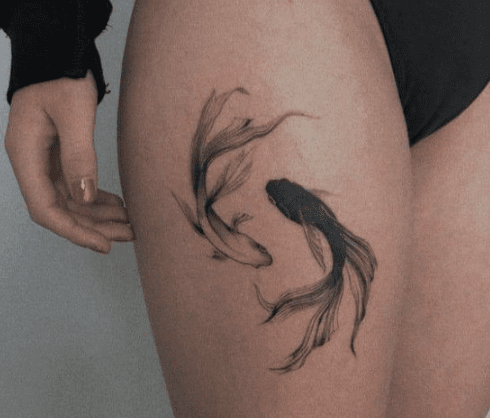 Koi tattoos are very popular right now, typically they're seen swimming into each other in a near perfect circle. This artist shifted the koi's path to better fit the thigh's oval shape.
2. Snake Thigh Tattoo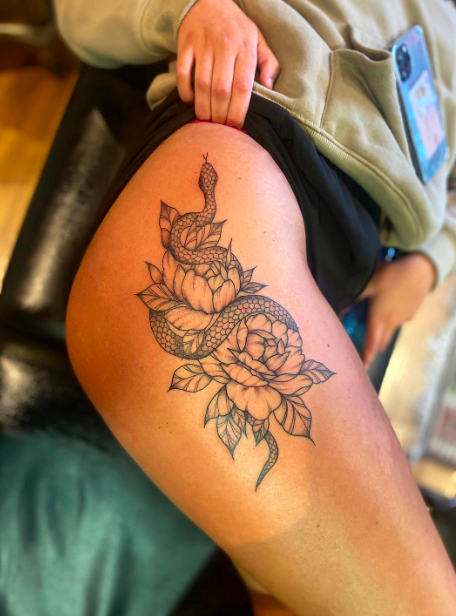 As with most body parts, there are different planes on the thigh, allowing for more versatility in placement. The higher on the leg you go, the more intimate the tattoo becomes.
By shifting the design to the side of the leg, almost onto the hip, it becomes the wearer's little secret.
3. Pastel Dragon Tattoo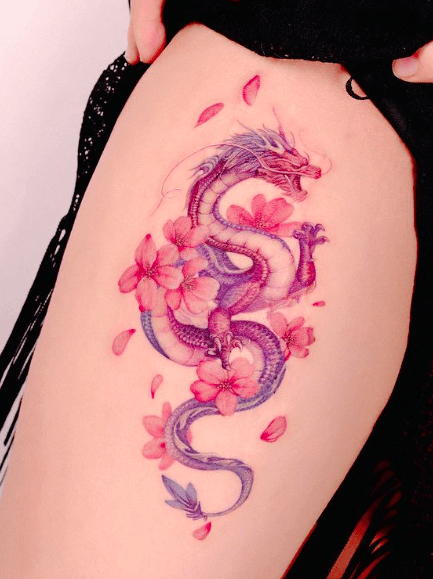 This tattoo's shading and color scheme make it a delicate yet bold design.
4. Stylized Skull Tattoo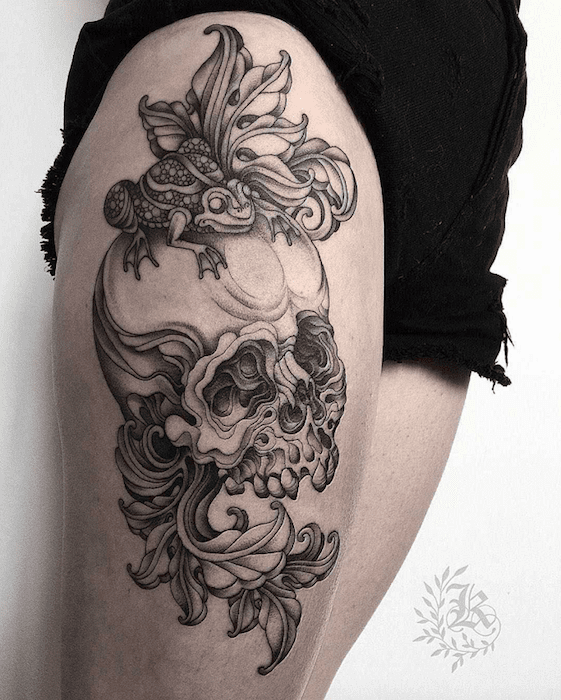 This tattoo stands out because of the artists clear style. It is a gorgeous piece designed for the thigh.
5. Charming Line Work Tattoo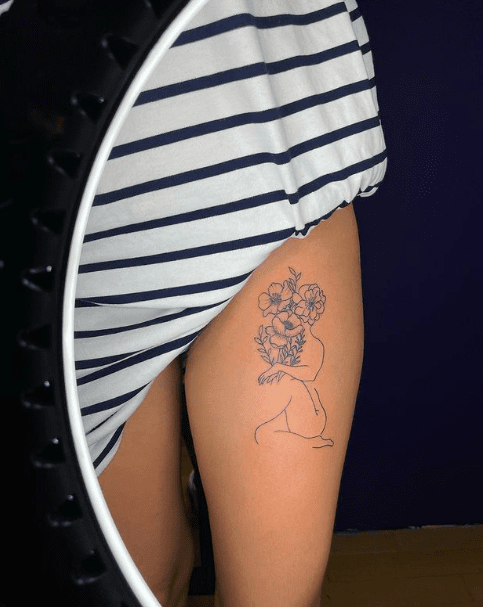 This tattoo is minimalistt, relying on implied lines to describe the full image.
6. Medusa Profile Thigh Tattoo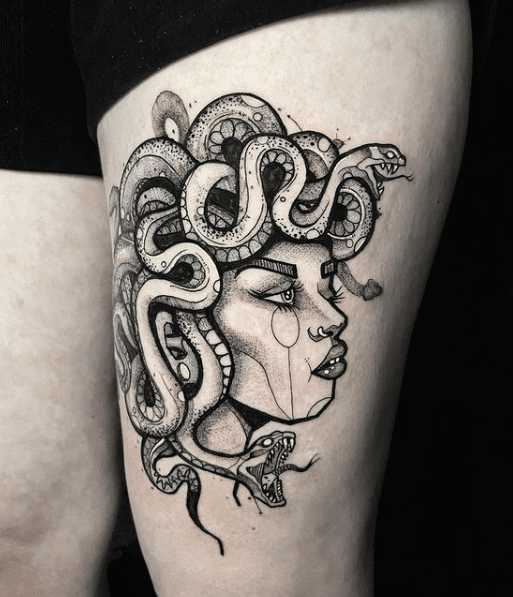 The thigh is a great canvas for distinctly stylized medusa tattoos like this one. When getting a thigh tattoo, you have the opportunity to search for an artist whose style you admire to create a large piece.
7. Butterfly Thigh Tattoo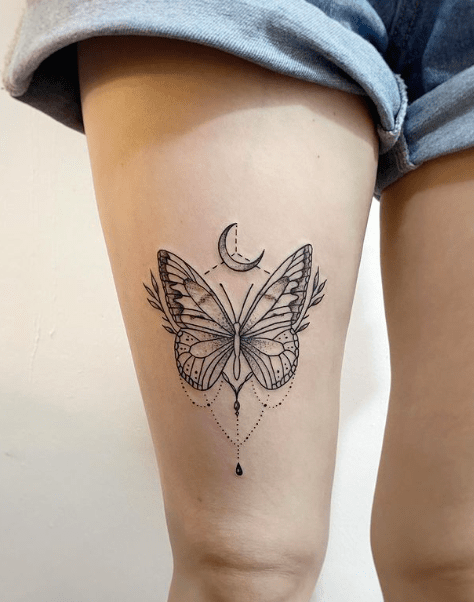 Using the lines of the body is a smart way to determine the overall composition or movement of a tattoo. The butterfly's wings in this tattoo run parallel to the sides of the thigh, making it feel like a snug placement.
8. Realistic Portrait Tattoo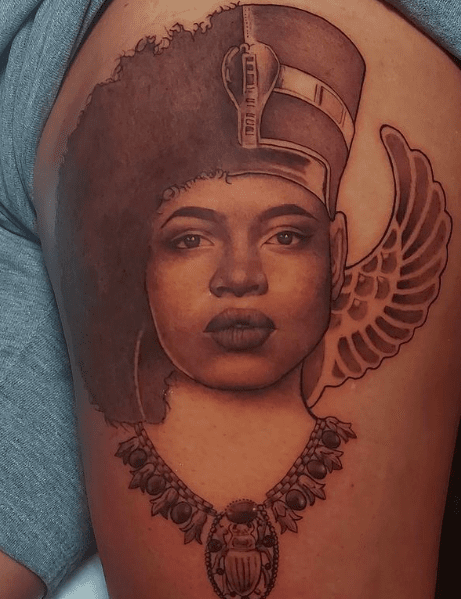 The execution of this tattoo is spectacular. Using the wearer's skin color as the tattoo's highlights, the artist is able to create a striking portrait.
9. Cobra Thigh Tattoo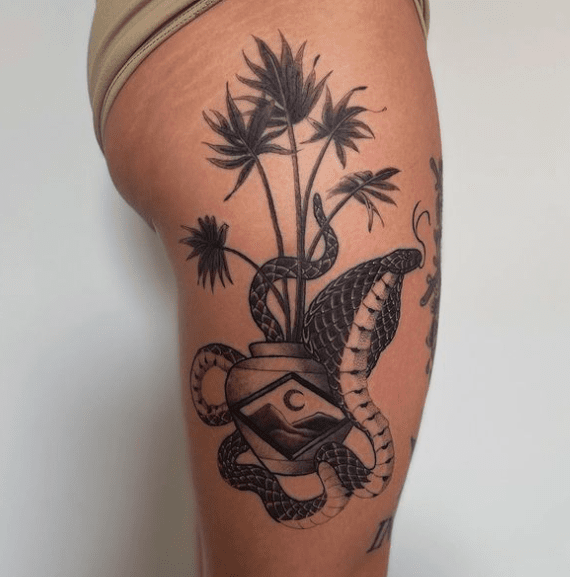 The imagery of this tattoo makes it stand out. While snake tattoos are becoming more and more popular, they're usually accompanied by flowers.
This tattoo takes on a whole new vibe with a vase and palm fronds.
10. Abstract Thigh Tattoo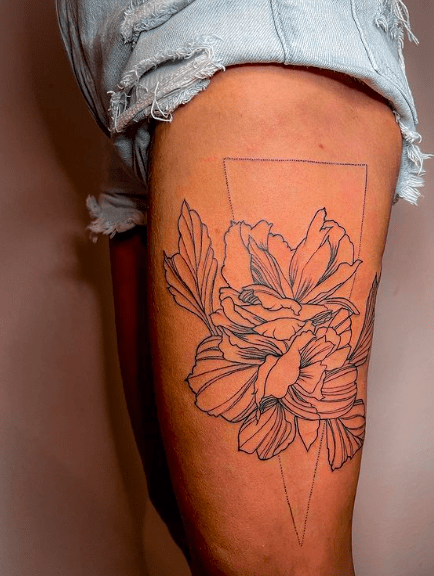 The proximity of line and lack of shading culminate in an abstract and beautiful thigh tattoo. The tattoo is aided by an elongated triangle, helping it fit into the thigh.
11. Animal Thigh Tattoo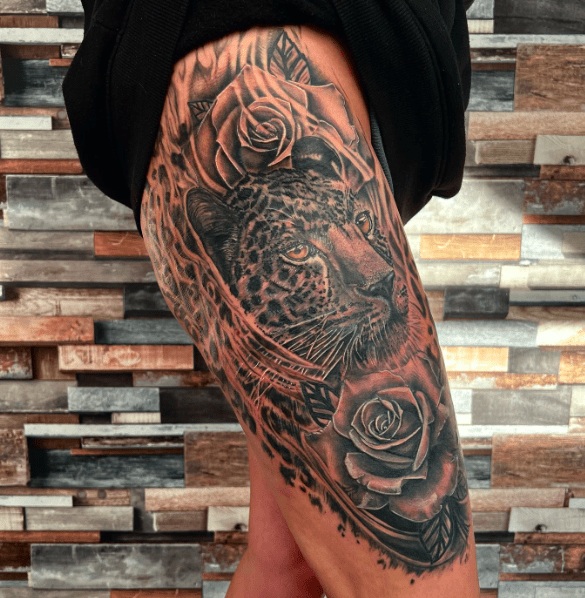 This piece fills the thigh, using every inch of the side of the leg. Its shading is careful but dark, creating a bold thigh tattoo.
12. Fox Tattoo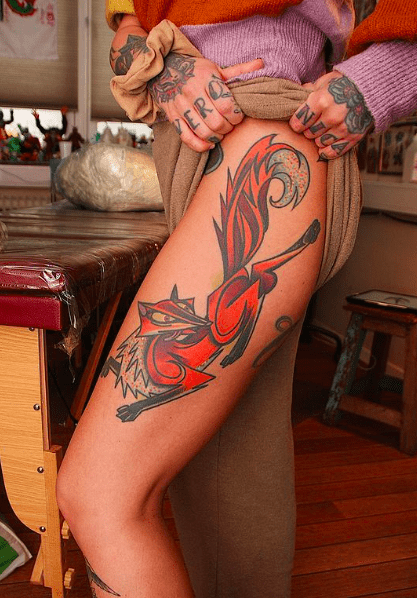 This tattoo has a cubist style reminiscent of early Picasso. The side of the thigh lends itself to long, linear designs.
13. Abstract Phoenix Tattoo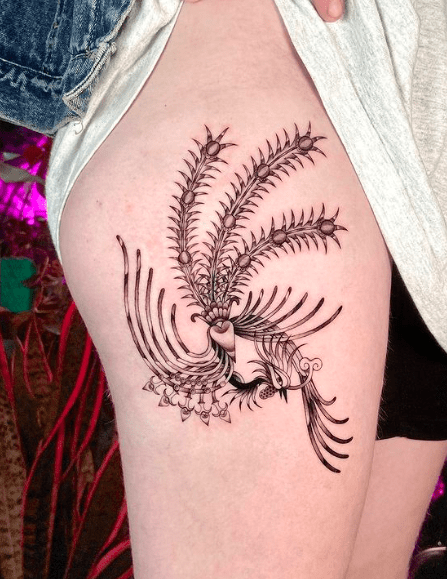 Unlike other thigh tattoos, this design is like a pinwheel. While most circular tattoos may not fit the best on the thigh, this tattoo works because the phoenix's wings and feathers point outward, creating movement.
14. Praying Mantis Thigh Tattoo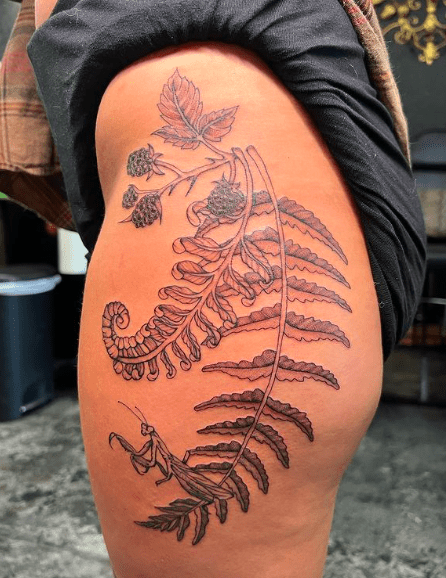 Plant growth works very well on the thigh due to their long, outstretched lines. This type of imagery has an innate movement to it that unfurls along the body well.
15. Line Work Portrait Tattoo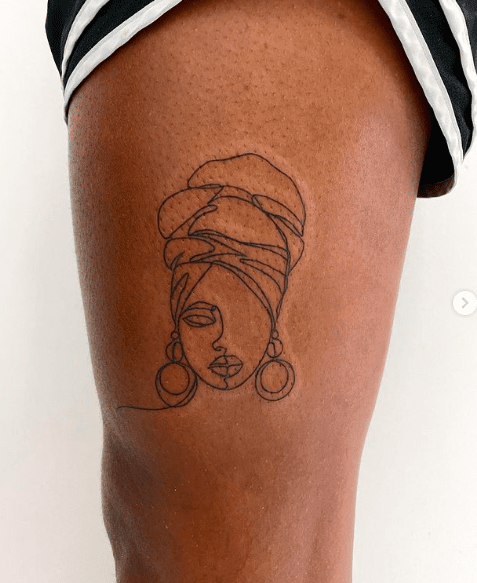 Another approach to thigh tattoos is with minimalist designs like this one. Simplicity can be just as bold as any other piece.
16. Eve Thigh Tattoo
This tattoo is shaded using hatch marks, small lines drawn closely together to darken an area. This is a delicate, classical style of shading.
17. Feline Thigh Tattoo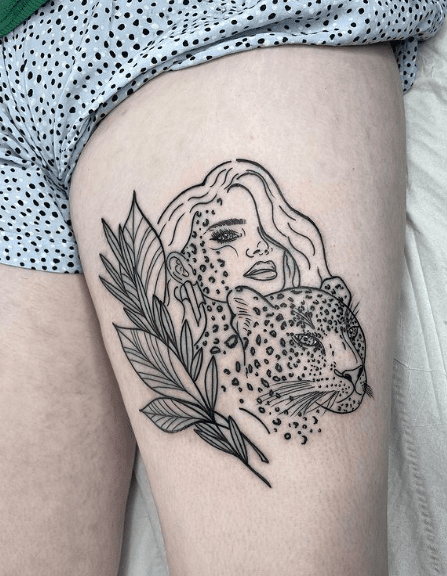 Sticking with thick lines and three distinct elements, this tattoo still manages to bring it all together into a cohesive piece.
18. Heron Thigh Tattoo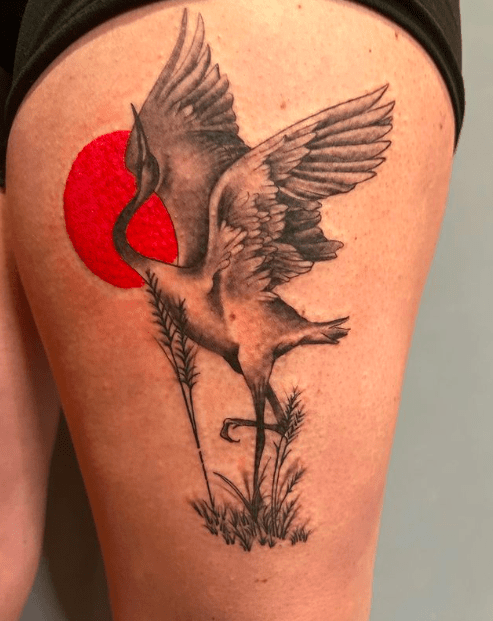 A pop of red gives this tattoo another layer of visual interest.
19. Devilish Thigh Tattoo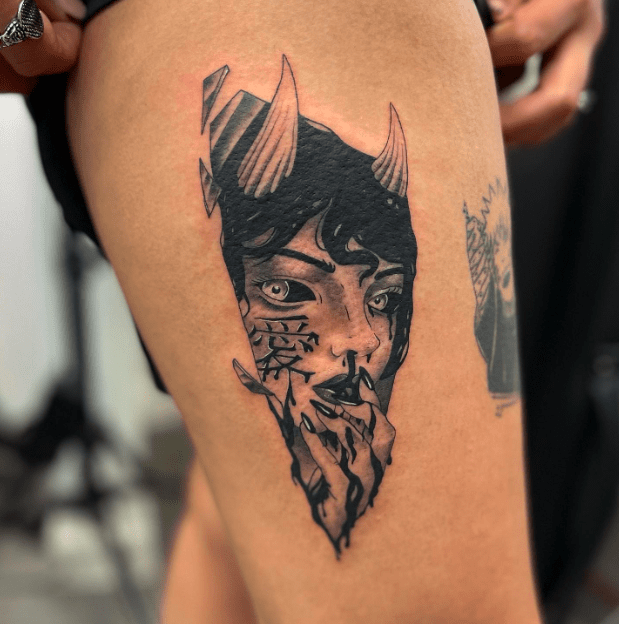 This tattoo is bold and beautiful, with the added element of the design coming out of the wearer's body.
20. Delicate Flower Tattoo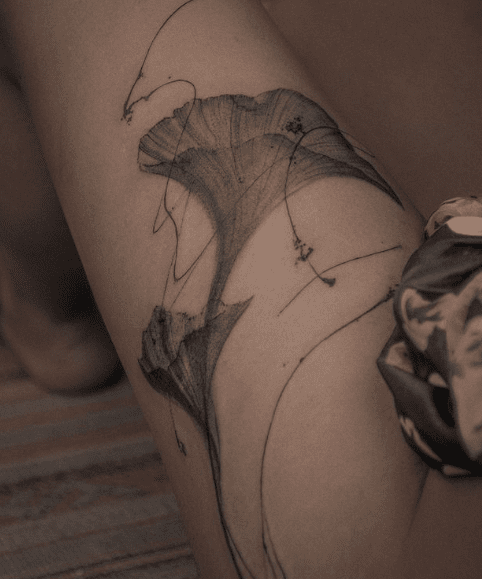 This tattoo swims from the side to the front of the thigh. Free-flowing line work accompanies delicately shaded flower designs.
21. Eel Thigh Tattoo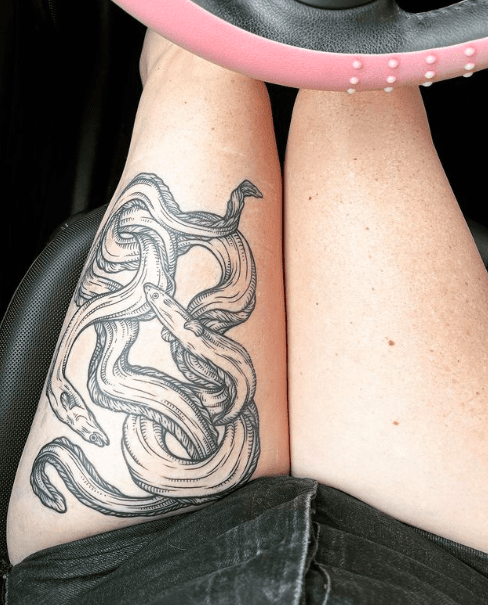 The movement of the eels defines the borders of the design, without the need for big geometric shapes.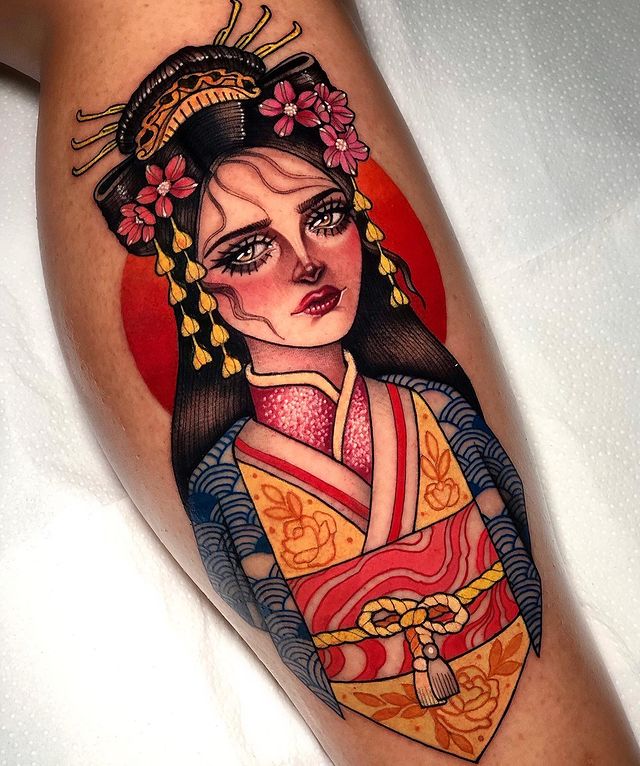 22. Art Nouveau Thigh Tattoo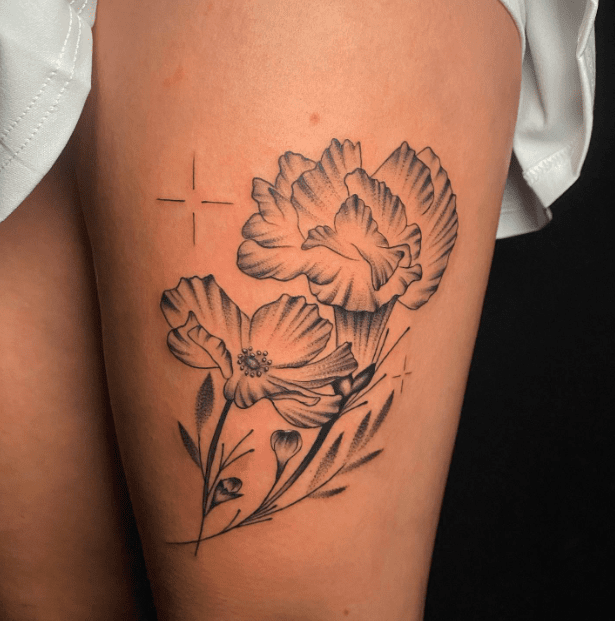 The artist used several different shading techniques to create a multi-dimensional design. From stippling to dark line work to soft shading, this tattoo has a nice blend of techniques.
23. Octopus Thigh Tattoo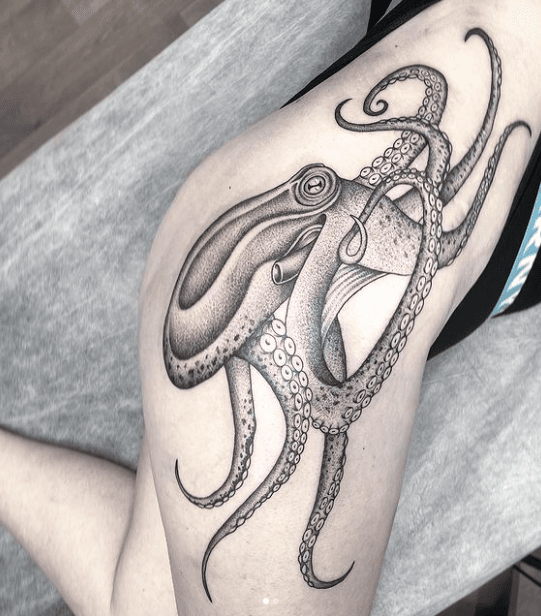 Similar to snake tattoos, octopus tentacles weave along the side of the thigh using the placement to create a sense of movement.
24. Sun and Moon Thigh Tattoo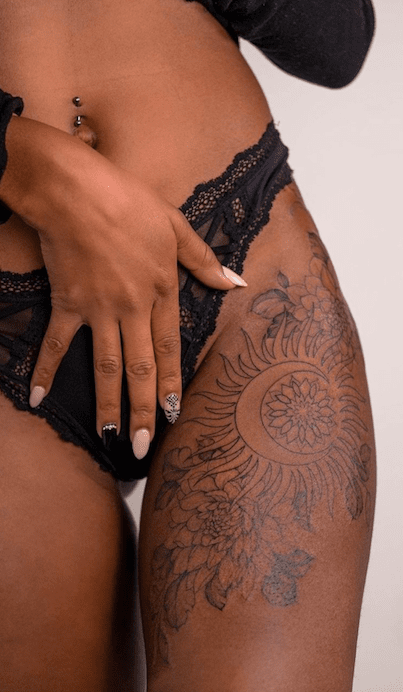 Diagonal movement looks great here as it follows the wearer's pelvic crease, wrapping around the thigh.
25. Cow and Flowers Thigh Tattoo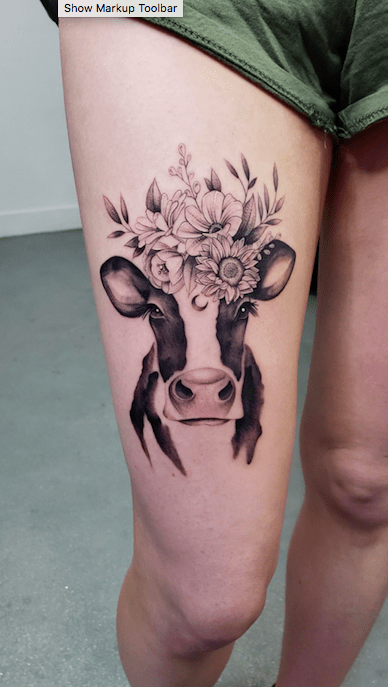 Aside from the adorable imagery, the execution of this tattoo is incredible. Delicate, yet bold, this is a wonderful idea for a thigh tattoo.
26. Flower Garden Thigh Tattoo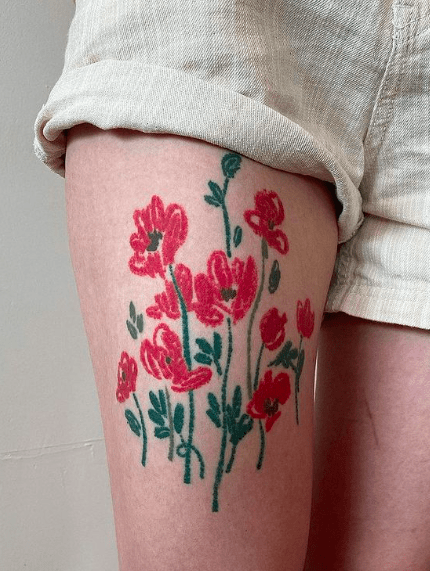 The thigh is a great space for vertical designs. Flower stems are a clever way to elongate the thigh, while the petals help to fill out the space horizontally.
27. Multi-verse Thigh Tattoo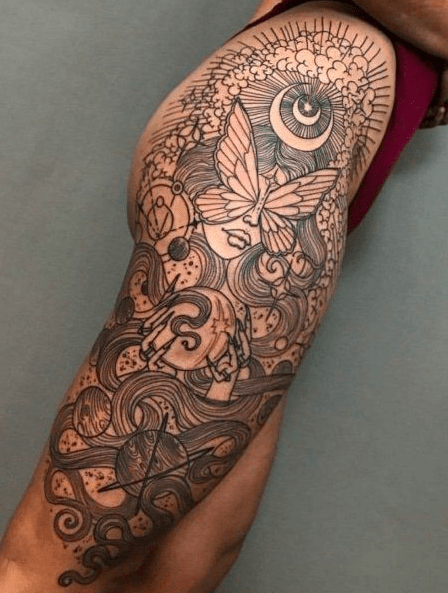 Thigh tattoos don't need to be contained to a singular piece. They can be a half leg sleeve, depicting full scenes or worlds.
28. Red and Black Thigh Tattoo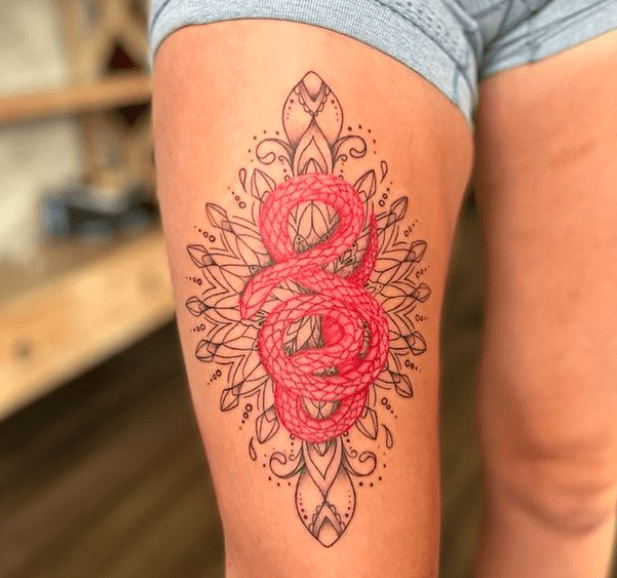 This tattoo's composition is perfect for the thigh, mimicking it's oval shape.
Using red overtop a black mandala makes the snake feel like it's sitting on top of the leg.
29. Cherub Thigh Tattoo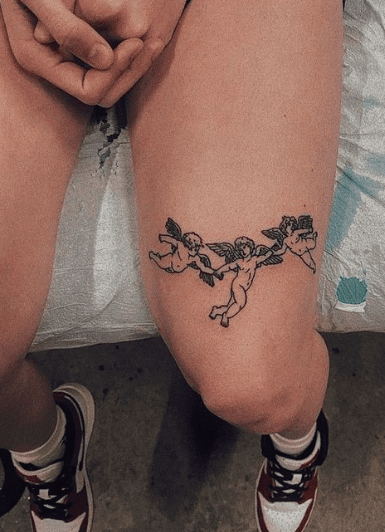 Not all thigh tattoos have to take up the whole space or be vertically oriented, and this is a great example why.
30. Patchwork Thigh Tattoos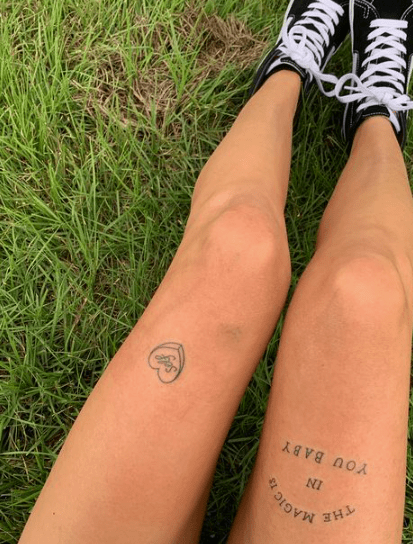 The thighs a great place for patchwork tattoos. Adding to your thigh one piece at a time is an easy, low-commitment way to approach thigh tattoos.
31. Floral Band Tattoo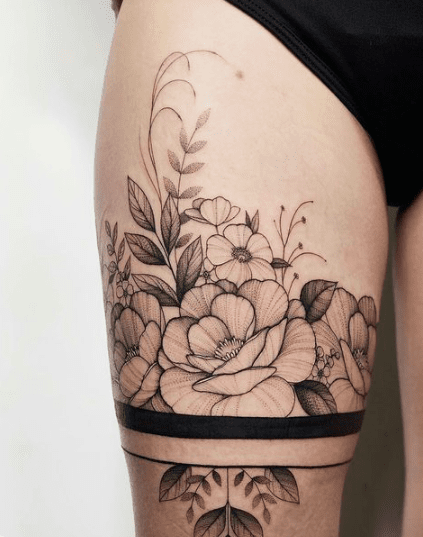 Bands are a great way to break up designs, allowing the artist to play with space and add elements of interest.
32. Mandala Band Tattoo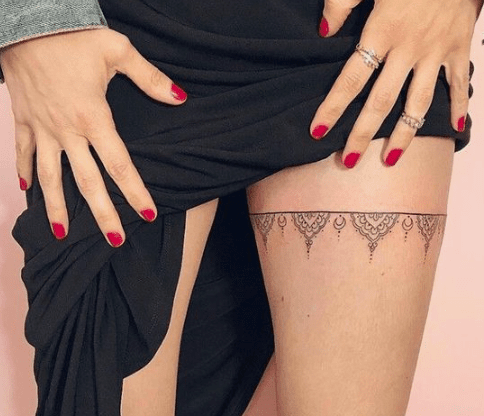 Horizontal bands are a lovely option for thigh tattoo composition. Placing them on the upper part of the thigh turn simple line work like this into an intimate design.
33. Blue Floral Thigh Tattoo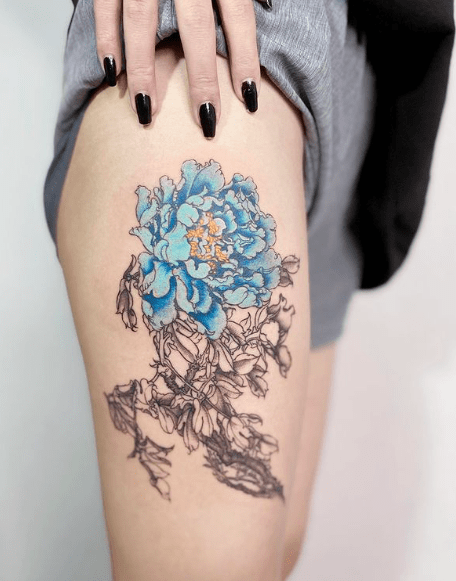 The pop of blue and yellow in this tattoo contrast with the lower half that is just black line work.
34. Winged Phoenix Thigh Tattoo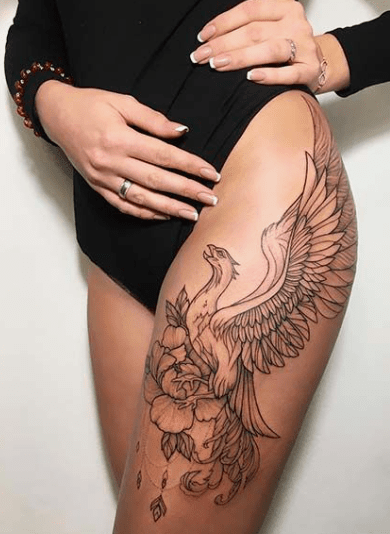 This tattoo artist used the shape of the design's subject to their advantage. The whole thigh is used efficiently by allowing the wing to run up the side of the leg.
35. Illustrated Thigh Tattoo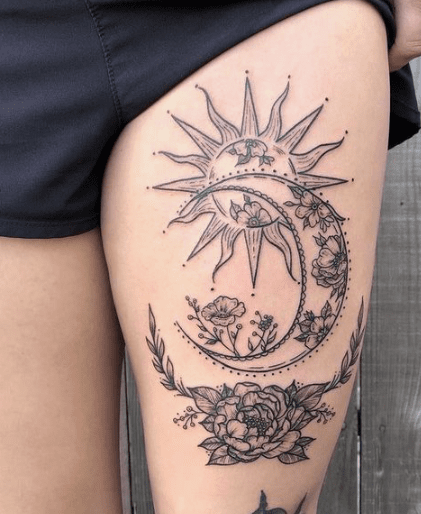 The shading of this tattoo feel like tarot card illustrations, which fit perfectly with its sun and moon imagery.
36. Floral Skull Thigh Tattoo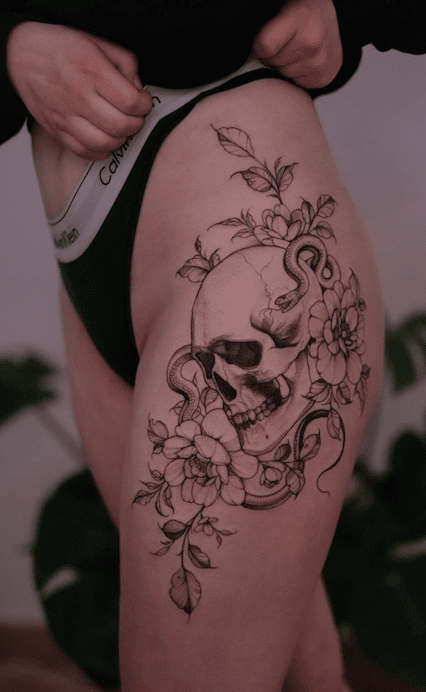 Despite the heavy outline of each element in this tattoo, the preservation of so much negative space make it feel delicate.
37. Jellyfish Thigh Tattoo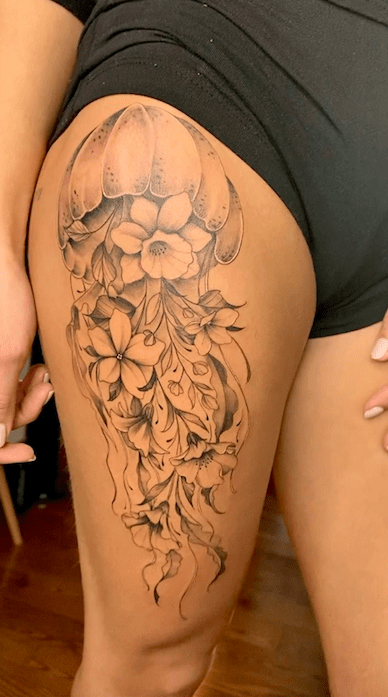 Like snakes and octopus tentacles, jellyfish tendrils flow well on the thigh. Mixing them with flowers and leaves breaks up a common design.
38. Dragon Thigh Tattoo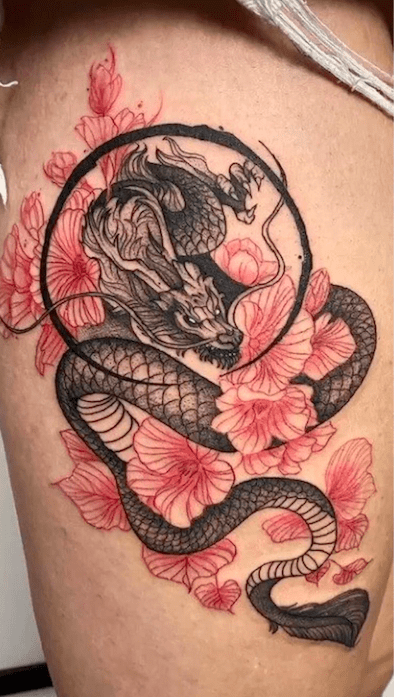 Red and black contrast to create a sense of dark and light in this tattoo. The circular ring is an unexpected but welcome added element.
39. Mythical Thigh Tattoo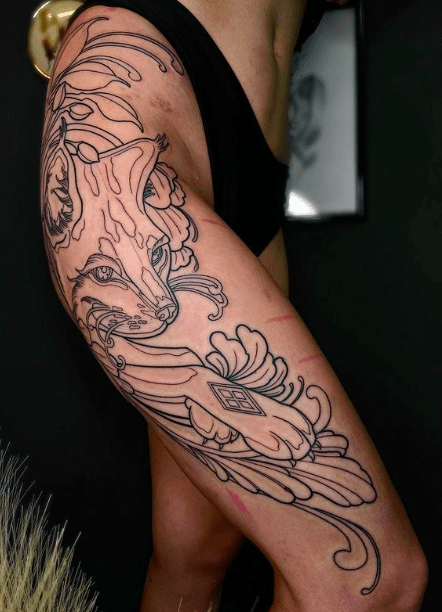 The lack of color and shading make this tattoo a definite standout.
40. Rising Phoenix Thigh Tattoo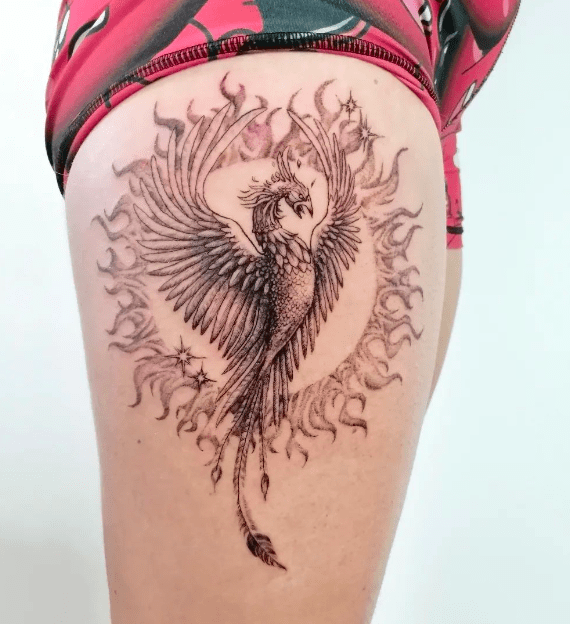 The combination of circular and elongated shapes creates a design that fits the thigh's unique composition perfectly.
41. Thigh Bird Tattoo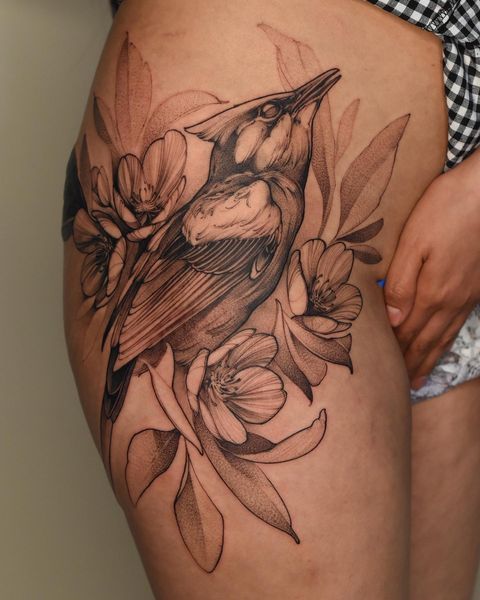 Absolute stunning detail in this bird and flower combination. The shading and detail on the wings and leaves are out of this world.
42. Thigh Flower Tattoo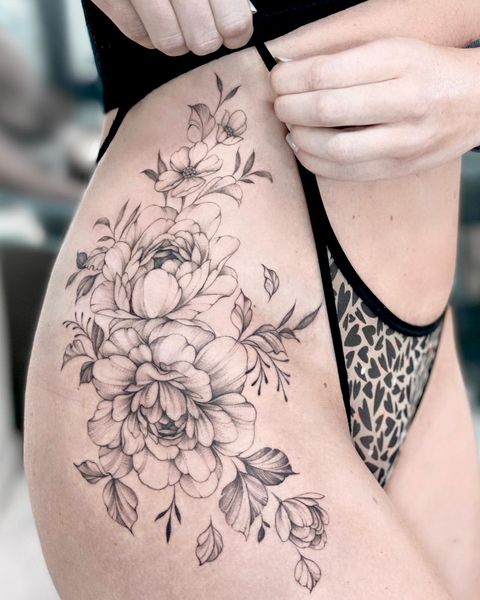 Here's a thigh tattoo design that's absolutely perfect for this part of the body, flowing from large to small, following the lines of her leg.