Princess Peach is one of the most recognizable characters in gaming, all starting from her introduction to the Mario franchise back in the 80s.
In fact, she's so popular that she has appeared in more video games than any other female in video game history!
While Mario usually takes the spotlight for tattoo designs, I wanted to show her some love, so I did a deep dive and found the best Princess Peach tattoo designs on the internet. Enjoy!
1. Crying Peach Tattoo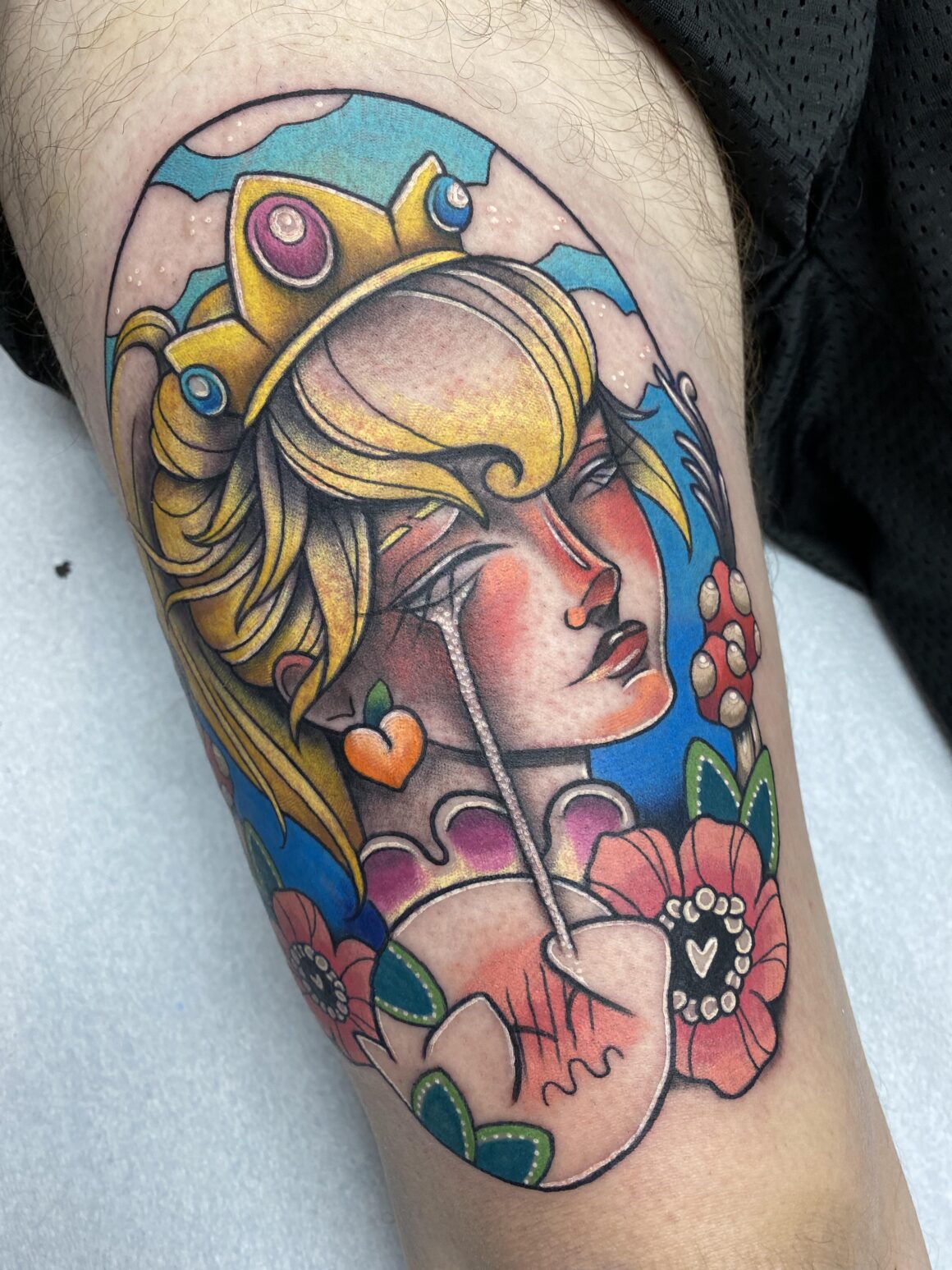 I had to start out strong with this list, and this one is easily my favorite pick. There is a ton of elements to focus on, but I particularly like the style the artist took with her portrait.
2. Anime Princess Peach Tattoo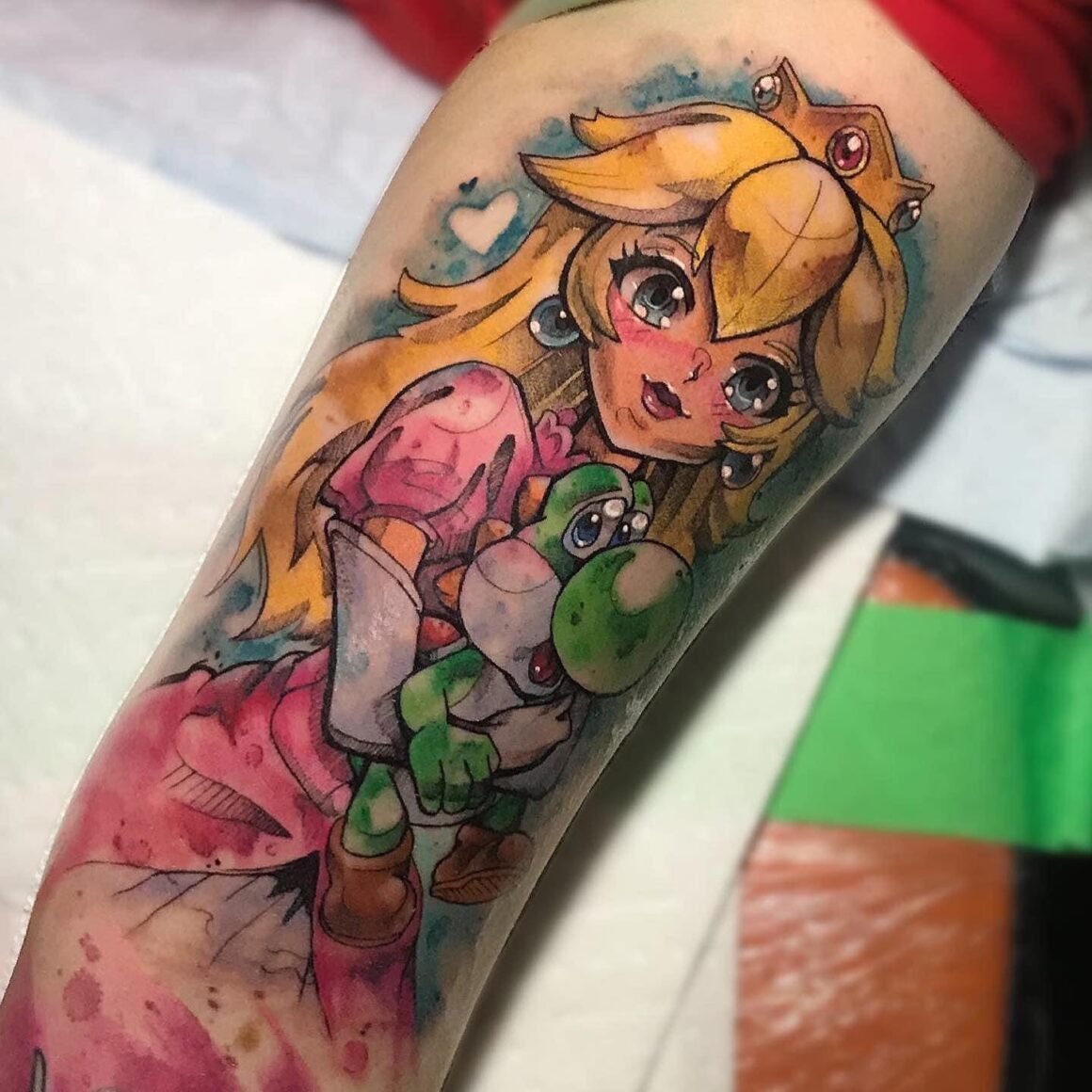 Here's a great little version of Princess Peach, styled after some classic Japanese anime.
As an added bonus, the artist also went for this ink/watercolor look, which really makes it stand out from most other tattoos.
3. Princess Peach Umbrella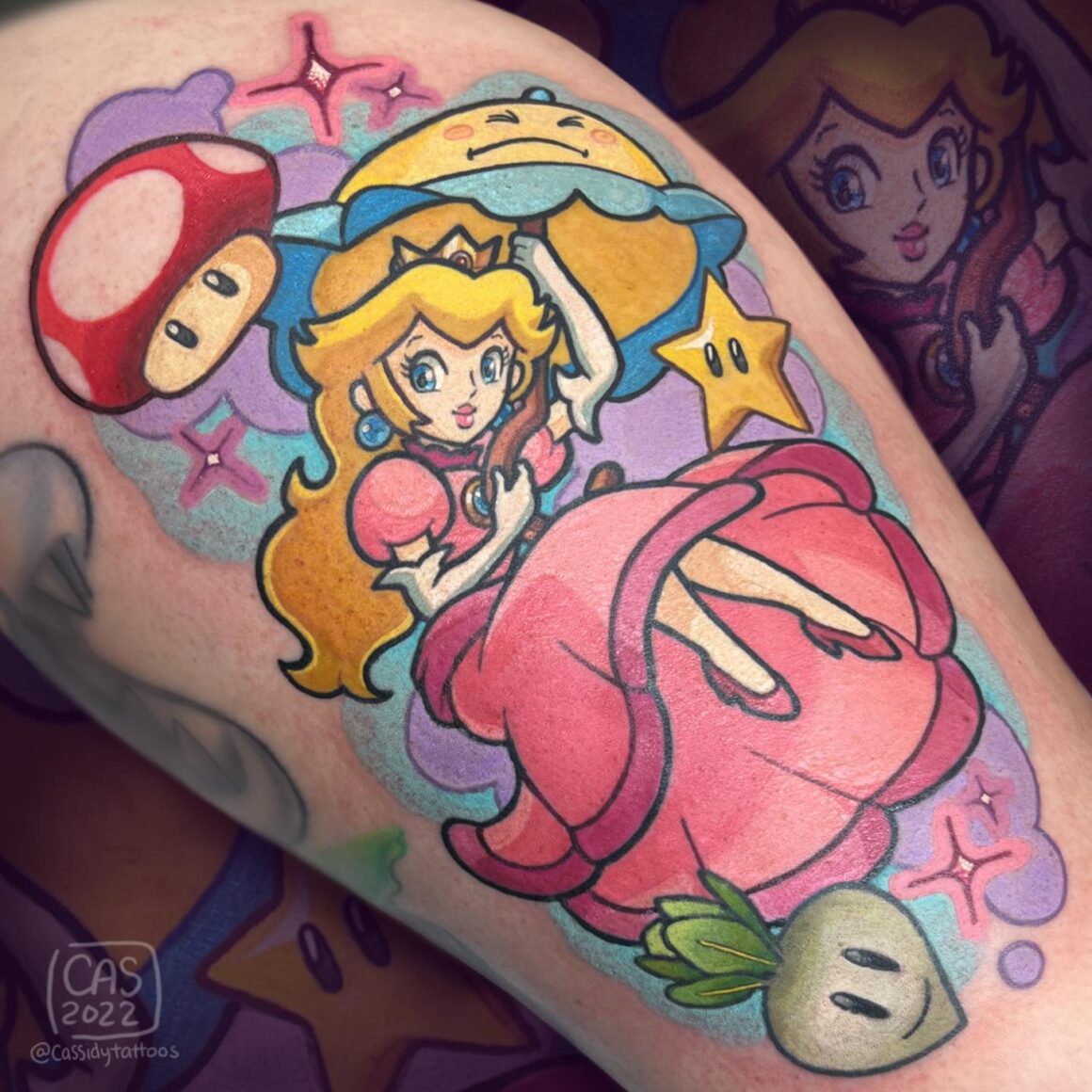 Beautiful pastel colors make up this fun scene of our princess floating down through the sky.
The classic Mario mushroom, star root vegetable make for a nice framing effect as well.
4. Hyper stylized Peach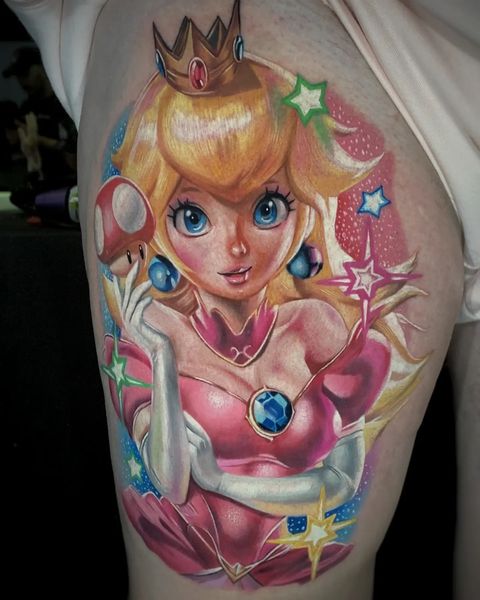 Insane detail on this one! She's incredibly lifelike but still has a great illustrative feel. The multicolor background is a great addition as well.
5. Princess Peach Forearm Tattoo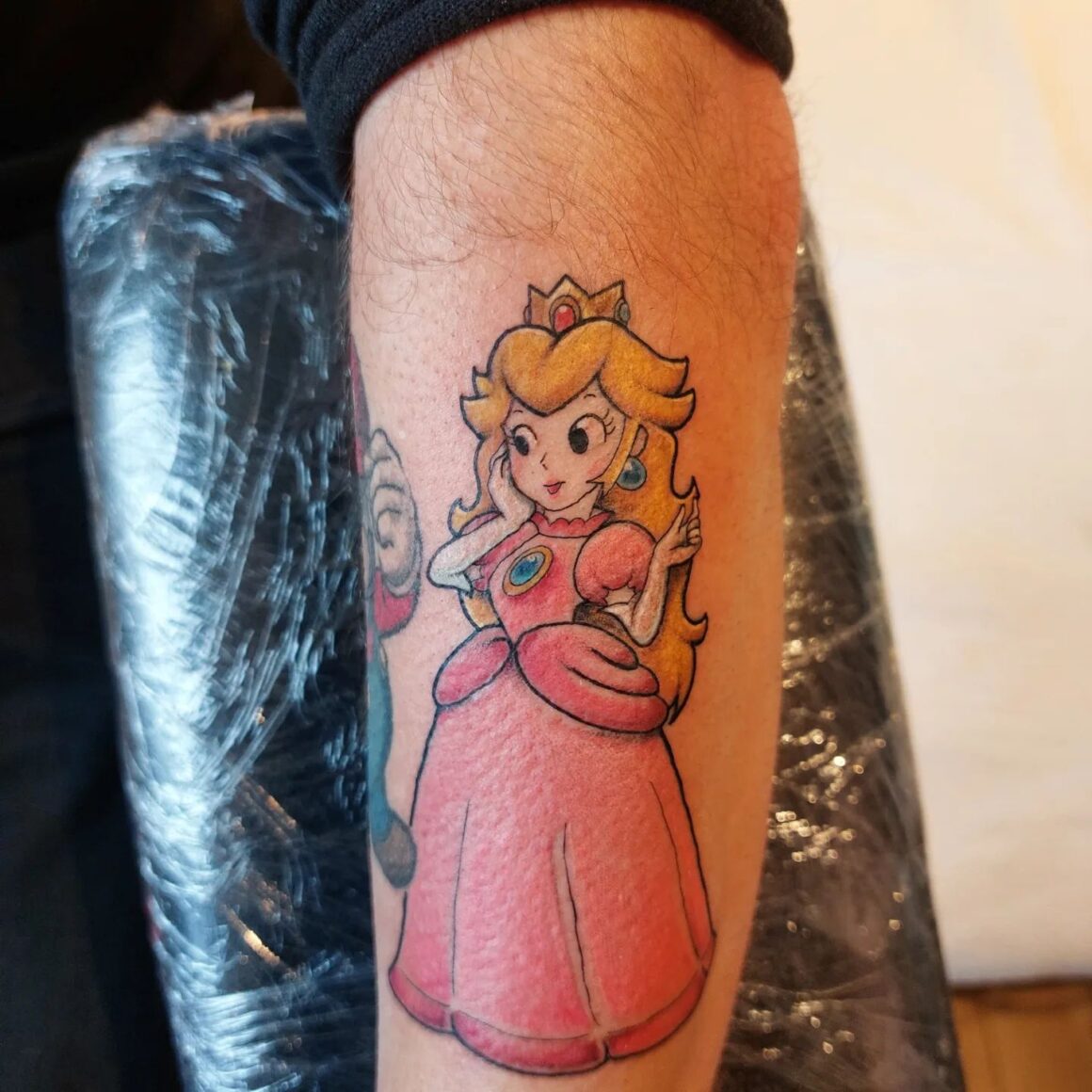 It looks like this person already has a Mario tattoo on their forearm, so it's only a natural progression to get a matching Princess Peach tattoo right beside him!
6. Pink Floating Peach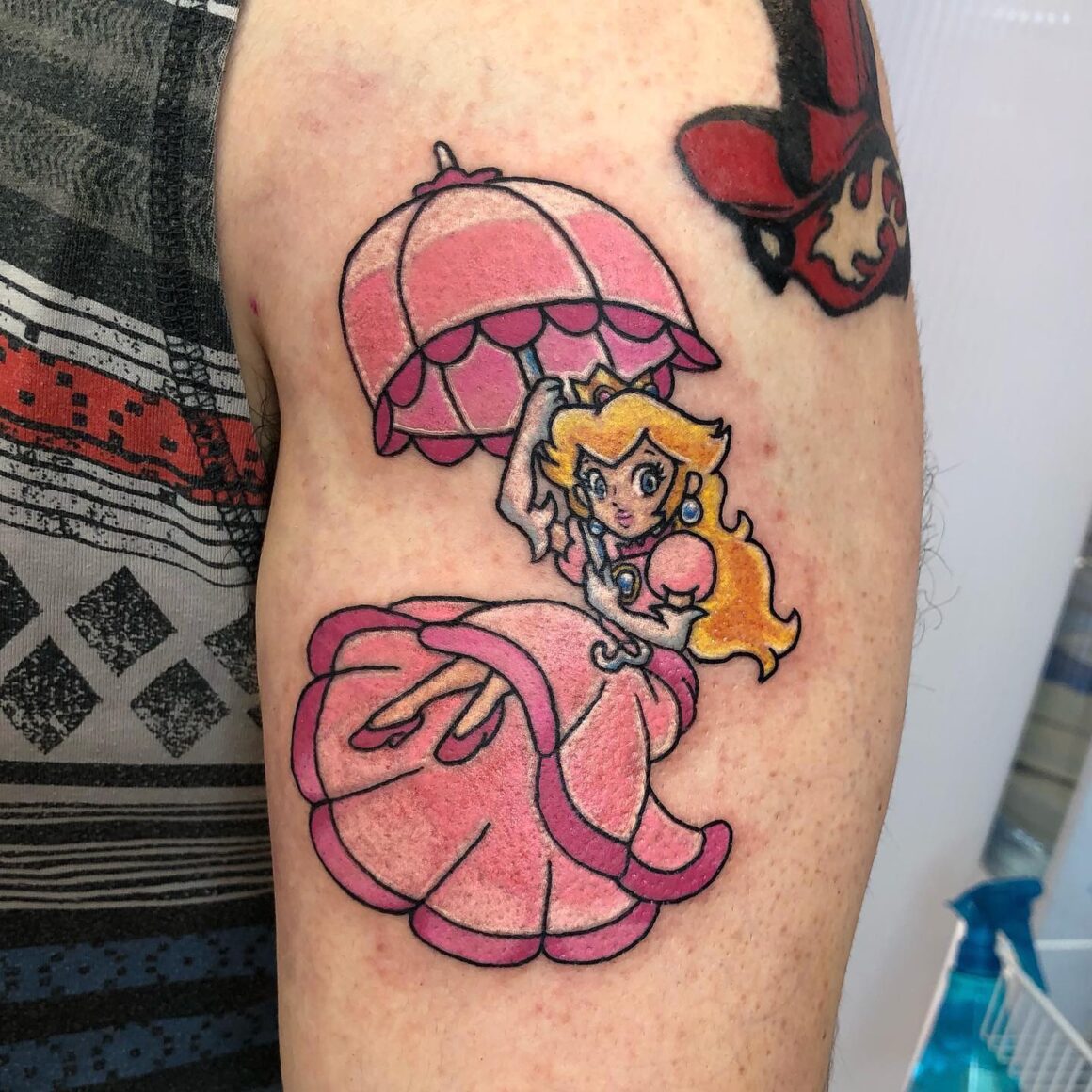 We've got another floating Peach with an umbrella here, but this one is much more simple, putting all of the focus on her character.
7. Princess Peach Portrait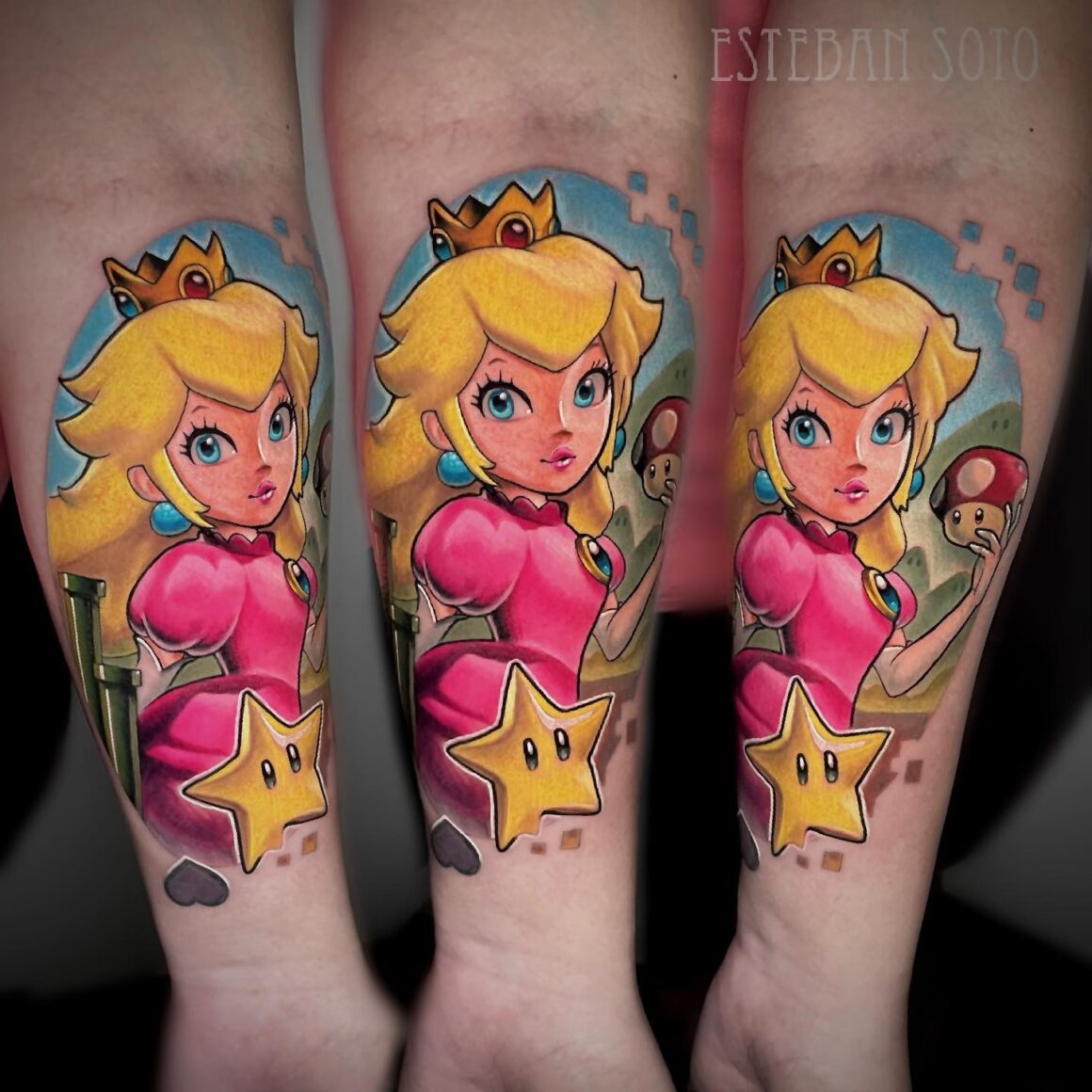 Look at the colors absolutely pop on this thing!
Not only is this a great anime-themed princess, the shading and highlights the tattoo artist used on that star is really standing out to me.
8. Princess Peach Patchwork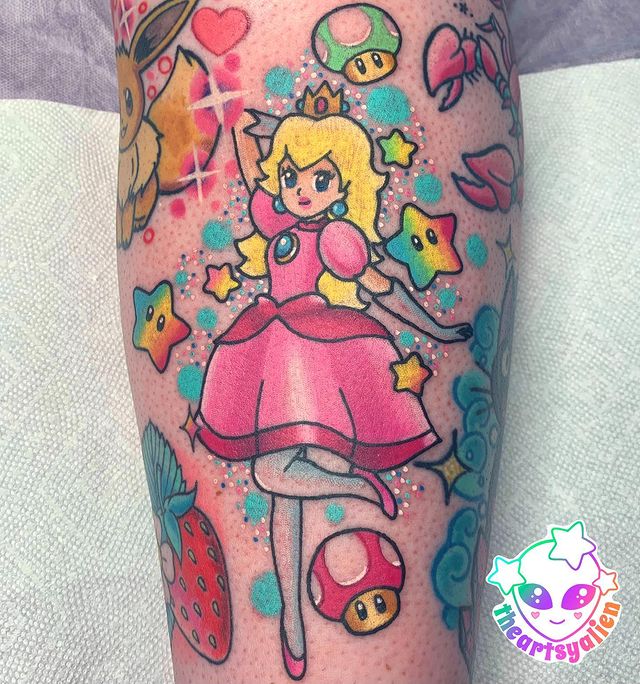 This design is so colorful, it looks like she's surrounded by candy!
This patchwork tattoo is a great style for video game art, and it looks like this person has a ton more!
9. Princess Peach Pinup Tattoo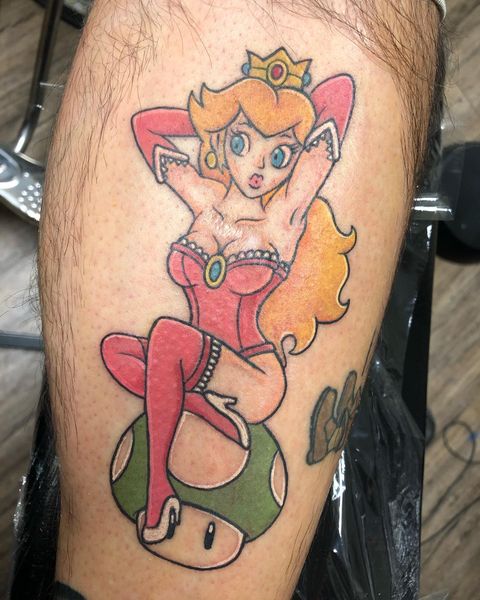 Here's a fun little design of Princess Peach sitting on a green mushroom.
It's done in a classic pinup style, made popular by soldiers wanting to remember their girls back at home while deployed in World War 2.
10. Bowser and Peach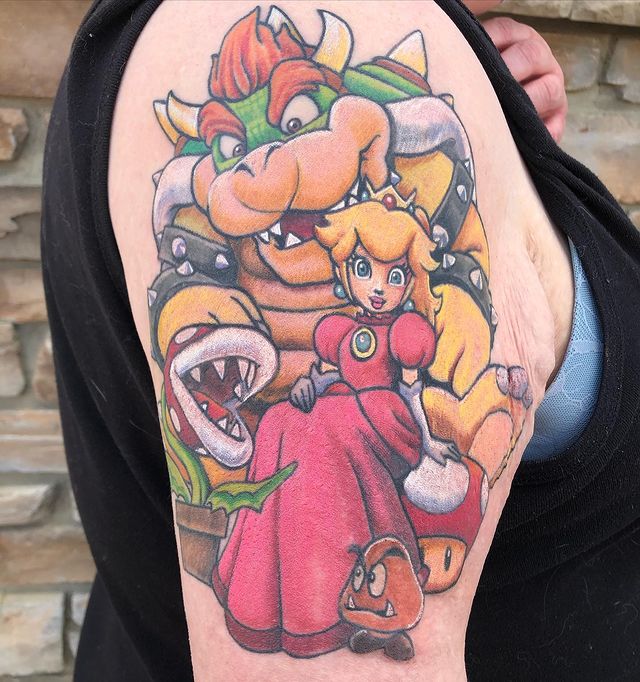 Bowser always seems to be kidnapping Peach, but in this case, she's looking pretty comfortable, not minding at all! I love all the little details from Mario world, and the colors compliment each other perfectly.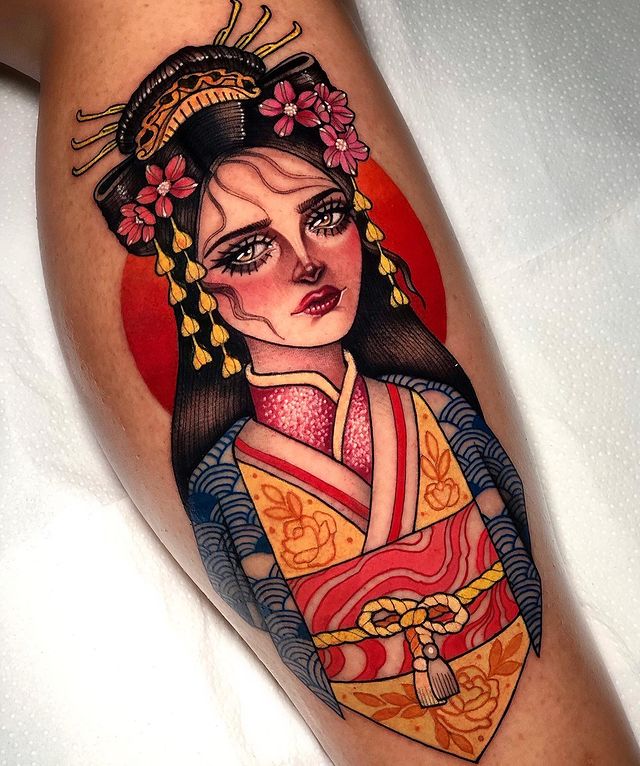 11. Princess Peach Stained Glass Tattoo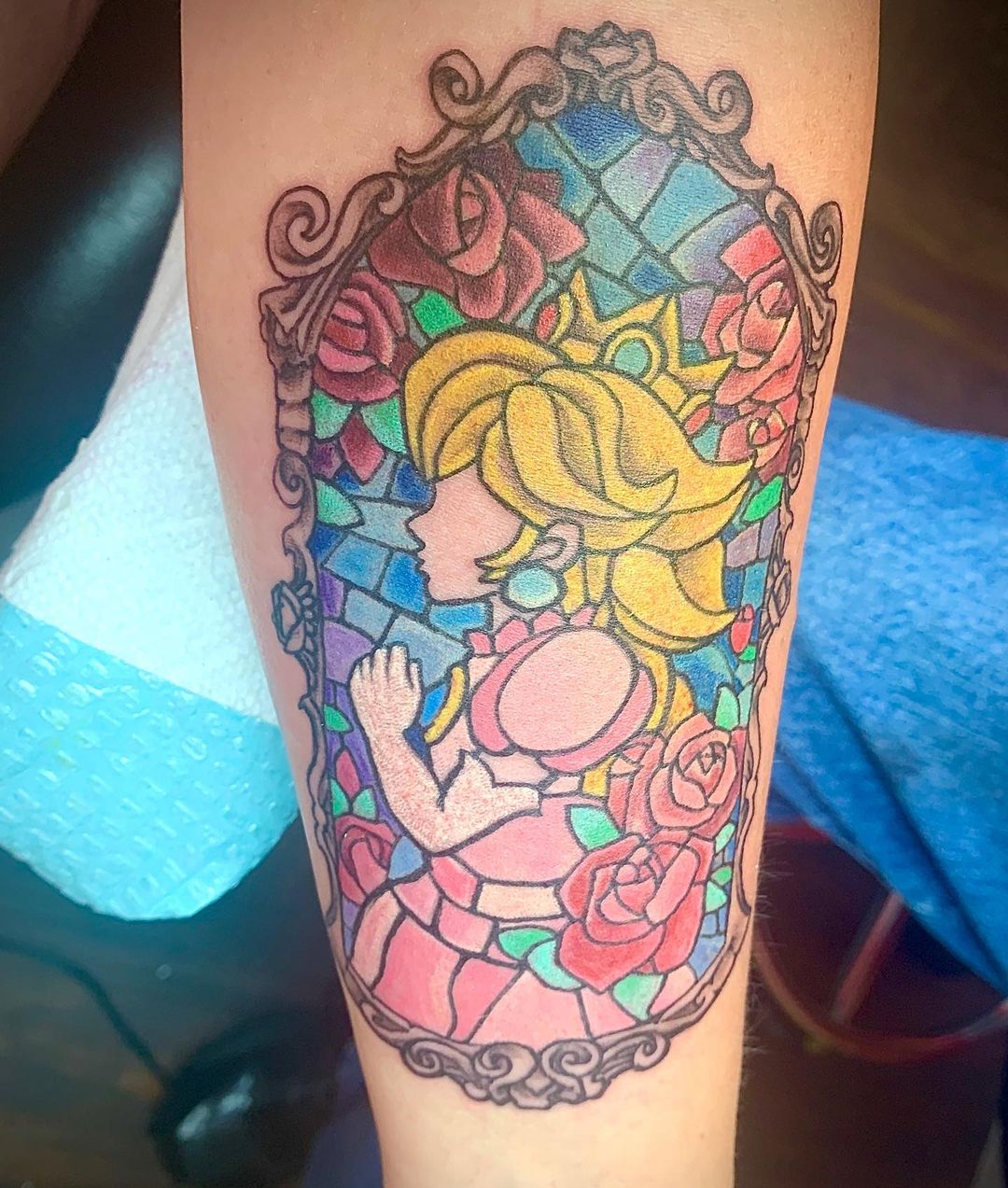 Stained glass-themed tattoos are so fun, but I rarely see video game tattoos in the style!
This is a great example of one though, with princess peach surrounded by roses, a frame, and all the beautiful colors.
12. Full Body Princess Peach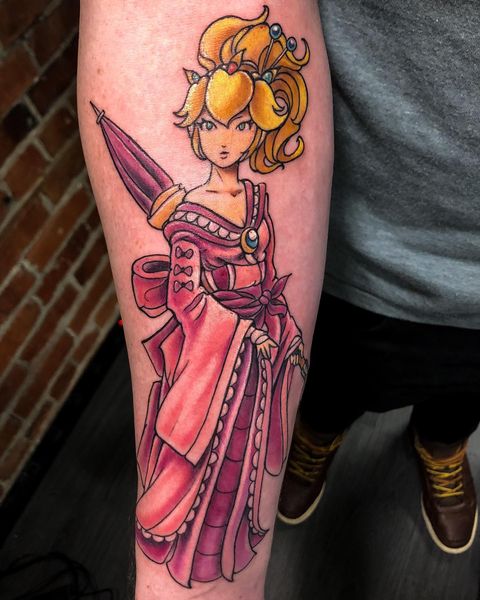 Here's a completely different take on Peach, using more of an interpretation from the artist. Instead of a traditional cartoon style, she's got much more detail in her flowing dress that we typically don't see.
13. Princess Peach Sticker Tattoo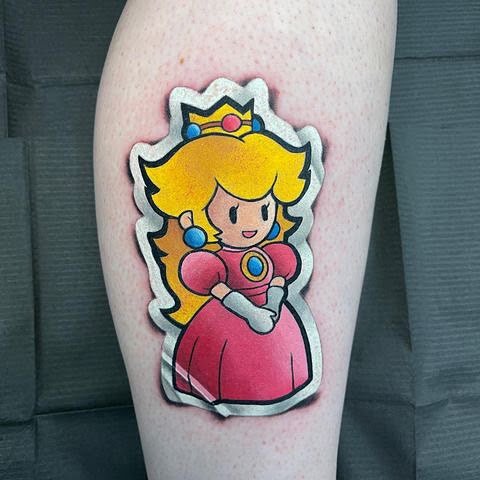 These foil sticker tattoos are getting increasingly popular, and the style is perfect for this minimal art style.
I like how the artist added white highlights in the bottom left to make it look like the sticker has a little bit of a bend.
14. Classic Princess Peach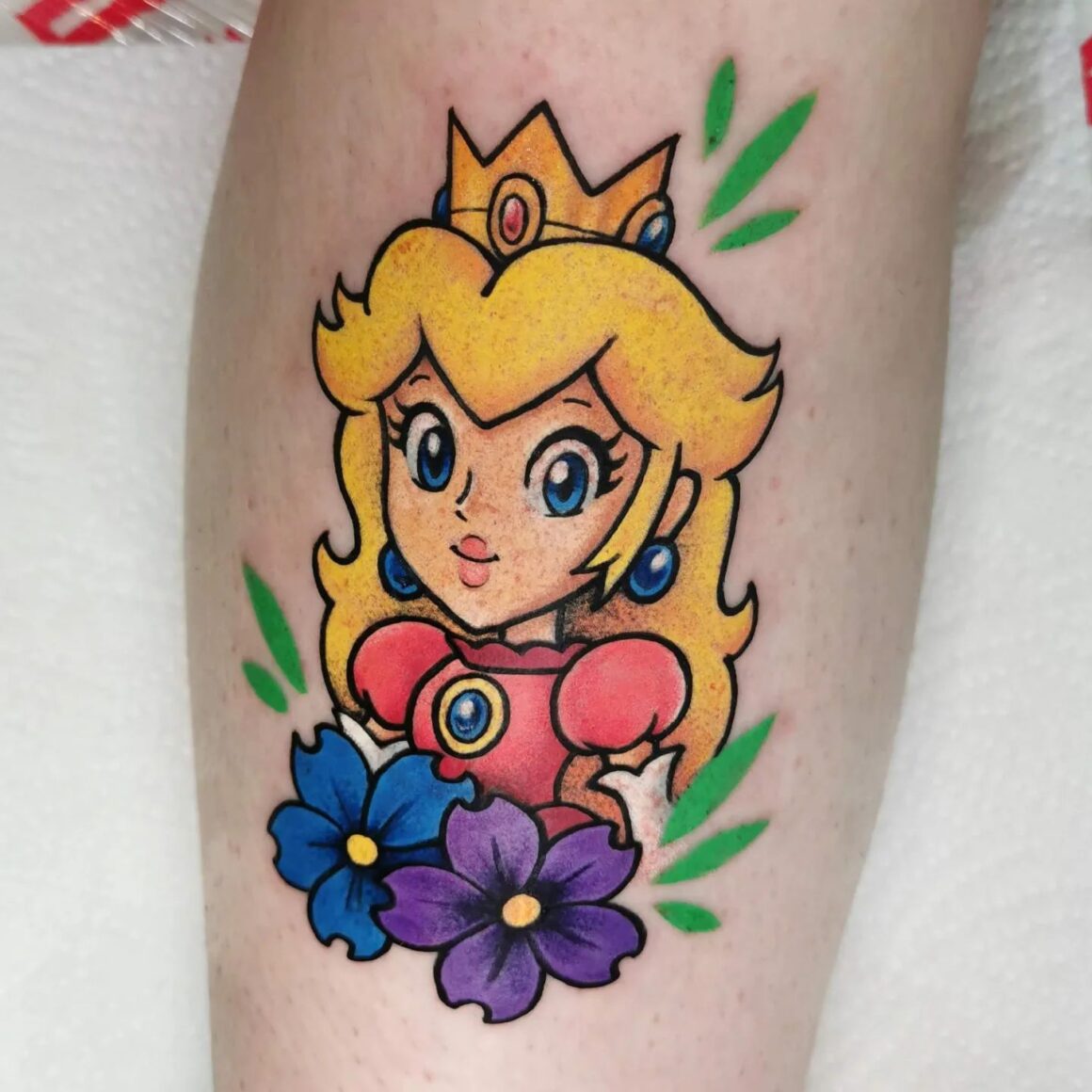 Here's a simple little Princess Peach Tattoo with two bright flowers. Her eyes look great in this, and the green leaves surrounding her add a nice bit of contrast.
15. Peach and Stars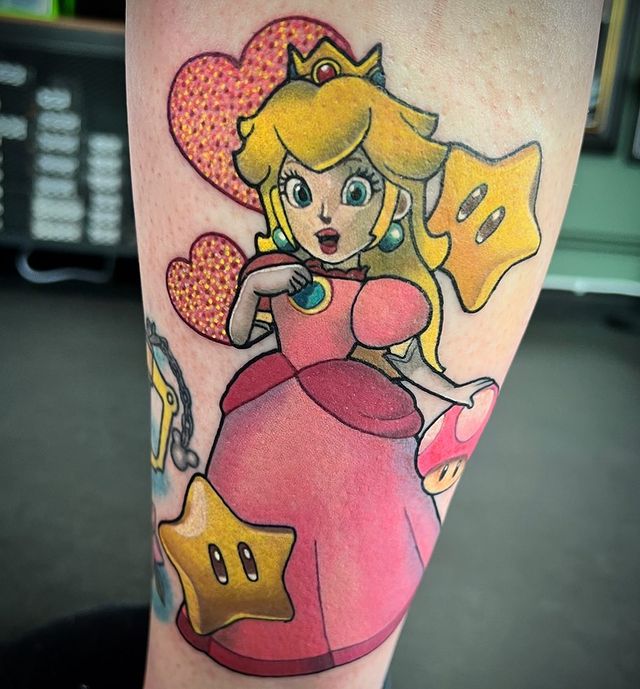 When I think of a Princess Peach tattoo, this sort of design is the first thing to come to mind.
She's rocking a classic pose, and the artist has added a few extra elements to make her feel right at home.
16. Cartoon Princess Peach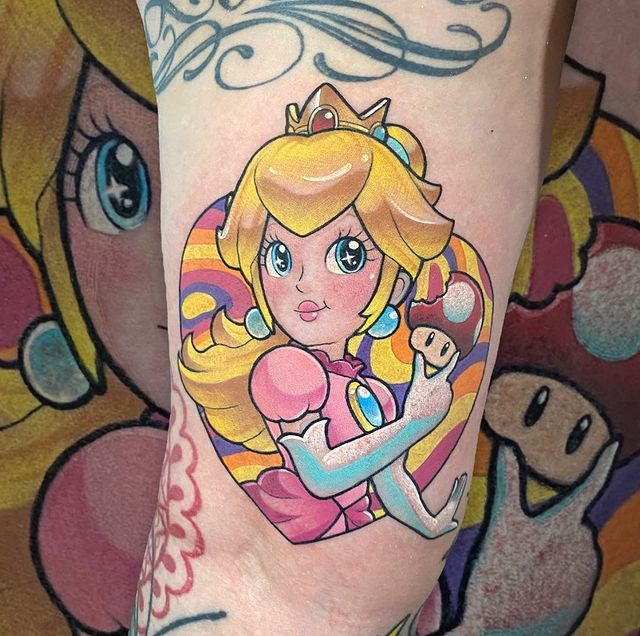 This is a fun, almost childlike version of princess peach using a very cartoony style.
She's inside a heart-shaped frame, with some really trippy color designs happening in the background.
17. Simple Princess Peach Head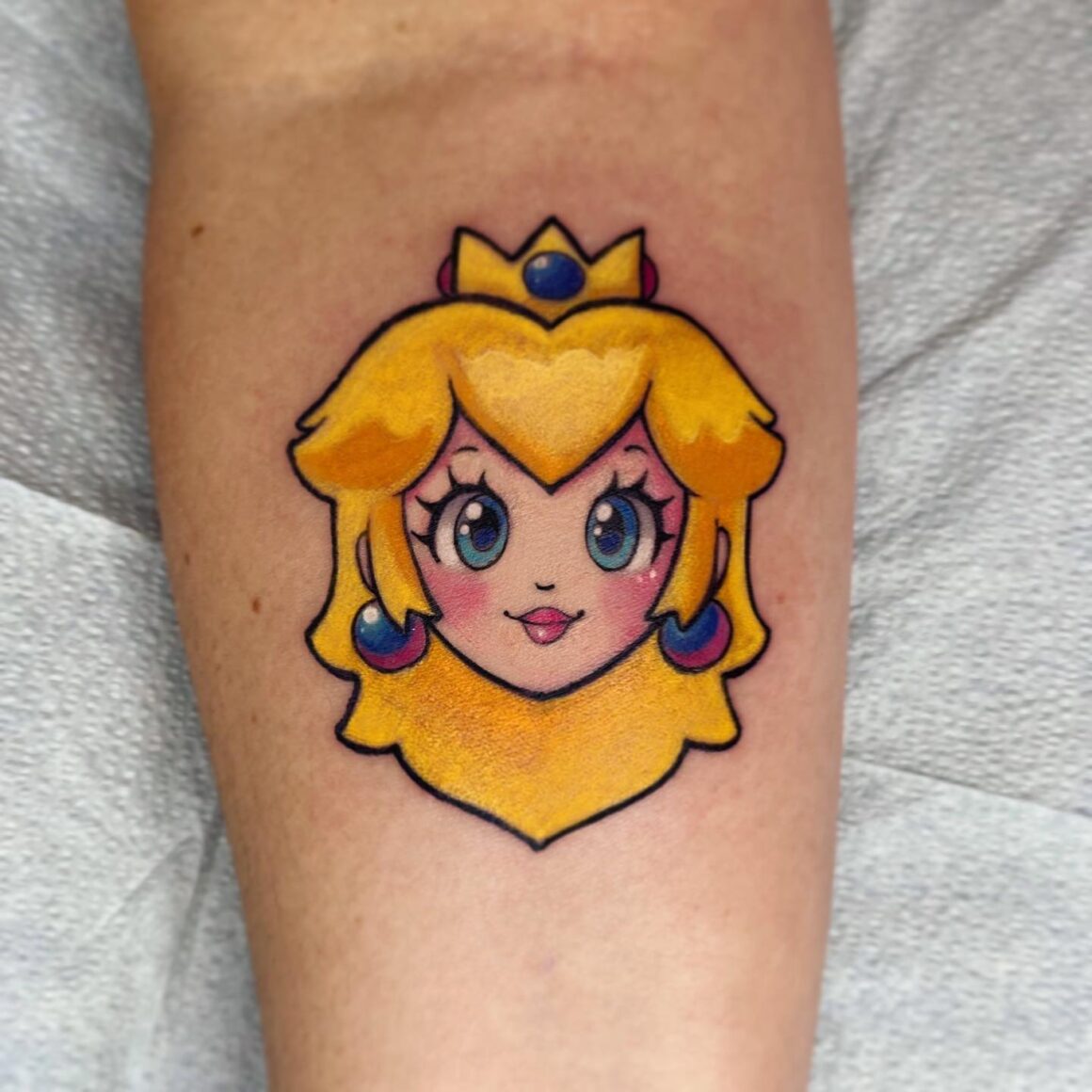 Sometimes you don't need a full tattoo of her body to make a statement. I like this little arm Princess Peach tattoo because it's simple and is just begging for more characters to get added around her.
18. 16-Bit Princess Peach Tattoo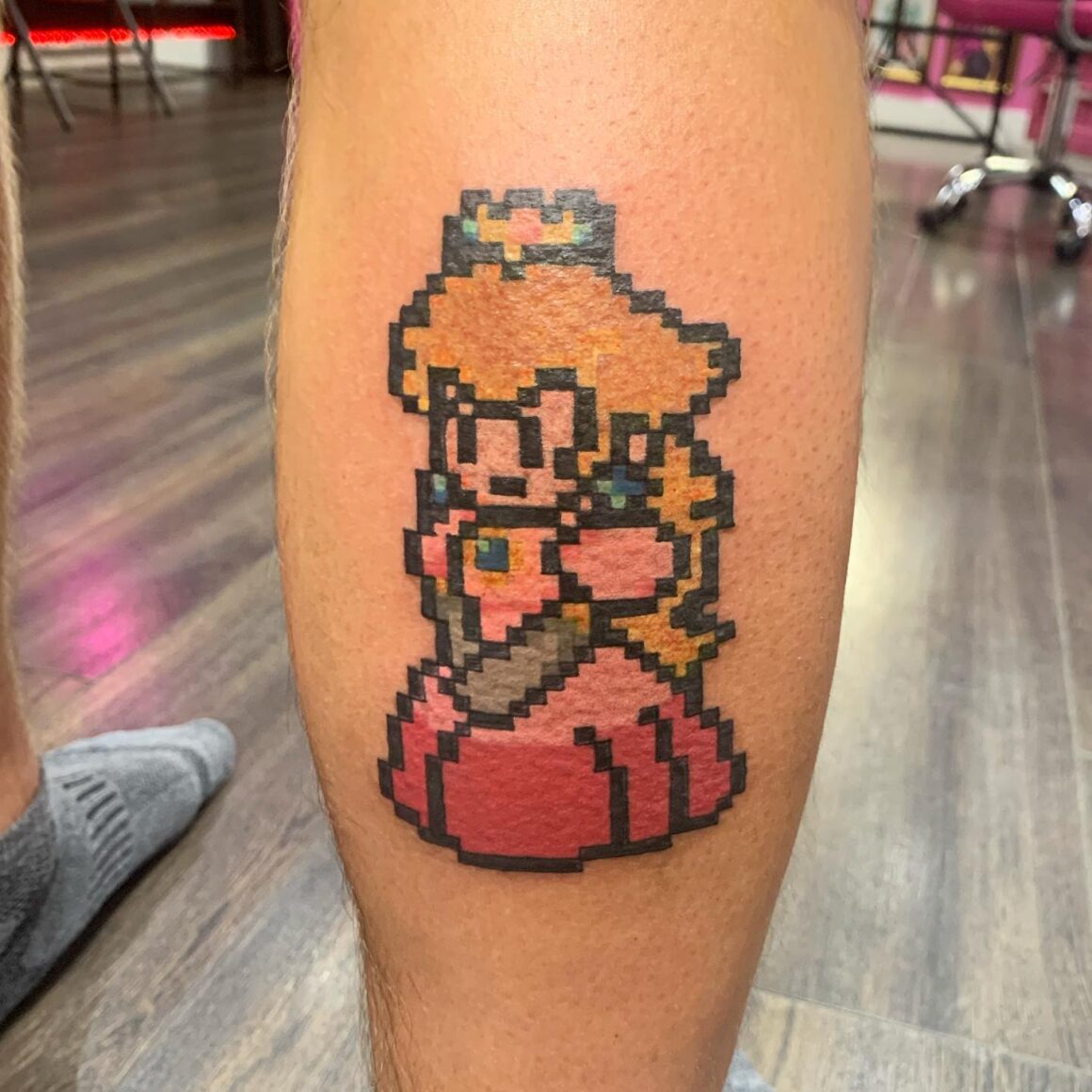 I had to include a 16-bit version of our favorite princess on this list since most of my Mario World exposure came from the classic Super Nintendo.
19. Anime Circle Princess Peach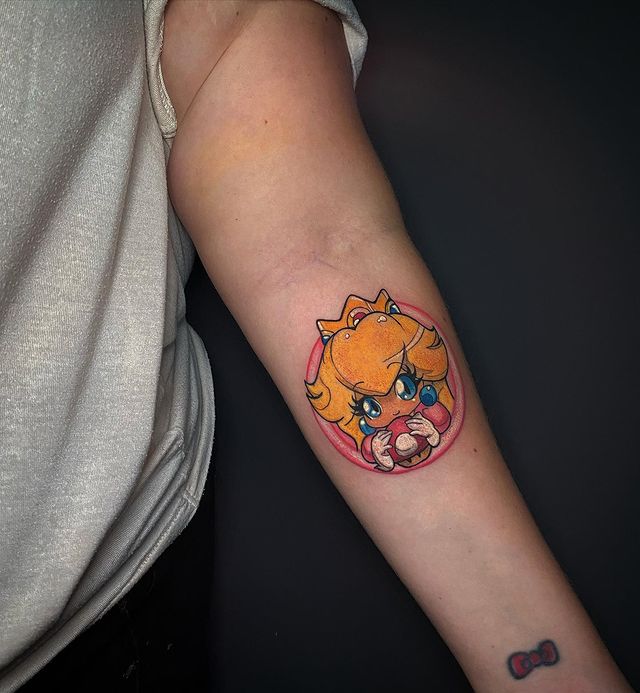 Just look at those eyes! These anime styles are perfect for Mario because you easily emphasize some of the character's strongest features.
She's even rocking some 80's hair in this!
20. Surprised Peach Tatoo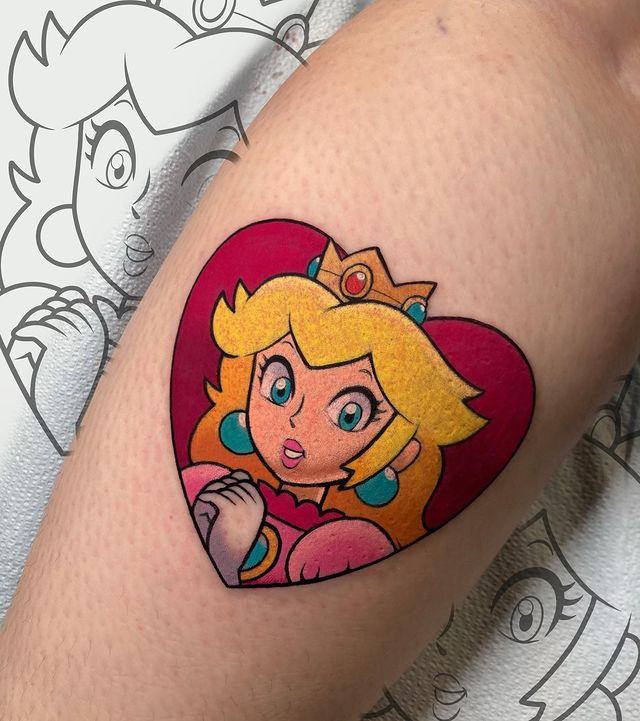 Here's another perfectly framed Princess in a heart shape, but this time she kind of looks surprised!
The rich reds in the background really make her hair pop off the skin.
21. Princess Peach and Kirby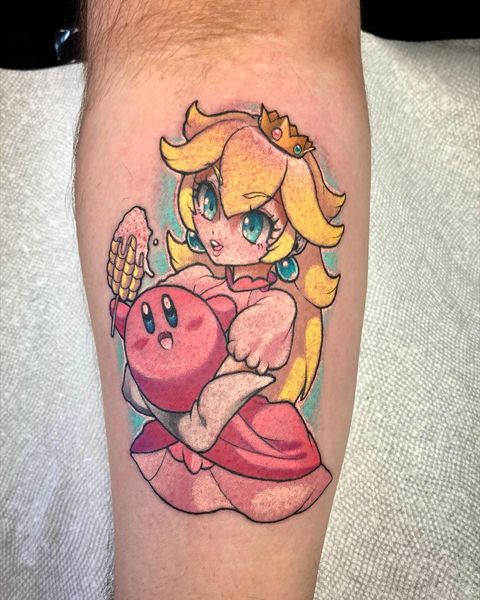 I'm a huge fanboy of Kirby, so I was super happy to see a tattoo design that featured both him and Peach!
He's in his usual power pose, holding some…desert, and it looks like she's just along for the ride.