Tokyo Ghoul tattoos are all the rage for fans of the popular manga and anime series. If you're not familiar with Tokyo Ghoul, don't worry! We're here to give you the lowdown on this dark and fascinating world, as well as why it has inspired some wicked tattoo designs. Ready to dive in? Let's go!
What is Tokyo Ghoul?
Tokyo Ghoul is a Japanese dark fantasy manga series written and illustrated by Sui Ishida. It was later adapted into an anime series, and it has captivated fans worldwide. The story revolves around a world where ghouls—flesh-eating creatures that look like humans—live among the human population in secrecy. The protagonist, Ken Kaneki, becomes a half-ghoul after a chance encounter with one, and the series follows his struggle to maintain his humanity while navigating the dangerous ghoul society.
Why Tokyo Ghoul Tattoos?
So, what's the appeal of Tokyo Ghoul tattoos? For many fans, it's a way to express their love for the series and its complex characters. The manga and anime are known for their striking visuals, and many iconic images and symbols make for eye-catching and meaningful tattoos. From the haunting masks worn by the ghouls to the vivid kagune (ghoul's predatory organ), there's no shortage of inspiration for tattoos that pack a punch.
Popular Tokyo Ghoul Tattoo Designs
If you're considering a Tokyo Ghoul tattoo, here are some popular designs to get your creative juices flowing:
Ken Kaneki's Mask: This iconic mask, with its sinister grin and bold red eye, is a favorite choice for fans of the series. It represents Kaneki's transformation and struggle with his ghoul identity.
Kagune: These vibrant and organic-looking predatory organs come in various shapes and colors, making them a unique and striking tattoo choice.
Character Portraits: From the enigmatic Rize Kamishiro to the relentless investigator Kishou Arima, Tokyo Ghoul boasts a plethora of memorable characters that fans love to immortalize in ink.
Quinque: These ghoul-made weapons wielded by the human investigators are another popular choice for tattoos, especially for those who want to showcase their favorite character's signature weapon.
Quotes and Symbols: Meaningful quotes or symbols from the series, such as the One-Eyed Owl symbol or the Aogiri Tree emblem, can make for subtle yet powerful tattoos.
Tokyo Ghoul Tattoo Gallery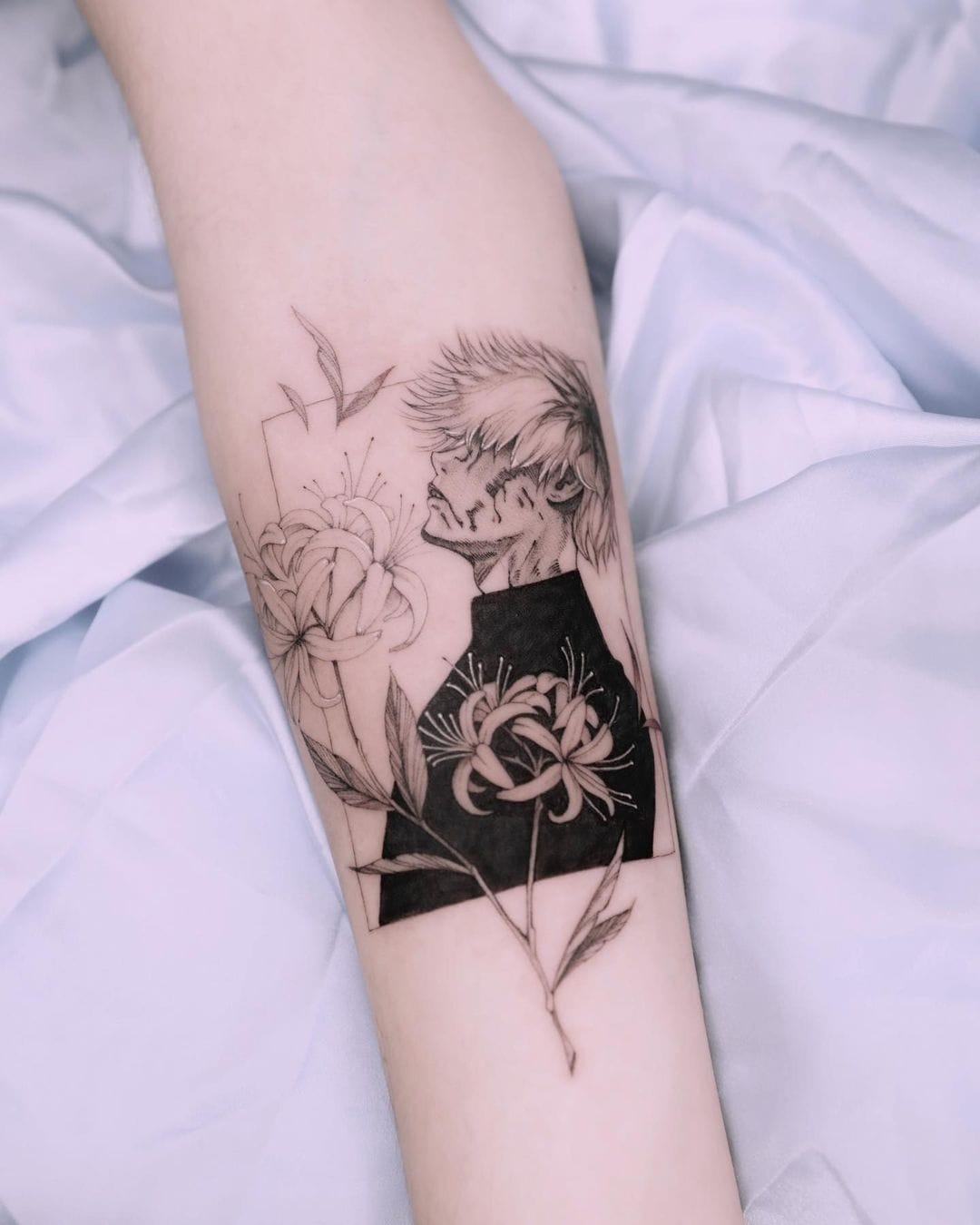 Related Tattoos and Articles
If you're a fan of Tokyo Ghoul, you might also be interested in exploring other tattoo inspirations and resources. Here are some related articles that cover a range of tattoo ideas and artists who specialize in anime-inspired designs:
Whether you're looking for more anime and manga-inspired tattoos or simply seeking to expand your knowledge of the tattoo world, these articles offer a wealth of information and inspiration.
In Summary
Tokyo Ghoul tattoos allow fans to showcase their love for this dark and captivating series through unique and meaningful designs. From iconic masks to vivid kagune, there's no shortage of inspiration for tattoos that will make you stand out from the crowd. So, if you're a fan of Tokyo Ghoul and looking for a way to express your passion, why not consider getting a tattoo inspired by the series? Just remember that a tattoo is a personal choice and should have meaning for the person who gets it. Happy inking!