As someone who adores these nocturnal creatures and is about to get my 6th tattoo, I wanted to explore the world of bat tattoos and see what other people are getting. Bats have always held a special place in my heart, with their mysterious and intriguing nature, and I've been considering a bat tattoo for a while now. In this article, we'll delve into the history and symbolism behind bat tattoos, and showcase some of the coolest designs out there.
Whether you're looking for a realistic bat tattoo, a colorful watercolor design, or a bold neo-traditional piece, there's sure to be a bat tattoo that speaks to your wild side. So, let's unleash the power of the night and explore the world of bat tattoos together!
History of Bat Tattoos
Bats have long been shrouded in mystery and myth, serving as a source of fascination and intrigue for centuries. In ancient Egypt, bats were revered as sacred animals, while in China they were a symbol of happiness and good fortune. In tattoo culture, bat tattoos are often associated with gothic and spooky themes, but they can also be interpreted in a more positive light, as symbols of transformation and rebirth.
The Symbolism of Bat Tattoos
Bat tattoos can hold a variety of meanings, depending on the individual's interpretation. Some of the most common meanings include:
Power and Strength: Bats are powerful creatures that have the ability to fly and navigate in the dark. This makes them a popular choice for those who seek to tap into the power of the night.
Transformation and Rebirth: Bats undergo a remarkable transformation from helpless babies to strong, independent adults. This makes them a symbol of transformation and rebirth, and a popular choice for those who are going through a major change in their lives.
Mystery and Intrigue: Bats are often associated with mystery and intrigue, as they are creatures of the night and shrouded in darkness. This makes them a popular choice for those who are drawn to the darker side of life.
Gallery: Our Favorite Bat Tattoos
Here are some of our favorite bat tattoos, in various styles:
Realistic: A realistic bat tattoo captures the intricate details and textures of the bat, making it look as if the design is a photograph.
Neo-Traditional: A neo-traditional bat tattoo features bold outlines and vivid colors, often incorporating other traditional elements such as roses or daggers.
Blackwork: A blackwork bat tattoo uses solid black ink to create a striking contrast against the skin, often incorporating intricate linework and dotwork.
Watercolor: Watercolor bat tattoos feature vibrant and fluid colors that blend together, creating a dreamy and ethereal effect.
No matter what style you choose, a bat tattoo is a powerful and unique choice for those who seek to tap into the power of the night and embrace their wild side.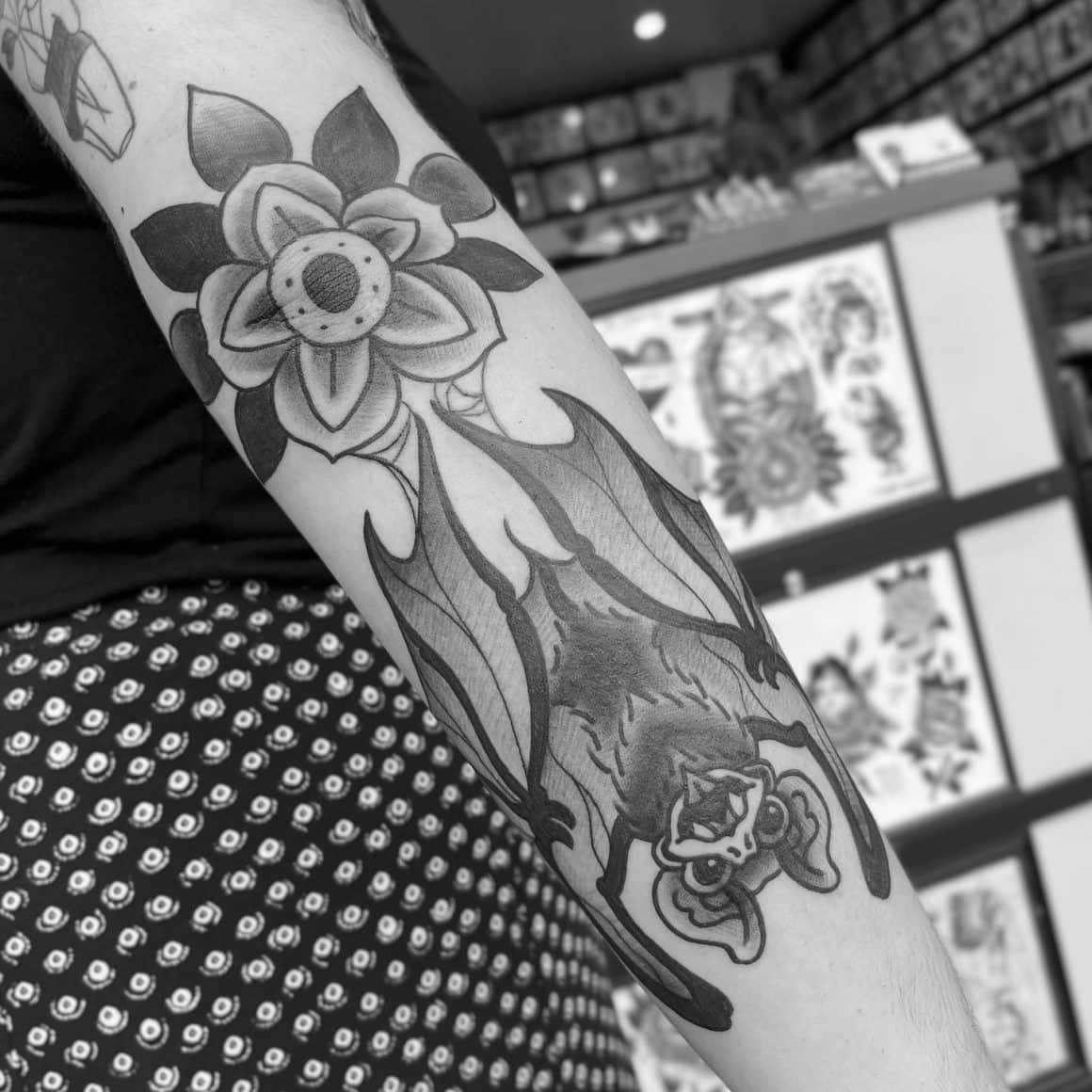 Summary
Bat tattoos are a powerful and symbolic choice for those who seek to unleash the power of the night. Whether you're drawn to the design for its symbolism of transformation, mystery, or power, a bat tattoo is sure to make a statement. As always, it's important to carefully consider the placement and design of your tattoo, and to choose a reputable artist who can bring your vision to life. And if you're interested in other animal-inspired tattoos, check out our articles on Snake Collarbone Tattoos and Lemur Tattoos for more inspiration!