Oh, Scorpios. Sweet, misunderstood creatures. Often taken to be a bit on the harsh side, they're actually quite emotional and intuitive. Maybe that's why there are so many Scorpio tattoos, in an attempt to express themselves.
Scorpios will celebrate their birthdays between October 23 and November 21. When planning a party, remember to let them have a say! They love to have some control over what's going on, so no surprise parties here.
The thing we love most about our Scorpios is their intensity. It may be a little overwhelming at times, but it comes with fierce determination and loyalty, which we'll take any day of the week.
Let's take a look at some gorgeous Scorpio tattoos that show the intensity and passion that we love.
Rainbow Scorpion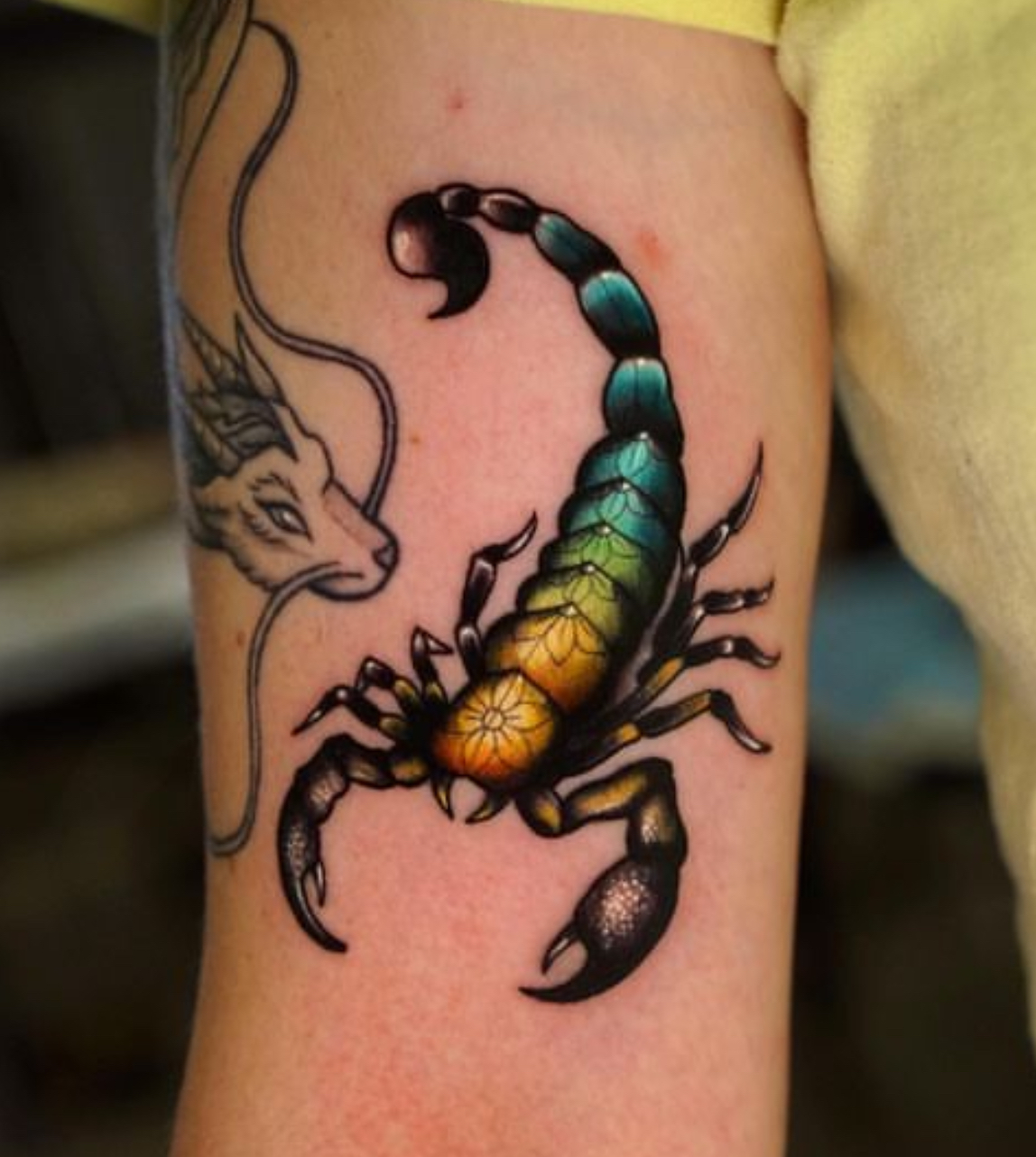 The gradient on this piece has an almost metallic iridescence to it. Talk about eye-catching.
Scorpion And Flowers Tattoo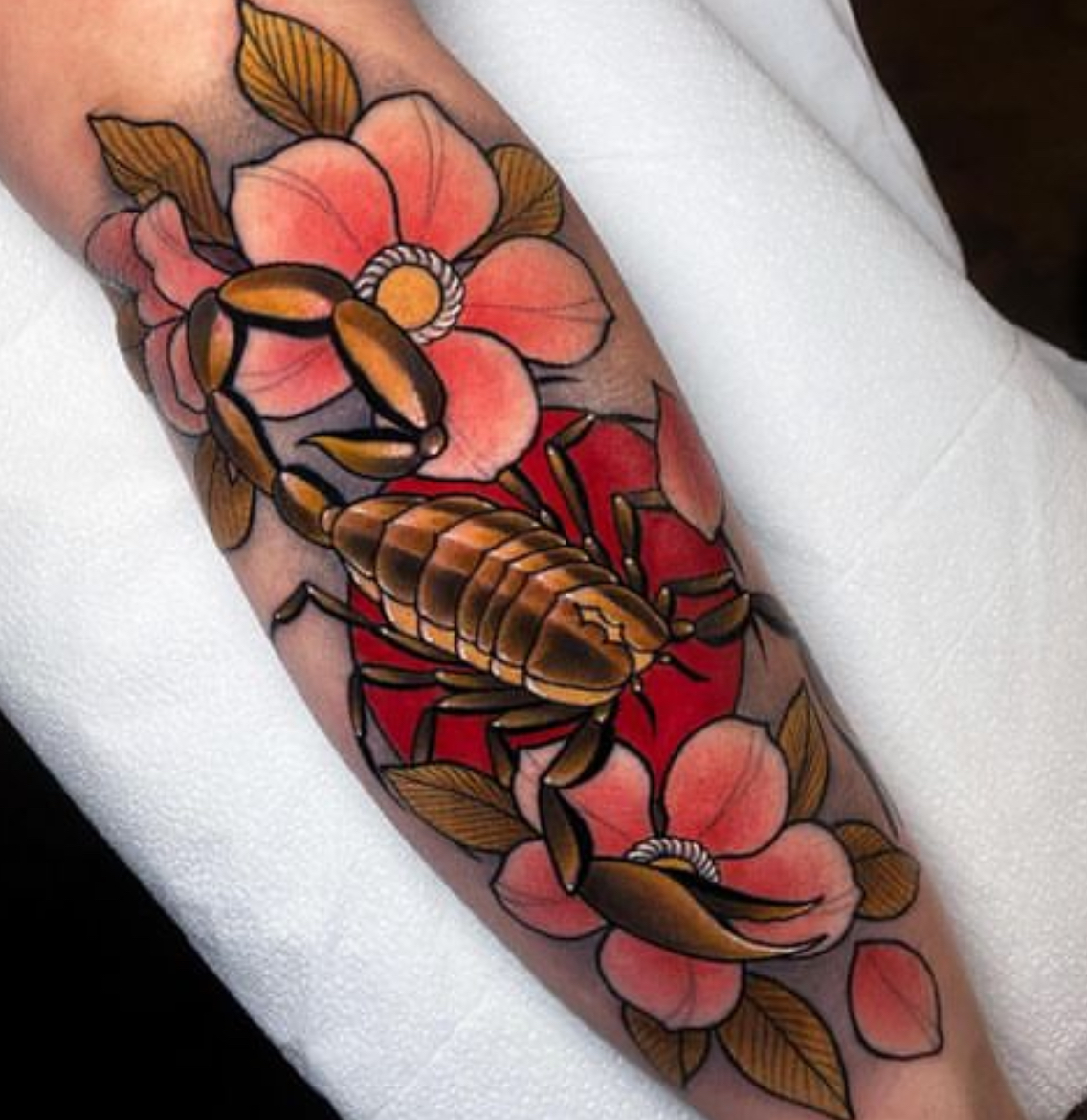 Mildly obsessed with the color palette of this tattoo.
Scorpions are often drawn in black. We've got a few color variations in this article, but the addition of soft yet vibrant pink flowers and complementary yellow-brown leaves is giving so much life to this piece.
Scorpion With Lantern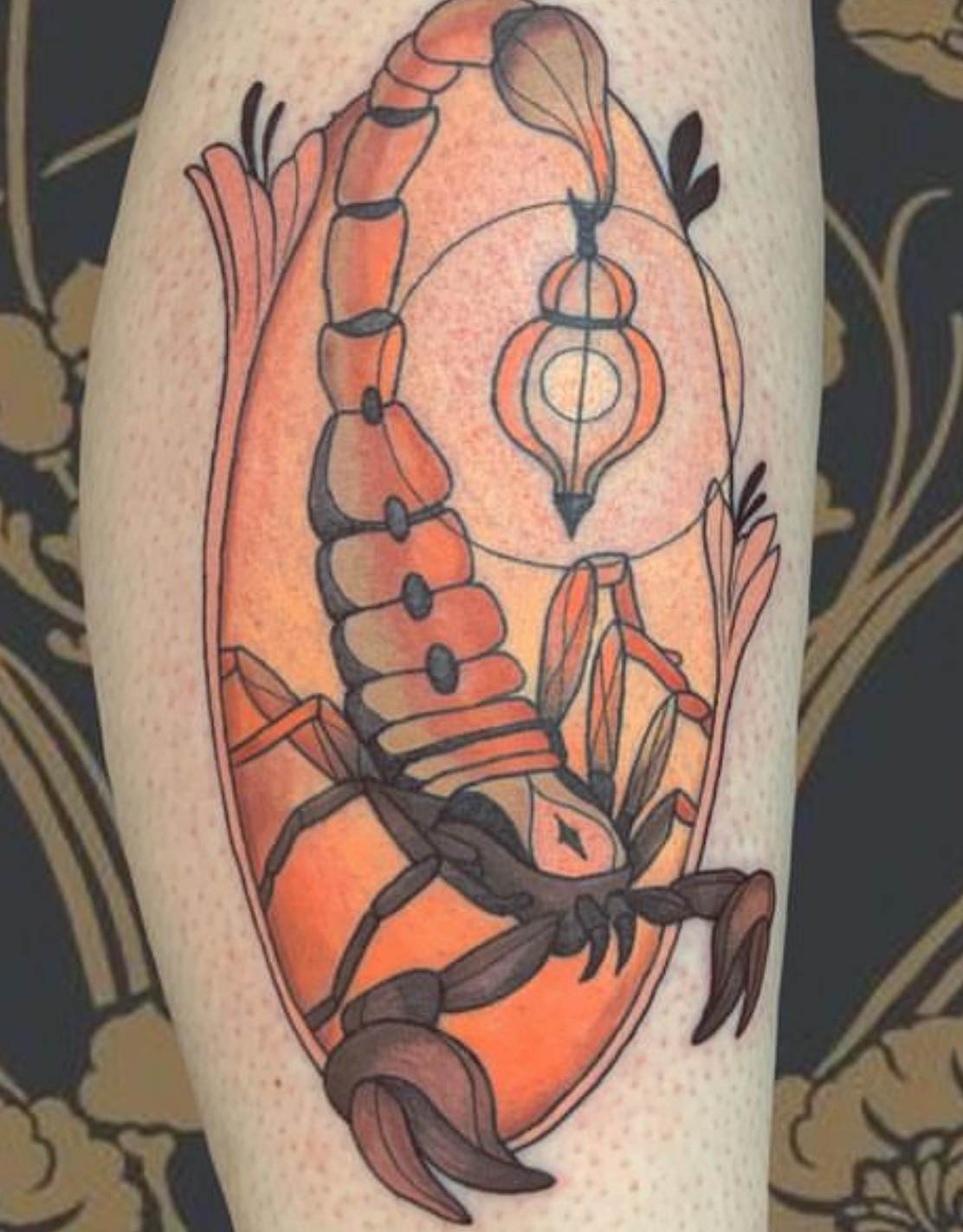 Something about this is almost welcoming.
Maybe it's the warm glow of the lantern lighting up the entire scene, like a porch light calling you in.
Mandala Scorpion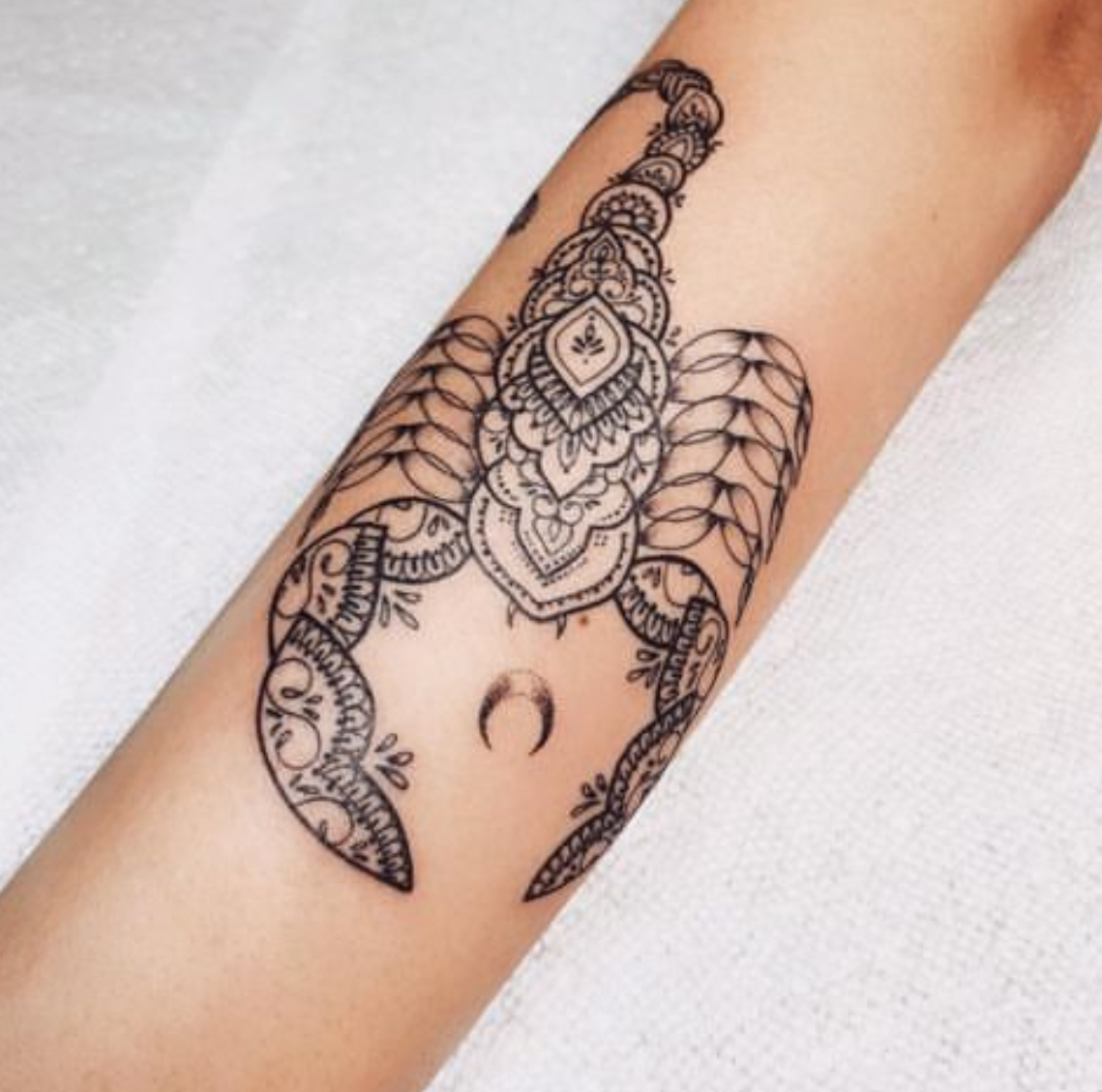 So intricate. I'm reminded of a delicate lace veil. Sorry pretty scorpion, I'm not scared of you today.
Flower Scorpion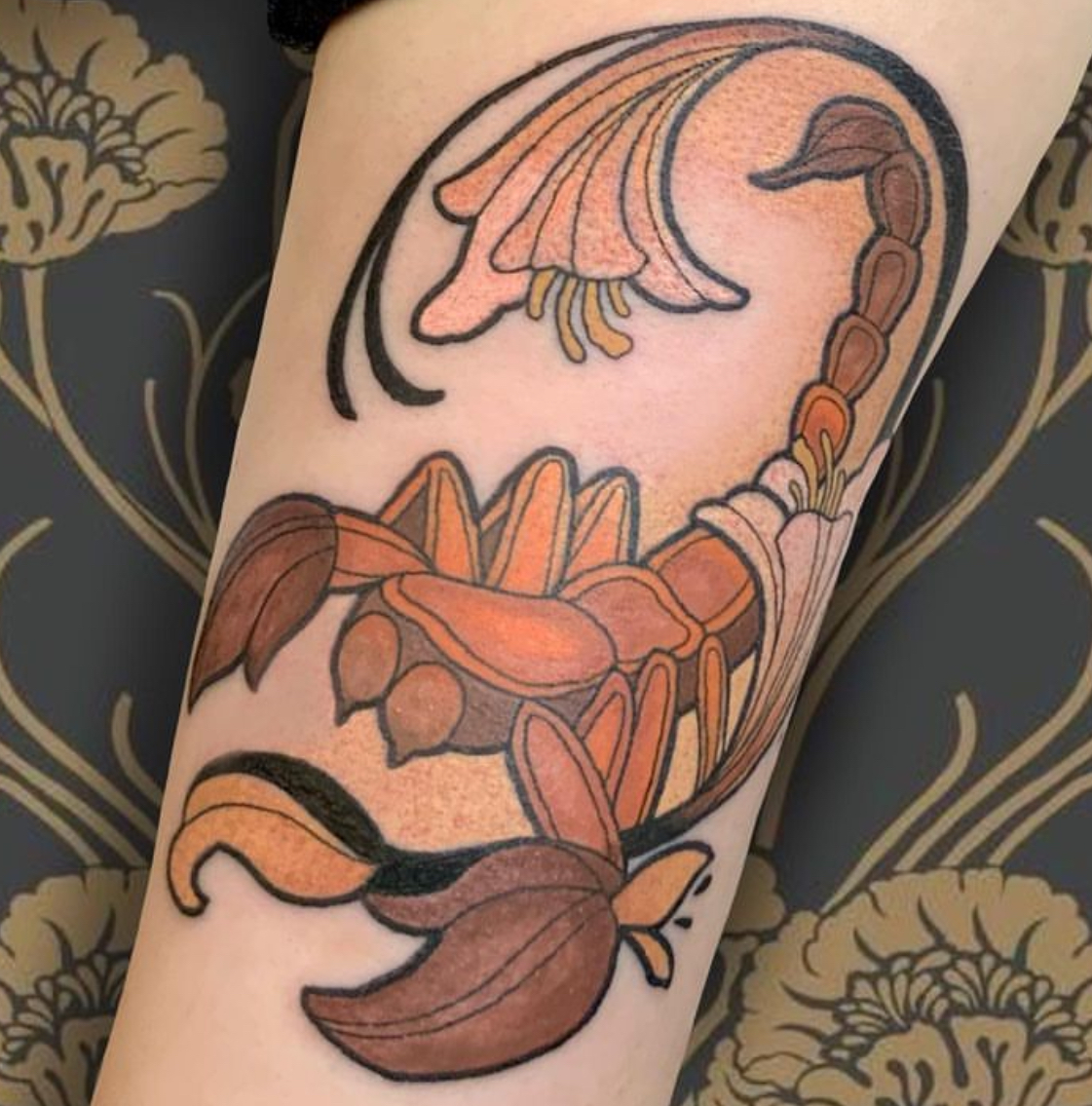 I'm honestly in love with this tattoo.
The colors used are delightfully soft, giving warm sandy vibes and genuinely engaging the creative eye.
Tiny Scorpion Tattoo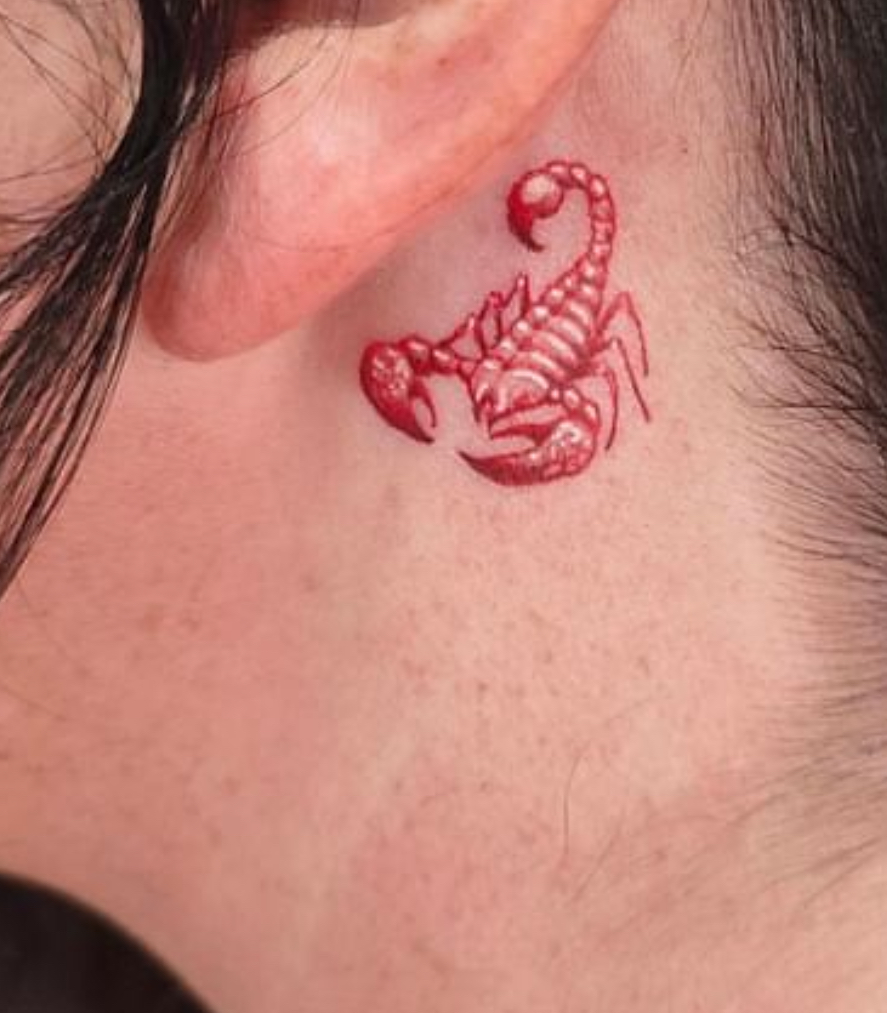 This red ink baby is too cute, and the white ink highlights really give it some pop.
If this gets your gears going, roll on over to the list of our favorite red ink tattoos for some more eye candy.
Old School Scorpio Tattoo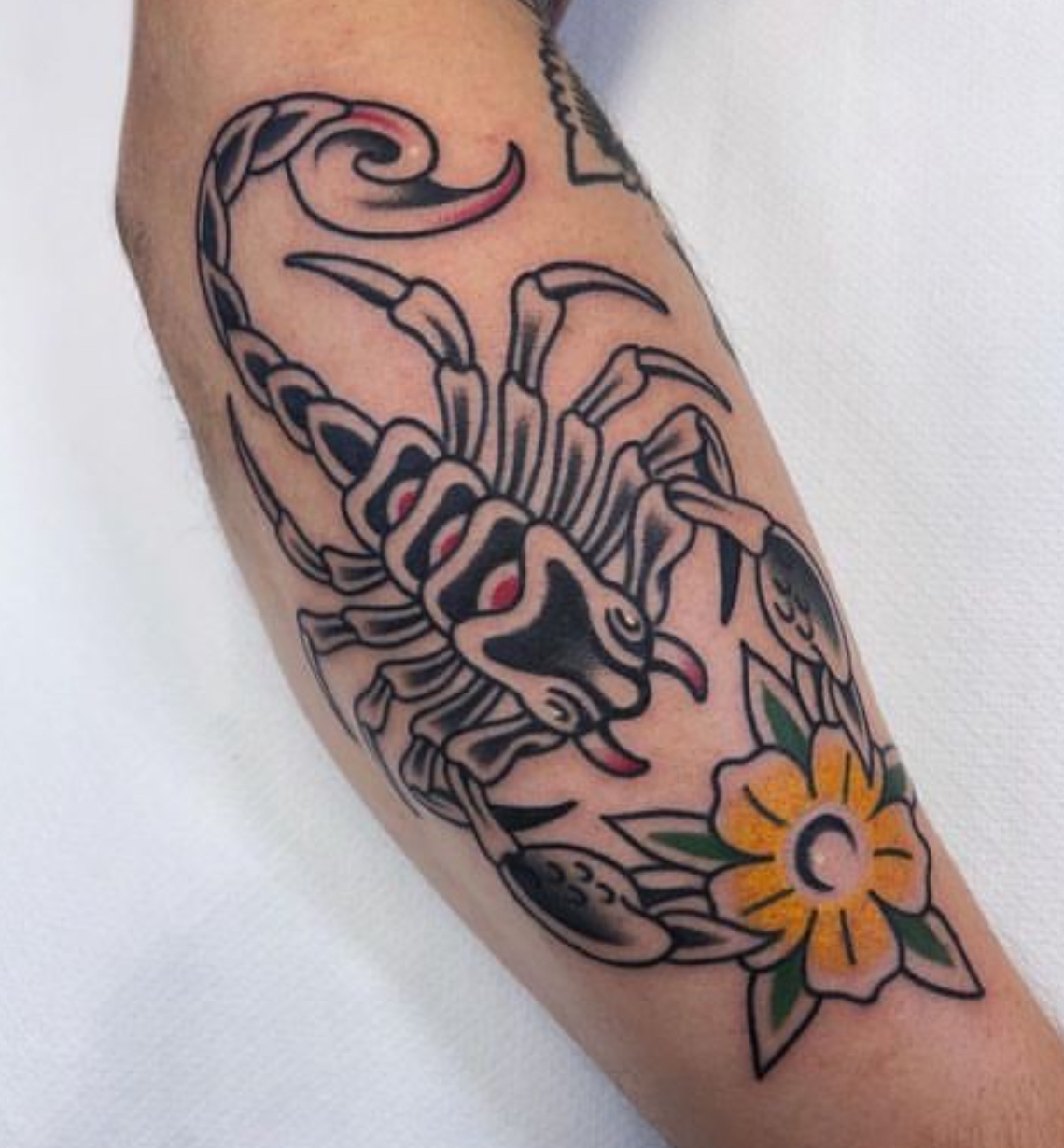 I love the use of negative space consistently throughout this piece.
You'll notice the artist used it on the scorpion, but also on the flower and its leaves, creating a connected flow that adds subtle visual pleasure.
Scorpio Constellation Tattoo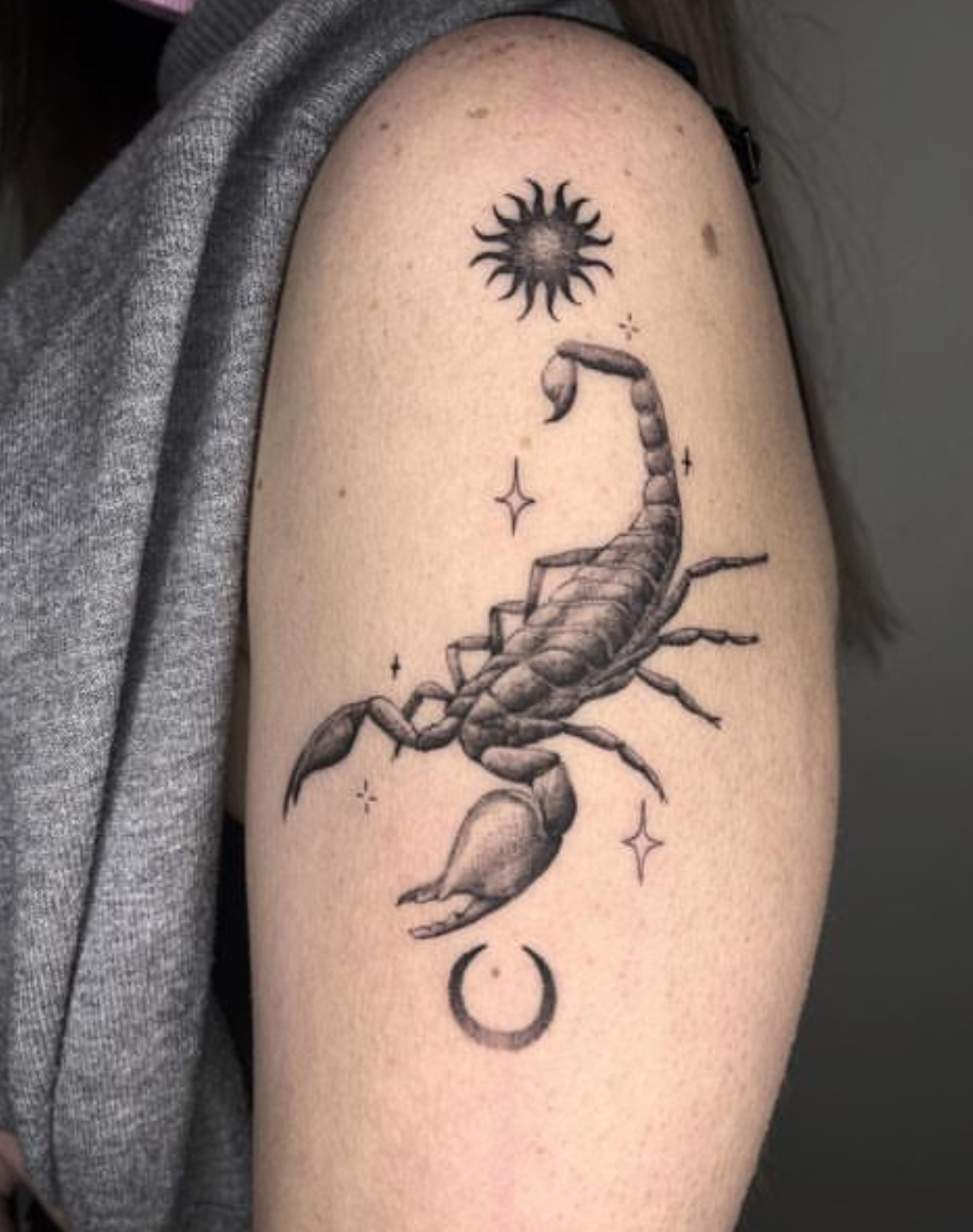 Bringing the sun and moon into play, this is a creative way to imply the Scorpio constellation.
Simple Scorpio Tattoo Design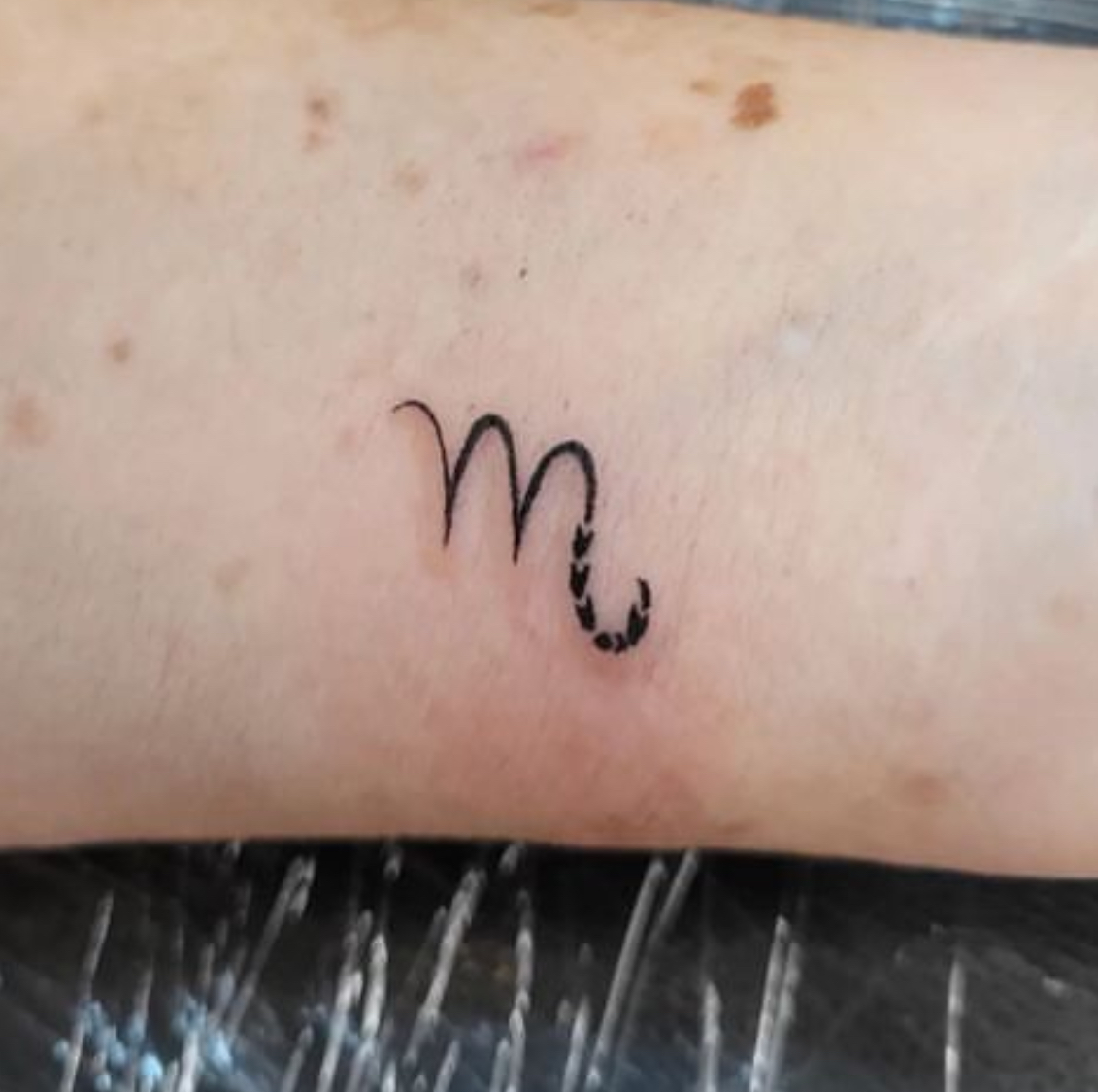 We always need a nice, simple glyph. This one has a little extra pizazz by adding a scorpion tail, which is just perfect.
Celestial Scorpio Goddess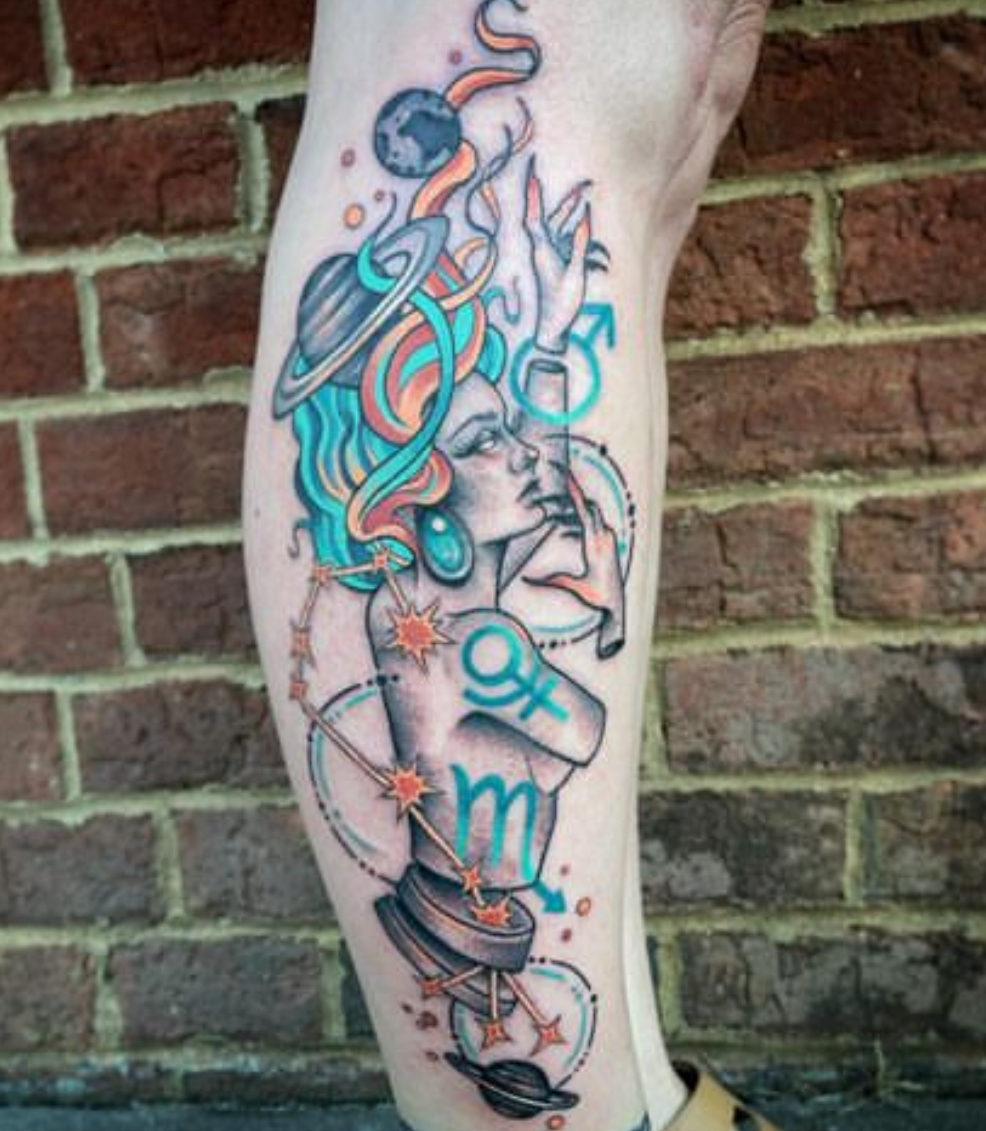 There's nothing that I don't love about this piece.
The turquoise is so vivid against the rest, and can we talk about the movement? Her body spliced through the middle, and planets caught up in a turbulent swirl of tresses… it's beautiful.
Psychedelic Scorpion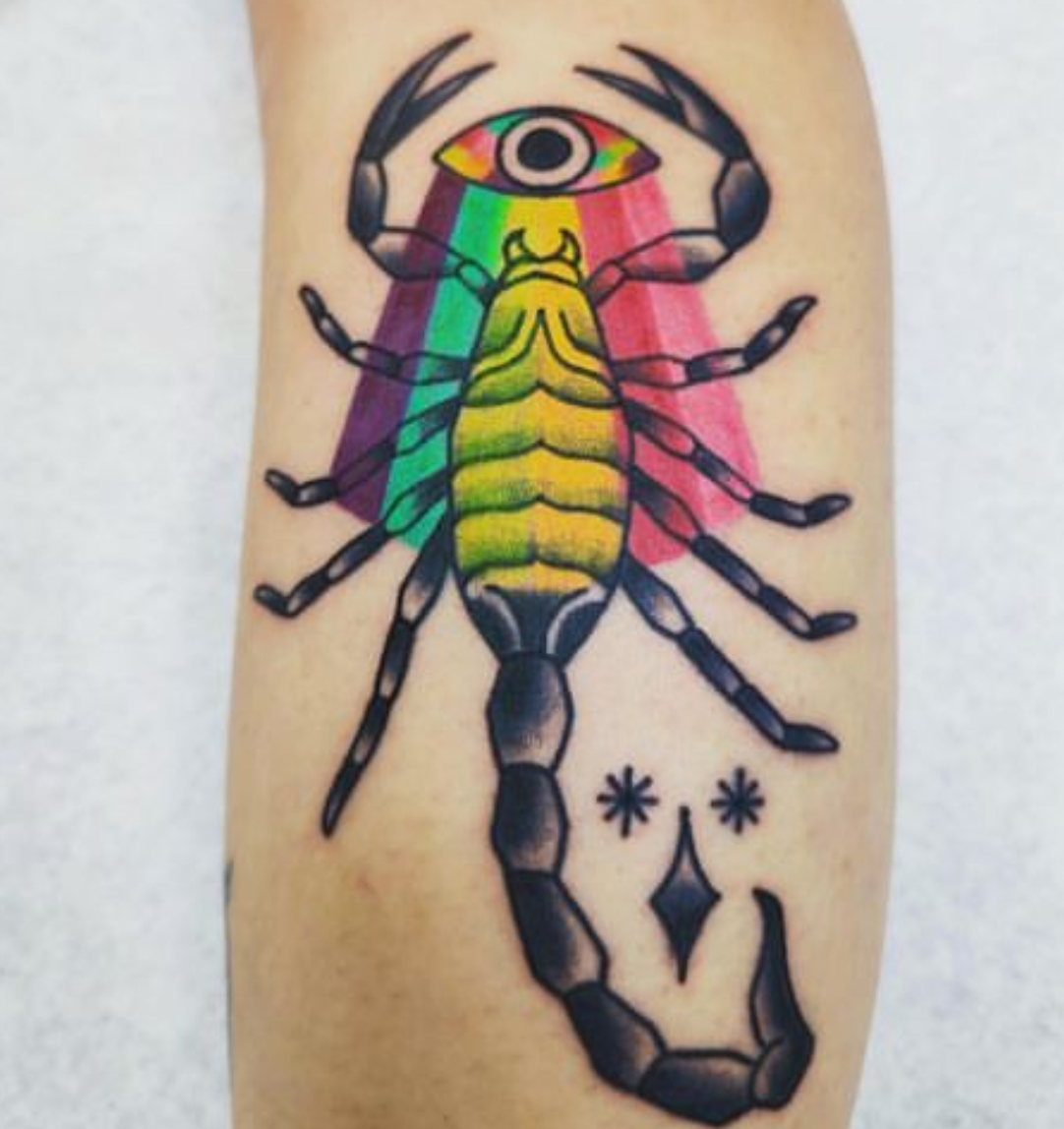 This little fella is on a trip, and it looks like fun.
Unique Scorpio Tattoo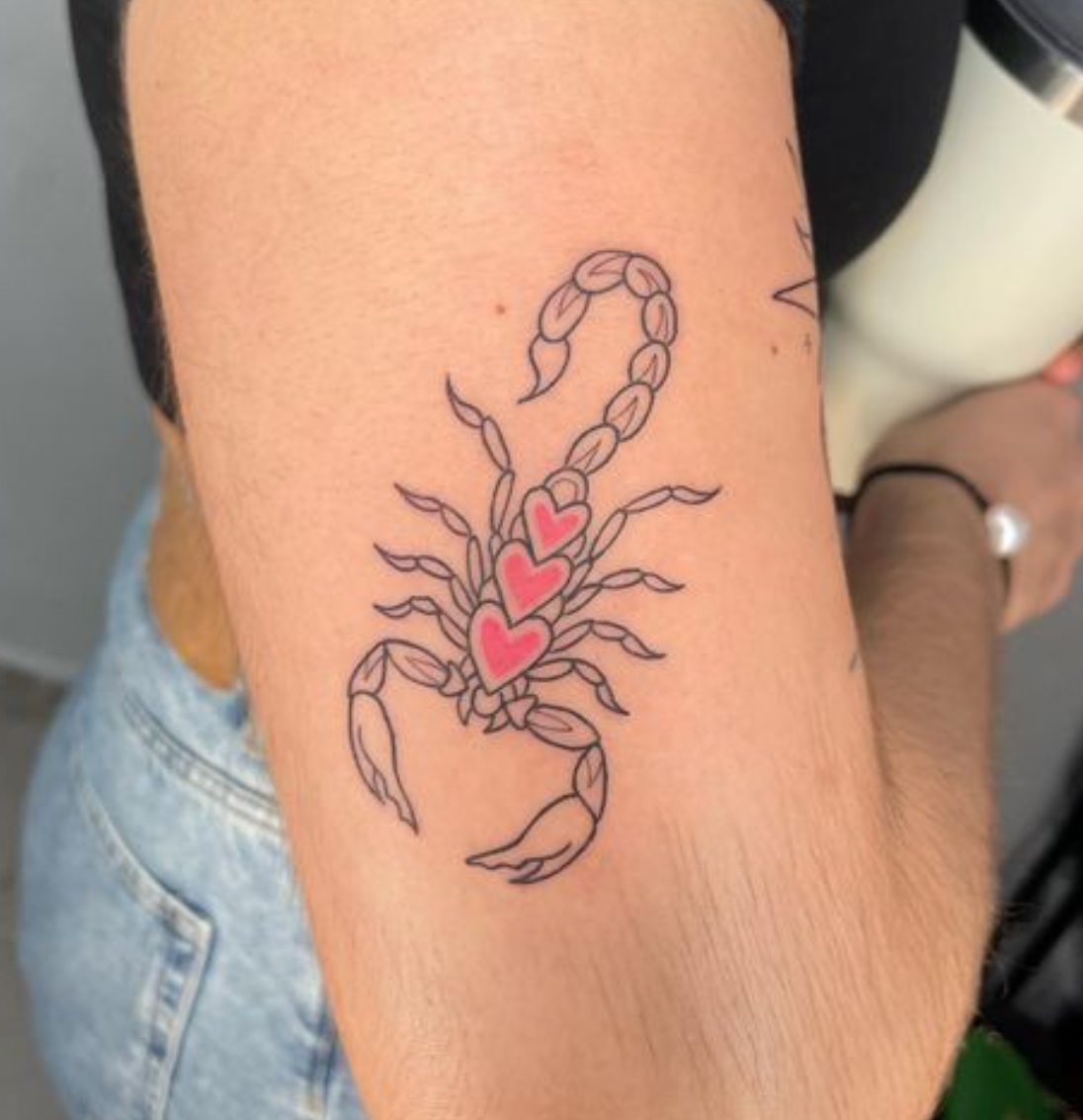 I bet you never thought of scorpions having to do with love, did you?
Well, now you do. You're welcome.
Blackwork Scorpio Tattoo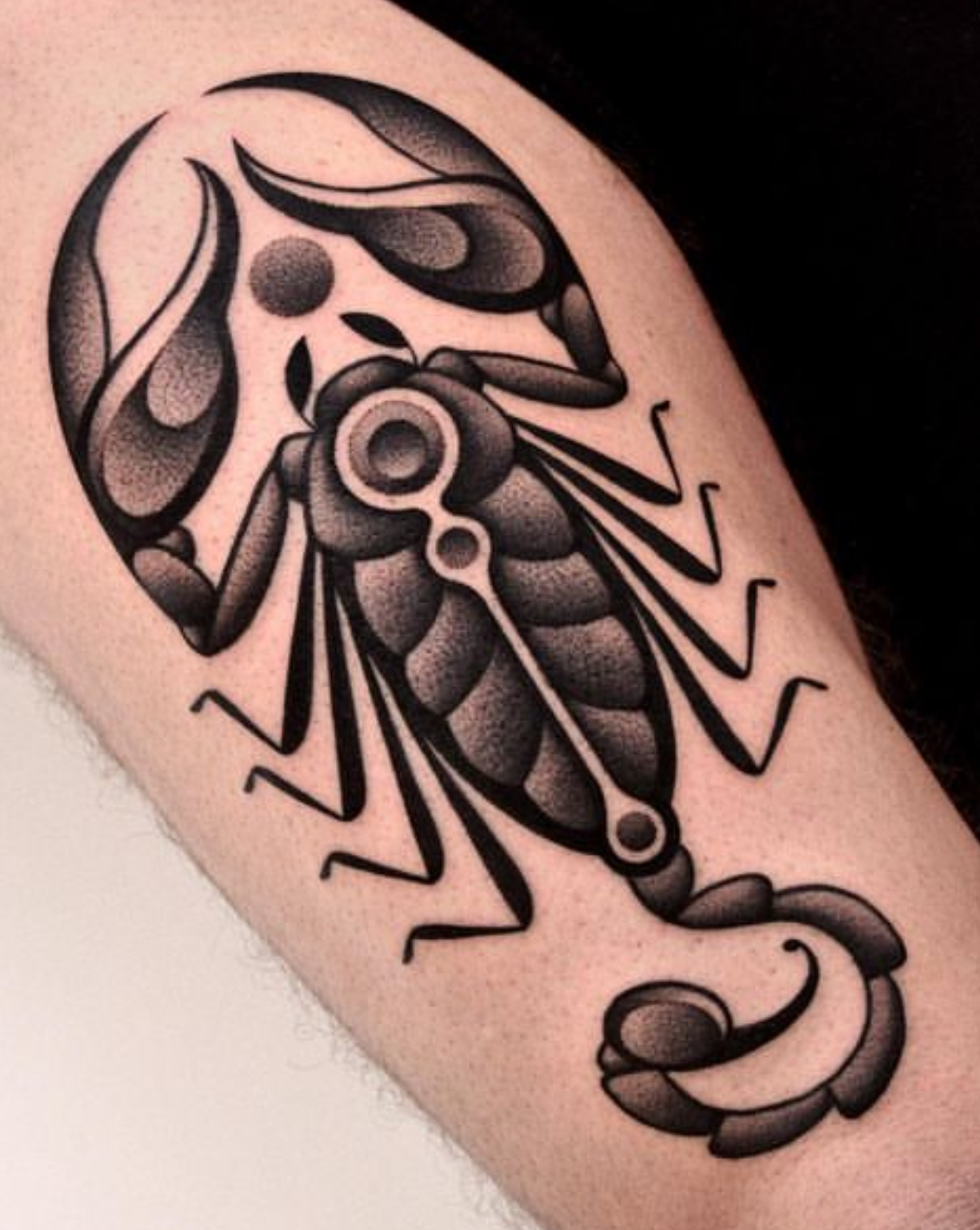 The execution of this tattoo is an absolute dream.
The technique used for shading creates such an abstract soft texture, and is so satisfyingly even.
The punch of solid ink on the legs, outline, and accents adds an understated contrast that finishes this off perfectly.
Scorpio Chestpiece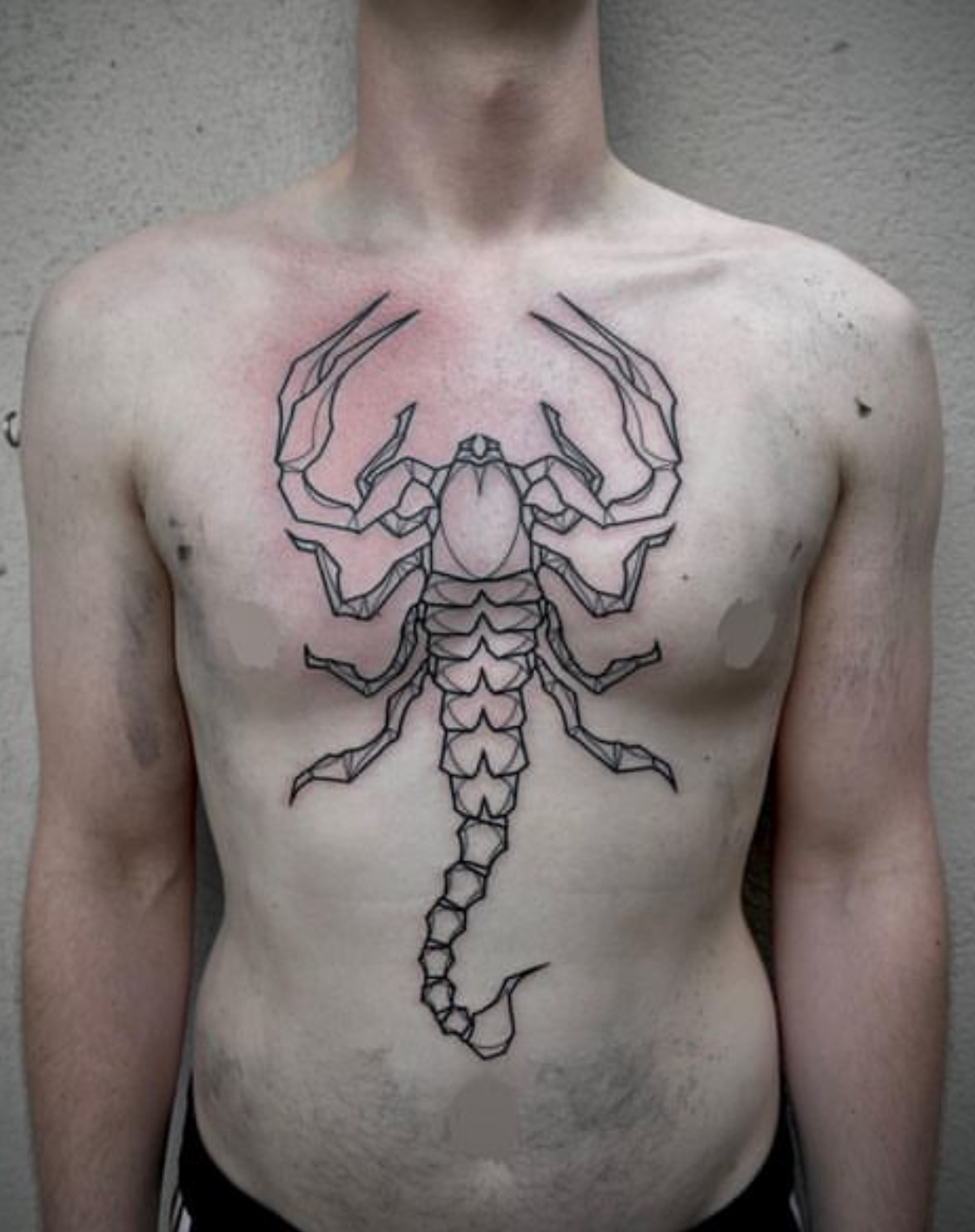 Notice the rough, sharp edges of this scorpion. This artist perfected this effect, which is adding a fierceness all its own.
Scorpio Tattoo Constellation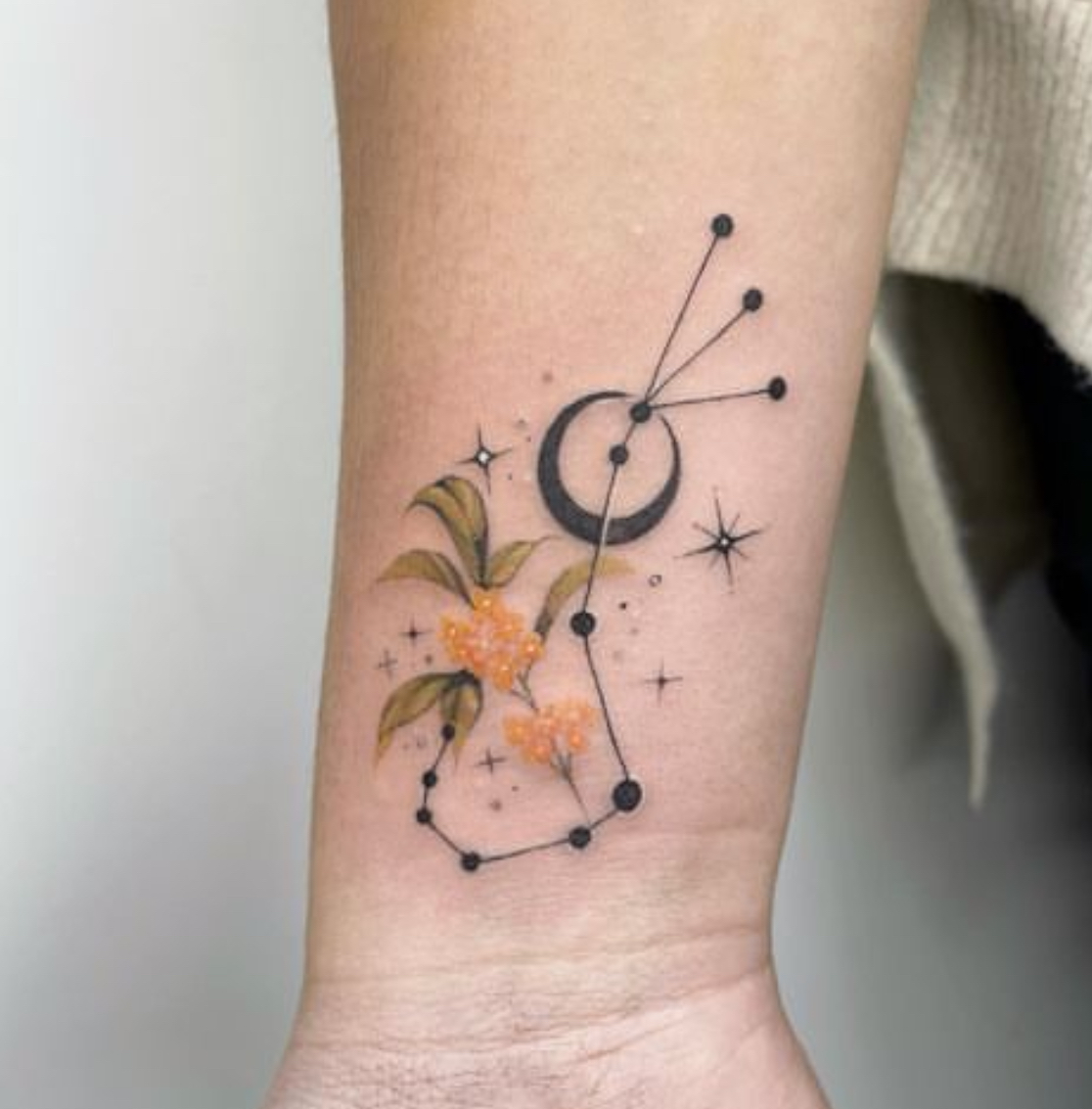 We're loving this soft constellation piece, and enhancing it with such delicate-looking flowers just makes us want to say "gentle, gentle" when we touch it.
Third Eye Scorpion Tattoo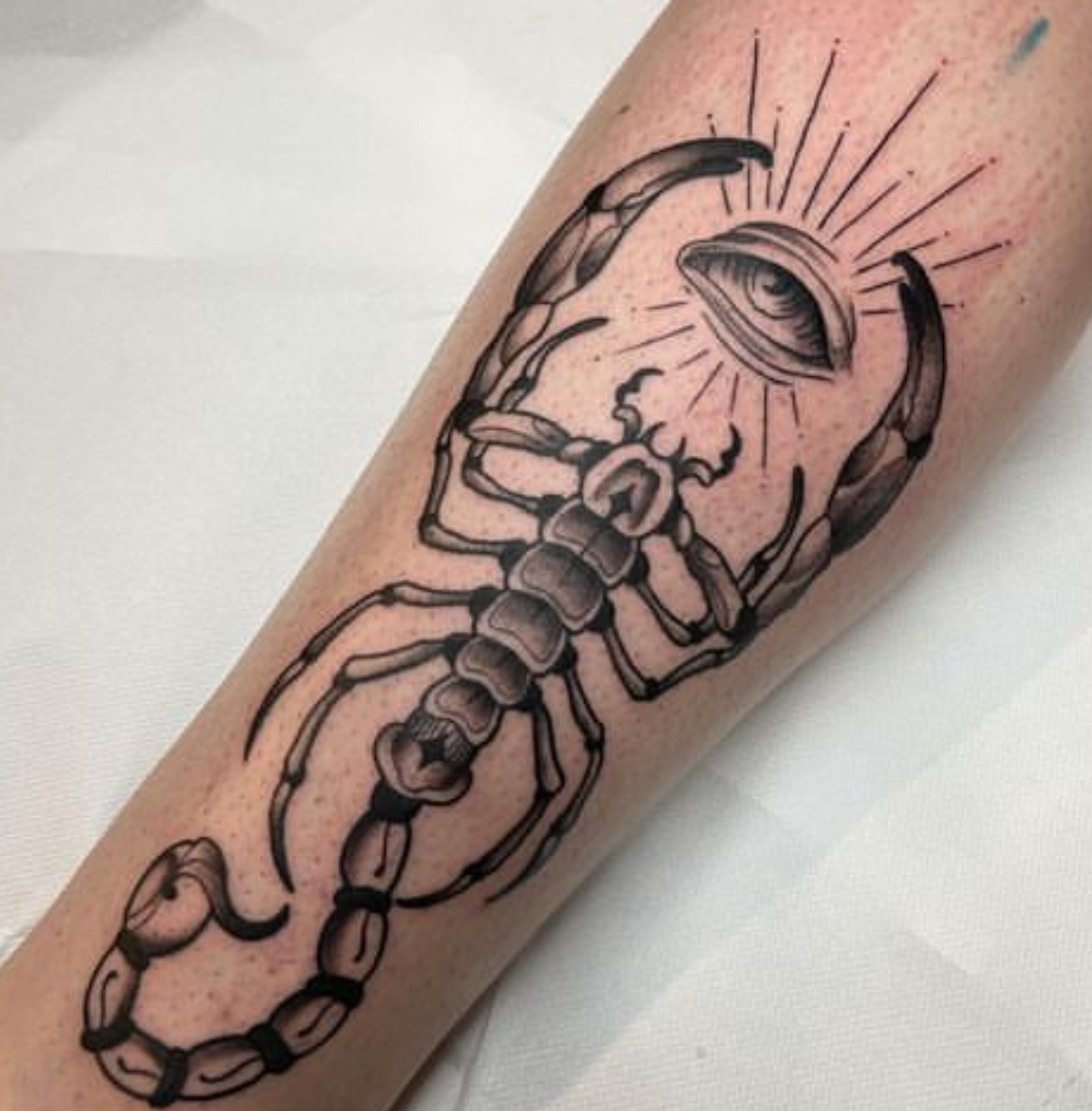 Ominous and mystical, this tattoo has a perfect balance of character.
Ornamental Scorpio Tattoo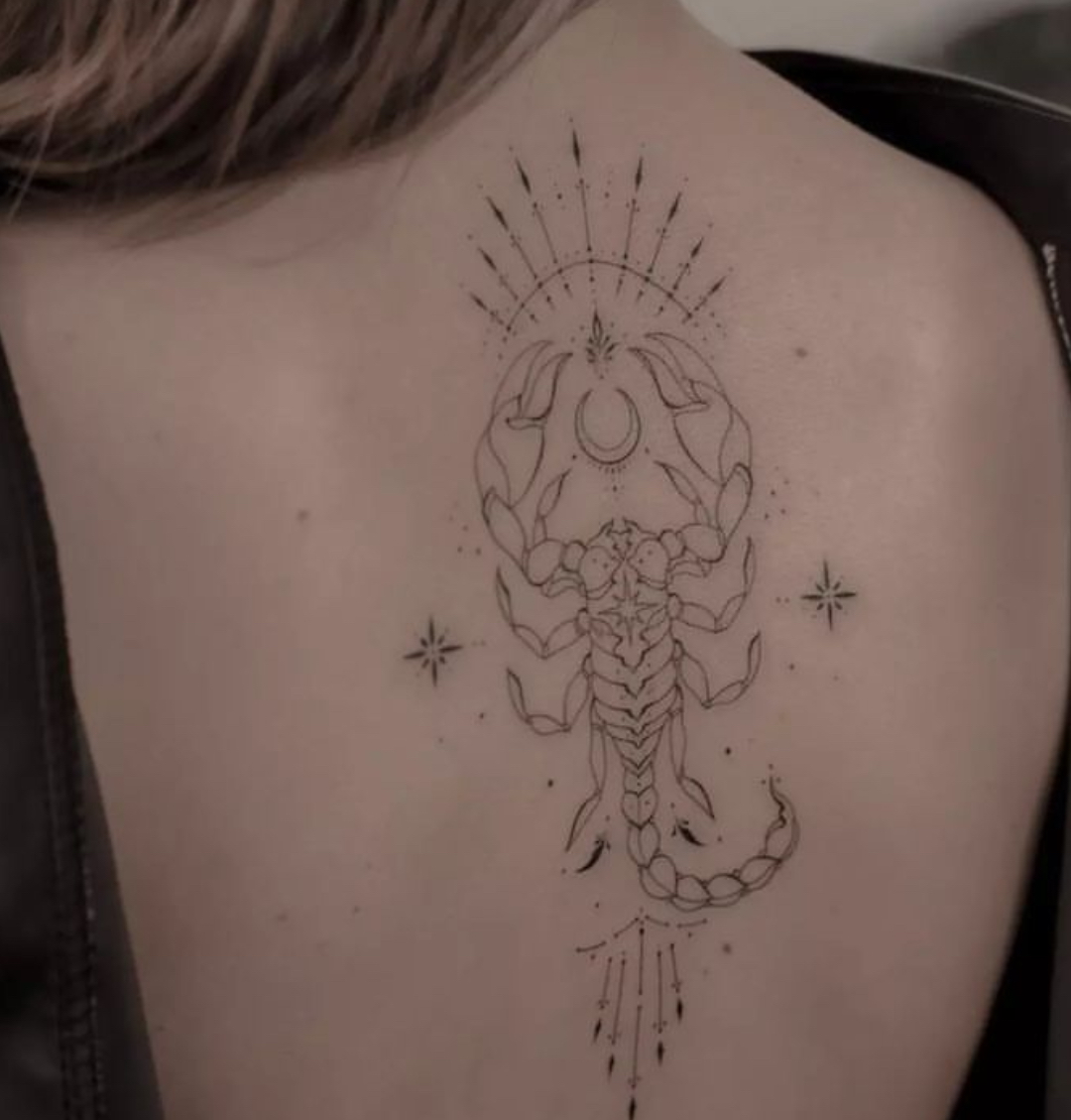 Check out the gorgeous fine line work on this backpiece.
The placement of the ornamentals is excellently laid out to balance the scorpion and the shape of the wearer's back.
Scorpio Constellation Tattoo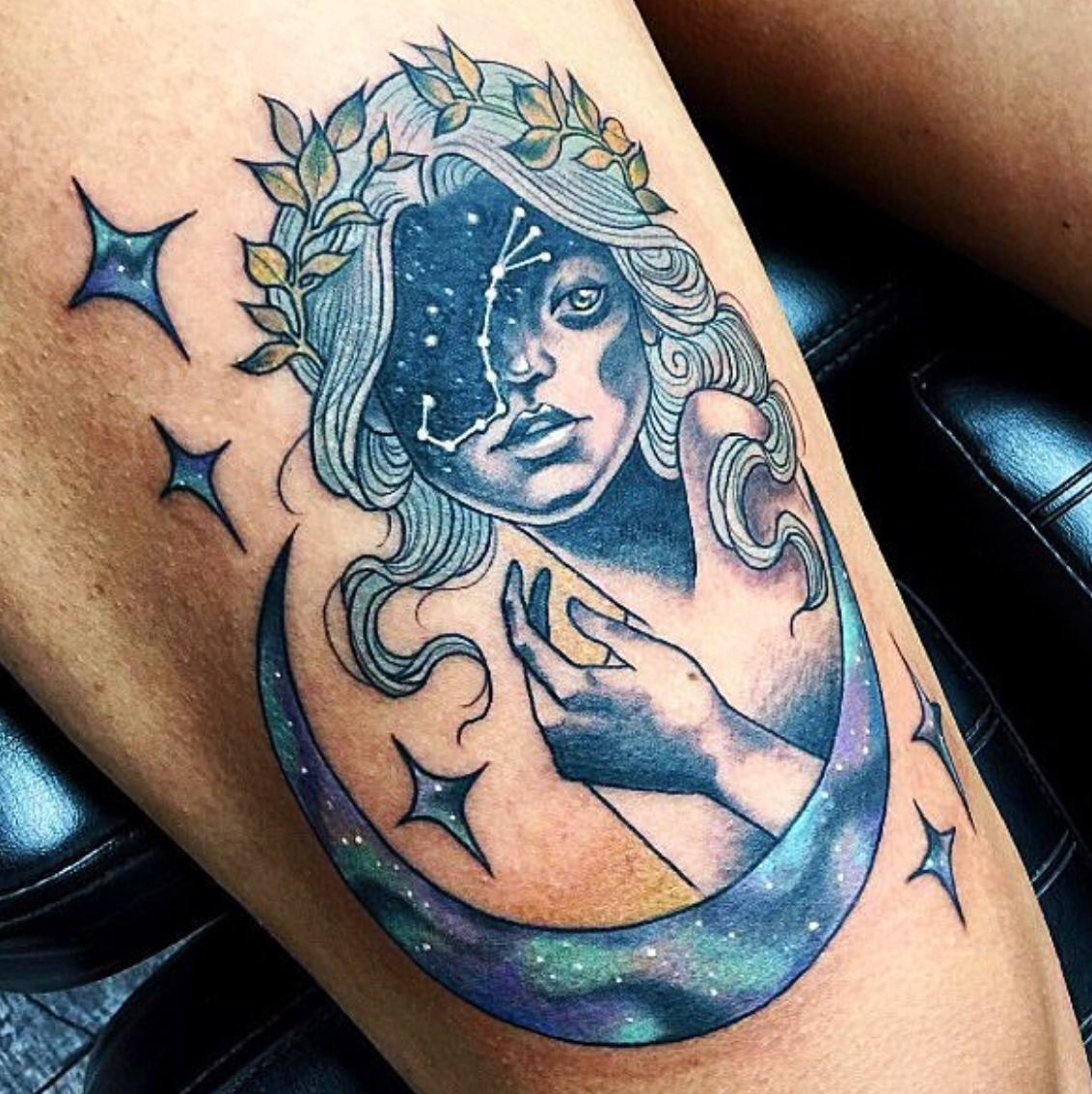 I love the galaxy pattern here, playing throughout the stars and dancing onto the girl's skin.
Scorpion And Rose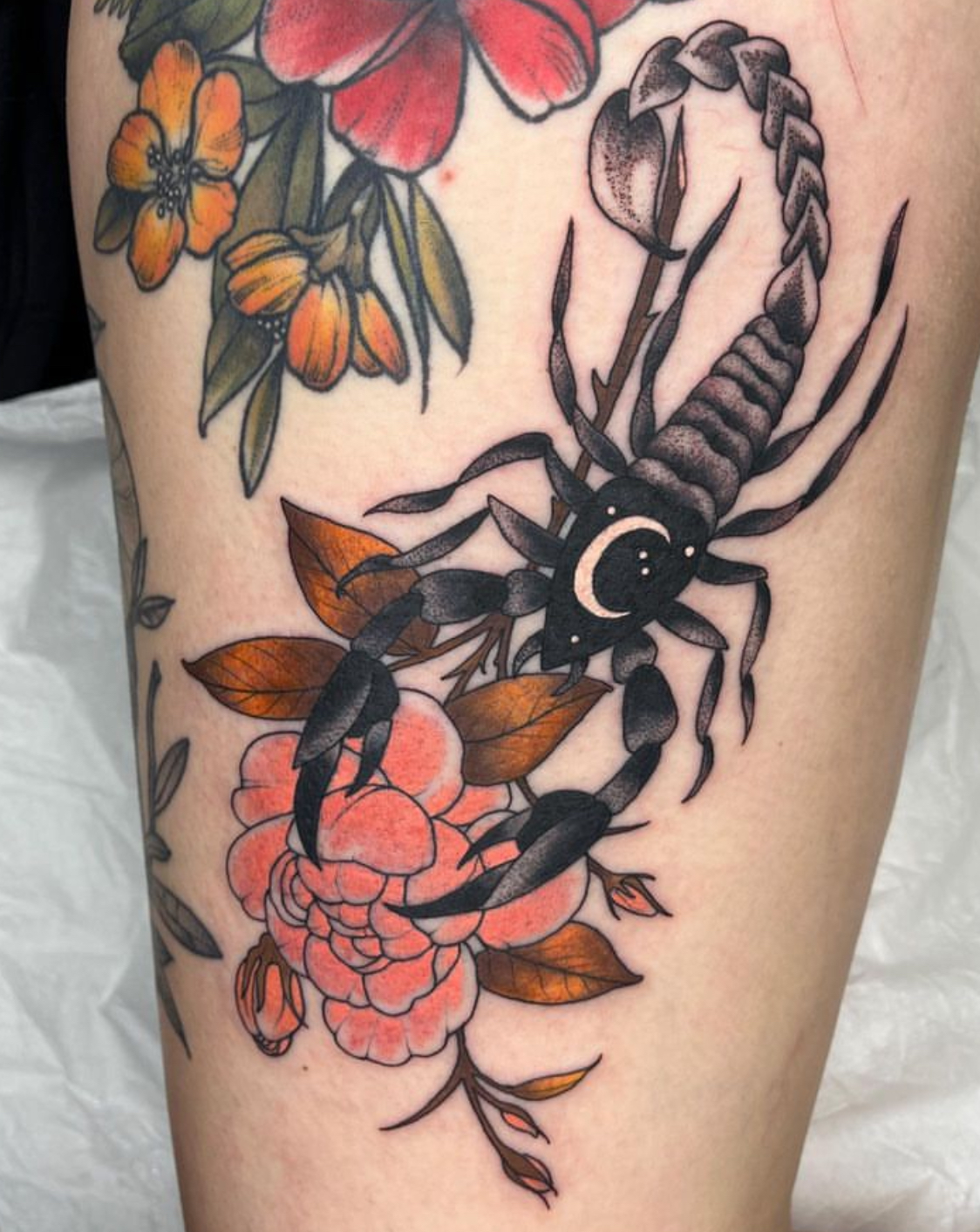 The vintage color set of this rose is so pleasing to the eye, and the bold body with negative space flatters with contrast.
Traditional Scorpio Tattoo
We love the traditional aesthetic, and this punchy piece checks all the boxes.
Decorative Blackwork Scorpion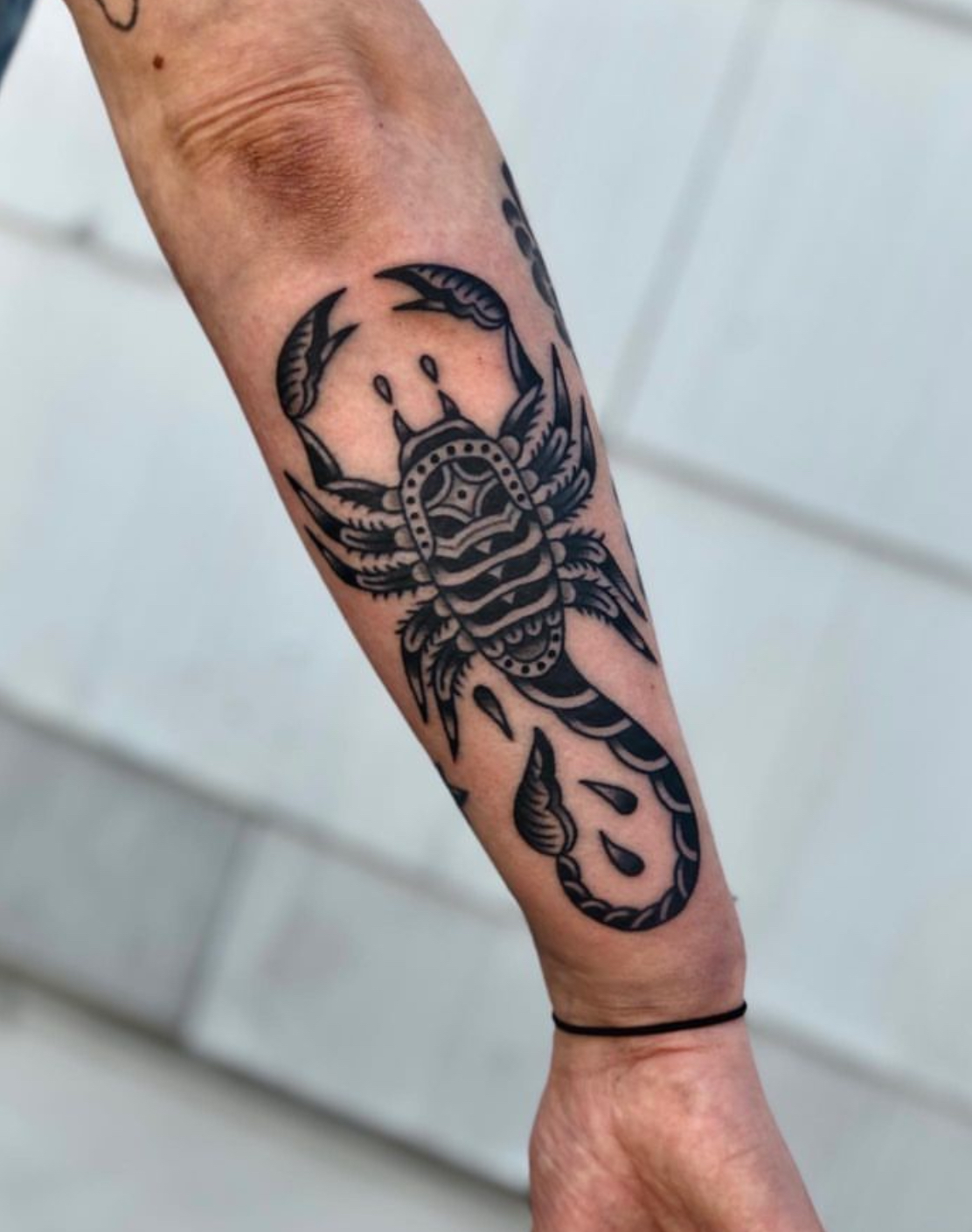 Traditional, with flair! This guy looks like he's got a little spice to him, and I'm here for it.
Summary
Did this post give you a little extra love for your Scorpio buds? Because it did for me.
Take a gander at our other zodiac tattoo lists, so that you can have extra love for your other friends too. We've got Libra, Virgo, Leo, Cancer, Gemini, Taurus, Pisces, Aries, and Sagittarius all lined up for you. Enjoy!