What better way to celebrate your love for these tiny creatures than to get your very own Lemur tattoo?
These little creatures live on the island of Madagascar and are known for their big eyes, long tail, and pointy little snout.
There are over 100 breeds of Lemurs, so the tattoos we've selected below are going to show them in a variety of colors and looks.
Here's a list of our favorites, you're bound to find one you like.
1. Lemur Foot Tattoo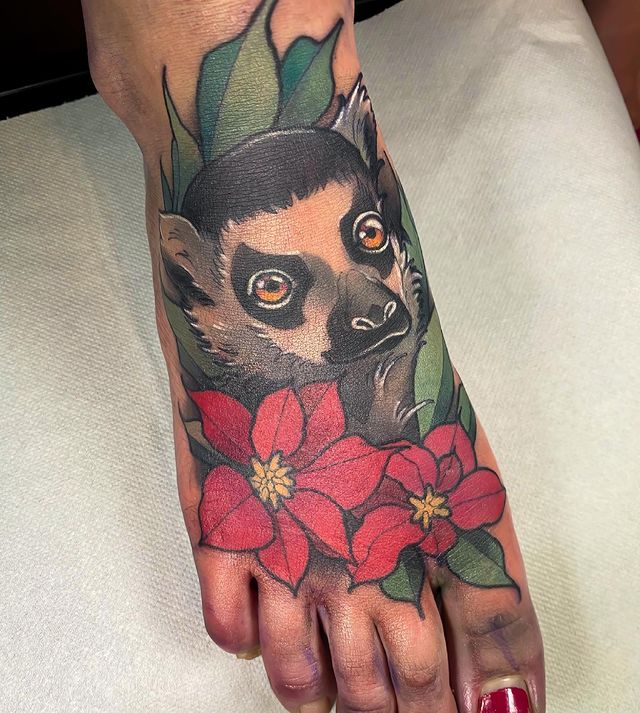 This Lemur is perfectly placed on the foot, surrounded by various plants to add a little bit of color and framing to the focal point of the animal.
2. Lemur watercolor tattoo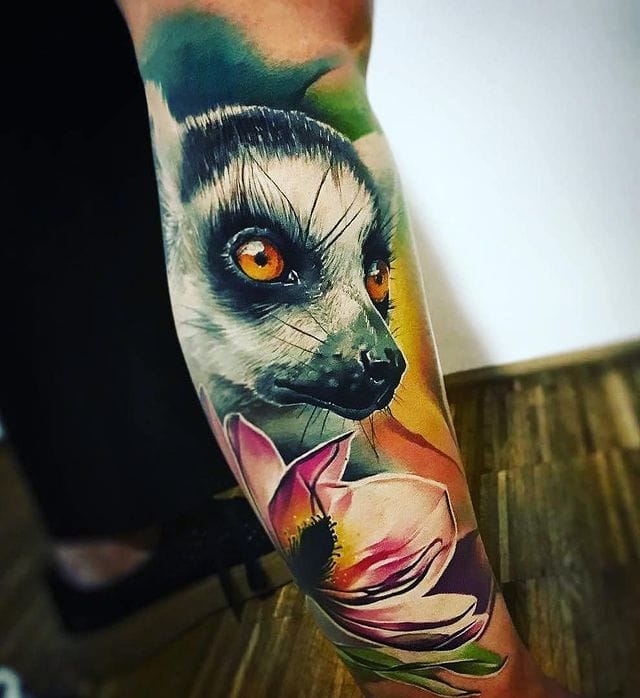 Go big and bold!
This lemur tattoo is placed on the inner arm and has a lovely splash of color using a painterly effect applied by the artist.
3. Lemur arm tattoo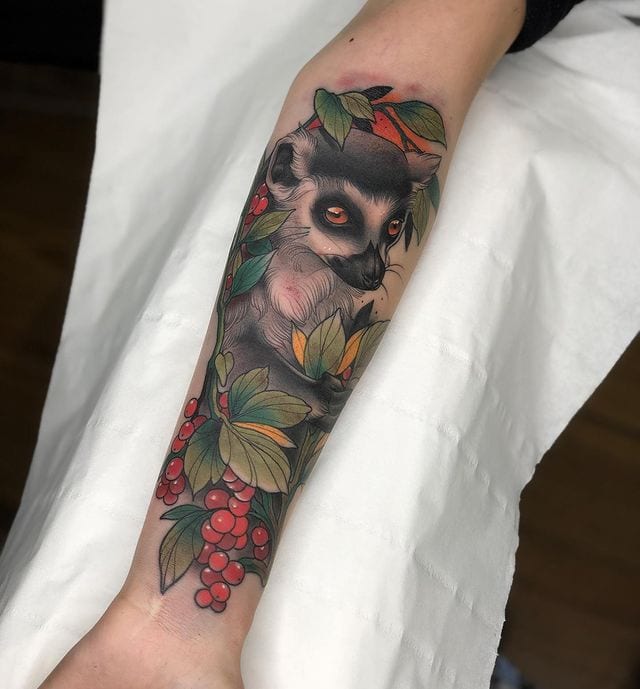 If you're going to get a lemur tattoo, you might as well have it placed in its natural habitat.
In this case, we've got our lemur chillin' in a tree scene, surrounded by leaves and berries.
4. King Lemur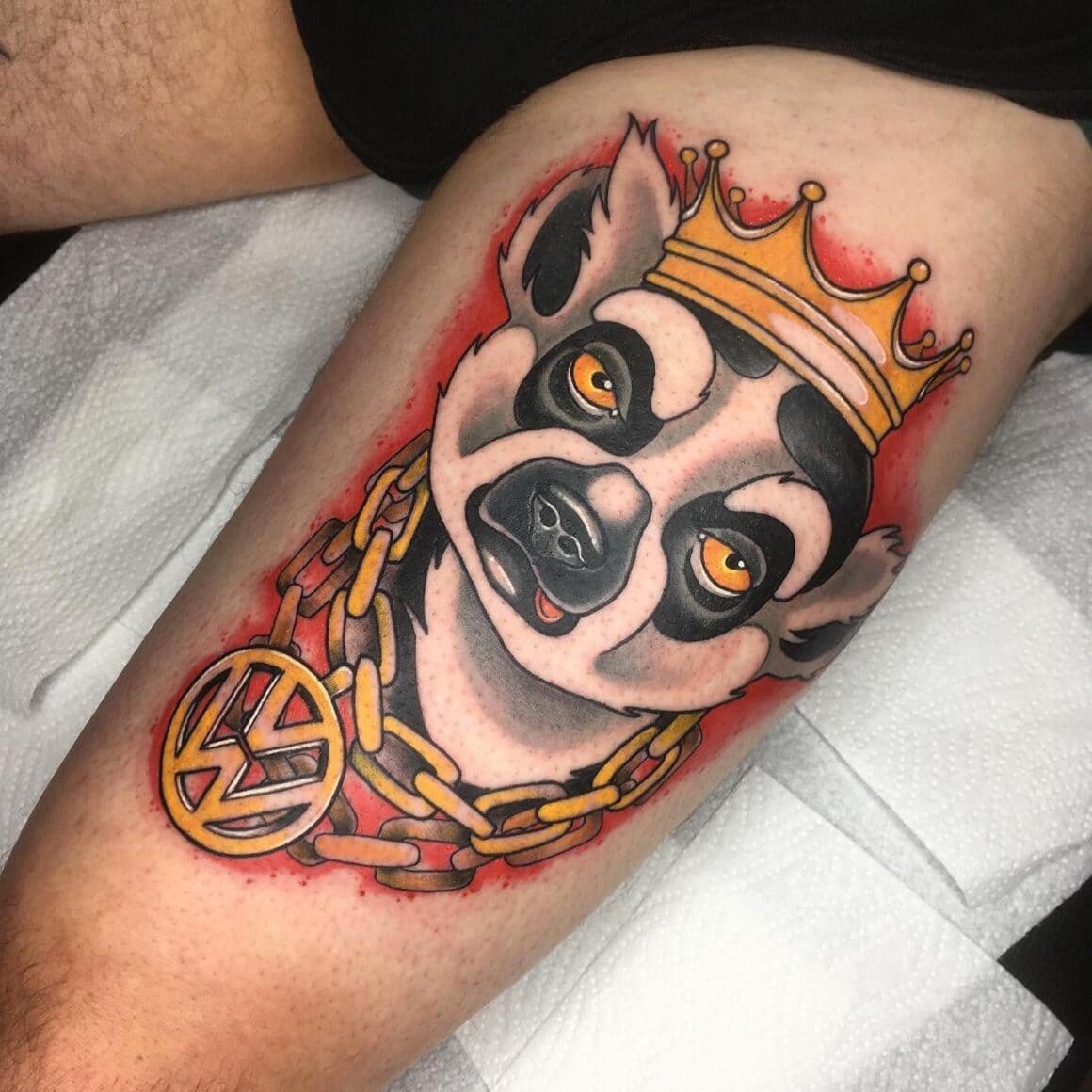 This lemur is dripping with style, sporting a killer little crown as well as that custom Volkswagen chain.
5. Lemur Hand Tattoo
This lemur hand tattoo is where we start seeing a bit of species variety.
This dark little guy almost looks like a bear, but those big eyes give it away.
6. Cartoon Lemur Tattoo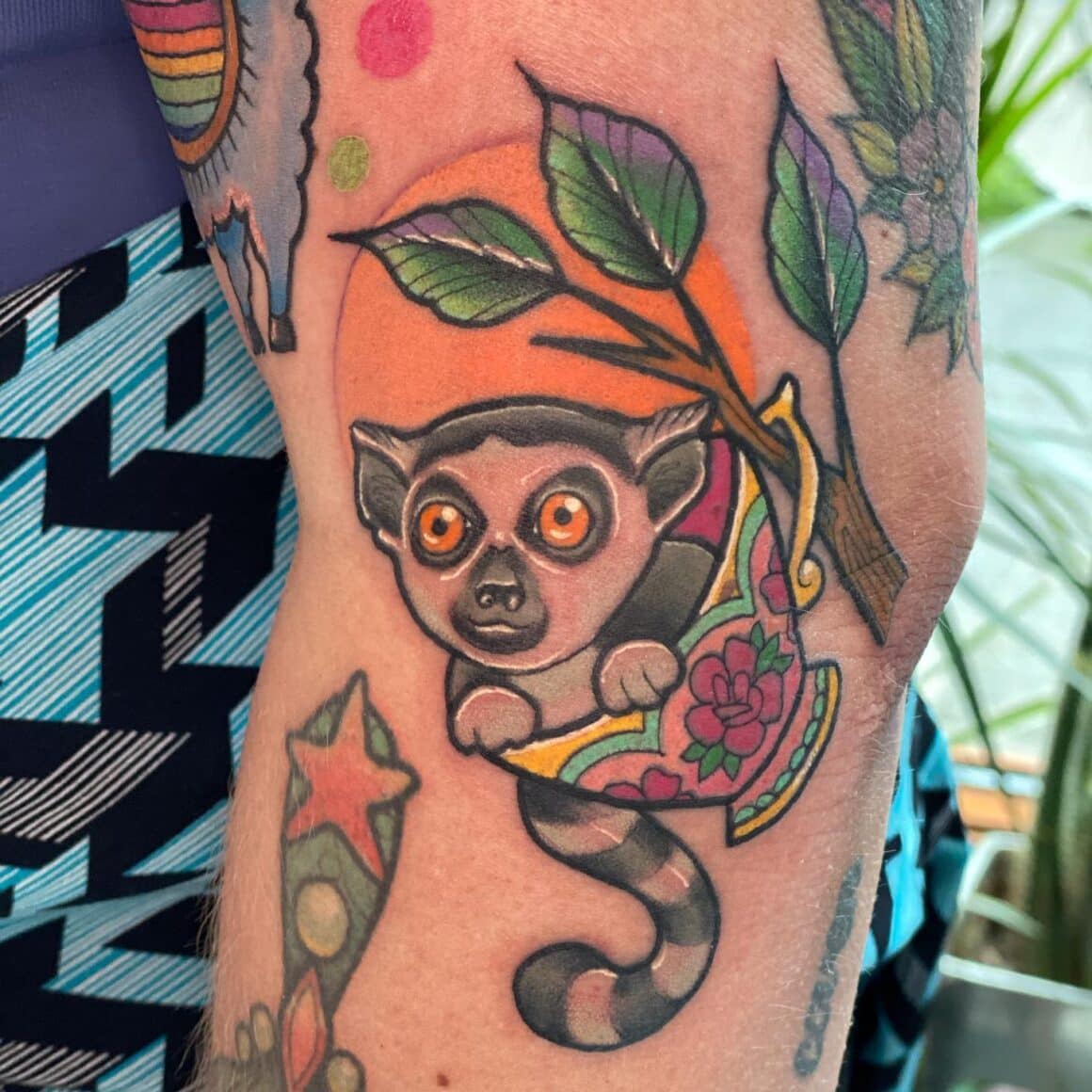 I love the whimsical look of this little guy as he's hanging out of a teacup attached to a tree branch.
The white highlights and various splashes of color make this one stand out on the list.
7. Cute Lemur Tattoo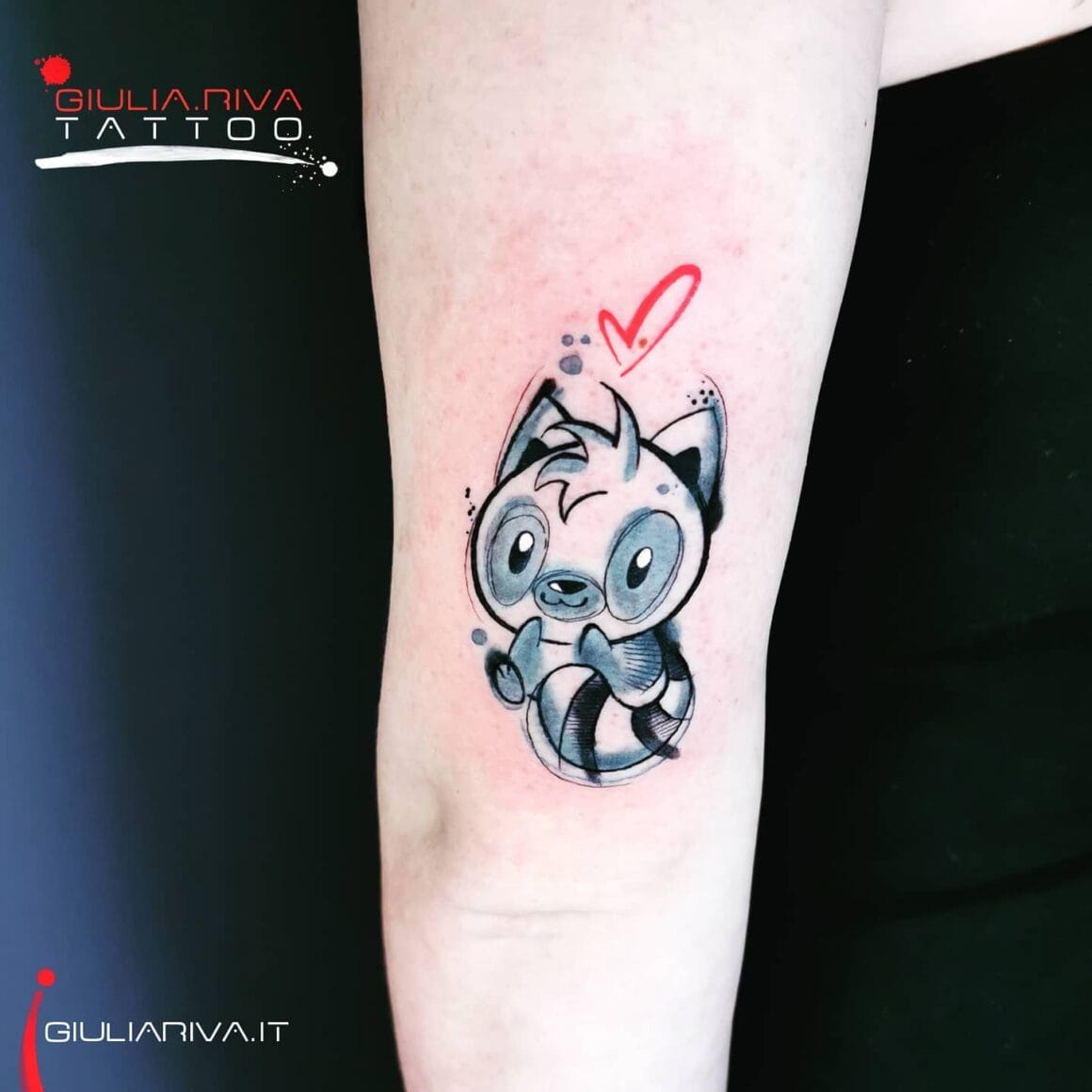 Aww, look at this cute little guy.
If you're looking for something a little more on the illustrated side, this sort of friendly cartoon style is always a great option.
8. Crazy Lemur Shoulder Tattoo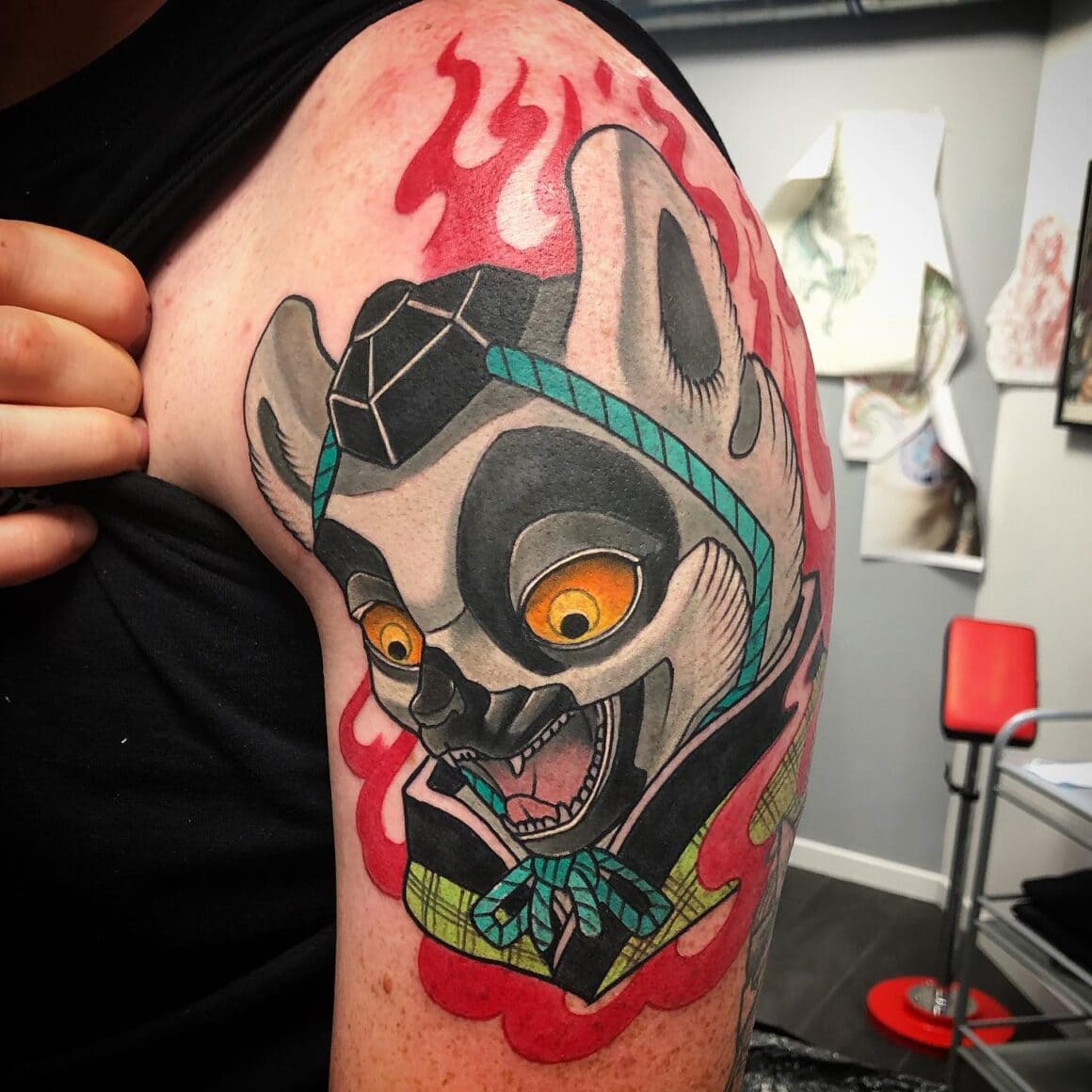 I have no idea what's going on here, but I kind of like it.
We've got some red flames and a Lemur looking all crazy wearing what looks like a green plaid shirt. You do you, little Lemur.
9. Realistic Lemur Eating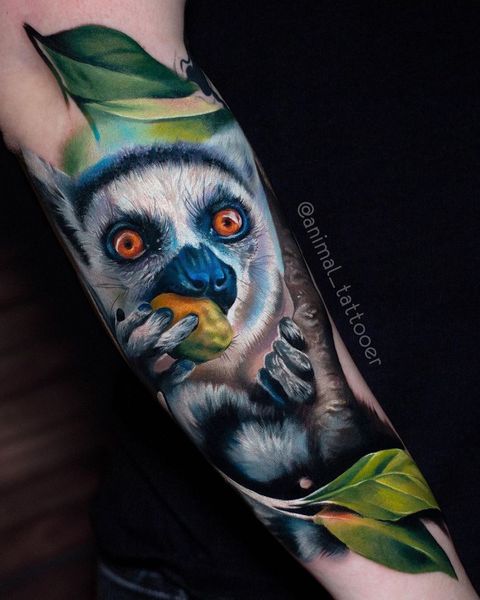 Check out the lighting and shading on this lemur tattoo.
He's hanging out in a tree eating some sort of fruit, but the realism in this makes it feels like its jumping off the skin.
10. Stylized Lemur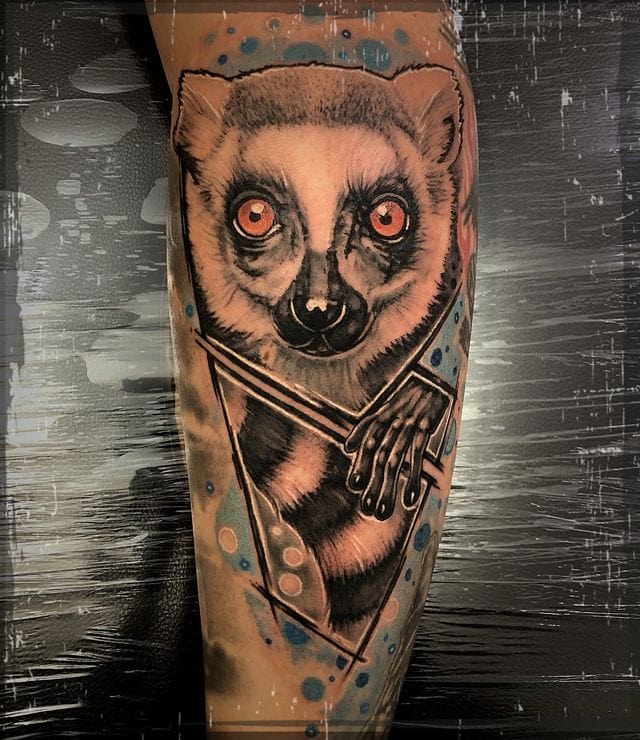 There's something about this stylized style that I always gravitate towards.
I think the light use of dark color and the white highlights surrounding the animal makes it feel particularly special.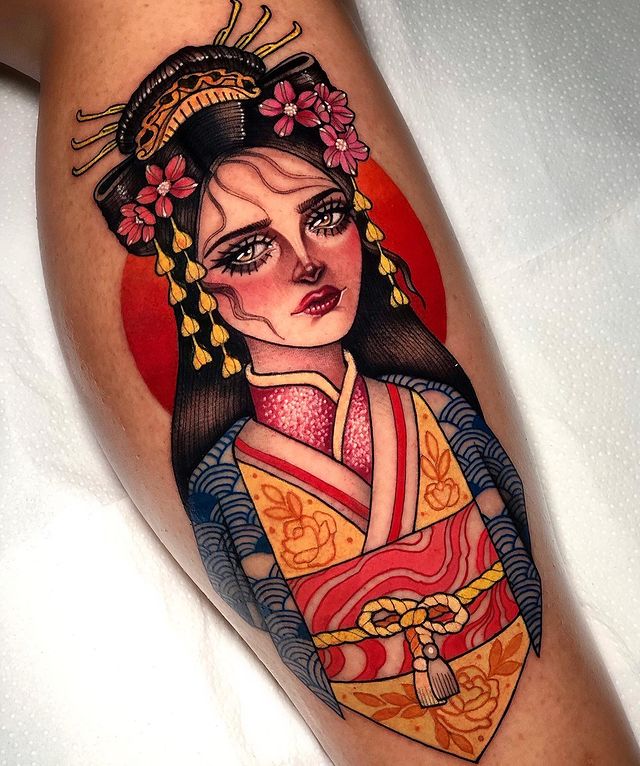 11. Ice Cream Lemur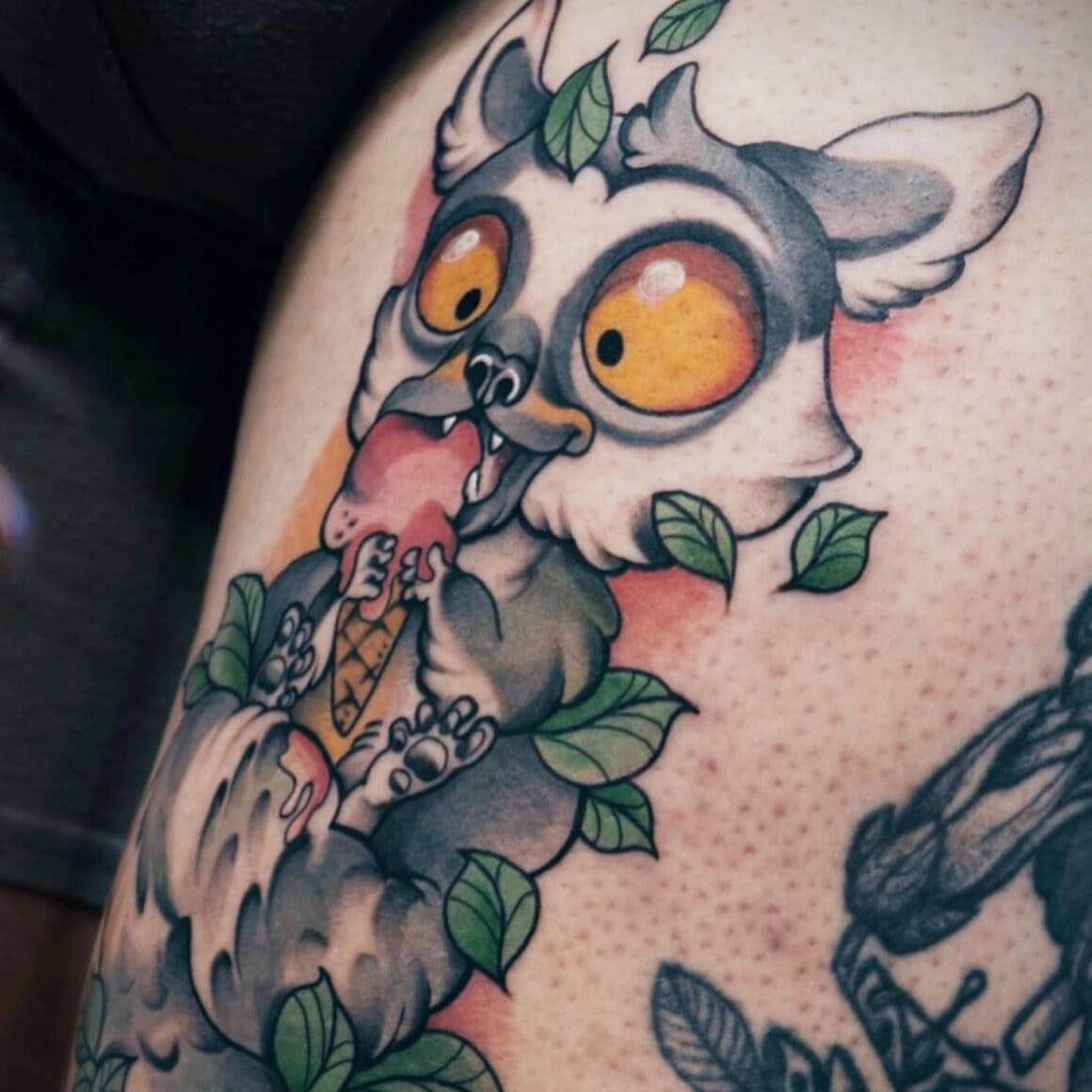 What's better than an adorable little lemur? A lemur eating an ice cream cone of course.
This is another great example of a friendly style that isn't trying to take itself too seriously.
12. Dotwork Lemur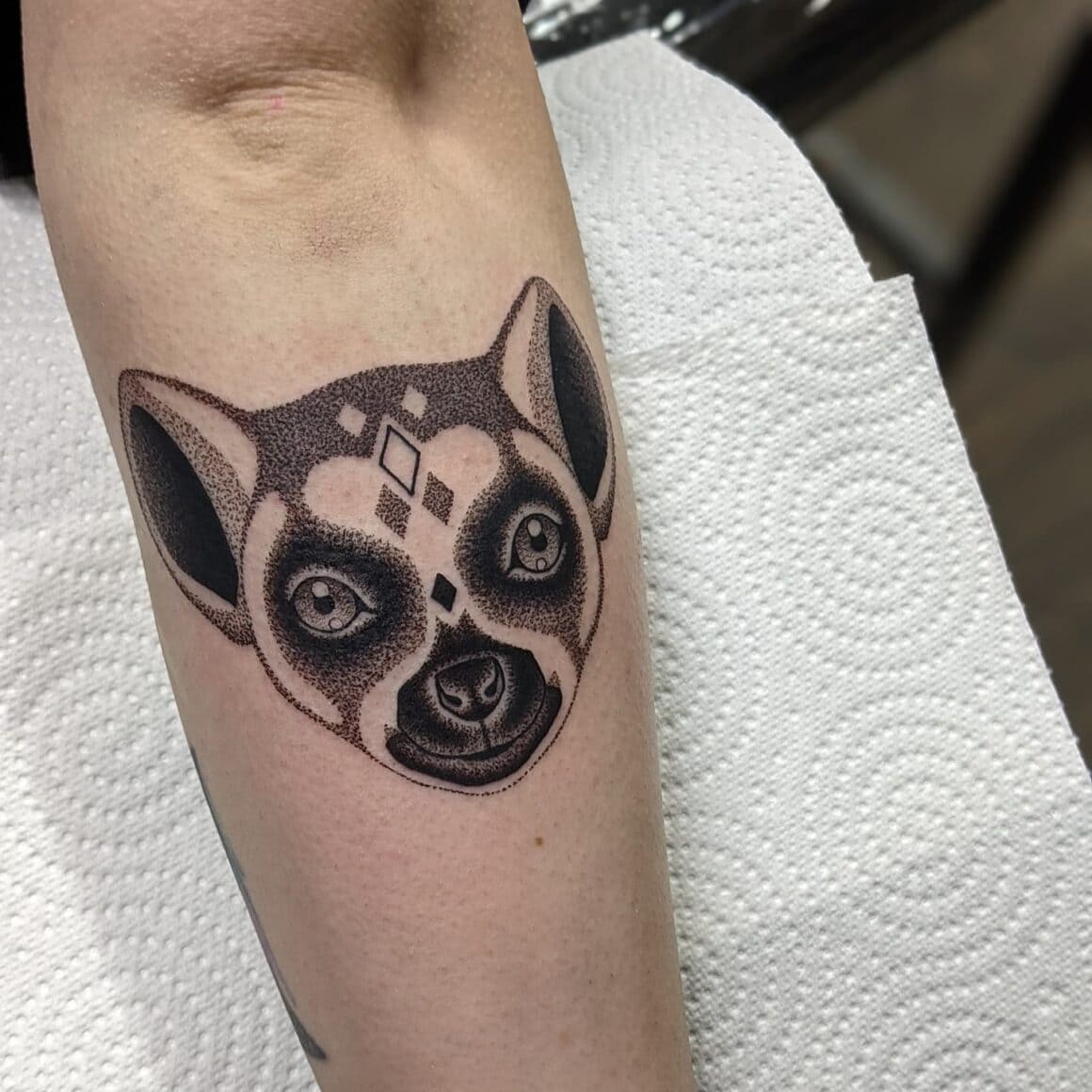 On the complete opposite end of the spectrum from everything else on this list, we've got this monochrome lemur tattoo done in a beautiful dot artwork style.
13. Comic Lemur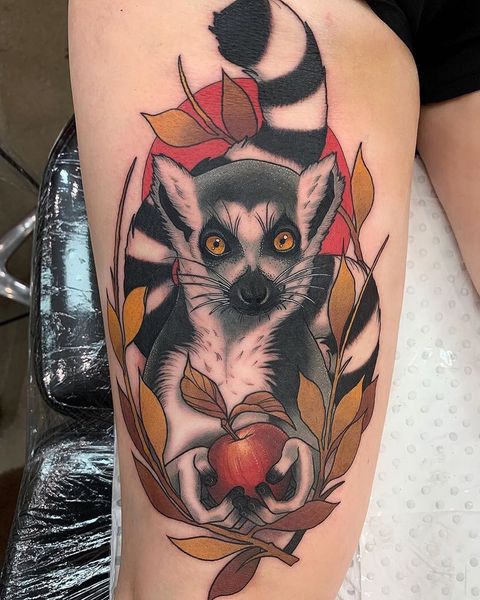 This tattoo made the list because of the level of detail—It's not photorealistic, but it's not a cartoon either.
It sits in that middle area that feels like a well-done comic book illustration, and I'm all about that.
14. Lemur Portrait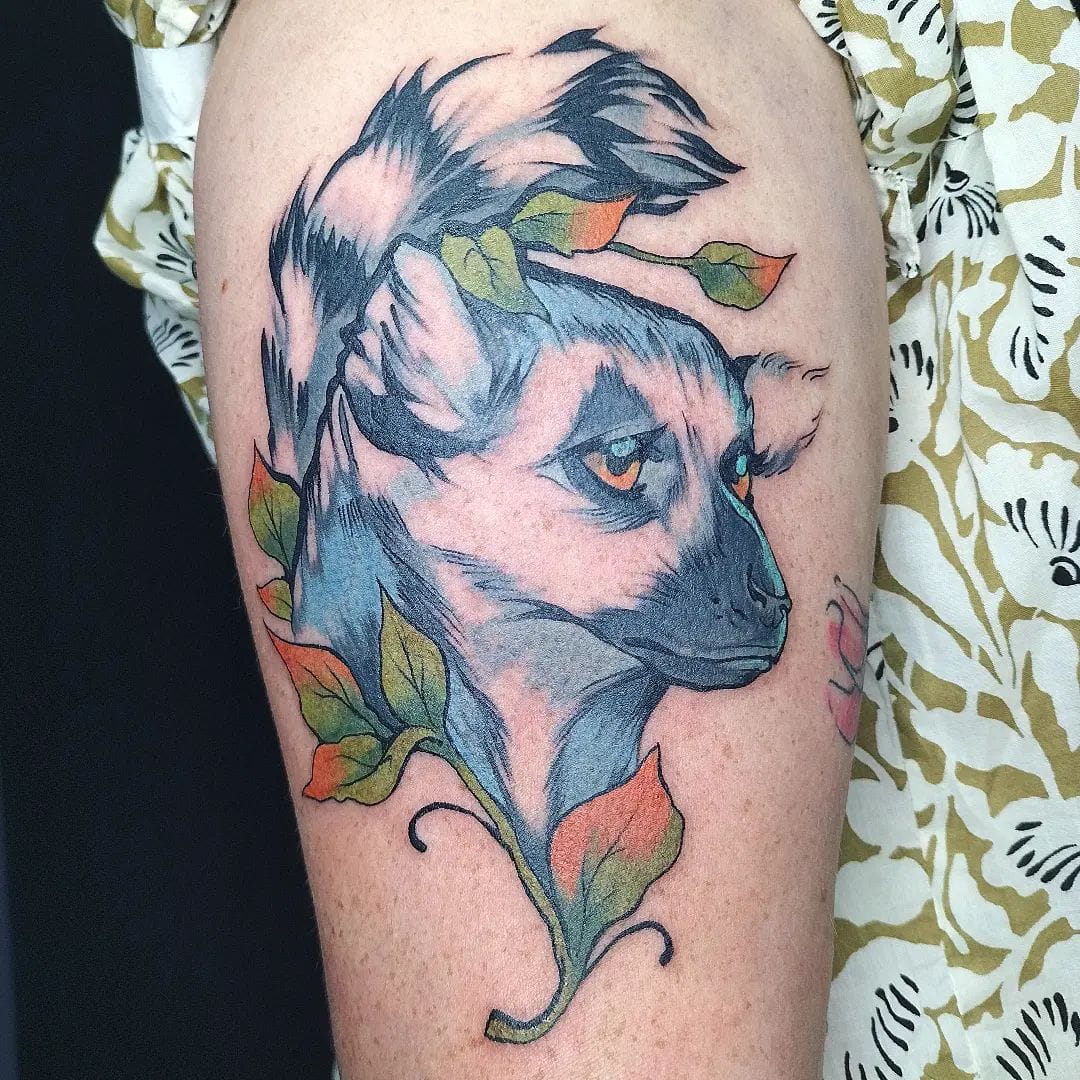 This almost looks like a portrait someone would get of their pet, but in this case, a pet lemur is probably a horrible idea.
There's something a bit more serious about the way the lemur is gazing towards the distance, and it's different enough to stand out from the rest on this list.
15. Neo Traditional Lemur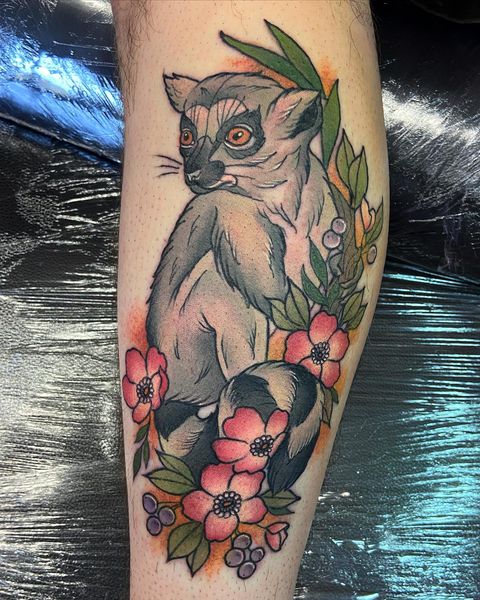 This lemur is holding onto his favorite little branch and is done in a sort of neo-traditional style.
It's simple in appearance, but the shading is really well done the closer you look.
16. Detailed Dot Work Lemur Tattoo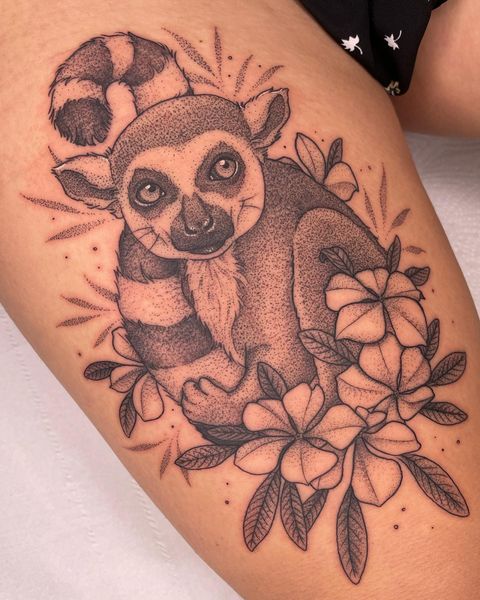 This is another example of a beautiful dot-work tattoo that's considerably more detailed than the other one that made this list.
I like the monochrome look of this piece, and the flowers behind and in front of the lemur frame him perfectly.
17. Colorful Lemur Calf Tattoo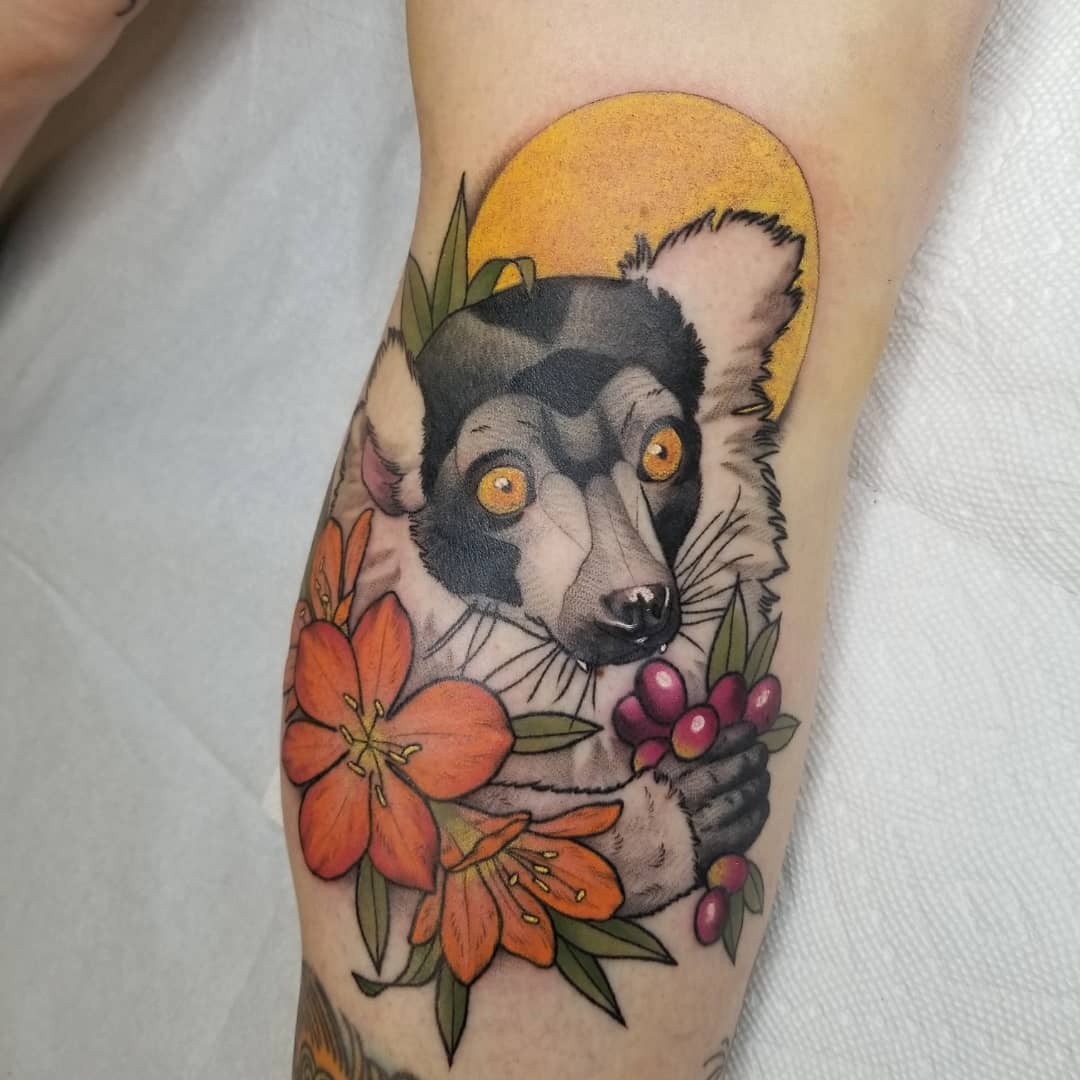 This calf tattoo showcases a Lemur with lighter fur but with lovely little splashes of color in the flowers, fruit, and sun behind him.
18. Zen Lemur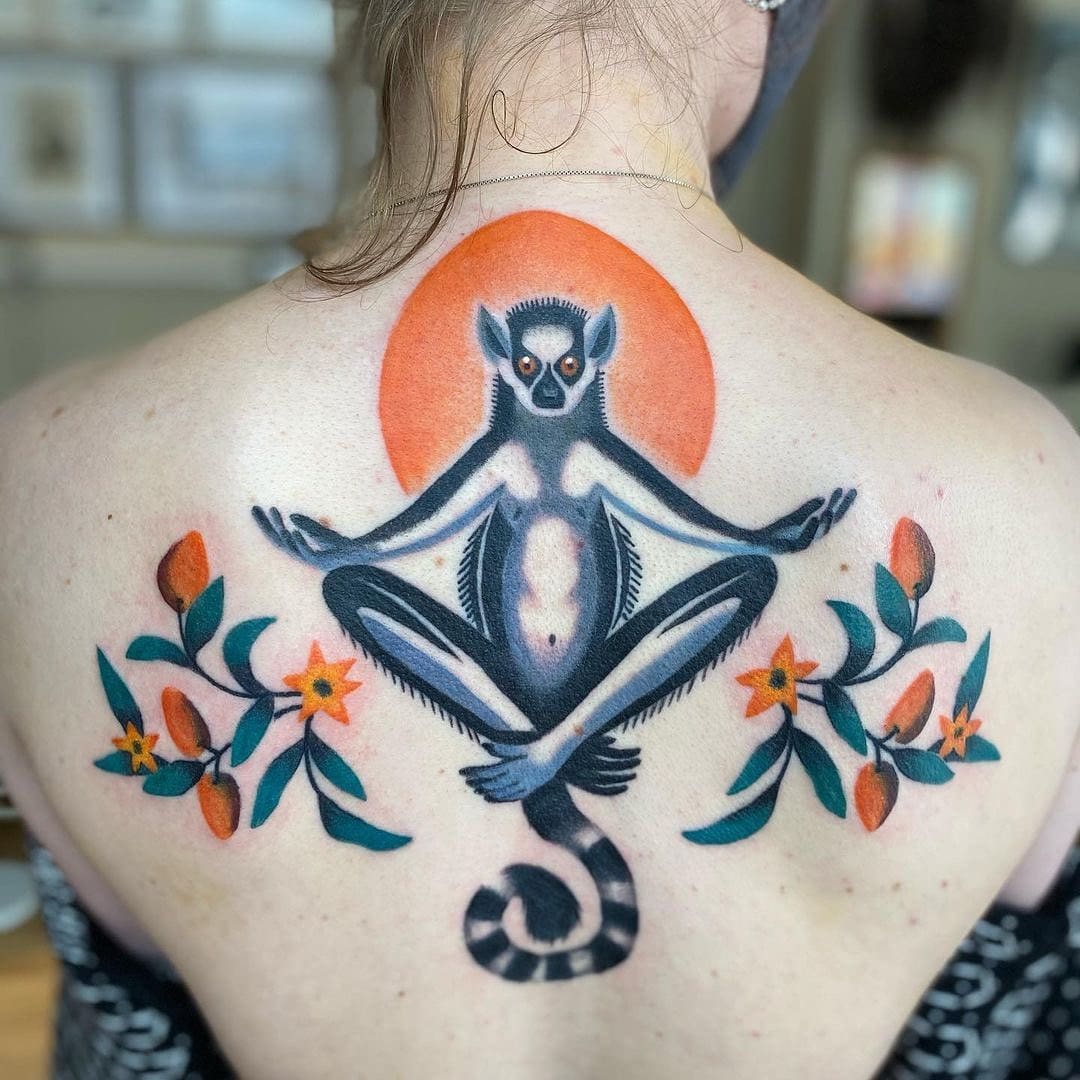 Now here's something different.
This Lemur is sitting cross-legged while meditating, surrounded by beautiful shades of green and orange flowers.
19. Realistic Lemur Elbow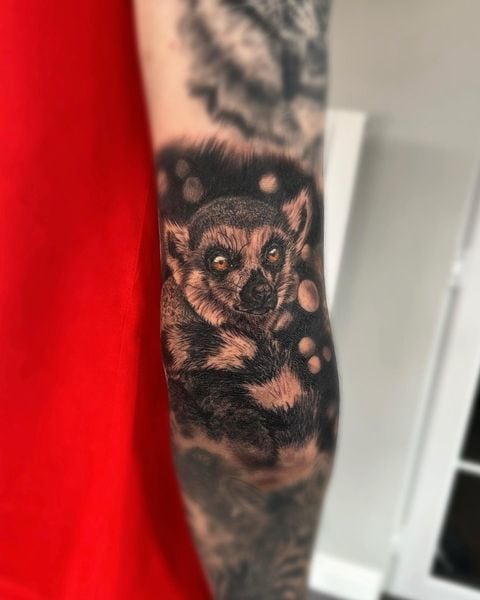 There's some insane detail on this piece, almost in a blackout tattoo style.
This piece is unique on this list because it feels like it's one of the only ones where the animal is in a nighttime setting.
20. Traditional Lemur Tattoo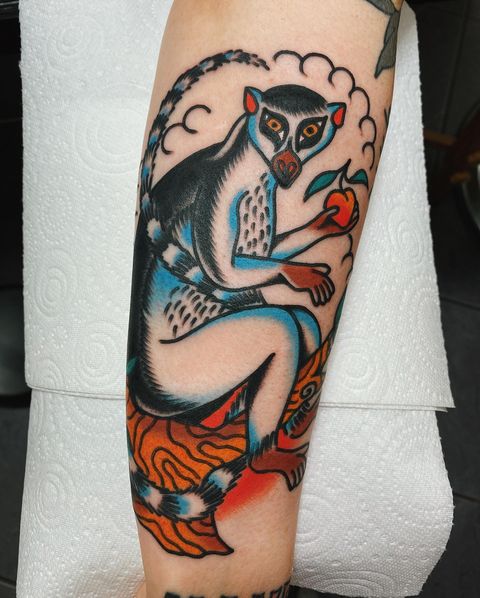 This guy is dripping with style in the classic traditional style that everyone loves so much. Sailor Jerry eat your heart out.
21. Sketch Lemur Tattoo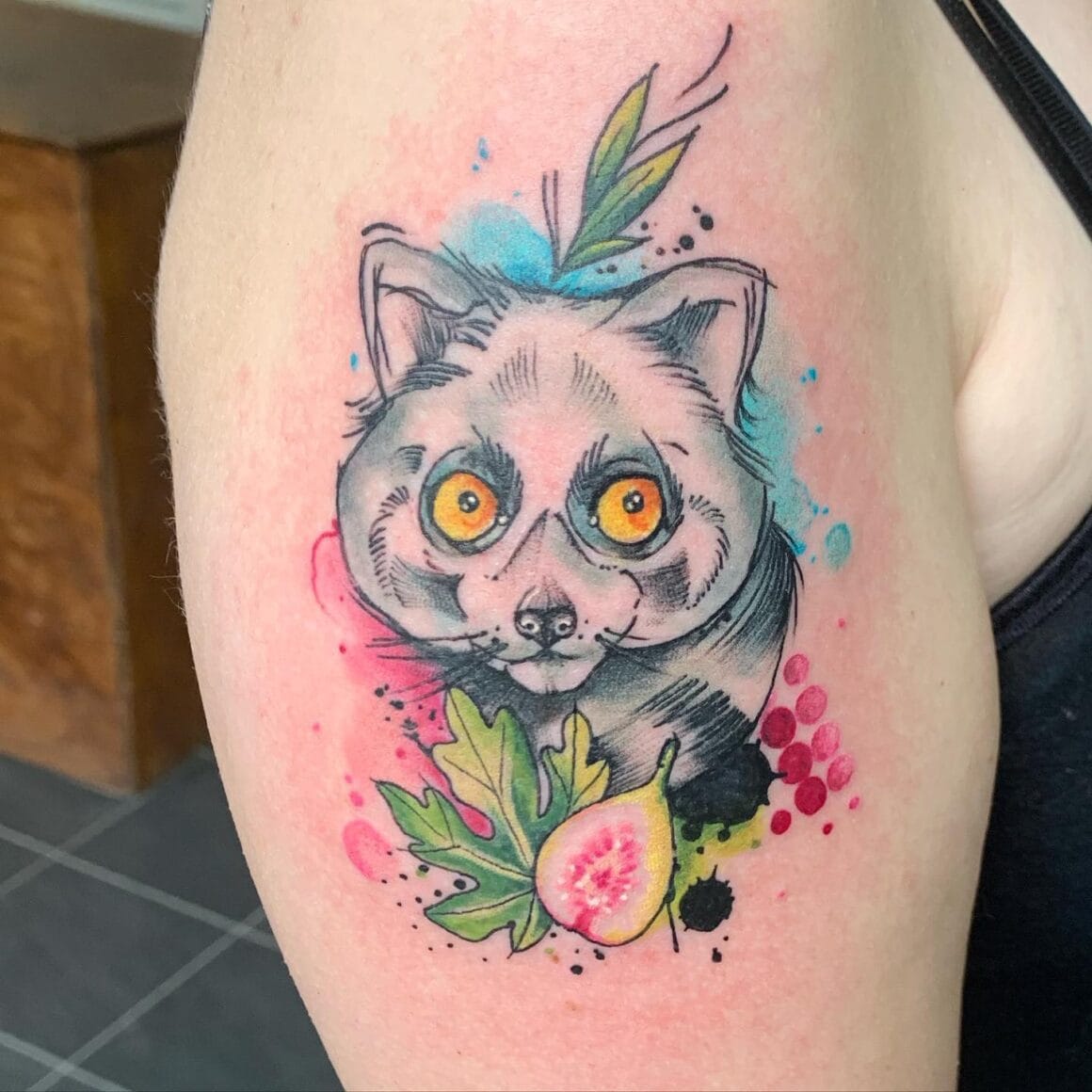 I like the more free-form, casual look of this lemur based on the way the artist expressed lines and color.
It feels like a light sketch, but the watercolor background colors give it a nice bit of contrast.
22. Evil Lemur Calf Tattoo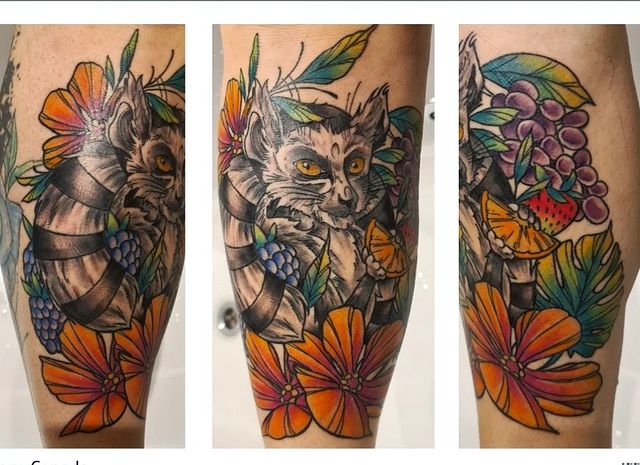 There is something incredibly mischievous about how this lemur clutches his little orange slice, almost like he's protecting it.
There's lots of detail in this piece, and the longer I look at it, the more I pick out.
Lemur tattoo meaning
Lemurs are one of the smallest mammals out there and are incredibly docile.
People call lemurs their spirit animals due to how they just want to hang out with their friends, chill, and feast on bugs and insects all day.
If you're looking for a chill little spirit animal, the lemur will always be on the top of the list.