If you know a Taurean, you've experienced the love. Born between April 20th – May 20th, the Taurus personality is known to lean into the beauty of life. Governed by Venus, they'll happily go towards anything swoon-inducing. They're loyal, ambitious, and grounded. The best part? They'll make you feel so special and valued. Everyone needs a Taurus.
Taurus tattoos are popular and for good reason! They are represented by a bull, whose horns are often symbolized by an upwards-facing crescent moon. These are both beautiful options for tattoos, and can be conceptualized in endless techniques.
Scroll down and enjoy the beauty that is our favorite Taurus tattoos.
1. Cosmic Taurus Woman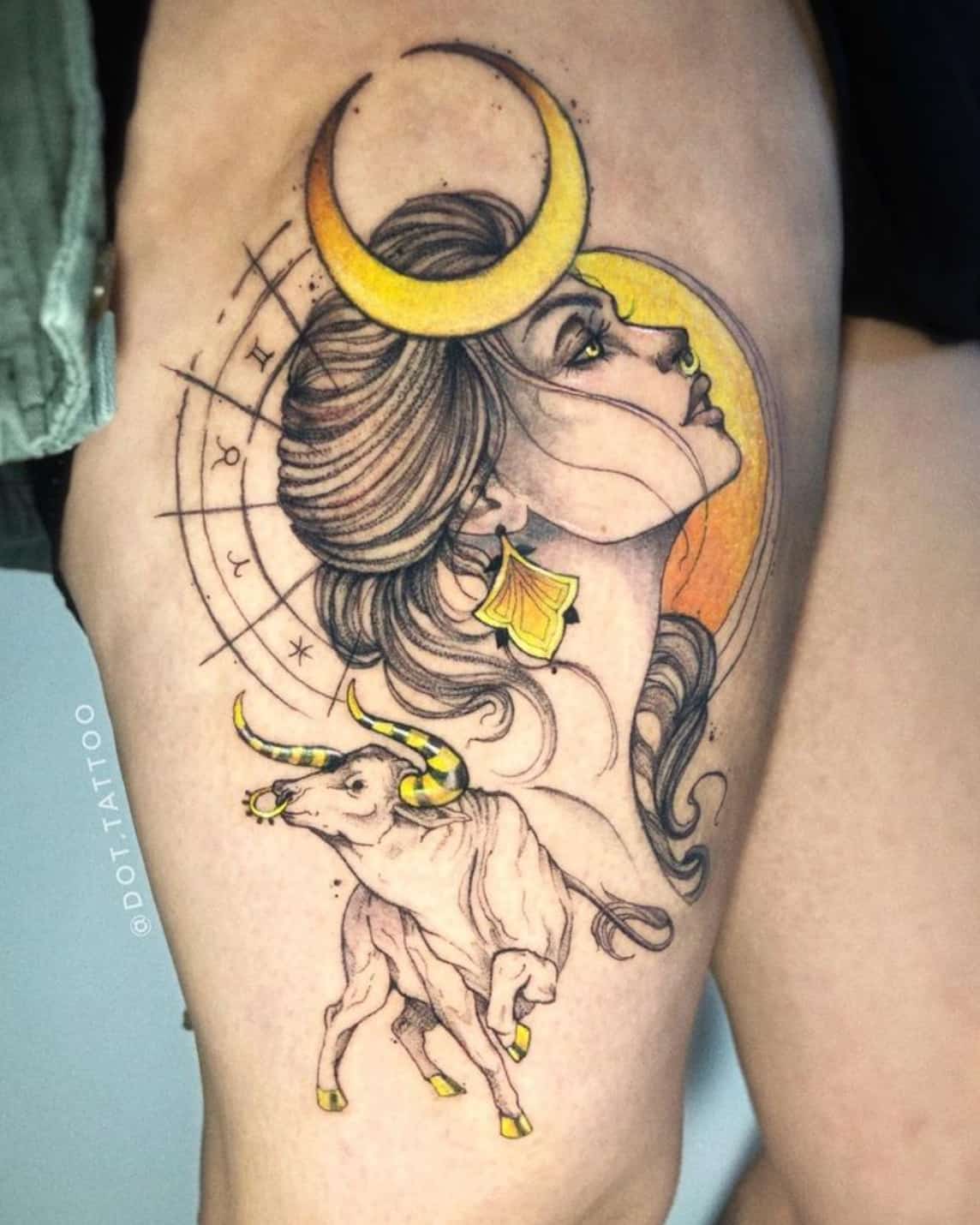 This piece is so unique. Rarely do we see black ink with yellow as the highlight color, and the additions throughout this tattoo are executed perfectly.
2. Psychedelic Bull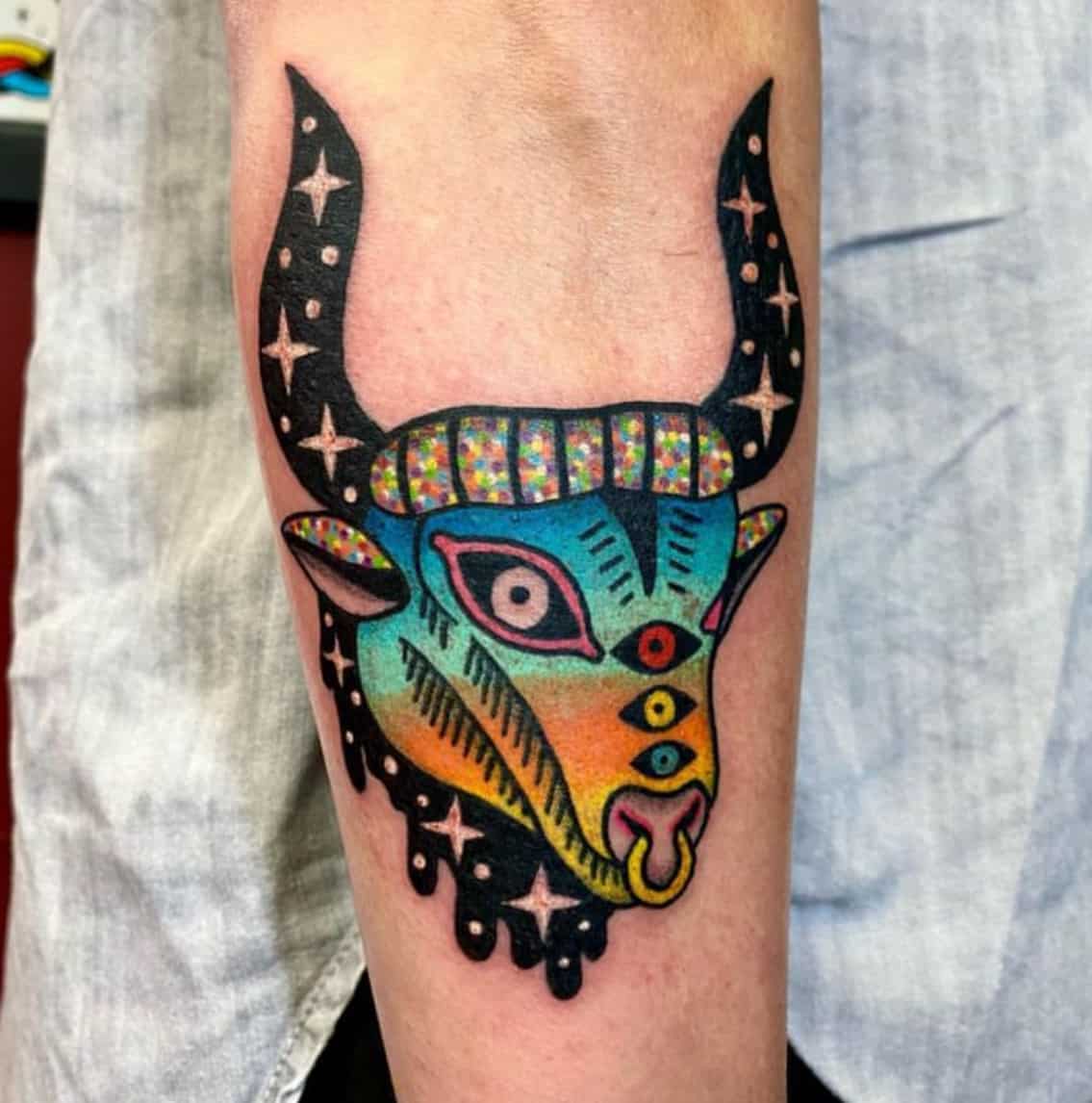 This colorful confetti bull is just so fun to look at. Definitely not something we typically imagine when we think of a Taurus tattoo, but I'm all about this.
Check out the artist's page for more of this creative style!
3. Sketched Bull
The swipes and sketch marks add a chaotic element to an already ominous tattoo. I think they play together excellently.
The red marks almost look like blood wiped with fingers. I love how provoked this piece looks, and the blank eyes really seal the deal.
4. Cute Taurus Tattoo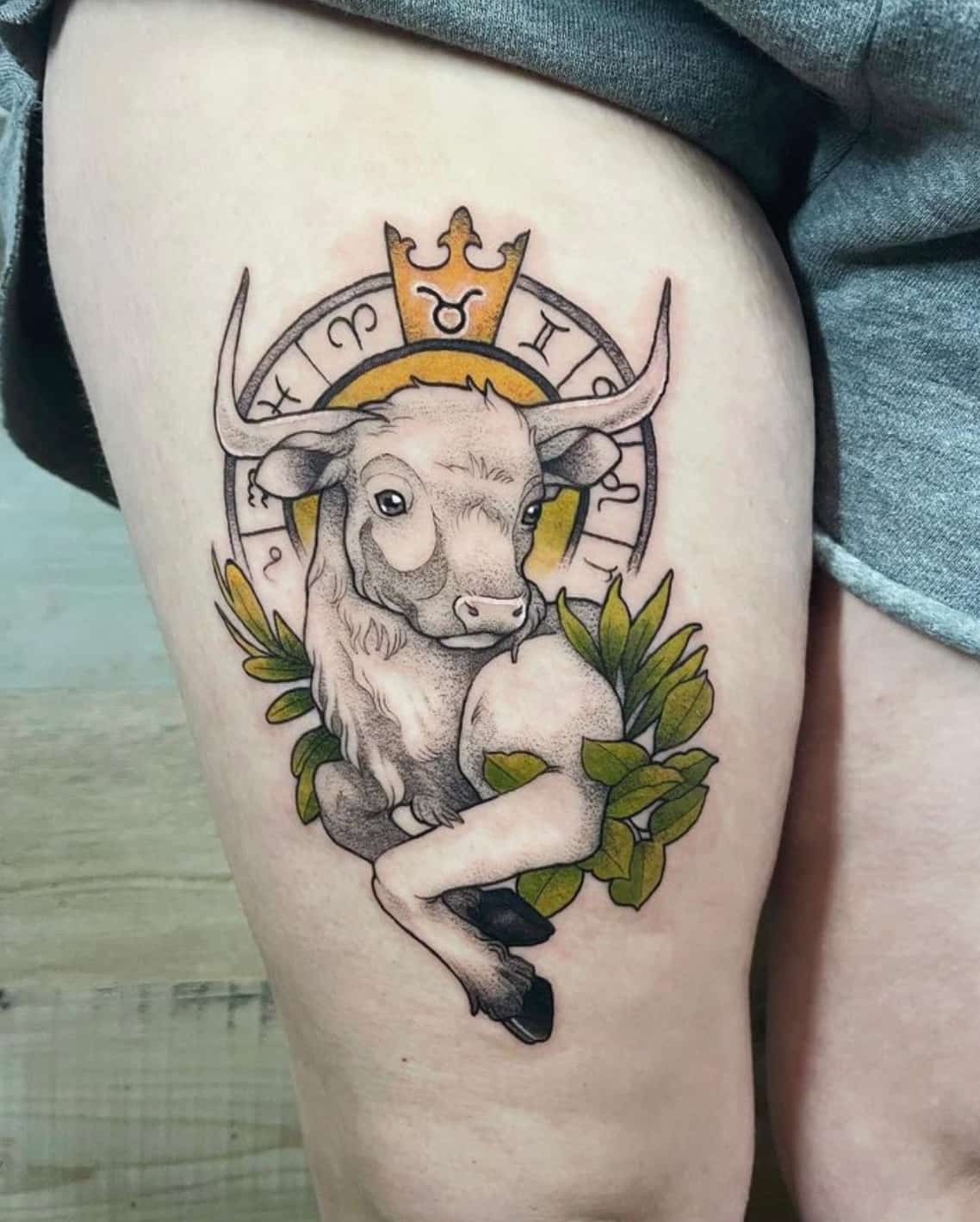 We love a cute cow over here. This little babe is pretty adorable while communicating the message through the horns and the zodiac behind, with the Taurus symbol highlighted.
But still… boop.
5. Gemstone Bull Skull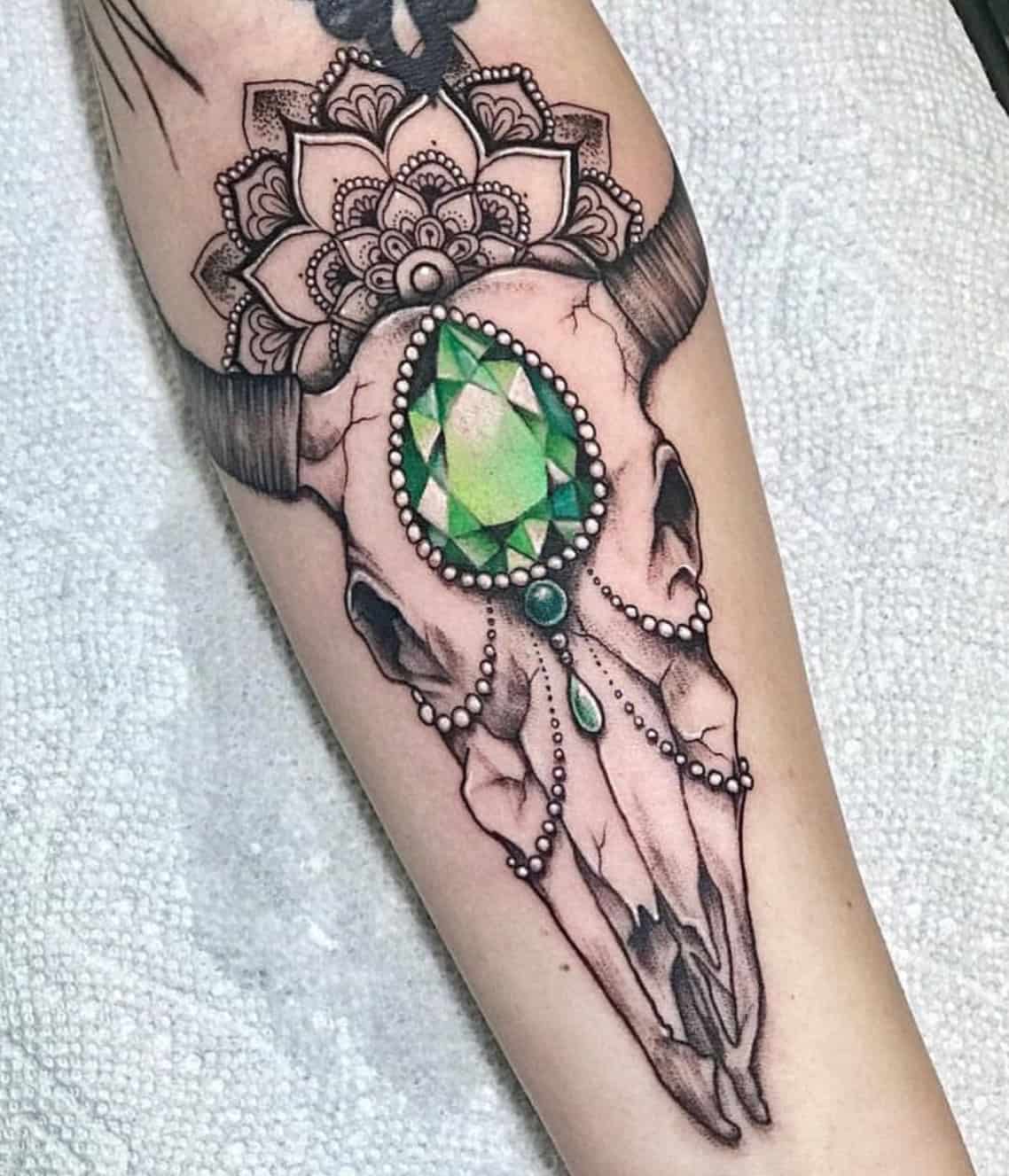 For the boujee Taurus, complete with swanky pearls, opulent emeralds, and a mandala crown to top everything off.
Taureans may be earth signs, but they also love a little luxury, so this checks out.
Do you have a certain affinity for bull skulls? Well, lucky for you, we made a list of bull skull tattoos that you'll love.
6. Taurus Constellation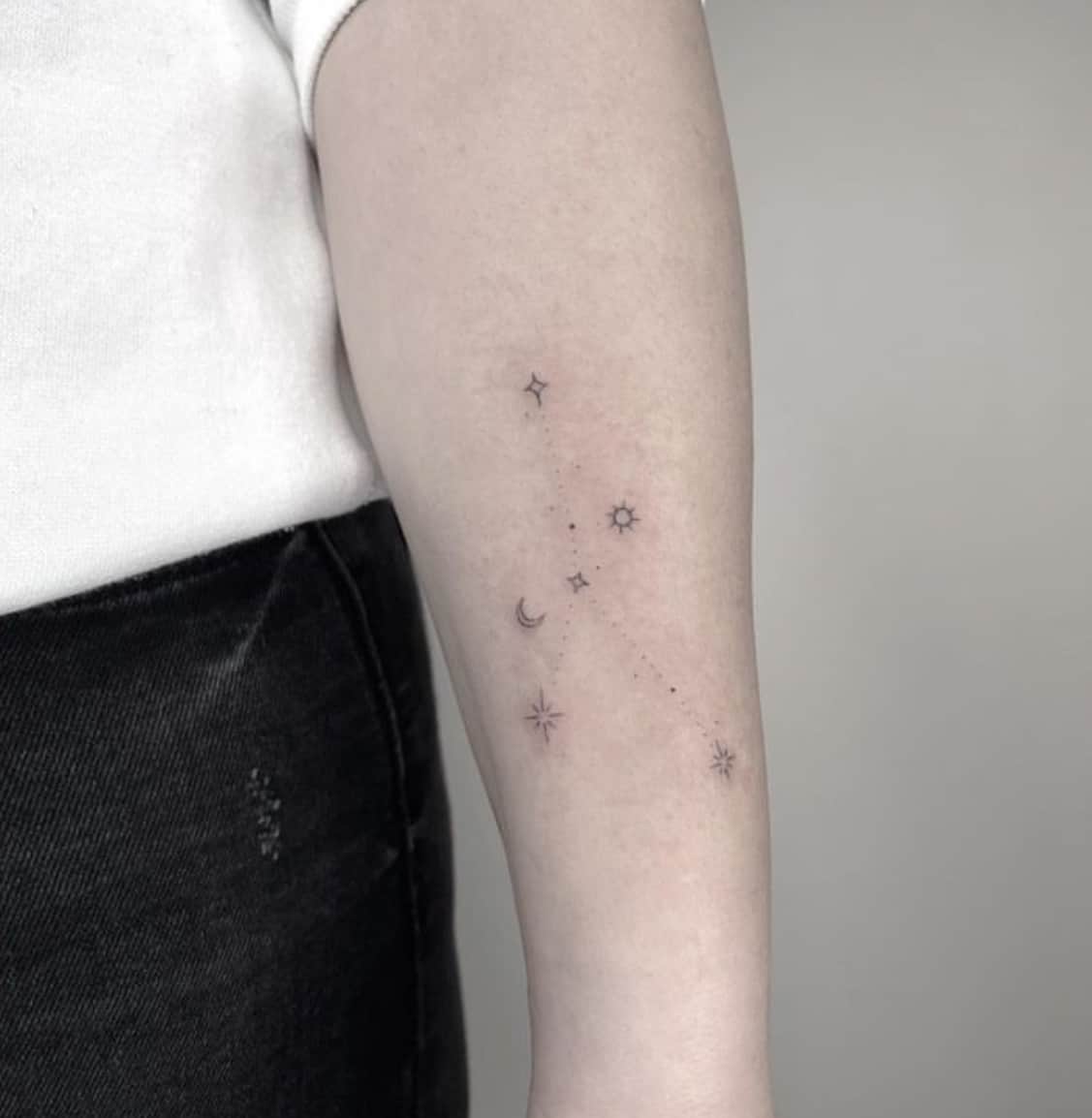 Sweet and clean, this Taurus constellation feels innocent in its simplicity.
7. Linework Taurus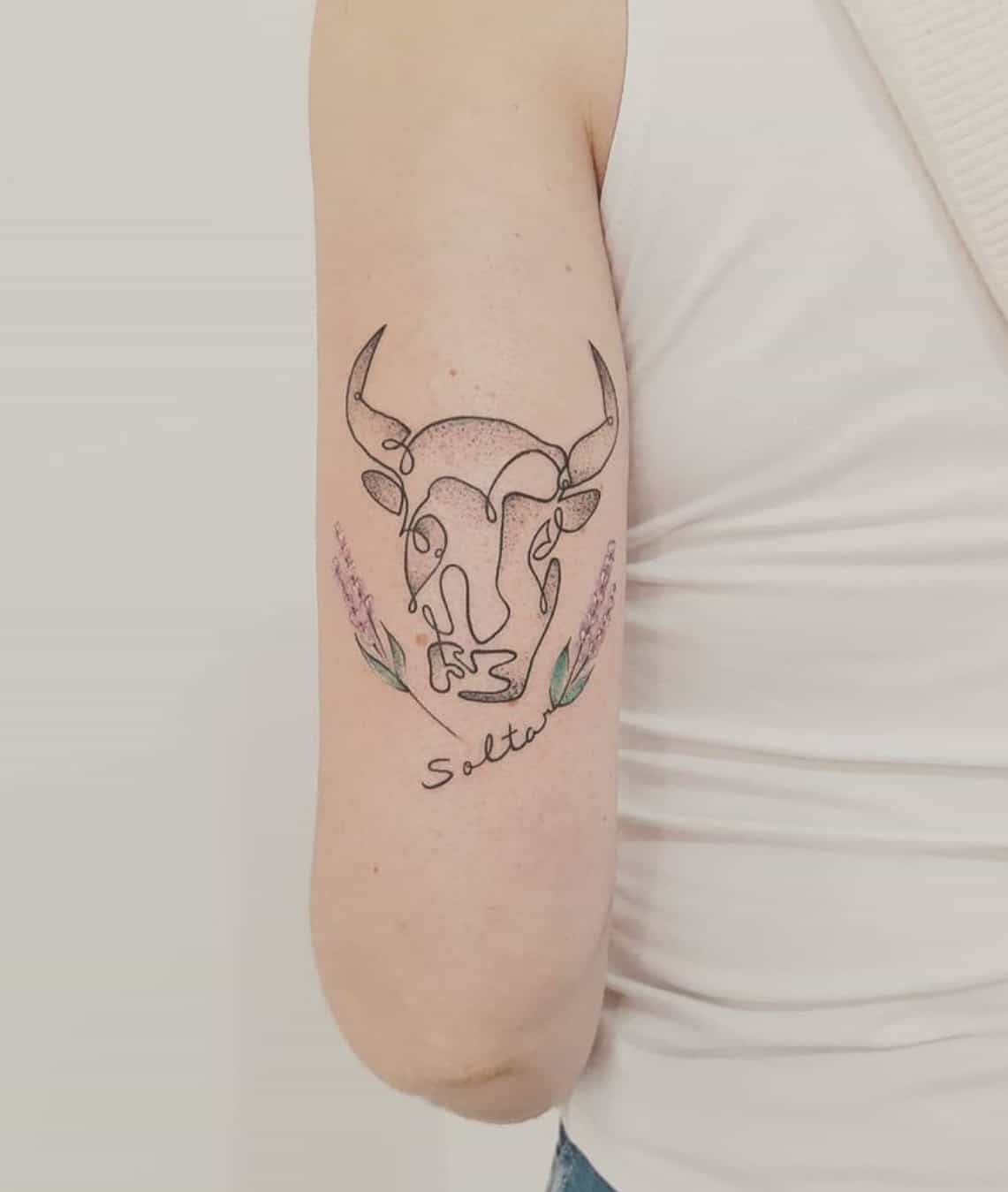 I immediately noticed the subtle shading throughout this linework bull, which is a great way to add a little dimension to a "linear" concept.
8. Taurus Tribal Tattoo Design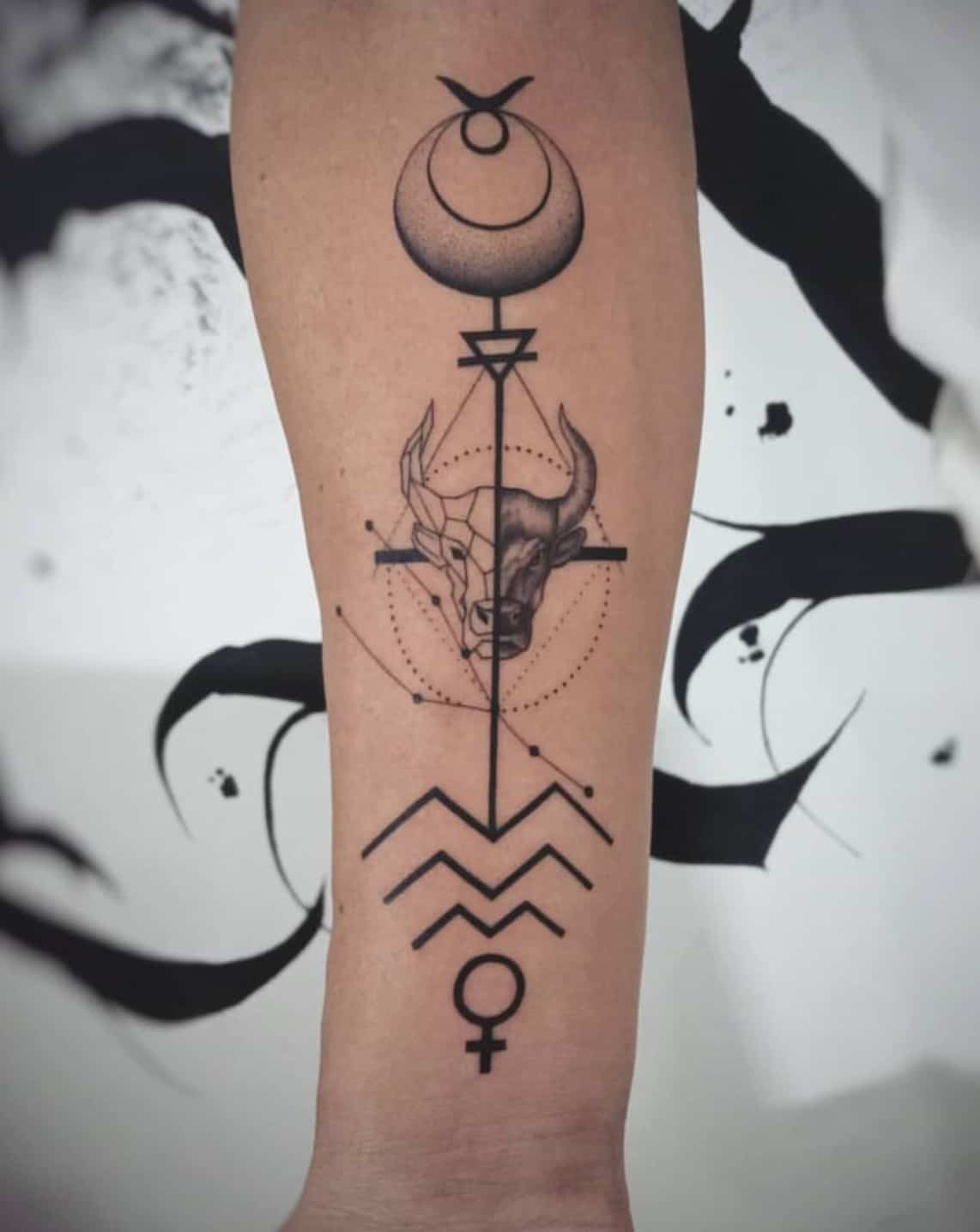 There are so many terrific details here! The Taurus glyph at the top, the crescent moon (which often symbolizes the bull's horns), the elemental symbol for earth (Taurus is an earth sign), the bull (looking so cool in its duality), the constellation, and the female symbol at the wrist.
Are we missing anything?
9. Geometric Monochrome Taurus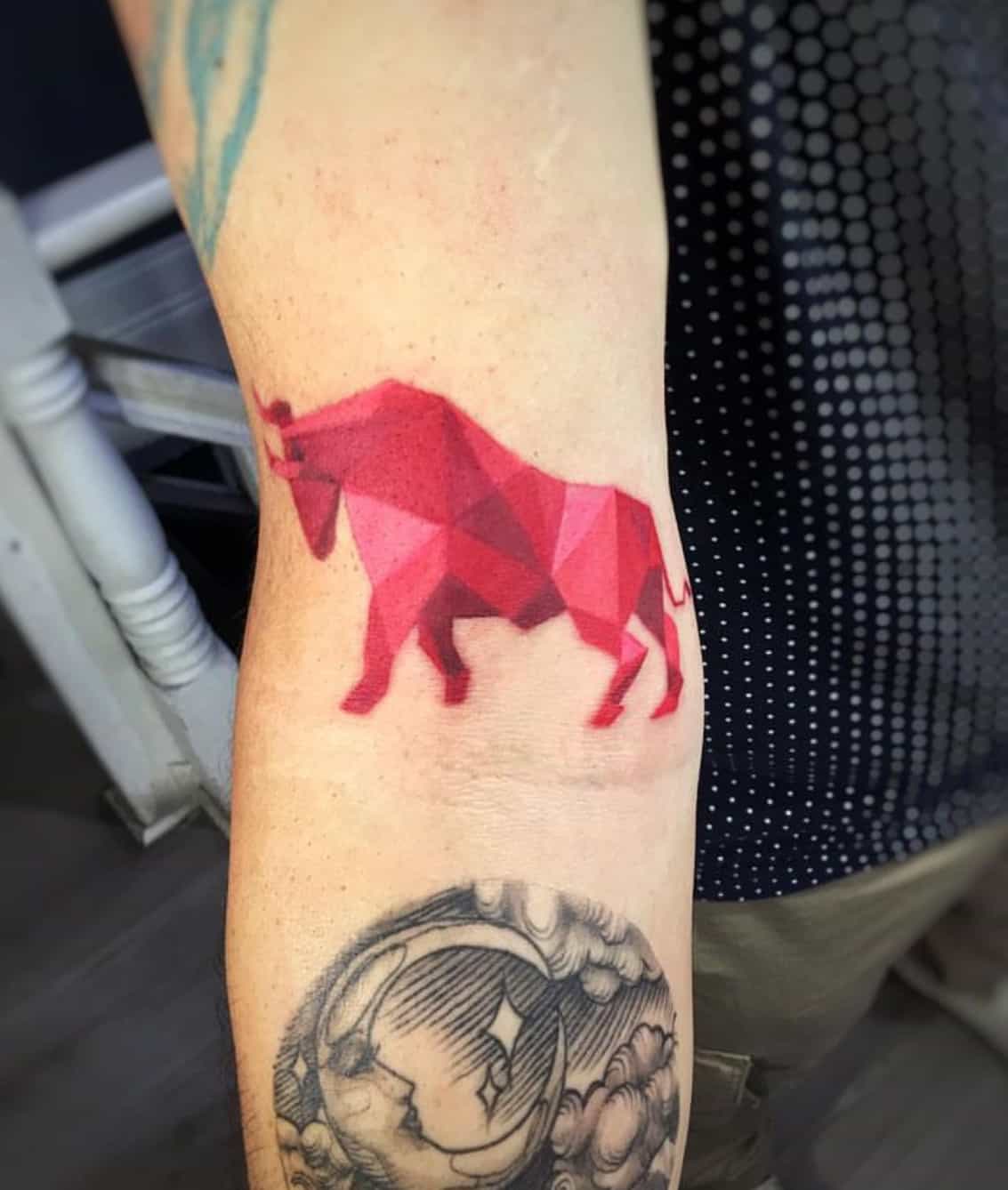 Something about this appears industrial, like it would be a giant sculpture made out of rusting plates of iron. The variations of red in the monochromatic design are beautifully done, seemingly playing with lighting. This is a win in our books.
10. Traditional Taurus Lady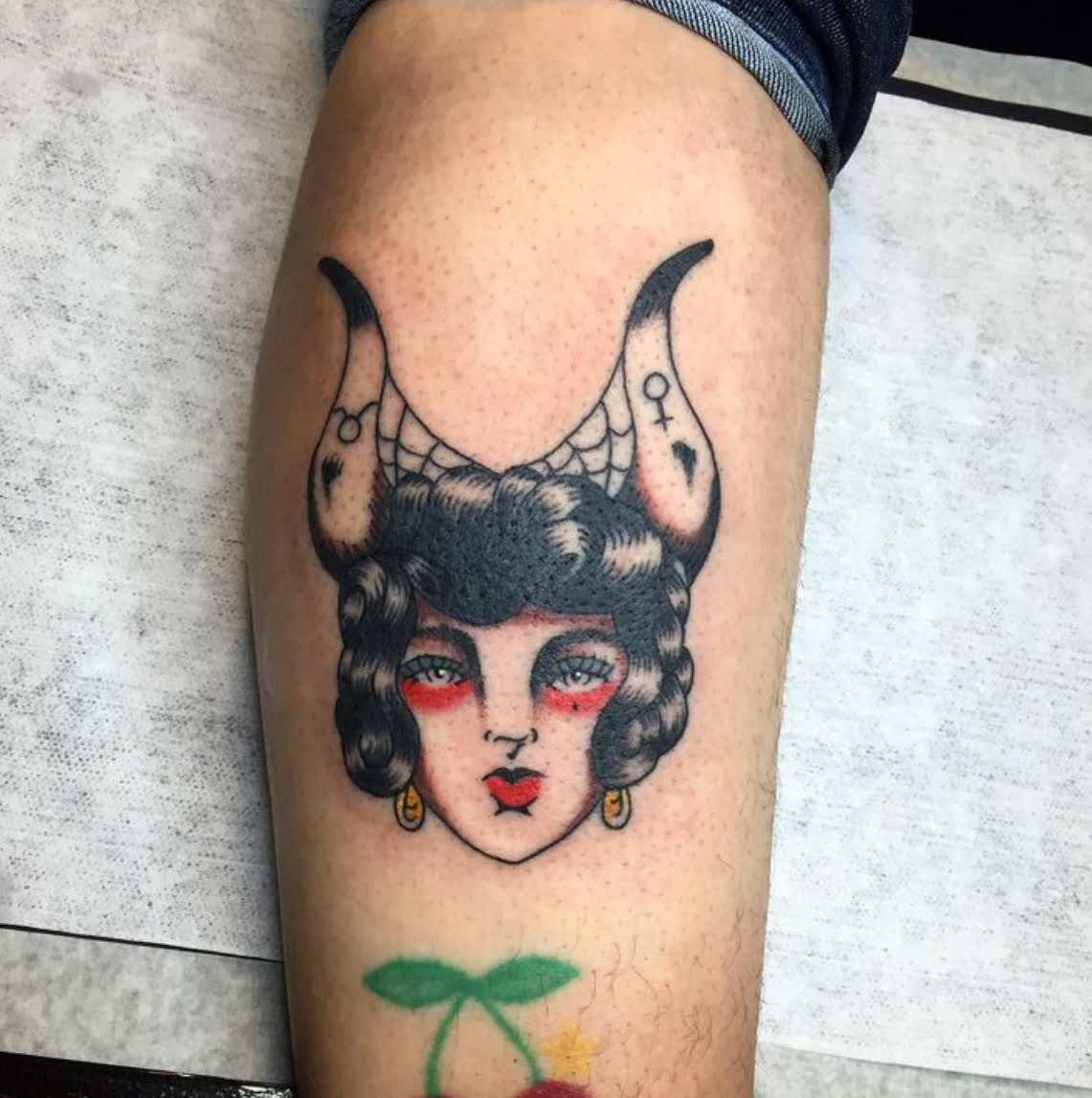 Here's our traditional beauty. Look at those spiderwebs on her horns! As a Taurus, she'll take care of you. But it still seems like you might not want to get in her way.
11. Taurus Tattoo with Flowers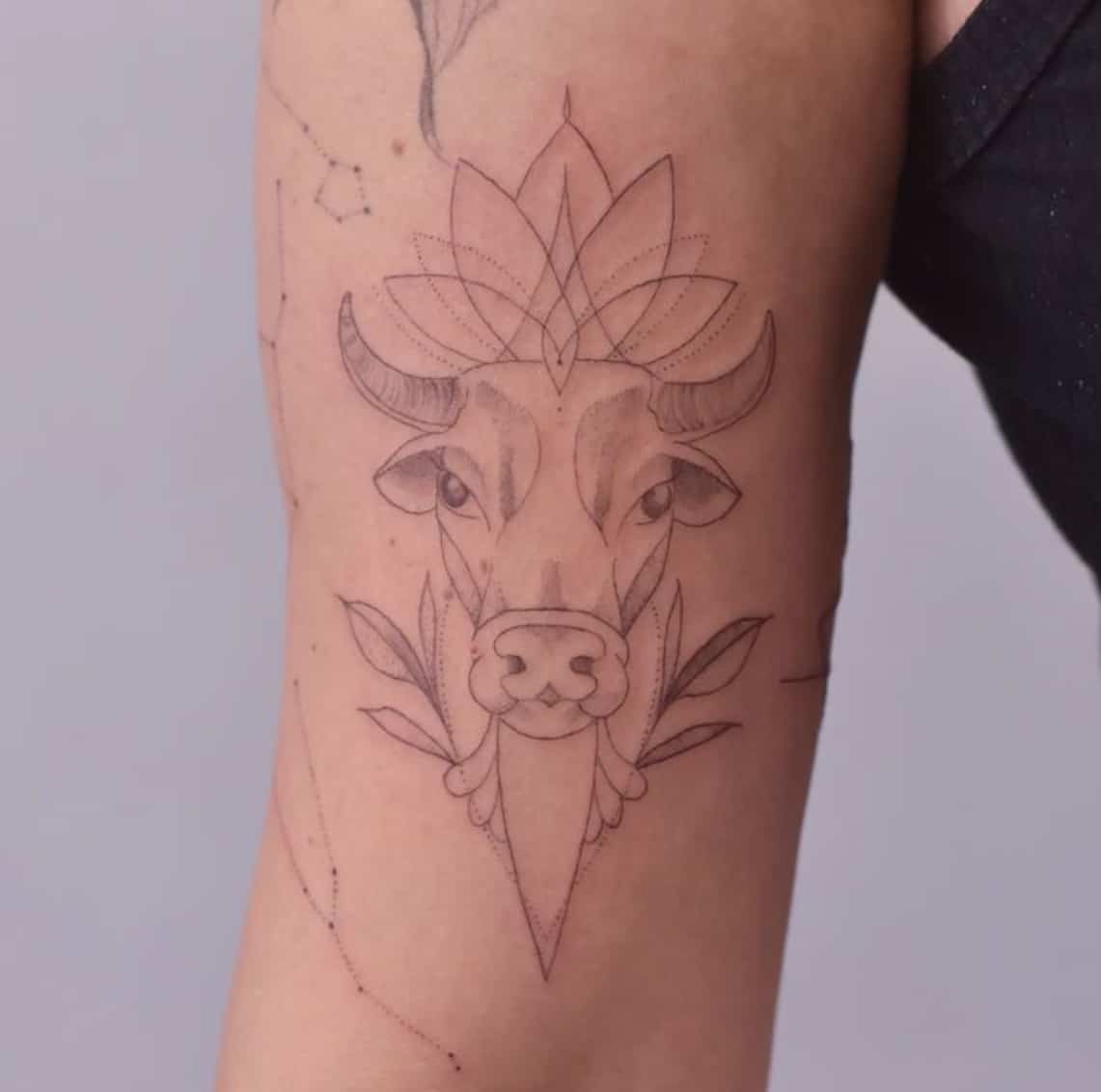 This darling bull is uncomplicated but has sweet adornments to add some expression. The lotus flower on top and a few stems and leaves below are a pretty frame for a soft Taurus tattoo like this.
12. Female Taurus Tattoo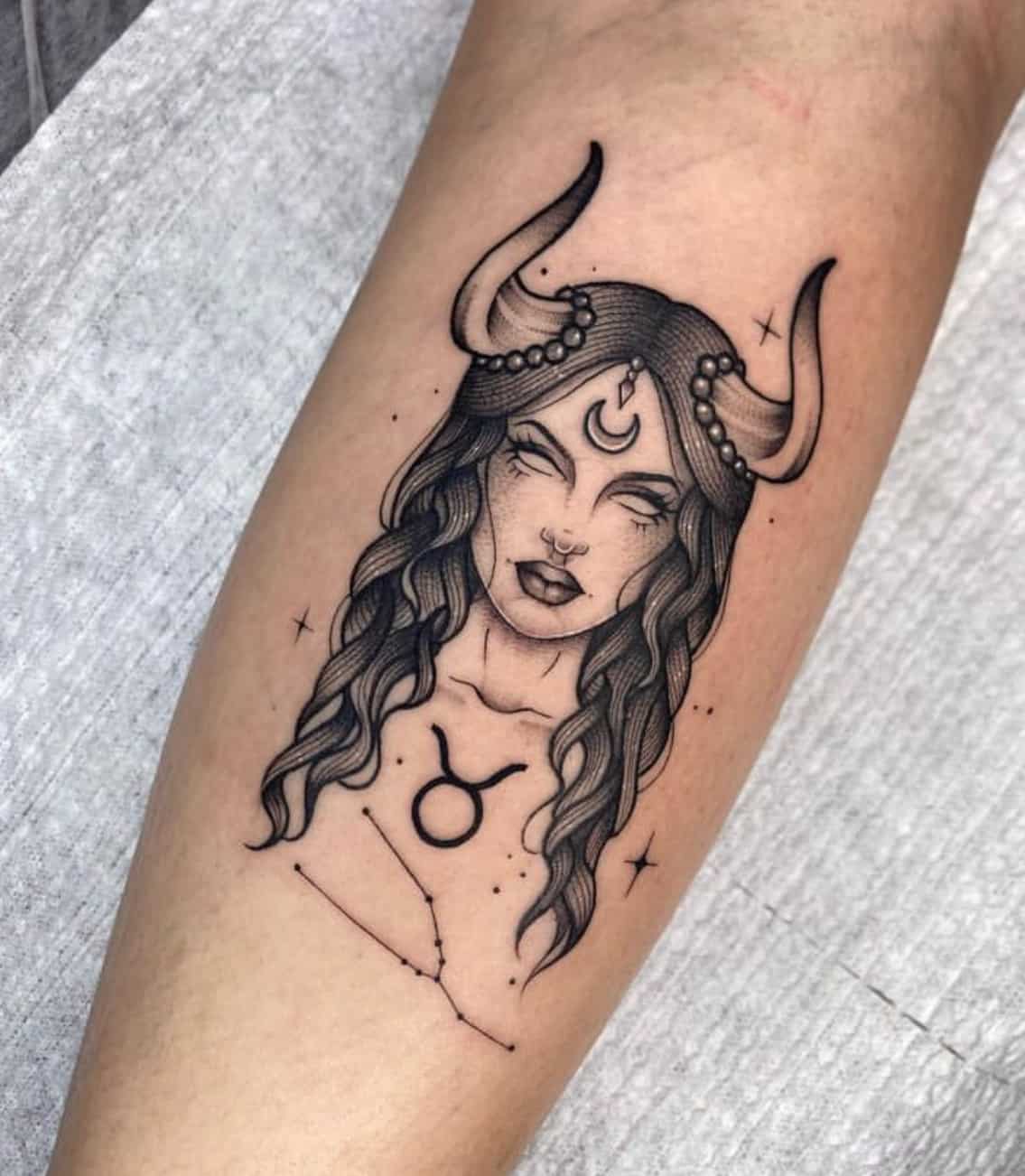 This beautiful lady has so much personality. The black and white ink is a great choice for this Taurus tattoo, with just the right amount of sophisticated details to keep your attention.
13. Geometric Taurus Tattoo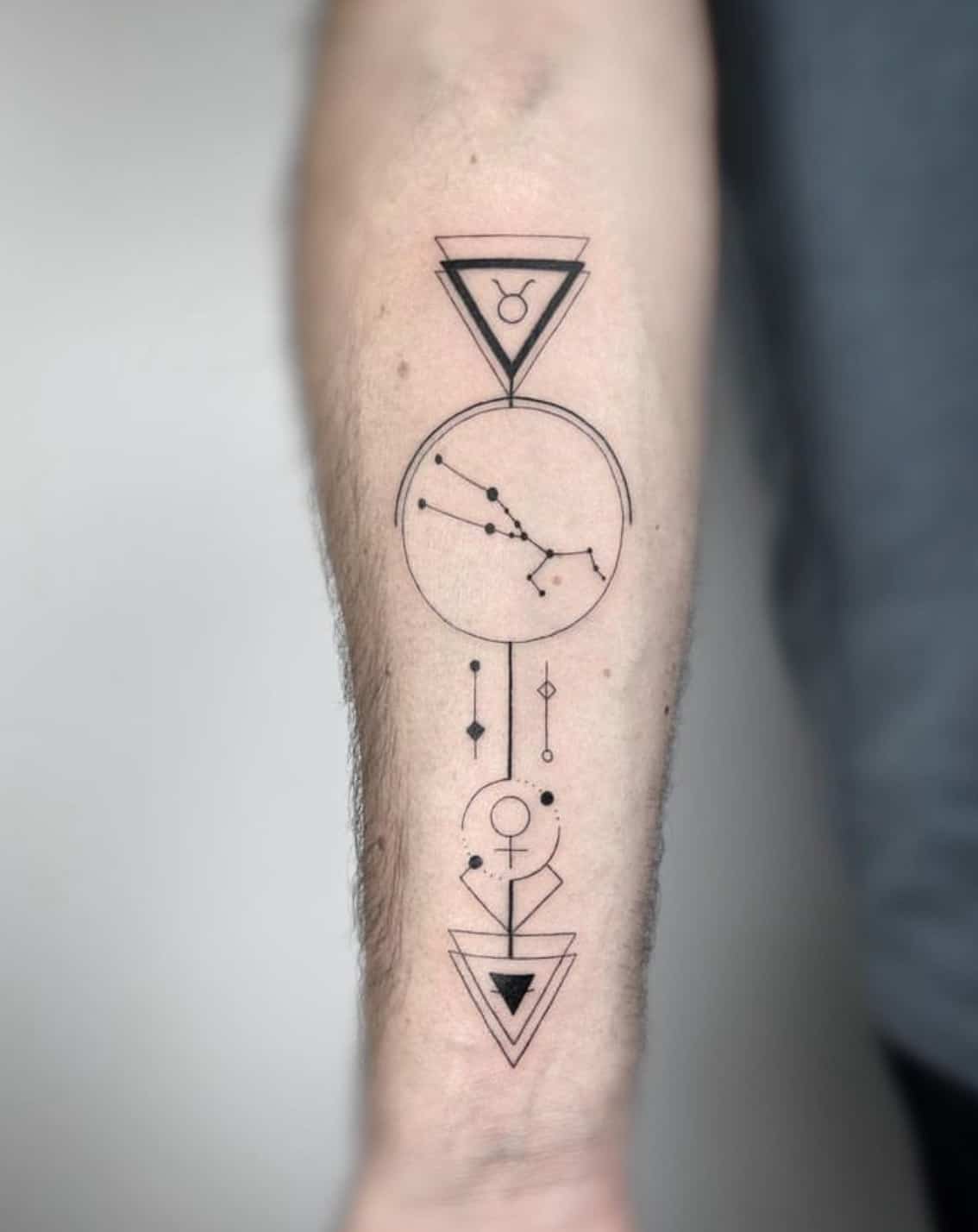 Astrology tattoos work so well with a geometric theme, and this is no exception.
The forearm is a fantastic choice for this kind of tattoo because you can align the flow of the piece itself with the narrowing shape of the arm, as you can see here.
14. Feminine Taurus Tattoo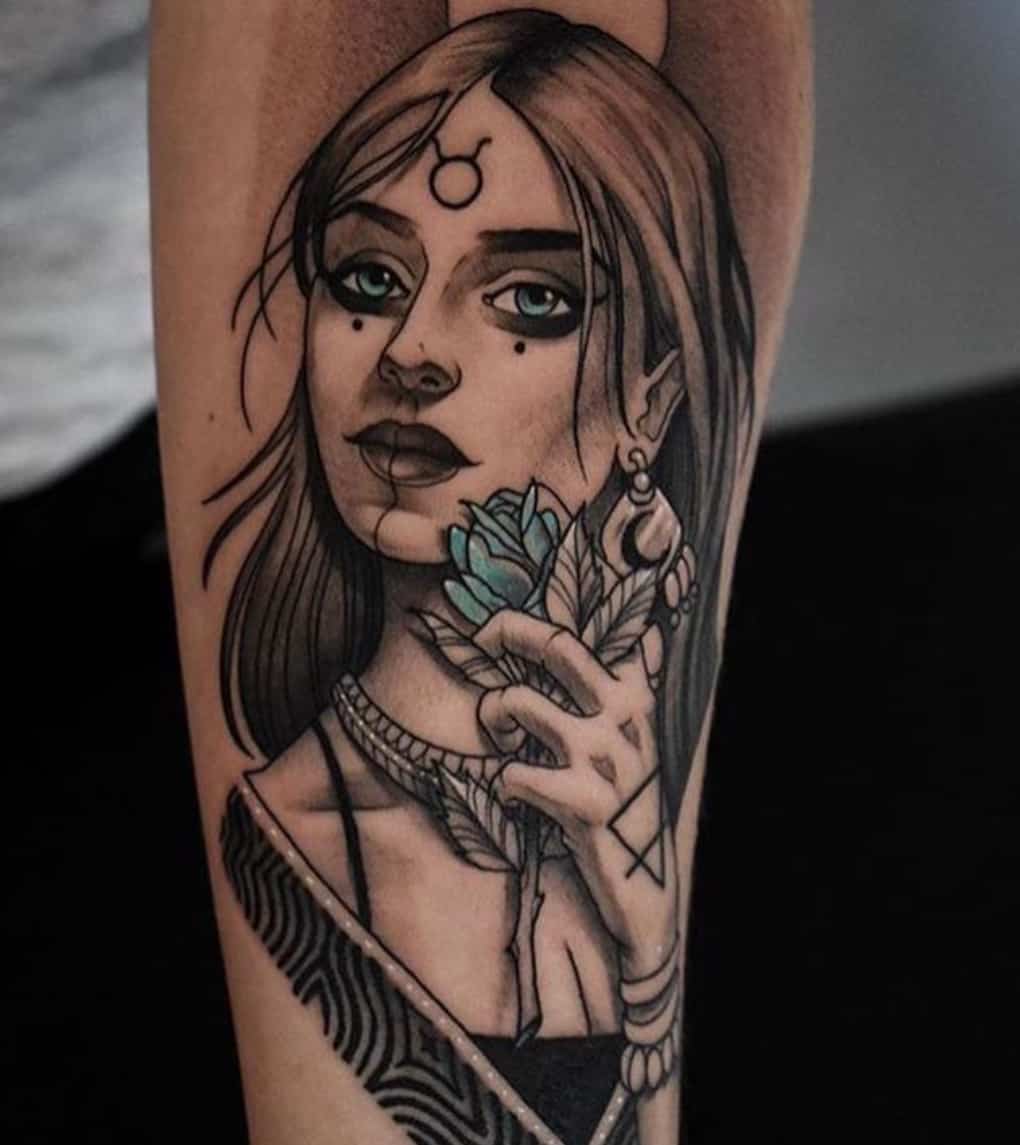 She prettttty. This girl looks like someone we want to have some deep talks with.
Taureans are known for enjoying the pleasure of living, so having this beauty holding a flower is a well-thought-out detail.
15. Taurus Bull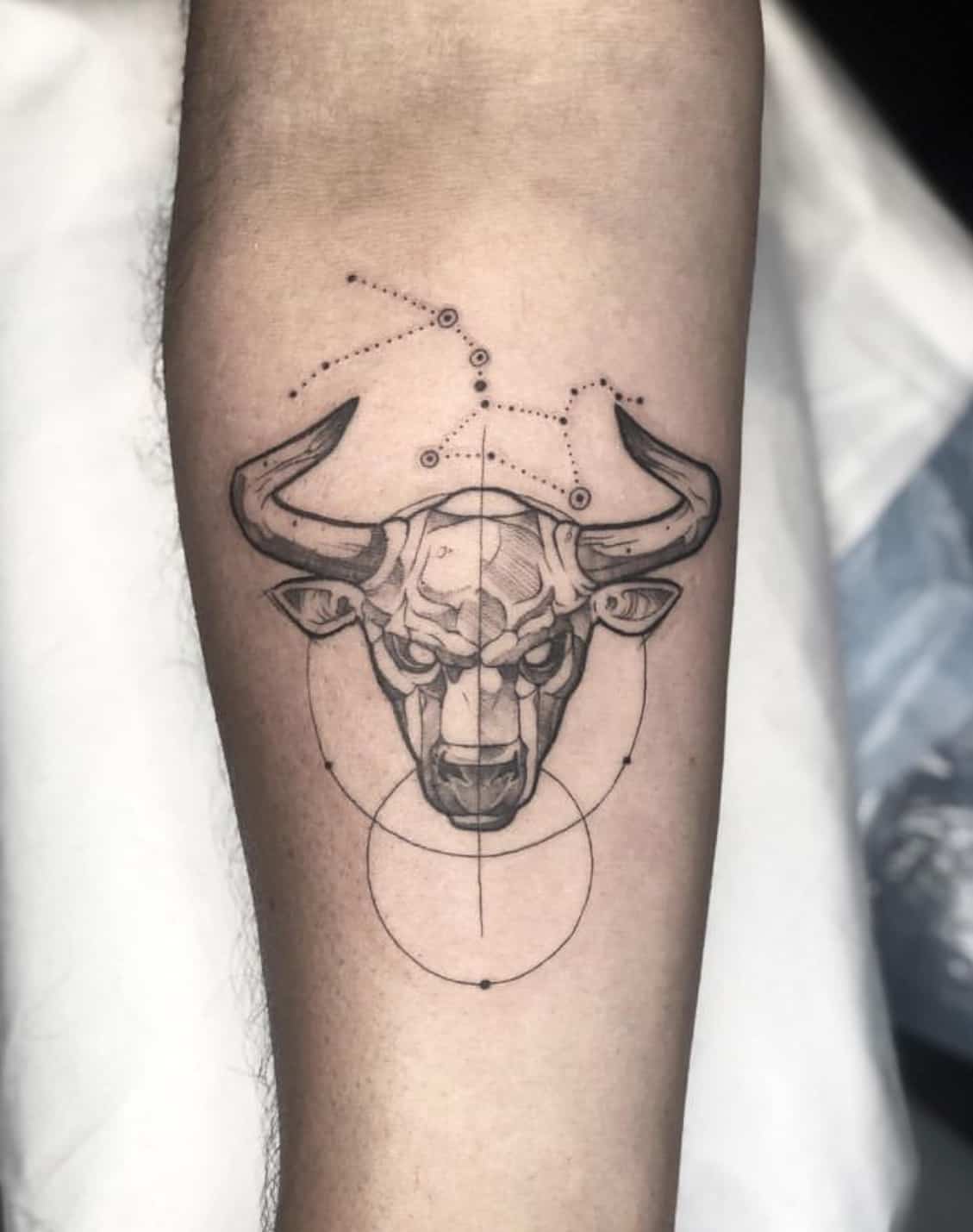 This Taurus bull almost looks metallic in a way, just me?
The black shading is so good here, and the outline that's just bold enough makes this bull feel unshakeable.
16. Zeus and Taurus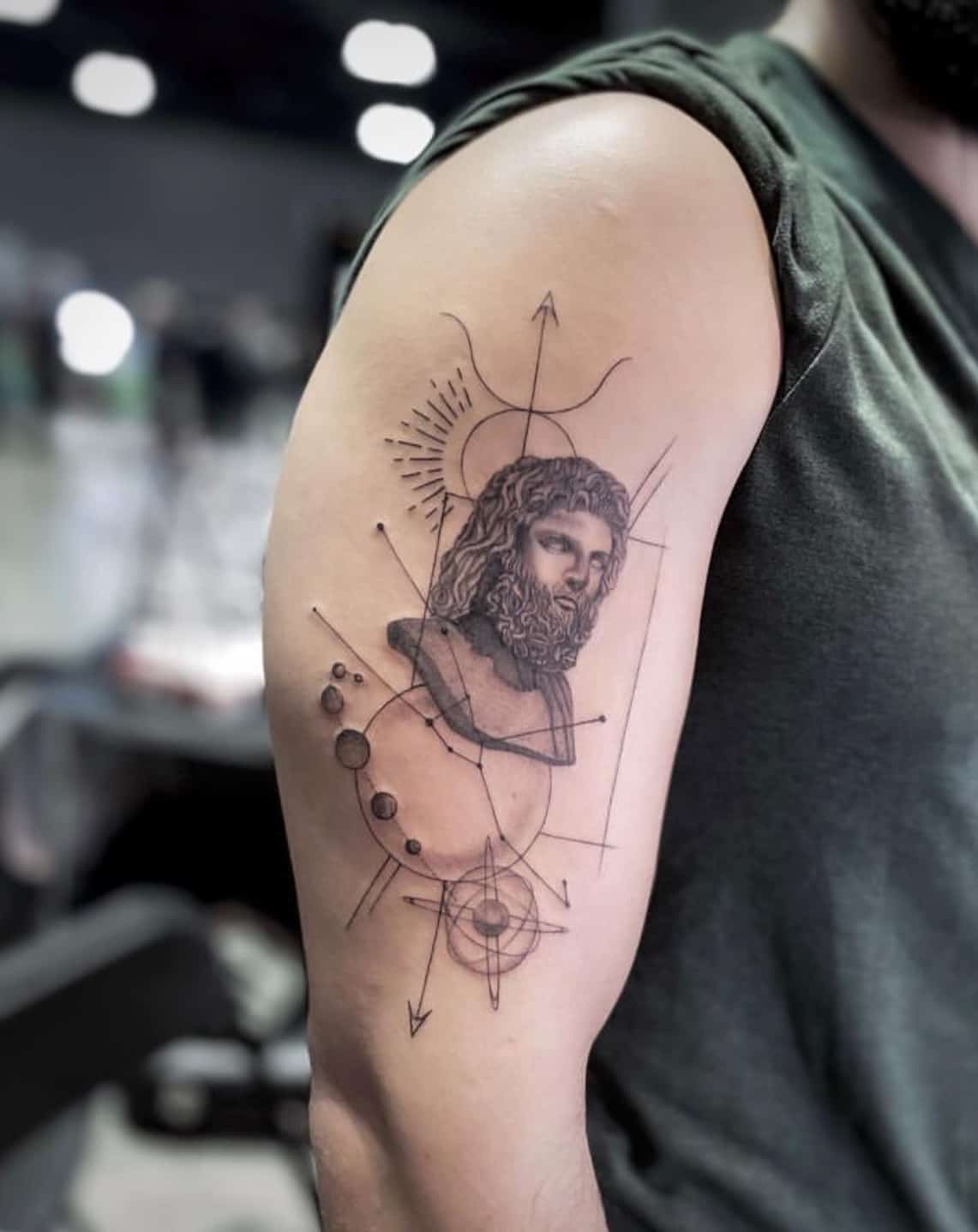 Legends say that when Zeus fell in love with Princess Europa, he transformed himself into a white bull with horns of gold, and carried Europa off to the island of Crete.
We're not sure if that's the connection here, but we're always up for a little mythological drama, and it's our blog, so we're going with yes.
17. Taurus Bones Symbol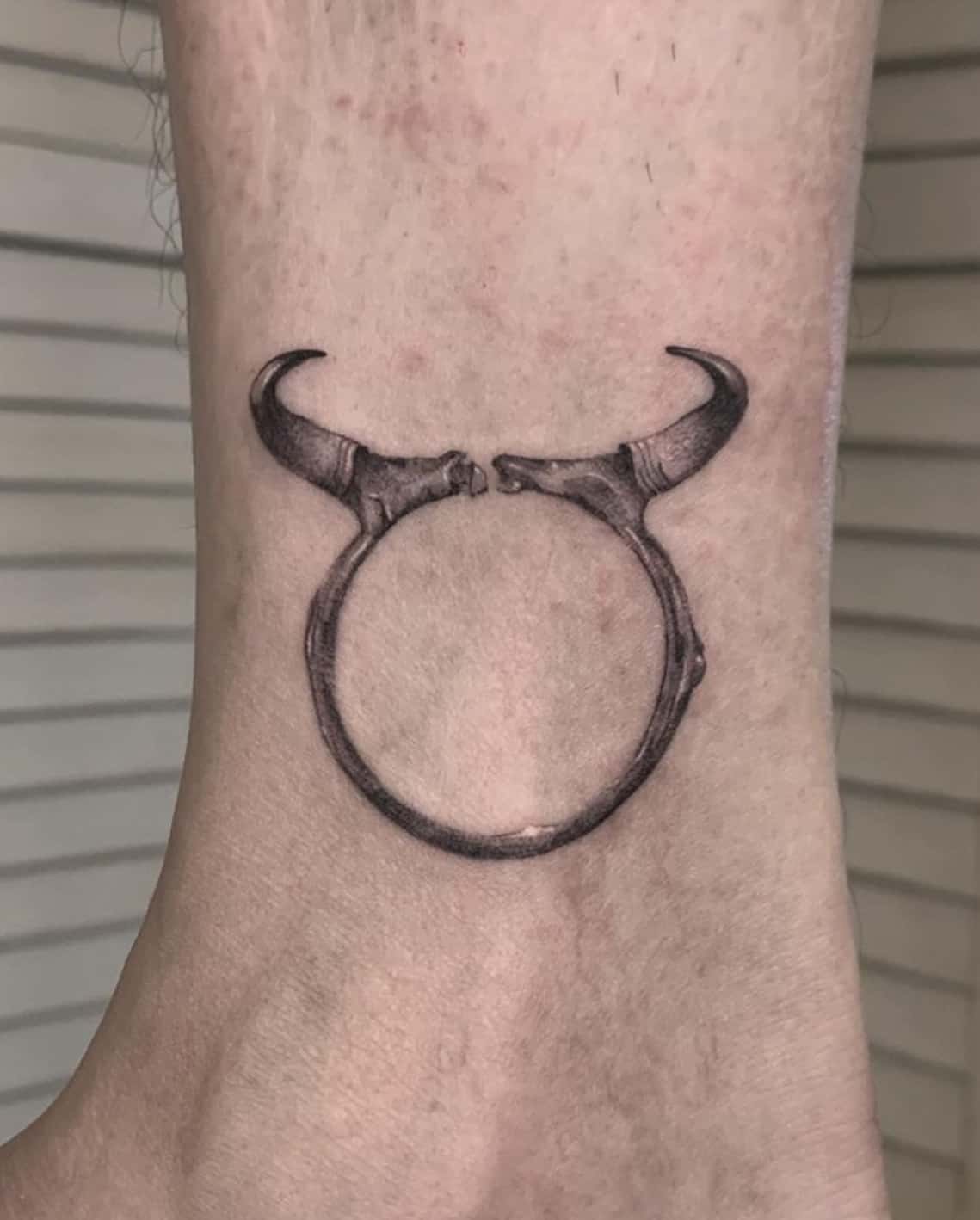 A creative translation of all that is Taurus, this glyph made out of bone, with realistic horns is pretty cool.
For more inspiration like this, be sure to check out our micro realism article.
18. Traditional Bull
Is anyone else getting major Ferdinand vibes here? Because I am, and I'm loving it.
Well-chosen embellishments add charisma to this ink, in the form of jeweled horns, gold rings, and a lovely wreath of roses.
19. Tiny Taurus Tattoo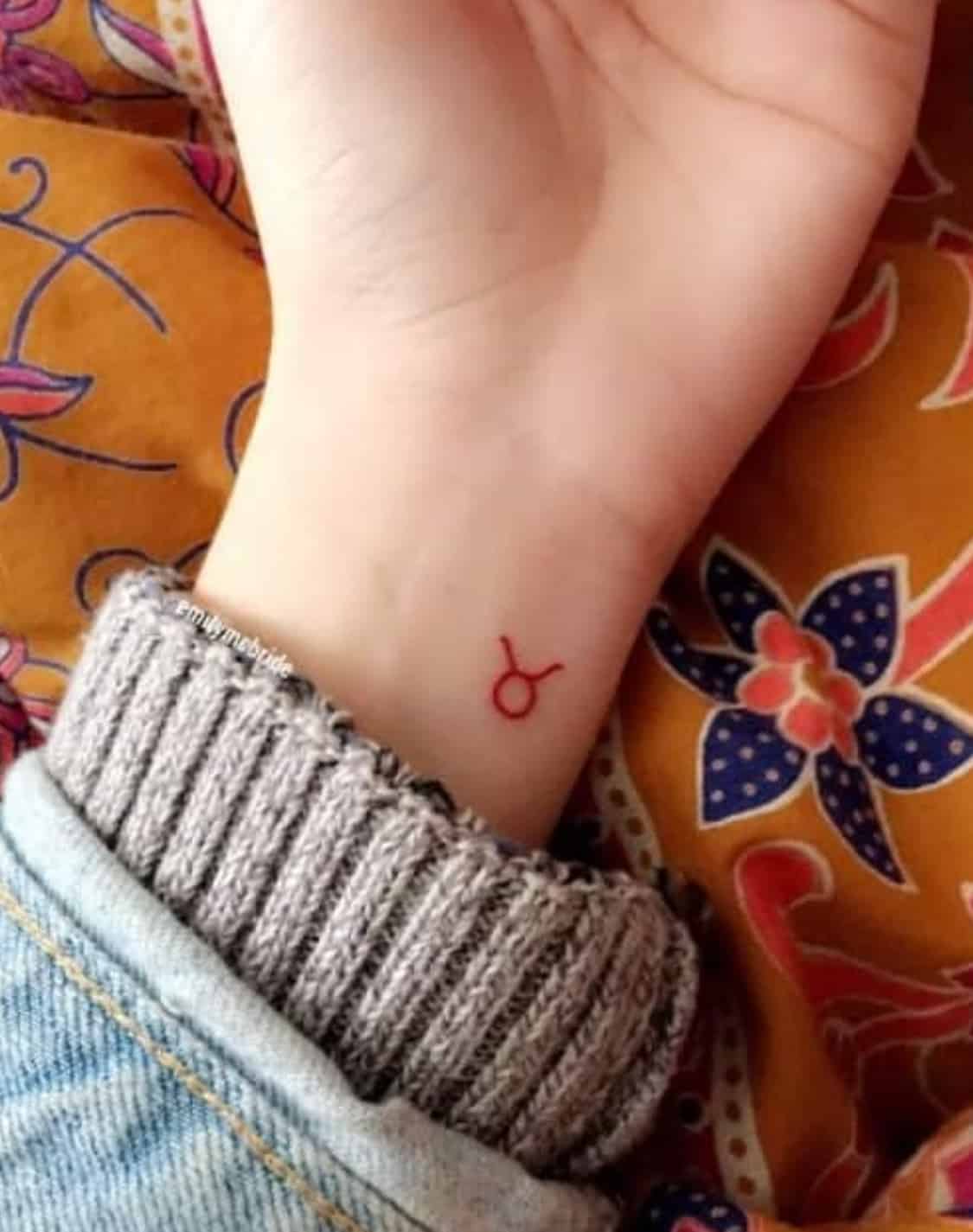 Minimal and to the point, we're never mad about a tiny tattoo. Bonus points for red ink, which we love, as you can tell by this list of our favorite red ink tattoos.
20. Blackwork Taurus Bull Tattoo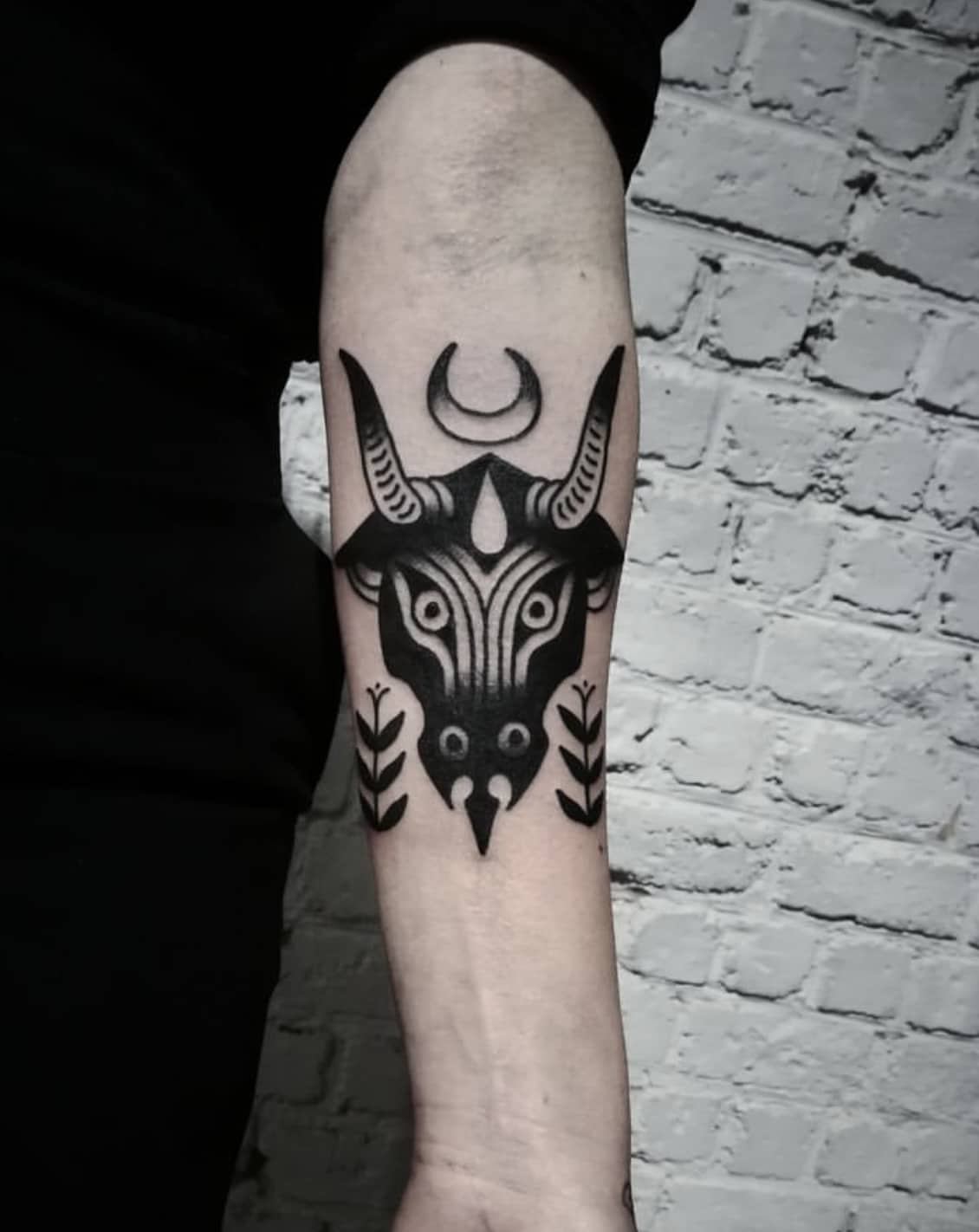 Ugh it's so bold and beautiful. Well-designed blackwork is always a huge favorite around here, and the intensity of this piece is making us fall in love with it all over again.
Summary
We hope this gave you some ideas for your next trip to the tattoo parlour. If you're in the market for some astrology ink, make sure you don't miss out on our Pisces, Aries, and Sagittarius articles!
Let us know which tattoo is your favorite! It's a tough choice, but we believe in you. As a Taurus would.