Welcome, green-thumbed enthusiasts! Are you passionate about the natural world and want to carry a piece of it with you always? Garden sleeve tattoos are perfect for those who appreciate the beauty, symbolism, and serenity of lush gardens. In this article, we'll guide you through everything you need to know about garden sleeve tattoos, from styles and designs to meanings and inspiration.
Styles and Designs
Garden sleeve tattoos offer a diverse range of styles to suit your unique tastes. Here are some popular options:
1. Realism: Capture the intricate details of your favorite garden plants and flowers with a realistic style that brings nature to life on your skin.
2. Illustrative: This style combines the charm of hand-drawn illustrations with the vibrancy of nature, creating a whimsical and artistic garden sleeve.
3. Watercolor: Mimic the beauty of watercolor paintings with this style, featuring soft colors and fluid transitions, perfect for a dreamy garden scene.
4. Geometric: Add a modern twist to your garden sleeve by incorporating geometric shapes and patterns that contrast with the organic elements of the design.
Meanings and Symbolism
Garden sleeve tattoos can carry various meanings, depending on the specific plants and design elements incorporated. Some common themes include:
1. Growth and transformation: Gardens symbolize the cycles of life, growth, and renewal, making them a fitting representation of personal evolution and change.
2. Serenity and sanctuary: A garden sleeve can serve as a reminder of the peace and tranquility that nature provides, offering a sense of refuge from the stresses of daily life.
3. Fertility and abundance: Gardens are often associated with fertility, prosperity, and abundance, symbolizing the nurturing and sustaining aspects of nature.
4. Love and beauty: Many garden flowers hold traditional meanings related to love, beauty, and passion, making a garden sleeve a poetic expression of these emotions.
Plant Sleeve Tattoo Gallery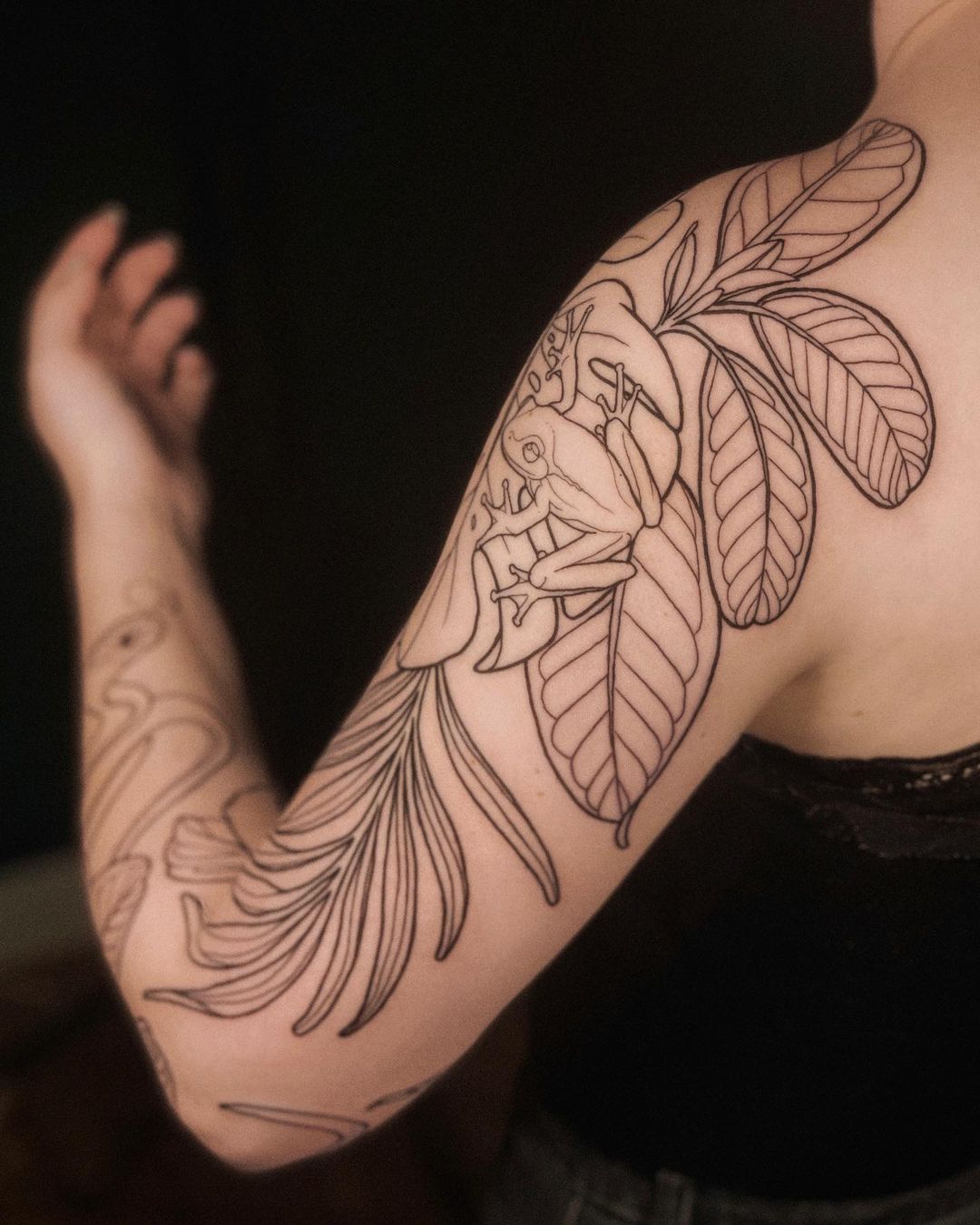 Related Tattoos and Articles
To further fuel your garden sleeve tattoo inspiration, explore these related tattoos and articles:
1. Plant tattoos: Dive into the world of plant tattoos and discover different styles and designs that can be incorporated into your garden sleeve.
2. Simple flower vine tattoos: Learn more about simple flower vine tattoos that can add an elegant and delicate touch to your garden-inspired sleeve.
3. Palm tree tattoos: Embrace the tropical vibe by exploring palm tree tattoos that can be integrated into your garden sleeve for an exotic feel.
4. Sunflower tattoos: Discover the symbolism and design options for sunflower tattoos, a popular garden flower that can brighten up any sleeve.
Choosing the Right Artist and Studio
To ensure the best results for your garden sleeve tattoo, it's crucial to find an artist who shares your vision and has experience with your preferred style. Here are some tips to help you choose the right artist and studio:
1. Research: Look for artists with a strong portfolio of garden and plant tattoos in your desired style. Check out their social media profiles and websites to see examples of their work.
2. Read reviews: Seek out client testimonials and reviews to get a sense of the artist's professionalism and the studio's cleanliness.
3. Consultations: Schedule consultations with your top choices to discuss your ideas and determine if you feel comfortable working with the artist.
4. Budget: High-quality garden sleeve tattoos can be an investment, so make sure you have a clear understanding of the artist's pricing and payment policies.
Conclusion
Now that you've explored the enchanting world of garden sleeve tattoos, it's time to start planning your own botanical ink journey! Remember to choose a style and design that resonates with you, consider the symbolism and meaning behind your tattoo, and find an experienced artist who can bring your vision to life. Happy inking, garden enthusiasts!