What do daisy tattoos mean?
Sure, they may be simple in appearance, but the values represented by the meanings attached to them are far from basic. When you picture a daisy, the color yellow probably comes to mind. Yellow daisy tattoos are symbols of friendship and joy. On the other hand, white daisy tattoos have long been a mark of religious piety and devotion to the almighty. It can also symbolize a person's faith overall.
There are a great deal more explanations for why individuals get daisy tattoos. However, one thing is certain: every single one is distinctive, beautiful, and meaningful.
So, without further ado, let's take a look at our top picks for daisy tattoos.
1. Finger daisies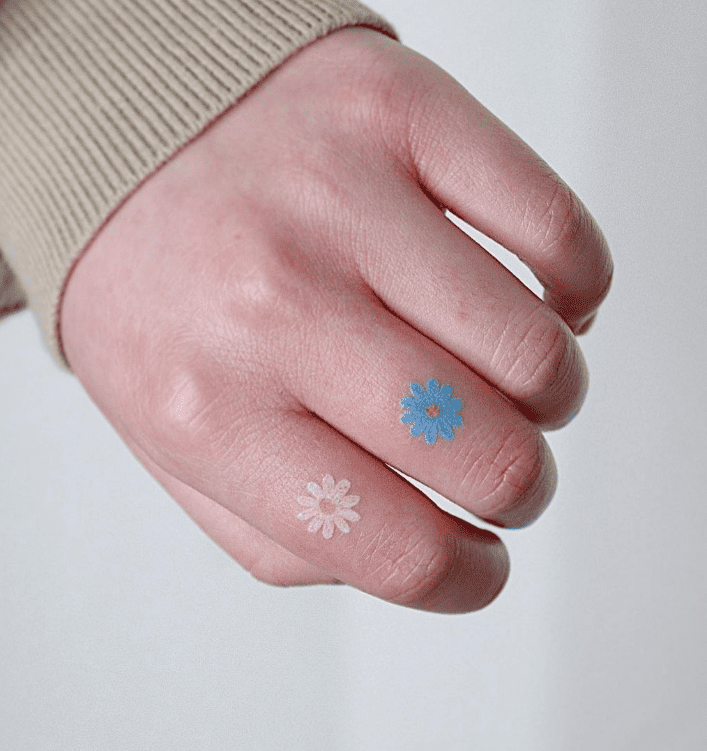 Finger tattoos are getting all the hype nowadays. These small, unlined, colored daisy tattoos on each finger are a unique and discreet way to get them inked on your body.
2. Fine lined flowers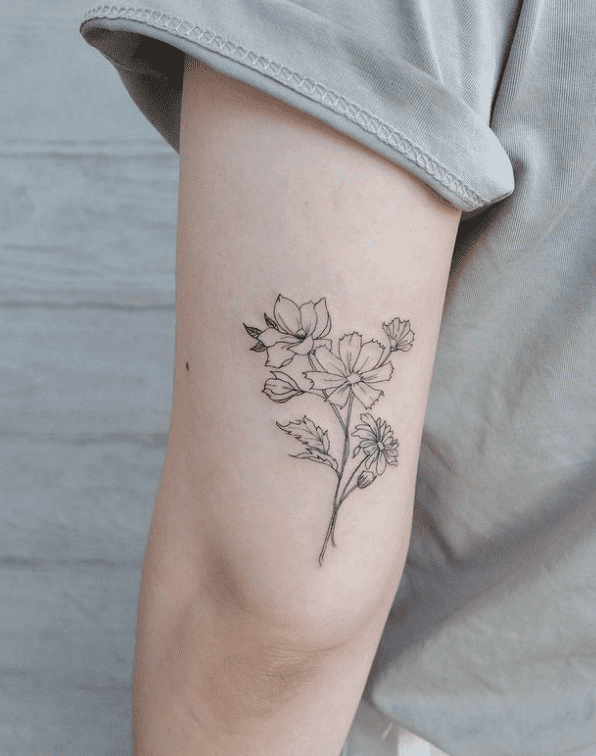 No color, no problem! This medium-sized floral tattoo proves that flower tattoos don't need to be colorful to be beautiful. Just look at those fine clean lines!
3. Collarbone daisies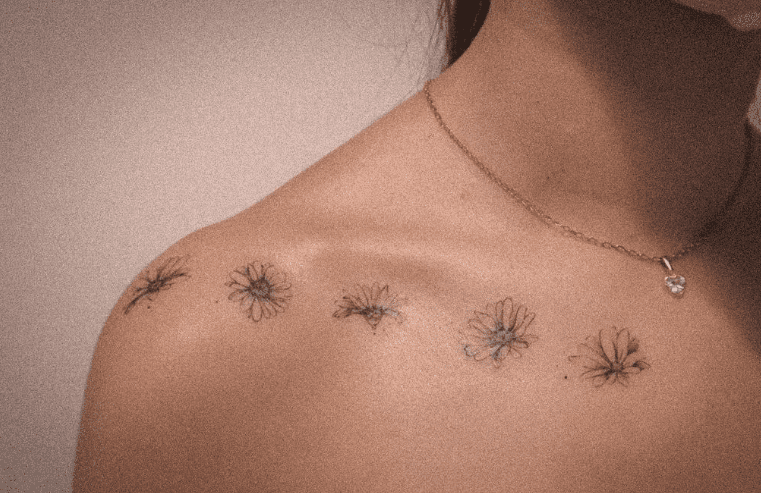 This collarbone daisy tattoo gives perfect emphasis and flair to the decolletage. Each flower is also uniquely shaped and shaded to give it a more realistic floral look.
4. Big and bold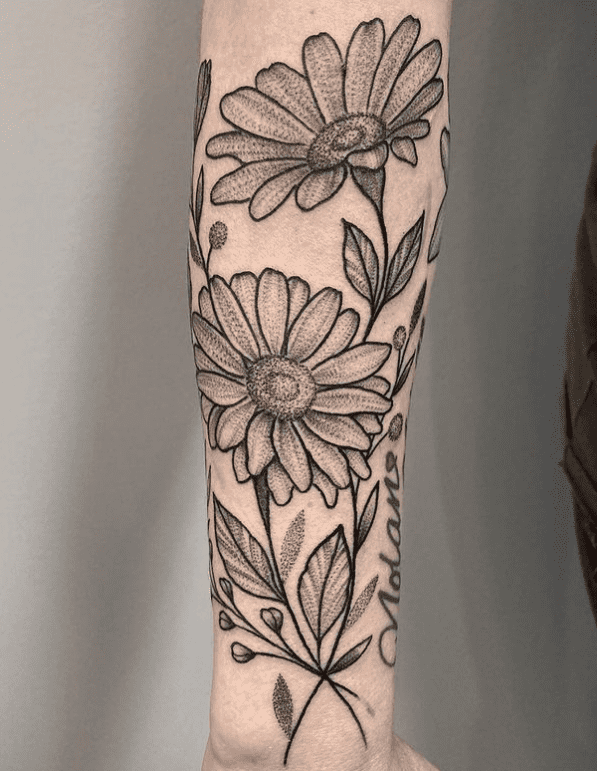 Yet another uncolored daisy tattoo on this list — this half-arm daisy tattoo features great details of bold to light lines. Talk about a showstopper!
5. Vibrant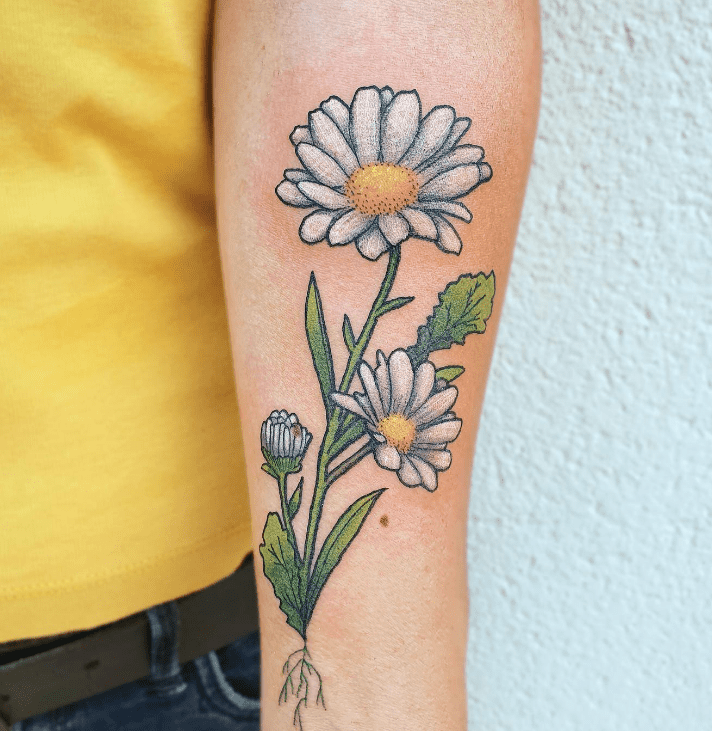 Tall and bright, this daisy tattoo beautifully captures the flower — from its root to bud to full boom.
6. Small and dainty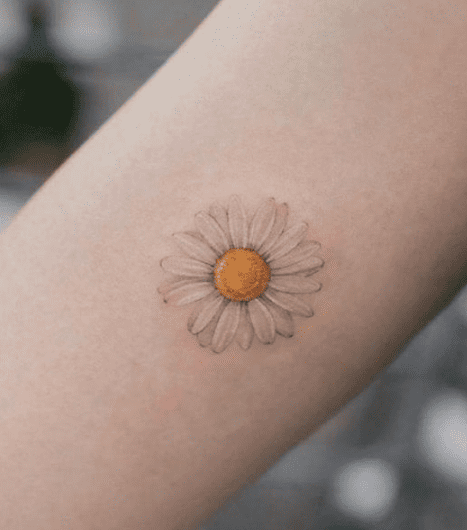 We absolutely love the precision and detail in this small daisy tattoo. It has very small intricate lines, just enough to give emphasis to the white shades.
7. On the legs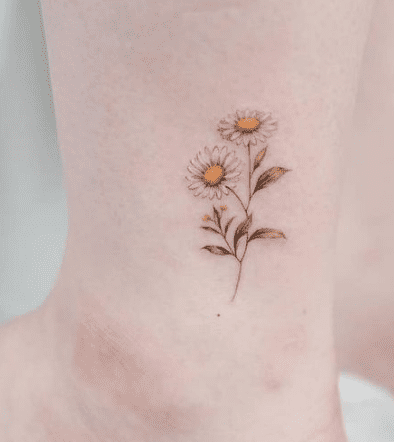 These two daisies stand tall, bright, and beautiful on the leg. The addition of leaves (which are excellently shaded) make up the whole flower element. If you're looking for more flora ideas, wander on over to our plant tattoo and mushroom tattoo articles for some inspiration.
8. Bundle of flowers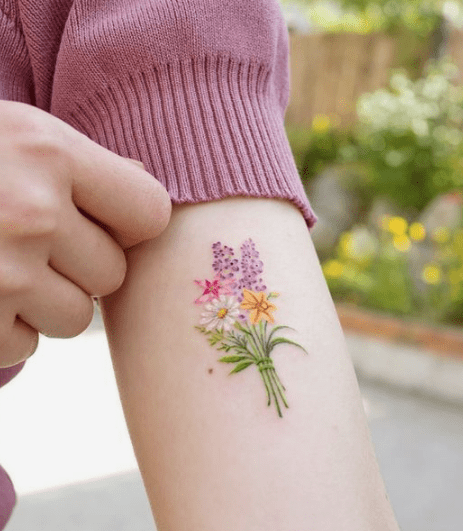 Who says you can only have one flower tattooed? This flower bundle is colorful and bright, with colors that complement each other so well.
9. Collarbone flowers and petals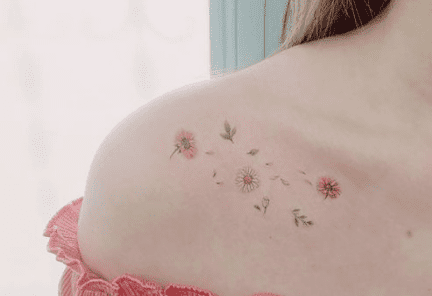 We love how this collarbone tattoo combines flowers, petals, and leaves in a wind-like effect.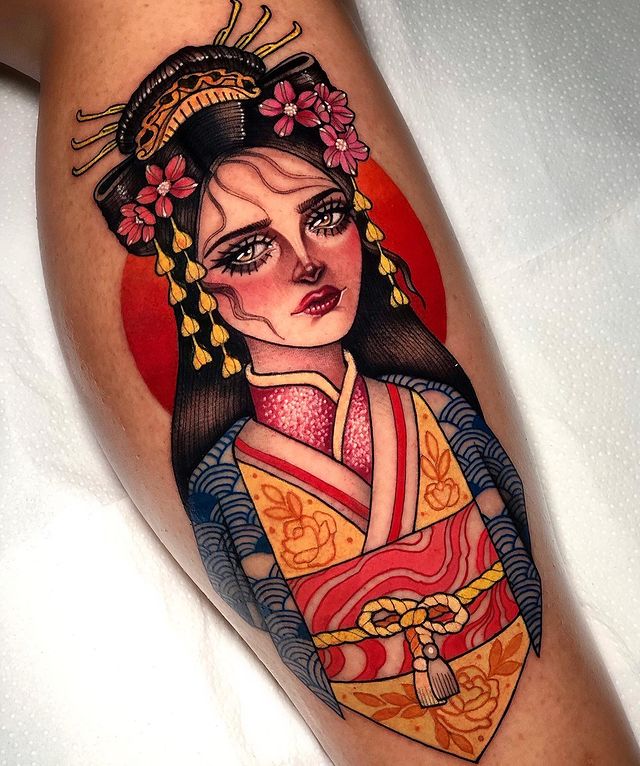 10. Blue daisies
The very thin lines and seamless shading and gradience in this blue daisy tattoo make it look 3D. So elegant and realistic.
11. Words on stem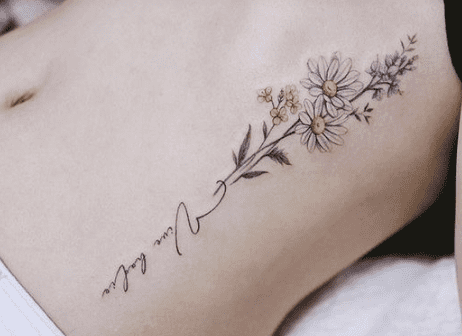 What a unique way to add meaning to your ink. This tattoo blends in words to make it look like a standing bloom of daisies!
12. Watercolor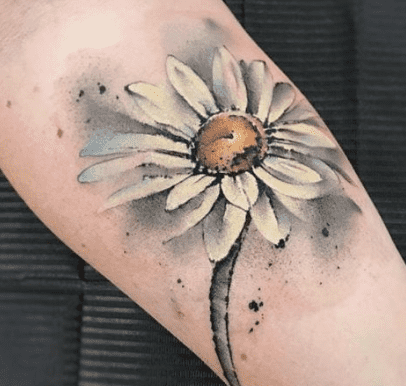 Flowers are one of the best ways to apply the watercolor technique — and this tattoo did it so beautifully. The delicate interplay of colors in this daisy tattoo gives it the appearance of a piece of artwork.
13. Friendship tattoo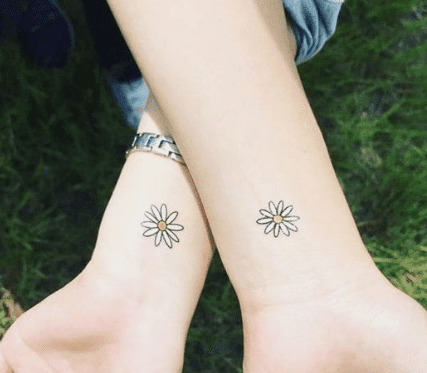 Daisies are a common representation of friendship. With simple lines and shading, these tattoos prove that there's beauty in simplicity.
14. Multi-colored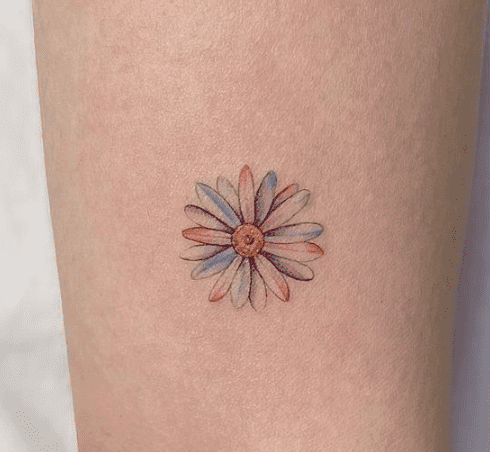 Can't decide on a color? Don't fret! This lightly-shaded multi-color tattoo is all about vibrancy.
15. Bouquet of daisies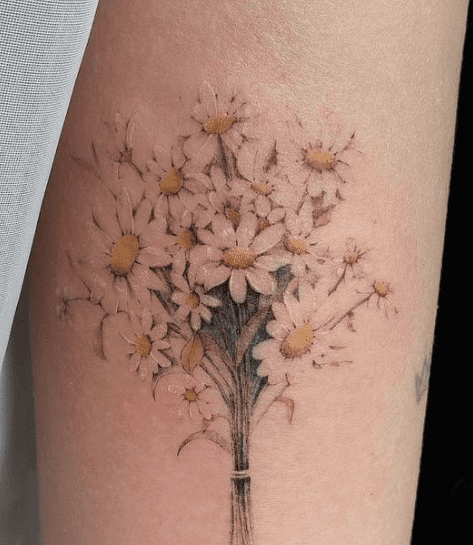 Fine lines, precision, and shading make up this gorgeous tattoo of daisies.
16. Micro tattoos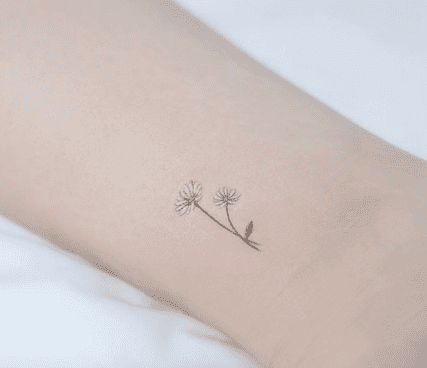 Fine-line tattoos come in various shapes and sizes. Nowadays, fine-line micro tattoos are a hit among those who want a discreet yet equally stunning ink — like this dainty daisy.
17. No lines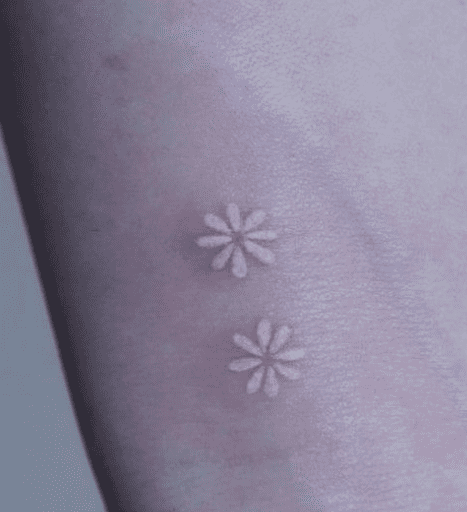 Small and simple, these two dainty daisies make up only two colors, with no lines.
18. Realism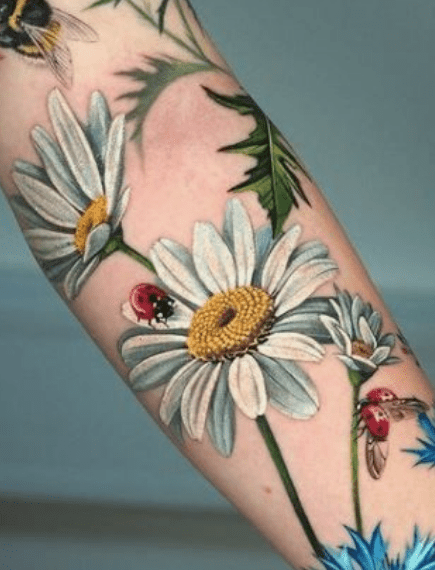 Talk about realistic — the shading and details on this half-arm tattoo are insane! The added elements like ladybugs and leaves add a great touch to it too.
19. On the side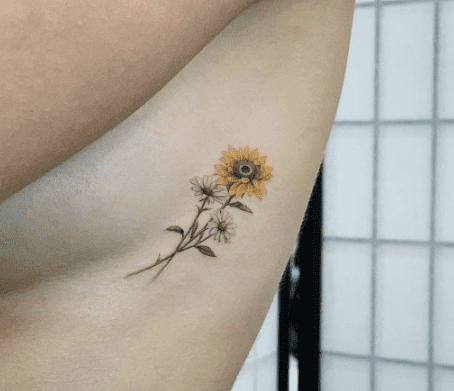 The sideboob is another great area to place flower tattoos. This sunflower-daisy ink combination perfectly blends in with the form of the body. It's also chic and discreet!
20. Smiles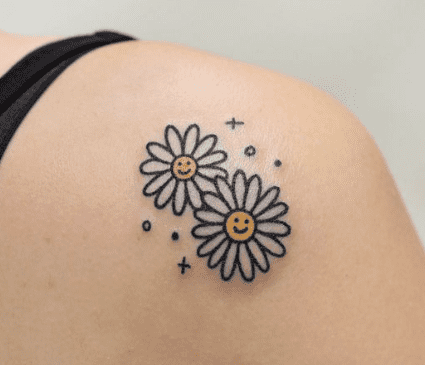 Care for a touch of cuteness? These adorable daisy flowers are unique and can surely make your day when you see them.