It's time for our Virgo tattoo list!
Our kind, caring, generous Virgos. They joined us earthside between August 23rd – September 22nd, and probably came out of the womb taking responsibility for the mess and asking if they can help clean it up.
The lovely Virgo is governed by Ceres, the goddess of agriculture, grains, and the earth… making them one of the truest earth signs. You'll notice a heavy presence of goddess and maiden figures in this tattoo category, probably because Virgos identify so closely with such a soft and earthy symbol.
Scroll through the list to fall in love with your favorite Virgos all over again.
1. Realism Virgo Tattoo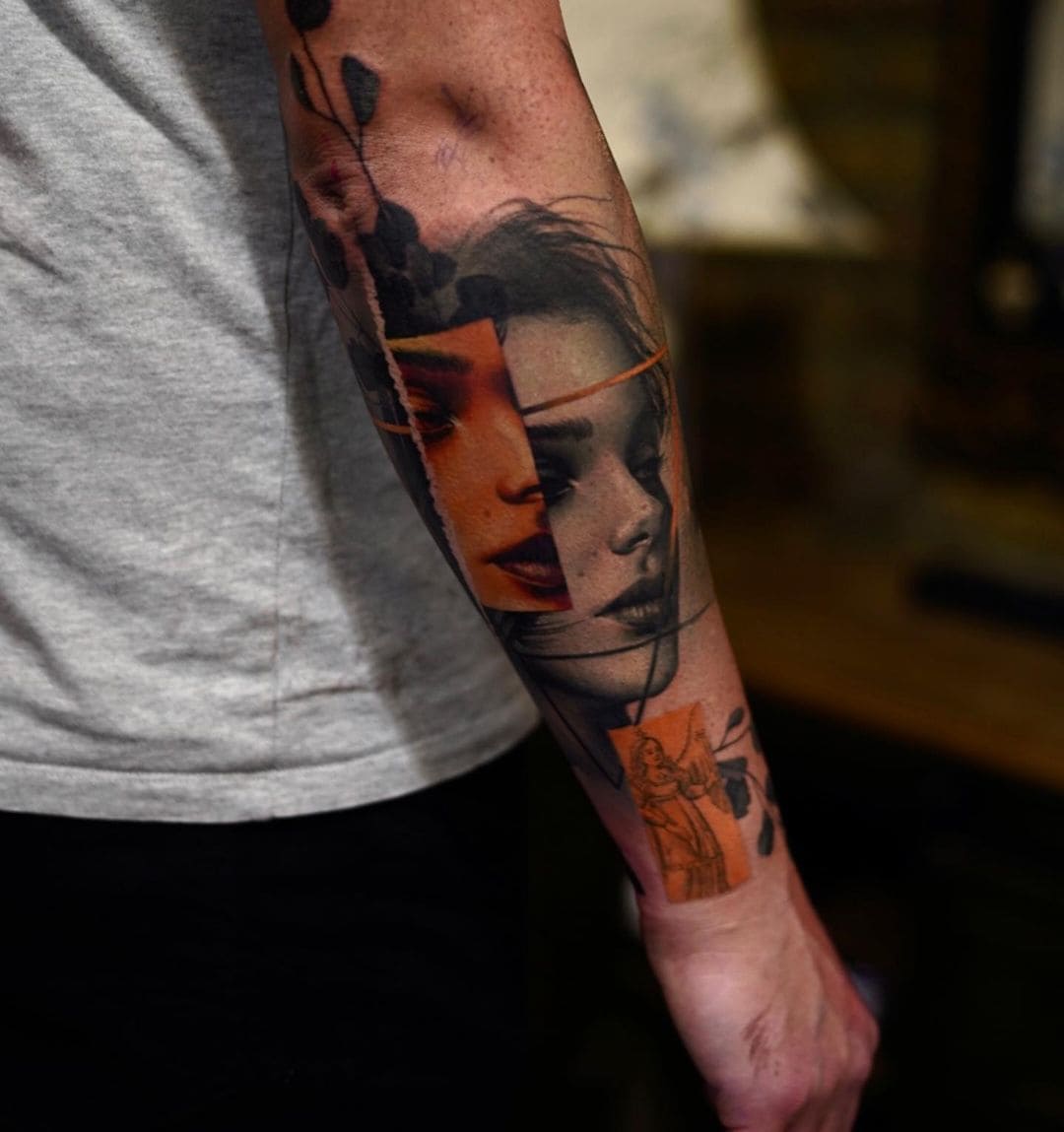 This artist's layered, tearaway style is amazing.
They've incorporated a few Virgo elements, including a small portrait of Ceres, the earth element symbol, and a plant symbolizing the harvest.
But all that aside… it's visually spectacular. If you love realism tattoos, we've got an excellent list here.
2. Symmetrical Virgo Tattoos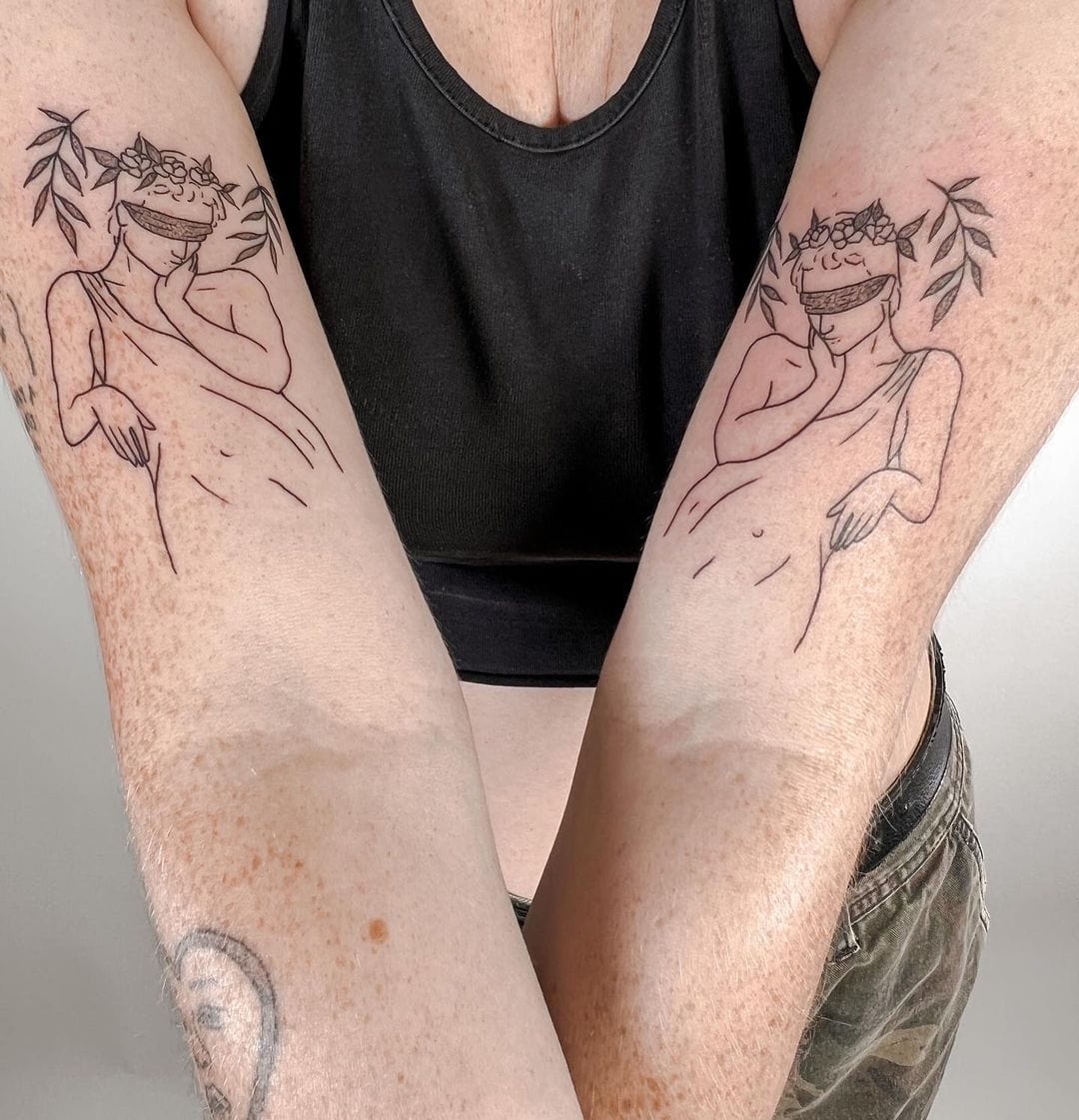 I love this. The simplicity of the lines and the olive branches near the head gives it a gorgeous minimal ancient Greek vibe that will age nicely and always have a classic feel.
3. Small Virgo Tattoo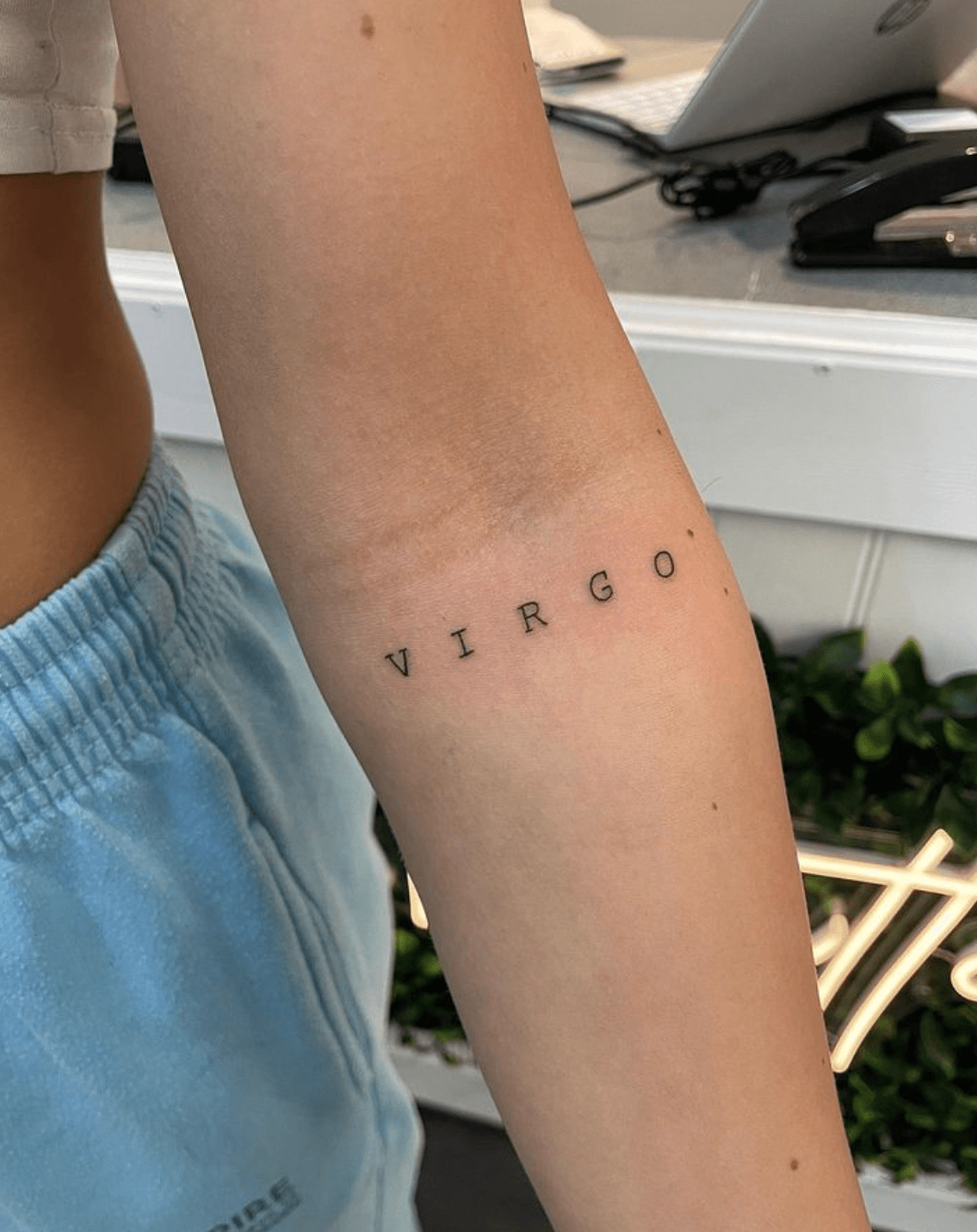 I always love a simple text piece. This widely-spaced Virgo tattoo is 🤌💋.
4. Wheat Tattoo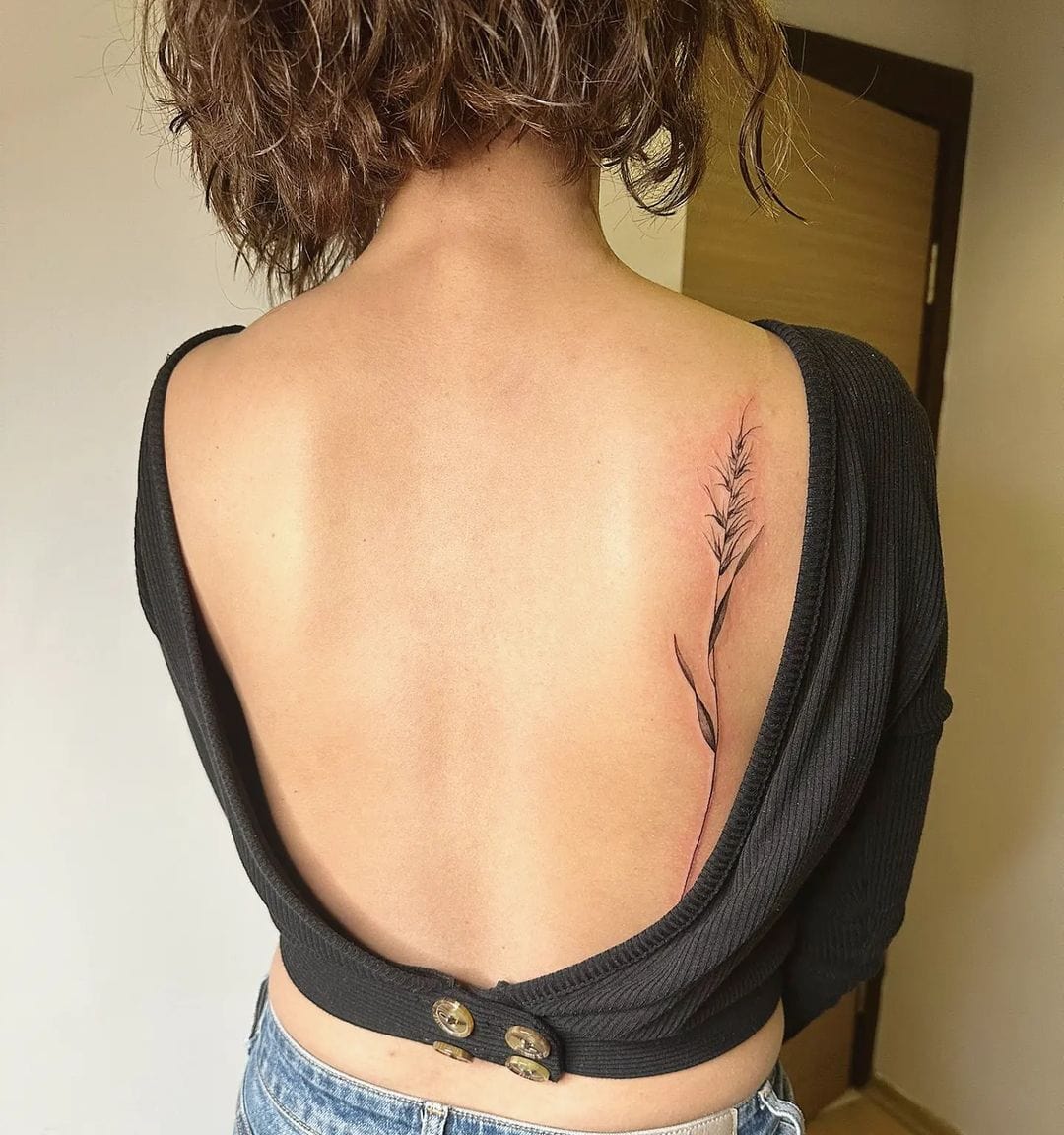 Virgos are represented by the Goddess of Agriculture, so this wheat stalk is a great choice.
The placement of this tattoo is absolutely perfect. It emphasizes the length of the wearer's back and looks beautiful against the rest of this blank canvas.
This is easily one of my favorites on this list.
5. Virgo Woman Tattoo
Okay, this is beautiful, and I love how the blush on her cheek looks like a little galaxy element up close. But Baby Groot stealing the show? I can't even.
On the hunt for some more Marvel tattoos, swing on over to our Miles Morales tattoo list.
6. Virgo Maiden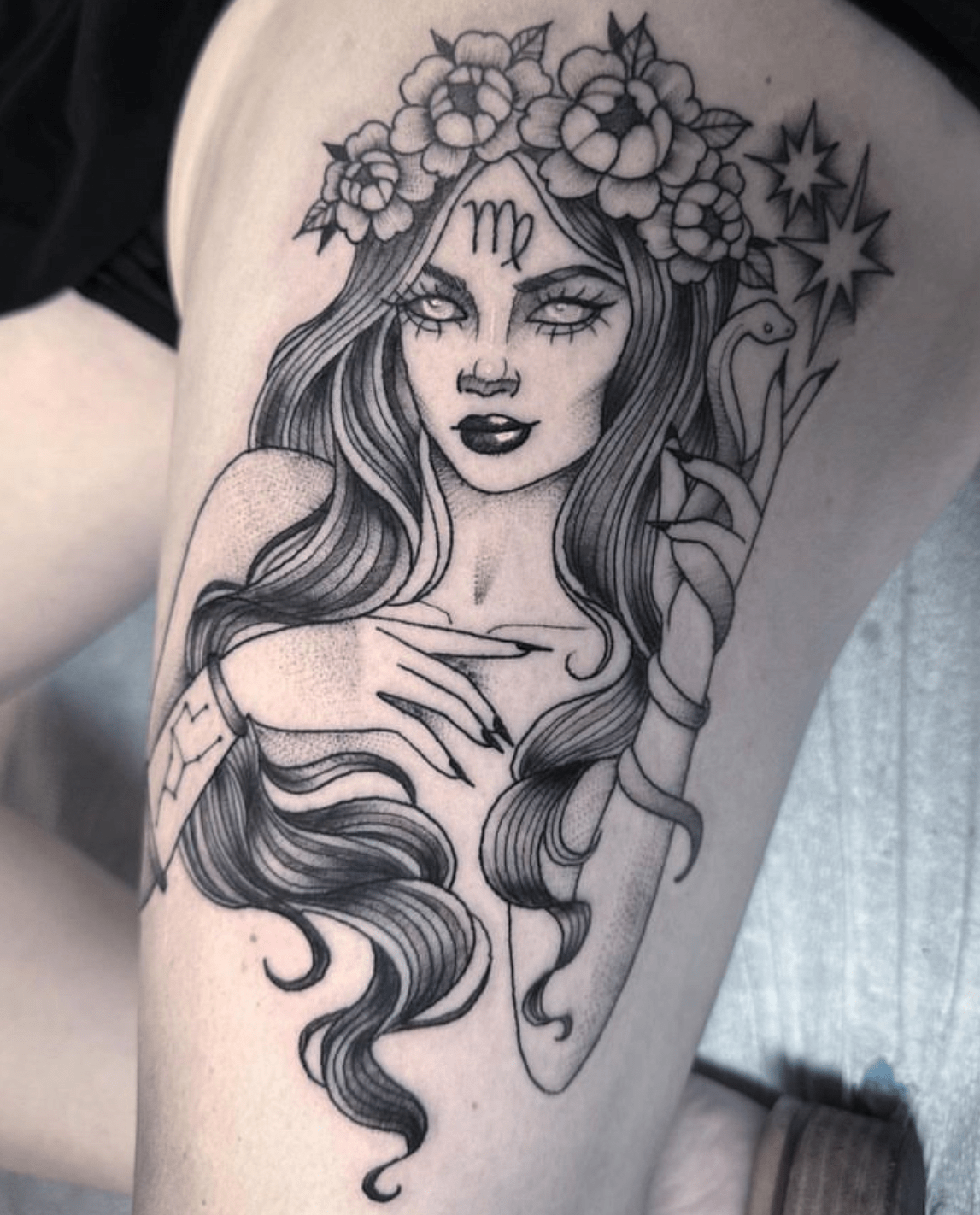 The use of dotwork here to create depth in the area at the base of her neck catches my eye immediately. I really enjoy the dotwork shading and the negative space used in her eyes.
7. Virgo Flower Constellation Tattoo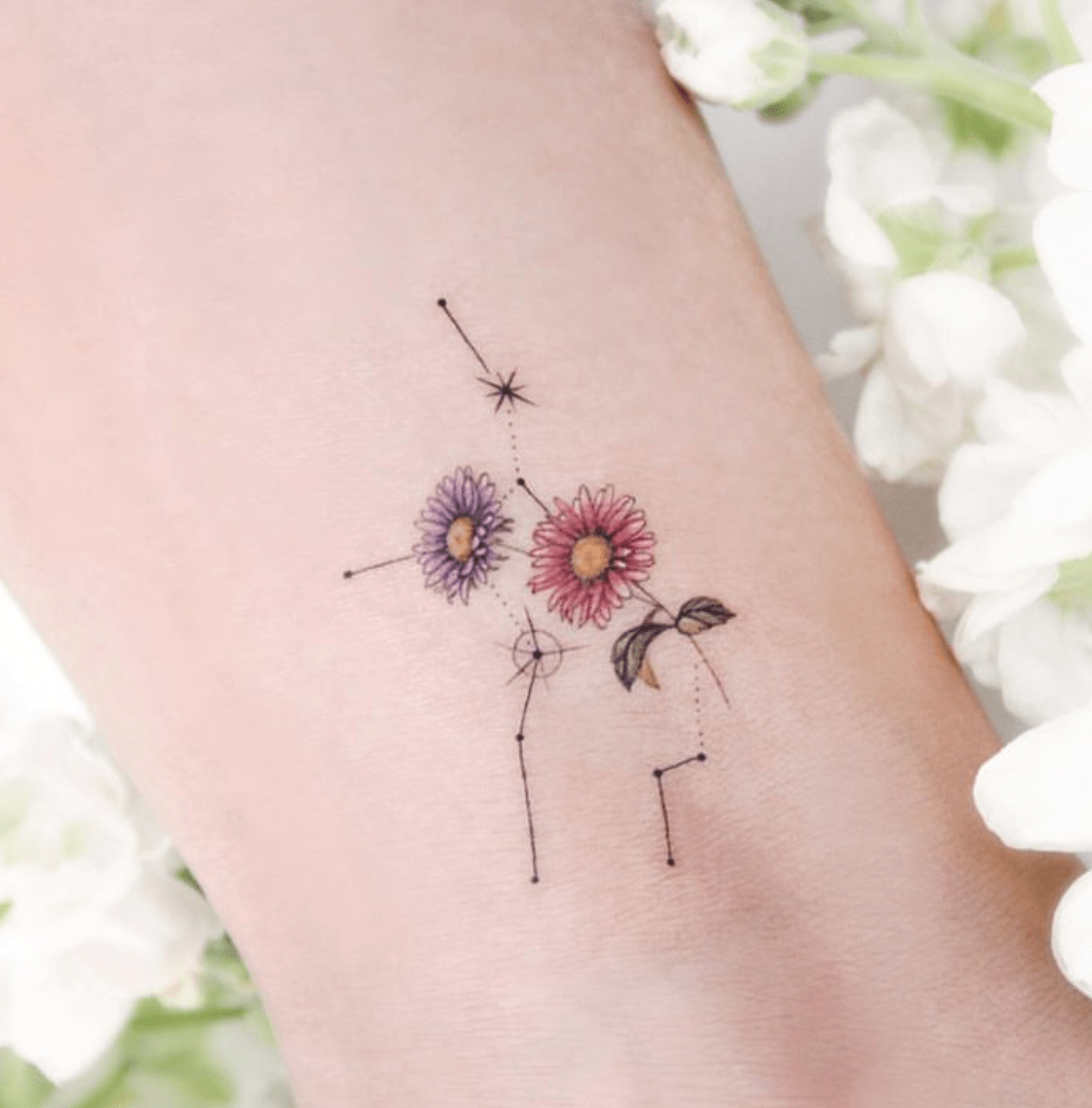 These little fine-line babies just feel so delicate, I want to pick them up and touch their soft tiny petals. So immersive.
8. Virgo Earth Beauty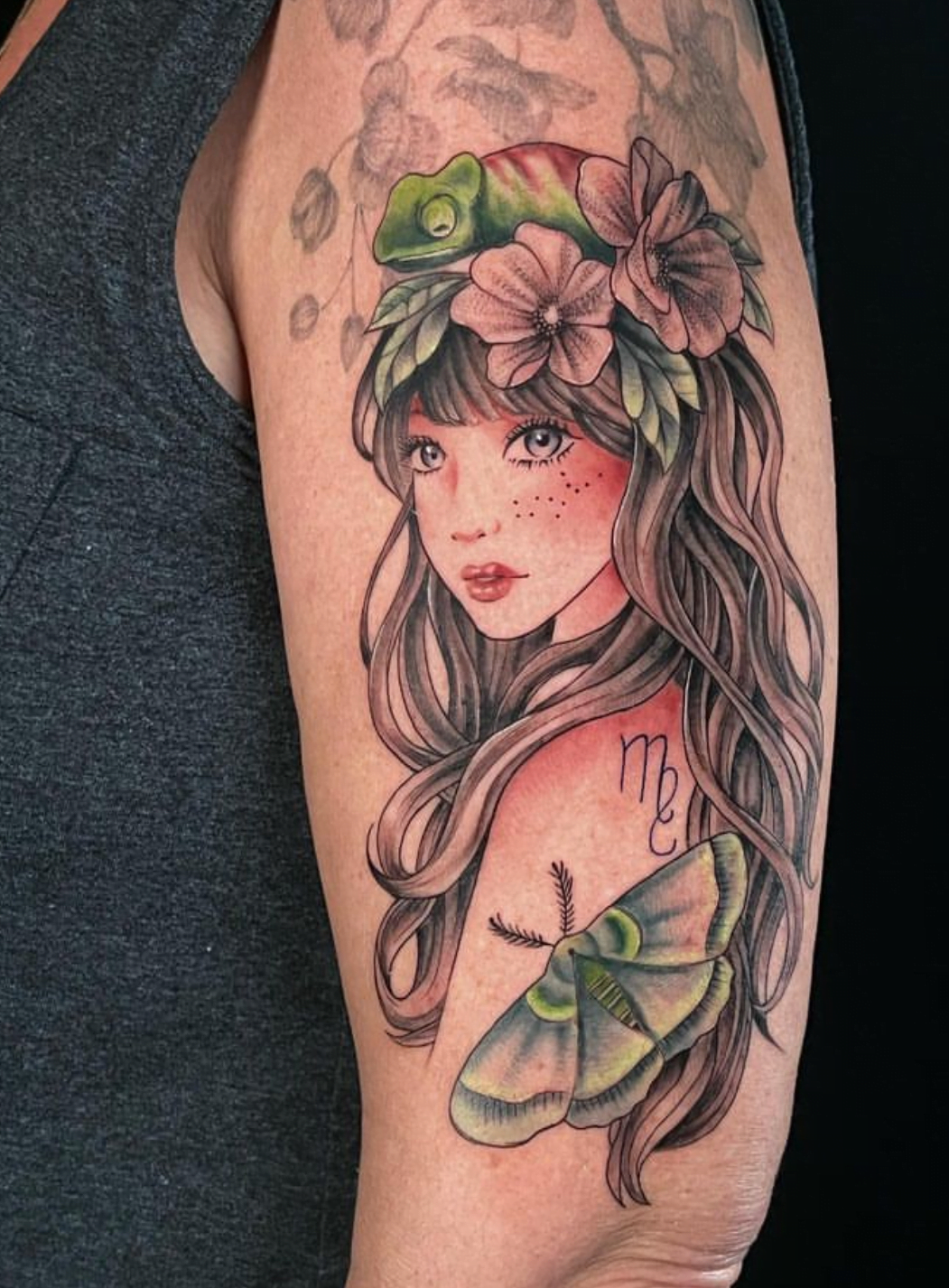 Being an earth sign, Virgos are known to be nature lovers.
So naturally, that equates to a beautiful moth on your shoulder, and a darling little gecko companion resting in your flower crown. I'd expect no less.
9. Virgo Hand Tattoo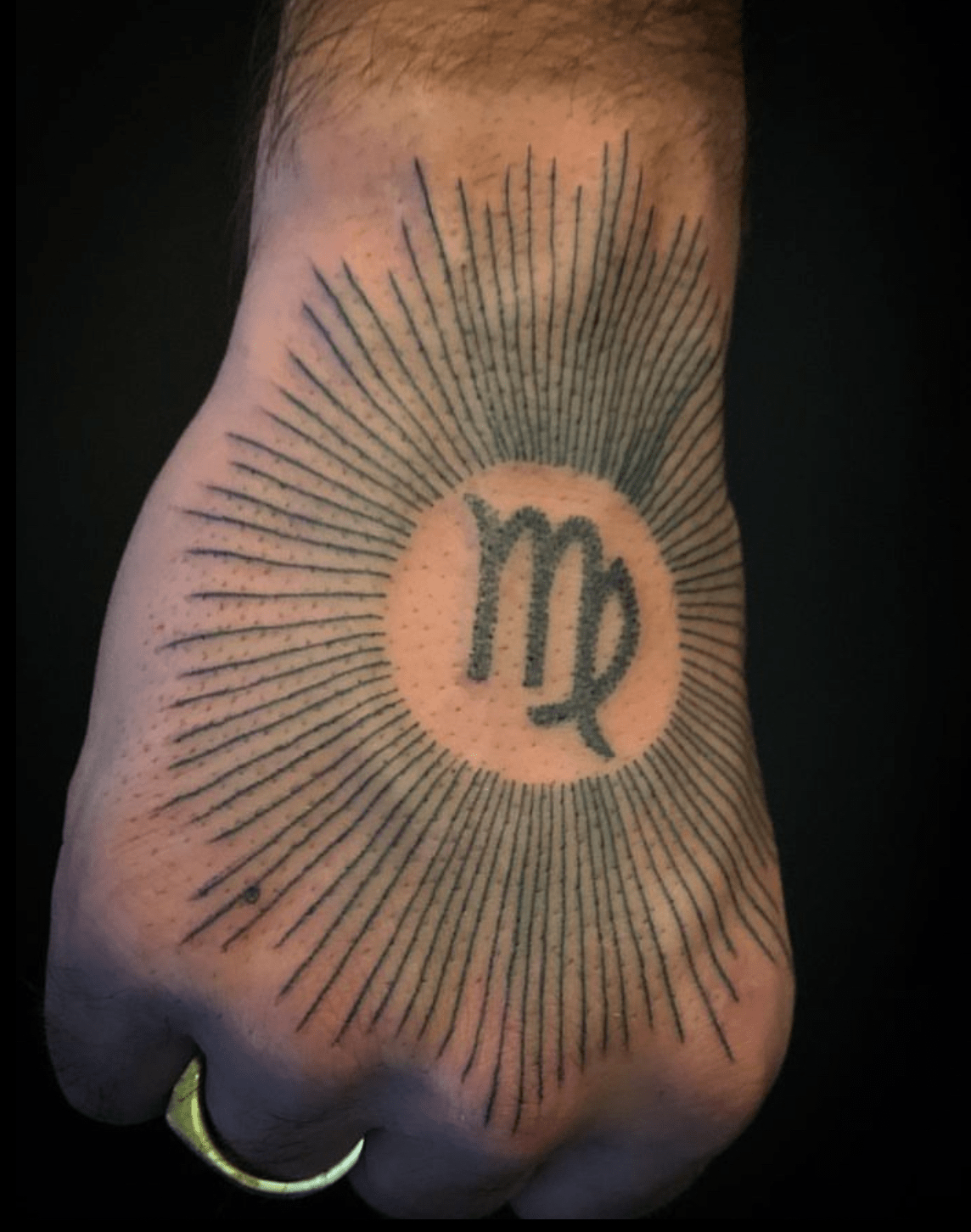 This hand tattoo is simple but bold. I dig.
You might say it PACKS A PUNCH. Ba dum tsss.
(Anyone?)
10. Virgo Potion
The colors in this piece are gorgeous.
The lack of a black outline on the smoke really makes it feel like its own element, as though it's billowing up behind the vial. I also really enjoy the motion of the potion (come on…) within the vial, giving a sense of movement.
11. Virgo Birth Flower Tattoo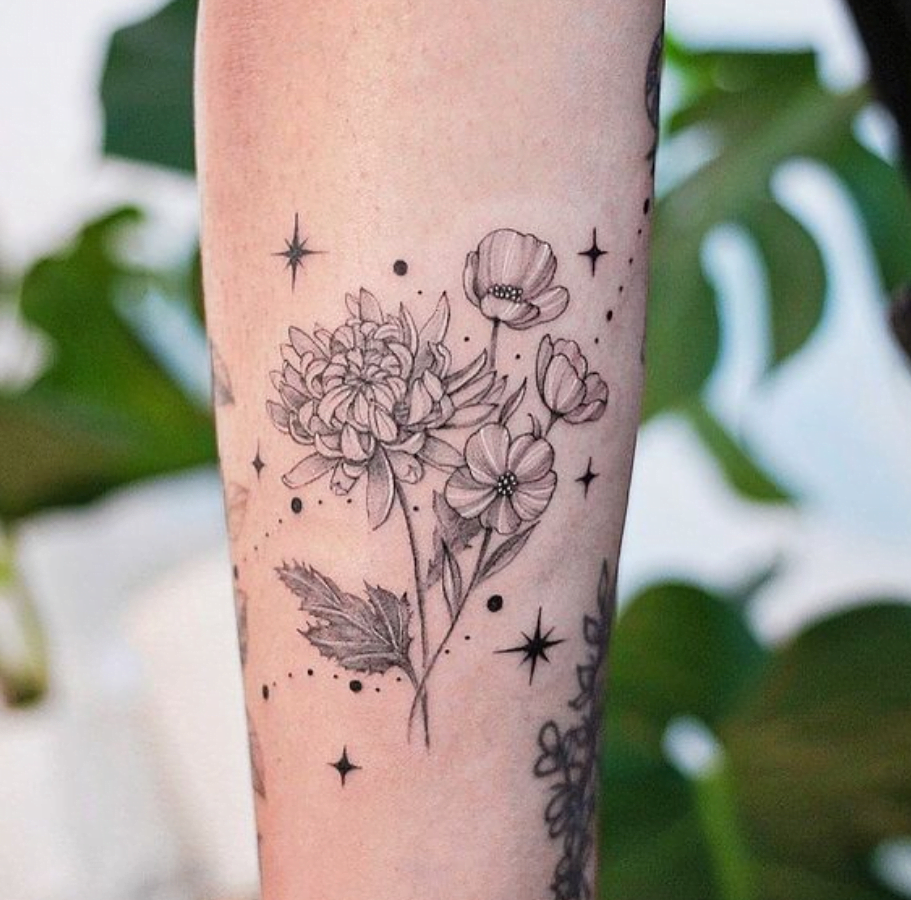 Representing the sunny disposition of our dear Virgos, this buttercup and chrysanthemum tattoo is delightful.
12. Virgo Thigh Tattoo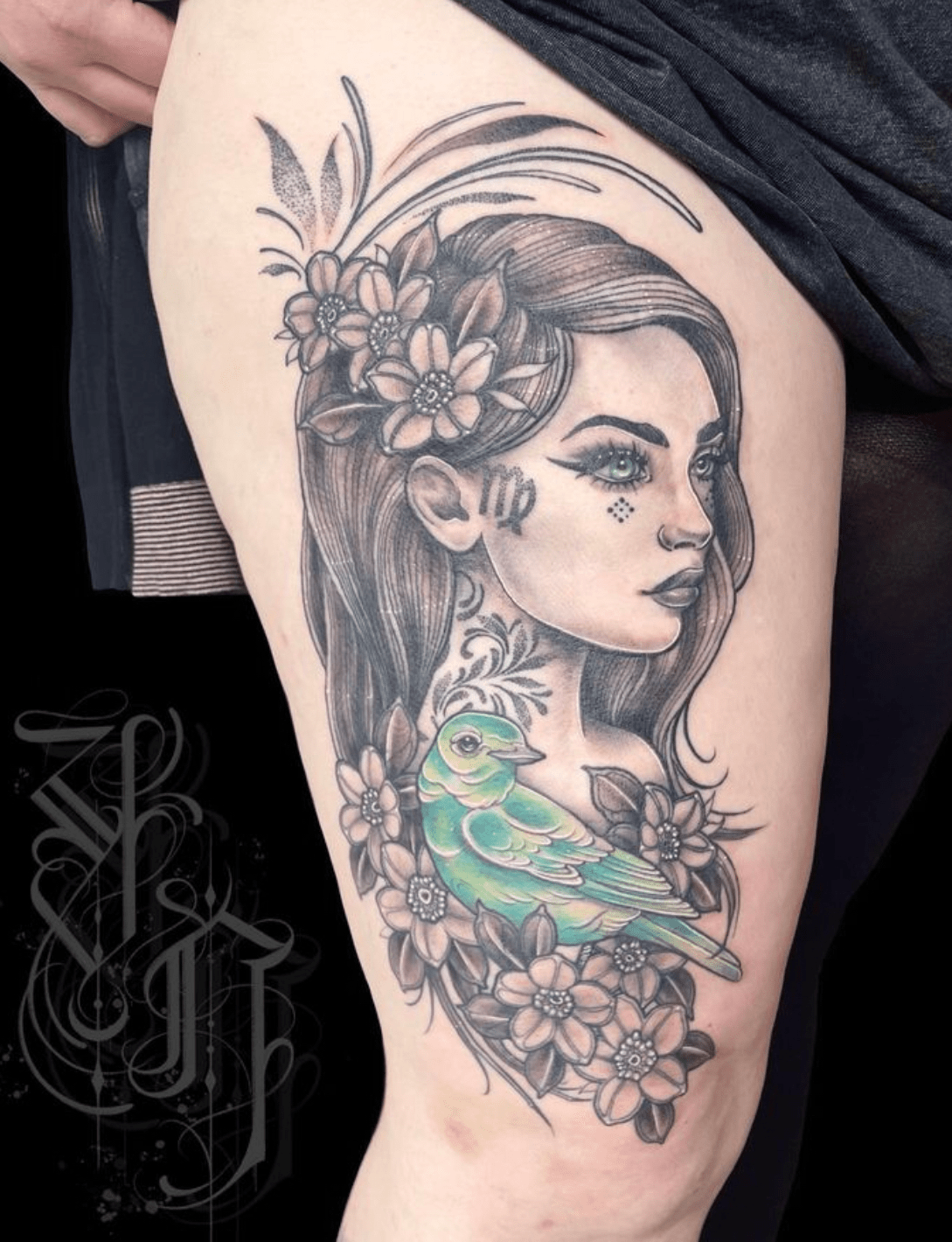 I adore how this artist used the same seafoam green color from the bird in the eyes of the woman, such a nice little treat that you don't notice right off the bat.
If you're in the market for a good thigh tattoo and need some inspiration, check out our thigh tattoos article.
13. Fine-Line Virgo Maiden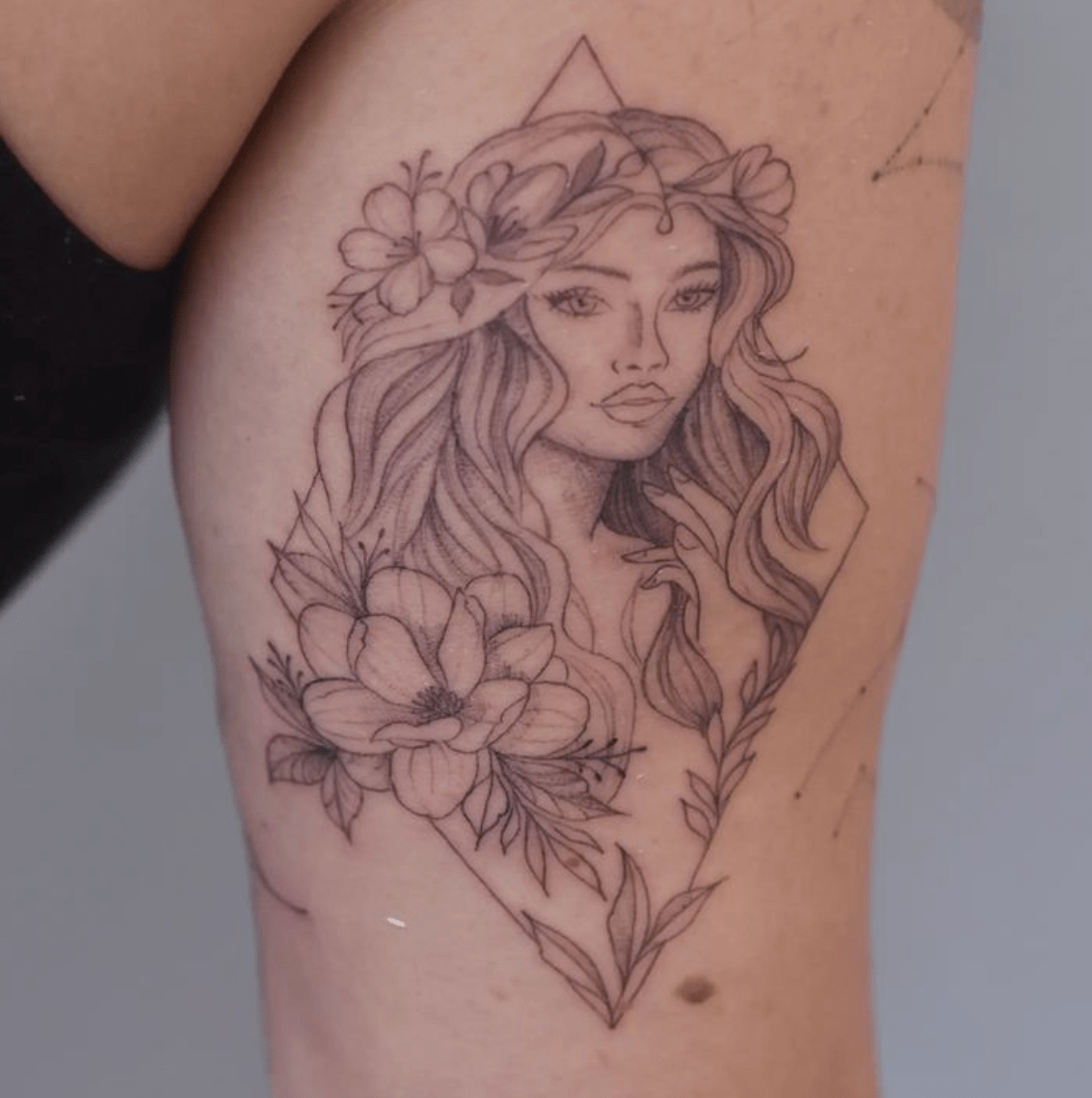 Something about this piece feels so soft, which suits the Virgo personality to a T.
14. Feminine Virgo Tattoo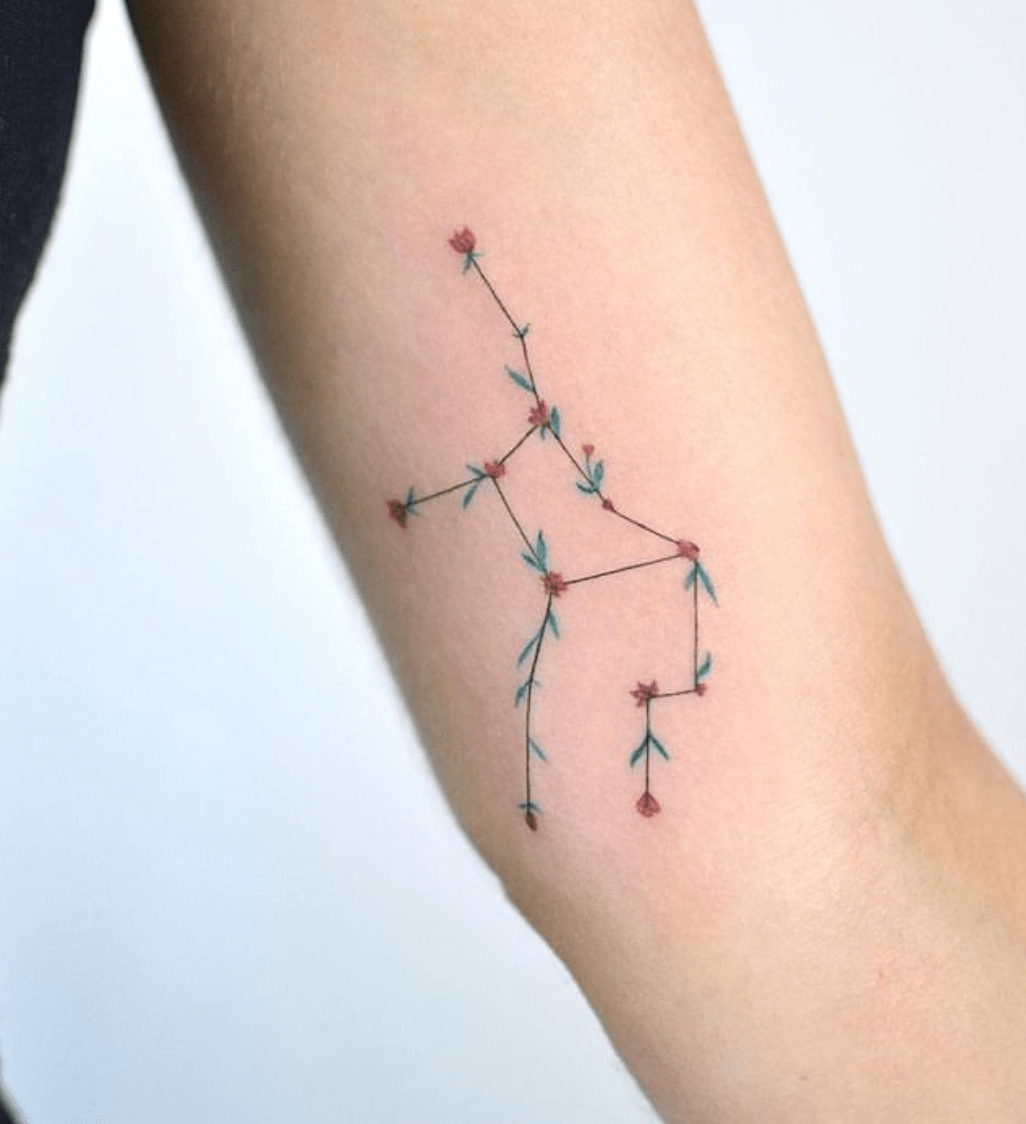 Some sweet little flowers and leaves are an excellent way to relate to the earthiness of your inner Virgo. Flower stem constellations? I'm in.
15. Virgo Queen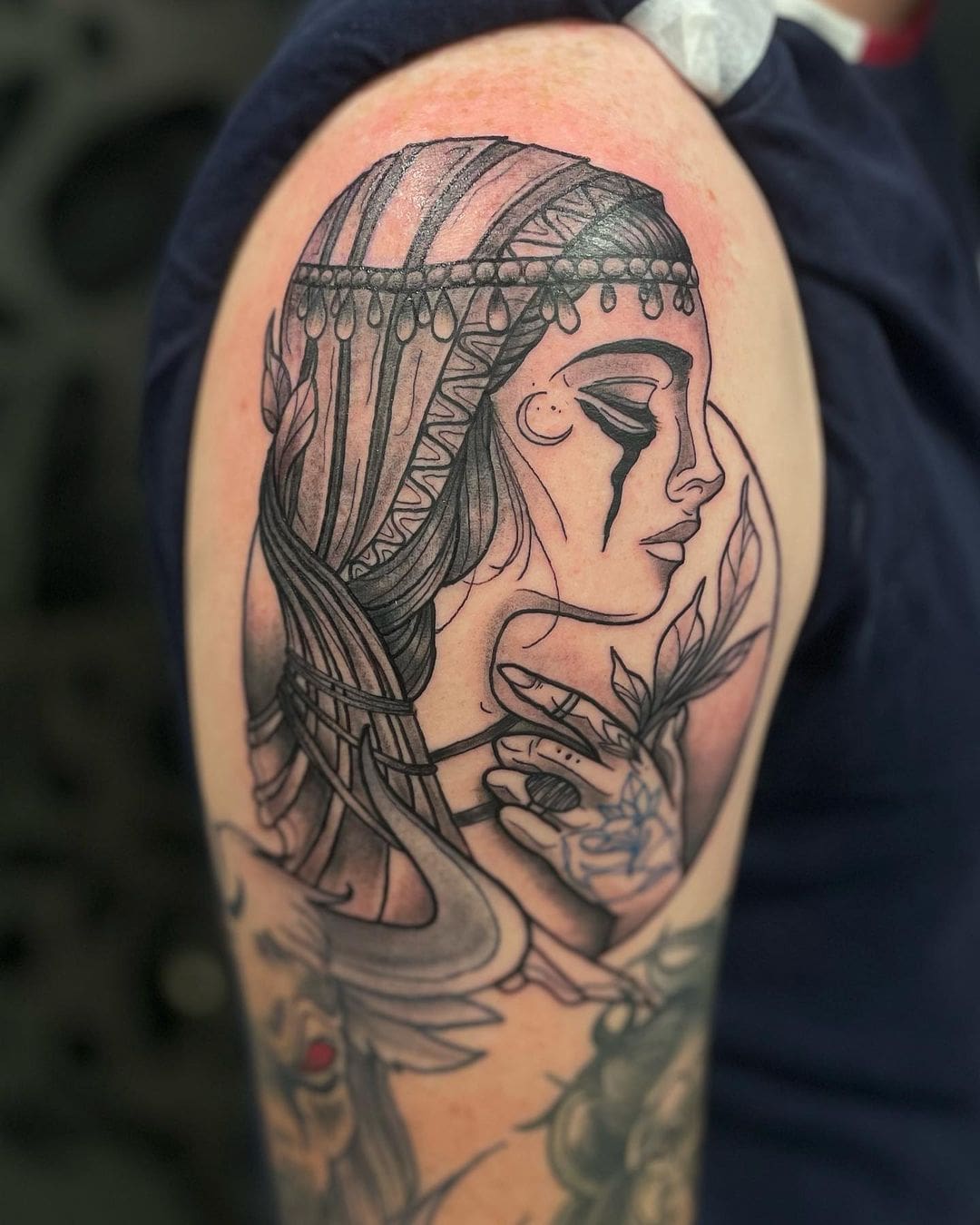 This ravishing woman feels like she's seriously getting in tune with some feelings.
I really enjoy this tattoo. Her profile and the small touches like the shading of her eyebrow, and her hand tattoos give her a personality that feels like it could be real.
16. Zodiac Collage Virgo Tattoo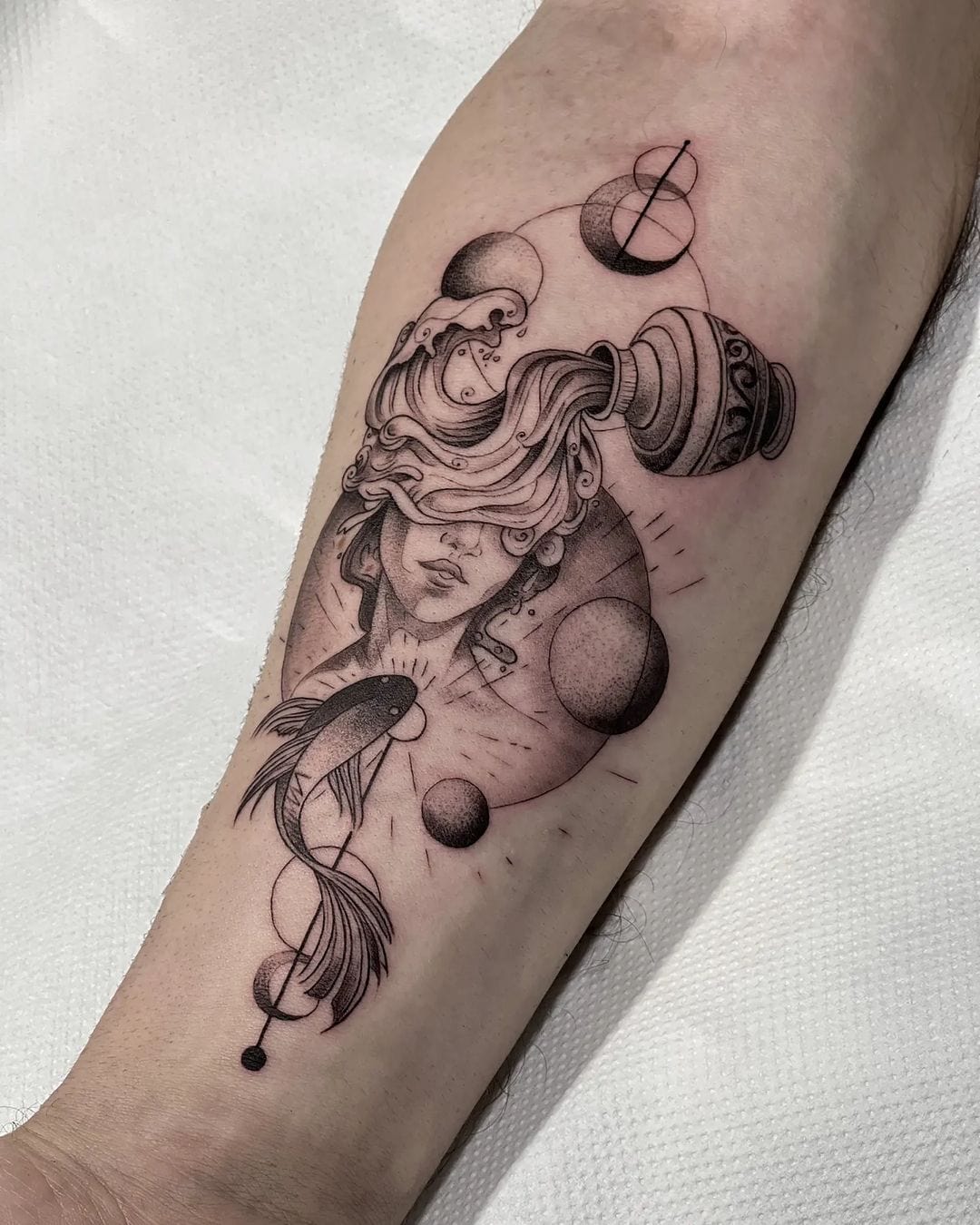 We're always a fan of a zodiac collaboration.
This stunning abstract piece has our Pisces fish, and the outpouring vessel of our Aquarius water bearer, nestled around our Virgo woman.
The more, the merrier.
17. Virgo Symbol Tattoo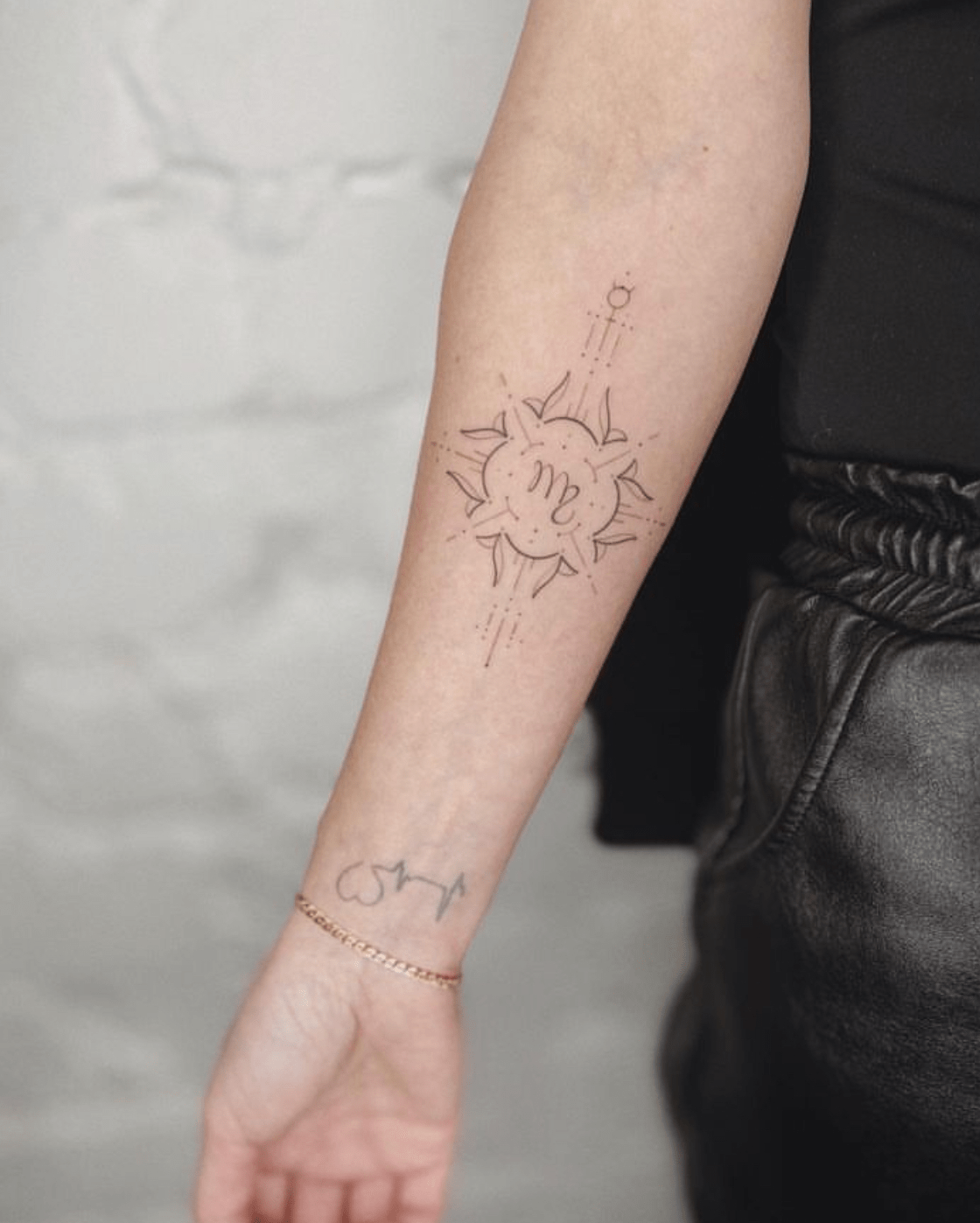 A bit of a different take on your typical "ornamental" style, this is creating a bit of a frame effect for the Virgo glyph.
An interesting way to use the space!
18. Watercolor Virgo Tattoo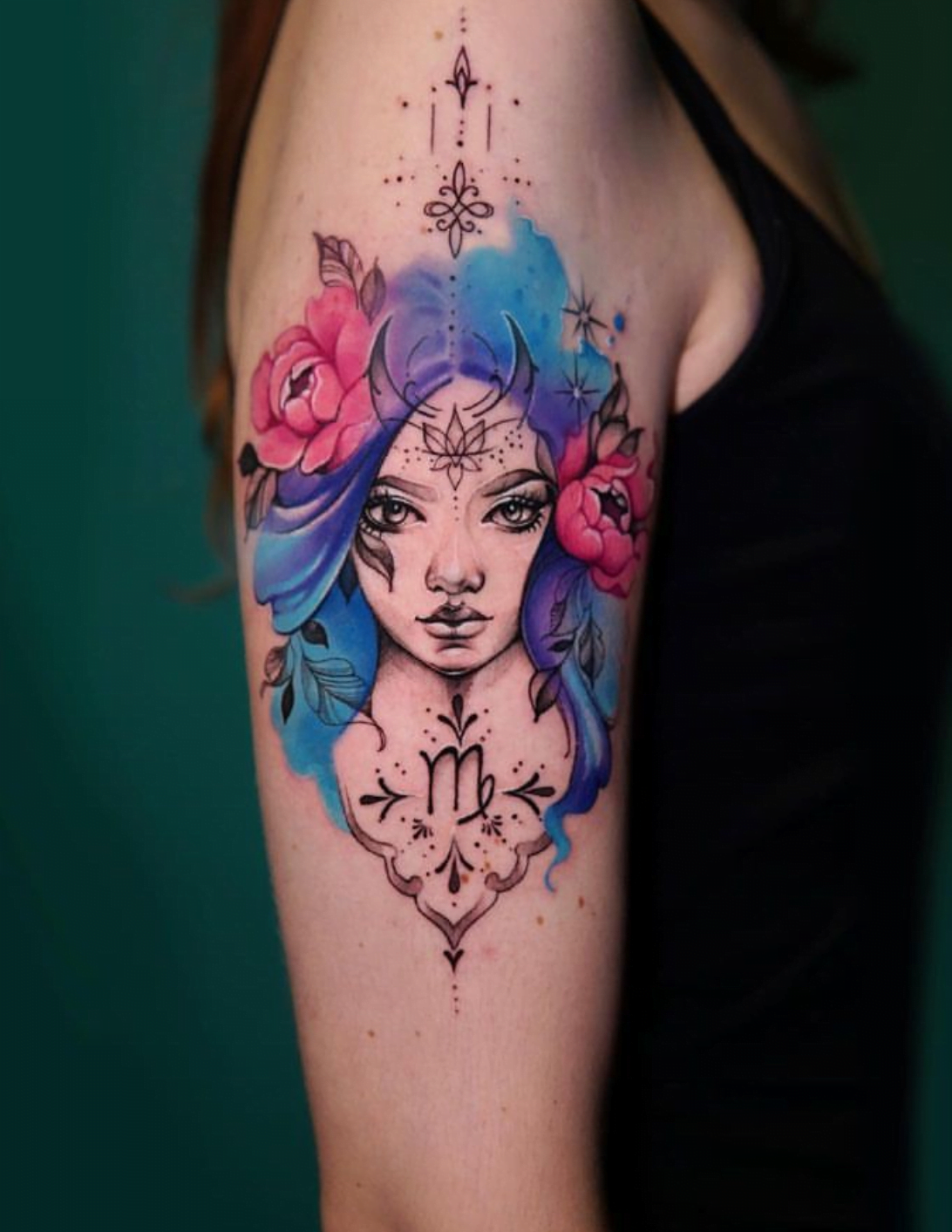 I noticed right away how the artist blended the colors in this piece. Those vibrant cool tones are their own color, and then all of a sudden they're not. Such a great effect.
19. Virgo Birthstone Tattoo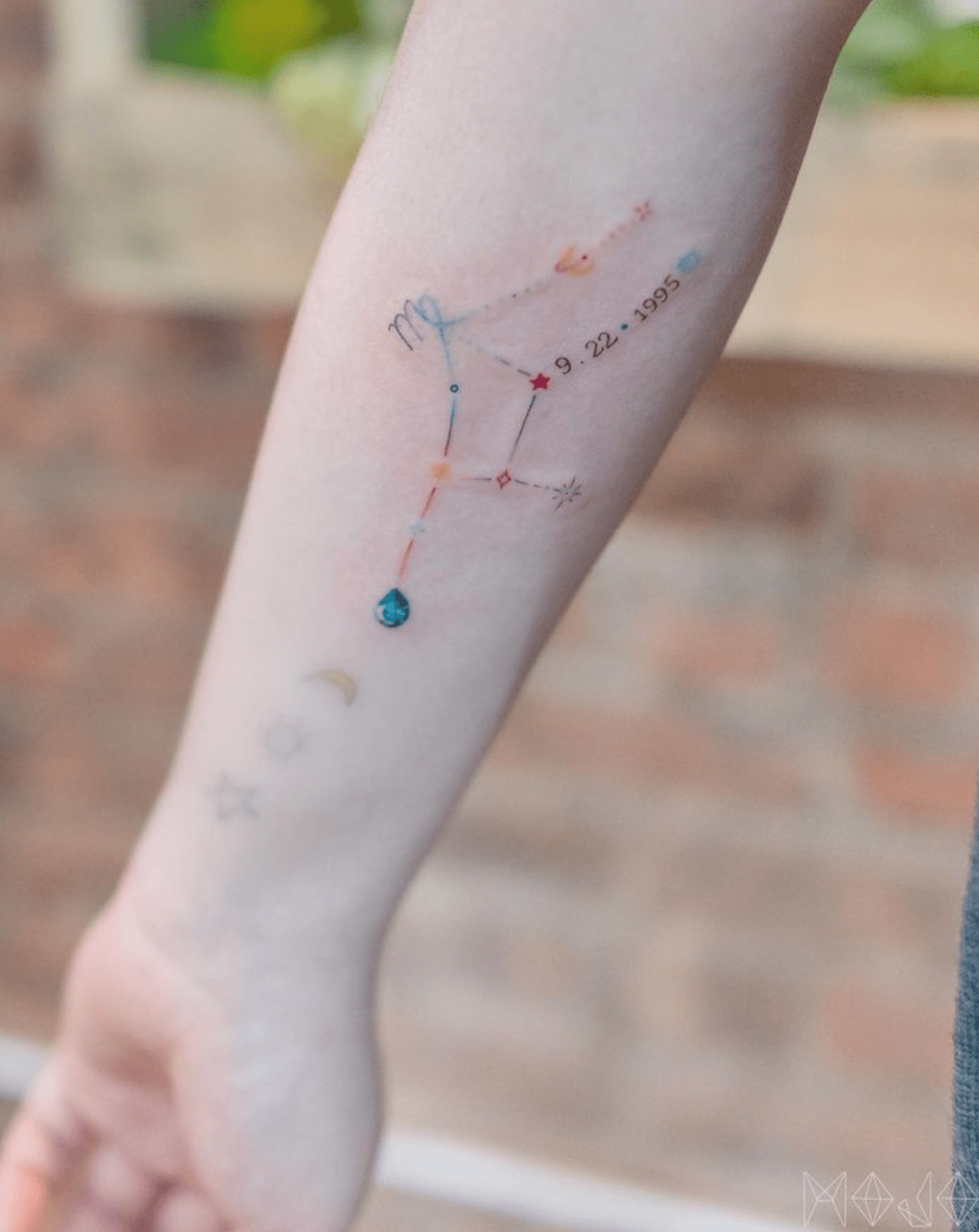 The Virgo birthstone is a sapphire, and it's charming how they've placed it at the tail of the constellation like a little water droplet.
20. Sexy Virgo Woman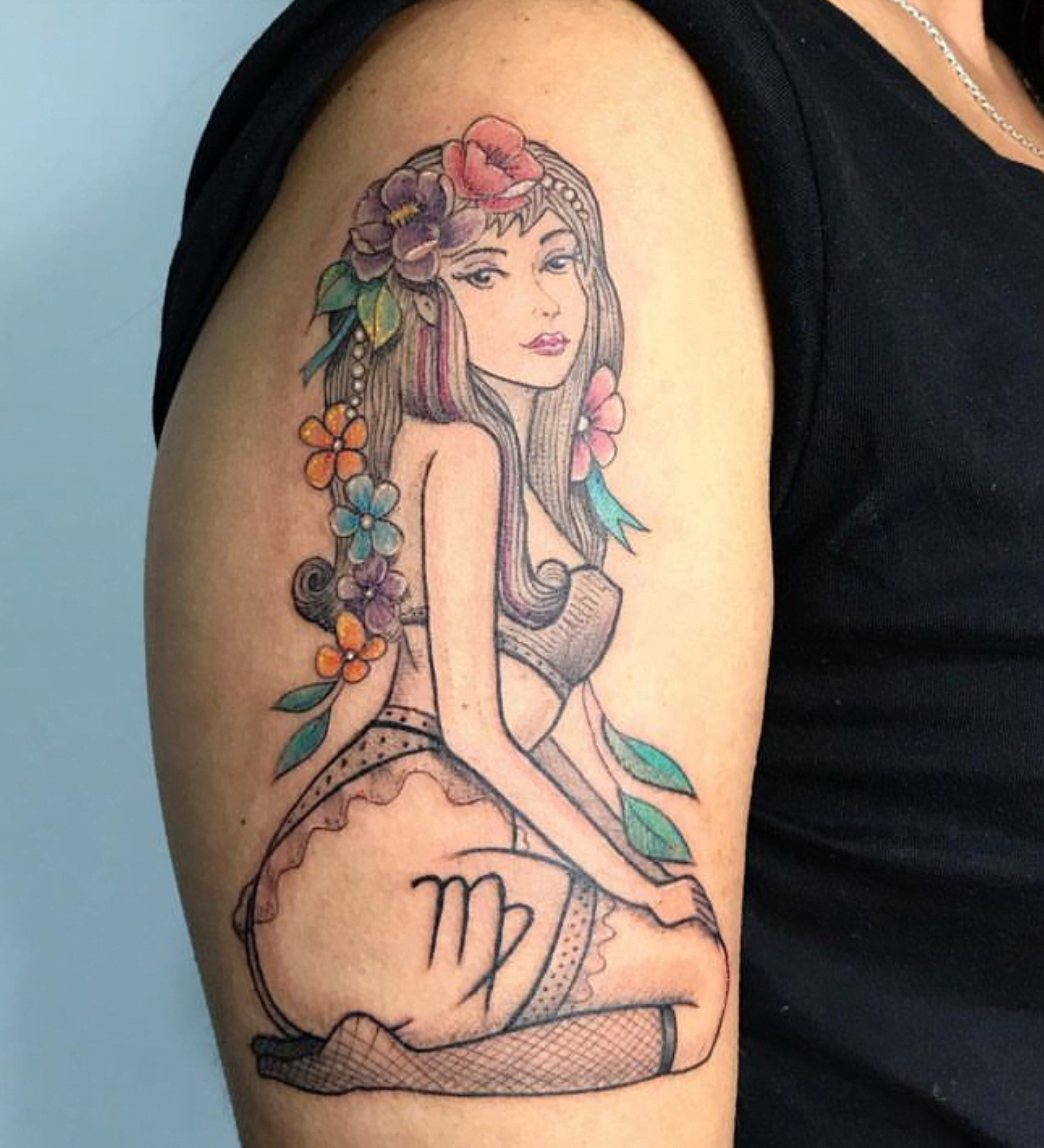 Look at this minx! Who says hippies can't be sexy? I'm feeling that subtle lace detailing and saucy fishnets. Girrrrl, you got me.
21. Virgo Zodiac Tattoo Design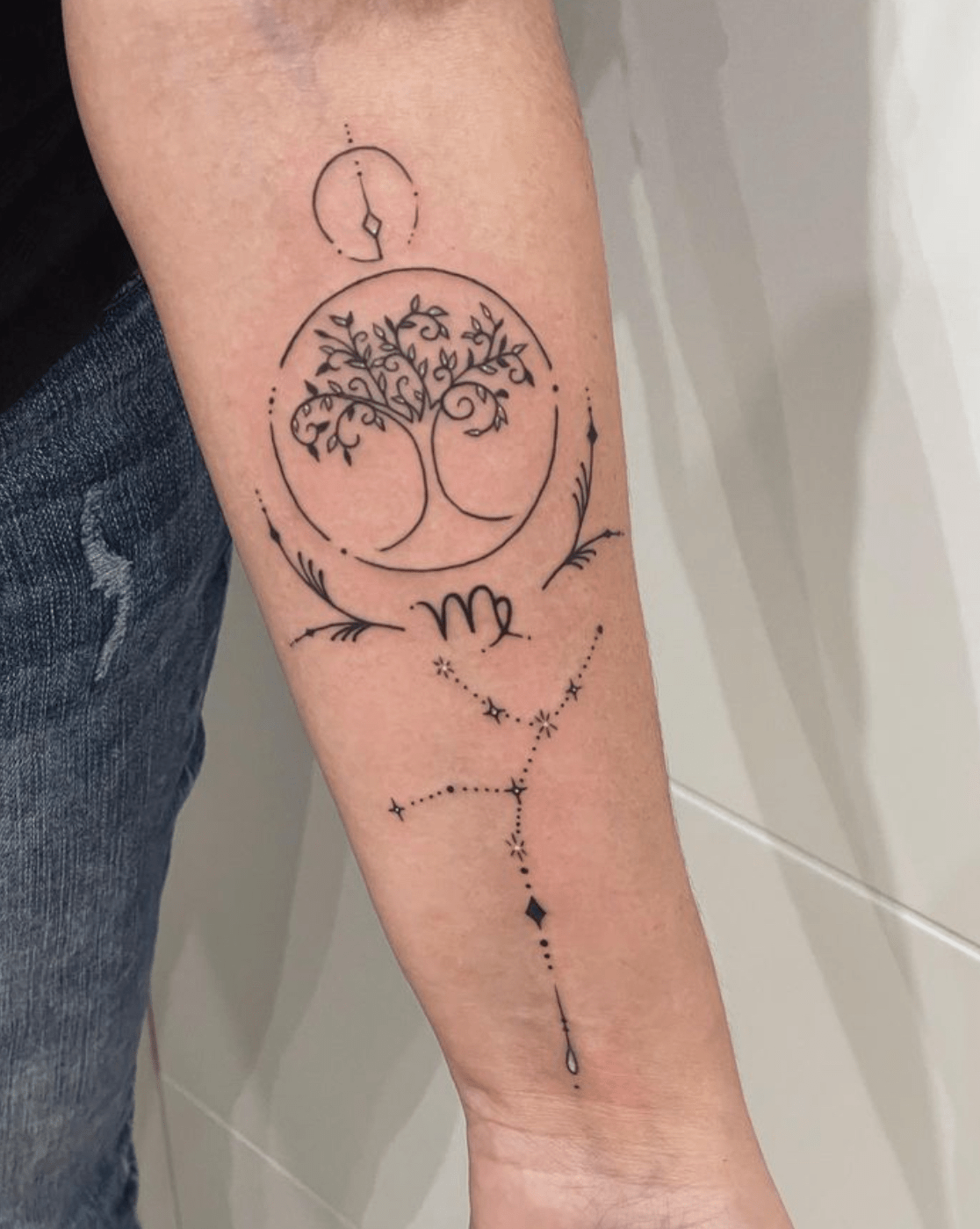 Here we've got some tasteful nature elements alongside the Virgo glyph AND constellation, all tied beautifully into one balanced tattoo.
22. Traditional Virgo Tattoo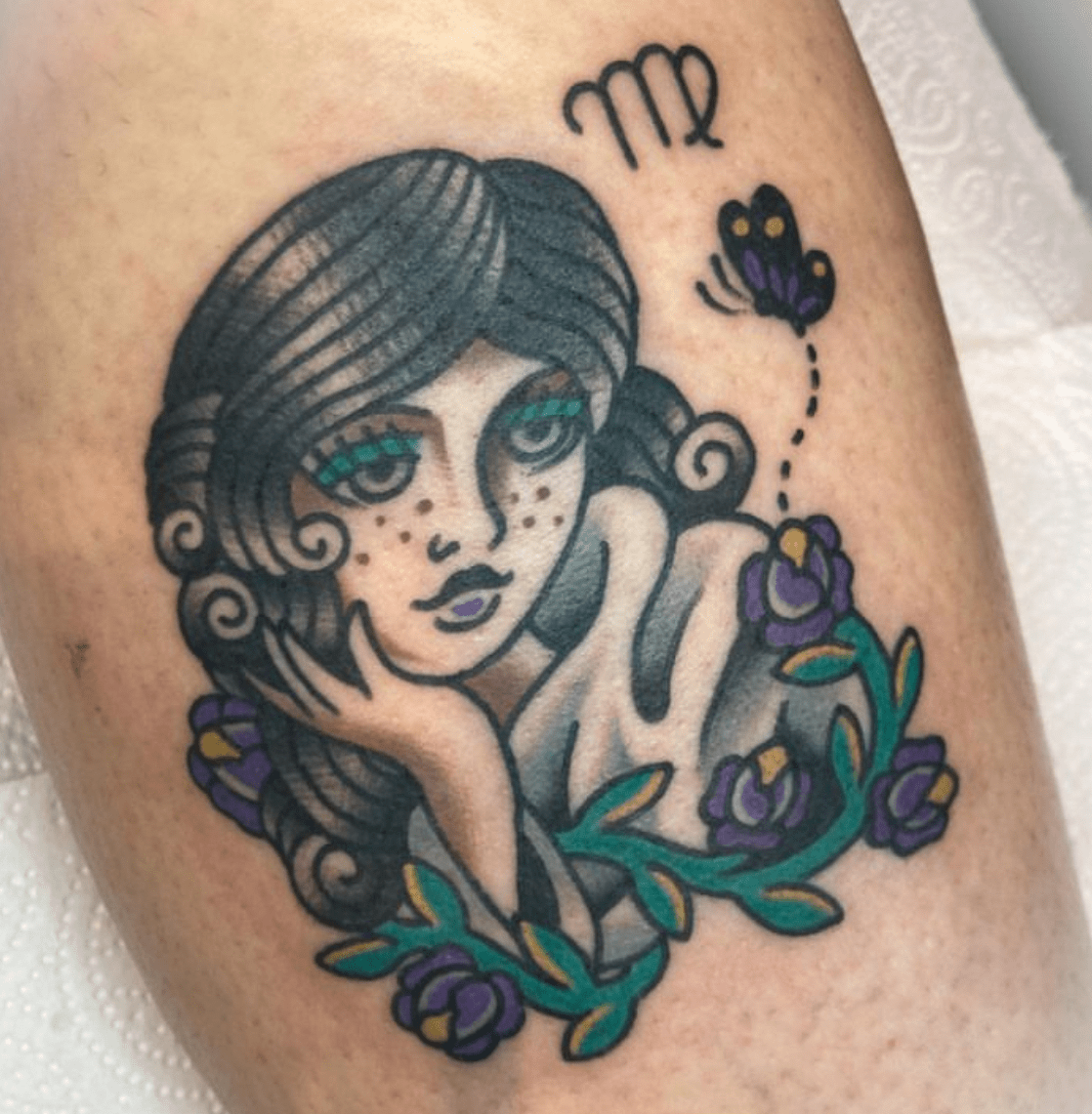 Look at the creative color choice on this traditional-style Virgo tattoo! And the way those darling freckles pop on the light skin of this beauty.
Excellent work by this artist.
23. Goddess of Agriculture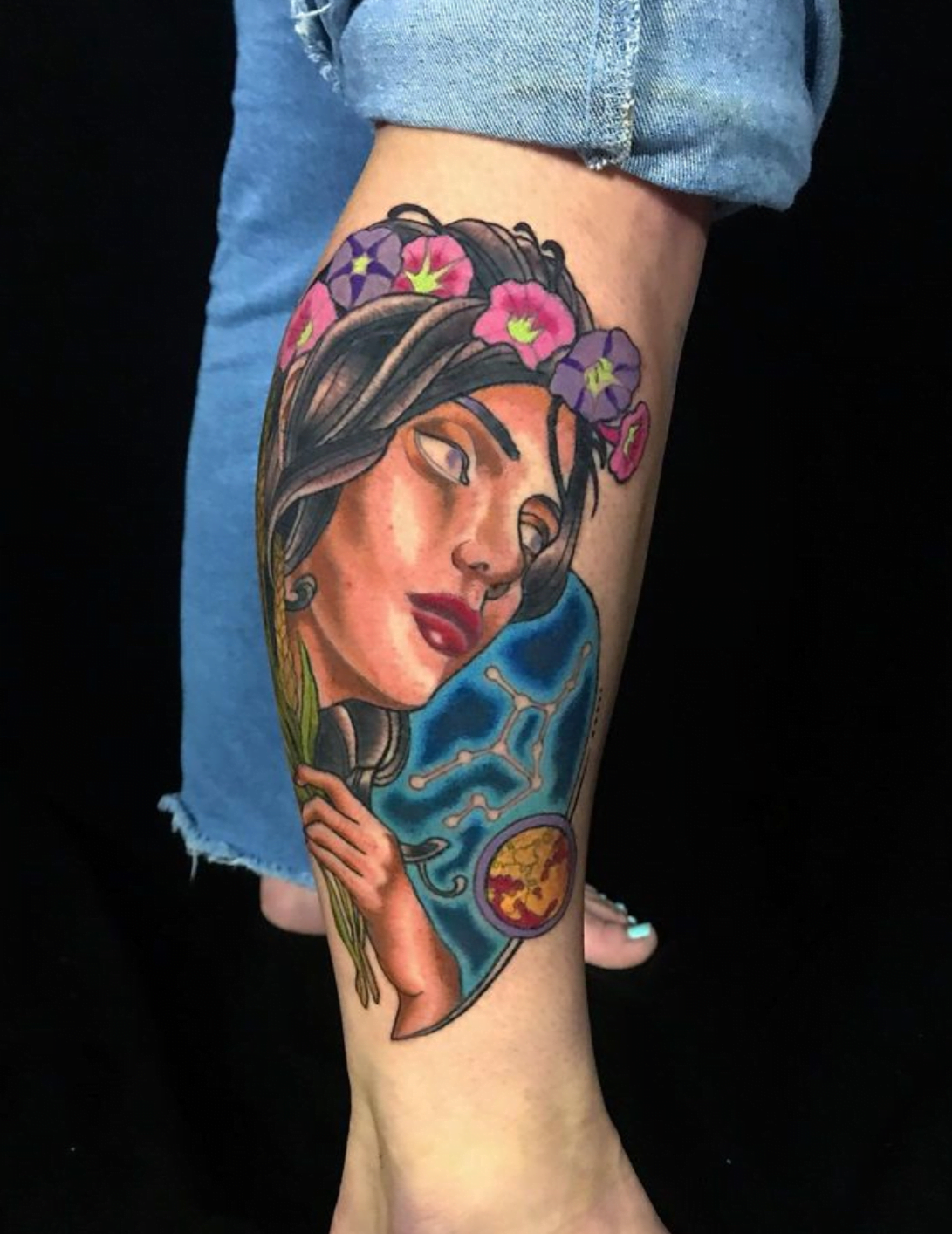 Symbolizing that familiar Goddess of Agriculture that we've mentioned earlier, this icon holding a stalk of wheat is marvelous.
Tap into the link to see the full piece around the back of the calf.
24. Mystical Virgo Tattoo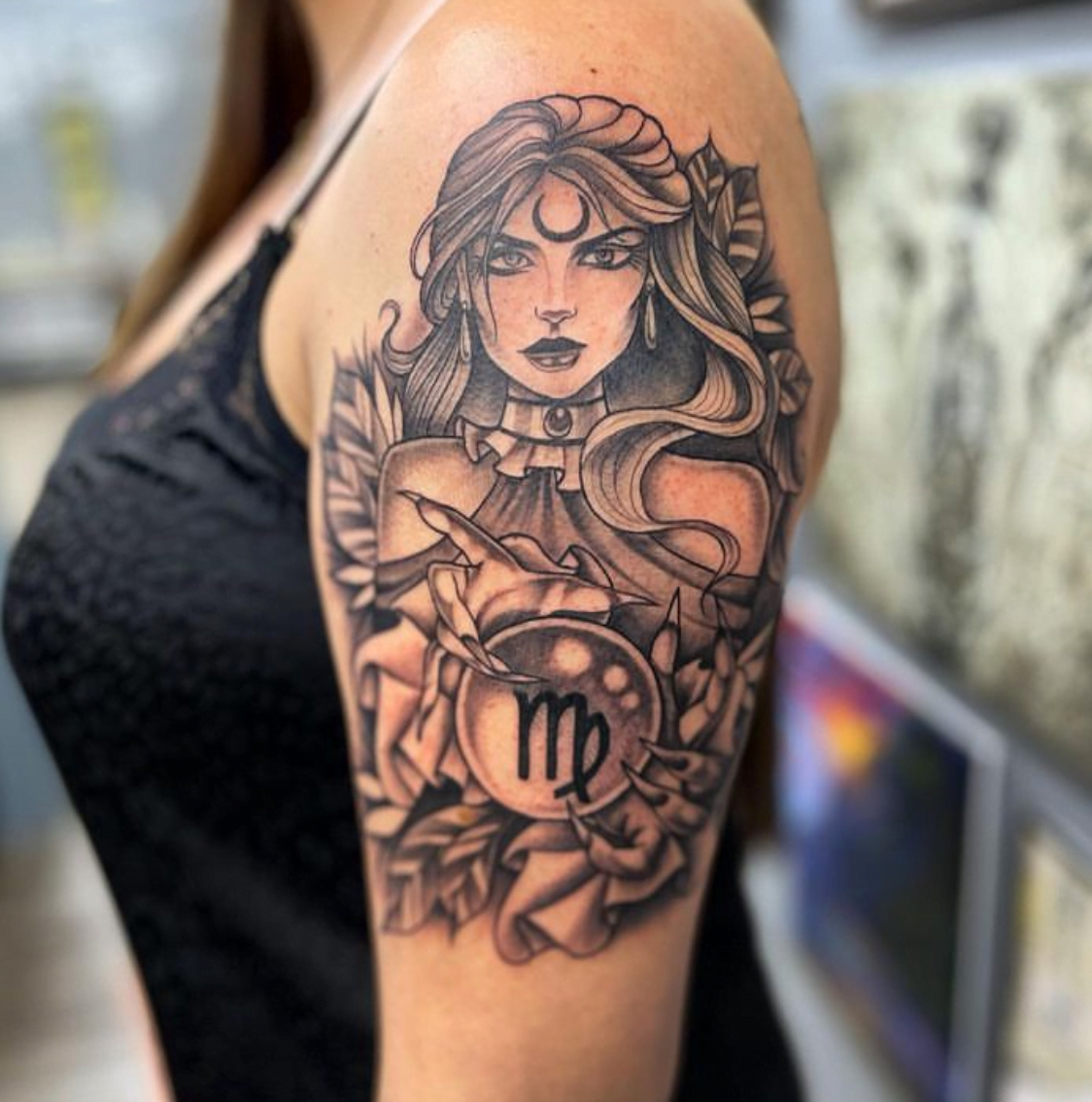 She's a witchy woman. Those talons embracing that crystal ball are so sharp they could cut me, and the look in her eyes says she is not to be messed with.
Virgos are known for being kind and gentle, but hey. We've all got a little darkness in us.
Summary
I don't know about you, but even going through this list and feeling all these Virgo vibes has softened up my black Aries heart.
It's probably a good thing that we have these sweeties around to balance us out. (You probably have a friend in mind already. You do, don't you? Text them right now saying you love them, they need it.)
If you want to have a tattoo day with your friends, we've got Leo, Cancer, Gemini, Taurus, Pisces, Sagittarius, and Aries lists to find the perfect inspiration for everyone who can get the day off work.
As always, let us know what you think!