What's not to love about palm tree tattoos, especially among those who crave the laid-back vibes of tropical paradise. In this article, we'll explore the history and meaning behind palm tree tattoos, as well as showcase some of our favorite designs.
History of Palm Tree Tattoos
Palm trees have been a symbol of paradise and relaxation for centuries. They're often associated with tropical destinations and exotic beaches. In tattoo culture, palm tree tattoos have become increasingly popular in recent years, often serving as a reminder of a vacation or representing the love for a specific location.
The Meaning Behind Palm Tree Tattoos
Palm tree tattoos can hold a variety of meanings, including:
Relaxation: Palm trees are often associated with vacation and relaxation, making them a perfect tattoo choice for those who want a constant reminder to take it easy.
Wanderlust: For those who love to travel, a palm tree tattoo can symbolize the desire to explore new and exotic destinations.
Strength and resilience: Palm trees are known for their strength and resilience, able to withstand strong winds and storms. A palm tree tattoo can represent one's own inner strength and ability to overcome adversity.
Growth and life: Palm trees are also a symbol of growth and life, as they can grow in harsh environments and produce fruit.
Gallery: Our Favorite Palm Tree Tattoos
Here are some of our favorite palm tree tattoos for both men and women in various styles:
Traditional: A traditional palm tree tattoo features bold outlines and vivid colors, often incorporating other traditional elements such as waves or hula girls.
Blackwork: Blackwork palm tree tattoos use solid black ink to create a striking contrast against the skin, often incorporating geometric shapes or dotwork.
Watercolor: Watercolor palm tree tattoos feature vibrant and fluid colors that blend together, creating a dreamy and ethereal effect.
Minimalist: A minimalist palm tree tattoo features simple outlines and minimal shading, making it a great option for those who prefer a more subtle design.
Realism: Realistic palm tree tattoos capture the intricate details and textures of a palm tree, making it look as if the design is a photograph.
No matter what style you choose, a palm tree tattoo is sure to transport you to a tropical paradise and bring a sense of calm and serenity to your life.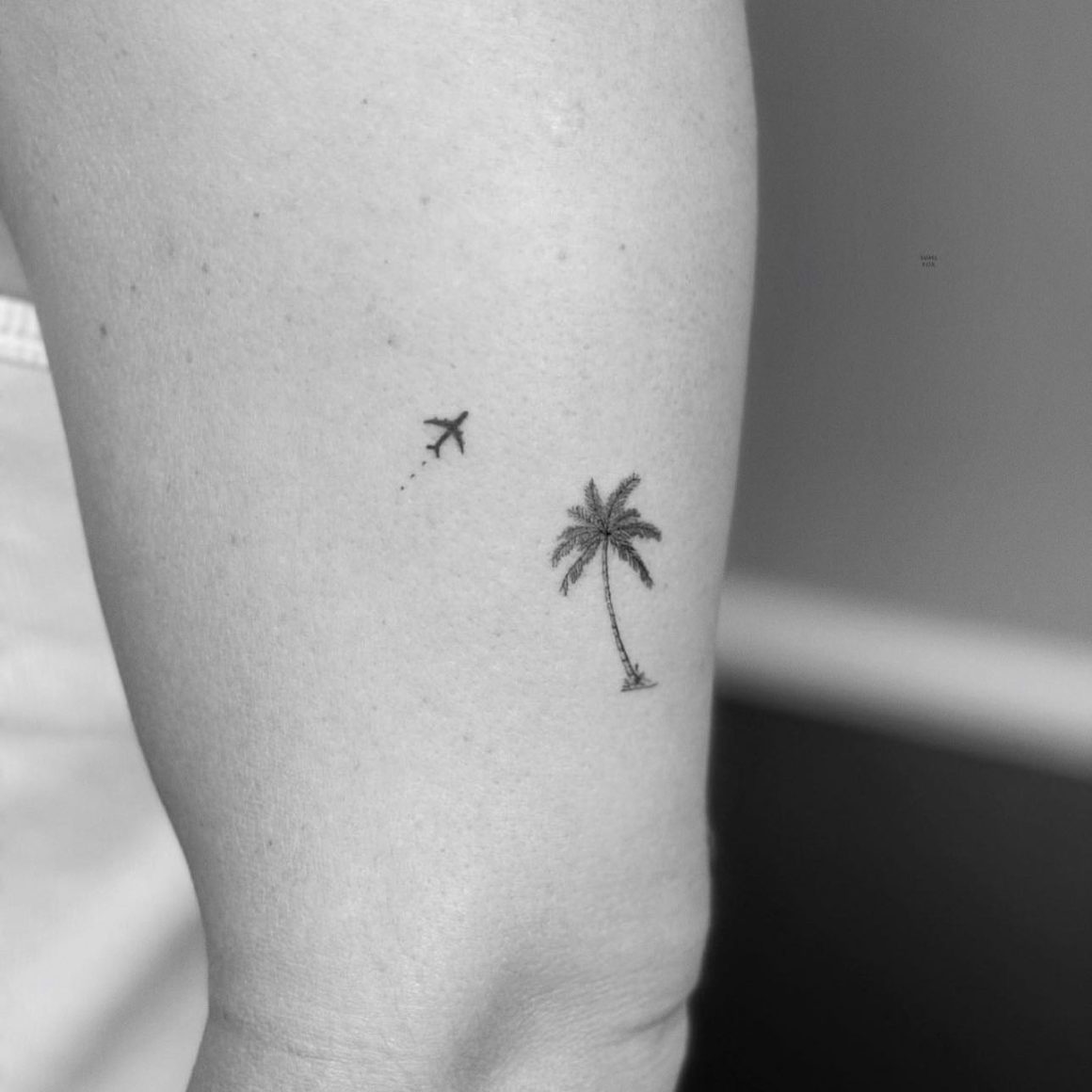 Summary
Palm tree tattoos are a beautiful and symbolic choice for those who love the tropical vibes of paradise. Whether you're drawn to the palm tree for its representation of relaxation, wanderlust, strength, or growth, there's a design out there that's perfect for you. As always, it's important to carefully consider the placement and design of your tattoo and to choose a reputable artist who can bring your vision to life. And if you're interested in other nature-inspired tattoos, check out our articles on Best Friend Flower Tattoos and Sunflower Tattoos for more inspiration!