Sunflowers are a symbol of happiness, peace, and prosperity; when you look at a sunflower, you can't help but feel a warm sensation in your belly. I can understand why sunflowers are such a popular choice for a tattoo; peace, happiness, and joy are what people seek out the most!
Sunflowers are my favorite flower; I find it very intriguing that they always bloom facing the sun, which gives them an almost intrinsic sentient quality.
These pretty flowers can be done in various tattoo styles, making them exciting to work with! Let's take a look at the top sunflower
tattoo styles I managed to gather for us…
1. Micro Fine Line Sunflower Tattoo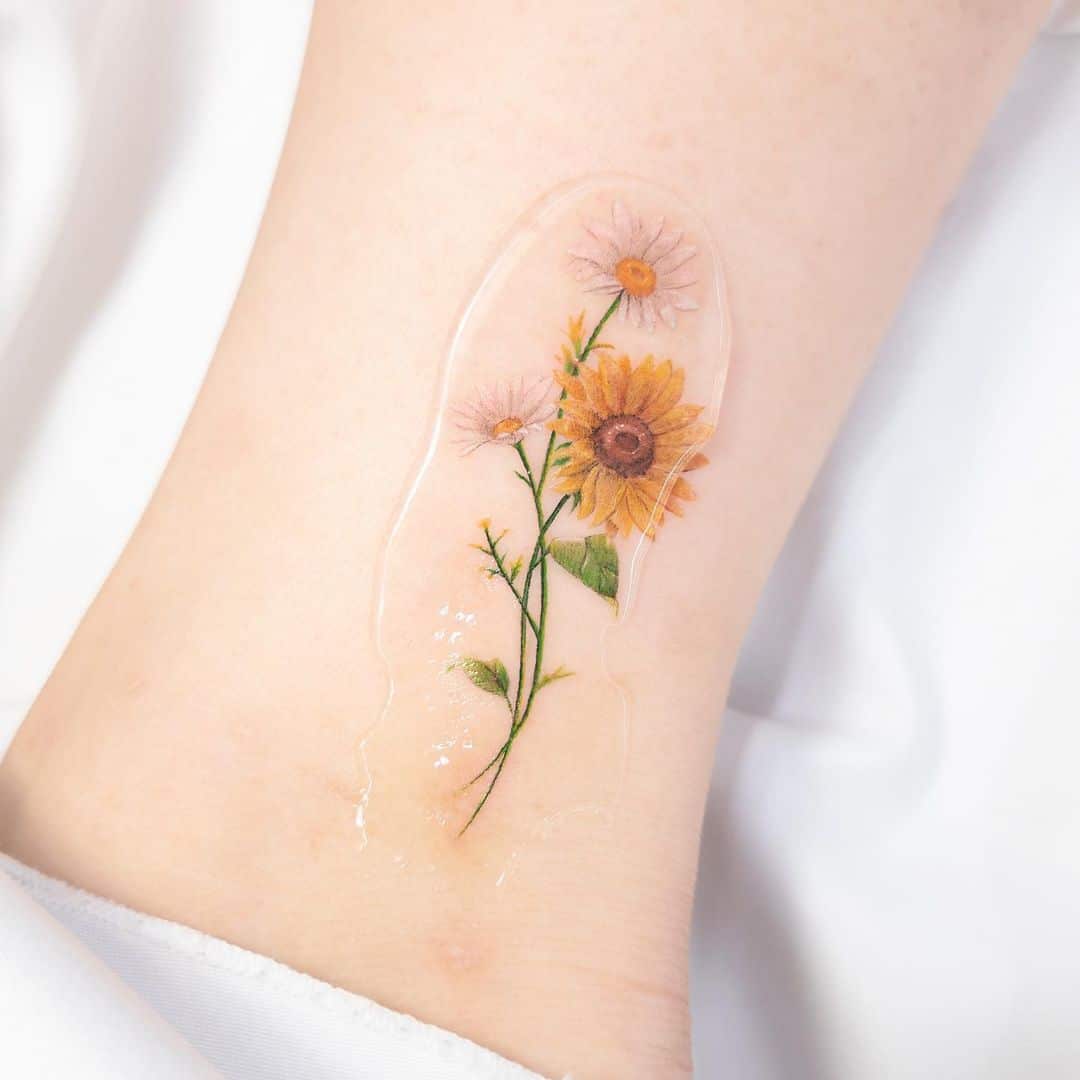 Starting off with a bang, this lovely little gem is a stunner! I love the size of this piece, I think it complements the imagery the artist used to create this artwork, and it plays into the sunflowers symbolism well.
My favorite part about this piece is the pastel color palette the tattooer used; it makes the tattoo appear soft, gentle, and feminine.
2. Traditional Halloween Sunflower Tattoo
Coming in hot at number two, this Halloween spin on a traditional sunflower is bonkers! My favorite part about this tattoo is the play on imagery. Overall this is a very creative design!
What stands out to me is the tattoo's size; this big, bold design is made even bolder by this! This artist has a keen artistic eye and implements it well. I admire the clean, strong lines that hold the color well. This is a masterpiece to feast our eyes upon!
3. Flower In A Frame Sunflower Tattoo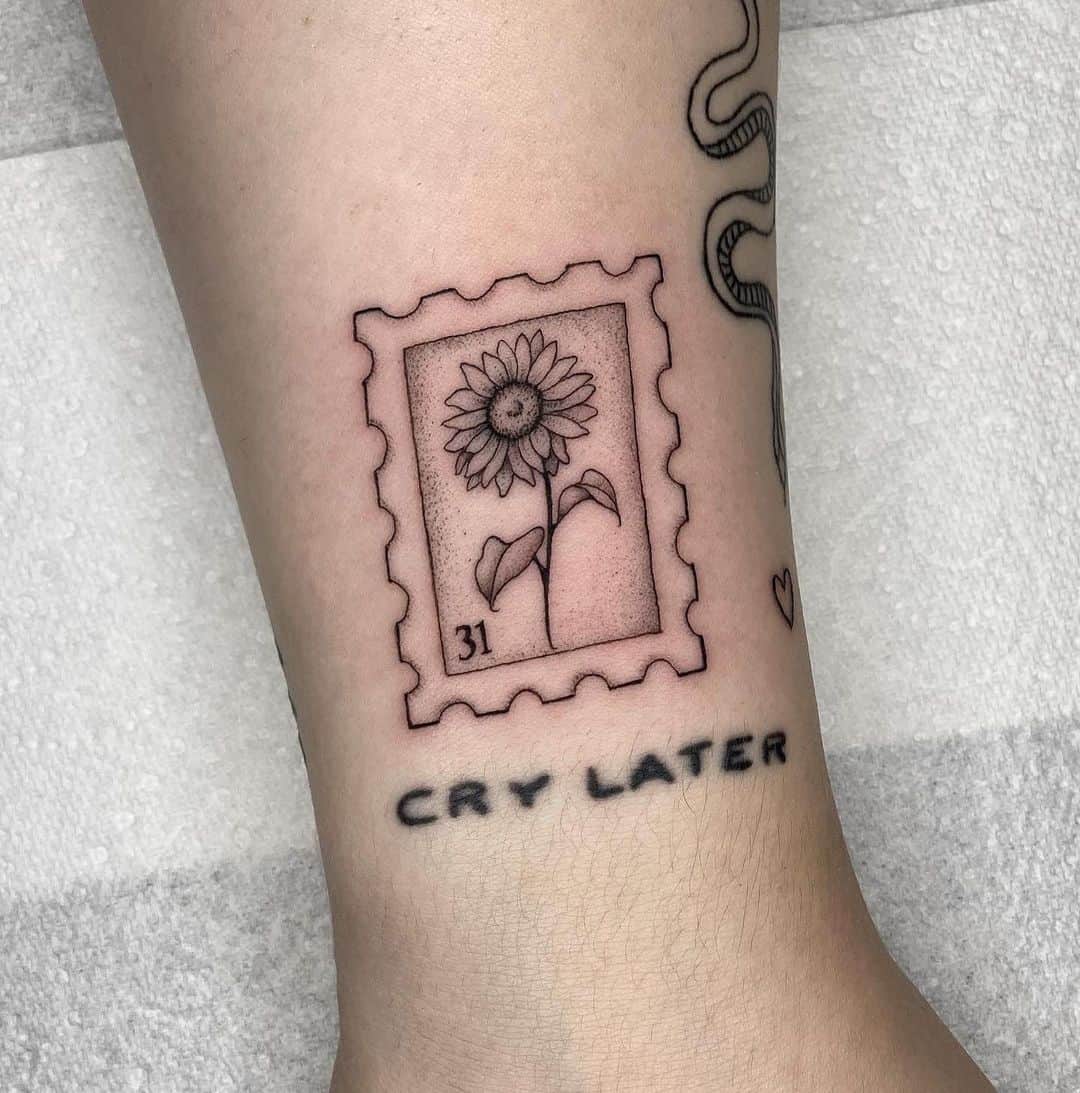 This almost looks too good to be real! The delicacy of this tattoo is insane; the lines are as clean as can be.
I love the play on imagery here; the sunflower stamp is such a unique take, and this is most certainly a custom design. I love the minimalistic approach that the artist took to create this tattoo.
4. Full Sunflower Sleeve Tattoo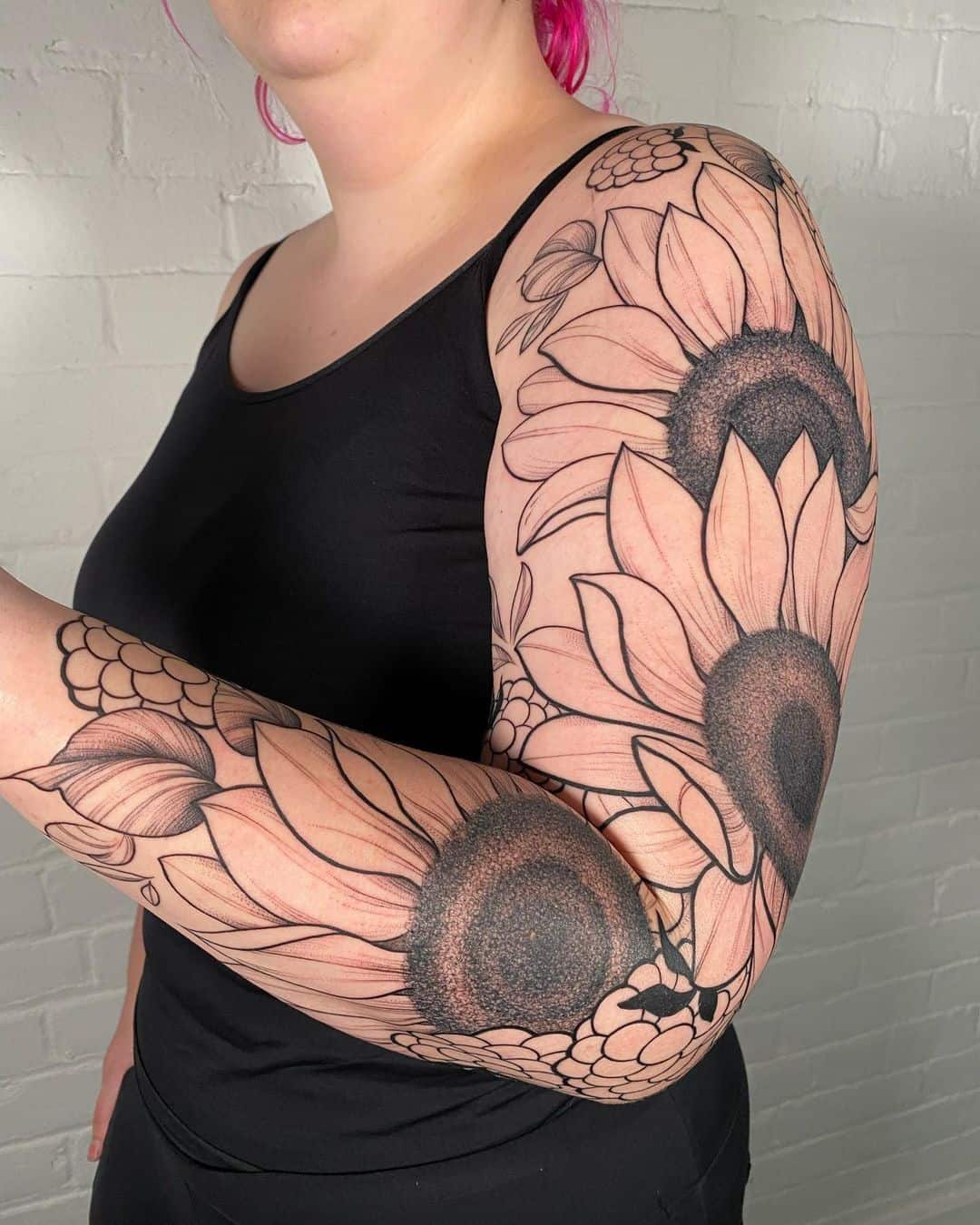 What is better than a sunflower tattoo? Well, a full sunflower sleeve, duh! This tattoo is captivating and feminine. I love the entire design; the sunflowers are placed in all the right places, which makes them look bold.
My favorite part about this tattoo is the absence of shading; this makes the tattoo completely unique. I must also add I admire the stippled shading used in the middle of the sunflowers; this makes the entire design appear soft and gentle.
5. Dot Work Black Sunflower Tattoo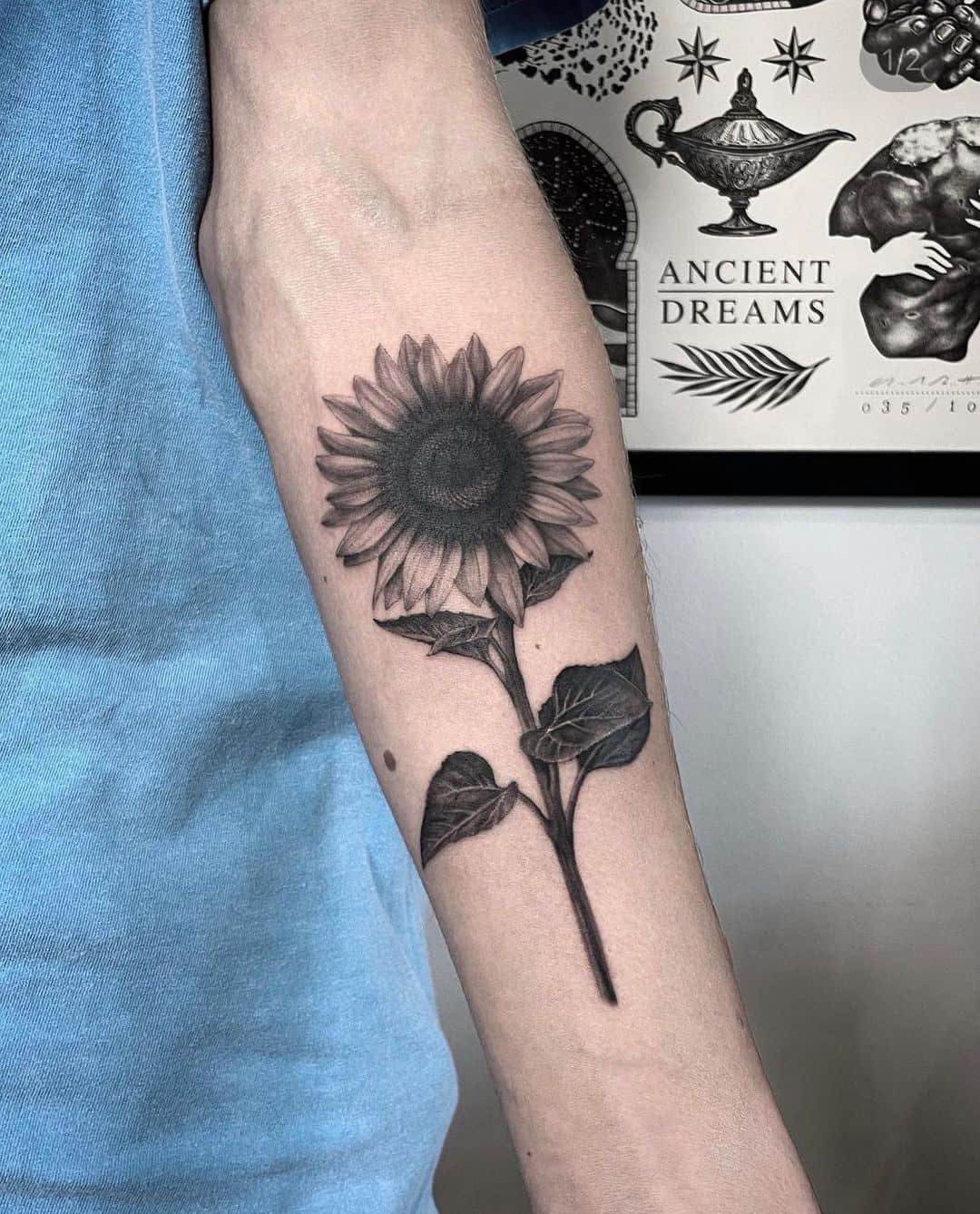 This is one of my personal favorite tattoos on this list; the entire tattoo has been crafted professionally by the hands of a remarkable artist. I love the artist's realistic technique; I want to reach out and grab it!
My favorite part about this power tattoo is the dark, black ink the artist chose to use; it gives the sunflower a powerful feeling rather than a gentle, soft one. Super bold and unique.
6. Minimal Colour Sunflower Tattoo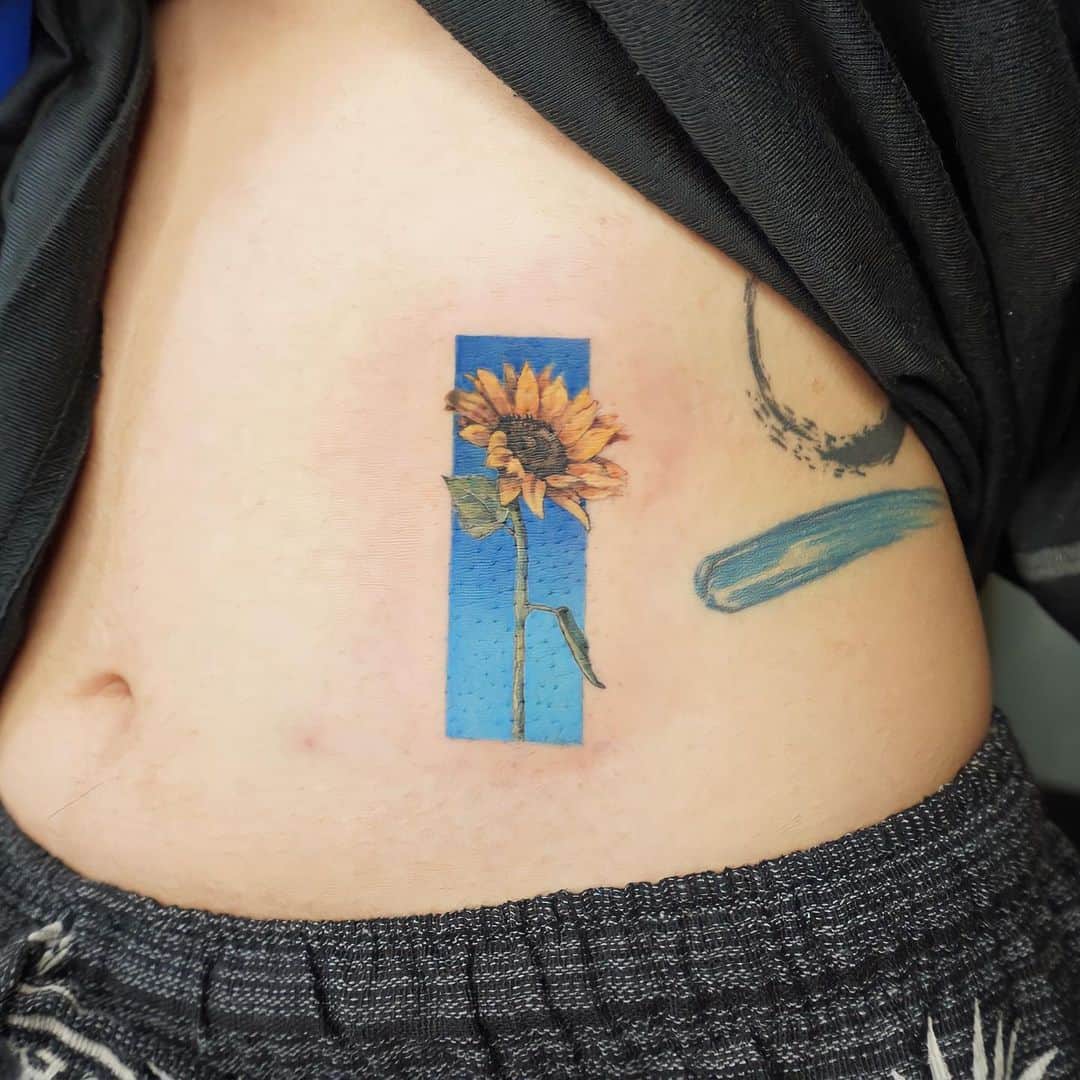 This tattoo should be a painting hung up in a museum! I love the placement of the tattoo; I think that was a smart move from the artist, and the client. I must say, I admire the realistic approach the artist took when creating this piece, that makes it look even more picturesque!
My favourite part about this tattoo is the sunny, summer feeling you get when you look at this piece. You can't be sad and have a sunflower tattoo!
7. New Traditional Sunflower Tattoo
Well, isn't this just the cutest little guy you've ever seen? As you can see there is a running theme in this list, all these tattoos give you a warm, fuzzy feeling inside your tummy. I need a cute sunflower tattoo after all of this!
When it comes to this piece, no part about it is not absolutely perfect; bold lines, bright colours and an adorable, welcoming complexion!
8. Double Trouble Sunflower Tattoo
Two sunflowers are always better than one! This has been made very clear by this little gem. I love the unique way the artist used colour here to create depth without the use of dark lines; very difficult to execute and this artist has done the near impossible!
My favourite part about this piece is the soft look to the petals, as well as the doubling up of two sunflowers; they are going to be best friends forever!
9. Realism Bedazzled Sunflower Tattoo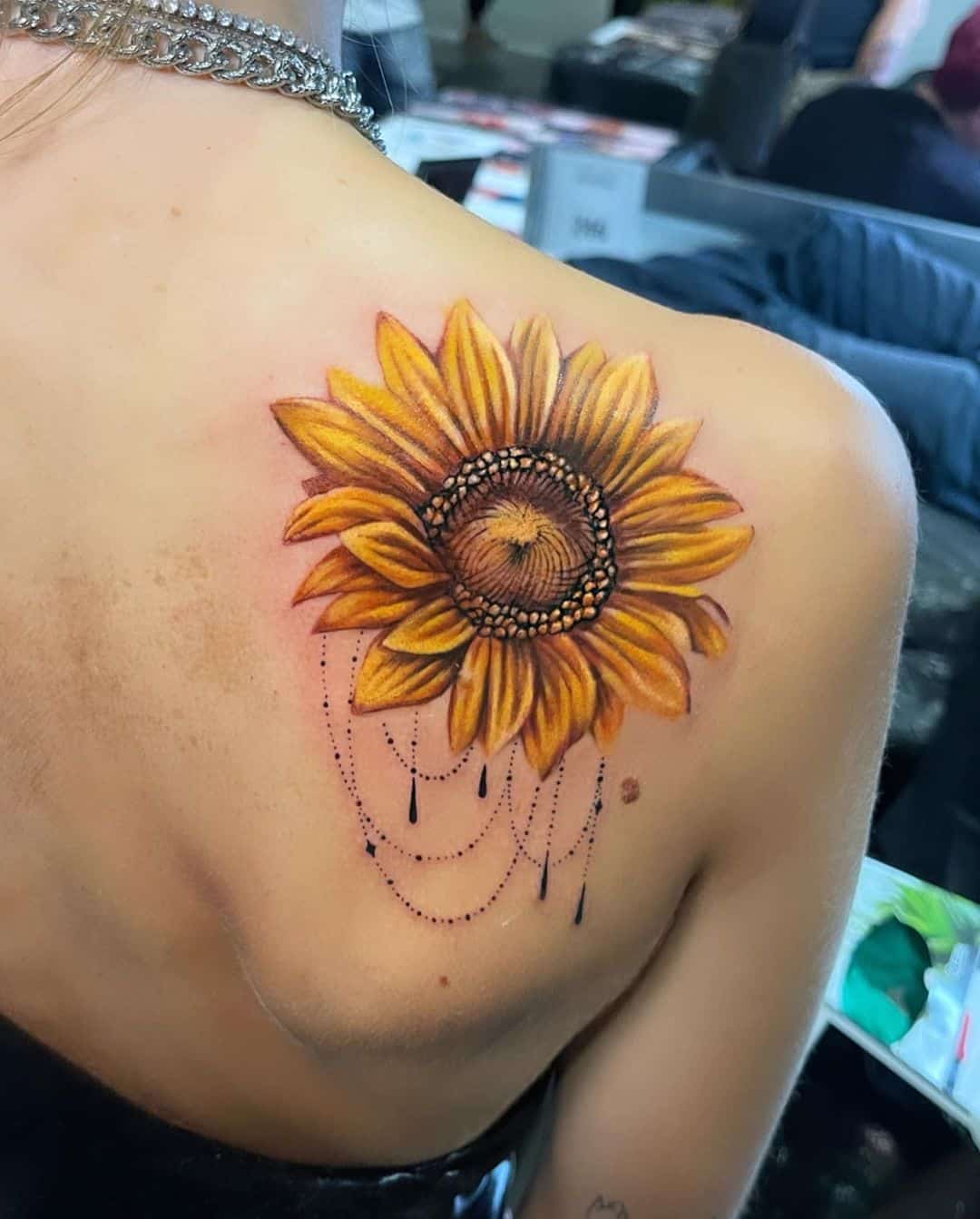 You could stand on top of mount Everest and see this tattoo from down below with how bold and realistic it is! The artist has managed to give it a three-dimensional look which I am blown away by; outstanding artistic ability shown by the tattooer here!
My favourite part about this pretty piece is the jewels that hang below it, giving the sunflower a royal, powerful quality.
10. Cartoon Sunflower Tattoo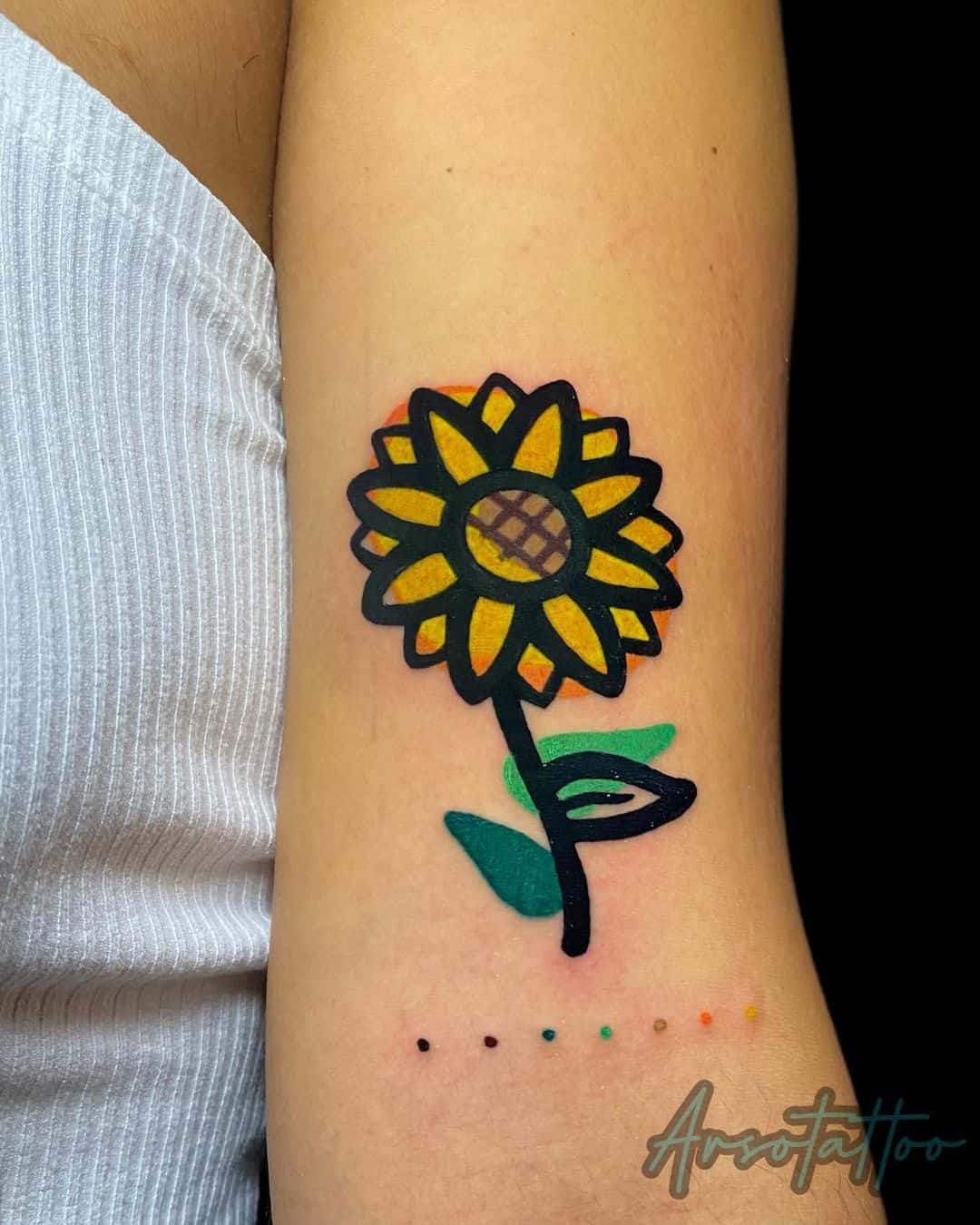 This immediately brings out my inner child when I look at this one; I want to grab my crayons and go to town in my colouring book from all this inspiration!
I love the childlike, playful innocence coming from this tattoo. The artist has taken an illustrative, cartoonish approach which I never see much of! I feel like this is one of Andy Warhols childhood drawings!
If you're looking for more flowers, check out our daisy tattoos.
11. Geometric Sunflower Tattoo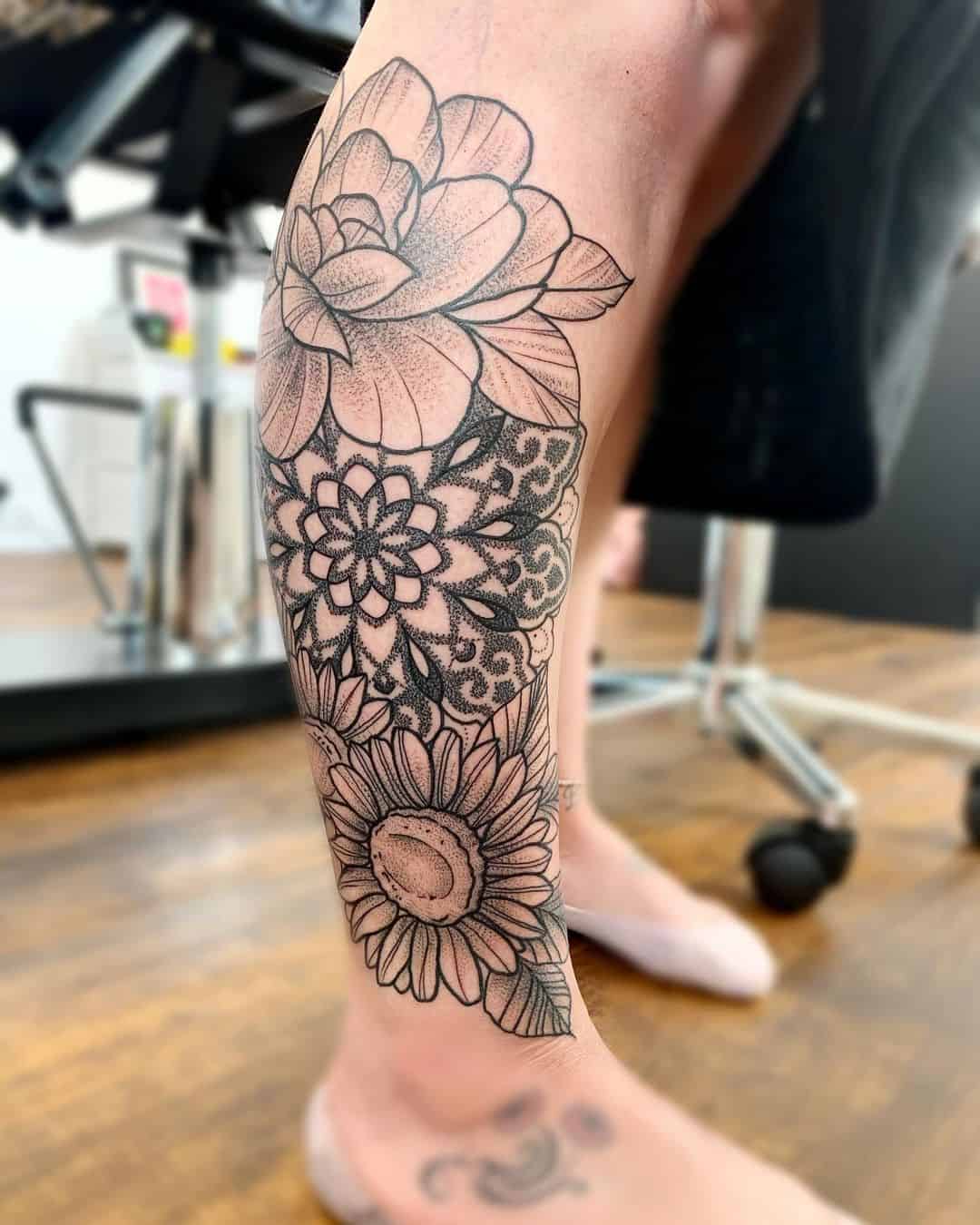 We can't forget a sunflower without geometric elements! I love the use of sacred geometric imagery placed in between the sunflowers, this adds a spiritual element to this piece, which I love!
Its obvious how bold, and clean the lines are… one day I'll be as good as this. My favourite feature about this piece is the use of minimal whip shading in the sunflowers petals; super unique and unusual!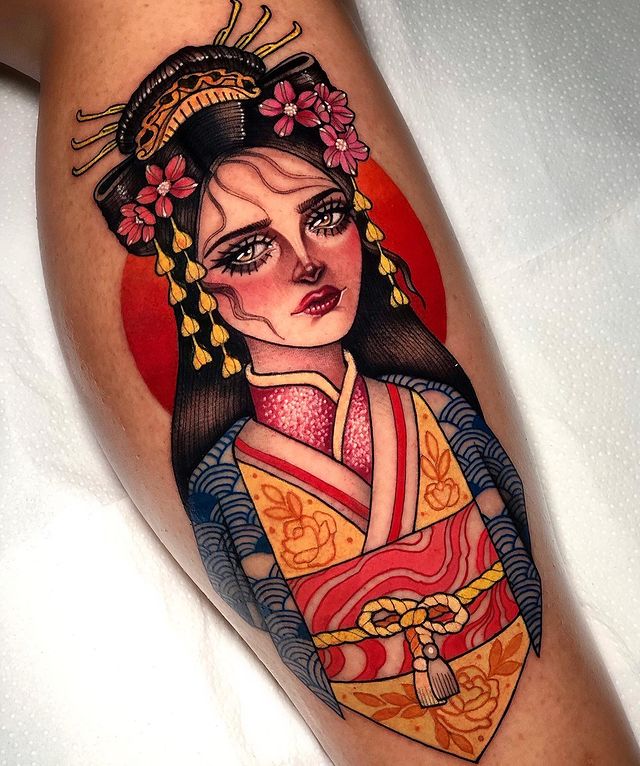 12. Traditional Sunflower Tattoo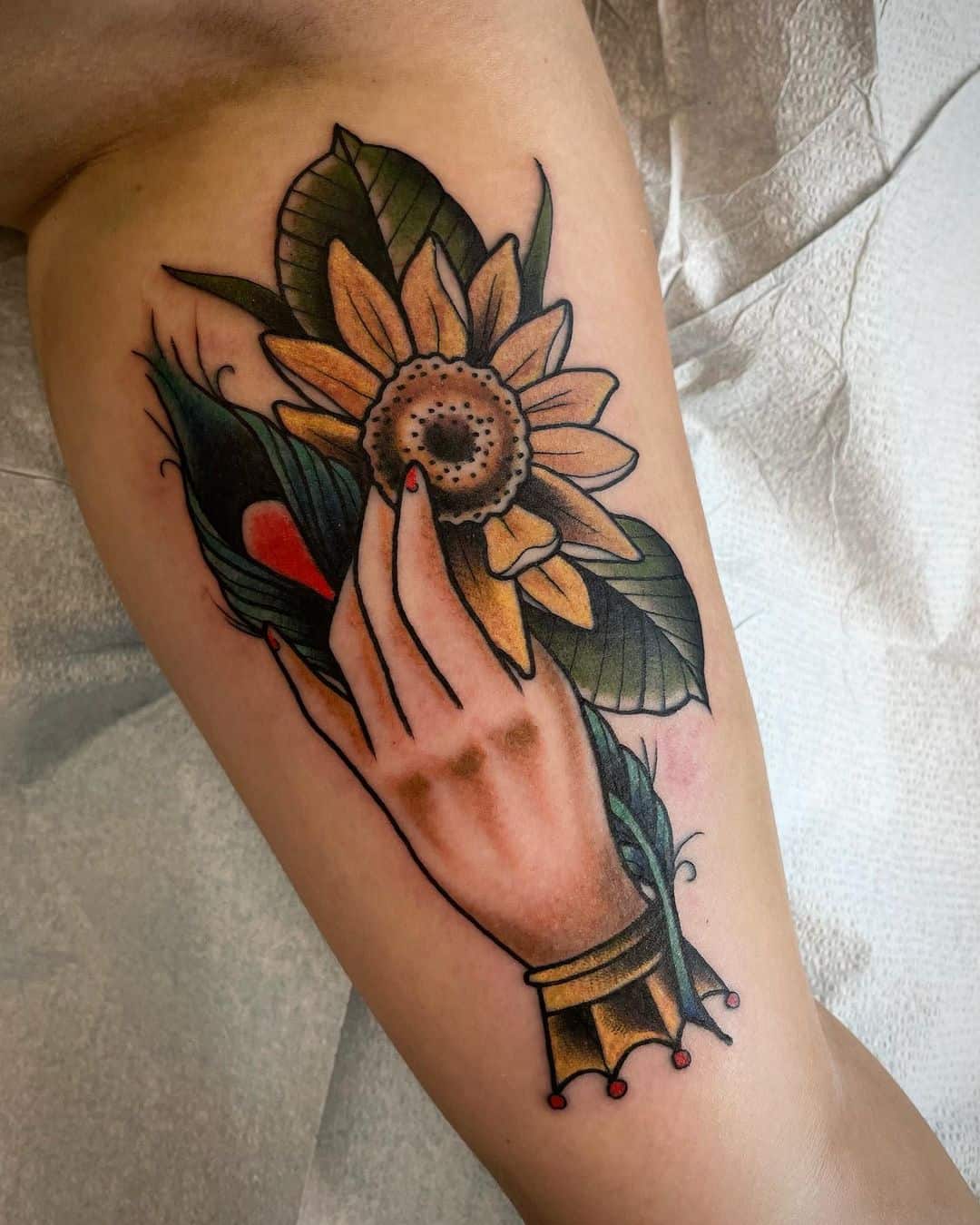 As per usual, we can never get enough of good ol' classic traditional. This tattoo is an absolute masterpiece, through and through.
I love the clever play on imagery the artist used here; do you notice how the bangle on the wrist is an upside down traditional crown? I love that. The shading, bright colours and bold lines work together to make this badass tattoo stand out from the rest.
13. Black Work Sunflower Script Tattoo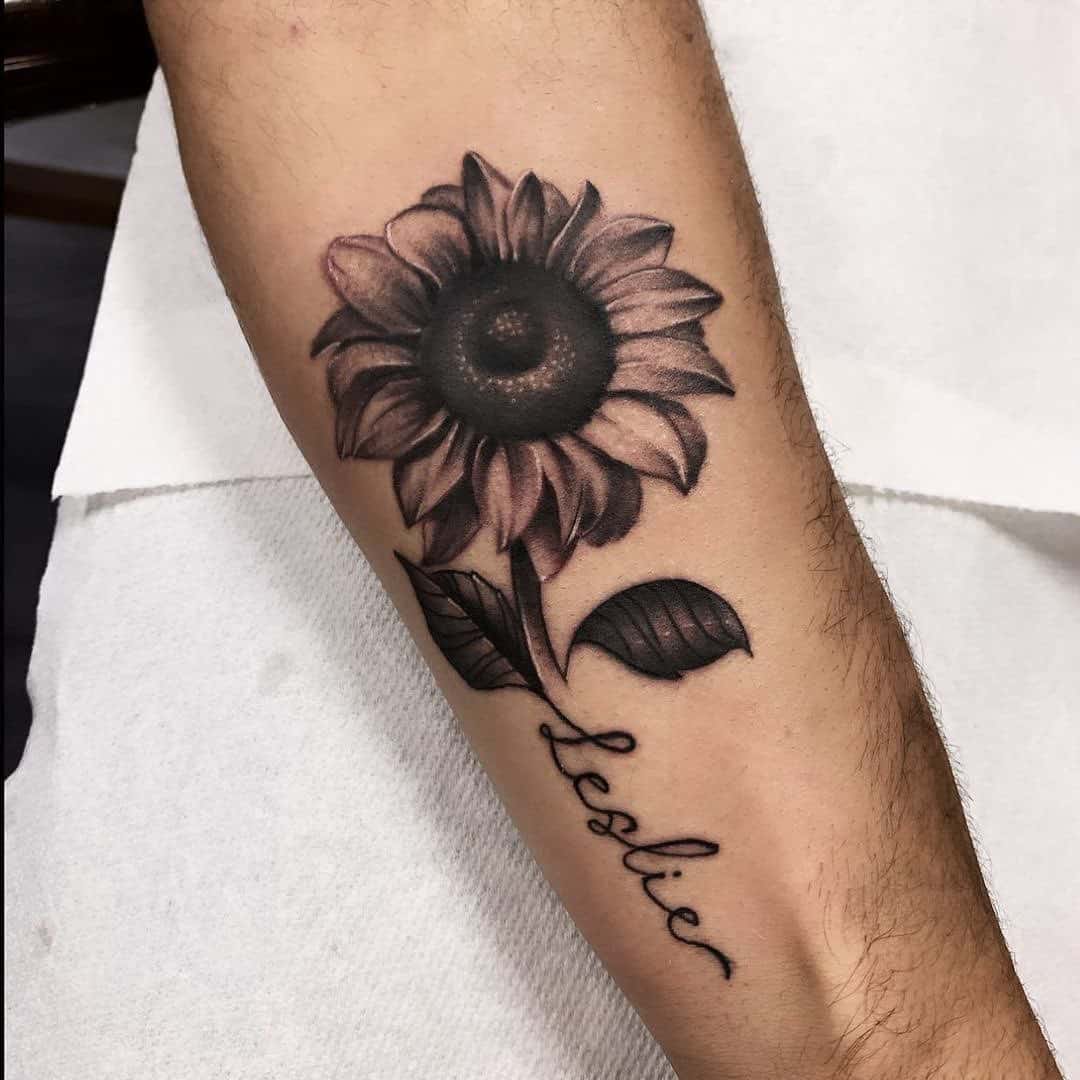 Sunflowers are already a meaningful tattoo on their own, but you can make them even more meaningful by dedicating them to someone you care about by adding a lil' bit of script? Best idea ever!
I love that the artist used a little bit of white ink in the tips of the petals and centre piece of the sunflower; this makes such a difference to how bold it appears. The devil is in the detail my friends!
14. Thigh Piece Traditional Sunflower Tattoo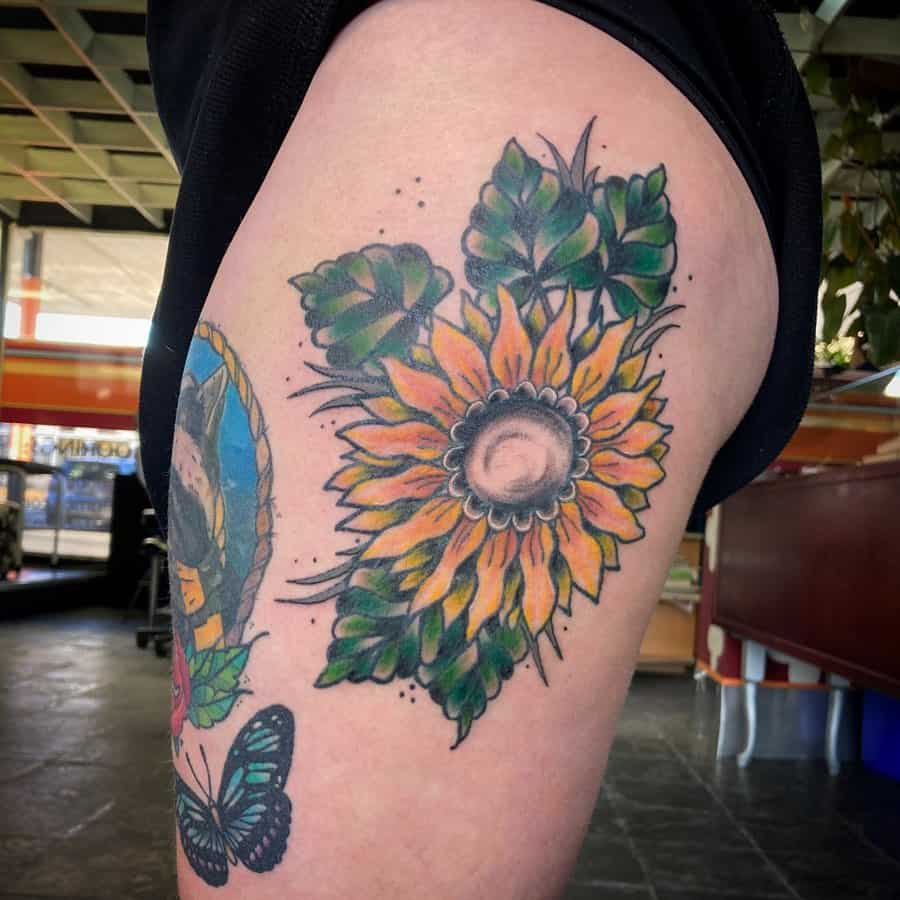 If you love sunflowers and their symbolism, I would definitely suggest covering your entire thigh with one of them; That way you will never forget they're there! I am a genius aren't i?
The best part about this tattoo is the size and placement; don't underestimate the power placement and size has on the overall look a tattoo gives! I love the bright lemon yellows used in the petals in contrast to the deep emerald green petals; this artist definitely has phenomenal artistic ability.
15. Realism Scattered Sunflower Tattoo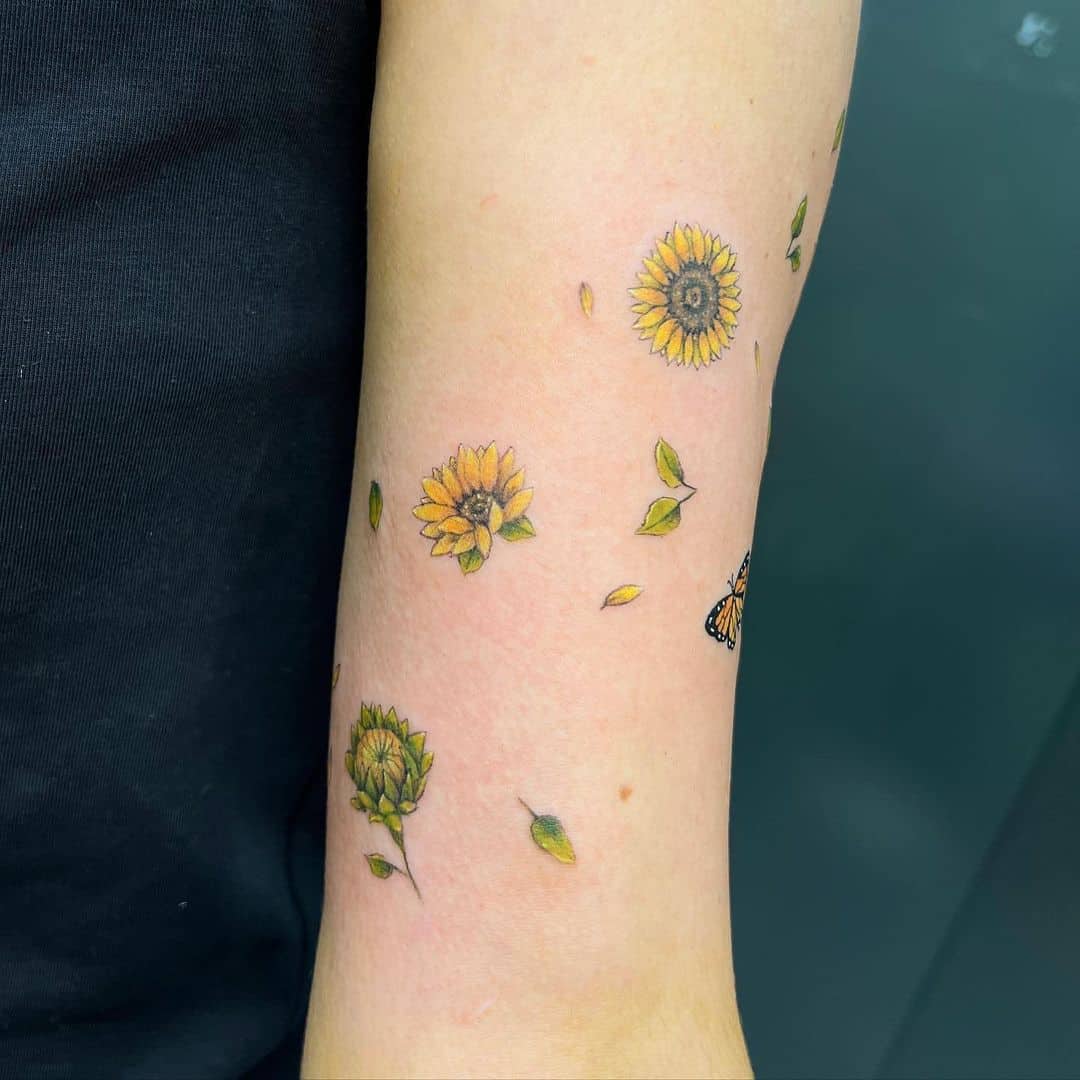 This has to be one of the most unique designs on this list, and for sure a custom design! The realistic approach the artist took here is outstanding; they look like they are living and breathing, I have to pinch myself to make sure they aren't real!
The best part about this tattoo is the artists phenomenal ability to create a realistic design on such a small scale. I love the softer colours the artist chose here too, it gives the sunflowers a soft appearance.
16. Watercolour Sunflower Tattoo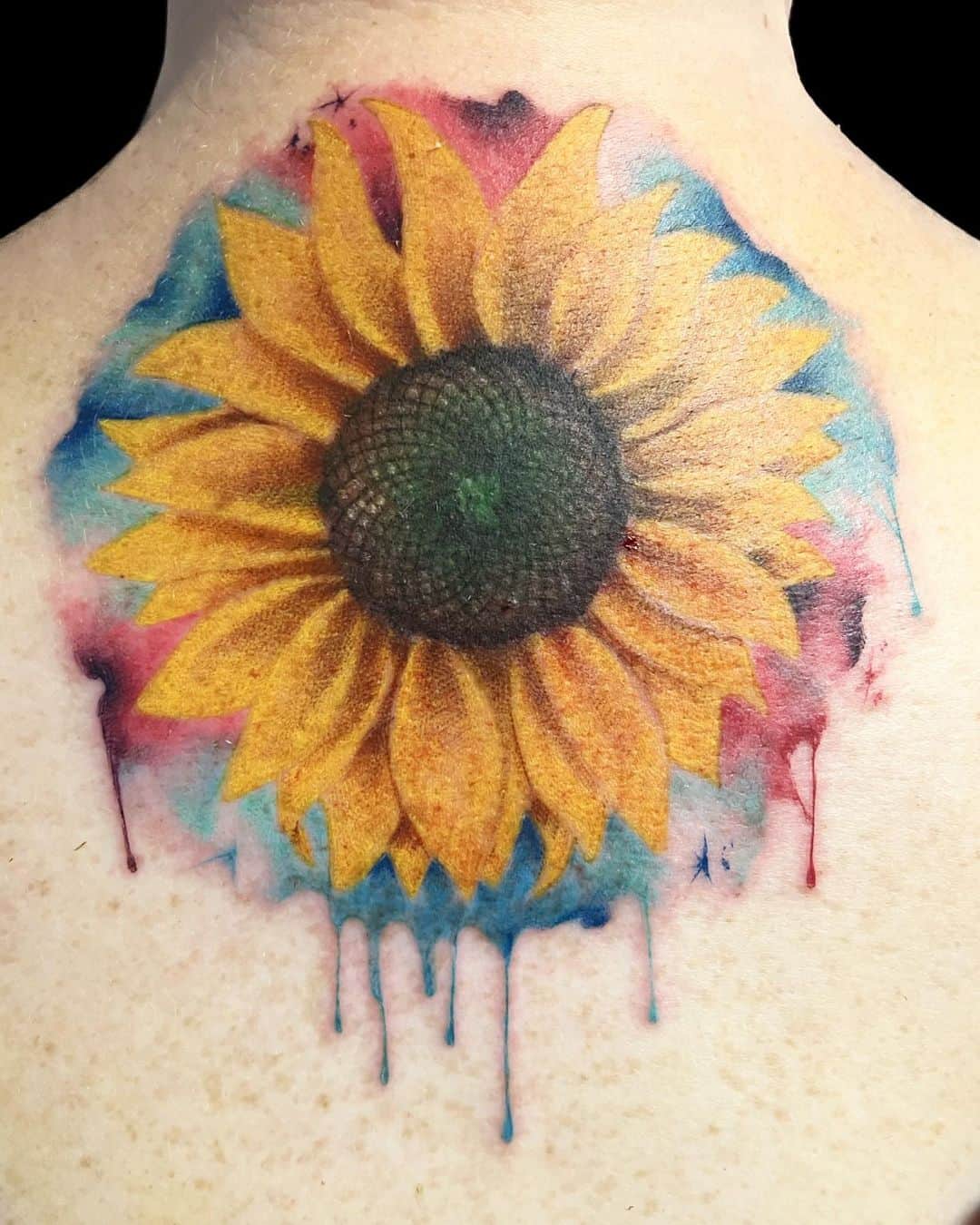 This sunflower looks… delicious! I love the play on imagery used by the artist, it is done in such a way that it looks like a watercolour sunflower donut; very appealing to eye, and taste buds indeed!
I am impressed at the artists ability to create depth without the use of black ink, that is very difficult to achieve and yet we have an amazing tattooer who did just that. I love the bright, pigmented colours the artist used too.
17. Lavender And Sunflower Tattoo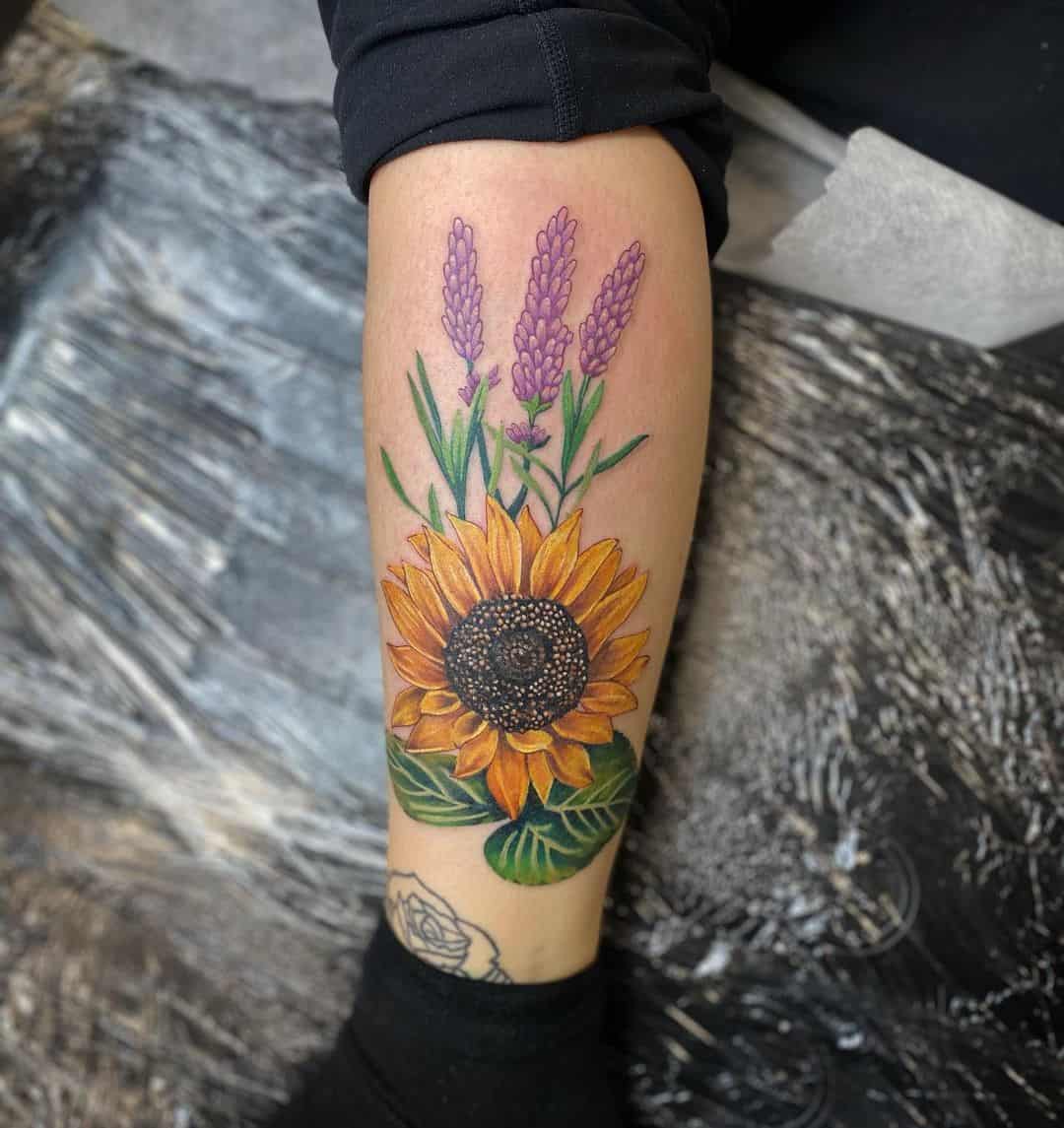 I immediately took notice of the artistic ability to use complementary colours here; blues, purples and yellows, this artist definitely knows what they're doing!
The overall design is impressive as it has been done in such a way that the lavender balances the design out to absolute perfection. I love the purple lavender element to this piece; this is what makes it unique!
18. Fine Line Sunflower Band Tattoo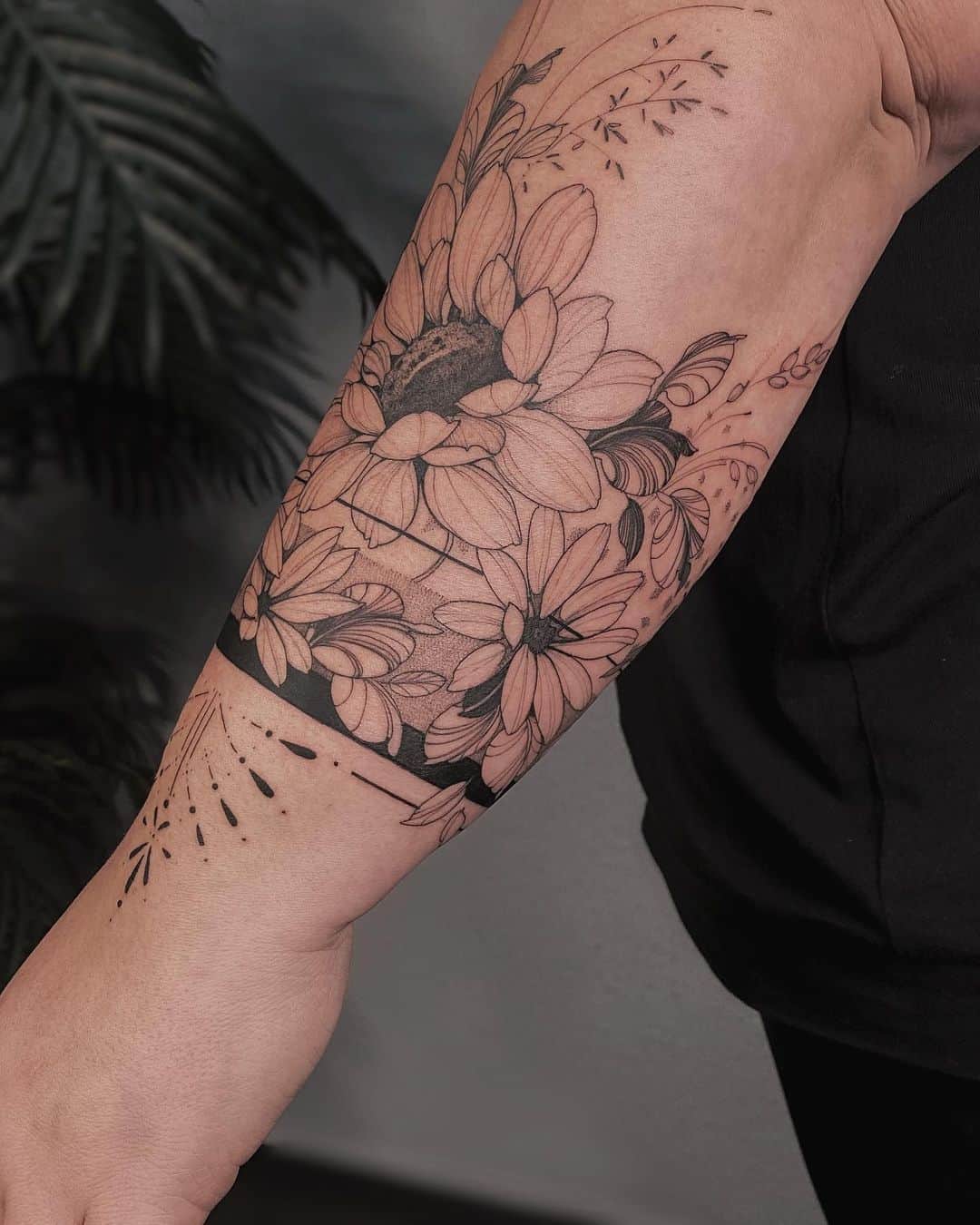 Getting a band tattoo is an absolute classic, they always look stylish and powerful. I love the fine line details in and around the band, that tones down the harsher appearance of the band and balances out everything neatly.
The line work is incredible here, as well as the block shading in the band around the wrist. Overall, this is a winner in my books!
This style reminds me of some of the art in our mushrooms tattoo article, so check that out as well.
19. Sunflower Vase Tattoo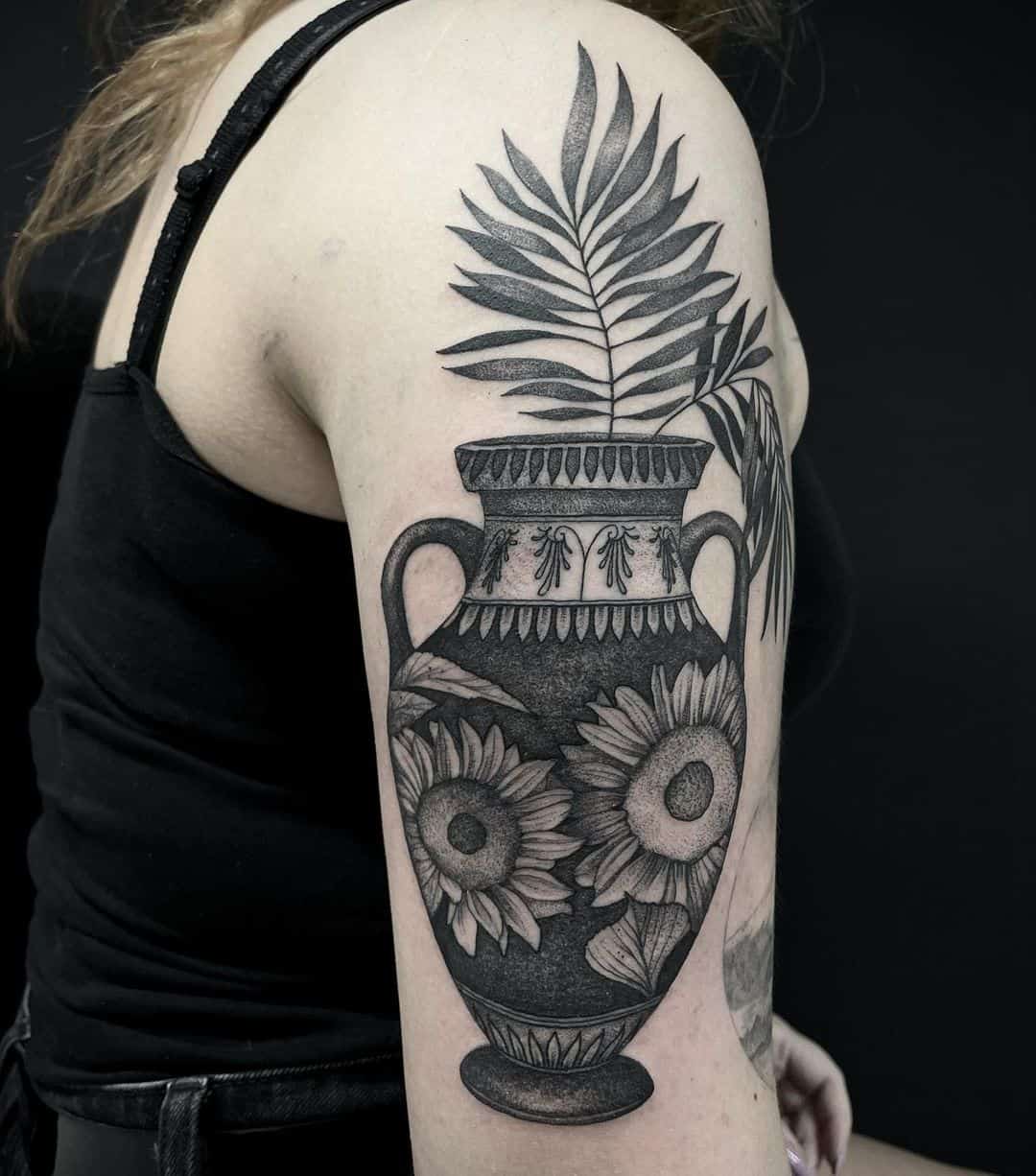 Okay, maybe this one is my favourite tattoo on this list… I won't change my mind again I promise! Where do we even begin with this renaissance painting of a tattoo?
My favourite part about this piece is the size, and imagery. I love vase tattoos, they are a such a classic and always, without fail, look good. I love the neo-traditional like style of the vase; that is a unique twist which I admire. Also, can we take a moment to appreciate the dark, black ink the artist used here? This is what makes this tattoo jaw-droppinly beautiful!
20. Skeleton Holding A Sunflower Tattoo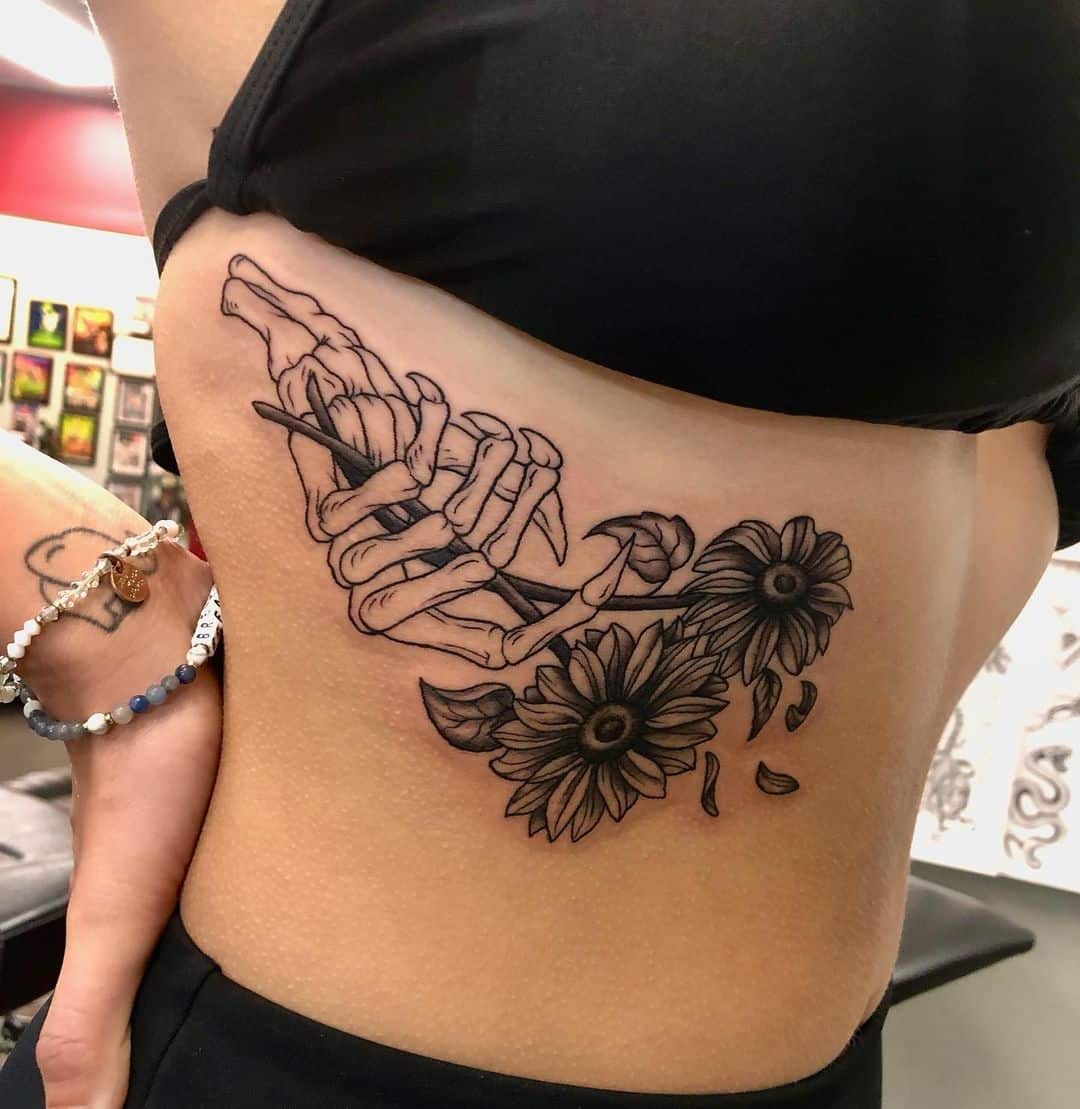 Last, but certainly not least we have this interesting design! I love the play on imagery, the use of a skeleton hand instead of a living one is a unique, edgy take… this is one brave girl!
The shading in the petals give the tattoo just the right about of weight and depth, it almost makes the skeleton hand appear even more dead than it already is! Bravo to the tattooer and client.
21. Sunflower Coffin Tattoo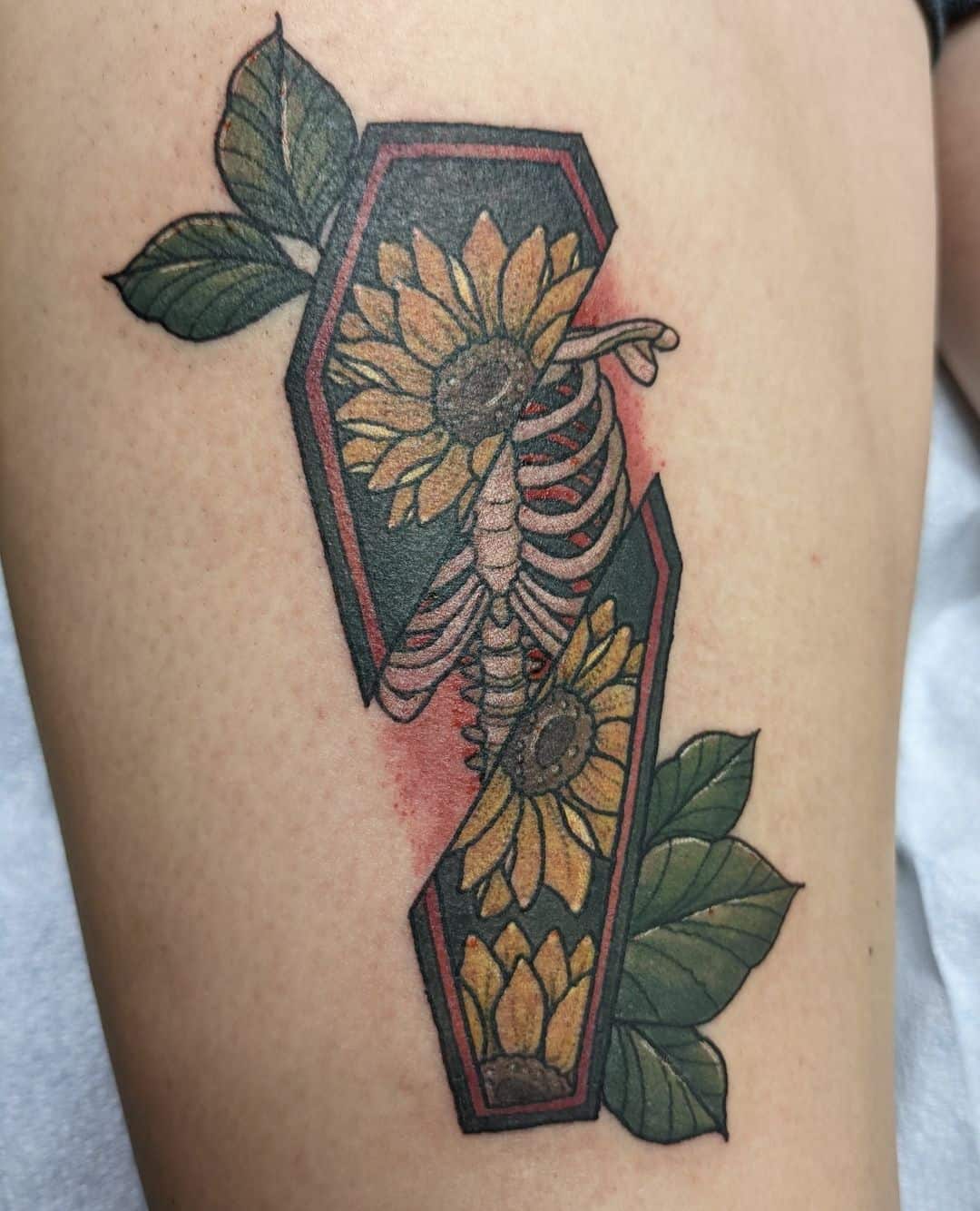 Here's a fun little custom design I wouldn't have predicted seeing. The coffin is split to reveal a little skeleton, but the flower design is the show stealer!
22. Microrealism Sunflower Tattoo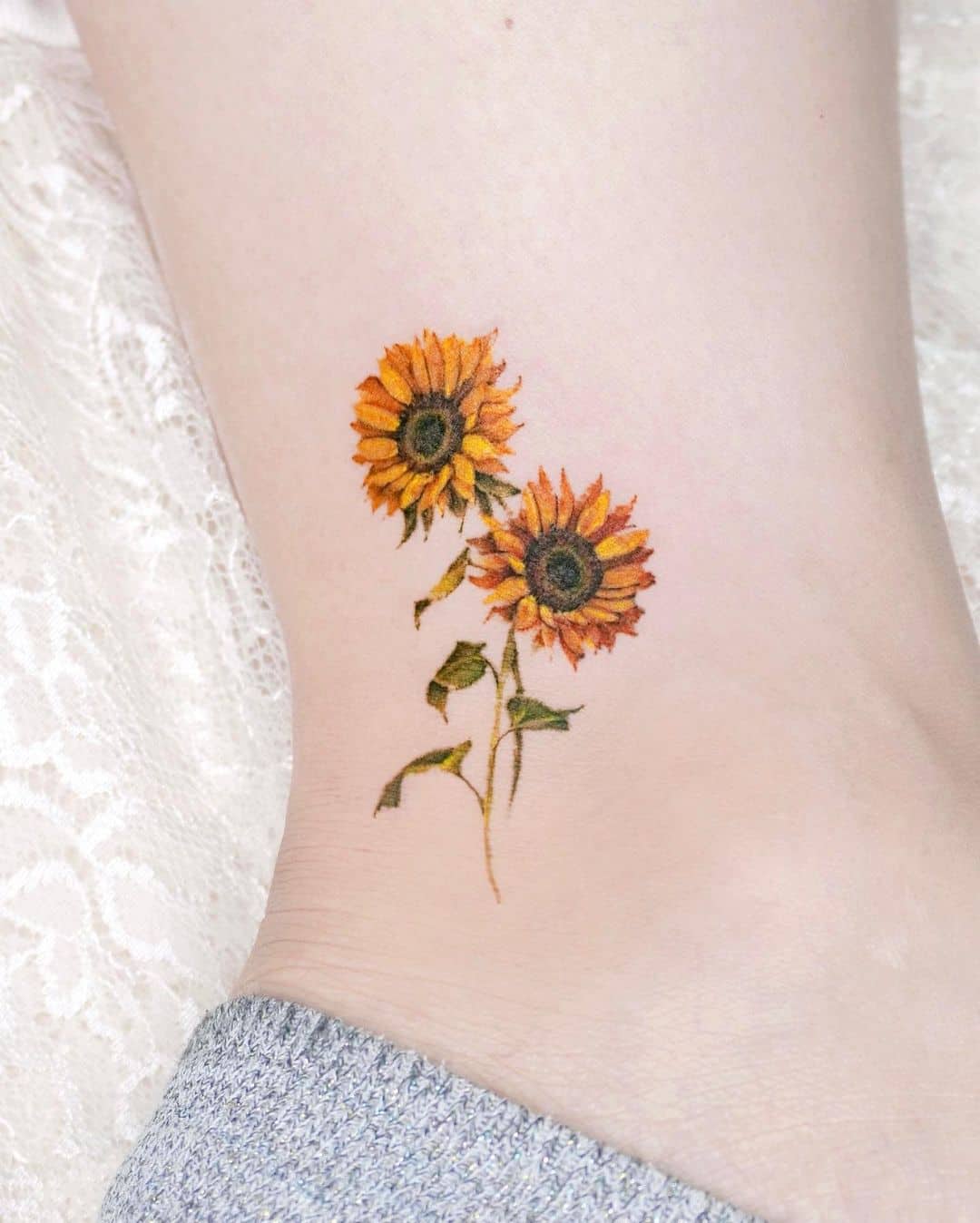 We're a huge fan of micro realism tattoos and this lil' sunflower is no exception!