So, you want a tattoo apprenticeship but aren't sure where to begin? Well, you've come to the right place. As a tattoo artist, I empathize with anyone desperately trying to get a tattoo apprenticeship. I got lucky that I got mine so quickly but boy was I determined.
The first thing I did was go and get tattooed by an artist at the place I wanted to work for and mentioned to my artist that I was looking for an apprenticeship. From my experience, I've created this comprehensive step-by-step guide on how to finally get that apprenticeship you've been dreaming of.
Something you should keep in mind before you begin the process is, whether or not you're ready for an apprenticeship. The industry can be a brutal place, especially if you're a soft person, so, the first step will be to toughen up a bit.
Enough about character-building, let's get to the matter at hand, getting a tattoo apprenticeship.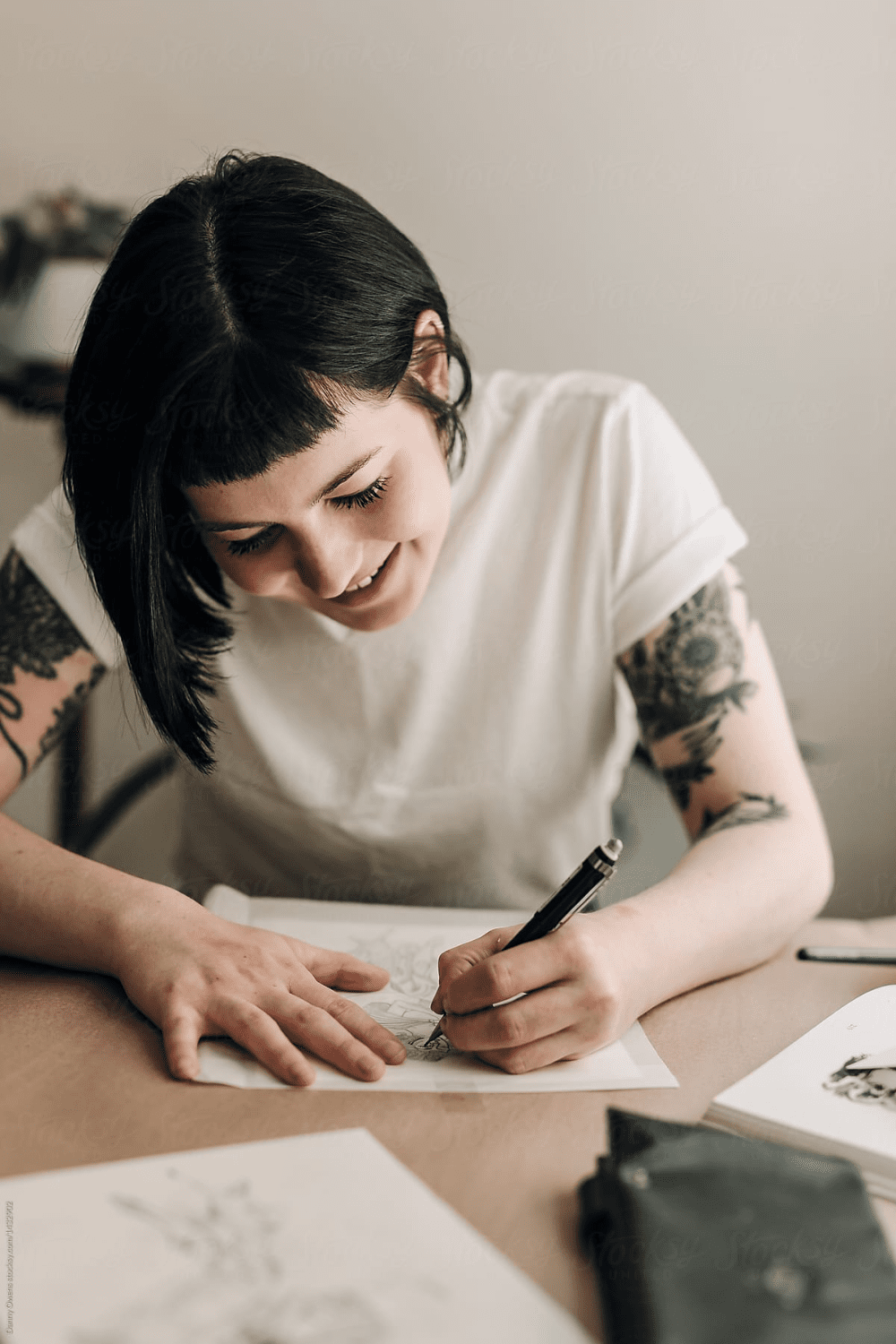 Do You Truly Need a Tattoo Apprenticeship?
The answer to this question will always be yes, and the reasons why will vary depending on where you are in the world. For those living in the United States, the reason it's so important is that most states require you to have a license. The only way to acquire a license is to train with a licensed artist (your mentor).
Places in Europe all have various laws regarding tattooing, in the UK for instance, you need a license that you apply for from the local authorities in your area. If you're interested in learning more about the process for the UK, check out the requirements. European laws are a lot stricter than most countries, both the US and Europe will require you to do your tattoo apprenticeship at a licensed shop.
If you're in Canada or South Africa, you're in luck, these two countries don't require you to possess a license as other countries do. This is both a good and a bad thing. Good, because there's no fuss, you can simply set up your shop and you're good to go. Bad, because anyone can open a studio and start tattooing people, this opens doors for unprofessional and unhygienic practices, otherwise known as scratchers.
Licenses aside, you need a tattoo apprenticeship to learn how to tattoo properly. That's why a veteran mentor at a credible shop is your best bet if you want to do a tattoo apprenticeship.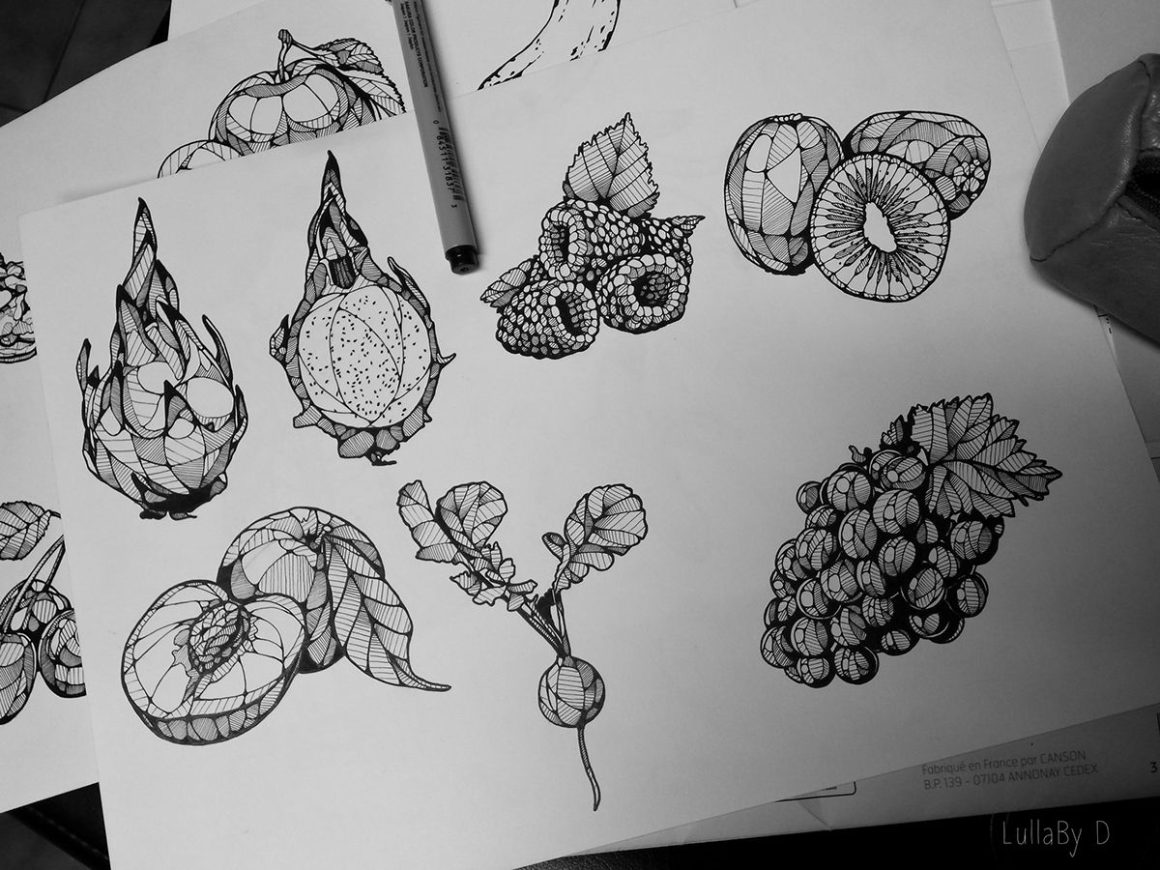 The Steps to Becoming a Tattoo Apprentice
There are a few steps to becoming a tattoo apprentice, before I go into further detail, I've placed them in order of importance:
Create art, as simple as it sounds, you can't be good at something you don't practice.
Build your portfolio with suitable tattoo designs, and while you're at it, don't forget to present it professionally.
Research tattoo studios and find a good one with a reputable name and a mentor with a lot of experience.
Show some support by getting tattooed or pierced, and prove that you're not just another taker but are willing to give back to the shop.
Learn and understand the trade, and no, I don't only mean the tattooing side of things, learn about customer service, business skills, hygiene, and the proper way to design tattoos.
Depending on where you are in the world, get certified, as mentioned above, each country is different.
Find a shop to work in after your apprenticeship has ended. That doesn't mean you should run off looking for a new shop, work for the shop that trained you first if they're willing to hire you, of course.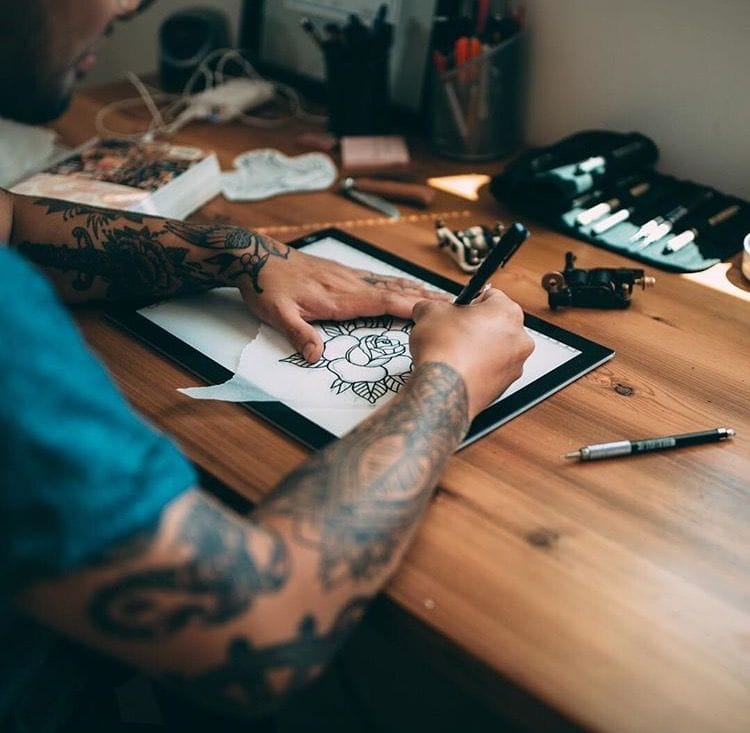 Create Art
This is probably the most obvious step if you want to be a tattoo apprentice, you need to draw continuously. If you're not creating, you're not getting better, and if you want to be chosen for a tattoo apprenticeship, you need to be able to show a prospective shop that you're worth training. Therefore, you need to do as much art as possible, learn new techniques, experiment with styles, focus on tattoo designs, and, most importantly, aim to improve.
Try to draw at least one thing a day. Some days you won't necessarily feel like it, but even if you draw a single flash design, you're making progress. This prepares you for what's to come, your mentor isn't going to feel sorry for you. If you're assigned to draw 20 American Traditional roses in a day, you best put your feelings aside and draw those roses.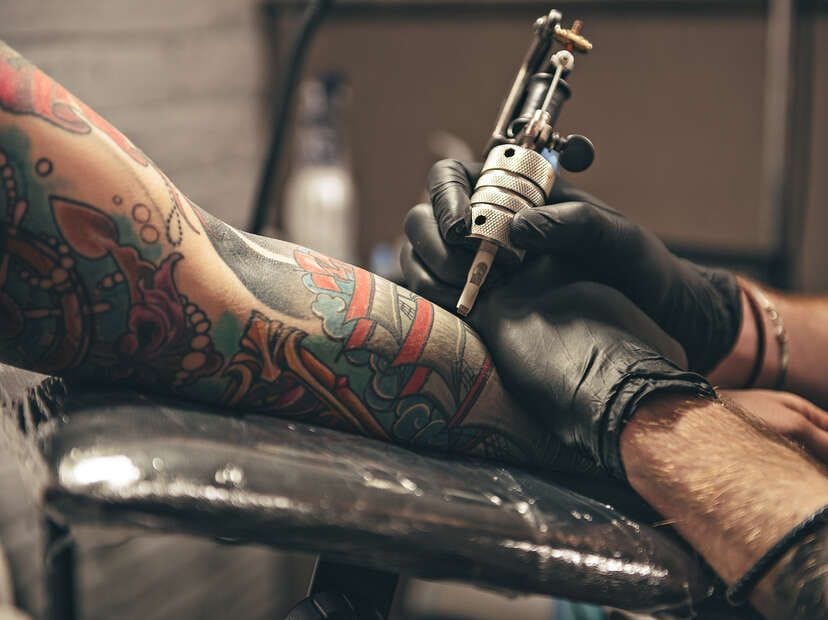 Build Up a Strong Portfolio
Your portfolio is like a weapon, and how skillfully you compile it will determine whether or not you get a tattoo apprenticeship. If a credible artist sees potential in you, it will be because of how you present your portfolio and what's inside of it.
While we're moving to a more technologically-led future, it's still better to create a tangible portfolio with hand-drawn designs that you can present to a shop when inquiring about an apprenticeship.
Presentation is key, the best way to display your artwork is nice, plain, and simple. Get yourself a folder and some black cardboard paper to use as a background for your designs. Don't try to get fancy with glitters and scrapbooking decor that ends up looking like a mess—your future mentor isn't judging you on your scrapbooking skills. Presentation plus your artwork will determine whether or not you get your tattoo apprenticeship, and maybe a little bit of resilience and determination too.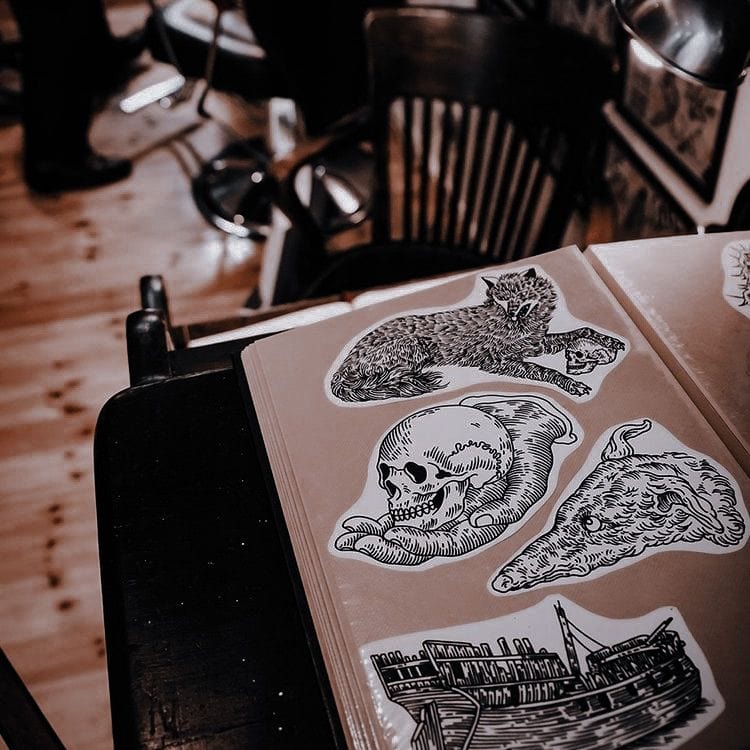 Research Reputable Tattoo Shops
So, you've got your portfolio up to scratch and are now ready to look for the perfect shop for your tattoo apprenticeship. A common mistake many make is not doing their homework on tattoo studios and simply thinking they can walk into any shop and ask for a tattoo apprenticeship.
If you want to get the best possible training with the best artist, and you believe that you have what it takes to be a great tattooer, don't sell yourself short by going to any old shop. Do as much research as possible, read reviews, look at the artist's work, and if it's close enough to where you stay, go into the shop and check it out.
Important things to keep in mind when looking for a reputable shop:
Their hygiene practices. Do they disinfect their surfaces? Are the chairs wrapped, changed, and cleaned after each tattoo? Are the artists wearing gloves and using fresh needles between clients? You'd be surprised at the horror stories you hear about in the industry.
If you're in the States or Europe, is the shop licensed?
Their level of customer service. Are they nice to their clients? Are they helpful and informative when it comes to things like tattoo and piercing aftercare?
Are they busy? The place doesn't have to be packed, but if there are not at least one or two clients either getting pierced or tattooed, that might be an indication that people don't trust that shop, especially if there are other studios around that are busy.
These are just some of the more important things to judge a studio on. How the artists interact with each other is another thing to observe, is everyone getting along? Is there a good vibe in the studio?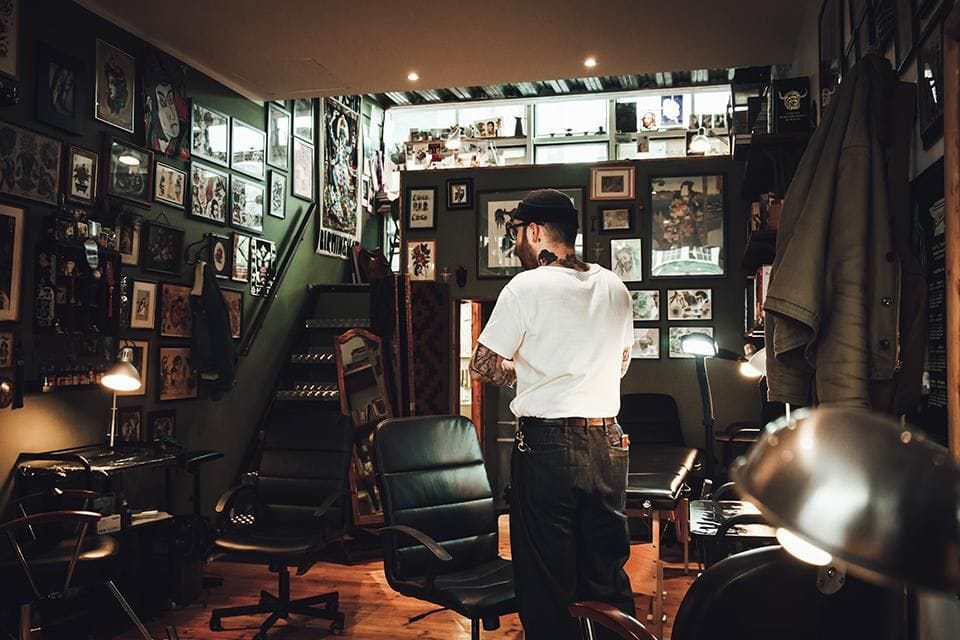 Show Your Chosen Studio Some Support
You've found the studio of your dreams, great, now is the part where you show them that you're not just a taker but are willing to support them too.
Before you even utter the words "tattoo apprenticeship," go and get something done. If you don't want to get a tattoo at first, start with a piercing and work your way up to getting tattooed by the person you hope to be your mentor. This shows that you want to give back to the shop with your patronage and also allows you to mention you've been looking for an apprenticeship.
Keep in mind bringing it up could go one of two ways, either the response is a positive one, meaning the artist could be interested in hearing more about your dream to one day adorn people's bodies with your artwork, or they could dismiss what you're saying because you're probably the third person in a week to sit in their chair and talk about how badly they want a tattoo apprenticeship.
That's where being resilient comes in, each time you come in for a visit or a new piece, mention the apprenticeship thing.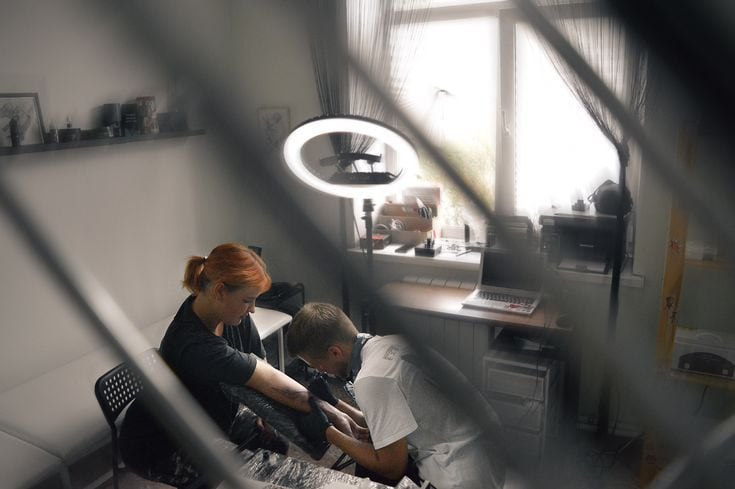 Learn More About the Trade
When I say learn more about the trade, I don't mean how to tattoo, I mean the nitty-gritty aspects of the industry. Things like business skills, appropriate hygiene practices, customer service, and how to properly design tattoos.
There's a lot that goes into a tattoo studio, and a tattoo apprenticeship. For a good portion of your apprenticeship, you'll be doing a lot of menial tasks and will ultimately be known as what is referred to as "the shop bitch". Get ready to clean floors, set up and break down stations, restock, and run the front desk.
Don't be alarmed though, these duties are all part of a tattoo apprenticeship, and believe it or not, they teach you some valuable lessons about the trade. It's also a way for your mentor to weed out the unworthy, if you can't perform simple tasks like setting up a station, how will you make it in the industry? This also helps to make sure you actually want to be there, so be glad that you're lucky enough to be in a shop and soak up as much knowledge as possible.
Ask hygiene-related questions while you're breaking down a station, or why your mentor is using a specific needle if they ask you to get them one. Trust me, a mentor takes mental notes and appreciates it when their appy is hungry to learn.
If you're interested in discovering some of the lessons you might learn during your tattoo apprenticeship, check out this article on the 10 lessons I learned as a tattoo apprentice.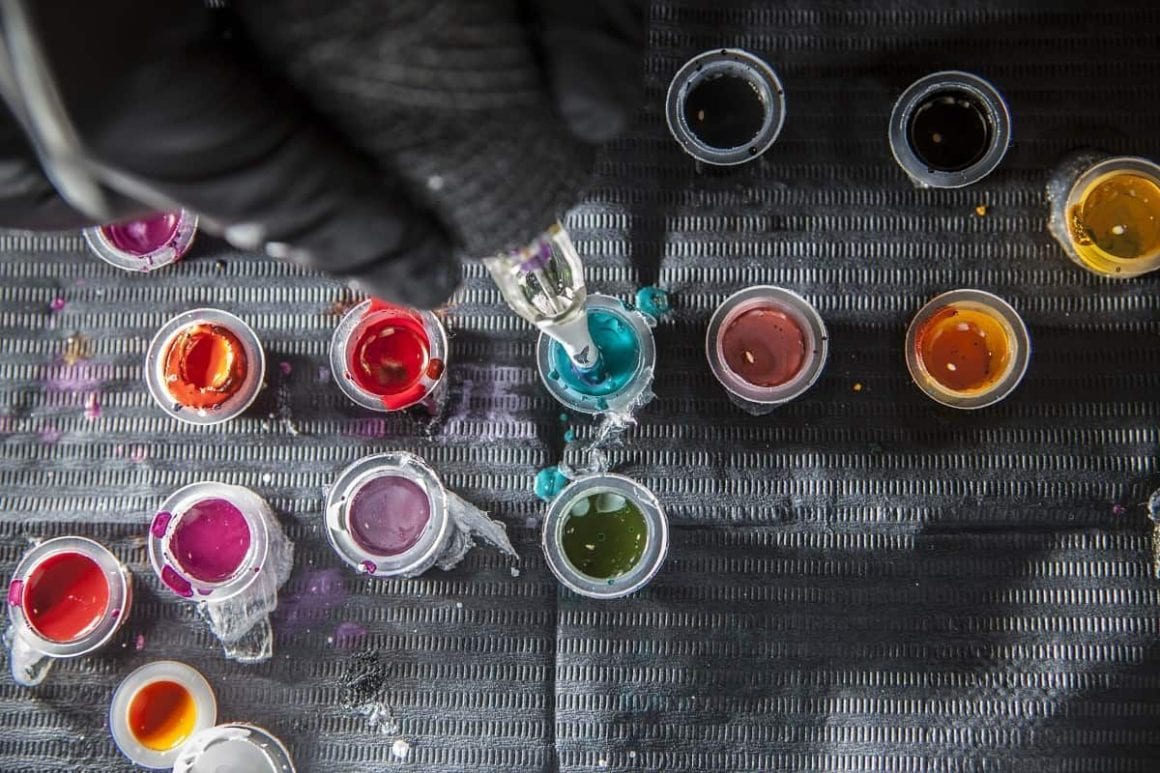 Get Certified If Your Country Requires It
This step is solely based on where you are in the world. If you are in the United States, some states require you to have a certain number of hours under your belt, a few health and safety courses and pass an exam on hygienic tattoo practices. The best approach is to find out the requirements of your shop beforehand and then take it from there.
Keep in mind that you won't be touching anyone's body with a tattoo machine any time soon, but in order to start practicing on humans, you'll need your license or you run the risk of ruining your and the shop's reputation, not to mention getting into trouble with the law.
If you're in Canada, life is a little easier because you don't need a license, and your progress will determine whether you will start offering free apprentice tattoos. You'll make it clear to the client that you are doing your tattoo apprenticeship so they're aware of the risks and that it's probably not going to look like something from Master Ink.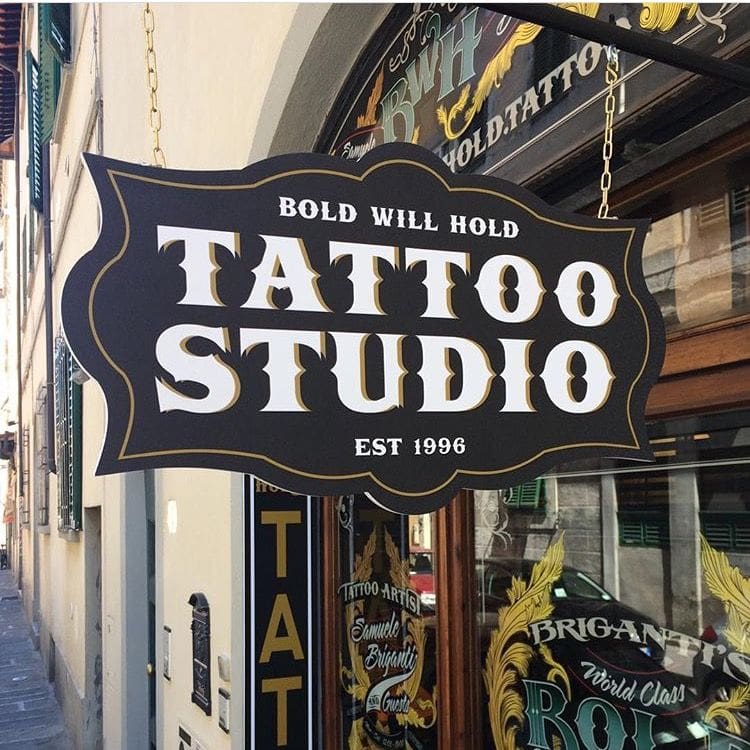 A Day in the Life of a Tattoo Apprentice
You're probably aware that you're not going to be sitting around doing nothing all day. As a tattoo apprentice, most of the chores in the shop fall on your shoulders. So, what does an average day in the life of a tattoo apprentice look like? Let's go over what you should expect on a day-to-day basis:
Get to the shop and begin cleaning (the time you get to the shop depends on what time it opens, this could be anywhere from 8 am to 11:30 am).
Do a lunchtime run for the other artists in the shop, yup, you might have to take food orders and deliver them to everyone in the studio. This isn't always the case, but it's not uncommon.
Between cleaning and running errands, you will be drawing like a machine. Some studios require you to set up and break down for all of the artists, this will depend on your mentor, they might be nice and say that you're off limits to everyone else but them.
Closing up the shop. No, that doesn't mean you get your own set of keys and access to the shop whenever you want. Instead, closing up simply means cleaning up after the day, making sure all messages/emails/calls have been responded to and that the shop is ready for opening the next day. The time your studio closes could vary, some shops stay open until 11 pm.
The hours are long, so be prepared for the fact that you may start feeling like you live at the shop.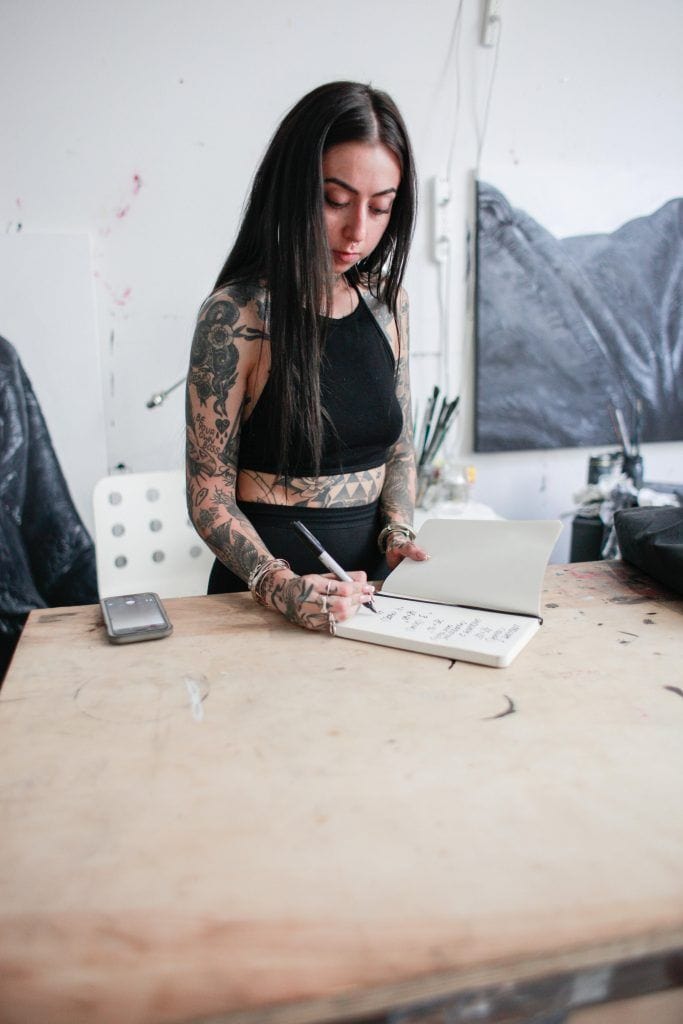 So, When Do You Start Making Money?
The worst thing you can do to yourself as a tattoo apprentice is to wonder when you'll start making money. Unfortunately, nobody but your mentor can answer that question. Some people are lucky and only apprentice for a year before they start charging clients, others have been in their tattoo apprenticeship for over two years and are still unpaid.
Your mentor might allow you to start charging apprentice prices, which is a basic setup fee that covers the shop's costs. You won't make anything off of it besides gain experience, which is the only form of currency you should truly be worried about. Becoming a tattoo artist is not a quick way to make a buck.
When you do finally start making money, the split you get will depend on the agreement between you and your mentor. Some shops offer up to 50% commission.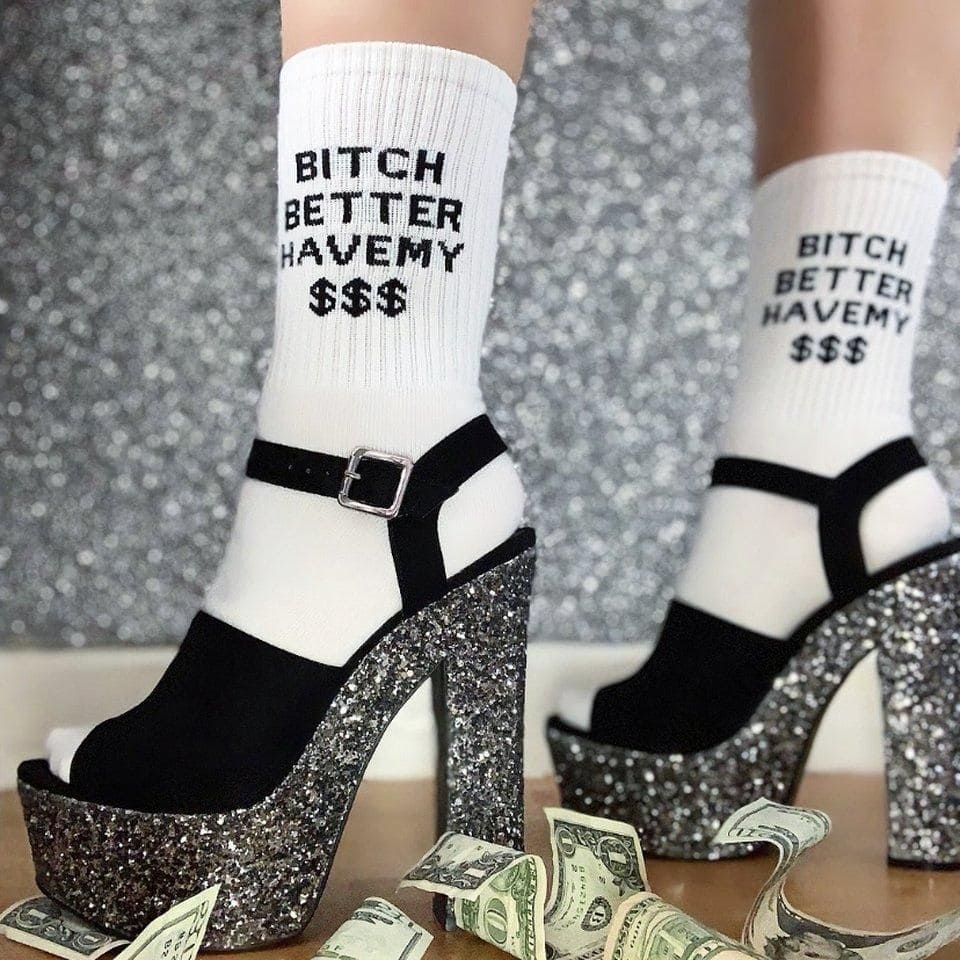 After Your Tattoo Apprenticeship
What happens now that you've completed your tattoo apprenticeship and are ready to take on the world one stencil at a time? This depends on whether or not the studio that taught you is hiring. In South Africa, for instance, it's almost imperative that you work for the shop that taught you unless you paid for your apprenticeship.
Some shops in the United States will put you on contract for a year, once it's up you can either stay on or spread your wings and move on to the next shop.
Always be appreciative to the OG that taught you, and pop in every now and then to say hi, that's obviously if it was a good space to work in. Unfortunately, sometimes we end up in a toxic environment, that's why you should do your research on the shop.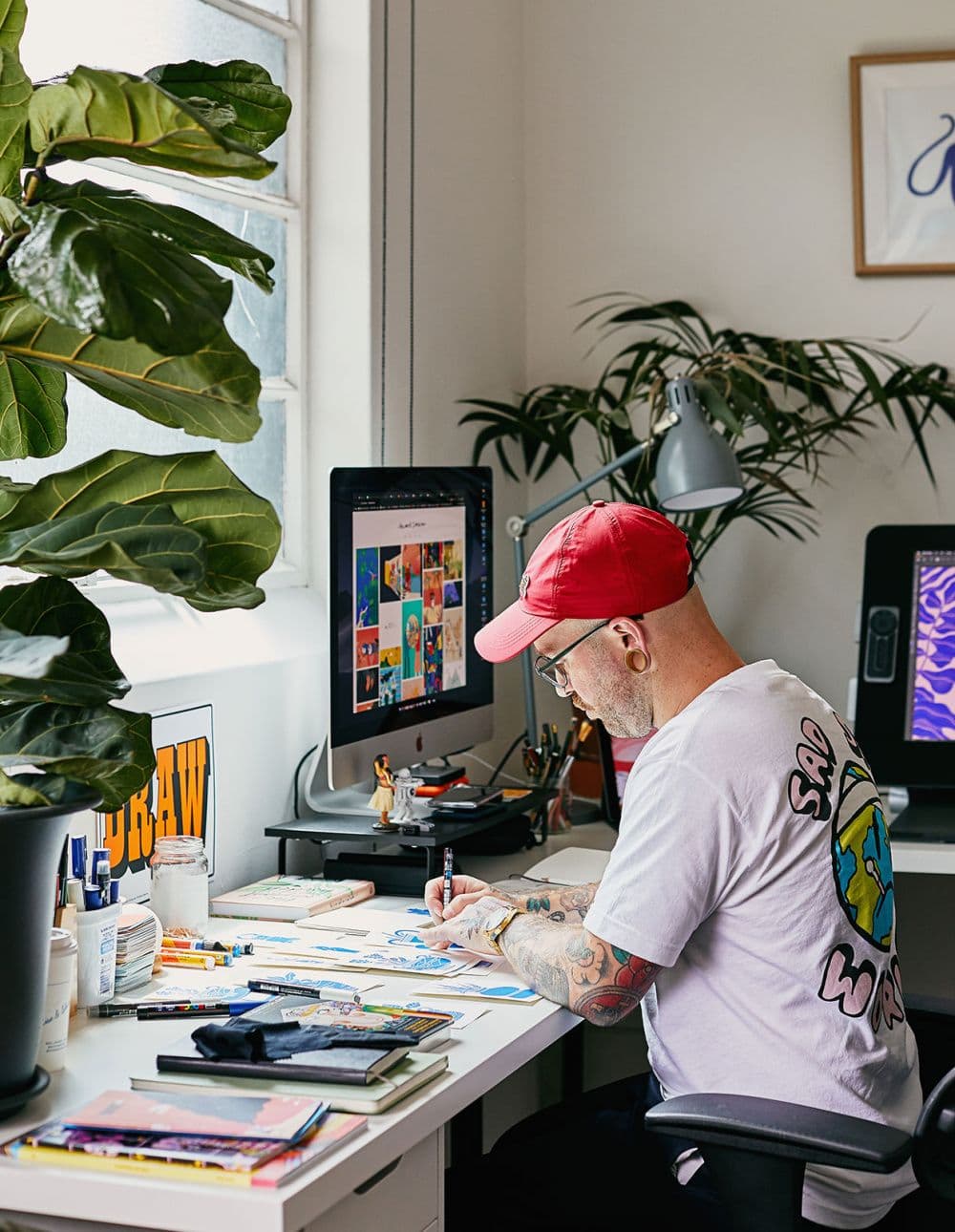 Is There Another Option Besides An Apprenticeship?
The short answer is no, the only way to properly become a tattooer is by doing a tattoo apprenticeship. Some might argue with that statement because there are surprisingly good artists that taught themselves everything. While that's all good and well, the proper way to do it is by training at a shop.
There are things you can do in the meantime until you get into a shop. Since it's an artistic industry, you could enroll in art classes or art school, but don't go to a place claiming to be a tattoo academy. As fun as it sounds, there is no way you can learn how to tattoo in two weeks. So save your money, and use it to either pay a shop for an apprenticeship or to put towards improving your art with the best quality art supplies.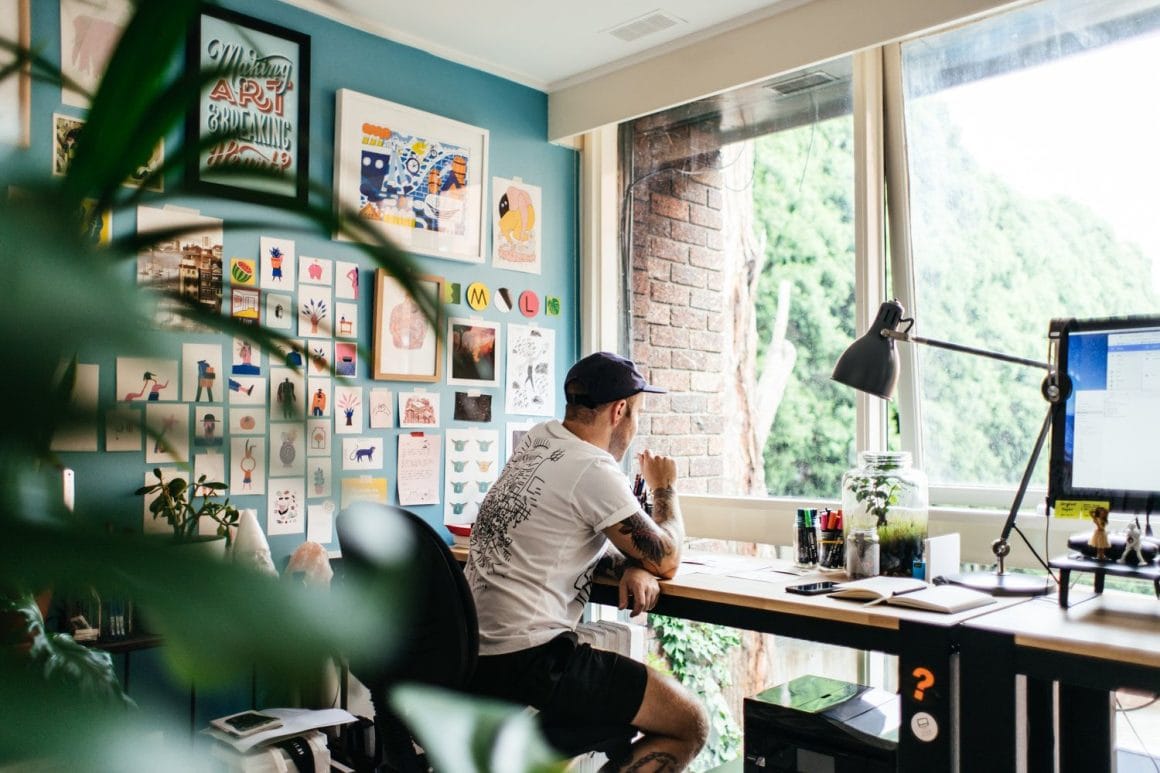 Summary
Getting a tattoo apprenticeship is probably one of the most exciting times in any artist's life, but there are steps to take before you get there.
Following these steps will ensure you have the best possible chance of getting an apprenticeship and making the most of it when you finally get it.
Keep working on your art, and do your research on shops before you even think about approaching them. Good luck!