What is the meaning of the Medusa Tattoo?
Medusa tattoos have been around for a very long time, but recently they have gained popularity again. Why is that?
Women who are survivors of sexual assault are reclaiming the Medusa identity as a symbol of strength and protection. So many people have been talking about it recently that it's actually trending on Tik Tok.
In Greek mythology, Medusa is a woman with snakes for hair who can turn those who look into her eyes to stone. Today, survivors are using Medusa to change the narrative that the survivor should not be punished but rather the perpetrator.
Let's take a look at the large variety of Medusa tattoos:
Simple Medusa Tattoos
1. Single Line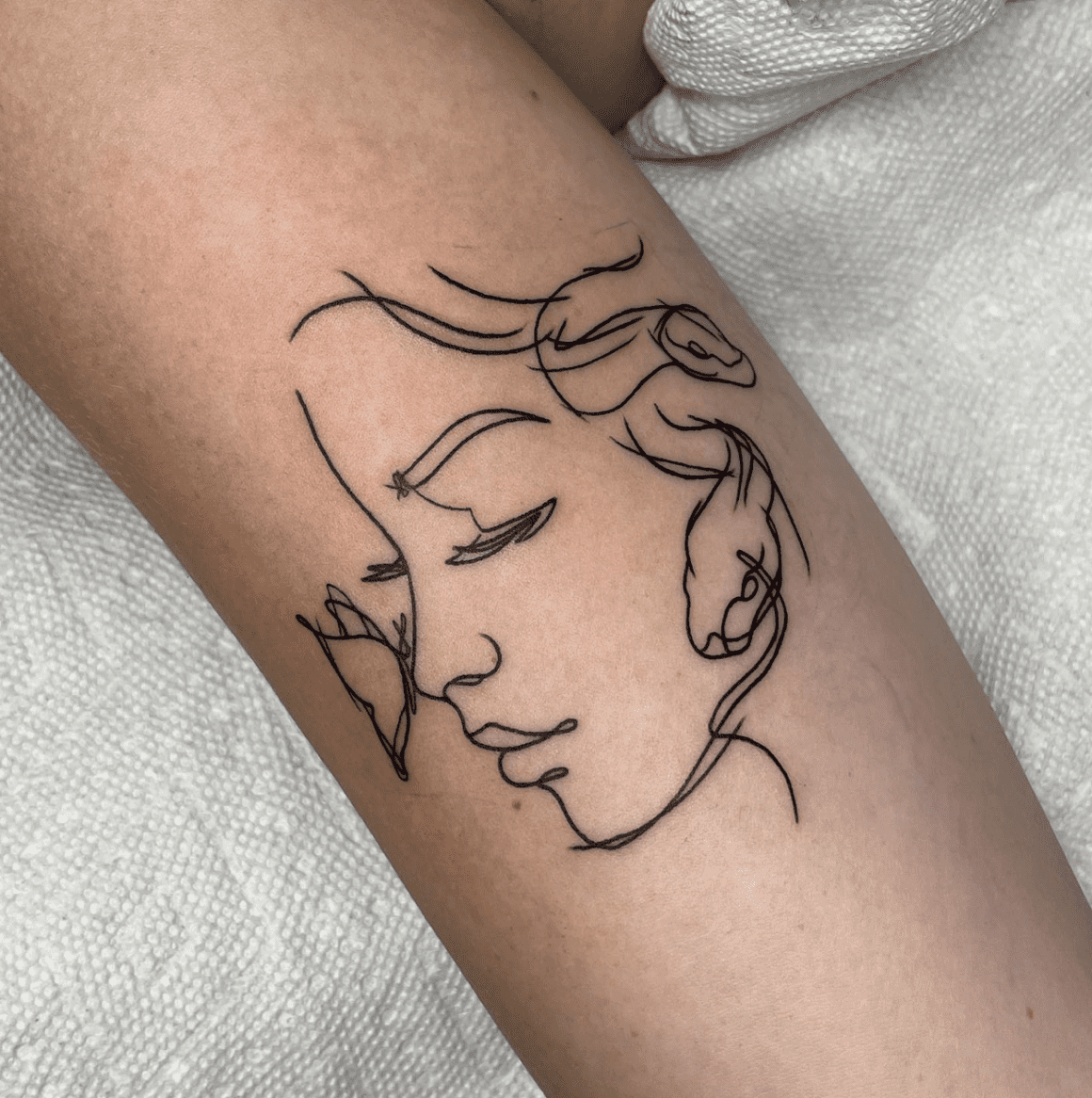 I love how the artist used a thin line weight for this tattoo. It's a very subtle hint at a Medusa tattoo and the lines are very crisp and clean. I love how the lines capture a sultry, feminine essence which is crucial for this type of tattoo; bravo!
2. Portrait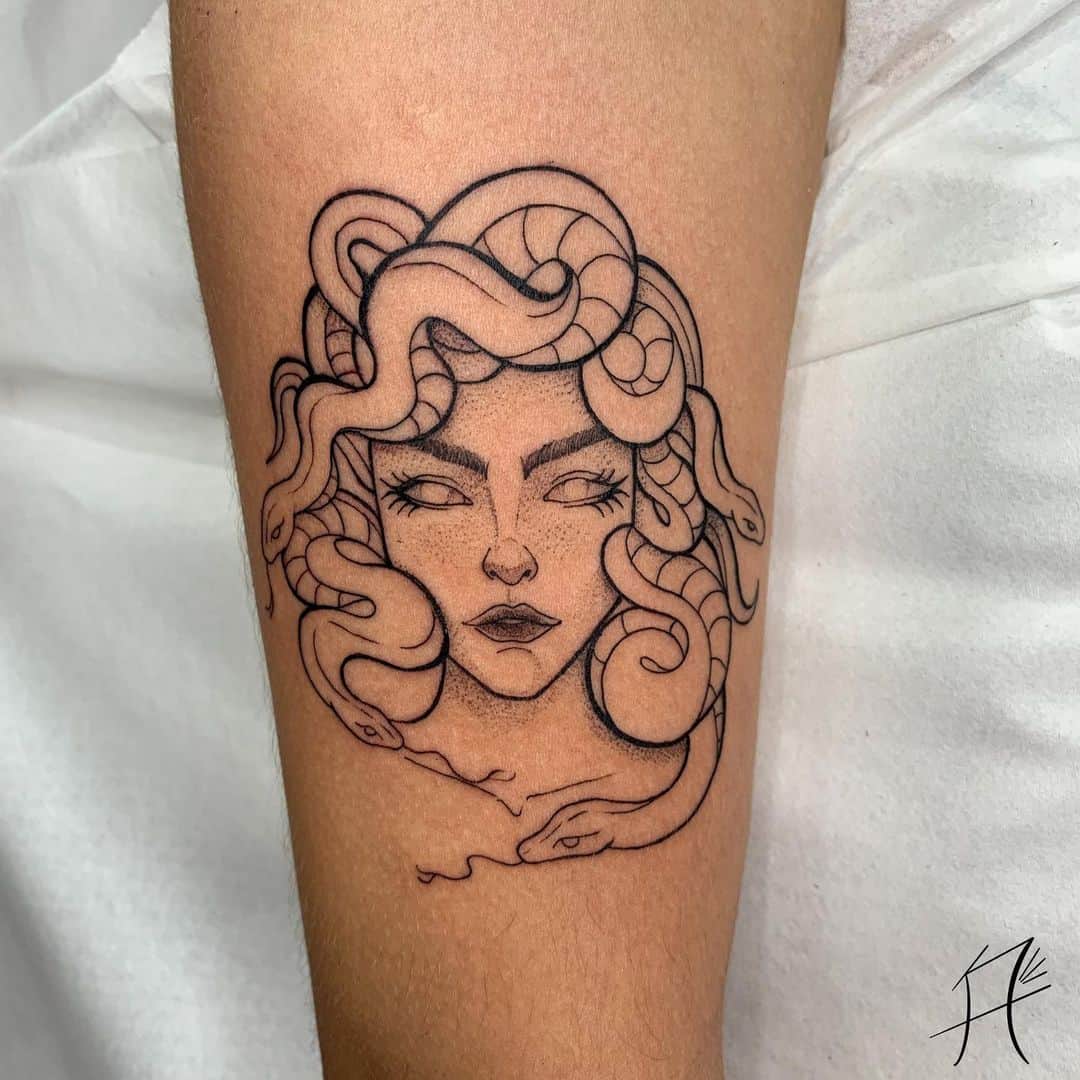 I absolutely love the details of the freckles on her face. It gives it a childlike feeling which is juxtaposed with the evil snakes. I like the blank stare in the eyes and the absence of scales on the snakes; it makes this tattoo unique!
3. Half and Half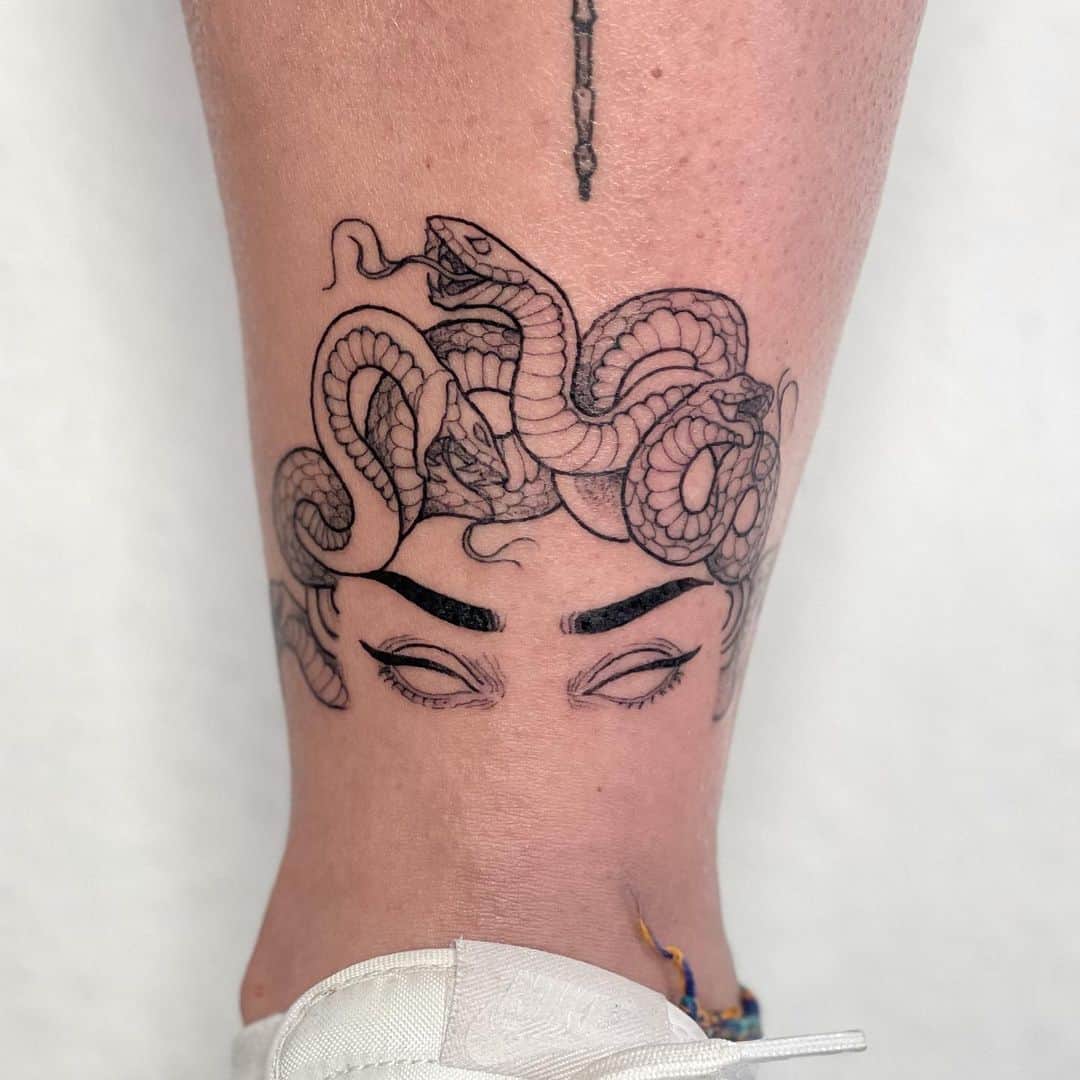 This rendition of Medusa almost reminds me of Frida Kahlo with the flowers on top of her head. I appreciate from an artist's perspective how they used creative freedom with the snakes to make them unique and expressive.
4. Caged Medusa tattoo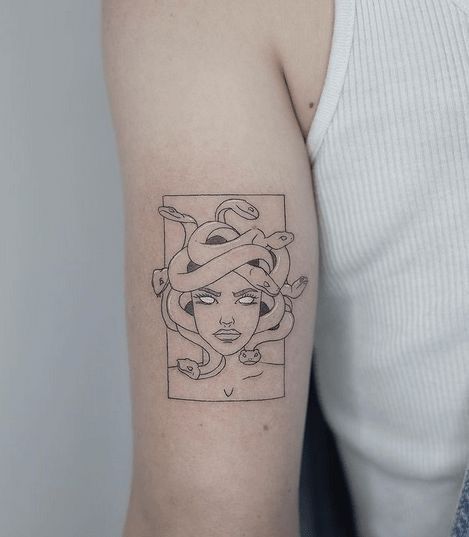 The feat that stands out the most about this tattoo for me is her alluring white eyes; careful not to stare for too long! I like the creative element of putting her inside a box as it attracts more attention to her face and the snakes.
Medusa Hand Tattoos
1.Witchy Medusa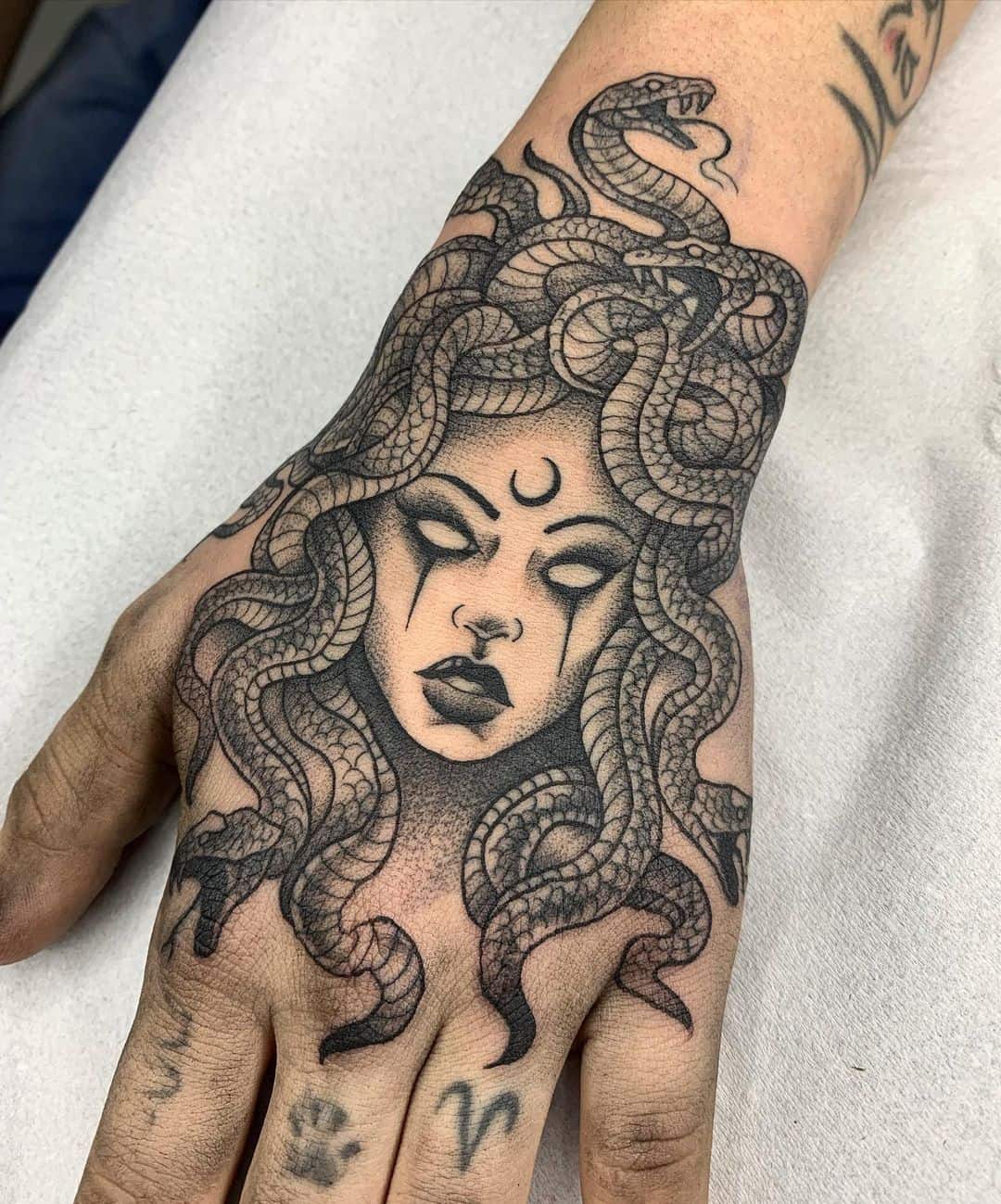 I love the face on this Medusa; I love her voluptuous lips and the moon on her forehead. I appreciate the level of skill this artist has crafted to create a Medusa quite like this. I feel like the large number of snakes on her head makes her even more powerful!
Check out our hand tattoos for women article for more ideas if you like this placement.
2. Sorry Mom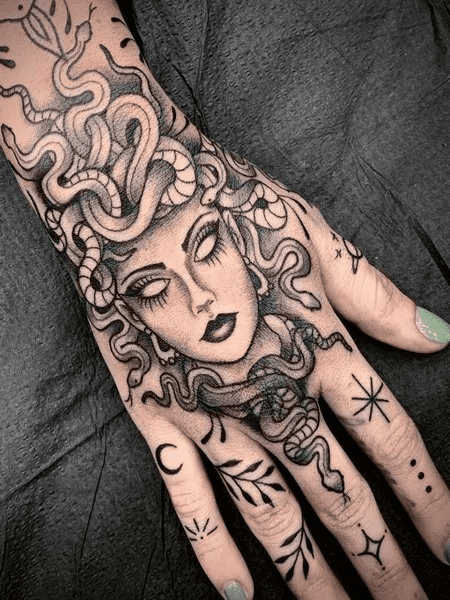 This tattoo packs a powerful punch with the additional snake being on the middle finger, and I think we all know what that means! The natural elements surrounding the Medusa tattoo complement it beautifully. I like the absence of scales on the snakes as it simplifies them while making them stand out!
3. Blackwork Medusa hand tattoo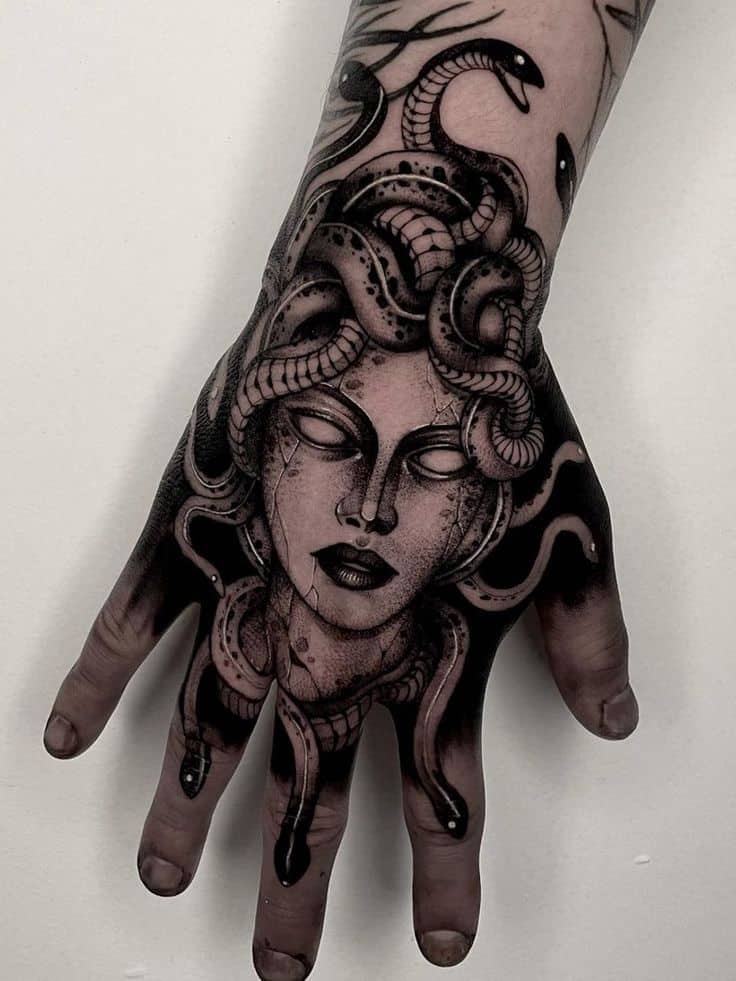 The dark, ominous feel of this tattoo stands out to me the most. This tattoo encapsulates a gloomy day. My absolute favorite part is the cracks on Medusa's face which make her look like a stone statue.
Medusa Forearm Tattoos
1. Geometric Medusa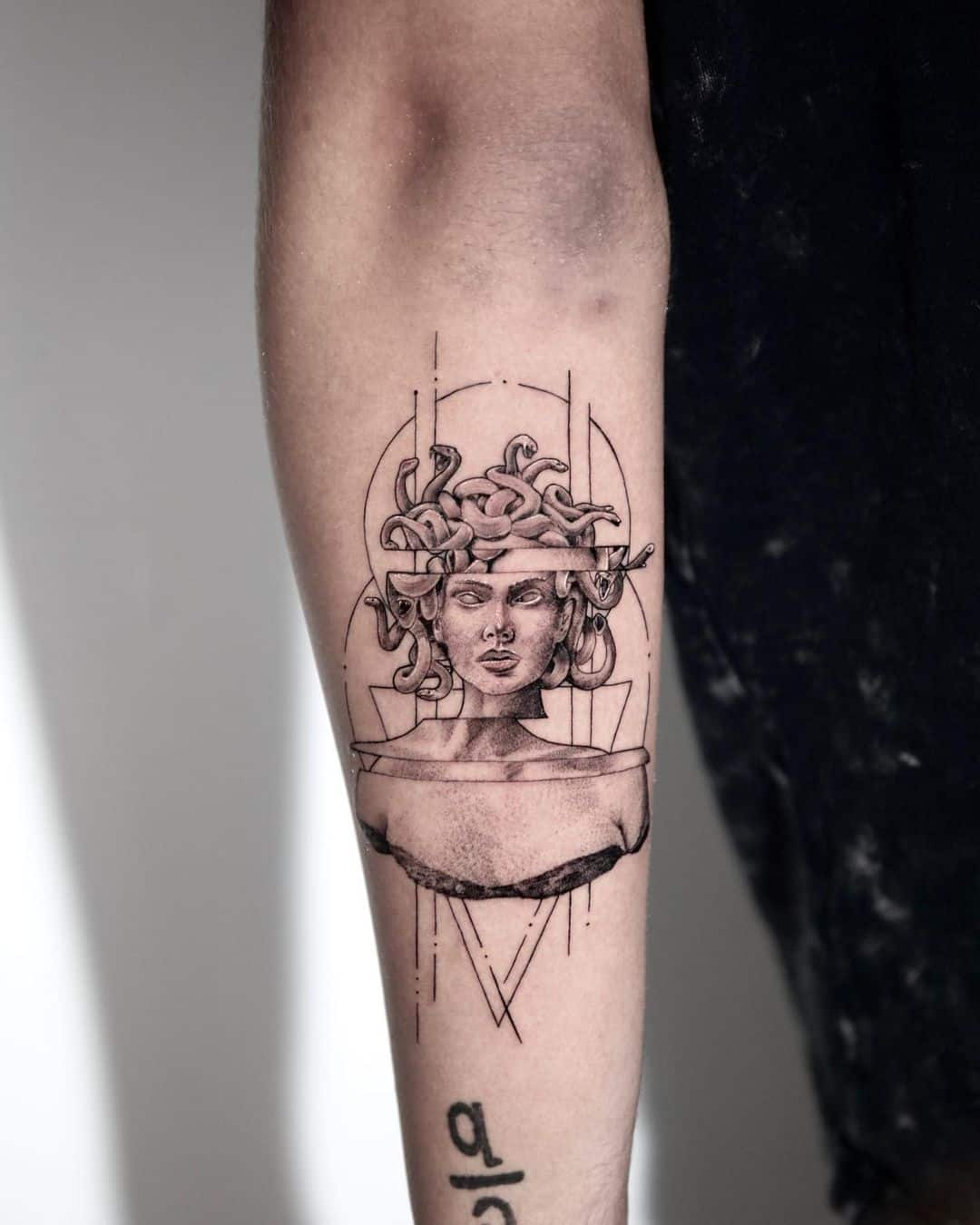 I like how this Medusa seems to be sectioned off by different shapes. I think it is a very artistic approach, and I appreciate that. I like the realistic technique that the artist has used here, and I think it makes the tattoo unique
2. Wonder Woman Medusa
I love the dark contrast between Medusa's white eyes and the black snakes. I like the addition of the septum piercing and the eye make-up. I like the realistic element that has been implemented here. It gives character to the tattoo
3. Dainty Medusa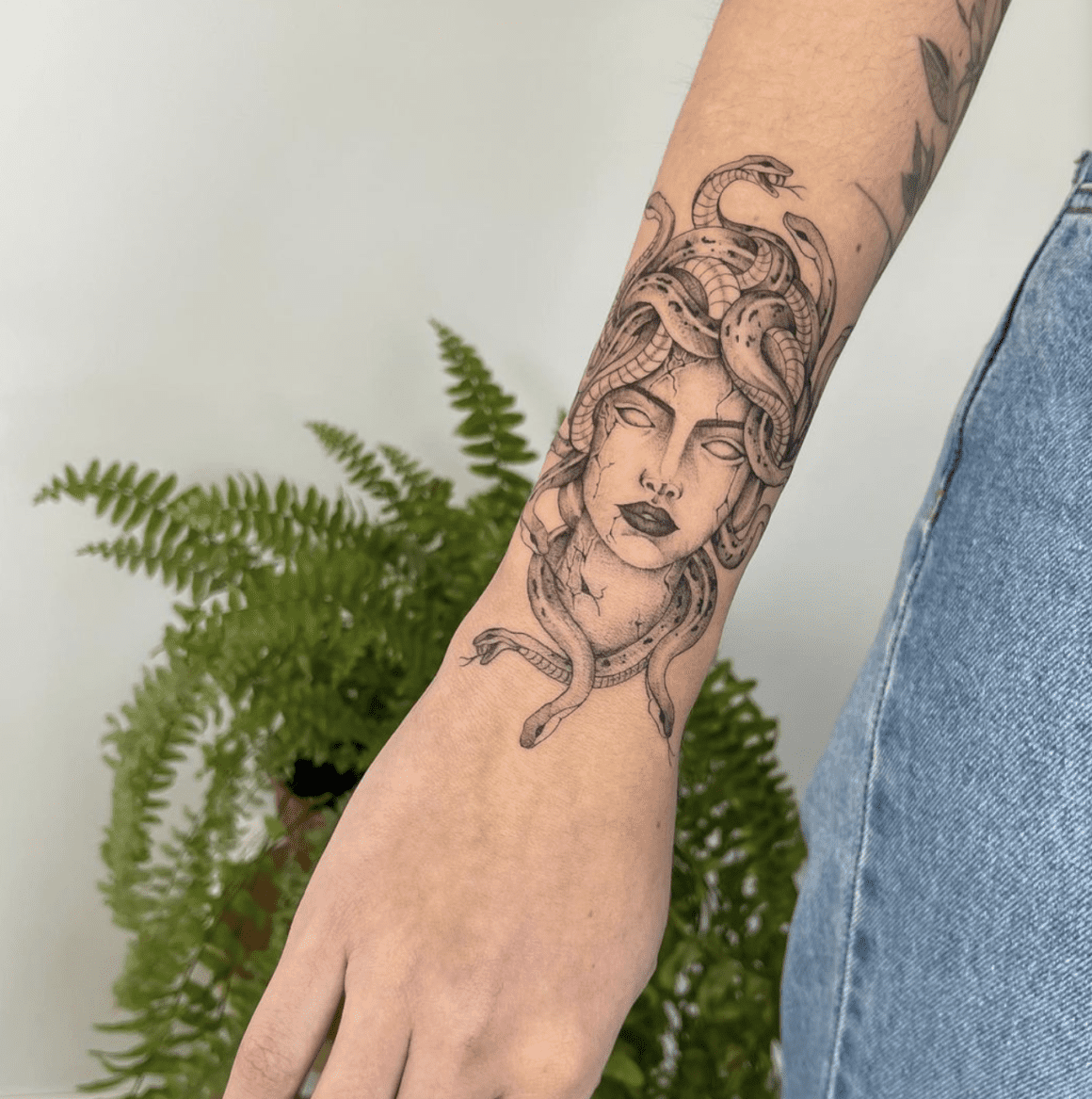 I like the placement of the tattoo and how it almost wraps around the forearm. I like the use of grey in this tattoo as it is soft and gentle which juxtaposes with the cold feeling of the Medusa. I feel the texture on the snakes bodies is so effective in drawing the viewers attention.
4. Frida Medusa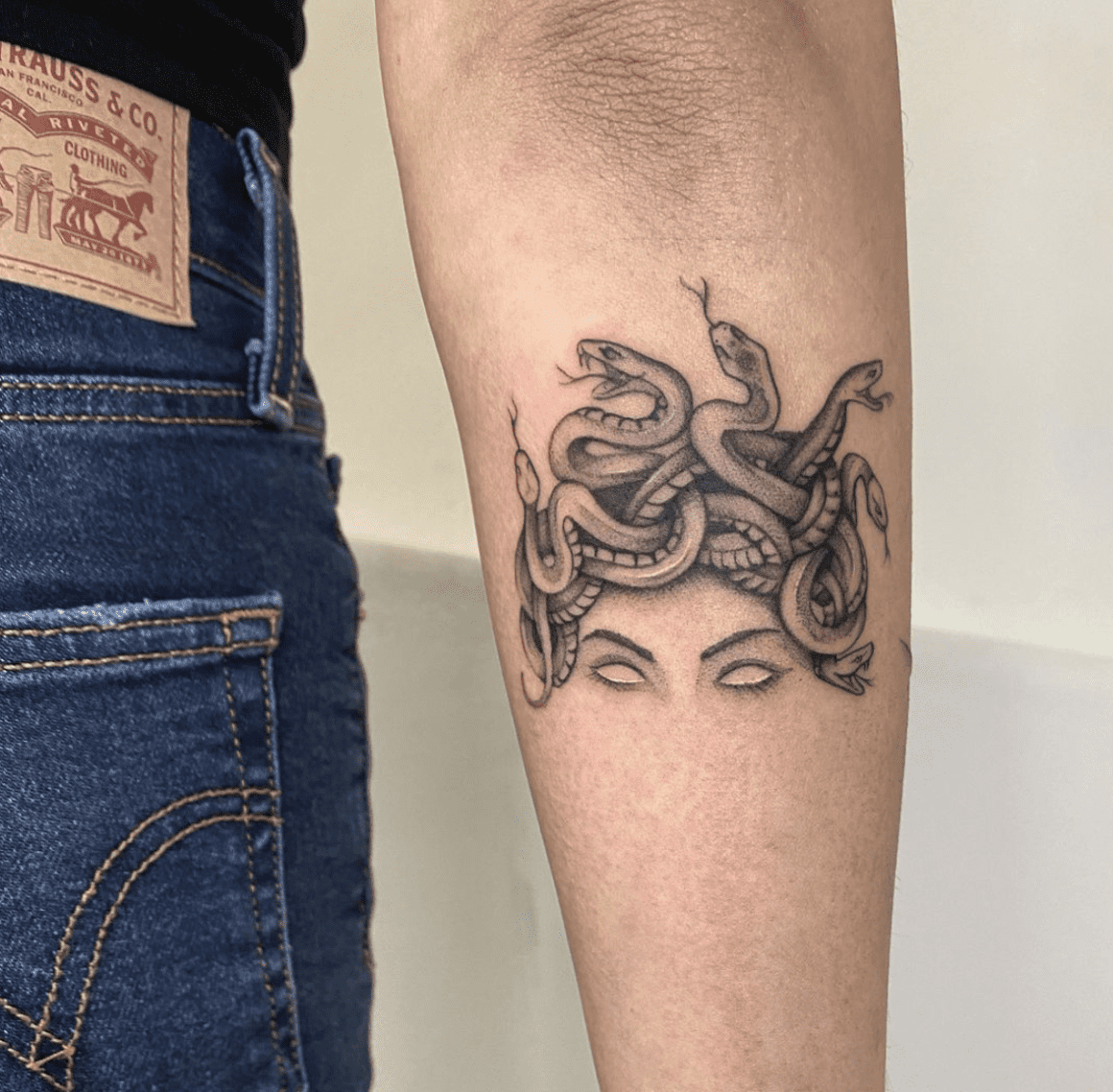 I like how childlike the snakes appear. It's not often you see that on a Medusa tattoo so that makes it unique. I like the stipple shading – it gives that feminine essence, and the line work is soft and clean. Overall, a marvellous tattoo!
Traditional Medusa Tattoos
1. Bold Medusa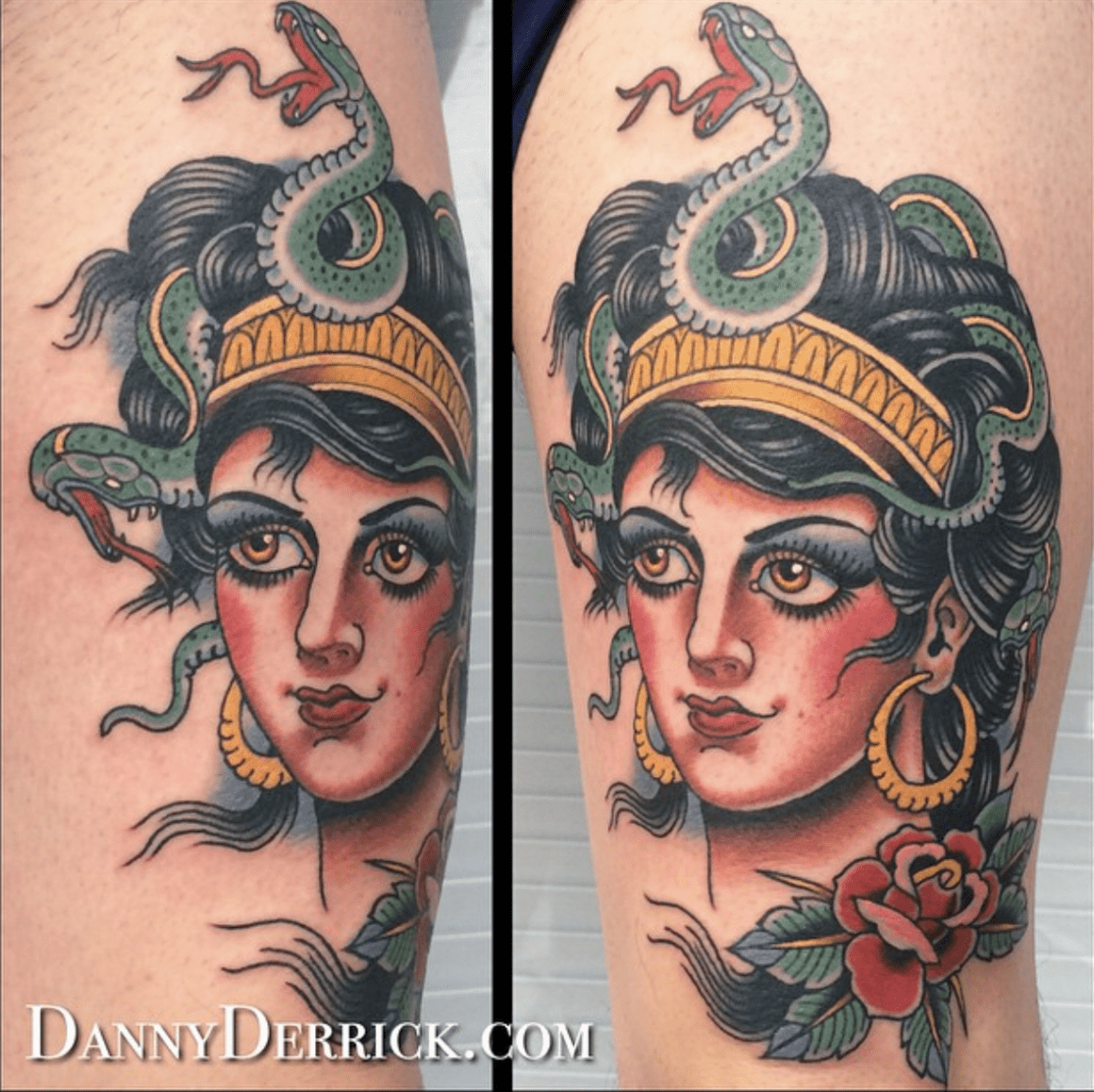 I love how this artist encapsulates a traditional Spanish feel to this tattoo. I love the big earrings, big eyes and make-up. The chosen colors are bright and bold which falls right in line with Traditional tattooing technique. I immediately noticed the use of only three snakes which is unique and brave.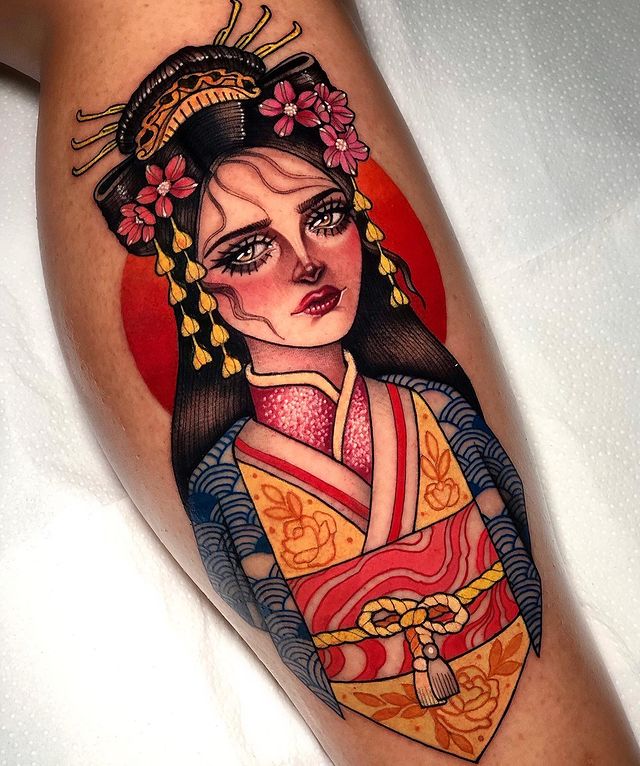 2. Sultry Medusa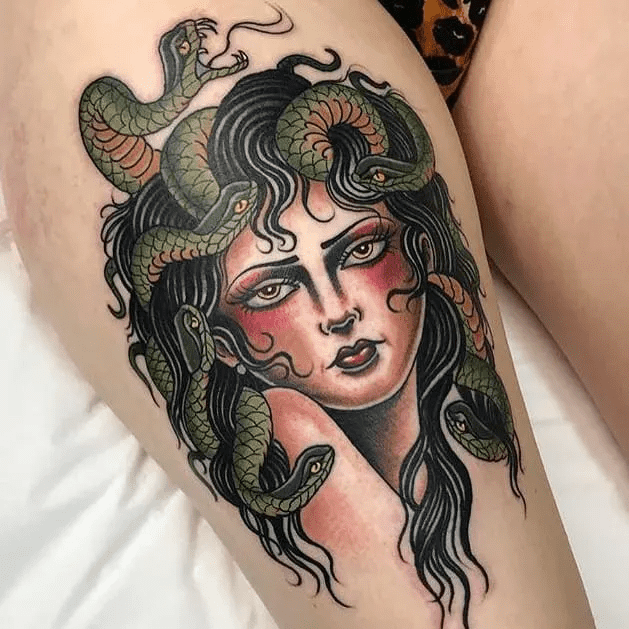 I like the complimentary colors between the crimson red cheeks and the emerald green snakes. I feel as though her stare is piercing my soul – that is very hard to execute so well done to the artist! I also want to make note that this tattoo doesn't have blank eyes which is interesting!
If you like this sort of style, check out some others in our plant tattoos article.
3. Floral Medusa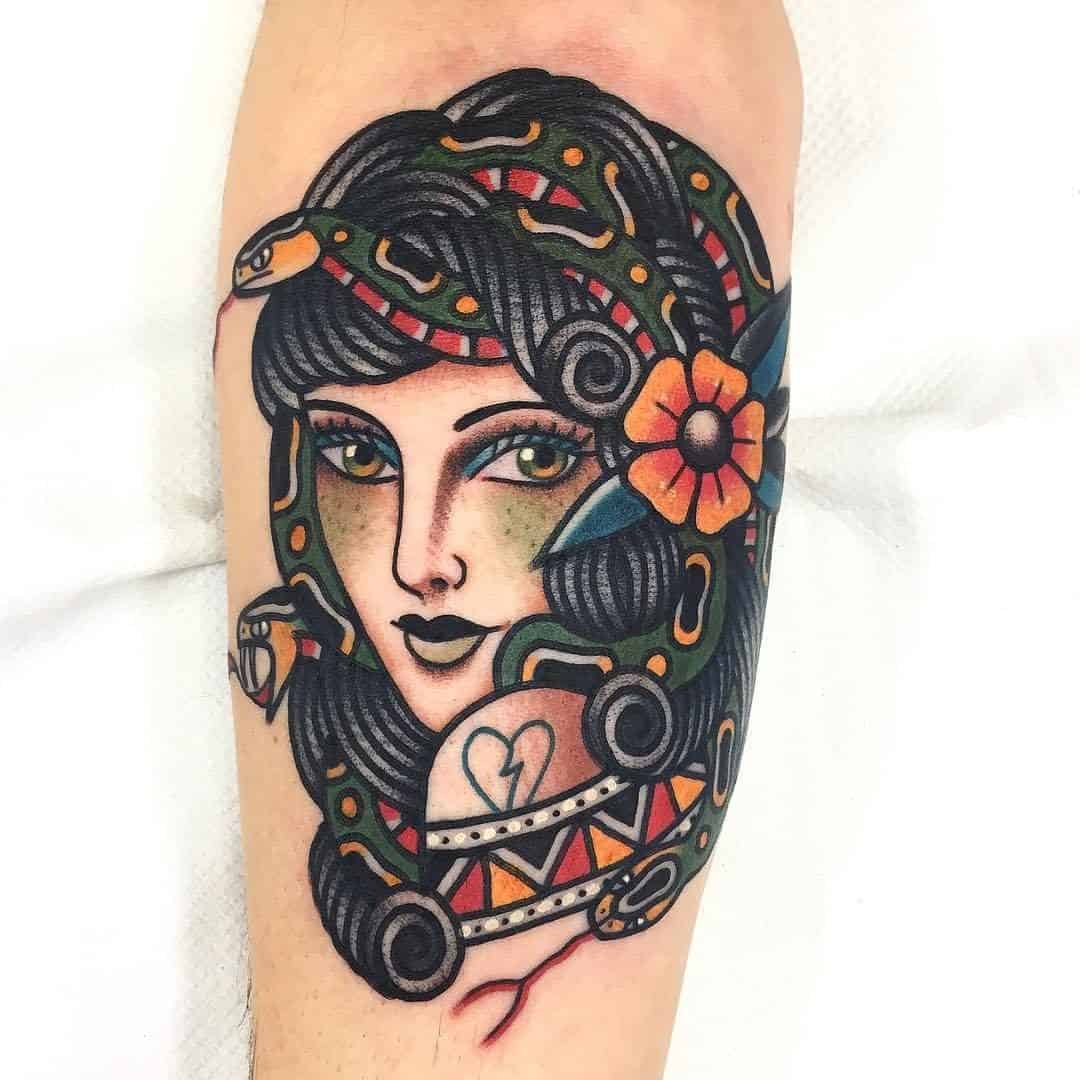 This is my favorite tattoo and can you guess why…? BOLD LINES! I love the peachy color of the flower in her hair and I love the addition of a little broken heart on her arm! I love her feline features including her almond eyes and long luscious eyelashes.
Medusa Thigh Tattoos
1. Realistic Medusa Statue Tattoo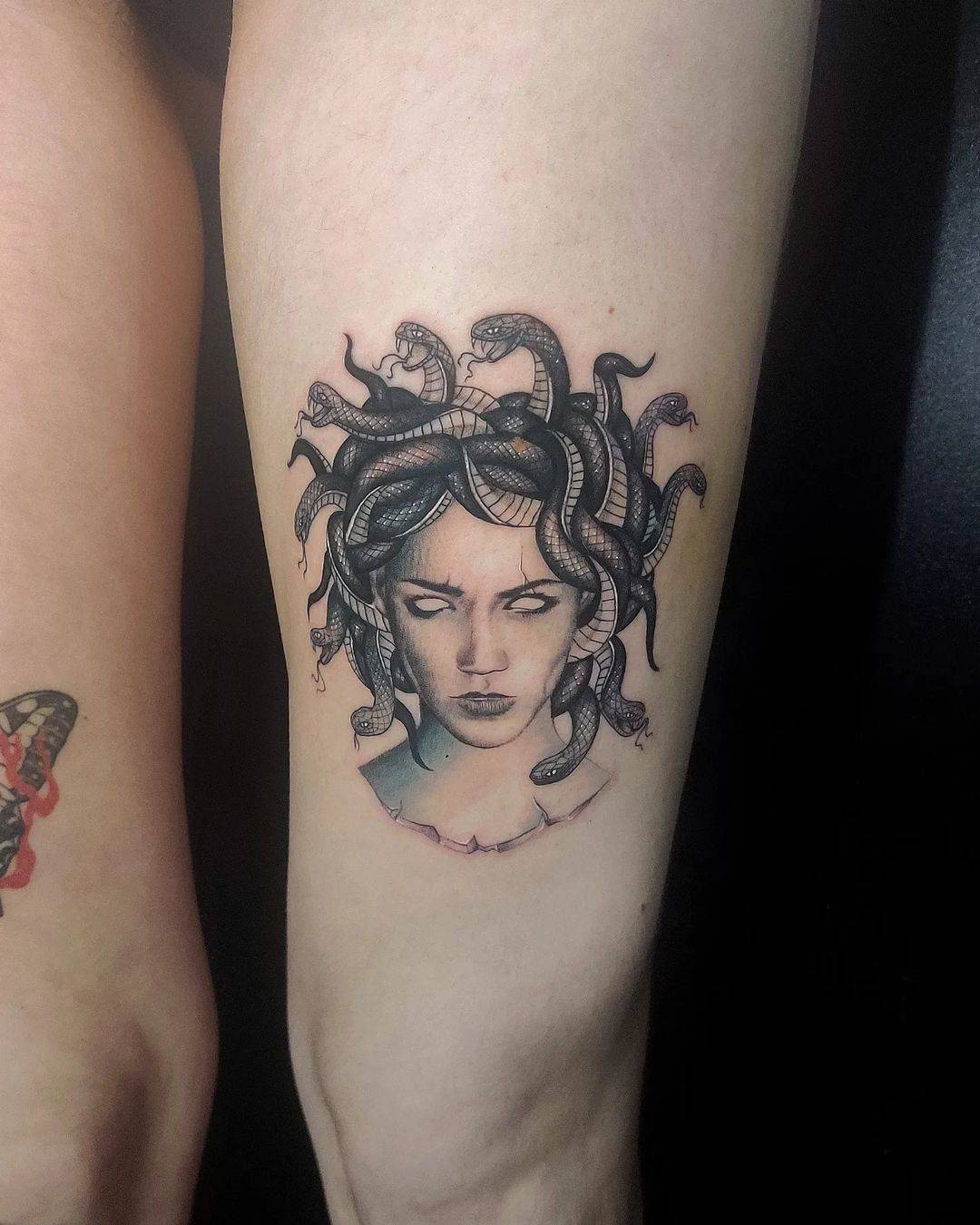 What stood out to me first is the hint of a blueish hue on her neck. It really speaks to the statue take on the Medusa head. I like the liberal use of white, seeing as that is one of the hardest colors to work with, and I feel that this contrasts really well with the black snakes on top of her head.
2. Black Work Medusa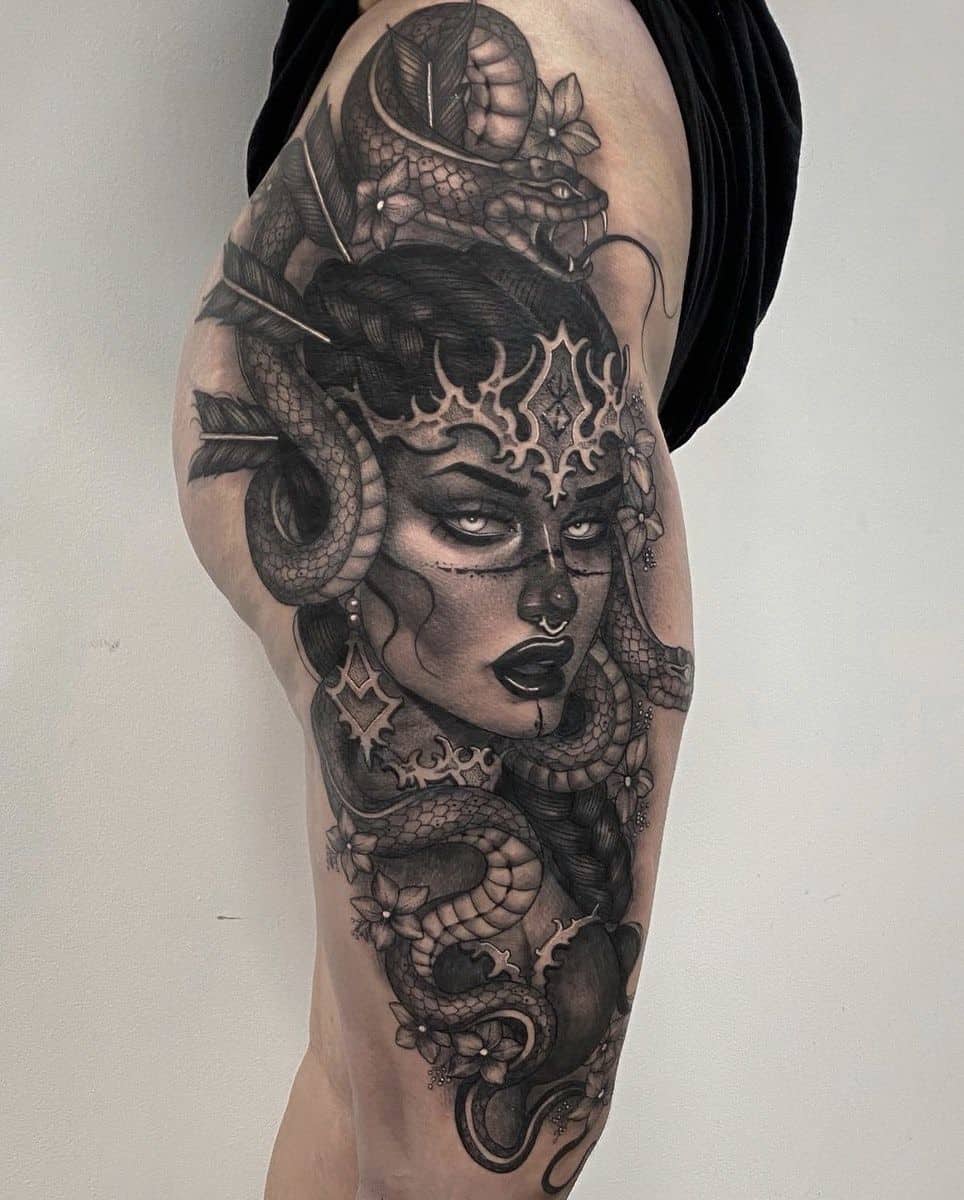 This is a less obvious Medusa tattoo because of the way the design has been created; so one could say she is a hidden Medusa!I like her battle accessories and the war paint splashed across her nose. She really fills the role of a protector; I'd be scared to face this one on the battlefield!
It's not often you see Medusa rocking a headpiece as well. If you're into that style, we've got a bunch more in our crown tattoos selection.
3. Neo-Traditional Medusa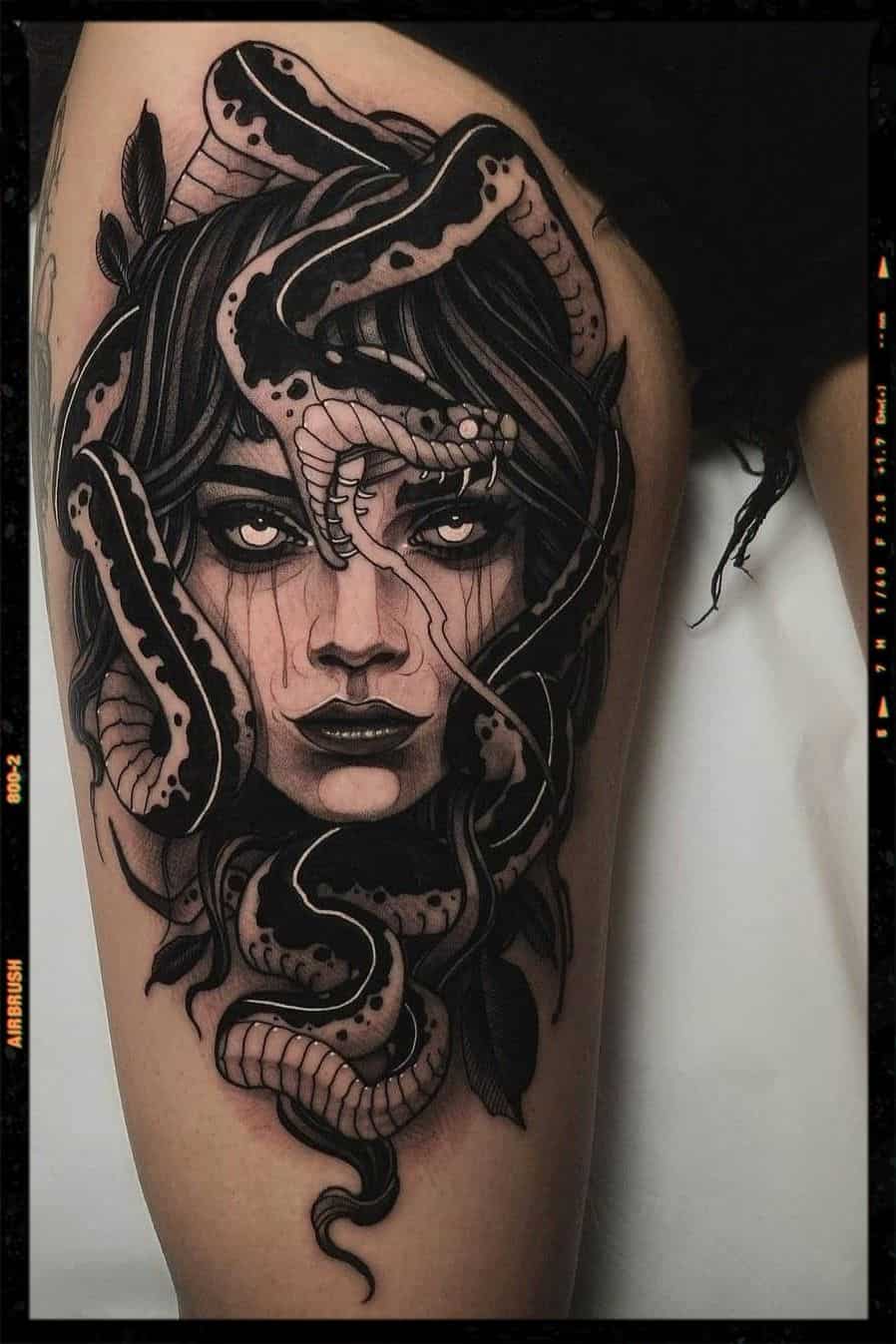 I love it when you can instantly see that this was a custom design! I love the snake's tongue cutting across her face making use of skin breaks to show contrast. I like the snake's body and the perfect balance in composition. I like the addition of leaves and shading around the Medusa's face. In fact I think this is my number one pick on this list!
4. Scale Face Medusa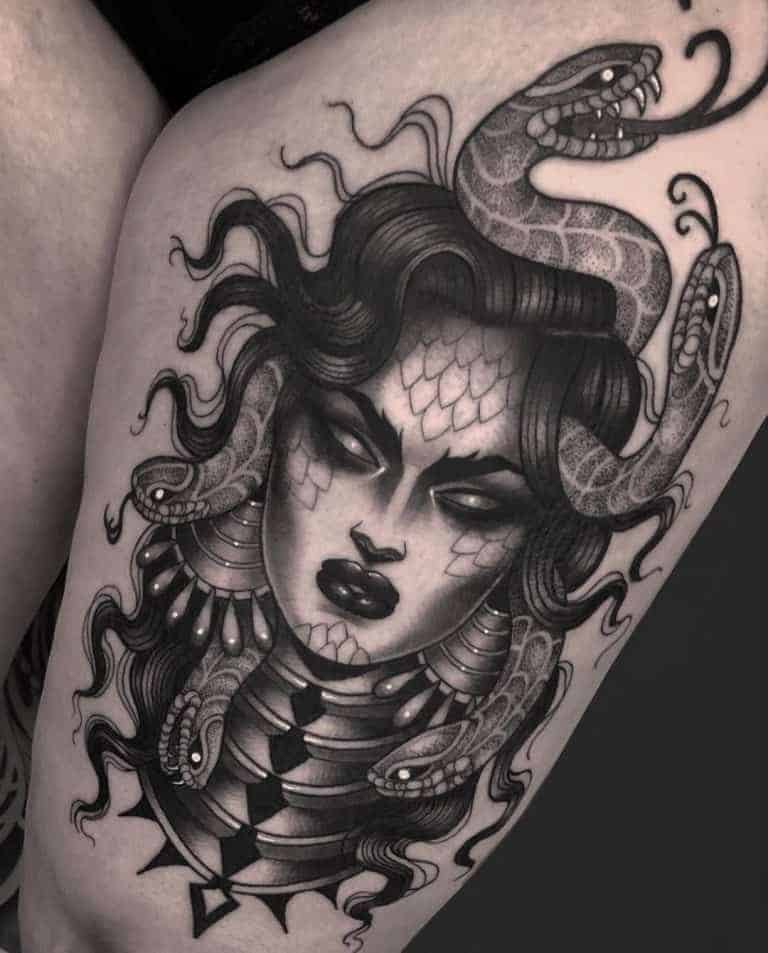 Well, well, well. Seems like I might have to change my mind; this might take the top place pick. I absolutely adore how she's been adorned with such intricate jewellery.
I love how saturated the black tones are, and the scales on her face is a nice extra touch! The snakes have such an interesting dot work texture to them. A totally awesome tattoo!
5. Cartoon Medusa Tattoo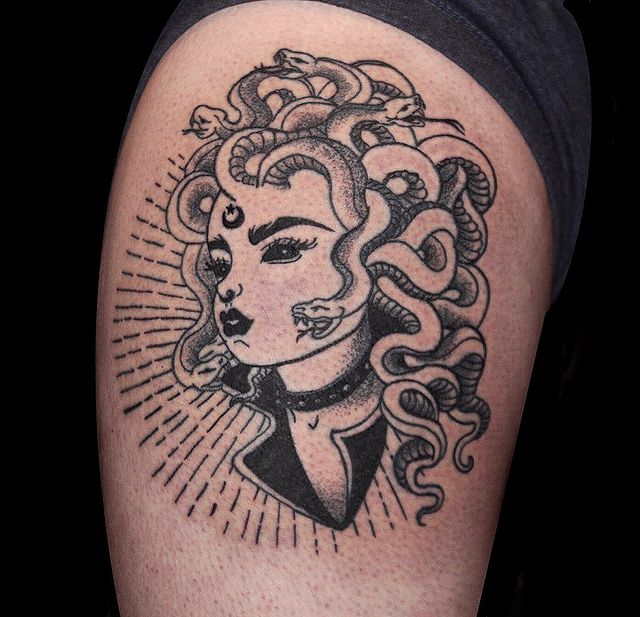 Here's a great Medusa tattoo styled like an old comic book.
I like how the tattoo has a circle shape overall, but it's formed using the snakes on the right and some linework on the left.
6. Medusa Portrait Leg Tattoo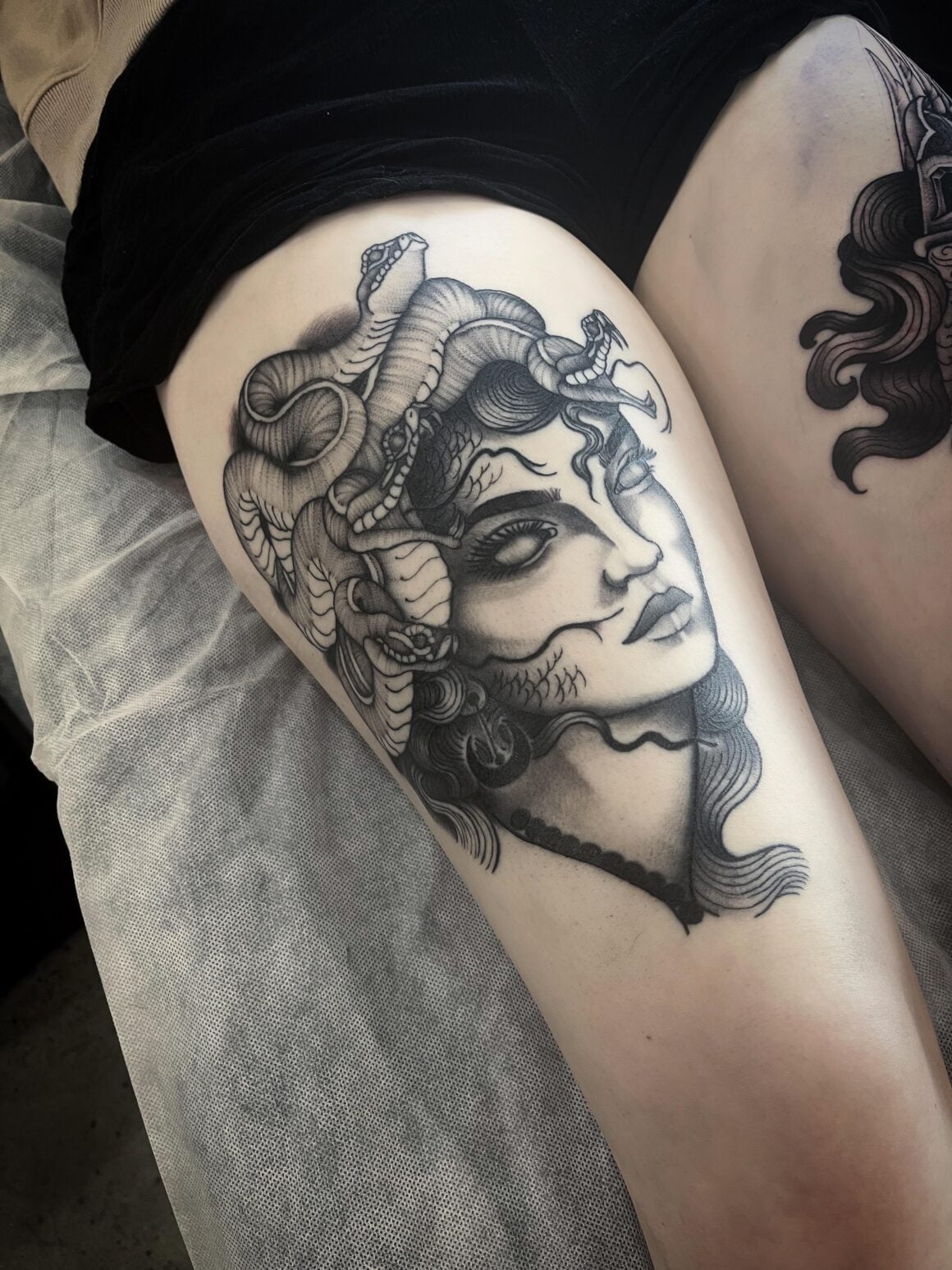 This one is blowing my mind and is one of my favorites on this list. The black and white format is such a perfect combination for this design, and her face is absolutely incredible.
Medusa Back Tattoos
1. Fine Line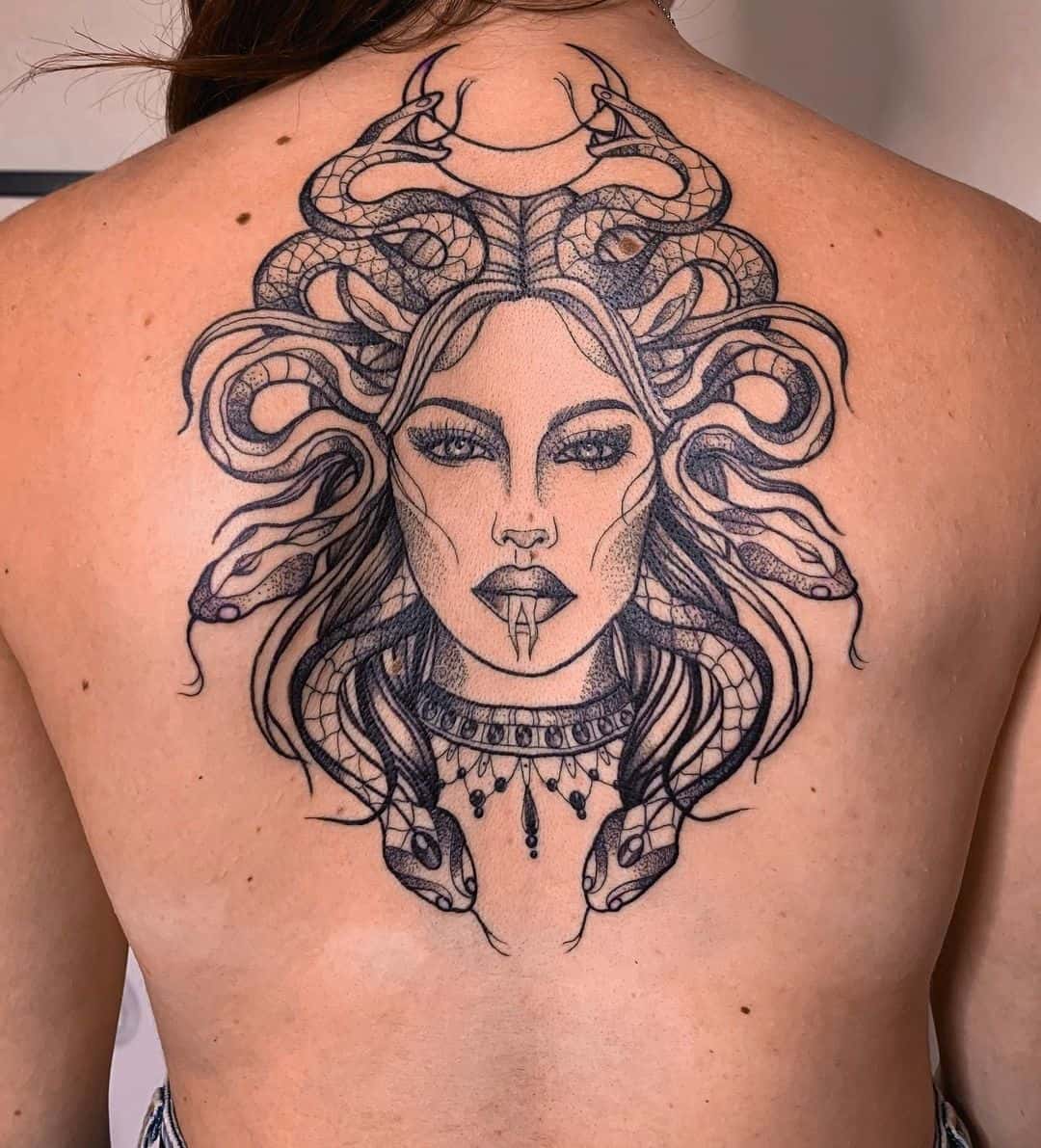 The first thing that stands out to me about this tattoo is the perfect placement and symmetry. I like the use of dot work shading and bold, clean lines.
I think it is important to pay our respects to the nice touch of jewels on the snakes head and the moon addition at the top. I love her split tongue! What a cool extra touch.
2. Blank Stare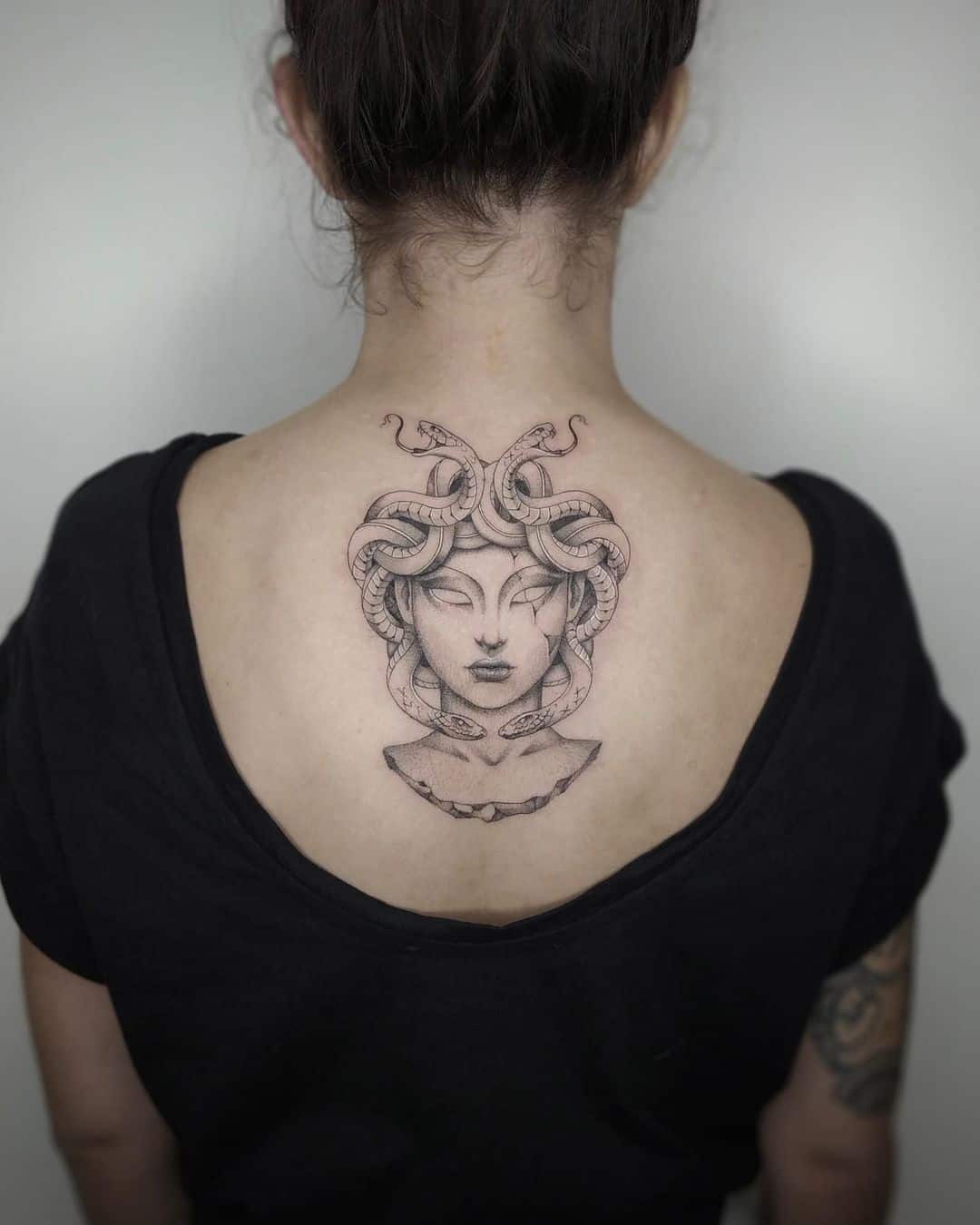 I feel like the symmetry on this one stands out to me even more than the other one! I love the cat-like features; it makes her appear like she has a humanoid element which is completely unique.
Another really cool feature of this tattoo are the snakes staring at each other juxtaposed to the two looking completely away from each other.
3. Stippled Medusa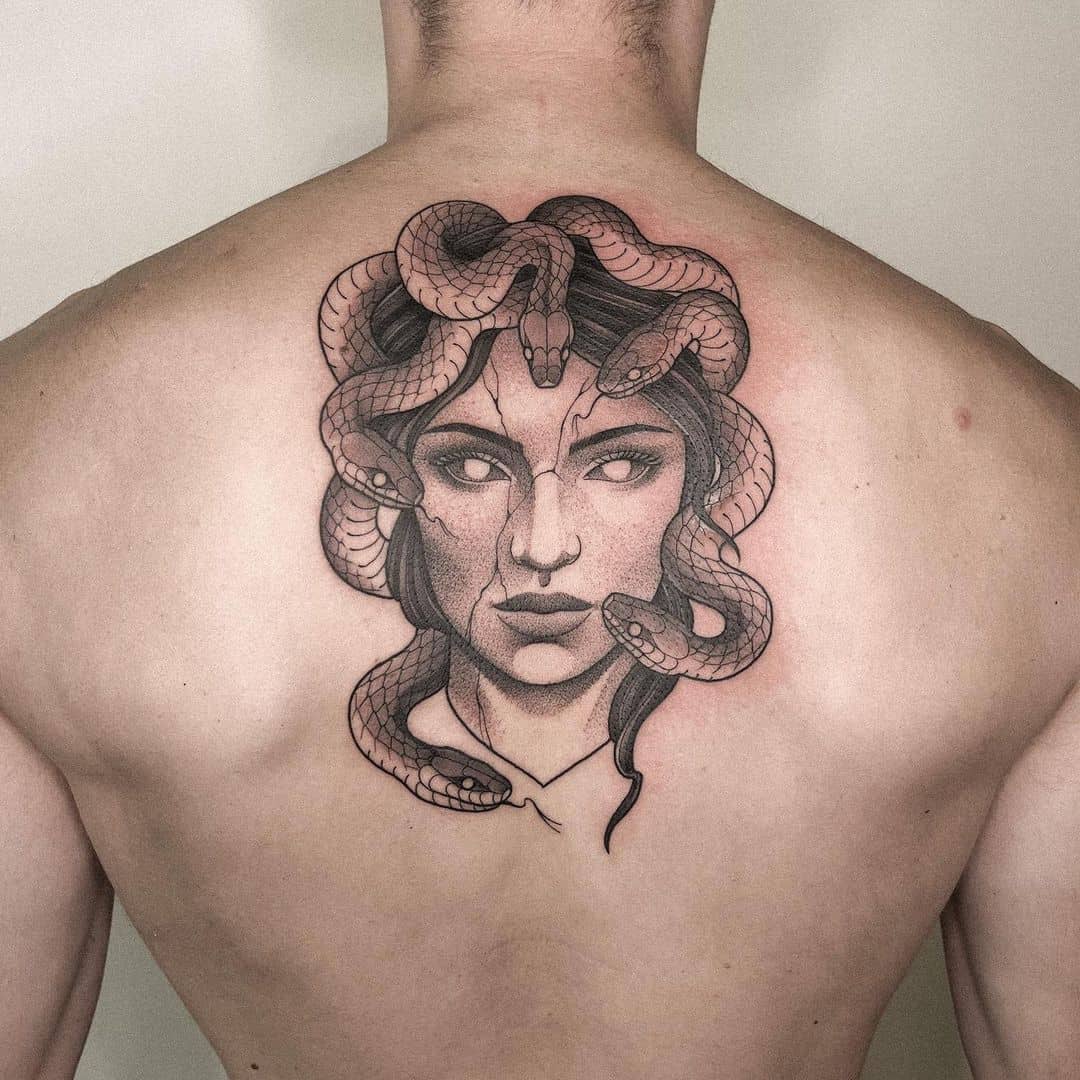 I really like how bold and clean the entire tattoo appears on the skin. I love the nice extra touch of the cracked face; something I have never seen in a Medusa tattoo so far!
The use of stipple shading on the face was a brilliant move as it makes the face appear soft to the touch.
4. Illustrative Medusa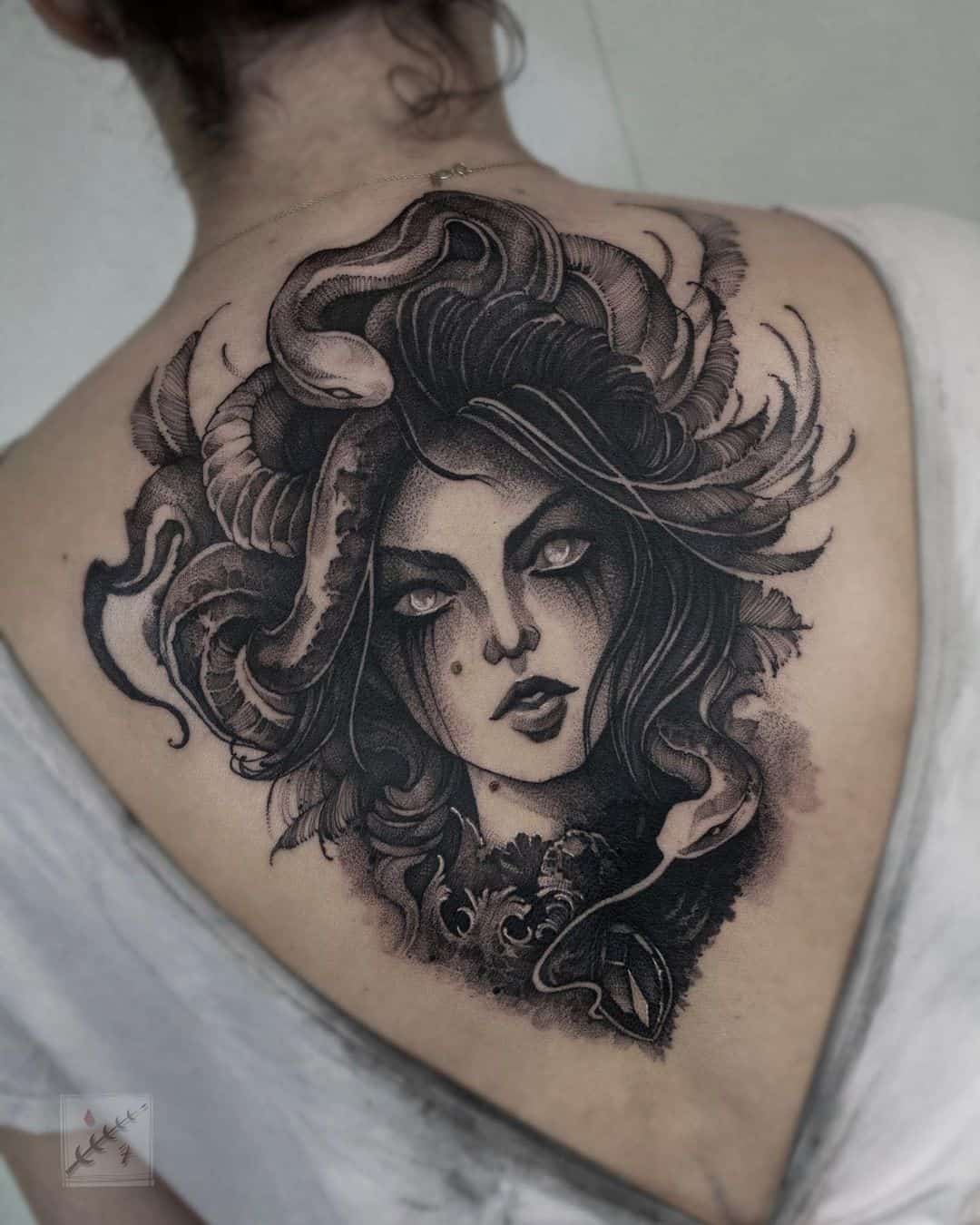 The entire atmosphere surrounding this piece screams one thing; dark! I am sure you can tell by this list that I am a lover of all things dark, scary and ominous. I feel like this tattoo encapsulates everything I look for in a tattoo; bold lines, realistic touch, dark shading and an alluring feel.
This artist knocked this piece out of the park!
Medusa Neck Tattoos
1. Sinister Medusa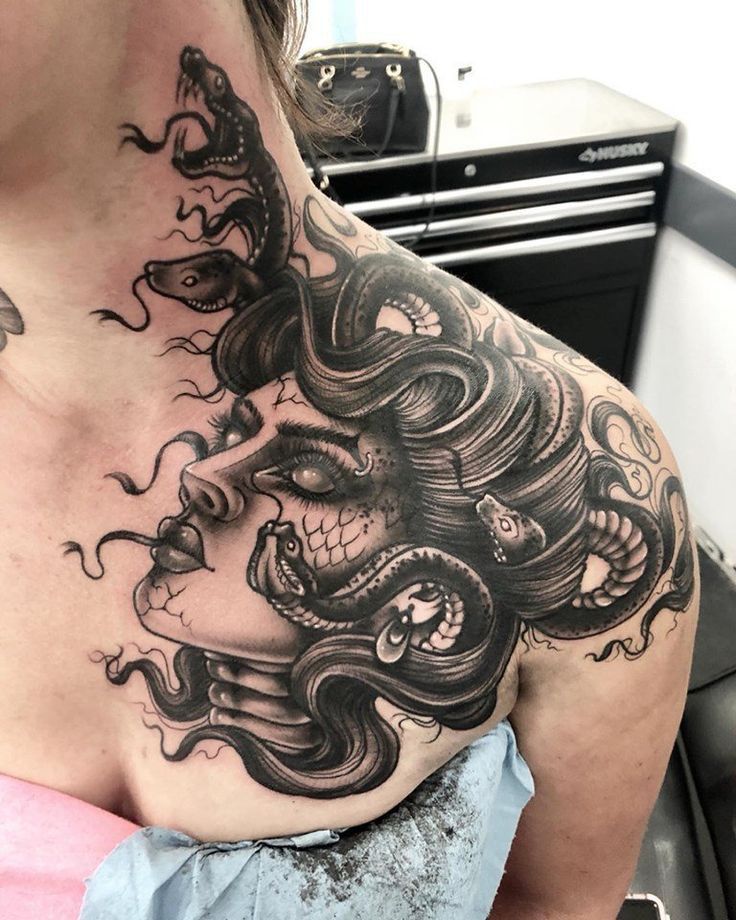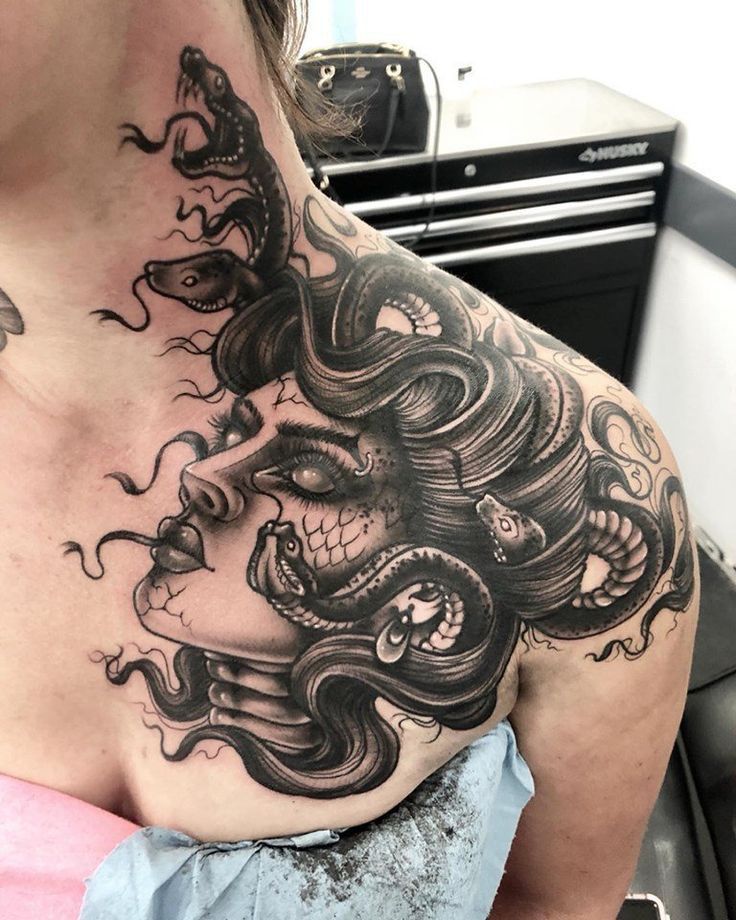 This tattoo just has all-round badassery! Check out the dark elements in this piece, it gives her a dark feminine feeling which is both daunting and enticing! I love the details of the scales on her face and I love the over-exaggeration of her eyes and luscious, long lashes; absolutely to die for!
2. Line Work Medusa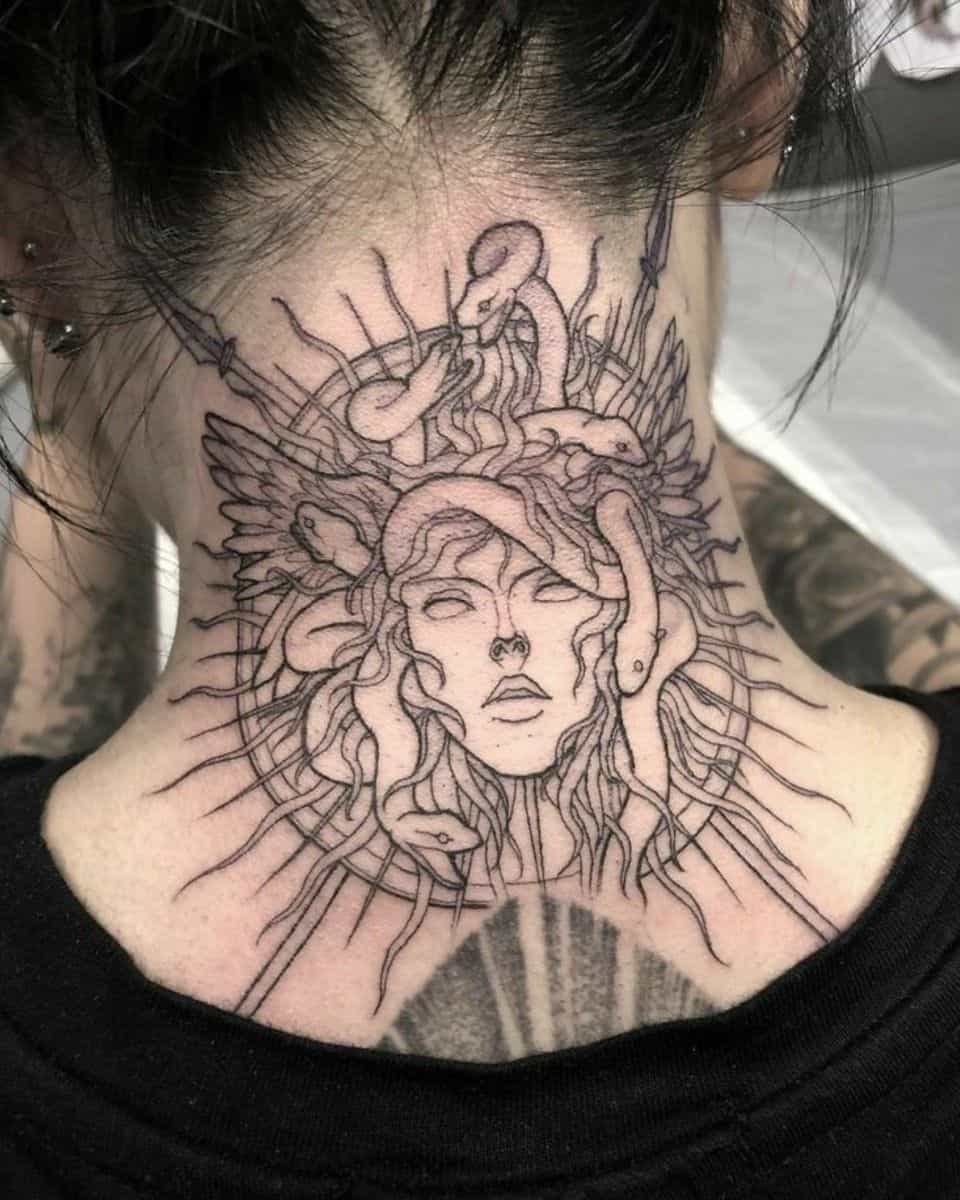 I love how simple this tattoo is yet it stands out so boldly! The varying weight of the lines adds a cool touch and makes the snakes stand out just like they are supposed to; an artistic touch that definitely has to be admired over here!