The Crown has been a symbol of wealth, power, royalty, and leadership for centuries, and these tattoos can have a very emotional meaning behind them.
Crown tattoos come in many different styles and colors, making them extremely fun to work and experiment with. I have decided to dive a little bit deeper into this trend and oh boy… I have found some eye-catching prizes!
1. Crown and Sword Tattoo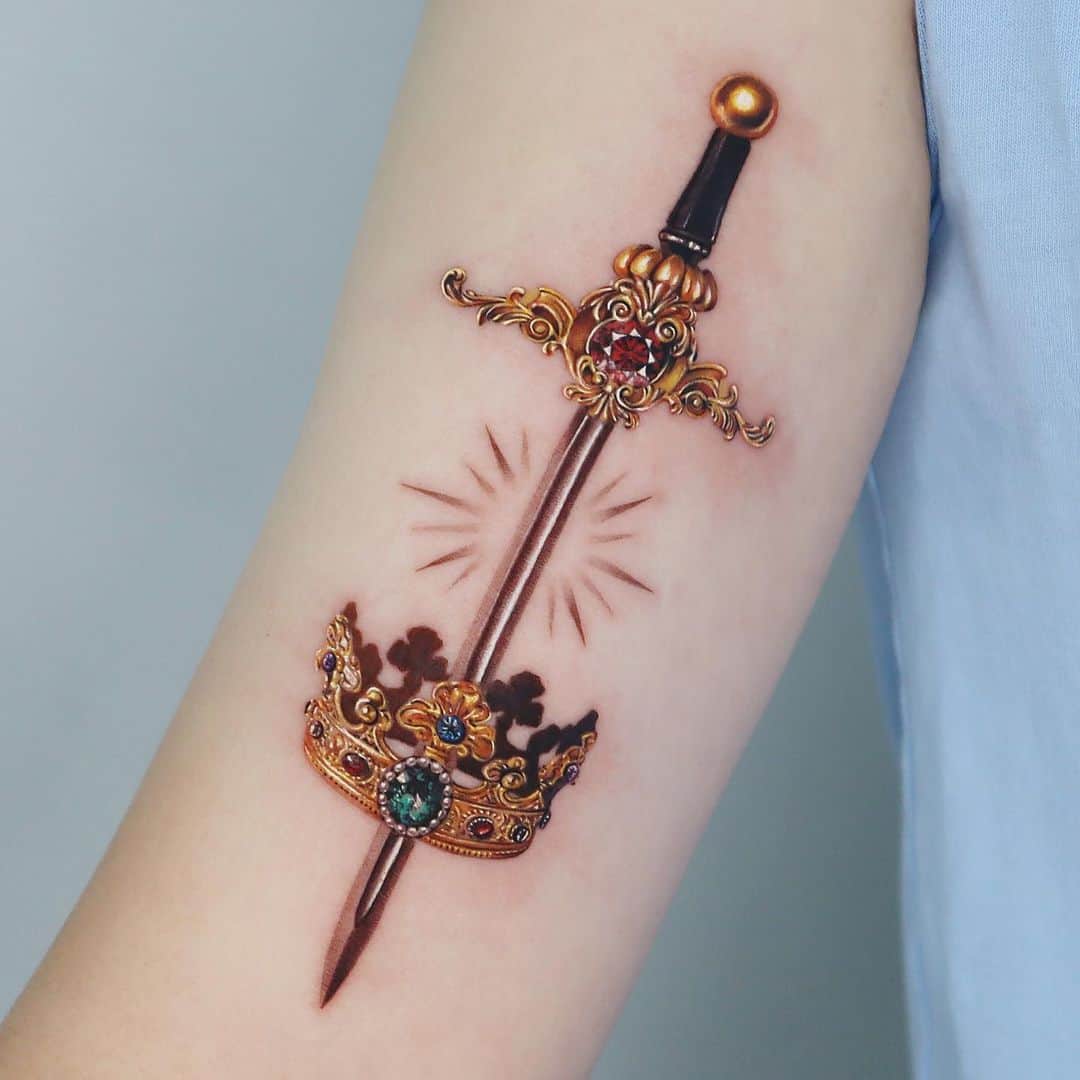 The work done here is truly a masterpiece. This is a tattoo you stare at and can't believe it's on your body! The line work is impeccable along with the vibrant colours. Chefs kiss!
2. Intricate Black Work Crown Tattoo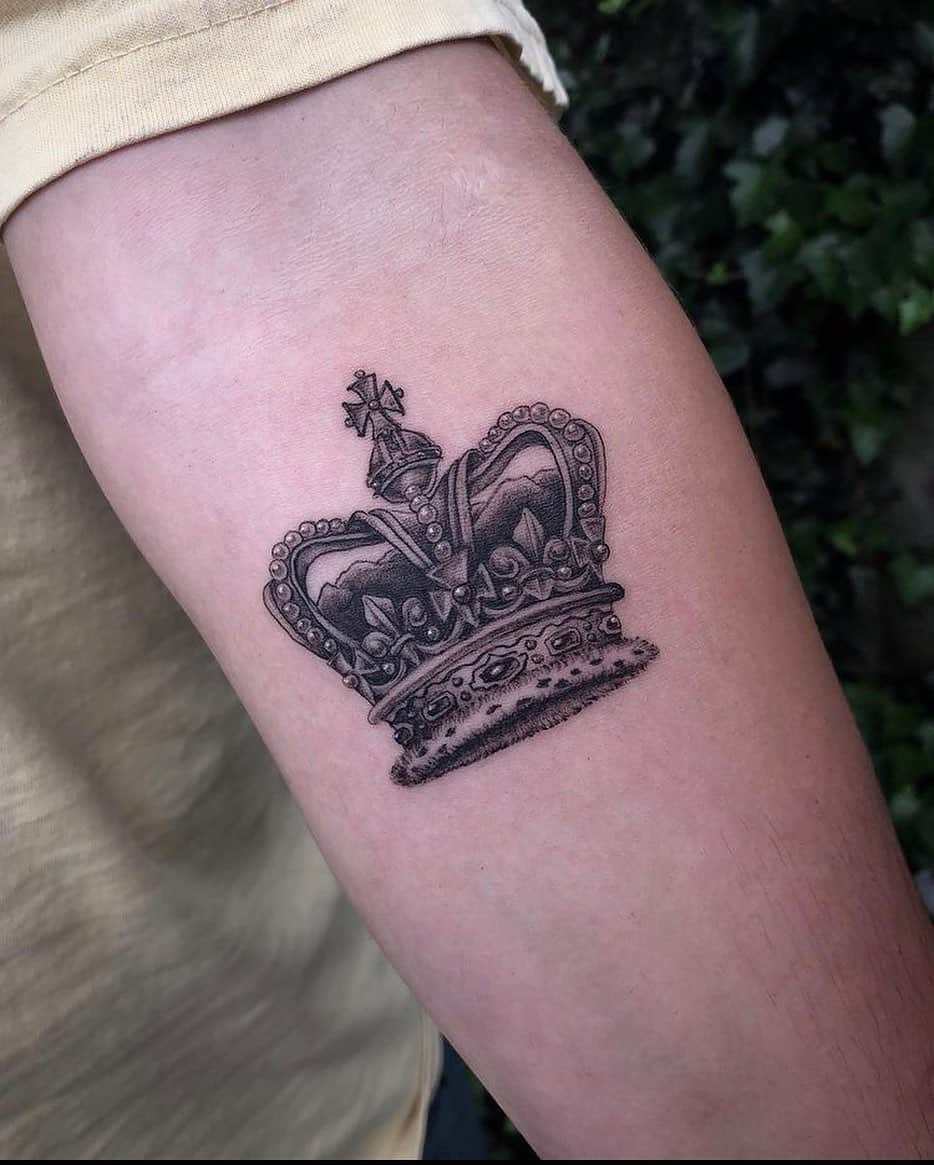 This crown is so simple, yet the more you look at it, the more you are blown away by the artist's incredible talent. The lines are clean and crispy, as a tattoo artist would say! An outstanding piece of work.
3. Crowned Panther Tattoo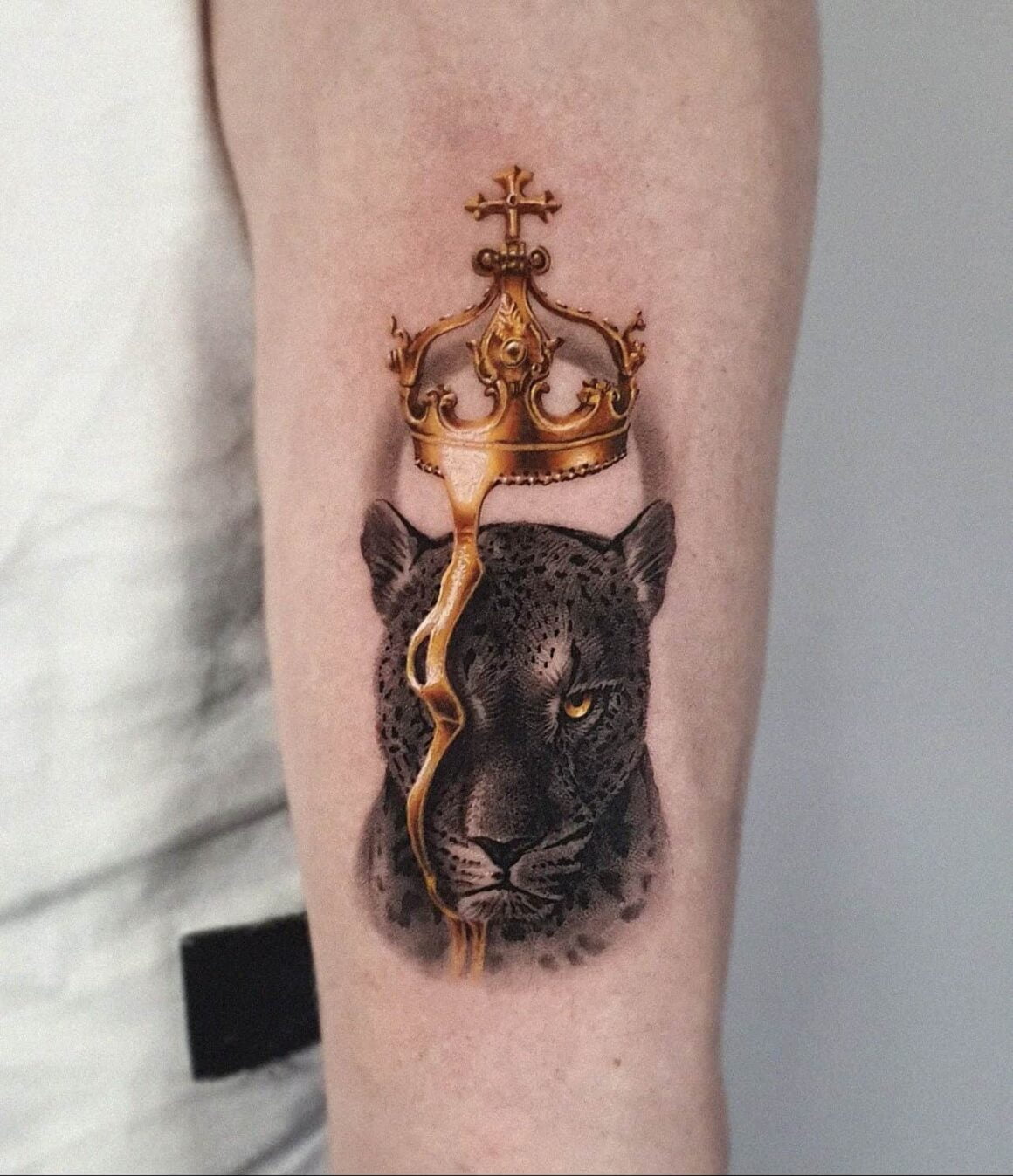 Wow, the skill required to make gold look like it's glistening in the sun is next-level! I love the contrast between the dark, almost ominous-looking panther to the vibrant and powerful crown. The placement and size of the tattoo have been executed to perfection. An absolute masterpiece!
4. Skull Crown Tattoo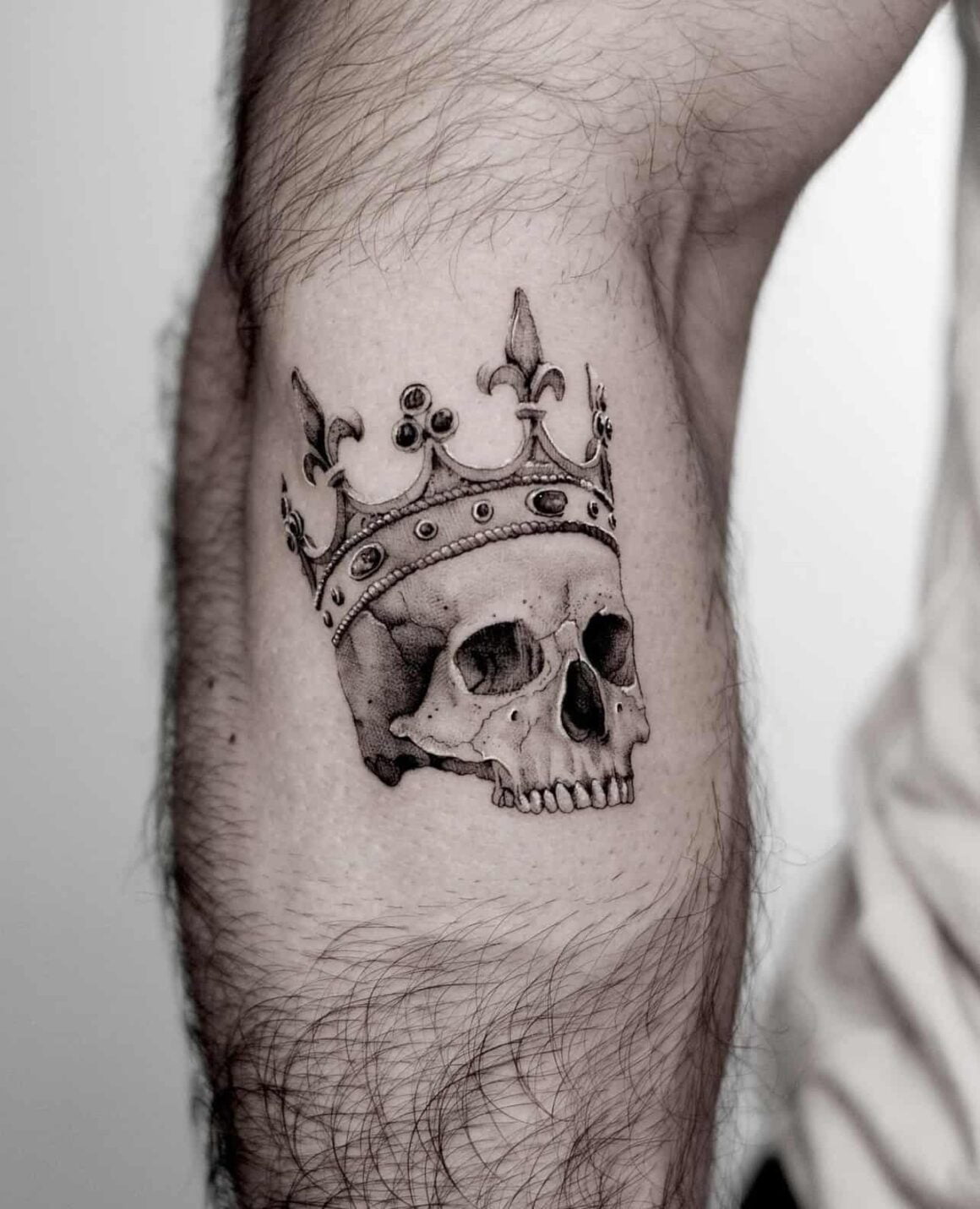 The tattoo design itself already speaks volumes! The proportions are accurate and fit well. The placement of the tattoo is flawless; tattoo placement can easily make or break a tattoo. The whole tattoo is striking and will make heads turn!
5. Bold Crowned Diamond Tattoo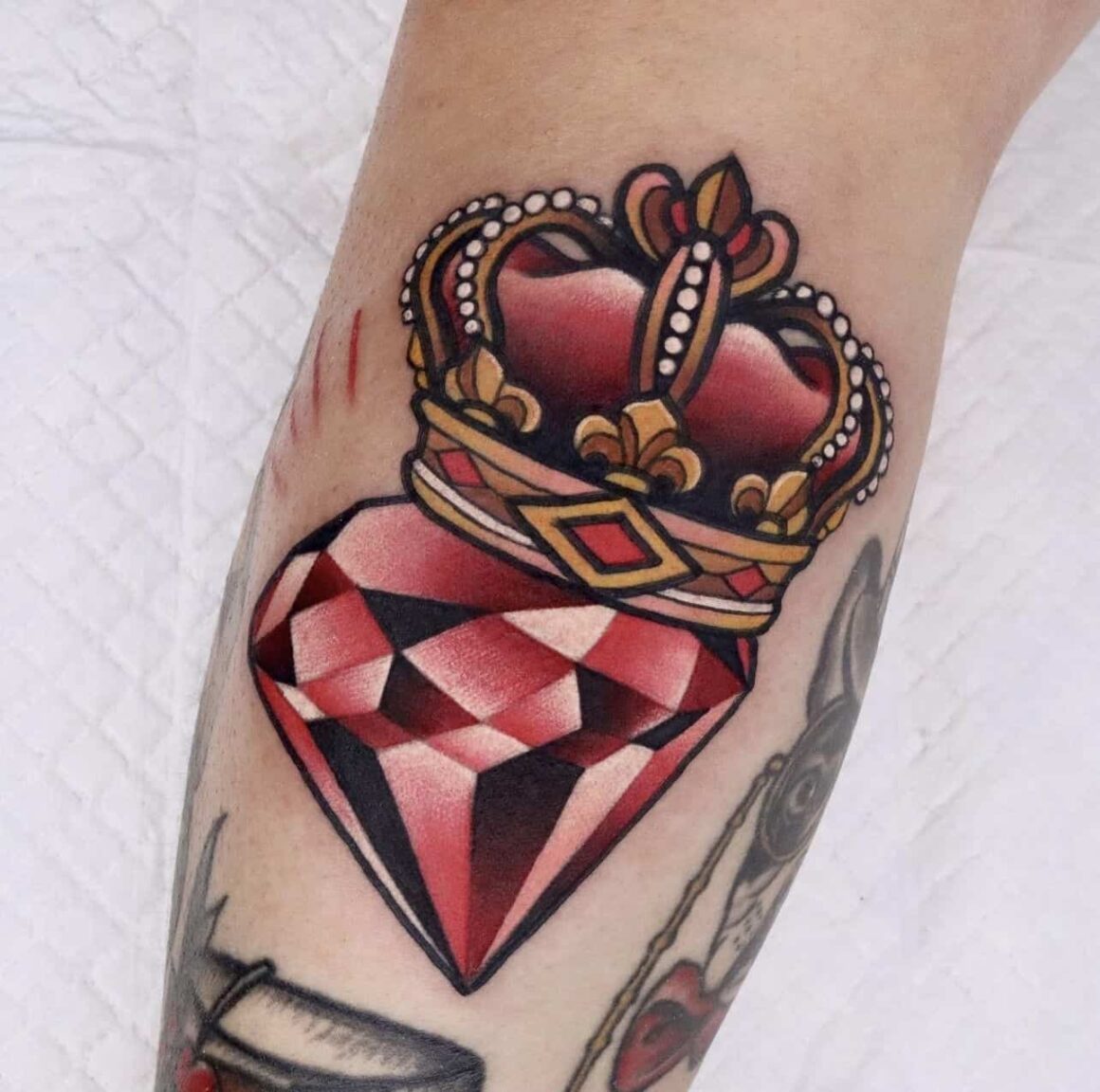 Well… where do I even begin with this masterpiece? This tattoo is by far my favorite on this list. This crown has a Neo-traditional element with its bright colors and bold lines. The shading is what knocks me off my feet. If I could rate this tattoo out of ten, it would be off the charts!
6. Esoteric Crowned Owl Tattoo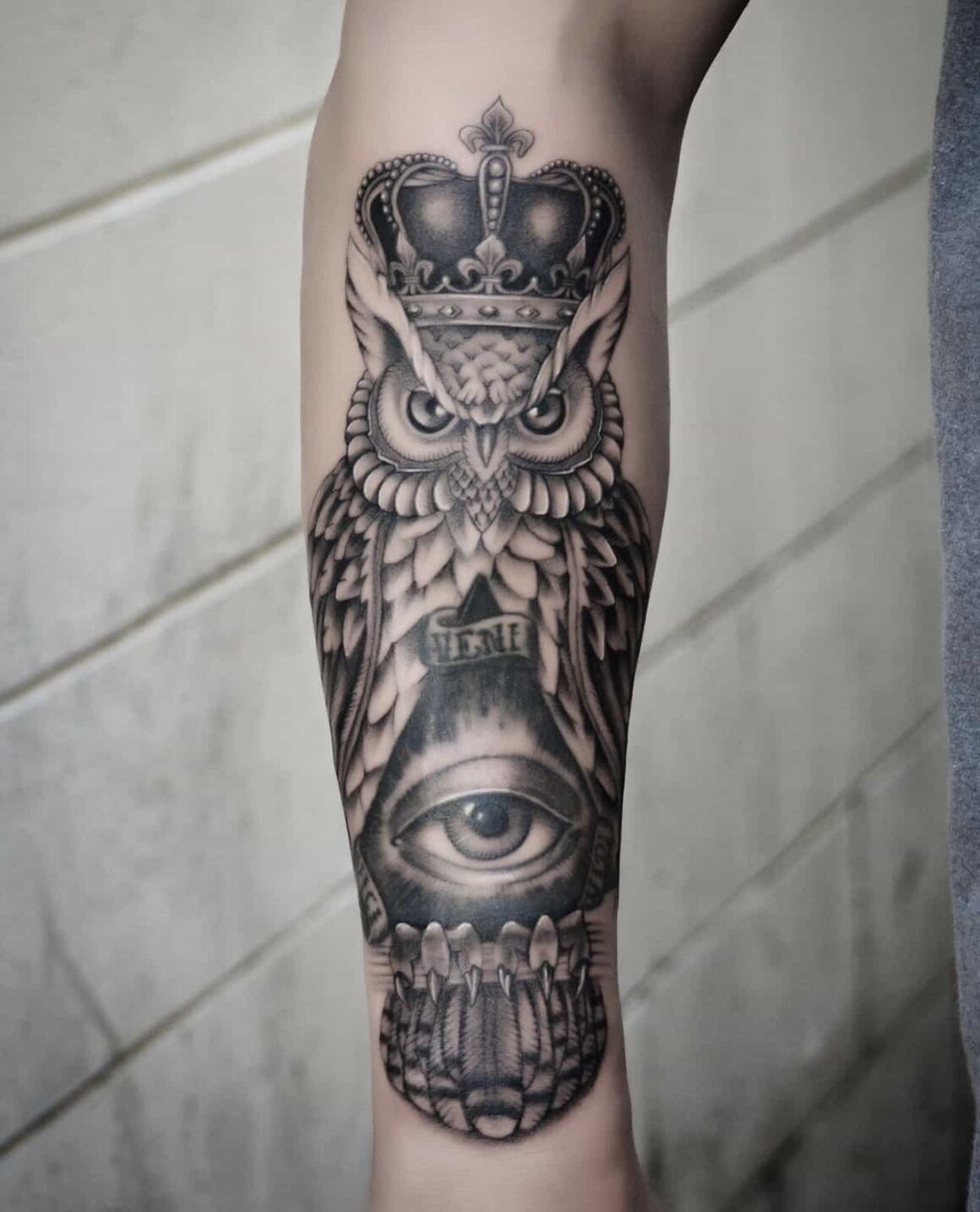 I love the size of this bad boy, the perfect placement for a half sleeve. This tattoo is packed with Masonic symbolism. The all-seeing eye represents God and how he is always watching. The Owl symbolizes that the enlightened may see truth through the darkness of ignorance, accompanied by the symbolism of power and courage from the crown; this makes a recipe for a significant tattoo. The shading is smooth, like butter, and the lines are clean. Overall a very deeply meaningful tattoo.
7. Traditional Floral Crown Tattoo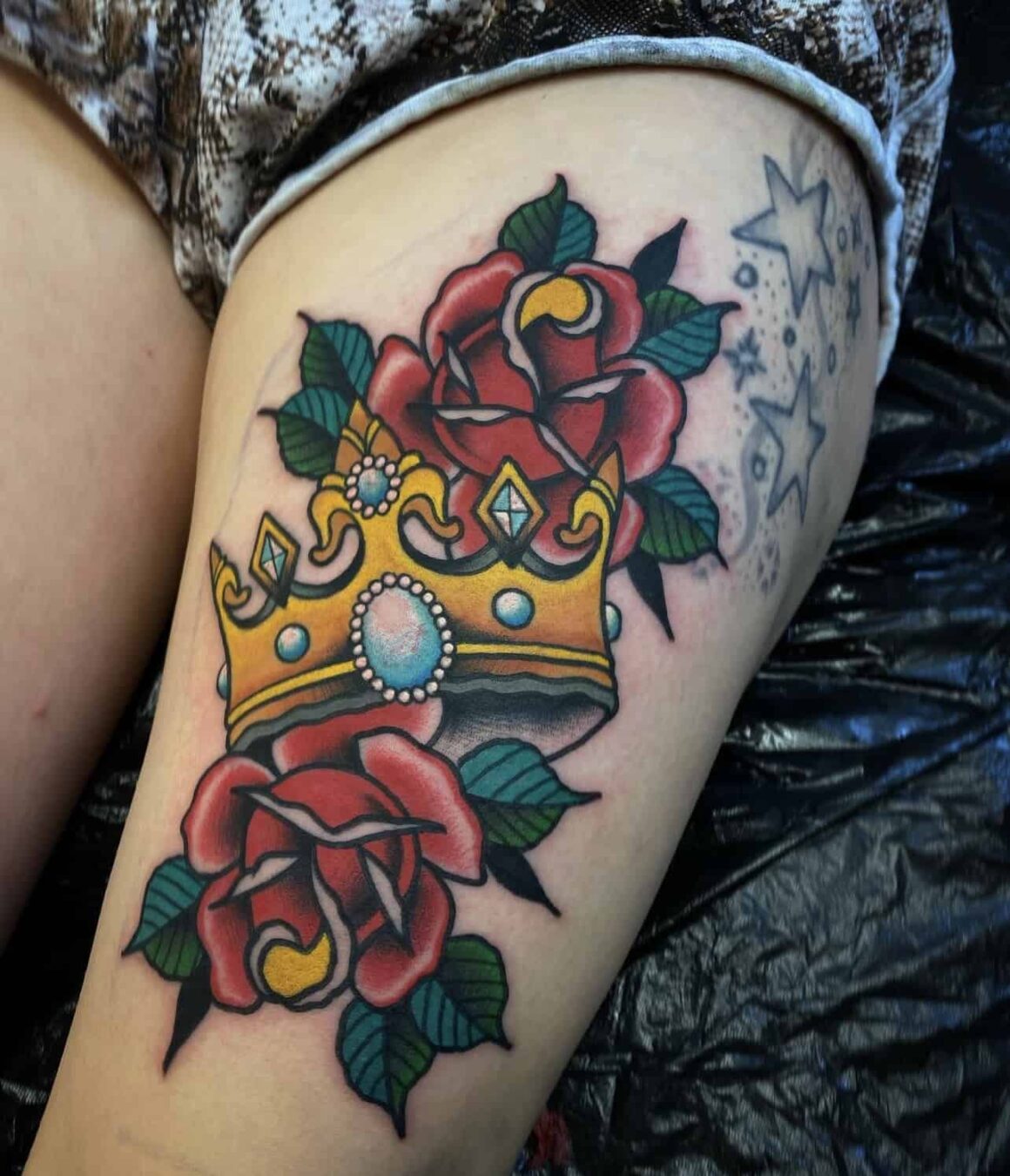 Traditional tattoos are my favorite tattoo style – I'm covered all over! I appreciate the beautiful "whip shading technique," as tattoo artists call it. The beautiful bold traditional lines are the best part, and a saying goes, "bold will hold!" meaning that this style of tattoo ages well. The skin breaks in the petals leave an illusion of shine and texture, which is a beautiful addition. A standing ovation is in order!
8. Watercolor Crown Tattoo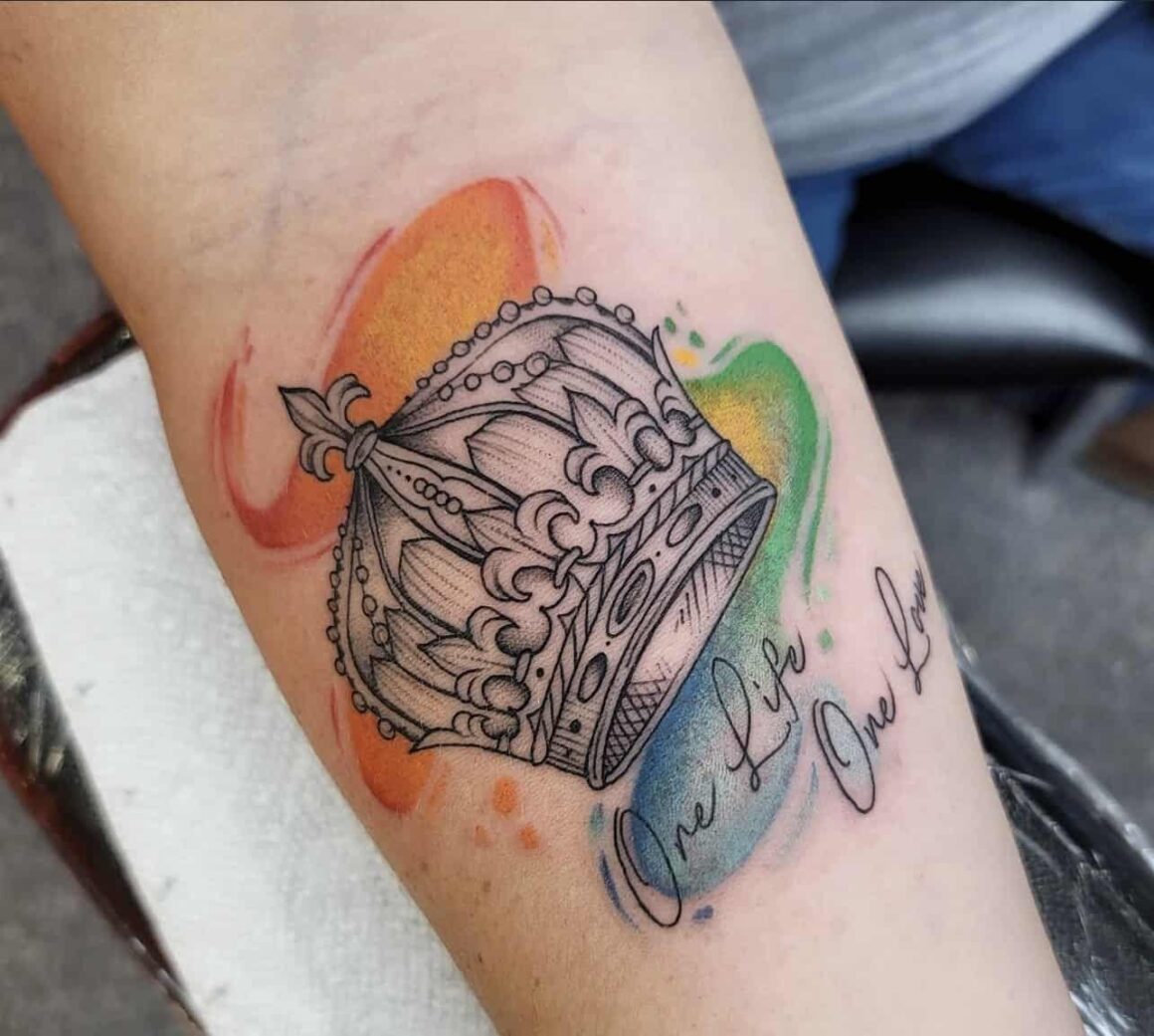 This crown piece has a feminine essence. The line work is dainty and refined, providing a softer look. The watercolor technique is a big favorite, and I am sure you can see why! As opposed to the usual deep saturation in many color tattoos, watercolor pieces avoid that. The line work is what makes this tattoo stand out the most!
9. Realism Crowned Skull Tattoo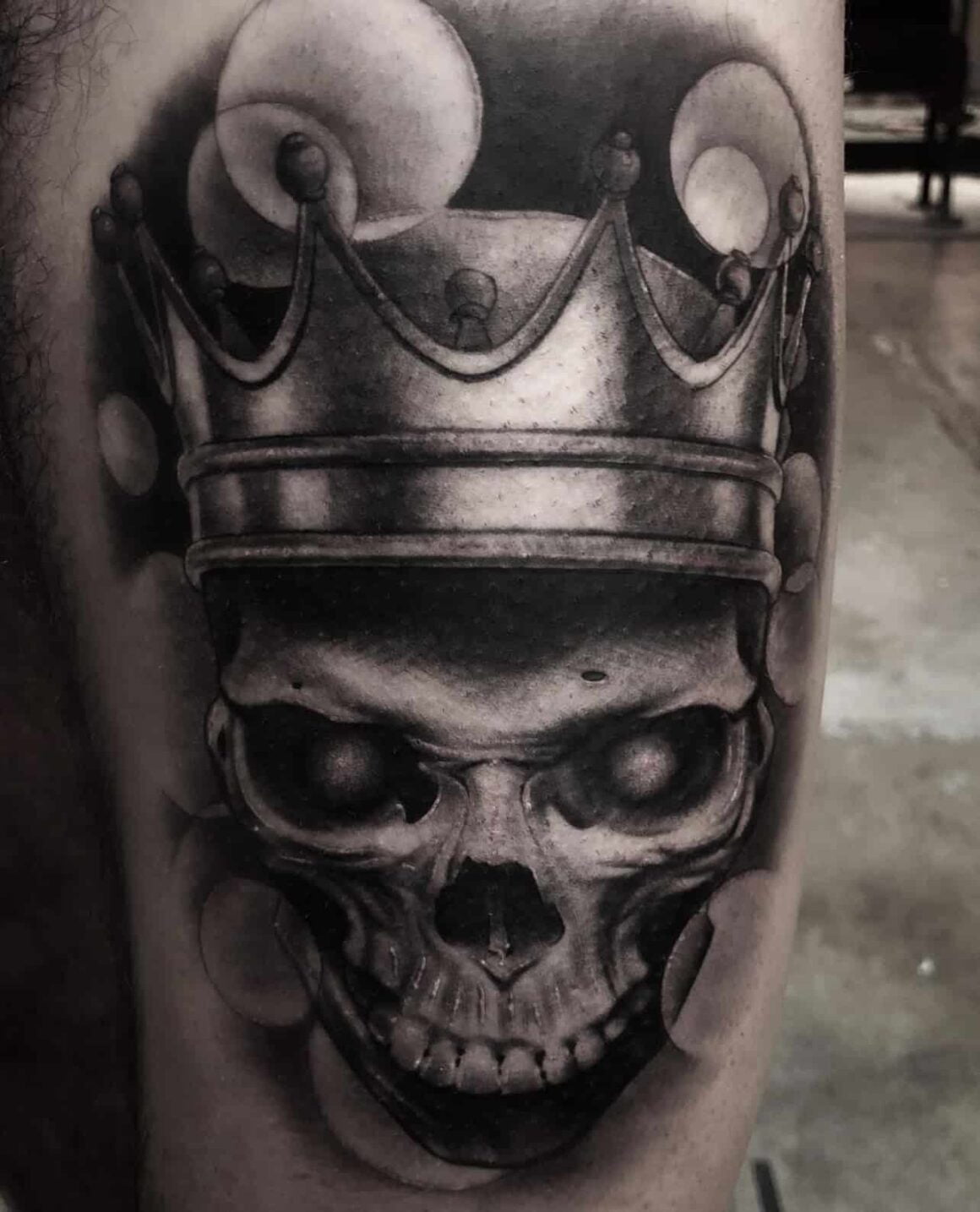 Realism is one of the most challenging tattoo techniques out there. This tattoo gives us that badassery feel, which is my favorite part about the piece, but we cannot forget to pay our respects to the level of skill this kind of work takes. Bravo!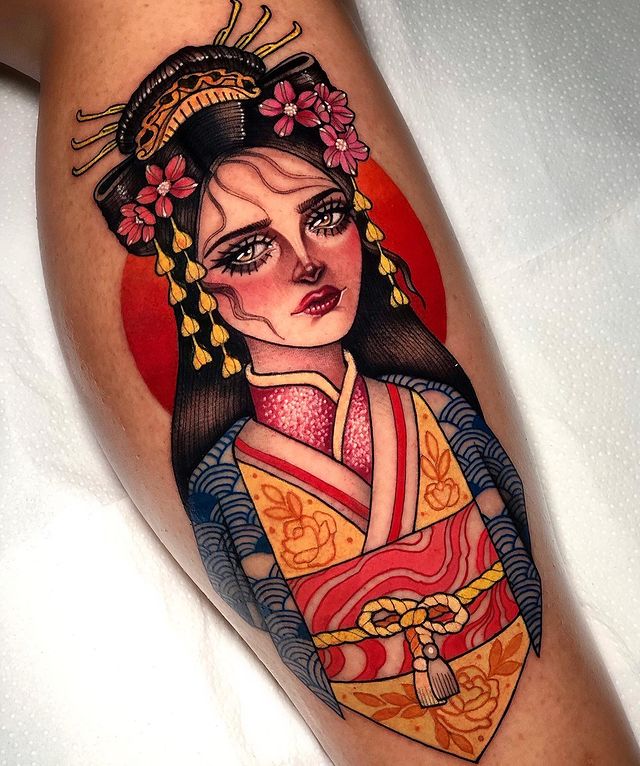 10. Colorful Galaxy Crown Tattoo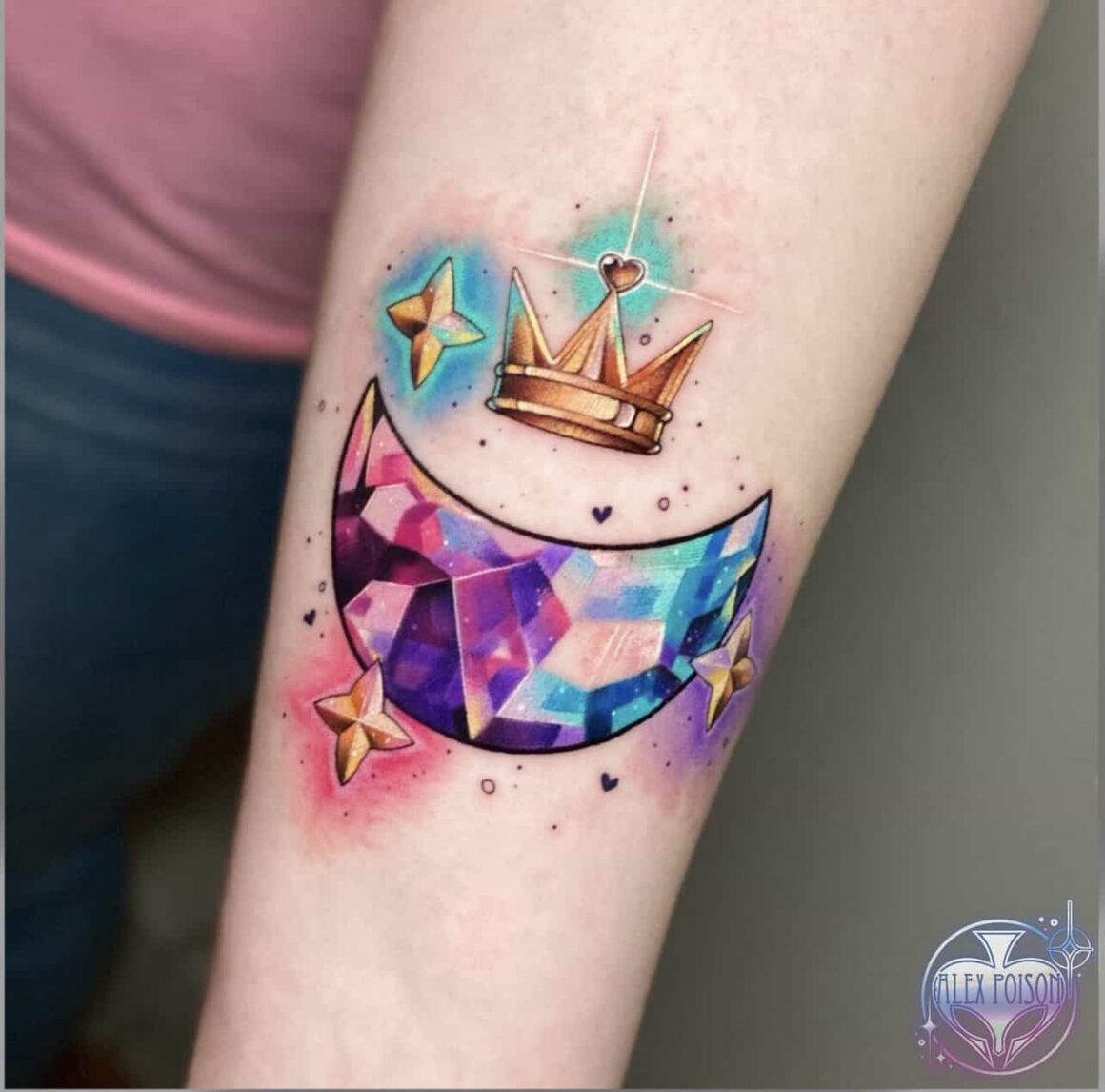 Packed with a punch! The colors used in this beauty are out of this world, and yes, that pun was intended! I would get this on my body… time for a new tattoo appointment.
11. Basquiat Crown Tattoo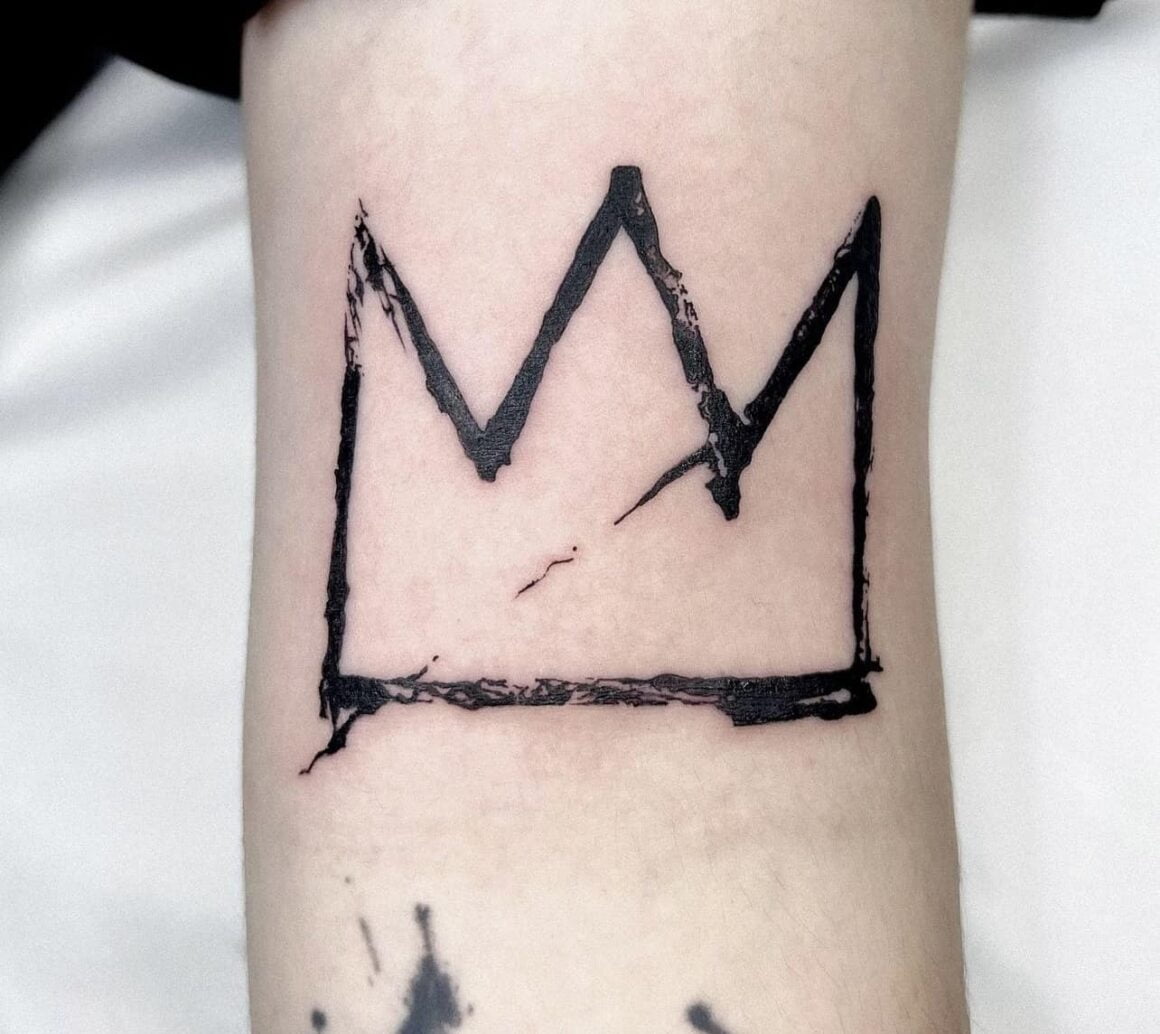 Sometimes they say less is more; this stands true here. The bold lines have been done in an abstract technique à la neo-expressionist artist Jean-Michel Basquiat, making it even more appealing to the eye. Simple and clean, I love it.
12. Black Traditional Crown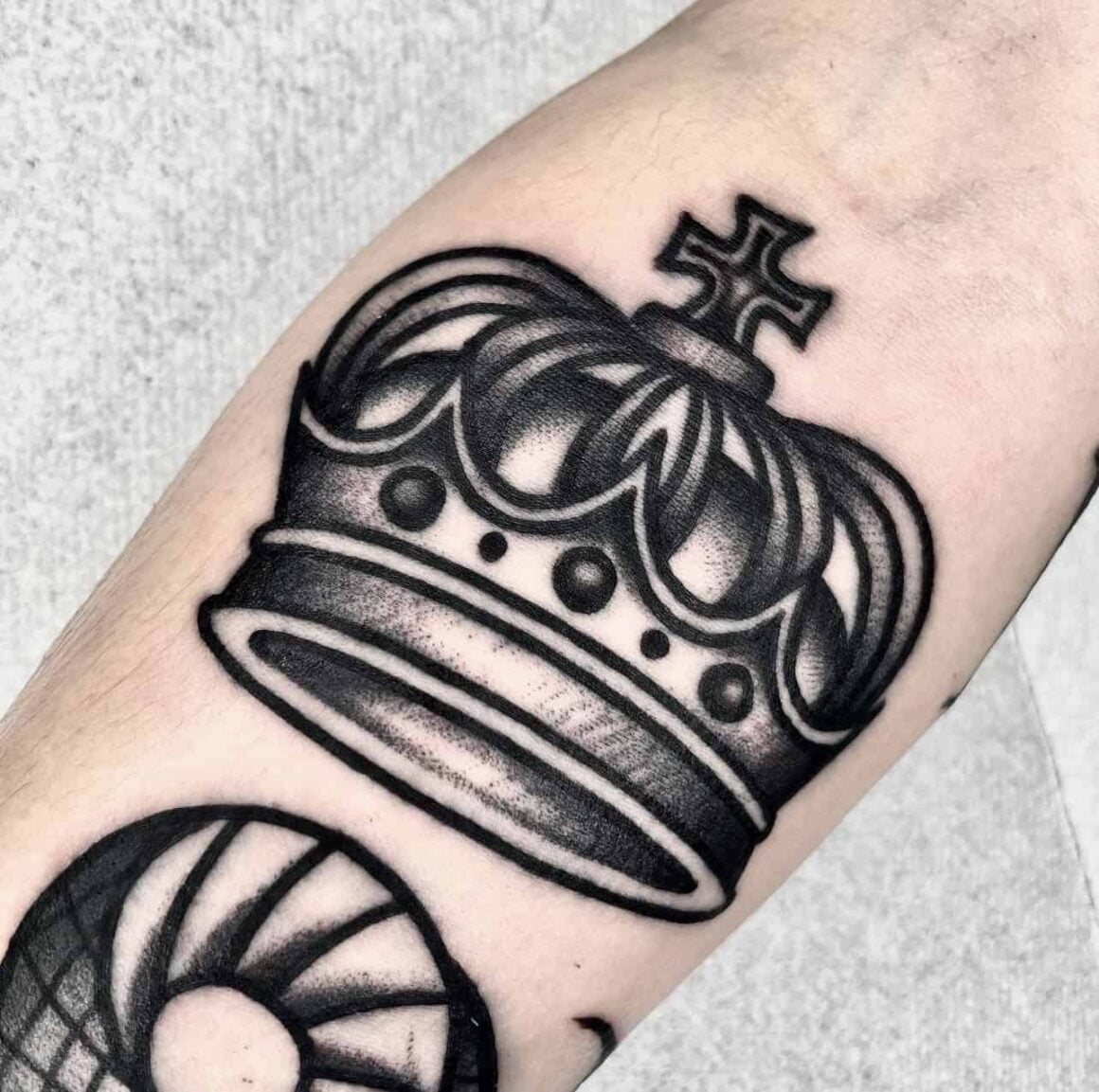 This tattoo artist is my all-time favorite. The use of minimal shading paired with dark bold lines makes this tattoo unique. The use of skin breaks is the hidden secret here. I could stare at this tattoo for hours!
13. Micro Realistic Crowned Bee Tattoo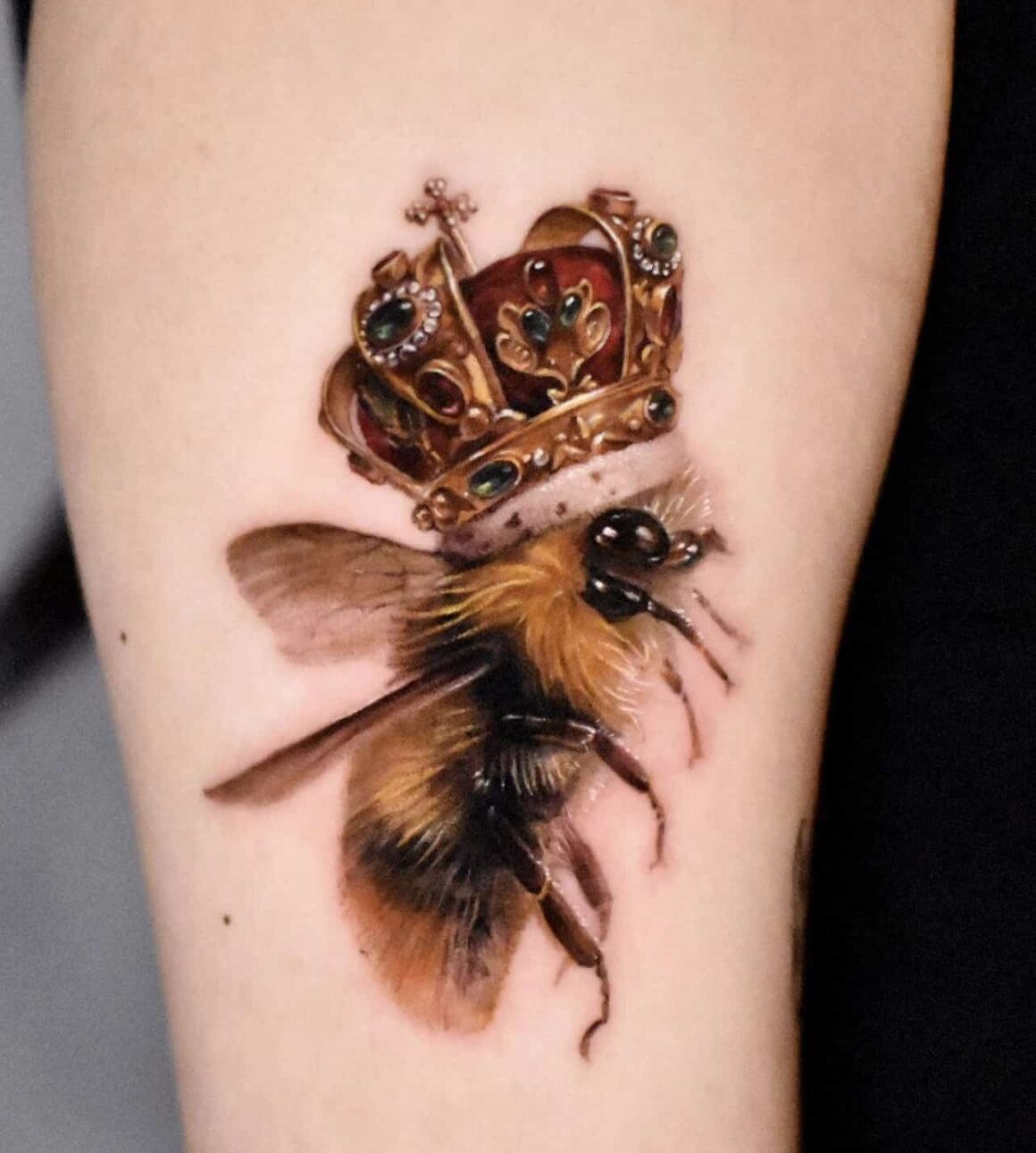 The attention to detail in this tattoo is impeccable. The soft shading used here gives the bee a fluffy texture; I appreciate the level of skill that it takes to create that. The crown has perfect proportions in relation to its bee companion. Snug as a bug!
14. Lady Holding a Crown Tattoo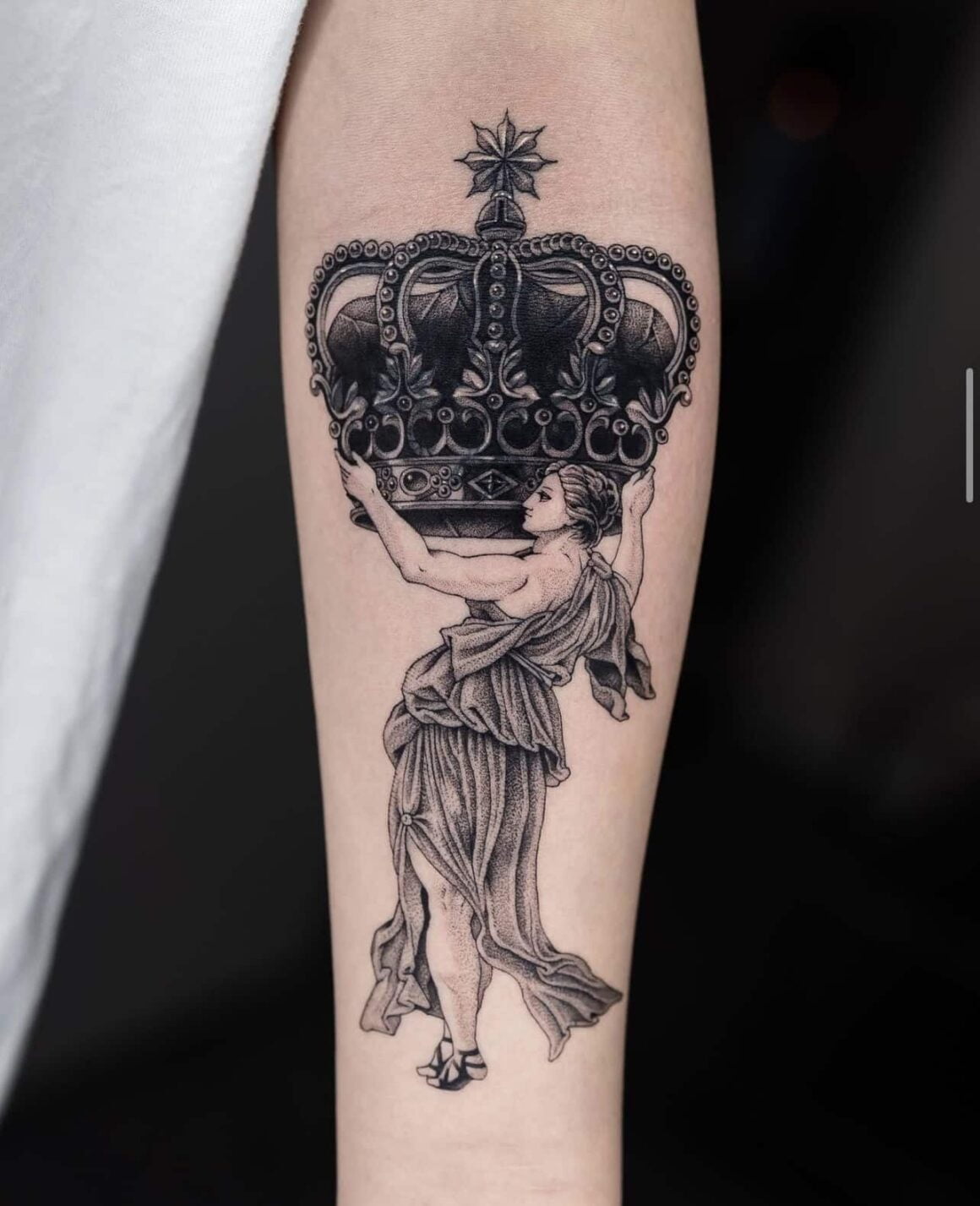 This piece is breathtakingly beautiful. The attention to detail is admirable. The fine lines give this lady that feminine aspect, mesmerizing onlookers with her grace. The crown gives us a feeling of power and strength due to the darker shades and tones used. This tattoo reminds me of the strong relationship between a king and his queen.
15. Neo-Traditional Crowned Deer tattoo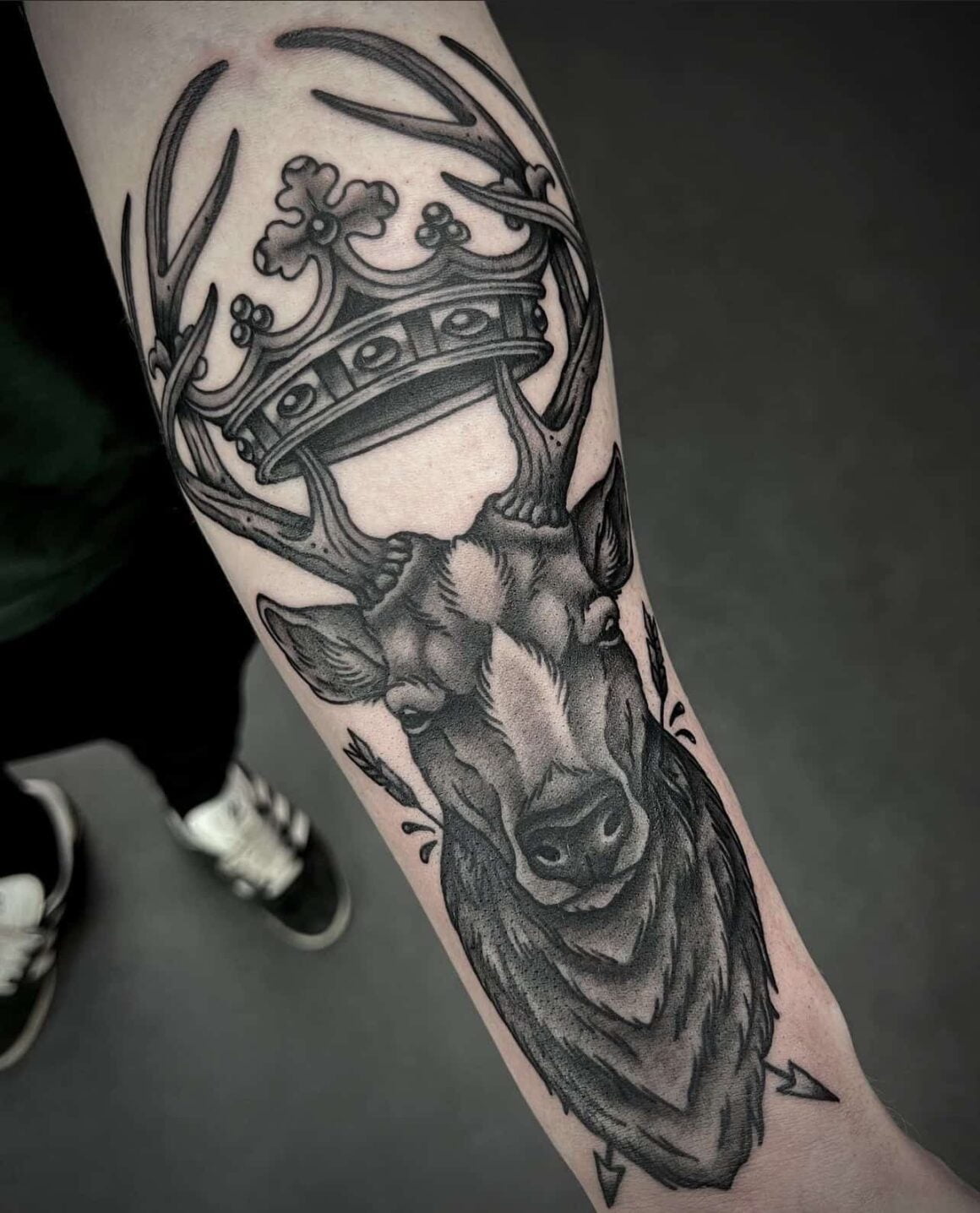 This tattoo has some beautiful symbolism along with flawless technique. The deer has been said to symbolize spiritual authority and intuition. The tattoo could indicate a person stepping into their power and taking life by its horns! The bold lines are powerful and intense. An outstanding job, indeed.
16. Double Crown Sketch Tattoo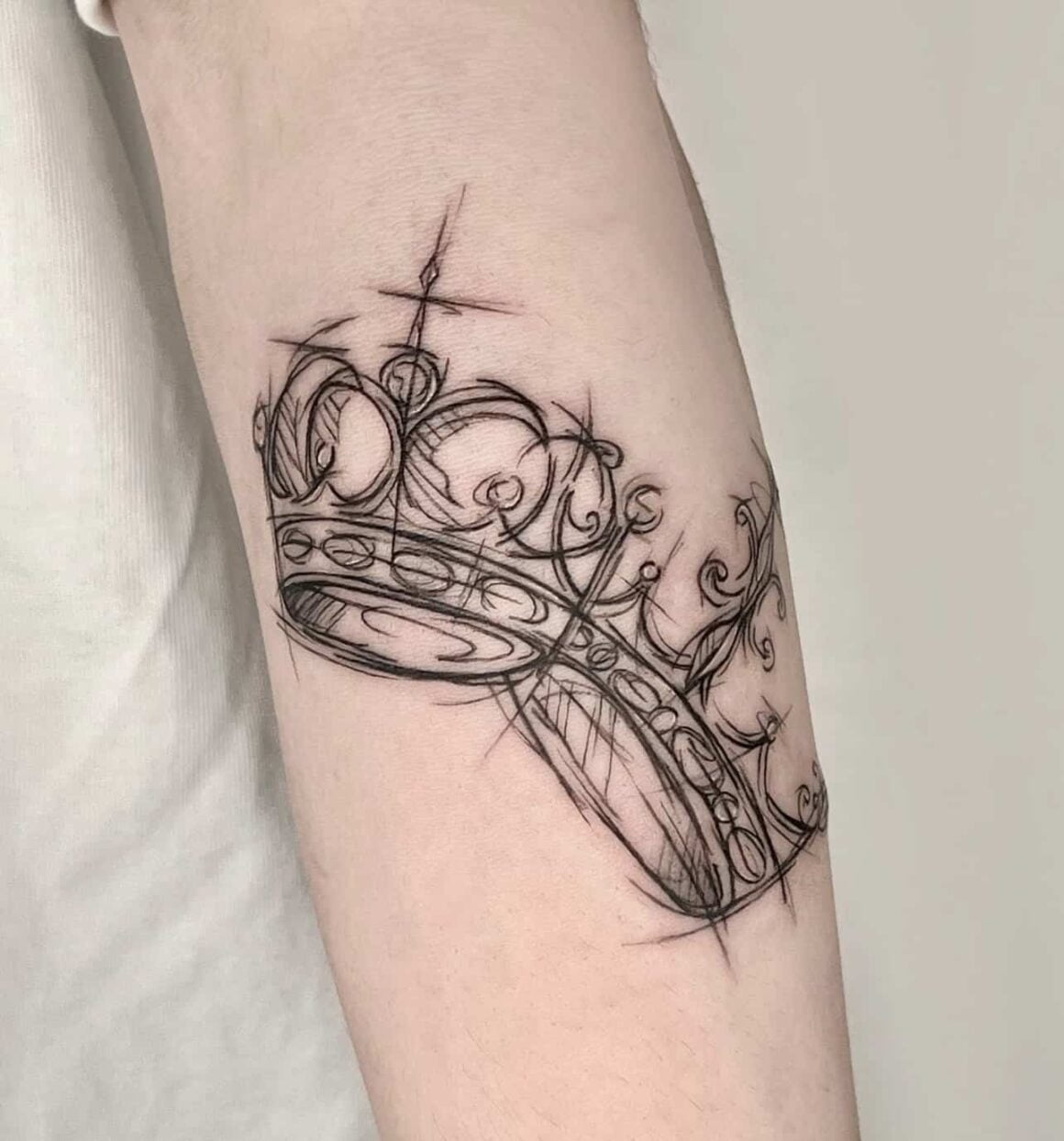 Why get one crown when you can get two? This artist has used an illustrative technique that gives it a playful, childlike element. The lines are clean, crisp, and striking. The crowns joined could symbolize the undying love of two soulmates. Oh, to be young and in love!
17. Matching Watercolor Crown Tattoos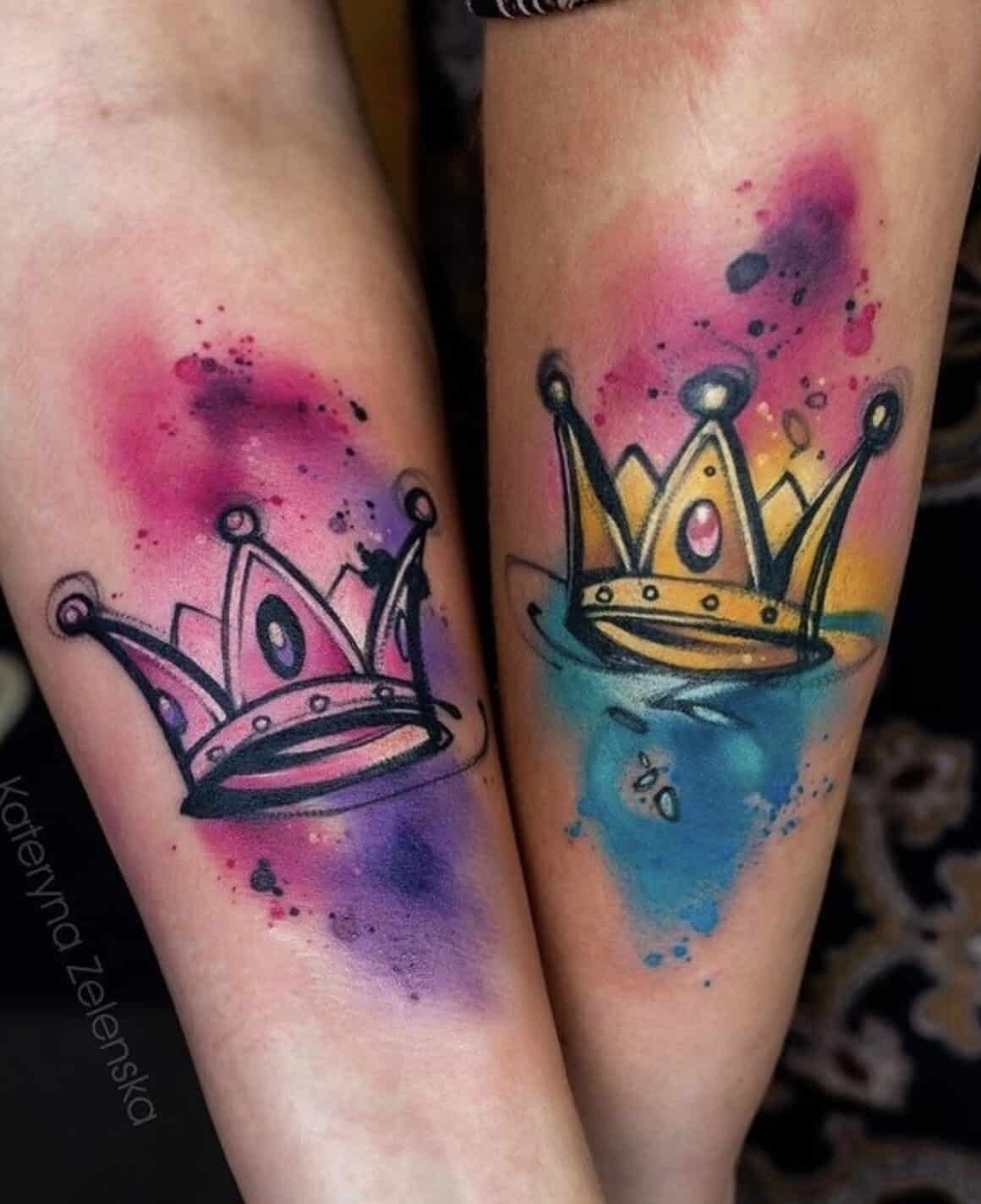 Getting matching tattoos is a beautiful way to express your adoration and love for a friend or a partner. The symbolism of the ancient crown and its roots is the perfect choice for matching tattoos! The colors in these tattoos have a deep saturation which makes them POP!
18. Neo-Traditional Crowned King Tattoo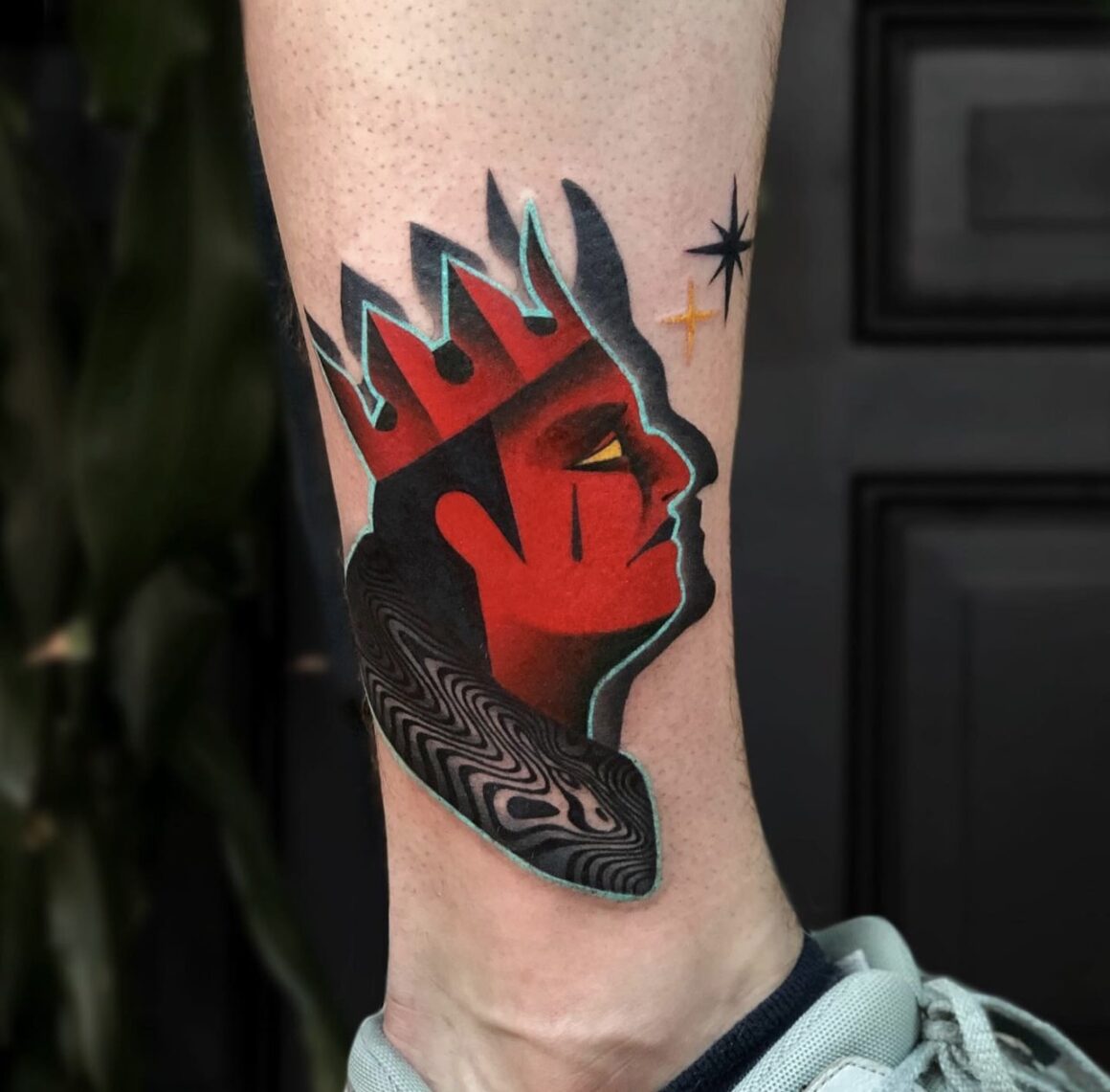 This tattoo has everything going for it. The deeply saturated crimson reds are a show-stopper. The use of complementary colors placed next to each other shows the artist's deep understanding of the use of color, which is what I admire most about this tattoo.
19. Surrealist Crowned Cat Tattoo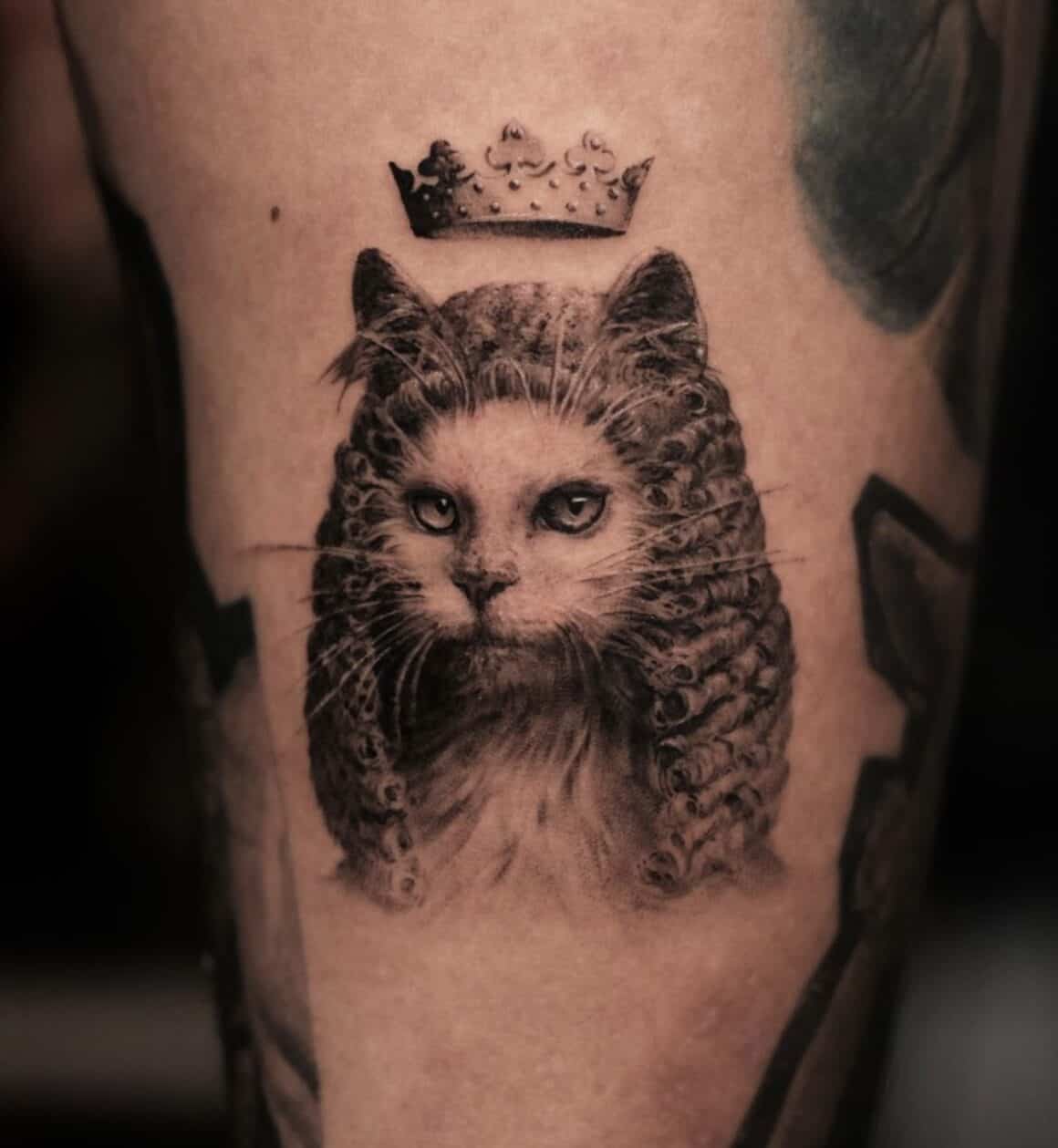 There is a lot of character to this tattoo which is what I like most about it. The realistic technique used gives this tattoo an almost dream-like aesthetic. I admire surrealist art, and this tattoo style aligns with that perfectly.
20. Bedazzled Crown Tattoo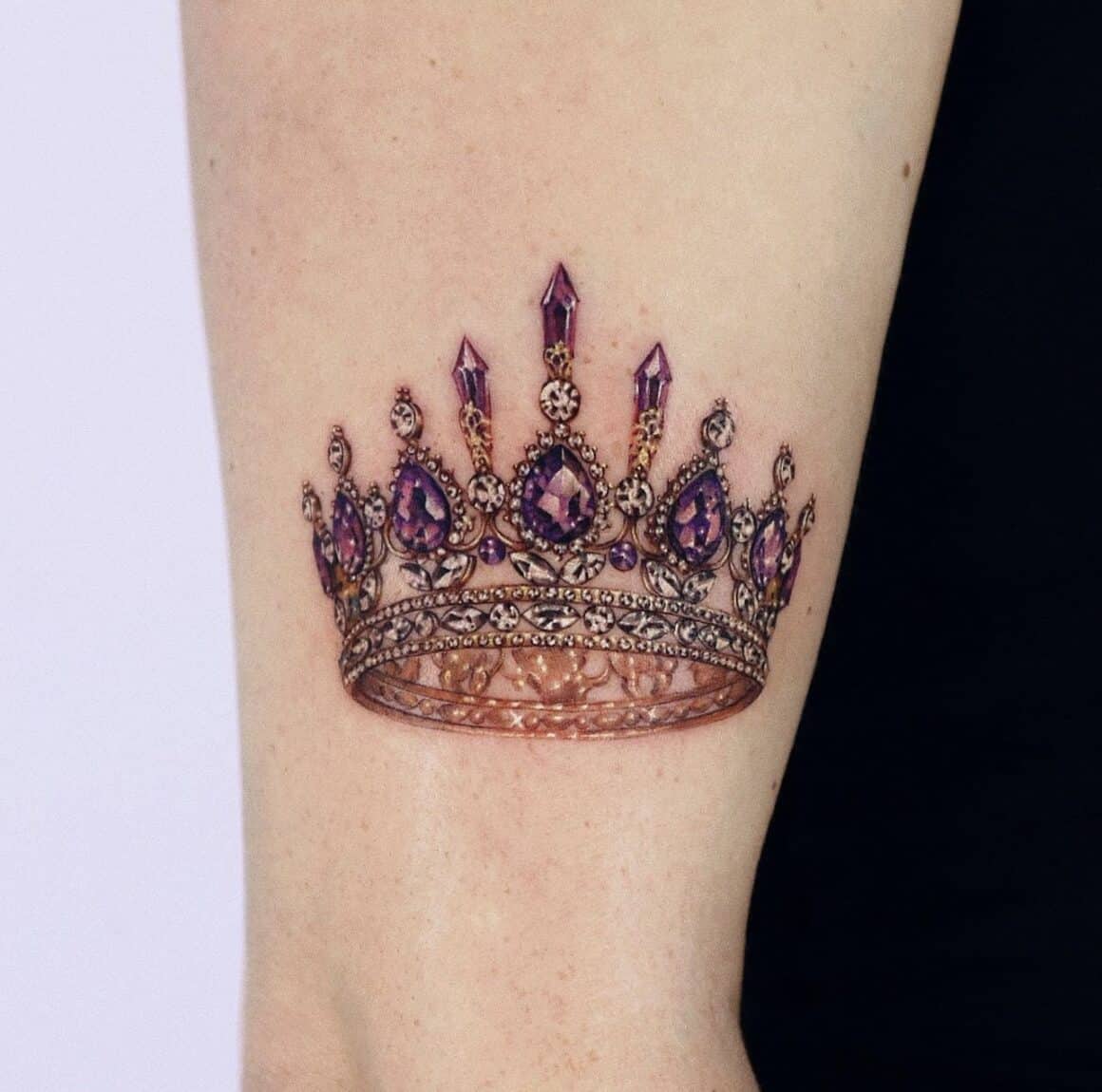 This tattoo has the perfect amount of decadence and power. I love the bedazzled jewels nestled into the intricate parts of the crown. The skill needed to execute this piece is off the charts.
Frequently Asked Questions
What does a crown tattoo mean?
Crown tattoos are often associated with the representation of confidence, triumph, and courage.