Red ink tattoos make a bold statement. The red color signifies love, passion, intensity, and danger. If you've ever searched Google for red ink tattoos, you'll notice the category is saturated with roses, dragons, tigers, and snakes, all connecting to the significance behind the color.
Red ink looks beautiful on all skin tones but is quite common with lighter skin because the contrast can be eye-catching and powerful. The vibrancy is something special when it comes to this color, and the impact of a monochrome piece can be staggering.
I'm a huge fan of red ink tattoos and wanted to spend some time compiling a shortlist of the ones that made me pause to appreciate them. Here's a list of my top 12 favorites. Enjoy.
Red ink tattoo ideas
1. Kapala tattoo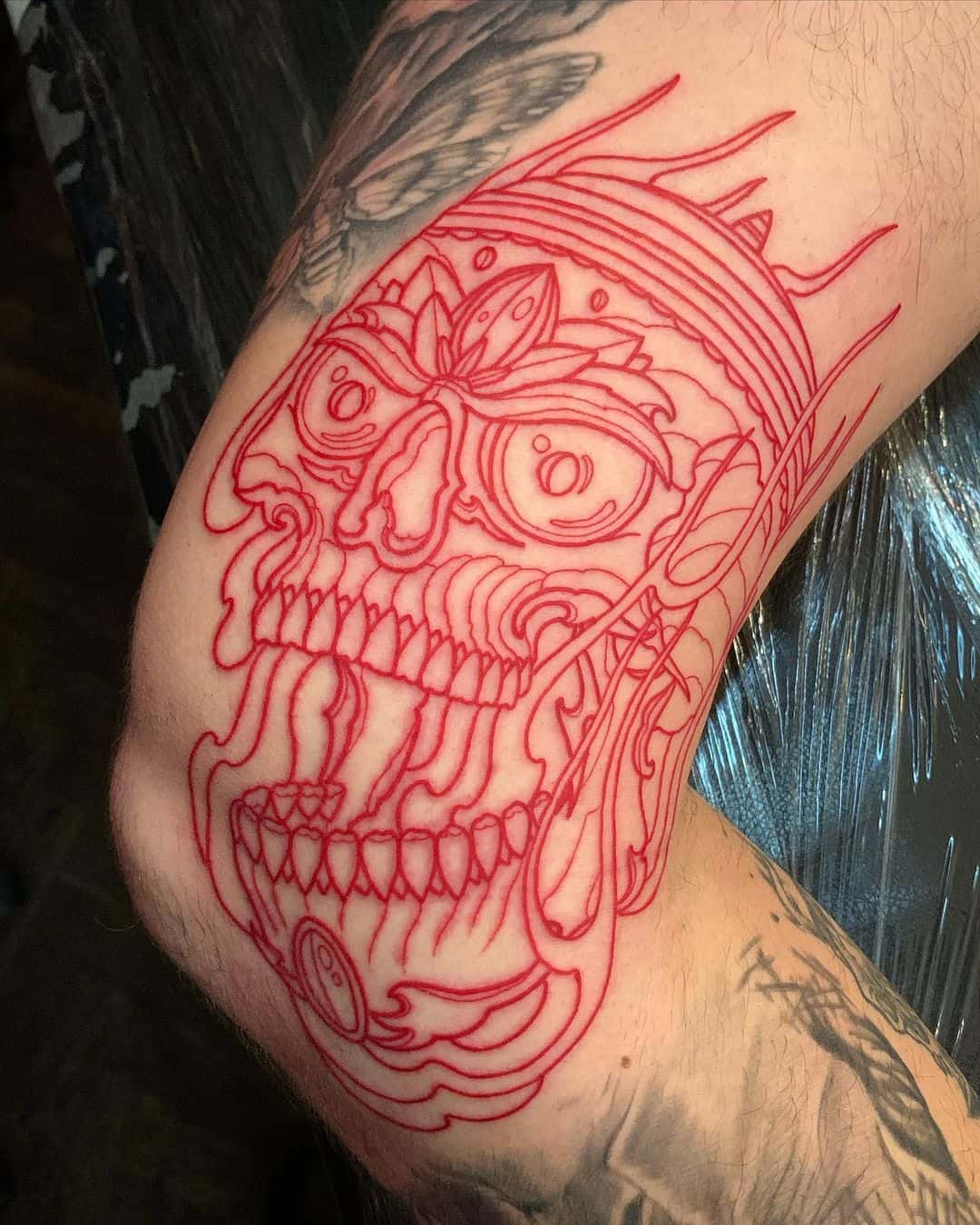 The subtle effect of thin lines adds to the frenzy and motion of this piece. I could look at it for an hour and still feel like I haven't completely seen it yet, and I love that.
2. Lover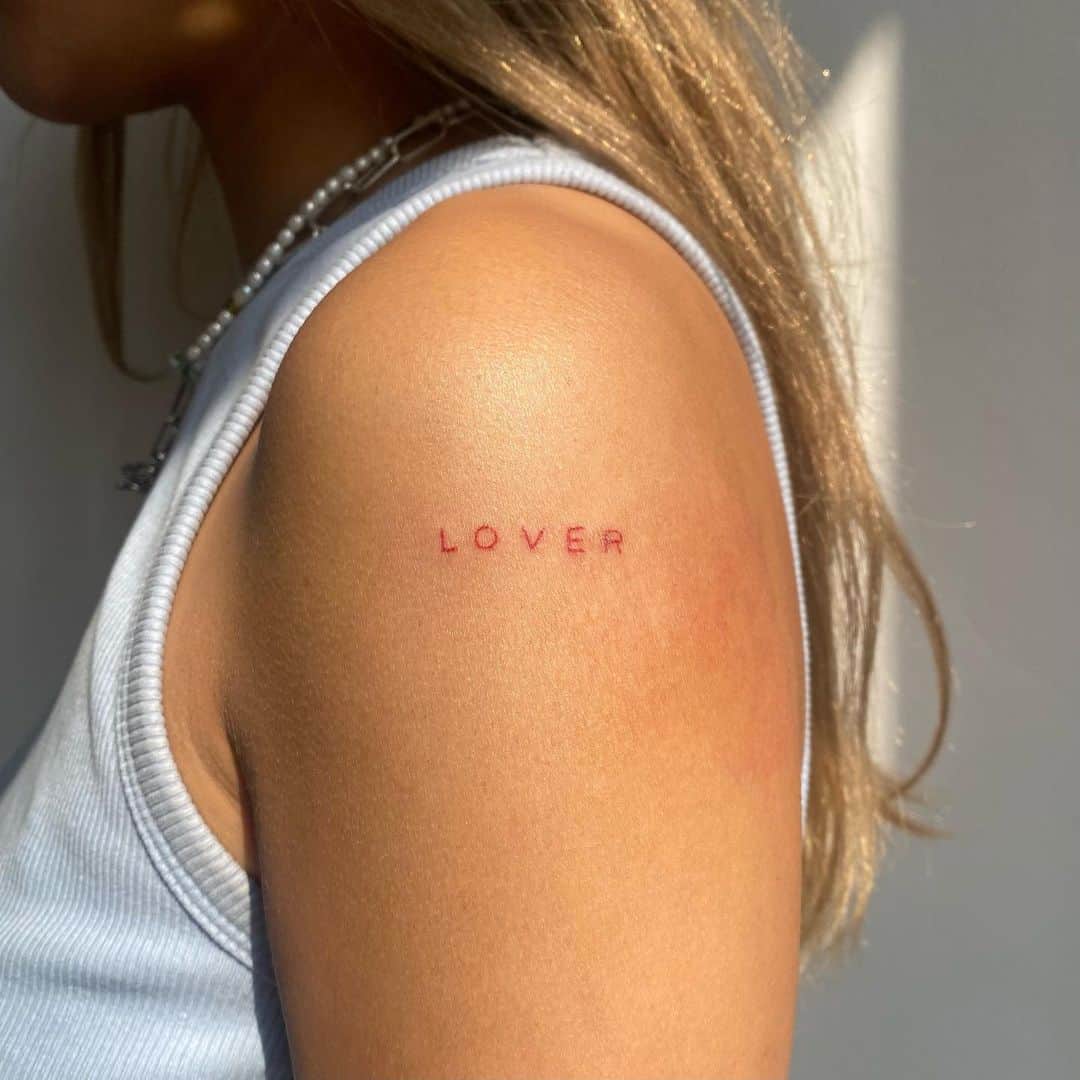 Crisp text with a short, to-the-point word is so simple and satisfying. Get the message across that you're a lover, no compromises allowed.
3. Meditating skeleton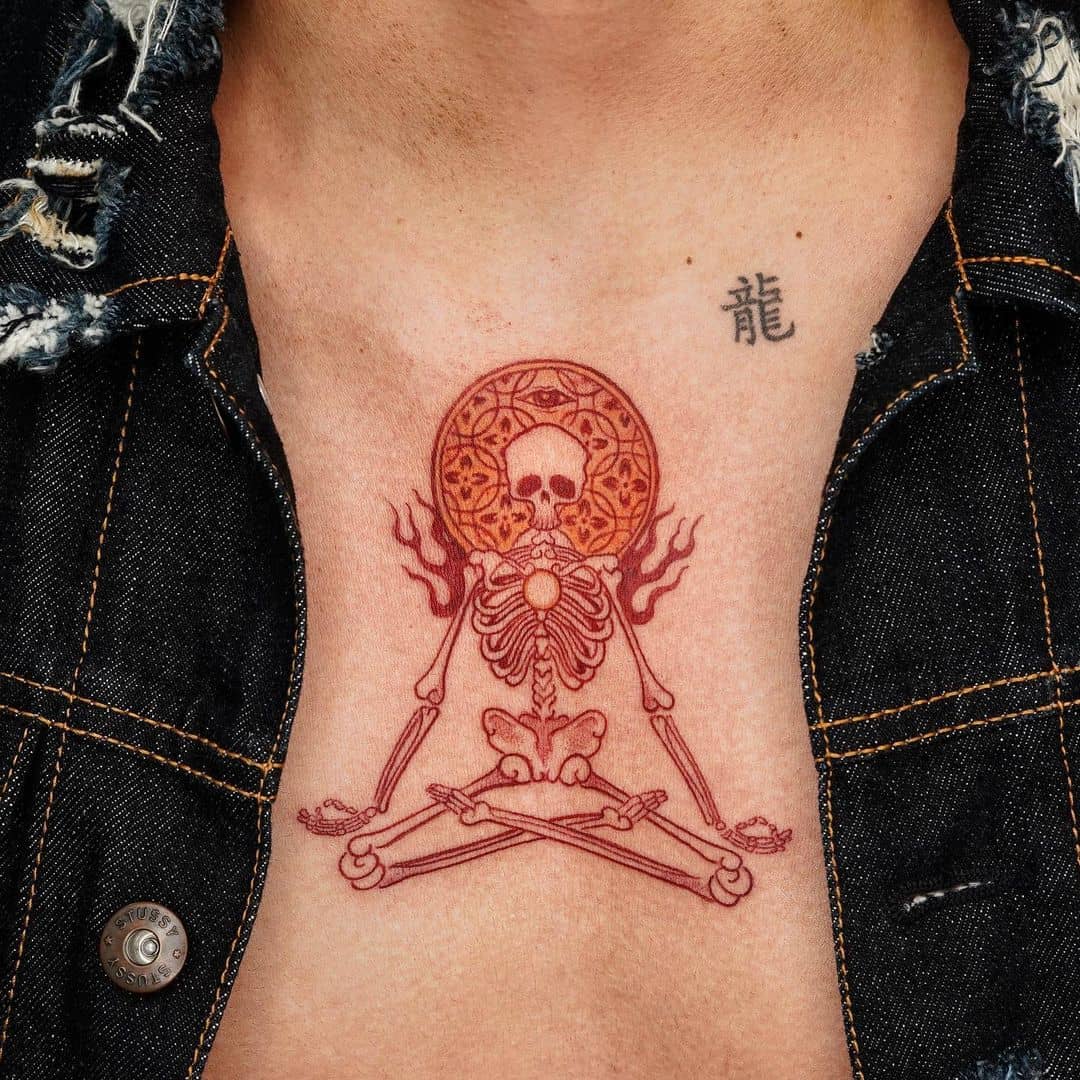 The orange element here is so complementary, without taking away from the force of the red ink. Somehow it feels indirect, while simultaneously making this tattoo feel like it's not even on the skin. All about this.
4. Palm eye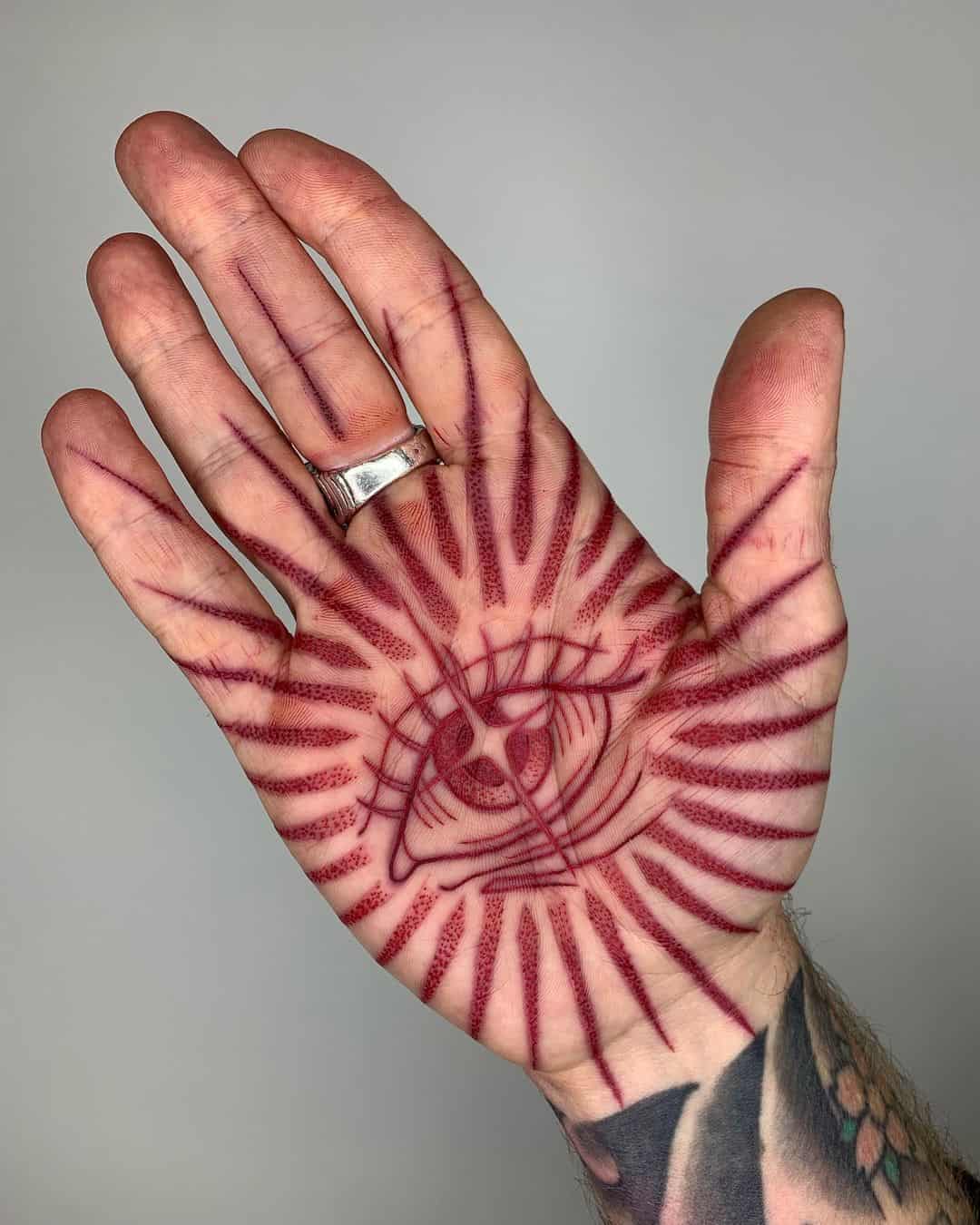 Palm tattoos will almost always require a touch-up due to the nature of the skin in this area, even for someone like this artist who specializes in them.
To be honest, I dig the faded version of this as well (click the source link to view). Red ink tattoos can be customized many ways, and the variety of this makes them so enjoyable.
5. Red dragon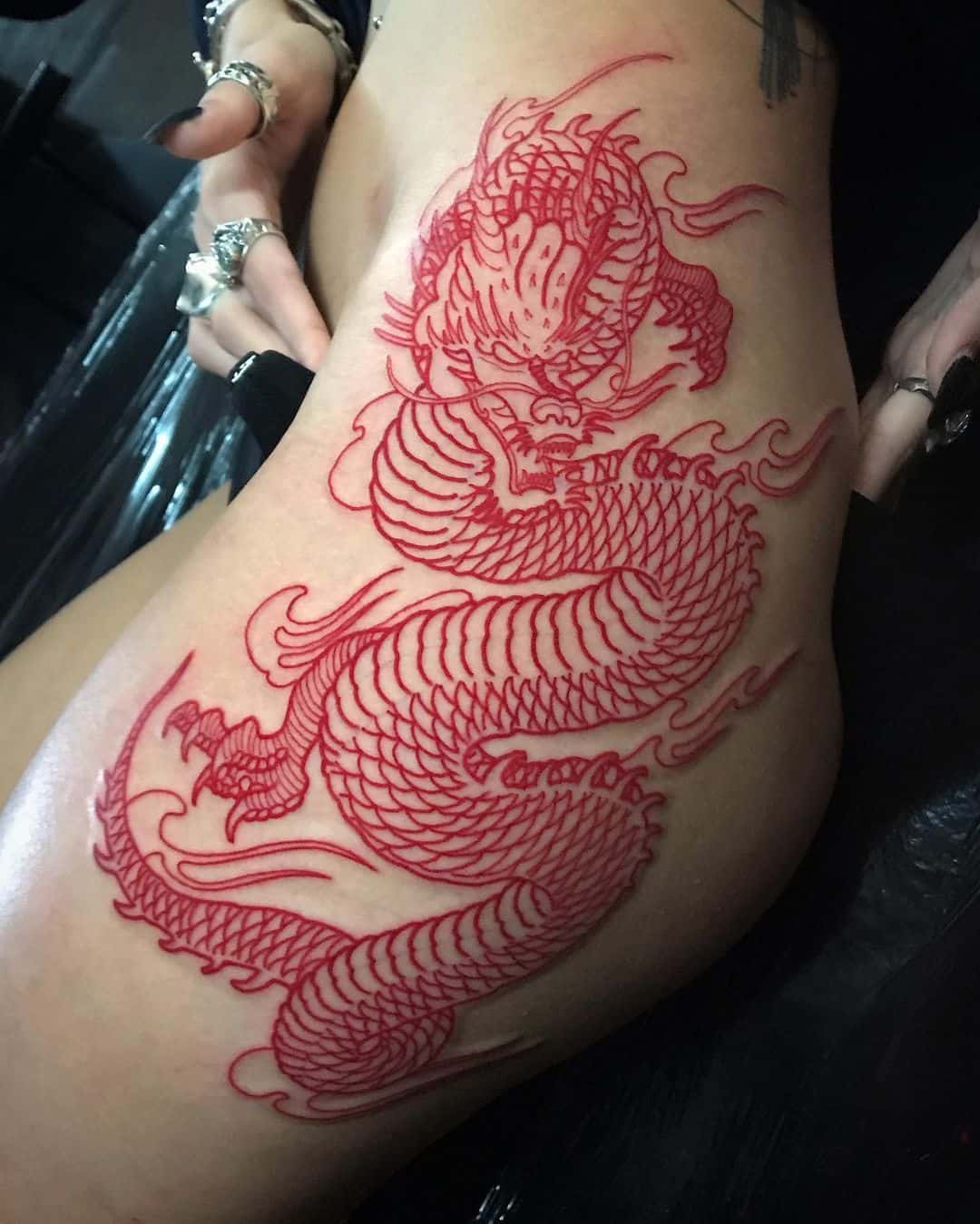 The boldness of the lines throughout the scaling of this dragon is amazing. It creates an undeniable intensity that really makes the piece, and is executed so well by the artist.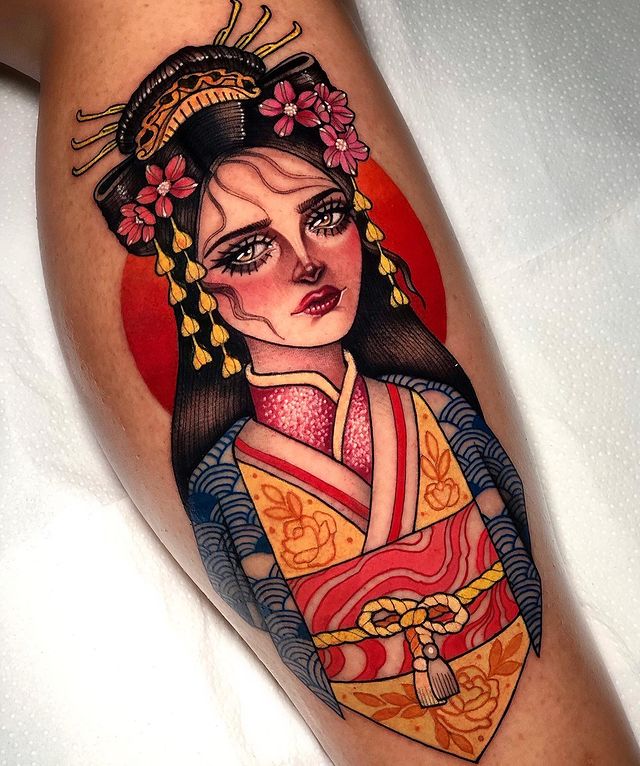 6. Red scribble
The charm of this tattoo is in its unspoken curiosity. Is it a string? Is it a pen drawing all over? Where does it start and end? The simplicity of the lines is beautiful, and the smoke-like movements add an elegant grace. Here for it.
7. Intertwined snakes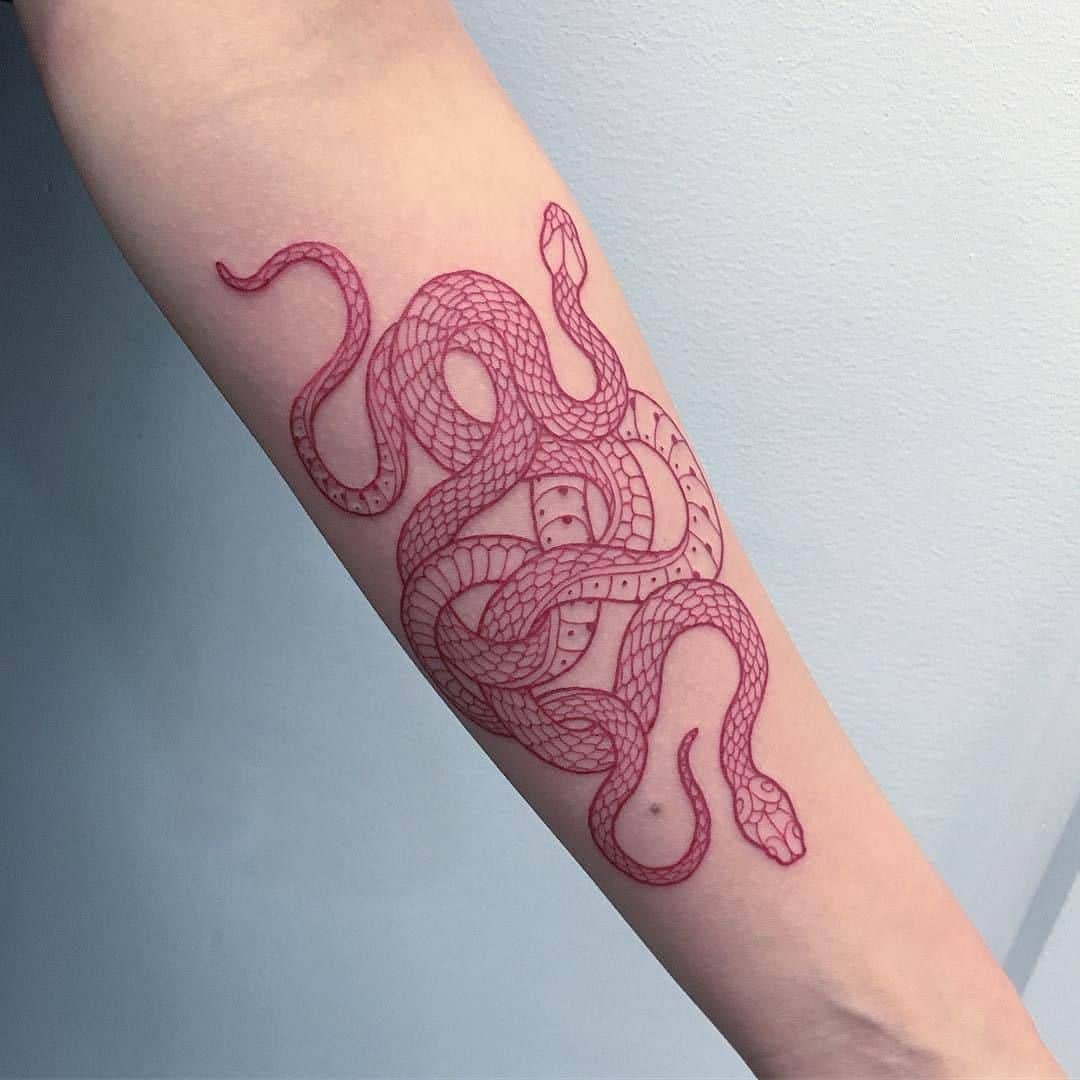 Balanced but not symmetrical, I love the refined complexity of this piece. The red ink adds so much depth, rather than having the snakes in different colors.
8. Delicate scenery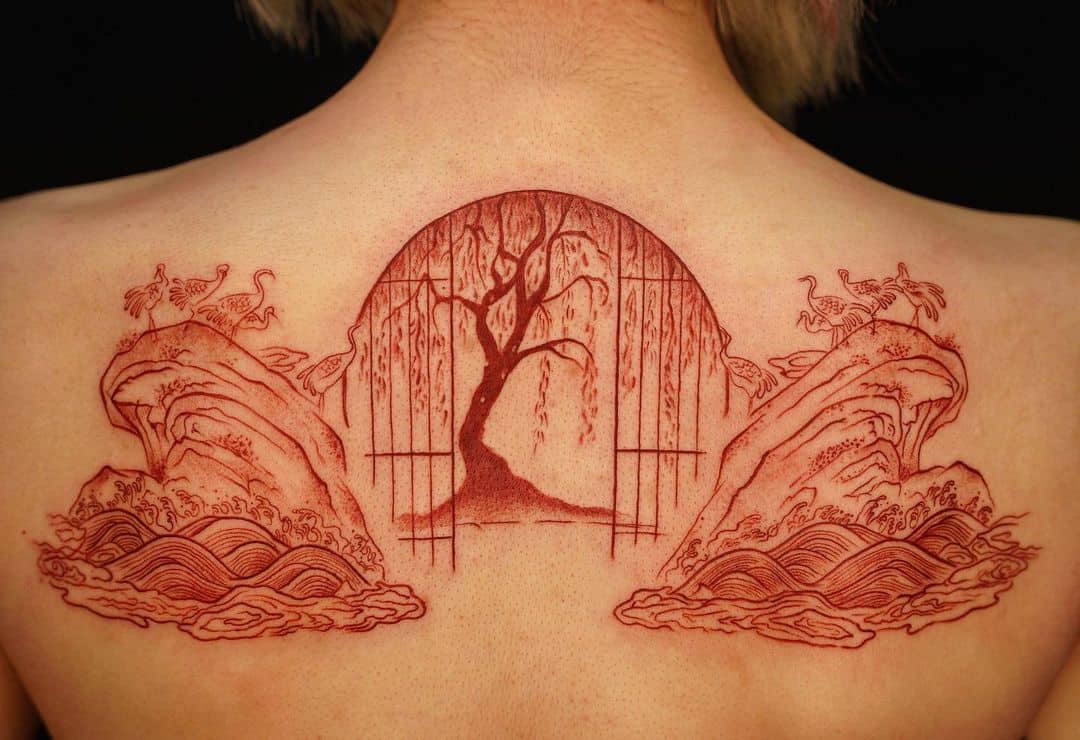 This scene looks almost sketched on paper.
Its hand-drawn effect draws my eyes to every tiny detail. Like a painting in a museum, I find myself looking closer, backing up, and getting closer again. Each time I look, I notice another stroke that completes the piece all over again.
9. Sunset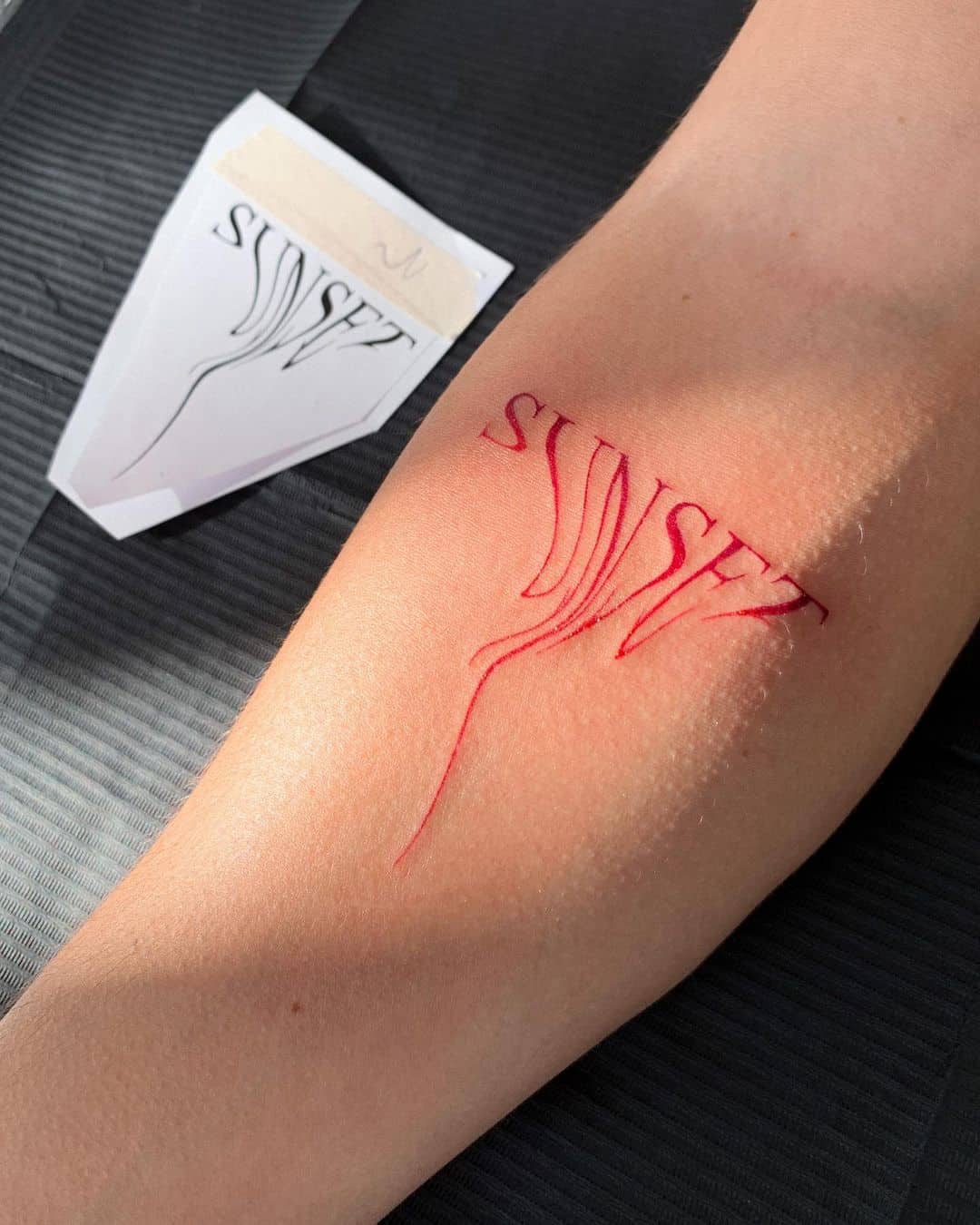 The impression of this text running down, almost melting, has a certain appeal. There's something about it that I really enjoy. I'm always impressed when an artist conveys movement so well.
10. Snake and rose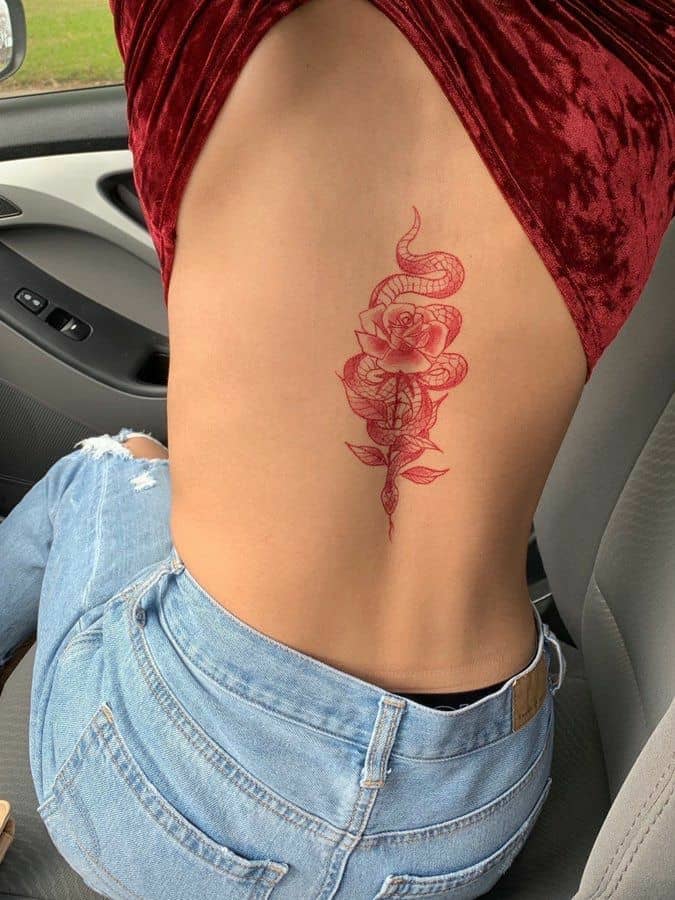 The snakes can be a little overdone, but I still love this one. The monochrome effect with the snake, rose, leaves and stem all in the same color just hits the spot. If you're into animals, check out our list of spider tattoos as well.
11. Red tiger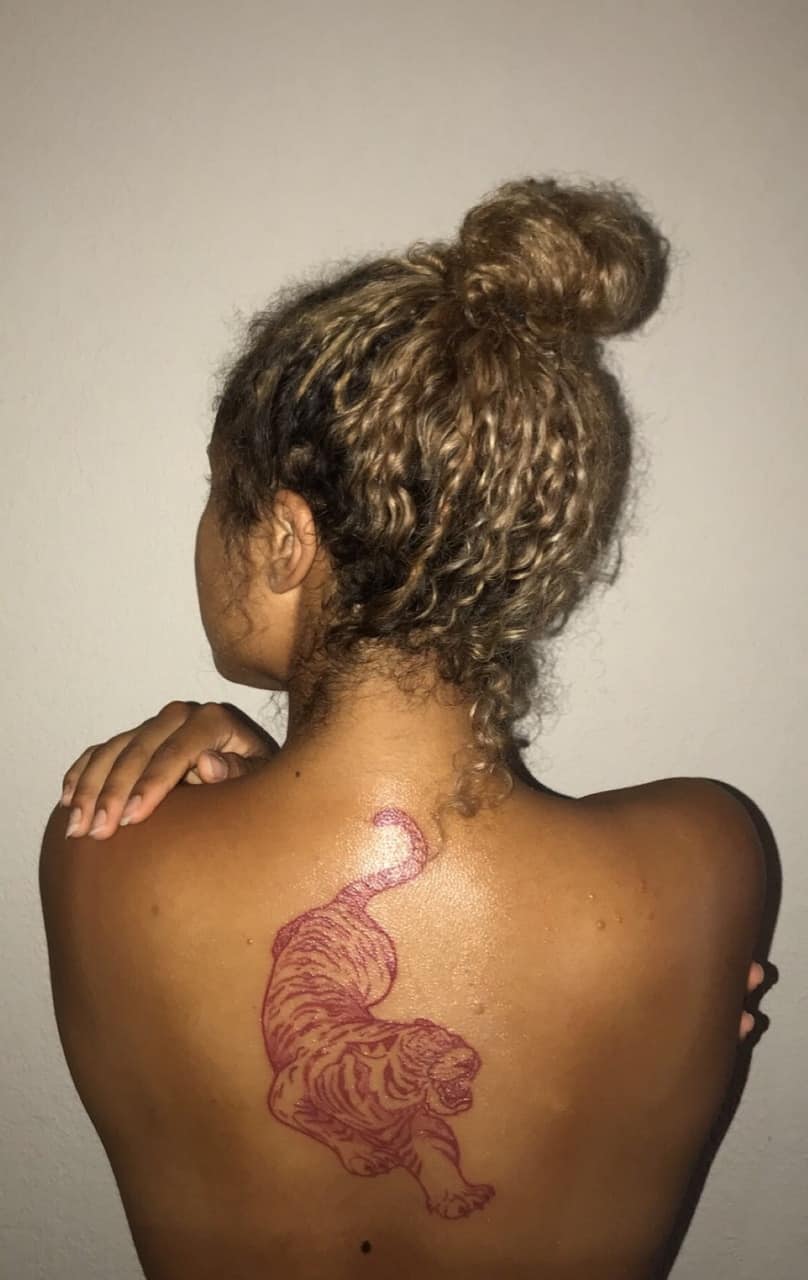 This photo shows how nice red ink can look on skin with a little more melanin than the rest of us pasty kids. I'm definitely a fan.
12. Bold red rose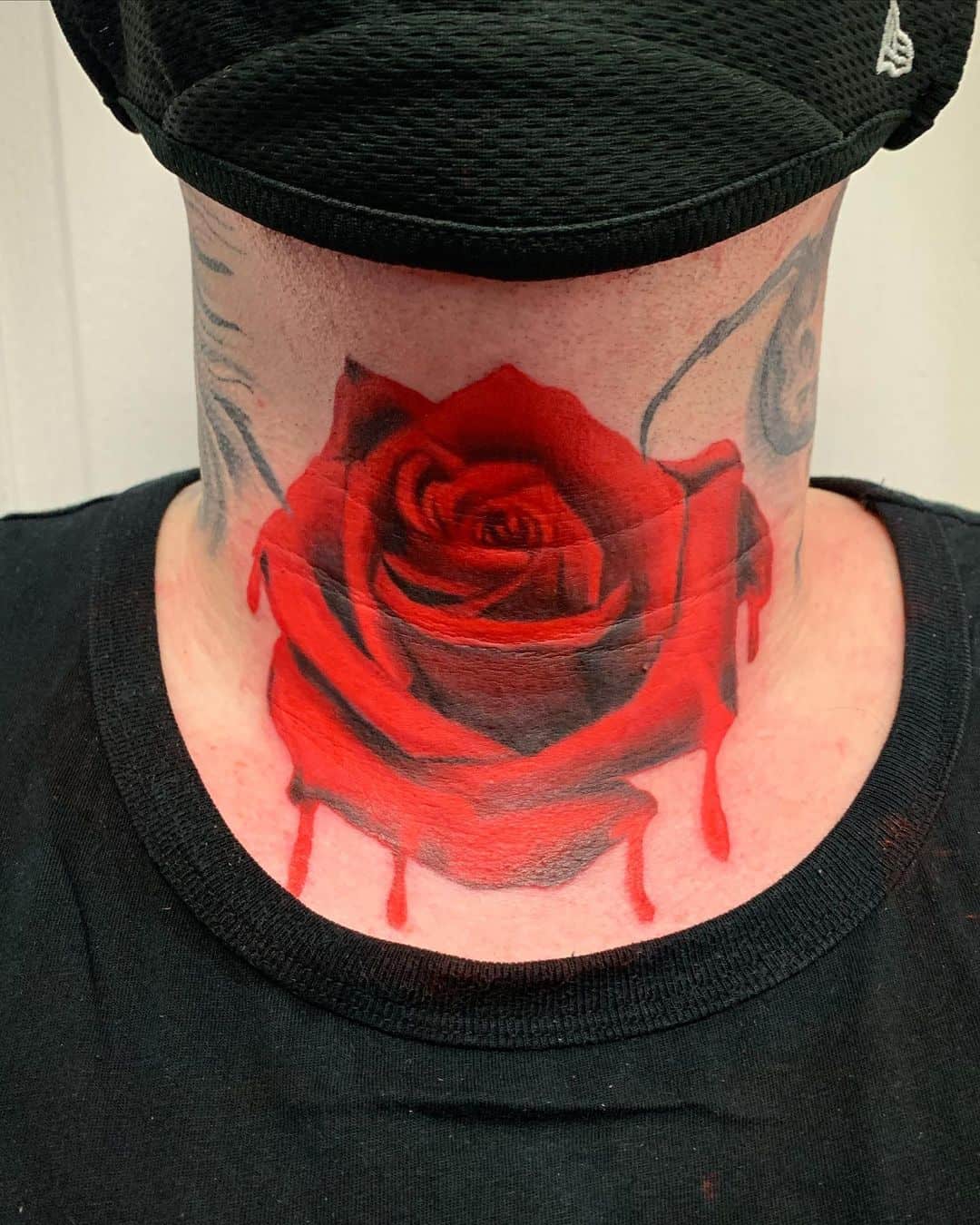 The vibrancy of this rose is out of this world. A bit of subtle shading helps highlight, but that red is practically alive.
FAQ
Are red ink tattoos getting banned?
There is also talk of colored ink being banned in the UK, due to the presence of dangerous substances in the pigments. It never hurts to look into these issues for your own knowledge and peace of mind.
How long does red ink tattoo last?
Red inks tended to fade much faster than other colors, but advancements in ink formulas in recent years add to the longevity.
Why is red tattoo ink bad?
Red is different than other colors because it contains the most cadmium. This makes it more prone to infections and allergic reactions.
How to know if you're allergic to red tattoo ink?
You'll typically get a bumpy red rash that lasts a few days after you get your tattoo, but can also reappear in the future.
Summary
As you can see, these tattoos can pack a punch with their vibrant red ink. People have been known to have slight allergic reactions to this color of ink though, so be warned.