Tattoo conventions are a great way to gather hundreds of artists under one roof, providing them with endless connections, clients, and helpful information to make it in the industry.
These events are also ideal for anyone interested in getting new ink or meeting the latest talent to enter the industry. Take the time to meet up with friends, other ink lovers, and the professionals who make it all happen.
While tons of great events occur every year, there are some conventions we love more than others, with ten specific festivals ranking at the top of our list:
Philadelphia Art Convention
Rotterdam Tattoo Convention
Denver Tattoo Festival
Chicago Tattoo Arts Festival
Baltimore Tattoo Arts Festival
Boston Tattoo Convention
Cleveland Tattoo Arts Festival
Villain Arts
Ink Mayhem
Tampa Tattoo Convention: Ink the Bay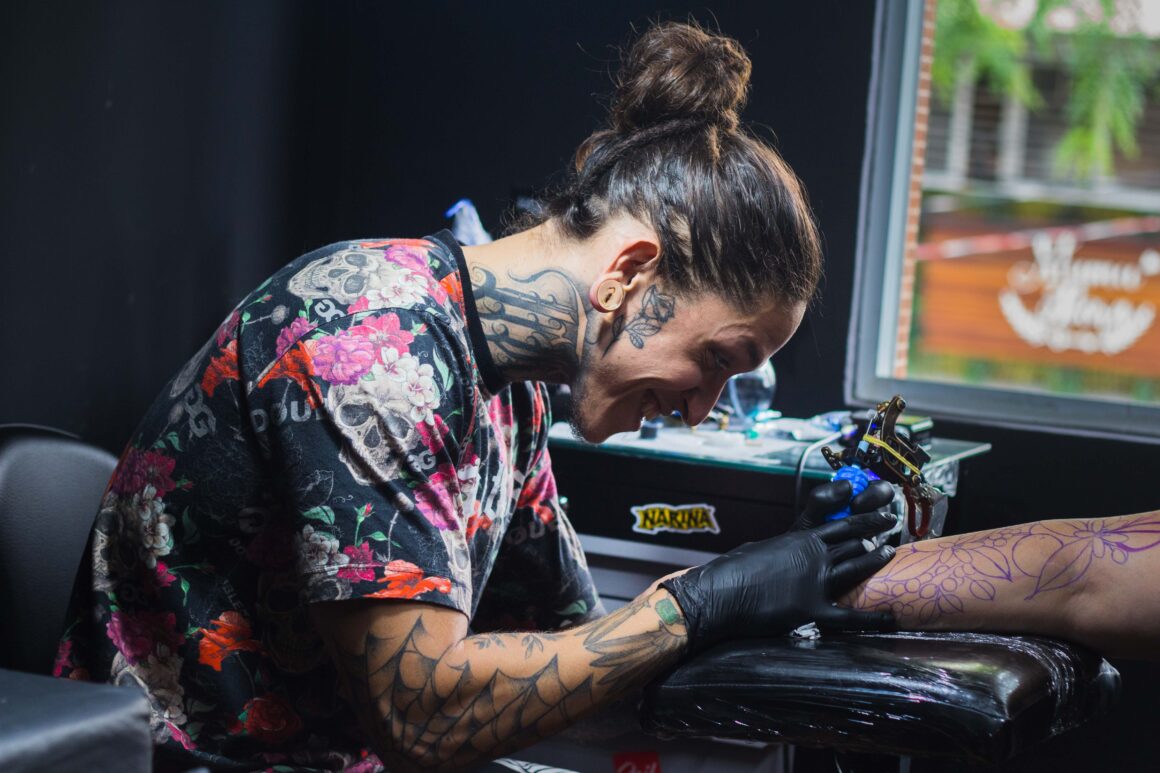 What Is a Tattoo Convention?
Before diving into some of the top tattoo conventions in the world, we wanted to share our expertise on what these events are and what happens there.
When you think of a tattoo convention, picture a giant festival. Hundreds of highly talented artists, delicious food, and of course, tattoos galore.
At a tattoo convention, hundreds of highly talented artists use the human body as their canvas. And you will have the opportunity to watch them do so right then and there.
Thousands of enthusiasts flock to these events each year to see what and who are out there and have a lot of fun while doing it.
The community vibe and friendly atmosphere are some of the best parts of each event. There is a shared passion for the industry, and that energy is felt the entire time.
Tattoo conventions are held worldwide and typically over the weekend, giving attendees two to three days of life-changing experiences.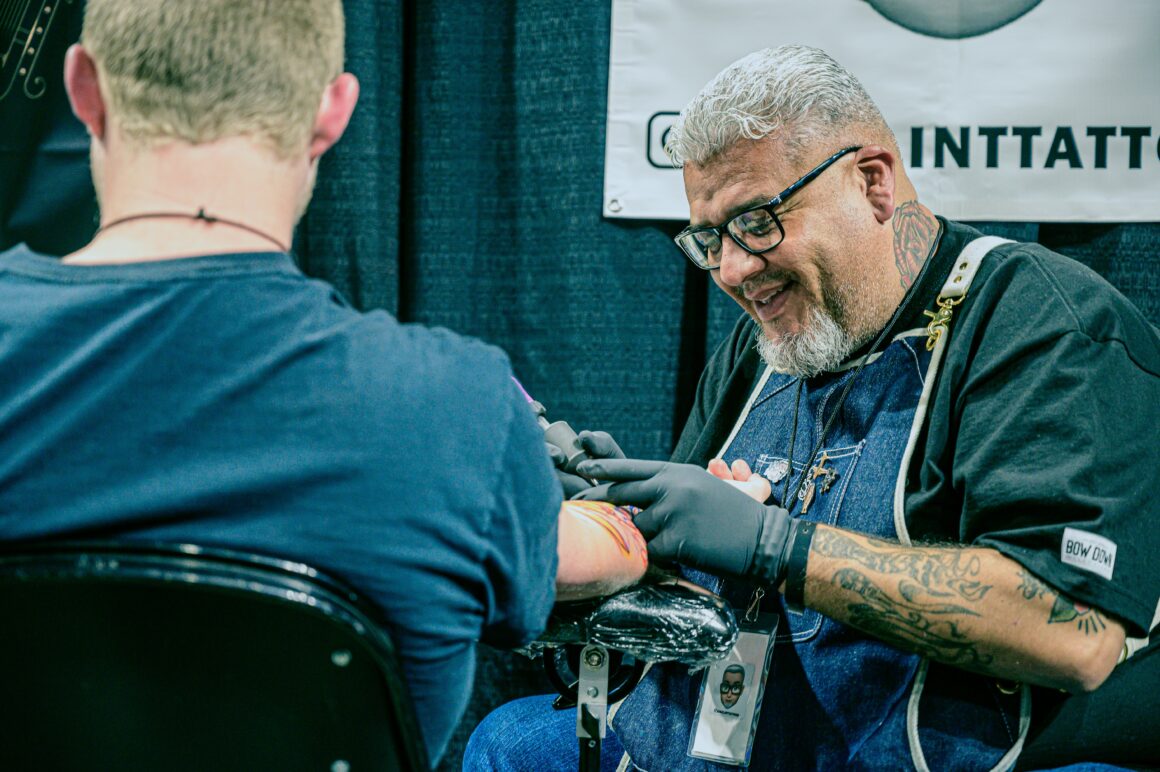 Who Goes to Tattoo Conventions?
These conventions are not just about showcasing the best in the business but also offering a platform for newcomers to make a name for themselves. This allows you to get a little ink that day or schedule something with your favorite creators for some time in the future.
Many famous artists attend these events, giving you a chance to get inked by one of your favs. Although the more prominent names tend only to book a handful of clients throughout the events, you can still stop to chat and book a time slot.
Vendors are also present, selling equipment, merch, and other tattoo-related items.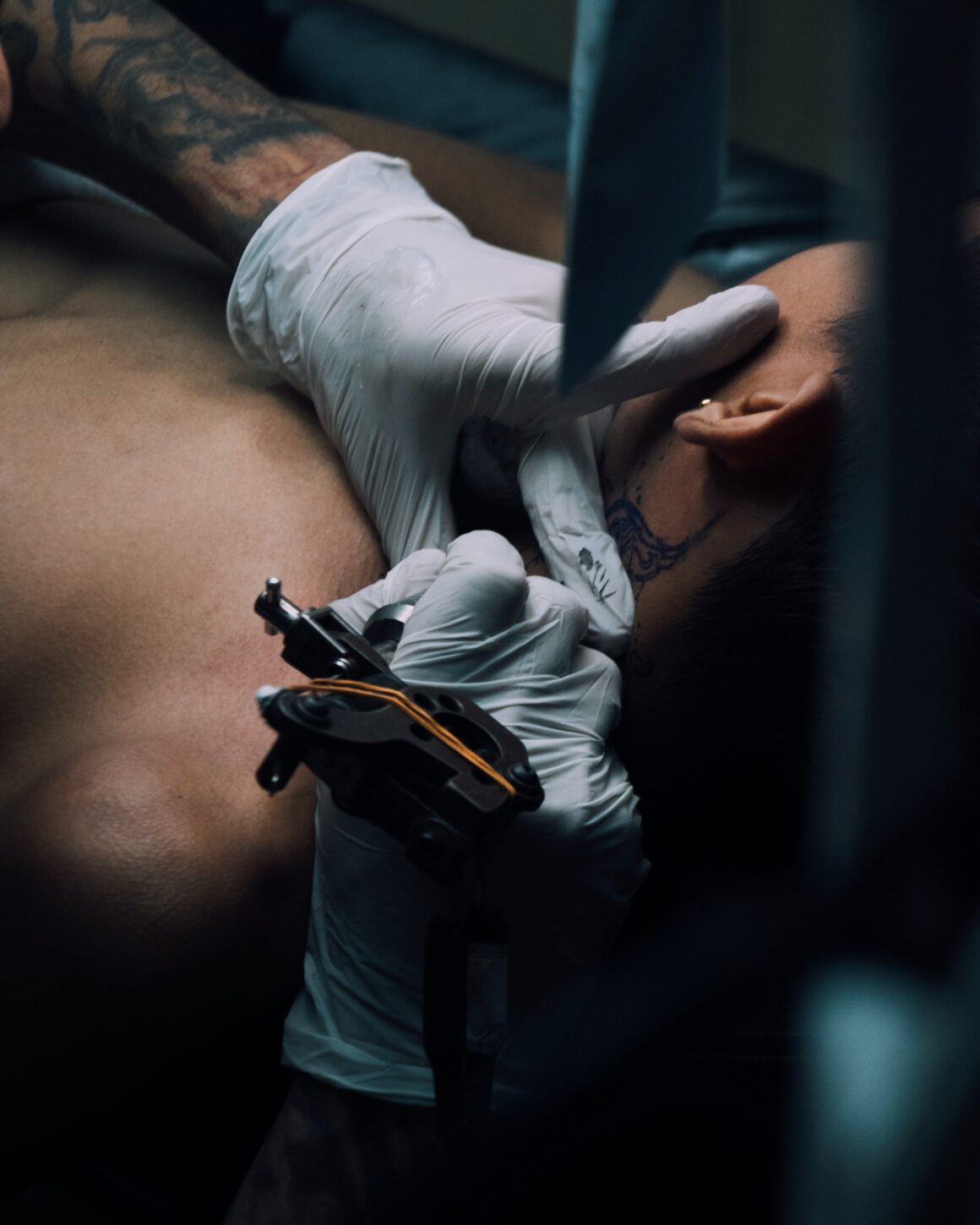 What Are The Benefits of Going to a Tattoo Convention?
There are endless benefits associated with attending a tattoo convention. These events are an exciting opportunity for artists and spectators to meet and interact. However, getting a new tattoo isn't the only reason to attend.
Up-and-Coming Talent
New artists can meet with experienced and well-known tattooists to get tips, advice, and a few great tools to store away and use in their future endeavors. They can also attend workshops and seminars to improve their skills and get a better insight into the industry.
Newcomers can also lay out spreads of their designs and offer on-the-spot tattooing to get exposure and add to their portfolios with thousands of potential clients literally everywhere.
Looking for Some Ink
Tattoo expos are shopping centers for anyone looking to get a new piece added to their body art or for someone looking for a particular talent for their very first tattoo.
With so much talent in one place, there is no way you won't be able to find exactly what you want. Each artist has special techniques, talents, and areas of expertise. So, being able to shop around eliminates the possibility of "settling."
Whether you get lucky enough to grab a time slot during the event or have to schedule a consultation for a later date, you will at least know what you are getting into and can meet the professional you plan to work with.
Art Enthusiasts and Spectators
Tattoos are a form of art, and conventions are energetic, fun, and entertaining events to attend, even if you are not looking for clients or new body art.
These conventions are a fantastic way to meet new people, form lasting friendships, and simply have a fabulous time.
When attending these events, you can see a new side of creativity. These talented individuals have mastered the art of creating magnificent pieces while using the human body as their canvas.
The Most Popular Tattoo Conventions You Don't Want to Miss
Now that we have you hooked, it is time for you to make a bucket list of tattoo conventions to attend this upcoming year.
Not sure where these conventions are located? Not to worry, we put together a list of the ten most popular tattoo conventions you won't want to miss in 2023.
1. Philadelphia Tattoos Art Convention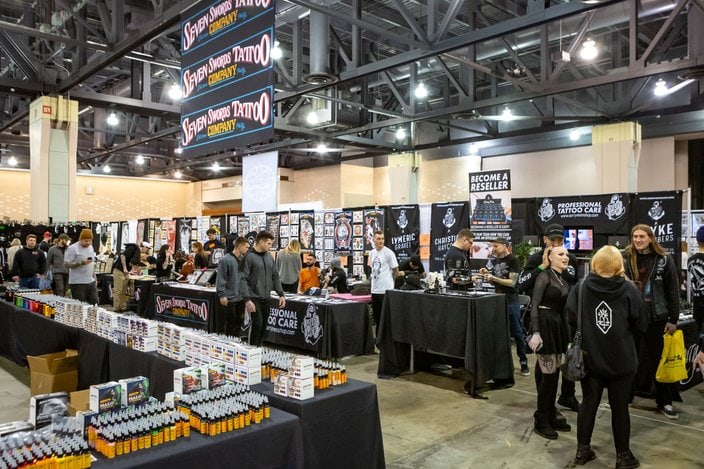 The Philadelphia Tattoo Art Convention is a popular event that occurs yearly with famous artists and tv personalities ready to mingle. This year the event provides meet & greet events with Ink Master, Tattoos After Dark, and Best Ink stars.
You can purchase merchandise, watch competitions, and get ink from talented artists.
Where: 131 N Broad St, Philadelphia, PA 19107
When: January 20th – 22nd, 2023
Show Times:

Friday: 2 pm – 11 pm
Saturday: 2 pm – 11 pm

Tickets: $25 Day / $50 3-Day Pass (Admission is free for children under 12)
2. Rotterdam Tattoo Convention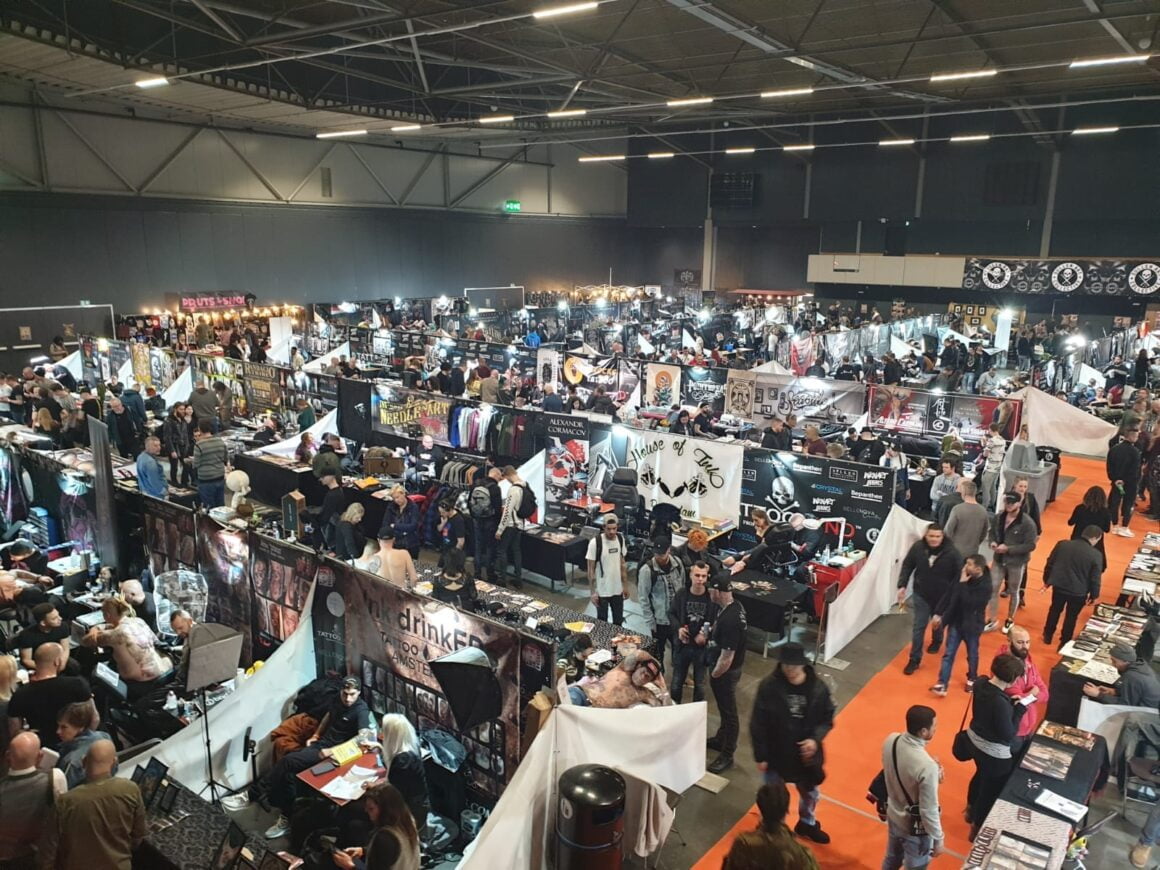 The Rotterdam Tattoo Convention will be showcasing more than 200 artists this year, with over 150 booths offering ink from the most popular talent worldwide.
Along with gorgeous tattoo work, you will also see high-class burlesque shows, tons of great vendors, and live entertainment. This is an event you don't want to miss.
Where: Ahoyweg 10, 3084 BA Rotterdam, Netherlands
When: March 11th – 12th, 2023
Show Times:

Saturday: 12:00 pm – 9:00 pm
Sunday: 11:00 am – 8:00 pm

Tickets: N/A
3. Denver Tattoo Art Festival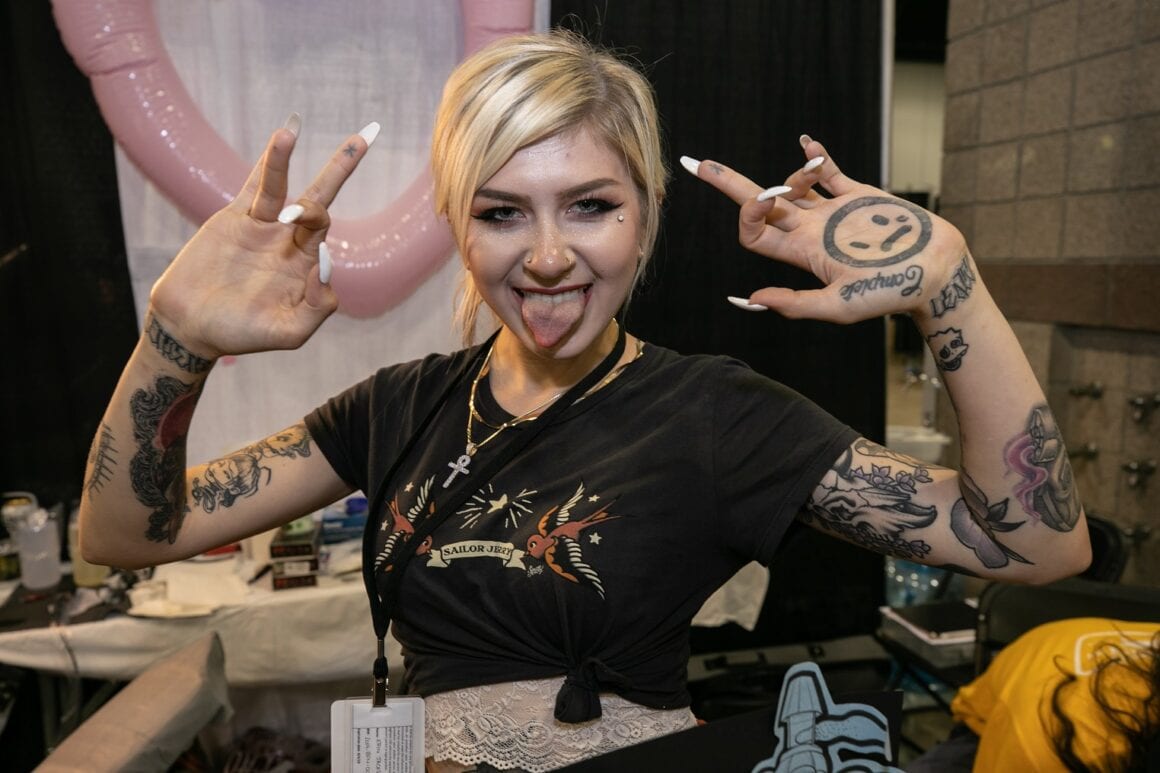 Denver, Colorado, is hosting its 6th annual tattoo art festival in 2023, with special guests Jordi Pla from Ink Master Season 13, Trocon Talhouk from VH1, Charles Whitfield from VH1, and Al Fliction from Ink Master Season 1.
Watch live graffiti artists do their work while meeting new people and shopping with vendors of all kinds. There will be live entertainment, music, and dancing; what else could you ask for?
Where: Colorado Convention Center, 700 14th St, Denver, Colorado 80202
When: July 21st – 23rd, 2023
Show Times:

Friday: 2 pm – 11 pm
Saturday: 11:00 am – 11 pm
Sunday: 11:00 am – 8 pm

Tickets: $25 Day / $46 3-Day Pass (Admission is free for children under 12)
(Tickets are sold at the door ONLY for this show)
4. Chicago Tattoo Arts Festival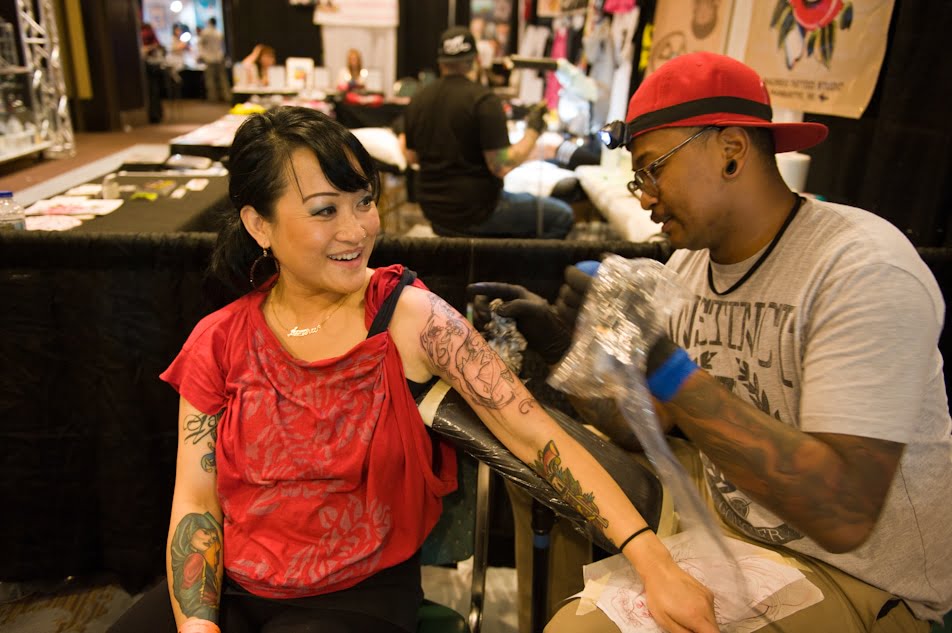 We are excited to see the Chicago Tattoo Arts Festival return in 2023 with its 13th annual event. You will be highly entertained with over 400 tattoo artists from around the world, sideshows, burlesque acts, and much more.
Check out the latest talent and witness live tattooing from one of the world's largest and most famous tattoo conventions.
Where: Donald E. Stephens Convention Center, 5555 N River Rd, Rosemont, Illinois 60018, US
When: March 17th – 19th, 2023
Show Times:

Friday: 2:00 pm – 12:00 am
Saturday: 11:00 am – 12:00 am
Sunday: 11:00 am – 8:00 pm

Tickets: $20 Day / $40 3-Day Pass (Children under 12 are free)
(Tickets are sold at the door only for the show)
5. Baltimore Tattoo Arts Festival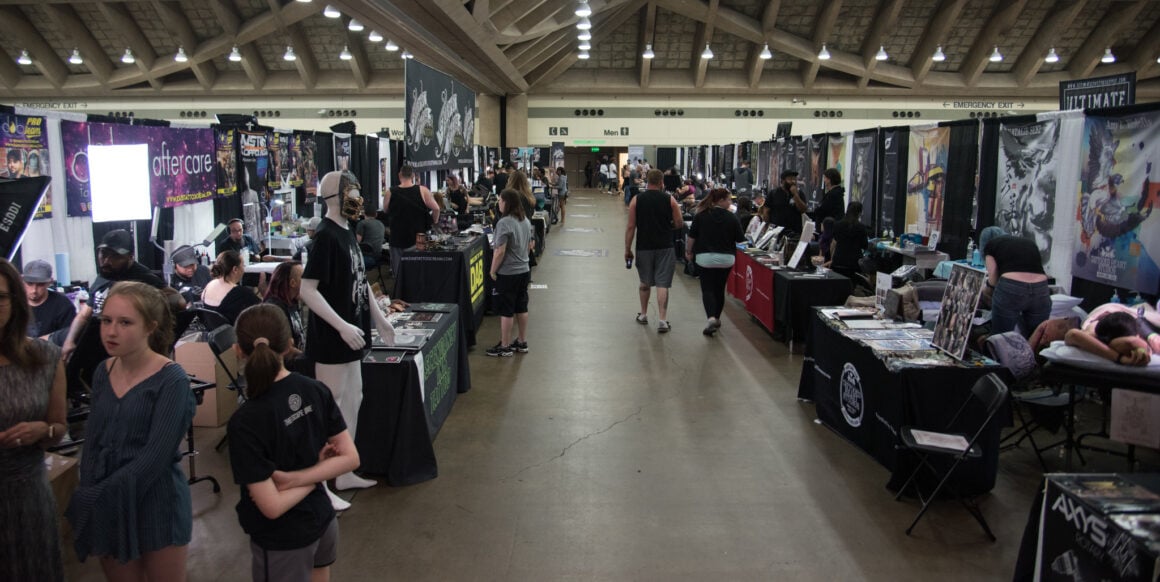 Join the 700 elite tattoo experts and the up-and-coming artists at Baltimore's 15th annual Tattoo Arts Festival. Watch as famous tv personalities publicly tattoo clients while vendors sell everything from new equipment to clothing, jewelry, delicious food, and more.
This Villain Arts convention brings new and exciting events to the festival with a fantastic after-party in a nearby hotel for anyone interested in keeping the excitement going.
Where: Baltimore Convention Center, 1 W Pratt St, Baltimore, Maryland 21201 US
When: April 21st – 23rd, 2023
Show Times:

Friday: 2 pm – 11 pm
Saturday: 11 am – 11 pm
Sunday: 11 am – 8 pm

Tickets: $20 Day / $30 3-Day Pass (Children under 12 are free)
6. Boston Tattoo Convention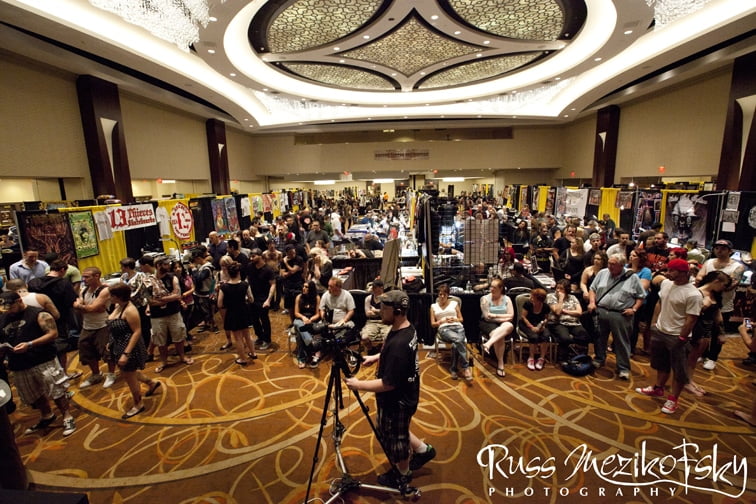 Boston, Massachusetts, has hosted an insane tattoo convention for over two decades. They bring together some of the best talents on the planet under the same roof for visitors to mingle with and even get tattooed that same day.
At this convention, you can purchase merchandise from creative vendors while listening to live vendors and drinking your favorite beverages.
Prizes are awarded to the top talent throughout the weekend. You don't want to miss this upcoming event.
Information: TBD for 2023
7. Cleveland Tattoo Arts Festival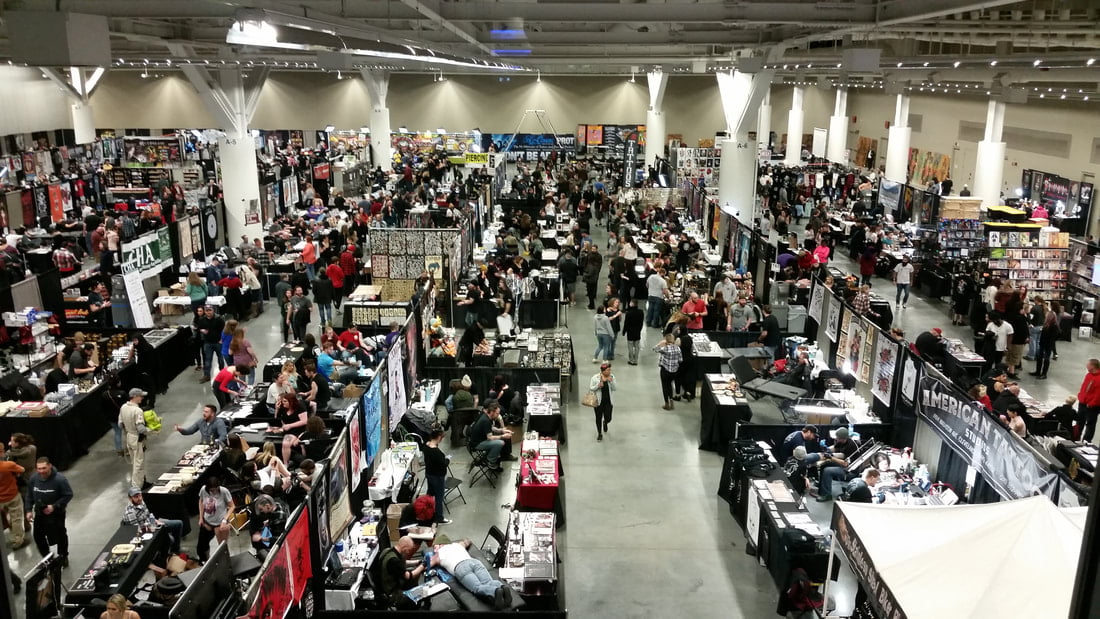 The 8th Cleveland Tattoo Arts Festival is looking to be one of its best events yet. It offers 300+ talented national artists, live tattooing, burlesque shows, and star appearances from the most renowned tattoo celebrities.
This traveling tattoo exhibition is world-famous, offering those looking for new body art the ability to choose from gifted, popular, and even celebrity talent. With everything this event provides, you will need the entire weekend to see it all.
Where: Huntington Convention Center of Cleveland, 300 Lakeside Ave E, Cleveland, Ohio 44114 US
When: March 3rd – 5th, 2023
Show Times:

Friday: 2 pm – 11 pm
Saturday: 11 am – 11 pm
Sunday: 11 am – 8 pm

Tickets: $20 Day / $40 3-Day Pass (Children under 12 are free)
8. Tampa Tattoo Convention (Ink the Bay)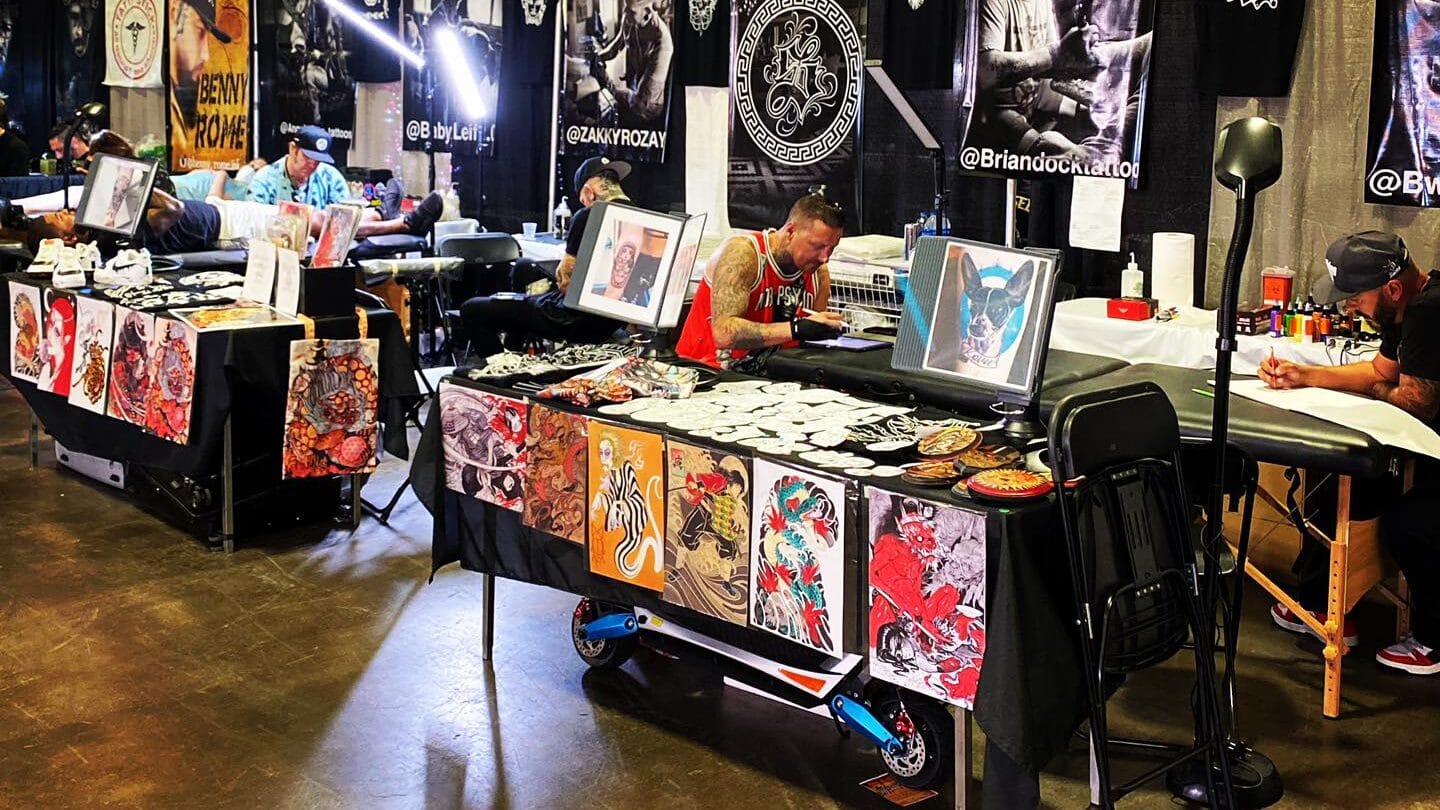 Get ready for the third Ink the Bay Tattoo Convention in Tampa. There will be seminars hosted by the top talent in the industry, artists ready to tattoo attendees, and plenty of entertainment.
After looking at the talent, stop by the many vendor booths to pick up clothing, jewelry, equipment, and more.
You are missing out if you haven't been to this Florida-born tattoo festival.
Where: Tampa Convention Center, 333 S Franklin St, Tampa, FL 33602
When: March 24th – 26th, 2023
Show Times:

Friday: 2 pm – 11 pm
Saturday: 11 am – 11 pm
Sunday: 10 am – 8 pm

Tickets: $25 Day / $50 3-Day Pass
(Tickets are available online and at the gate)
9. Villain Arts and Tattoo Conventions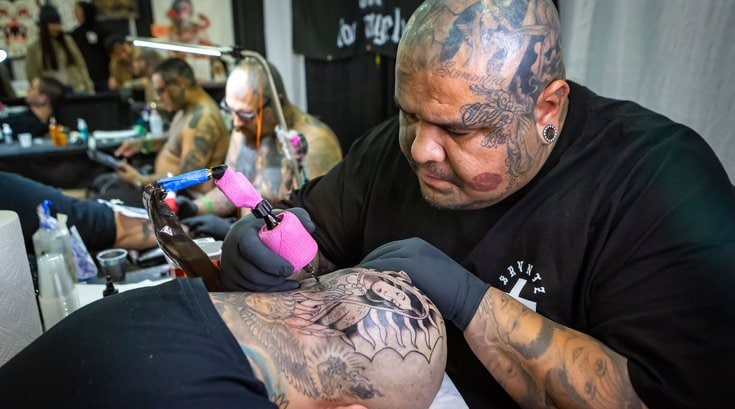 Villain Arts is a traveling tattoo convention organization with 20+ events scheduled every year.
They take their talent, entertainment, and experience all over the US and have been doing so since 1999. This is the largest tattoo event organization in the country, bringing top artists in the industry to the same location for an entire weekend.
You can easily see where each of their shows is scheduled to pop up, and artists (with at least two years of experience) can reach out to rent a booth.
Check out Villain Arts and Tattoo Conventions on their website for a complete list of upcoming tattoo events.
10. Ink Mayhem Tattoo Convention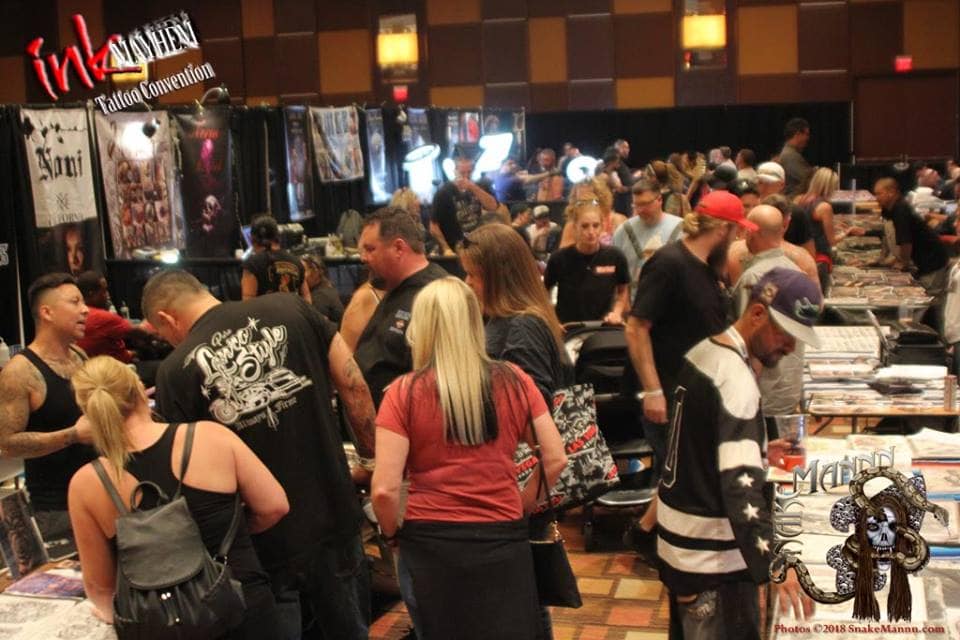 Ink Mayhem is a famous tattoo convention that pairs up with the Tri-State Bike Week each year, making it a unique and sought-after event. The 2023 event will have tattooing, competitions, raffles, awards, piercings, and entertainment.
Meet your favorite artists from around the world, browse through many albums full of beautiful artwork, and enjoy some alcoholic drinks, great food, and live entertainment.
Where: Anderson Fieldhouse, 3663 Bullhead Pkwy, Bullhead City, AZ 86442
When: April 26th – 29th, 2023
Show Times:

Wednesday: 11 am – 10 pm
Thursday: 11 am – 10 pm
Friday: 11 am – 10 pm
Saturday: 11 am – 10 pm
Final Thoughts
If you want a great event involving tattoos, entertainment, and excitement that lasts for days, we suggest you check out one of these fantastic tattoo conventions. Any of the ten options listed are something you don't want to miss as a tattoo enthusiast.
Related Articles
10 Best Tattoo Guns for Beginners and Professionals (2022 Buyer Guide)
10 Best Tattoo Numbing Creams to Help You Get Through Your Session