Ah, Baphomet tattoos. If you've never heard of it, you might be wondering what all the fuss is about. Well, look no further! We're here to give you the lowdown on this mysterious symbol and why some folks might choose to ink it on their skin. Buckle up, folks; it's going to be a wild ride.
What is Baphomet?
Baphomet is a symbol that has its roots in the occult and esoteric traditions. It's often depicted as a humanoid figure with a goat's head, wings, and sometimes a pentagram on its forehead. It's been linked to various religious and spiritual practices, but for most, it's simply a fascinating emblem shrouded in mystery.
What Does It Mean?
The meaning of Baphomet tattoos can be as varied as the people who get them. For some, it represents a link to the occult, a fascination with the unknown, or a symbol of rebellion against mainstream religious beliefs. Others might see it as an emblem of balance, duality, or the merging of opposites. Really, it's all about interpretation and personal connection.
Who Gets a Baphomet Tattoo?
So, what sort of person would get a Baphomet tattoo? Honestly, anyone who feels drawn to the design and its symbolism. It could be someone who is passionate about the occult, a fan of gothic or alternative culture, or just someone looking for an intriguing and unique tattoo. There's no one-size-fits-all answer here!
Baphomet Tattoo Gallery
I went off and scoured the internet for some of my favorite Baphomet tattoos, and these select few were my favorite out of them all. I hope they inspire you for your next piece, whether you're looking for something on your arm, leg, hand or anything else in between.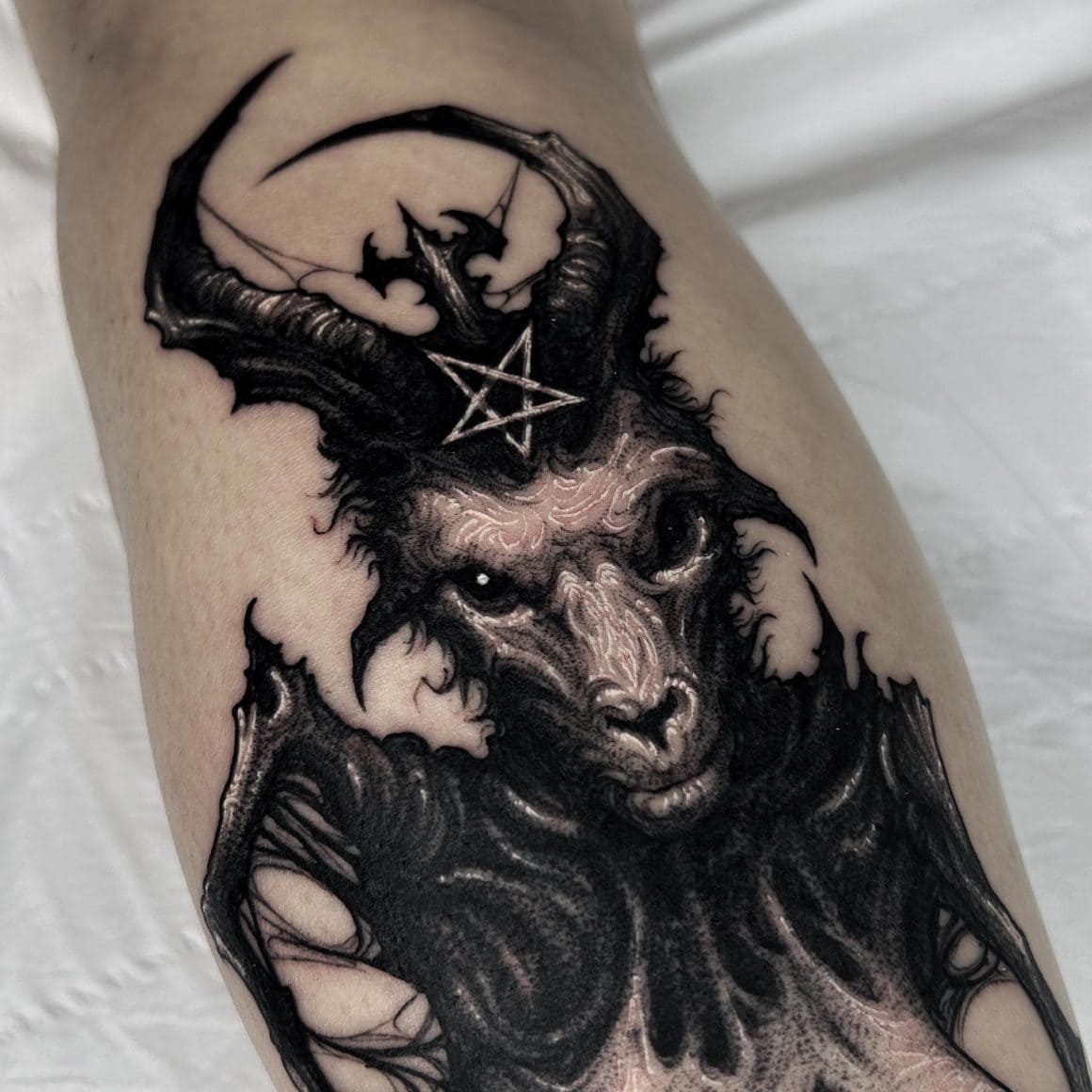 Related Tattoos
If Baphomet isn't quite your style but you're still interested in similar tattoos, there are plenty of other options. Some related designs include:
Pentagrams: These five-pointed stars are often associated with magic and the occult, making them a popular choice for alternative tattoos.
The Sigil of Lucifer: This symbol, sometimes called the Seal of Satan, is another emblem often connected to the occult and mysticism.
Goat's Head: For those who dig the goat aspect of Baphomet, a simple goat's head design might be right up their alley.
Celbrities with Bahomet Tattoos
Blac China was recently spotted getting a tattoo removal, covering up her Bahomet. When asked, she said "When I first got the tattoo, that's not what it meant to me," Chyna explains. "Regardless of what it is, I don't want anything negative or demonic on my body anymore."
In Summary
Baphomet tattoos are intriguing, mysterious, and carry a whole lot of symbolism. Whether you're into the occult or just looking for a cool design that turns heads, this might be the tattoo for you. Remember, at the end of the day, a tattoo is a personal choice and should have meaning for the person who gets it. So, why not explore the fascinating world of Baphomet tattoos and see if it resonates with you?