Are you captivated by the thrilling world of John Wick and looking to immortalize your admiration through ink? John Wick tattoos offer fans a unique way to express their passion for the iconic film series. In this article, we'll explore various styles, meanings, and design ideas to help you create the perfect John Wick-inspired tattoo.
Styles and Designs
John Wick tattoos come in a range of styles, allowing you to find a design that aligns with your personal aesthetic. Some popular options include:
Realism: Capture the likeness of John Wick, his beloved dog, or other characters in a realistic style that showcases their distinctive features and emotions.
Minimalism: Opt for a minimalistic design that uses simple lines and shapes to represent iconic symbols and motifs from the film series.
Neo-traditional: Combine the bold lines and vibrant colors of the neo-traditional style with John Wick-inspired imagery for a striking and dynamic tattoo.
Typography: Incorporate memorable quotes or phrases from the movies into a typographic design that reflects the intensity and style of the John Wick universe.
Meanings and Symbolism
John Wick tattoos can carry various meanings, depending on the specific imagery and design elements you choose. Some common themes include:
Strength and resilience: John Wick's incredible determination and prowess make him a powerful symbol of strength and resilience in the face of adversity.
Loyalty and devotion: The bond between John Wick and his dog highlights themes of loyalty, devotion, and the importance of the relationships we forge.
Vengeance and justice: John Wick's quest for vengeance and justice can serve as a reminder of the need to stand up for oneself and seek retribution when necessary.
The underworld and duality: The film series explores the dark underworld of assassins, symbolizing the duality of human nature and the fine line between good and evil.
Popular Ideas and Inspiration
Ready to design your John Wick-inspired tattoo but need some inspiration? Here are some popular ideas to help you get started:
Portraits of John Wick or other key characters from the film series.
Iconic weapons, such as John Wick's firearms or the pencil used in a memorable fight scene.
Symbolic imagery, like the gold Continental coins or the High Table's emblem.
A depiction of John Wick's dog, representing loyalty and the bond between them.
Memorable quotes or phrases from the movies, such as "Baba Yaga", "Fortis Fortuna Adiuvat" or "I'm thinking I'm back."
What Does "Fortis Fortuna Adiuvat" Mean?
In the John Wick movies, "Fortis Fortuna Adiuvat" is actually the motto of the Continental Hotel, a sanctuary for assassins. The phrase means "fortune favors the bold" or "fortune assists the brave." It's a reminder to guests of the hotel to be courageous and take risks, but also to be aware of the consequences of their actions. In this context, it's a symbol of the hotel's commitment to providing a safe haven for those in their world, as long as they abide by the rules and respect the establishment's neutrality.
John Wick Tattoo Gallery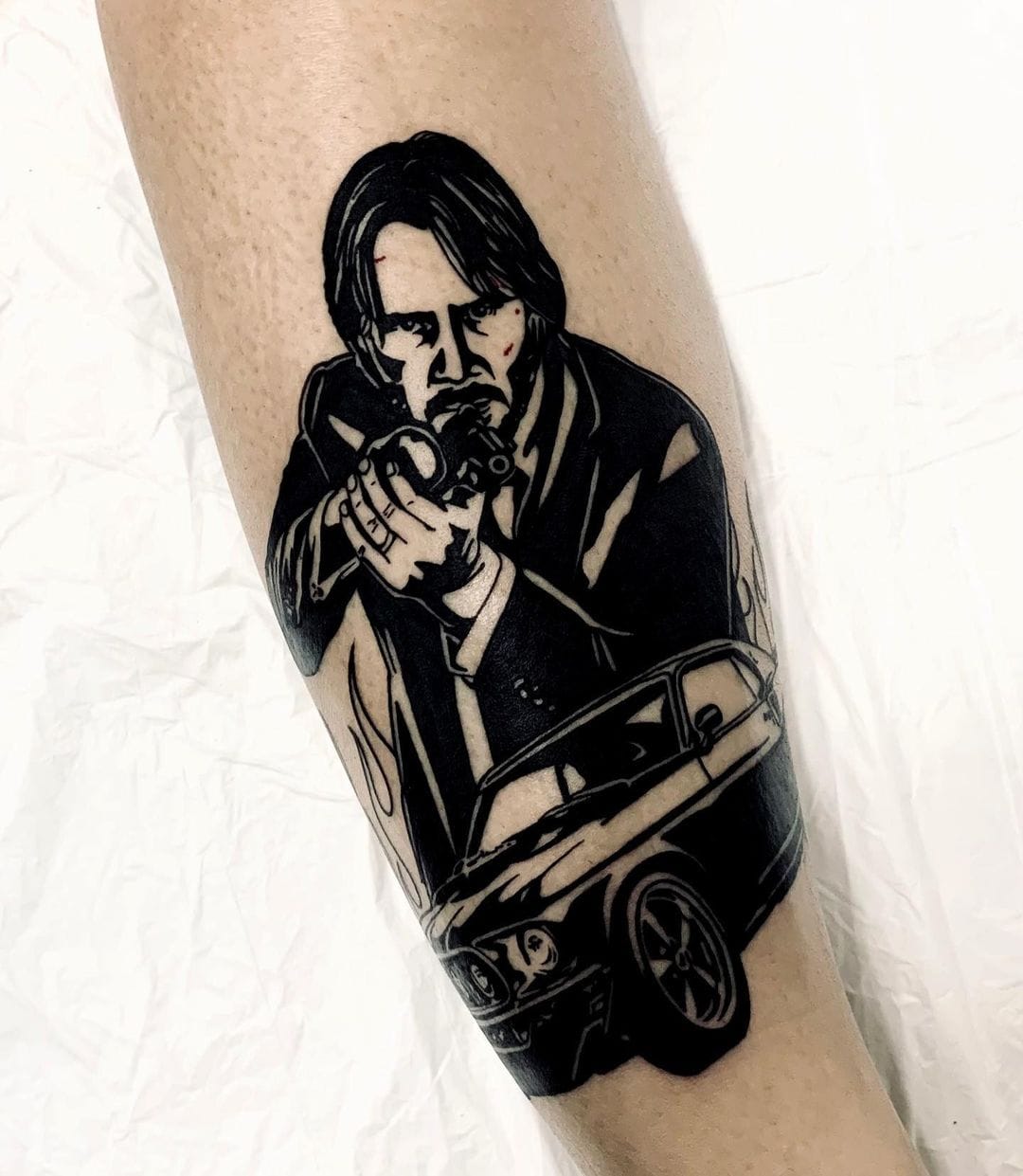 Related Tattoos and Themes
To further enhance your John Wick tattoo or explore related themes, consider these complementary ideas:
Tattoos inspired by other action-packed film series or your favorite on-screen heroes.
Designs that incorporate elements of film noir, showcasing the dark and stylish atmosphere of the John Wick universe.
Tattoos that represent your love of cinema and the art of storytelling through film.
Conclusion
Now that you've delved into the world of John Wick tattoos, it's time to embark on your own ink journey inspired by the thrilling film series. Remember to choose a style and design that resonates with you, consider the symbolism and meaning behind your tattoo, and find an experienced artist who can bring your vision to life. Happy inking, John Wick fans!