Greetings, cosmic voyagers! Are you ready to embark on an interstellar journey to explore the wonders of space tattoos? If you're a space enthusiast, stargazer, or simply someone who appreciates the beauty of the cosmos, then this article is perfect for you. We'll delve deep into the galaxy of space tattoos, covering everything from styles and designs to symbolism and inspiration.
Styles and Designs
There's a whole universe of styles and designs for space tattoos, so let's check out some of the most popular ones:
1. Watercolor: These tattoos are characterized by their bright, splashy colors that mimic the look of watercolor paintings. They're perfect for capturing the vibrant hues of celestial bodies and nebulae.
2. Geometric: If you're looking for a more structured and modern approach, geometric space tattoos combine intricate shapes and patterns with celestial imagery, creating a truly unique design.
3. Dotwork: This style involves the use of tiny dots to create shading and texture, resulting in a beautifully detailed and realistic representation of the cosmos.
4. Minimalist: Sometimes, less is more! Minimalist space tattoos focus on simplicity, using clean lines and subtle shading to convey the beauty of outer space.
Meanings and Symbolism
Space tattoos can hold a variety of meanings, depending on the individual and the design elements. Some common themes include:
1. Adventure and exploration: The vast expanse of the universe represents our innate desire to discover the unknown and push the boundaries of human knowledge.
2. Connection and unity: The cosmos remind us that we are all part of something much larger, interconnected, and beautiful.
3. Growth and transformation: Just as stars are born from the chaos of the universe, we too can emerge from our struggles as brighter, stronger versions of ourselves.
4. Spirituality and wonder: Space tattoos can symbolize our awe and reverence for the mysteries of the universe and our place within it.
Popular Ideas and Inspiration
Ready to blast off into the world of space tattoos but not sure where to start? Here are some stellar ideas to spark your imagination:
1. Planets: Whether you want a single planet or an entire solar system, planetary tattoos are a classic choice for space enthusiasts.
2. Stars and constellations: From simple star designs to intricate representations of your favorite constellations, these tattoos are both beautiful and meaningful.
3. Astronauts: Pay tribute to the brave men and women who have ventured into the great unknown with an astronaut tattoo.
4. Galactic animals: Combine your love of animals and space with a cosmic creature, like a celestial fox or a spacefaring whale.
5. Quotes: Incorporate a meaningful quote from your favorite astronaut, scientist, or space-themed book or movie.
Space Tattoo Gallery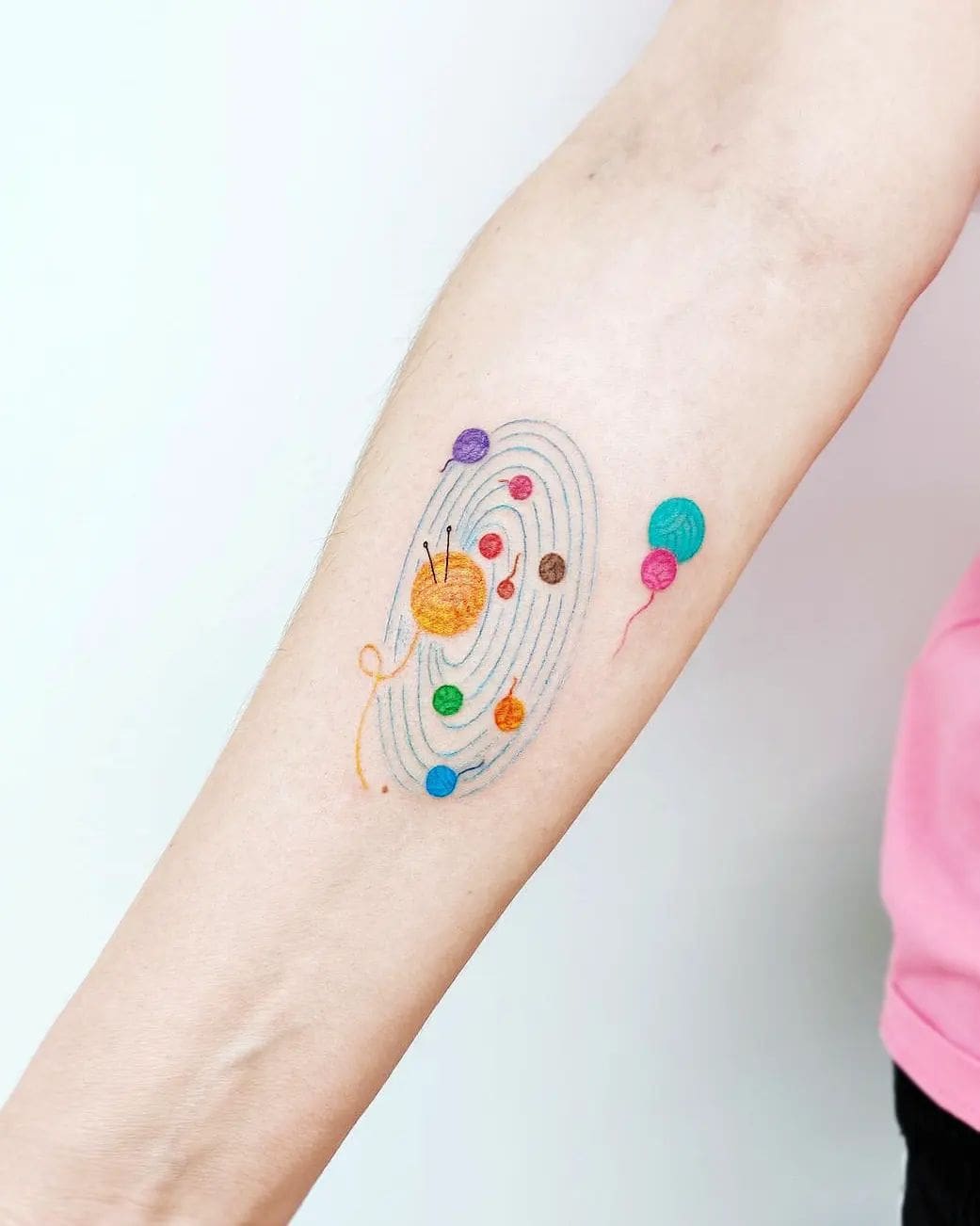 Related Tattoos
Looking to expand your cosmic tattoo collection? Consider these related tattoos that pair perfectly with space-themed ink:
1. Sci-fi characters and symbols: Celebrate your favorite space-themed movies, TV shows, or books with tattoos of iconic characters, spacecraft, or logos. Check out some of our favorite tattoos for Darth Vader, Darth Maul, and Live Long and Prosper.
2. Alien and UFO designs: Whether you believe in extraterrestrial life or just enjoy the idea, alien and UFO tattoos make for an out-of-this-world addition to your space tattoo repertoire.
3. Astrological symbols: Showcase your zodiac sign or explore the world of astrology with celestial symbols and constellations. We've got guides for all of your star signs, our favorites include Taurus, Cancer, and Libra.
4. Mythological figures: Many ancient myths revolve around celestial beings or stories of the night sky. Consider incorporating mythological figures or creatures into your space tattoo.
Choosing the Right Artist and Studio
When it comes to getting a space tattoo, it's essential to find an artist who shares your vision and has experience with the style you want. Here are some tips to help you choose the perfect artist and studio:
1. Research: Look for artists with a strong portfolio of space tattoos in your desired style. Check out their social media profiles and websites to see their work.
2. Read reviews: Seek out client testimonials and reviews to get a sense of the artist's professionalism and the studio's cleanliness.
3. Consultations: Book a consultation with your top choices to discuss your ideas and gauge whether you feel comfortable working with the artist.
4. Budget: High-quality space tattoos can be an investment, so make sure you have a clear understanding of the artist's pricing and payment policies.
Conclusion
Now that you've explored the universe of space tattoos, it's time to take the next step and start planning your own celestial ink! Remember to choose a style and design that resonates with you, consider the symbolism and meaning behind your tattoo, and find an experienced artist who can bring your vision to life. Happy inking, space voyagers!