In the past couple of years, the blackout tattoo trend has become increasingly popular. It involves tattooing an area of the body in solid black. It's one of those things you either love or hate.
A style for the bold ones.
It looks elegant and badass, a great alternative for people who wants to cover old unwanted tattoos.
Modern blackout tattoos are influenced by Traditional Polynesian tattoos and ancient indigenous tribal styles.
If you decide to get one, make sure to find an artist specializing in this type of work, when the technique is not applied properly, it can cause serious damage to the skin.
Here are some incredible designs we discovered i our search.
1. Neck and Torso Blackout
Old tattoos partially covered, the way the middle of the body is in a negative line, makes it look very elegant. Definitely not a look for everyone but she carries it with so much style.
2. Blackout Psychedelic Hand Tattoo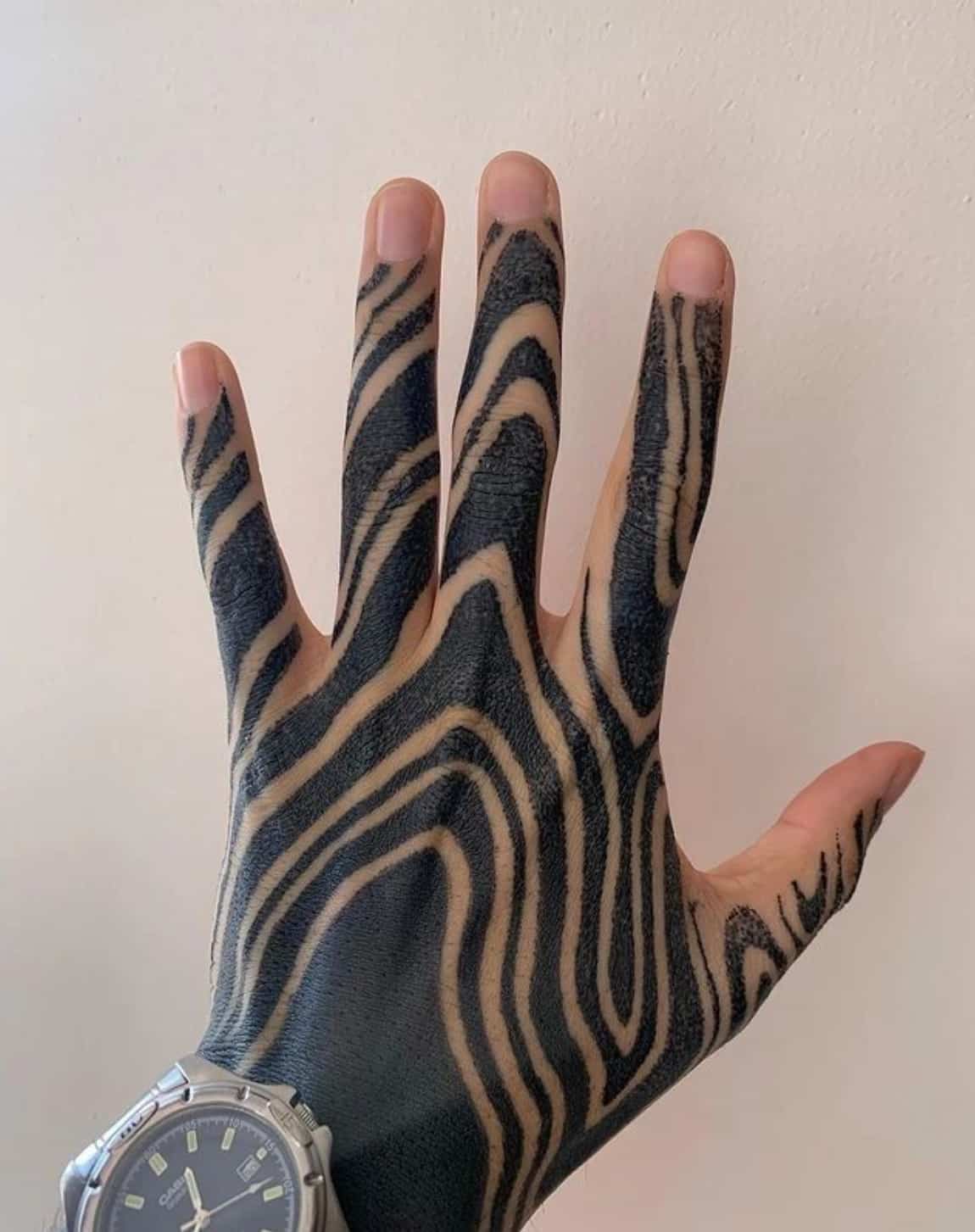 Often when people get blackout tattoos, they decide to get designs using negative space. These hands are a good example of that with a psychedelic vibe.
3. Geometric Blackout Tattoo Sleeve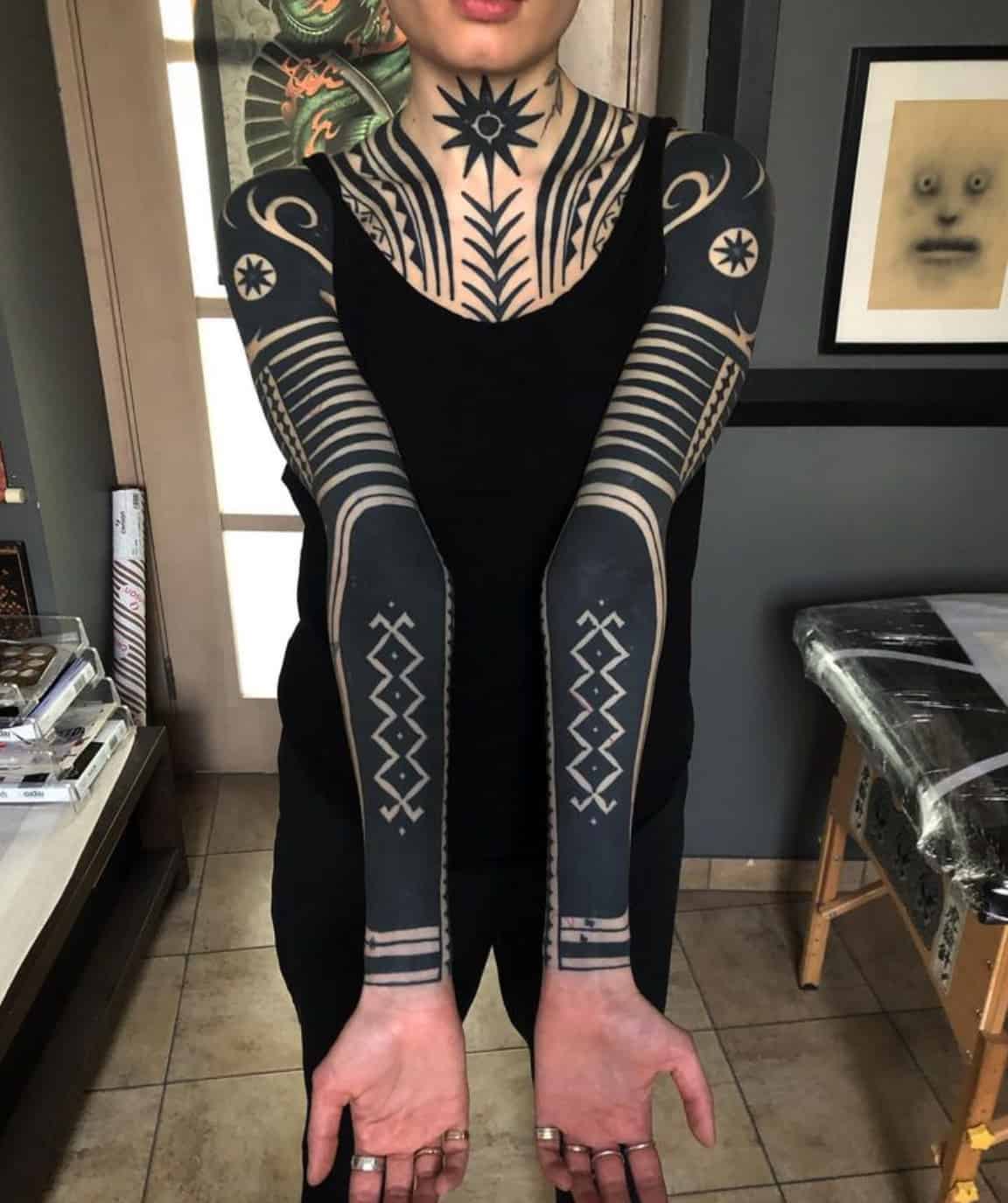 Imagine having your body with this much ink! With his ancient Tribal styles, this artist has become very popular on Instagram. His incredible technique and powerful designs definitely stand out.
4. Kat Von D Blackout Tattoo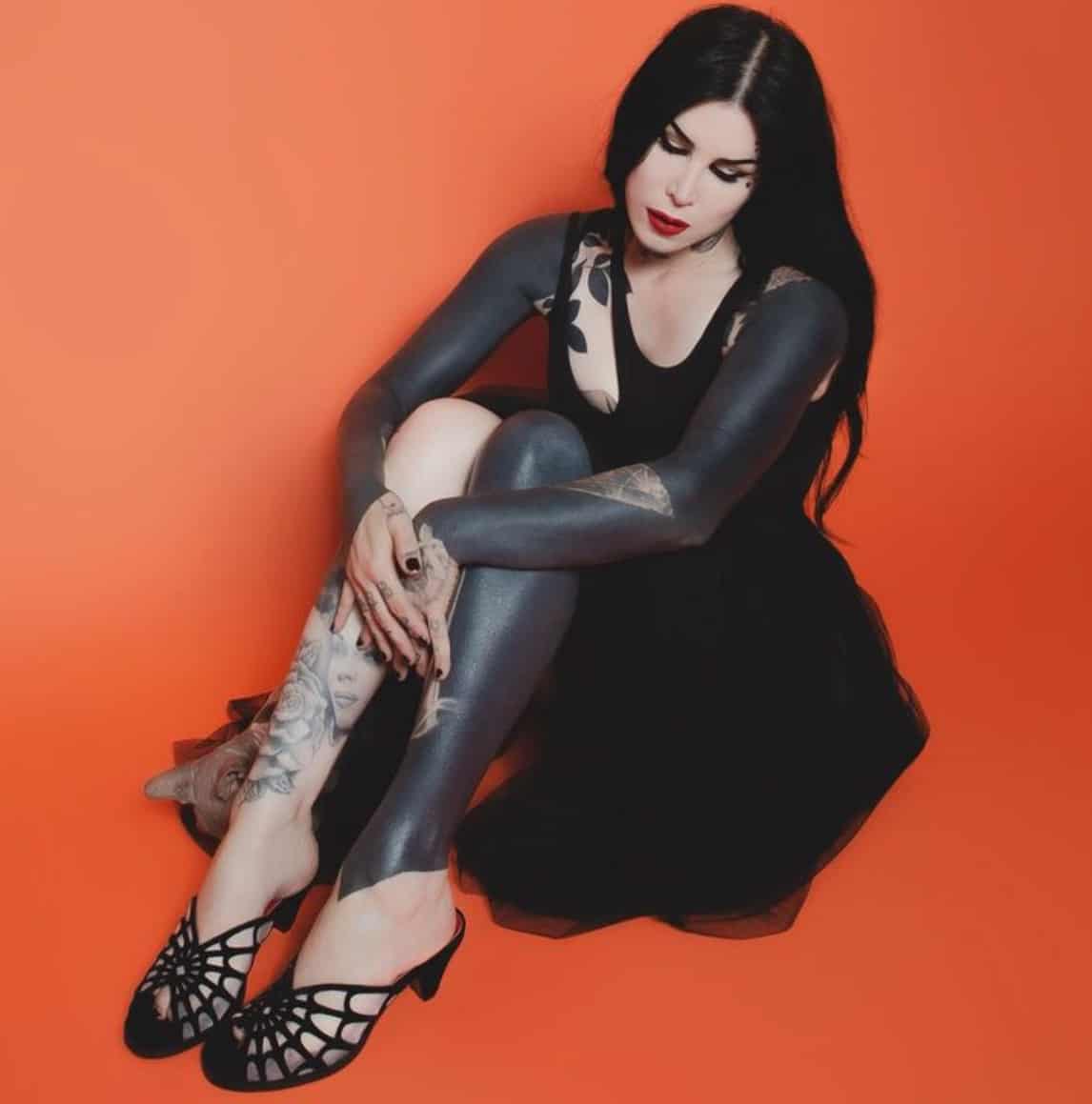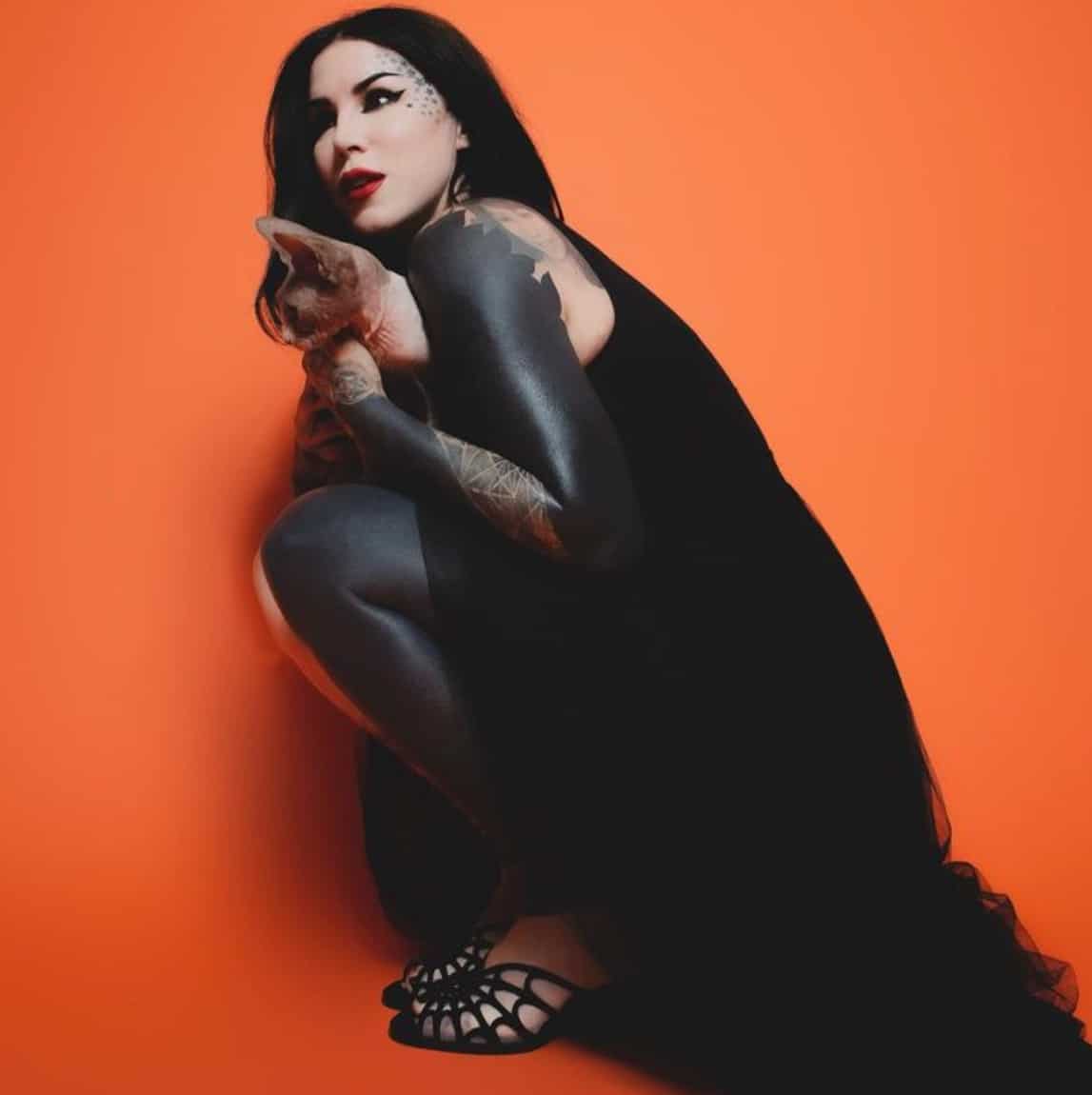 Kat Von D is a well-known tattoo artist celebrity and had a reality show about her tattoo shop called LA ink. She had a ton of individual tattoos previously, but now she is rocking the blackout style with a solid covering on her leg and arms.
5. Perfect Solid Black Circle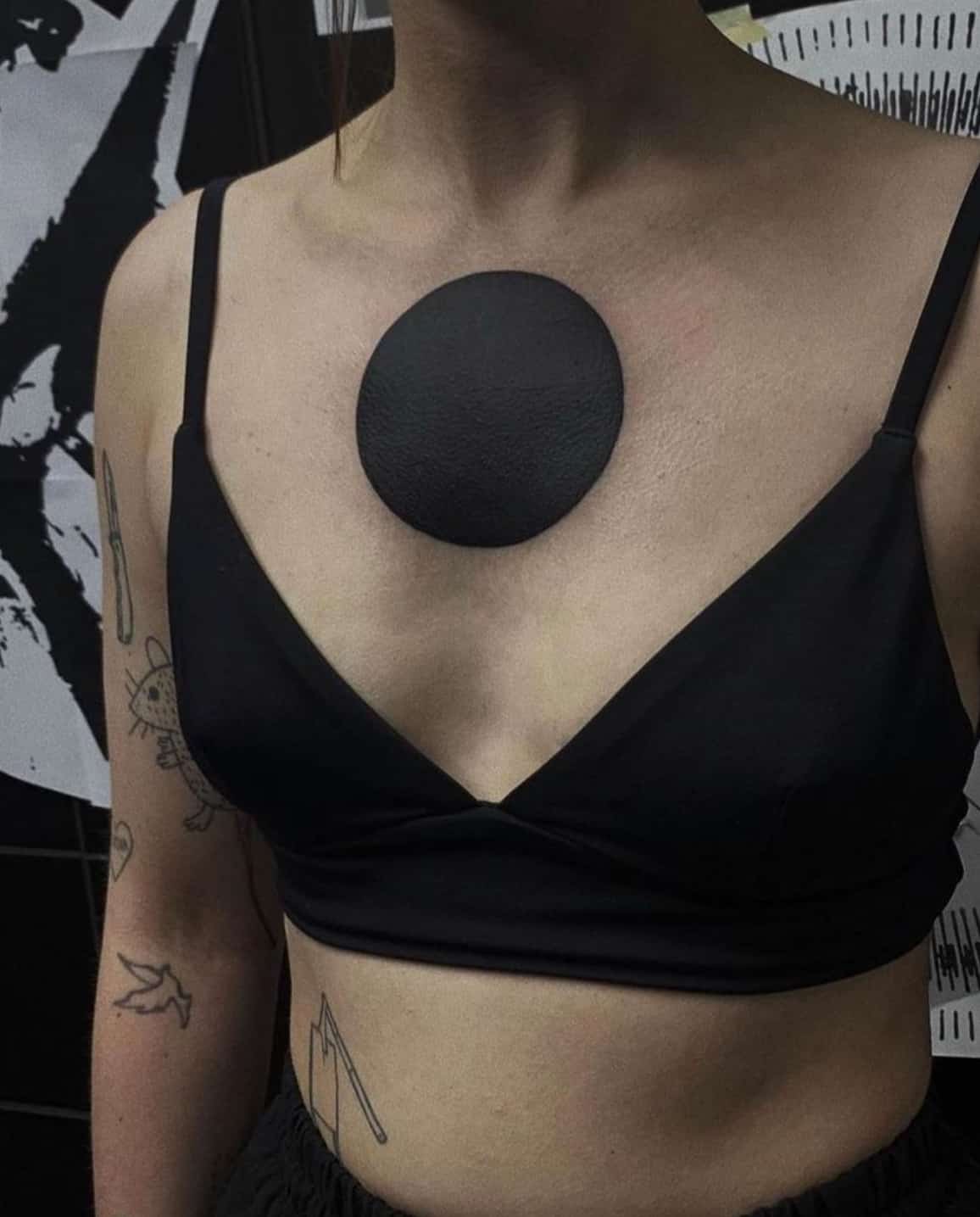 We could call this one a mini blackout, a perfect black circle in the middle of the chest. Very imposing design in the best way.
6. Tribal Neck Blackout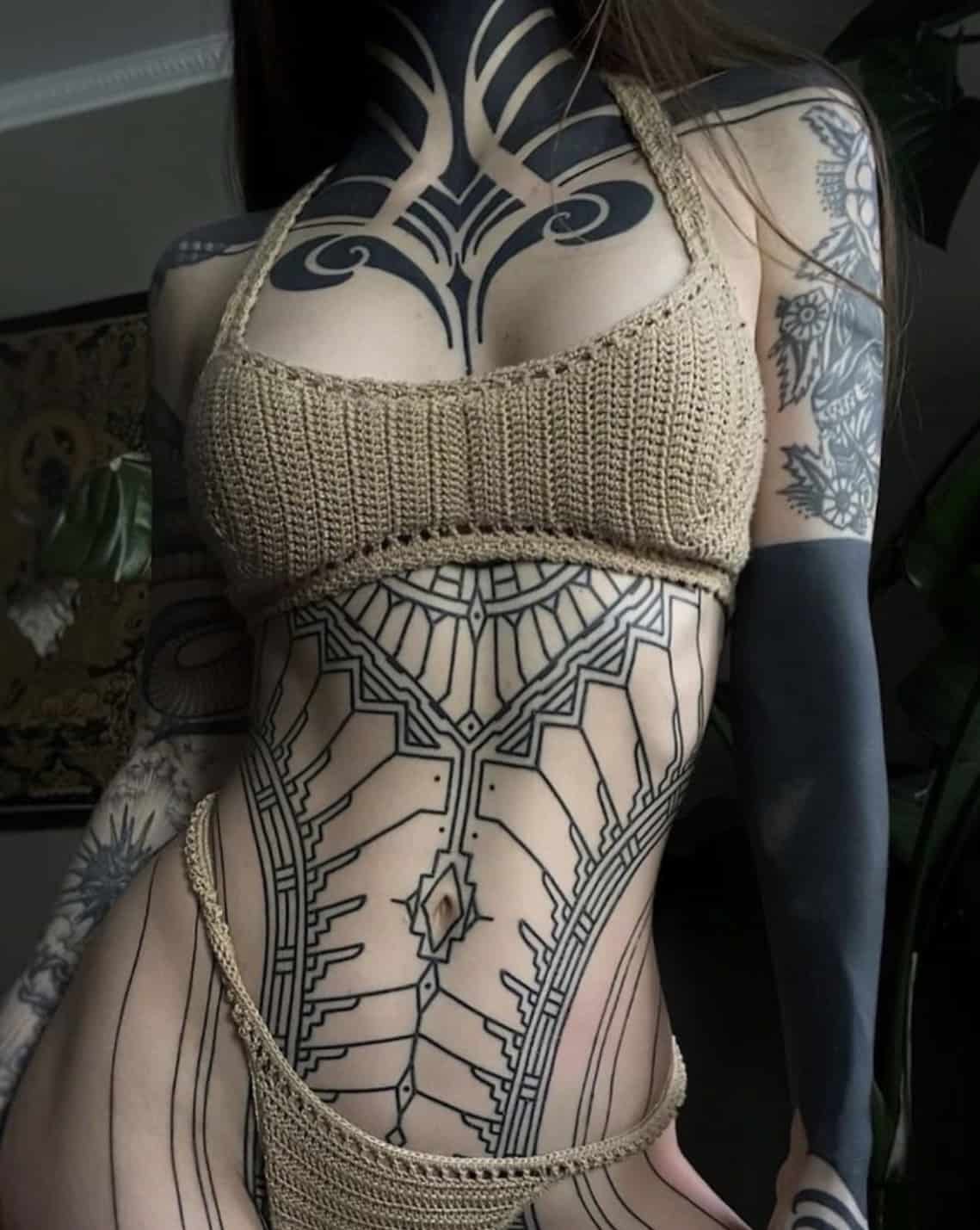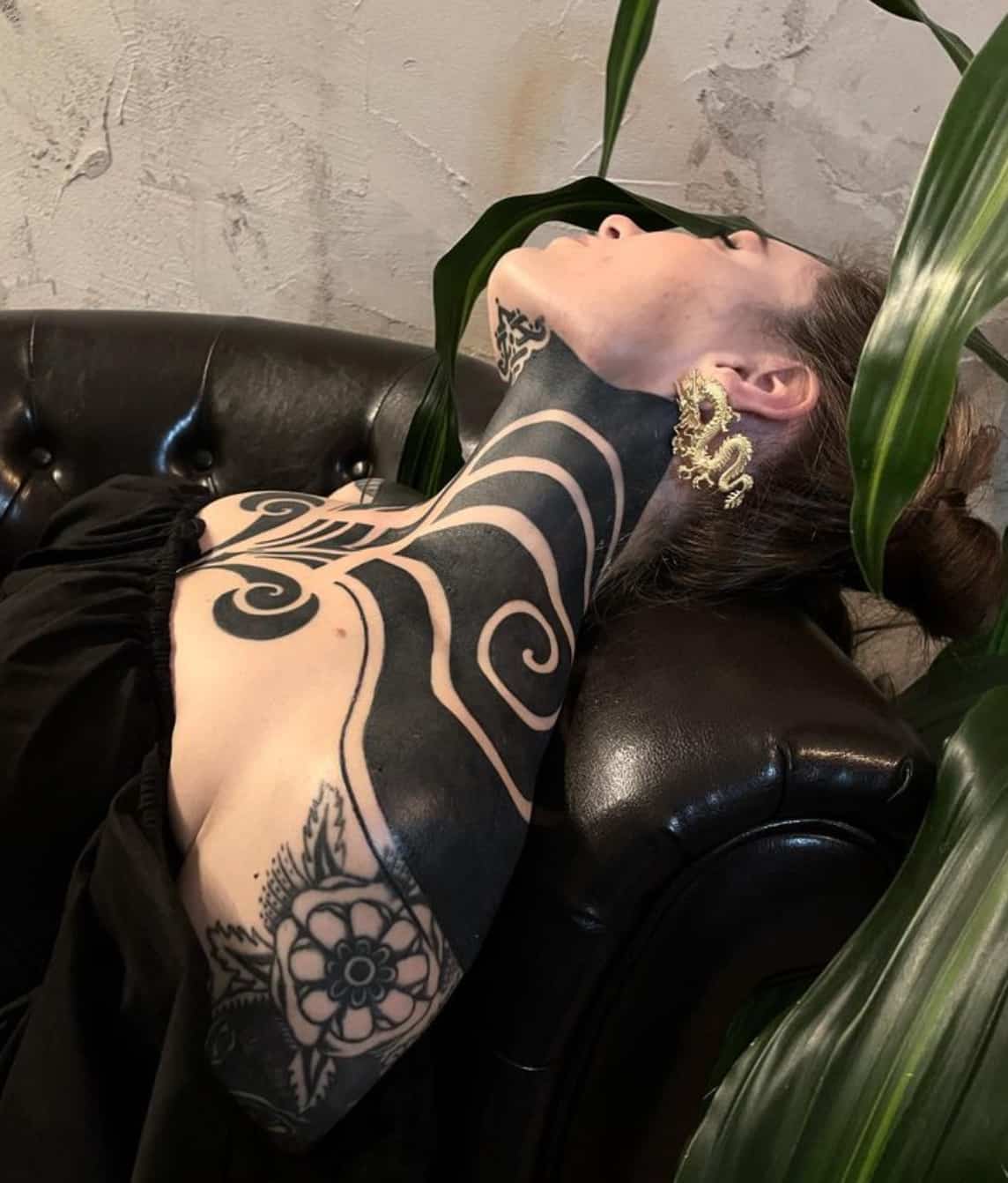 I'm just obsessed with this one. You can tell is a work in progress but it's slowly becoming a masterpiece, @diamante_murru did an incredible job on @aminakat, two gorgeous and badass tattoo artists.
7. Psychedelic Legs Blackout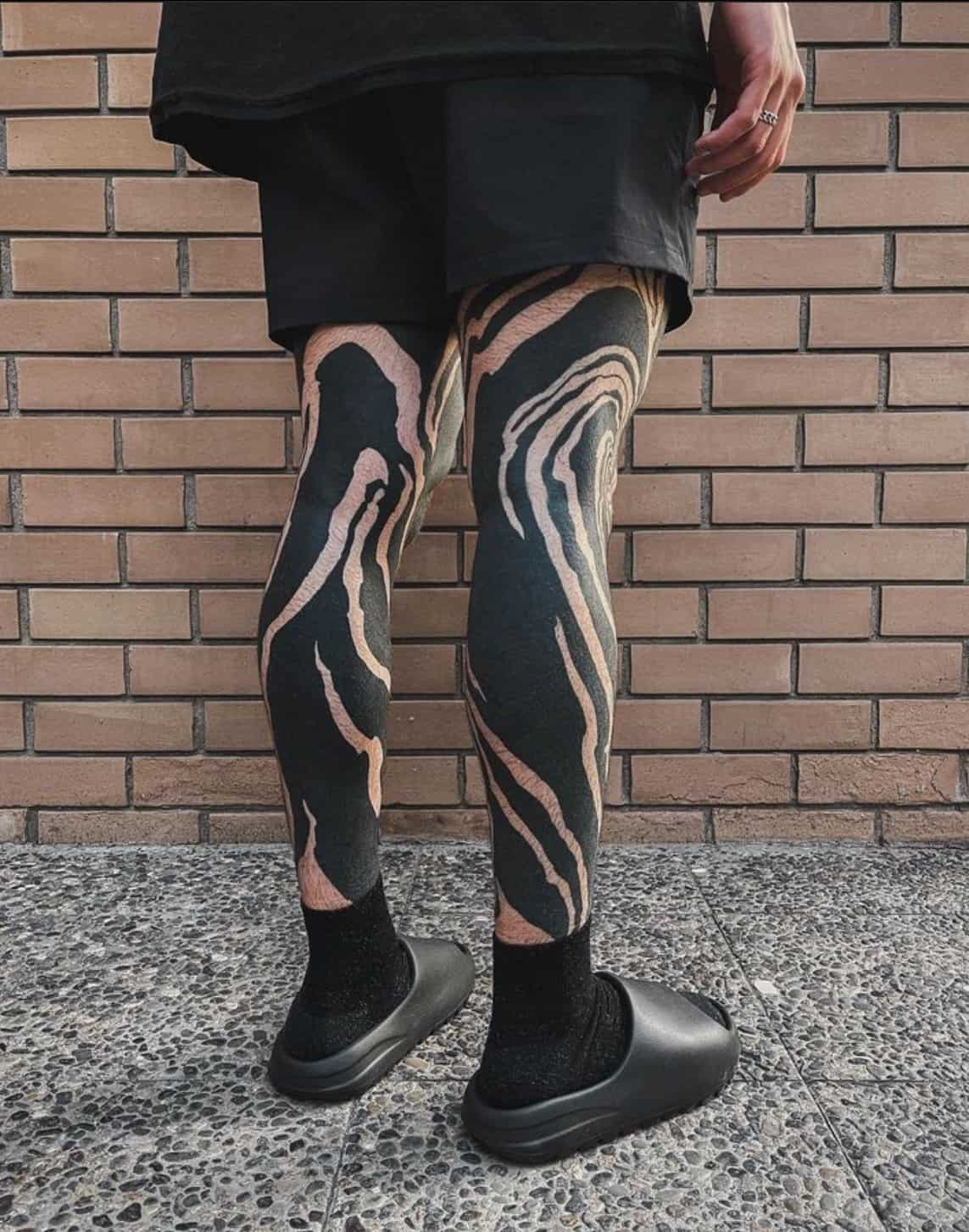 Something I really love of this style of tattoo, it's that you can see them from miles away. This psychedelic design fits the legs perfectly.
8. Full Arms Blackout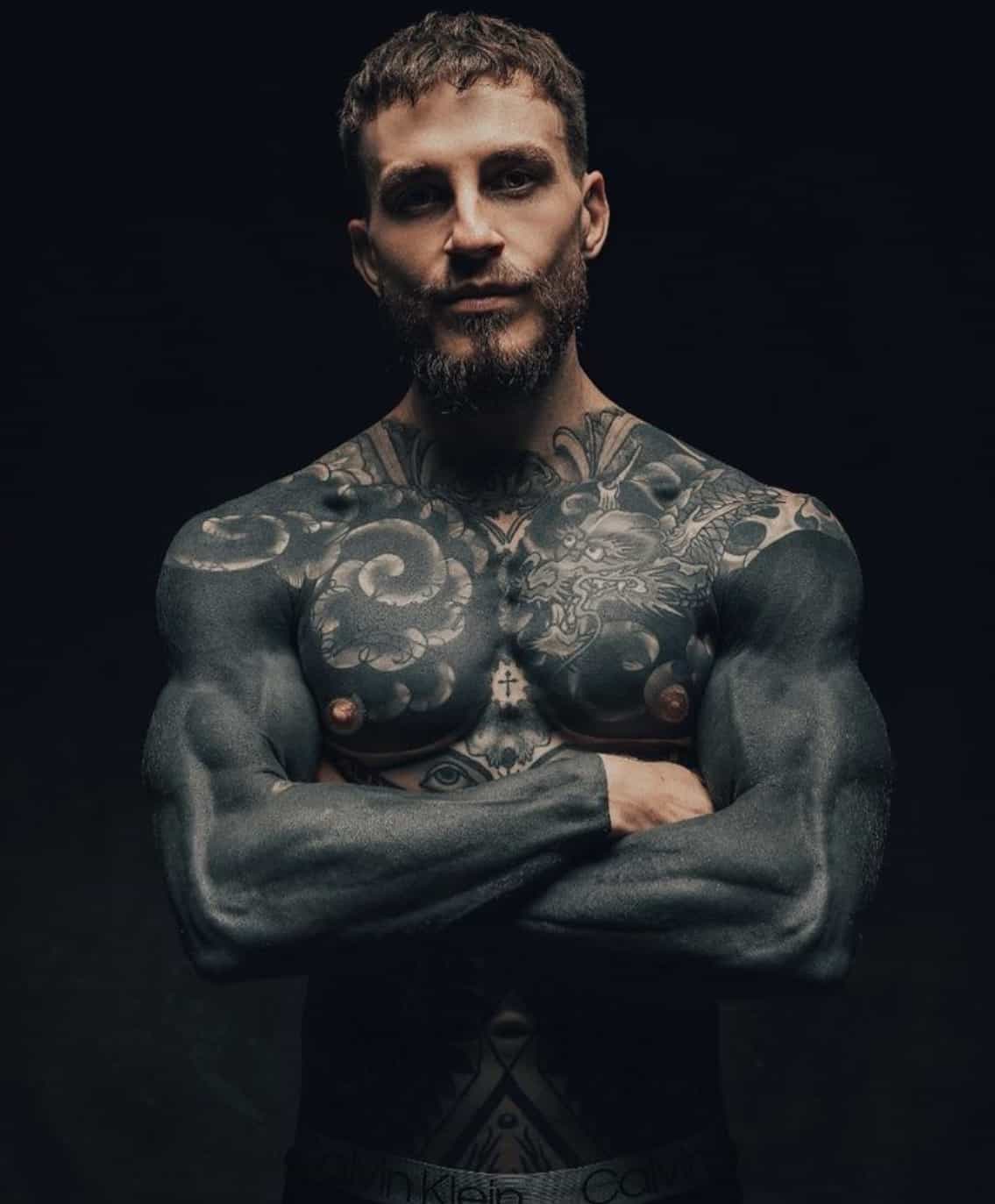 Here's an interesting mix of a ton of ink on the arms, mixed with a traditional Japanese design on the upper chest.
9. Blackout Sleeve with Botanical design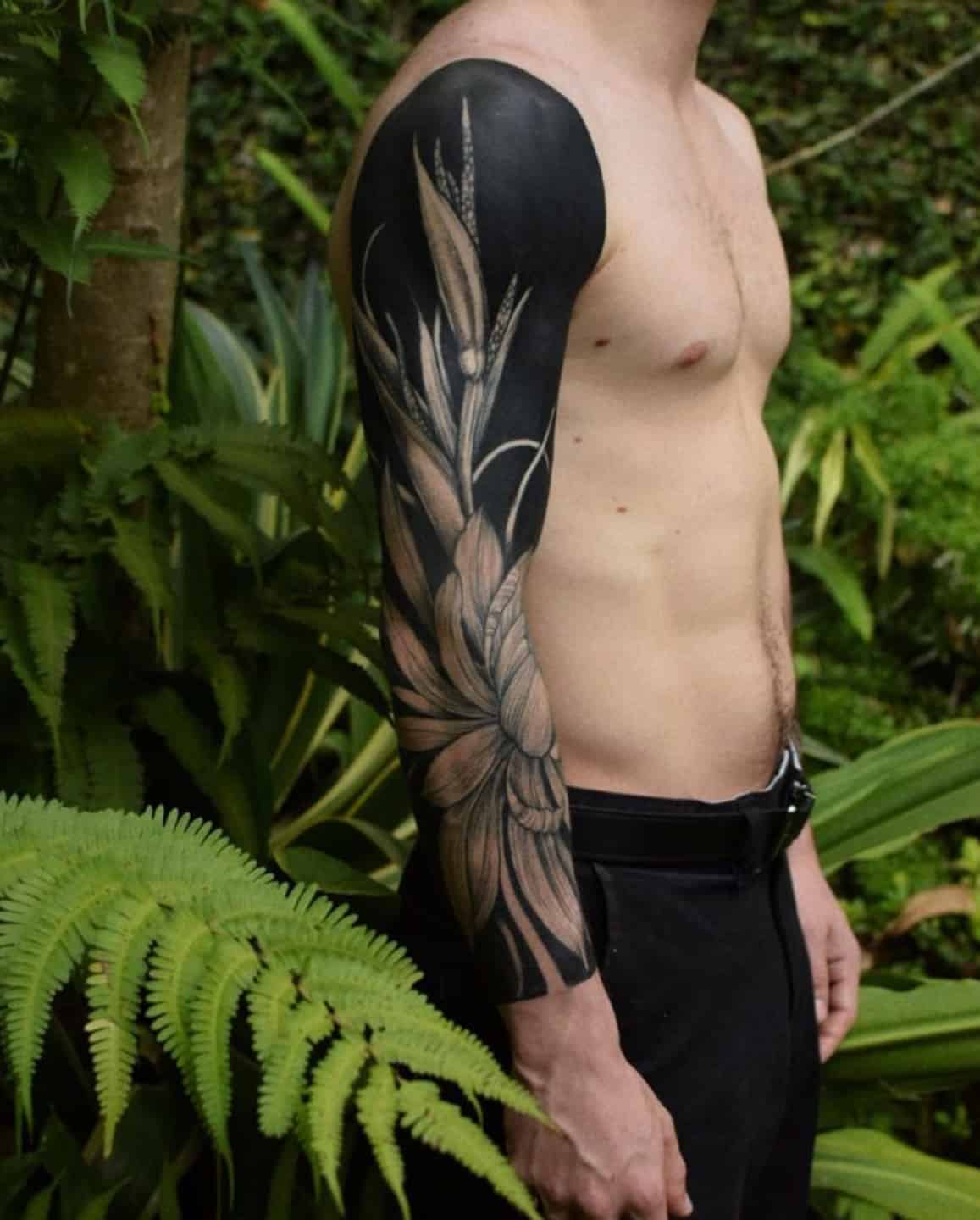 The black background makes the flower tattoo design stand out. I'm obsessed with this piece made by Costa Rican artist @chavas_art.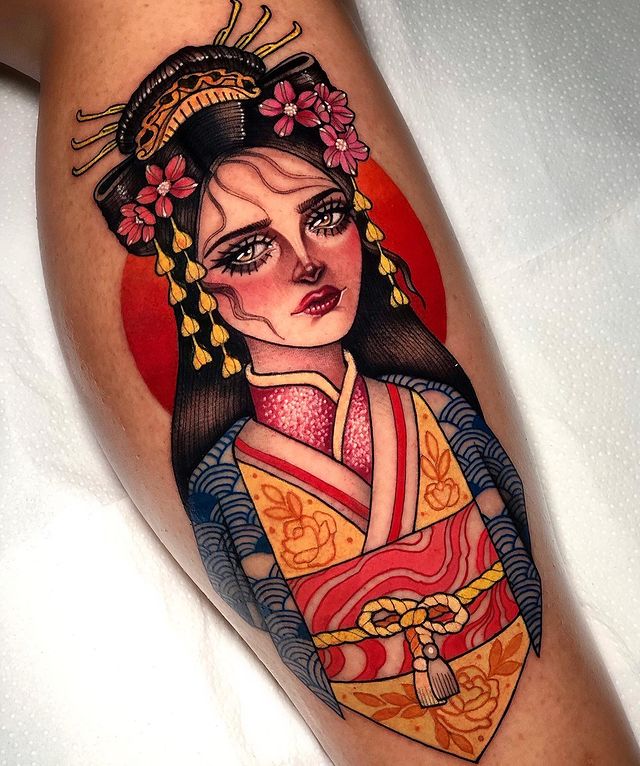 10. Tribal Bodysuit Blackout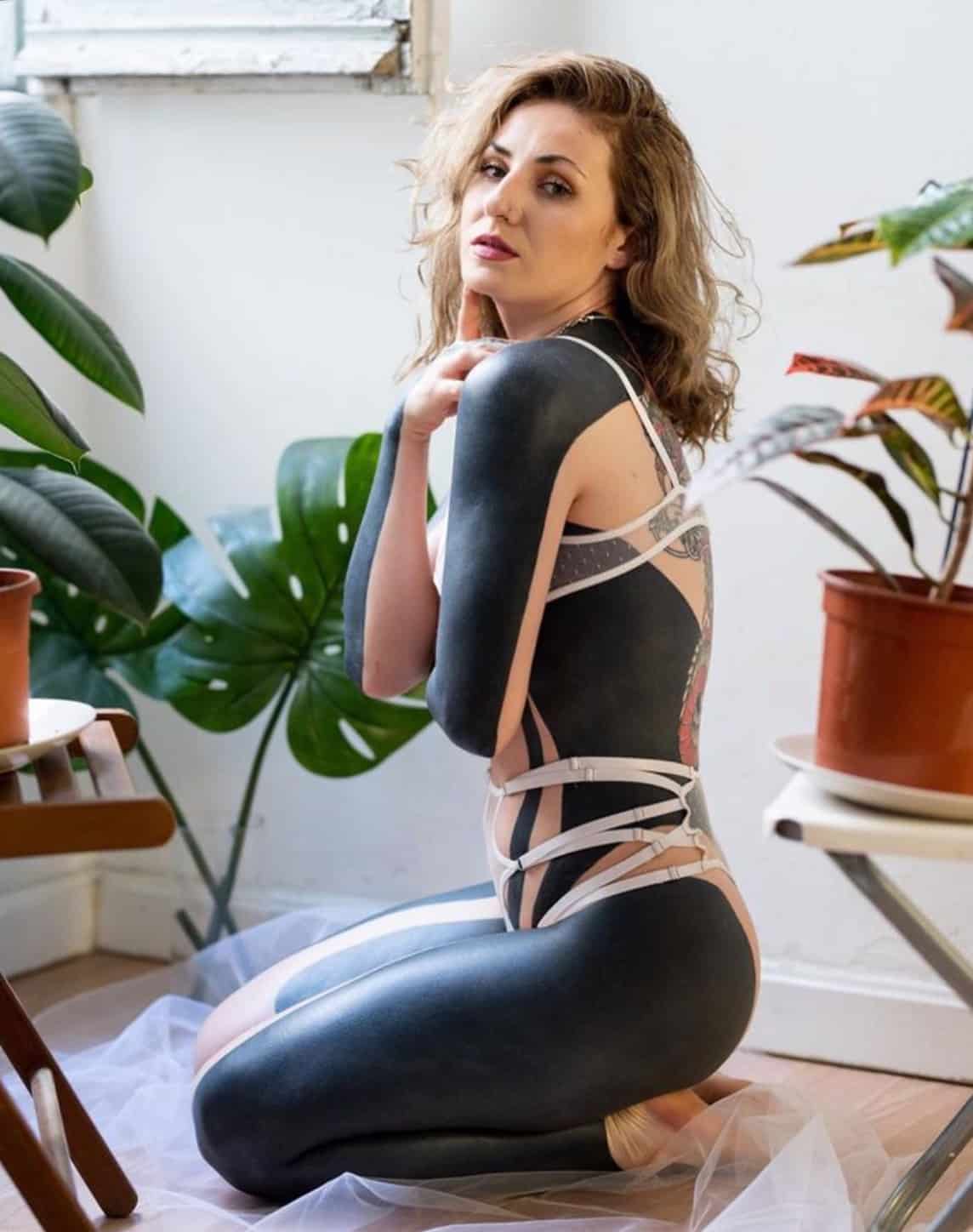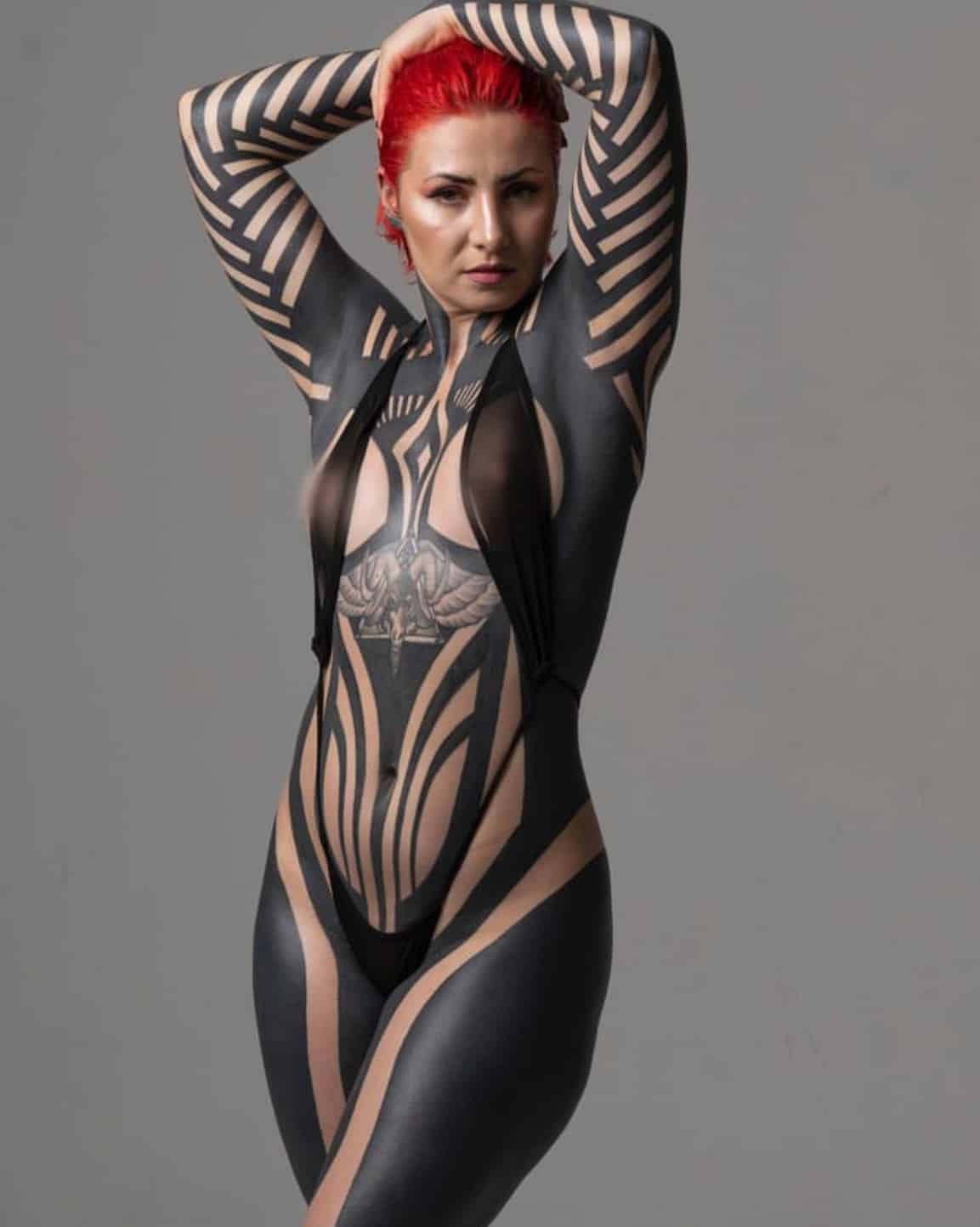 This stunning blackout tattoo blew my mind. Imagine the patience (and cost) it would take to get this far.
11. Geometric Sleeve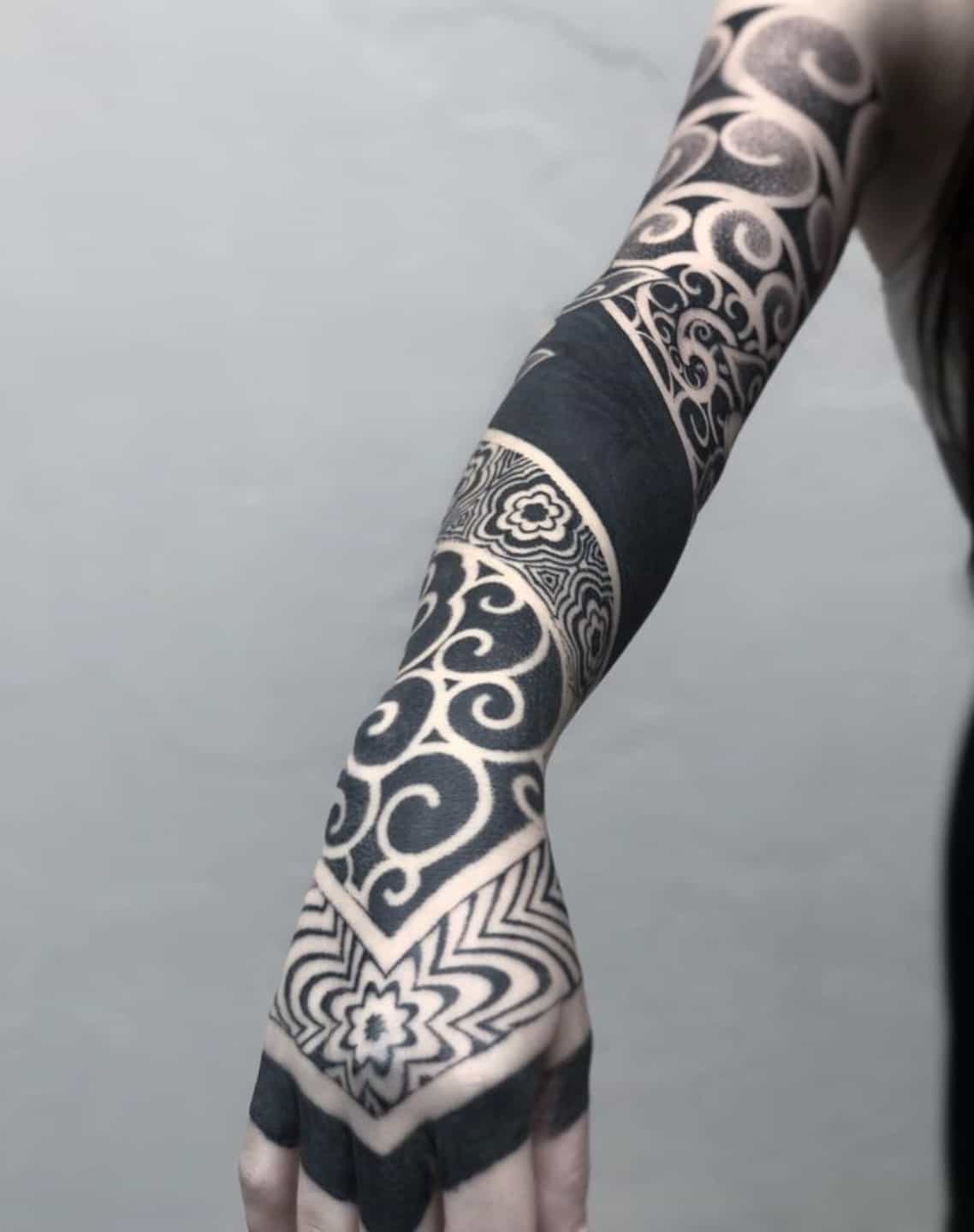 This incredible geometric sleeve looks awesome, especially with that large blackout stripe on the forearm to give a little bit of extra contrast.
12. Futuristic Blackout bodysuit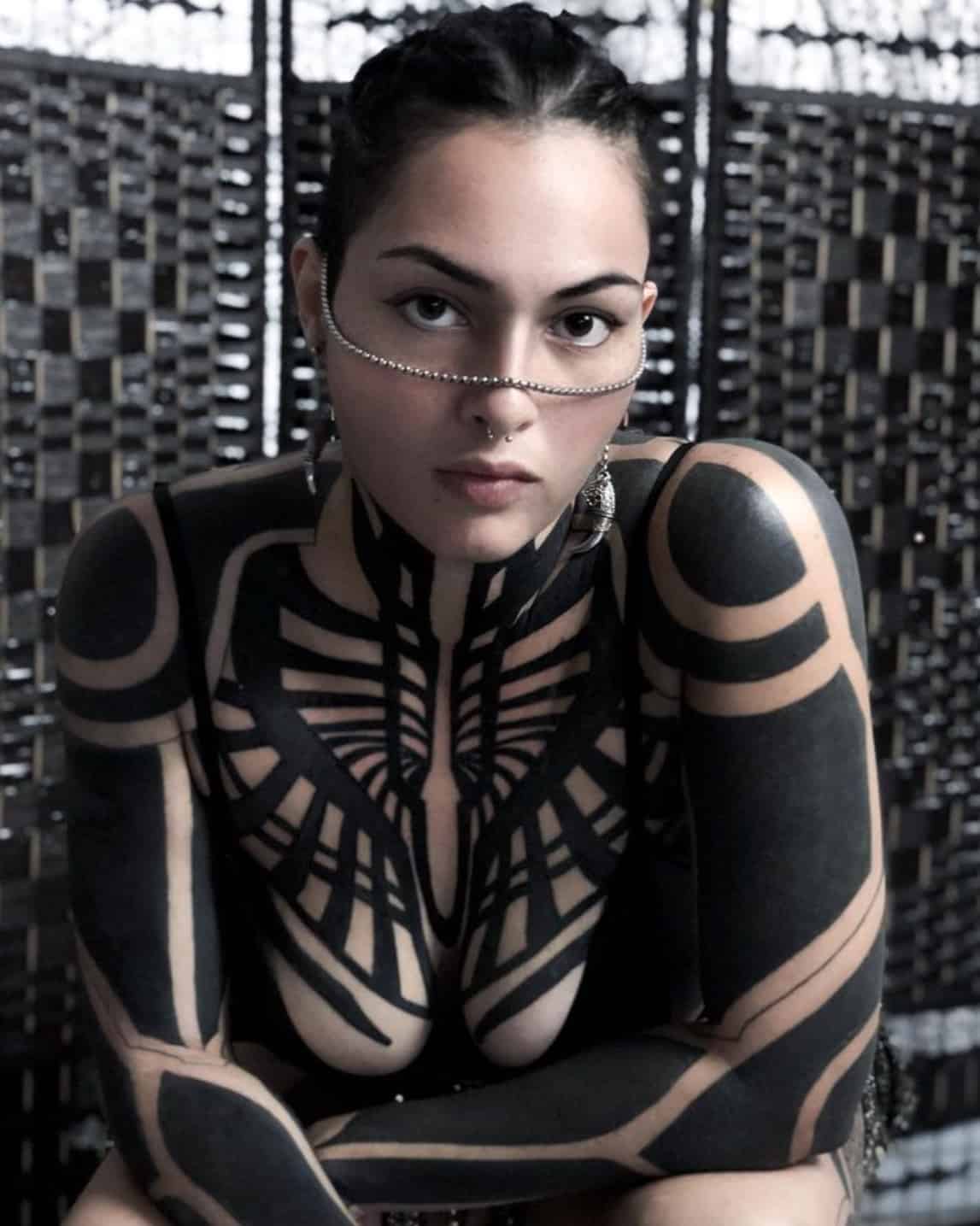 This neo-tribal bodysuit gives off a robotic vibe. This artist is from Central America and focuses on this kind of heavy inked style.
13. Tribal Symbols in negative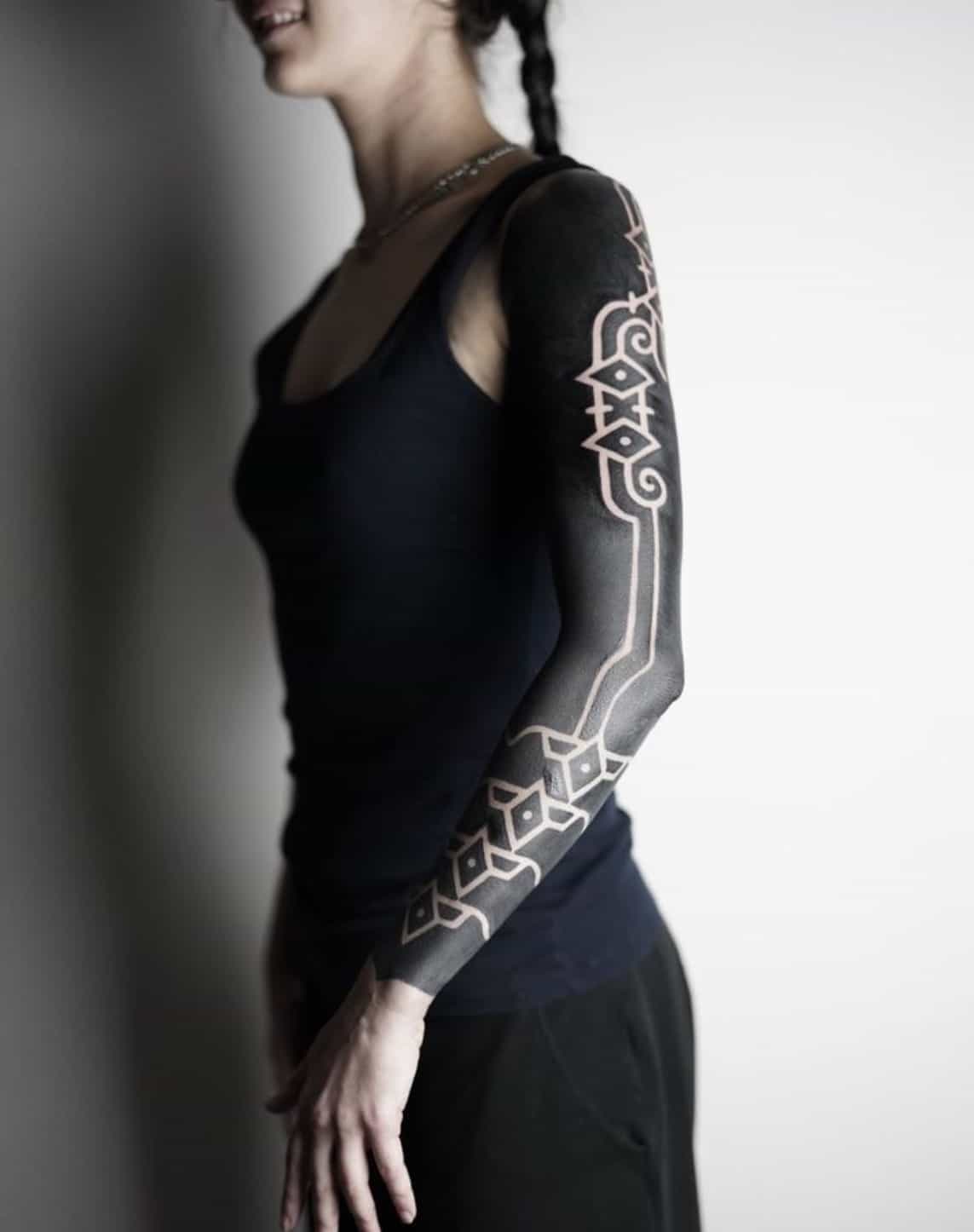 This full blackout sleeve is complimented by a beautiful geometric design that spans down her entire forearm.
14. Back Oriental-Style Blackout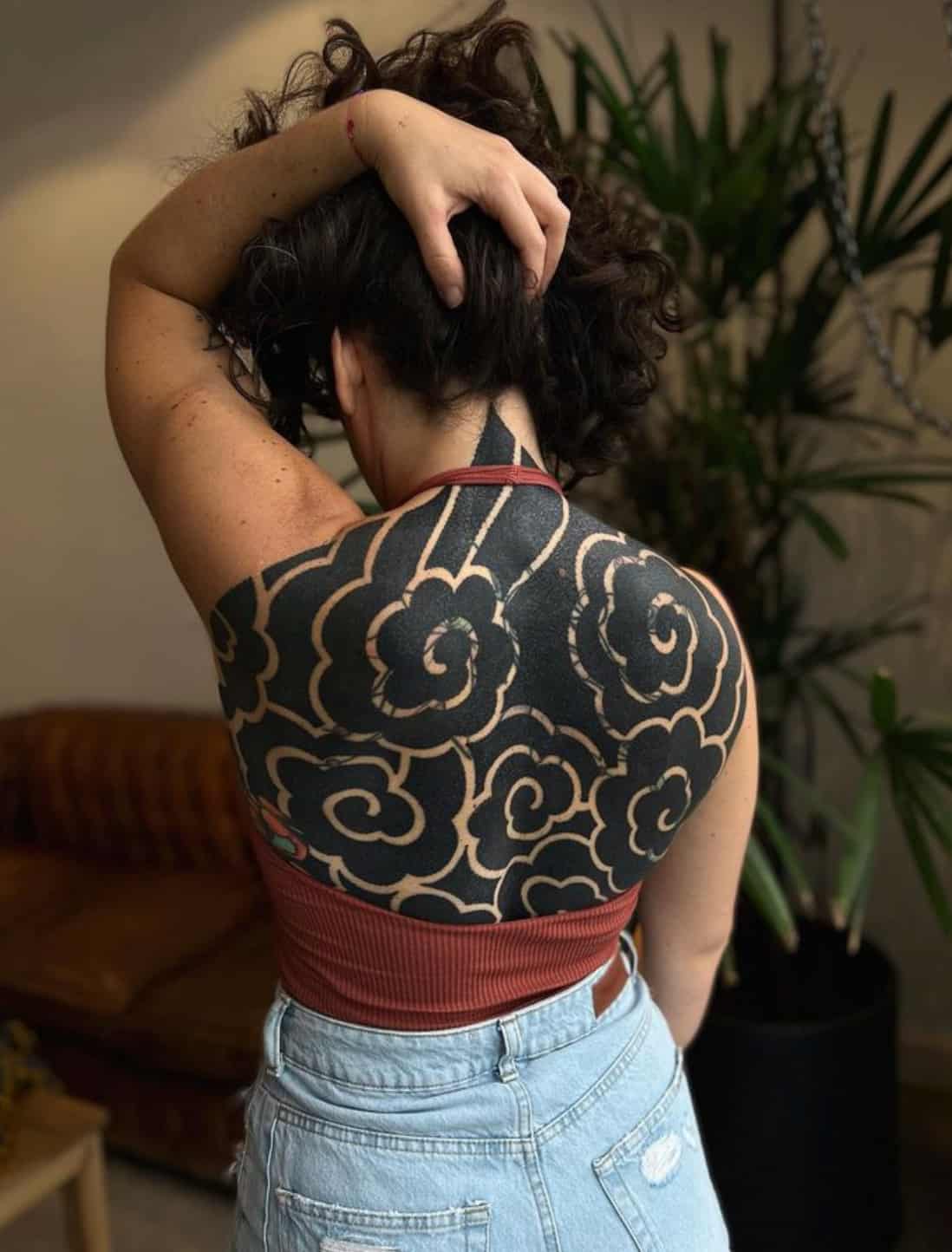 This cover up tattoo features an upper back, Japanese-inspired cloud design.
15. Neo Tribal Blackout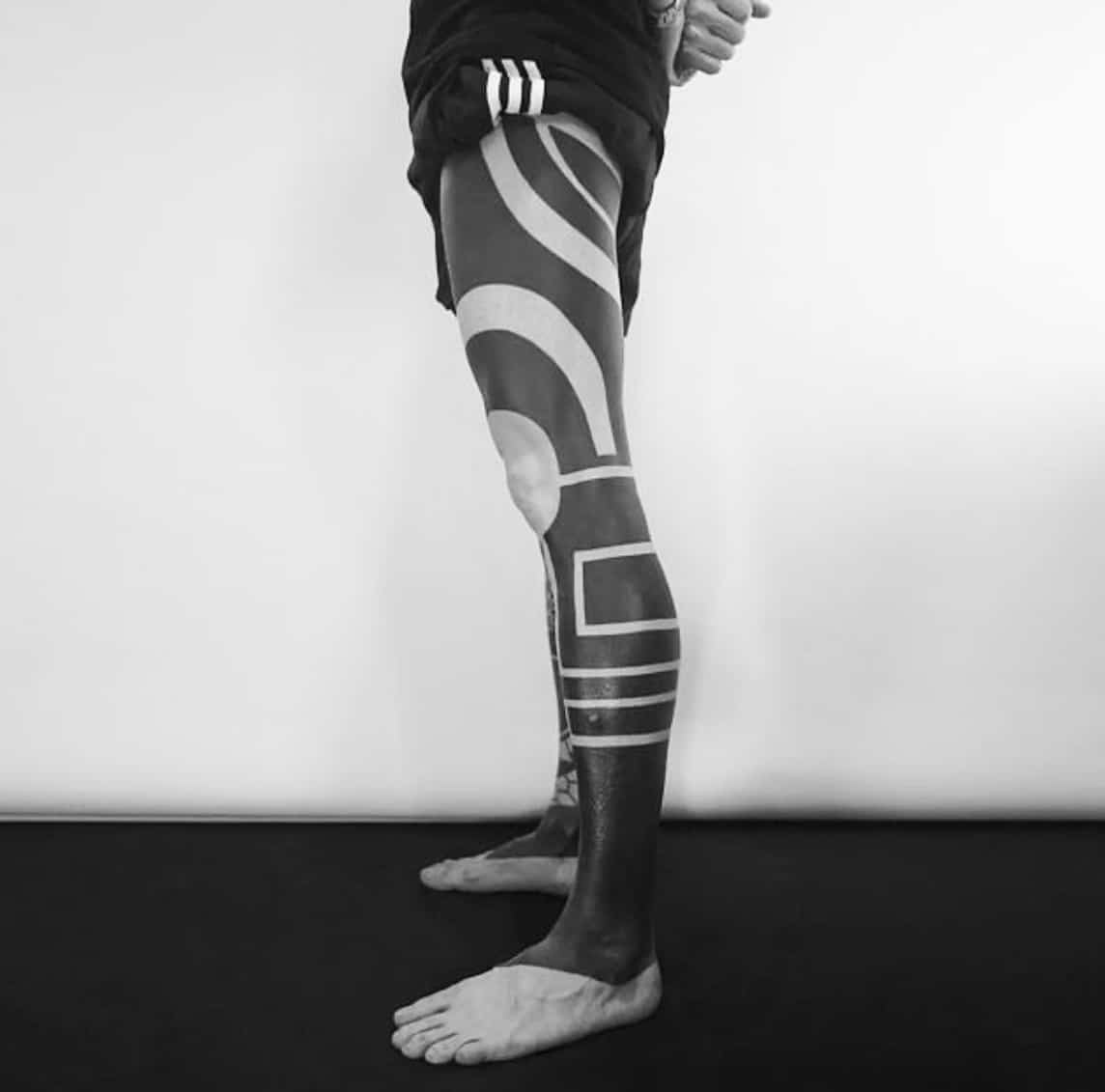 This leg piece has a futuristic look, complimented by clean geometrical lines.
16. Tribal Solar System Blackout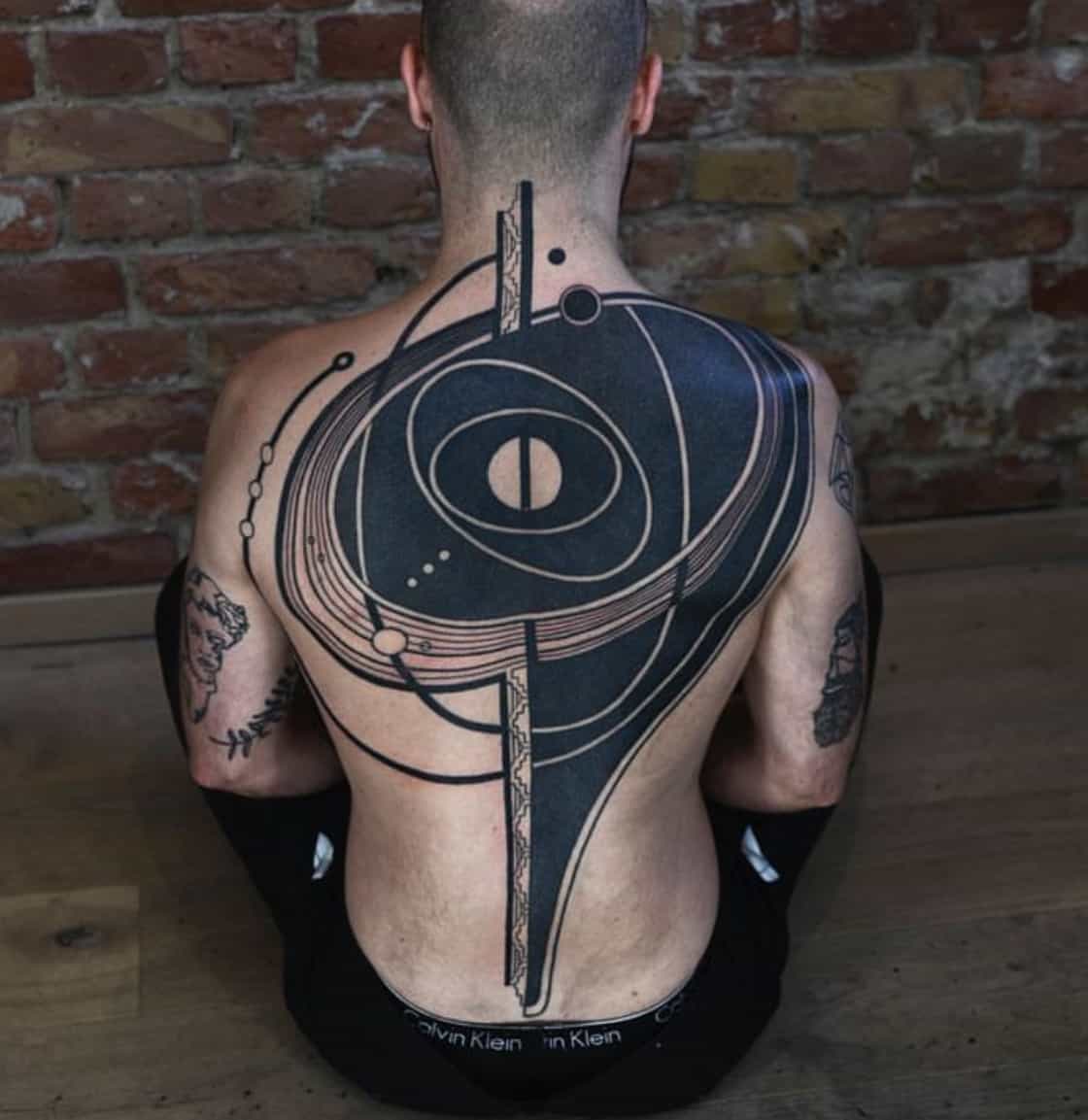 Wow, this piece is out of this world! The combination of tribal style with a solar system theme is something that we haven't seen too much of.
17. Blackout tattoo with white ink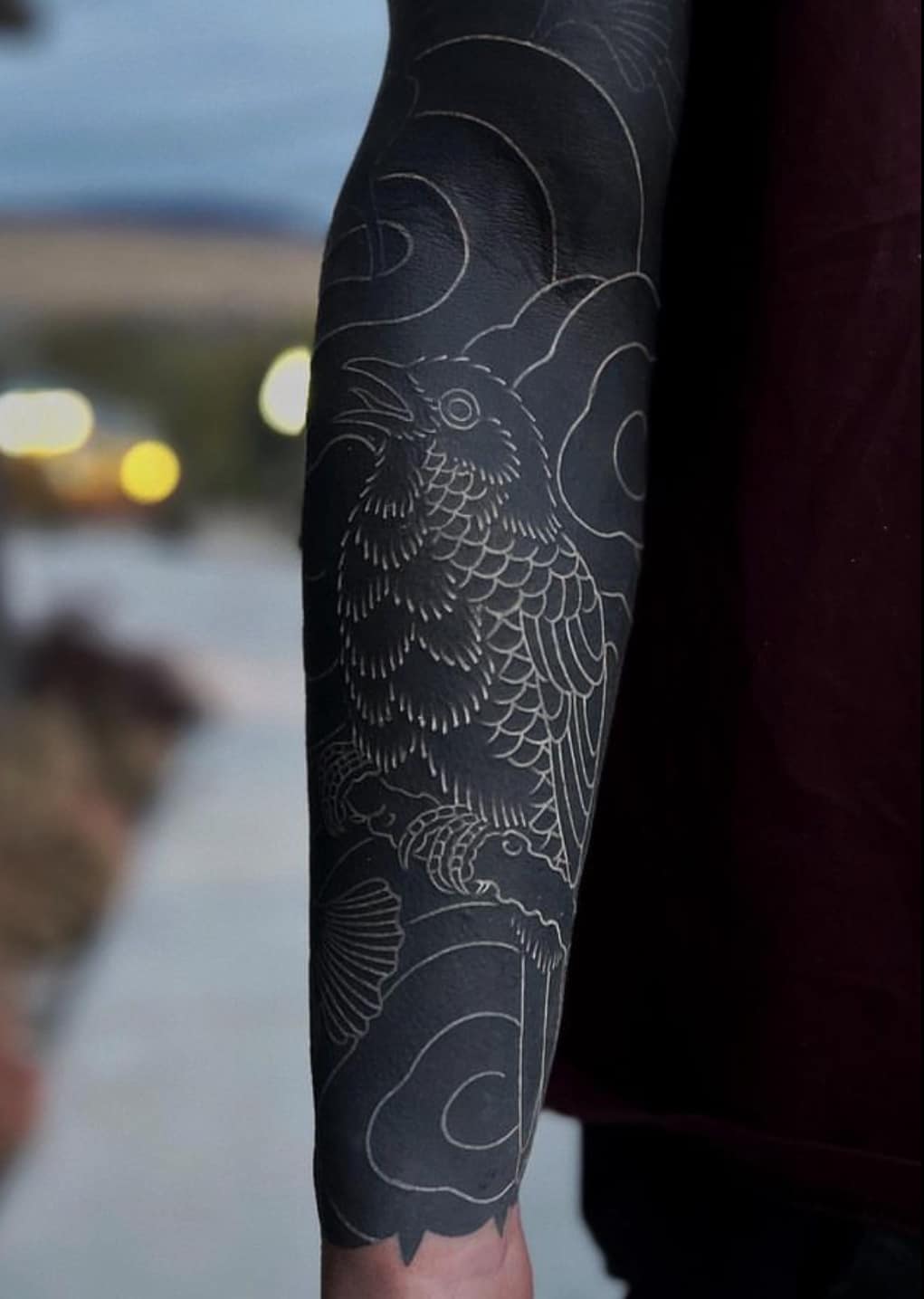 An alternative to a full blackout tattoo is something like this—adding a little bit of detail with an extra layer (or two) of white ink.
18. Flowing Ink Blackout Sleeve Tattoo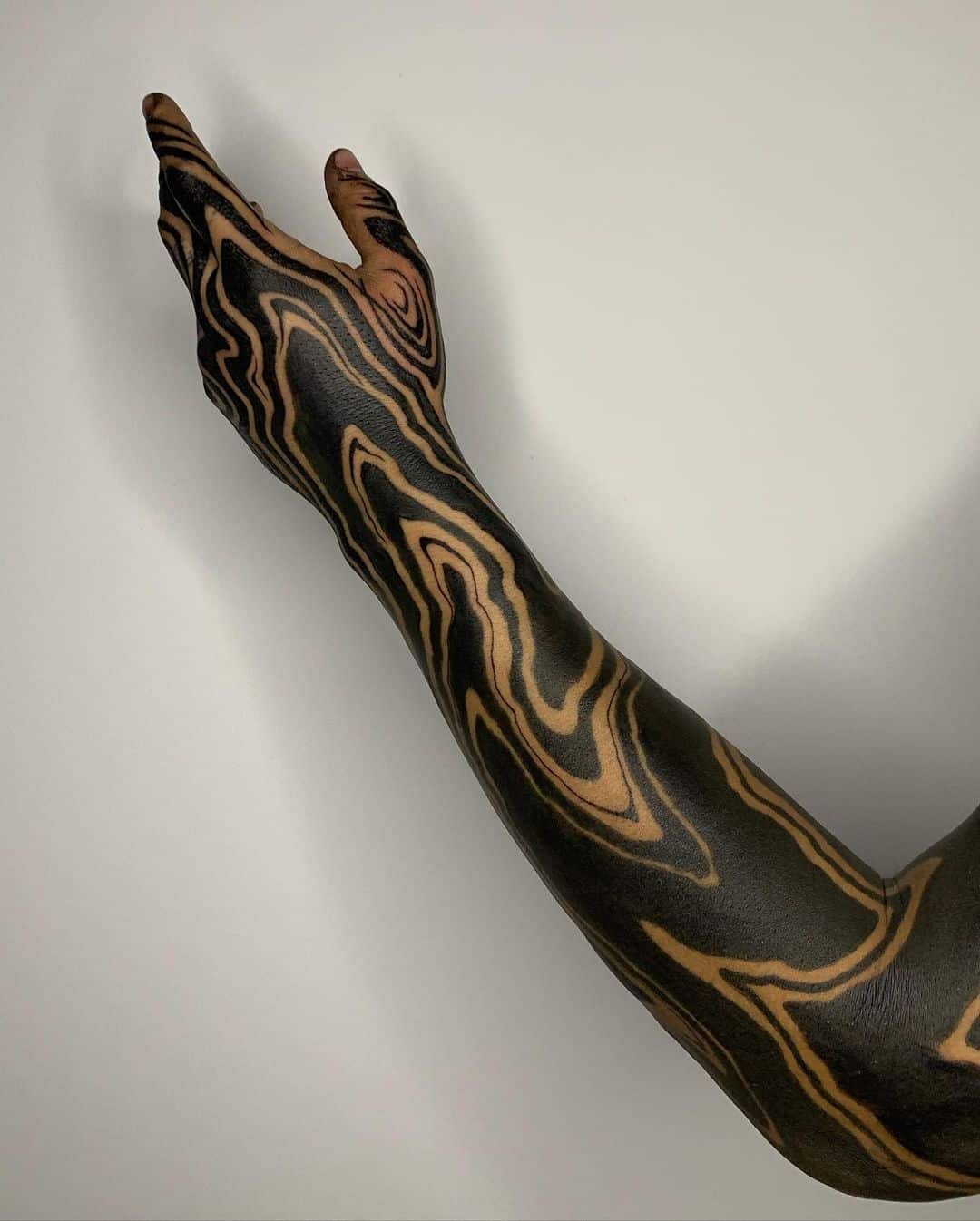 This design is open to quite a few lines of interpretation. Is it a flowing ink piece? Elevation lines in a map? Rings of a tree?
19. Feminine full sleeve blackout tattoo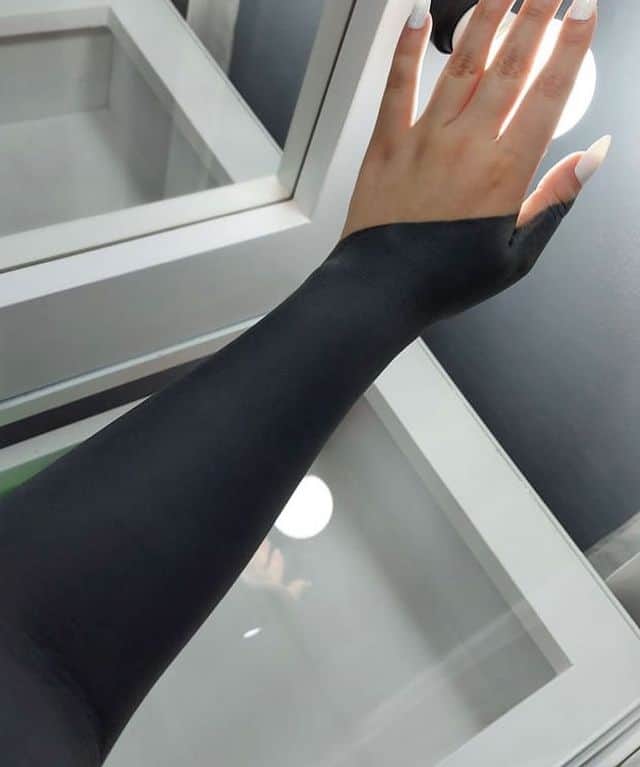 While this looks like a typical full blacked out sleeve, that angle where it ends at the end makes it feel a little bit more special.
20. Blackout Japanese Style inspired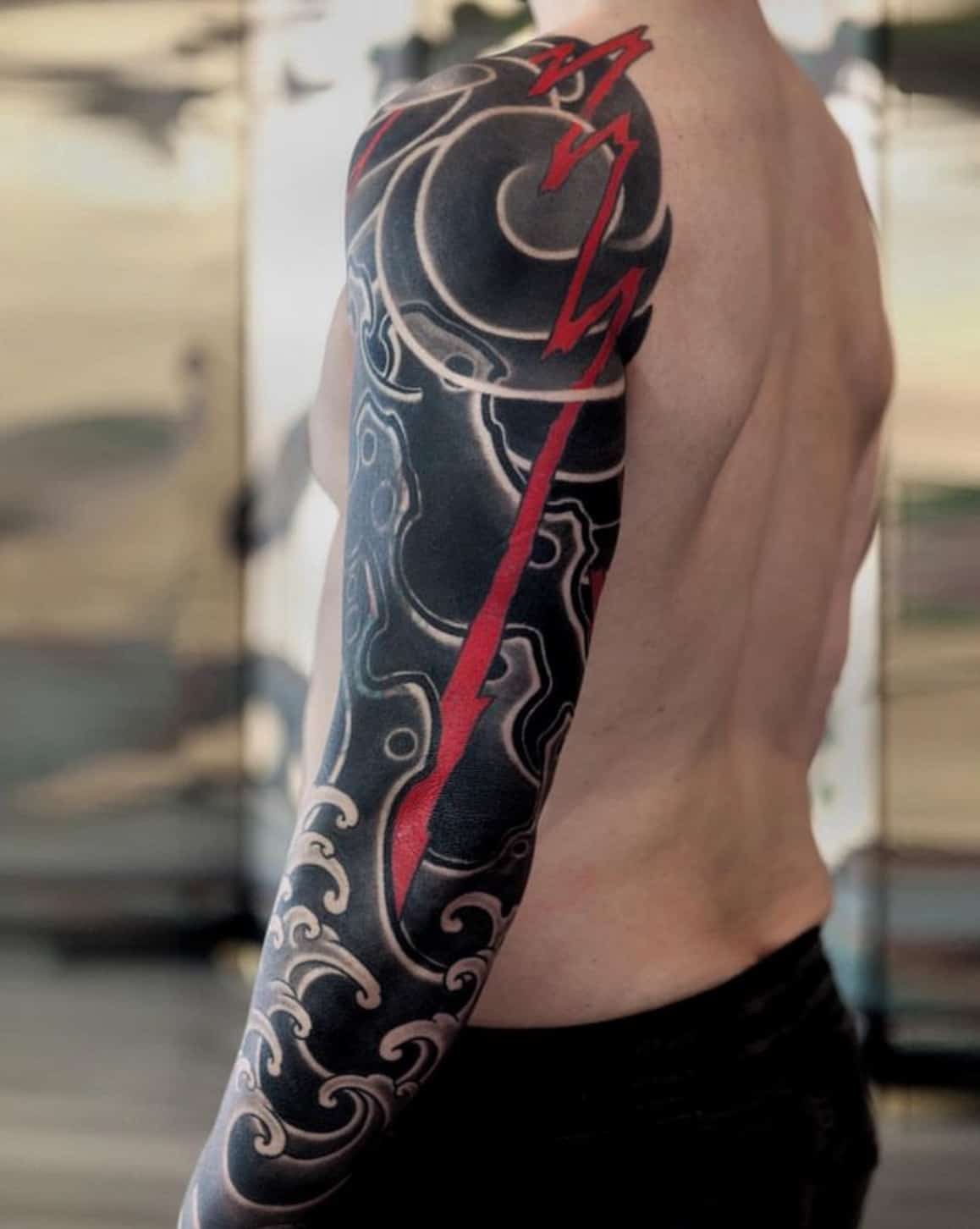 This is close to getting out of that full blackout category, but we liked the contrast of the Japanese waves, mixed with the tiny splash of red lightning.
21. Cutest Blackout tattoo photo ever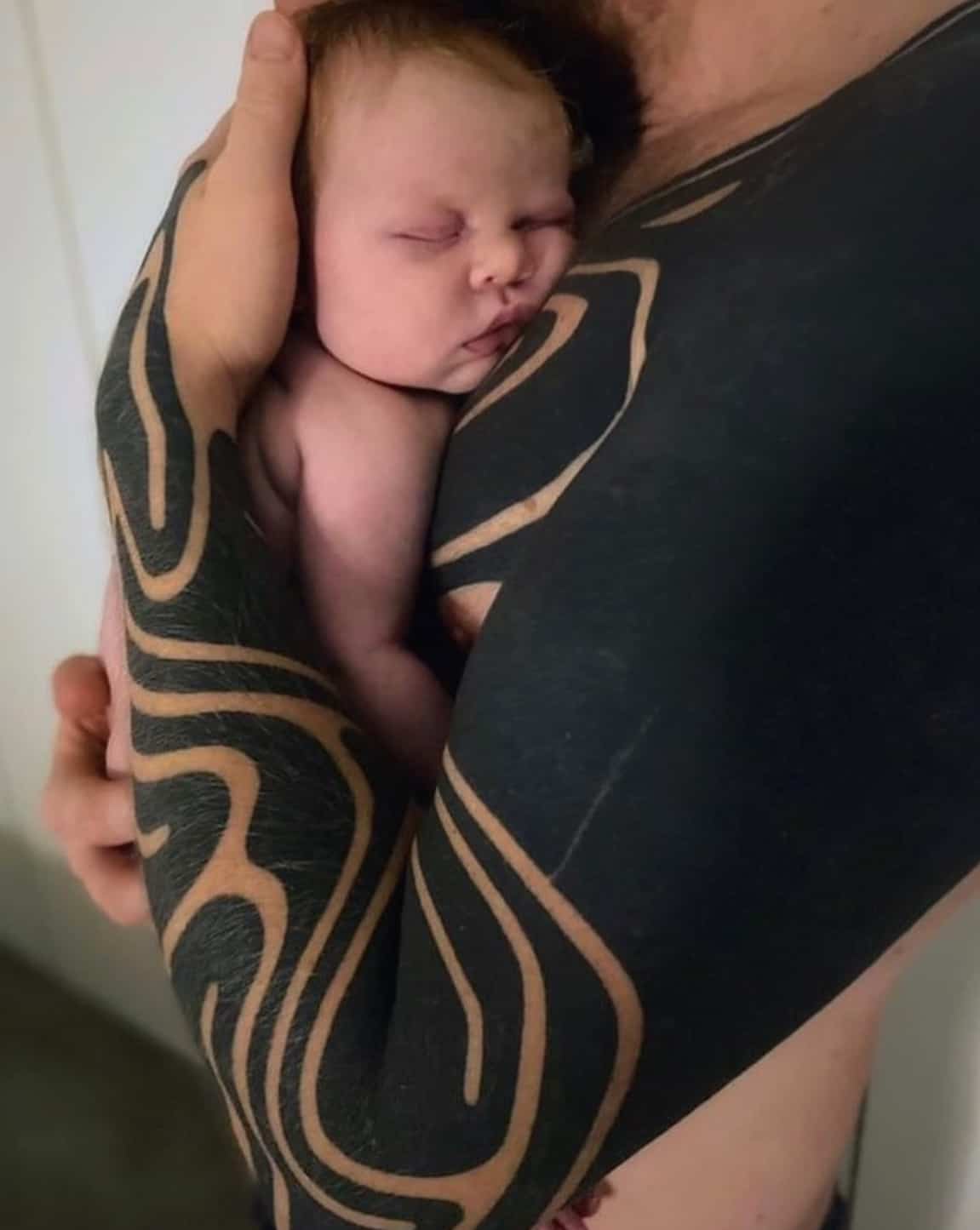 I found this picture and couldn't leave it out. The contrast of a newborn baby mixed with a full blackout sleeve is not something you see every day.
22. Almost Full Body Blackout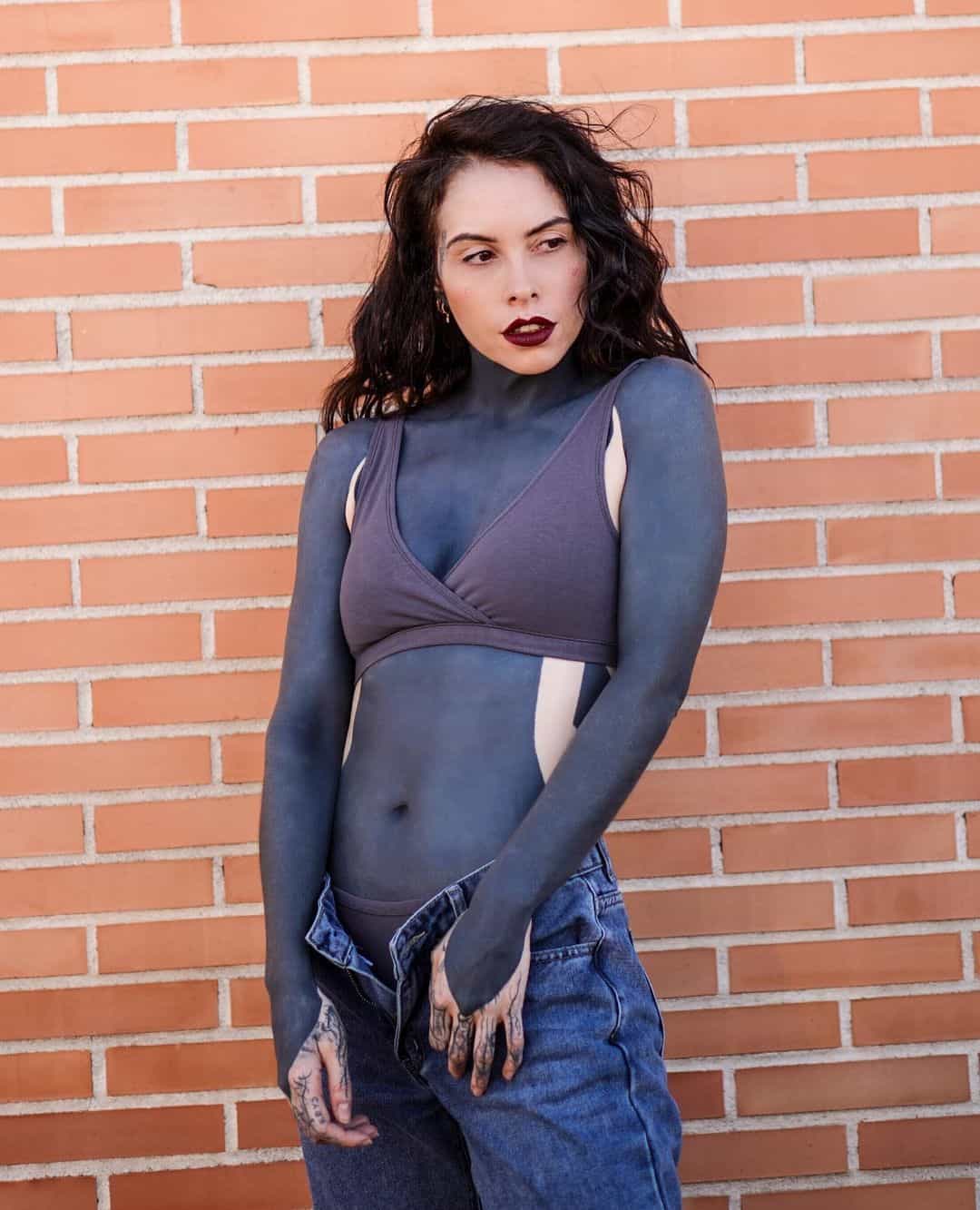 Based on her hand tattoos, this blackout job looks like it might be serving as a cover-up in some areas. Either way, kudos to her.
23. Blackout Hand Tattoo
This skull absolutely pops off the skin with its vibrant red and yellow highlights sitting on a completely blacked-out hand.
If you're interested in more styles prominently featuring skulls, check out our guide on trash polka tattoos.