Take tattoo skin is used internationally in the tattoo industry and is becoming more popular than ever before. Using fake tattoo skin has many benefits for tattoo artists, and it has become how most new tattoo artists learn their craft.
Fake tattoo skin is a synthetic analog for real skin that allows tattooers to practice techniques and skills safely and try out gear and products without any risks. Fake tattoo skin is very effective for learning to tattoo well. ReelSkin is among the best fake tattoo skin products available.
Fake tattoo skin has not been around for very long, which leaves some artists weary of its practical use and functionality. Still, the reality is that synthetic skin has become a staple in the world of tattooing. There is much to learn about tattoo skin and how it benefits artists, so let's take a closer look.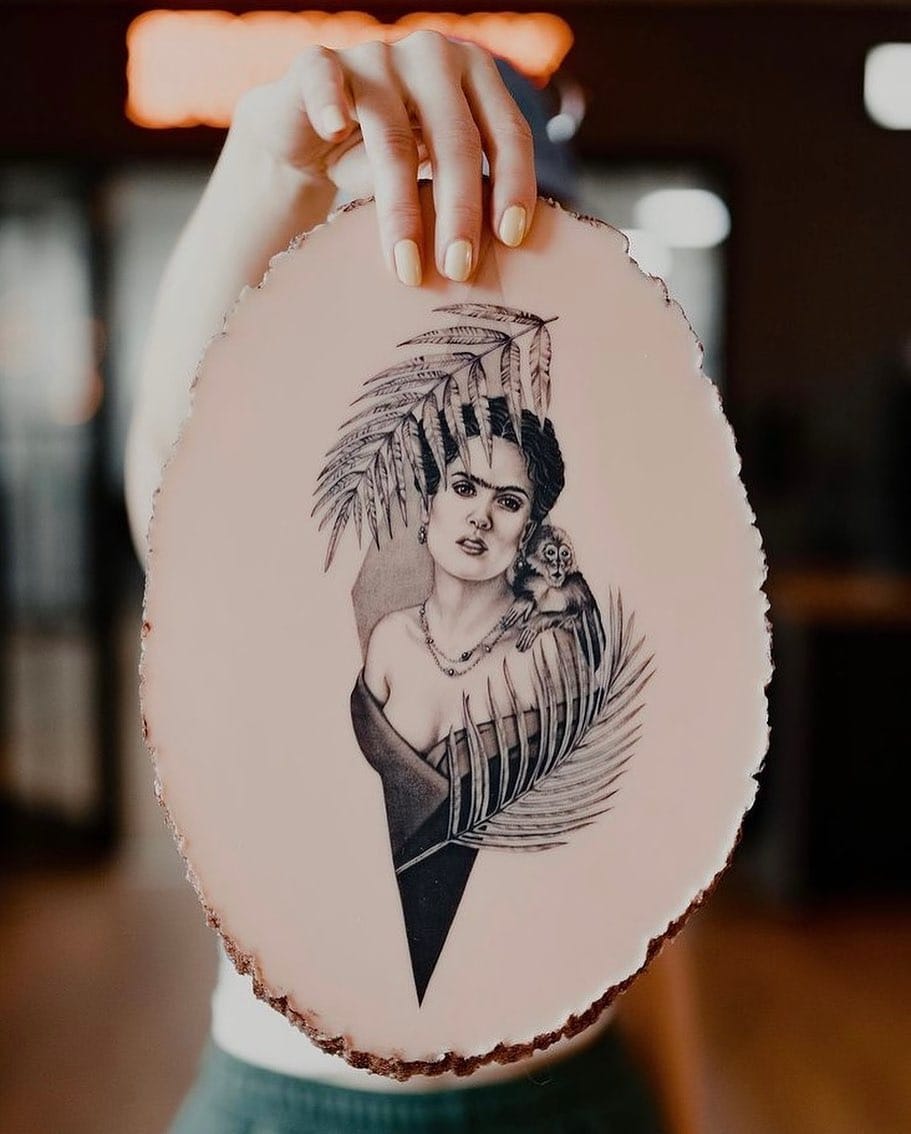 What Is Fake Tattoo Skin Made of?
Before diving into the use and practicalities of fake tattoo skin, let's briefly explore what synthetic tattoo skin is to better understand why it is so useful for artists.
Synthetic, or fake tattoo skin, is made from various materials, but the most popular type is a specialized form of silicone. This product is designed to emulate the qualities of human skin and to receive tattoo ink in a similar way.
In the past, other analogs for human skin were used for tattoo practice, such as pig skin or certain melons, but synthetic tattoo skin is far superior to these materials.
There is no better analog for natural skin than synthetic skin. It has become the primary way new artists develop their skills and has become one of the most valuable tools for all tattooers everywhere.
There are several different brands and companies that produce fake tattoo skin, and some are far better than others. It is vital for any artist who uses this skin to get the best products they can find, as this will produce a much better tattoo experience and feel far more similar to real skin.
Does Fake Tattoo Skin Feel Like Real Skin?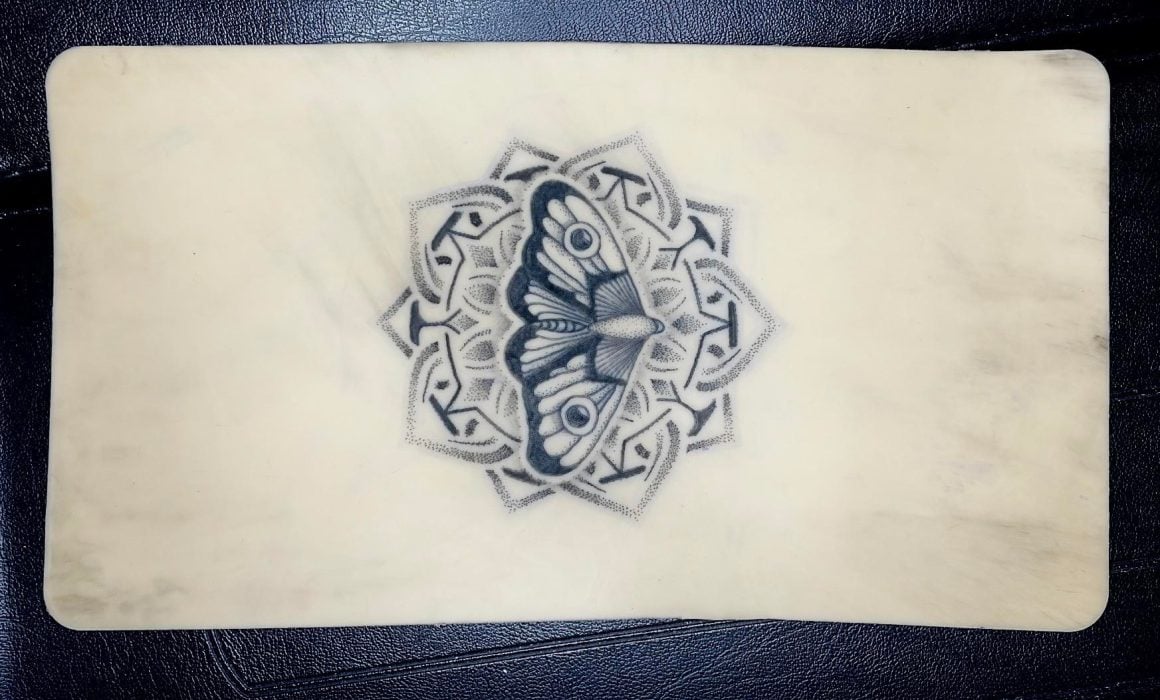 The first question that everyone asks when learning about fake tattoo skin is how close it feels to the real thing. The answer here is somewhat complex, but it is worth exploring.
Synthetic tattoo skin will never feel perfectly the same as real skin. Synthetic skin has different properties that makes it feel different from real skin.
However, with that said, nothing feels closer to tattoo than synthetic skin.
Well-made, high-quality fake tattoo skin stretches the same way as real skin, depresses and moves the same way as real skin, and accepts needles the same way as real skin.
The only significant differences here are that fake skin does not move unless you move it, it does not receive ink as well as real skin, it requires slightly different techniques to get the needles to move through the skin well, and it does not shade as well as real skin.
However, all techniques required to execute a good tattoo on real skin can be learned on synthetic skin. The way artificial skin feels, the way it stretches, the way it flexes, and the techniques involved are remarkably similar to tattooing real skin.
There are some other changes that tattoo artists need to make when tattooing fake skin, such as adjusting the voltage for their machines and using slightly different ink solutions, but all of the fundamental skills of tattooing are the same on real skin and fake skin.
What Are The Benefits Of Tattooing On Fake Skin?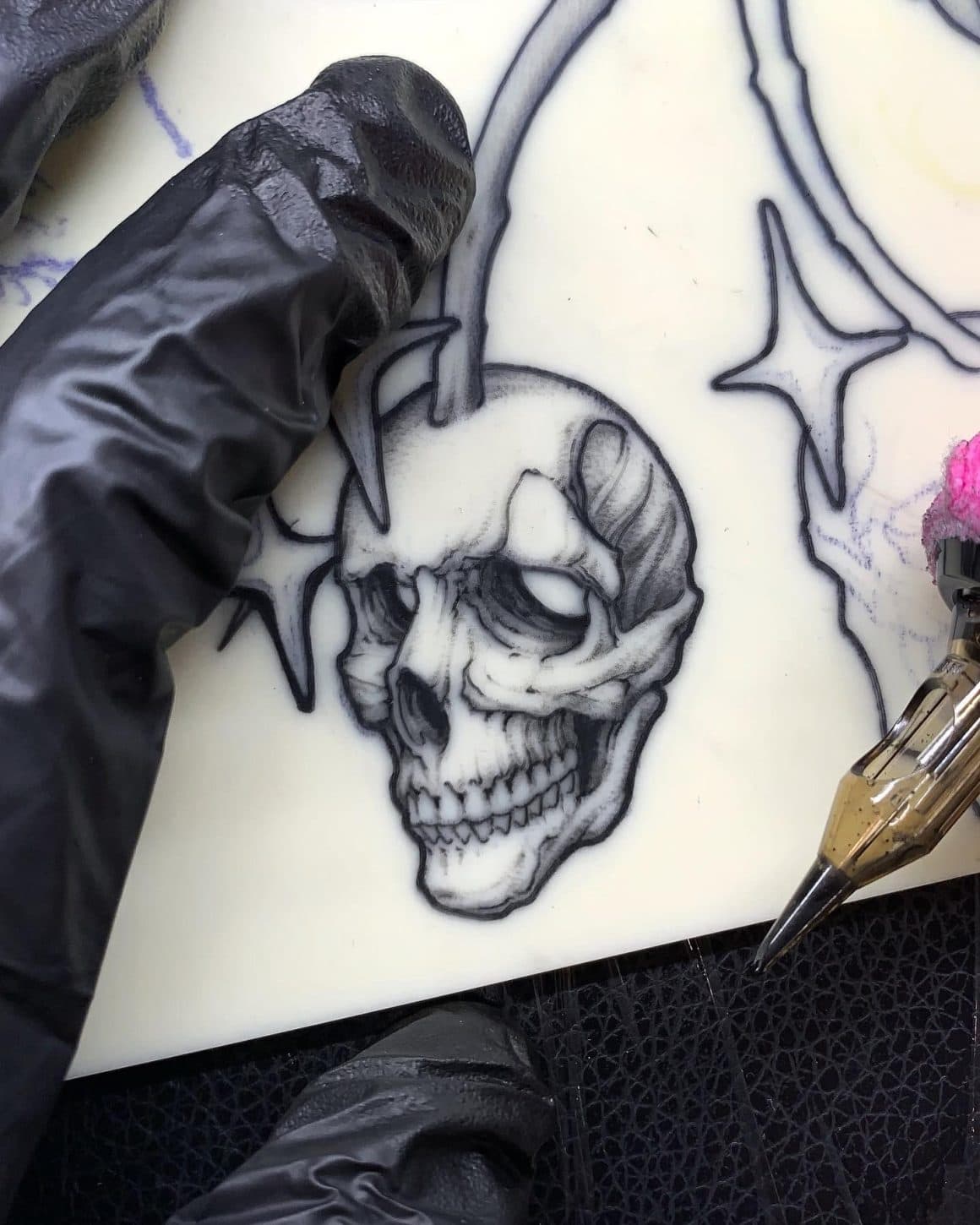 Synthetic and real tattoo skin are similar in many ways but different in some ways as well.
Some artists wonder why fake tattoo skin is so beneficial and how it can help them practice their skills when it is not identical to real skin. Is it better to just tattoo your own skin, or are the benefits of fake skin worthwhile?
To answer this question, here are some of the benefits that come with using synthetic tattoo skin:
Using Fake Skin Allows Artists To Practice Basic Skills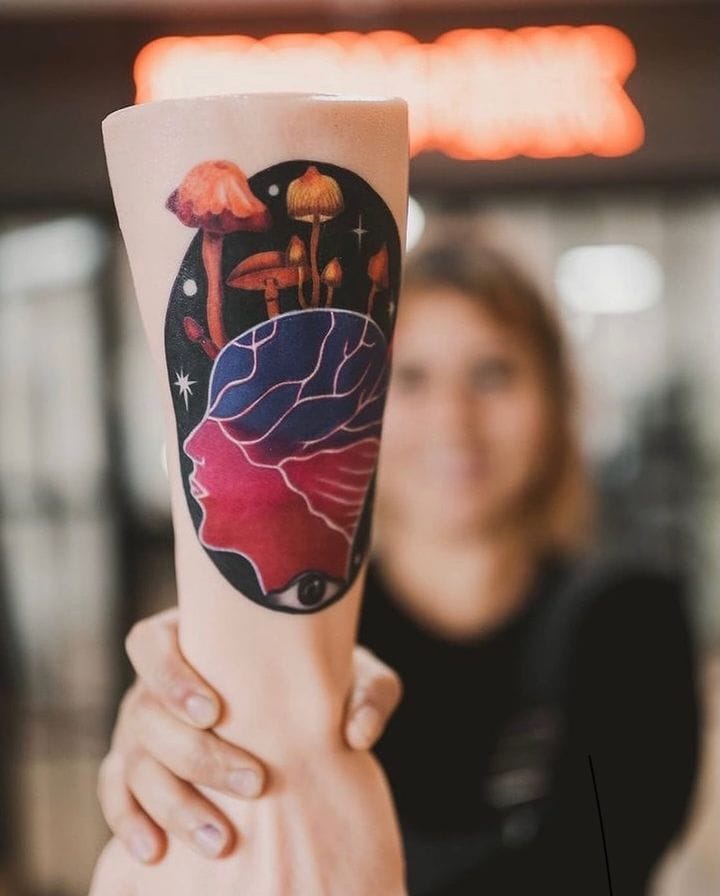 Practicing basic skills is a significant aspect of using fake skin for tattooing. Basic skills, such as applying stencils using tattoo transfer paper, are easy to practice on fake skin without making a mess of your own skin or the skin of someone you know.
Practicing basic skills such as hygiene, cleaning the skin, building muscle memory, tattoo placement, and even keeping a stencil in place while tattooing can all be learned on fake tattoo skin.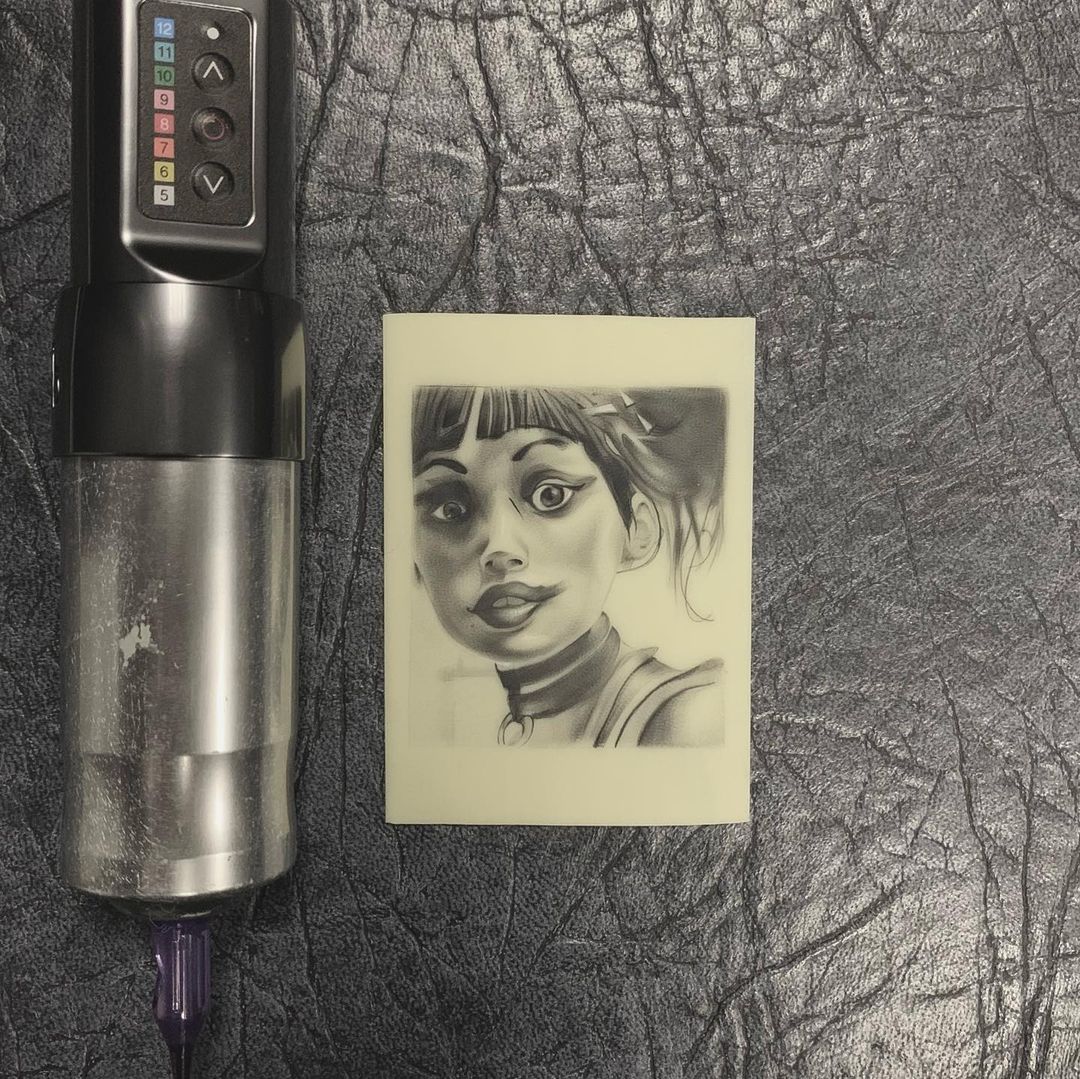 Using Fake Skin Allows Artists To Practice Techniques
Using synthetic tattoo skin allows a tattooer to practice the techniques they need to create brilliant tattoos without causing any harm to a person or permanently disfiguring someone.
Techniques such as how much ink to sink into a line or a shaded area, how deep to push the needles, how to hold their hands, how to pull clean lines, how to perform various shading techniques, and every other fundamental of tattooing can all be practiced on fake skin without consequences.
Using Fake Skin Allows Artists To Find Their Ideal Gear
Every artist has their own tattooing preferences. Using fake skin allows them to explore the available gear and product options without needing to do tattoos on a person until they find their ideal gear.
There are many excellent tattoo guns and machines on the market, as well as other critical gear such as needles, chairs, foot pedals, and even incidental gear such as gloves and paper towels. Using fake skin allows an artist to find their ideal equipment for their setup without the risk of making any mistakes along the way.
Even products like stencil solutions are a personal preference for tattooers, and using synthetic skin proves a way for artists to try out several brands of these products until they find what they like.
Using Fake Skin Allows Artists To Try Out Different Inks
Every artist needs to find the ink they prefer, as an artist is only as good as the ink they use.
The use of synthetic skin allows artists, even well-established professional tattooers, to try out as many inks as they want without the risk of putting a bad tattoo on a client.
There are hundreds of tattoo inks to choose from right now; some are far better than others, but using fake skin allows artists to find their ideal inks for their tattoo style and preferred techniques.
Using Fake Skin Is Safe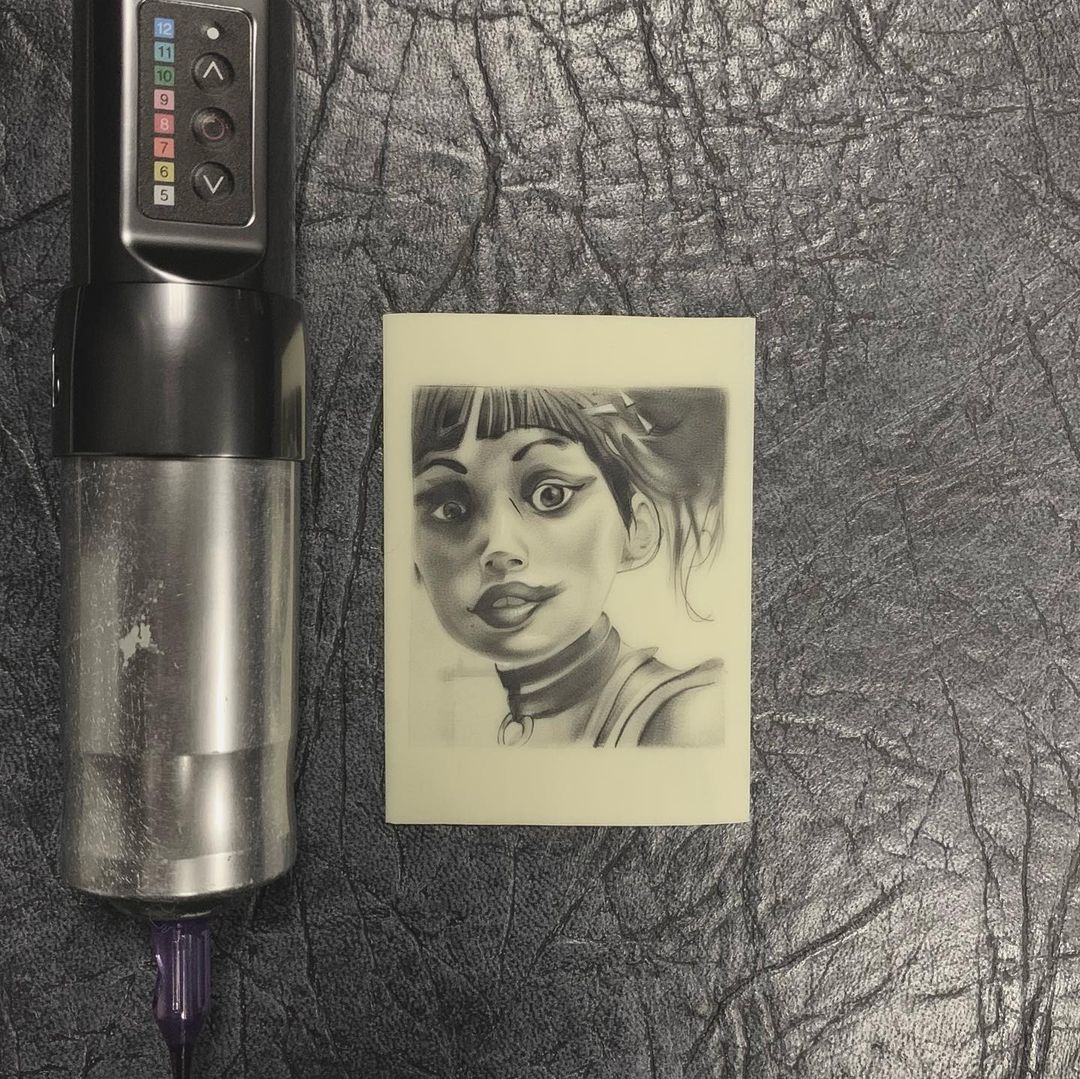 Using fake tattoo skin is safe. There is no risk of encountering blood, there is no risk of catching a disease or sickness from another person, and there is no risk of messing up a tattoo.
Tattoo artists are at as much risk when tattooing as the client is, and using fake skin allows them to practice safely, completely removing these risks.
Also, if you mess up a tattoo on fake skin, no one cares, but if you mess up a tattoo on a real person, it is a major issue.
Using Fake Skin Is Clean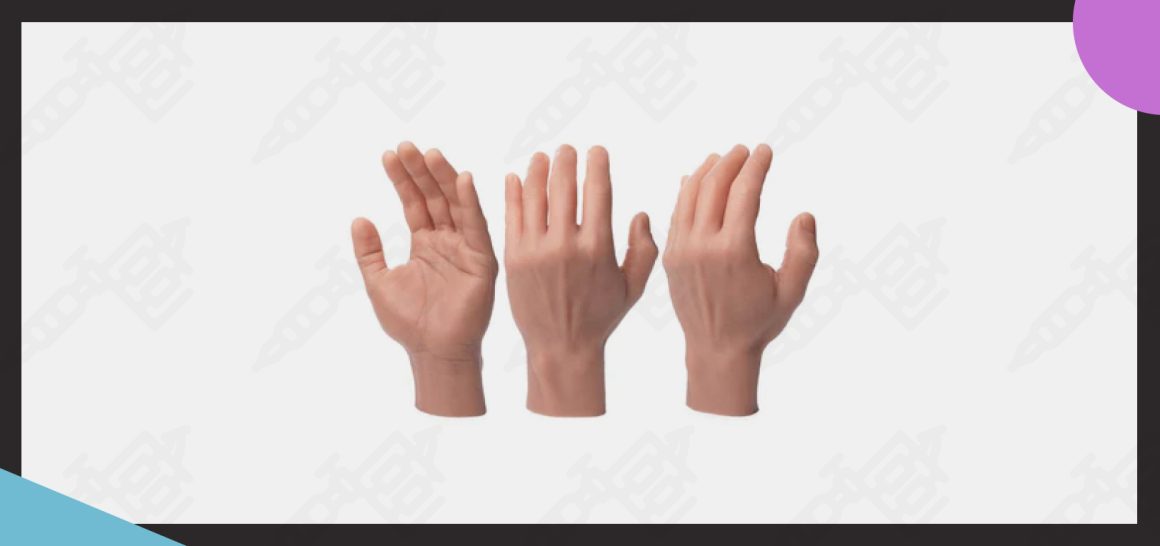 Fake tattoo skin is clean and easy to clean. It is easy to wipe away excess ink from good tattoo skin, which makes it far easier to practice techniques and find areas that you need to improve when practicing.
This is a reason why synthetic skin is significantly better for practicing than old-school skin analogs.
Fake Skin Allows Artists To Practice On Various Skin Tones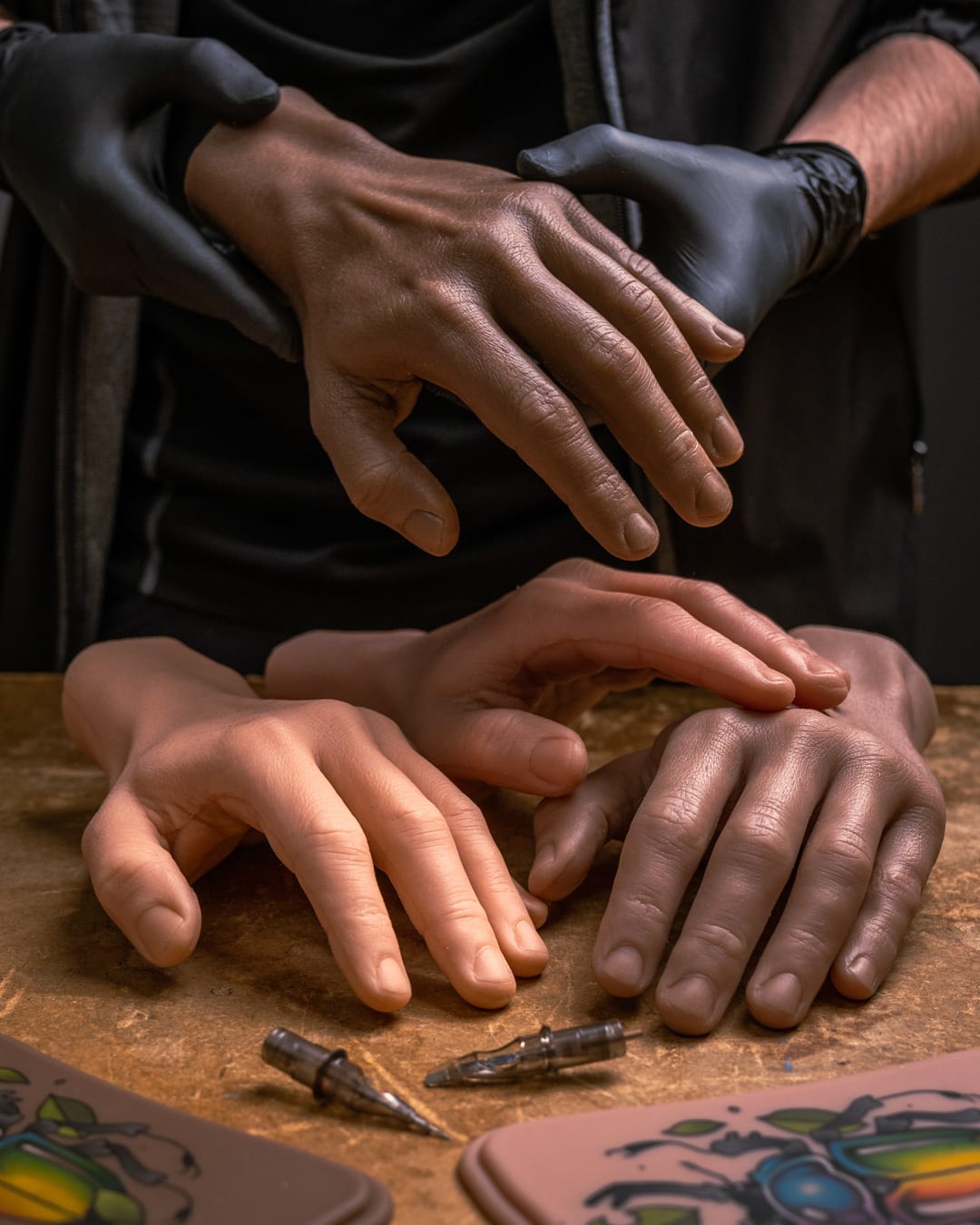 Every skin tone takes ink differently, and an artist must adjust their inks and techniques based on the color of the skin they are tattooing, or the tattoo may not look as good as it should.
Using fake skin is a great way to practice on many different skin tones without needing to find people of varying skin tones to practice on. The best fake skin brands produce a wide range of skin tones to practice on, allowing artists to hone their skills well for most skin types.
Tips On Tattooing Fake Skin
Since fake skin feels a bit different from real skin, there are a few things you want to keep in mind when you're starting to practice.
We've taken all of our experience and put together a comprehensive list on how to tattoo fake skin, but feel free to check out this video for some other tips as well.
Check out this video for some great tips:
Which Fake Tattoo Skin Products Are The Best?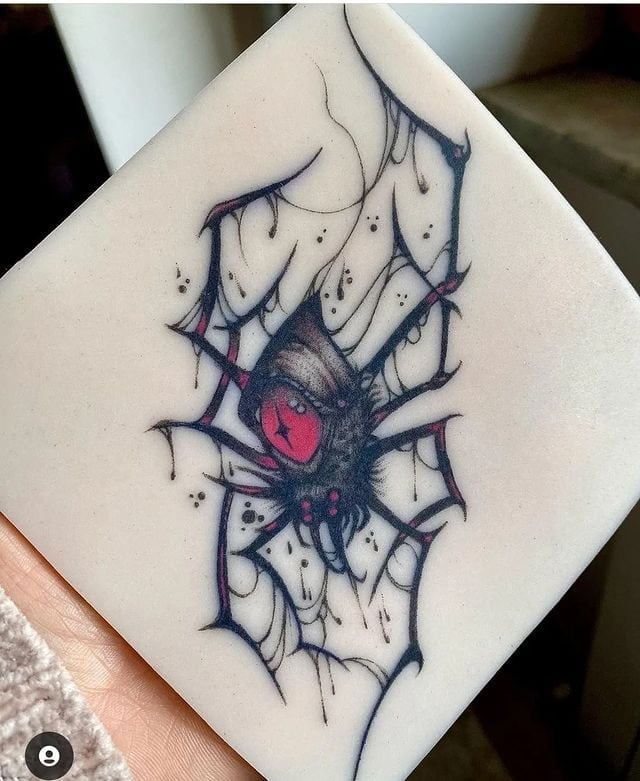 The world of tattooing has never been the same since the invention of synthetic skin, but some of the fake skin brands on the market are far better than others, and there are a few that are not worth buying. That said, where are the best places to buy fake skin for tattooing?
ReelSkin
The best synthetic skin product in the world for tattooing is ReelSkin. Artists who have tried this fake skin report that it has the most realistic feel for tattooing, takes ink well, cleans easily, and is the closest analog to real skin that tattooers can use right now.
A Pound Of Flesh
There are other excellent fake skin brands, such as A Pound Of Flesh, which is well-known for making full molds of hands, feet, arms, and other commonly tattooed body areas that allow artists to practice not only on near-real feeling skin but also the form of the human body with all of the same benefits of regular synthetic skin.
Sotica & Cinra (Amazon)
Some fake tattoo skin brands available on Amazon are relatively good, such as Sotica fake skin and Cinra practice skin. However, the reality is that the best synthetic skin brands are the best for a reason, and it is always better for any artist to use the best skin they can get for the best results.
Conclusion
Synthetic tattoo skin is among the most important innovations in tattooing in recent history and has changed how tattoo artists learn, hone their skills, and try out new techniques and equipment.
This product is here to stay and has become a staple in the tattoo industry. Every artist looking for a way to practice usually turns to fake skin, as this product provides a safe and effective way to hone skills for all tattooers.
Frequently Asked Questions
Can I use pig skin to practice tattoos?
If you're an apprentice, pin skins are an alternative to fake skin. Make sure you get it fresh, otherwise, it can stink up the studio.
Should I use fake skin to start tattooing?
You shouldn't use a tattoo machine until you're being mentored. Trying to figure this out on your own will earn you the "scratcher" title.
Related Articles
Setting Up Your Own Tattoo Studio: The Do's, Dont's, And Everything In Between
10 Best Tattoo Guns for Beginners and Professionals (2022 Buyer Guide)
10 Best Tattoo Numbing Creams to Help You Get Through Your Session