Hand tattoos for men are hardcore and pack a powerful punch.
The hand is an excellent placement for all kinds of tattoos in a multitude of different styles, from Old School Traditional down to realism, making them highly versatile to work with.
Today we will be looking for the most badass, masculine ones out there! Like all tattoos, hand tattoos are a way in which a person can express themselves, I think hand tattoos can have the potential to be quite meaningful and intimate.
Each hand can hold a different meaning; the right can be associated with dominance and power, while the left can symbolize emotions, vulnerability, and justice.
Let's take a look at the top 20 gems I found…
1. Badass Black Work Wolf Hand Tattoo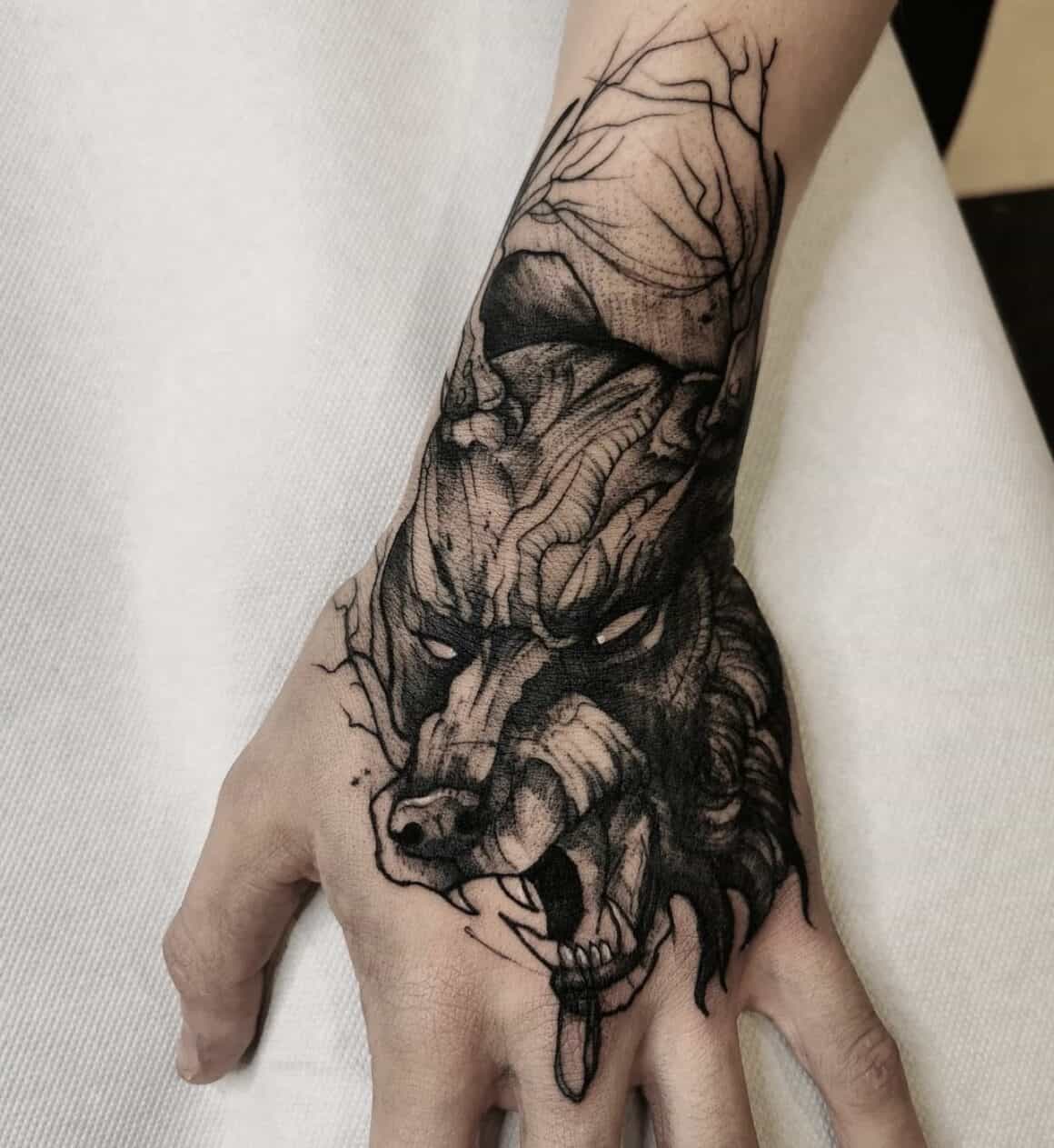 I think this is the perfect piece to start off this list with! This tattoo encapsulates the essence of masculinity with the symbolism of a powerful wolf done in the infamous blackwork style.
The line work is bold and strong, meaning this tattoo will age very well! I love the saturated black the artist used for this piece, it makes this work of art very punchy. Overall this tattoo is stunning and deserves all the recognition it can get.
2. Hardcore Realism Hand Tattoo
One thing is certain, it is extremely difficult to create a realistic tattoo, let alone create it on a hand! This artist has demonstrated their artistic capabilities through this piece, I am very impressed.
My favorite part about this piece is the smiley piercing under the top lip, I think that is such a unique touch. The shading is smooth and saturated and makes this piece boldly stand out. Bravo!
3. Intricate Black Work Octopus Tattoo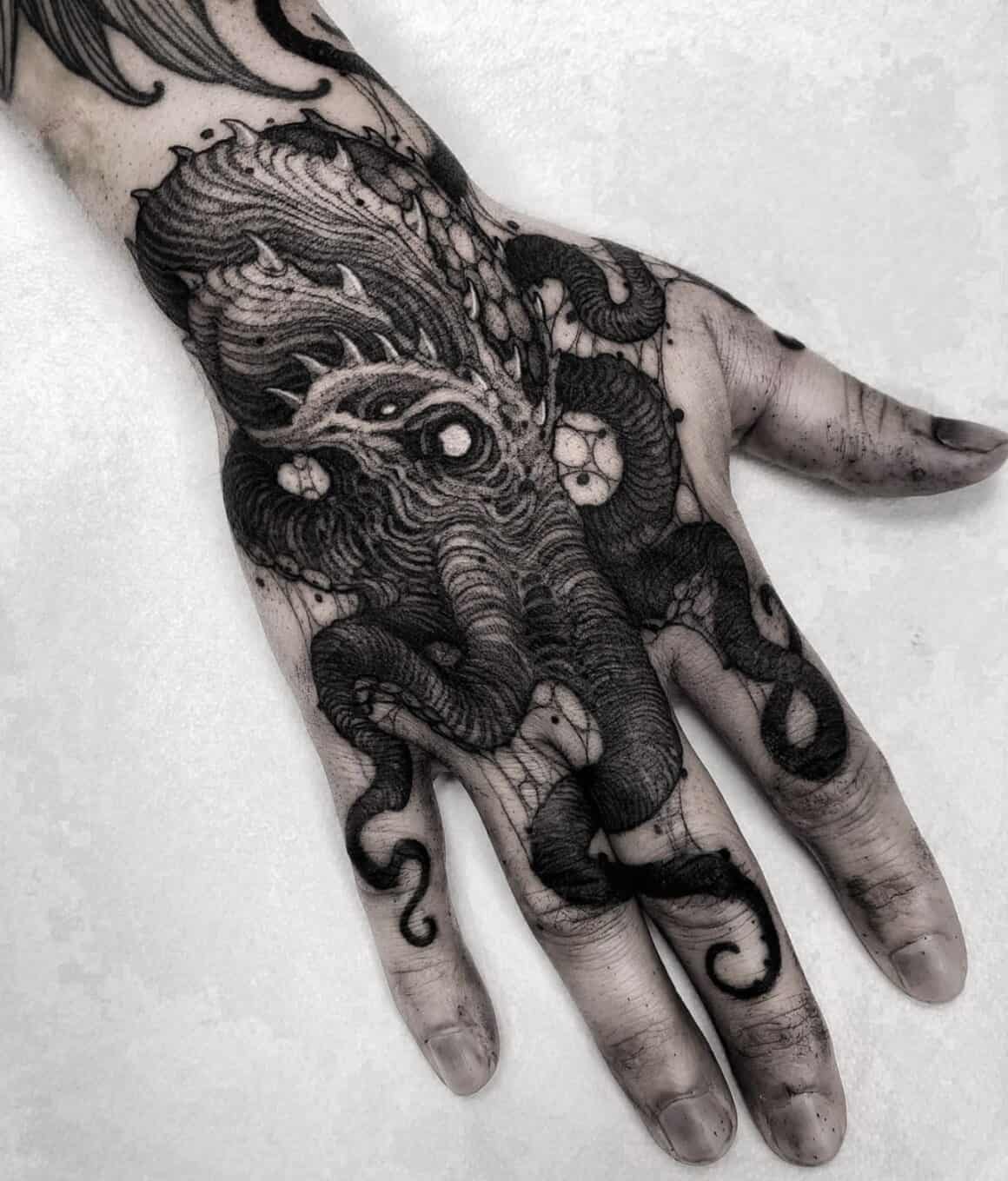 Oh how I love creatures under the sea! This octopus screams masculinity; from the dark details to the impeccable shading, what a looker.
I love what the octopus symbolizes; our ability to overcome personal adversities through using our own creative abilities and intelligence. I like the placement of the tattoo combined with its symbolism. Super unique!
4. Demon Hand Tattoo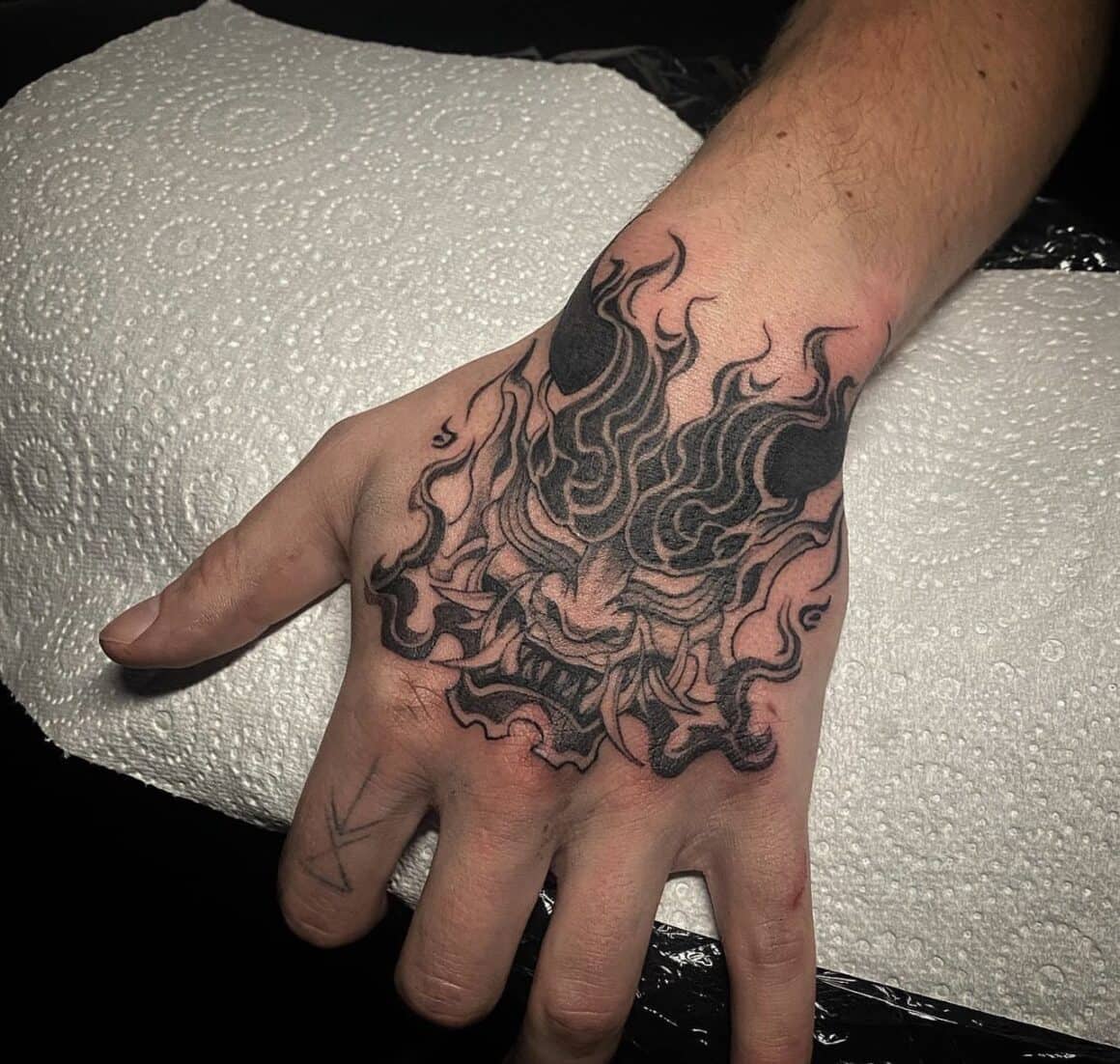 This tattoo makes me want to go to a hardcore show and get into the moshpit! I think this tattoo suits the masculine essence perfectly.
I love the use of simple blackout shading combined with simple linework; that is what makes this tattoo stand out.
5. Esoteric Fine Line Tattoo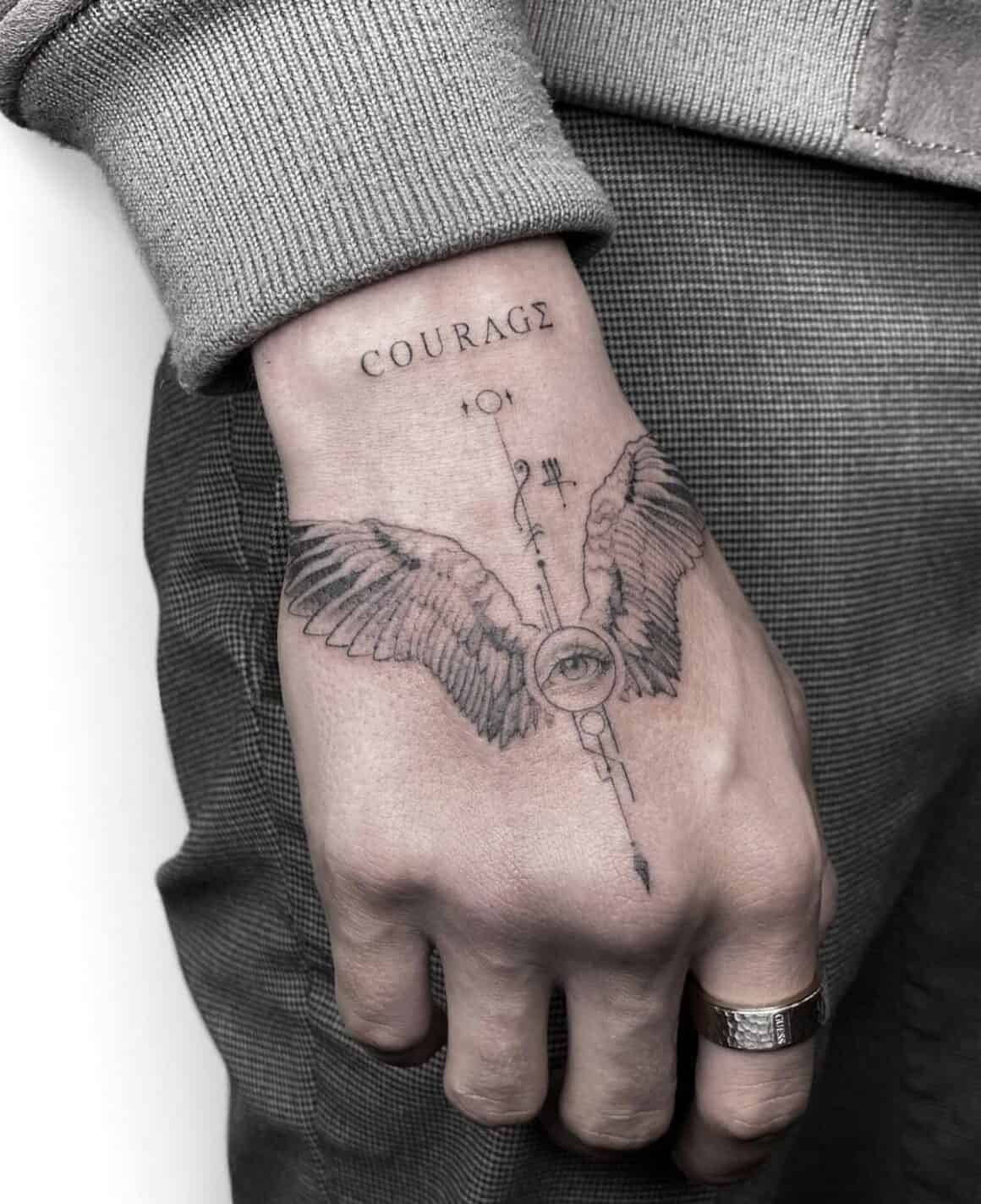 Who said fine line can't be masculine? Certainly not me! Here is living, breathing proof that fine-line work can capture masculinity!
My favorite feature about this tattoo is the artist's ability to keep that masculine energy within this tattoo. I also want to pay my respects to the esoteric, enigmatic element of this piece; it makes me want to look at it for hours!
6. Gothic Demon Lady Hand Tattoo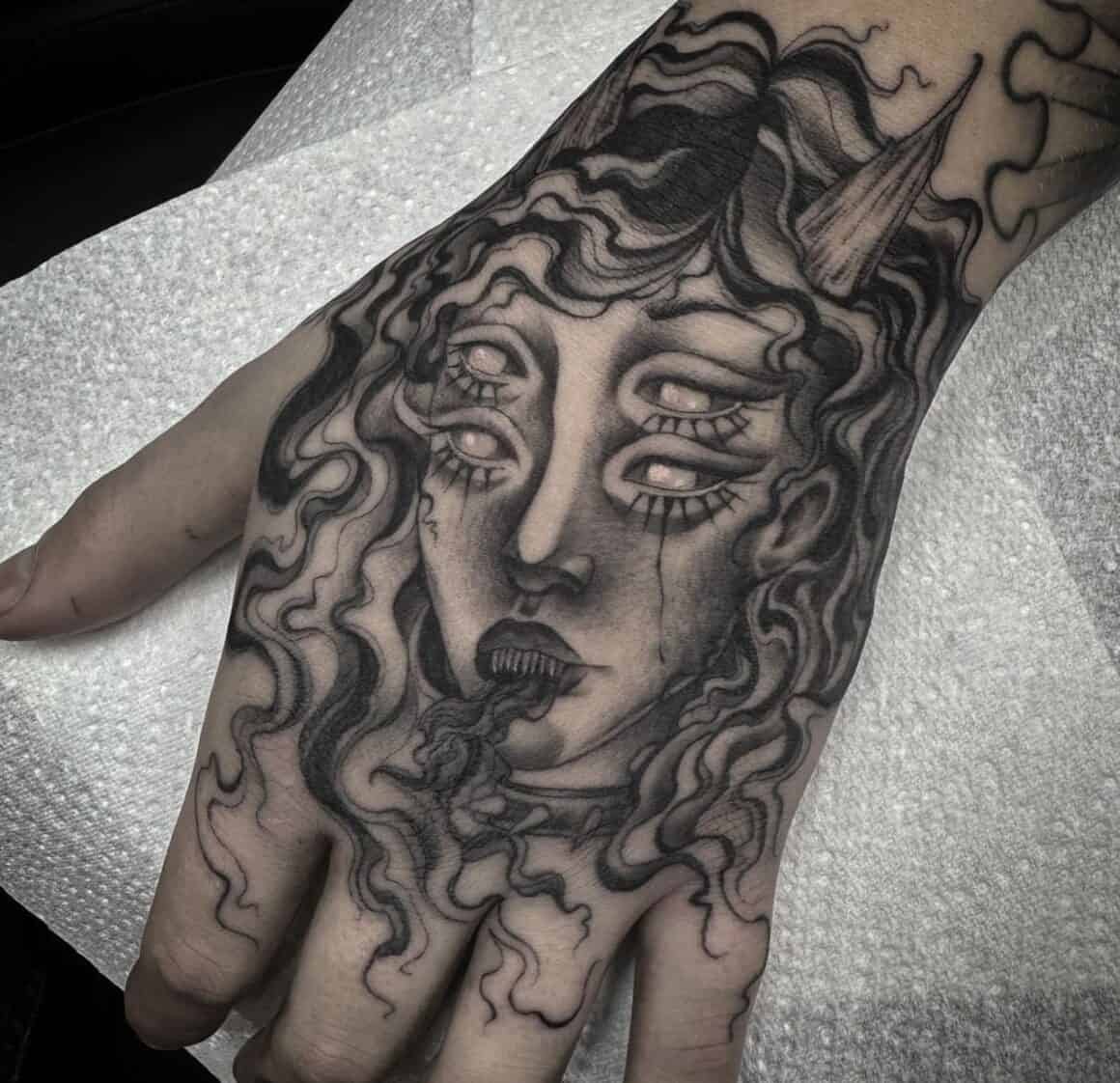 Another brilliant piece on this list; I can't stop staring at her mesmerizing eyes… all four of them! The lines are clean, crispy, and soft.
I like how the artist has used the feminine aspect of the lady face combined with the black work tattoo style; this makes for a killer combo! This tattoo is a masterpiece to feast our eyes upon.
7. Triple Fine Line Sword Hand Tattoo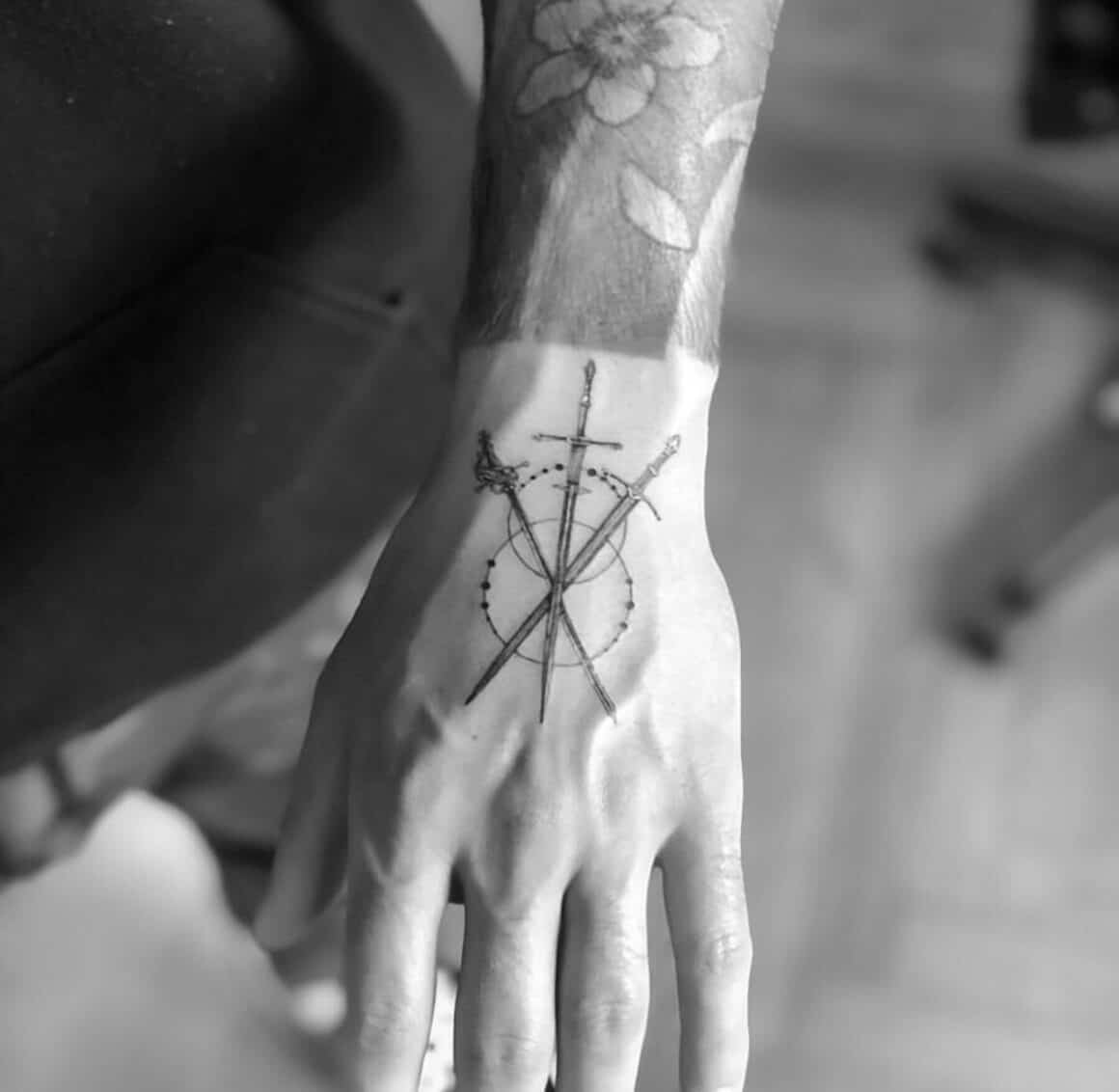 Here lies another example of how masculinity can be captured using fine, intricate lines. I love the geometric element the artist has created with circular shapes; it adds a unique twist to this piece.
The line work and shading has been done by a professional hand, that is clear to see. I like the use of three swords, it adds balance and symmetry. This tattoo encapsulates not only masculinity but beauty in its essence.
8. Symmetrical Tribal Hand Tattoos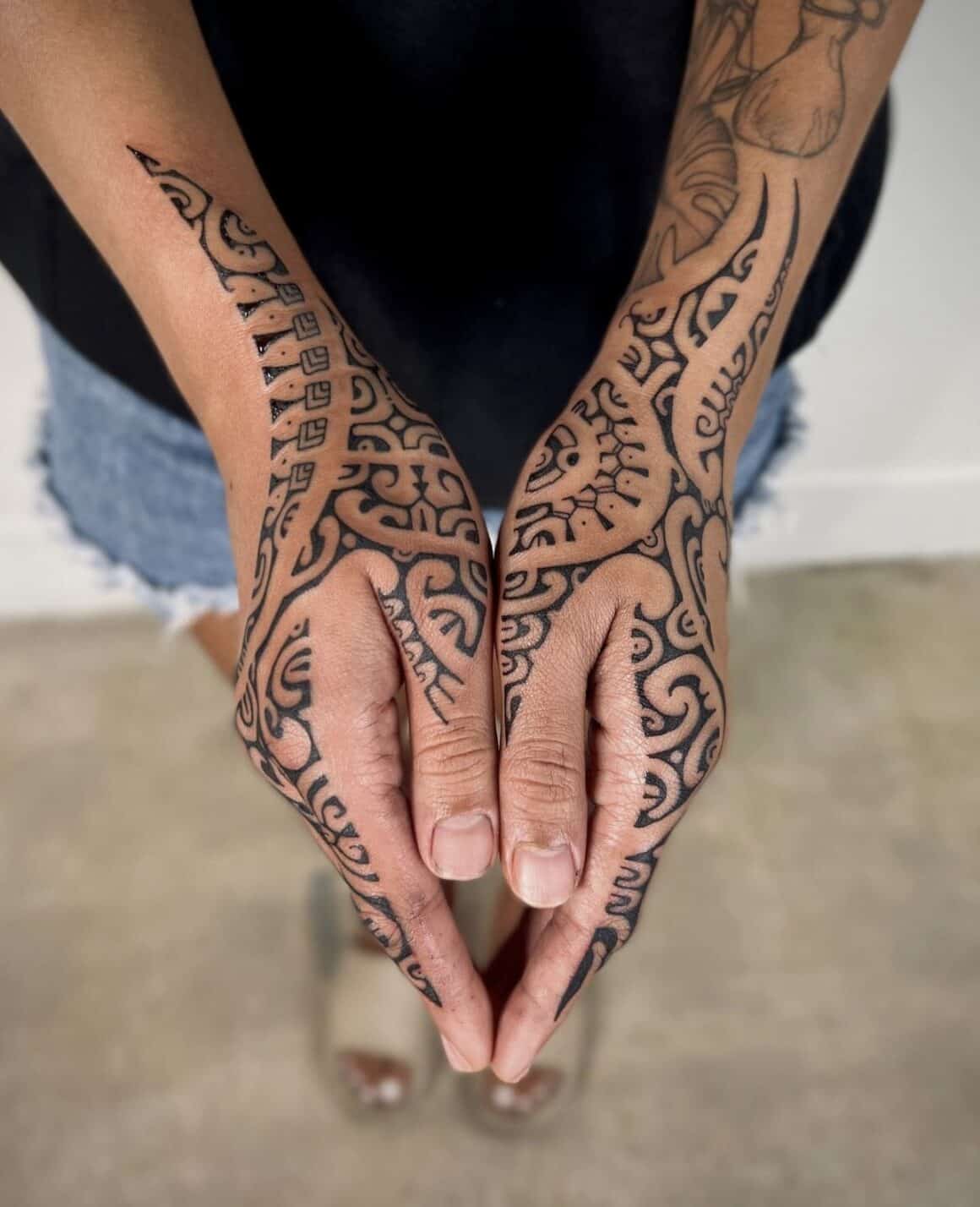 Tribal Tattoos have always held a masculine element, which is why they are on this list as the perfect hand tattoos for men.
My favorite part about this tattoo is the matching symmetrical tattoos on both hands; this is a key feature of tribal tattoos, which makes me appreciate this artist's work even more. The shading and line work is impeccable.
9. Geometric Dot Work Hand Tattoo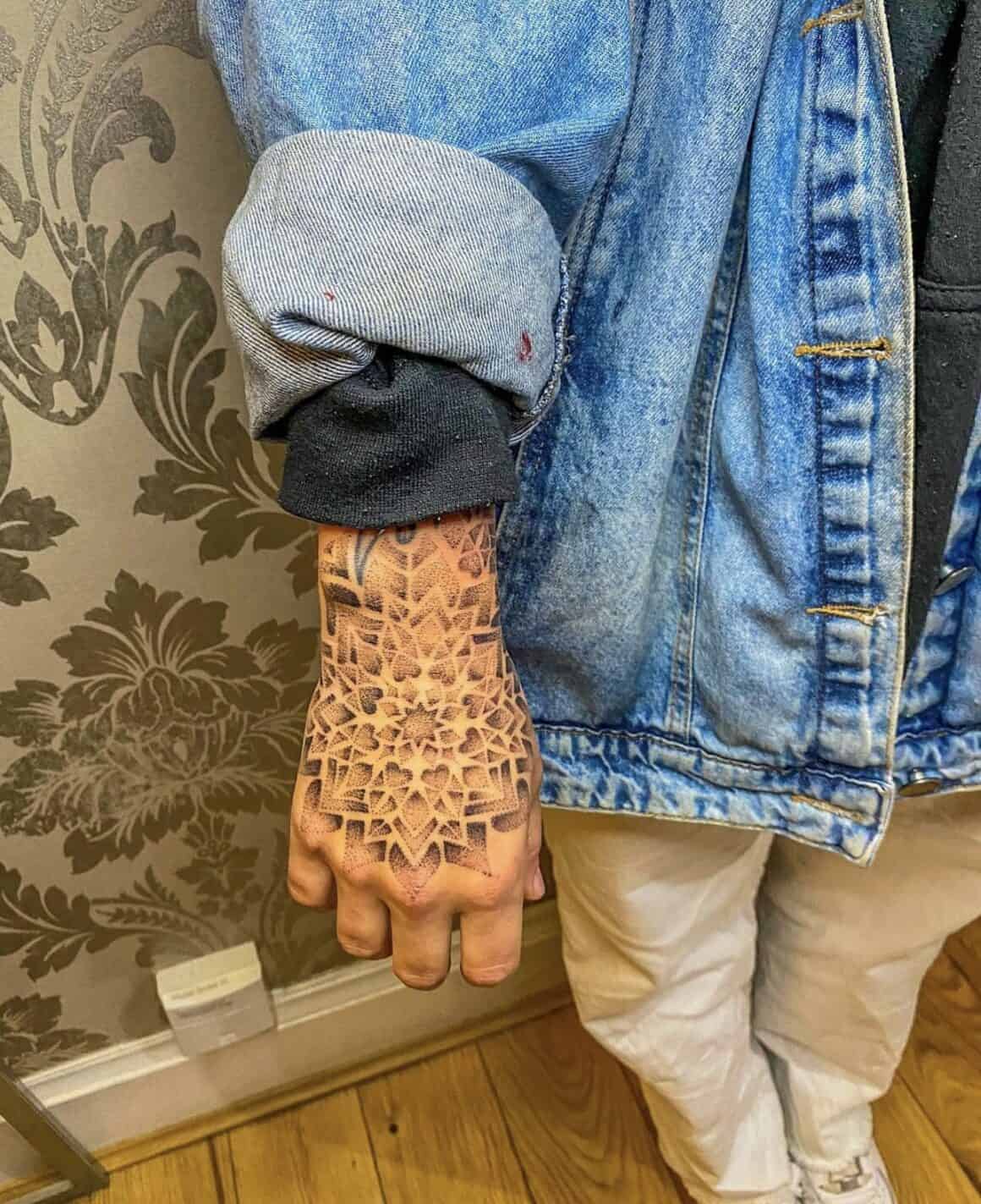 Geometric Dot Work hand tattoos are very popular, and I am sure you can see why. The style has been around for centuries and is one of the most revered techniques in the industry.
I particularly like that the artist used a mandala design, as it fits perfectly with the natural circular curvature of the hand; there is a ton of artistic ability to be seen here!
10. Simple Traditional Flower Hand Tattoo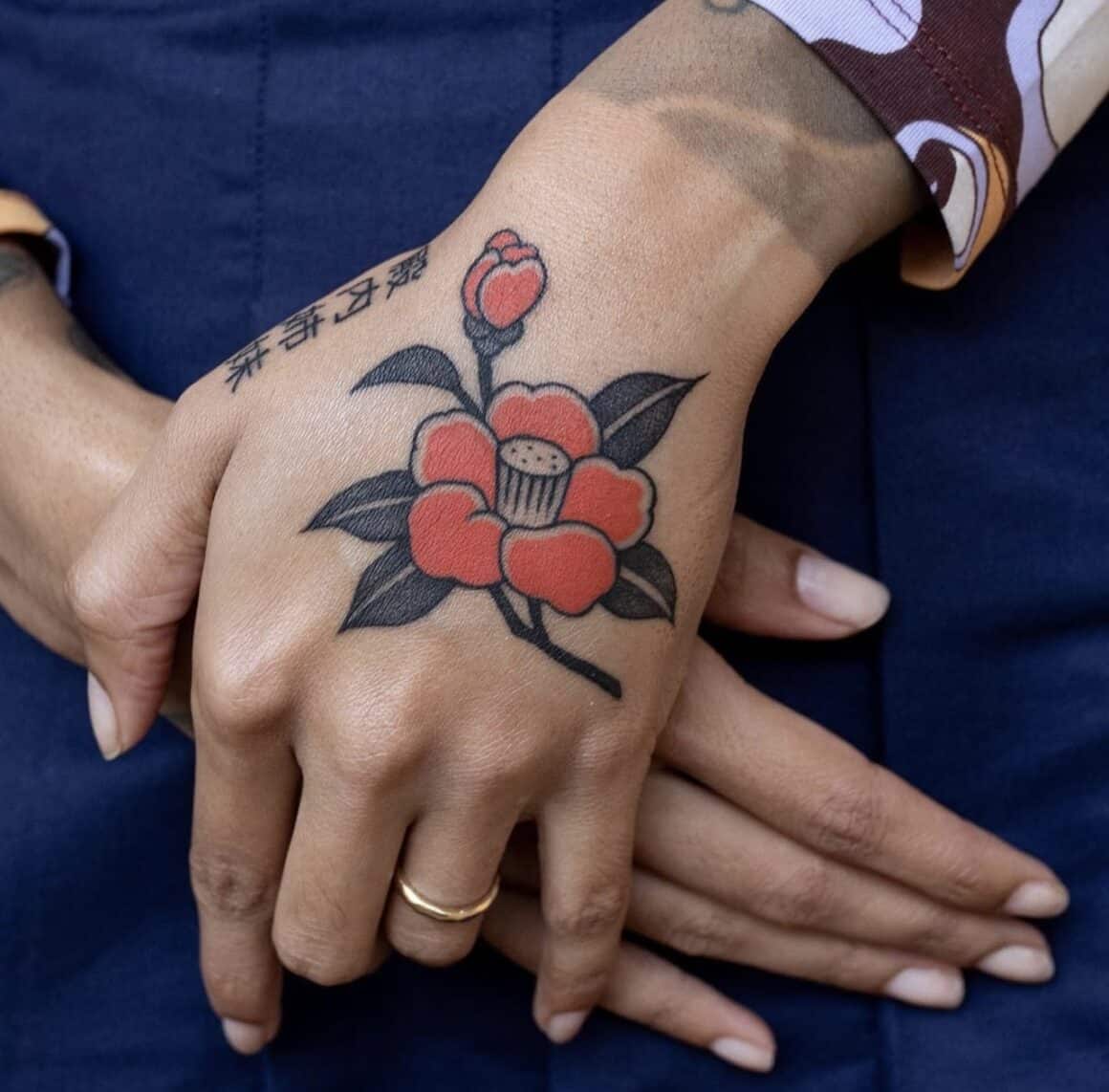 Well… if it isn't my favorite style! I love a traditional hand tattoo, especially when it is simple, bold and colorful.
I love the simplicity of this piece as well as the entire design. I like that the artist used block shading for the petals; that is super unique. The use of dot shading in the leaves also gives this tattoo an extra twist of uniqueness. Well done to this artist!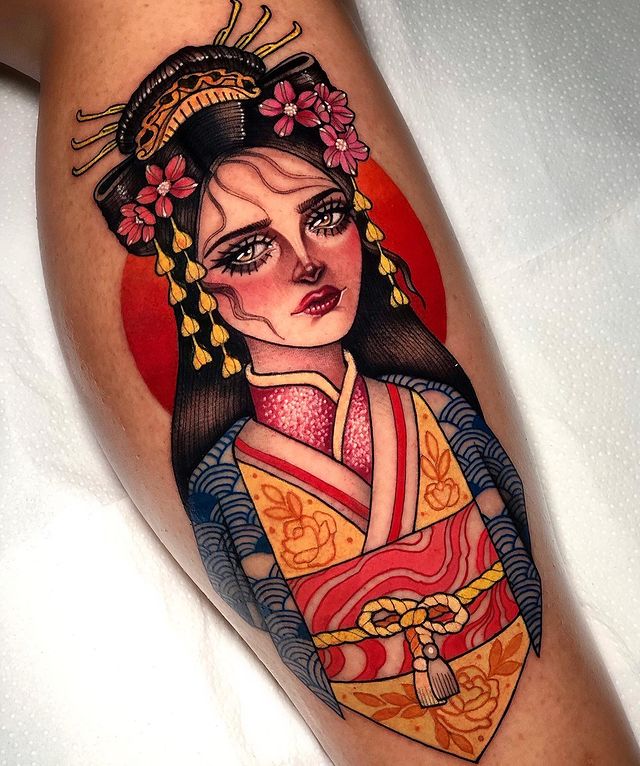 11. Double Traditional Hand Tattoos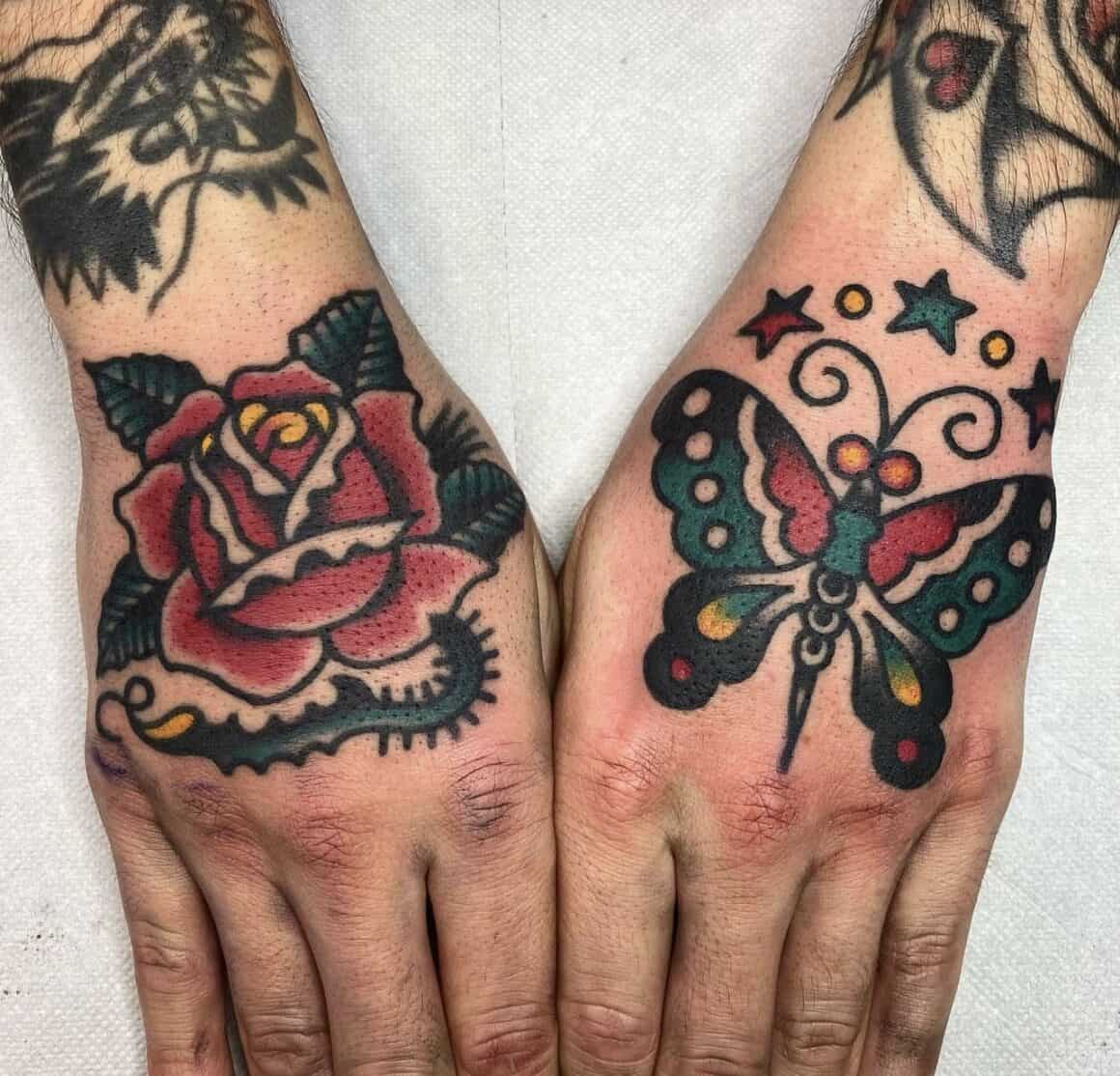 Double trouble, two traditional hand tattoos are always better than one, and I will stand by that until the day that I die. The traditional style is always a great option for hand tattoos for men; they stand out and are packed with power!
What I like most about this piece is the color palette the artist used. The wings of the butterfly complement the rose petals well and creates that feeling of balance. I appreciate the artistic approach to this piece.
12. Colorful New School Hand Tattoo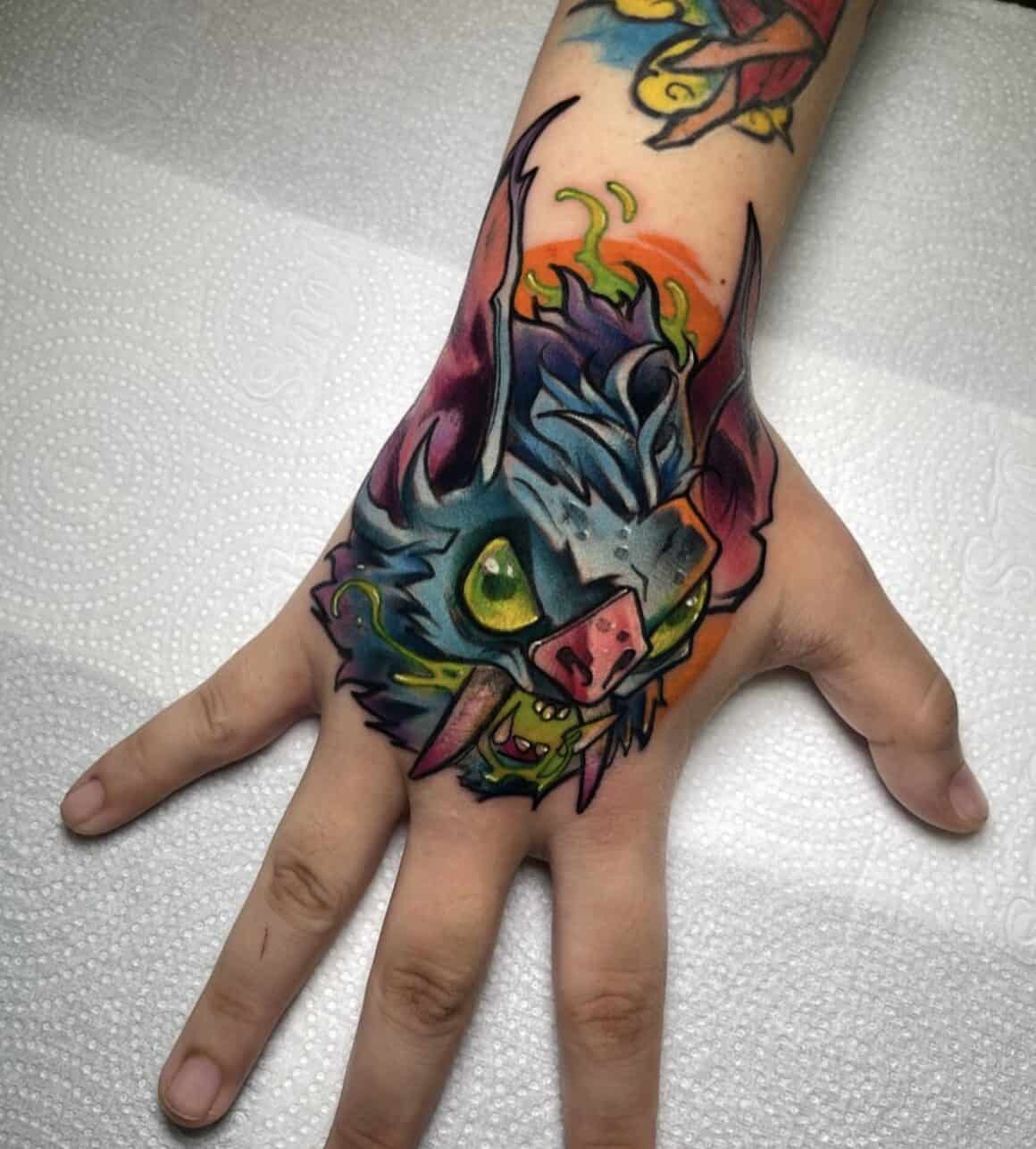 New school is known for its vibrant, bright, and playful colors, which have been executed to perfection in this piece.
I love the imagery of the bat and how the artist has given him a unique monstrous face. The lines are incredibly bold and hold the bright colors in place. This tattoo deserves everyone's admiration and respect.
13. Diehard Black Work Skull Hand Tattoo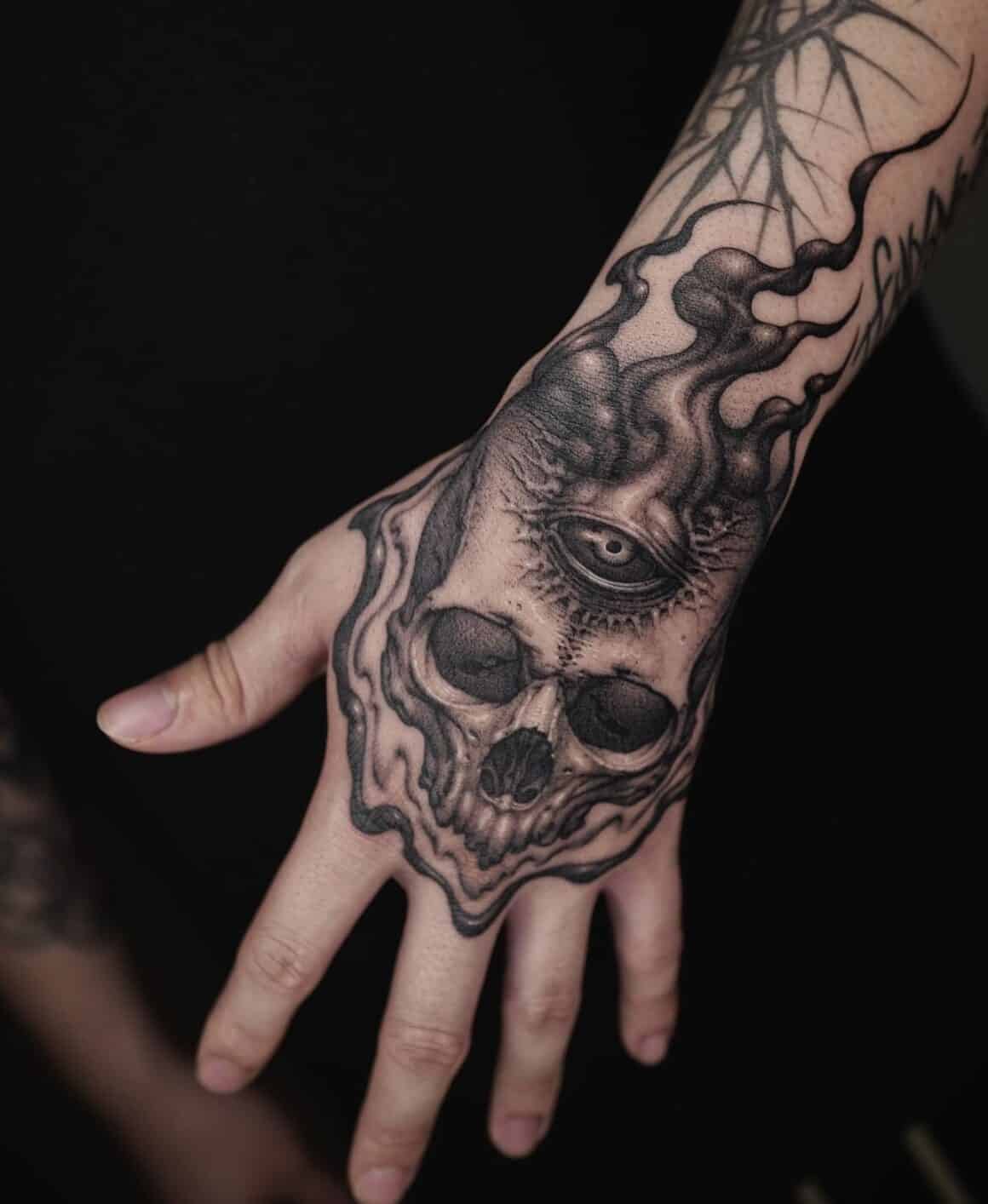 Nothing, but nothing screams masculinity more than a skull tattoo! This tattoo is the poster boy for "masculine hand tattoos."
I love the element of the third eye the artist has added, which makes this skull tattoo unique. The shading really caught my eye; the artist's ability is out of this world. This is a masterpiece all around.
14. Old School Tiger Tattoo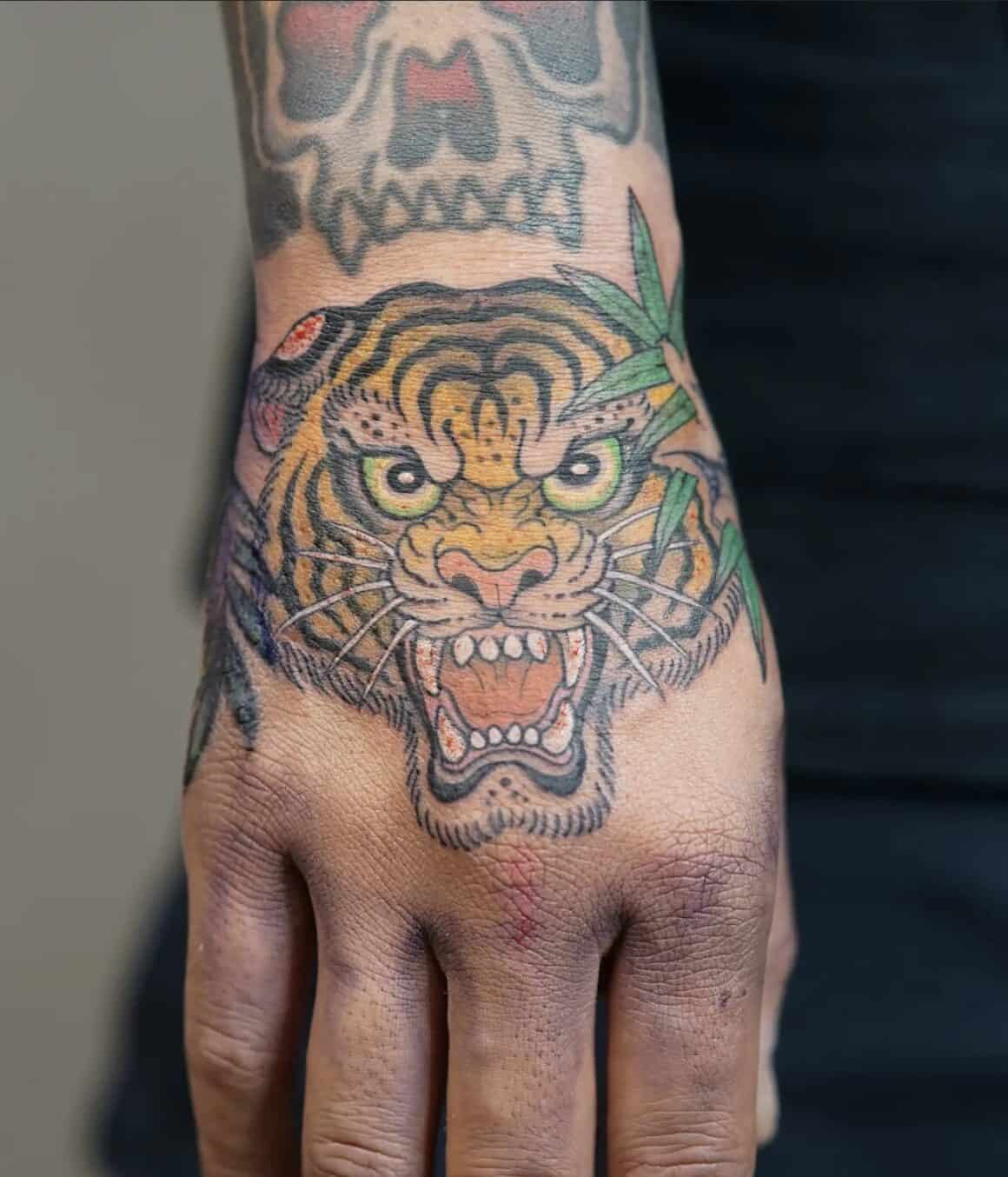 Of course, there is more traditional on this list! Tigers represent power and triumph which falls in line with masculinity… and this list!
The line work is the best part about this tattoo, they are smooth like butter and as bold and clean as can be. The oranges and yellows used by the artist also make this tattoo stand out. I love the tropical imagery of placing leaves next to the tiger's head.
15. Old School Lady Face Tattoo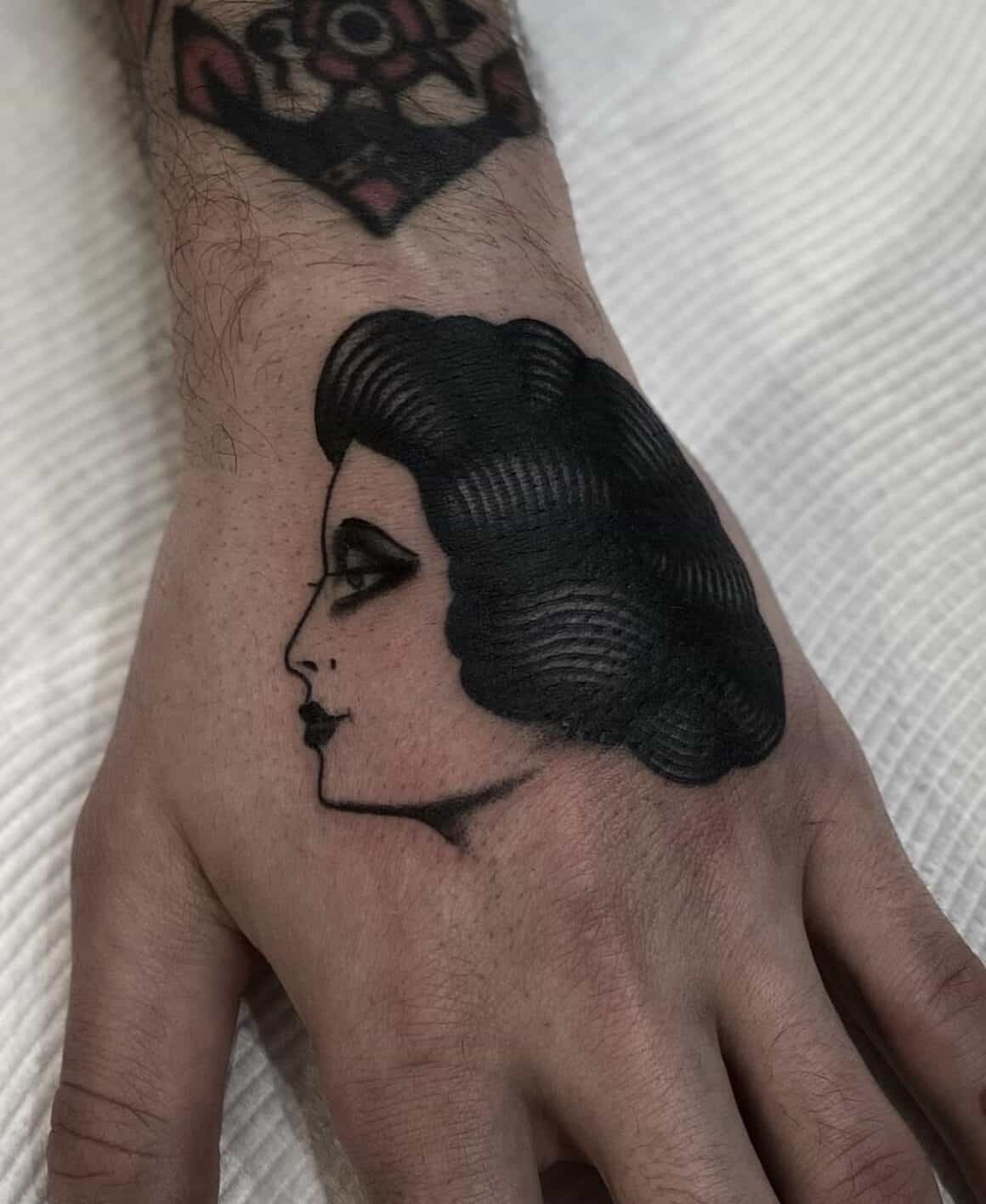 Oh would you look at that, another traditional work of art! I am sure you can see by the way this list goes that traditional pieces make for perfect hand tattoos for men.
I love the simplicity this lady encapsulates, less is always more; look at how she stands out! I love her hair and how the shading brings out the bold lines; they complement each other well.
16. Black Work Ornamental Tattoo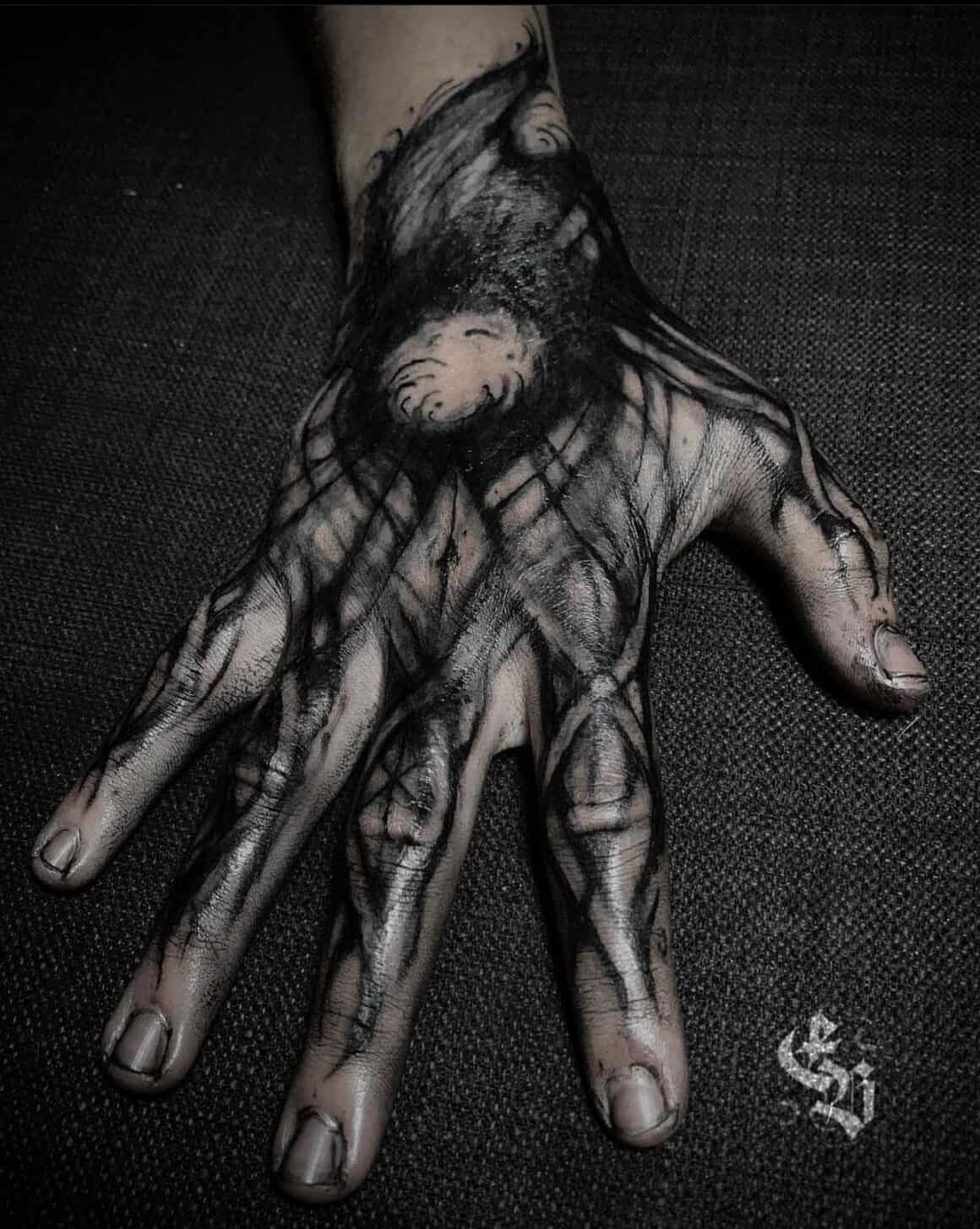 I think this might be the manliest piece on this list yet! Dark, enduring, and handsome; the recipe for a perfect hand tattoo.
I love the use of black ink and how it has been distributed evenly across the design; there is a perfect amount of balance and symmetry in this piece, making it stand out.
17. Neo Traditional Hand Tattoos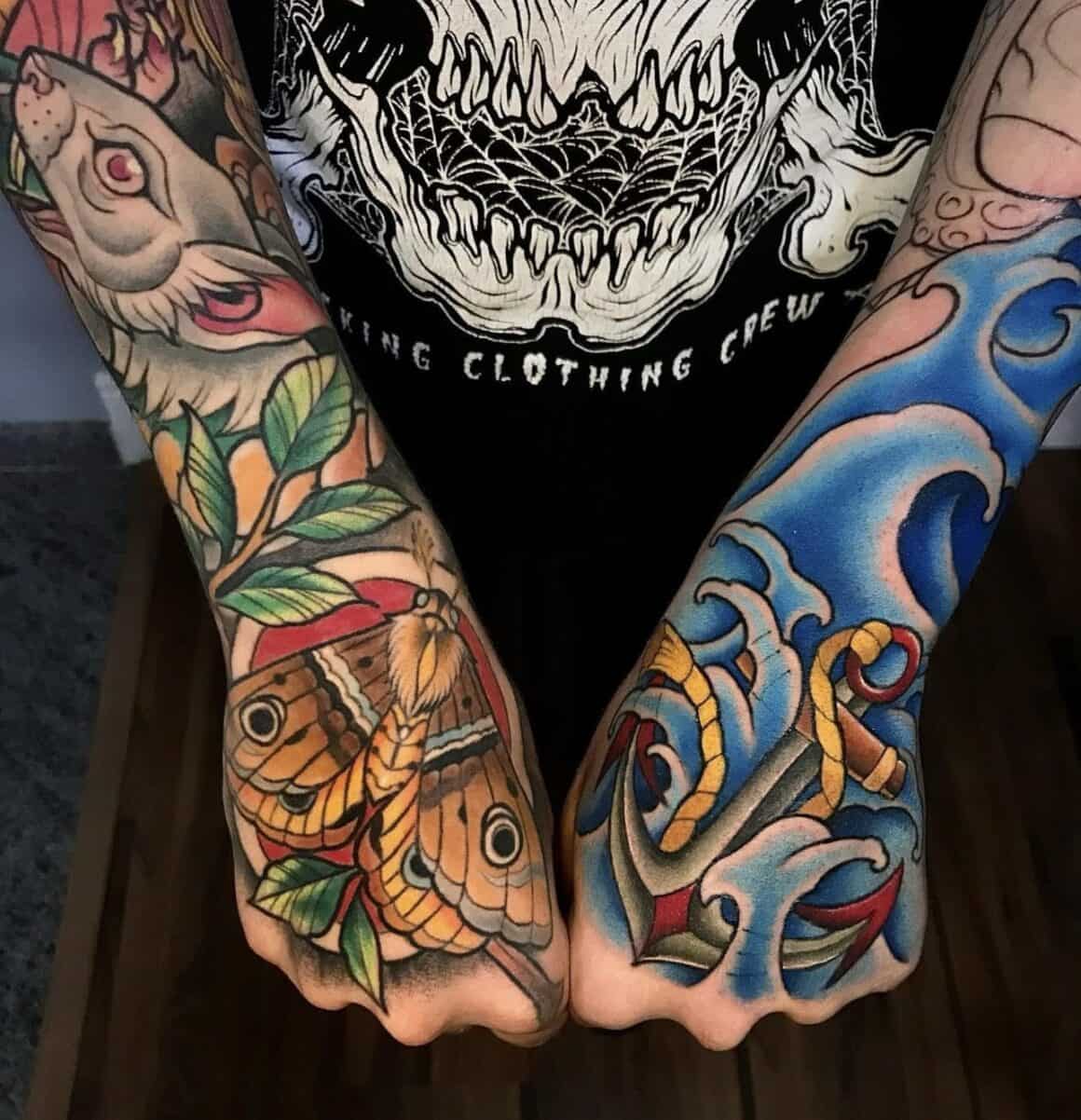 Neo traditional tattoos make for perfect hand tattoos, from their intricate extra details to their bold colours.
I love the use of traditional imagery with the anchor and moth; this is what I appreciate most about this tattoo, it is sticking to its roots! The bright colors bring a light element to the tattoo instead of all the black work on this list. Colour can be masculine too!
Speaking of which, be sure to check out our best moth tattoo list.
18. Black Work Monster Tattoo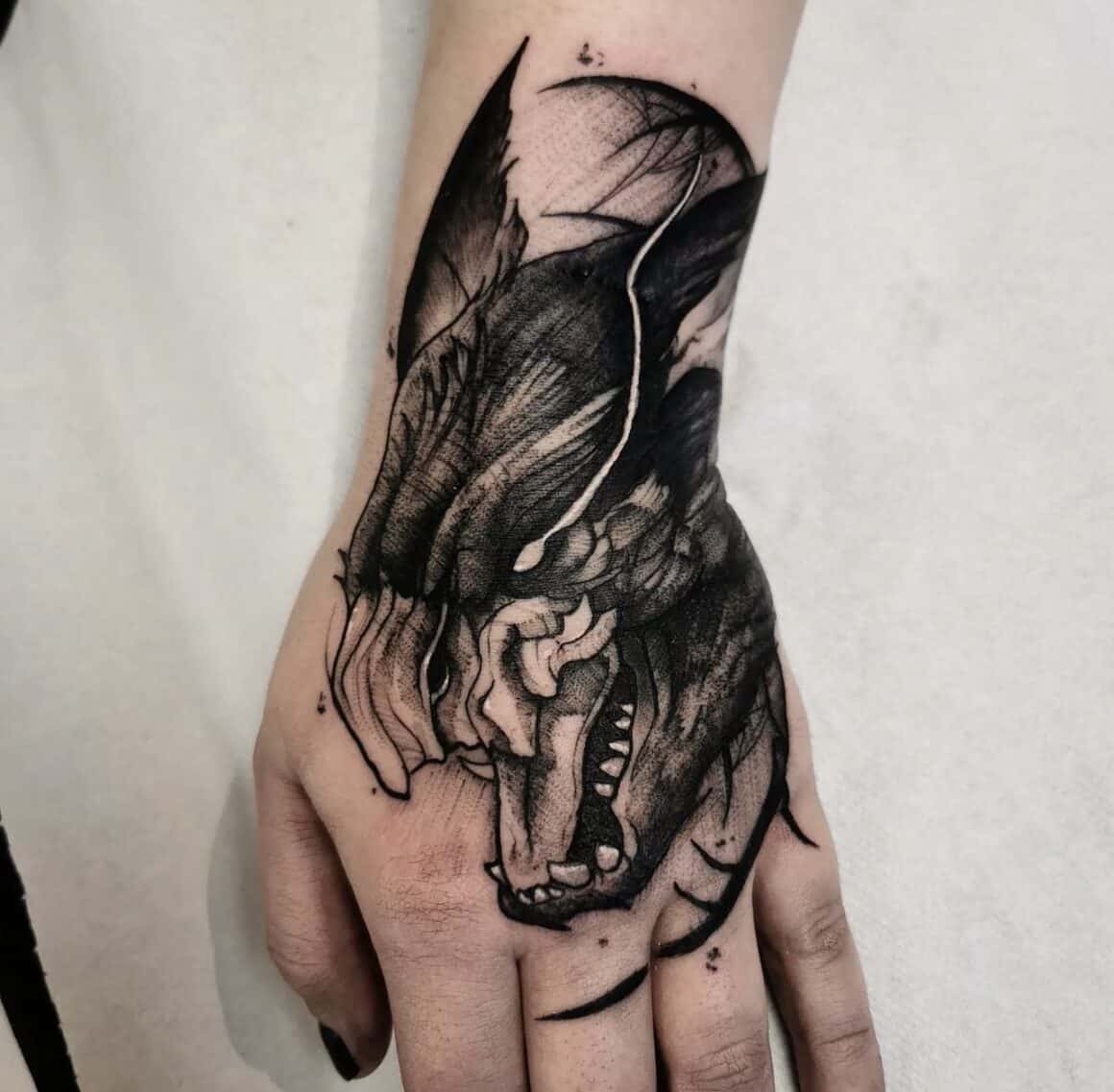 I love the imagery of this piece; the monstrous element makes for the perfect hand tattoo for a man.
My favorite feature on this tattoo is the use of white ink to make certain parts stand out, like the teeth and nostrils; a unique touch, indeed!
19. Black Out Hand Tattoo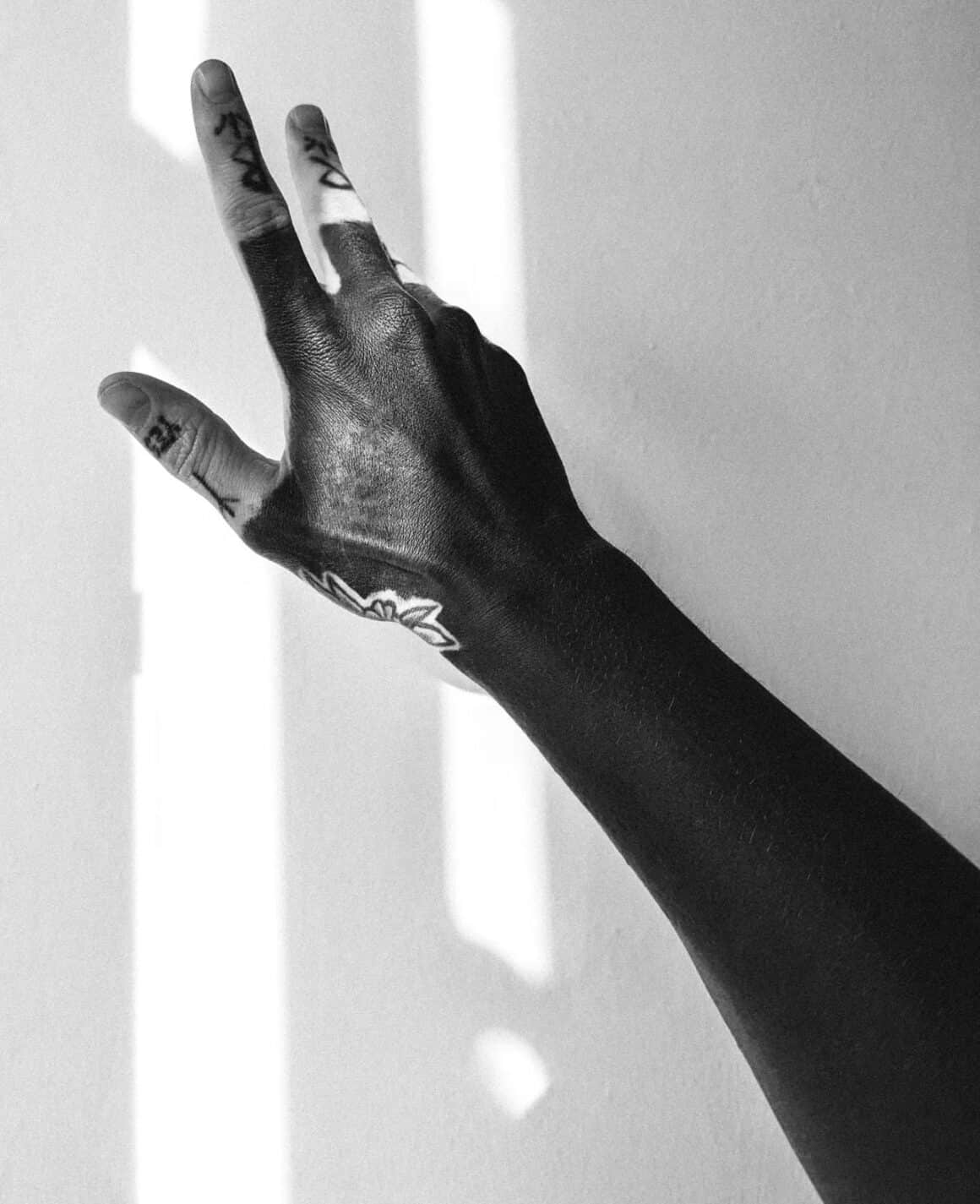 This is one of my favorite tattoo styles of all time, so it made it onto this list.
Black out tattoos are usually meant to cover up bad tattoos or tattoos you don't want anymore. Alternatively, they can be used to create negative space for other tattoos.
20. Balinese Mask Tattoo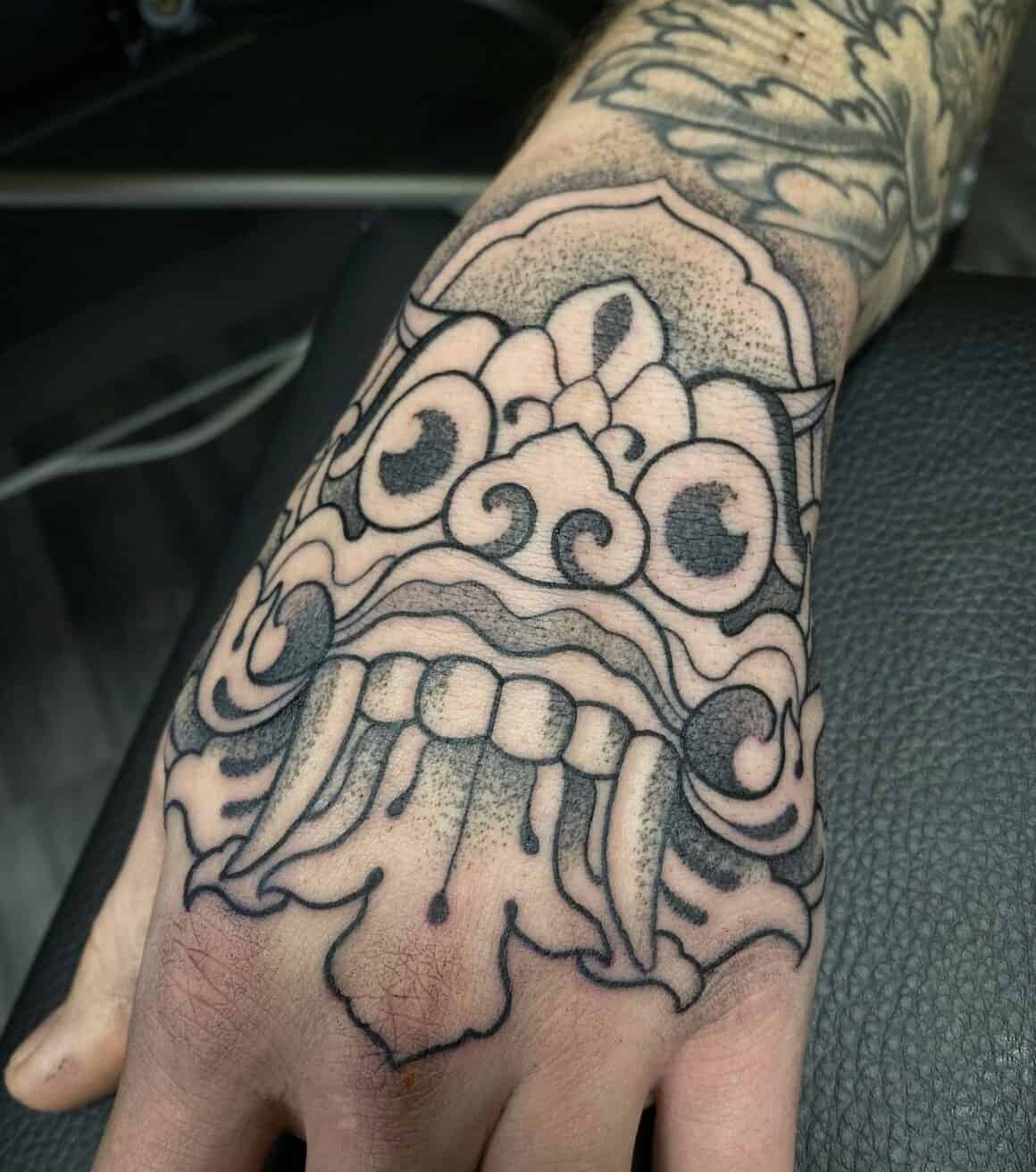 Last but certainly not least, we have a Balinese mask. I'm glad I could find one to put on this extensive list. Balinese masks can symbolize an array of different things, such as health and good fortune.
This tattoo has been done in a hand poke technique which I greatly respect; it takes time, effort, and an insane amount of patience.
Looking for more inspiration? Check out our 27 Bold Back Tattoos For Men To Make A Statement.