Mermaids are beautiful, mystical creatures from the deep blue sea. They make beautiful works of art and even better tattoos. Mermaids are commonly found in neo-traditional, traditional, and black work tattooing styles.
Let's a look at the top 20 that I found.
Mermaid Tattoo Ideas
1. Pin Up Mermaid Tattoo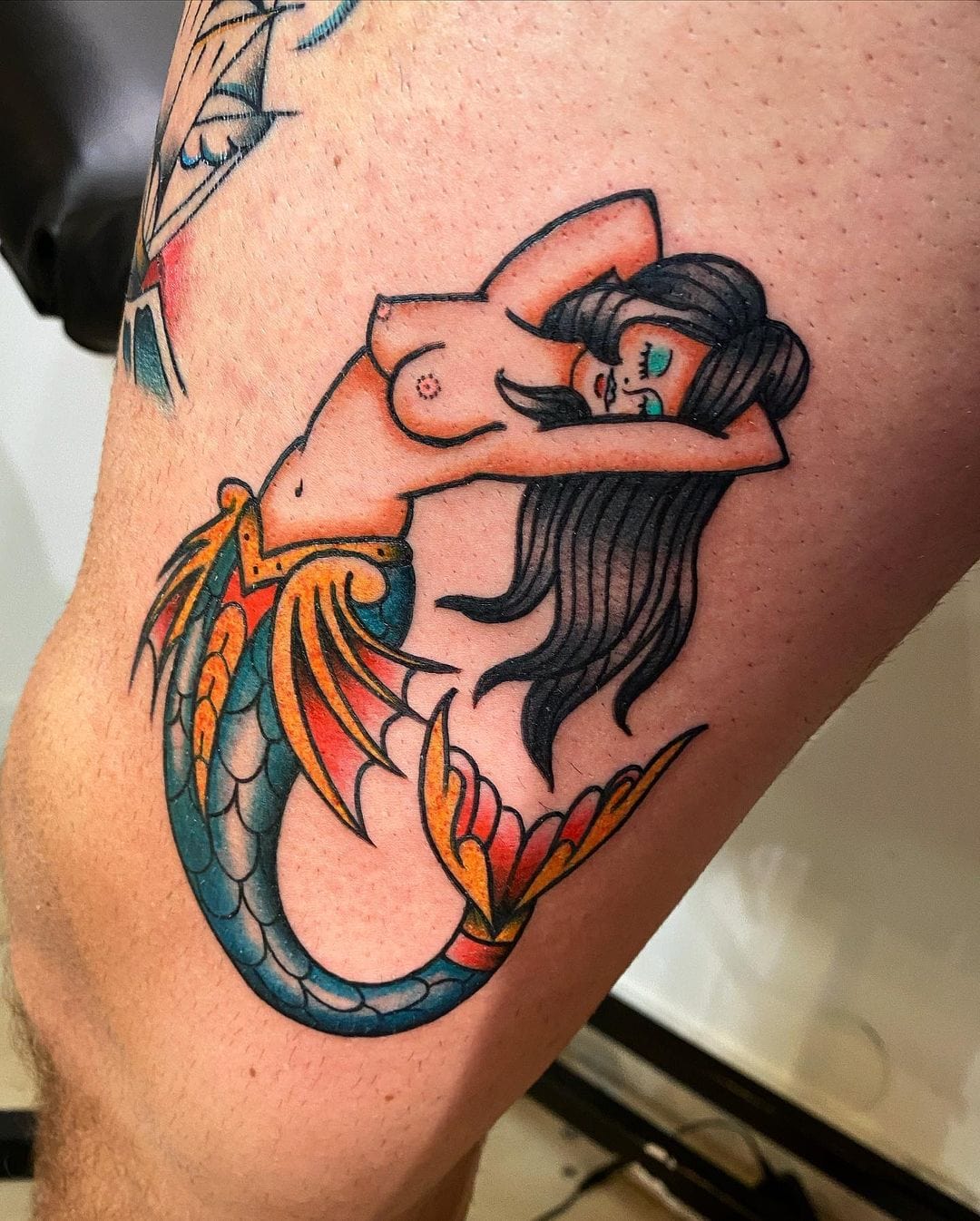 This tattoo is the feistiest one on this list by far! She may not be for everyone, but she's a firecracker for the right owner. My favorite part about this tattoo is her gorgeous face and expression.
I love the wings on either side of her hips, a very unique twist on this mermaid! Another great thing about this piece is the impeccable line work. Well done to the tattooer!
2. Black Work Tattooed Mermaid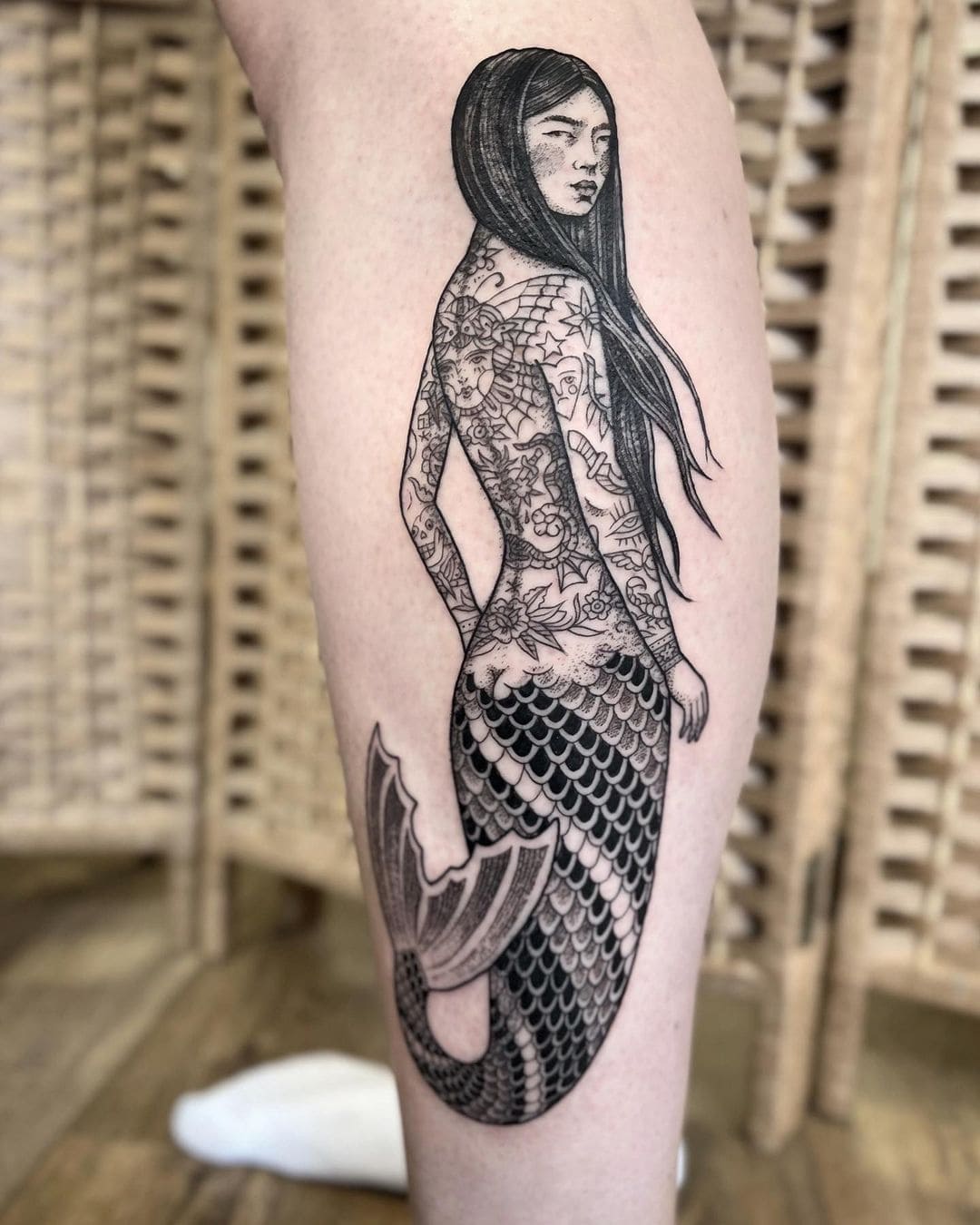 This lady is just an absolute jaw-dropper… she could turn heads on a busy street. The one thing that stands out to me about this siren is her tattooed appearance, I love it when artists add ink to their ladies!
This stunner is based on real-life tattooed goddess Anh Wisle, who we definitely have a crush on.
3. Large Line Work Engraved Mermaid Tattoo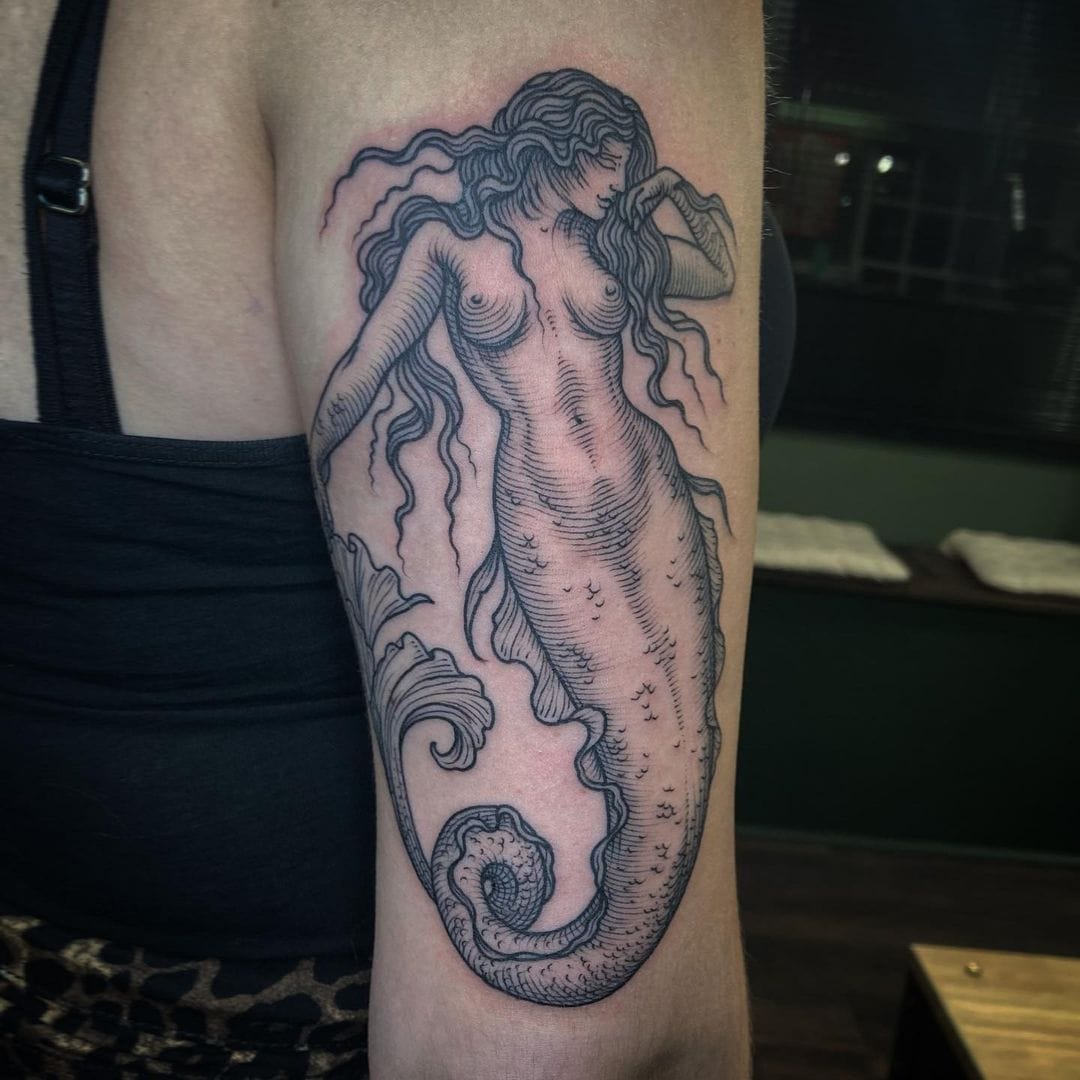 What I like most about this tattoo is how the appearance of it being engraved into a large piece of marble. She has a strong, powerful matriarchal essence due to her size.
I love the artist's use of simple line work and minimal shading, which really completes this piece.
4. Fine Line Realistic Tattoo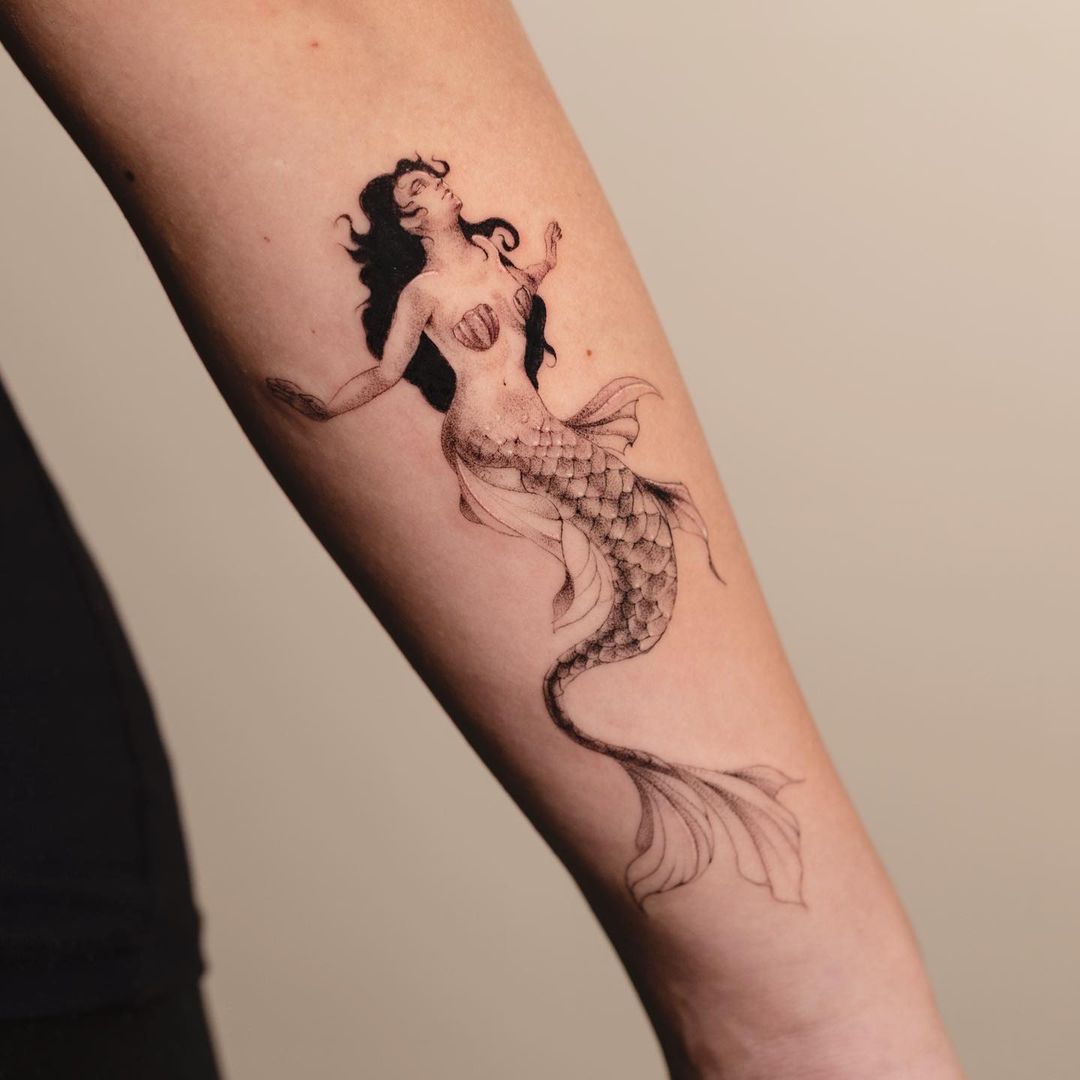 This tattoo carries the feminine essence well. The artist has used a soft shading technique with soft lines as well, making the mermaid appear delicate and gentle.
My favorite part about this tattoo is her tail. The artist has created the impression that it is flowing with the currents of the ocean, which adds an ethereal feel.
We've got a fantastic list of micro-realism tattoos if this is one of your top styles.
5. Colourful Traditional Mermaid With Trident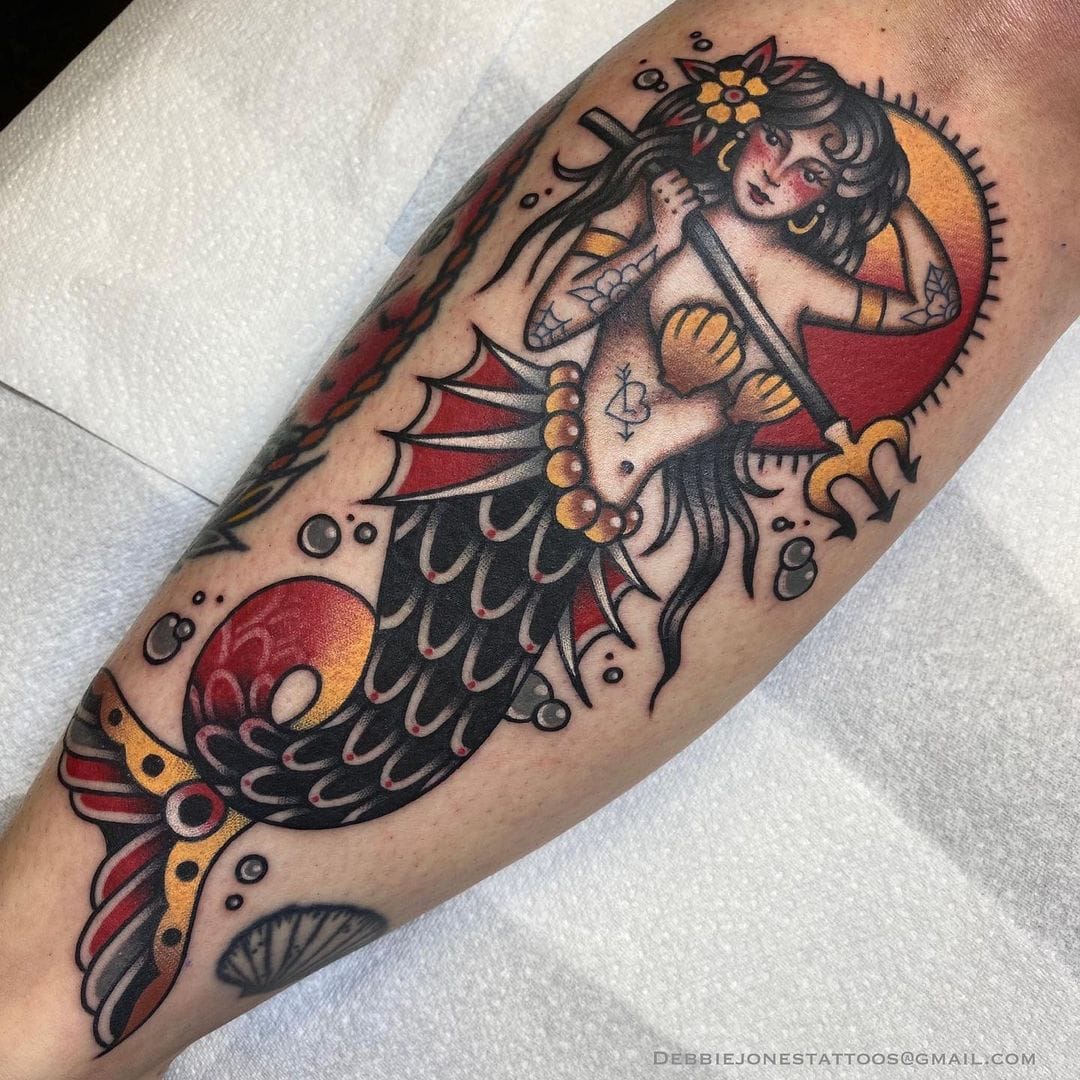 There are many traditional pieces on this list, but this might be my favorite! What stands out the most are the insanely perfect, bold lines. They're some of the best I've ever seen!
I love the extra detail of the mermaid herself being a tattooed goddess, such a unique take!
6. Black Work Realistic Mermaid Tattoo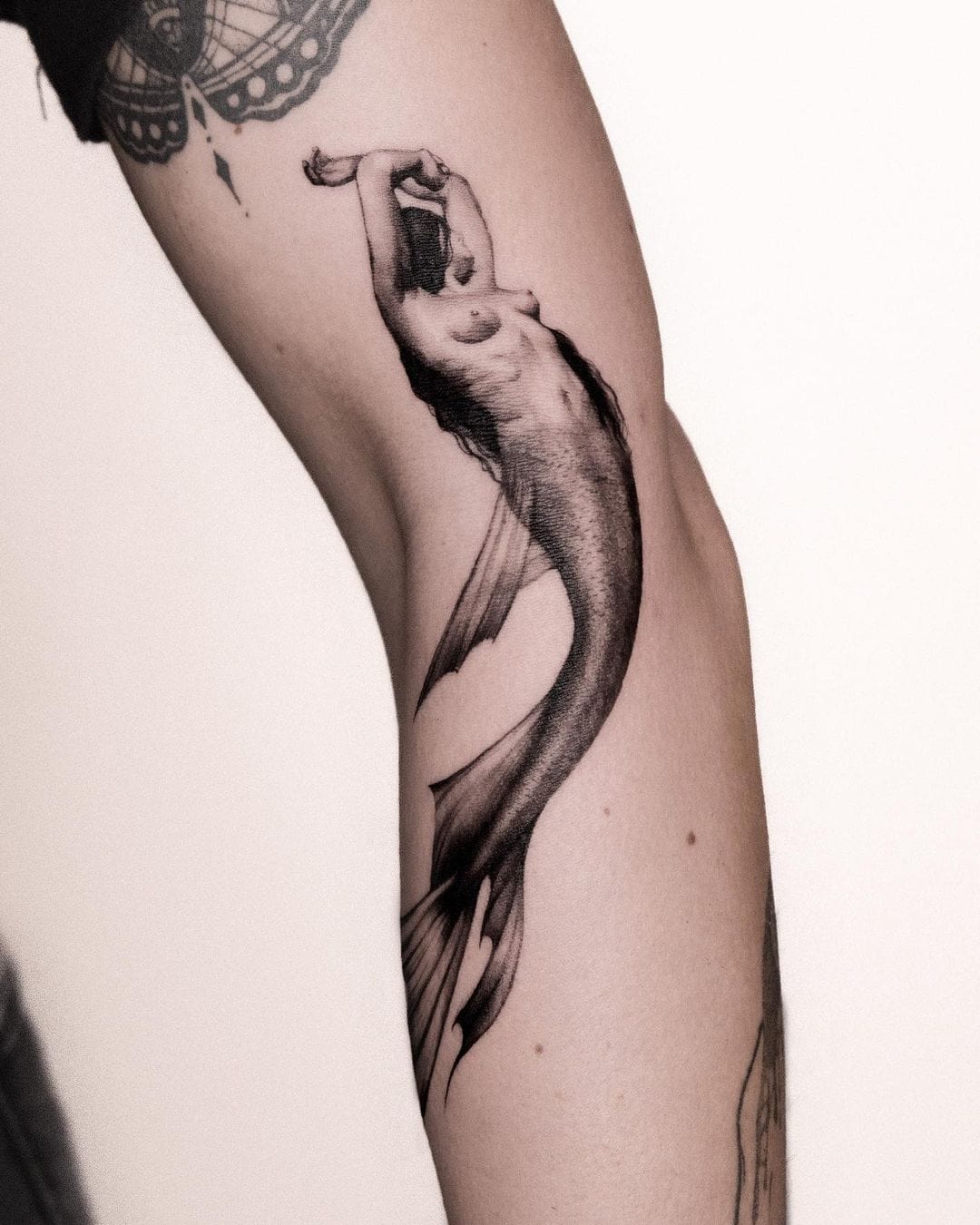 Here we have a beautiful mermaid done in a realistic black work technique. The shading on this piece is outstanding and makes the tattoo shine like no other.
My favorite part about this tattoo is the design, I love the sultry appeal the tattooer created. She is drop-dead gorgeous!
7. Black Mermaid Tattoo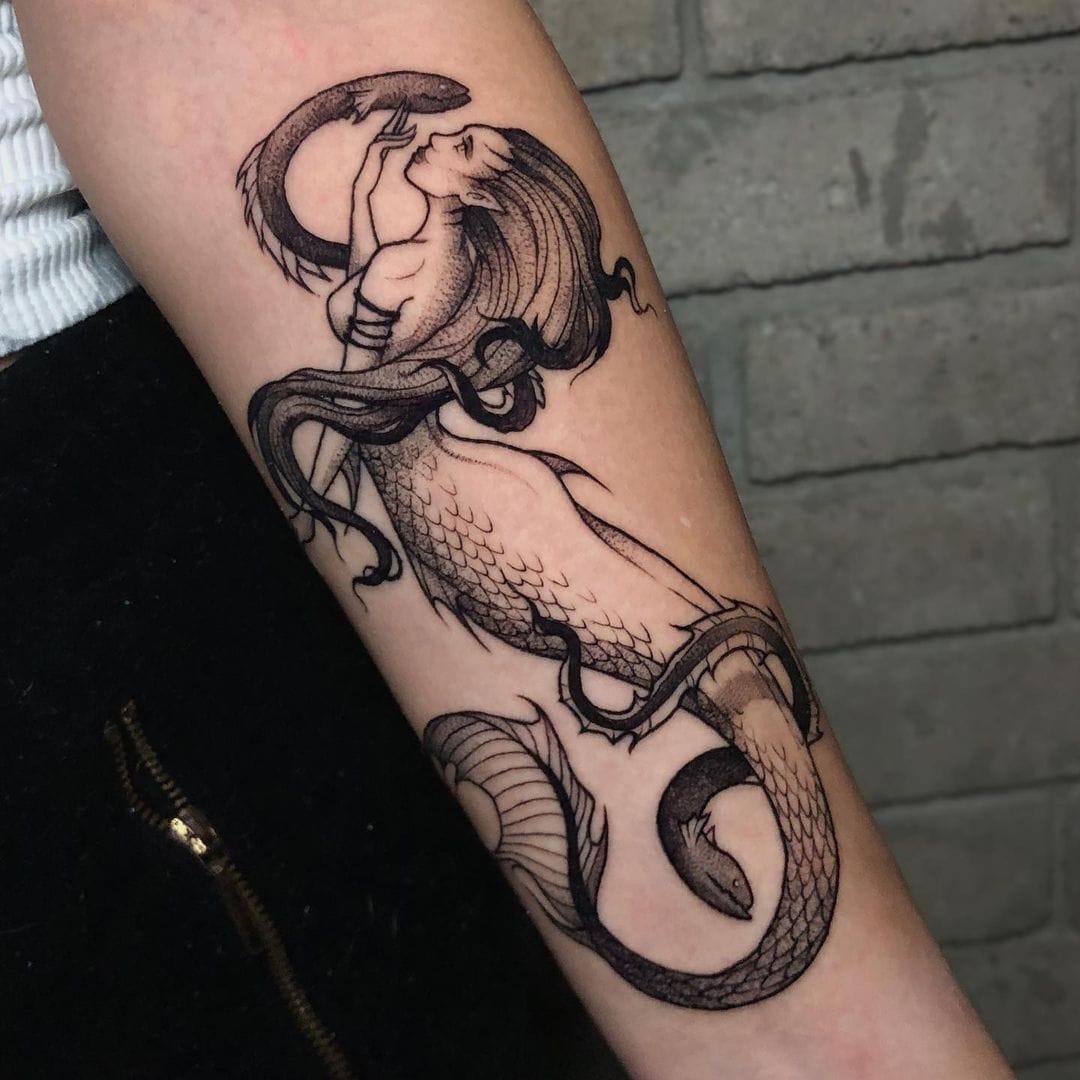 I love this piece because of the imagery used by the artist. It looks like the mermaid and the eel are in a dance. What stands out to me are the scales on the mermaid that have been tattooed to perfection.
8. Traditional Mermaid In A Bottle Tattoo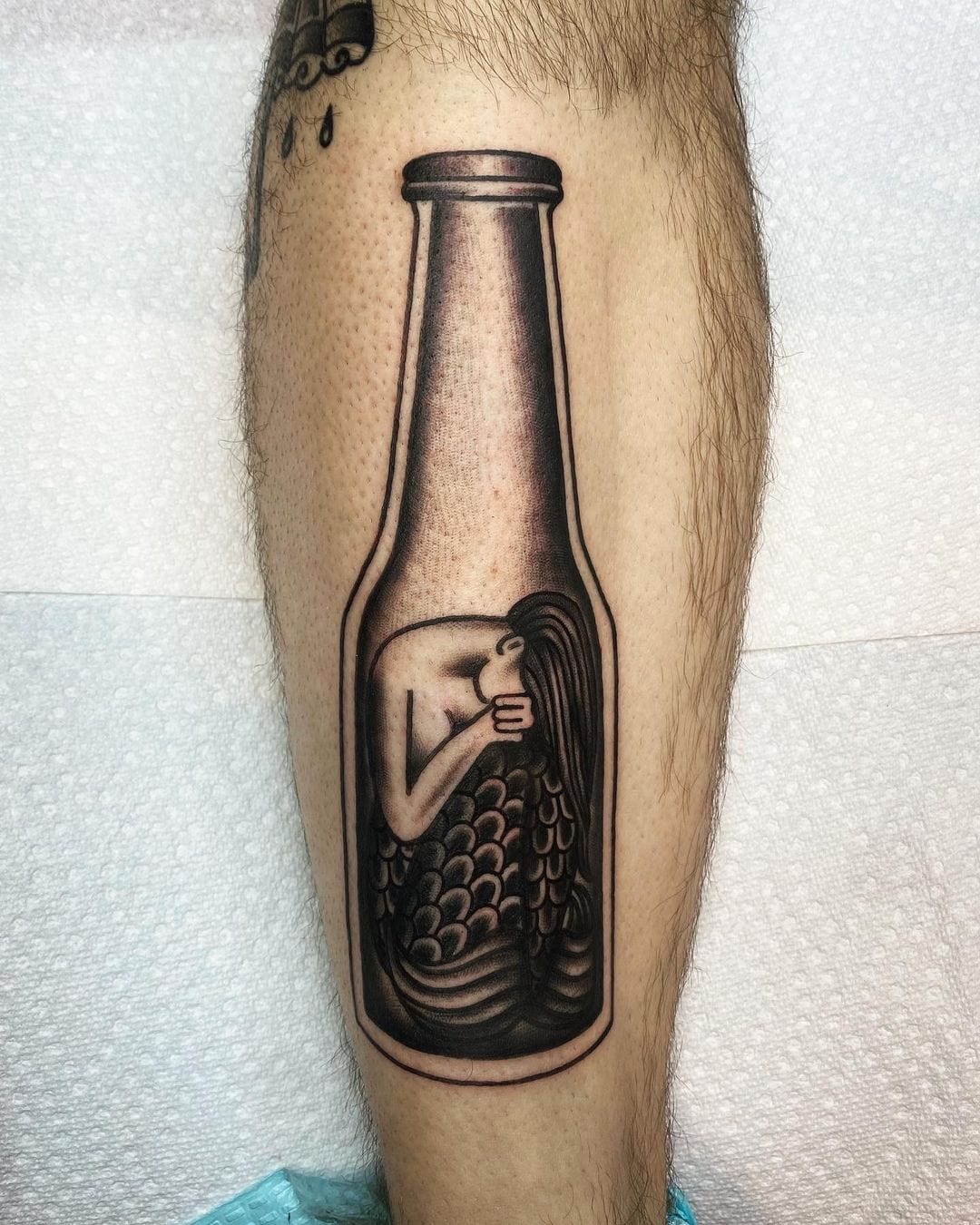 Wow… just wow! Right off the bat, I am going to say that the imagery and creativity used to make this is outstanding. The dark black ink coupled with whip-shading makes this tattoo ooze with confidence!
My favorite part about this tattoo is the clever placement. The long bottle suits the shape and length of the shin perfectly.
9. Black And White Mermaid Tattoo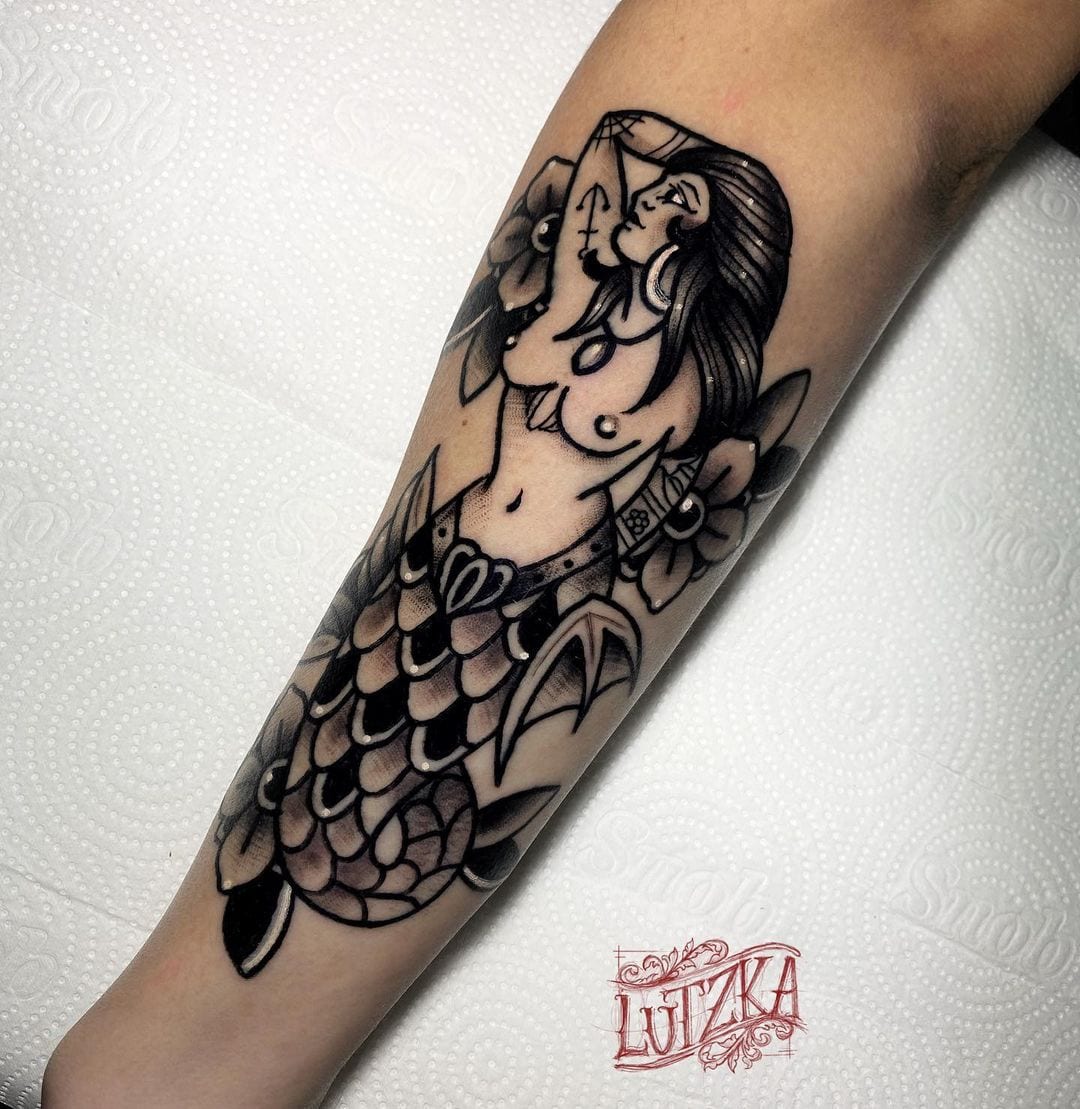 I love everything about this tattoo, but what stands out most are the dark, bold lines that give the tattoo a powerful appearance. The white ink inside her large scales really makes them pop.
The beautiful whips the artist created when doing the shading are phenomenal, I can't stop staring at them!
10. Purr-maid Mermaid Tattoo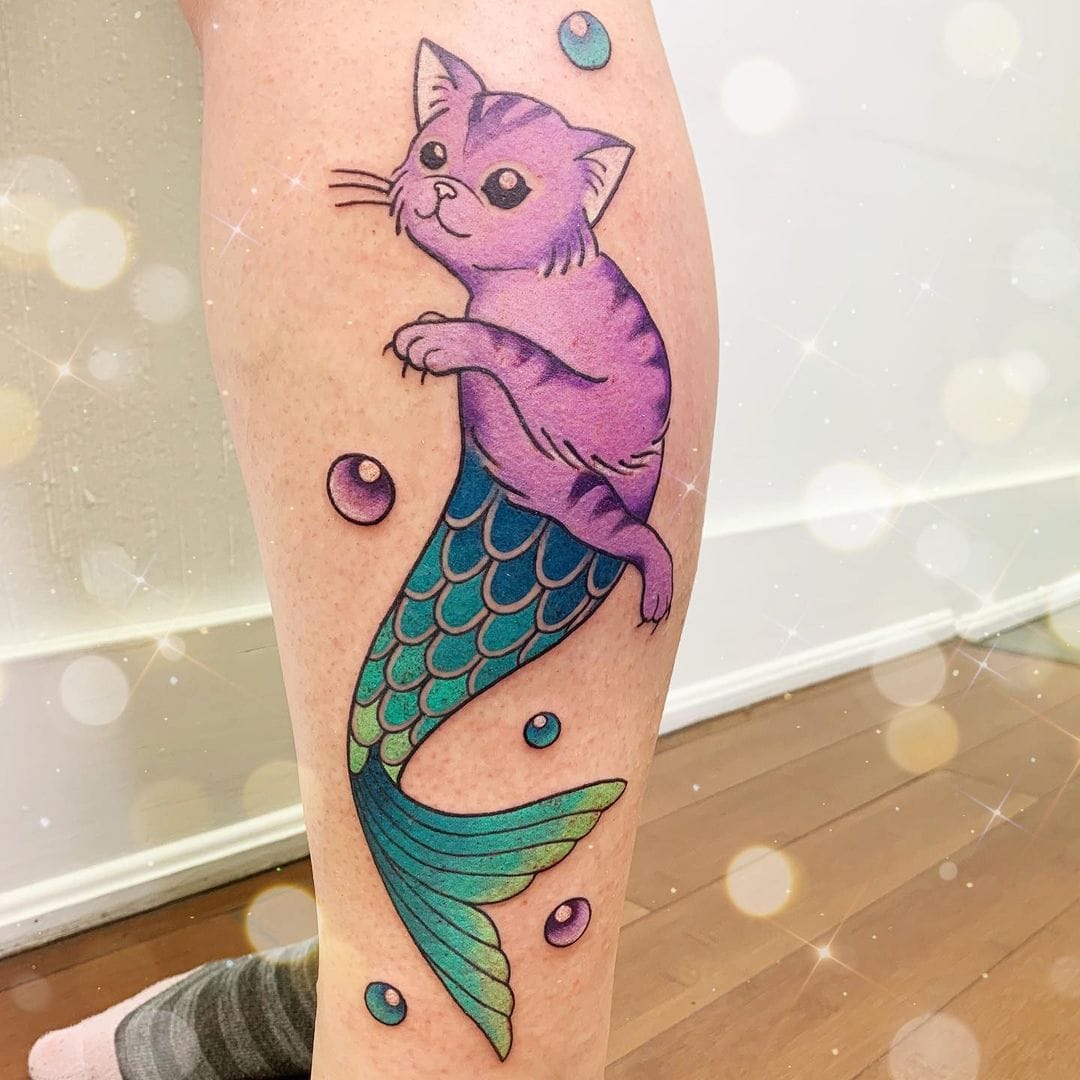 Aww… this is the most adorable tattoo on this list! You can see that this was a custom design from a mile away!
The bright, beautiful oceanic colors of the tail next to the purple are really fun, and the thin, clean lines allow the colors to stand out even more.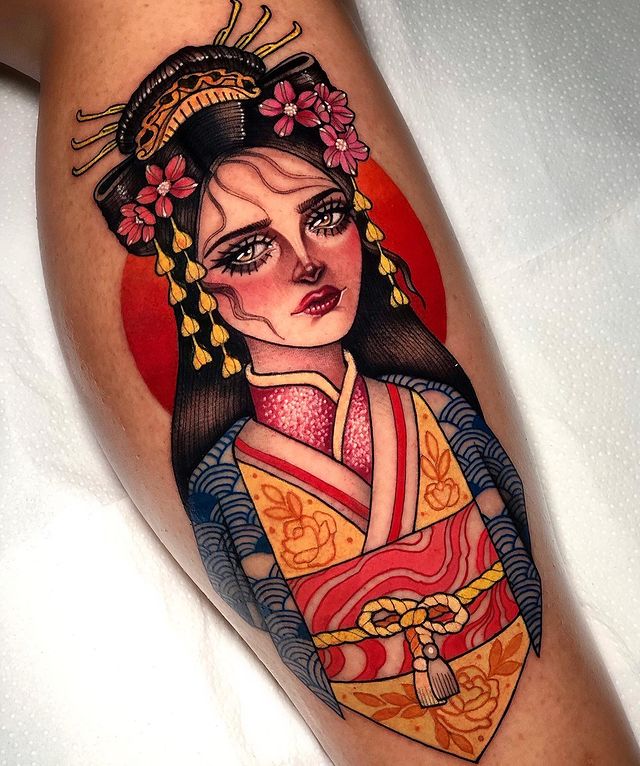 11. Mermaid Tattoo On Thigh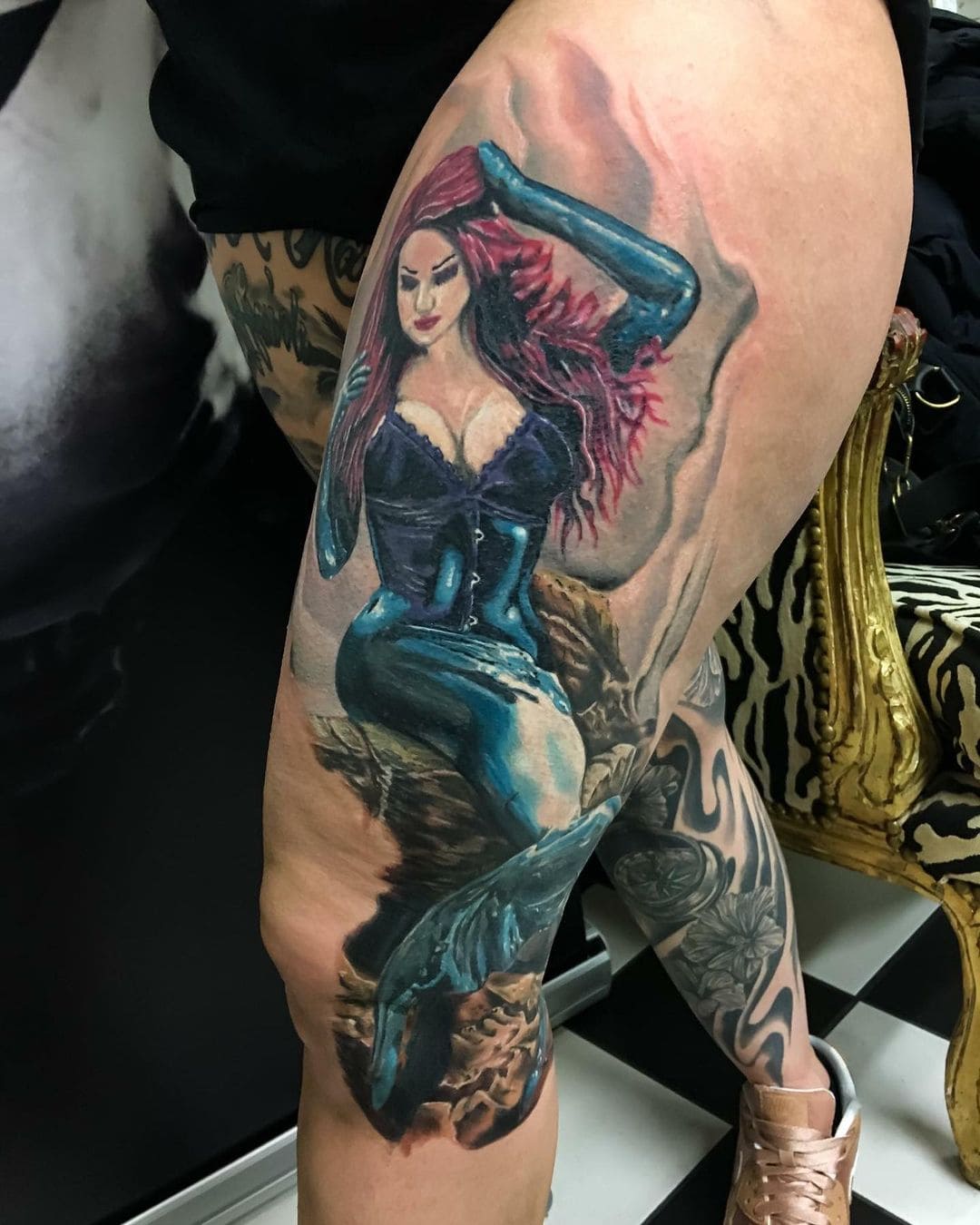 The sheer size of this tattoo is enough to grab your attention, but the colors make her stand out even more. I love the imagery of her red hair juxtaposed with her deep blue tail.
My favorite part about this tattoo is her leather corset, which amplifies her feminine appeal and strength.
12. Old School Diving Mermaid Tattoo
Well, would you look at that, another traditional beauty! I have always loved acrobatic positions for traditional ladies like this one, and this is a great way to use the space effectively and creatively.
You can see that the line work has been done by a professional hand, and the colors used for the flowers in her hair pop in a great way.
13. Geometric Fine Line Mermaid Tattoo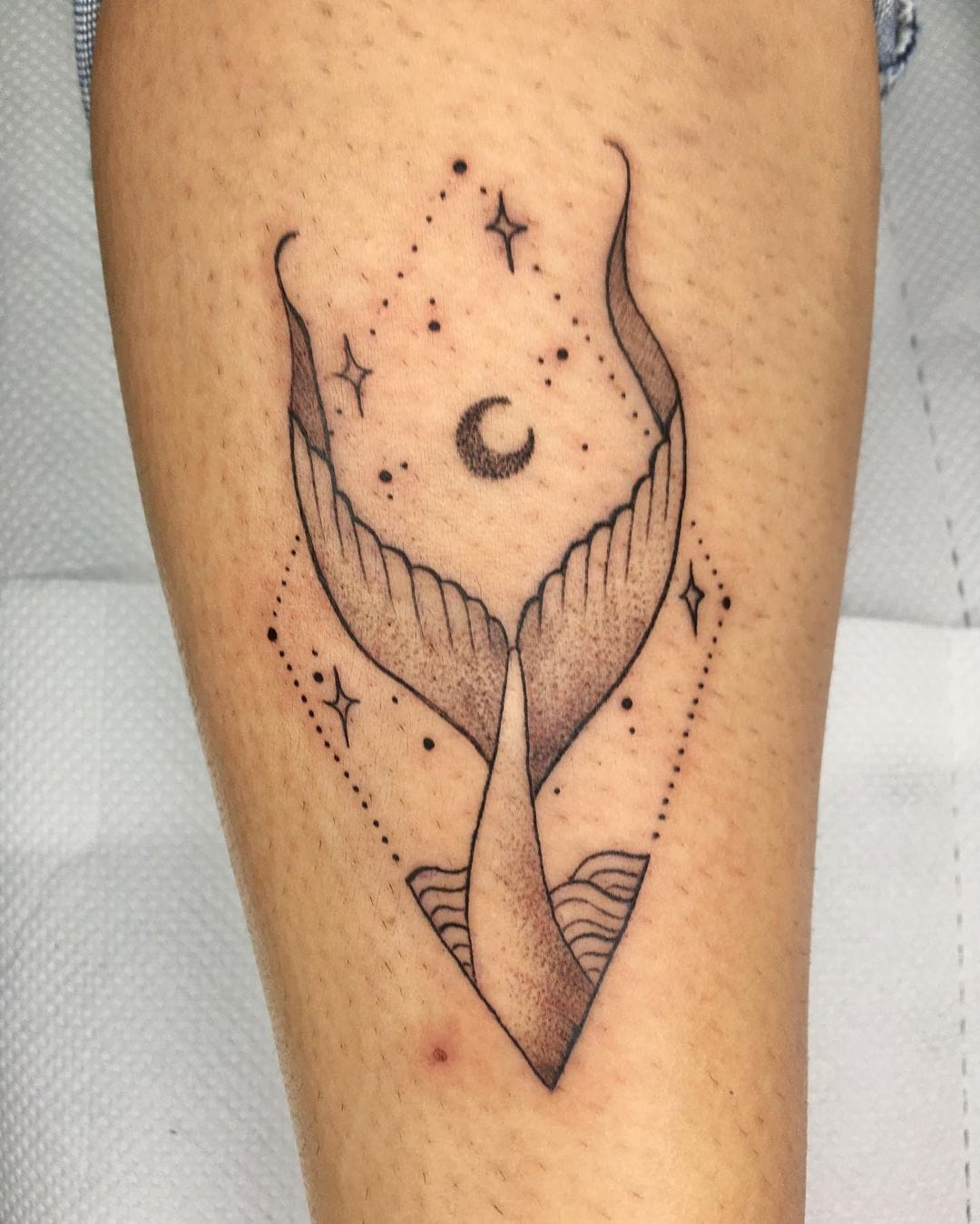 Sometimes mermaids are done in a more simple style, and it can look great! The geometric element that the artist used here is creative.
I love how big the mermaid's tail is, bringing balance to the rest of the design. Well spotted by the artist!
14. Watercolor Mermaid Tattoo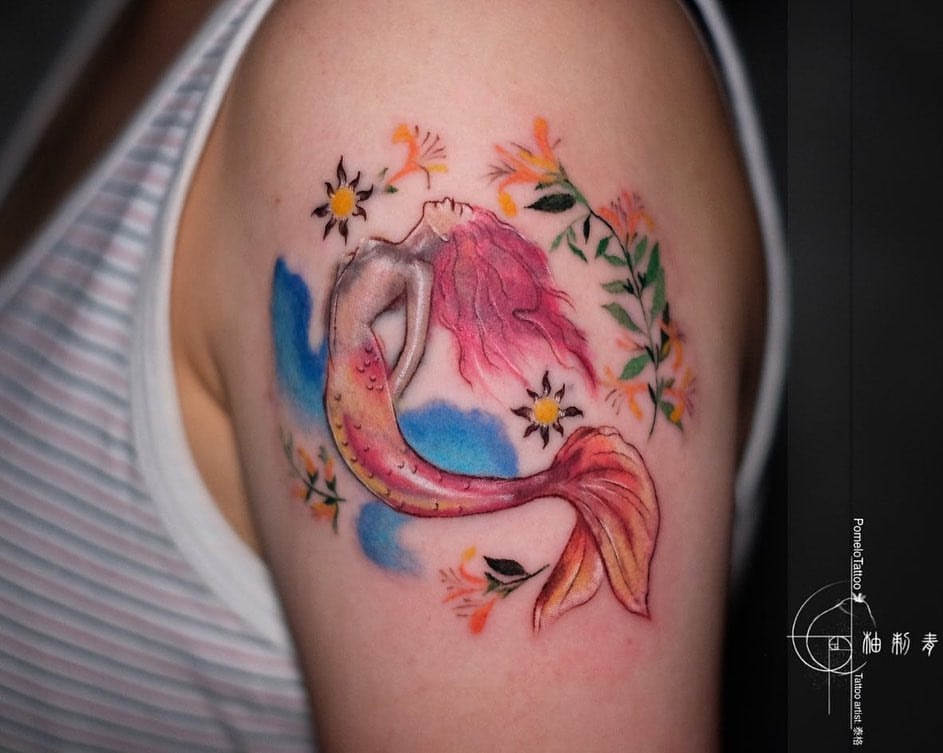 I love the entire design of this piece. The pink color palette is a unique take on a mermaid tattoo, which makes this pretty girl stand out from the crowd.
I love the circular design; it is like she is swimming around gracefully. The line work is done in such a way that the tattoo appears serene.
15. Watercolor Mermaid Tail Tattoo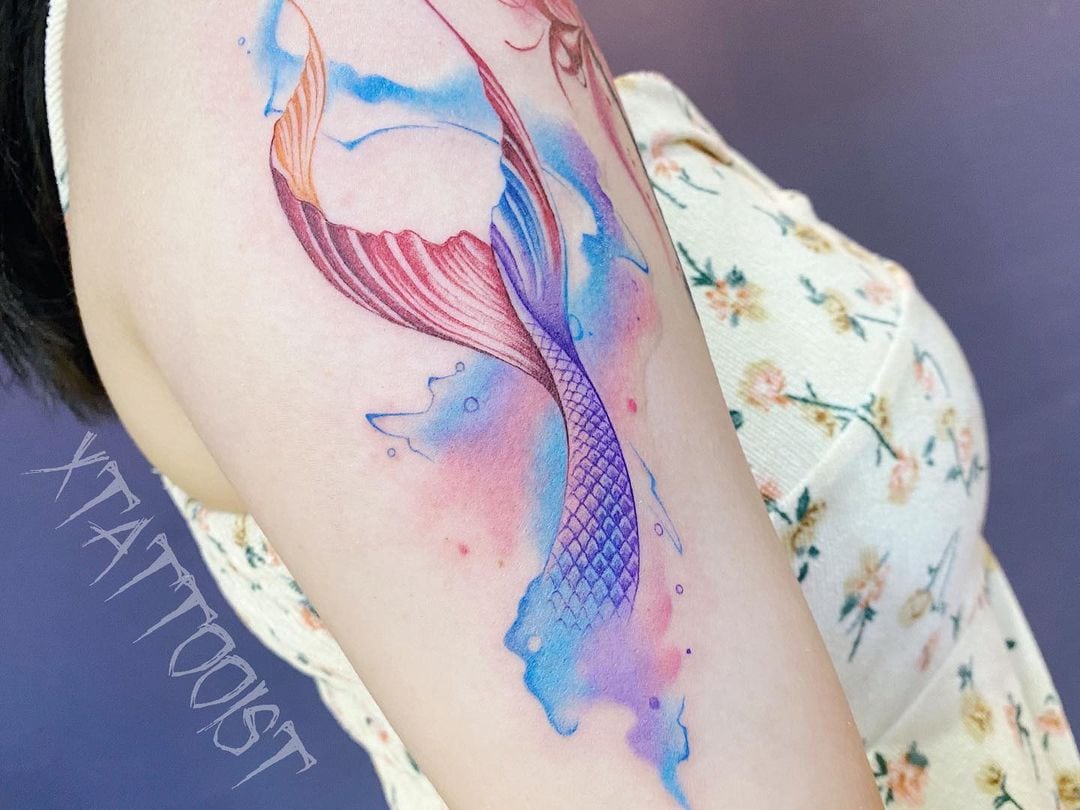 There is no better combination than watercolor and mermaids. Every girl's childhood dream! This tattoo is an absolute masterpiece.
My favorite part about this piece is how the artist has managed to create depth without the use of black ink, giving the tattoo a softer look which I think complements the overall design perfectly.
16. Mermaid In A Teacup Tattoo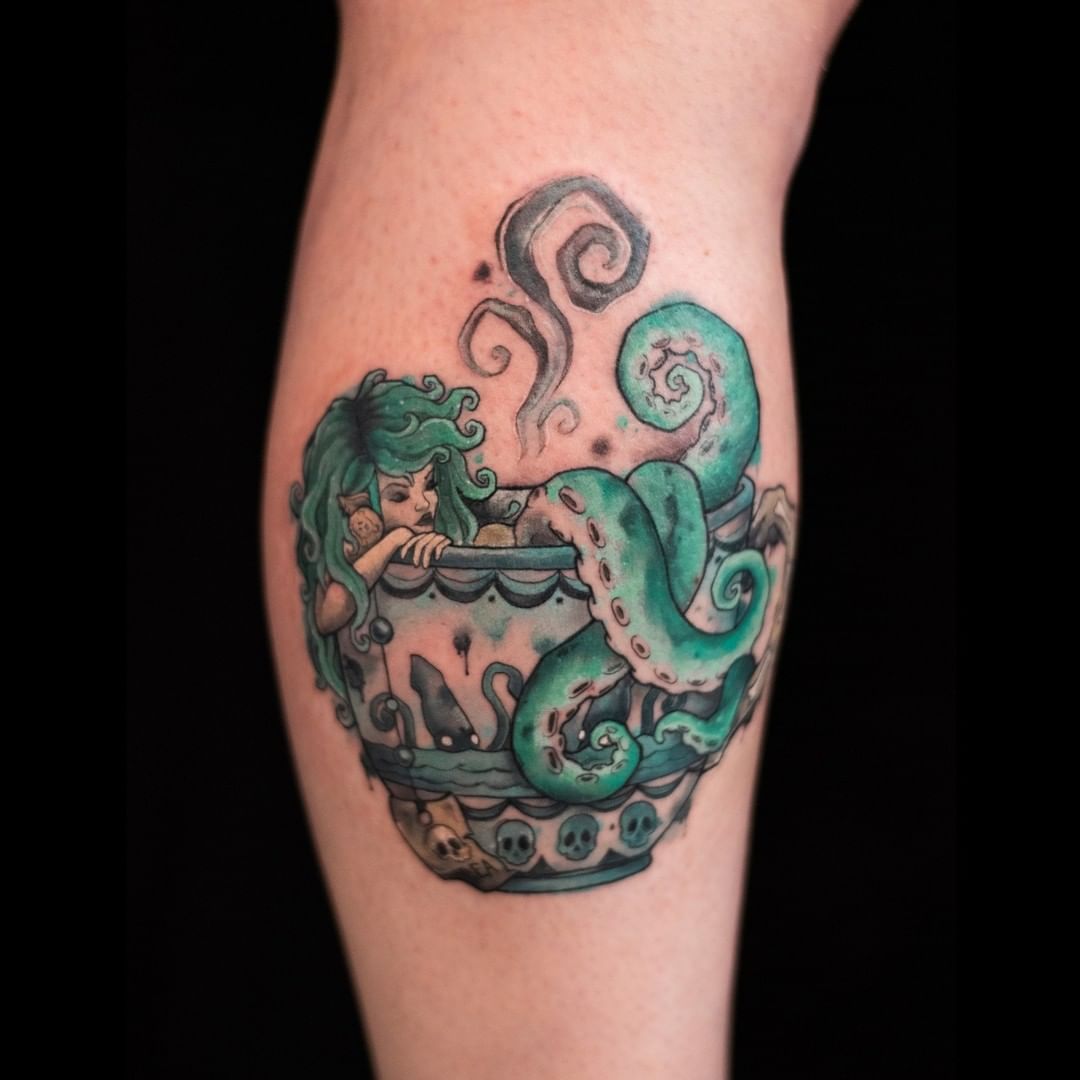 Not technically a mermaid, but I had to include this. I love the mythical concept that is consistent in this piece. The teacup even has a squid on it, and the turquoise color palette used by the artist gives the entire design an aquatic element, which of course works very well with the ocean theme.
Look at those tentacles! They're done in a way that makes me want to reach out and touch them.
17. Mermaid And Fairy Tattoo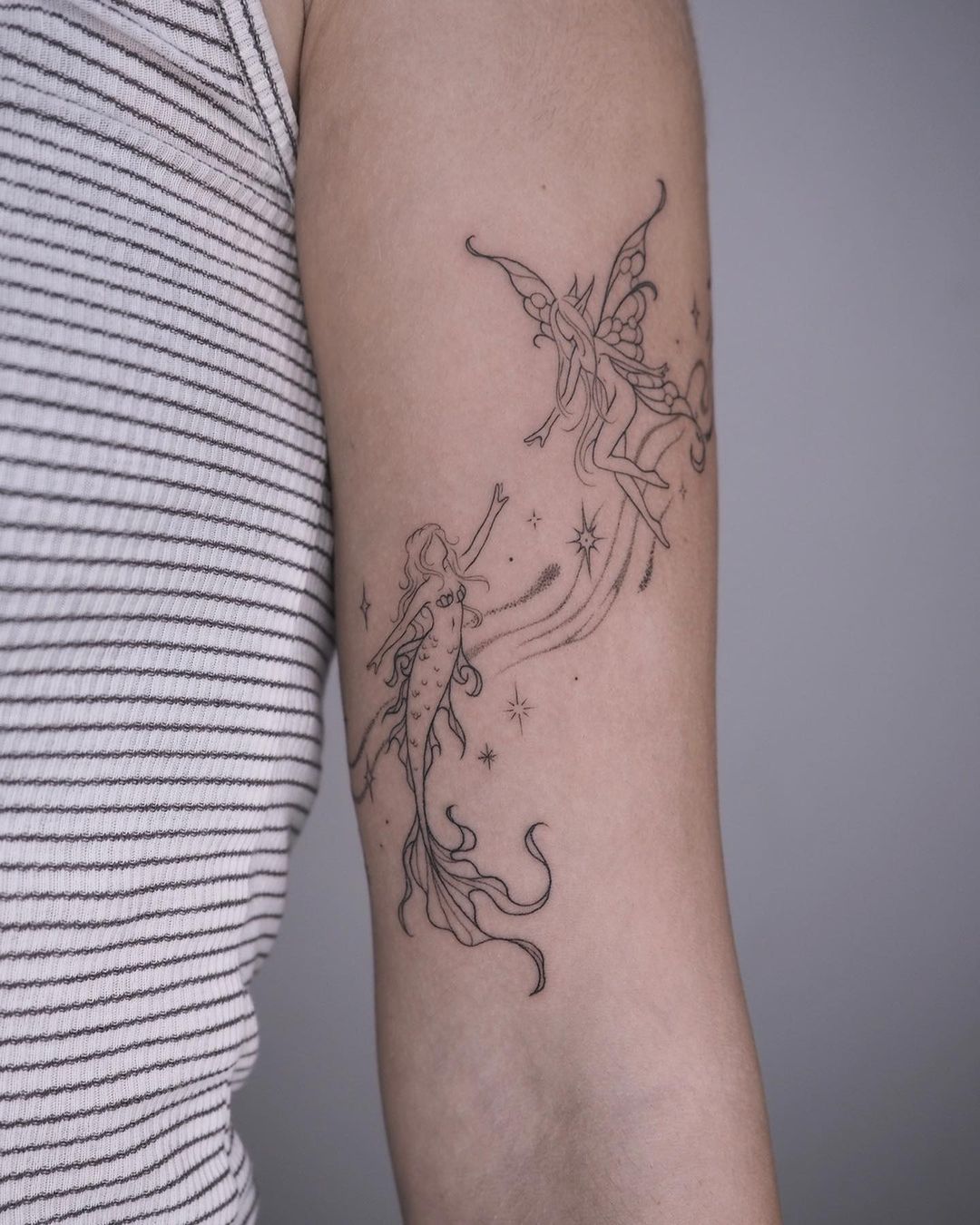 I absolutely love the play on the imagery used when creating this tattoo; this could be perfect matching tattoos for best friends!
The simplistic approach the artist took gives this tattoo a childlike, playful feeling, and the minimal shading and thin lines complement the imagery well.
18. Illustrative Girl Mermaid Tattoo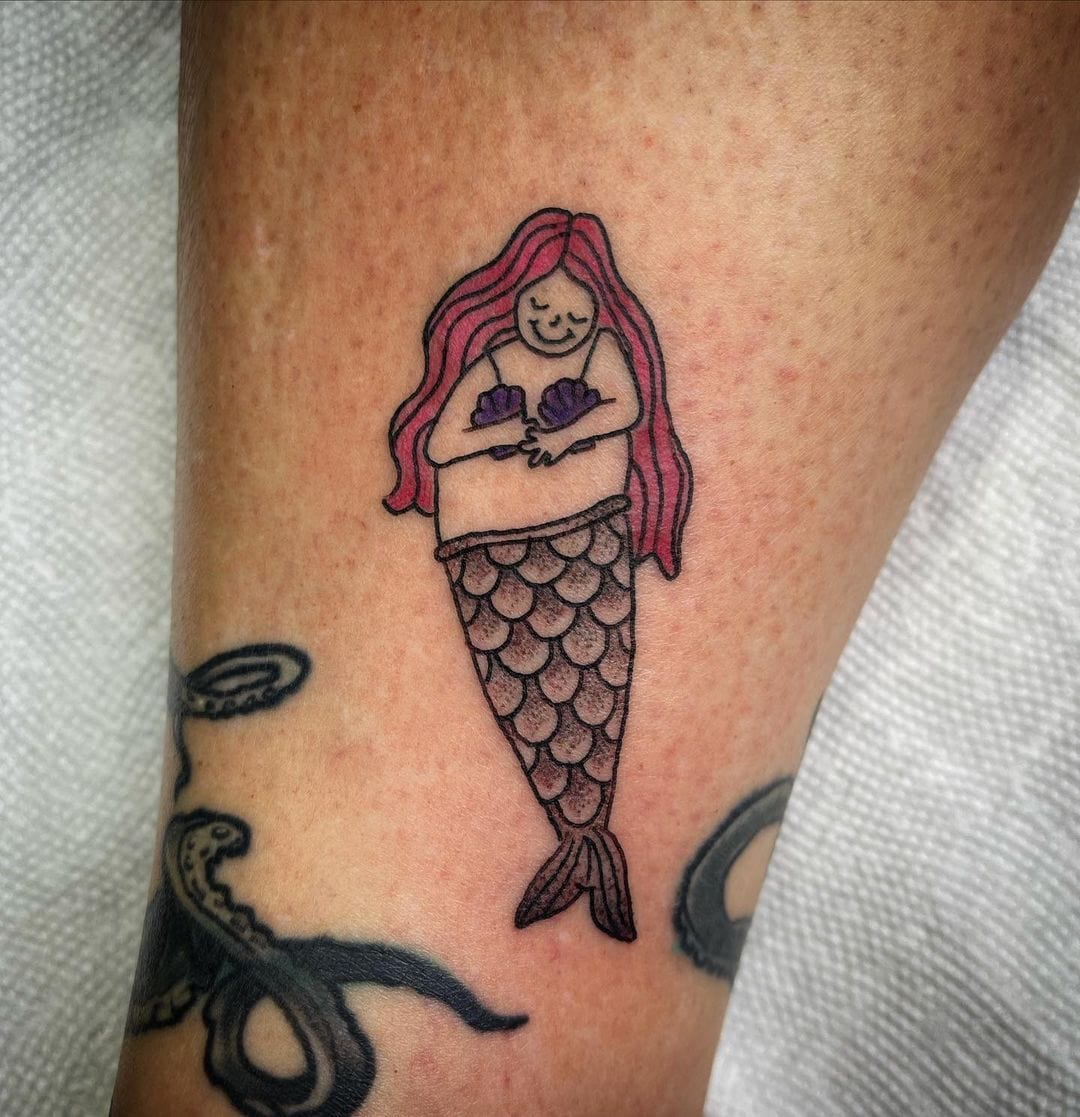 I just had to put this adorable lady on this list, I love her happy expression and content aura.
My favorite part about this tattoo is the simple, cartoon style the artist chose. I would get this piece tattooed on me, that's for sure!
19. Mermaid Skeleton Tattoo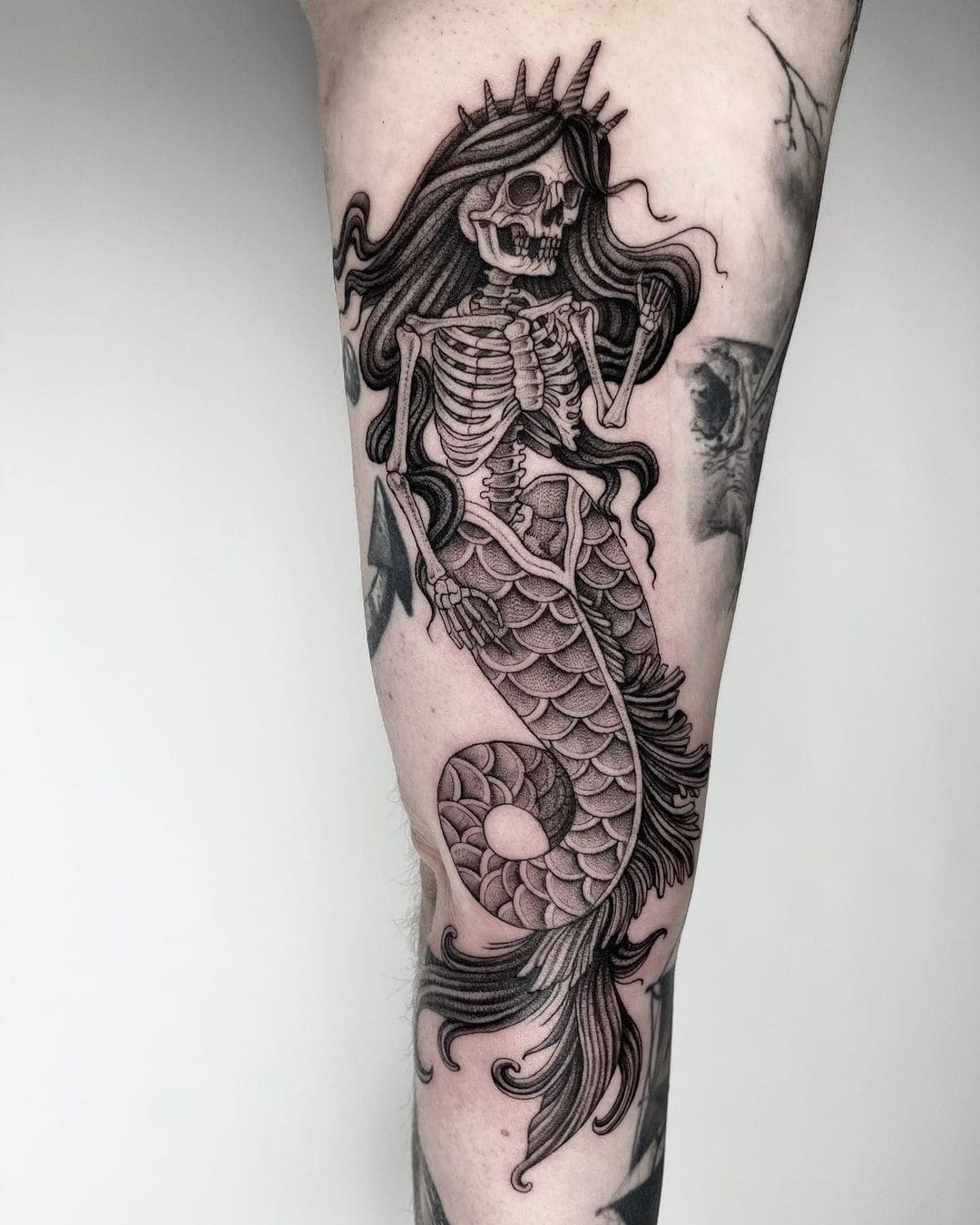 This is one of the more unique pieces on the list! I love the twist of the skeleton mermaid that makes it stand out from the rest.
The line work and shading are fantastic, and clearly done by a professional hand. The artist knows how to implement his skill effectively, which I admire.
20. Realistic Venus Tattoo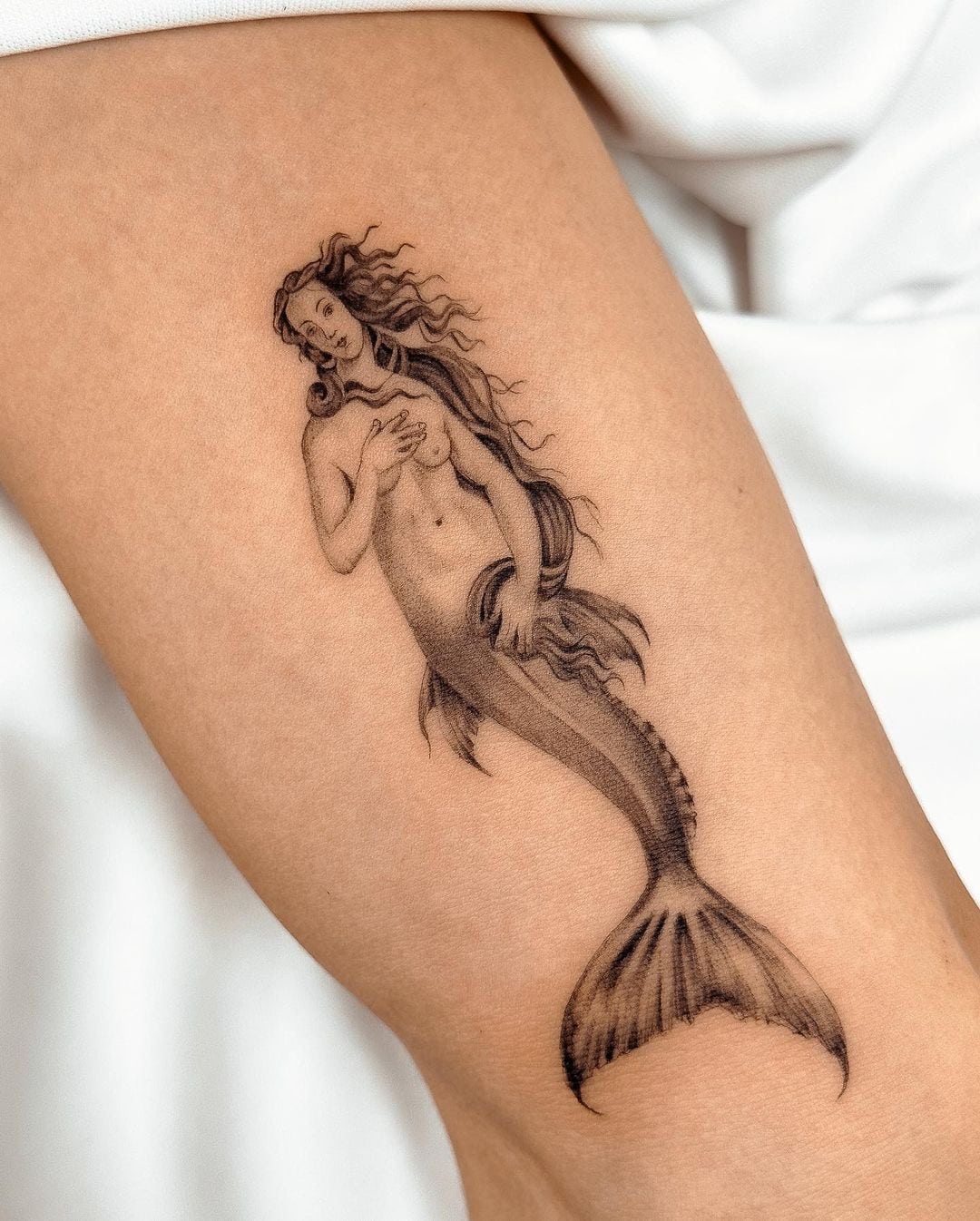 Okay… now this is my favorite one on this list. I personally love all things renaissance art, so this creative idea of using Birth Of Venus imagery is phenomenal and grabbed my attention immediately!
Do you know what else caught my attention? The awe-inspiring artistic skill needed to create this piece. The tattooer should be praised! The incredible soft shading that the artist used here gives Venus an elegant appearance.
Mermaid Tattoo Frequently Asked Questions
What do mermaid tattoos mean?
Mermaids can be a symbol of the divine feminine essence, representing bravery, magic, power, and a connection to nature.
Who in One Direction has a Mermaid tattoo?
Harry Styles has a tattoo of a black and white topless Mermaid on his left forearm.
Summary
Has this post inspired you to get a mermaid tattoo? It might be next on my list after seeing these beauties. Let me know what you think about all these stunning works of art!
If you're like me and you have a thing for mythical creatures, make sure you take yourself over to our Medusa tattoos link as well!