Formally known as the infamous Anakin Skywalker… Darth Vader is the perfect example of what happens when you give in to your harmful desires. Darth Vader is a notorious Sith Lord that ruled the galaxy and was turned to the dark side by the Sith Lord Darth Insidious.
Darth Vader holds symbolic meaning to a person's darker side with feelings of anger, depression, power, and greed. This can be a meaningful tattoo to their wearer and a reminder to keep our emotions in check.
If you're looking for another sith lord, don't forget to check out our Darth Maul tattoos.
Vader tattoos can be done in different styles; however, the most popular type is realism. I scoured the internet to find only the best Darth Vader tattoos for this list… let's check them out!
1. Death Star Vader Portrait Tattoo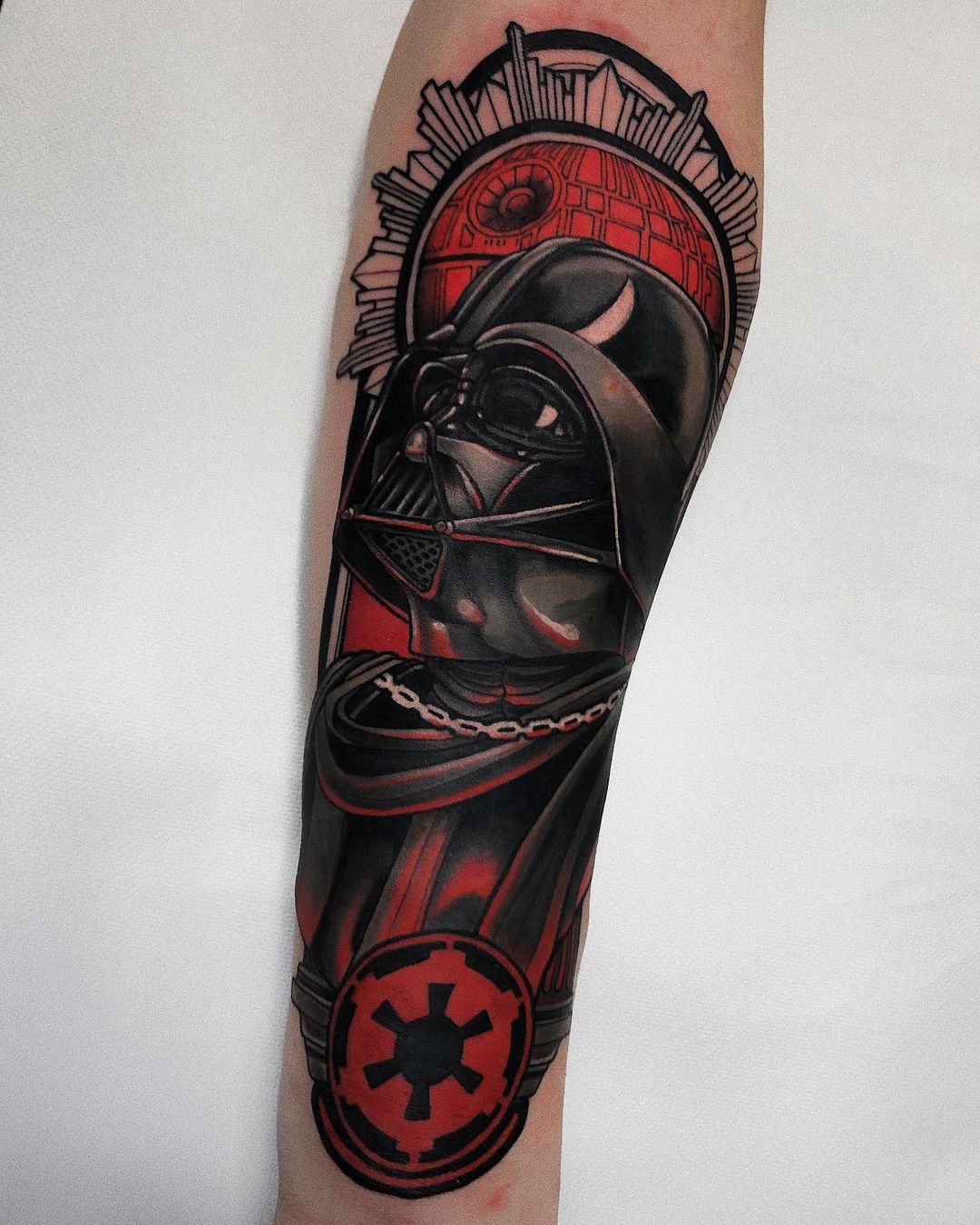 The imagery of the Death Star and Darth Vader is a creative touch; this person obviously knows their Star Wars fandom very well. The Death Star is a Sith weapon and space station originally designed to destroy entire planets. This monstrous weapon in the hands of the Sith is asking for trouble, so beware!
From a professional point of view, I can't see a single fault in this piece; I am impressed with the level of artistic skill implemented here. I like how saturated the red ink is and how well it has been packed. The artist kept the Sith imagery close at heart by incorporating the color red, just like their lightsabers!
2. Pixel Darth Vader Tattoo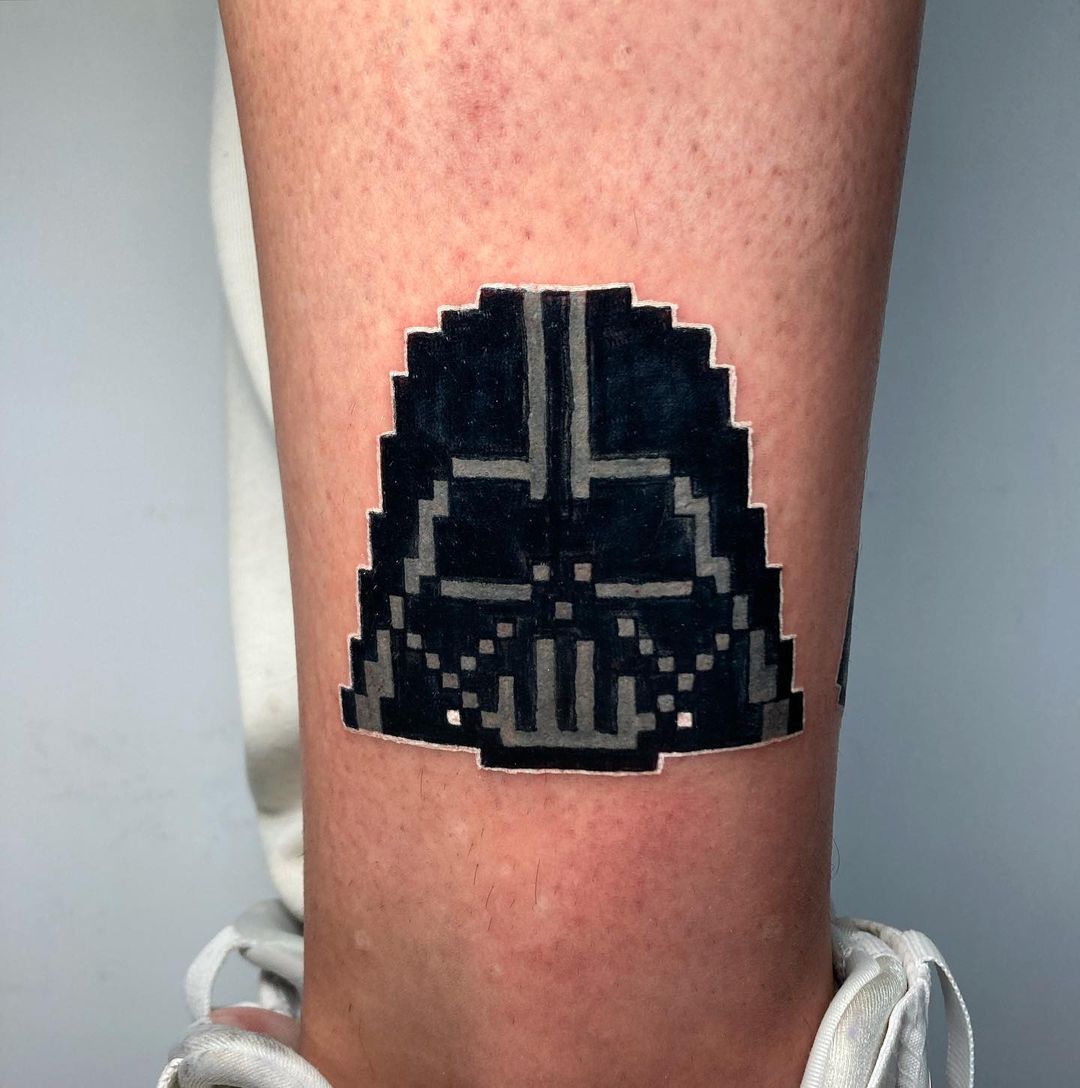 This tattoo reminds me of a nostalgic video game character. I feel like I have time-traveled back to when I was an 11-year-old girl who was glued to her Playstation 2! The imagery used in this design is one of the most creative takes on this list, which I admire greatly.
My favorite touch on this tattoo is the white-inked border; this gives the tattoo an animated three-dimensional quality, which makes it appear like a video game character! Overall, this is a winner in my books.
3. Cat Darth Vader Tattoo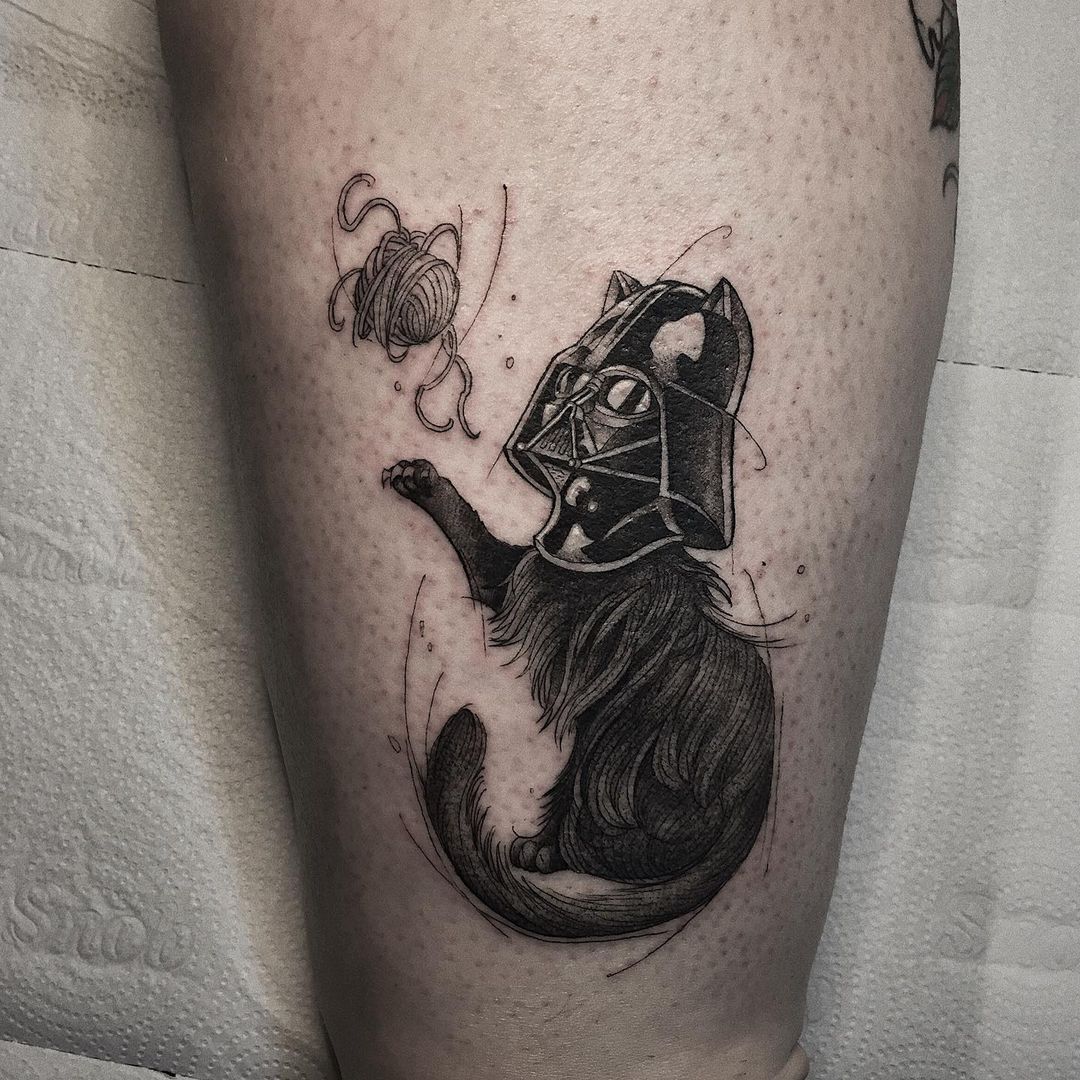 Aww… what more can I say? This is an adorable and creative twist to this otherwise evil Sith Lord tattoo. What I like most about this design is the creative play on imagery; I almost forgot Darth Vader is an evil Sith Lord… well played, well played.
The thin lines used to create the hairs on the cat are clear and clean; this, combined with the soft shading technique, gives the cat a soft, tender, and welcoming appearance.
4. Split Head Darth Vader Tattoo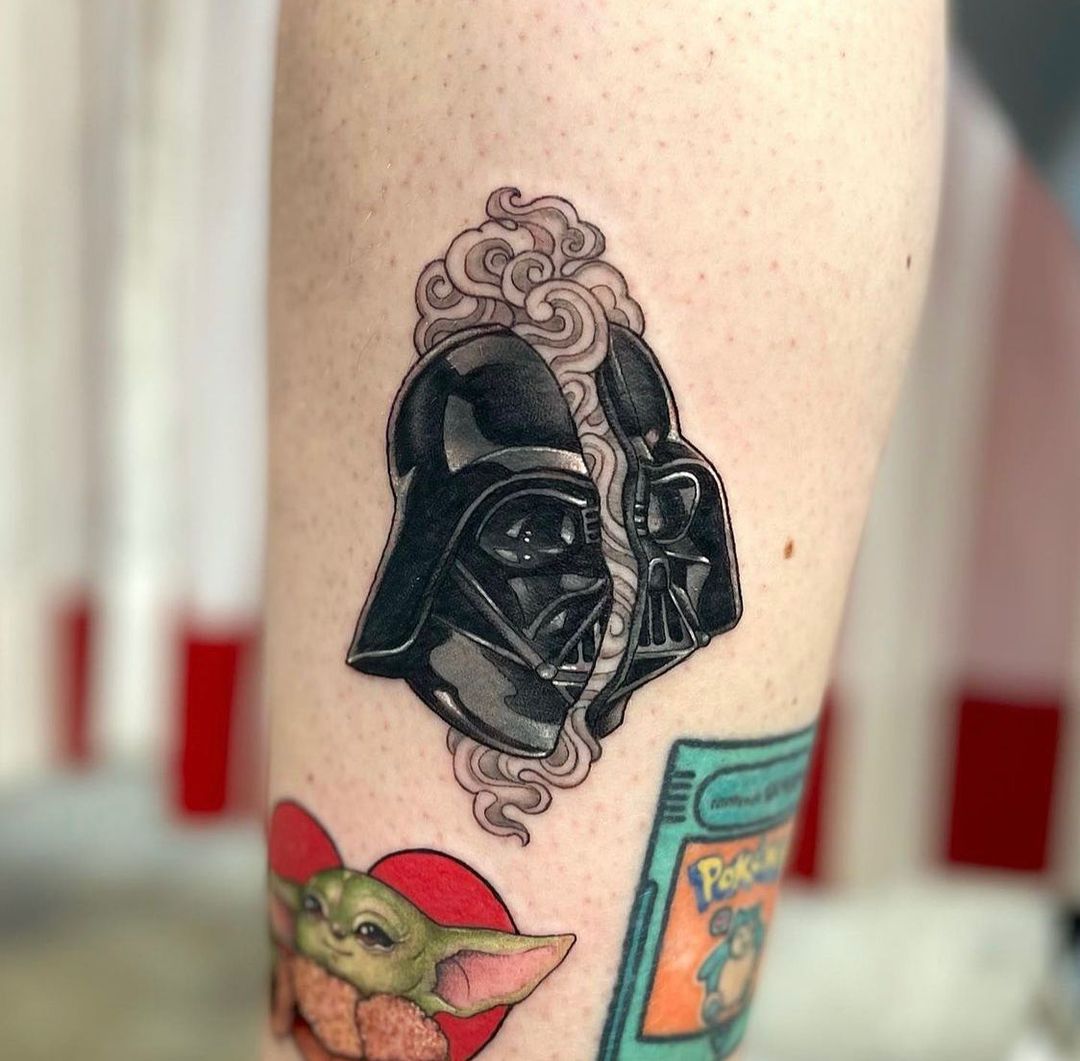 I think this tattoo could symbolize the splitting headache we get when our anger bubbles over… or should I say explodes! The white ink used in this tattoo is what makes this tattoo special; white ink is a great touch to make any tattoo pop.
The different block-shaded colors contrast each other in such a way that it gives the tattoo depth, very impressive.
The Japanese-styled smokey clouds wedged in between Vaders' split head are light and have a translucent quality which I adore!
Ten out of ten, well done to the artist.
5. Lego Darth Vader Tattoo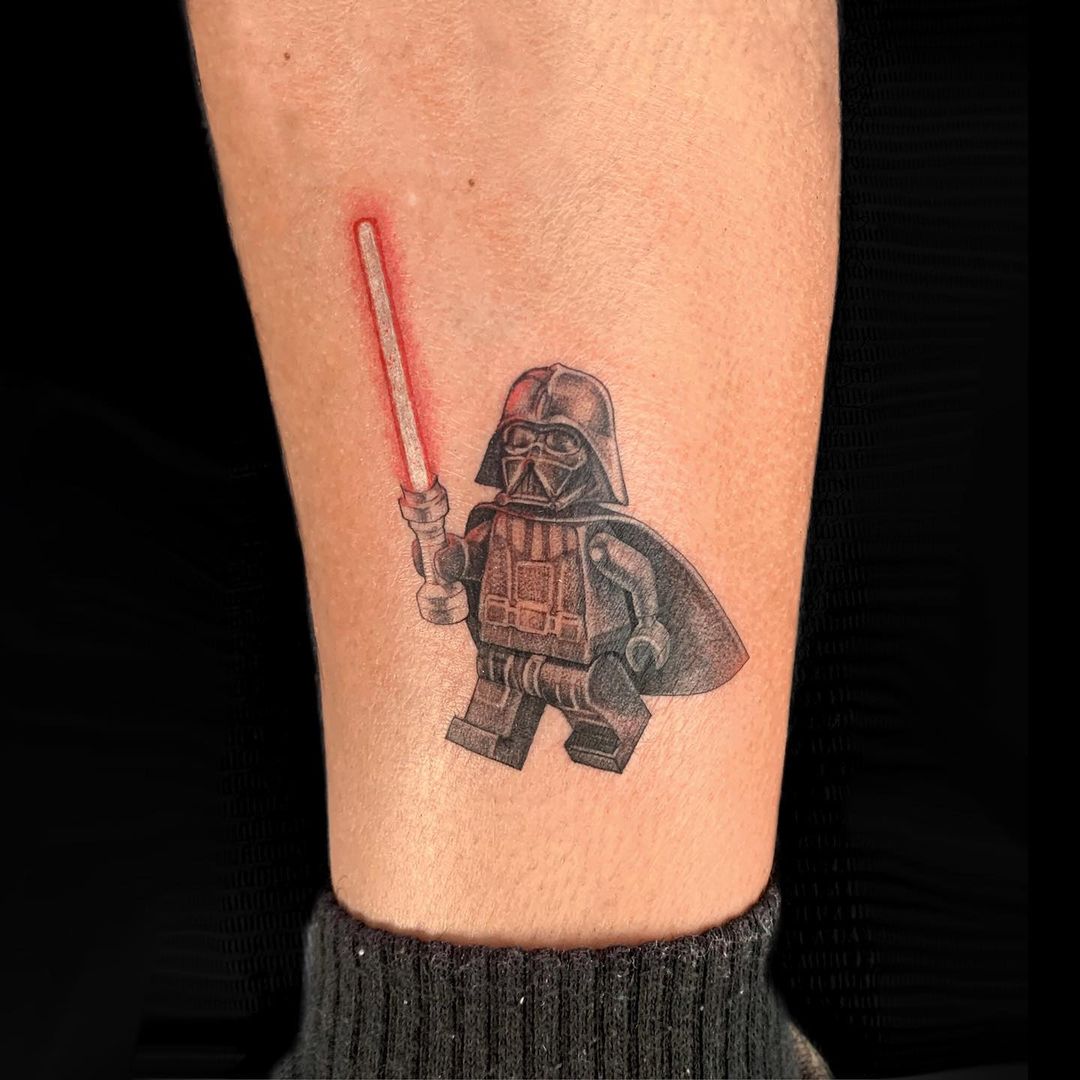 My favorite childhood memory is playing Lego Star Wars on my PlayStation 2, wrapped in a blanket and seated on the floor; this tattoo has a special place in my heart already!
The micro-realism style the tattoo has been created in works well with the imagery and overall design.
The three-dimensional appearance of this tattoo is what I admire the most about this piece; Vader looks as though he is waltzing along his merry way on top of the skin!
6. Traditional Leg Darth Vader Tattoo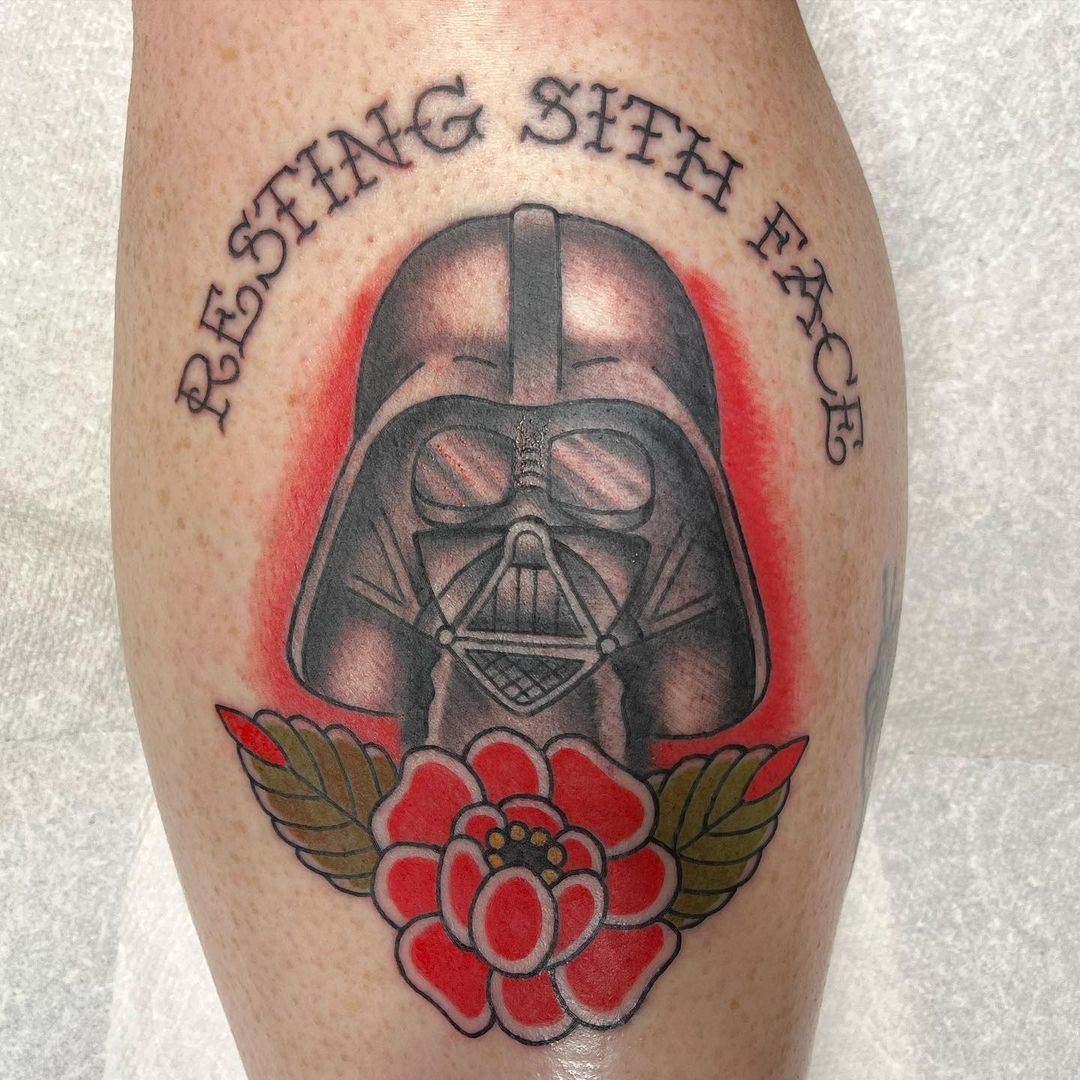 A tattoo list would not be complete without traditional, this we know well.
The imagery in this piece has a bold and admiral appearance; I like the touch of red ink behind Vaders mask, this adds a feeling of depth ad shadow, which was a smart move.
My favorite part about this piece is the imagery of the rose; I like the two-dimensional, simple design and technique used here, and I can't take my eyes off of it!
7. Alter Darth Vader Tattoo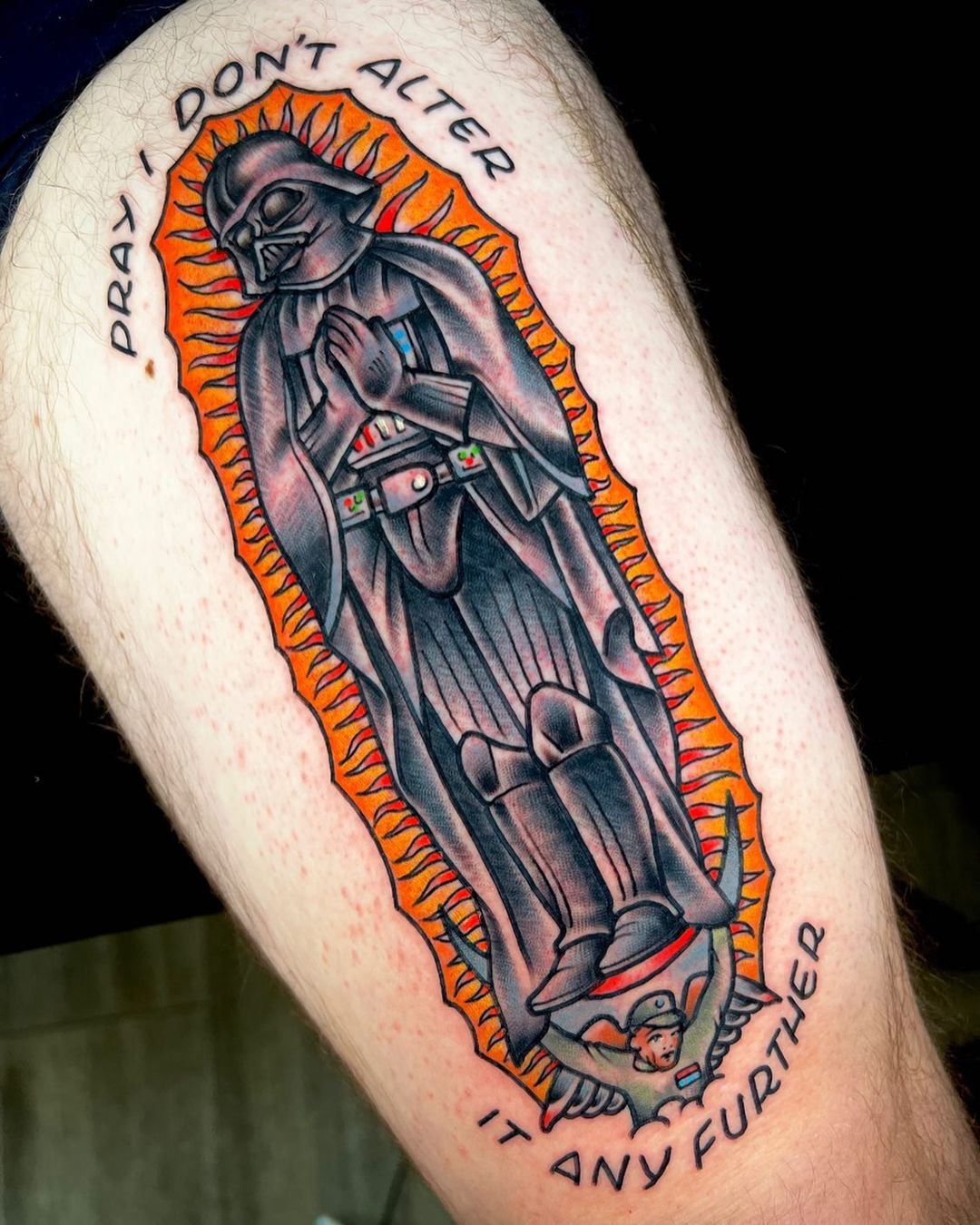 The gothic imagery the artist created here is one of the most creative plays on this style I have seen. The color palette chosen works well, especially the firey red and orange ink behind Lord Vader.
The line work is solid and holds the true traditional imagery.
My favorite part about this tattoo is the whip shading used to give Vader depth; this artist left just the right amount of skin breaks, chefs kiss!
8. Realism Forearm Darth Vader Tattoo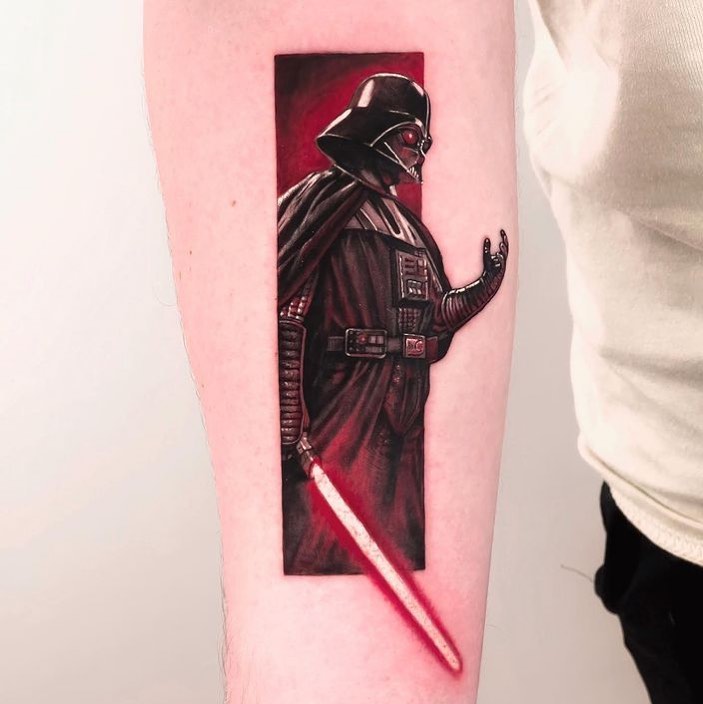 This type of micro-realism tattoo is very popular! I love the geometric element the artist played with; I feel like Darth Vader is coming out of there with a vengeance.
The white ink that has been packed into the lightsaber is impressive as it realistically looks glowing hot and ready to kill!
The lines are so fine that you can't see them unless you look with intention; I like this because it adds to the realistic appearance the artist is going for, and they do it well.
Overall this tattoo is a statement piece and deserves all the praise it can get.
9. Samurai Darth Vader Tattoo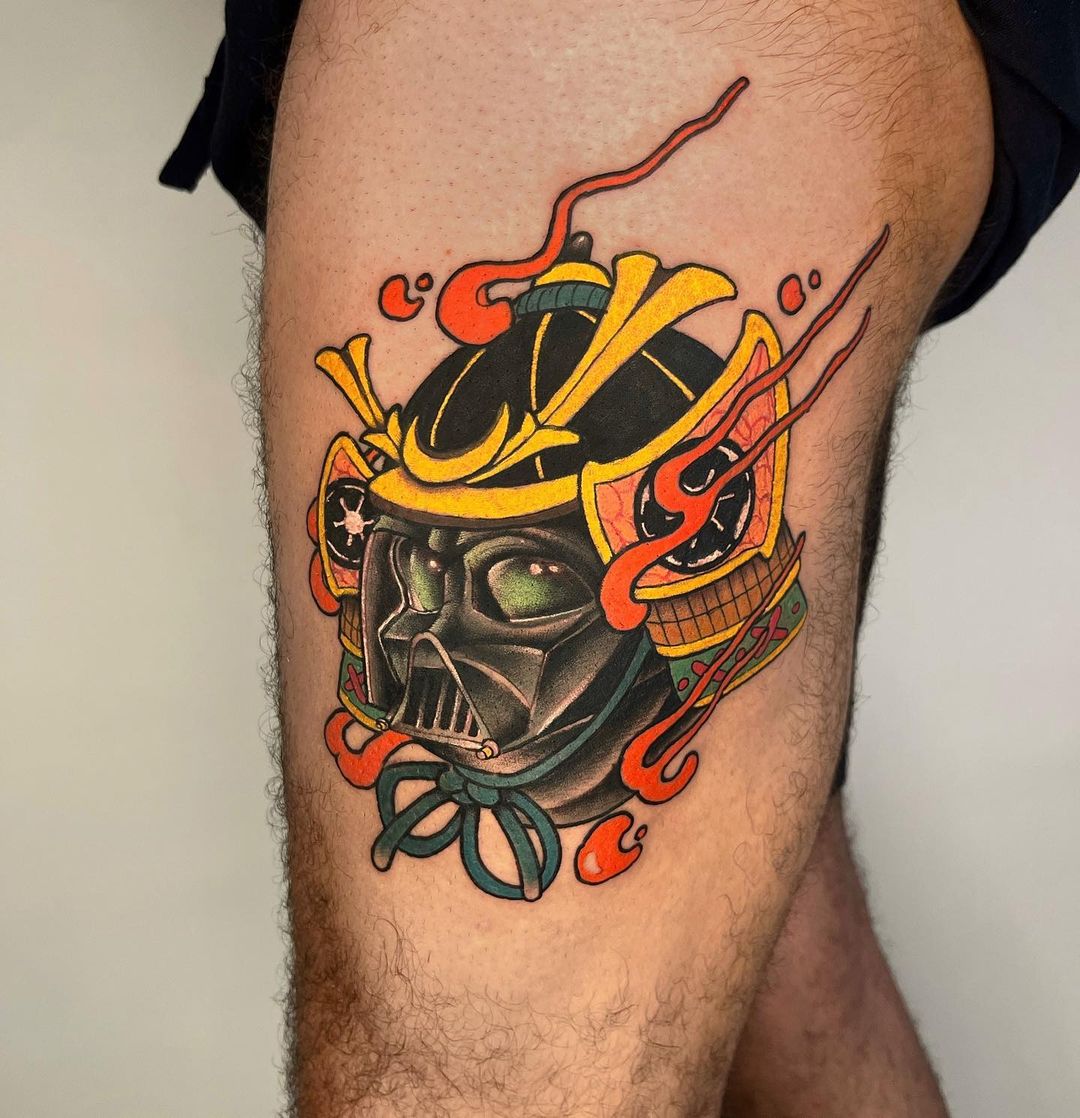 I won't lie when I say that I would stop everything that I am doing and book a one-way ticket to this artist's studio.
I love the use of traditional samurai imagery, as it symbolizes courage, bravery, honor, and self-discipline (all of which Darth Vader lacked).
It is safe to say that contrast is my favorite feature of this tattoo!
The shading in Vader's face is exceptional and detailed. The color palette is great, and I like the use of bright oranges.
10. Fine Line Darth Vader Tattoo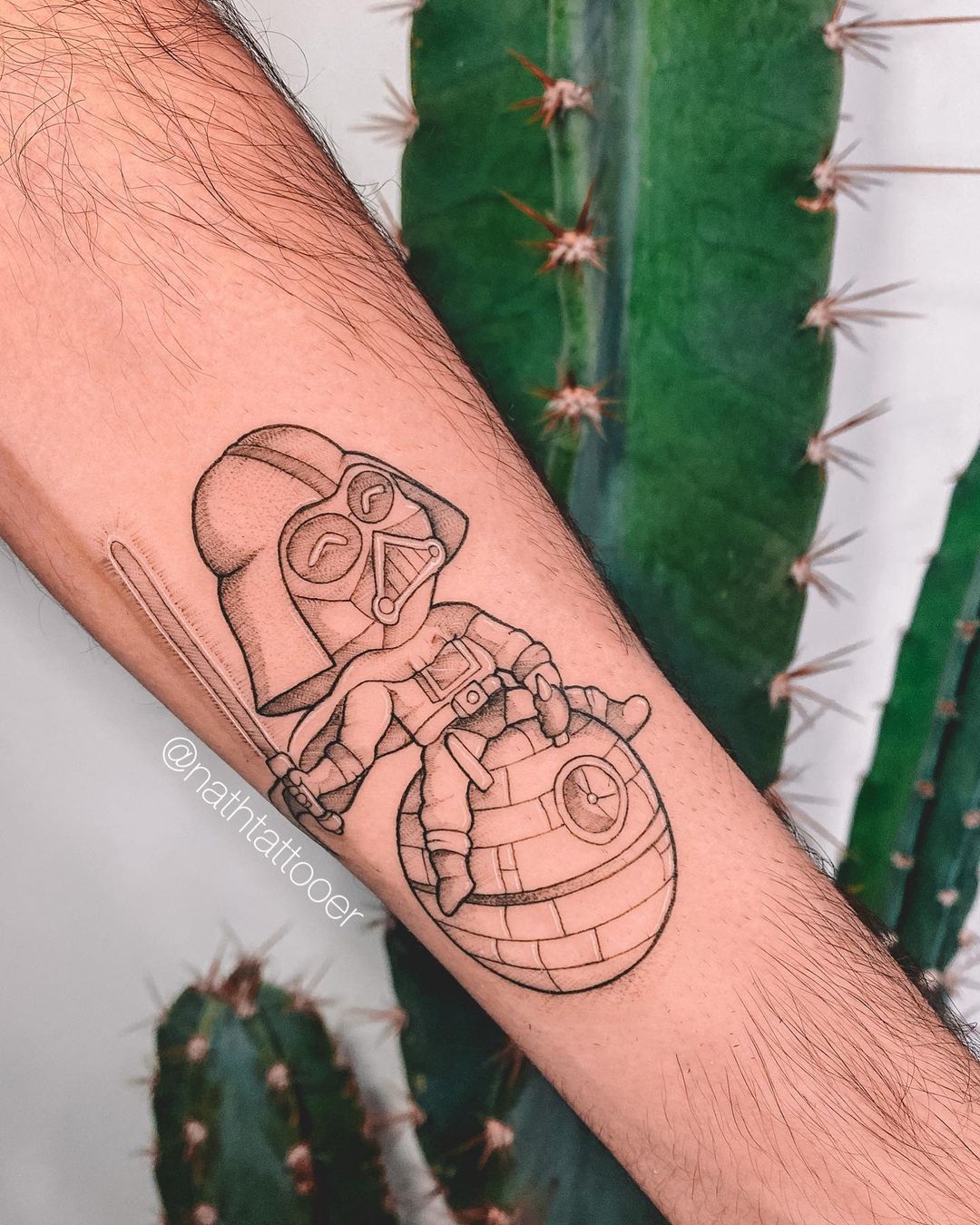 Cute… one of the many words that can be used to describe this tattoo! I like the cartoonish imagery used; this adds to the childlike playfulness the artist was going for.
The placement of the tattoo is great, and the size complements this well.
Although this piece is on the more simplistic side of things, when looking closely, we can see that it is far from simple!
I like the tiny minimalistic whip shades used throughout the tattoo to create a sense of depth. The white ink that has been packed delicately throughout the tattoo was a clever and artistic move; white ink when used correctly, can transform an average tattoo into a masterpiece!
11. Driving Cartoon Darth Vader Tattoo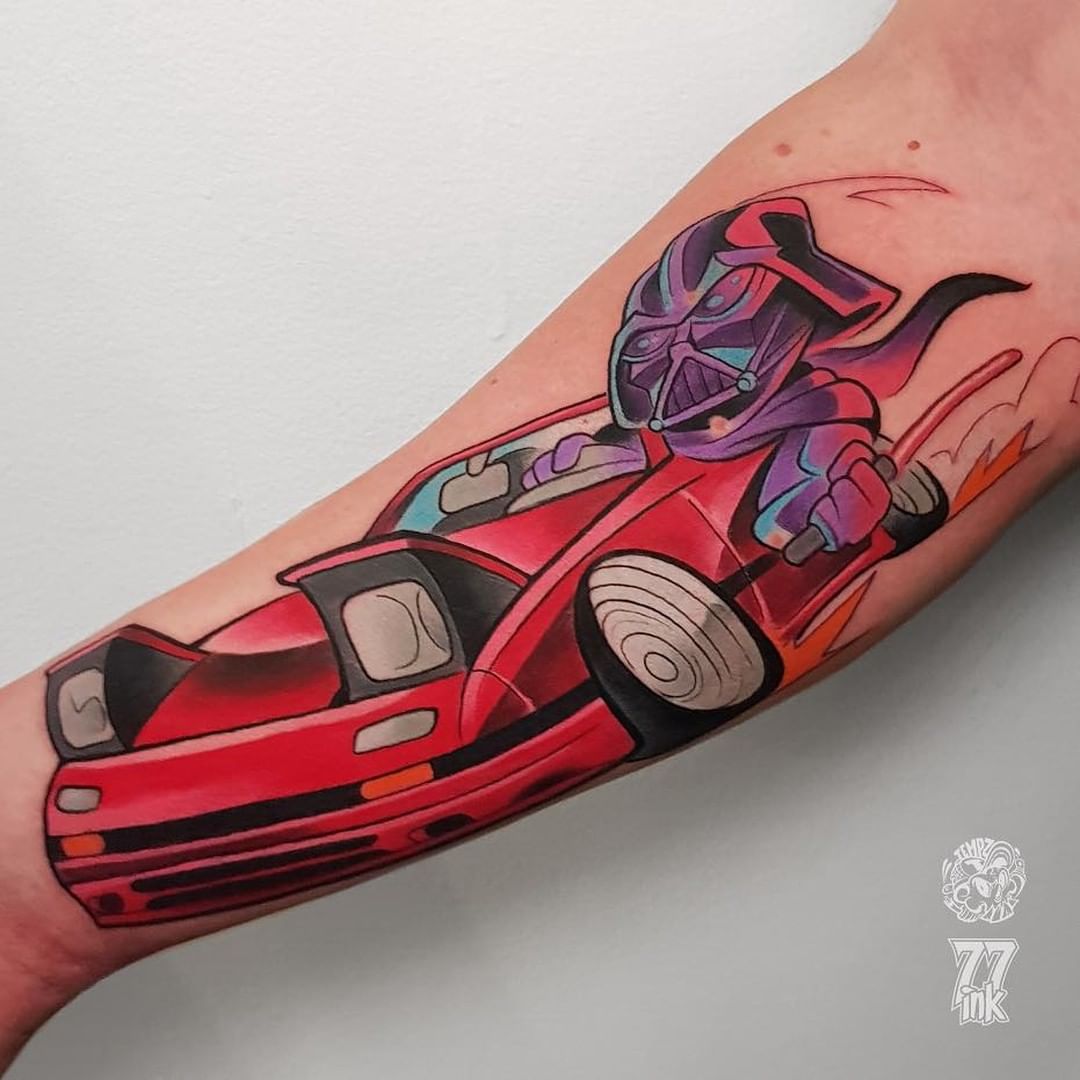 This piece is bright and stands out like a flame burning in the night!
The size and placement impress me most; it is difficult to get the proportions right on the forearm and this artist has somehow made it look easy!
I love the bold reds and oranges used for the car. The ink is packed professionally, and the appearance is solid, the artist applied their artistic ability efficiently. The reds and pinks packed into Vader are a great feature and give the imagery of busy city lights reflecting off his suit.
12. Father Daughter Darth Vader Tattoo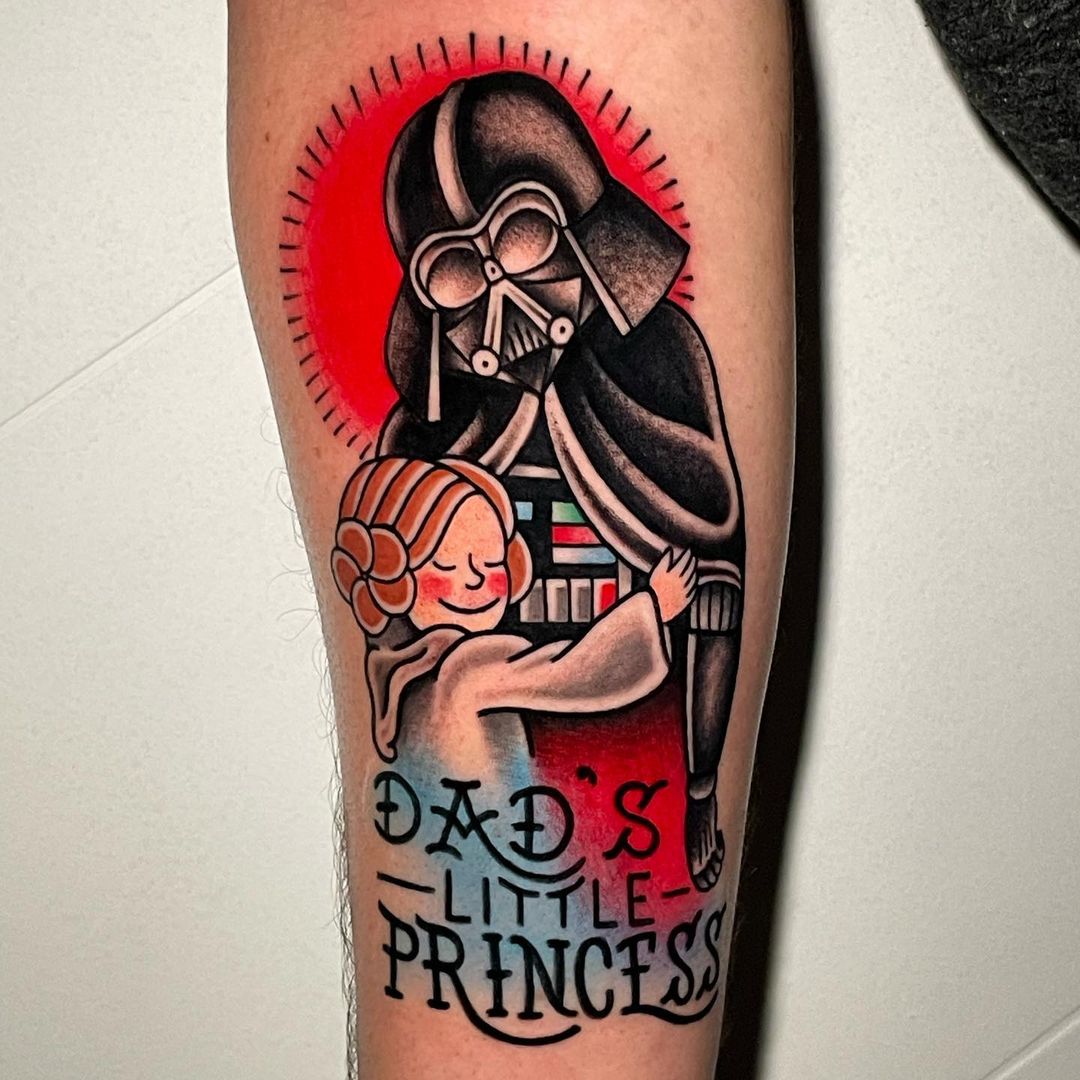 This is hands-down my favorite tattoo on this list because it's just so unexpected! The odds of this hug happening are slim to none, so the humor is a nice touch.
13. Black Realism Darth Vader Tattoo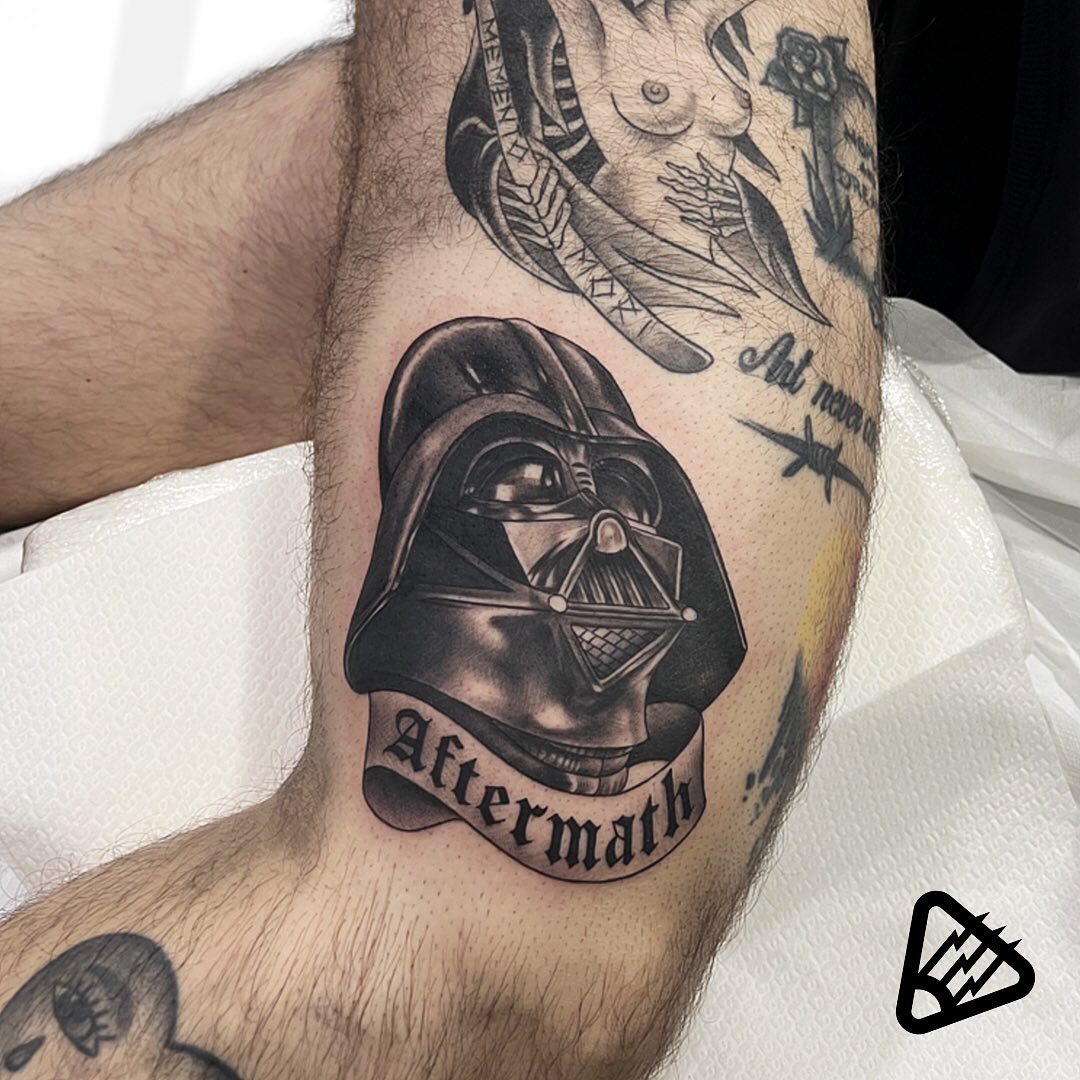 I like the addition of this realistic Darth Vader helmet in this person's patchwork tattoo covered leg. It's the boldest piece on there, which makes sense, considering how much attention he commands!
14. Traditional Lightsaber Darth Vader Tattoo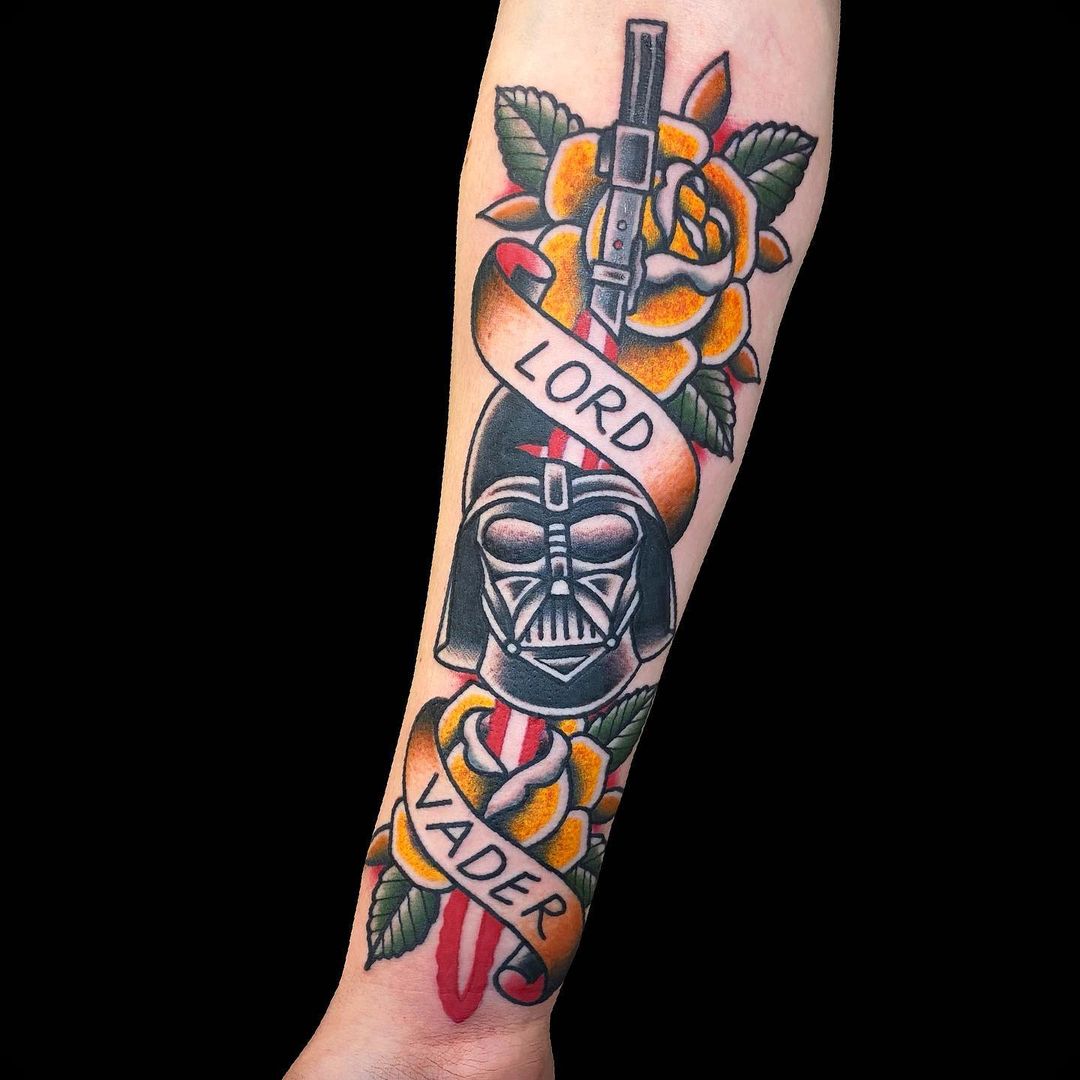 This has all the hallmark signs of a great traditional tattoo: a banner with text, beautiful flowers, punchy colors, and that style we all know and love.
Oh, and Darth Vader of course.
15. Superhero Darth Vader Tattoo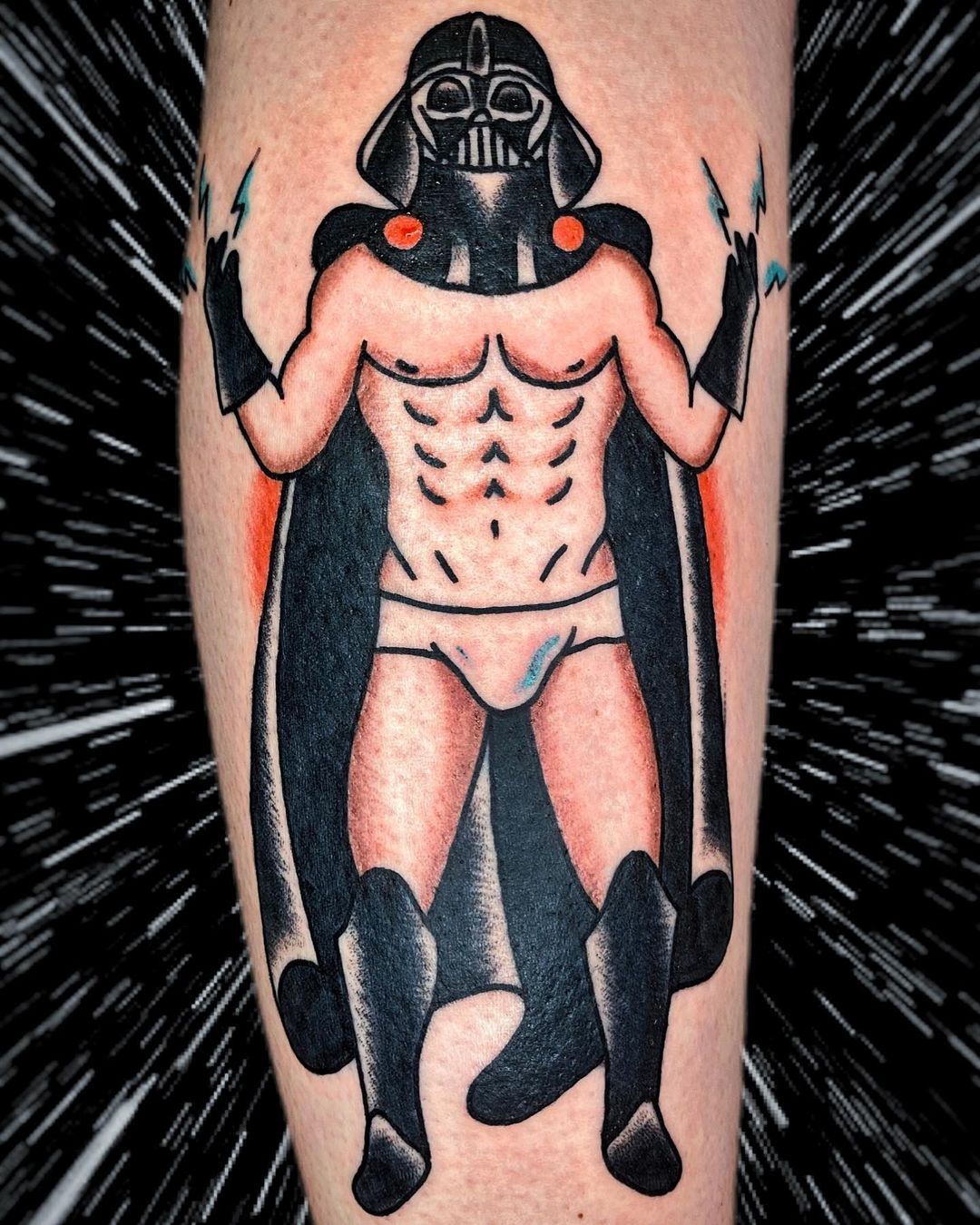 Speaking of unexpected, this one has to take the cake! I like how the style seems like it's directly from a 1930s comic book, making this one of the most unique on the list.
16. Watercolor Darth Vader Tattoo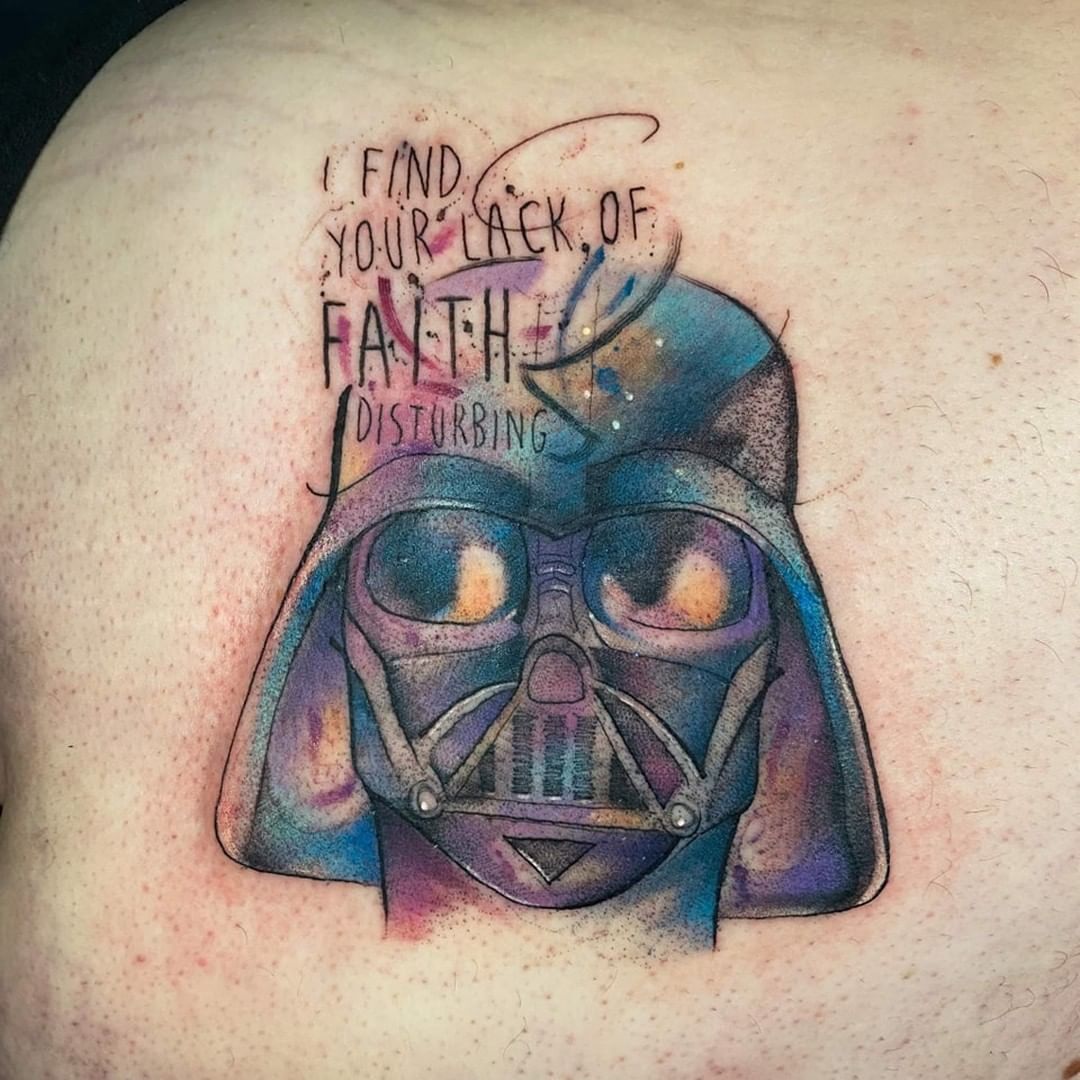 Whoa, check out the colors on this one! I love the look of these blues and purple because it almost looks like a nebula in the sky.
It's adorned with one of Vaders most iconic quotes which really seals the deal.
17. Simple Traditional Darth Vader Tattoo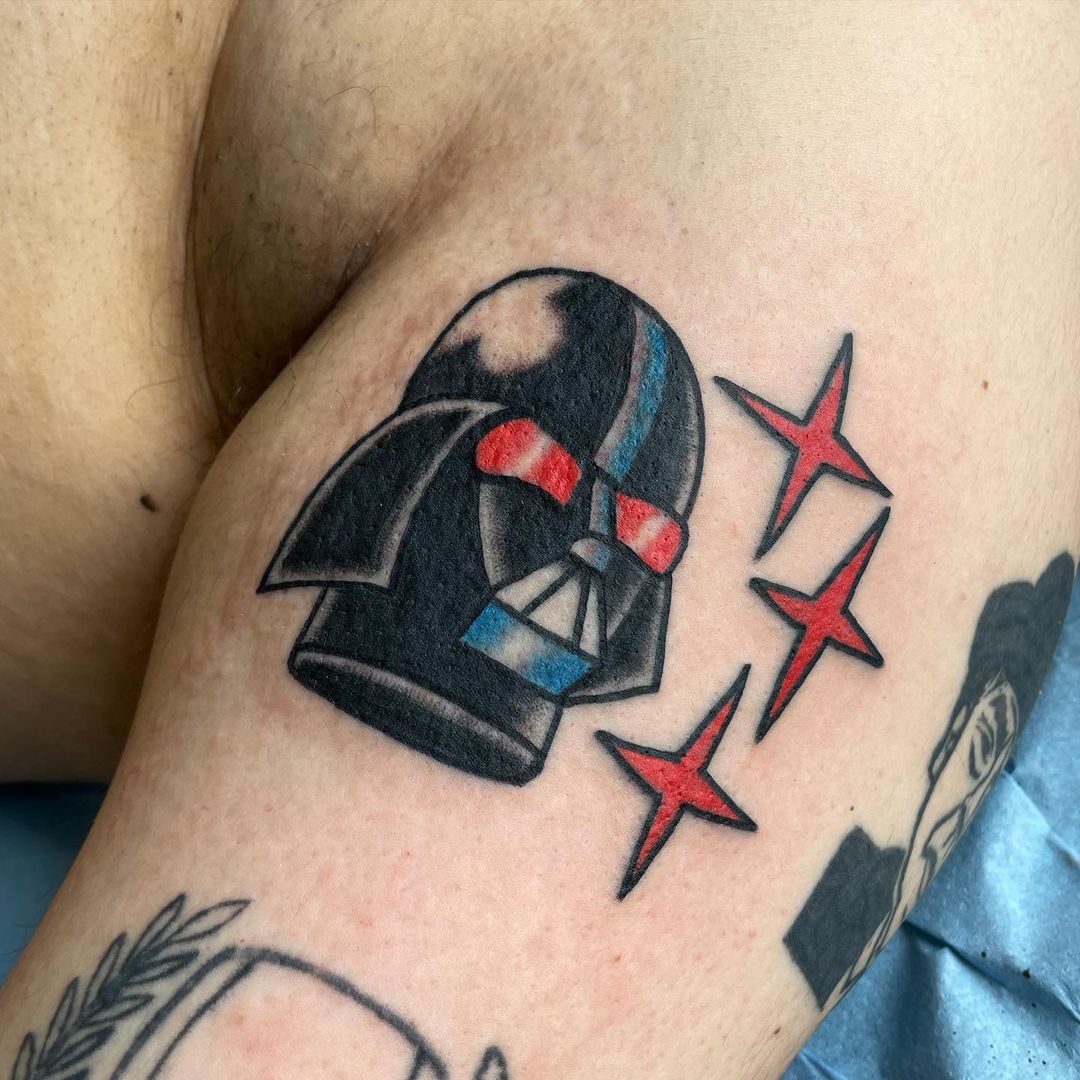 I like how the artist completely reenvisioned what Darth Vader could look like in a more minimalistic style, making this a standout piece.
It's another throwback to a old comic book style, but mixed with some classical traditional shading techniques.
18. Darth Vader Suit Tattoo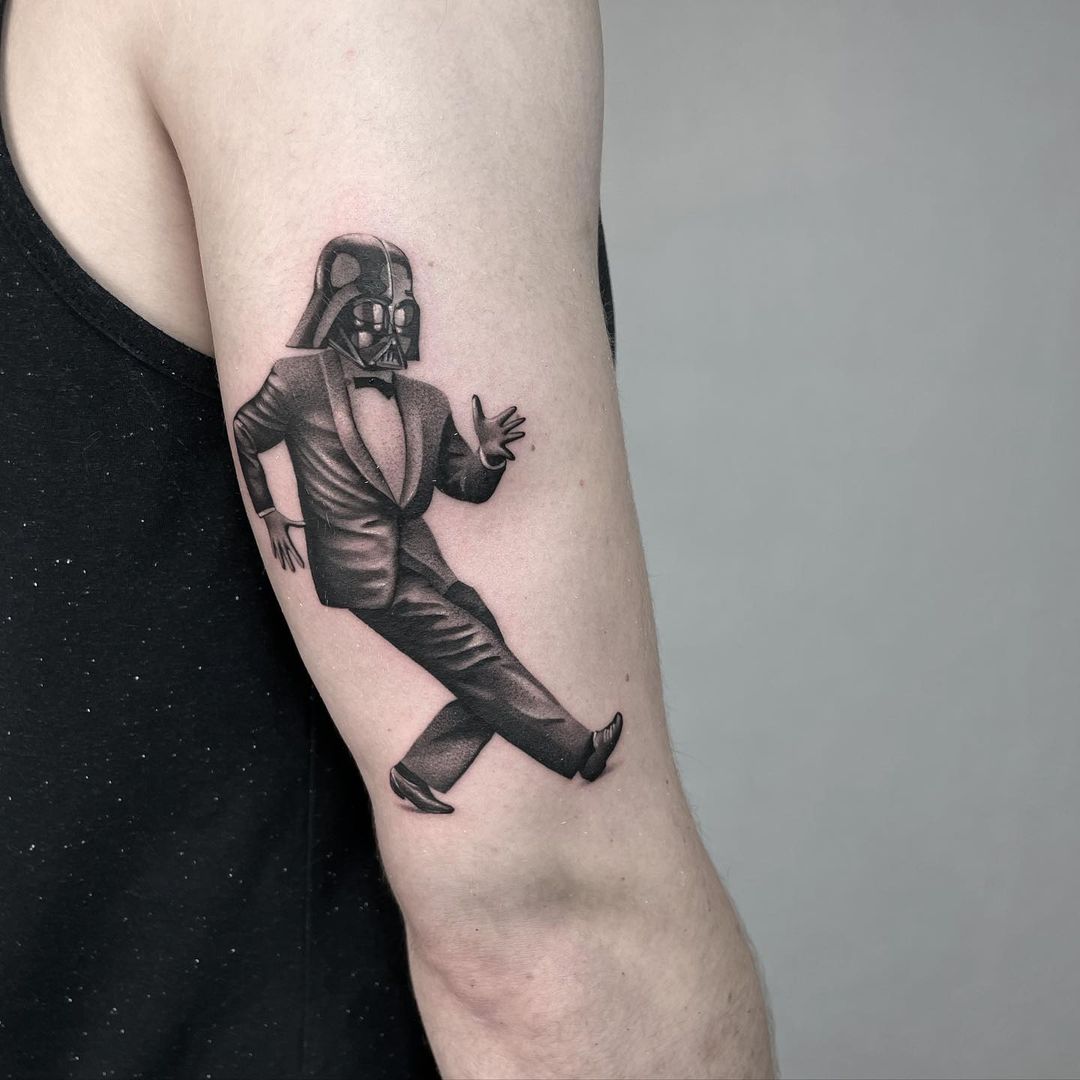 Here's another micro realism Darth Vader tattoo, this time with a little bit more personality! I don't think I've ever pictured Vader dancing, so this one took me back immediately.
Dance on.
19. McDonalds Darth Vader Tattoo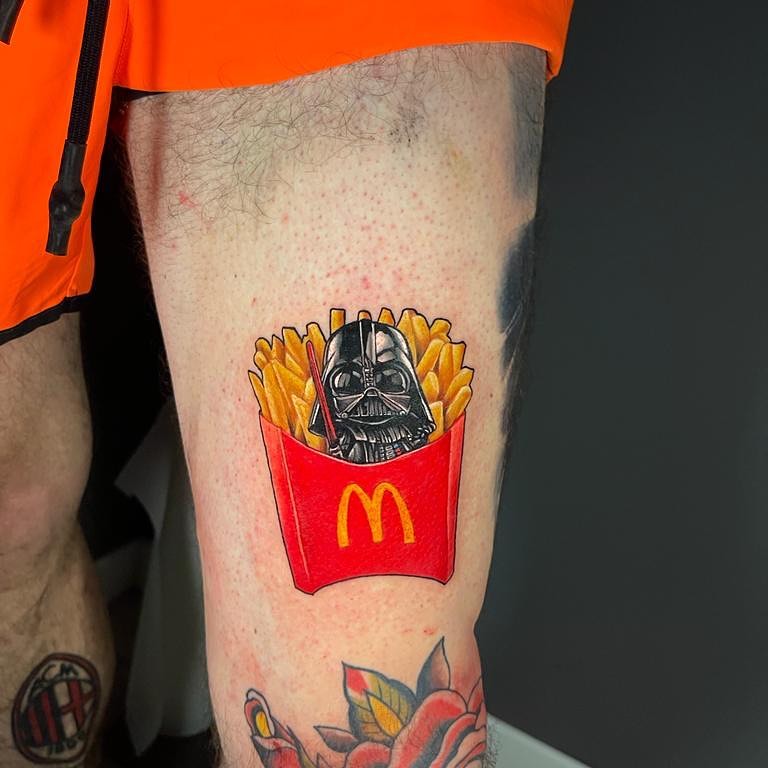 I mean, how can you \resist some Mcdonald's french fries?
Apparently, we're not alone, as this miniature version of Dark looks comfortably placed right smack in the middle of them.
20. Vader Portrait Tattoo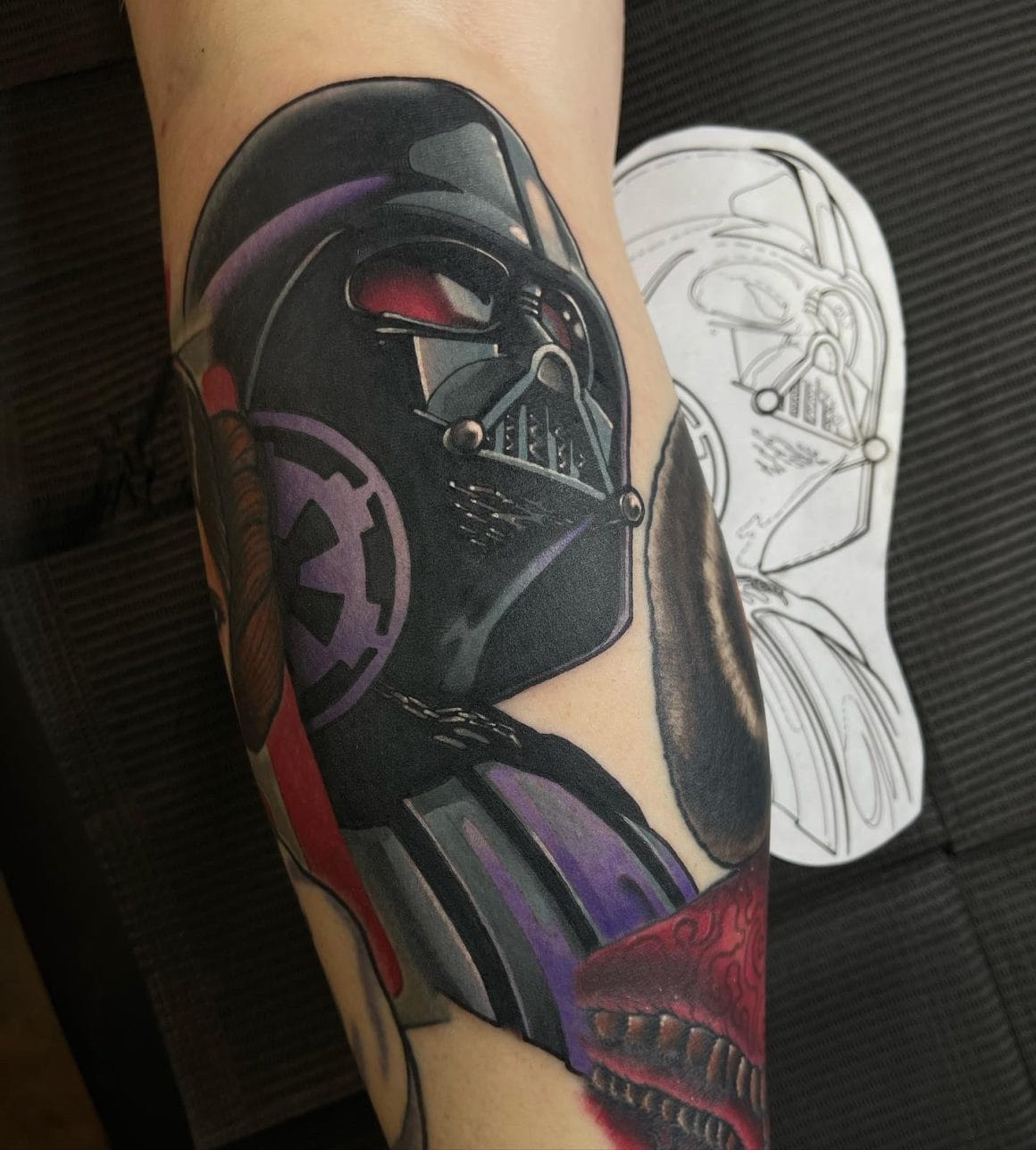 The angle of Vader looking up takes an already menacing character and amps it up a notch. The artist nailed the realism in this piece.
21. Torso Darth Vader Tattoo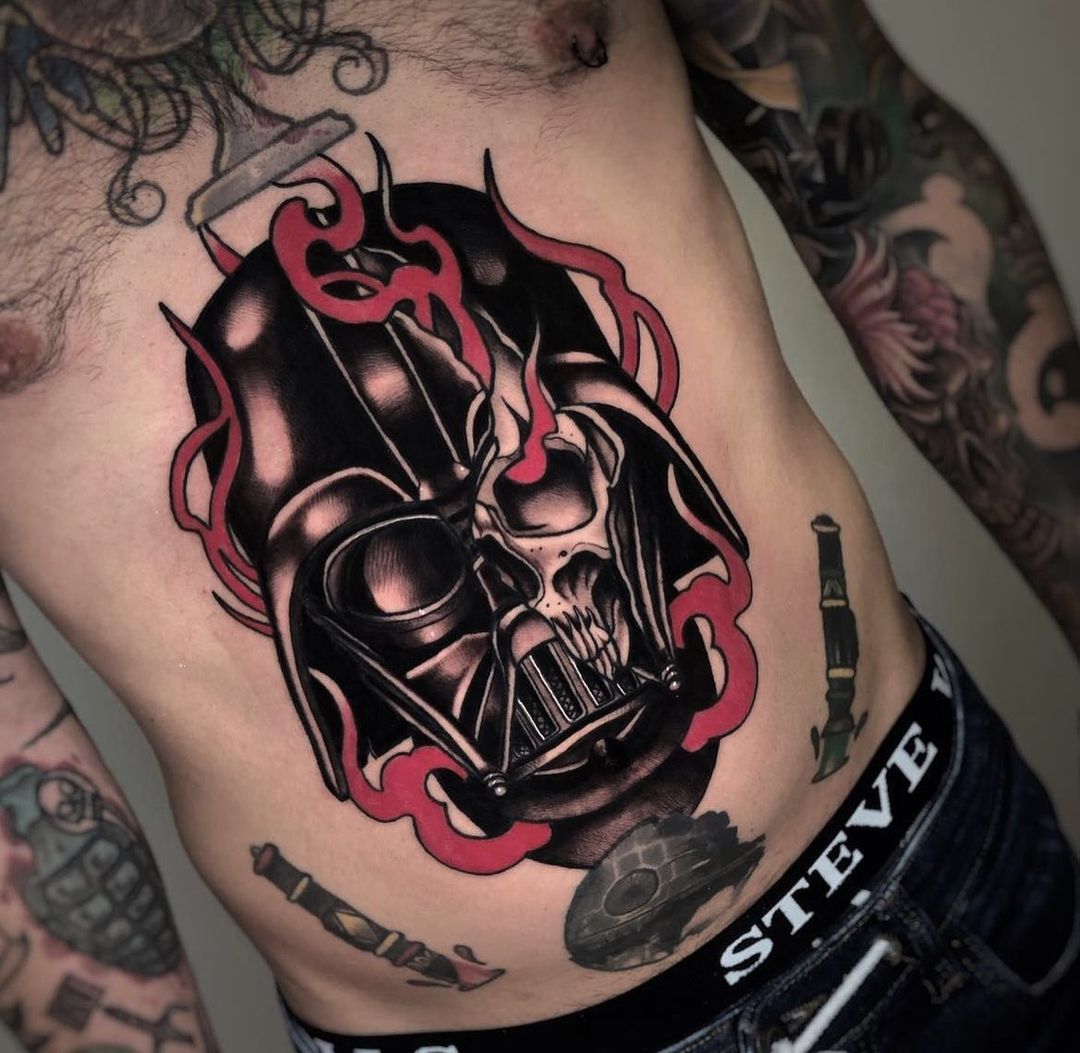 We top off this list with a giant Darth Vader chest piece with a ton of contrast.
Those red flames (or smoke?) look great, pouring out of his helmet, revealing a creepy skull inside.
It doesn't look like this is his first Star Wars tattoo either, check out the lightsabers and Death Star as well!