Aries tattoos are popular. Why? Because Aries personalities like to speak up. It is the first zodiac sign, governing those lucky enough to be born from March 21st to April 19th.
Most commonly represented by a ram, Aries personalities are known to be fiery, confident, and okay maaaaaybe a little stubborn (though we'll never admit it… except in a meme).
Take some time out of your busy day to admire these works of art depicting all that is the glorious Aries being. (Who, me? I might be.)
1. Feminine Aries Tattoo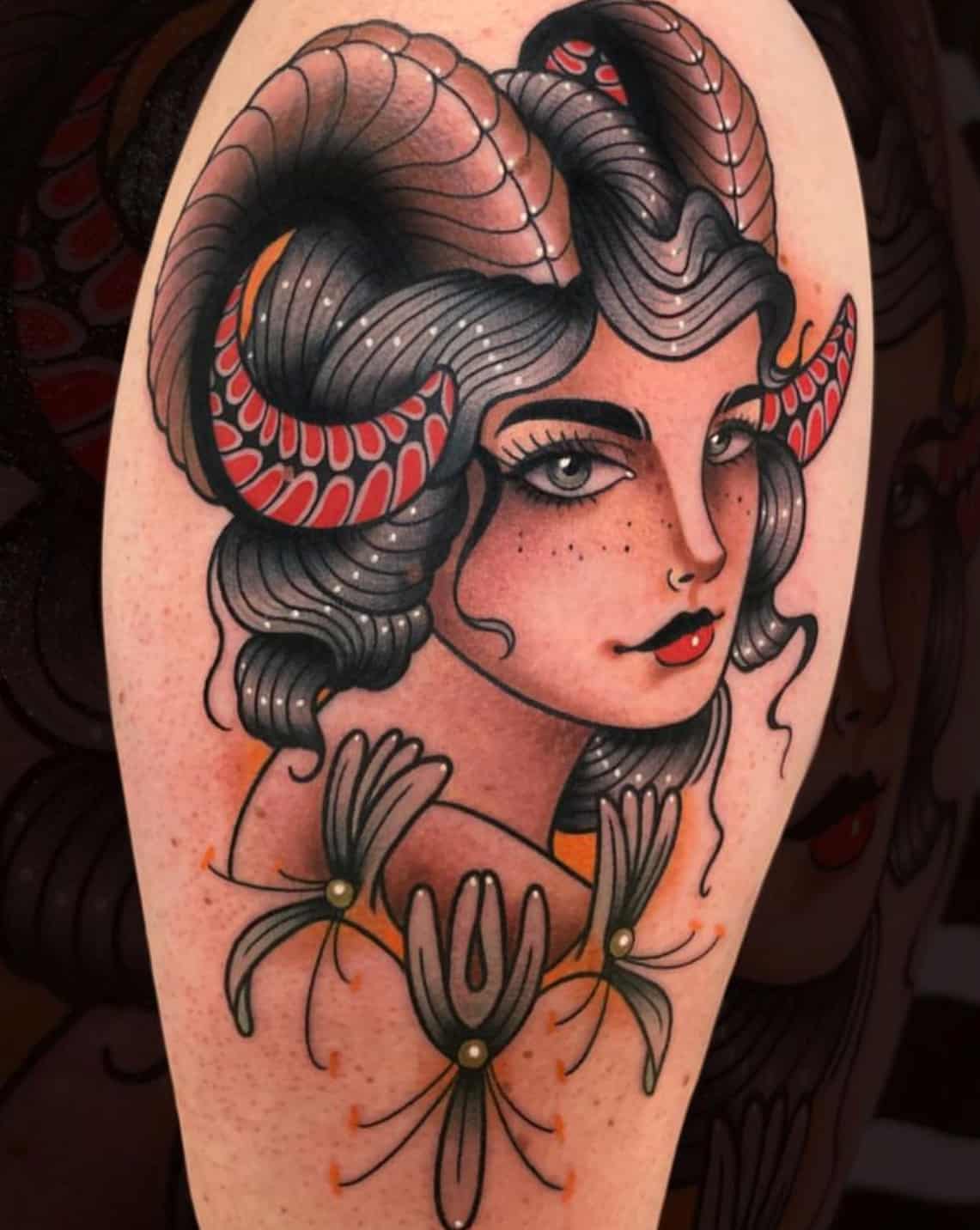 The traditional style is always a favorite, and it tops the list when it looks like this. The girl looks like she could lure you to your death with her wiley ways.
Would you regret it? Probably not.
2. Aries Girl with Ram Skull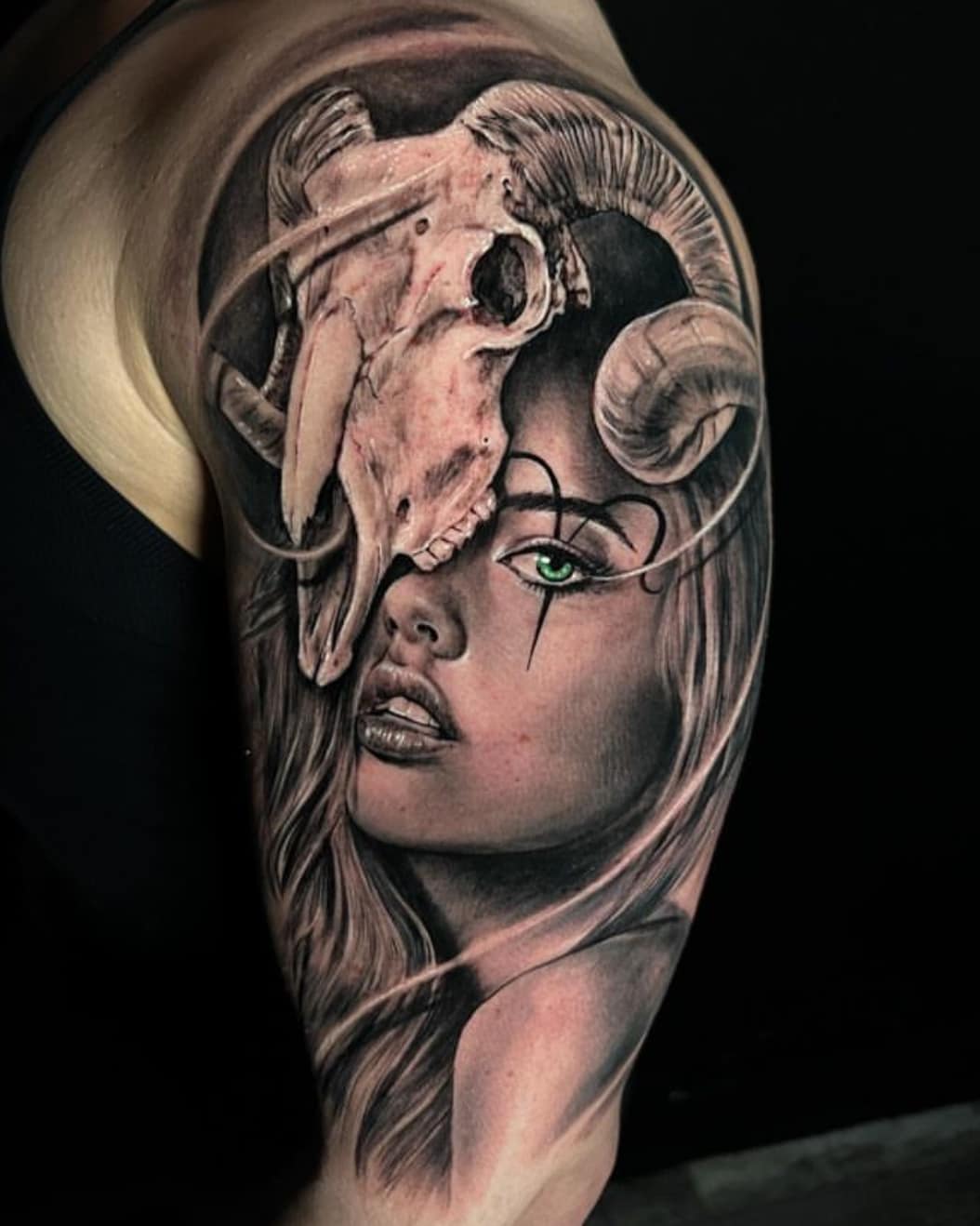 LOOK AT THAT GREEN EYE. The contrast here is incredible, making her eye pop in a big way. The lighting and shadows are fantastic.
3. Ram Forearm Tattoo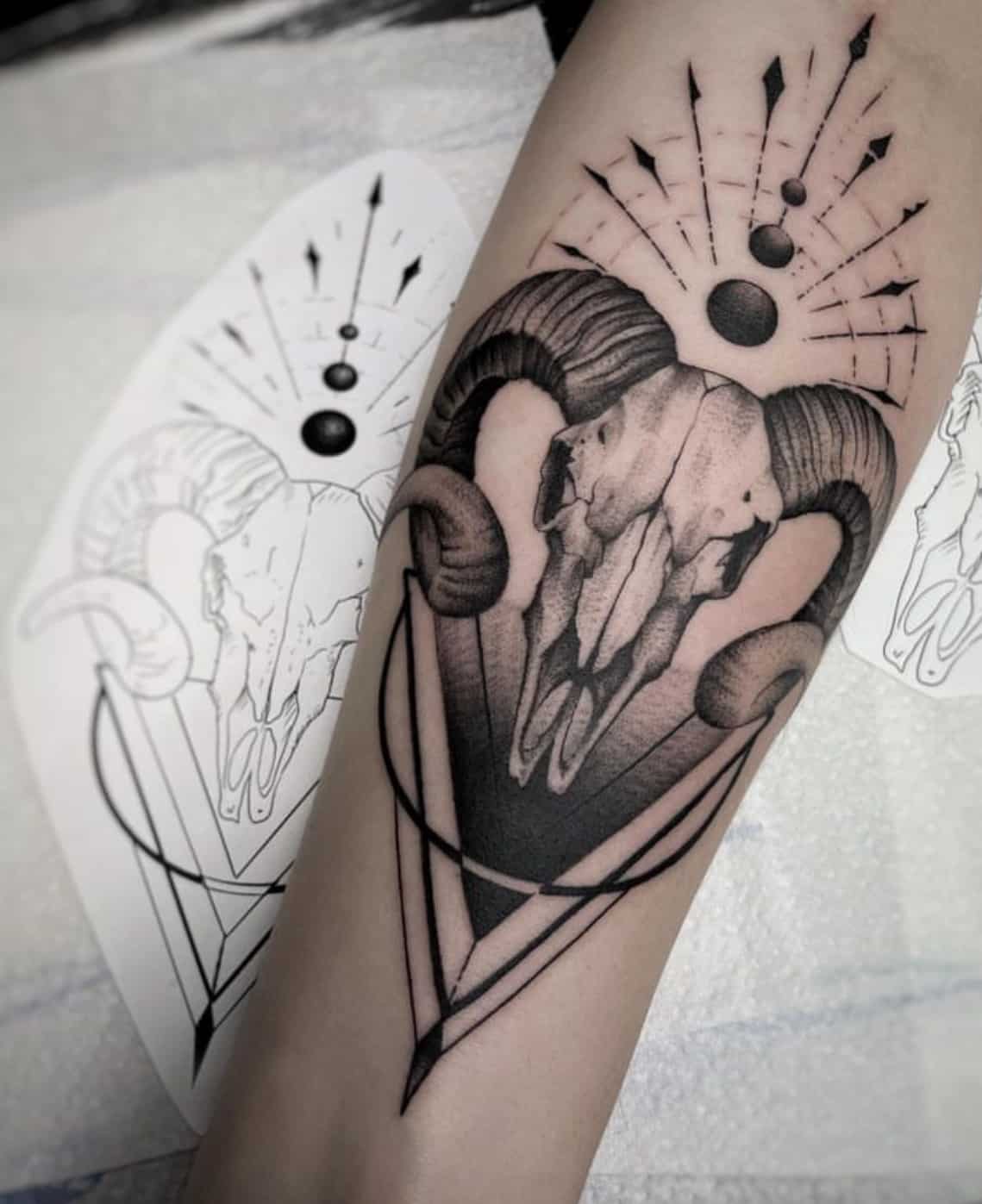 The combination of the realistic ram skull with the stylized linework and ornamental element is very unique. The natural flow of the piece, larger at the top to a pointed bottom, makes it perfect for a forearm.
4. Ram Skull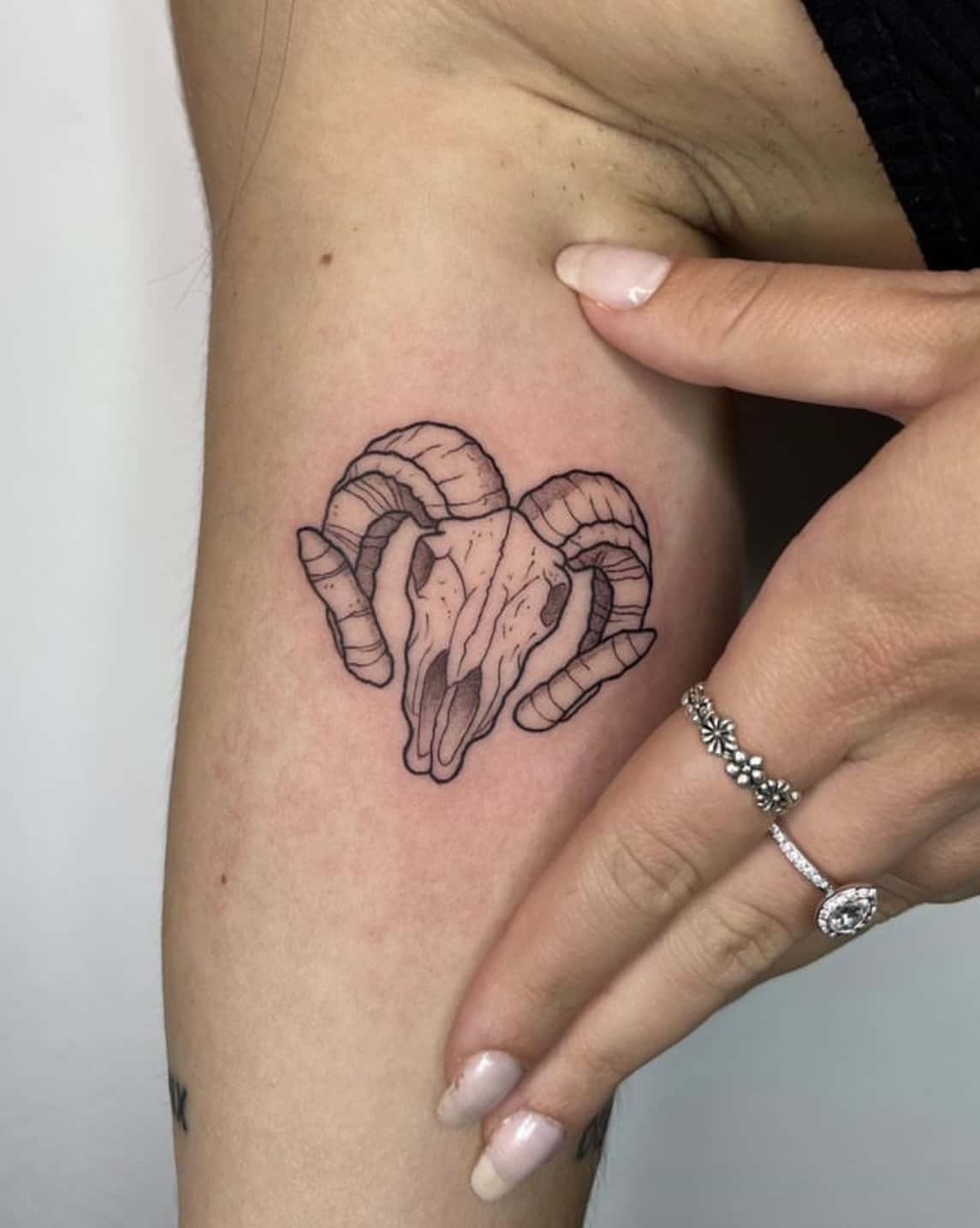 I picture this ram skull on the hood of an old car somewhere in New Mexico. The texture of the horns looks so rough and barbaric.
5. Vibrant Ram with Gemstone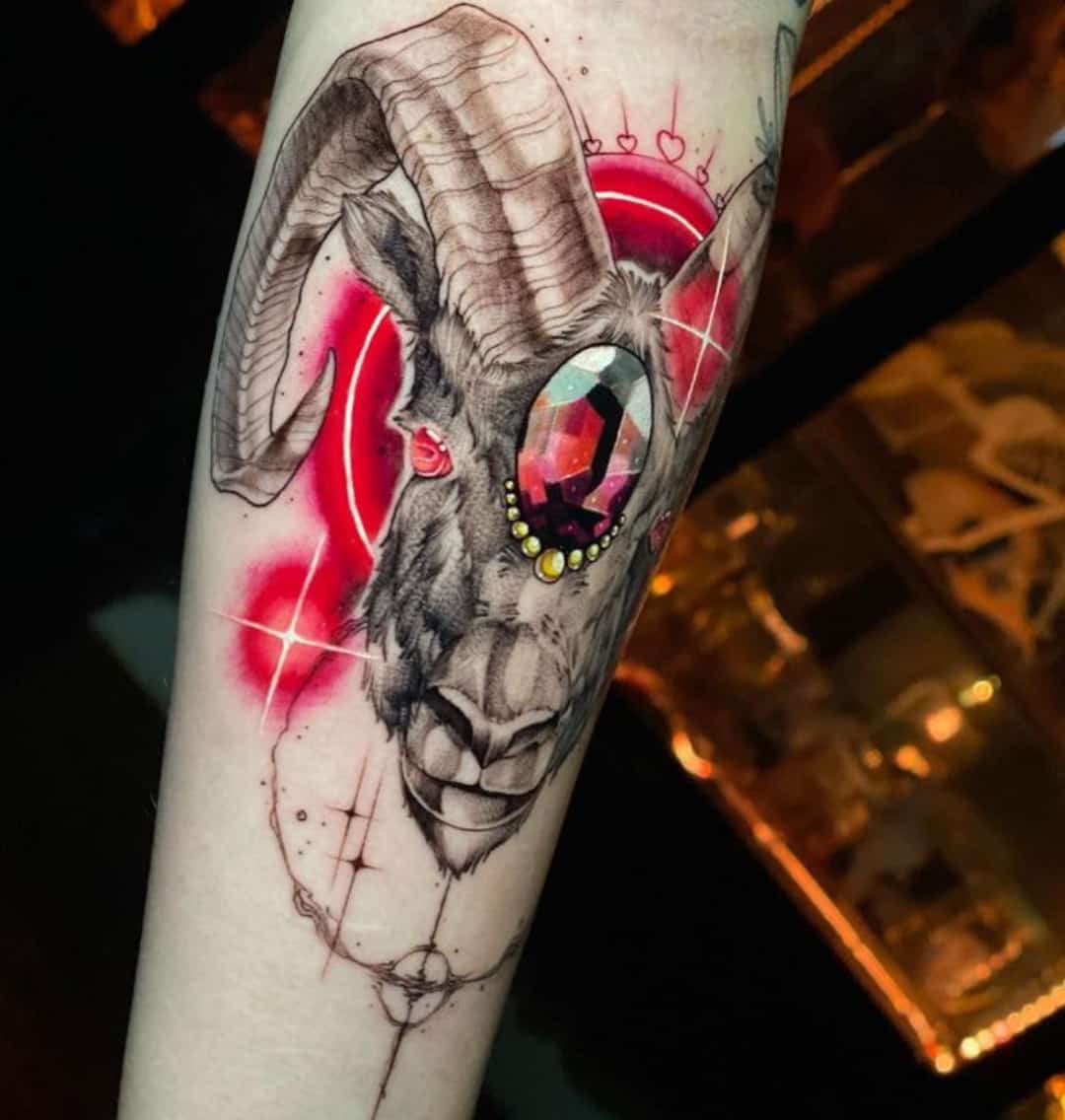 This red almost knocks you out, it's so bold. The facets of the gemstone are so well executed that I almost didn't notice the nightmarish red eyes.
6. Bleeding Eye Ram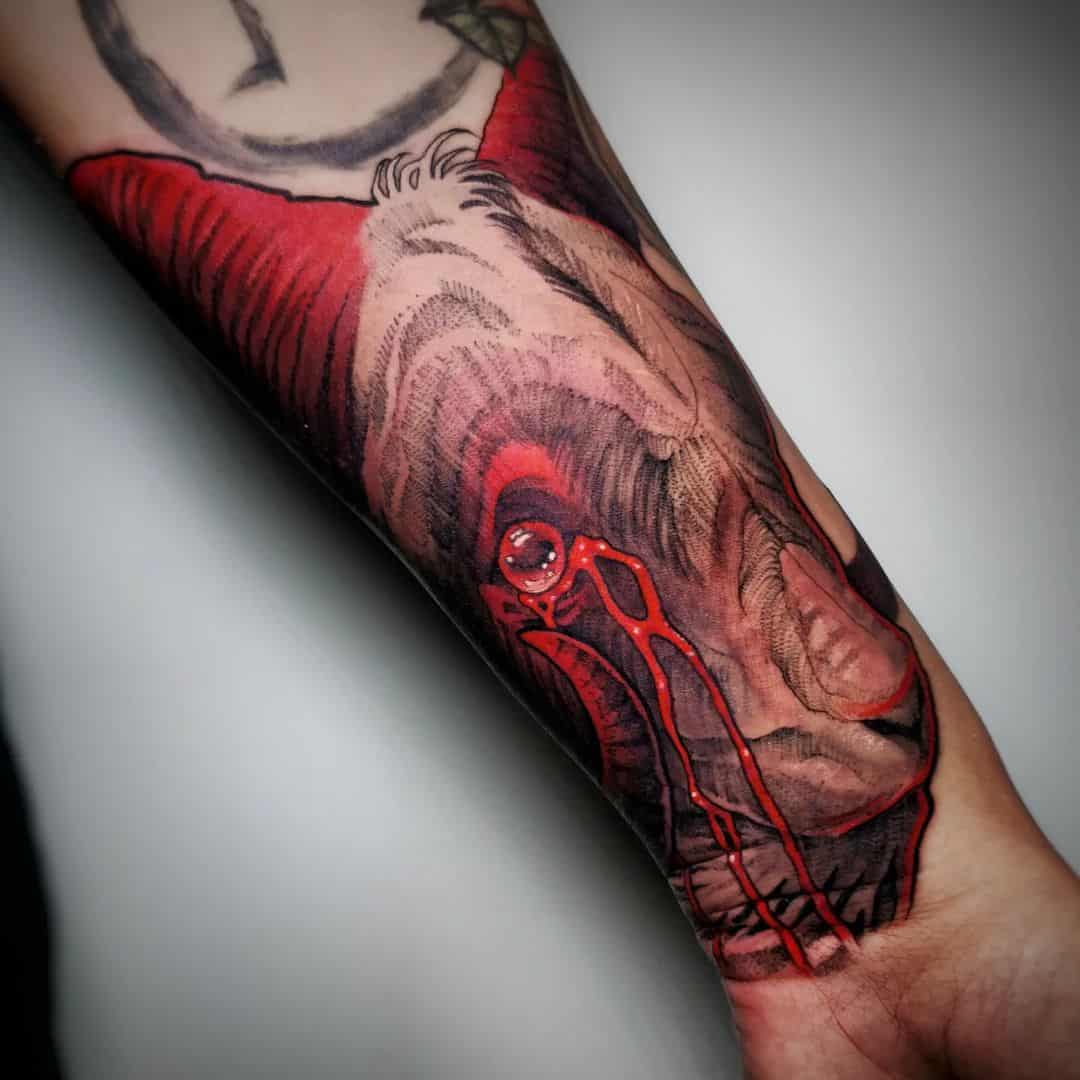 Speaking of nightmares, here you go! Aries are known to be a little aggressive at times (ahem, God of War), so this fits the bill. I'd love to see a wraparound photo of the entire tattoo.
The best part? It's not even done yet! There's still another session needed to complete it. I'm not sure what exactly will be coming, but we're curious to see!
7. Ram Skull and Snake Scene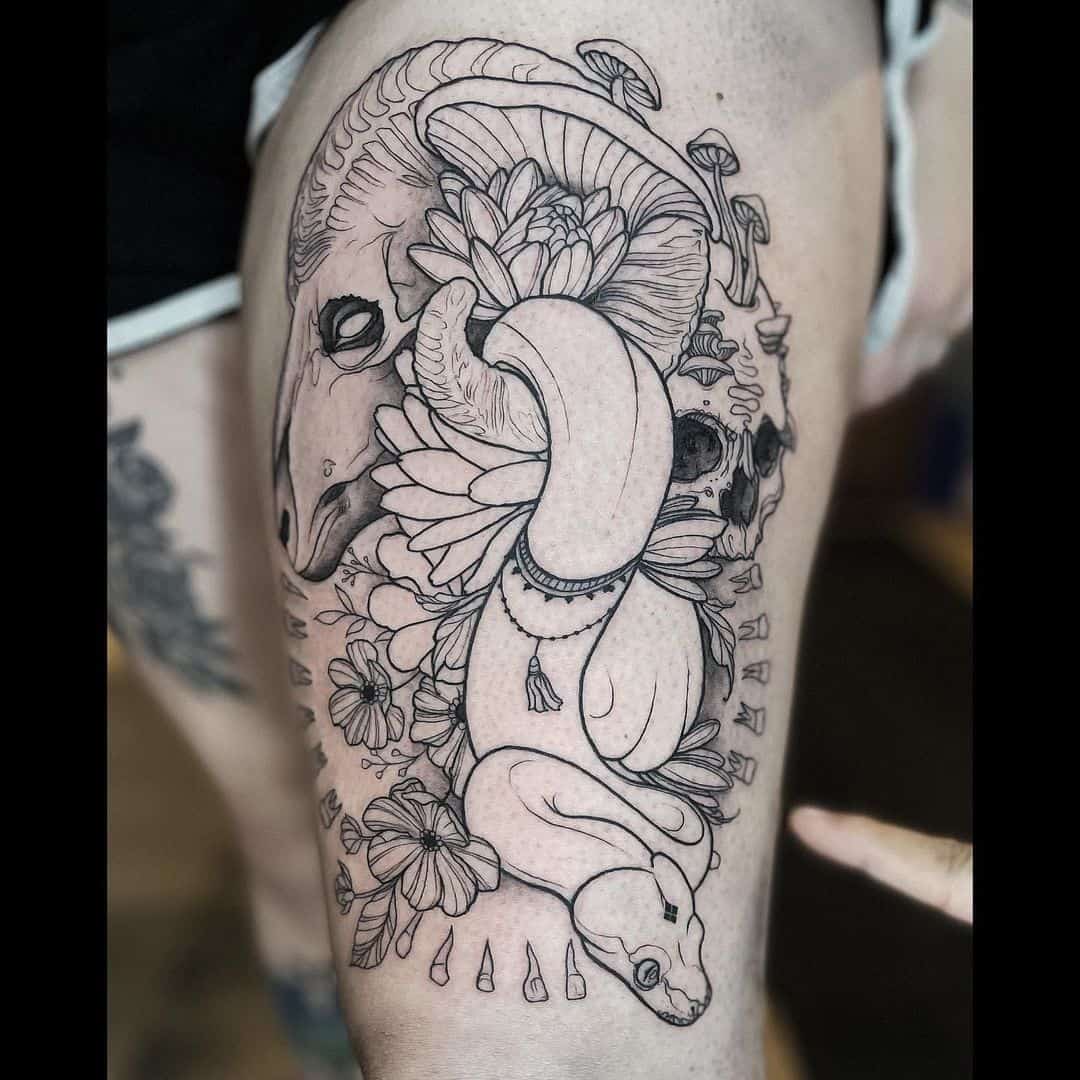 There's so much happening here, in a perfect way. It's creating an entire scene to get lost in. Notice the teeth around the entire image, and the mushrooms growing out of the skull.
Even the complete negative space on the snake convinces me that it's one of those beautiful white ones, and therefore in my mind the tassel adorning it is just right.
I love when a tattoo opens up your imagination. Remember to wander over to our snake tattoo article if you love this one, and maybe even our mushroom tattoo article!
8. Aries Symbol Tattoo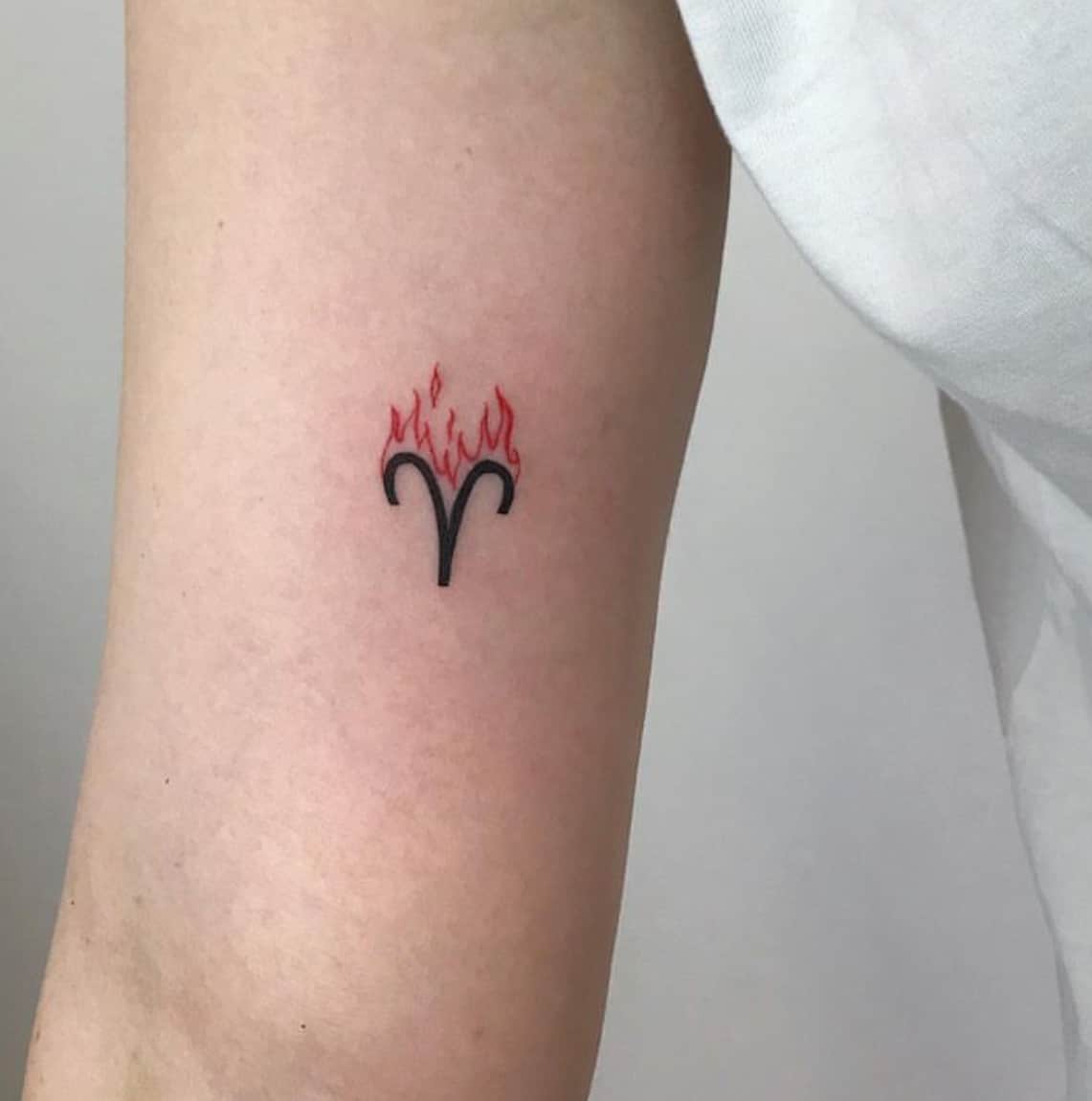 As a prominent fire sign, this zodiac symbol with flames is an accurate representation of the daring (and possibly temperamental) Aries personality. Don't @ me, it's "science".
9. Tribal Aries Tattoo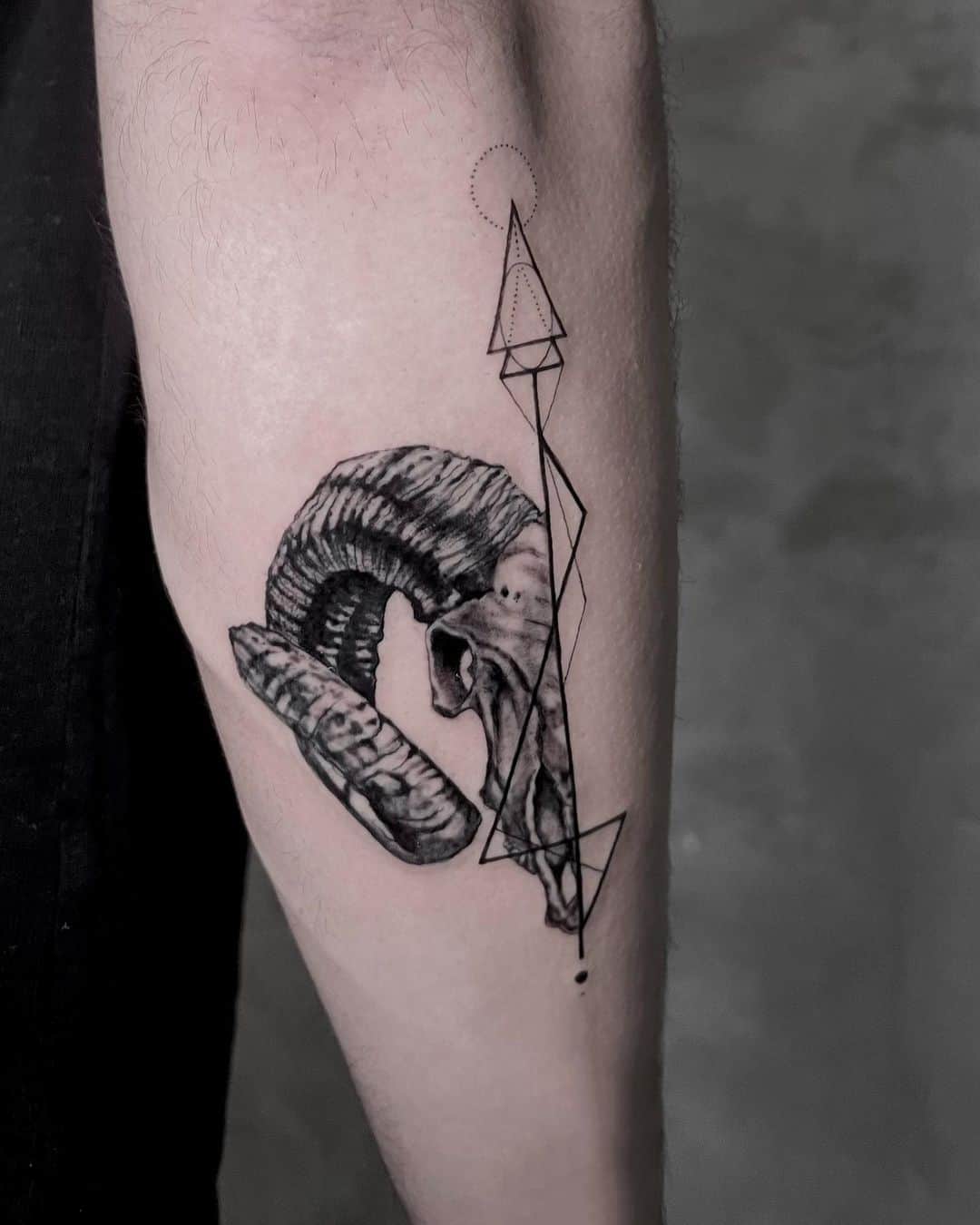 Linework here with very sharp angles gives a bit of a tribal aesthetic, which looks great against the realism of the skull.
10. Traditional Girl with Ram Horns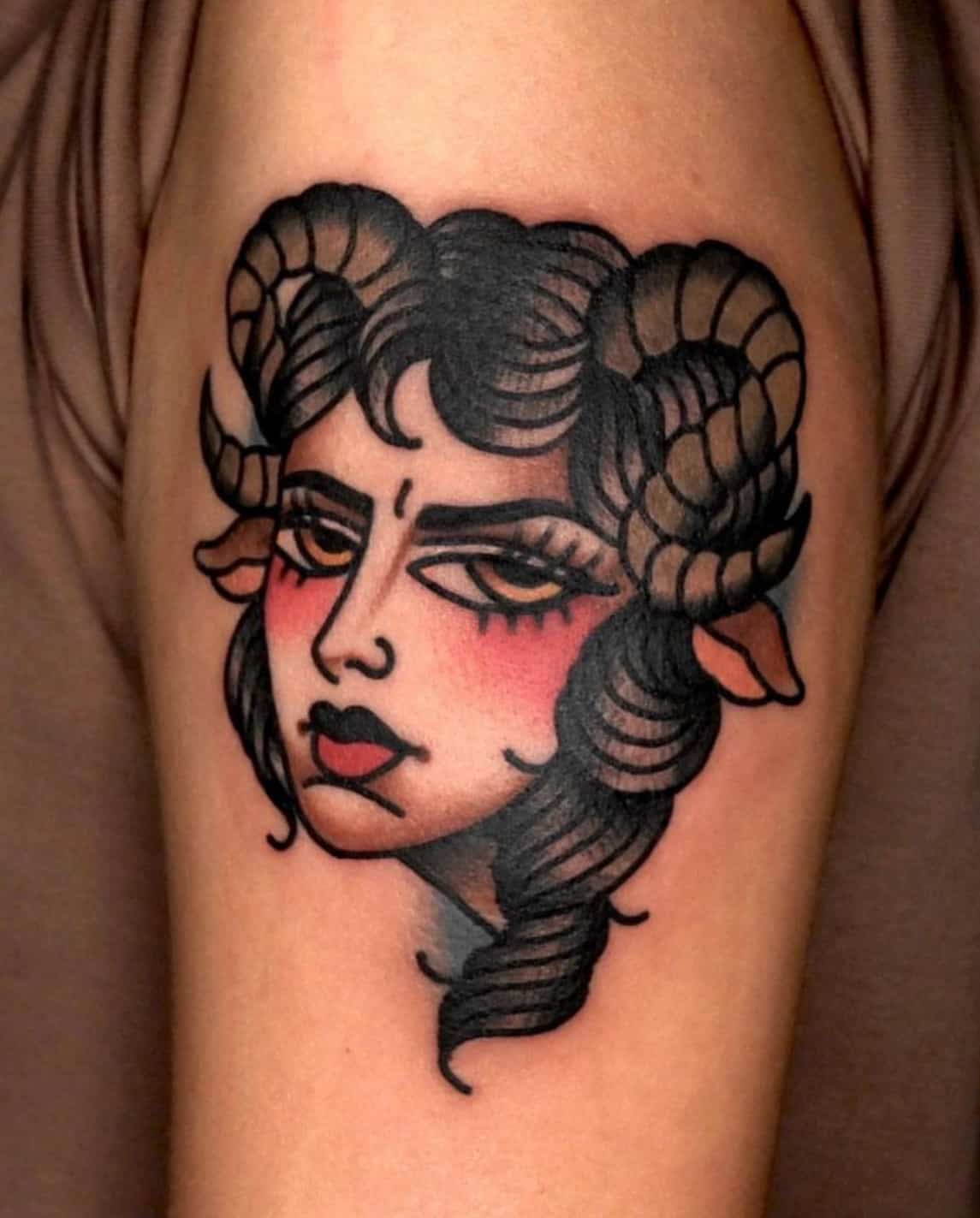 If looks could kill, you might be in trouble with this one. She's got a secret, and she just might use it to her advantage. Those little ears are pretty cute though.
11. Ram Aries Tattoo With Flowers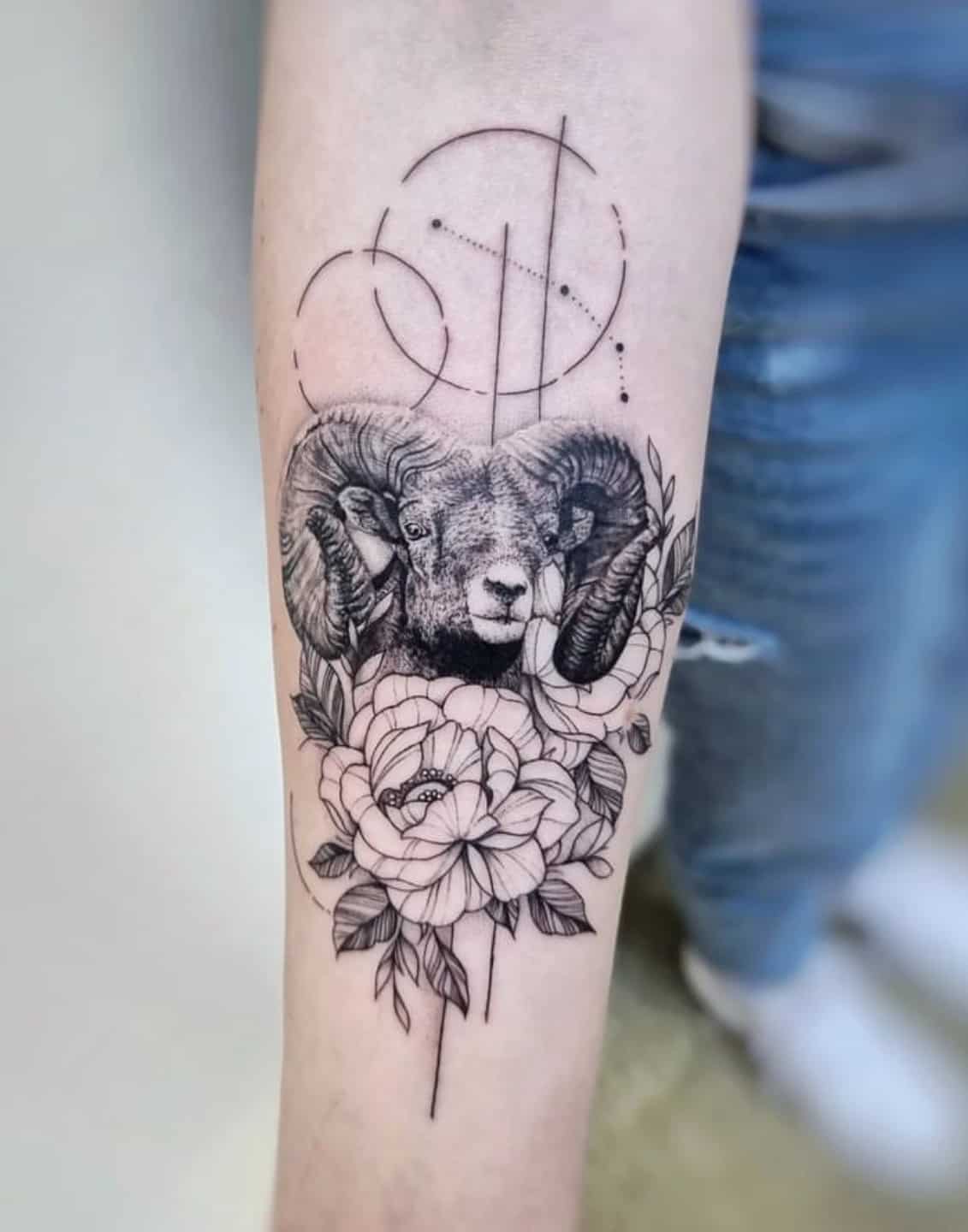 This Aries is connecting with their softer side, with delicate flowers and a ram so photorealistic that you could go in for some pets. A hint of geometry with delicate lines and circles tucked behind brings a nice modern flavor.
12. Mythical Aries Woman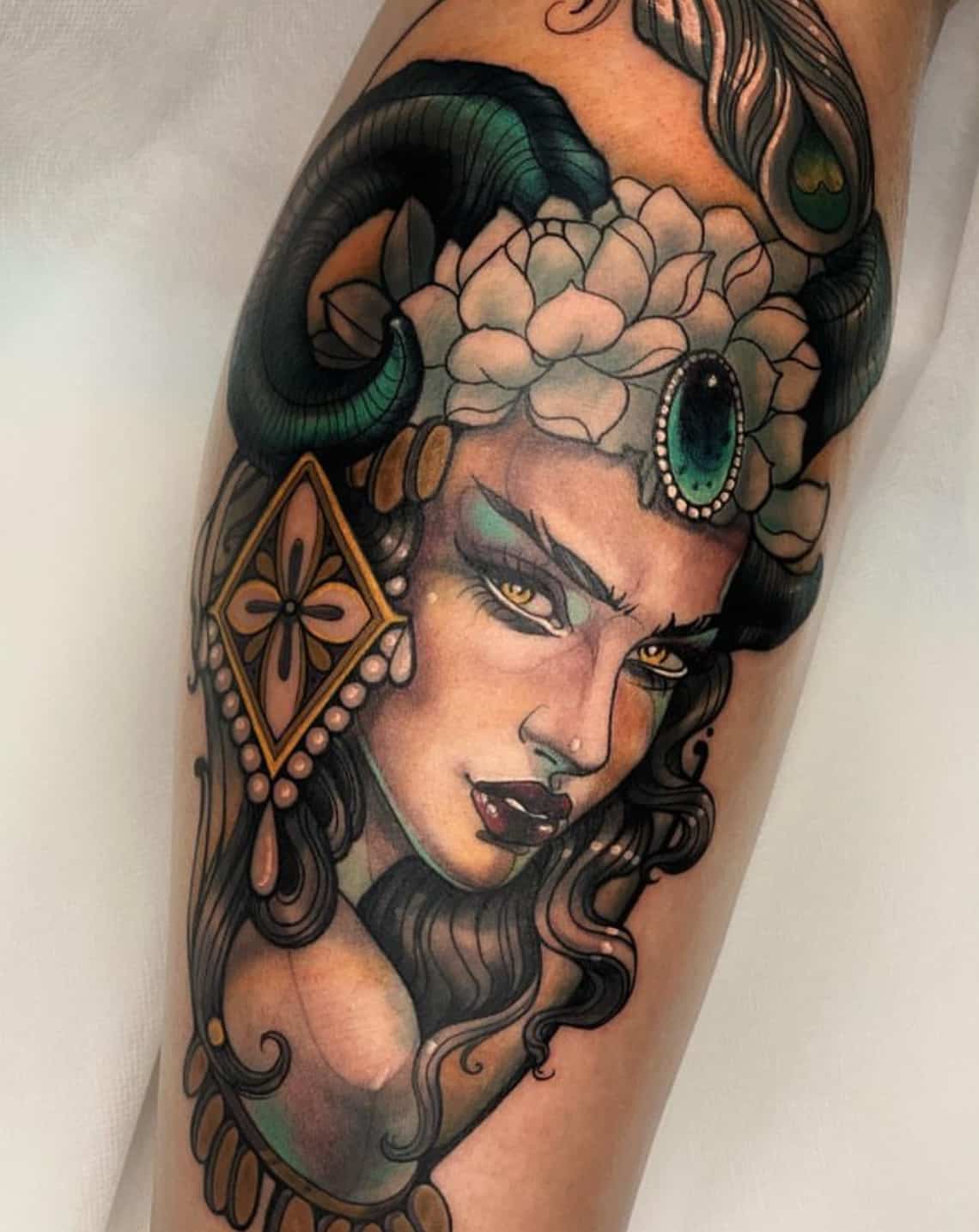 Deep jewel tones complimented with monochrome pastels set the tone for this beautiful Aries lady, while her pearls add an elegance that ties it together.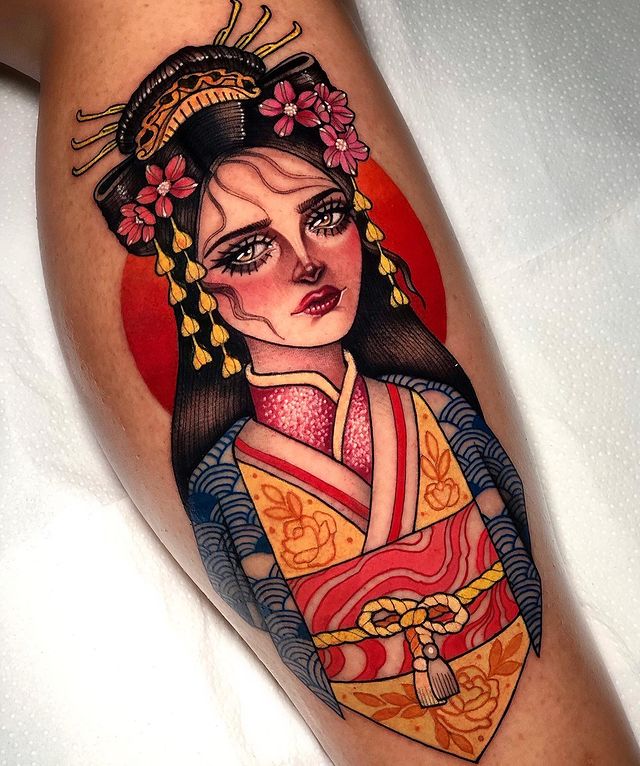 13. Aries Star Constellation Tattoo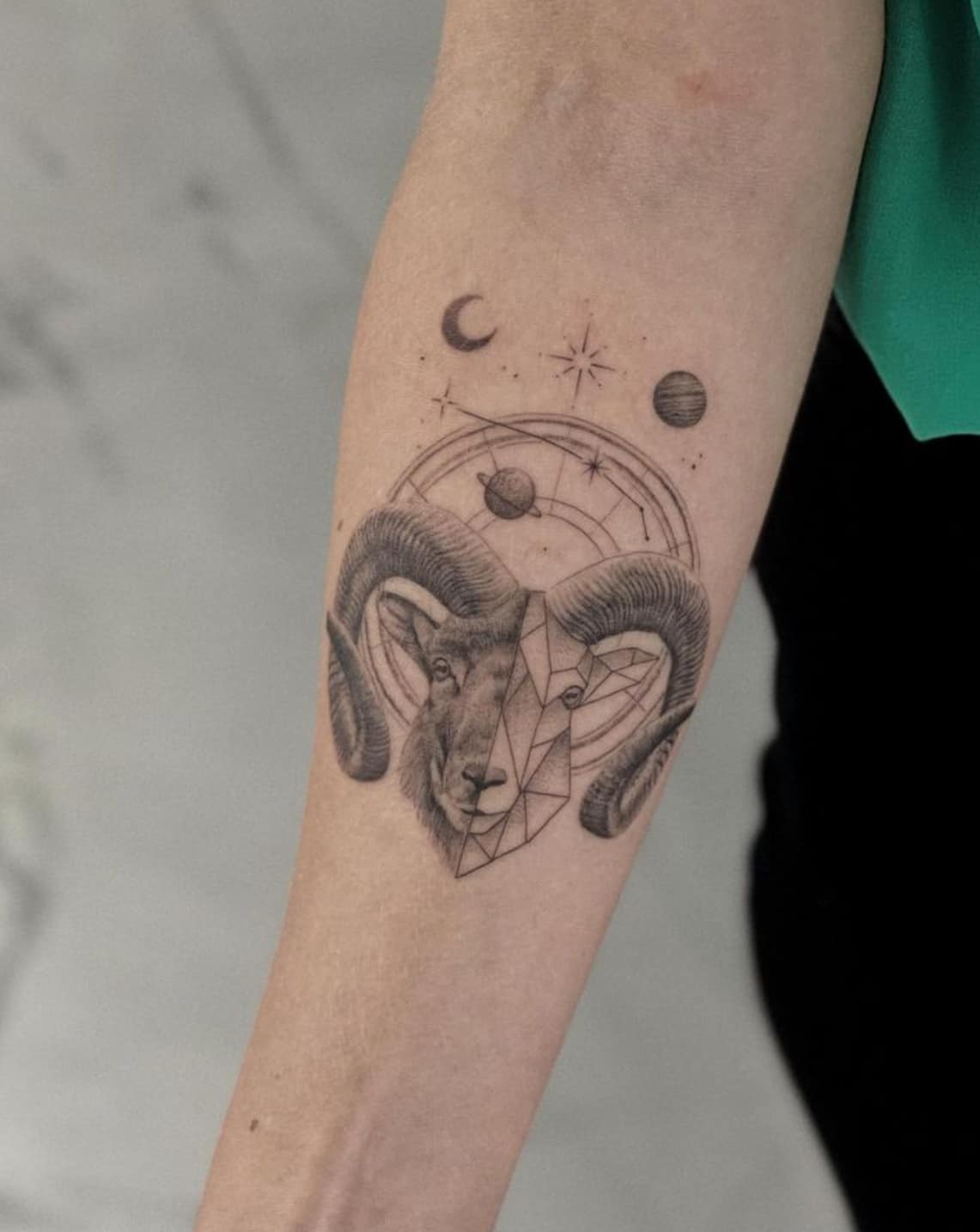 Soft line work here is a refreshing change from the thicker, darker lines we've been seeing. The Aries constellation and planets in the background give a nice touch of whimsy.
14. Aries Mandala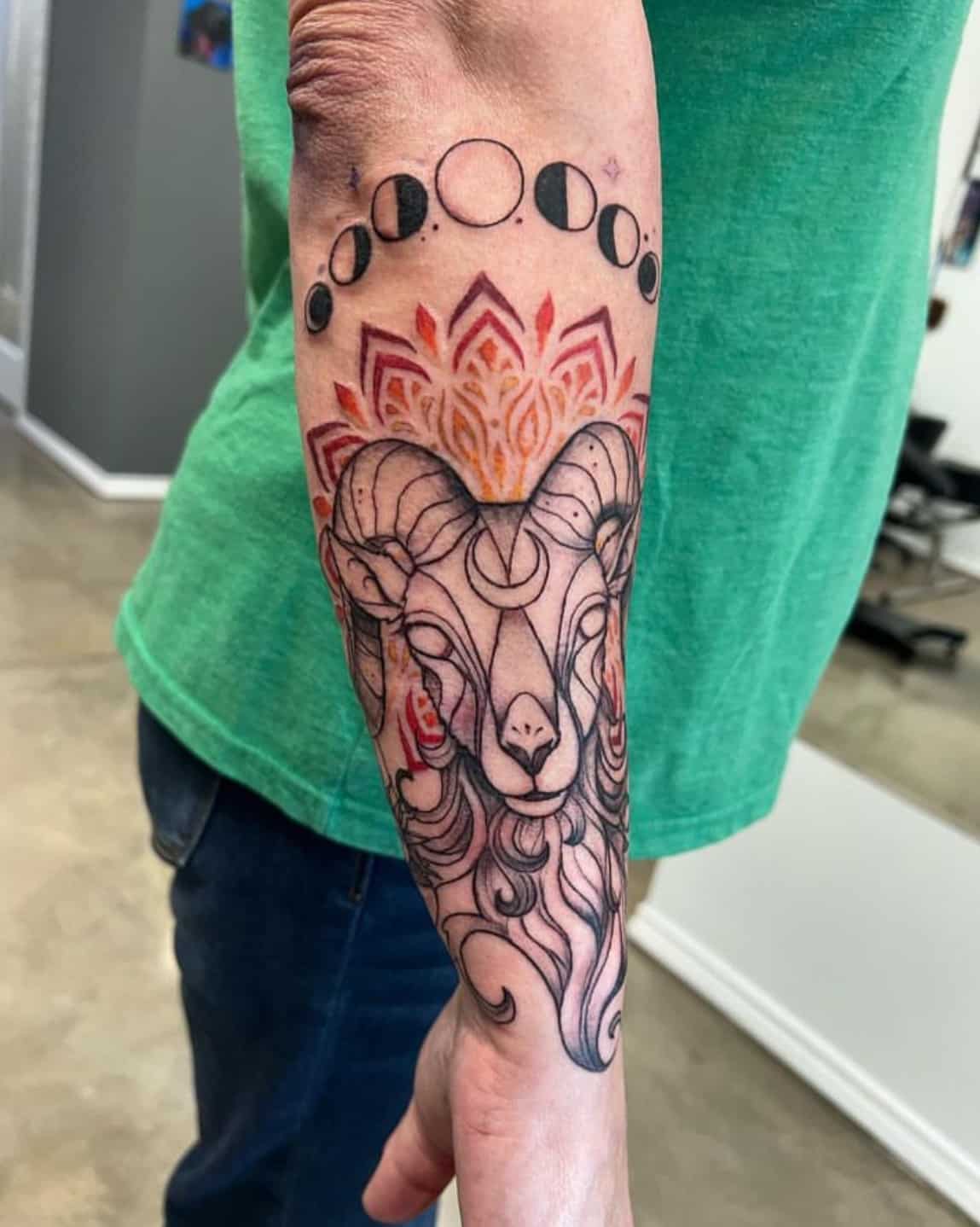 This mandala behind our main focus is a nice touch, especially because it's the colors of our favorite element, fire. If you click into the link and go through the carousel, you'll see that the horns are acting as a balance, holding the moon and sun. We love the creativity here.
15. Reflection of Aries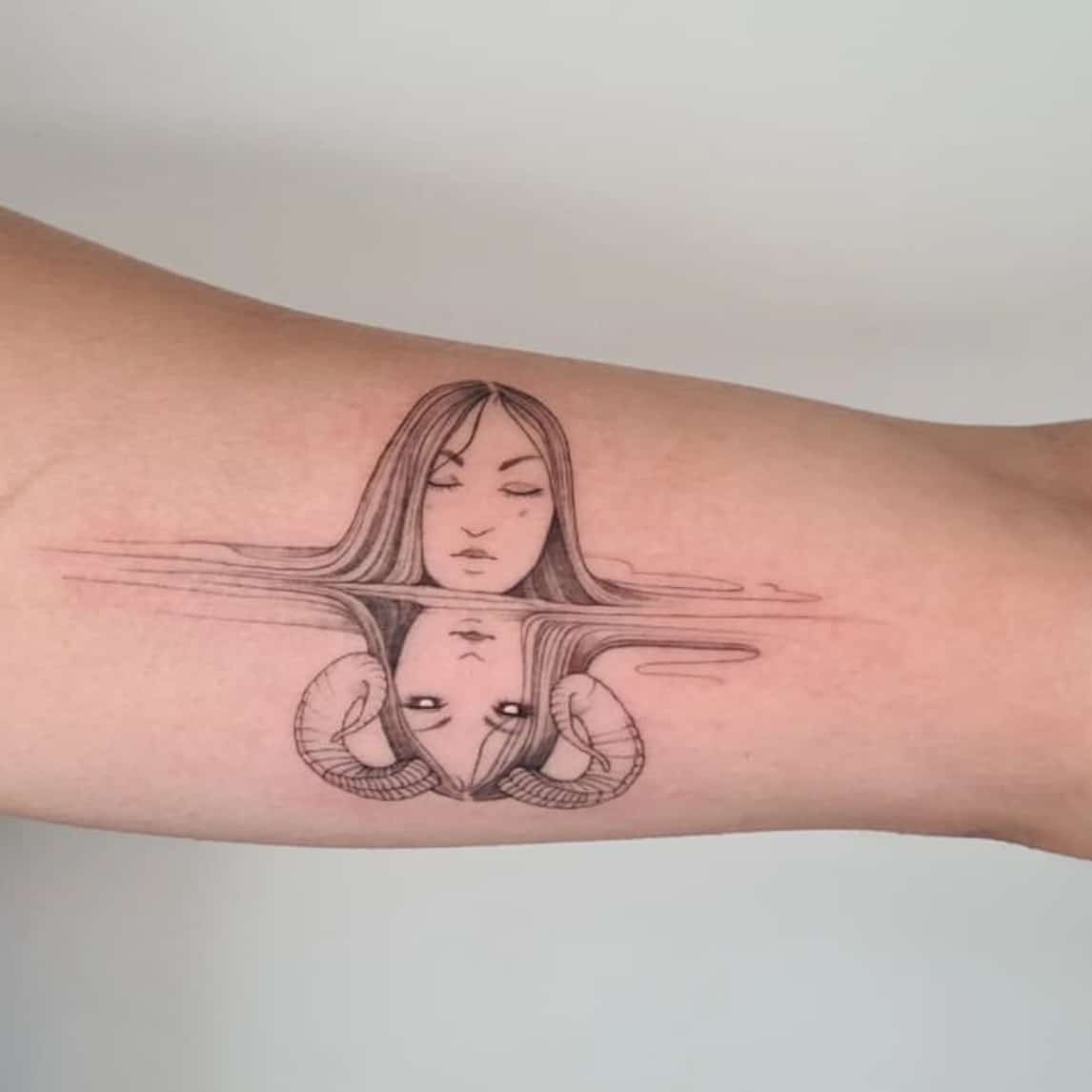 A new unique concept with this one! The ripples in the water have such a flow to them. Loving the duality of this.
16. Linework Aries Shoulder Tattoo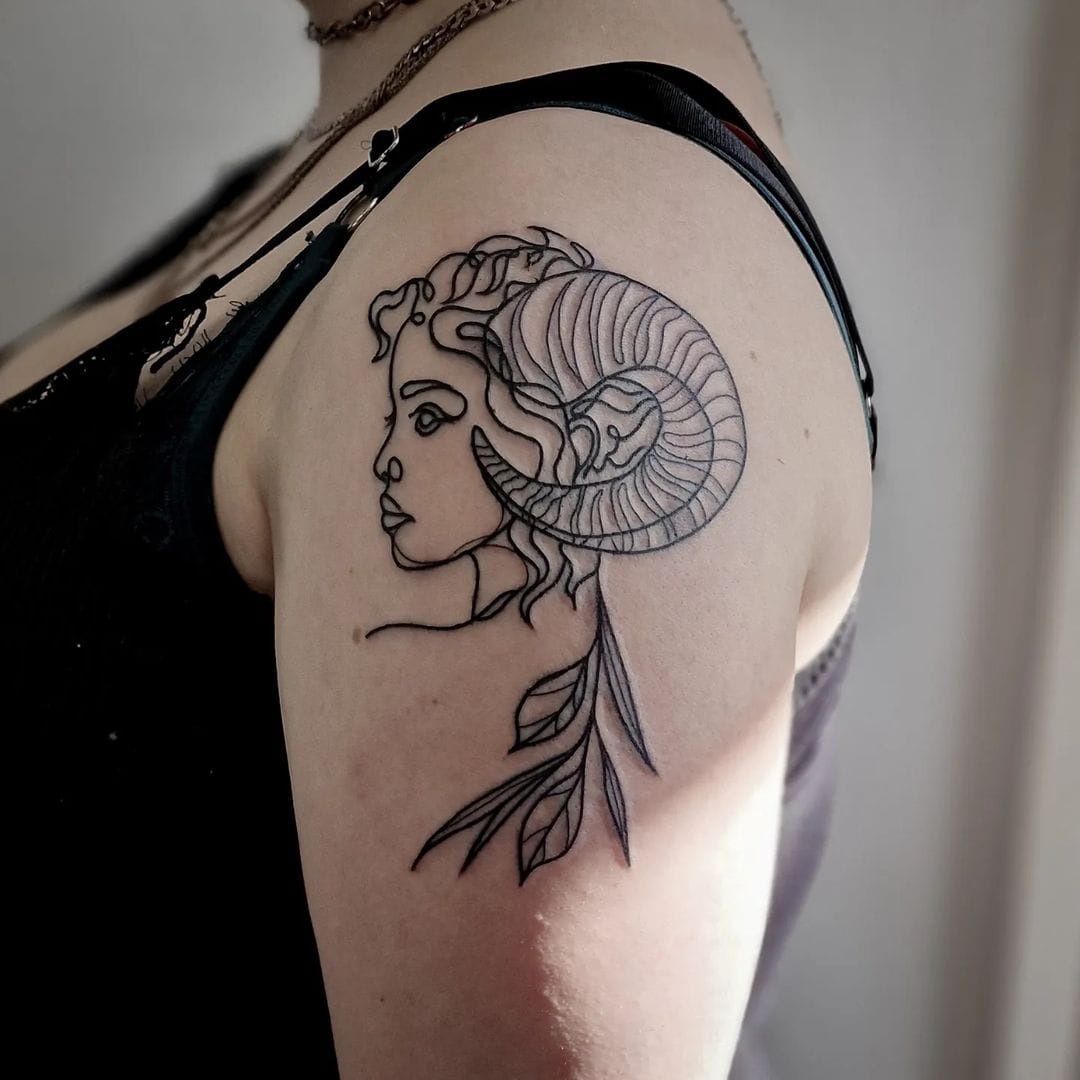 Something about good linework is so satisfying, and this is definitely no exception. What's most impressive is the icy gaze that feels so real.
17. Realistic Ram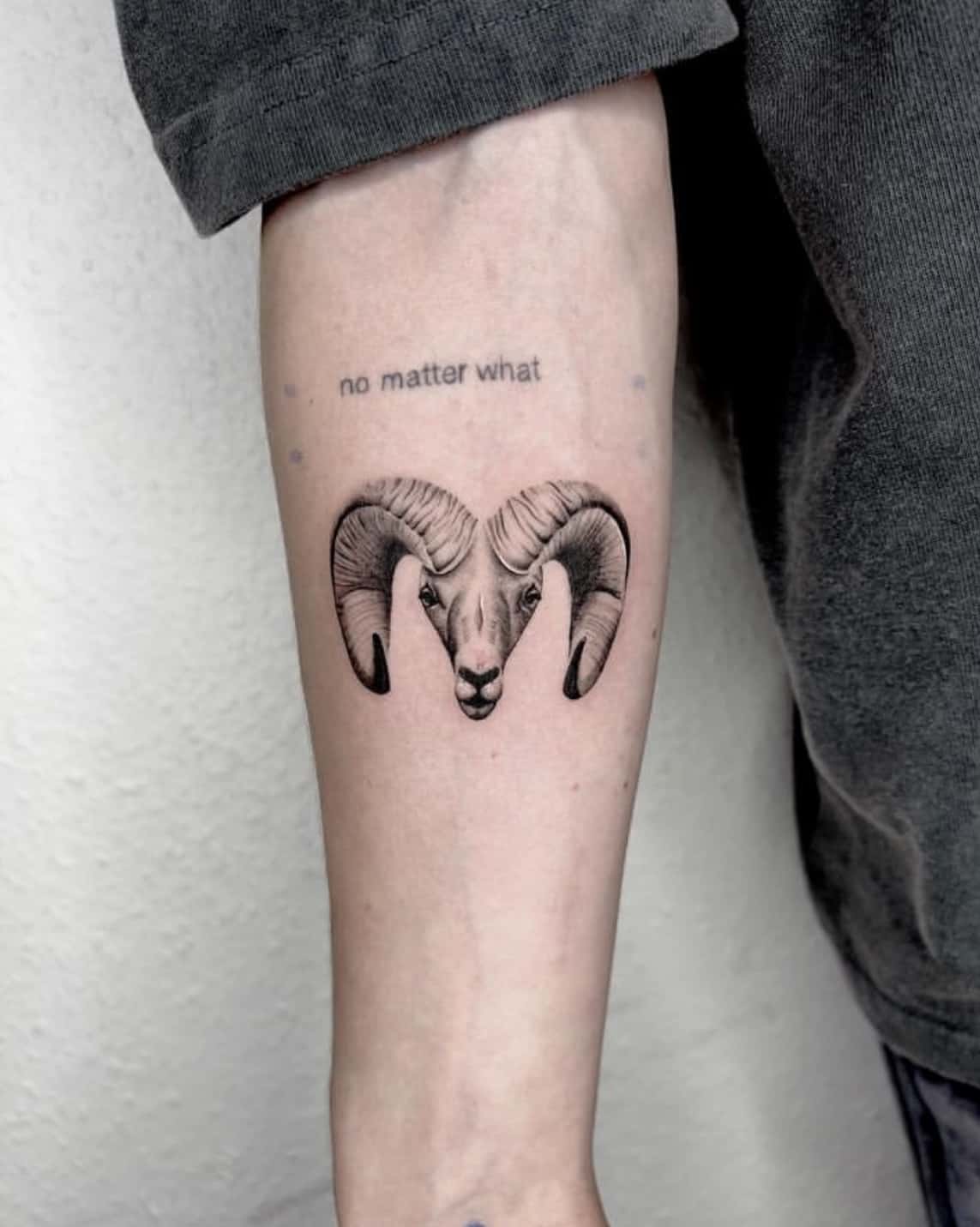 Simple and straightforward. It's always nice to see something uncomplicated and to the point. Those tactile horns are flawless.
18. Tattooed Aries Girl Holding Ram Skull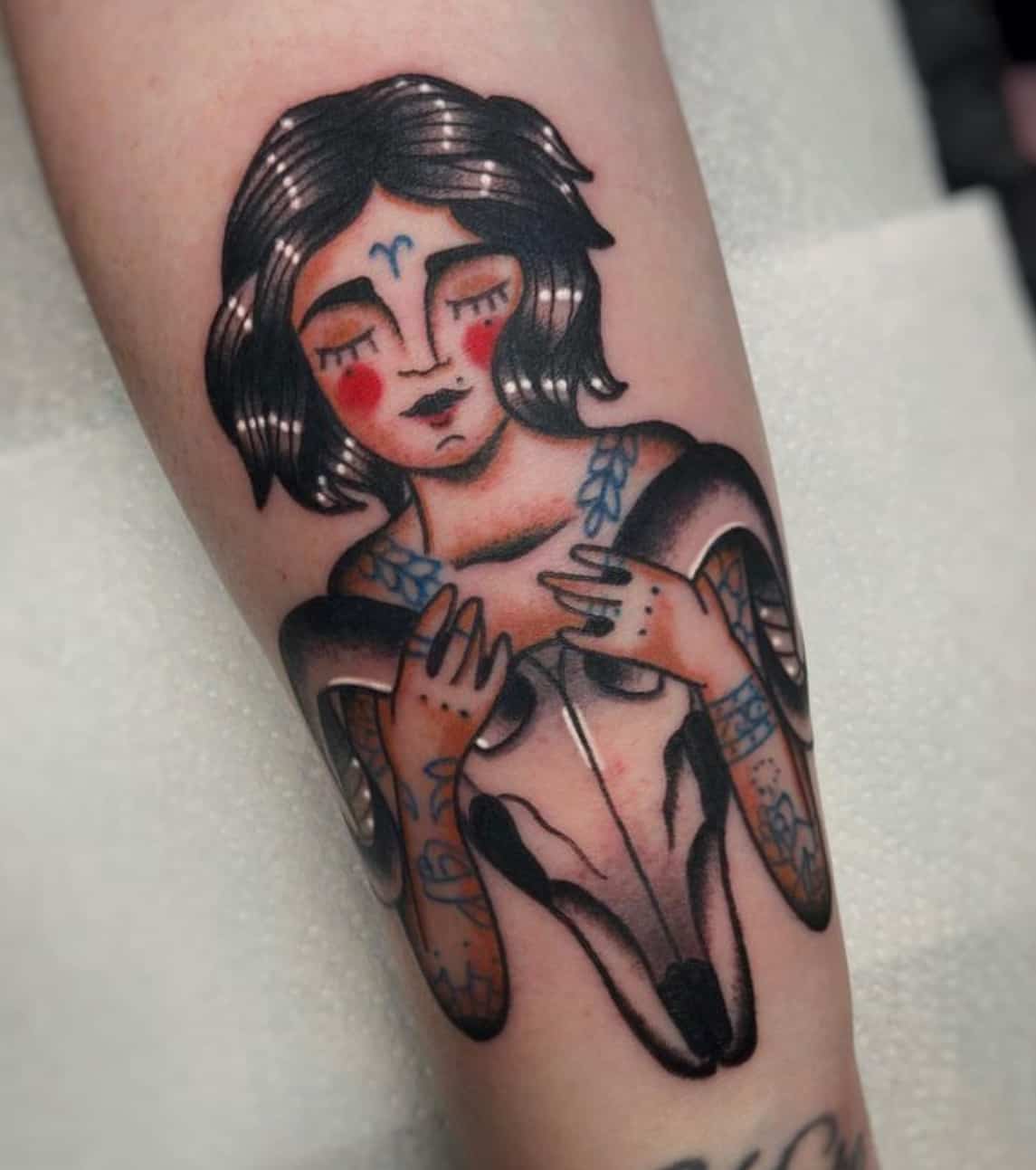 Tattoos of tattooed people are always fun. This traditional style looks excellent here with understated highlights and shading, and her monochrome tattoos are a great way to finish this off.
19. Aries Hand On Fire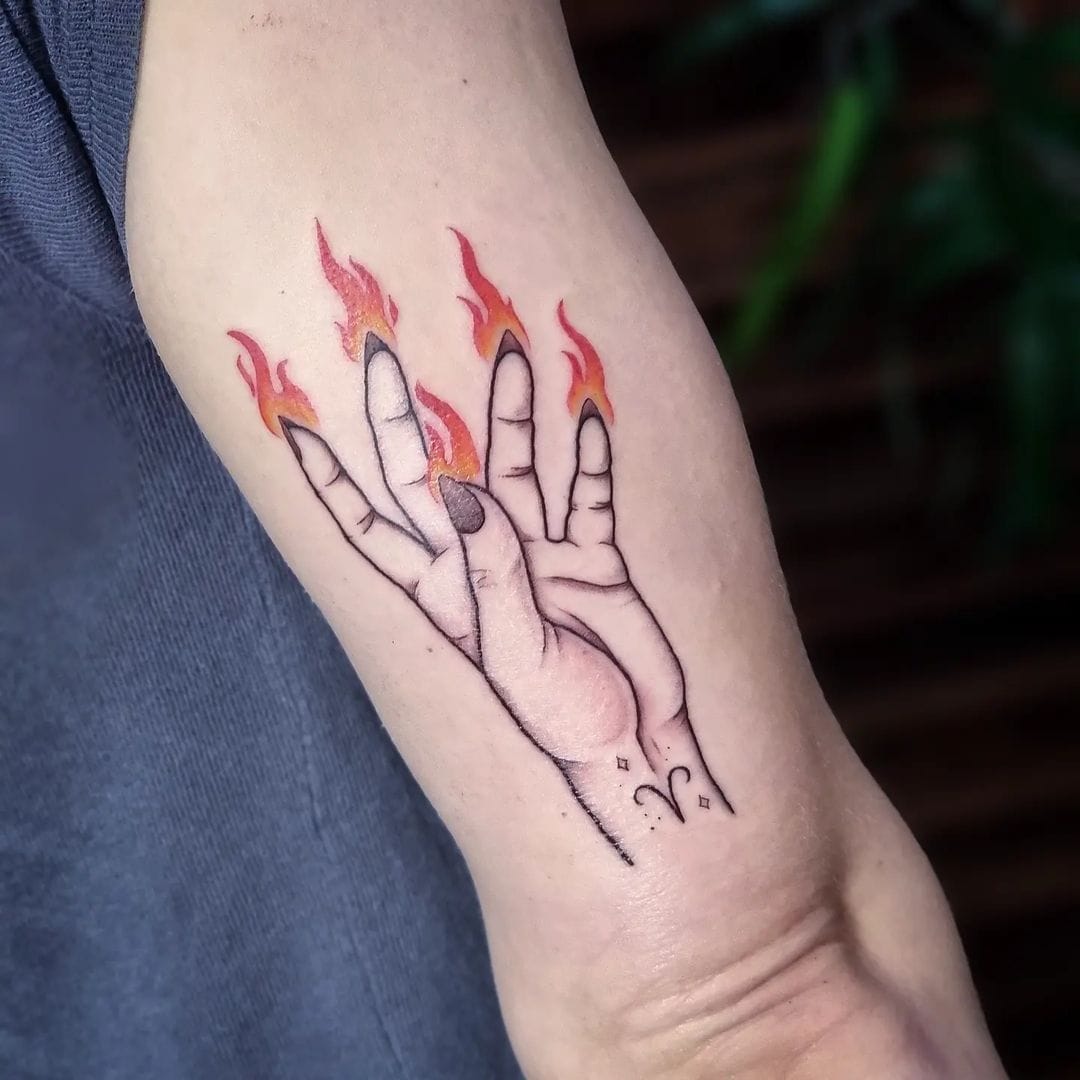 Fiery personality? LET 'EM KNOW. These flaming digits are just the right amount of intimidating.
20. Ram With Dreamcatcher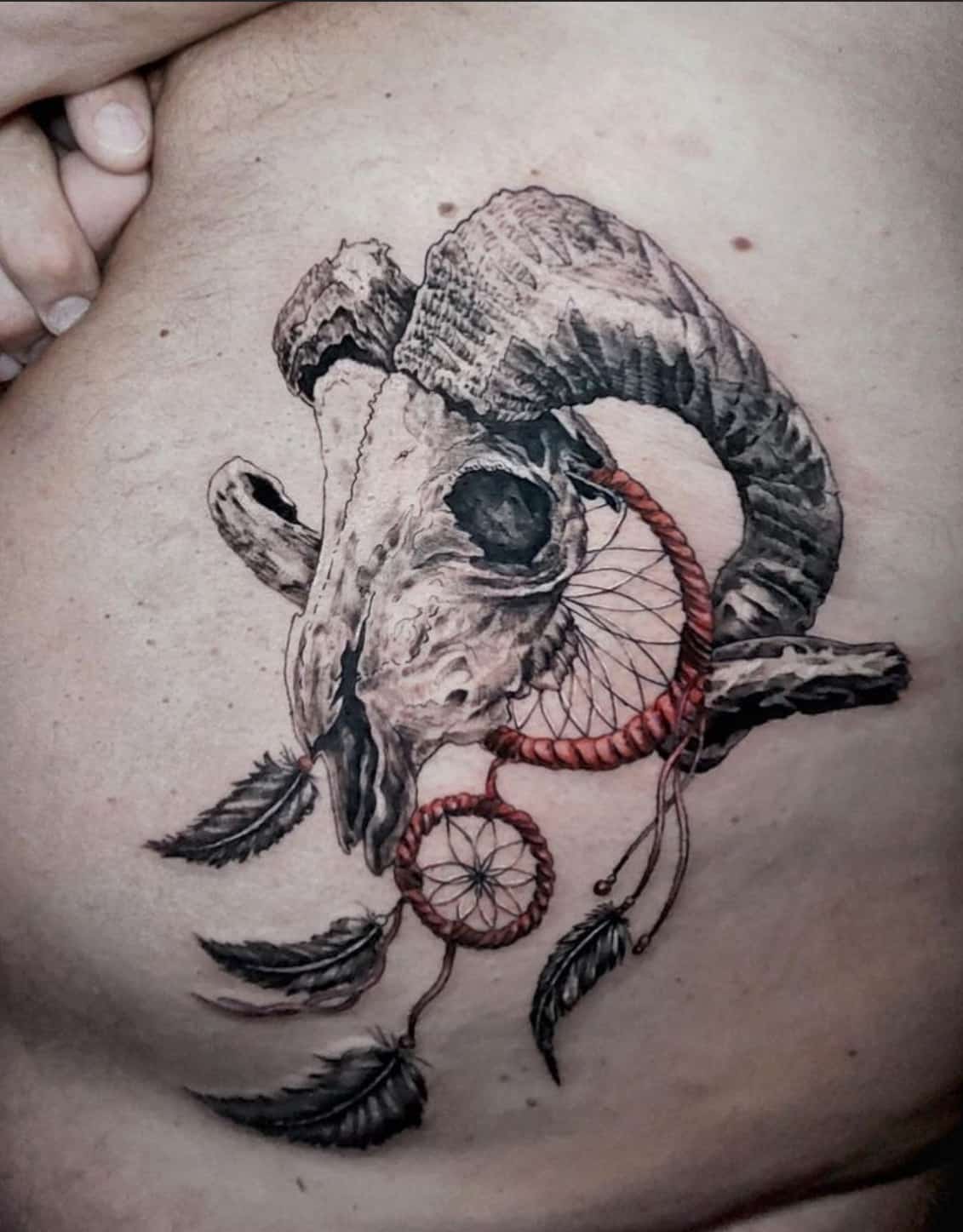 This looks so rough and bone dry, which I'm loving with all these ram tattoos. The dreamcatcher feels like it adds more of a personal story that pulls me in.
21. Neo-traditional Aries Princess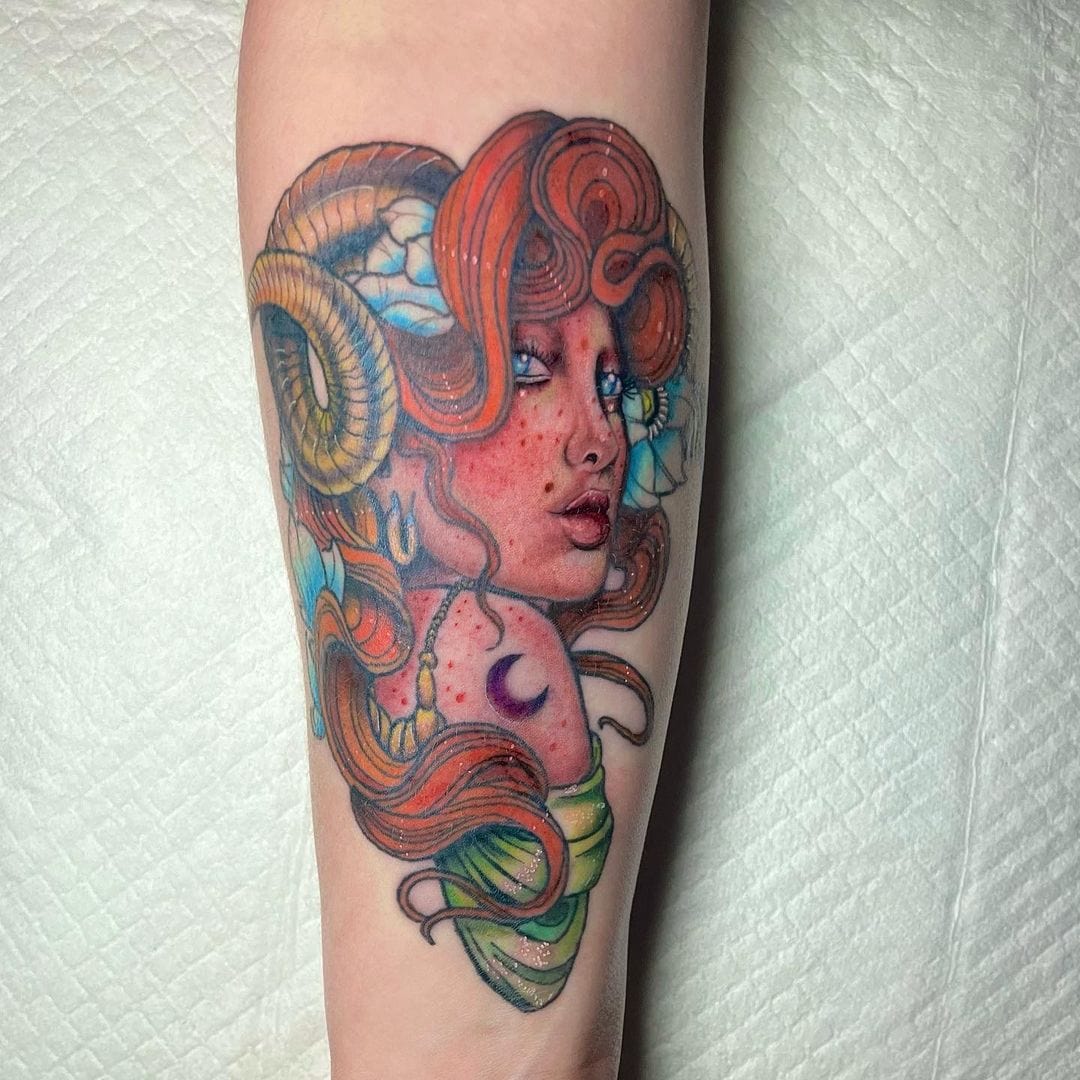 She's just so beautiful. The colors are so vivid, with such variety, and her little freckles are a hard yes. The horns give her a nymph-like quality that makes me want to go watch Pan's Labyrinth.
22. Ram With Flourishes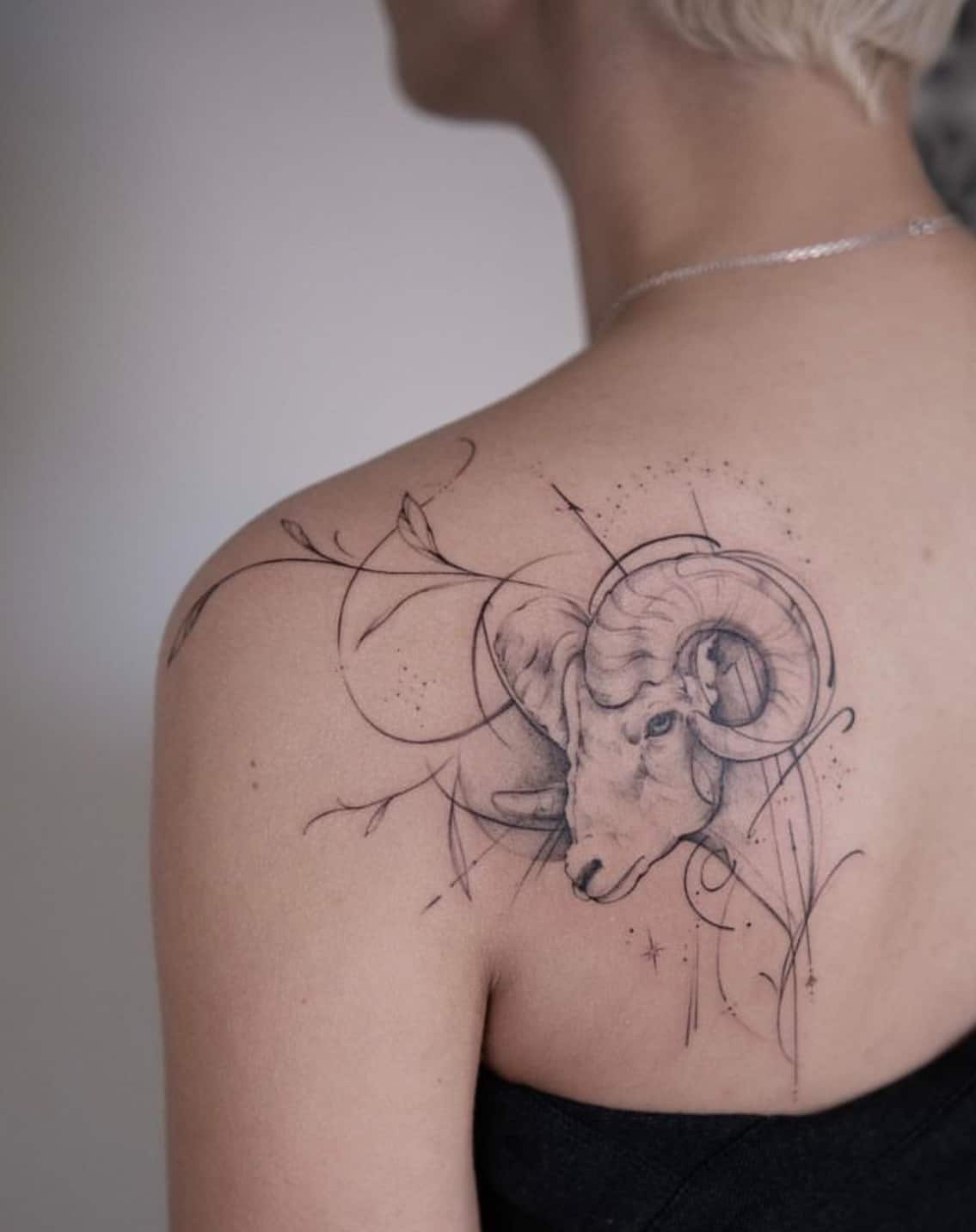 Like it's caught in some magical gust of wind, this gentle piece is really enjoyable. I know it's a ram, but I can't be the only person who thought "Expecto Patronum!" when I saw this…
23. Geometric Aries Tattoo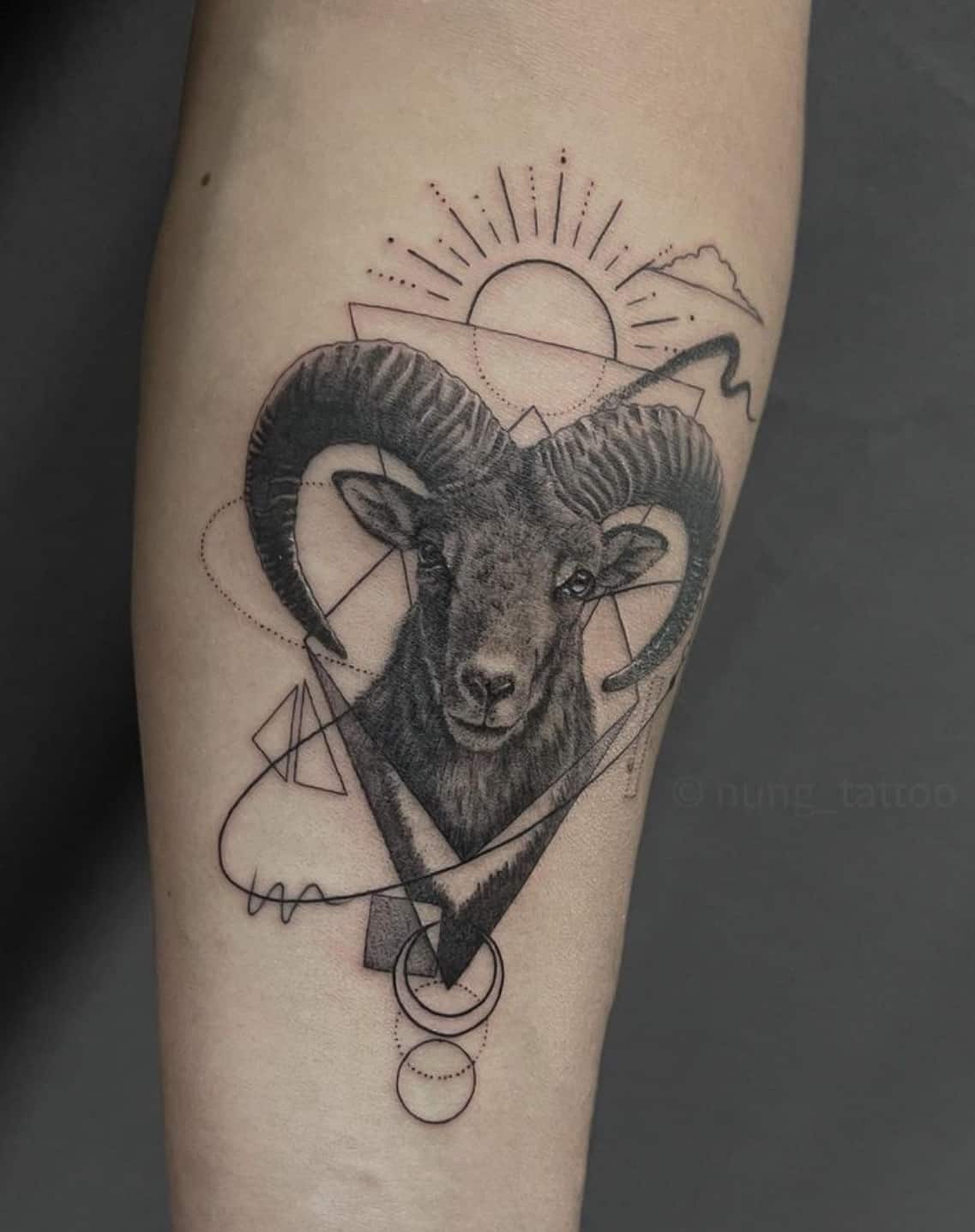 Contrasting ideas here, this is an interesting take on the Aries concept. Flashbacks of my early 90's pencil case mixed with astrology? Why not!
24. Aries In Space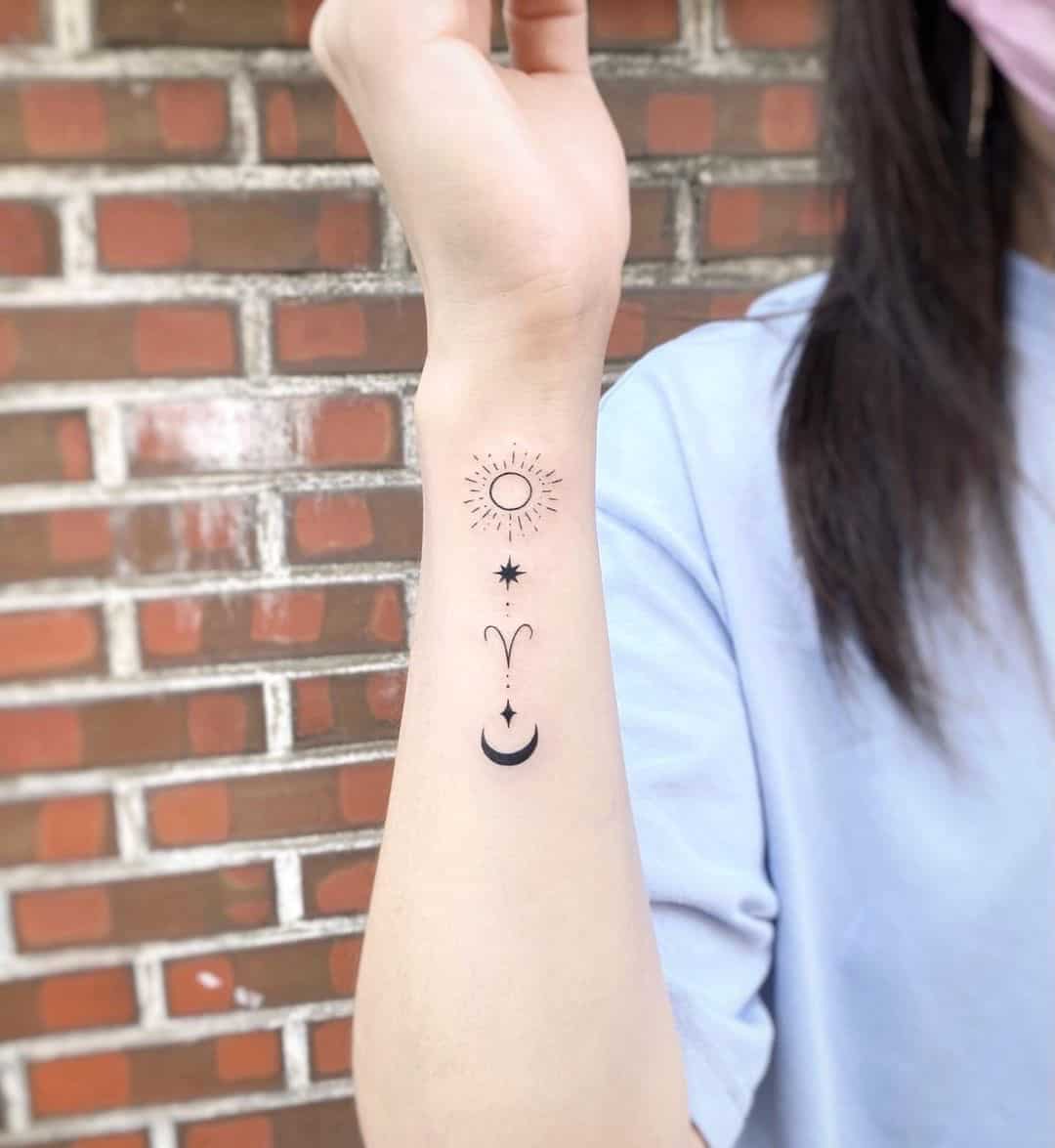 This piece keeps things clean and simple, with a nod to the sun, moon, and stars associated with astrology. An easy concept to add on to or work around, if the wearer ever desired.
If you like the idea of adding on as you go, our patchwork tattoos list might be of interest to you.