Ah, the Leo tattoo. We expected this category to be bold. and we weren't let down. Born between July 23rd – August 22nd, Leos are charismatic in a big way. They're ambitious, enthusiastic, opinionated, driven, and often end up being the leader. We found some tattoos that match this description perfectly, jumping off the skin like they're laser-focused on their prey.
It's no surprise that these pieces are beautiful and chock full of personality. That's the best part of a Leo, so what's not to love?
Check out our list of Leo tattoos that we know you're going to be obsessed with.
1. Watercolor Lion Tattoo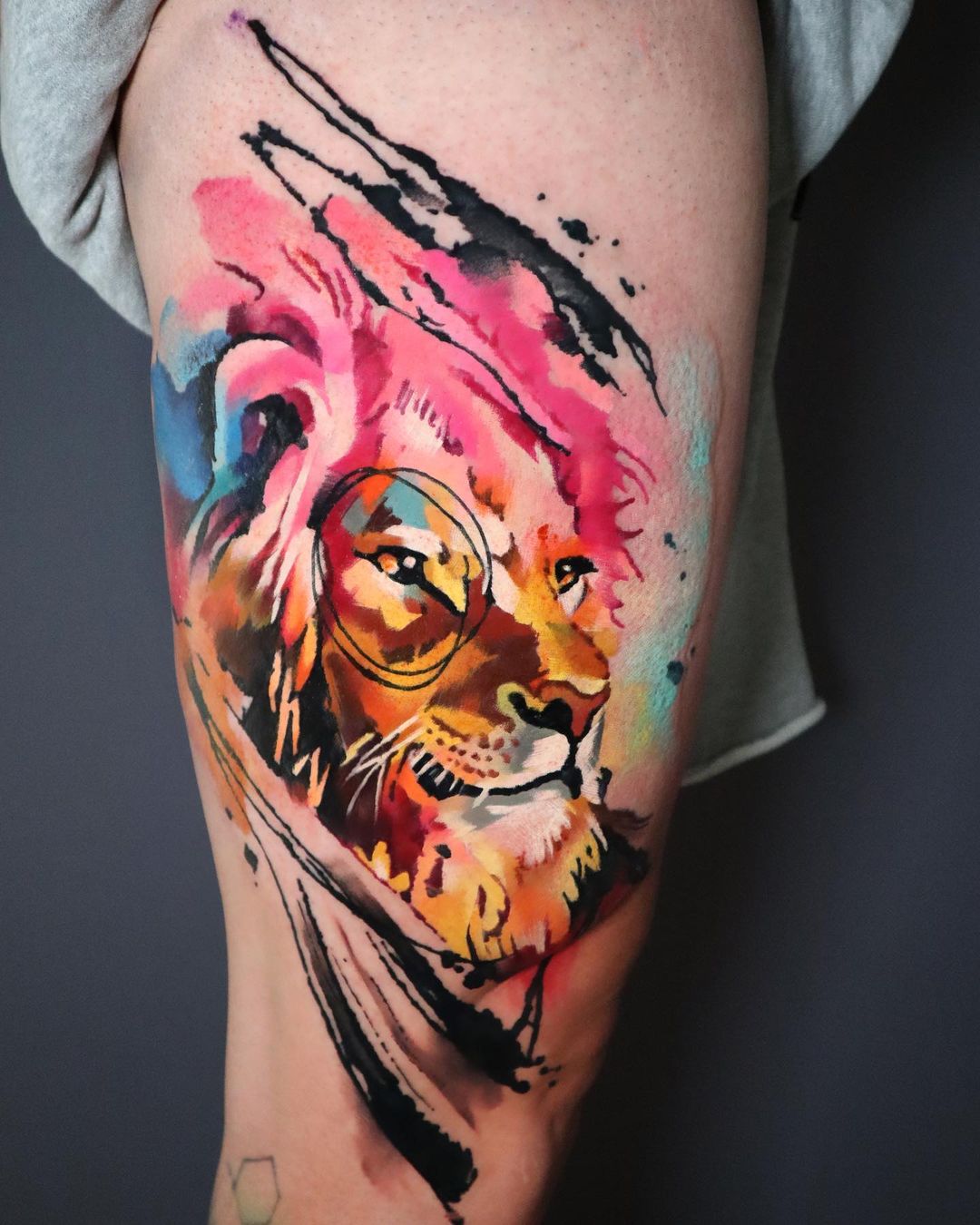 First on our list, this watercolor lion is breathtaking.
The paint splatters are so accurate, and I love how the watercolor isn't limited to an accent but is included in the coloring of the lion itself.
2. Leo Roller Girl
Just get out. This Leo roller girl is TO. DIE. FOR.
3. Leo And Libra Tattoo Together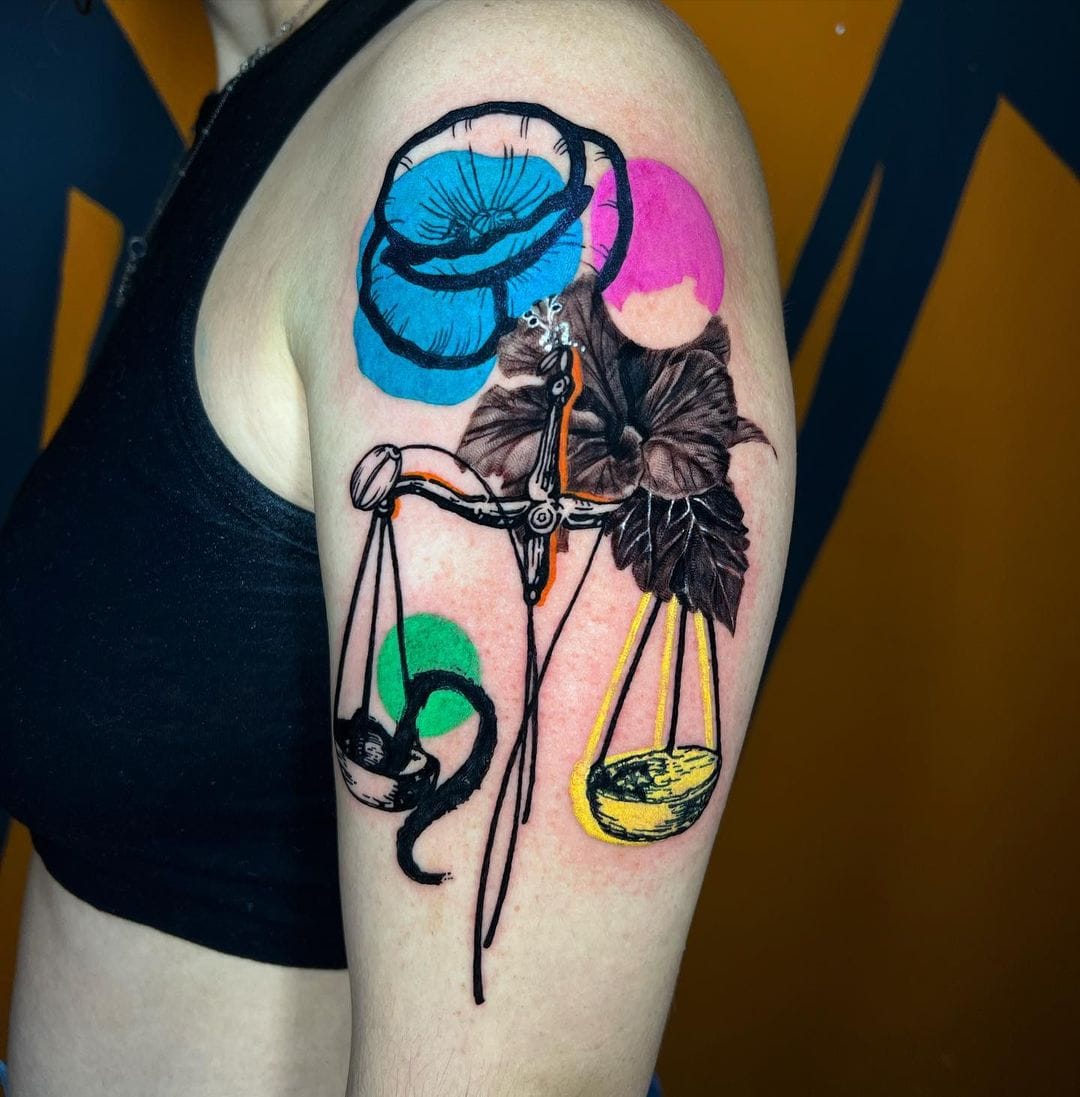 This style is so creative! You'll notice the Leo glyph resting inside the Libra scale, a great way to combine the two signs.
For the special Libra in your life (maybe you aren't ready to tattoo their symbol on you juuuust yet), send them this link to our Libra tattoos as well!
4. Tribal Leo Tattoo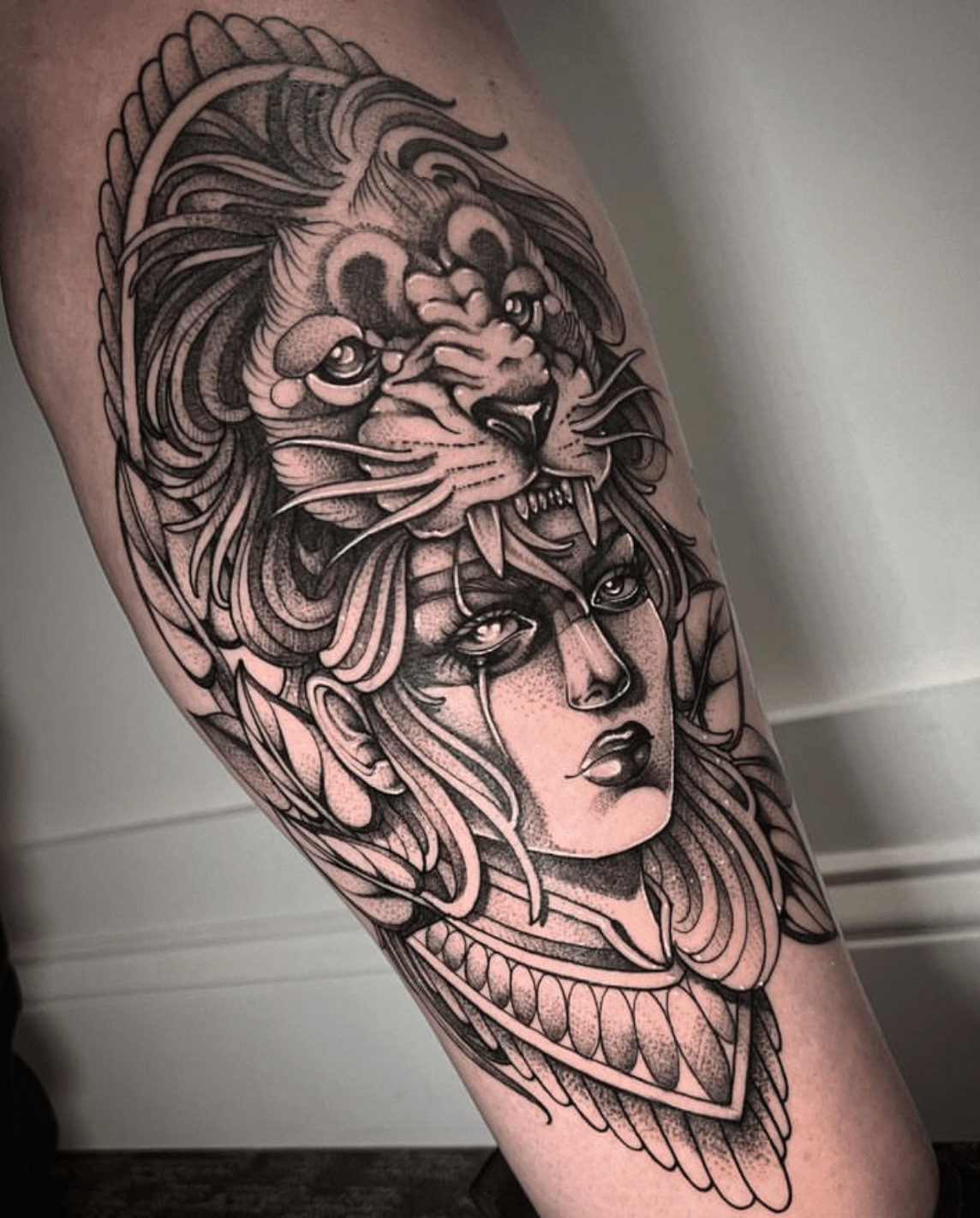 You can't say she isn't fierce. This blackwork Leo Queen tattoo is in a class of its own.
5. Colorful Flower Lion
The caption on the photo says "Extra lion bc Leos are extra, everyone knows that". And I don't know if I could describe it any better.
6. Shattered Glass Lion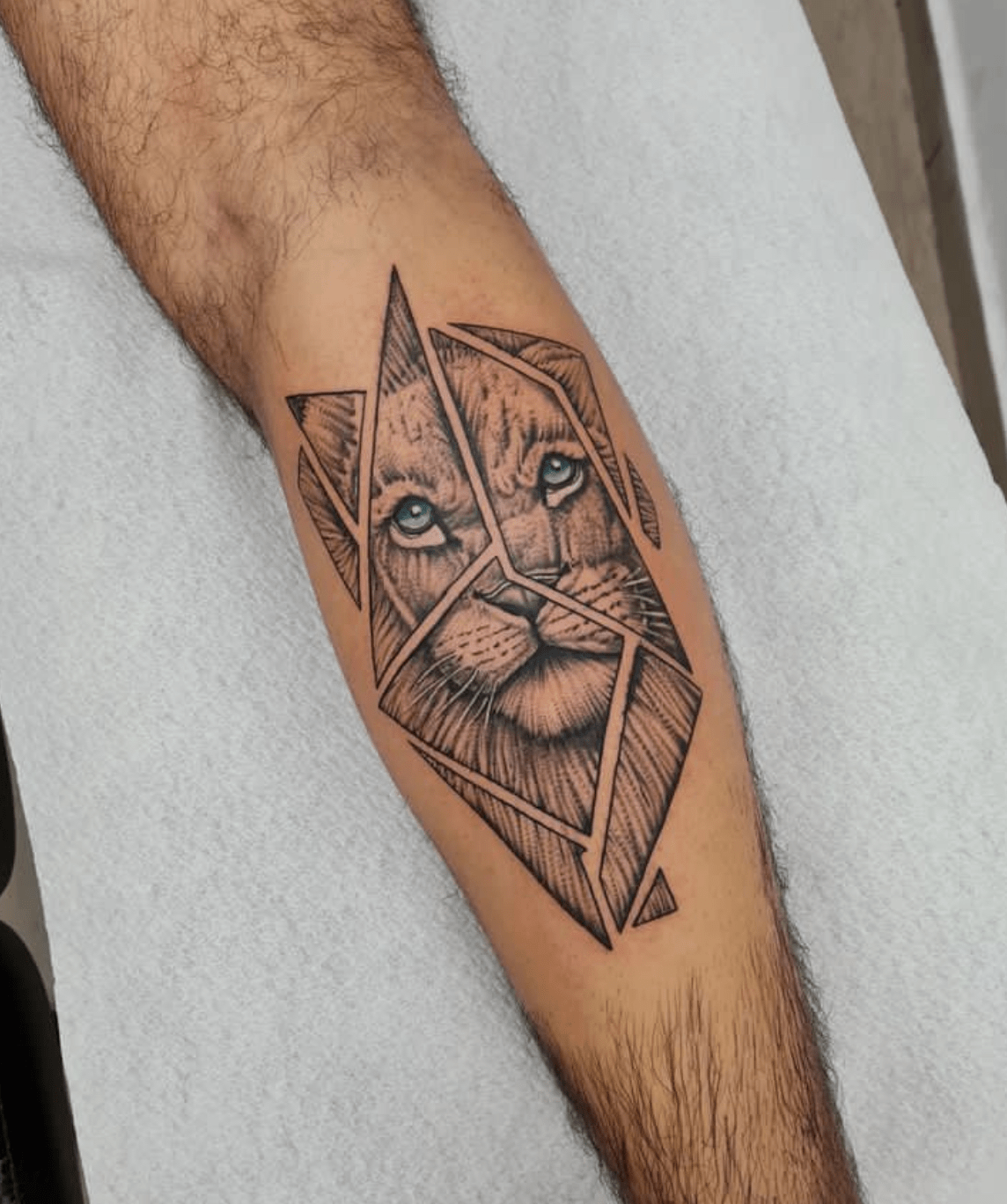 This is a beautiful interpretation. I especially like the pop of blue eyes within the black and white ink.
7. Gemstone Leo Constellation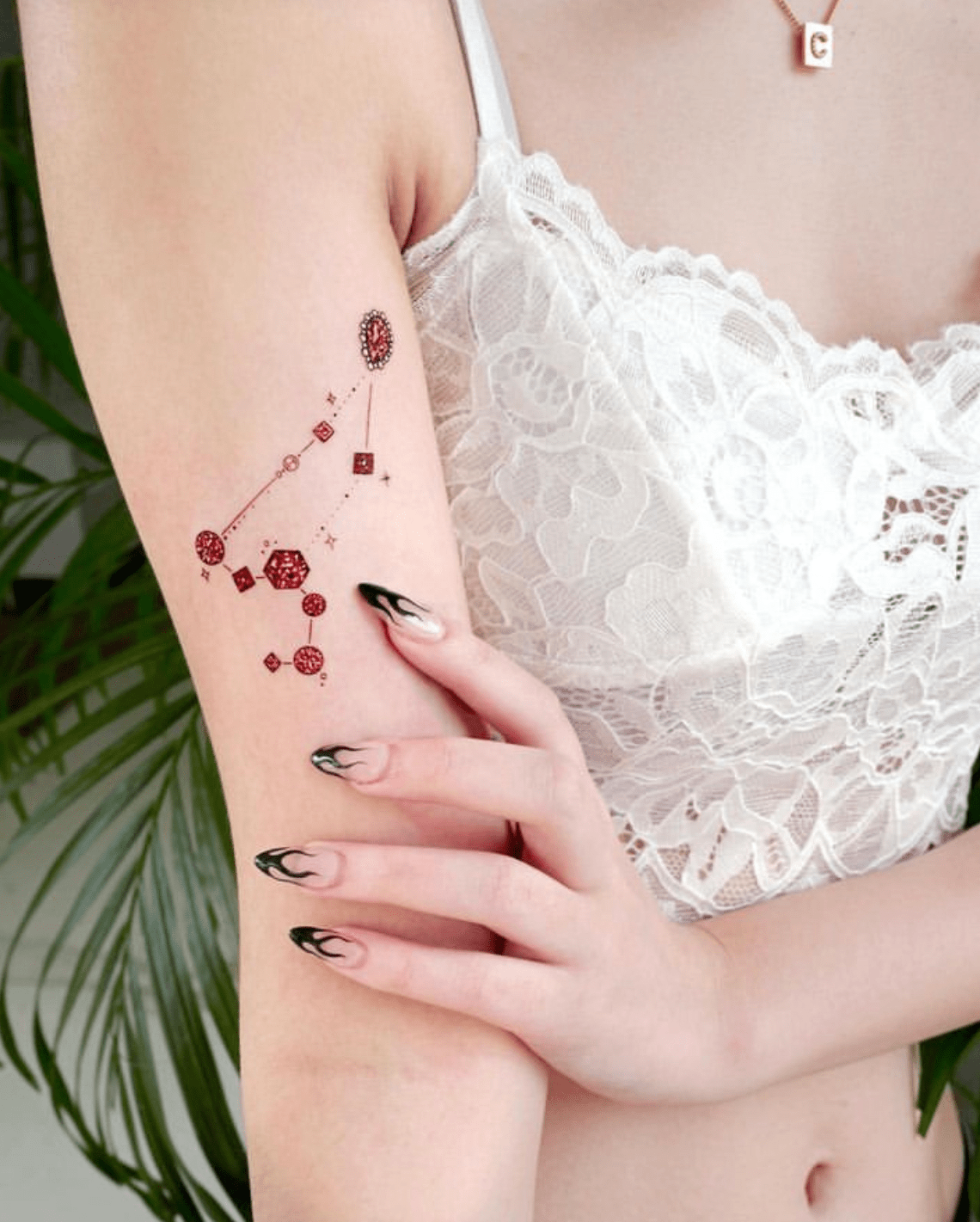 Gemstones can be quite challenging, but these turned out great. The red ink looks nice and bold on the wearer's skin.
8. Lion Sculpture Tattoo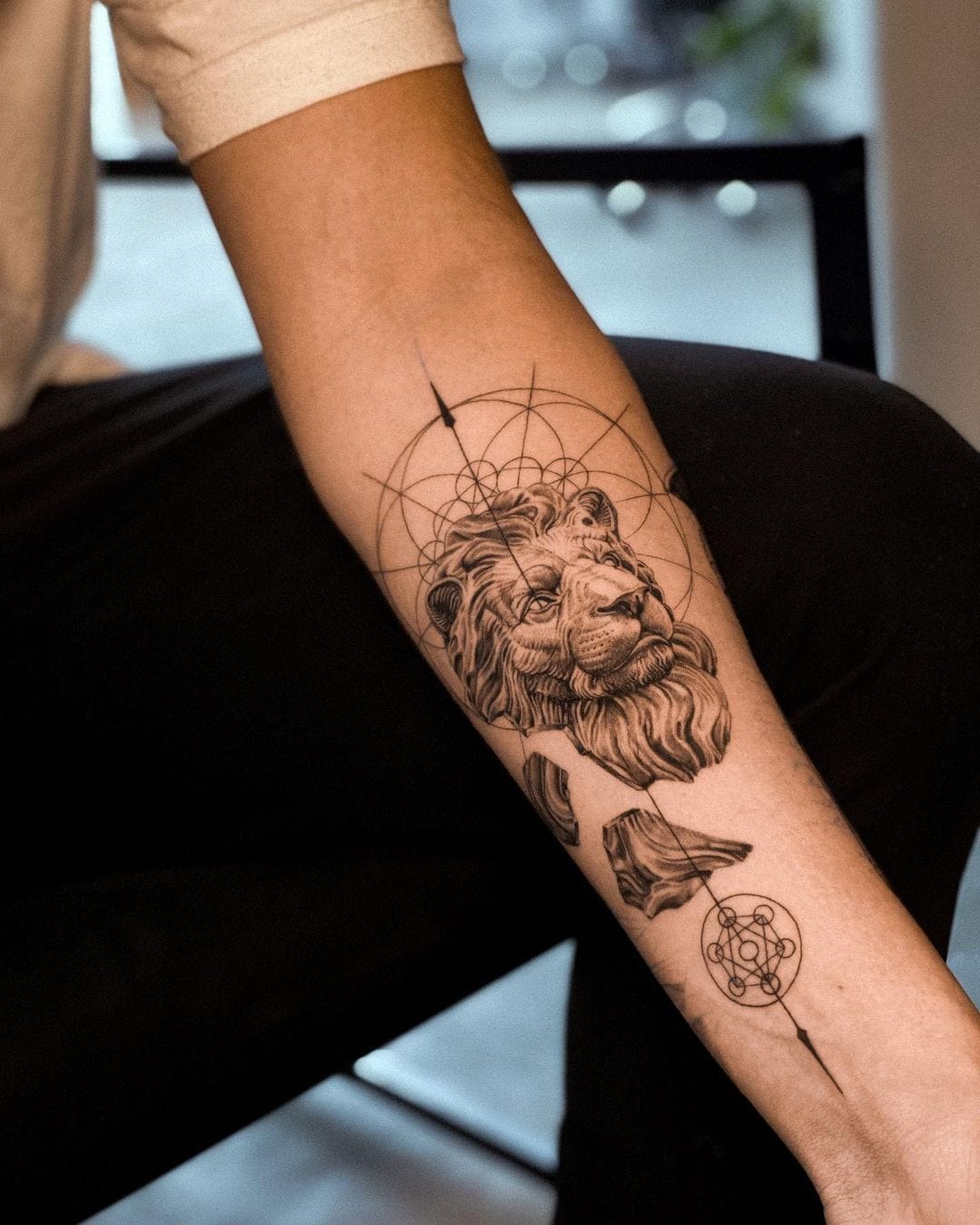 I really like this. It has beautiful elements that feel like Galileo should be drawing it at an ancient table covered in scrolls. (Get it guys… GaliLEO…)
9. Leo Wrist Tattoo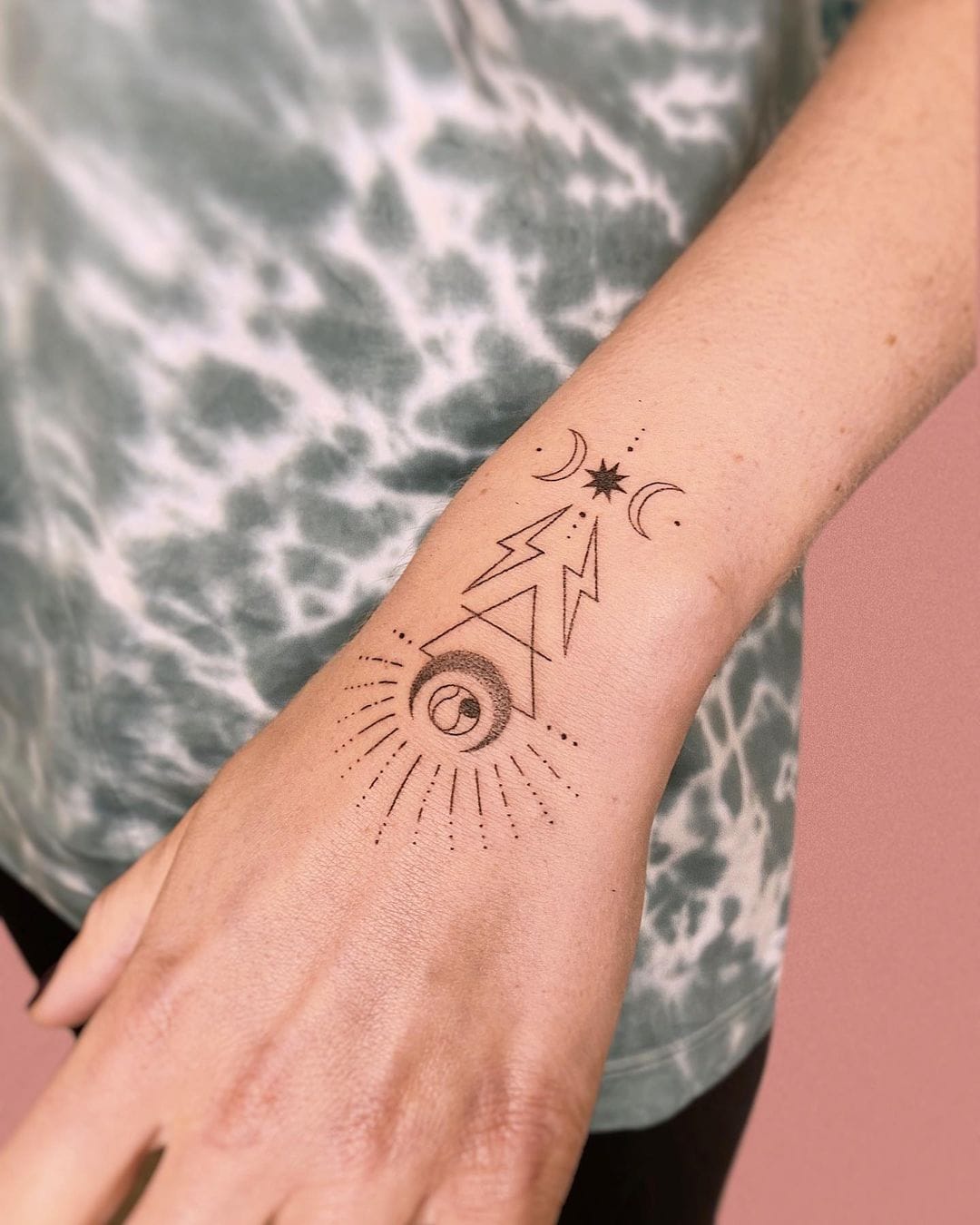 This hand poked wrist piece is a sort of patchwork/ornamental style, and it looks fantastic. I enjoy the simplicity of the shapes and components that bring this all together so well.
10. Traditional Lion Tattoo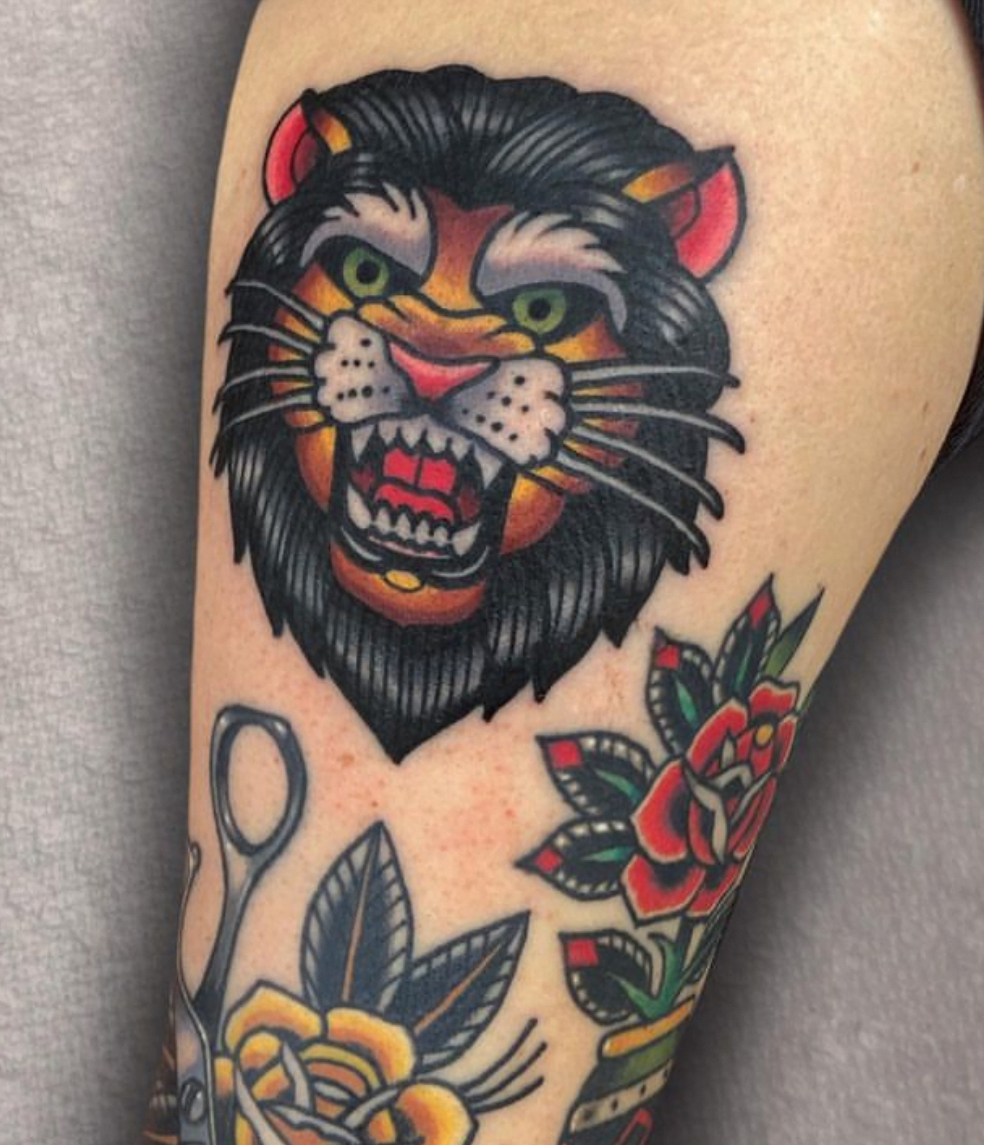 Holding our traditional tattoo spot is this perfect old-school lion. This style will never get old, and will always be a favorite of mine.
11. Leo Zodiac Tattoo Design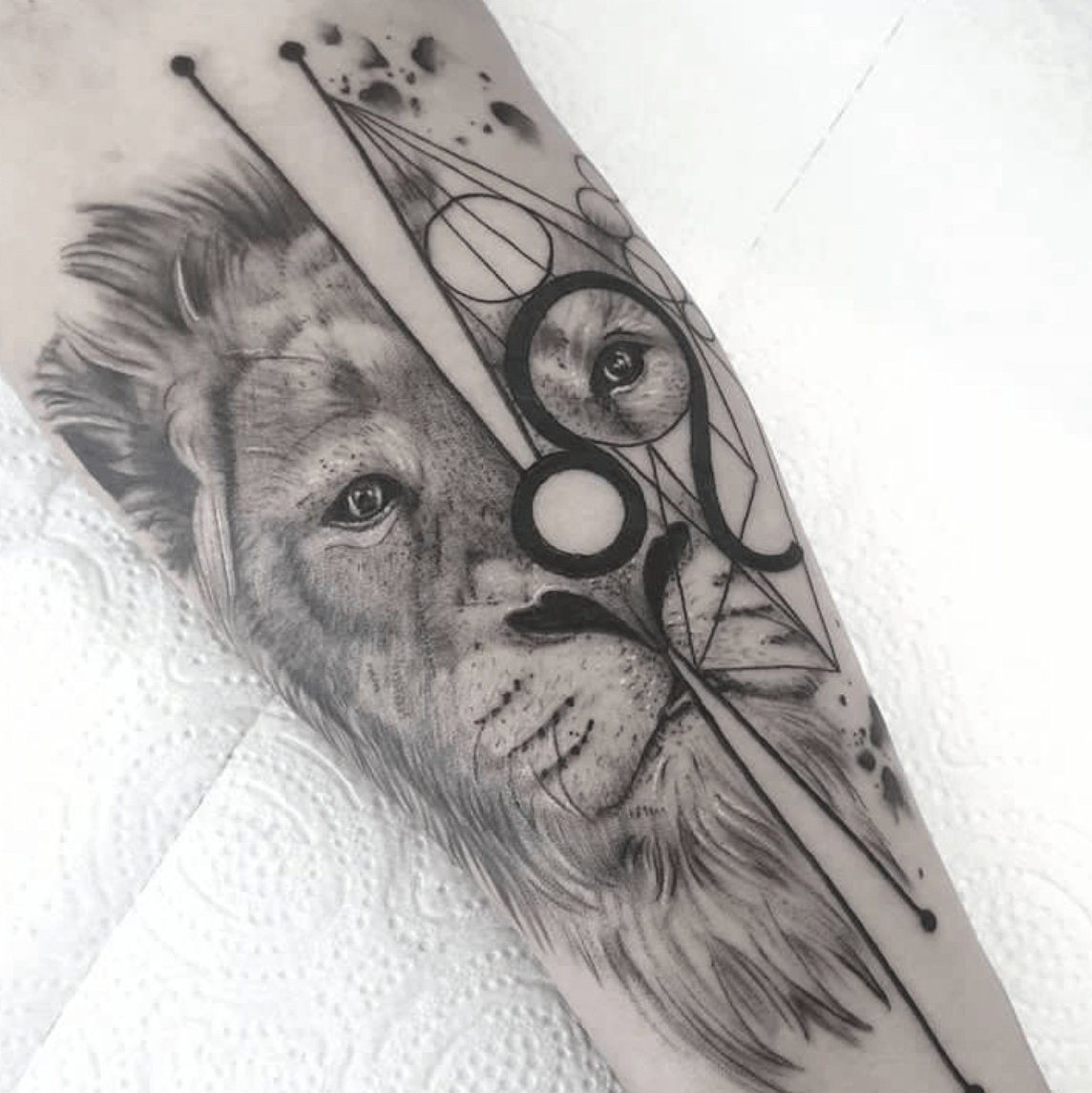 You need some abstract in every list, and this piece fits the bill. One side is realistic, while the other side leaps out of the box and plays with a variety of designs.
Don't miss the Leo glyph creatively placed around the lion's eye!
12. Minimal Leo Tattoo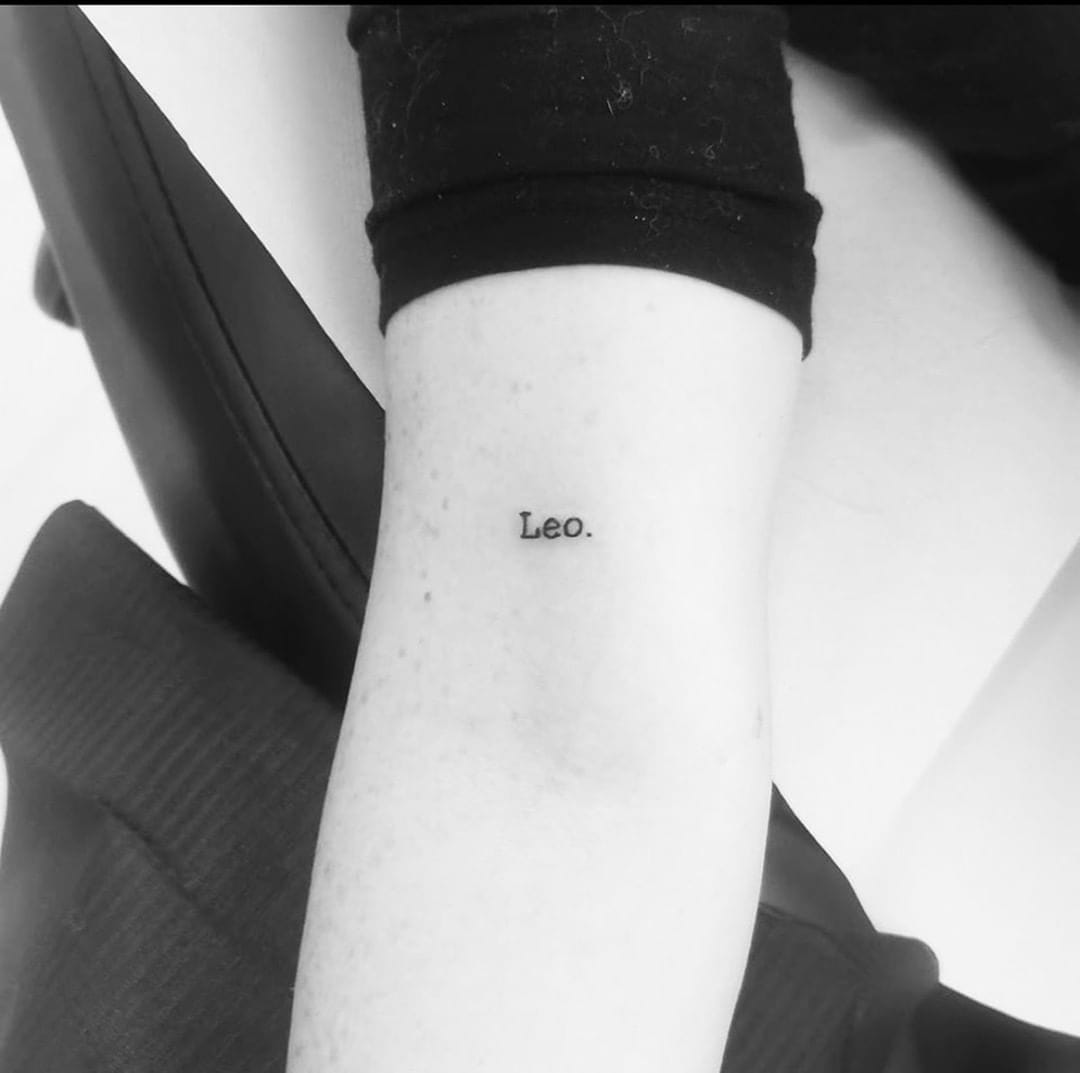 You have to appreciate the simplicity.
13. Leo Star Constellation Tattoo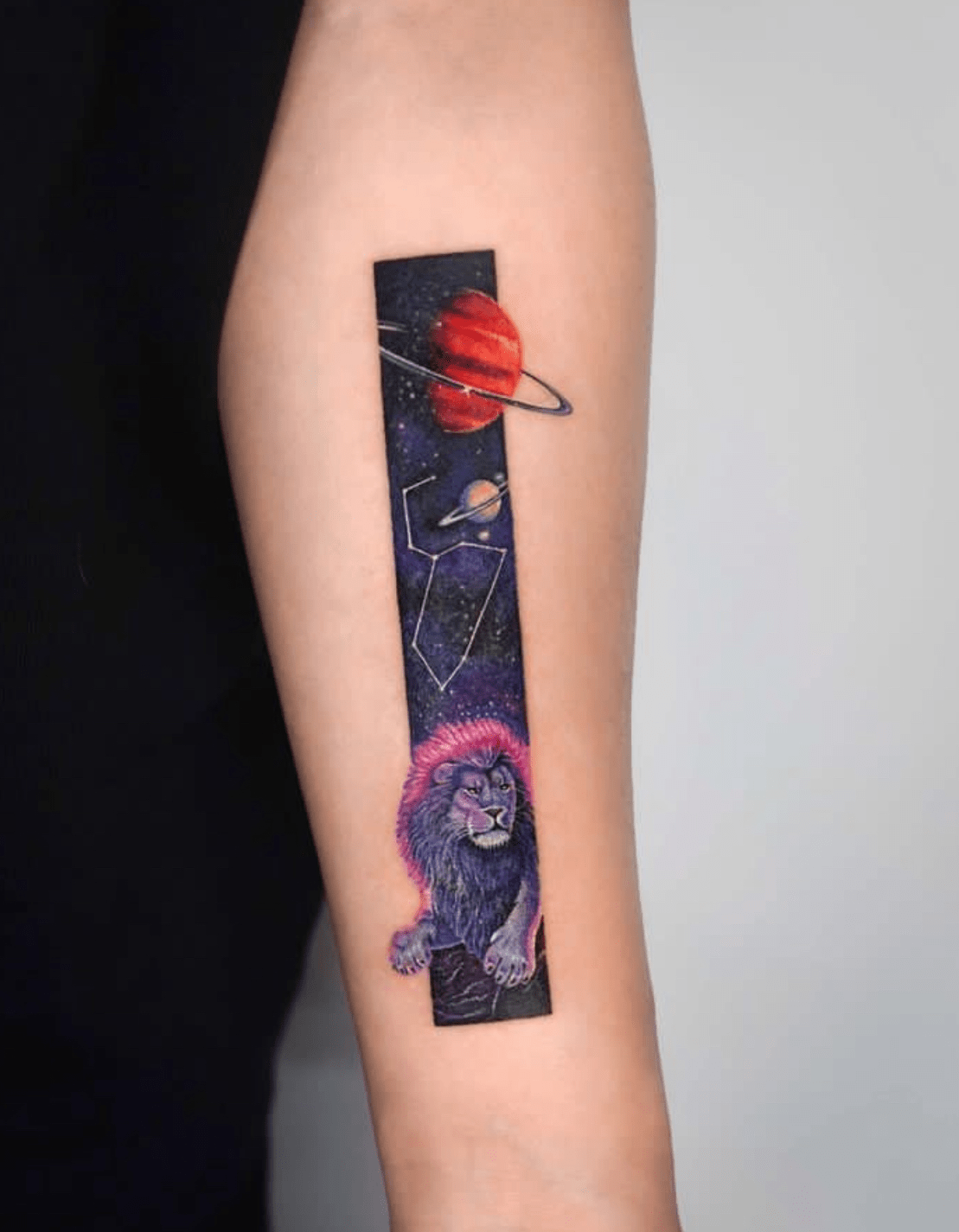 I'm really enjoying the emphasis on this big bold red planet, contrasting with the galaxy-purple background and the backlit pink of the lion's mane.
14. Lion With Pearls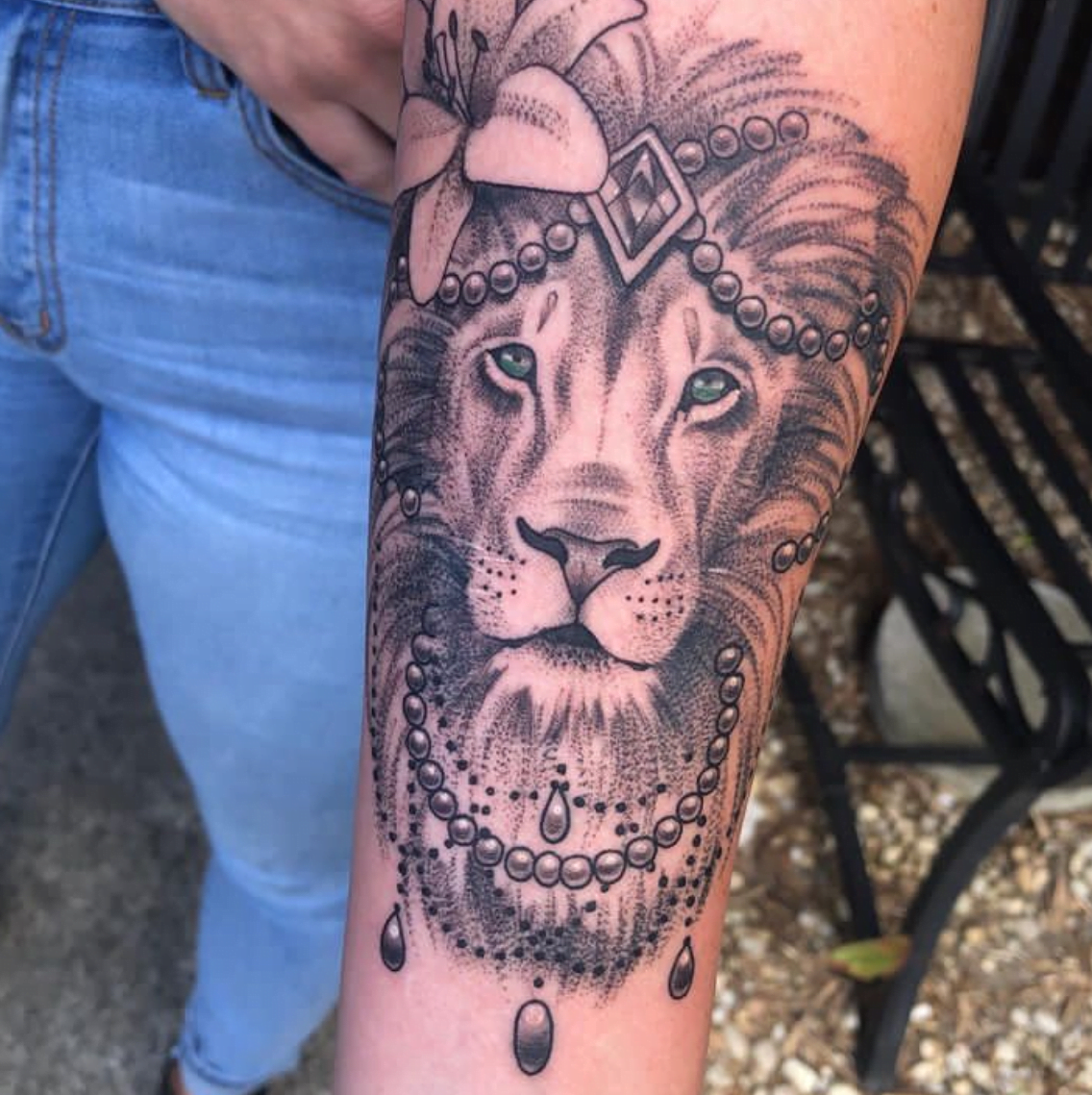 Revisiting the idea of our Leos being a little extra, this pearl-adorned feline is majestic as can be. Those green eyes are a beautiful touch.
15. Leo Symbol Tattoo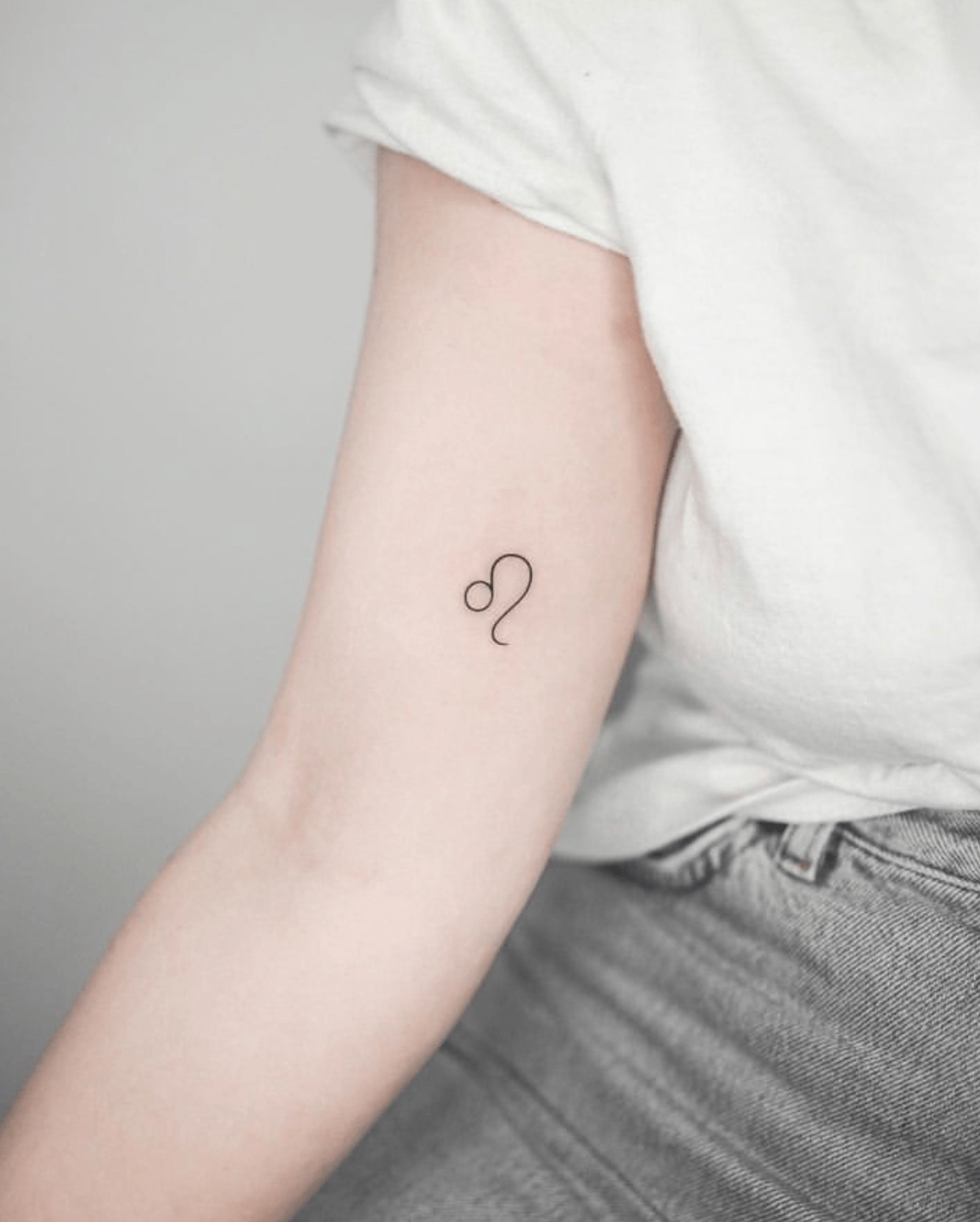 We always love simplicity. This Leo glyph says just what it needs to say. No more, and no less. We love it.
16. Leo Zodiac Symbol Tattoo With Flowers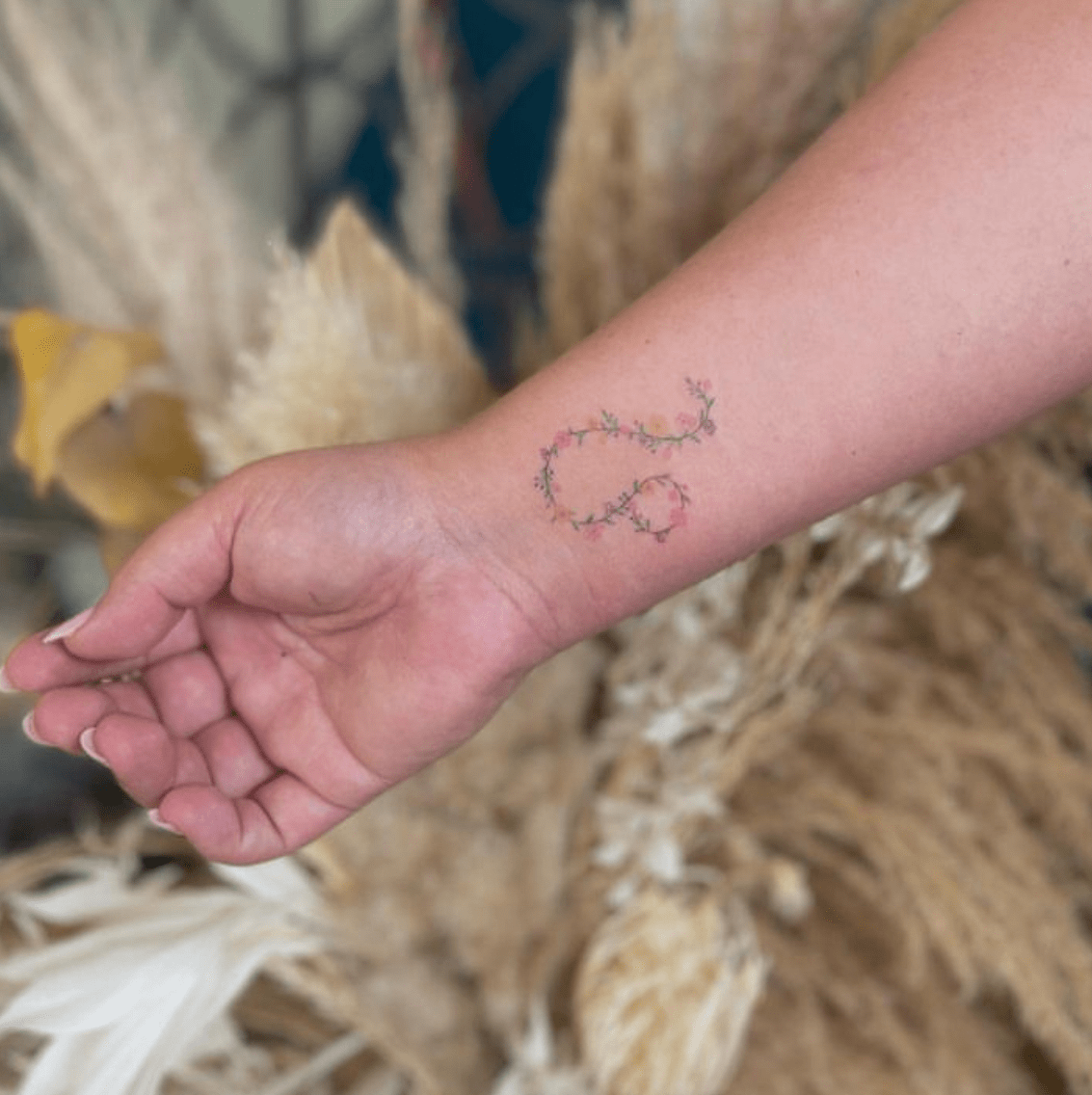 And with this dainty ink, we're taking it to the next level from the last. Charming tiny flowers decorate this Leo symbol, giving a bit of feminine softness.
17. Leo Constellation With Astronaut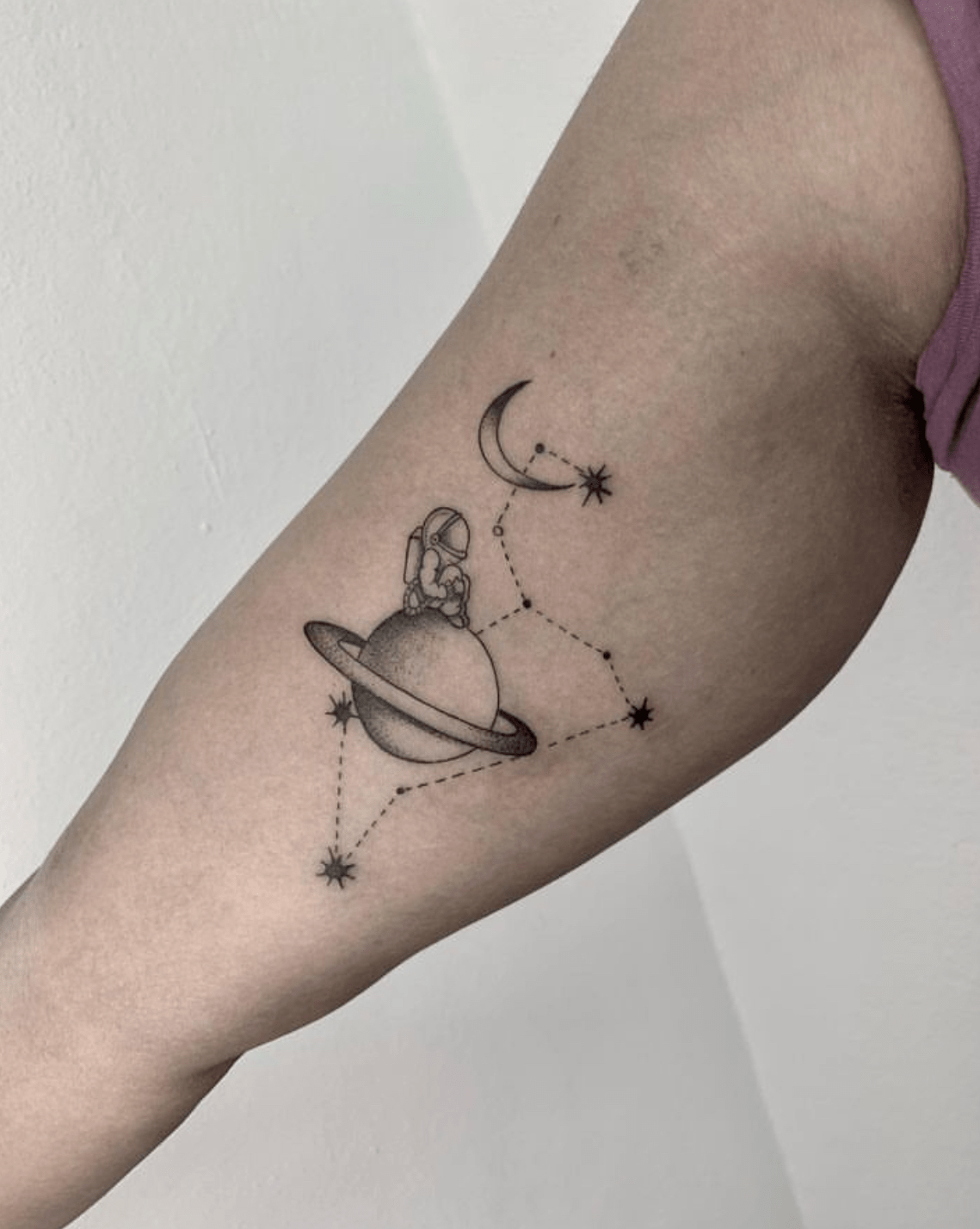 Look how cute he is, sitting there so pensively. What do you suppose he's thinking?
"The universe is so big, and I'm so small."
" How in the world am I going to get home when my tether is gone…"
18. Leo Constellation Lion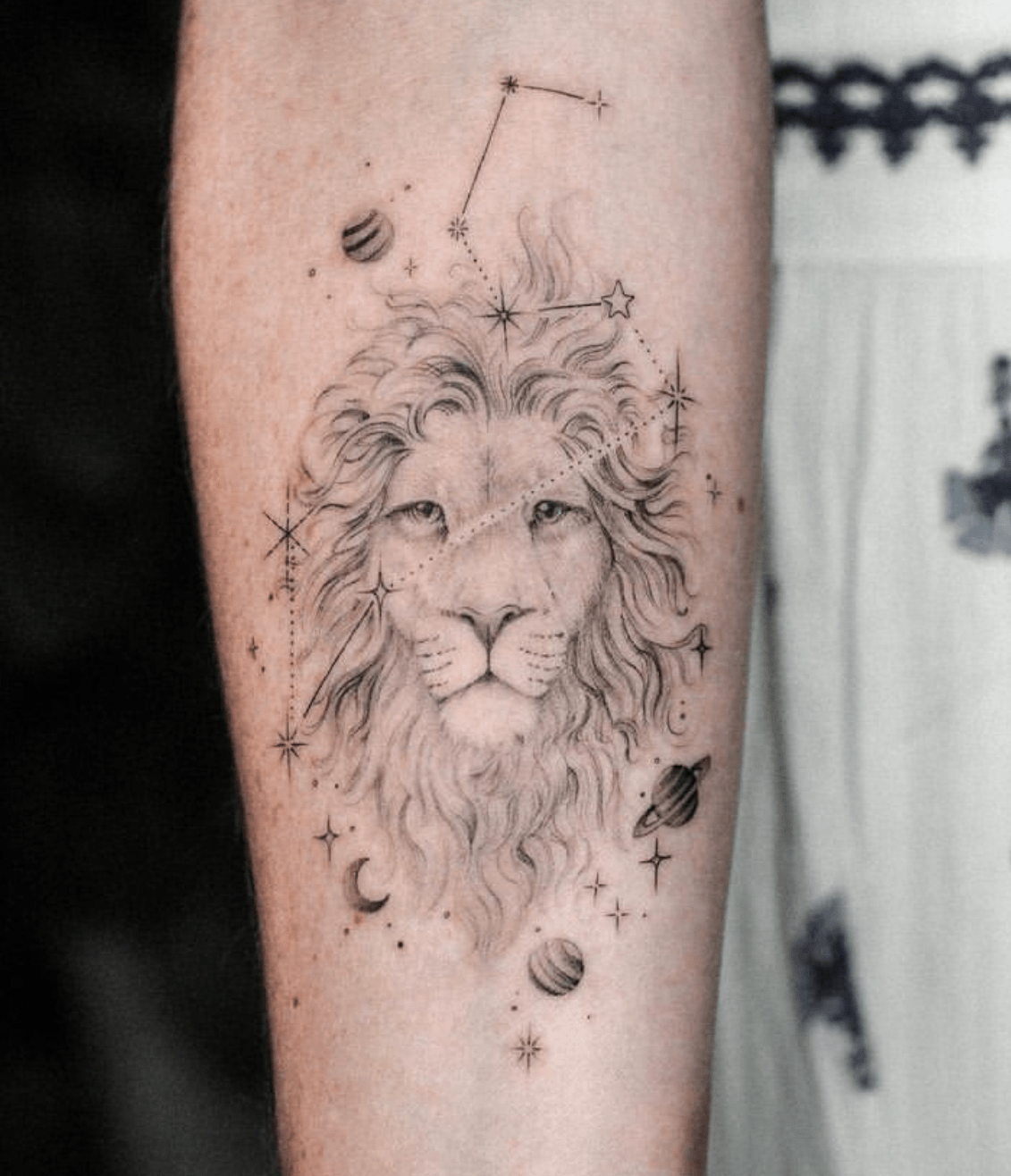 So much sparkle and shimmer and twinkle in this piece! If anyone is going to shine, it will be a Leo.
Can we talk about that flowing mane? Hair envy, anyone?
19. Leo And Life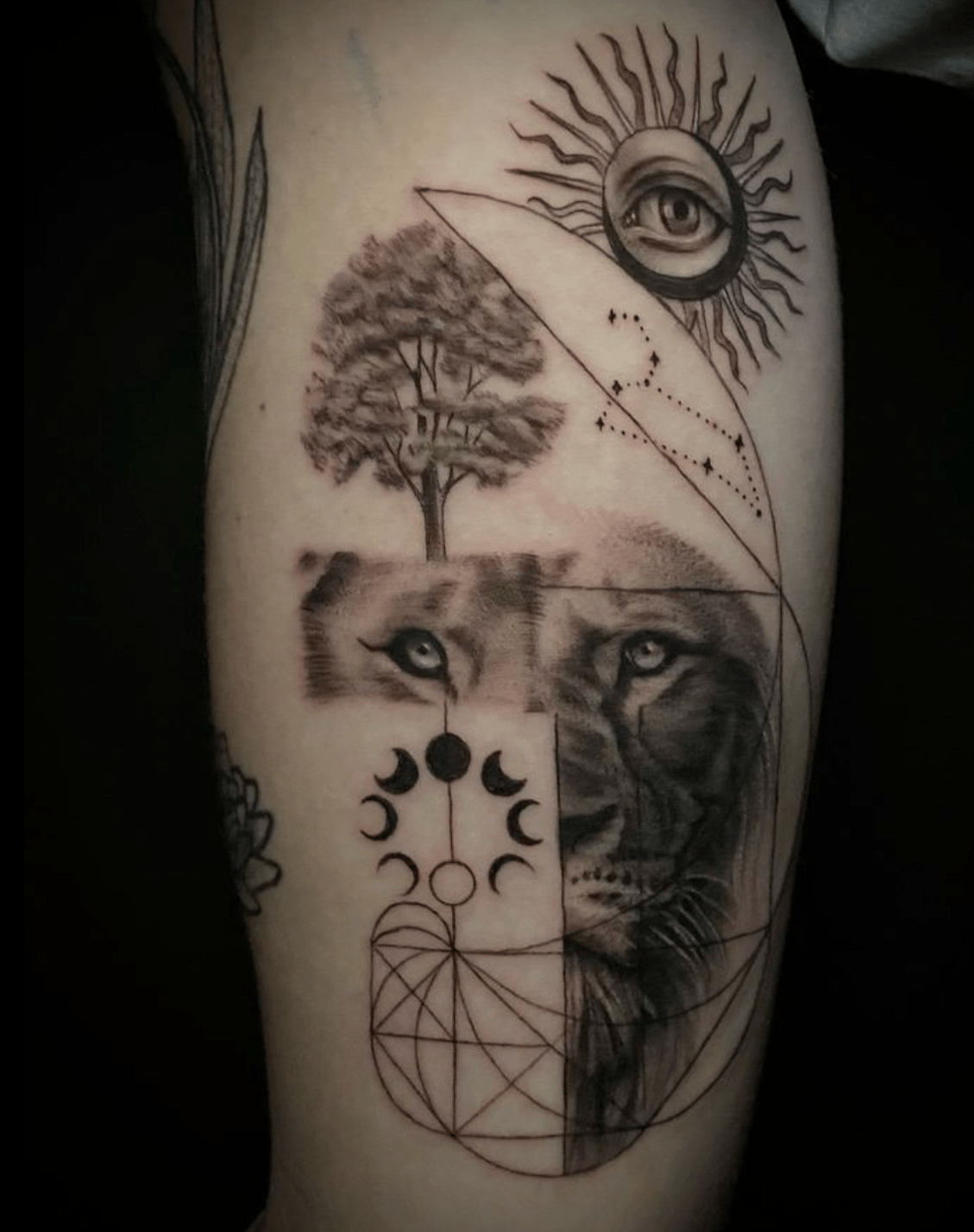 There's a lot happening here, and it all works together so well. I love how the elements are interconnected, rather than simply overlapping.
20. Geisha Leo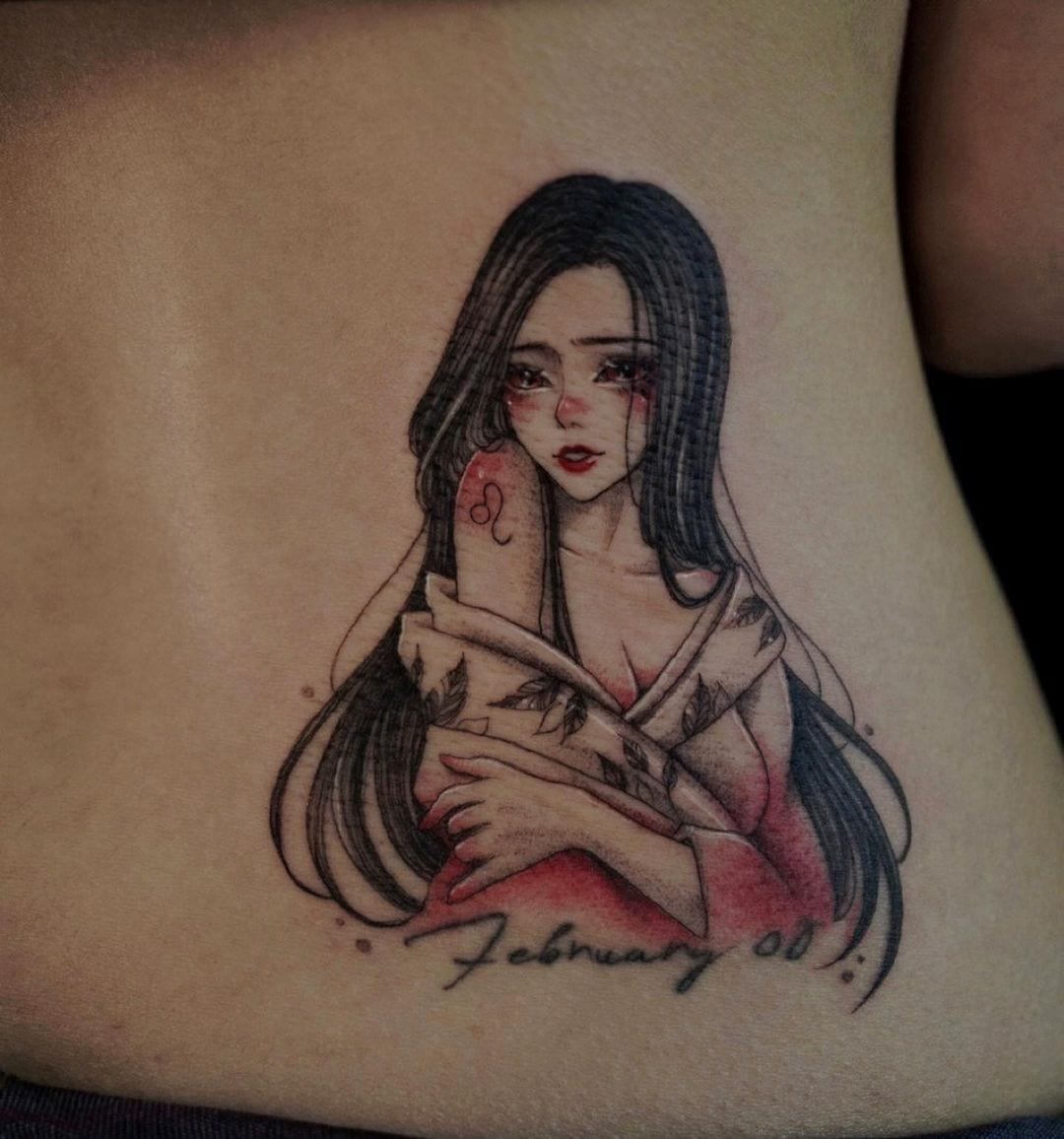 This coverup work is done really well. The animé style that this artist has perfected here looks so delicate I can almost hear her tiny voice.
21. Lion With Flowers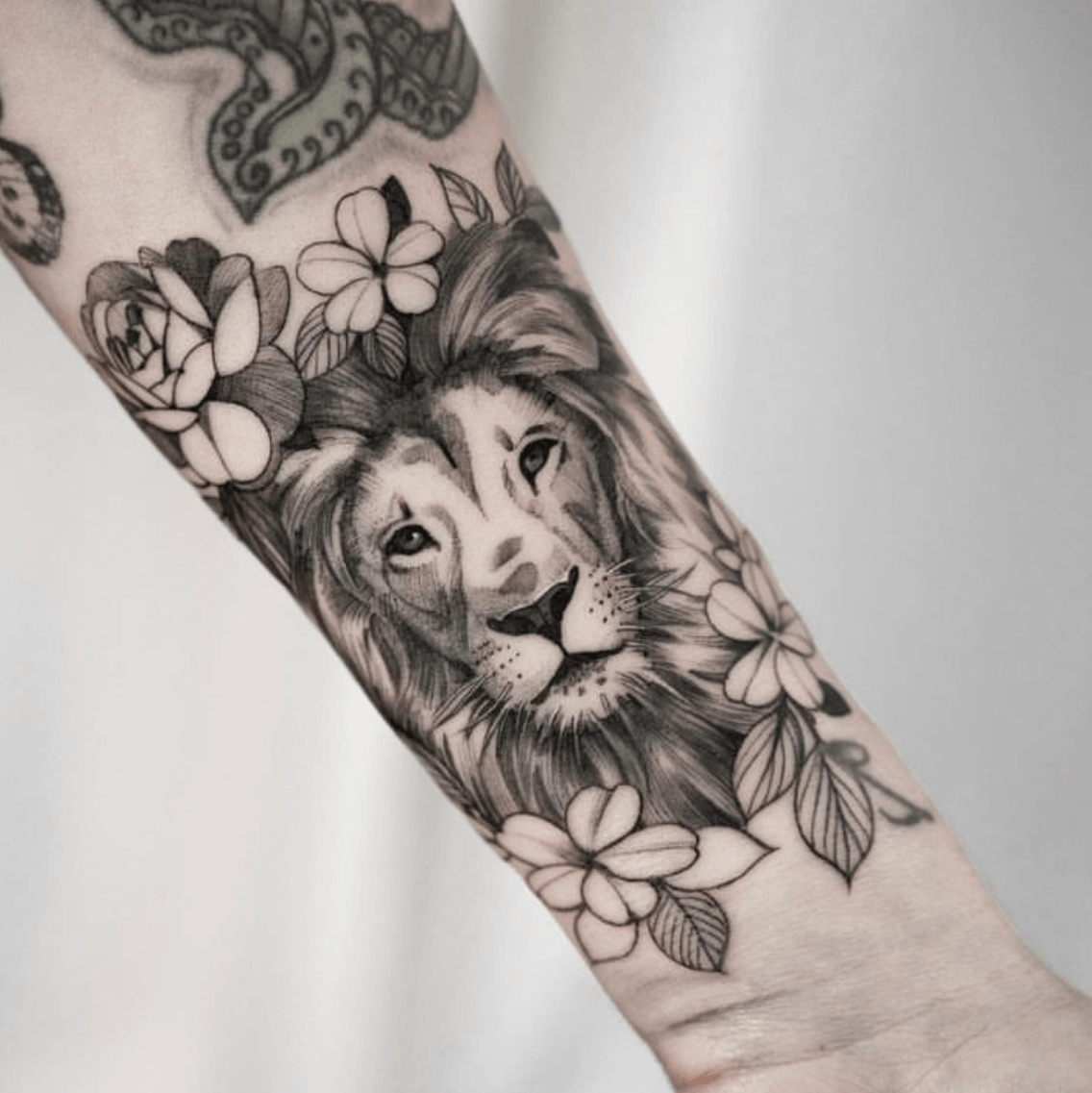 We love a King of the Jungle vibe, and this big cat covered in flowers is beautiful and strong.
22. Fineline Leo Tattoo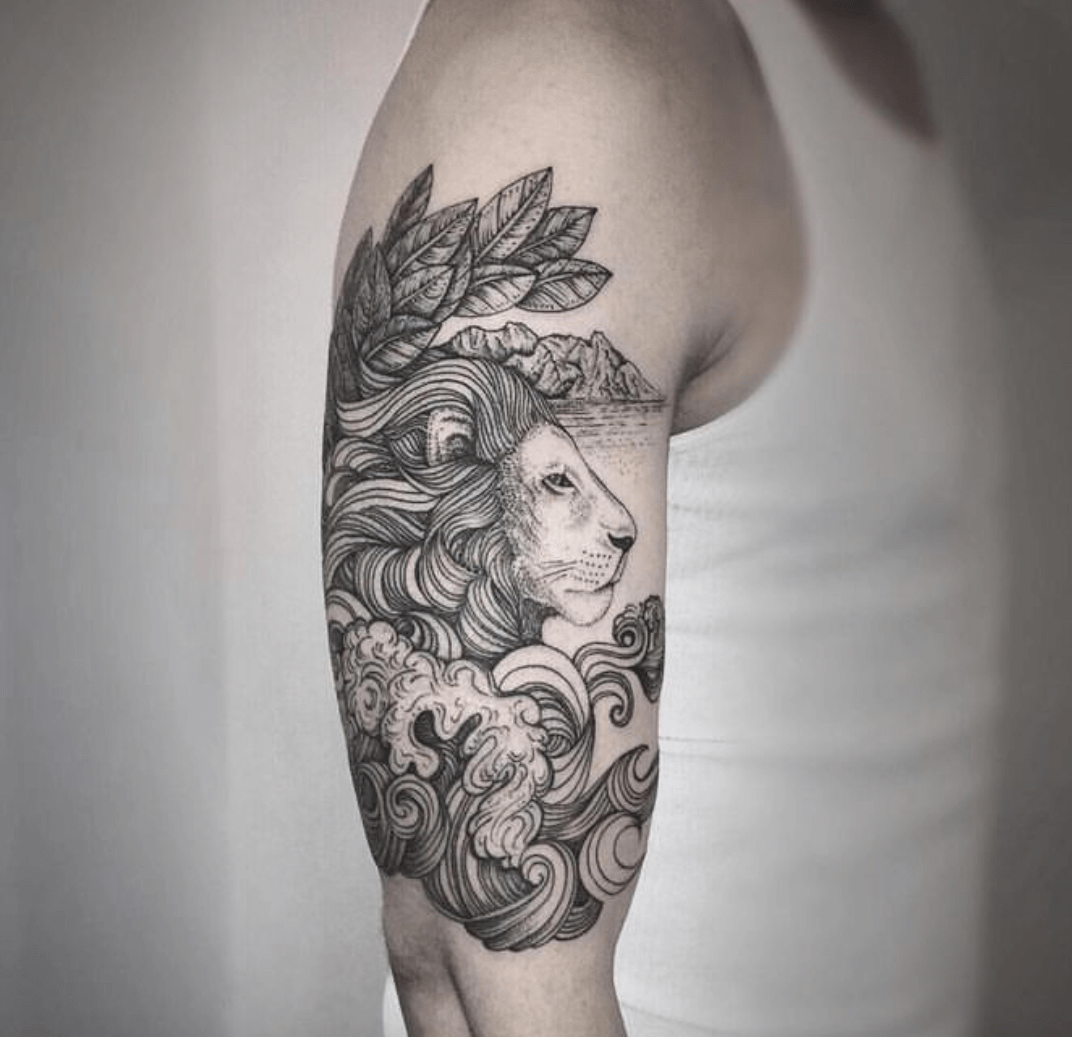 The linework here is really something else, considering virtually the entire image is made up of different styles of lines.
The illustrative technique looks like it's out of a book from when I was a child, giving me a major nostalgia hit.
23. Ornamental Lioness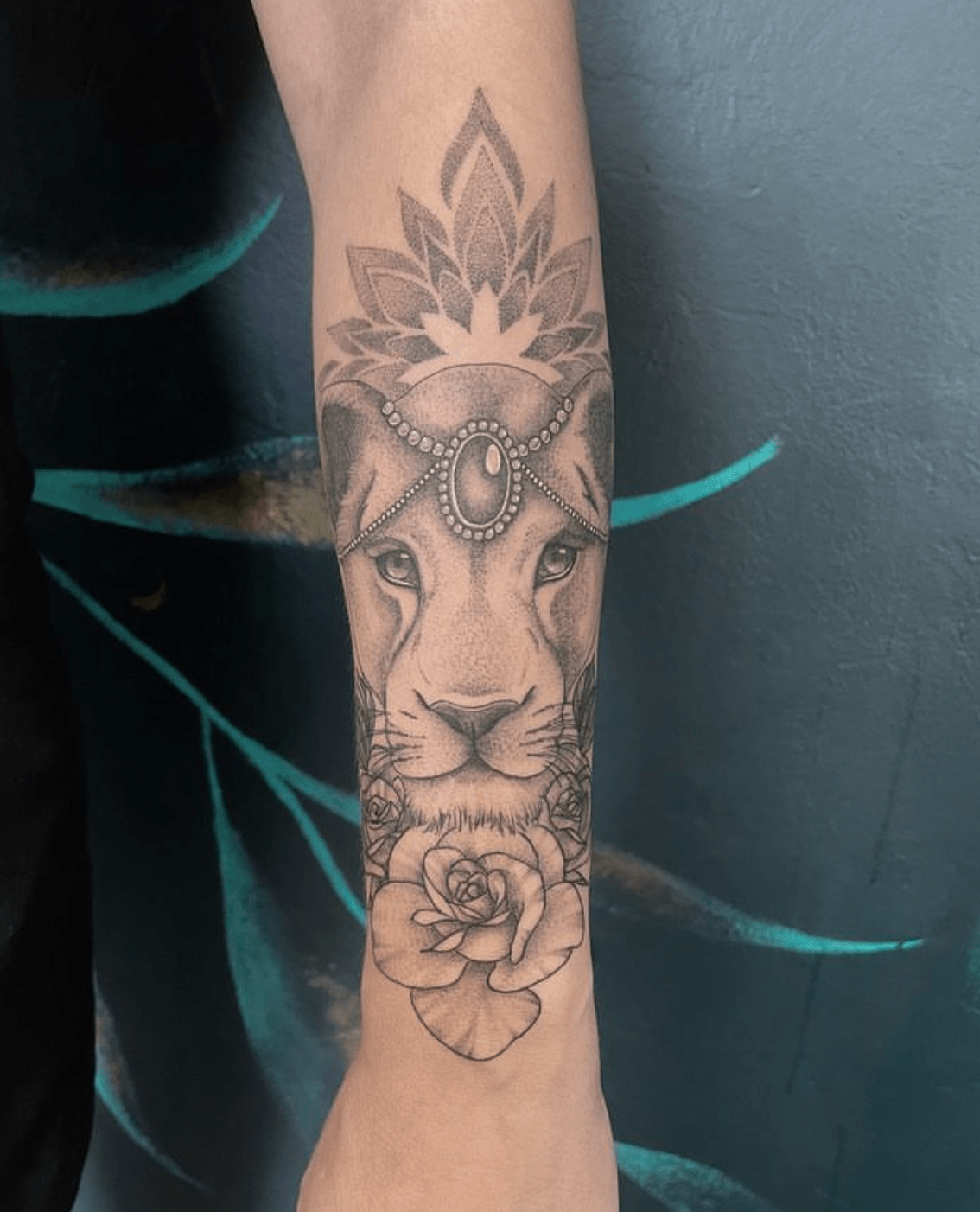 The dotwork on this ink is excellent. That jeweled headpiece feels so regal.
24. Lion On Fire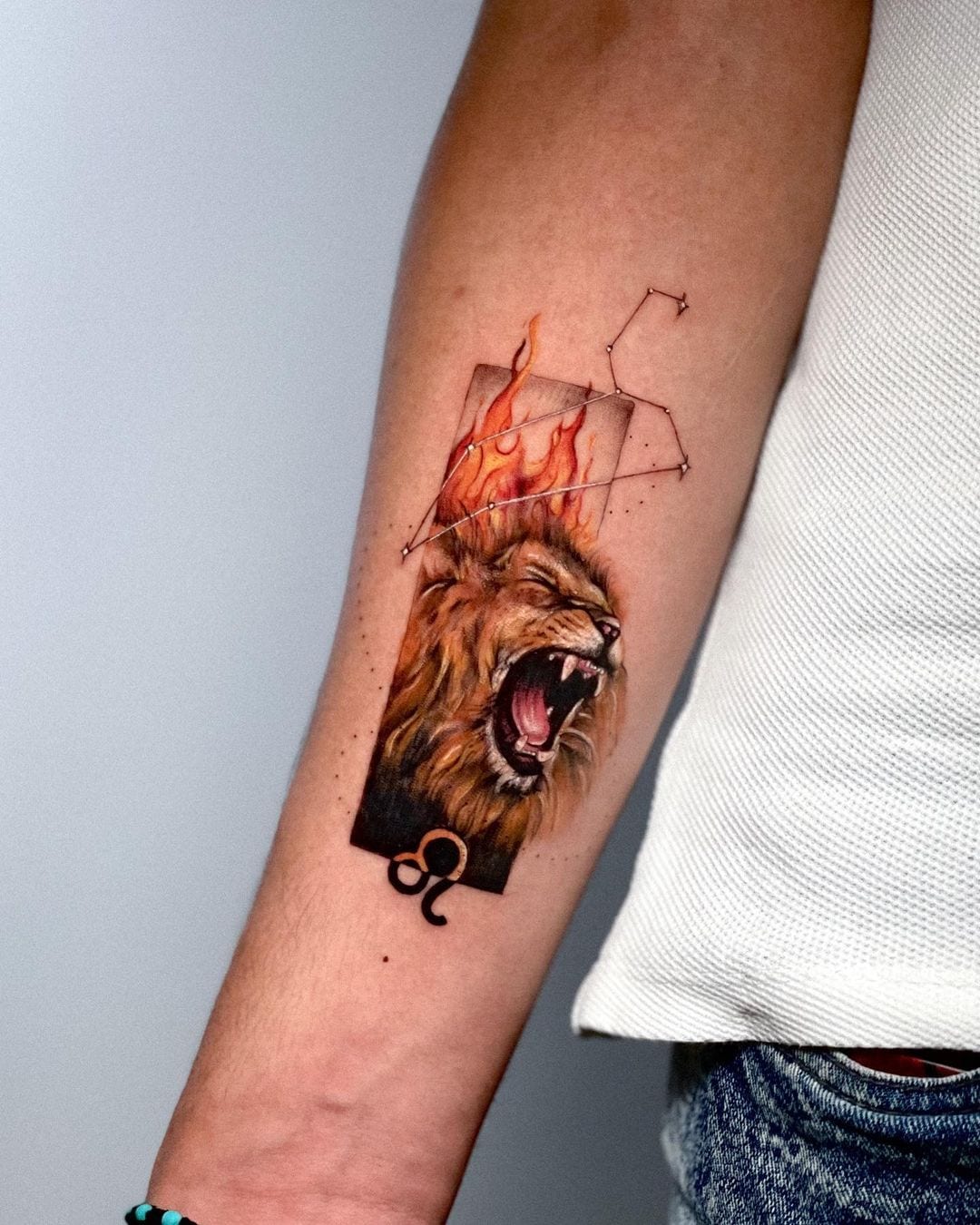 Well, if anything on this list is fear-inducing, it's this lion. Apparently some tattoos you can hear.
25. Geometric Lion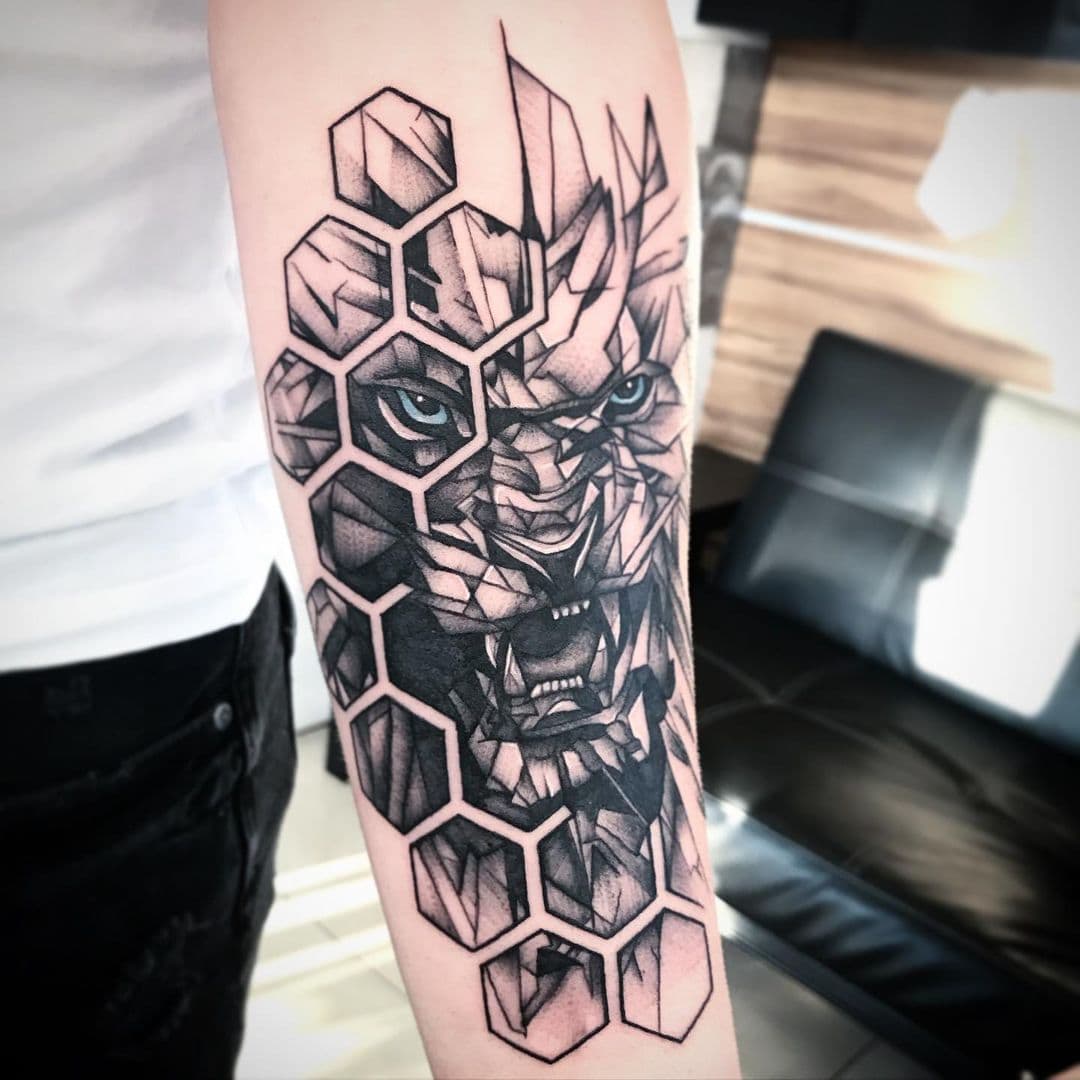 The cell effect is very complementary to the shattered geometry of the lion itself. I really like this piece.
26. Lion Cub Tattoo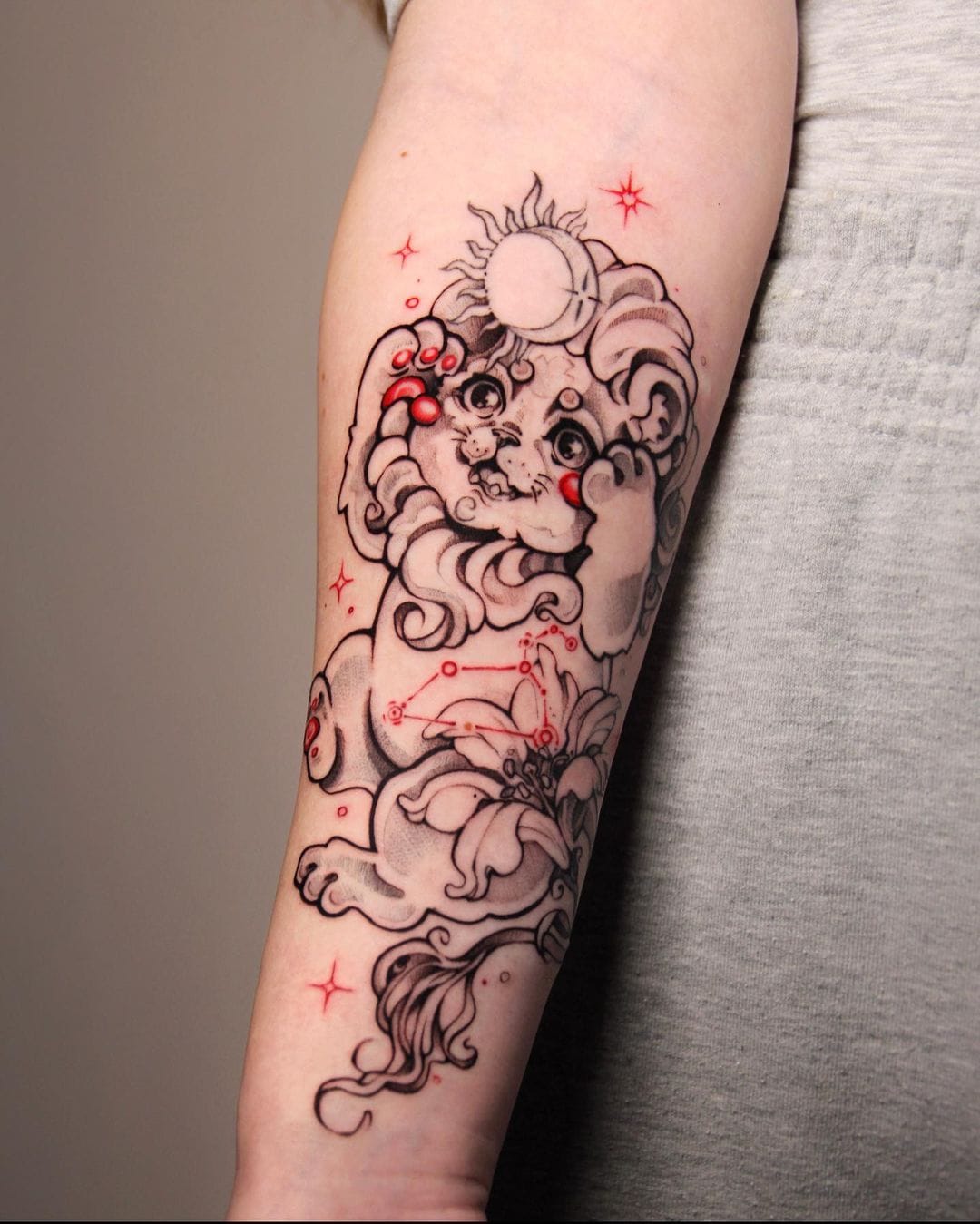 I can barely handle how adorable this little sugar is. I never imagined a baby lion tattoo would be so cute, and their little red paw pads and rosy cheeks are the cherries on top.
27. Leo Goddess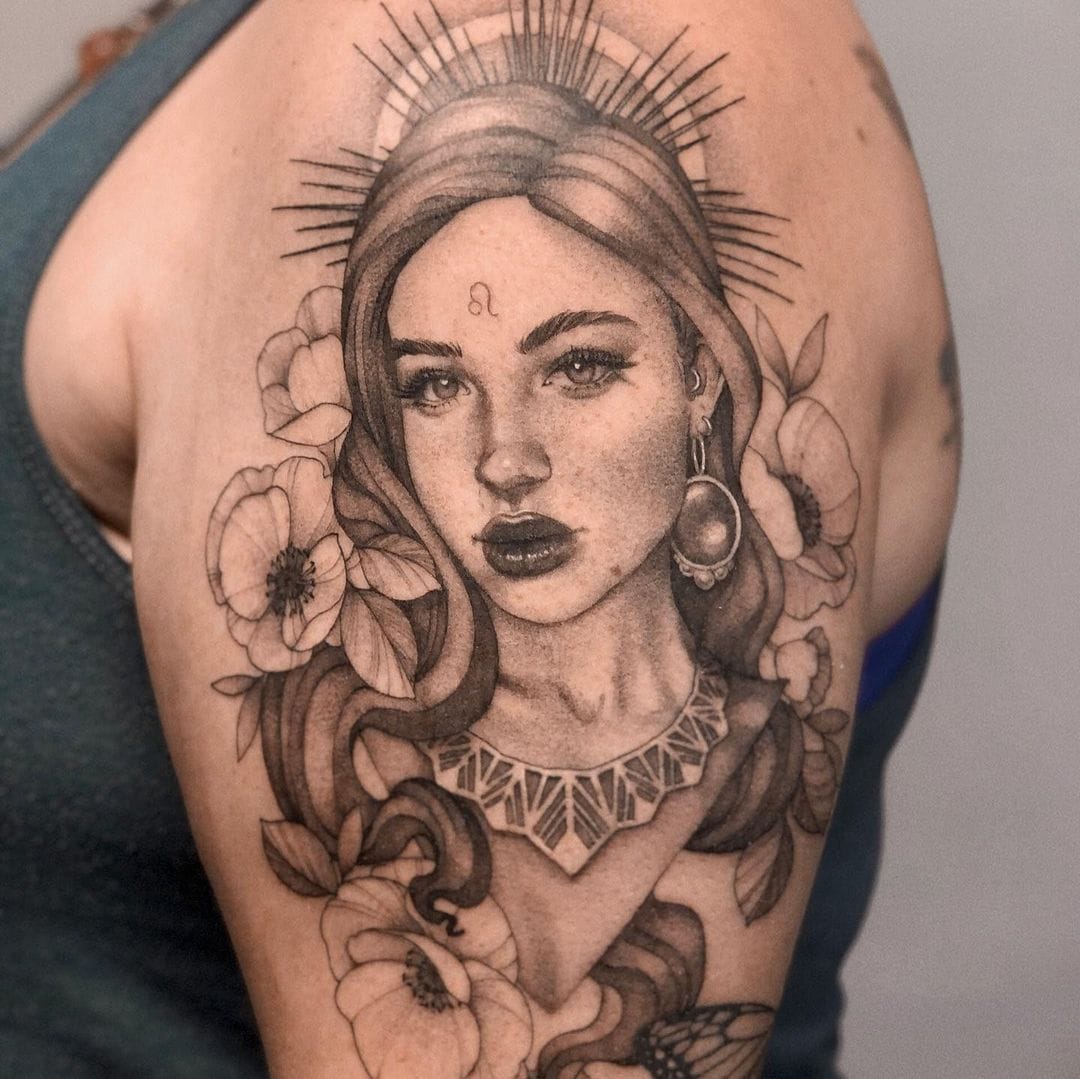 There's something very contemplative about the look on her face, looking deep into my soul.
The subtle Leo symbol is a nice addition, not taking the focus from the beauty of the entire piece as a whole.
28. Lion Skull Tattoo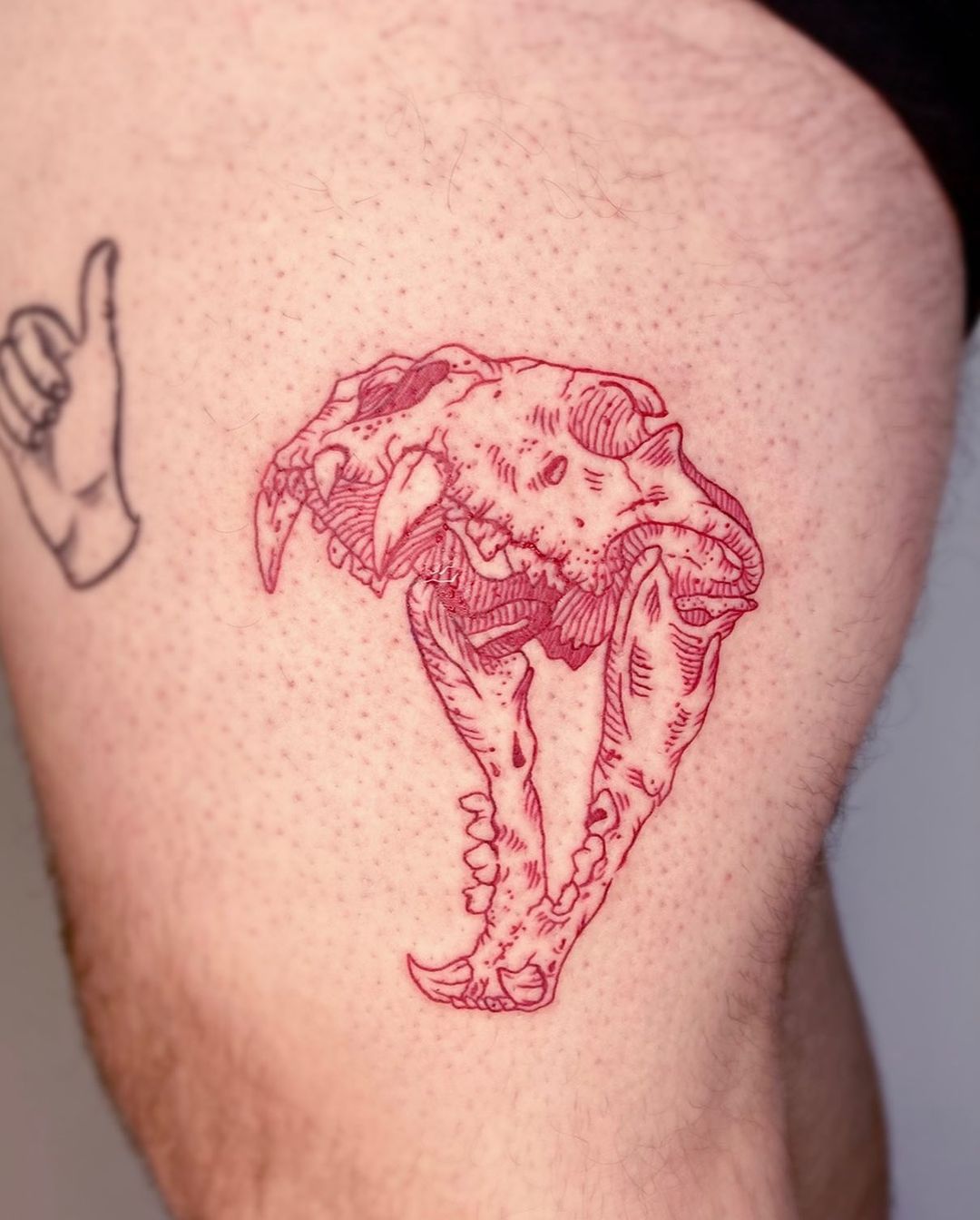 It's nice to see this variety in the category! The fine lines here look like a raw scratch, a bit macabre but it looks great nonetheless.
If this tattoo grabs your attention, we've got a couple of articles I think you'll enjoy: Red Ink tattoos, and bull skull tattoos.
29. Single Line Leo Tattoo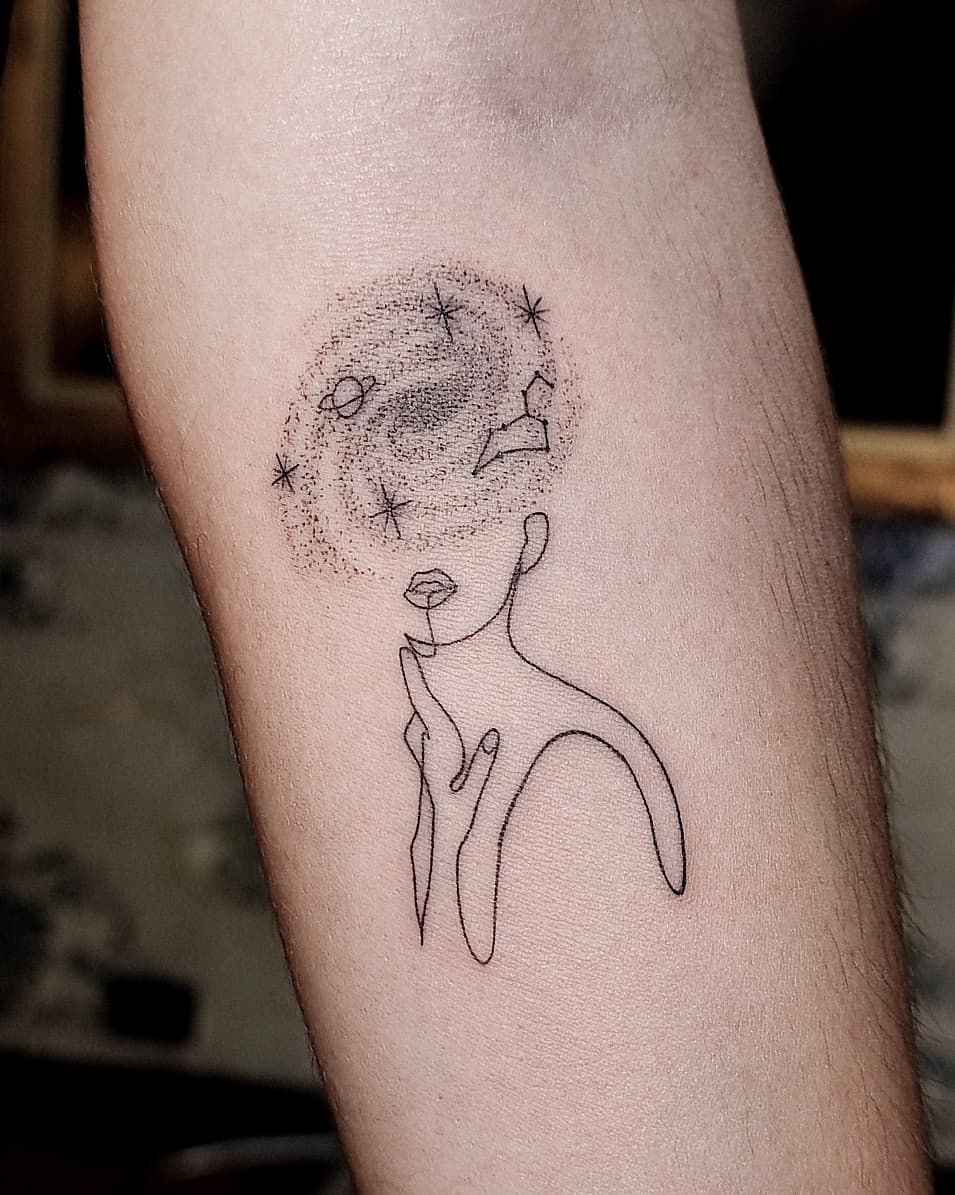 I love this tattoo. The minimalist feel of the single line is so satisfying, and I enjoy how the galaxy and constellation are in place of her mind.
30. Sunflower Leo Constellation Tattoo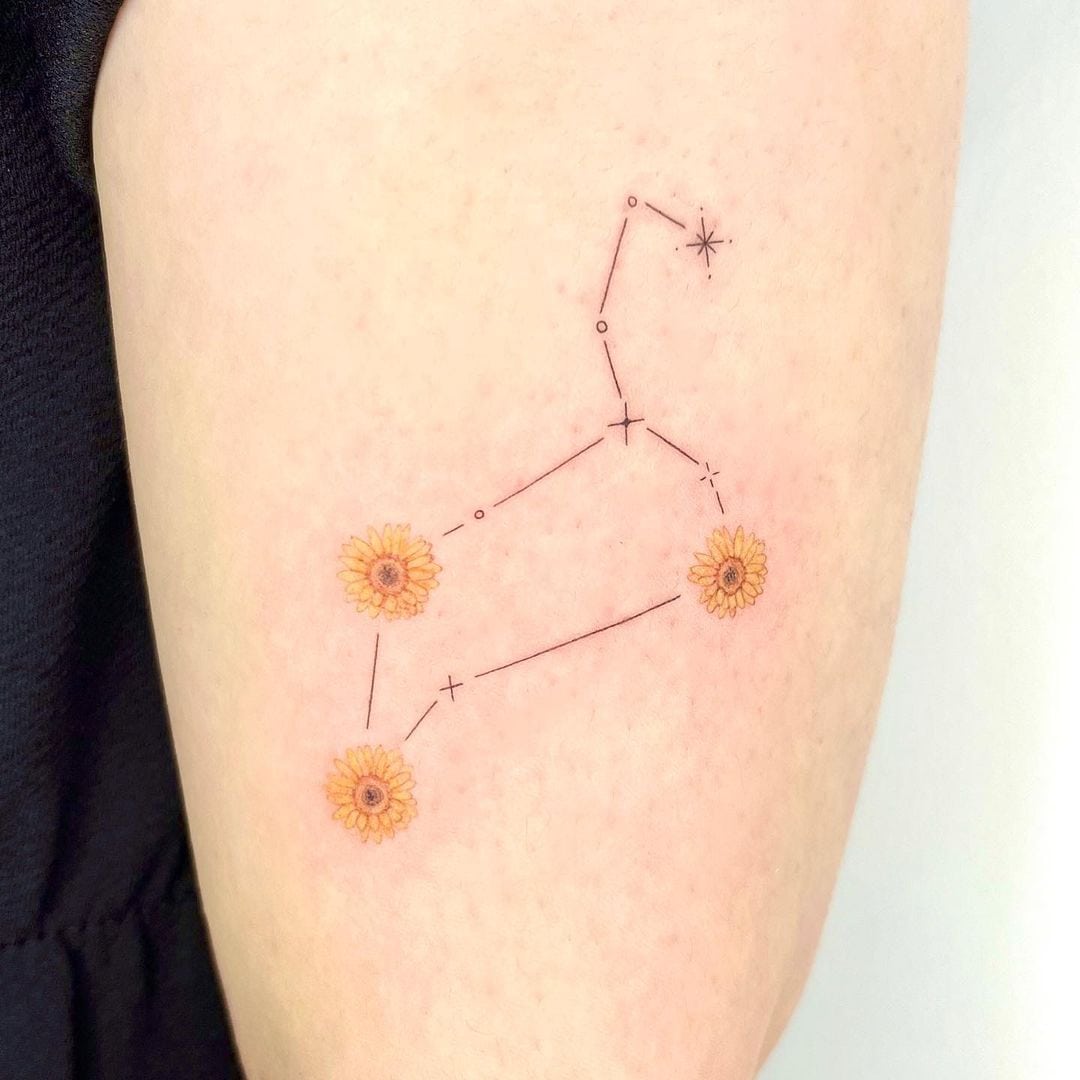 Sunflowers are the birth flower for Leos, and we're all about how they're adding a little soft personality to this simple constellation piece.
Summary
This was a fun article to write, and we hope that some of these gorgeous Leo pieces will inspire you and help you and your artist come up with the perfect ink concept.
Let us know which tattoos you loved the most!
If you're looking for astrology tattoos, make sure you don't miss our other articles: Sagittarius, Pisces, Aries, Taurus, Gemini, and Cancer. Bonus Tarot Card tattoo list if you're feeling in touch with the mystical being that you are.