Our wonderful, balanced Libras. Born between September 22nd – October 23rd, we can't live without these gems. A Libra tattoo does a great job of reminding us to be fair and impartial, as is often represented by a blindfolded goddess, occasionally holding scales to symbolize justice. Who is this goddess? It depends on who you ask. Themis, Isis, or even Venus.
Whoever she is, our Libras like to keep things in check. They request external feedback, like to keep things orderly, and will often be the ones trying to make peace.
Let's look at some of these incredible Libra tattoos, to inspire us to play fair.
Blindfolded Themis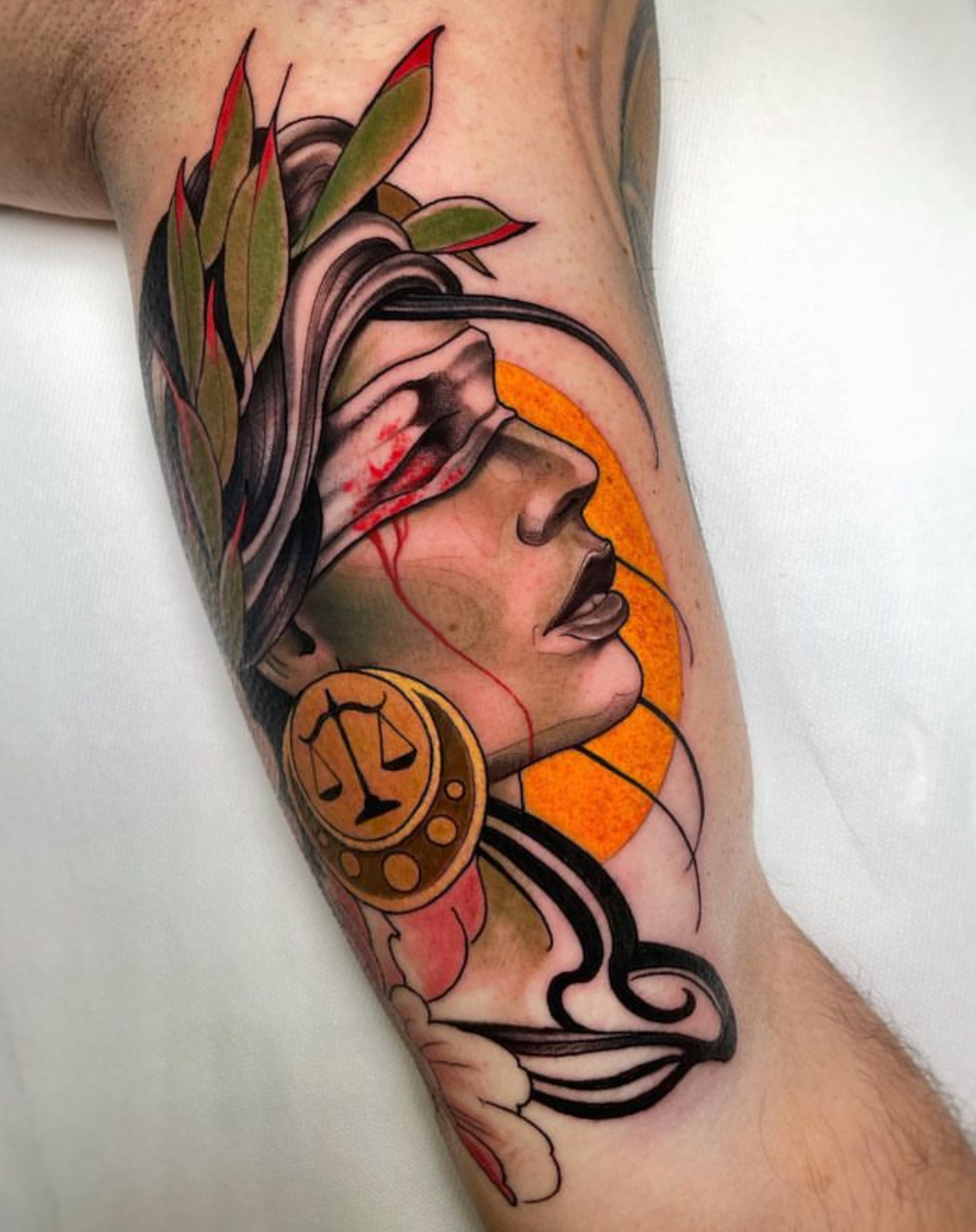 This vibrant Libra tattoo is absolutely beautiful. The contrasting colors are so rich and pop against each other perfectly!
Libra Arm Tattoo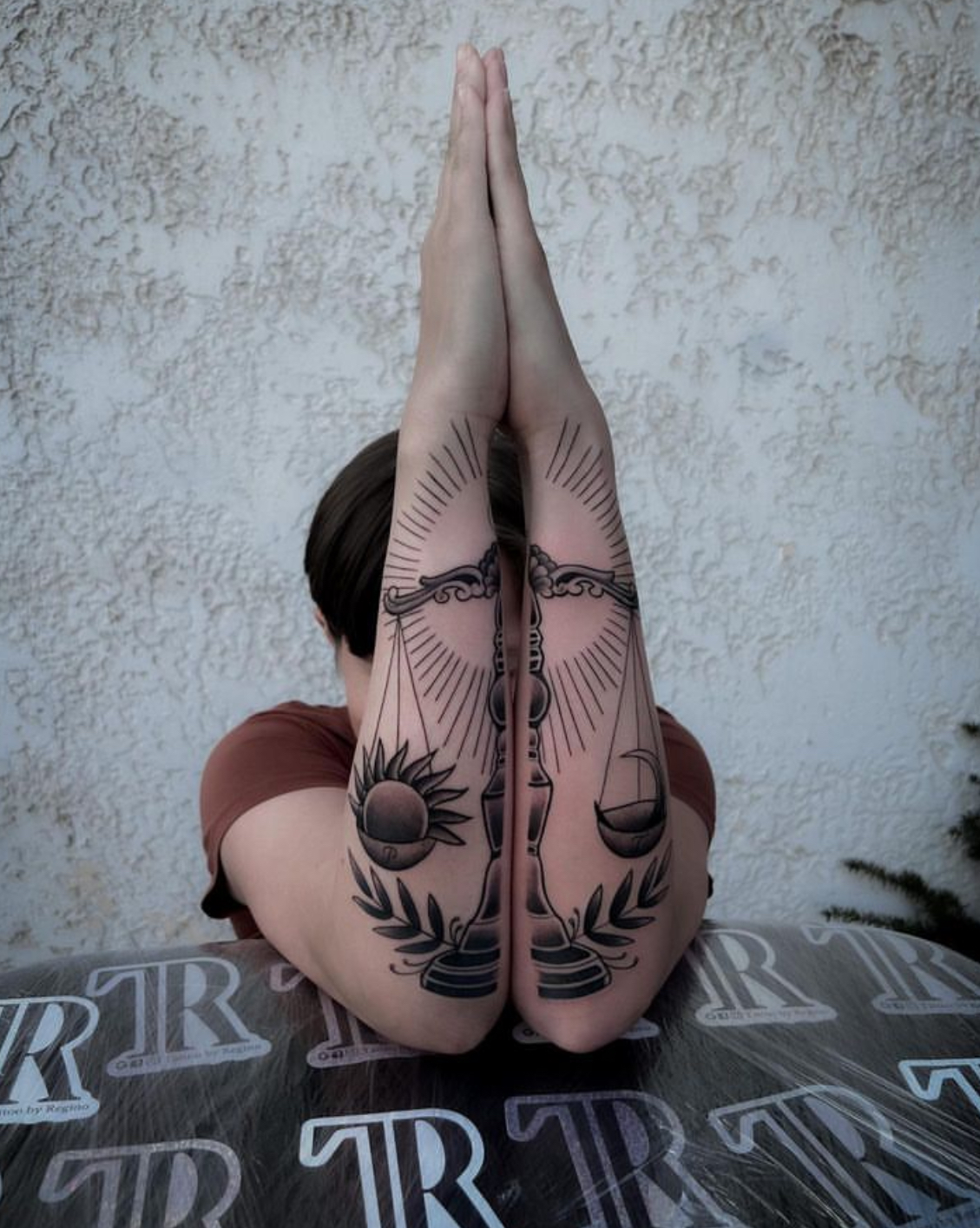 It's just SO GOOD. This placement is creative and well-balanced, and a great conversation starter if only one arm is visible.
Traditional Libra Woman Tattoo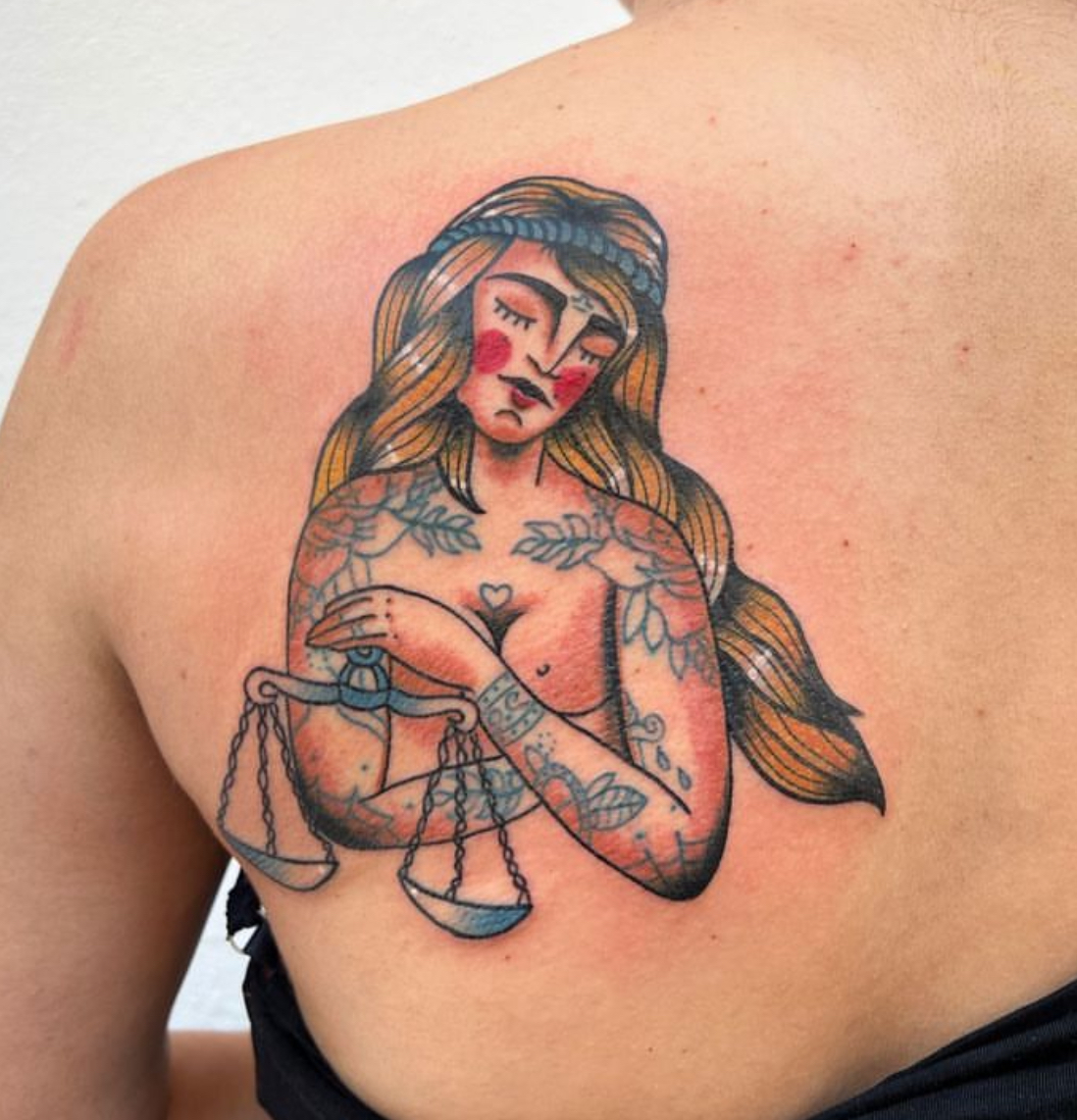 I love this piece. Her tattoos are almost reminiscent of a delft blue style, and add a lovely softness to the bolder traditional lines.
Libra Gemini Tattoo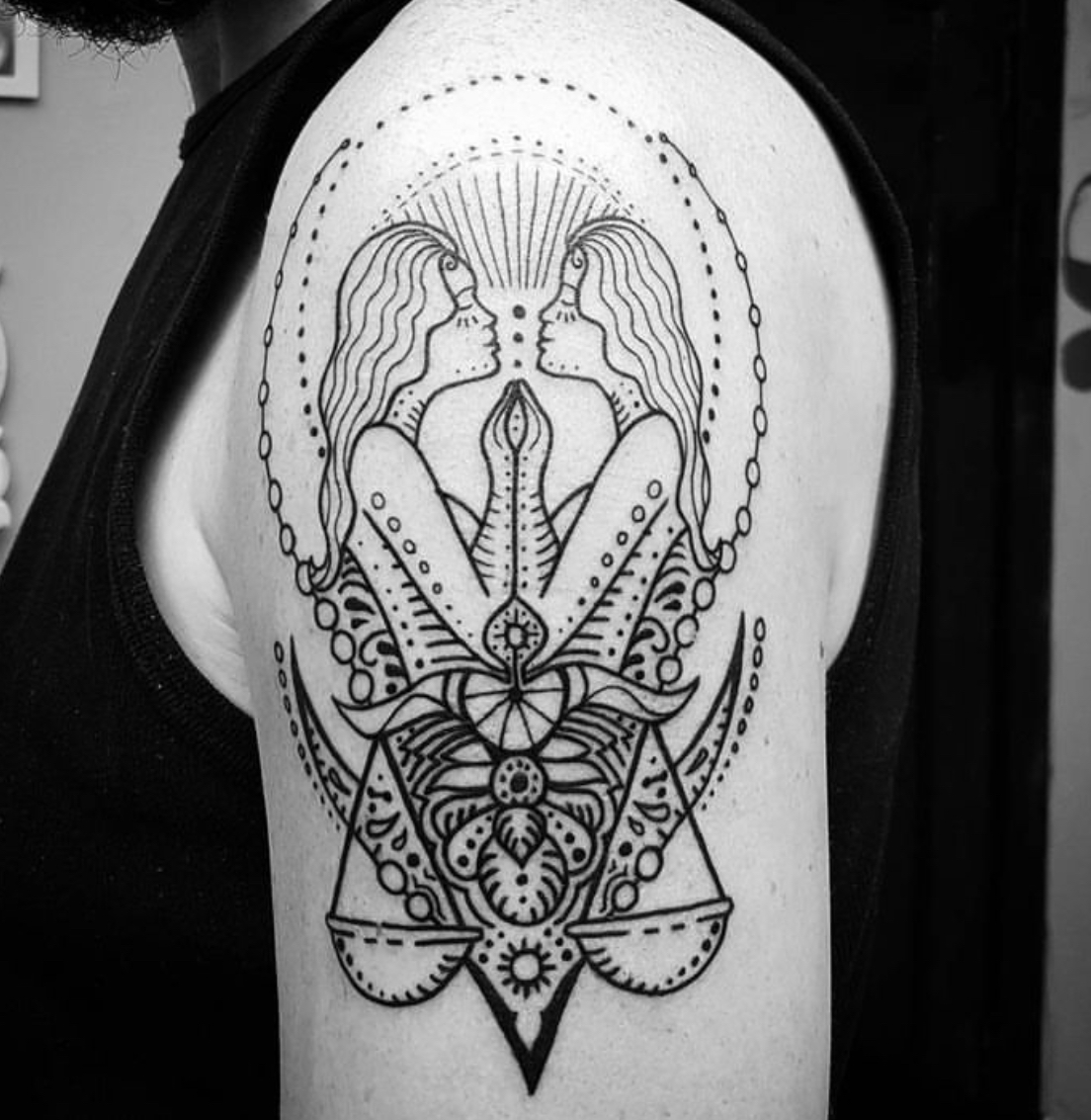 We adore a perfectly symmetrical tattoo, and combining Gemini and Libra is an excellent visual balance. In addition, the delicious solid dark lines top this off in the best way.
Mystical Realism Tattoo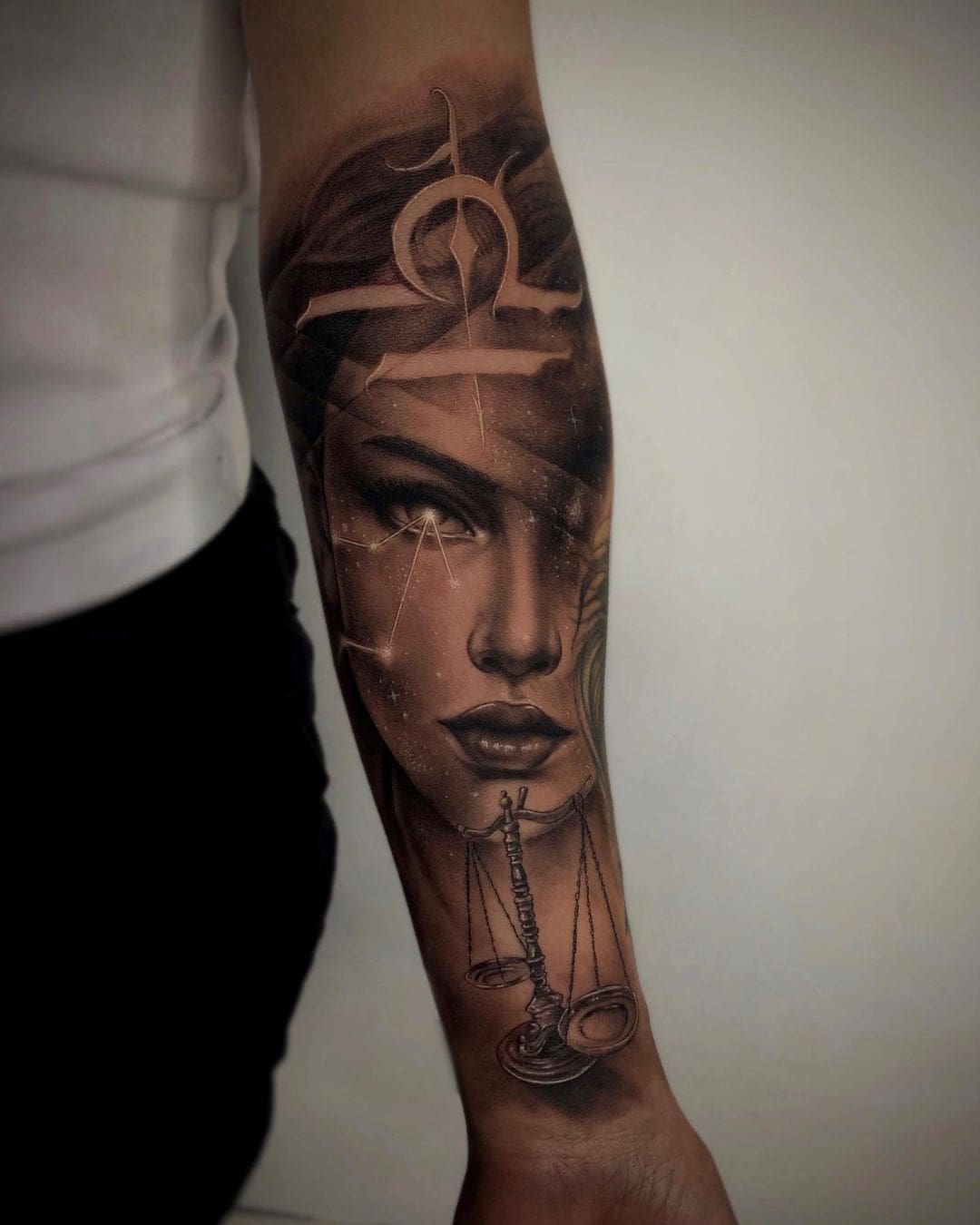 The depth of this tattoo is gorgeous.
The positioning of the constellation within her eye is … well, eye-catching. I love how they made the glyph look like an ancient cryptic text straight out of your favorite mummy movie.
Libra Butterfly Girl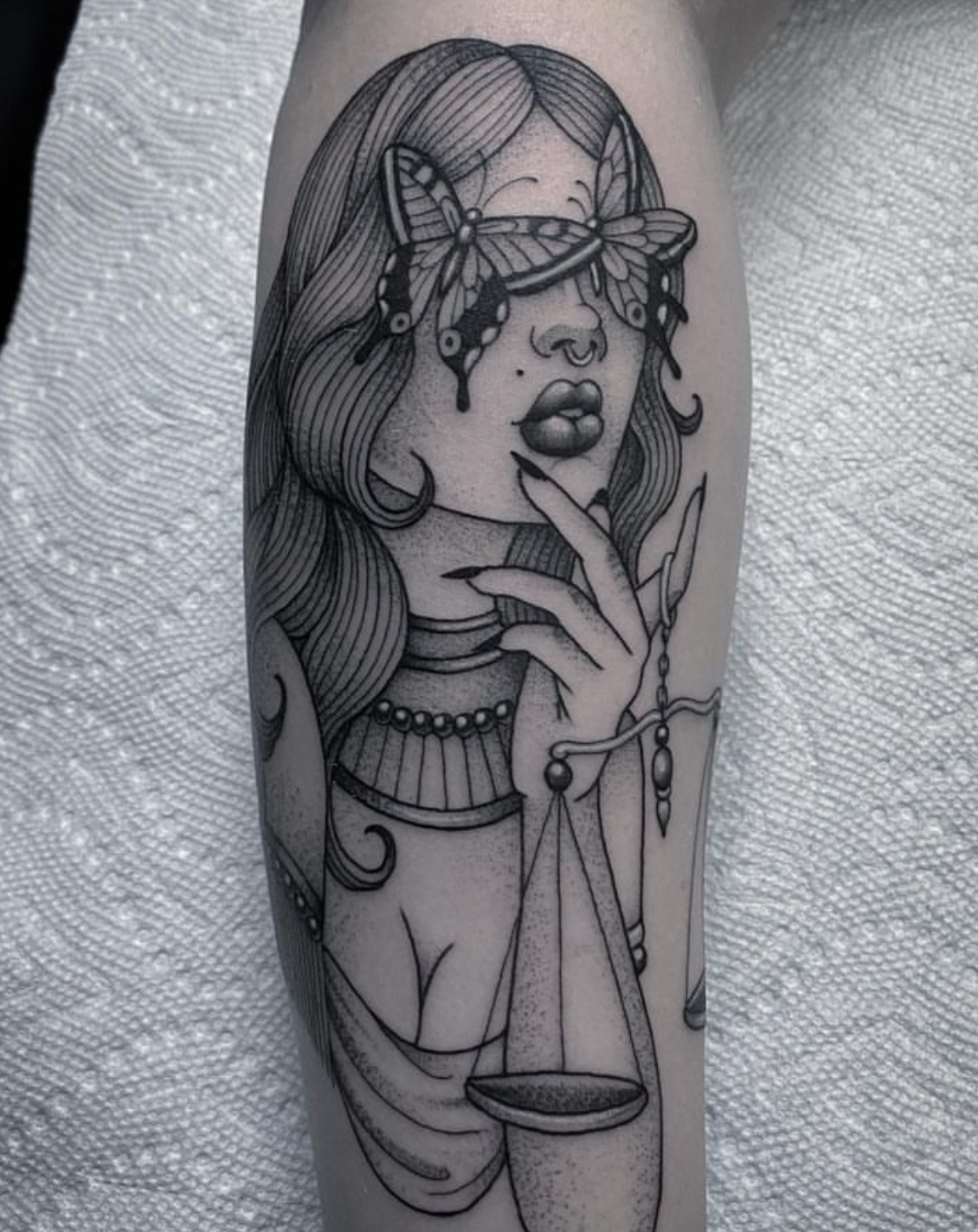 Well this is just beautiful.
Her butterfly eyes are a lovely alternative to the typical blindfold, and the way that the artist gave her such distinct features feels like they've created an actual human with personality.
Flower Libra Scale Tattoo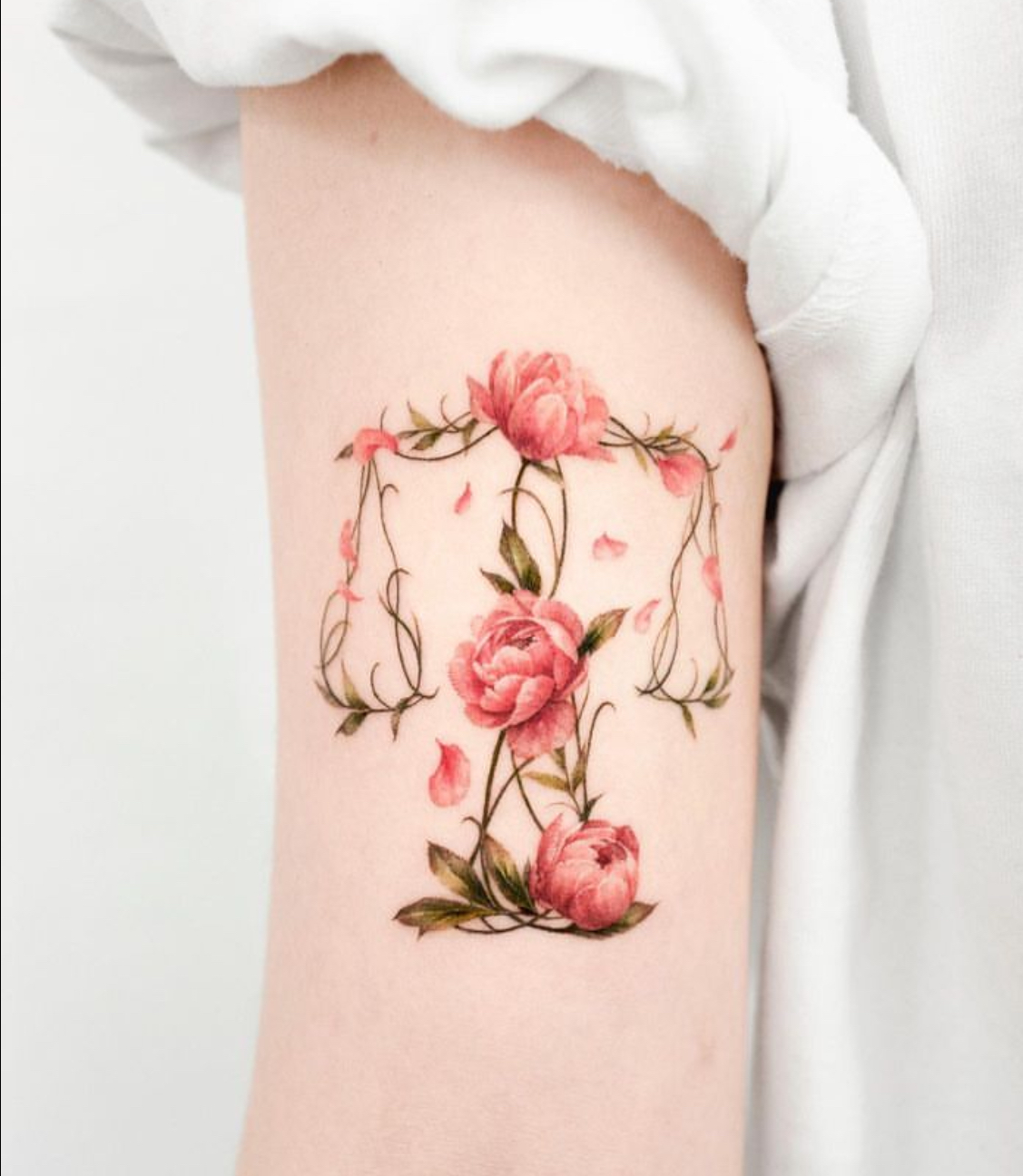 Now here we've got a truly unique portrayal of the Libra scale, in the form of their birth flower, the rose.
I can practically smell the aroma.
Minimalist Libra Tattoo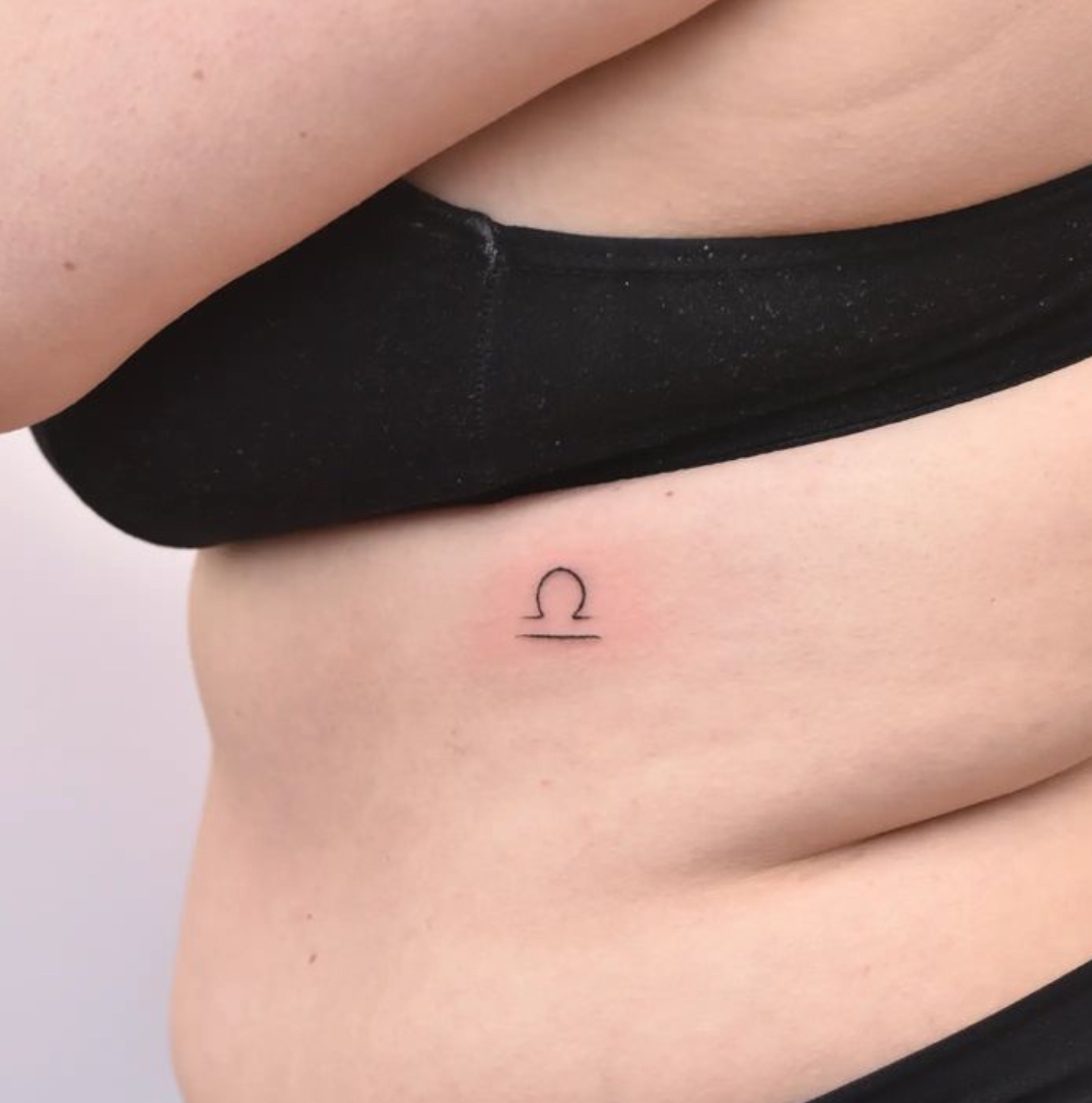 Sweet and simple, this Libra glyph is just right. The wearer must be Goldilocks.
Snake Libra Tattoo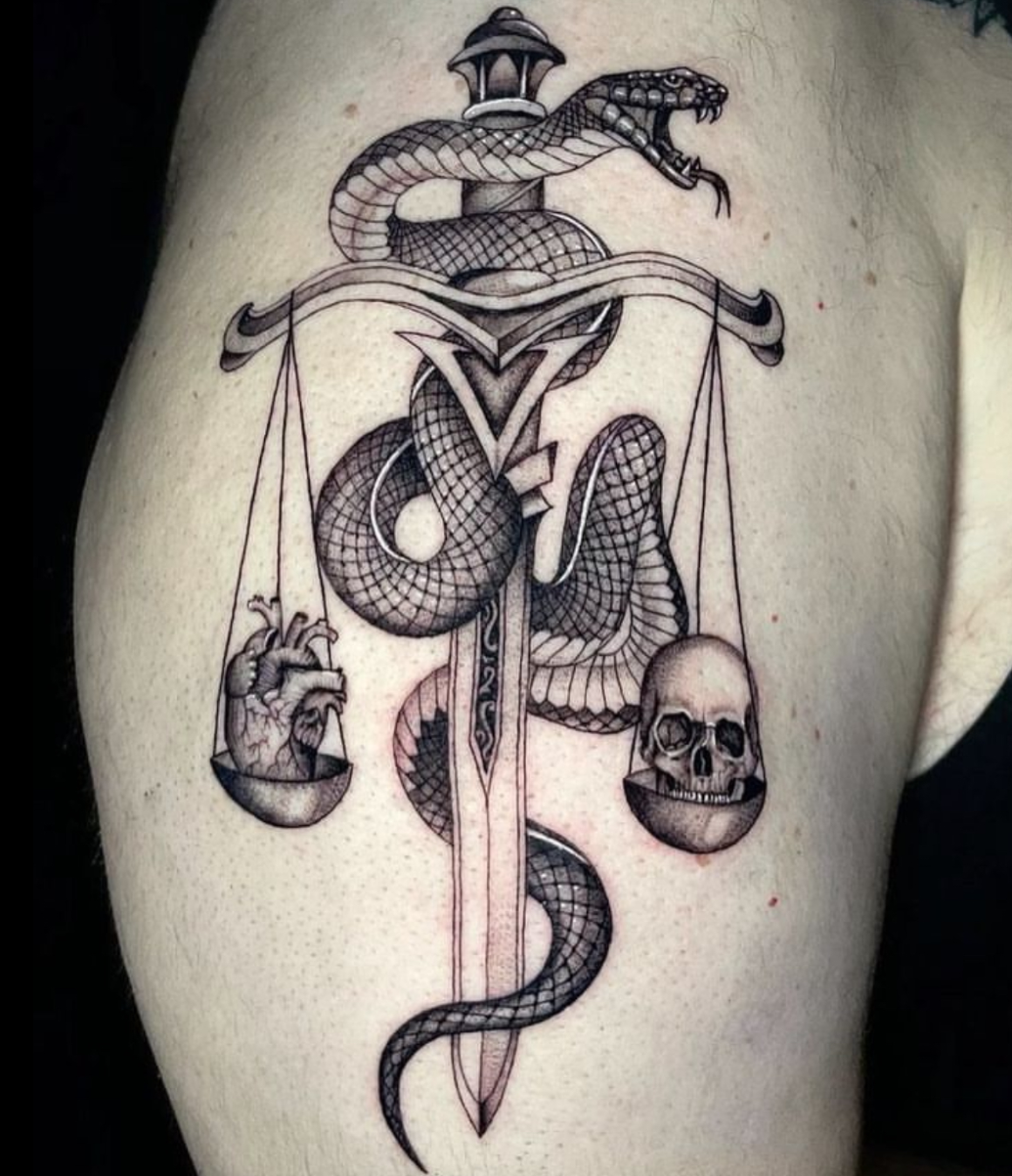 Did you ever think you needed a Libra tattoo with a snake wrapped around a sword?
Now you know.
Libra Symbol Tattoo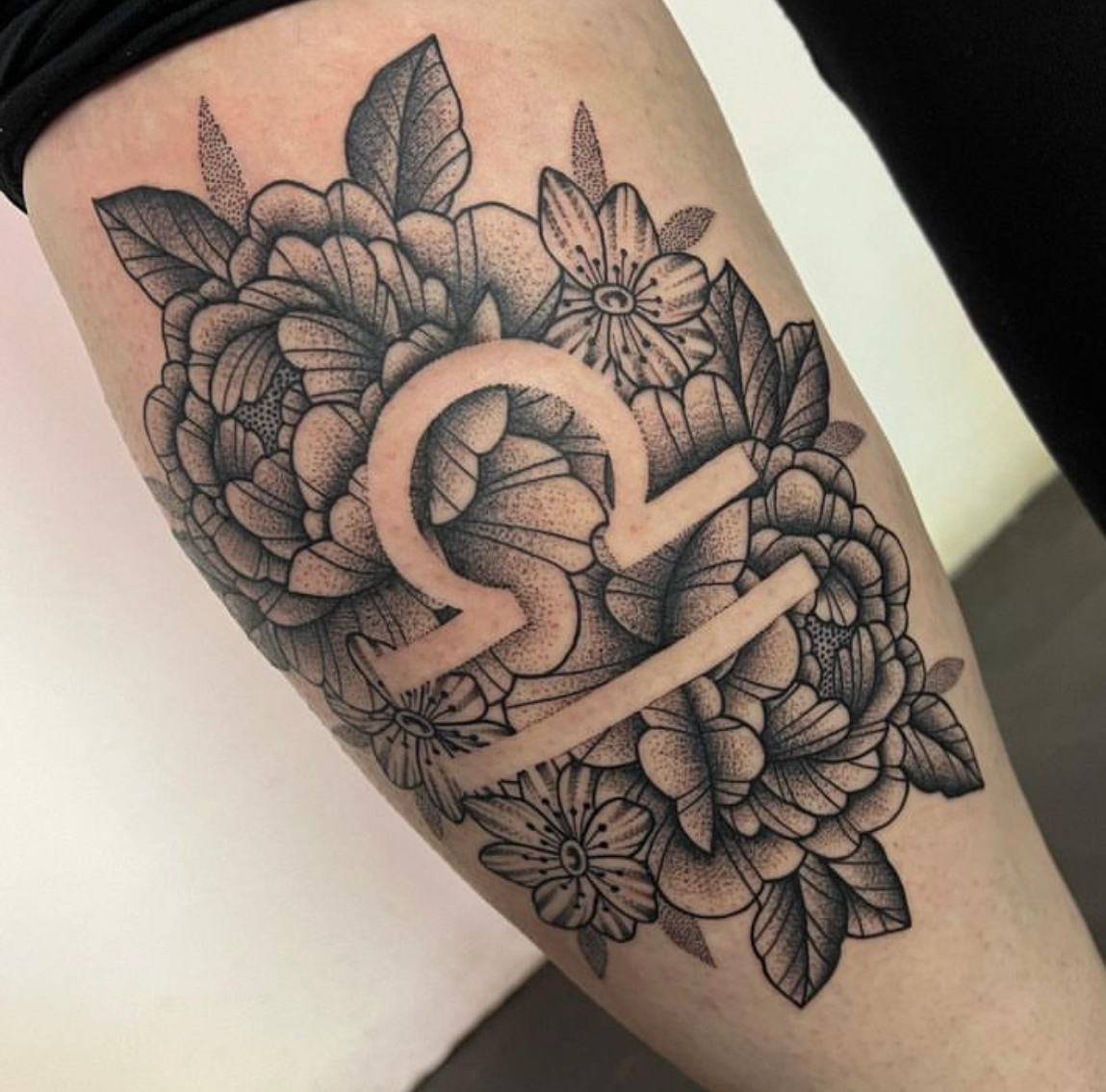 Negative space ALWAYS! It's like the symbol has been perfectly erased, and there's something so satisfying about it.
Libra Hand Tattoo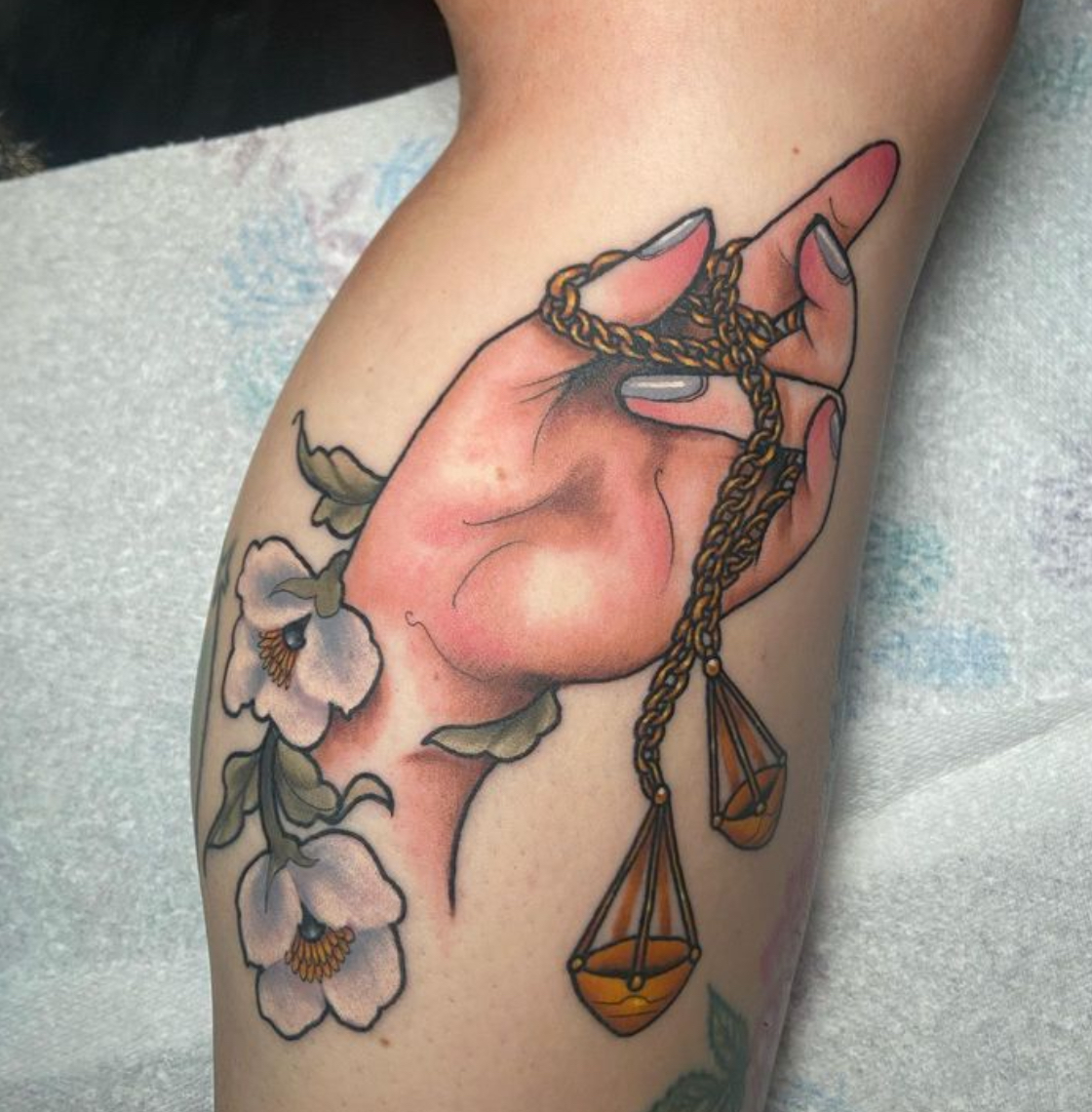 I really like how they've used a different type of scale here, with the movement of the chain and the delicate hand gesture it looks like it's holding on so carefully.
Libra Flower Constellation Tattoo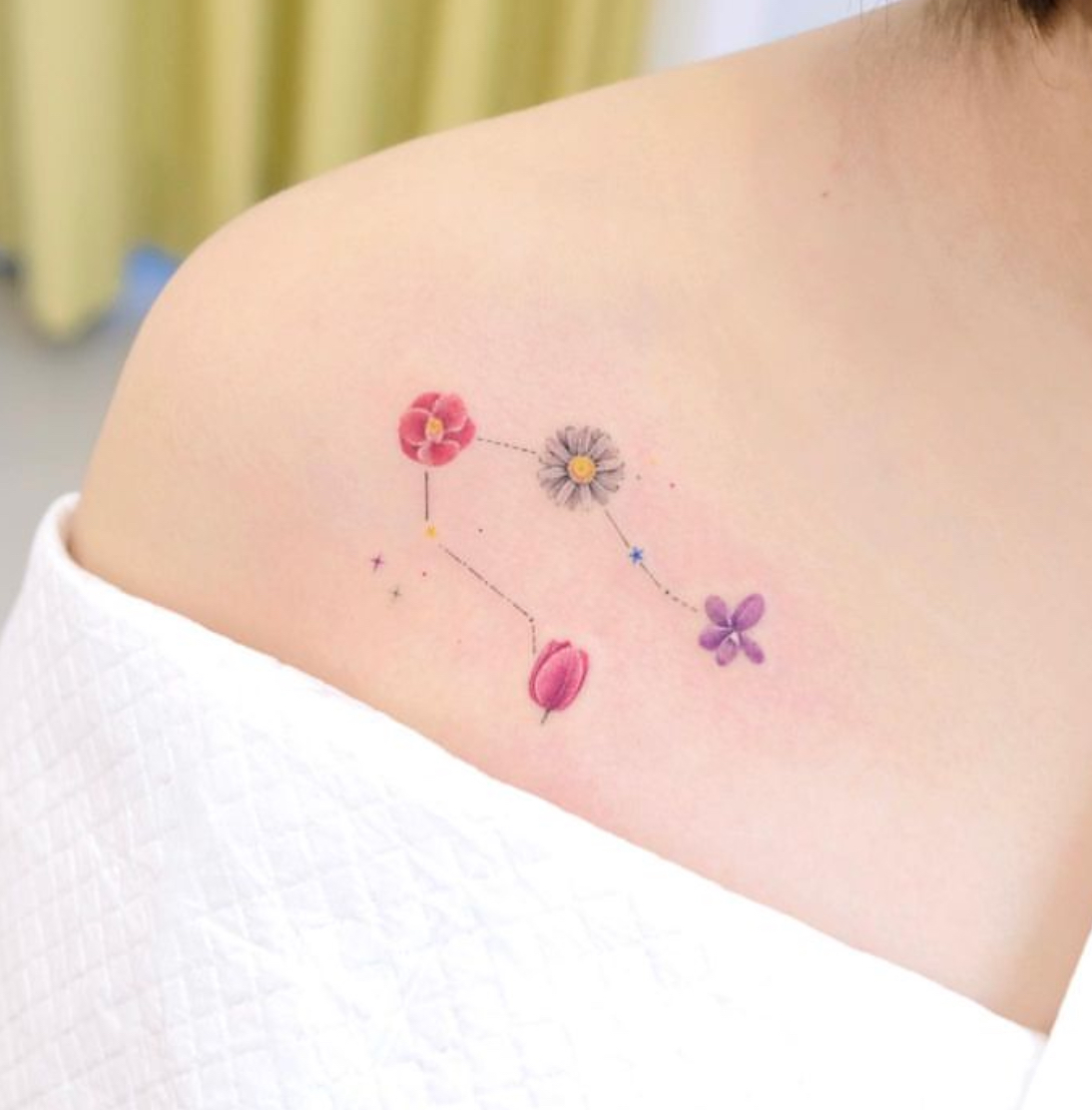 Such a soft way to depict your zodiac sign, this flower constellation feels so gentle.
Ornamental Blackwork Libra Tattoo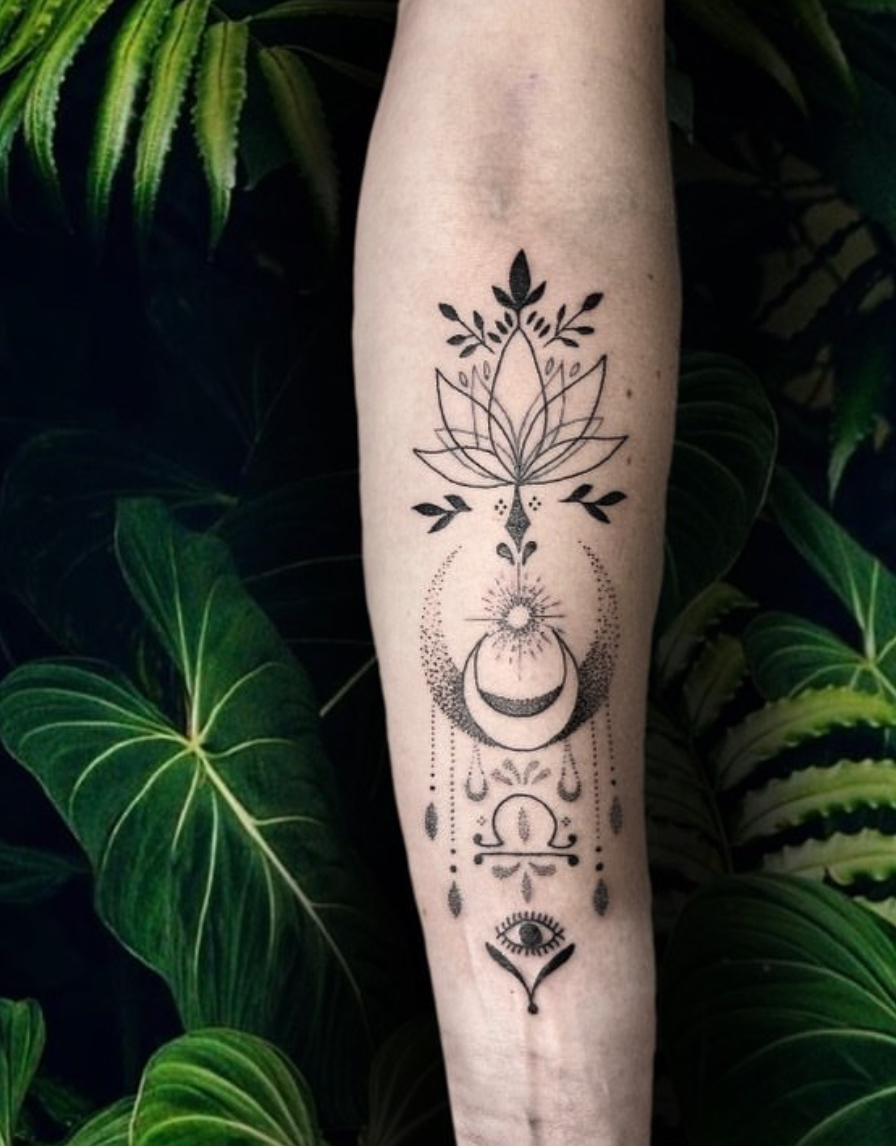 I love this piece. You've got your subtle Libra glyph worked in towards the wrist, and the combination of styles is so eye-catching.
Notice the negative space crescent moon sitting on top of the dotwork crescent moon, with small representations of the scales hanging off.
Libra Combo Tattoo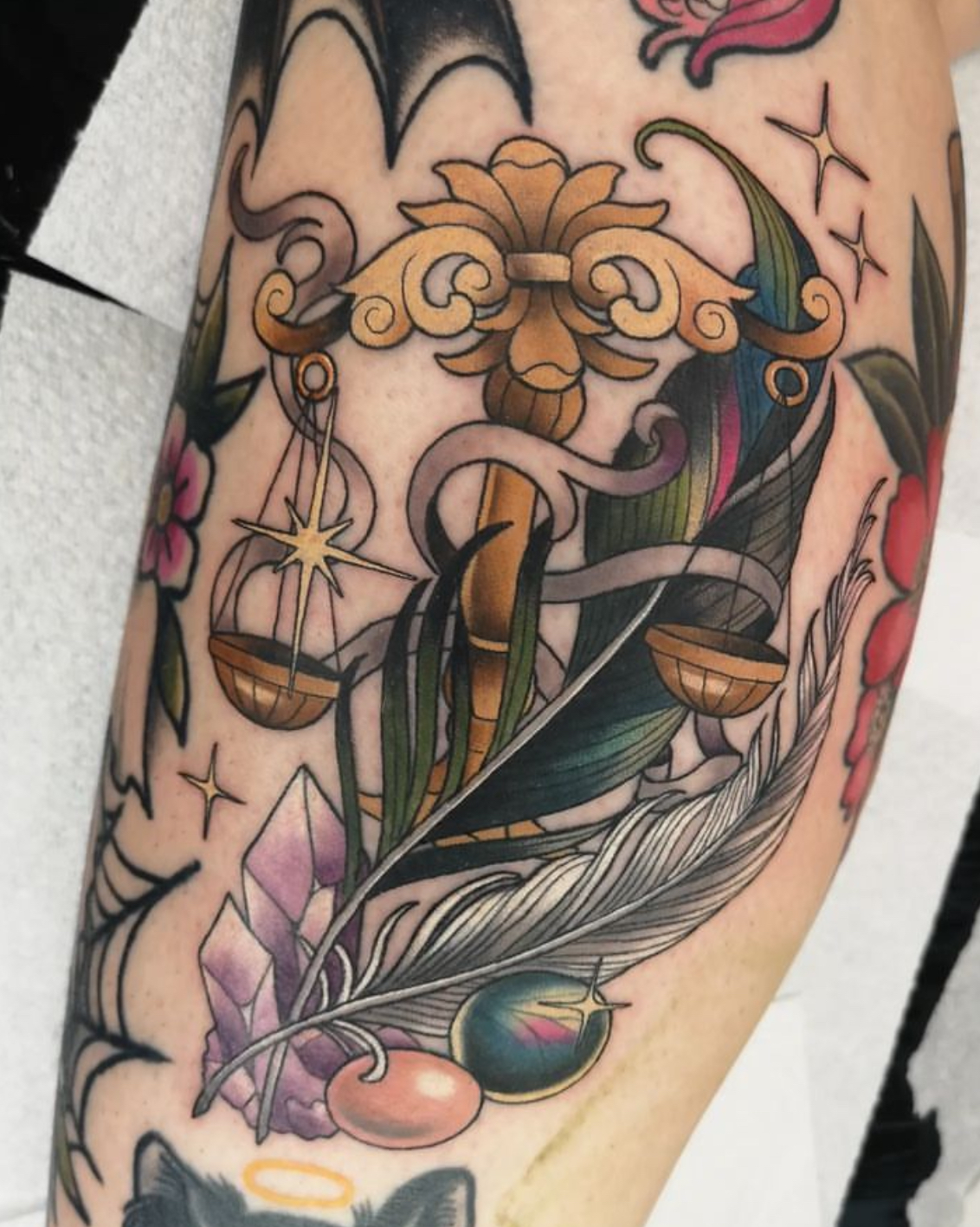 There are a few things going on in this piece, but honestly, I'm here for it.
I enjoy how the feathers are separating so accurately, with the scale working its way through with some extra flourish added.
Geometric Libra Tattoo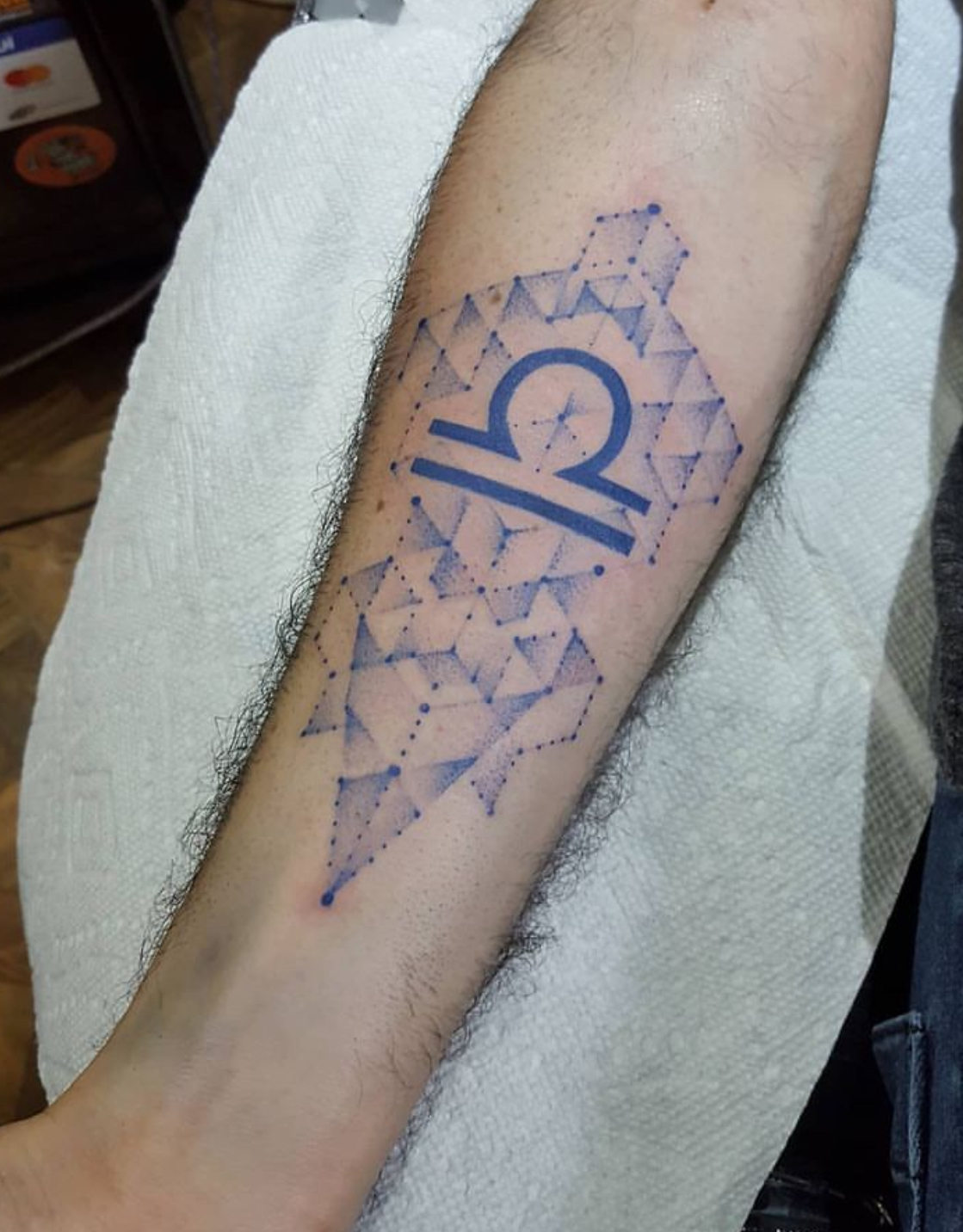 There's a part of me that wants to follow the lines and fold this up in hopes of creating some crazy Libra origami. In lieu of doing that, we can just admire how crazy cool it looks.
Libra Tarot Card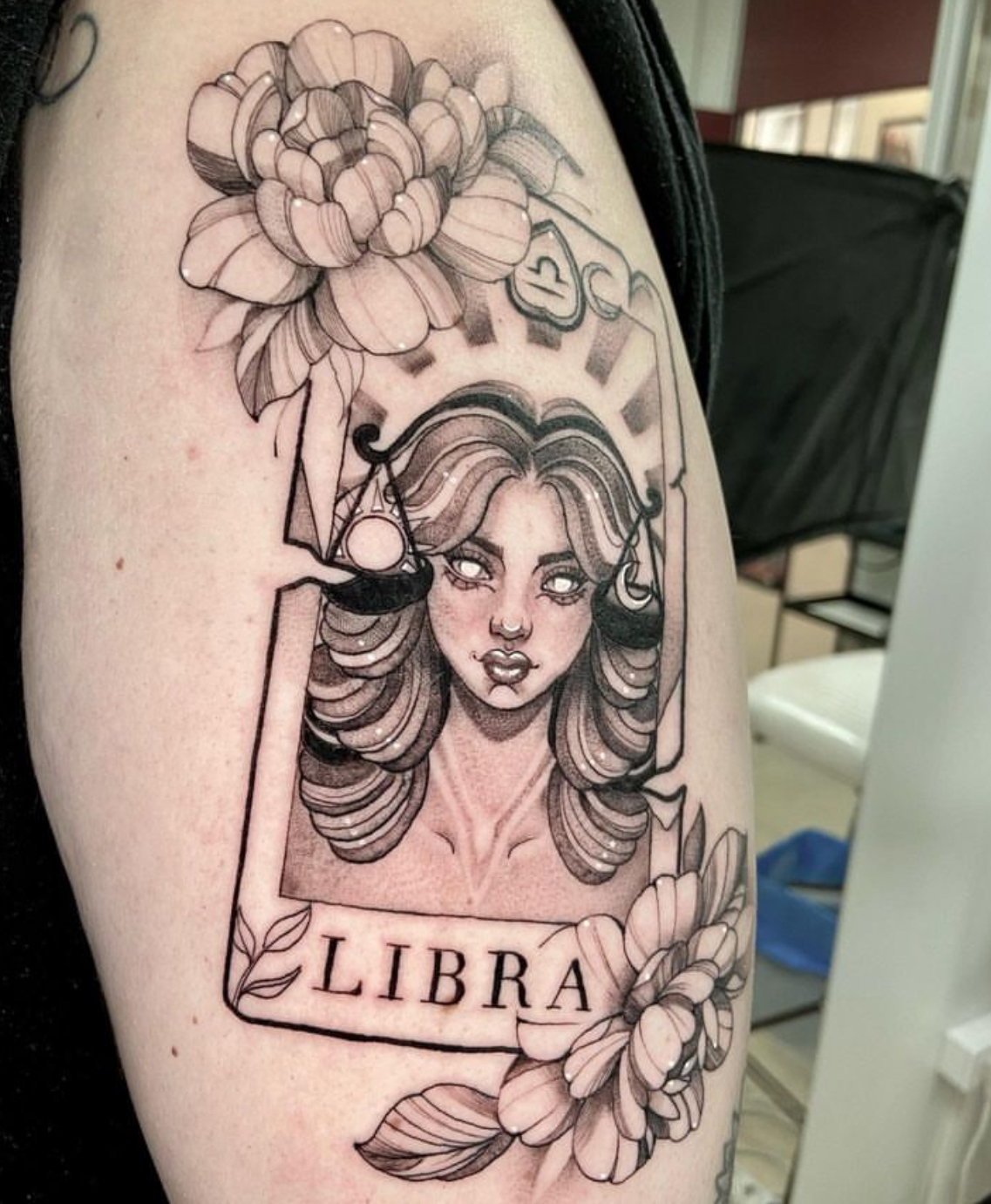 There's something about framed tattoos that feels so balanced and clean, and this is no exception.
If this piques your interest, make sure to go through our tarot card tattoos list!
Libra Rainbow Scale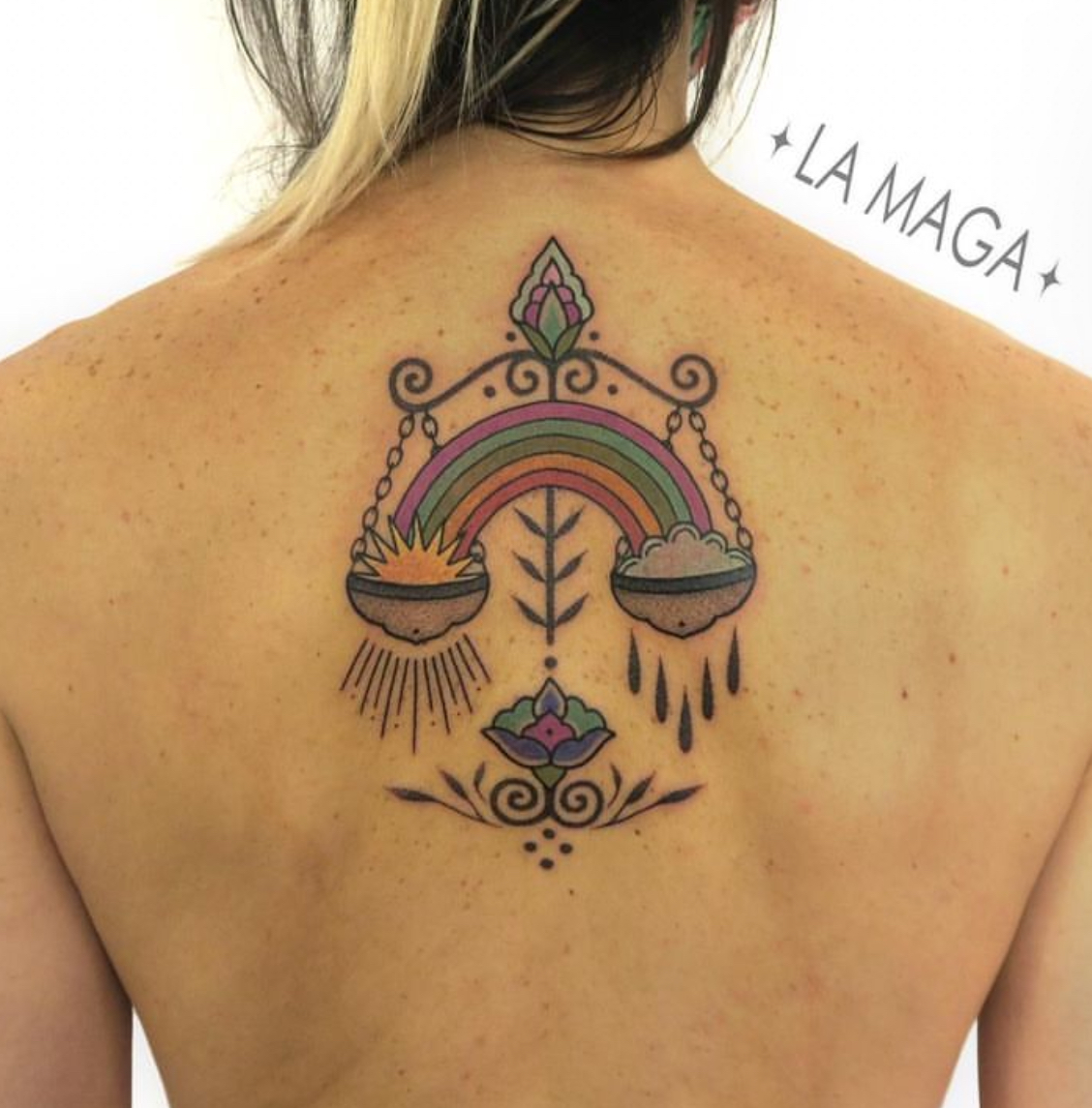 We needed a pop of color, and here it is! A lot of creativity in this piece, resulting in a unique, bright Libra tattoo.
Libra Grape Constellation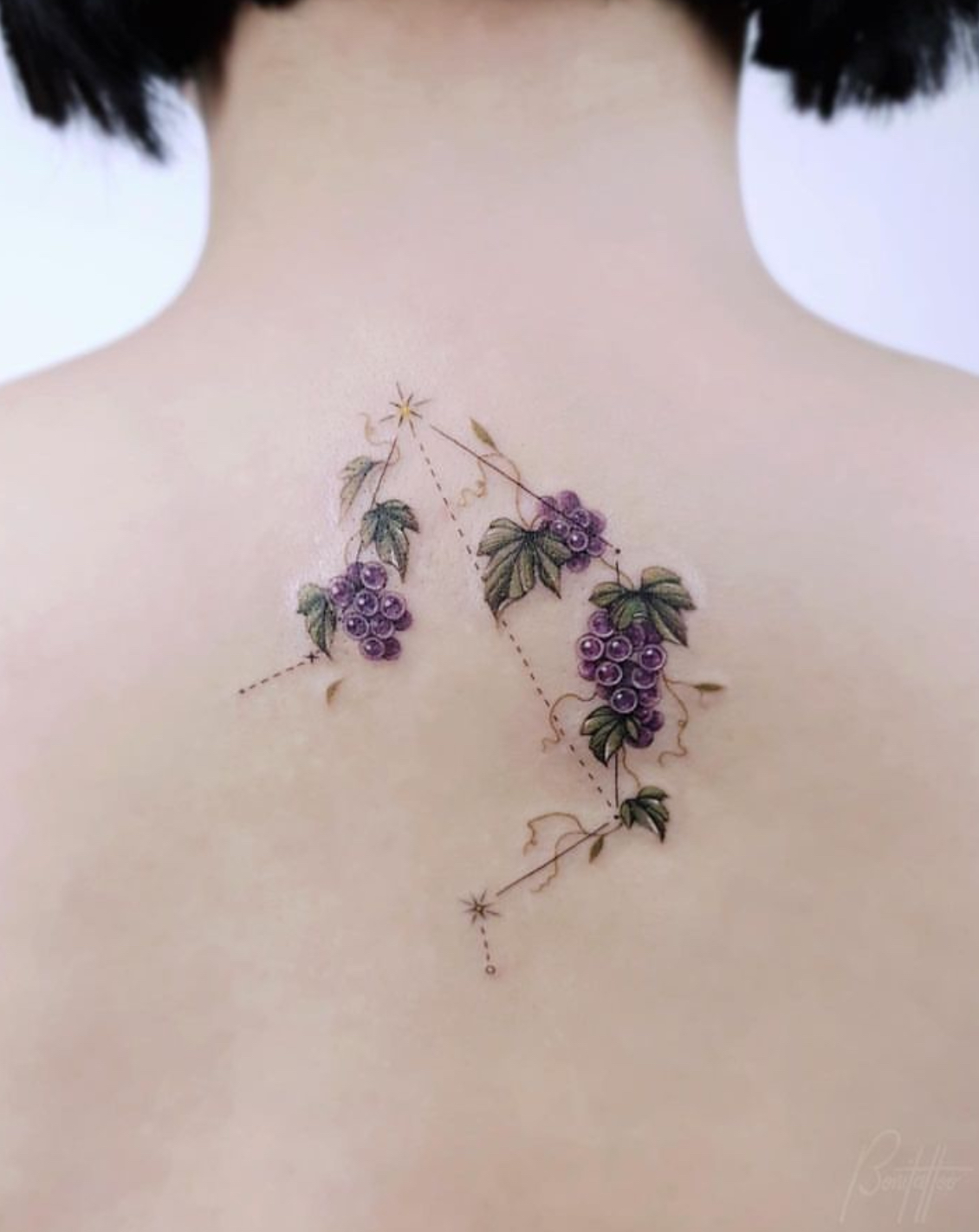 Do you ever see a tattoo and think "I would love to know the story behind that!"
This is one of those for me. It's adorable, simple, and makes me want to have some grapes. But I imagine there's more to it than my hunger.
Libra Shoulder Tattoo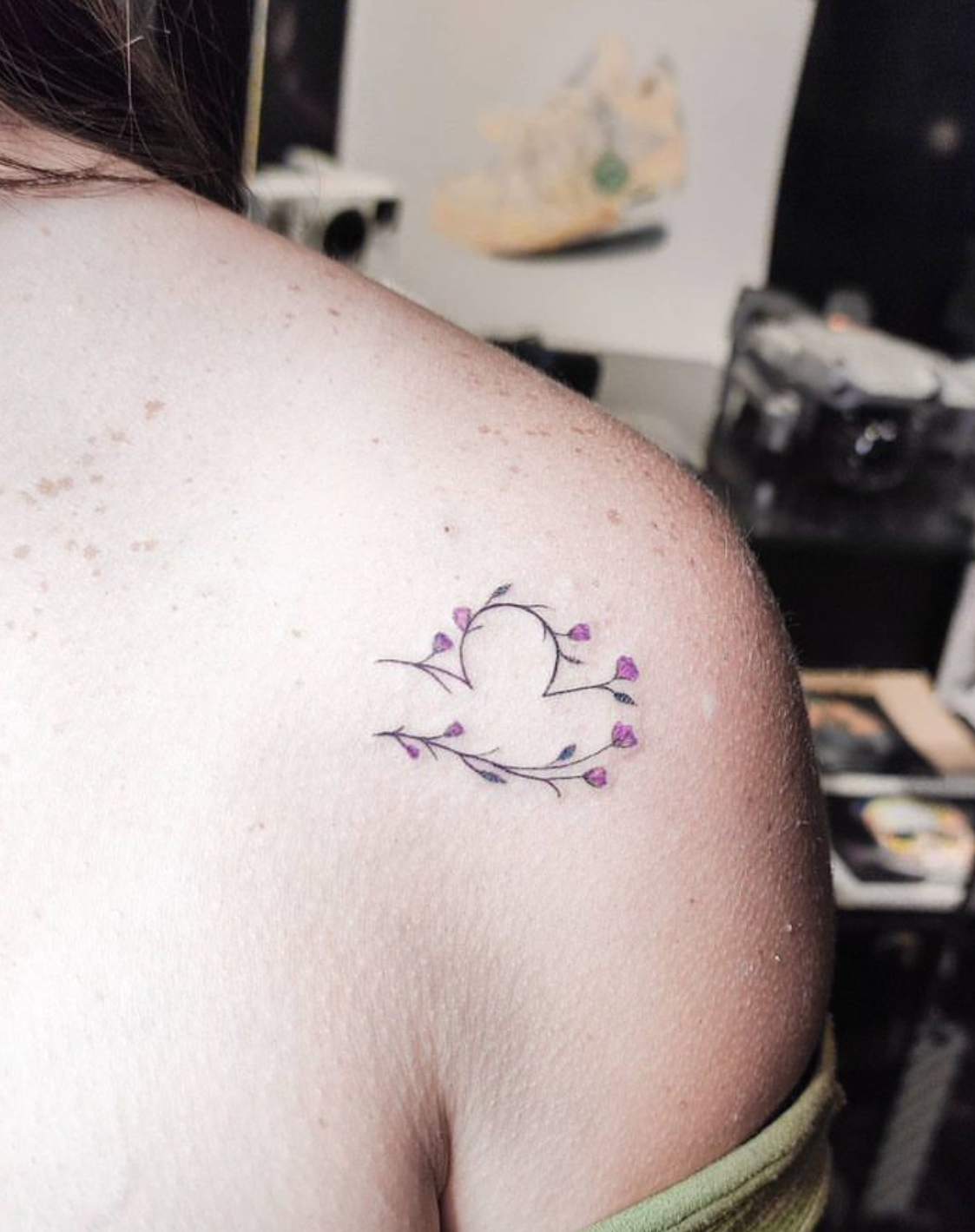 This unassuming little cutie is so charming. The shoulder is a great place for a simple tattoo like this!
Framed Isis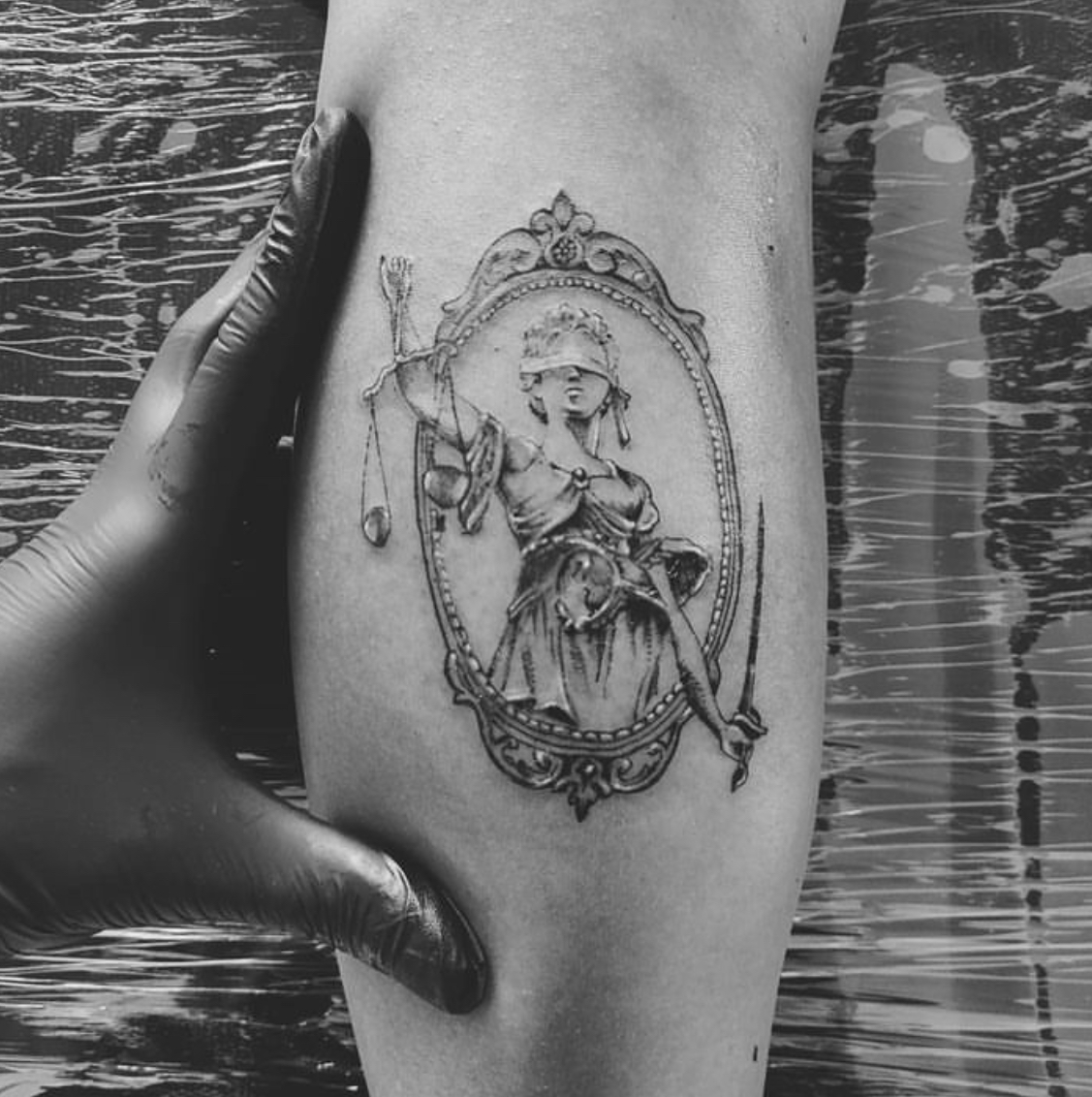 Giving off major renaissance vibes, this tattoo feels fierce. Often Libras are represented by Isis, with her double-edged sword being a symbol of reason and justice.
Even though Libras are typically impartial, I don't think I want to get in her way.
Libra Micro Realism Tattoo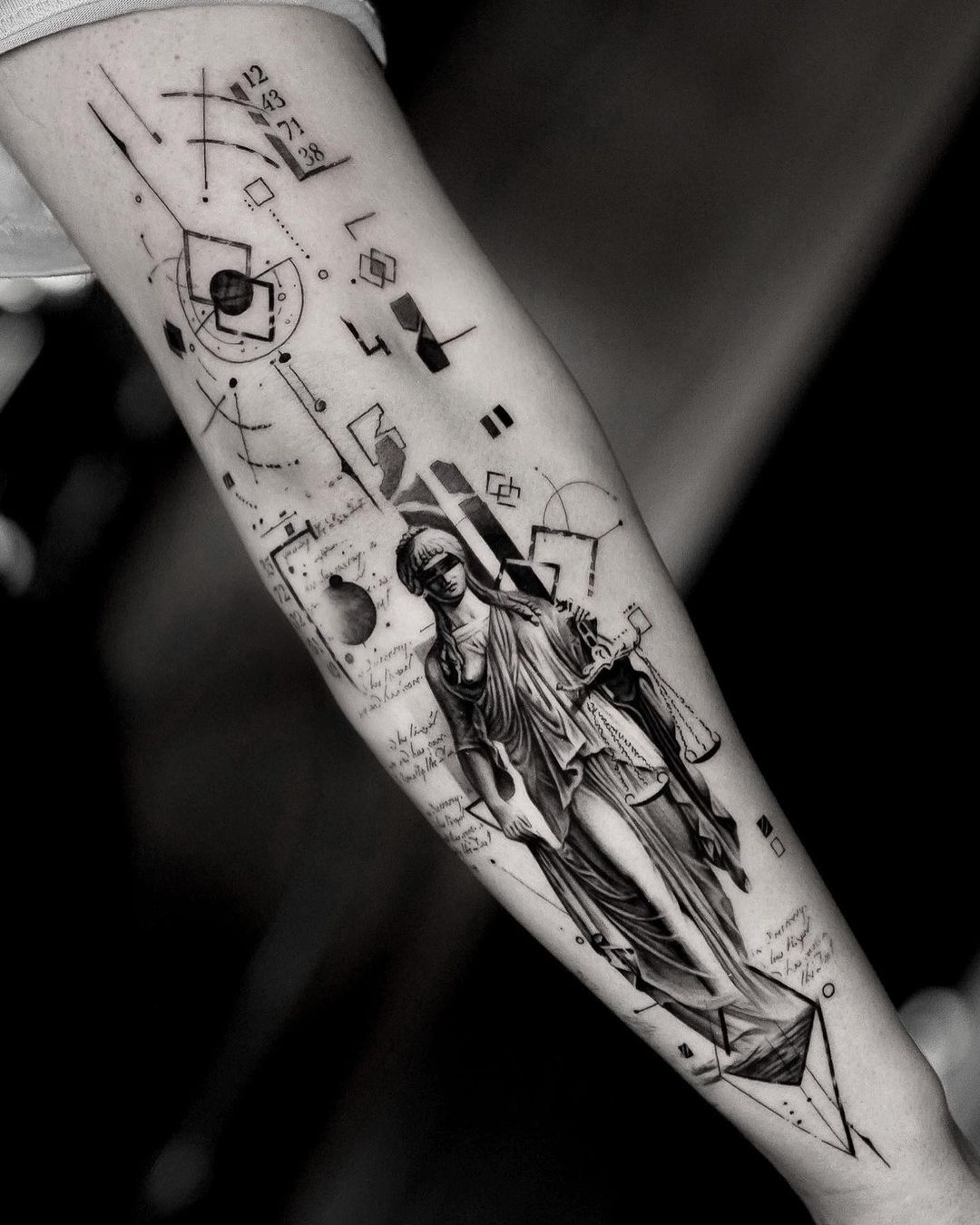 This style is one of my favorites, it feels as though some sort of Da Vinci flying machine will come out at me.
Do yourself a favor and scope out our micro realism tattoos article for more goodness like this.
Simple Libra Glyph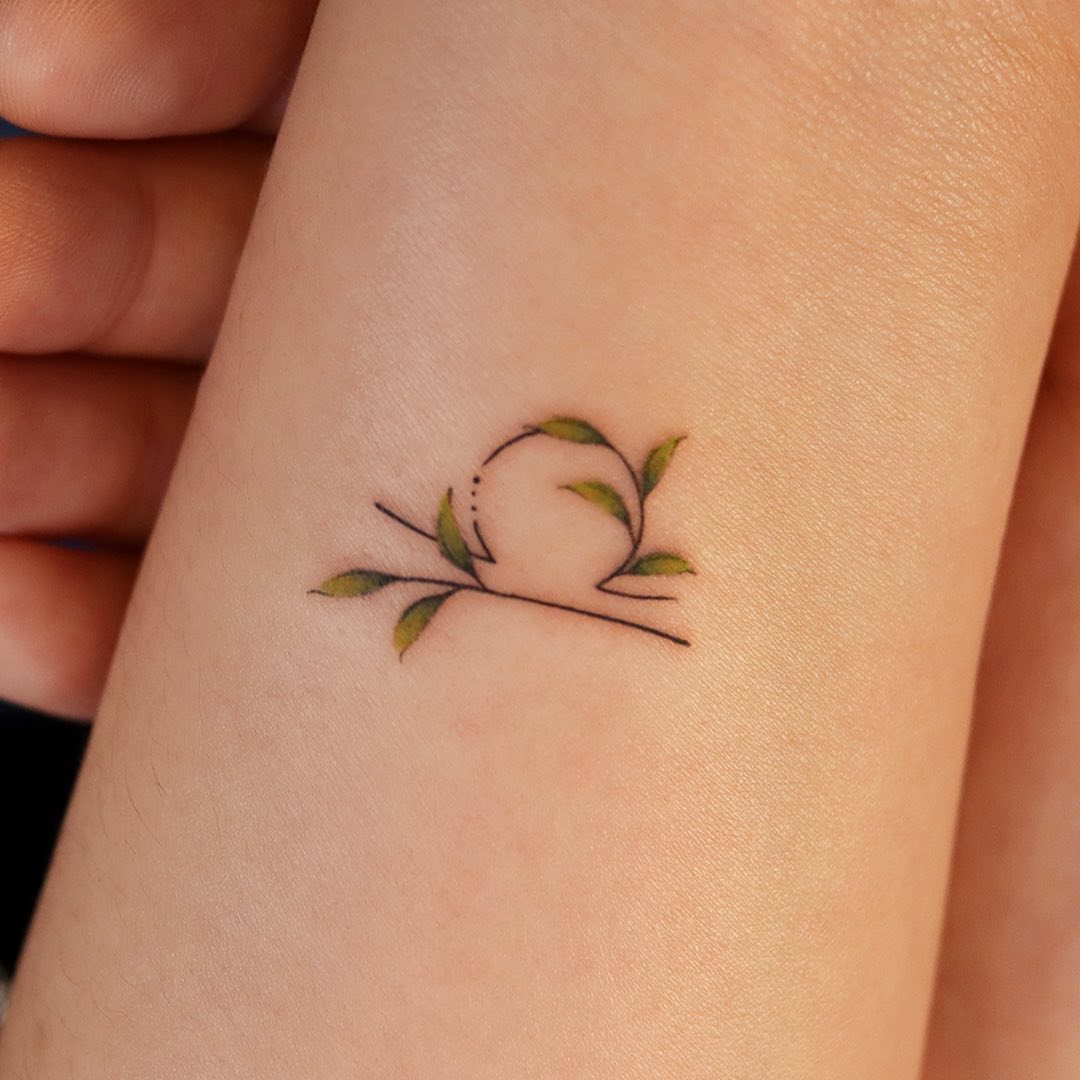 I really love how simple this tattoo is. There's nothing too extravagant about the leaves, and the lines are nice and clean. It feels calm.
Anubis Tattoo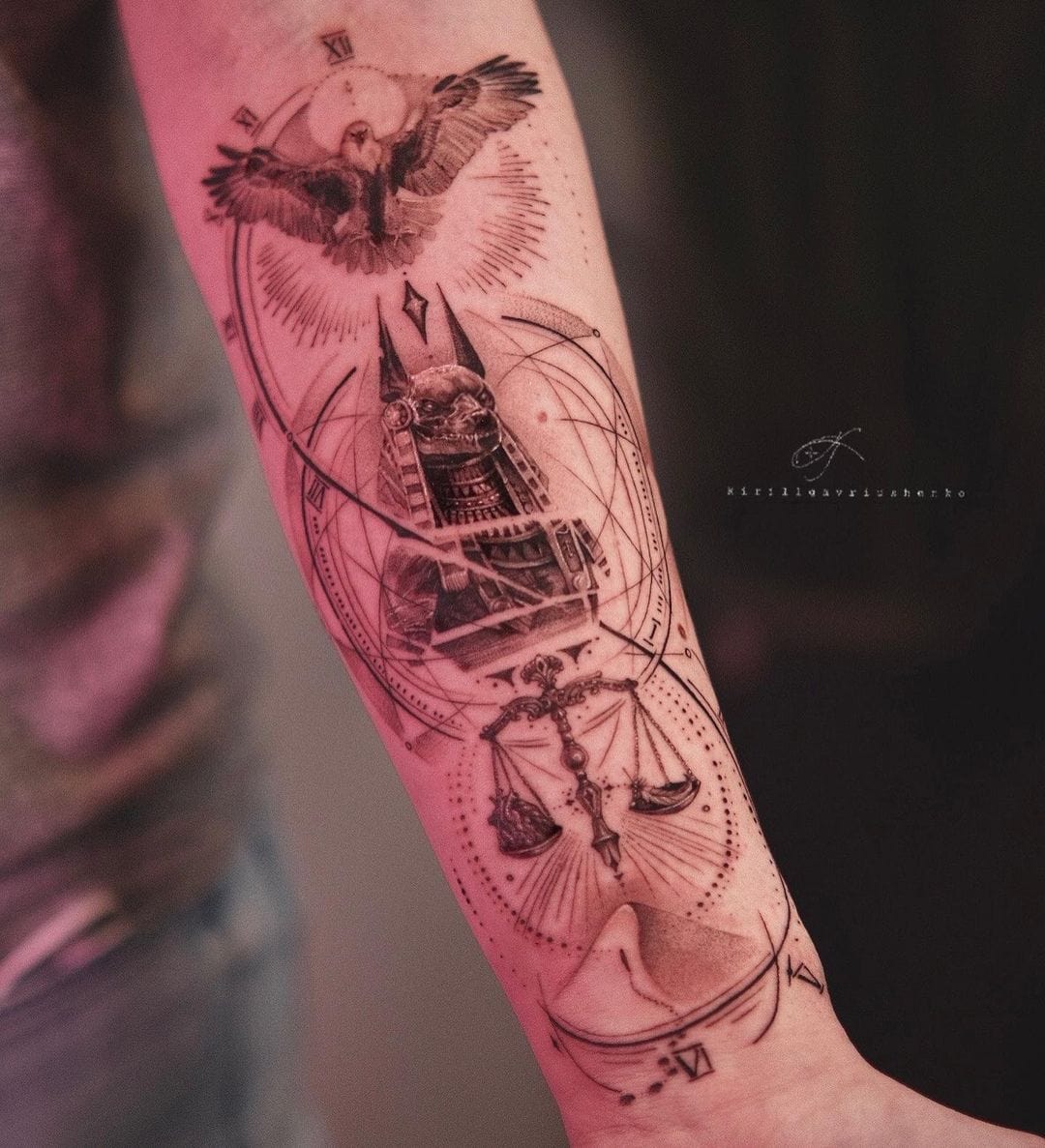 Mildly obsessed with this piece.
Anubis was an Egyptian God tasked with judging souls based on their deeds, and deciding their fate after death. It makes perfect sense to use this imagery in a Libra tattoo.
Lacey Lady Justice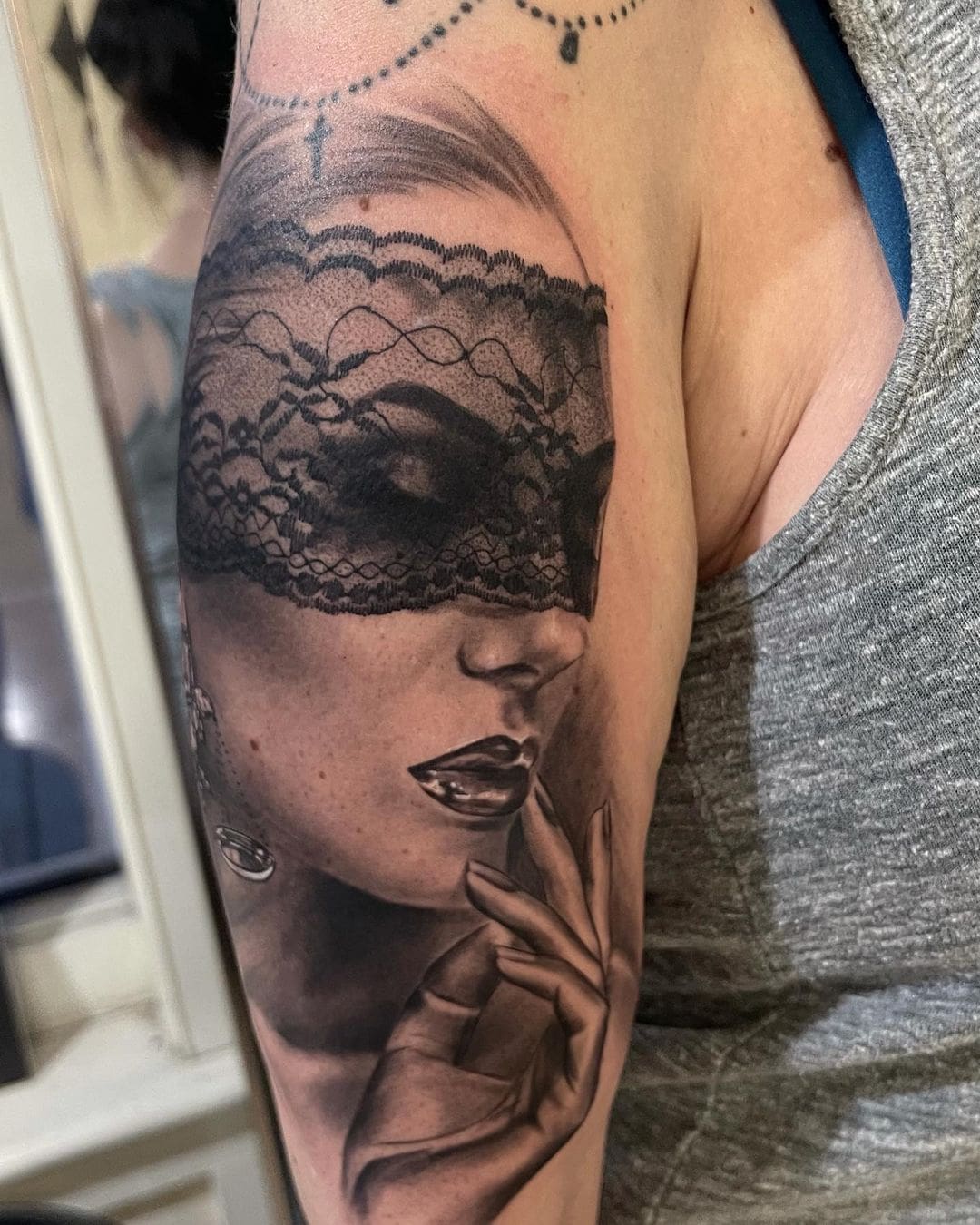 Impartial? Sure. Saucy? DEFINITELY.
This woman's got a story, and we'll wait forever for her to open those eyes and tell it, because you know it'll be good.
Minimal Libra Tattoo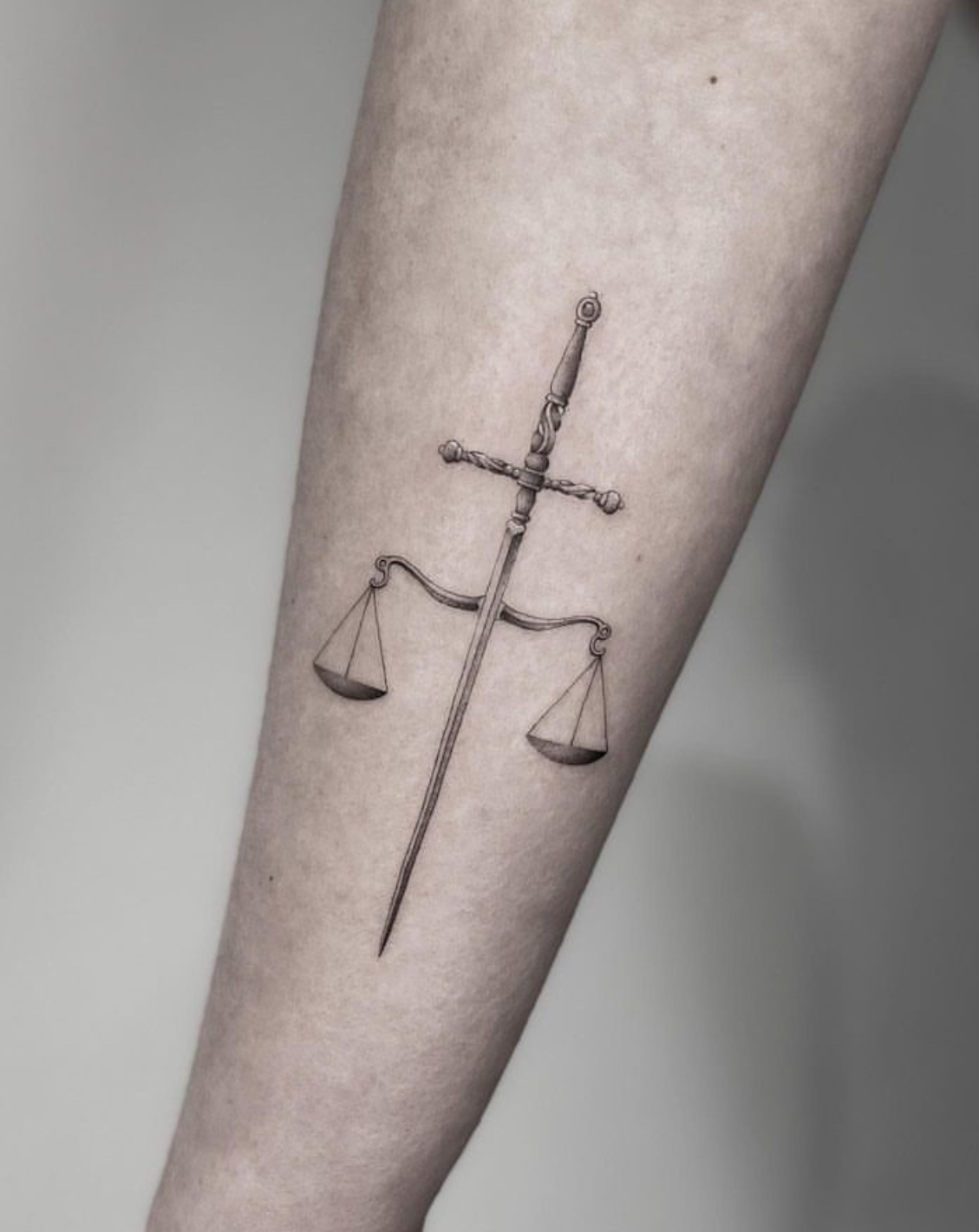 This tattoo is to the point.
GET IT GUYS. TO THE POINT. BECAUSE THERE'S A SWORD.
Ancient Vase Tattoo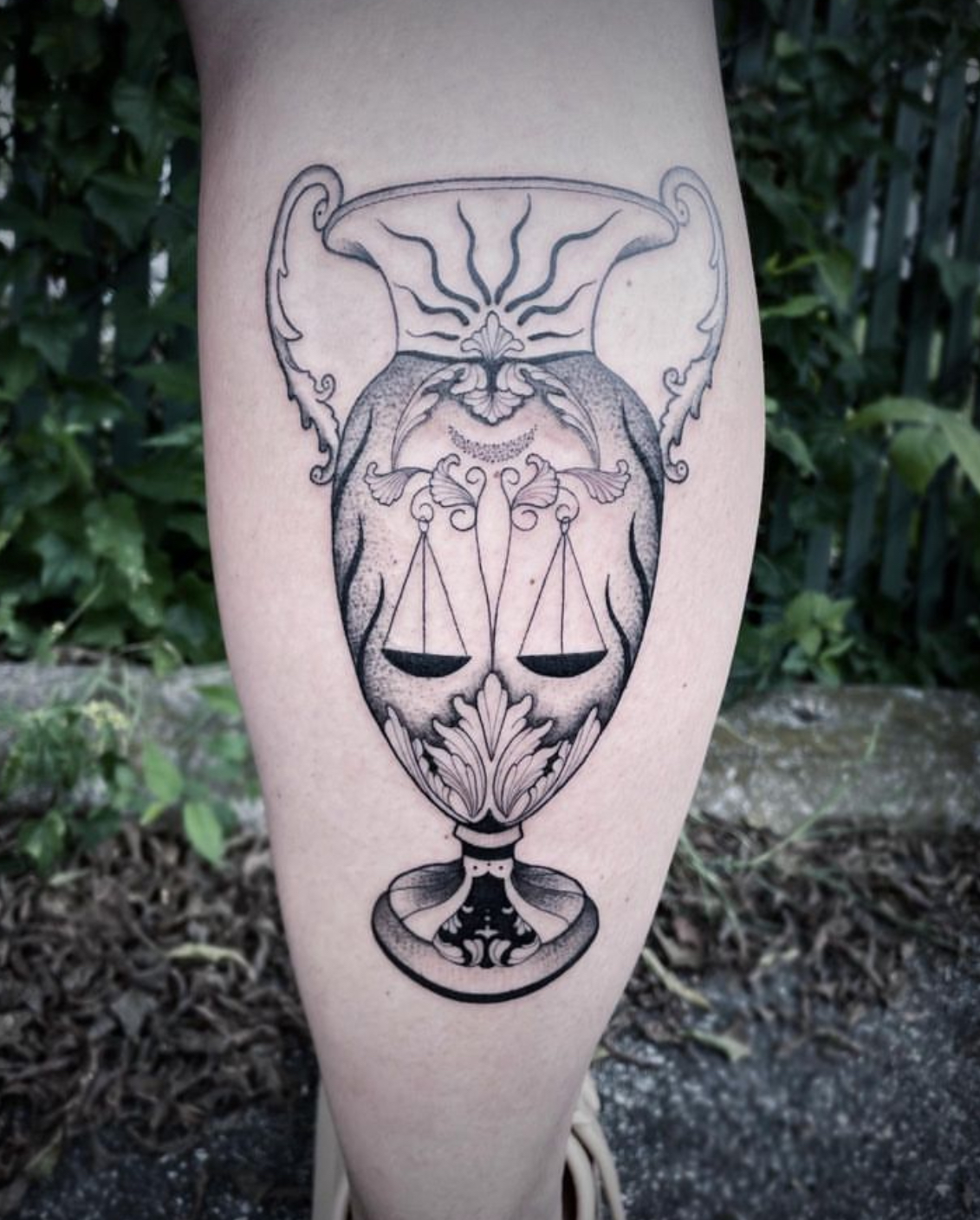 This vase feels ancient, and with the scales and other designs, feels like it's coming from the home of Themis herself.
Eye Of Ra With Scales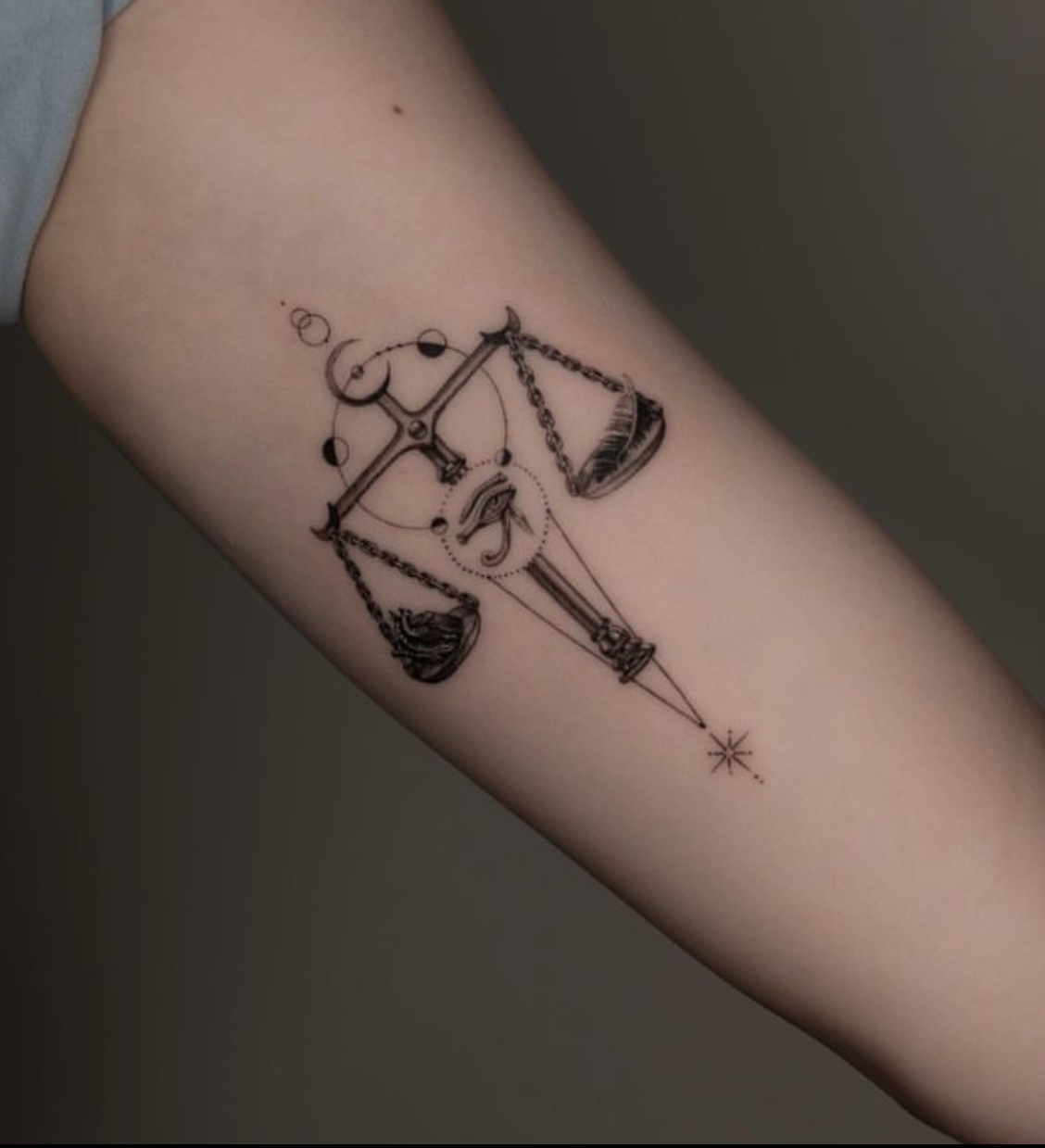 There are a few ways we could interpret the inclusion of the Eye of Ra in this tattoo, balancing out with the Eye of Horus, or being a protector, among others.
Regardless of our uninformed conclusions, it looks fantastic here.
Ornamental Libra Back Tattoo
This dainty ornamental backpiece is beautiful! We're picturing it peeking out of the perfect backless dress, and it's working.
Just be careful with this style, as some of them don't tend to age well.
Summary
This was such an interesting list to create, with so many different interpretations of this zodiac sign. We hope you liked it, let us know!
And be sure to check out our other zodiac sign lists: Virgo, Leo, Cancer, Gemini, Taurus, Pisces, Aries, and Sagittarius.