You know the tattoo is good when people do a double-take. We could argue that when we see a Trash Polka tattoo, this is always the case.
This tattooing style has an infinite number of designs, all of which are classified as body art statements. Simply put, it stands out by combining various elements to create a masterpiece.
Continue reading to learn more about the origins of the Trash Polka tattoo style. Besides, we'll reveal the key elements that make up its classic designs, so let's get started!
Trash polka tattoo ideas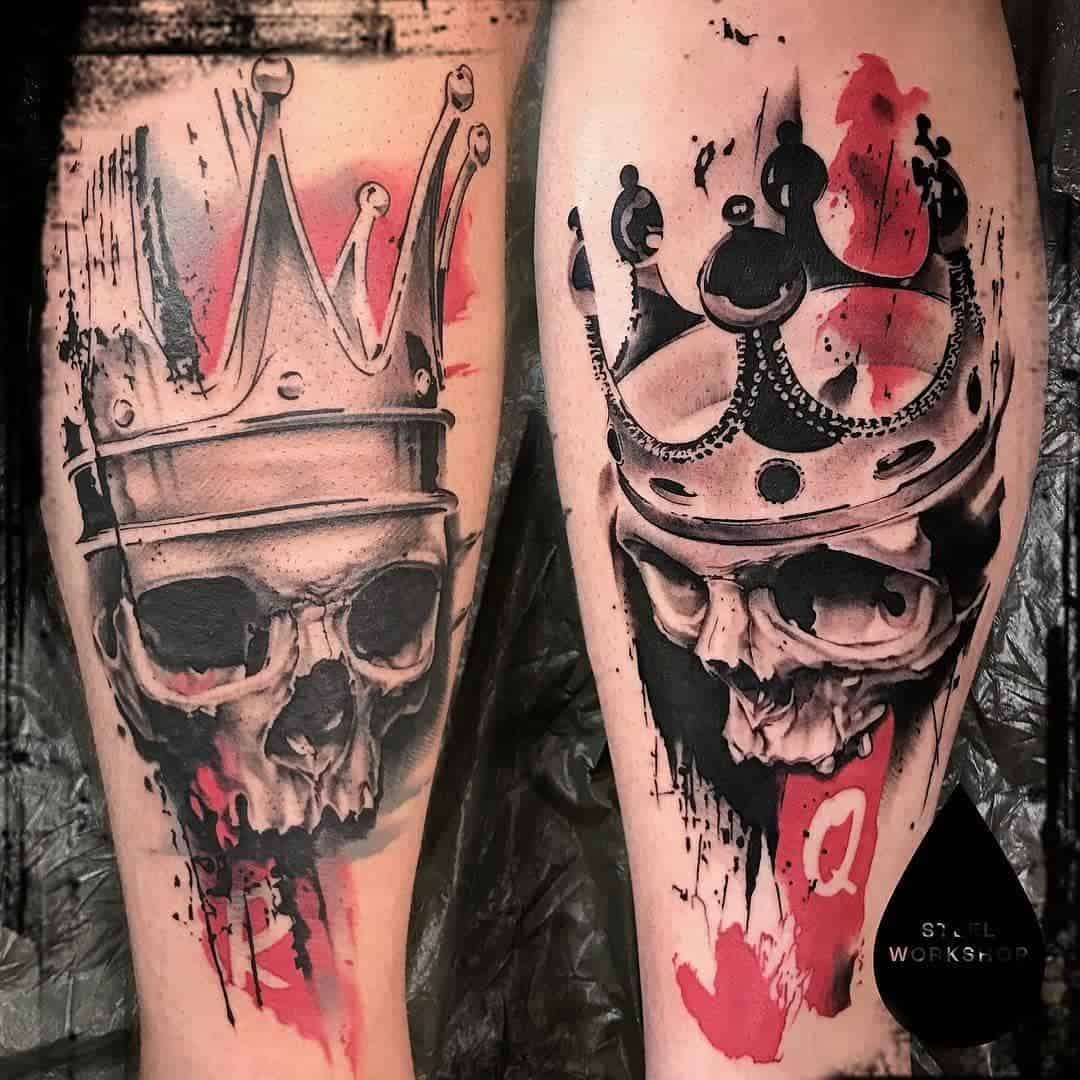 1. Skull with crown
This set of complimenting crown skull tattoos starts the list off strong. Great shading, and those little splashes of red are a perfect match.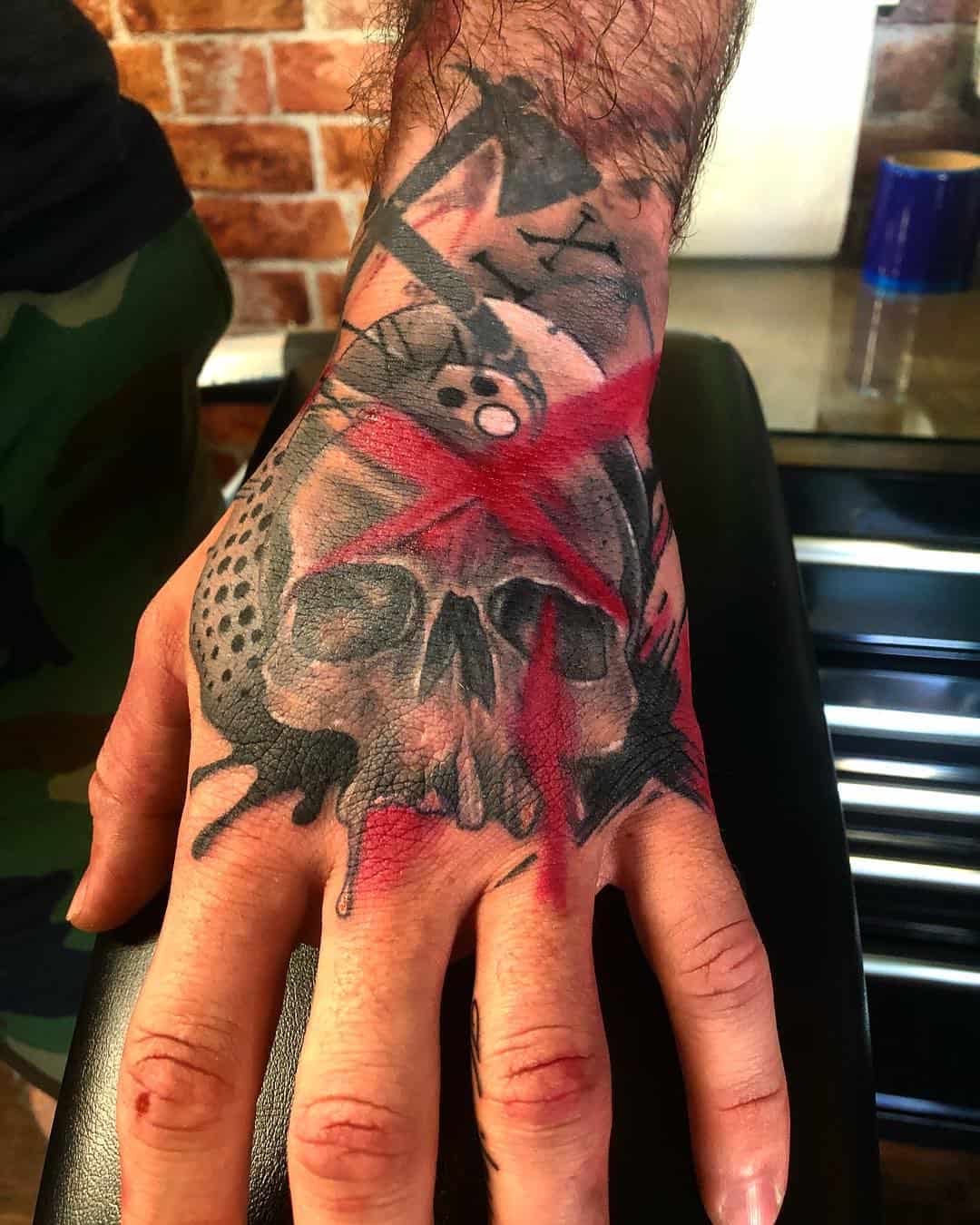 2. Trash Polka Skull Tattoo
We can't put a list like this together without showing off at least one hand tattoo. Similar to the above, we've got a class skull design, but this one looks straight ahead.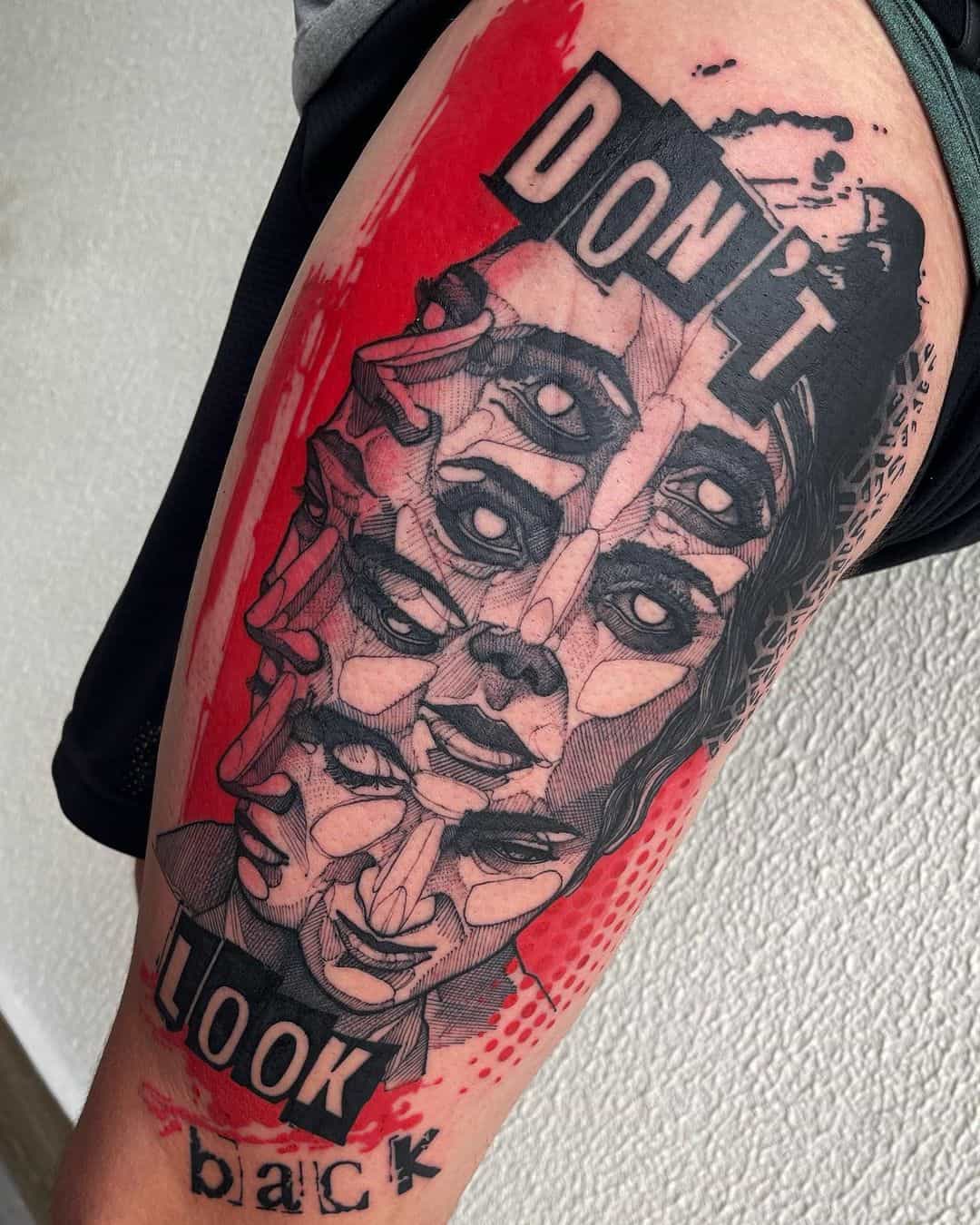 3. Optical illusion face tattoo
I had to do a double take the first time I saw this. The faces in this design all flow into each other, and the red ink acts as a frame for the whole thing.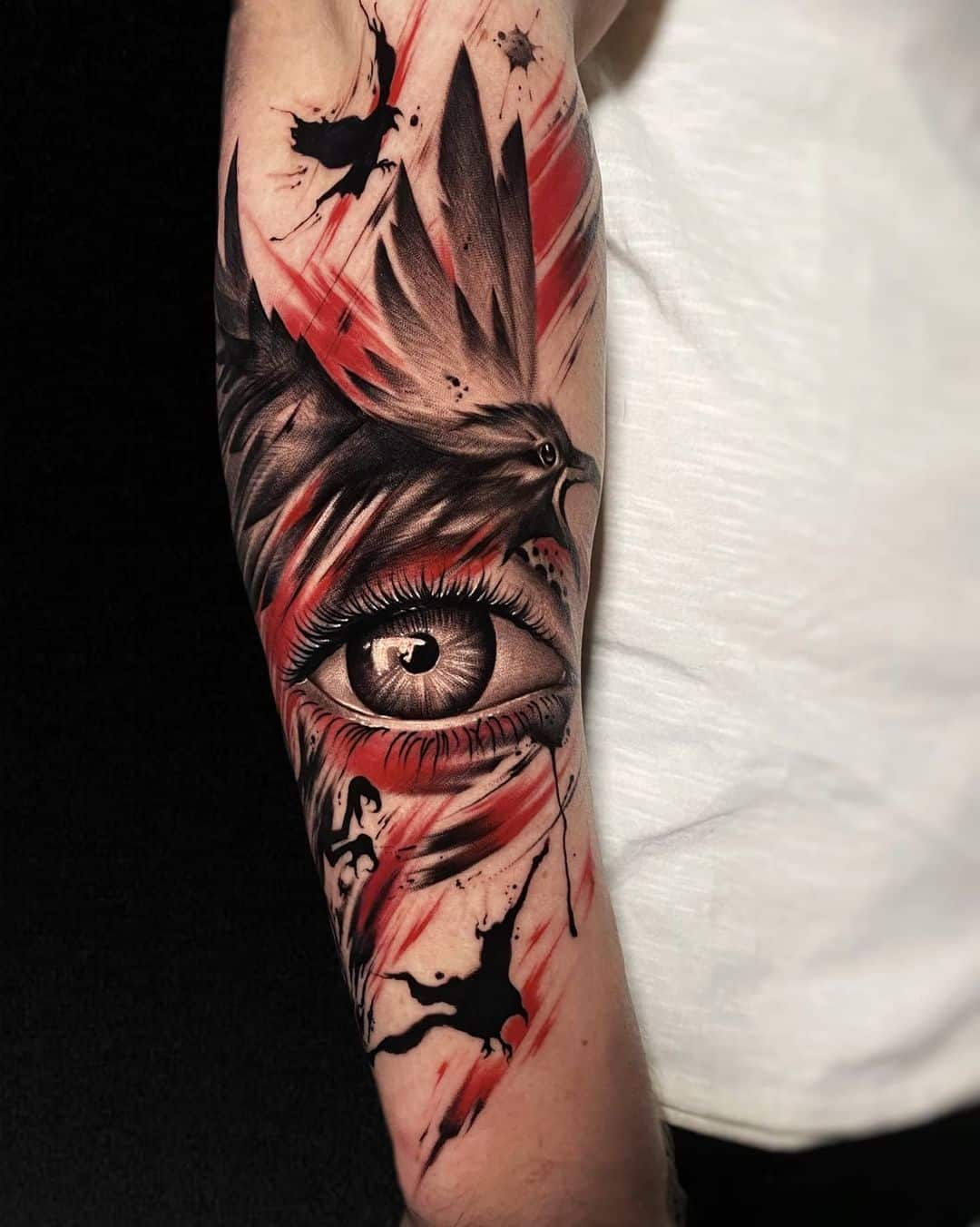 4. Trash Polka Bird Tattoo
What is it about well-done eye tattoos that make them so satisfying? It's probably because I can't draw them myself, so they always stand out the most to me.
This bird tattoo design embodies the trash polka style perfectly with its heavy use of red and dynamic composition.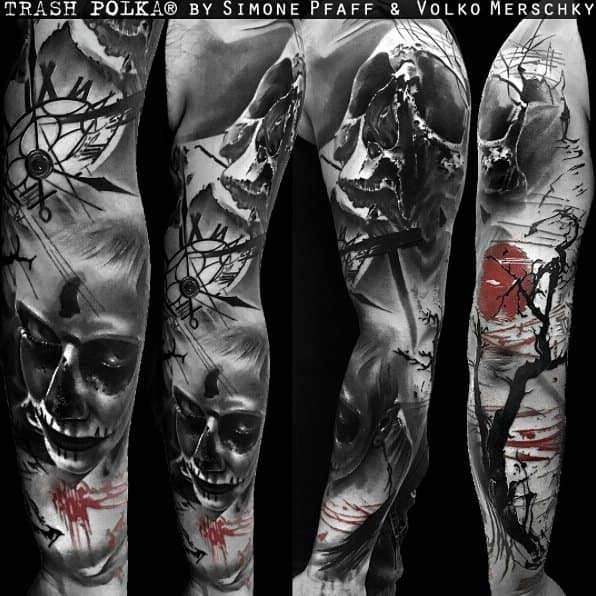 5. Creepy face tattoo
A key component of a trash polka tattoo is how much red ink is used in the design. This tattoo stood out to me since it uses much less red than other designs, instead leaning into its highly detailed, monochrome characteristics.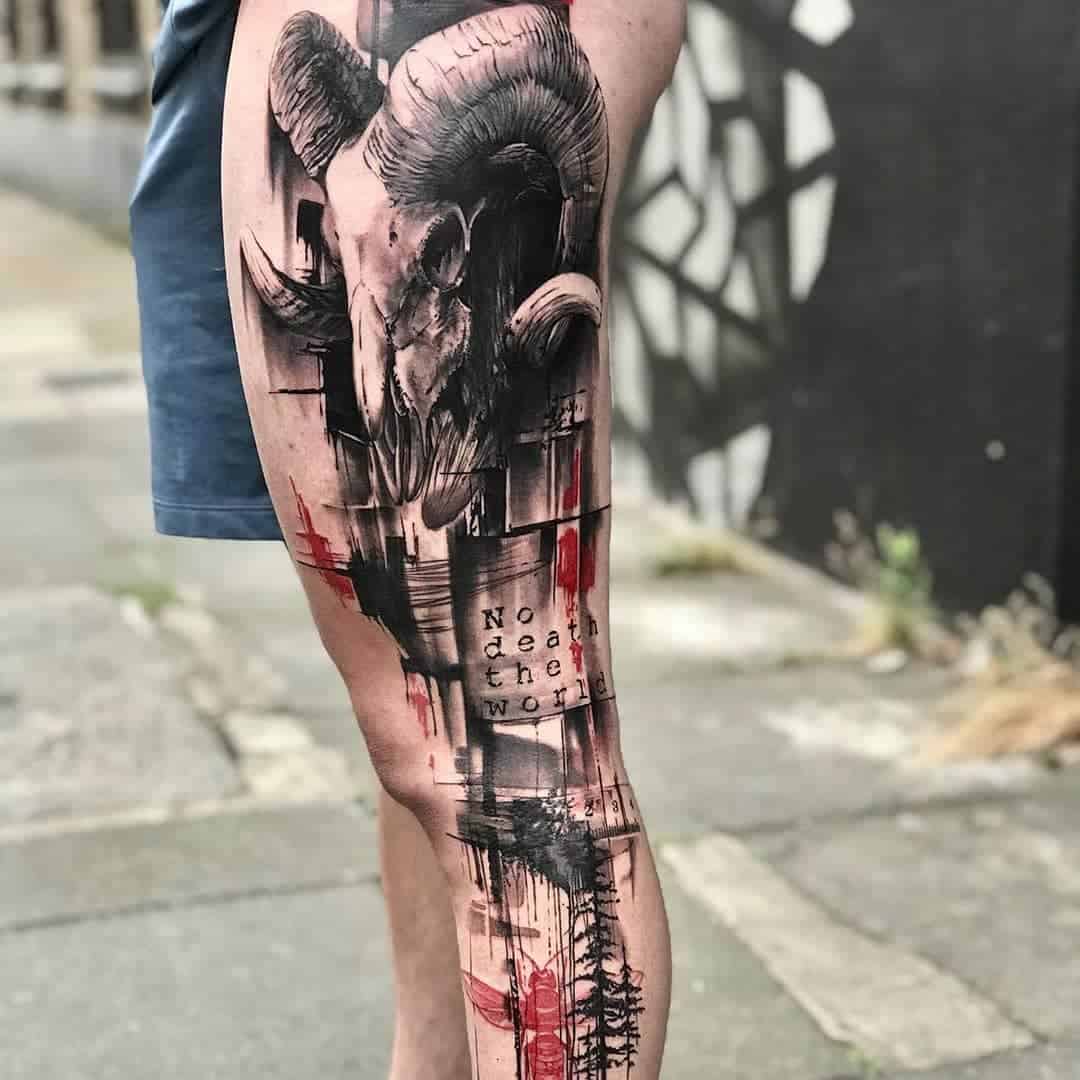 6. Detailed animal skull
I love the contrast between the organic lines of the animal skull, mixed with the straight horizontal and vertical lines for the rest of the design. Mix in some typography and splashes of red, and we've got a great-looking trash polka tattoo.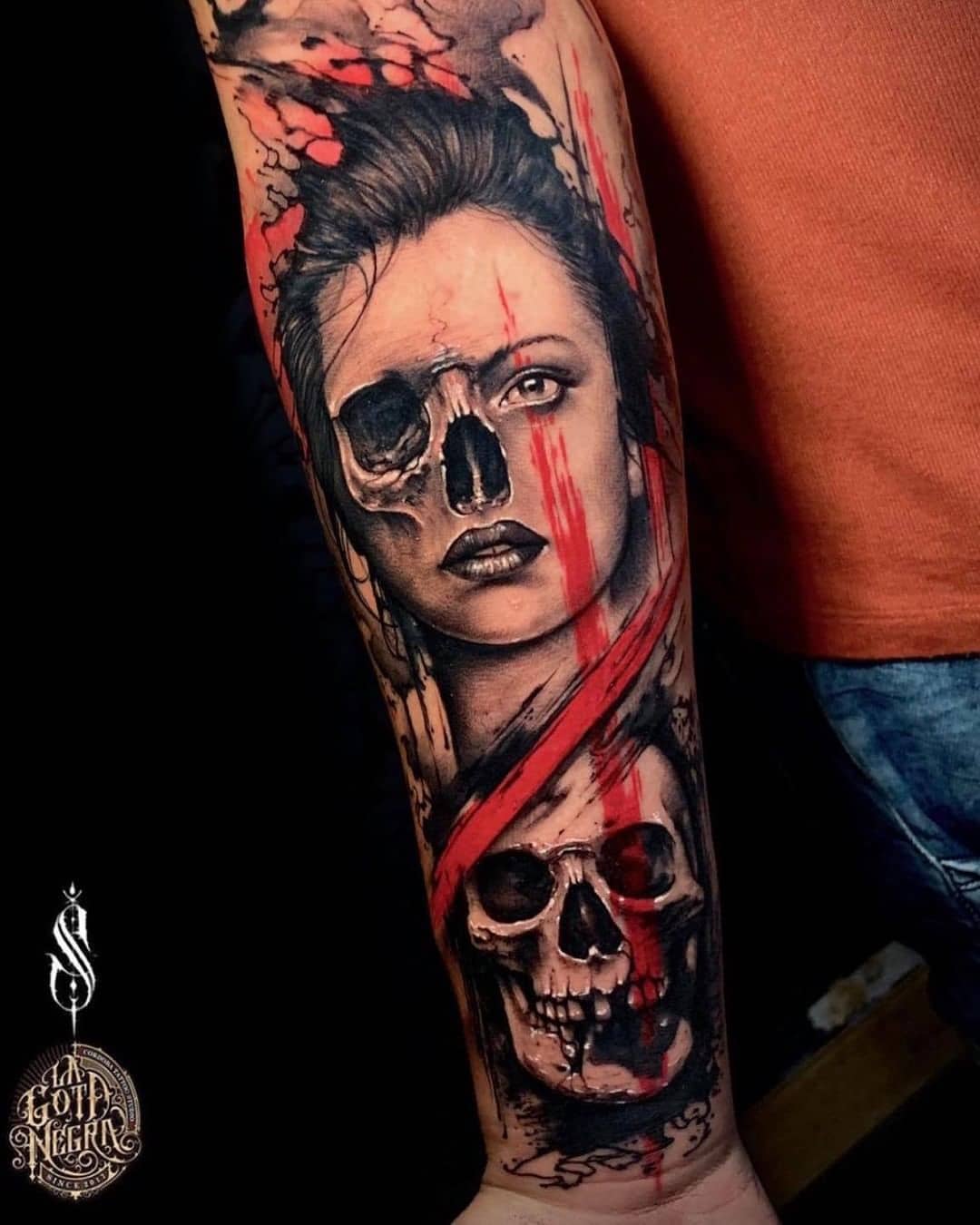 7. Vertical face to skull
We've got quite the composition here with a woman's face showing a bit of skull behind. I like this vertical layout on their forearm, making great use of the space available.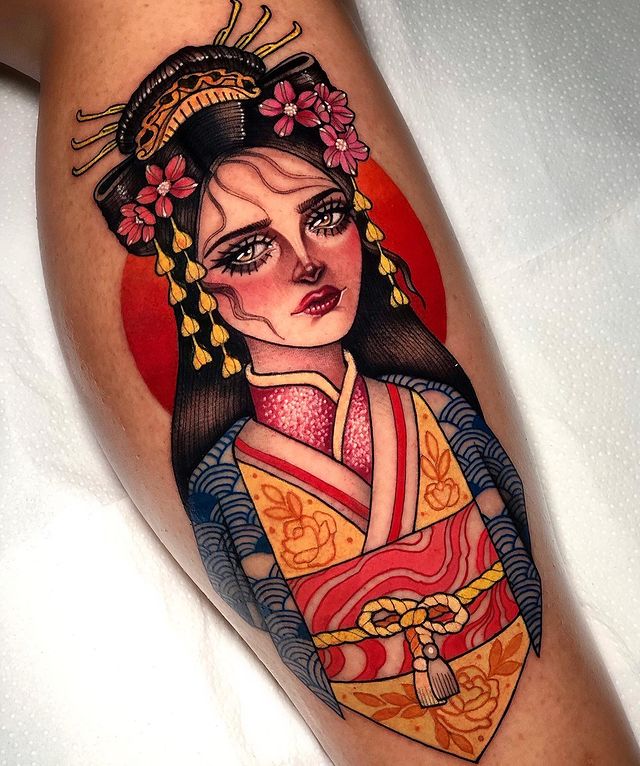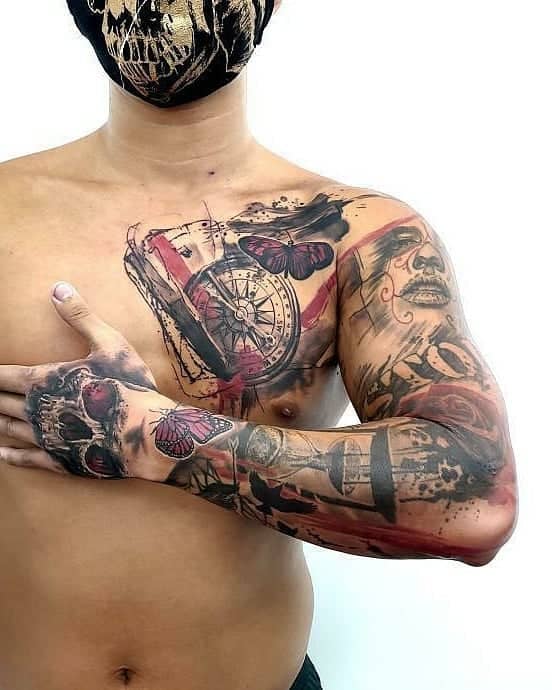 8. Full sleeve layout
I had to include a larger design on this list, and this fit in perfectly. There is a ton of interesting things happening in this design, with key elements being time and the butterfly.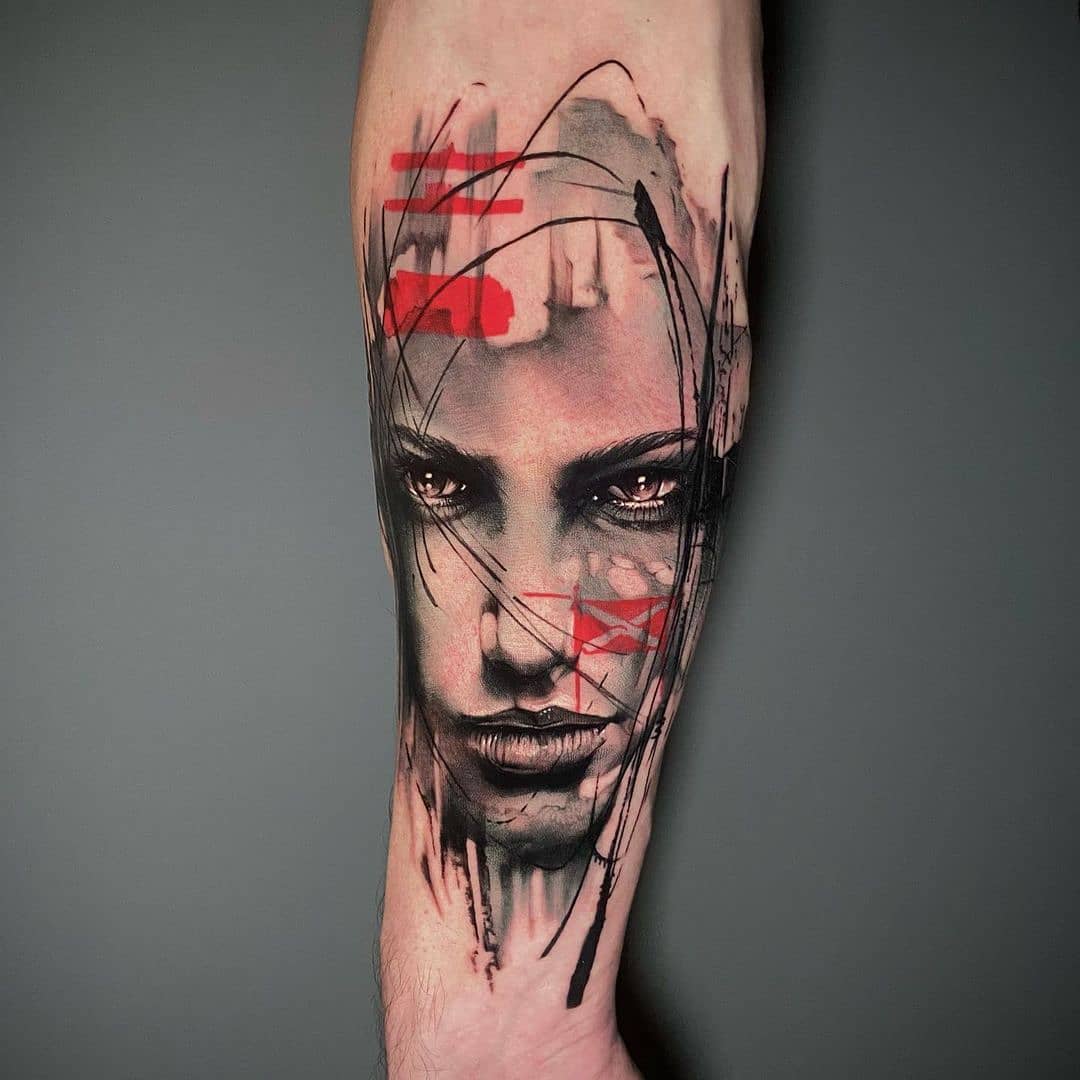 9. Highly detailed woman
I mean, look at the detail on this thing.
If I were to get a tattoo in this style, I'd be looking at something similar to this. The design uses red carefully, and the insane detail on her face makes this my favorite on the list.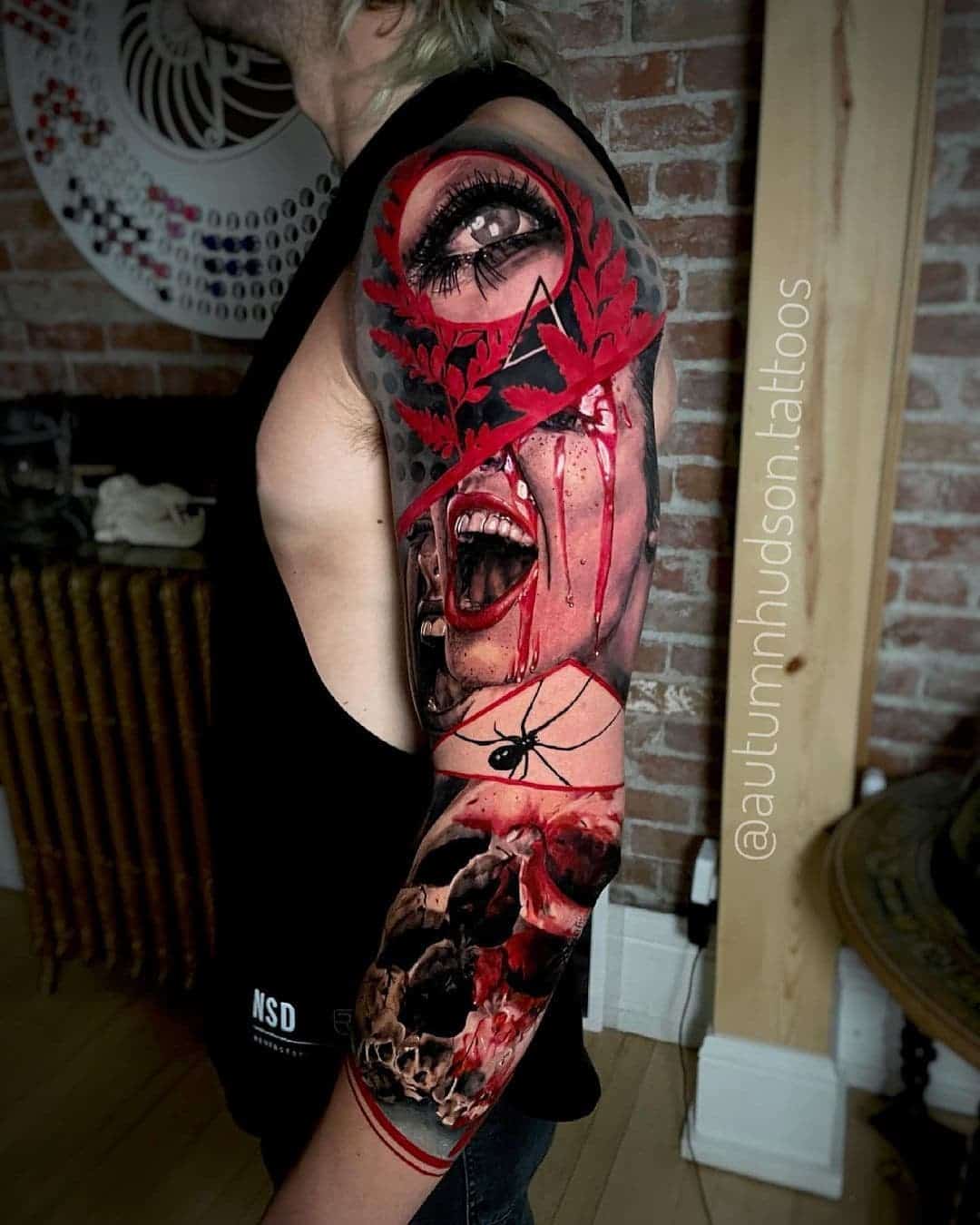 10. Horror sleeve
What kind of a list would this be without some sort of horrifying design? A bad one.
This tattoo fits that criteria perfectly with a screaming portrait and blood tears.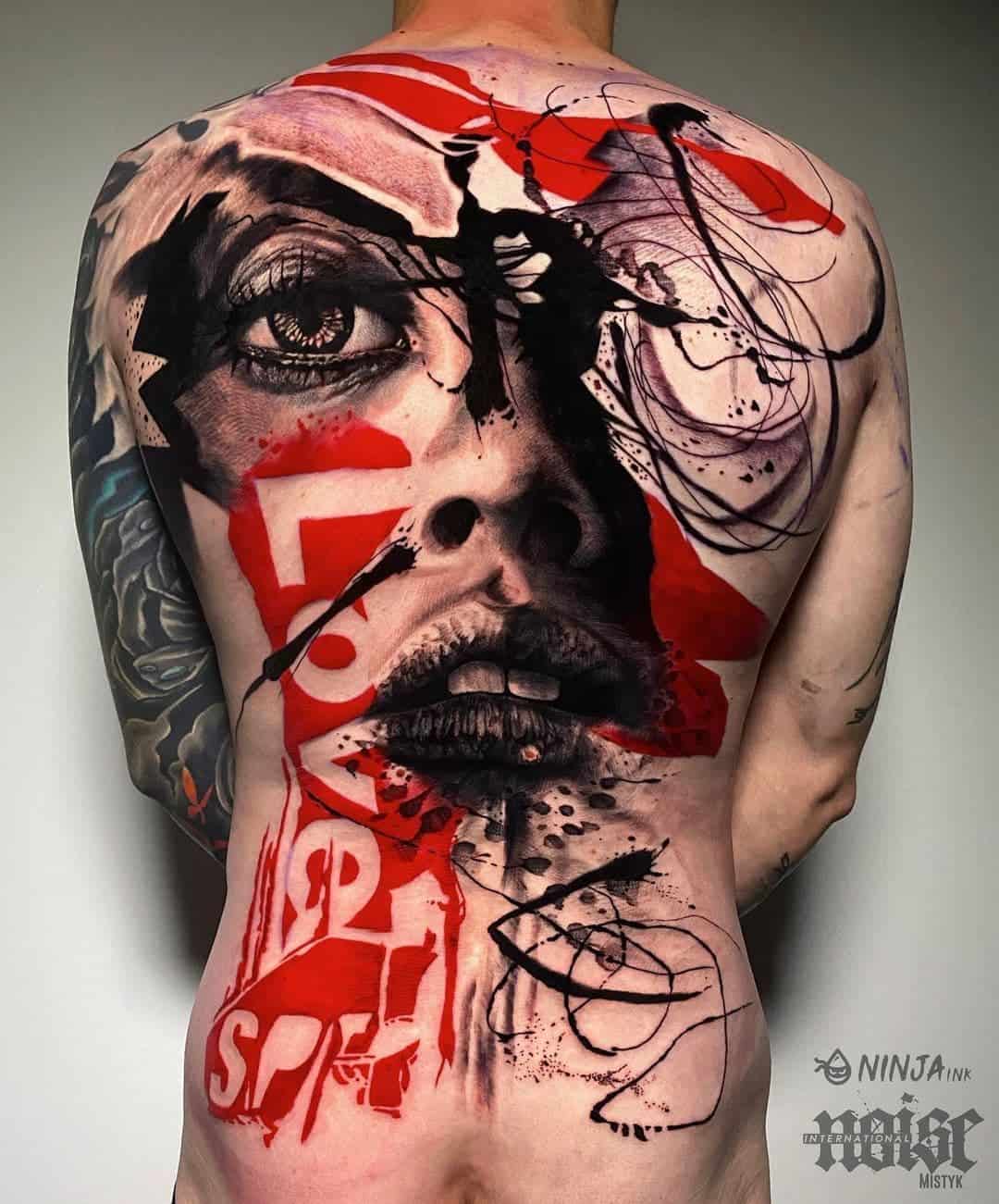 11. Full back piece
That right there is a lof ink. Faces don't get much larger than that, and the big piece of text compliments this well.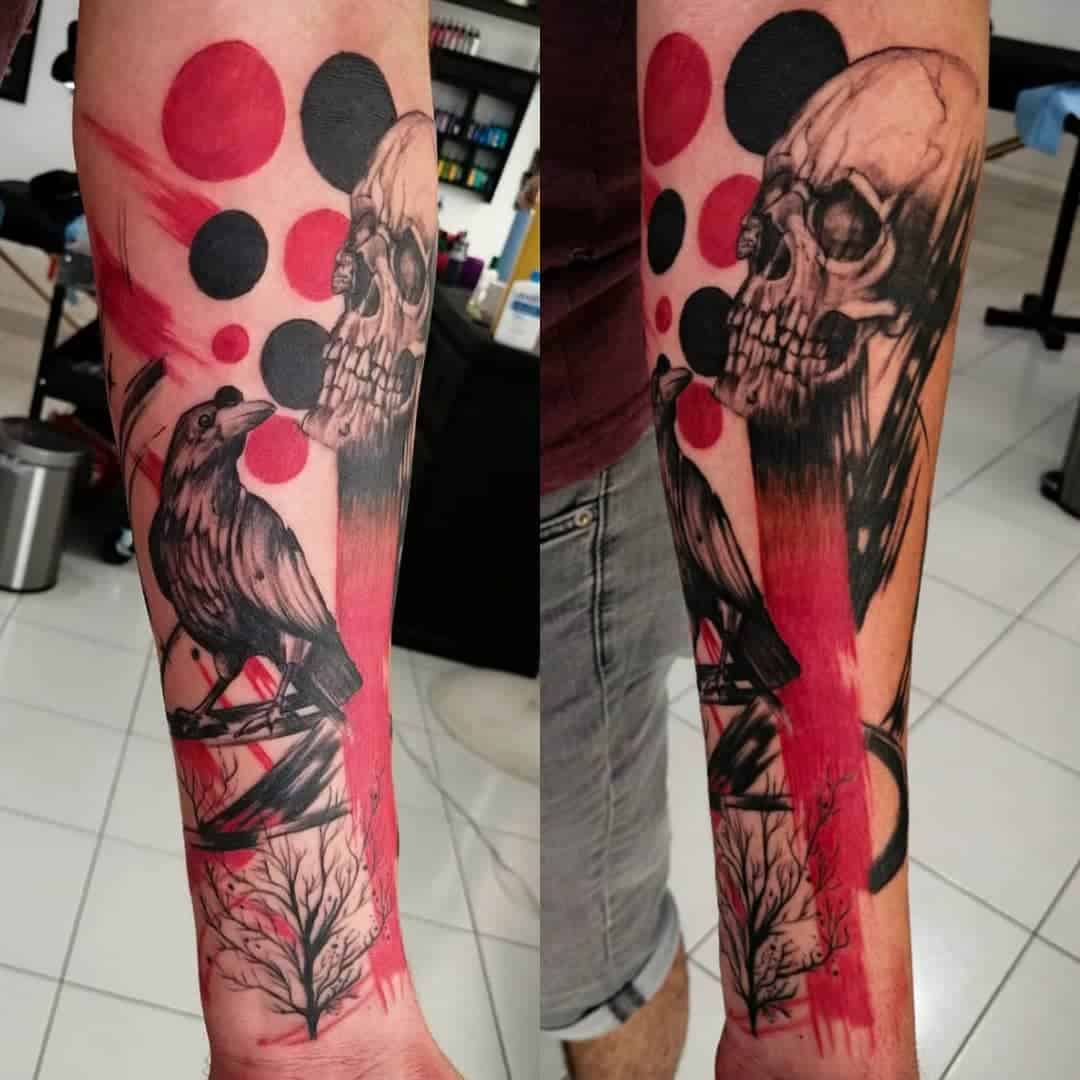 12. Trash Polka Geometric tattoo
Usually, these trash polka tattoos have no intention of including simple shapes and straight lines, but this one had an interesting dot pattern that was different enough to make this list.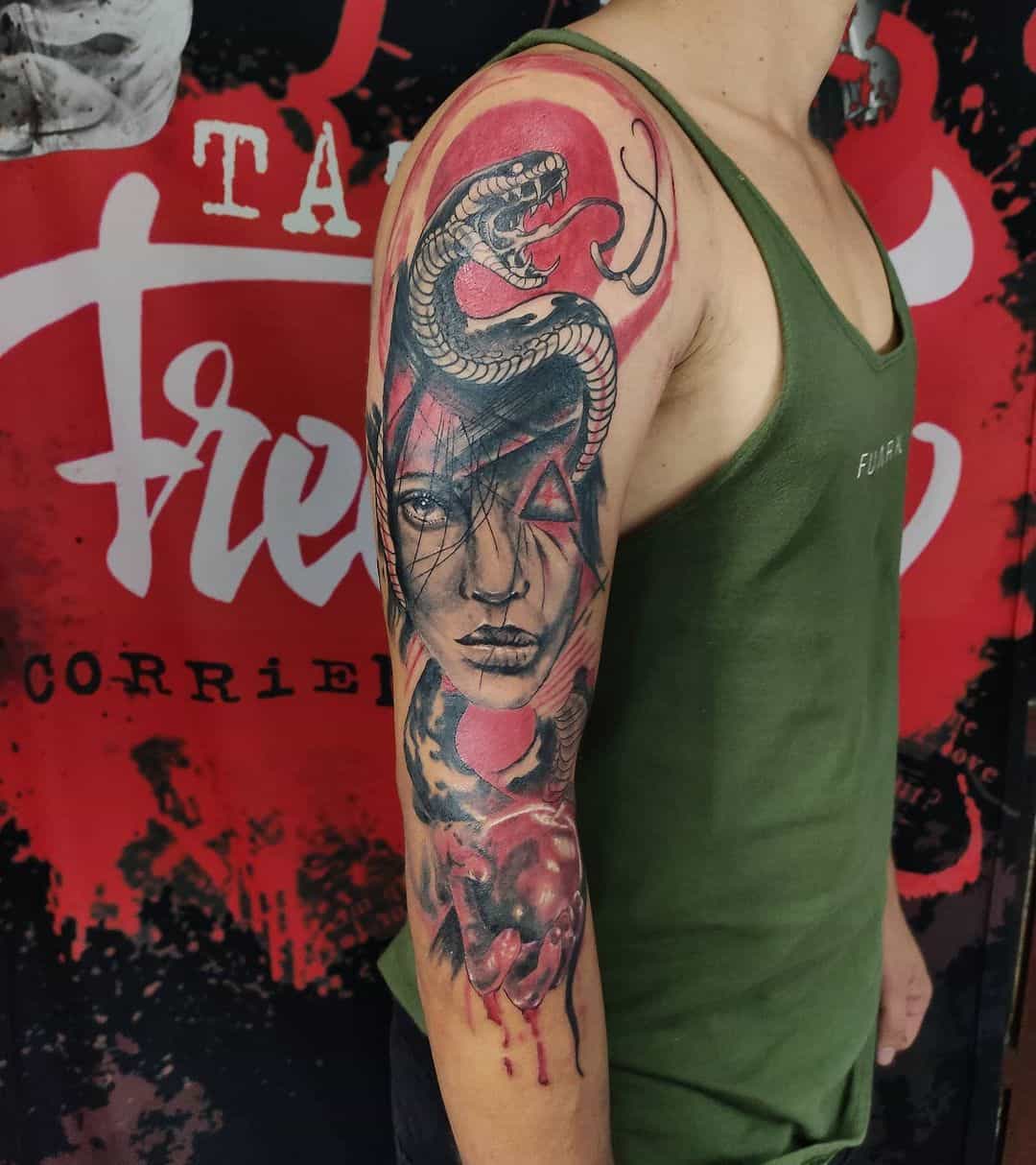 13. Trash Polka Japanese tattoo
Easily one of my top 3 on this list, this Japanese-themed piece is a perfect mix of new and old.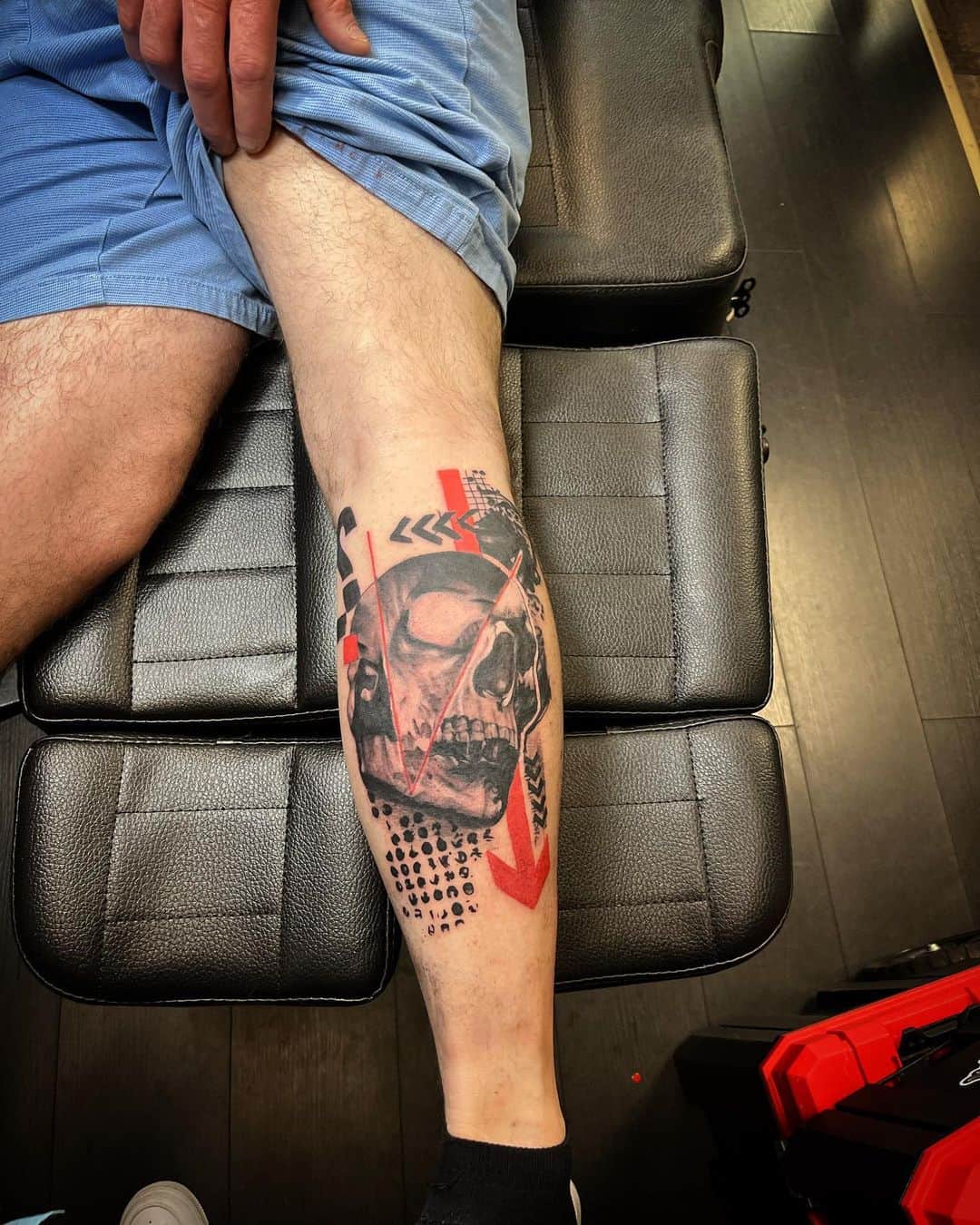 14. Skull and textures
Skulls are obviously a pretty common theme across all these tattoos, but I like all the addition of these various textures to make this one a little out of the ordinary.
What is a Trash Polka tattoo?
Volker Merschky and Simone Pfaff are credited with developing and inventing the incredible Trash Polka tattoo. Both are tattoo masters who founded the Buena Vista Tattoo Club in Würzburg, Germany, where they developed their tattooing style.
Their tattoo club was established in 1998, making their Trash Polka technique relatively new. That is especially evident when compared to the centuries-old traditional Japanese tattoos. Yet, it didn't take long for Trash Polka design to become a global phenomenon.
Over the last 20 years, it has drawn the attention of many tattoo artists, inspired lots of them, and been featured on the covers of several tattoo magazines.
However, back then, Merschky and Pfaff named their tattooing style 'Realistic Trash Polka.' The word 'Realistic' was added to the name because of how the tattoo was first introduced.
Polka Trash's creators used realistic images that could be portraits or animals in their designs. Then they'd add artistic layers, such as lettering with color splatters that reflect the word 'Trash.' Finally, as in 'Polka,' the musical rhythm unites all of their art pieces.
Knowing each creator's background, you'd understand how they came up with such a paradoxical design. Merschky studied interior design, and Pfaff has extensive experience in the field of graphic design.
What makes them even more intriguing is that they're also musicians, painters, and photographers. In fact, their artistic creations are on display in multiple national as well as international art museums and galleries in Paris, London, Rome, and many other cities.
Having said that, the famous duo removed the 'Realistic' part of the name. They simply didn't want to limit this technique in any way.
What are the distinctive features of the trash polka tattoo?
Just by looking at a Trash Polka tattoo, you can tell that it's similar to a drawing or collage that blends unrelated ideas. There are several characteristics that distinguish this German tattoo. We've divided them into two categories: color scheme and key elements.
Color Scheme
Classic Trash Polka designs are typically tattooed in black and red. That said, nowadays, you might see this tattoo style with a little more color to it.
The contrast between black and red on the skin tone is one of the factors that makes the Trash Polka tattoo stand out. Both colors are used in a highly saturated form, rather than a light or fading one.
Yet, sometimes shading with black ink is required, which can result in a grayish appearance in some areas.
Key Elements
This unique tattoo has its own distinct elements that identify it, which are usually a mix of realistic and surreal. This contrast explains why the meaning of Trash Polka tattoos varies from one design to another.
In some designs, the elements can signify rebellion, while in others, they can represent passion or contradiction. Nonetheless, regardless of the elements you choose, this tattooing style will make a statement about their meaning.
Some common choices for realistic elements include:
Moving on to the other aspects of the tattoo, the graphics, and the lettering. Actually, it's these two aspects that give the Trash Polka tattoo its famed chaotic aesthetic. This tattoo's graphics are reflected in designs such as geometric shapes and patterns as well as bold brush strokes.
Lettering or calligraphy can be incorporated in a variety of styles, and it simply rounds out the Trash Polka tattoo. You may see a quote written in a captivating font, as a piece clipped from the newspaper, or as a typewritten note.
What to Consider Before Getting a Trash Polka Tattoo
If you're ready to join the Trash Polka tattoo club, there are two things you should consider first:
Theme
When it comes to this tattoo style, we strongly advise you to think about its theme thoroughly. Trash Polka tattoos have deep meanings, so try to personalize the one you're about to get rather than imitate a design you saw.
The great thing about it is that you won't be limited to one idea since you can incorporate emotions, dates, lyrics, and images; the sky is your limit. For example, some people use a Trash Polka tattoo to tell the story of their lives.
Others use their designs to portray a life-changing event, such as death or war. You can also have a subtle theme for your tattoo that can be inspired by nature or beauty.
Placement
After you've settled on a theme, you should select the tattoo placement before it's designed.
To explain, if you started designing the tattoo before you knew where it would go on your body, there's a chance it won't fit perfectly. Whereas, tailoring the design to complement the tattoo placement will make all the difference in the final appearance.
The thing is, this German tattoo isn't meant to be drawn on a small scale. It's such a complex design with multiple components and layers that it needs to be freely executed. Therefore, it's best to place it on body parts that'll act as a canvas for the tattoo artist, such as:
It's also possible to create a medium Trash Polka design. If you decide to get one, make sure to choose a suitable placement, like:
Forearm
Calves
Shoulder
Upper arm
Wrapping Up
If getting a Trash Polka tattoo is on your bucket list, we totally get it. All you need to do is book an appointment with a tattoo artist who specializes in this style.
This is crucial as it has a very delicate process that requires a lot of attention to detail for the tattoo to look as good as it should.
Finally, don't forget to consider both the theme as well as the placement, and get ready to be inked with one-of-a-kind artwork!