For a young Viking called Hiccup, who lives on the island of Berk, where dragons are seen as vermin, "How to Train Your Dragon" is an exciting and inspiring narrative.
Hiccup is eager to prove himself a genuine Viking by catching and training a dragon despite his tiny stature and lack of muscle. In the process of his travels, he learns that dragons are not the simple, dumb creatures he had always assumed them to be.
Hiccup, one of the film's primary protagonists, is a savvy and cunning young man who is motivated to prove himself against insurmountable obstacles. Astrid, a fearless and proficient dragon-slayer, and Gobber, a grumpy but loving blacksmith, are among his allies.
The main adversary of the film is the cruel and ambitious warlord Drago Bludvist, who wants to subjugate all of the dragons on the island to his will. Hiccup and his allies, on the other hand, are set on finding a way to peacefully cohabit with the dragons and protecting them.
Hiccup and the dragon he tames, Toothless, grow closer and learn to depend on each other in the face of peril in "How to Train Your Dragon," a story of friendship, acceptance, and understanding. Everyone may enjoy this picture because to its beautiful animation, thrilling action sequences, and uplifting sentiments.
How To Train Your Dragon Tattoo Ideas
This show has an incredible art style, and naturally makes for great tattoos. I went scouring the internet for some of the highest quality pieces I could with varying art styles highlighting different characters, and these are my favorite.
Toothless and Light Fury Tattoo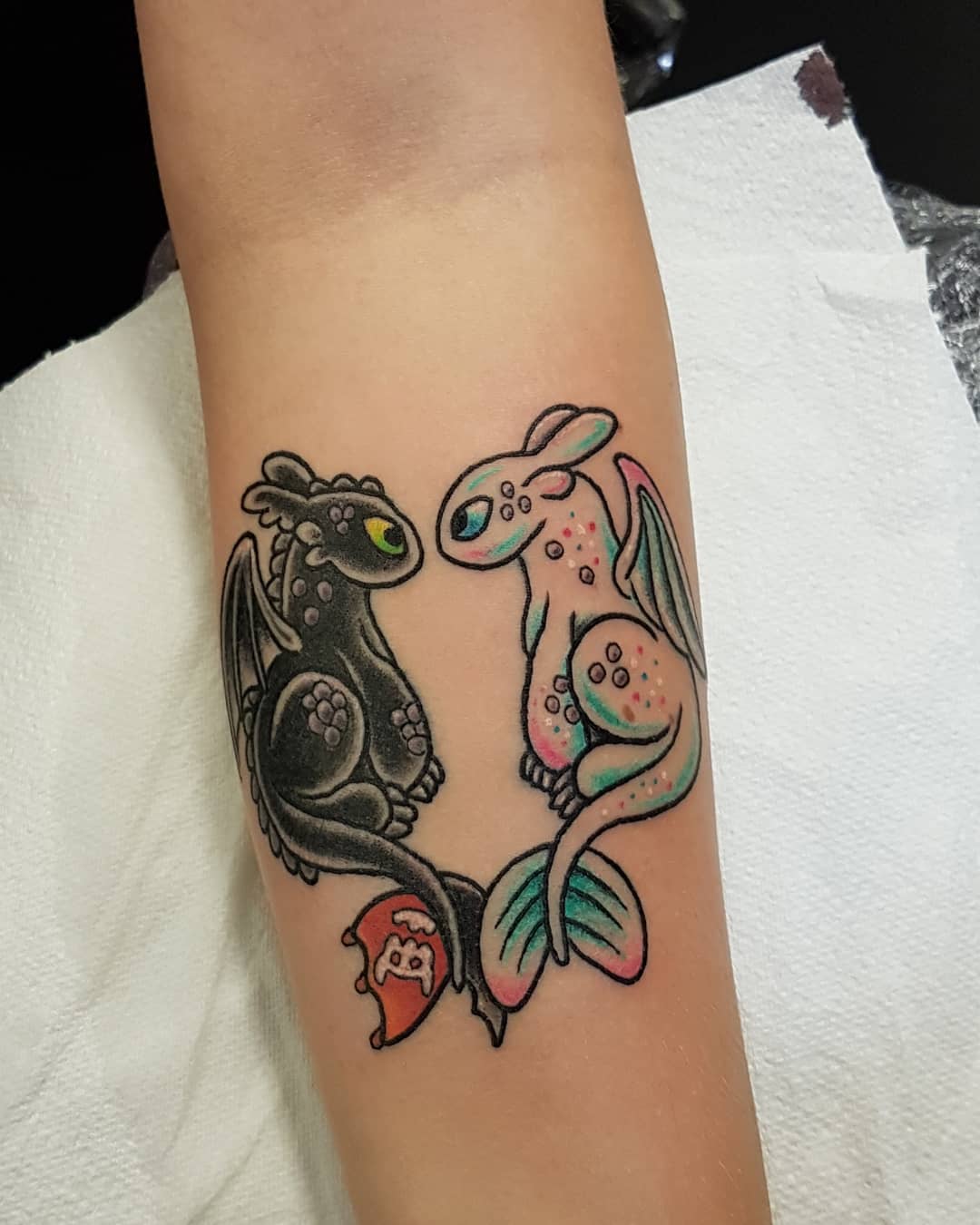 Throughout the series, Toothless and Light Fury are shown to have a strong bond and deep affection for each other. They are often seen playfully interacting and supporting each other in times of need.
The bond between Toothless and Light Fury serves as a symbol of the power of friendship and the importance of understanding and accepting those who are different from us.
Matching Dragon Tattoos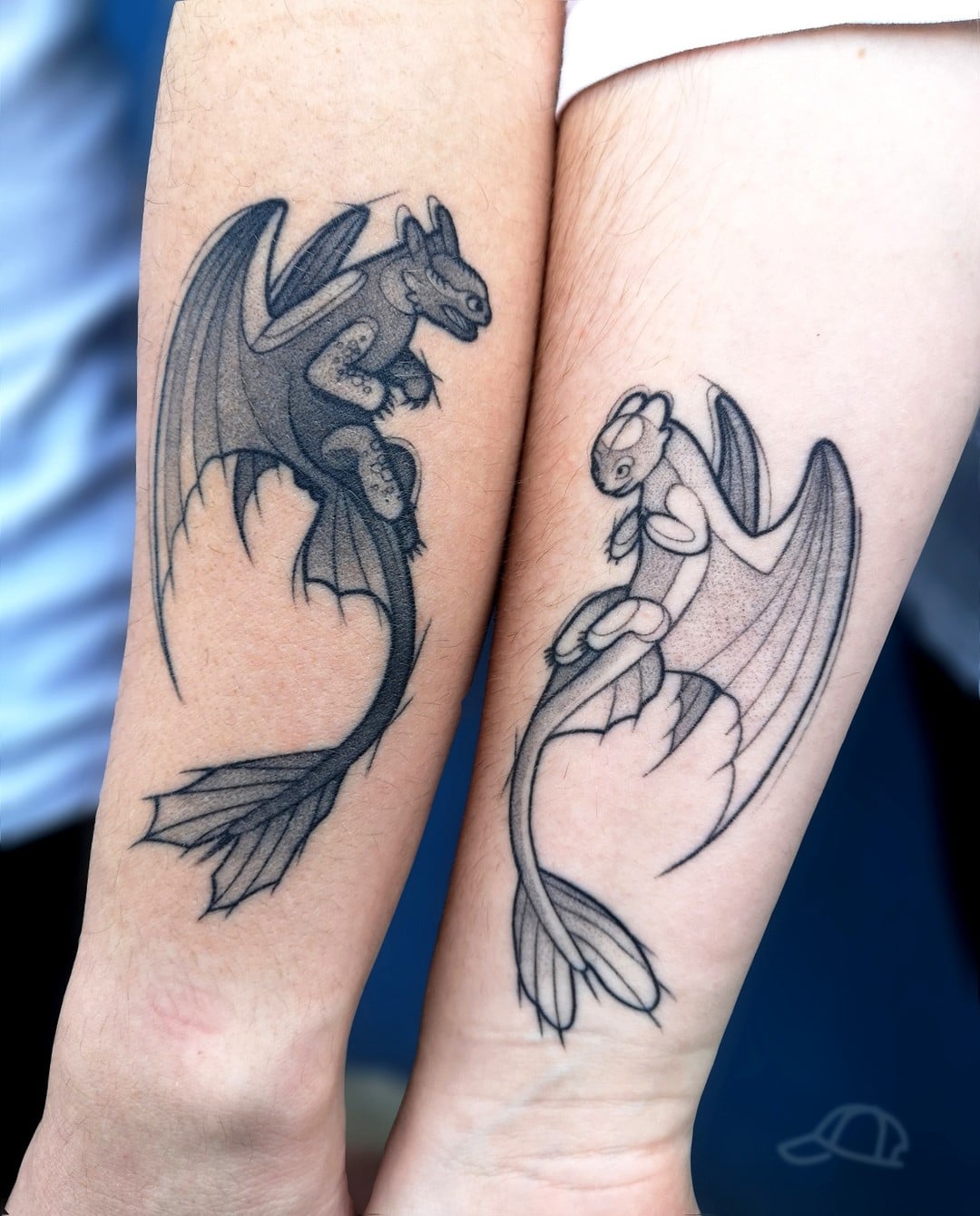 Who needs color? This beautiful monochrome design is done to absolute perfection, and I love the artist used subtle dot shading in the wings of the dragon to give them texture and depth.
I want to reach out and touch them!
Watercolor Toothless Tattoo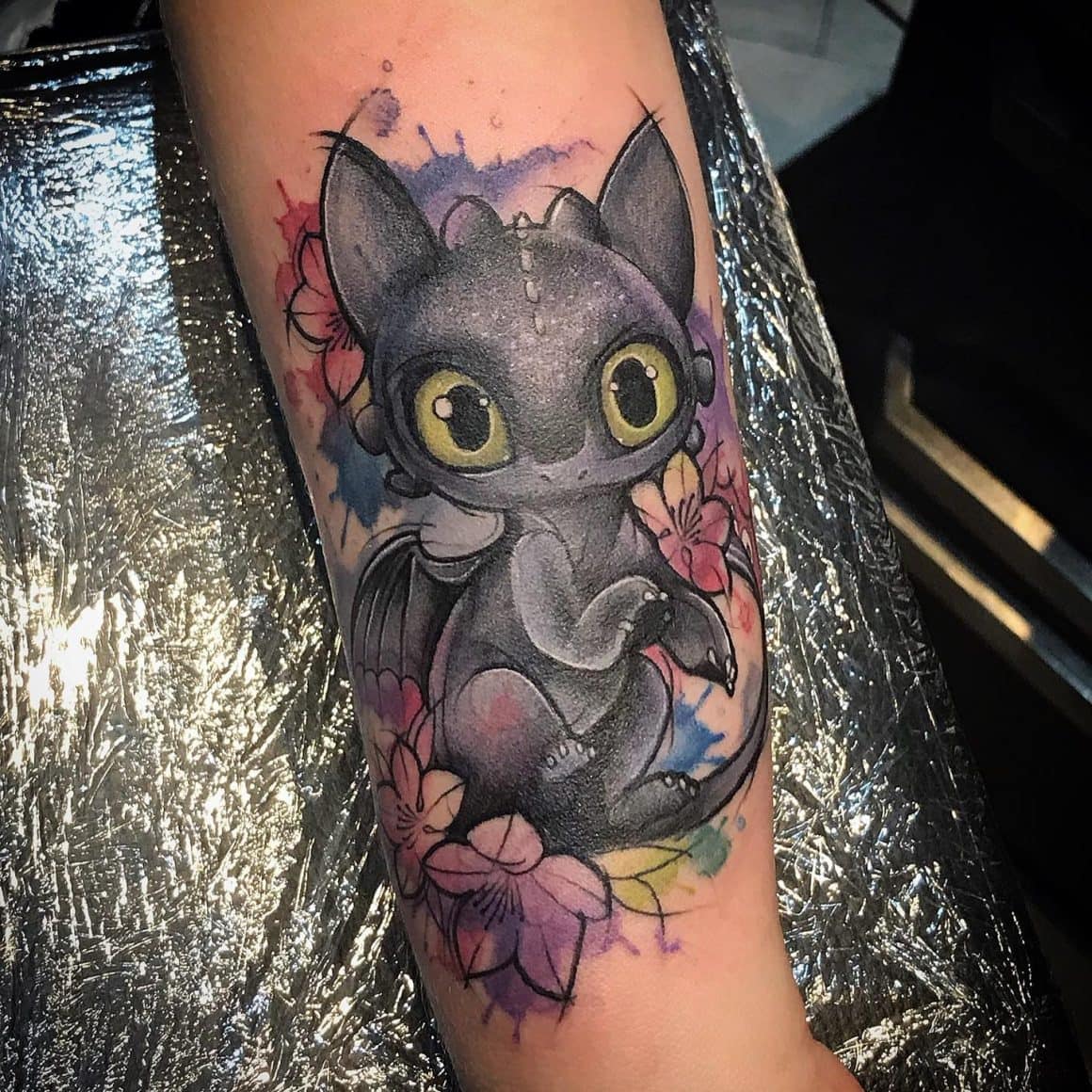 Watercolor tattoos have a place in my heart, and this one is no exception.
The bold drawing of Toothless is matched with soft contrast in multiple colors in the background behind.
Toothless Micro Realism Tattoo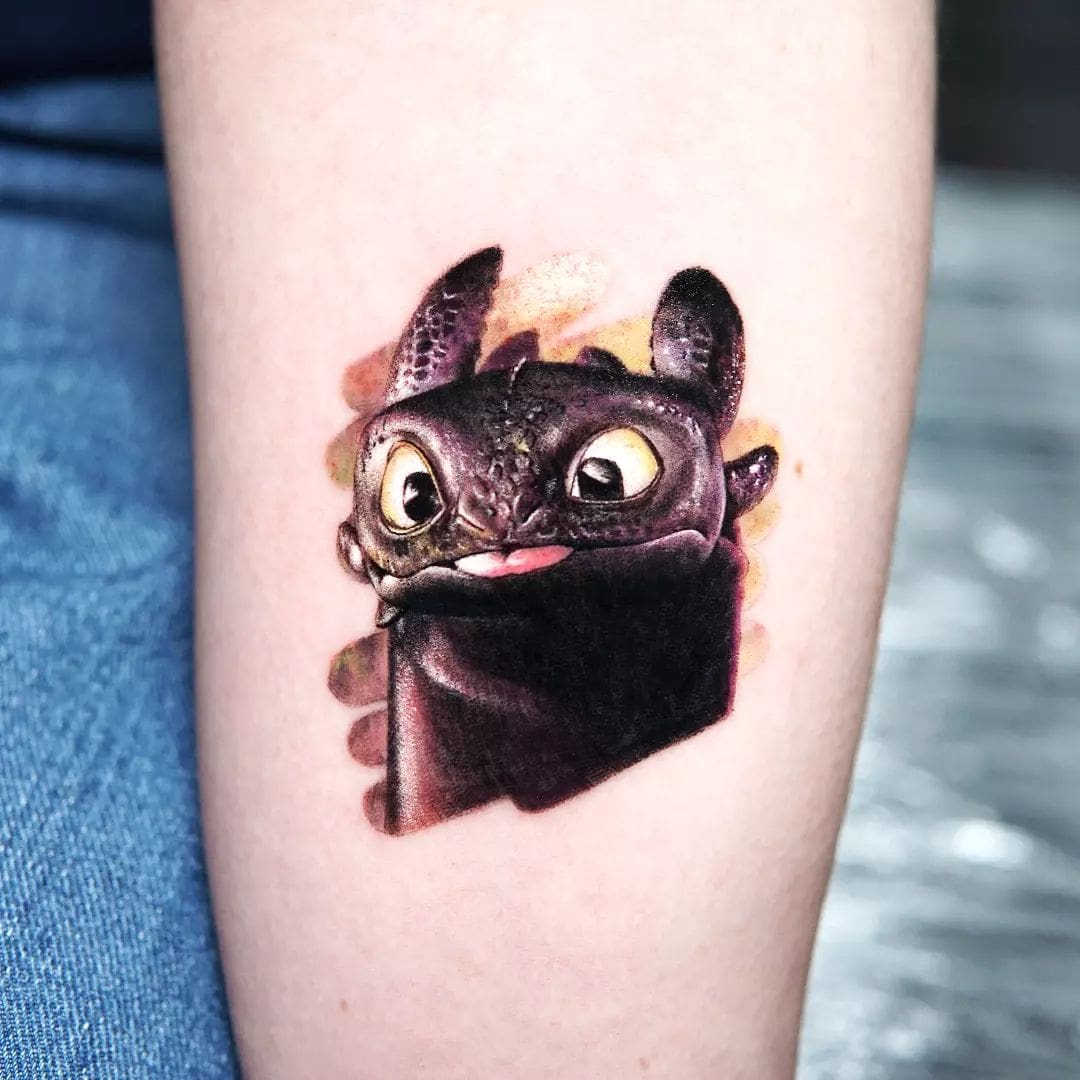 It was only a matter of time before someone got one of these adorable characters in this micro realism tattoo style, and I'm glad it was this artist that delivered!
Whimsical Toothless Tattoo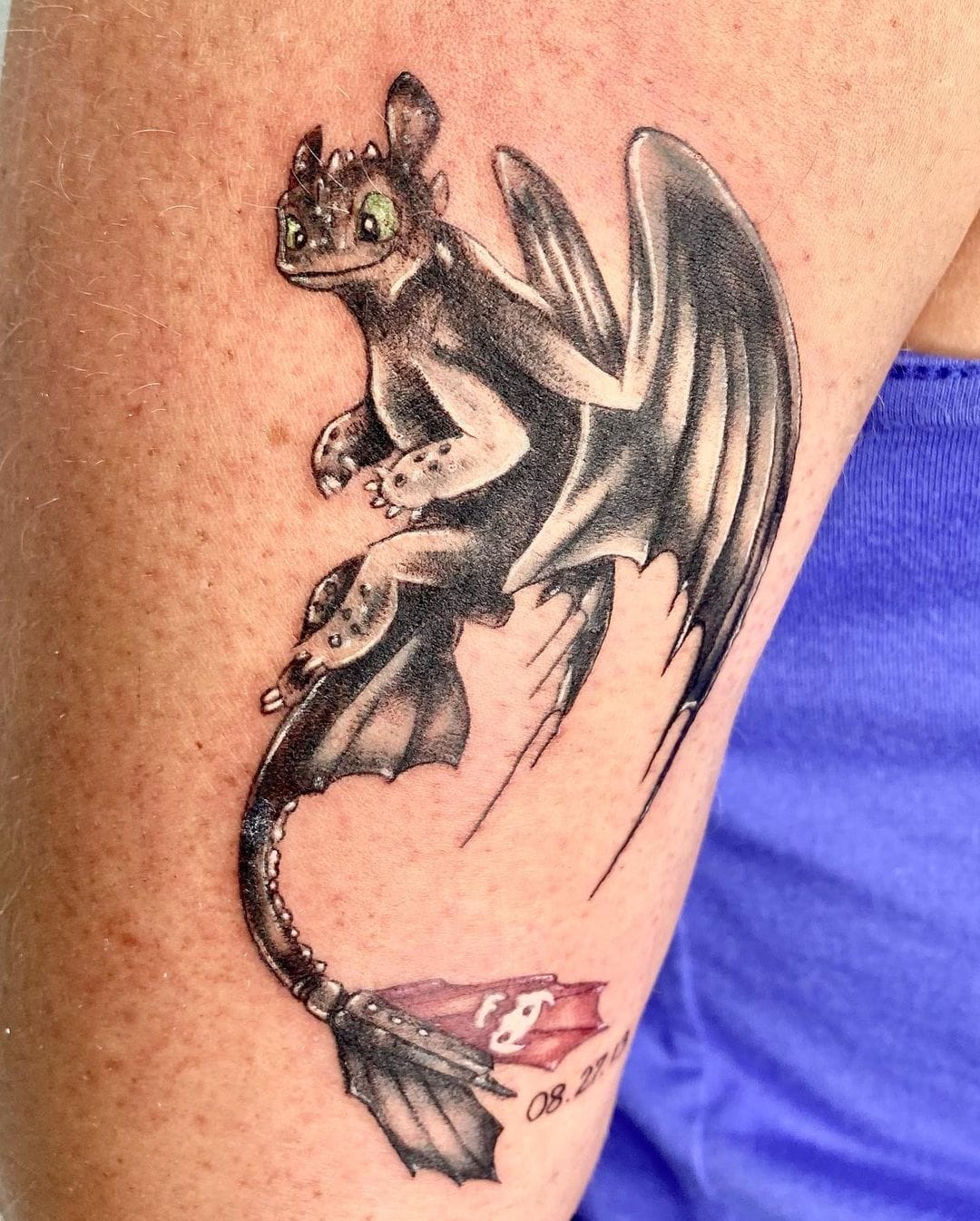 There will be plenty of Toothless tattoos on this list, and for a good reason. He's such a unique little character that it leaves the door wide open for tattoo artists to represent him in any style they choose.
I like this version of the full body illustration, with the tiny splash of red ink on his tail.
Cute Toothless Tattoo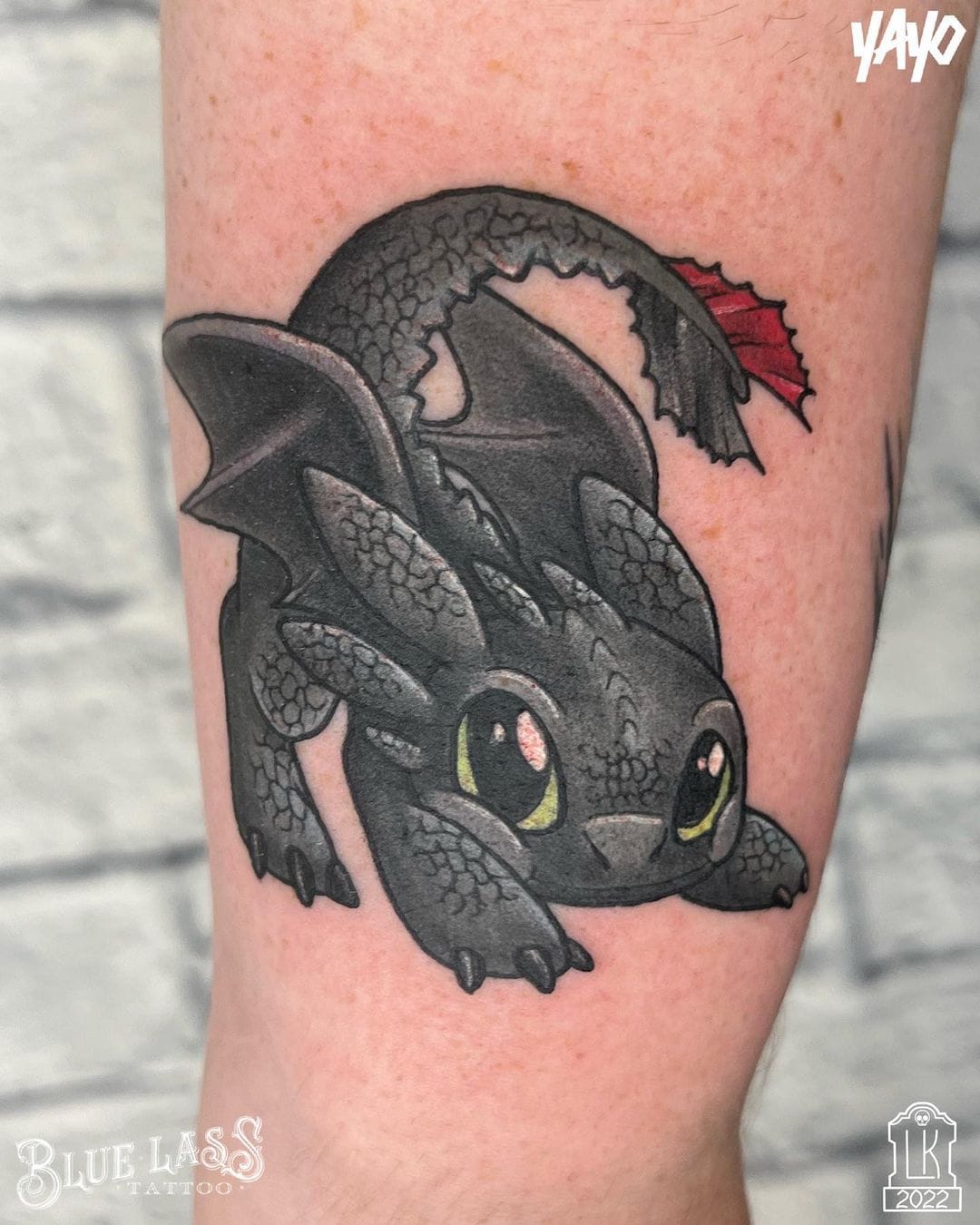 I mean…come on.
Just look how cute he is! The scales are perfectly done, and the small splashes of green and red give this tattoo the perfect amount of contrast for this cartoonish style.
Urban How To Train Your Dragon Tattoo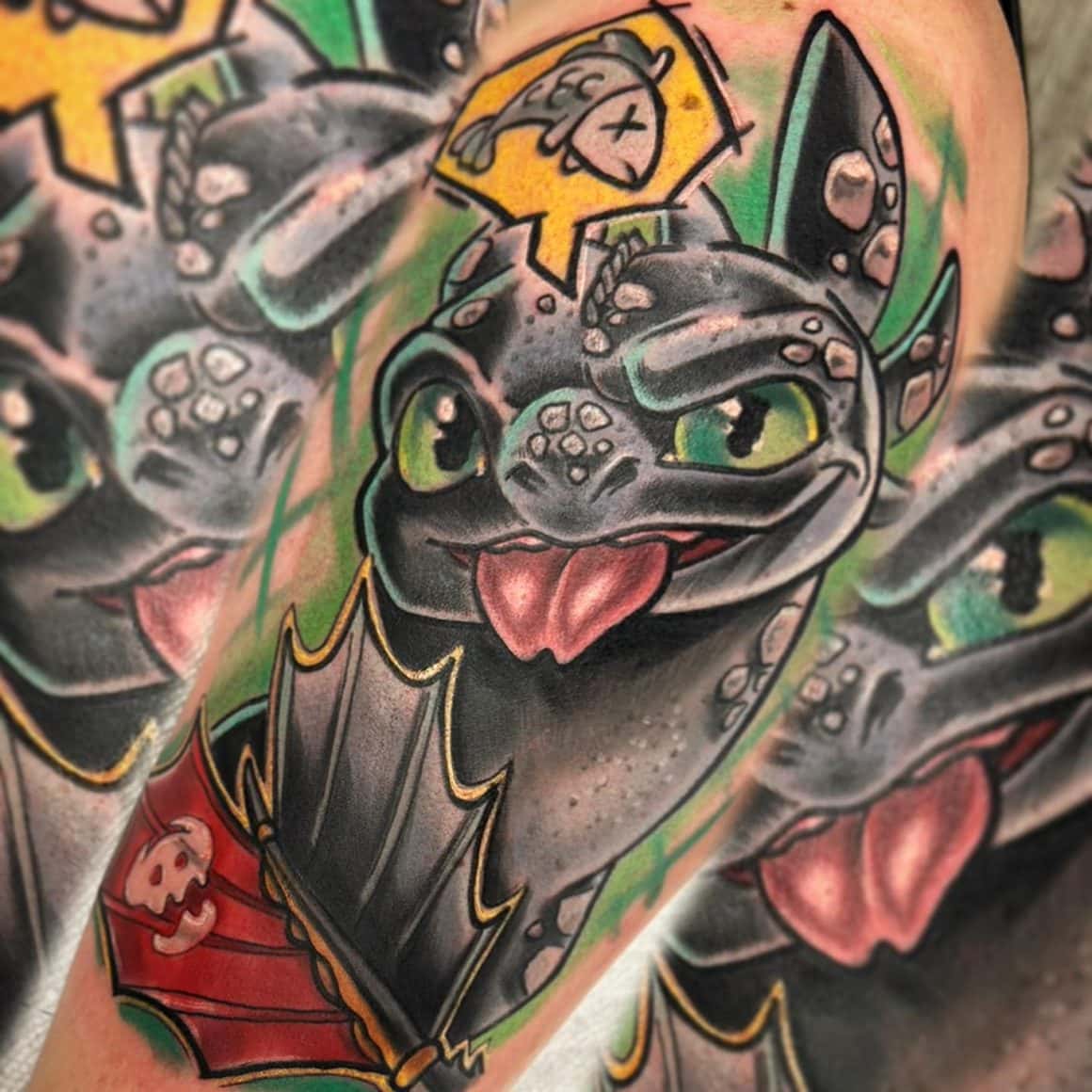 Urban might be the wrong term to use to describe this style, but I'm feeling it nonetheless. I can picture this on a huge wall in spraypaint!
Toothless Arm Tattoo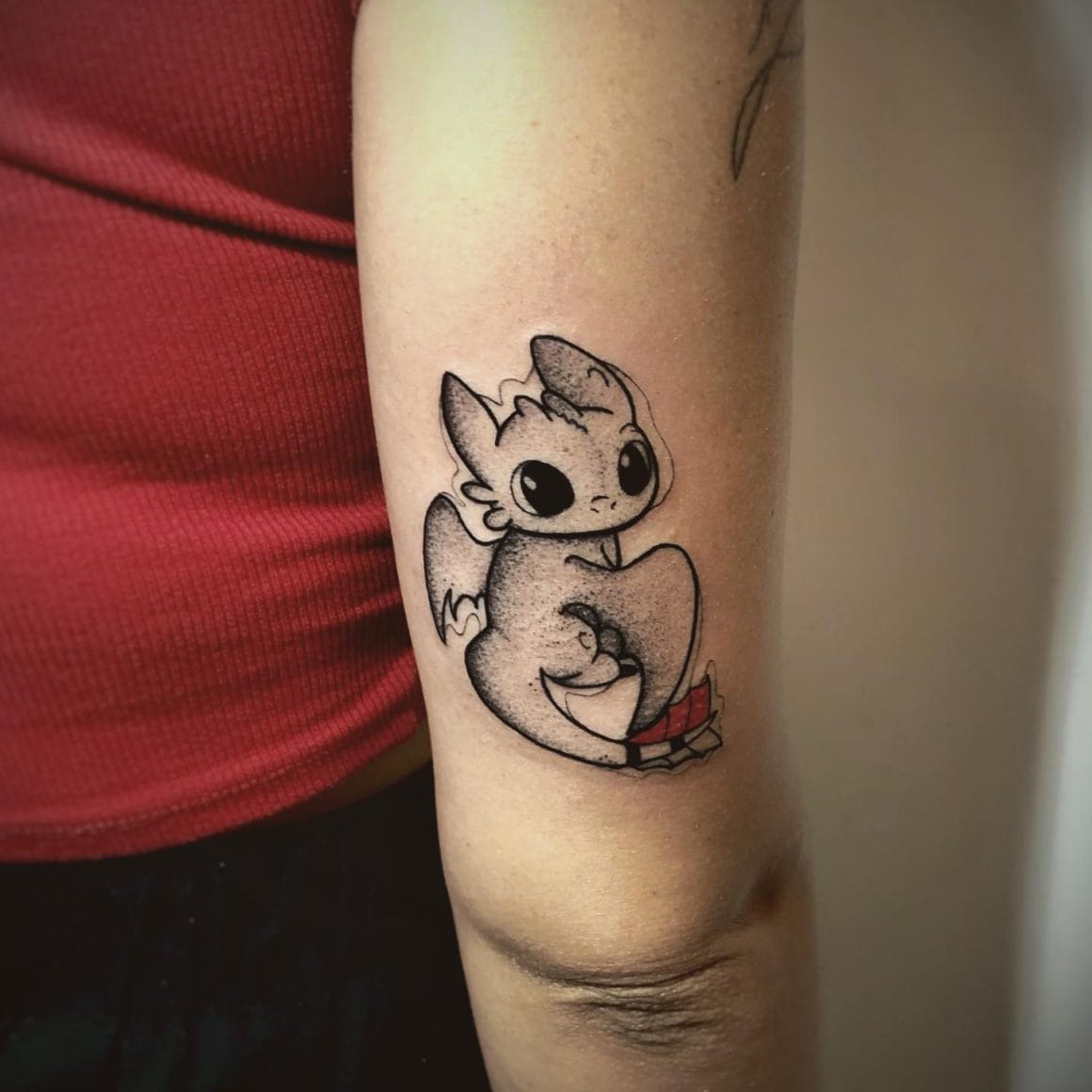 The back of the arm is a perfect little spot for this design. It's a bit out of the way, but those that recognize it from the back are sure to be delighted.
Blackwork How To Train Your Dragon Tattoo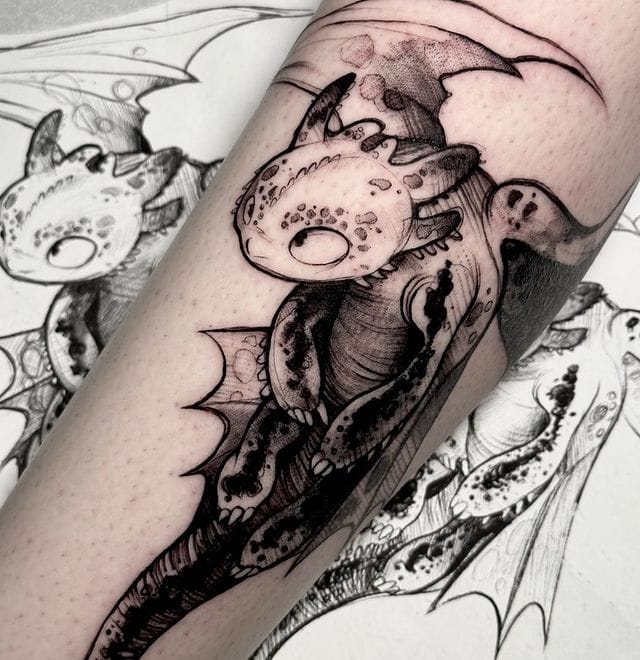 Blackwork tattoos are some of my favorite styles, and this is a great example of why. All of that black ink on their light skin makes it feel like this dragon is about to fly off that arm!
Couples Dragon Tattoo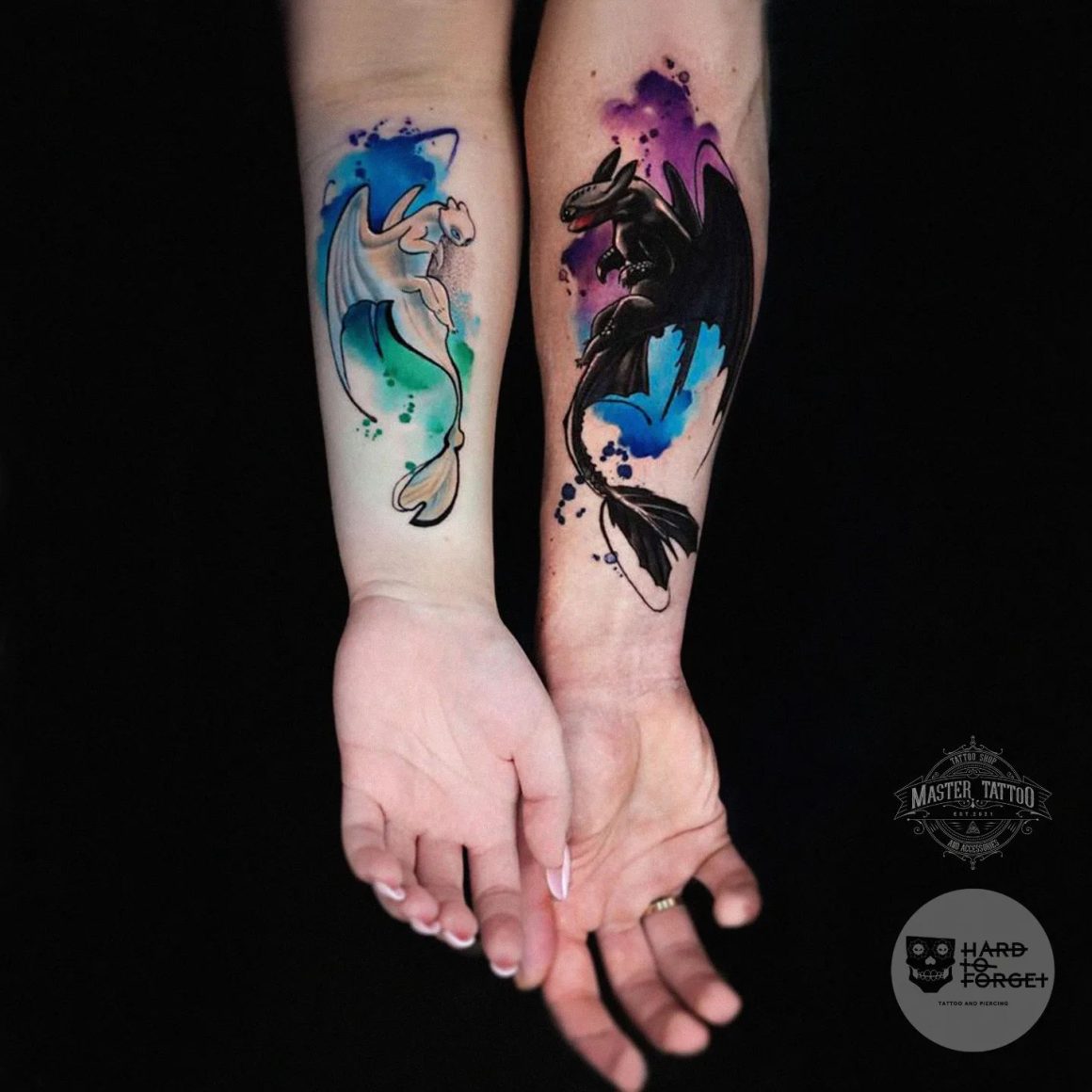 What better way to show off your love for this show than getting the two love birds (dragons, really) tattooed on you and your significant others arm!
Curious Toothless Tattoo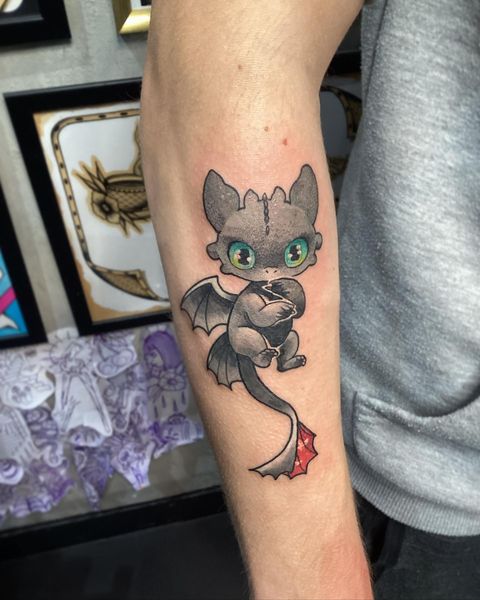 There is something about the expression on his face, mixed with those big teal and green eyes that make me want to know what he's looking at!
Derpy Dragon Tattoo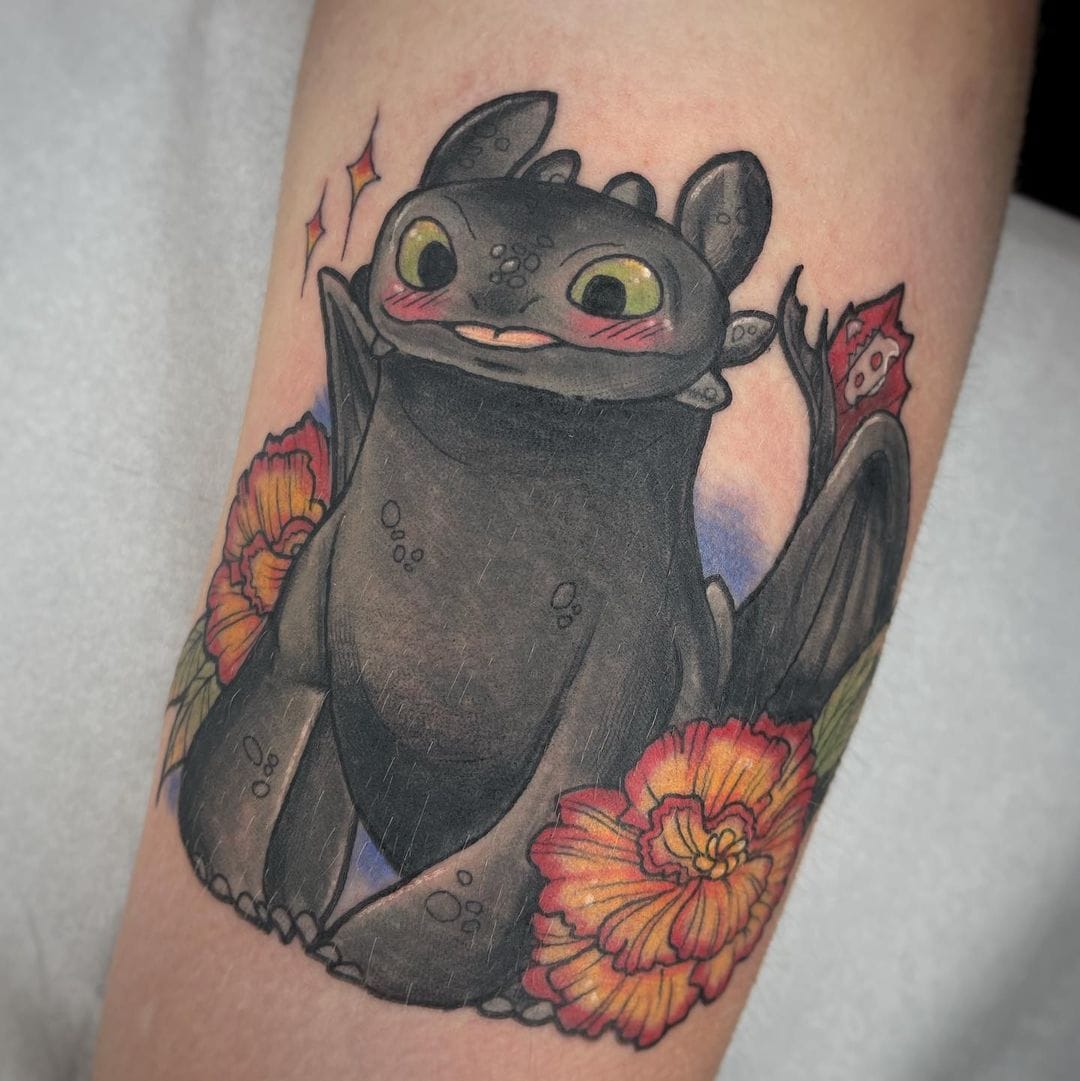 Is it just me, or does that little tongue poking out of his mouth just make him look like the perfect amount of derpy?
I love how much expression the tattoo artist managed to pull out of this illustration with just his face.
How To Train Your Dragon Neo Traditional Tattoo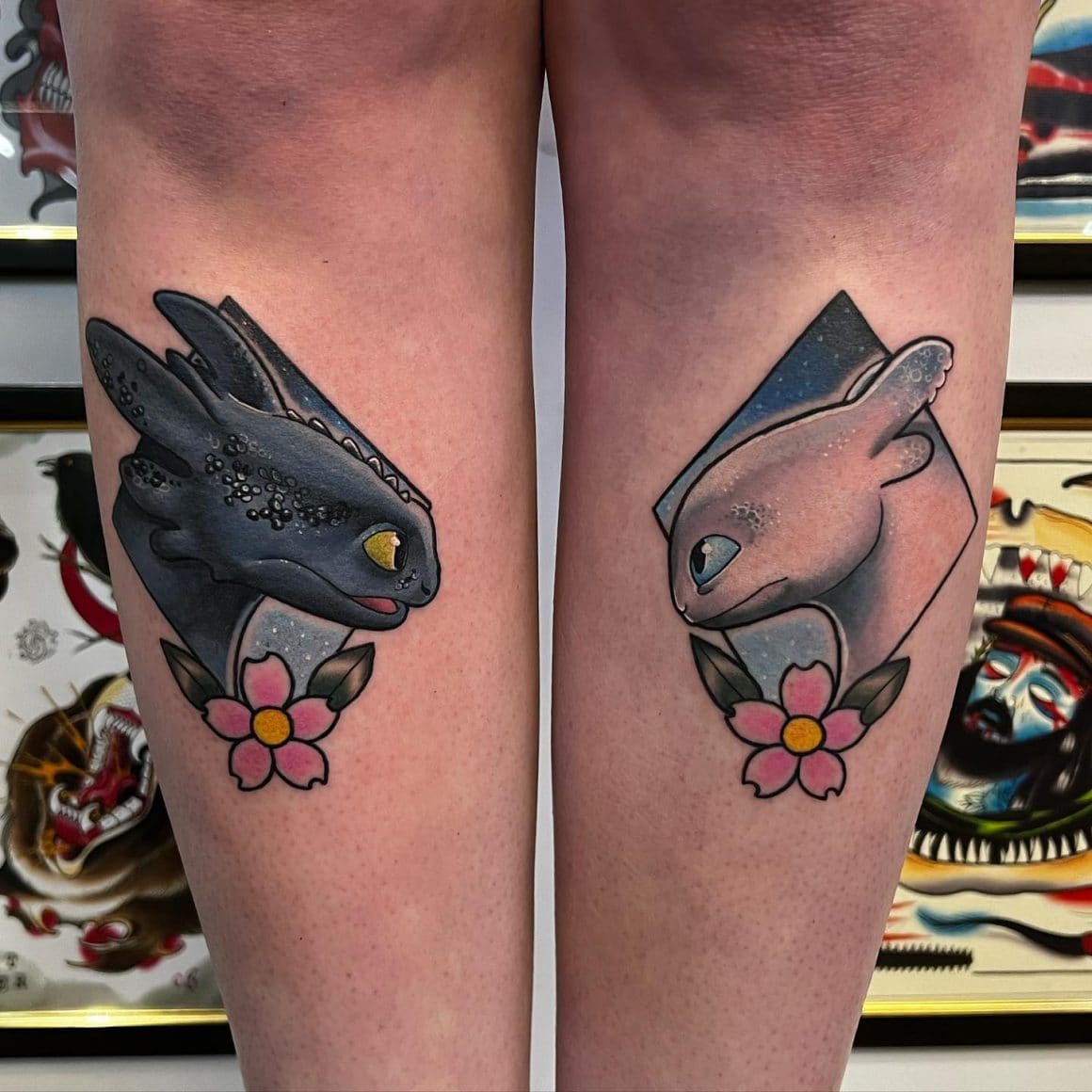 I think this one right here is my favorite on the list.
It has the perfect mix of that symmetrical design, beautiful colors, perfect size, and that neo-traditional tattoo style that I love so much.
Realistic Dragon Tattoos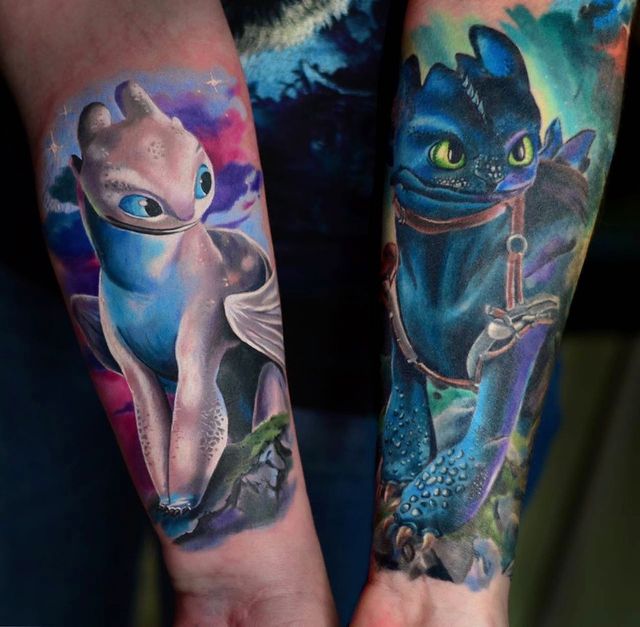 On the other side of the style spectrum, we're met with this super bold How To Train Your Dragon sleeve tattoo.
It features our two loveable dragons, and the artist really made these characters shine by highlighting them on those stunning backgrounds.
Minimal How To Train Your Dragon Tattoo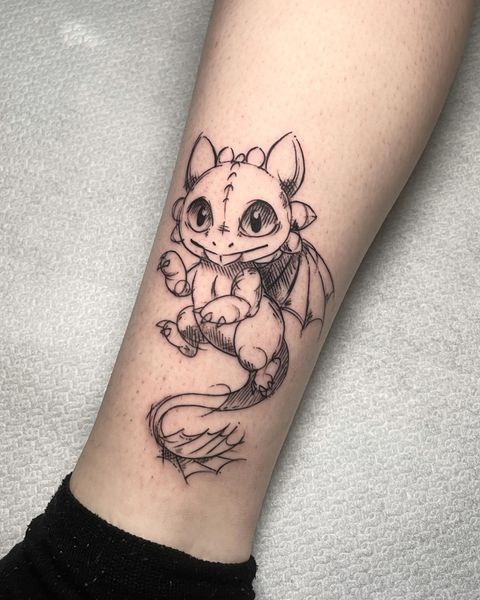 I feel like I almost have to follow up with that realism tattoo with something a little more simple.
This piece mostly focuses on the clean linework, with just a touch of cross-hatching to bring in a few shadows on the character.
Toothless Rib Tattoo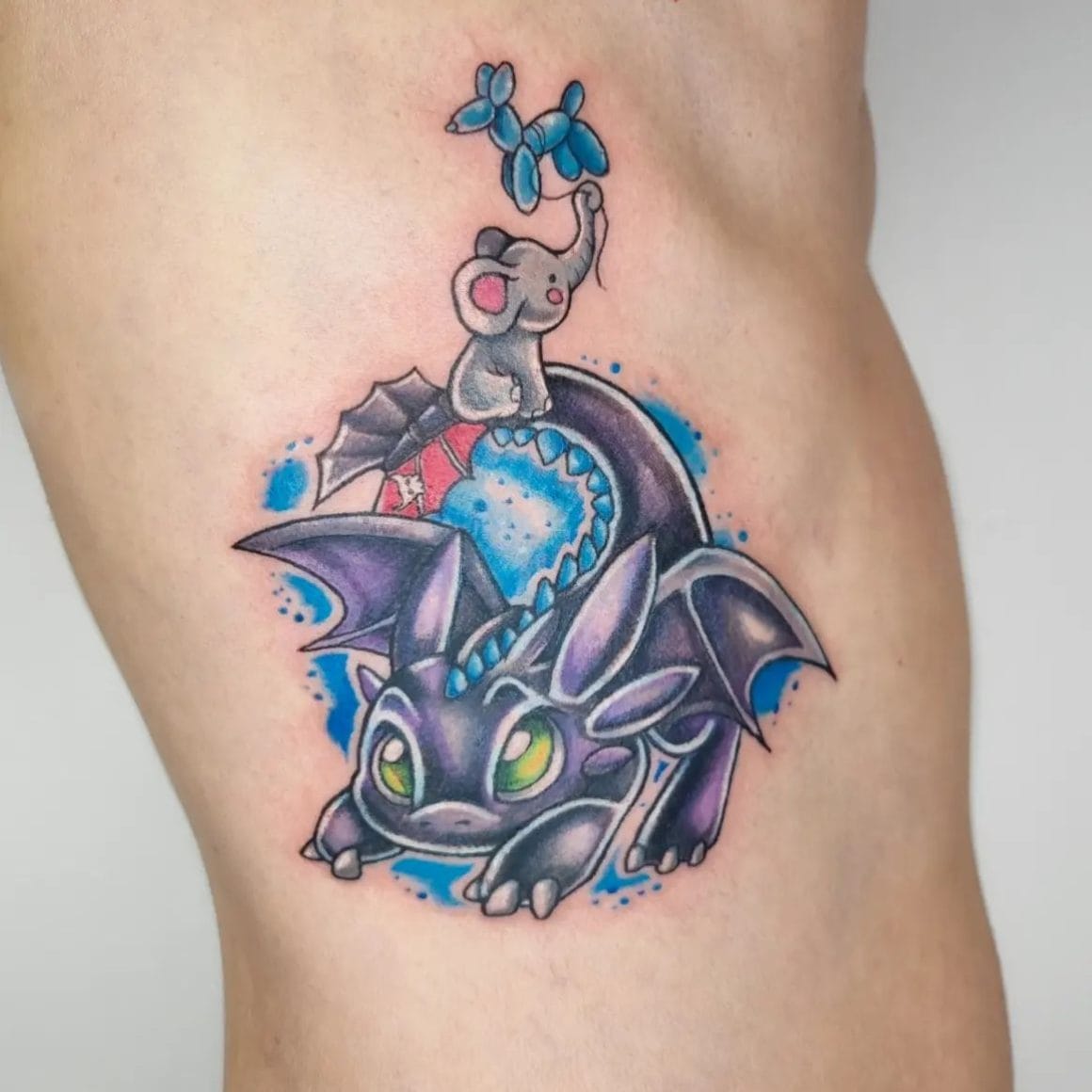 Out of everything on this list, this piece feels like its letting the style of the tattoo artist shine the most.
It has a lot of interesting white highlights, a colorful yet simple background, and an adorable elephant holding a balloon animal.
What's not to love?
Toothless and Stitch Tattoo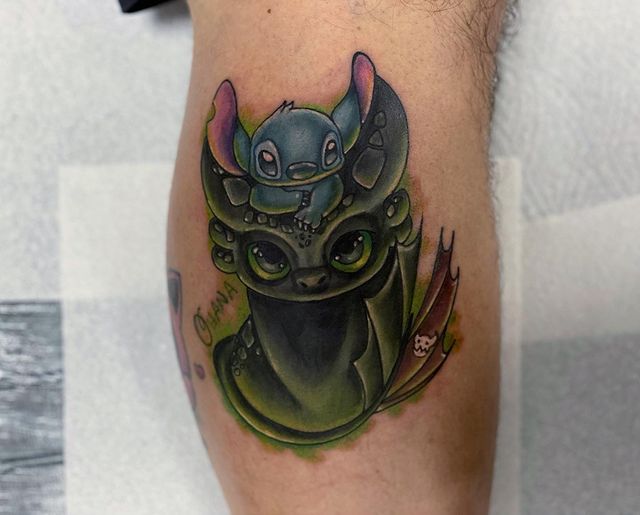 We're a big fan of Lilo & Stitch tattoos as well, so imagine my surprise when I found this piece with Stitch sitting on top of Toothless' head!
Pastel Dragon Tattoo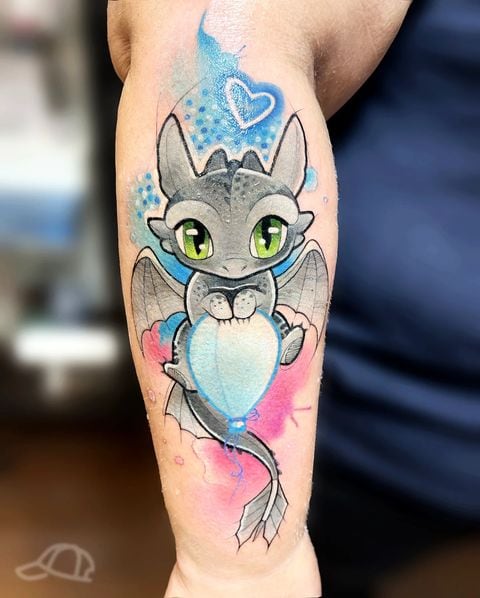 When it comes to skillful application of color, this tattoo has to take the cake.
Just look at how beautifully the background blends together, as well as those soft, subtle grey gradients on the dragon's wings.
Bravo.
Abstract Matching Dragon Tattoos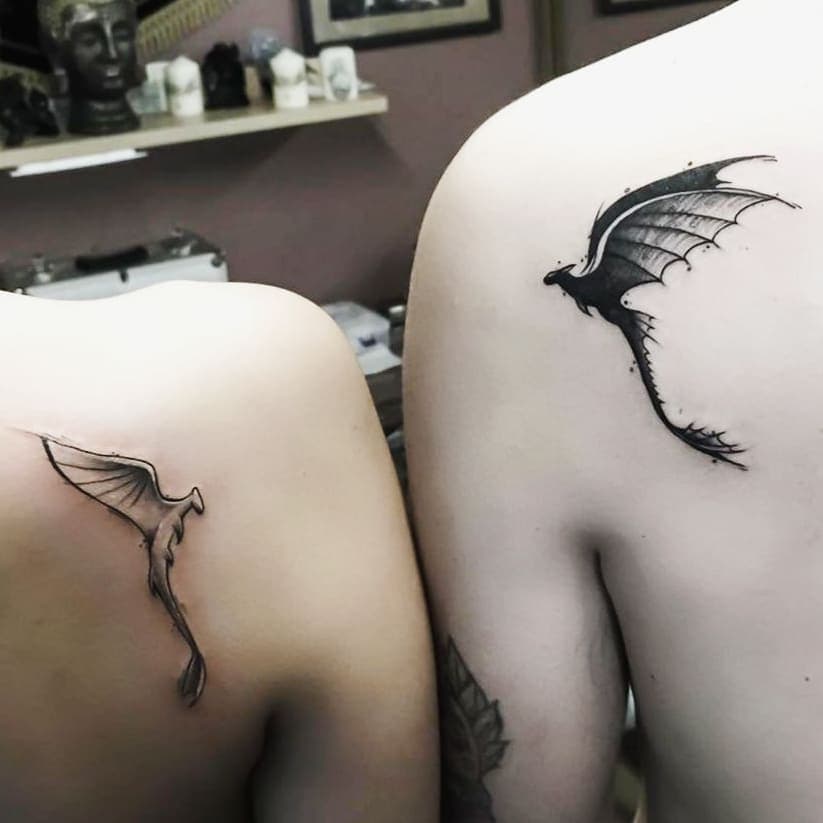 Last but not least, I wanted to show off something a little bit more abstract that doesn't necessarily scream "I'm from the show".
These designs are a little bit more ambiguous since they just look like normal dragons, but what sets them apart are the contrasting color styles.
Yin and Yang.