Eagles are a common animal when it comes to tattoo design, and it's no surprise why. These big, beautiful birds are a symbol of power, and many styles suit them.
Let's take a look at 20 of our favorite eagle tattoos (and remember to look at our bear tattoo and spider tattoo articles for more wildlife tattoo inspiration).
Eagle tattoo ideas
1. Swooping eagle with fine line elements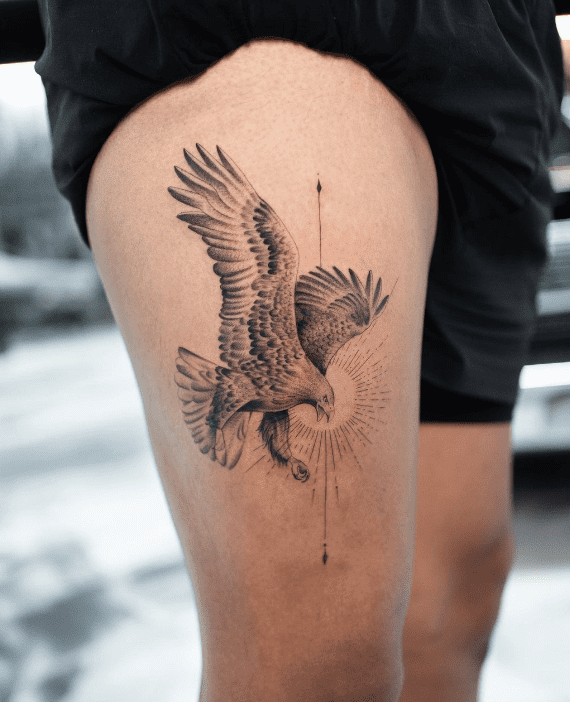 One of the most common eagle tattoo ideas is the bird swooping down to make the kill. This tattoo's surrounding fine line elements paired with the delicate shading on this eagle's wings give depth and dimension, making the design appear very realistic.
2. Full-arm realistic eagle and lion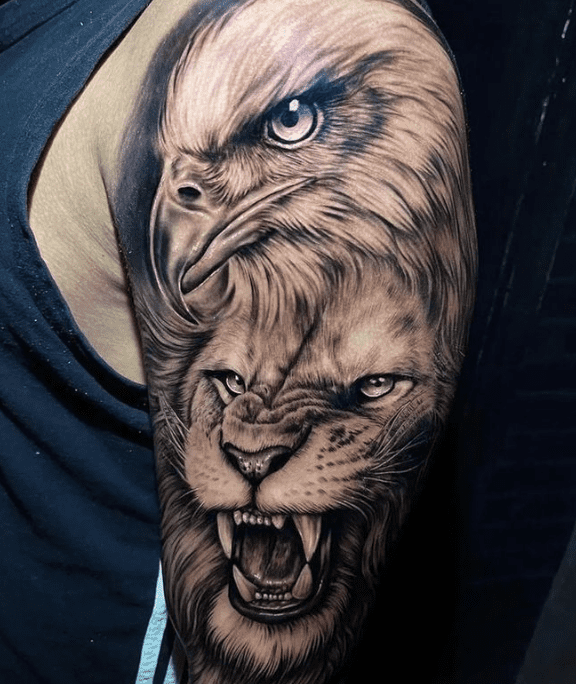 An eagle tattoo covering half or the whole sleeve is a great choice for those who want more substantial art of the bird. Above, we see an amazing full-arm realistic tattoo of an eagle and a lion's head — both representing power and strength.
3. Flying eagle tattoo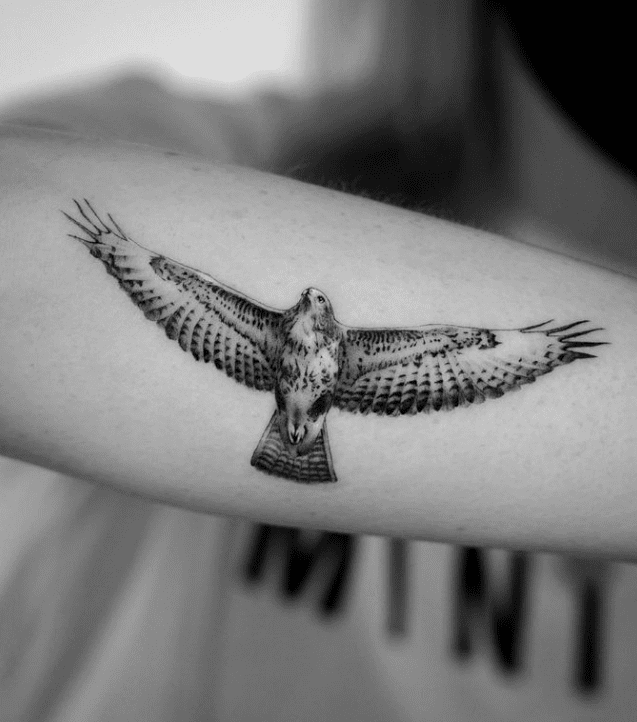 Here we see a medium-sized arm tattoo of an eagle about to take flight, with intricate details on its wings.
4. Golden eagle tattoo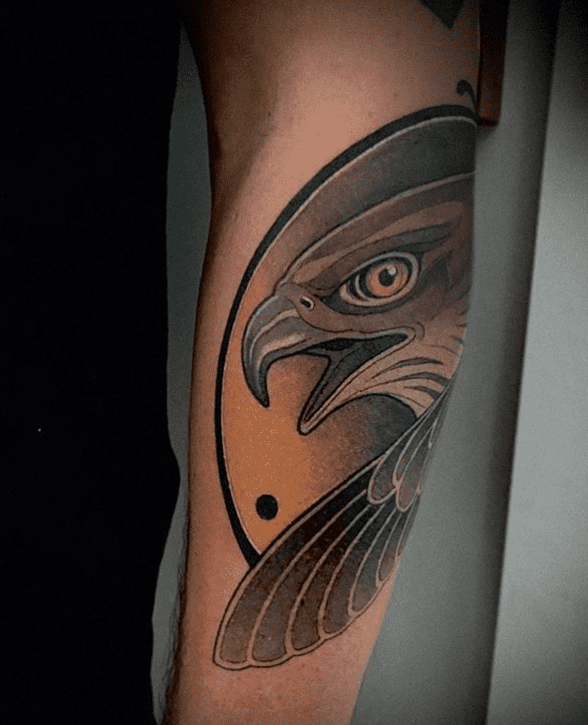 This eagle tattoo is a sight to see, especially with the bright yellow ink. Black and gold are a beautiful combination, and they complement each other wonderfully in this composition.
5. Eagle and skull tattoo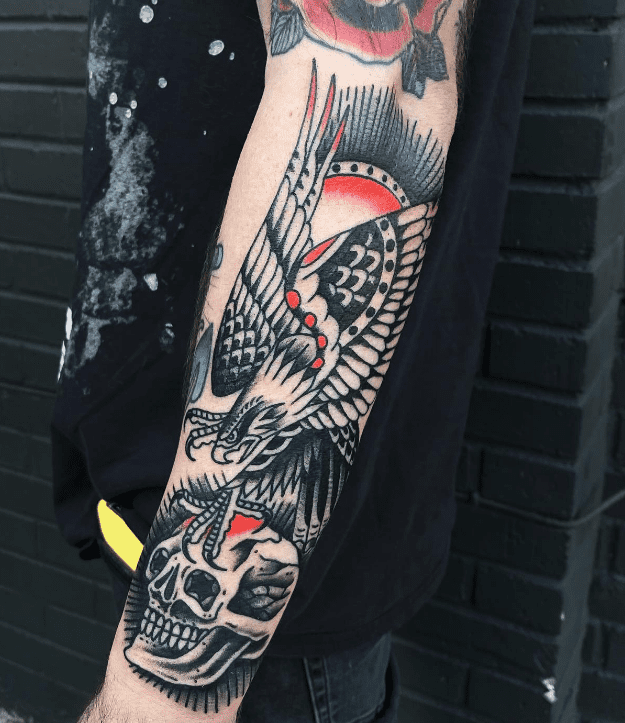 This tattoo of an eagle carrying a skull is a very conventional example of a flash design. It's an interesting visual combination, yet it's incredibly creative
6. American traditional eagle tattoo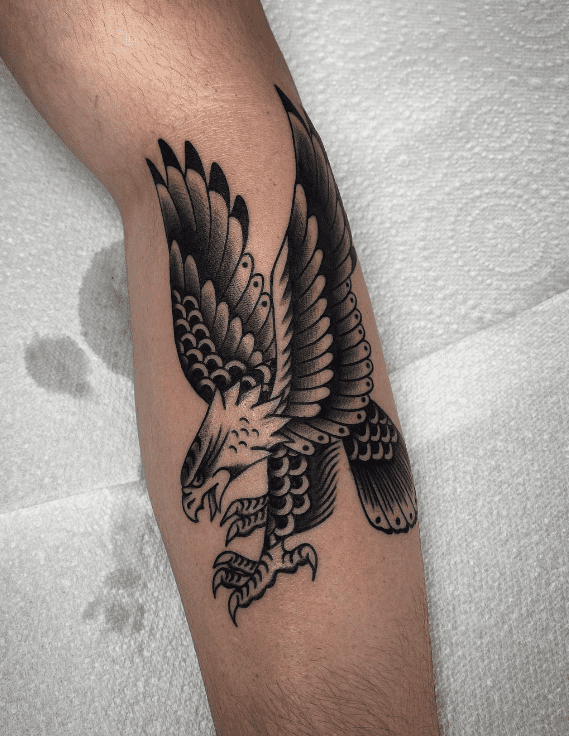 Simple, but not at all boring. This black eagle tattoo with heavily shaded wings and different patterns makes quite the statement, wouldn't you say?
7. Pops of vibrant color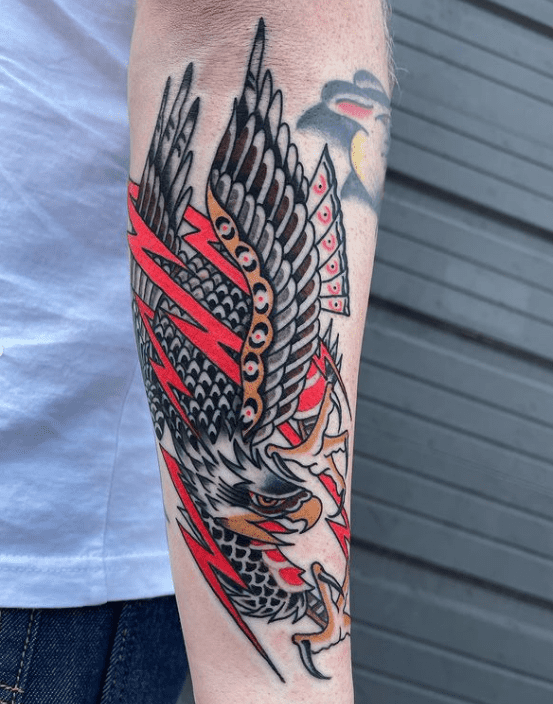 This arm tattoo surely steals the show with its strong black lines, bright reds, and sunny yellows.
8. Soaring to the moon
This incredibly detailed soaring eagle flies high around a subtly shaded moon. As they say, the sky is the limit.
9. Golden eye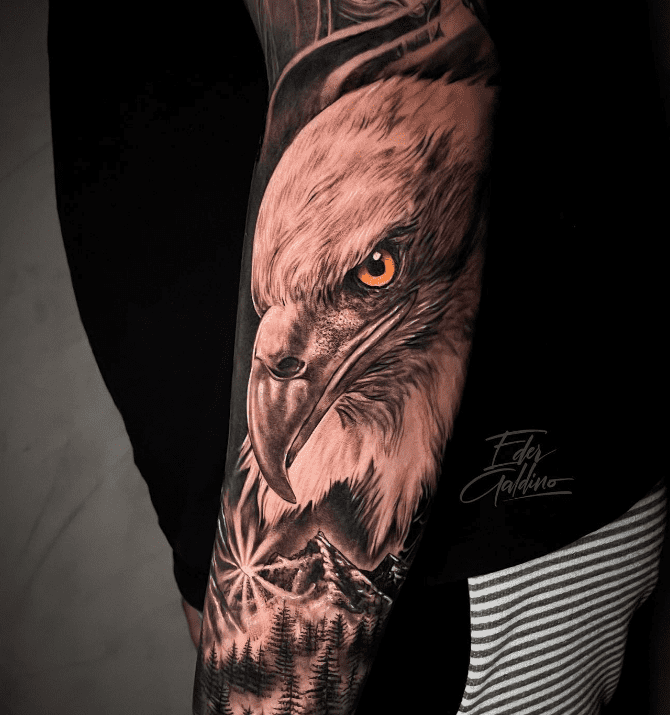 This full-arm tattoo screams power with its subtly shaded eagle head and a golden eye as its focal point.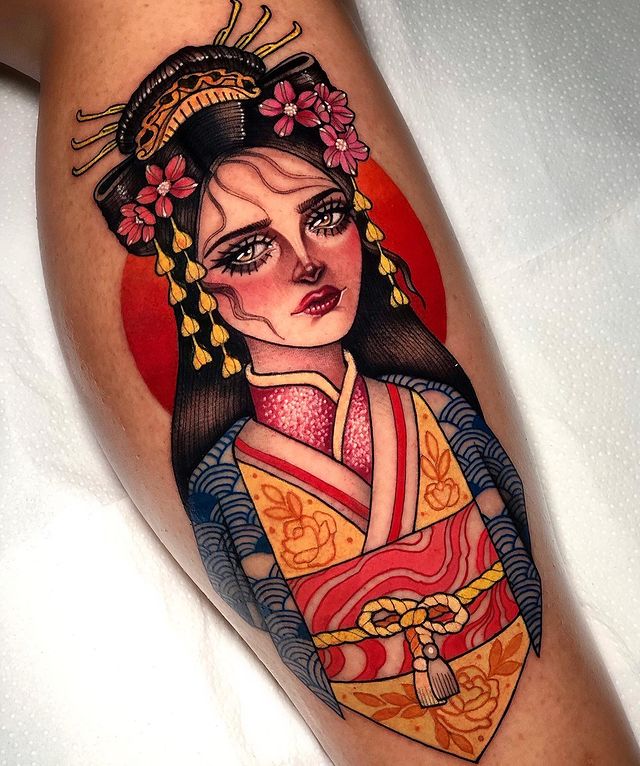 10. Back attack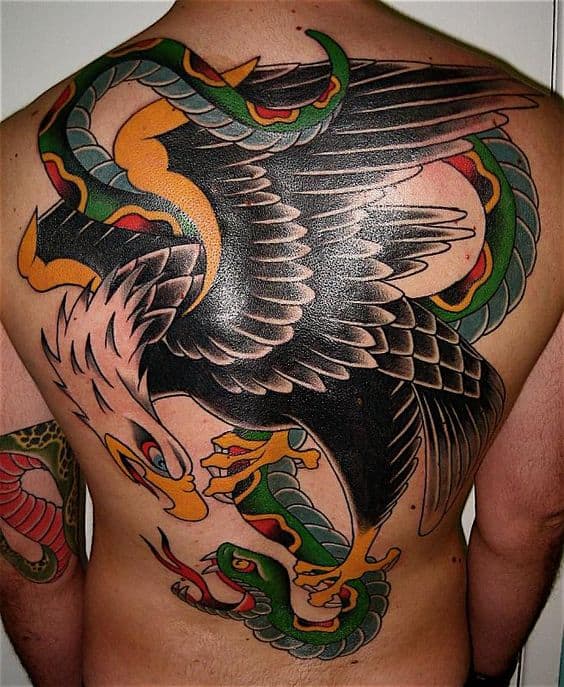 Big and bold, this snake and eagle tattoo offers a unique take on back ink. The art is well-balanced with bold shades of black and a pop of color, and its overall design complements the contours of the human back.
11. Micro fine-line tattoo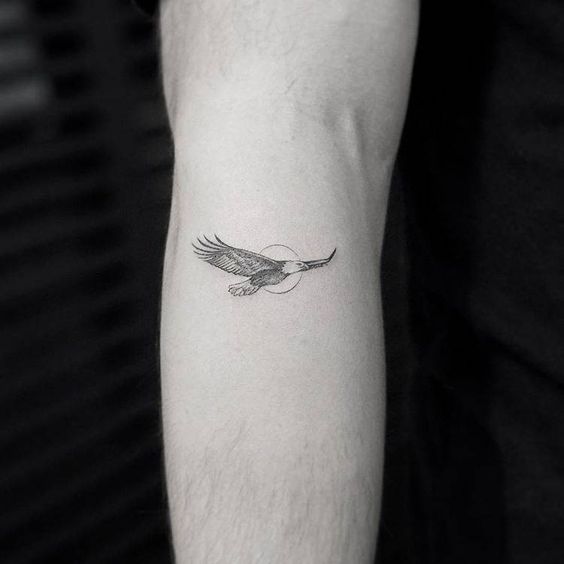 Bigger doesn't always mean better. This eagle micro tattoo packs an impressive amount of substance within a small area of the forearm.
12. Watercolor eagle face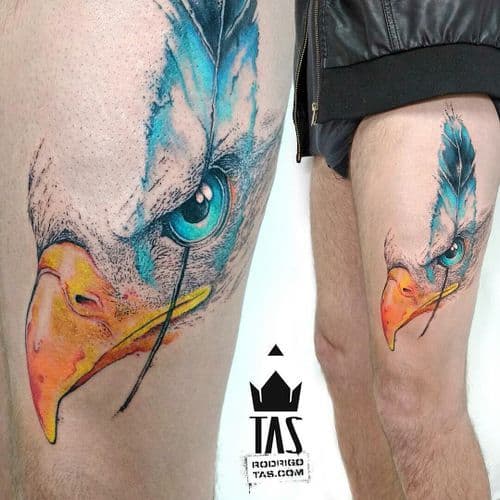 Tattoos done in watercolor are another way to evoke the look and feel of paper paintings. This arm eagle ink has vibrant watercolor splashes of blues, oranges, and yellows, paired with intricate black outlines.
13. Geometric eagle tattoo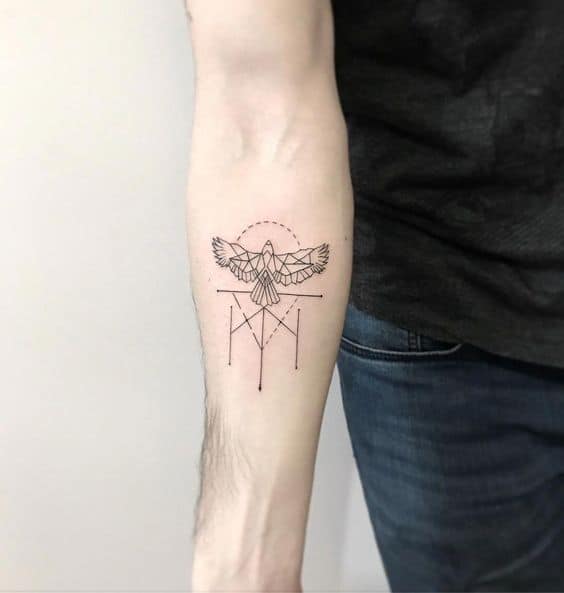 Fan of minimalist lines? This geometric eagle tattoo is composed entirely of shapes, giving it a disjointed, cubist appearance.
14. Eagle on the hunt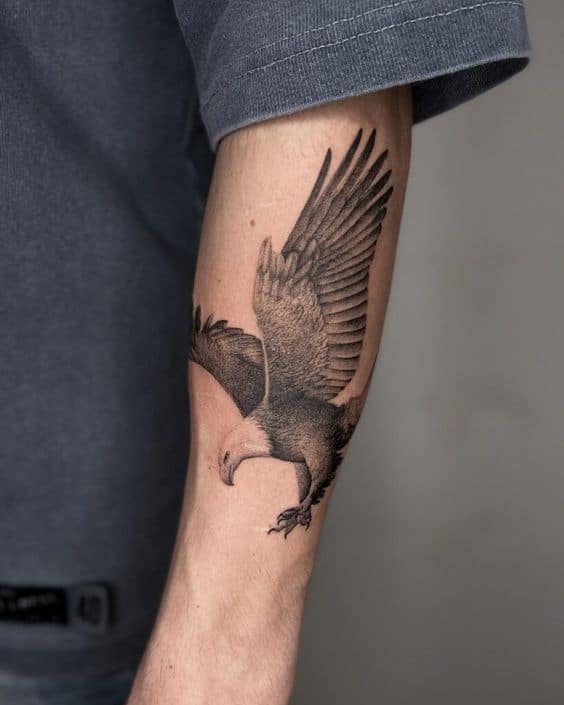 Beautiful! This eagle tattoo is incredibly precise and close to having a photorealistic appearance. Numerous fine lines are used to produce perfectly textured wings and feathers, looking like it's laser-focused on its prey.
15. German eagle tattoo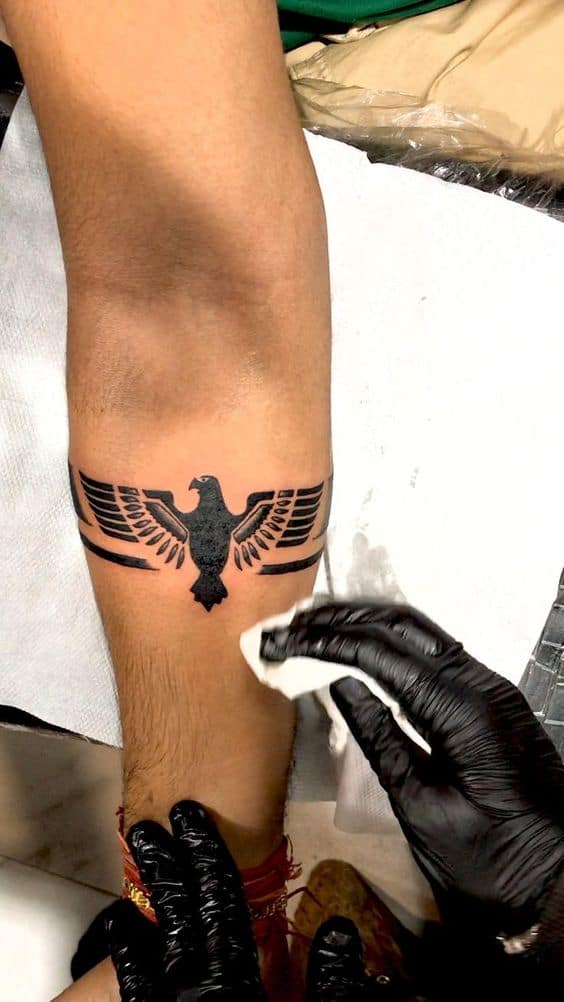 Armband tattoos are making a comeback, and this black-shaded eagle tattoo with its wings used as a frame is an incredible idea.
16. Artful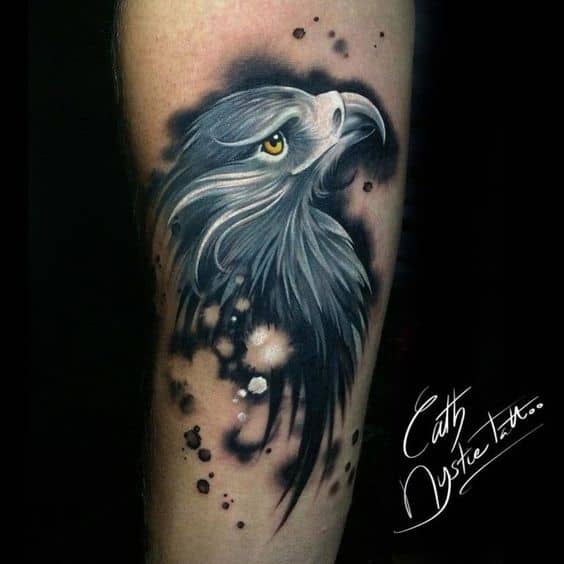 A beautiful design that celebrates creative elements, this blue and white pattern has a unified gloomy theme.
17. Filled-in eagle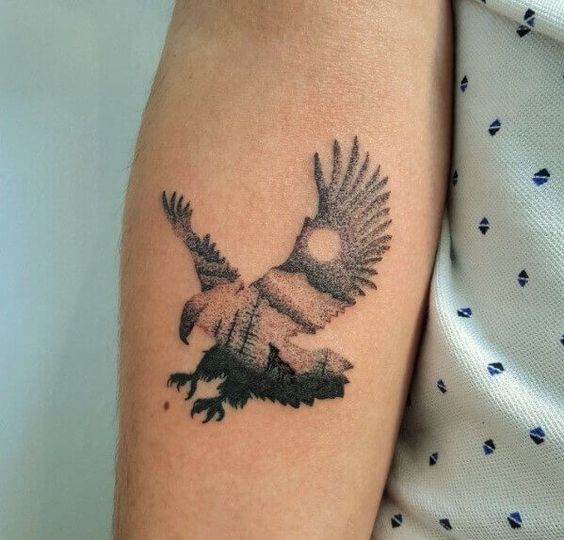 This small arm tattoo takes the traditional eagle-in-scenery ink into something unique. Here we see an outline of a landing eagle, filled in with a delicately shaded skyline.
18. Ornamentation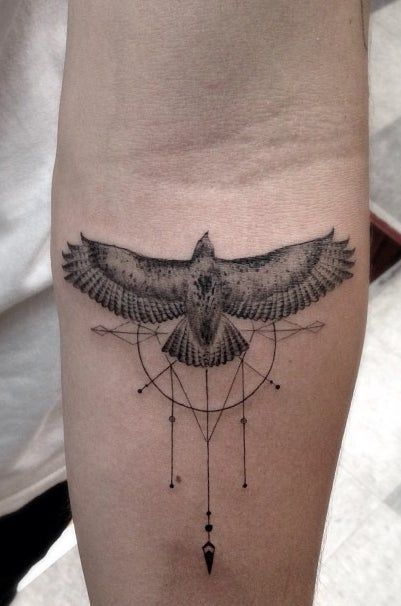 These fine-line stylish accents improve the tattoo's aesthetic and help maintain a sense of visual equilibrium and harmony.
19. Sketches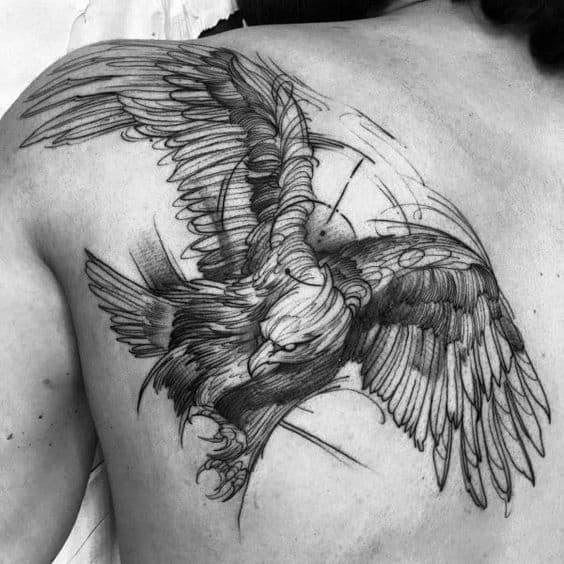 This is an example of an impressive eagle sketch tattoo, with flowing lines and other aspects that give the ink the impression of being a piece of artwork on paper.
20. Soaring on chest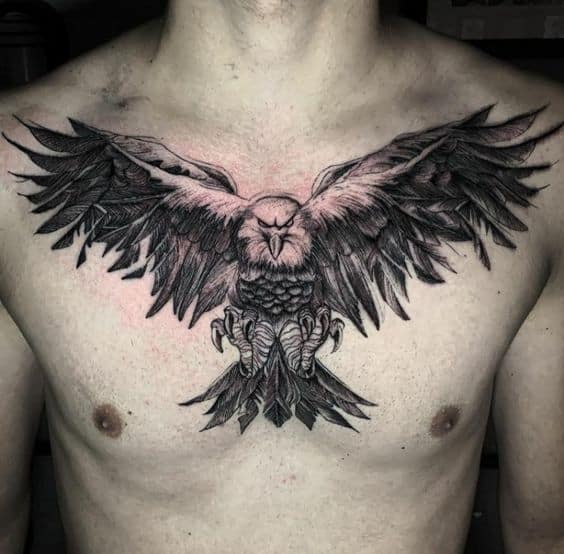 The chest is one of the best places to add a soaring eagle tattoo, as it perfectly melds in the form of the body. This eagle with its wide-spread wings and dark-shaded feathers exudes a bold statement.
Eagle Tattoo Frequently Asked Questions
What does an eagle tattoo symbolize?
The eagle symbolizes strength, power, courage, and the ultimate goal of freedom.
Summary
As you can tell, there are a ton of eagle tattoos out there ranging in styles and sizes. I hope this small selection has helped inspire your next piece of ink.