What does a dragon tattoo symbolize?
These Chinese dragon tattoos symbolize potent and favorable powers such as good luck, longevity, and prosperity. In ancient China, Dragons were revered almost as much as a deity. They would often represent rain, making them incredibly important to everyone involved in agriculture.
Chinese dragons catch the eye with their attractive colors and captivating beauty. I think dragon tattoos are a fantastic choice, as you can create them as a tattoo in any style you wish!
The dragon is versatile and can be placed almost anywhere on your body. I did a deep dive into Instagrams archives again, my fellow friends; let's look at the top 20 dragon tattoos I found.
1. Black and Grey Chinese Dragon Tattoo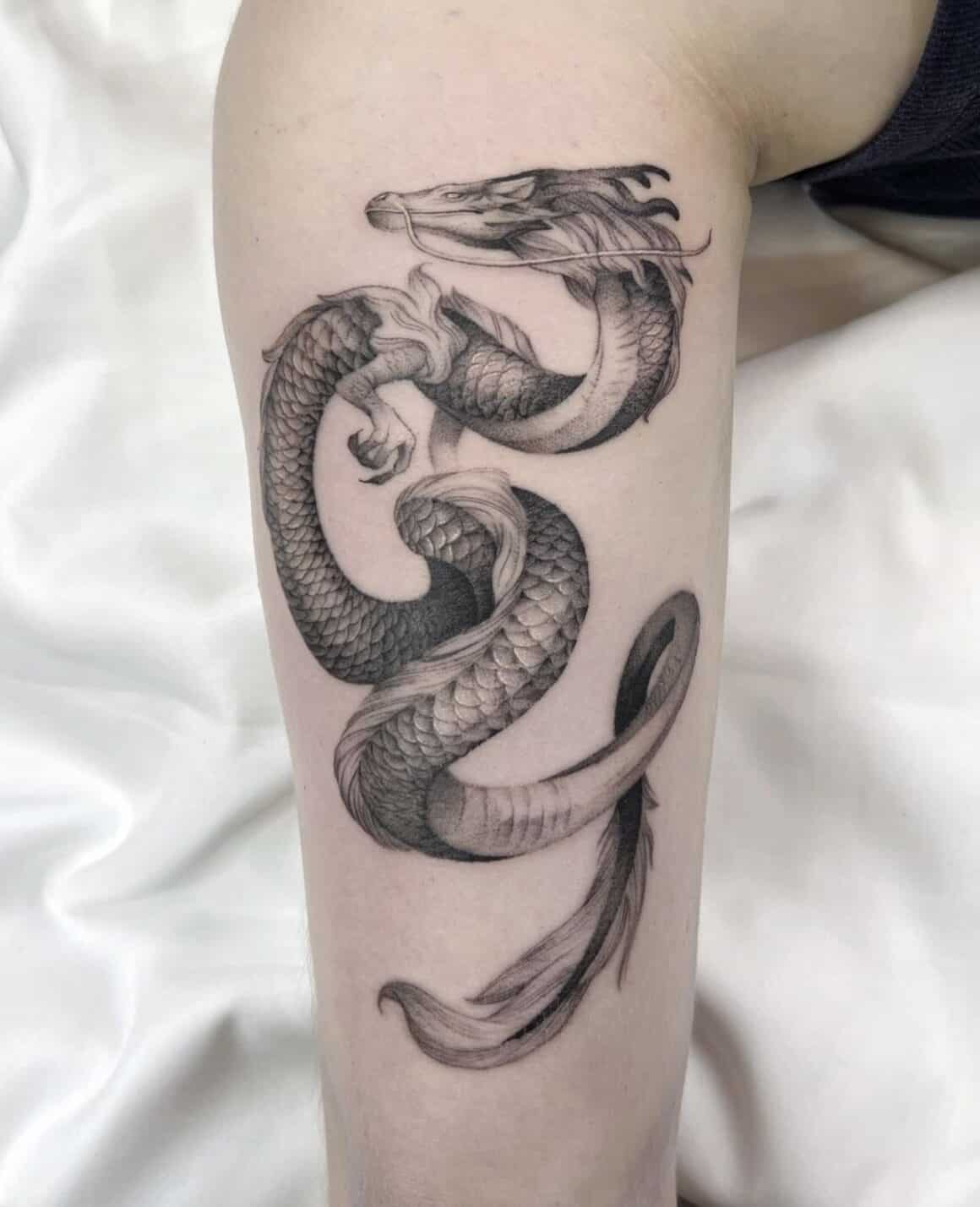 I love the soft appearance of this bad boy… or should I say, good girl? The smooth shading gives this piece a gentle impression, which makes me want to call her a girl!
The lines are soft and done with the precision of a well-seasoned artist. Bravo!
2. Realistic Toothless Dragon Tattoo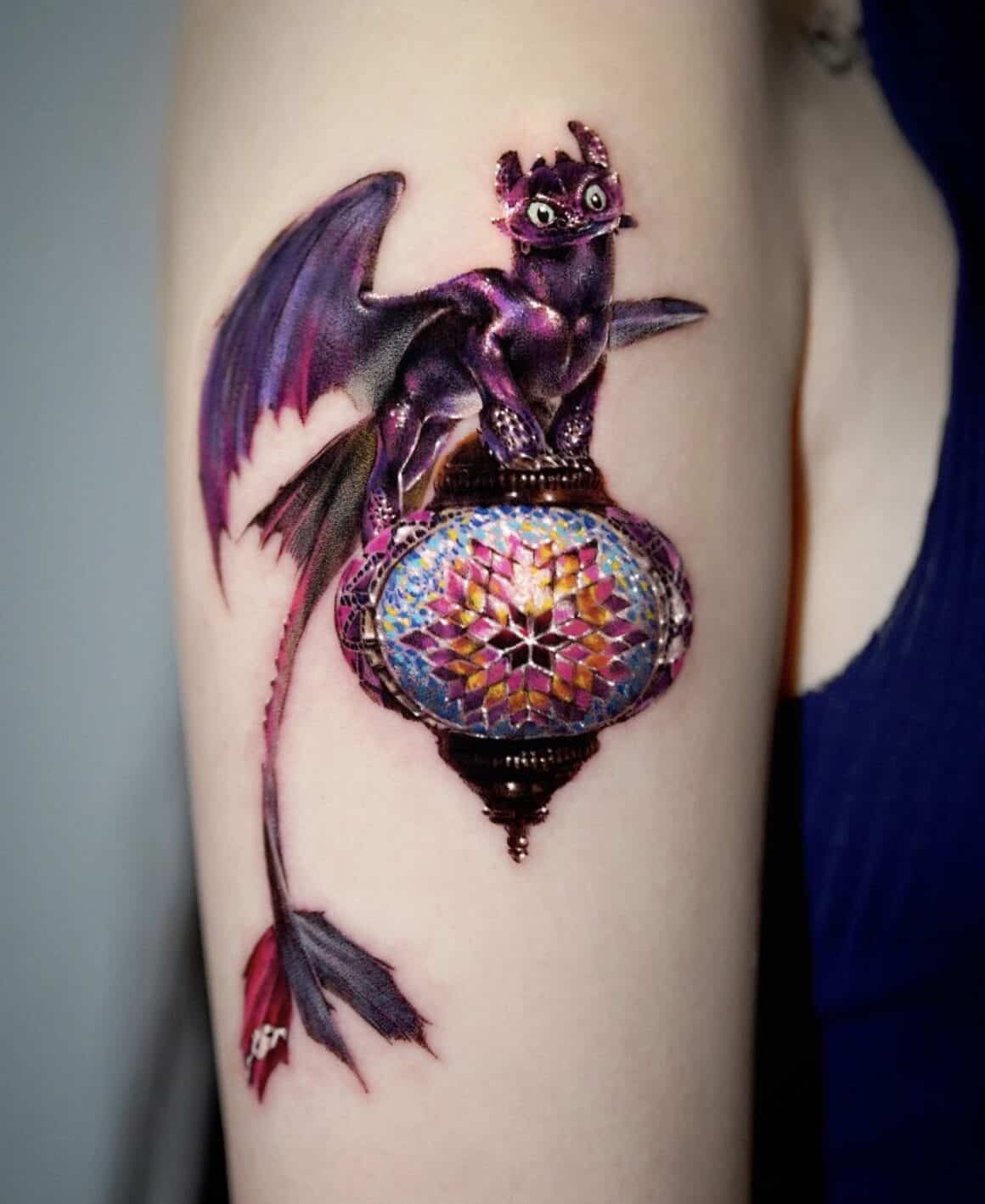 Honestly, I have been left speechless and knocked off my feet by this one; someone pinch me! Am I dreaming? The realism is admirable in this one; I want to hang that lantern by my front door to welcome me home after a long, grueling day of work.
My favorite part about this tattoo is the comfort the deep purples give me… alright, this is my favorite on this list!
3. Dark Tribal Dragon Tattoo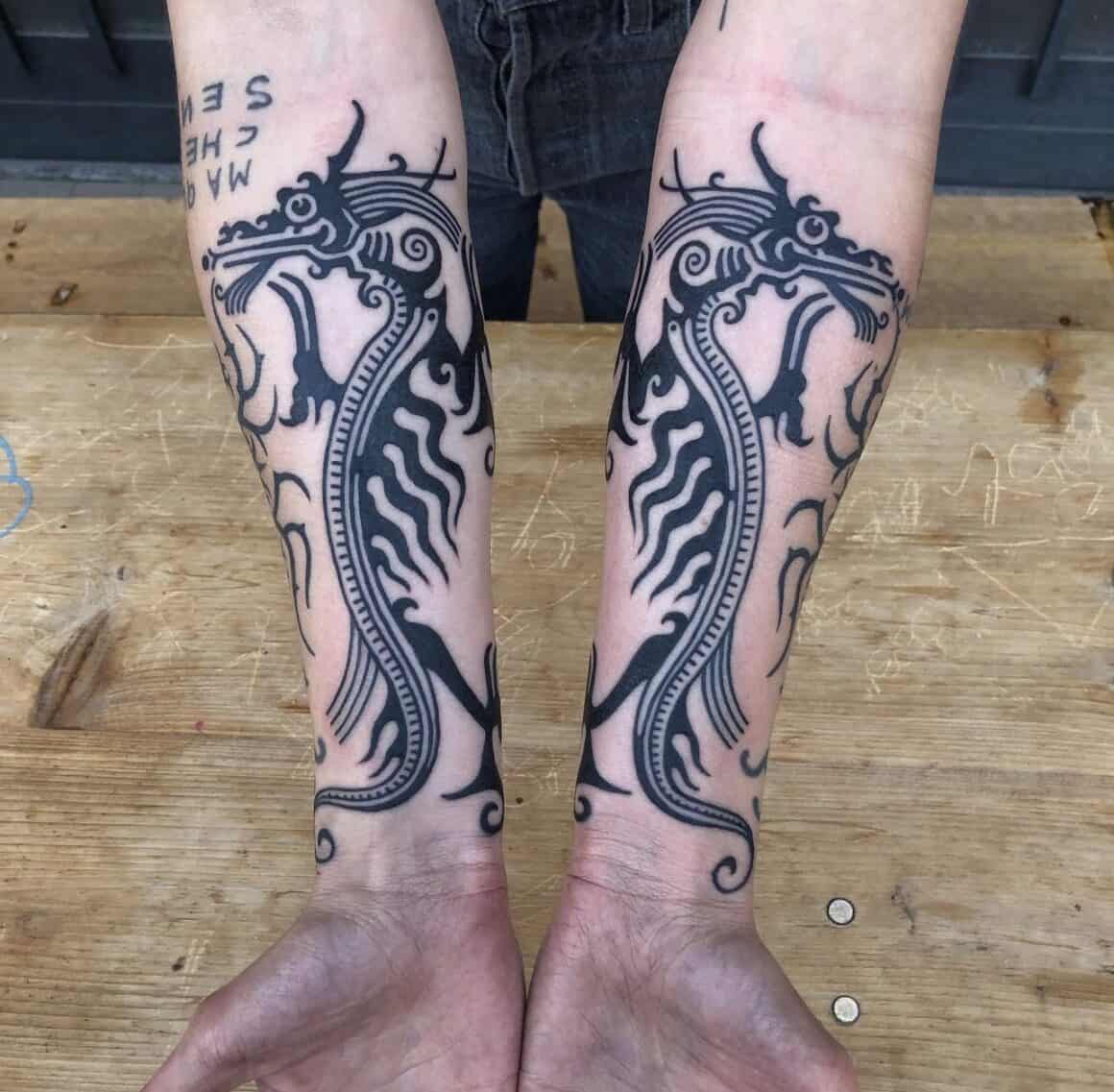 I have always profoundly appreciated ancient tribal tattoos and respected their roots. This tattoo has beautifully clean and bold, thick lines.
Tribal tattoos tend to be made up of bold lines and blacked-out areas; shading is not commonly found. I love the symmetrical theme going on here; overall a very clean and bold tattoo!
4. Mythical Hybrid Dragon Tattoo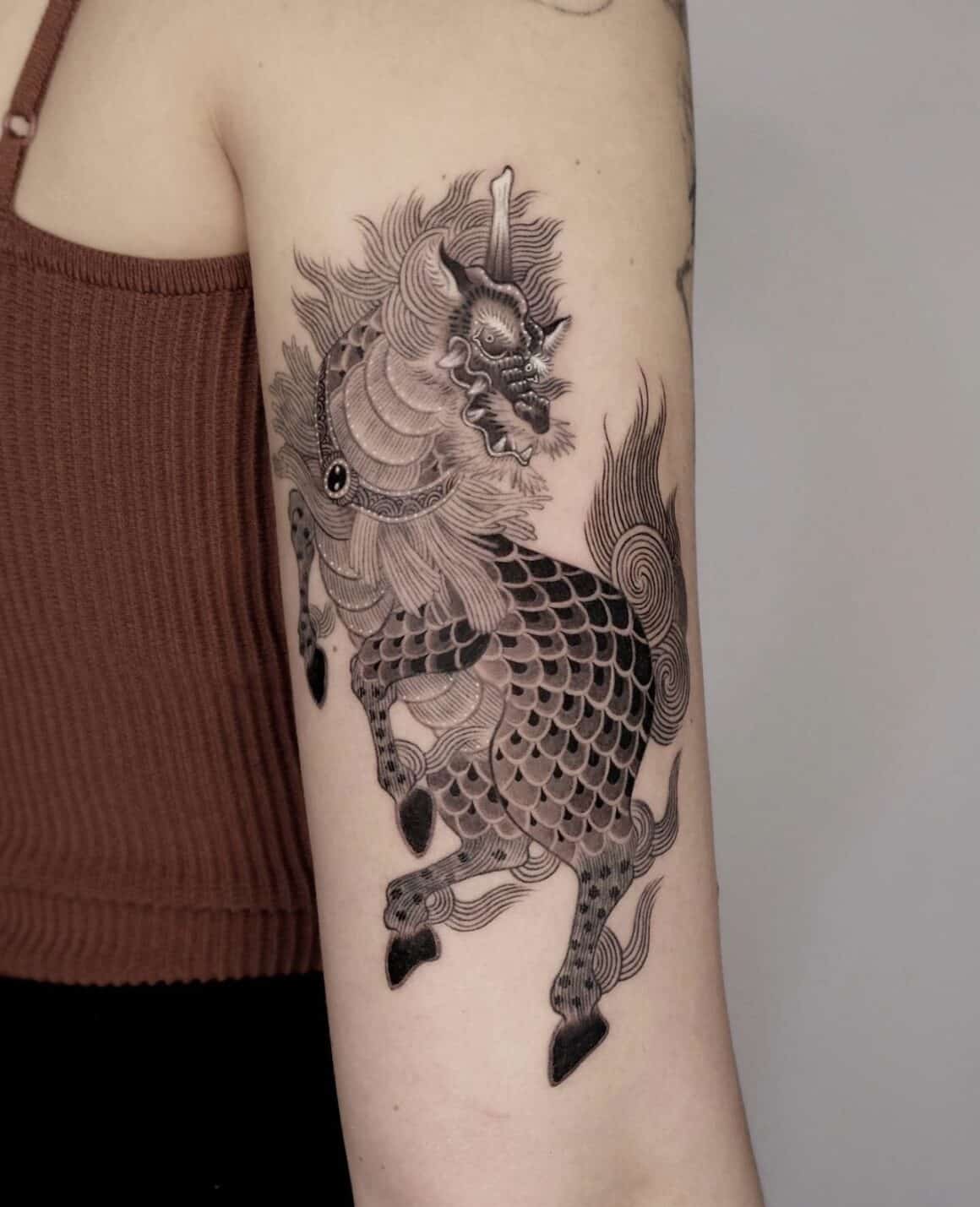 This has to be up the top there with my favorites. This tattoo is unique; I have never seen one like this. This is a mixture between a dragon and a goat; very similar to the mythical centaur!
The scales are what caught my eye immediately. This tattoo has been done so professionally that it almost looks picturesque.
5. Realistic Red Chinese Dragon Tattoo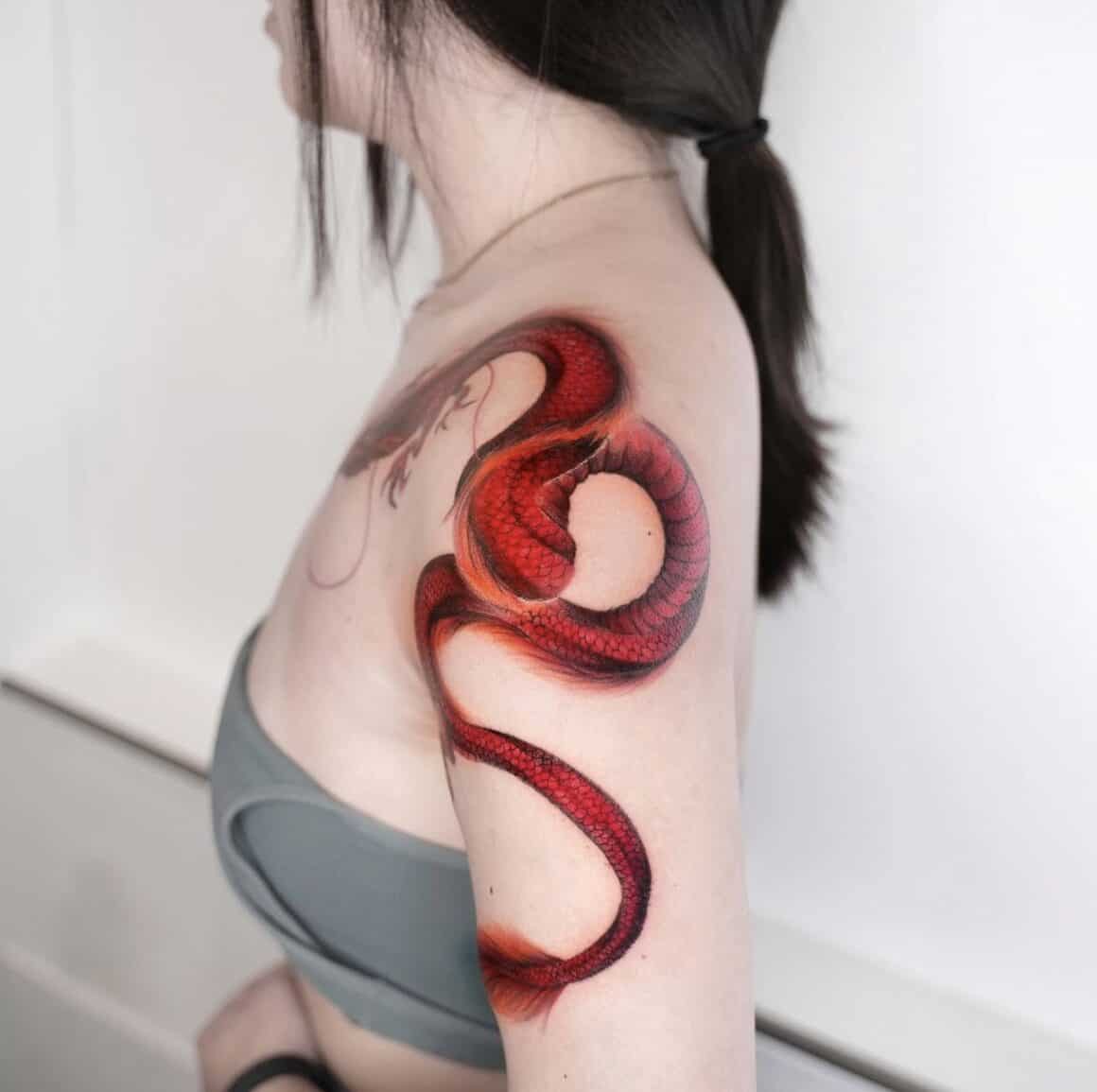 The vibrancy of this tattoo is world-class. My favorite part of this tattoo is its vibrant dark red hues that stand out against the lady's pale skin. The shading is done to perfection… another tattoo I want to reach out and touch to see if it is real!
6. Oriental Dragon Tattoo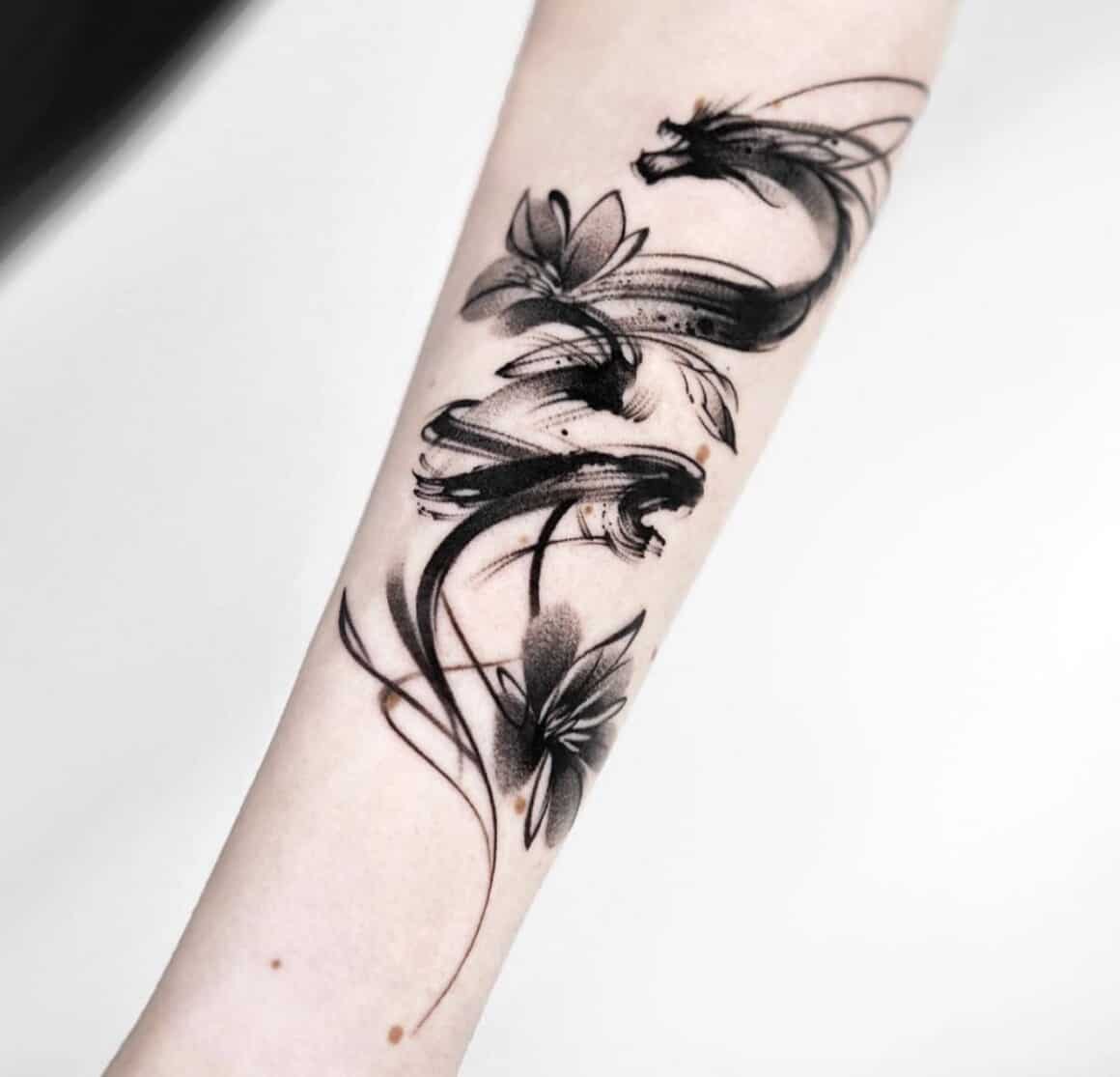 This Tattoo screams, "I am a work of art!" the minute you lay your eyes on it. The floral element adds that touch of feminine grace, which is my favorite part of this tattoo.
The shading has been done in a technique that makes certain parts of the dragon look blurred in certain parts; that takes a certain level of mastery. Well done to this artist!
7. Neo-Traditional Chinese Dragon Tattoo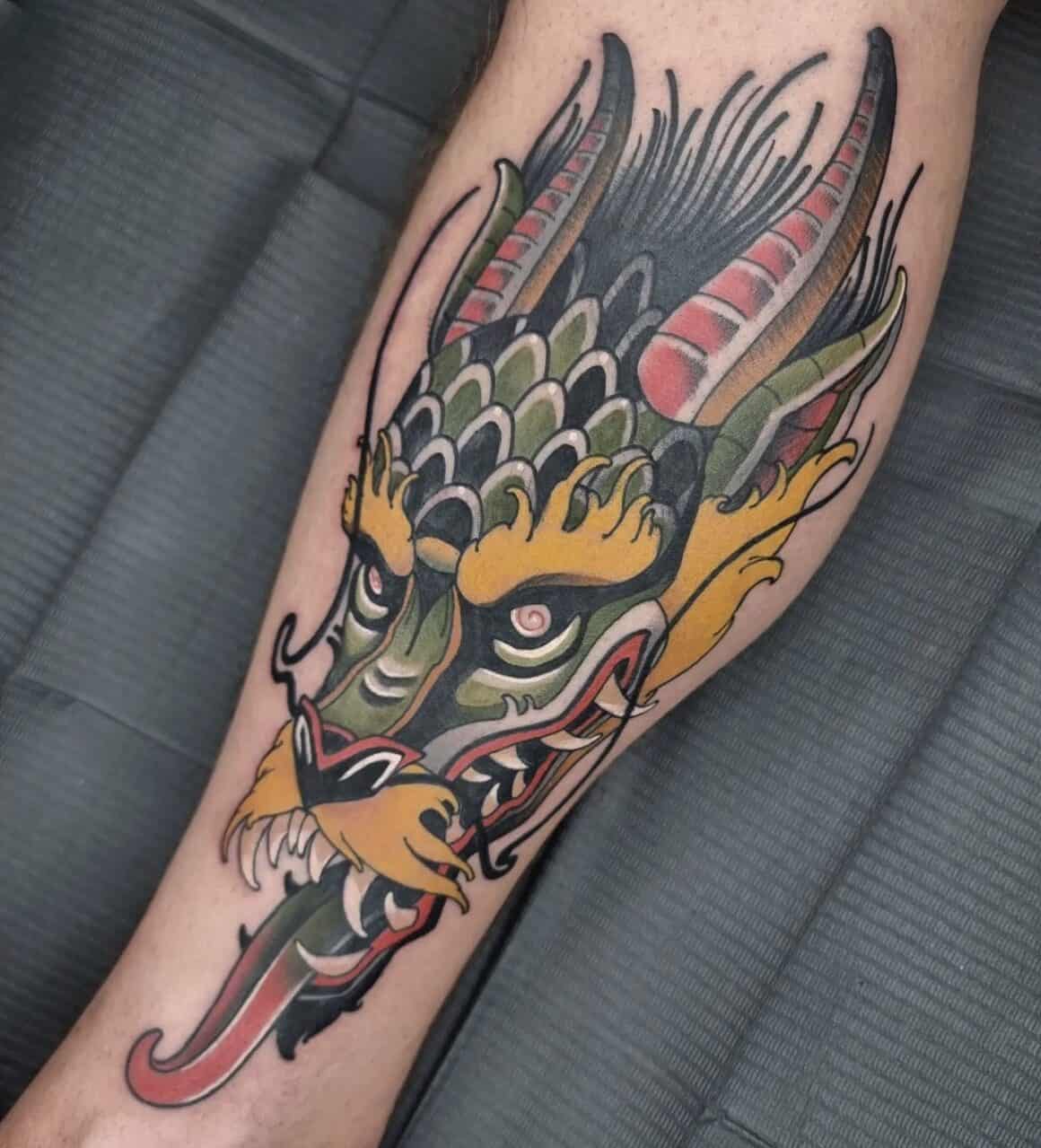 This tattoo screams rebellious teen! I love the use of neutral tones and soft, colorful hues. The lines are clean and sharp, making this tattoo a winner. I love the feature of the tongue sticking out of the dragon.
8. Traditional Dragon Tattoo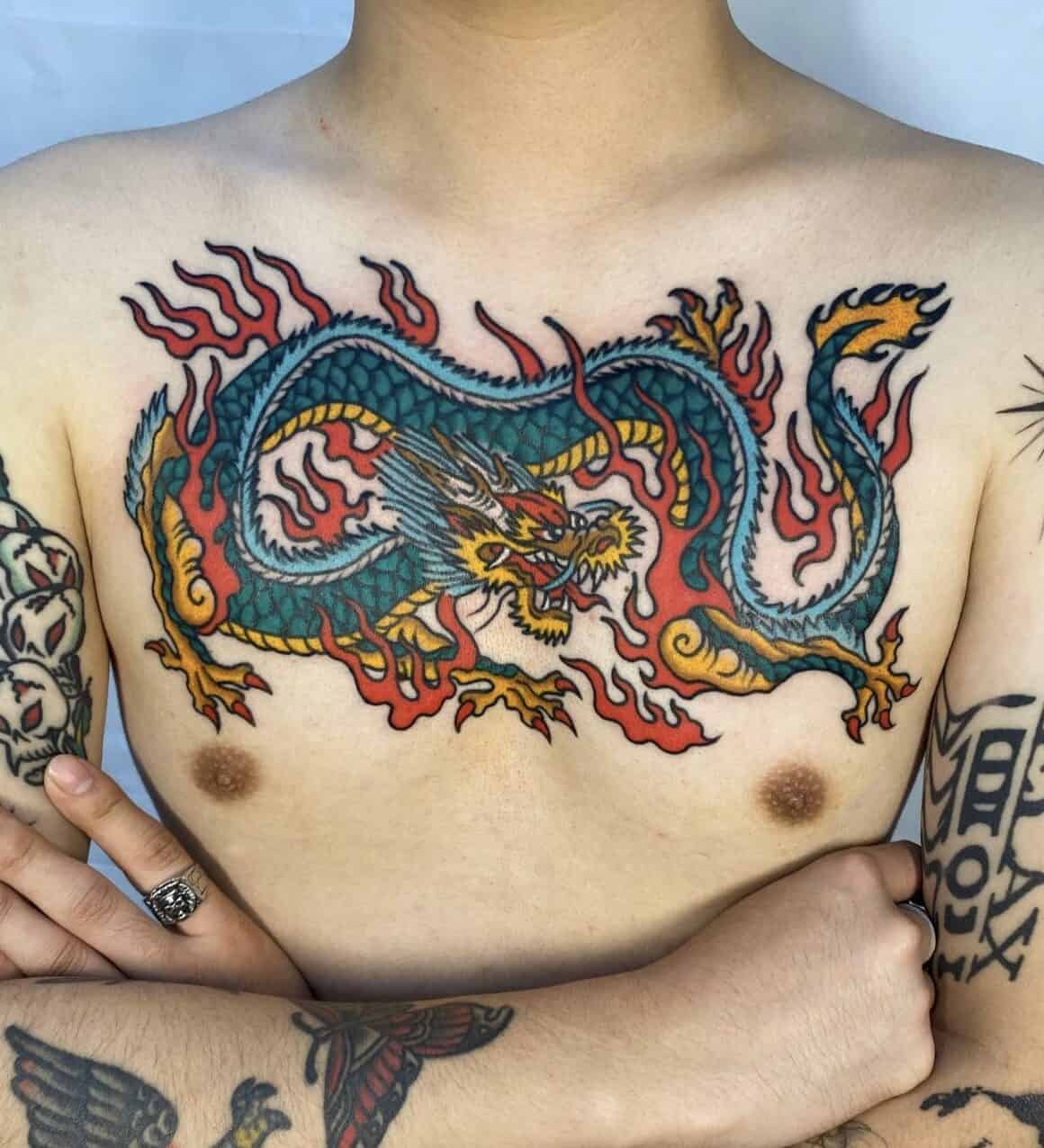 Neo-traditional and traditional tattoos are very similar; however, Neo-traditional tattoos tend to have a more complex color palette and varying line densities.
I love the color palette used for this traditional dragon above; I feel like I'm looking at a whole dragon rainbow with those saturated colors. My favorite part about this little guy is his red nails! That makes him one sassy dragon.
9. Fine Line Red Dragon Tattoo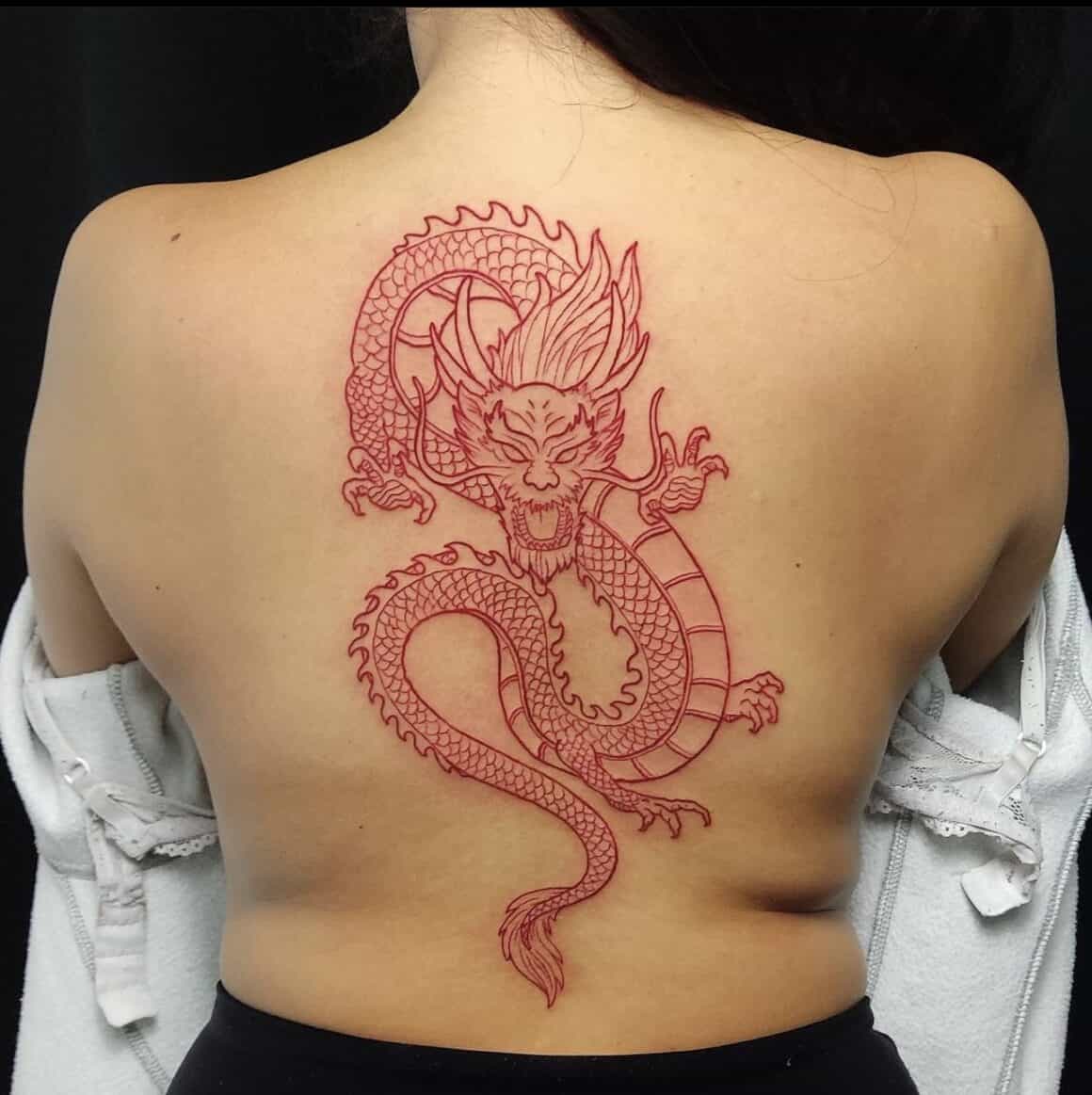 Well, first things first, the part about this red ink tattoo that stands out the most are those clean, crispy lines; it should be criminal to be this good!
The placement is perfect with the dragon sitting directly in the middle of the back, combined with the ideal size; this is a recipe for perfection! I love the artist's minimal approach of just using linework; sometimes less is more, they say.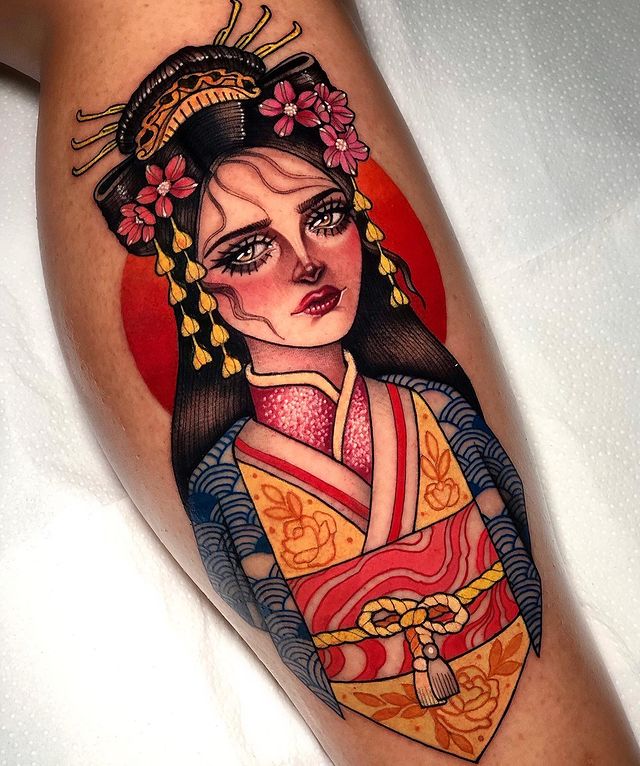 10. Fine Line Blue Dragon Tattoo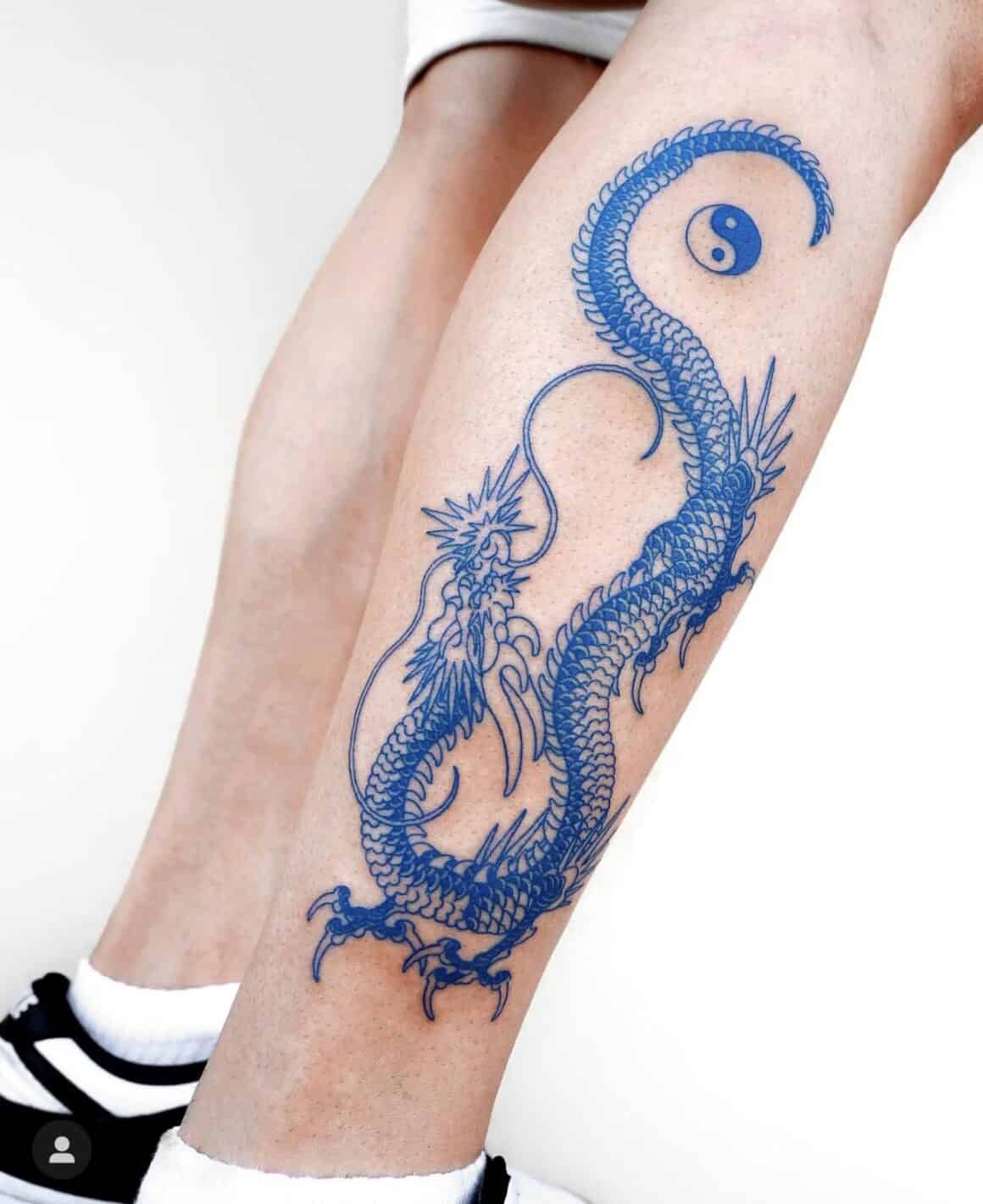 The blue dragon is an interesting touch to an otherwise, usually depicted hardcore tattoo. The color blue can symbolize feelings of calmness, tranquility, and peace; this is my favorite part about this tattoo.
There is minimal shading used here, so I find skin breaks in the scales particularly useful in giving the tattoo the feeling of depth; brilliant, sir!
11. Floral Dragon Tattoo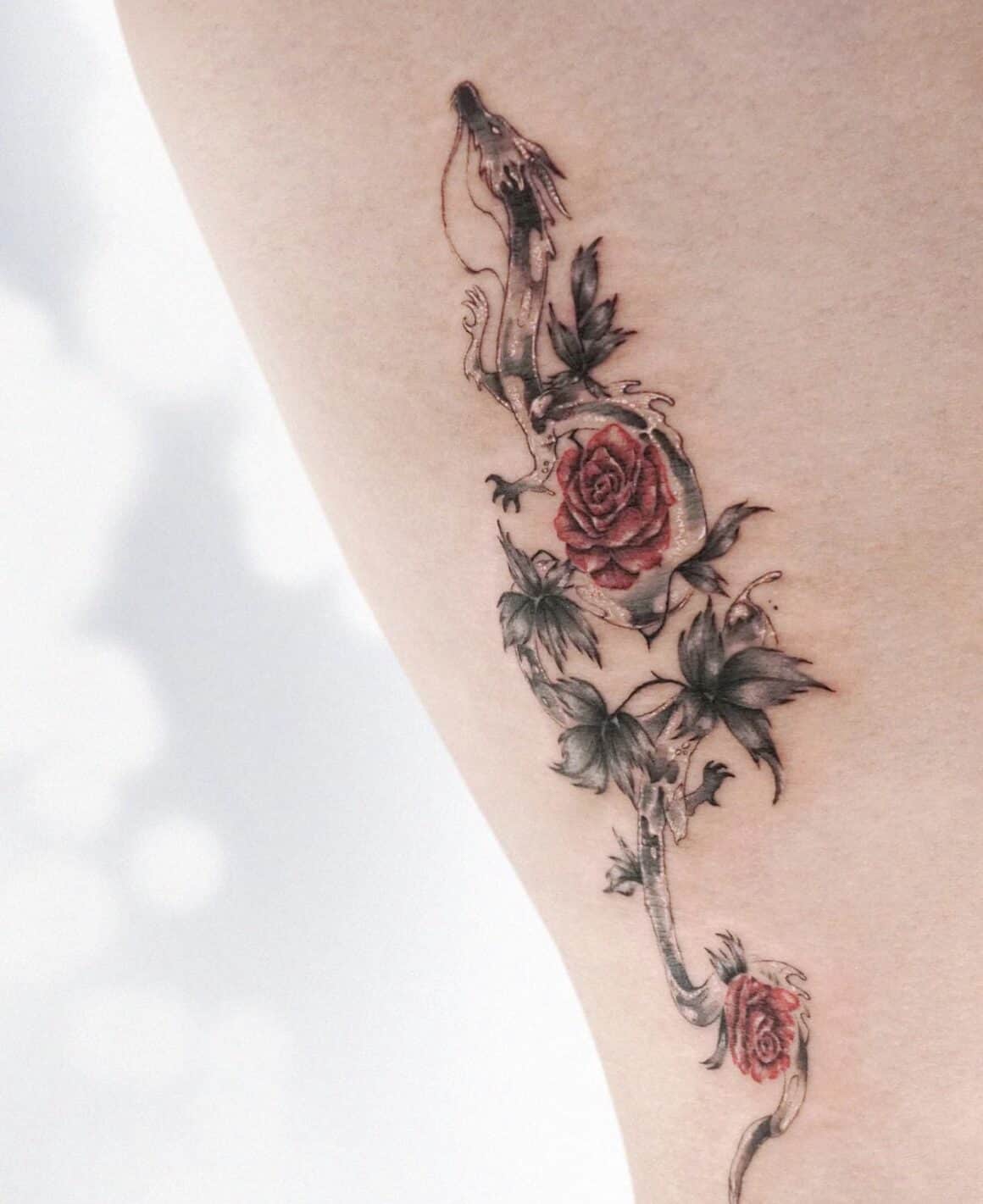 This tattoo is the perfect combination of delicate and fierce. The contrasting elements of the mighty dragon and the gentle, soft nature of the rose buds are such a killer move by the artist.
This is the perfect tattoo for someone wanting just that little extra "oomph." This bad girl is packing one powerful punch; I wouldn't dare double-cross her in a dark alleyway. The lines are soft, thin, and dainty; here lies a masterpiece before our eyes!
12. Triple The Trouble Dragon Tattoo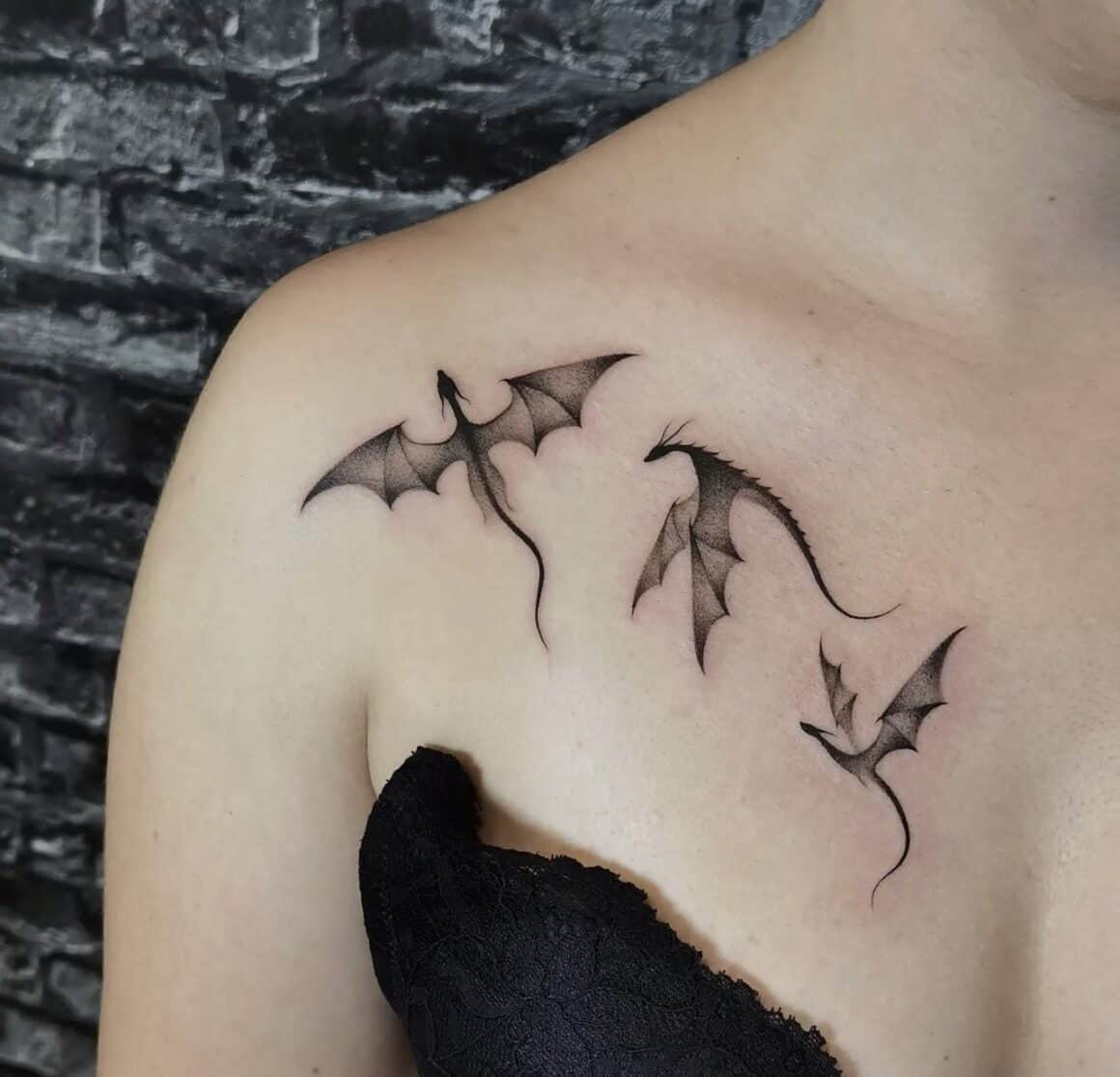 Remember what they say… trouble doesn't come in twos; it comes in threes with sharps teeth and wings! I love the dot work shading used in the wings; it gives an ethereal feel to these troublemakers.
I love the placement of the tattoo; it takes this tattoo from a ten out of ten to… well, off the charts! This artist has executed their craft professionally, and it shows. Well done!
13. Ouroboros Chinese Dragon Tattoo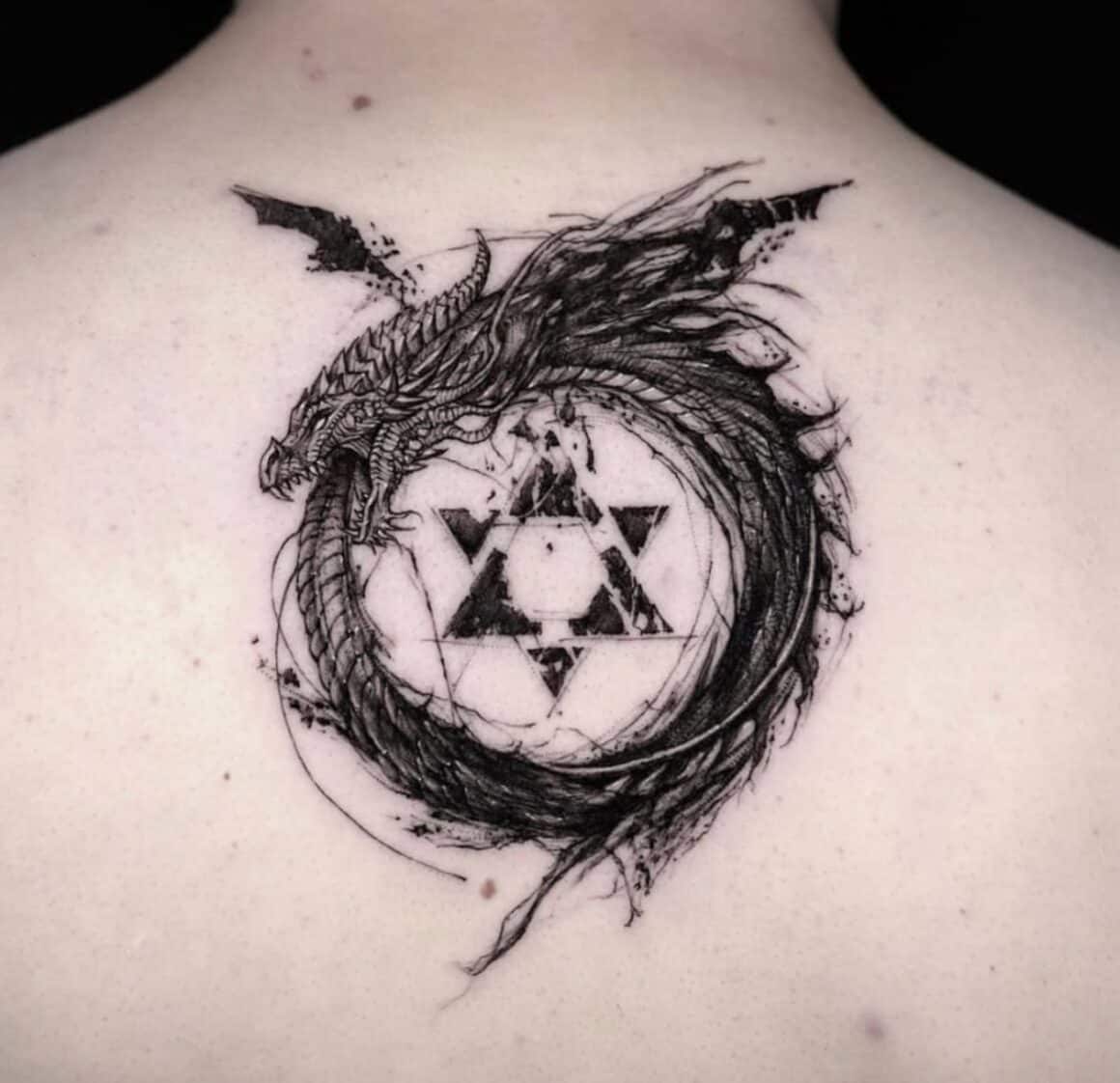 This symbol has deeply rooted ancient meanings. The Ouroboros traditionally depicts a serpent eating its tail; the artist has added a unique twist by replacing the slithering serpent with a dragon.
The Ouroboros represents the endless cycle of life, rebirth, and death. The tattoo itself has been done in a black work technique and has a tinge of an illustrative appearance. My favorite part of this tattoo is the dragon's face and the amount of skill and detail used to create it.
14. Dragon Protecting its Jewel Tattoo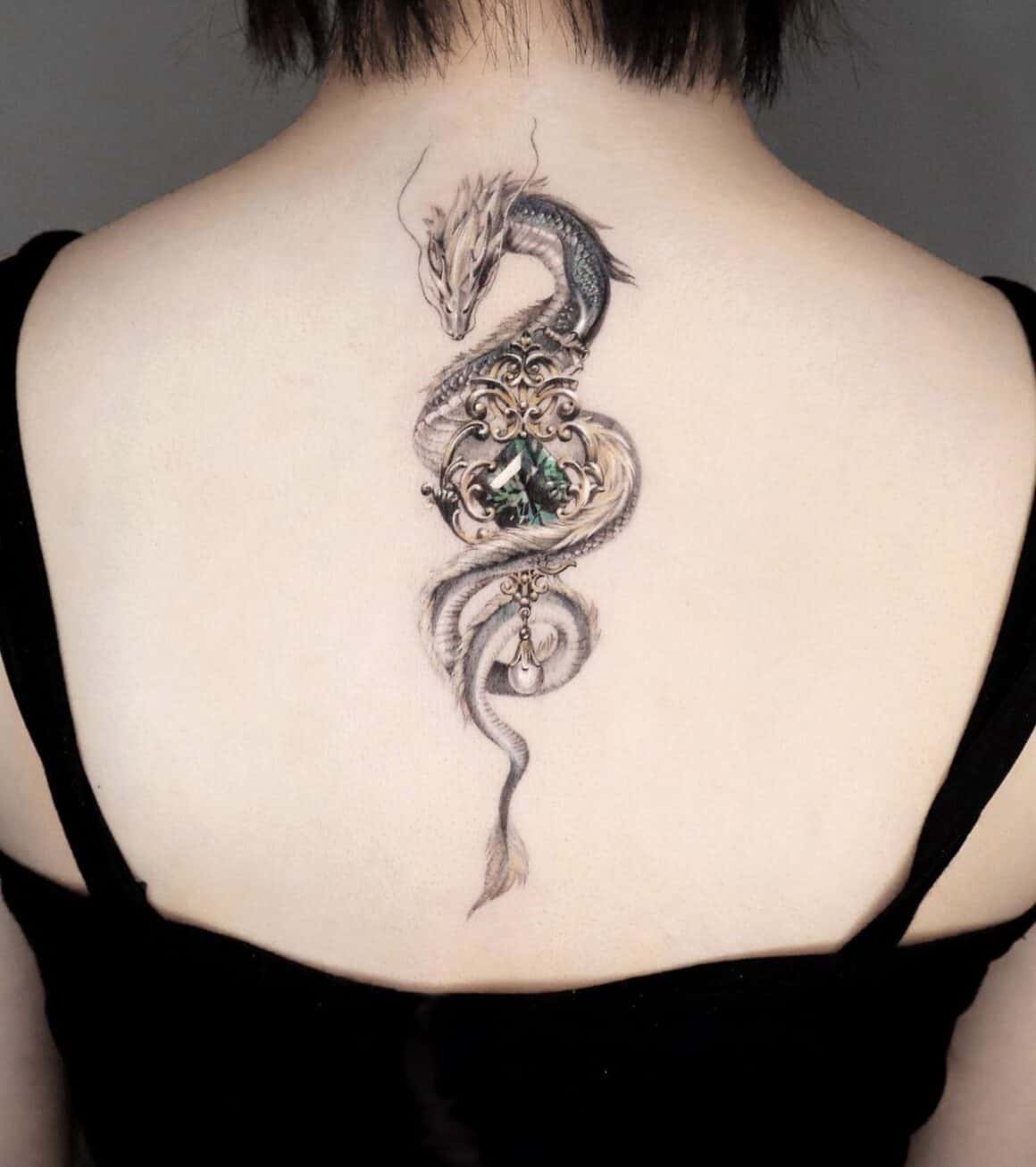 I love the traditional imagery of the dragon protecting its treasure; it is a beautiful touch and makes me appreciate this tattoo a little bit more.
The details in the bedazzled jewel is my favorite feat of this piece; the detail is so sharp it could cut you by just gazing too long! Overall, I think this tattoo is a work of art and deserves all the admiration it can get.
15. Black Dragon Head Tattoo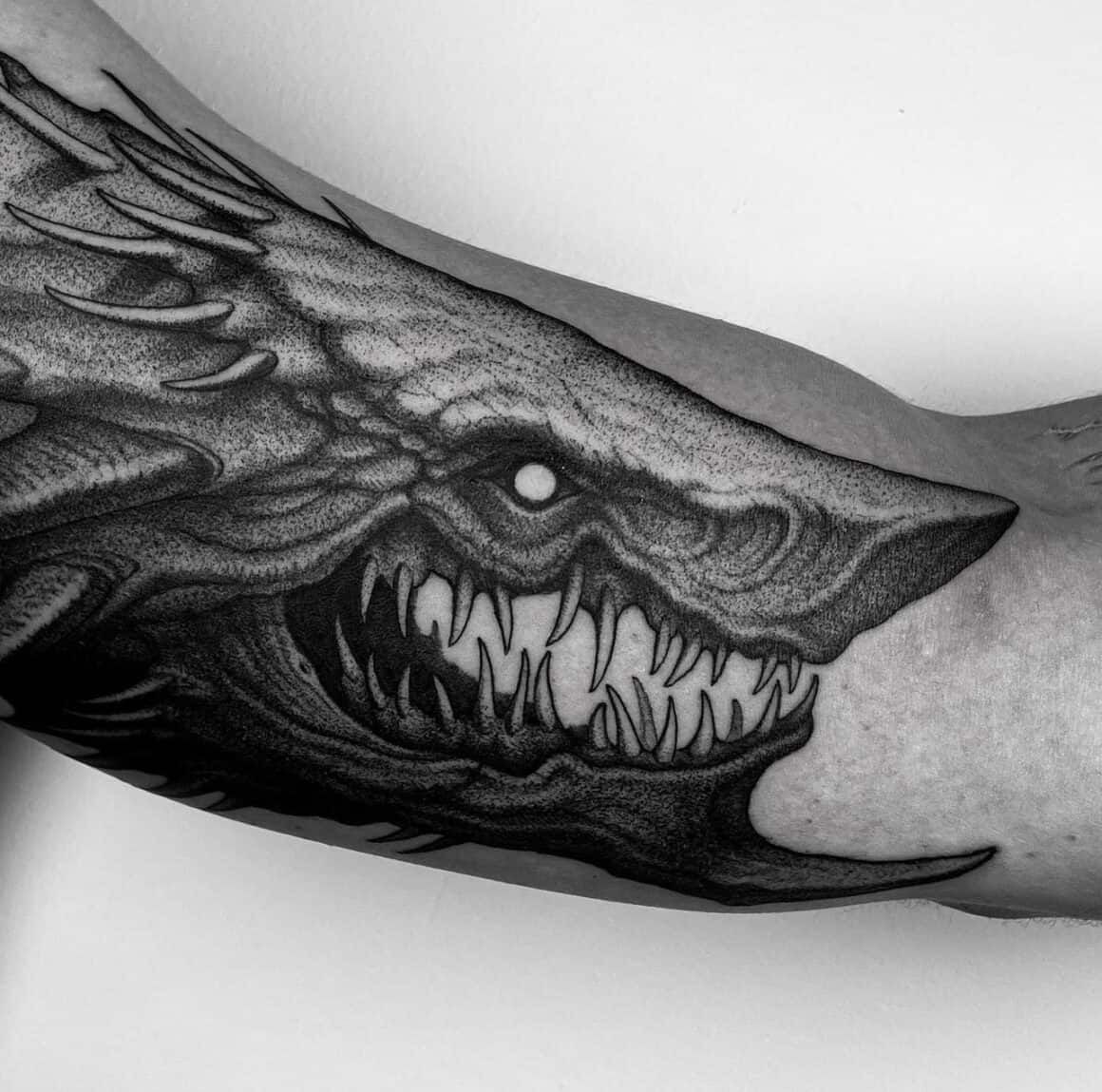 I love how dark and daunting this dragon head appears to its viewers; I'm quivering in my boots! The level of artistic expression and skill displayed here is beyond phenomenal.
The lines are clean and pristine, and the shading is immaculate. My favorite feature of this piece is the skin break for the eye; it draws attention to the entire tattoo.
16. Dagger And Dragon Tattoo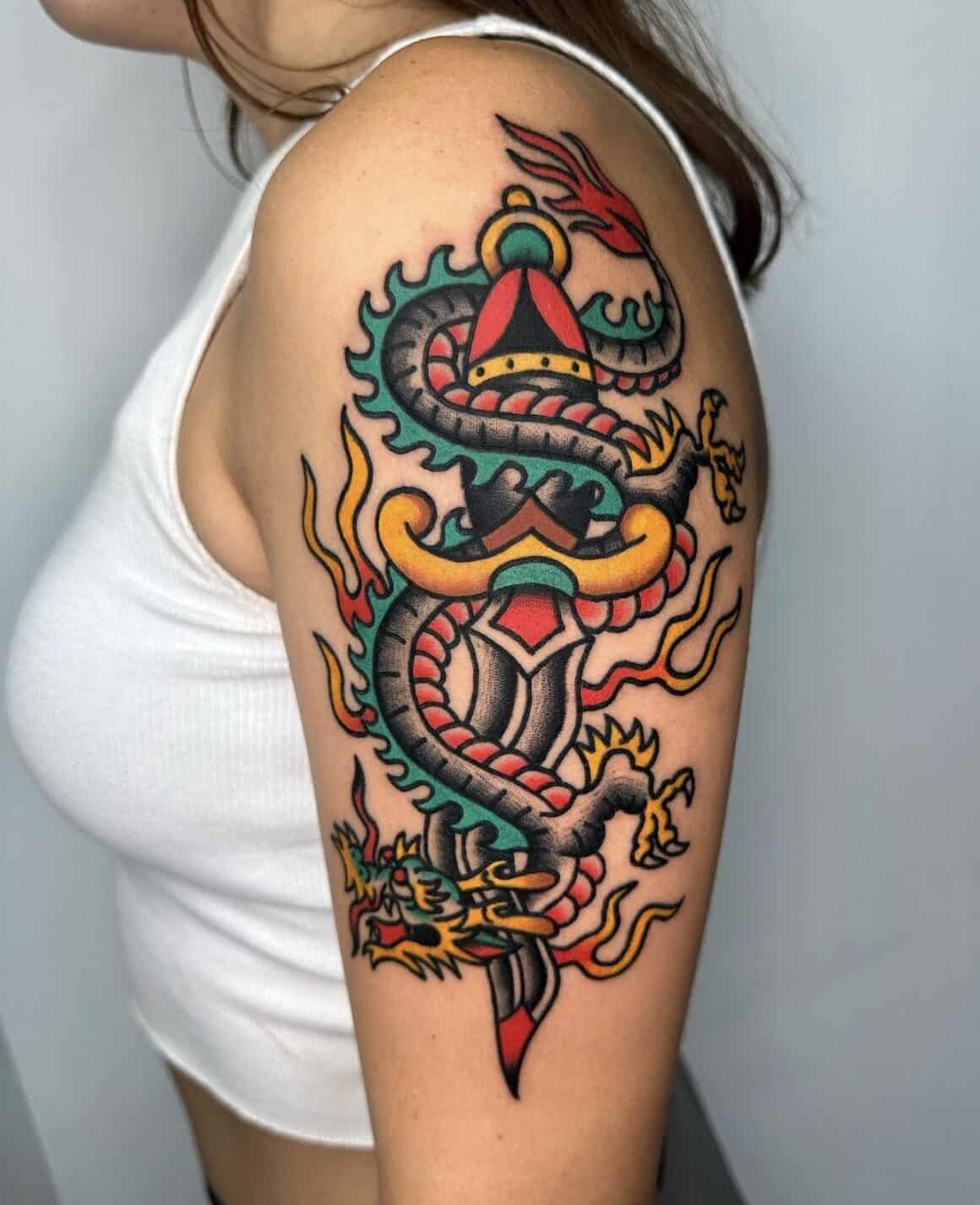 This is one of the most attractive traditional dragon tattoos I have seen. The lines are bold and beautiful, which is my favorite part of this piece. I need to pay some respect to the radiant turquoise the artist has used for the dragon; I feel like I could dive into the deep blue ocean when I lay my eyes on it. The curvy dagger gives the piece a little more pizazz! I don't just like it; I love it.
17. Black And Grey Double Chinese Dragon Tattoo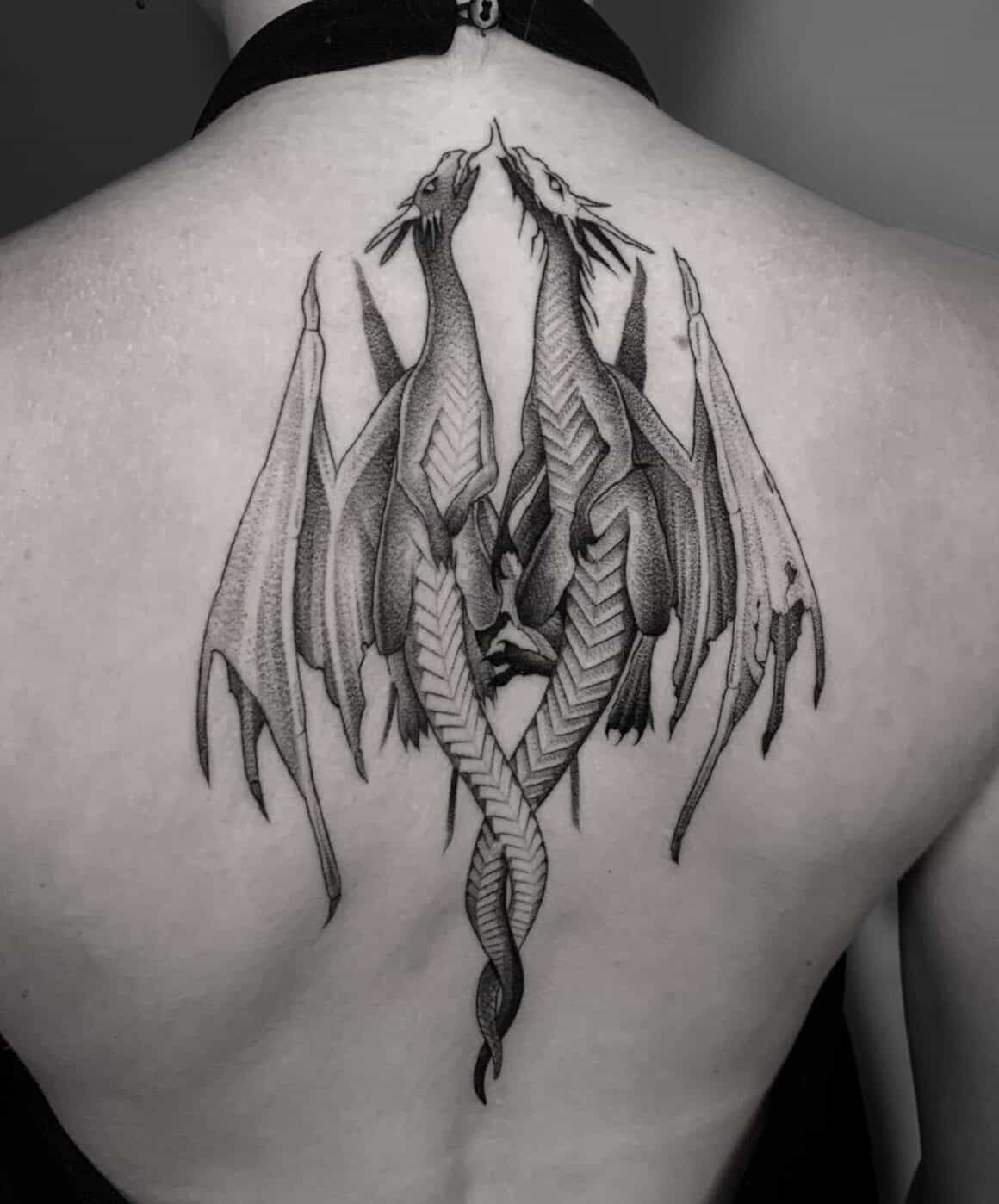 This is the perfect placement for a back piece. I love the element of two dragons instead of one; the symmetry is what catches the eye here. I love the scales on the underbelly too.
18. Dragon Holding a Painting Tattoo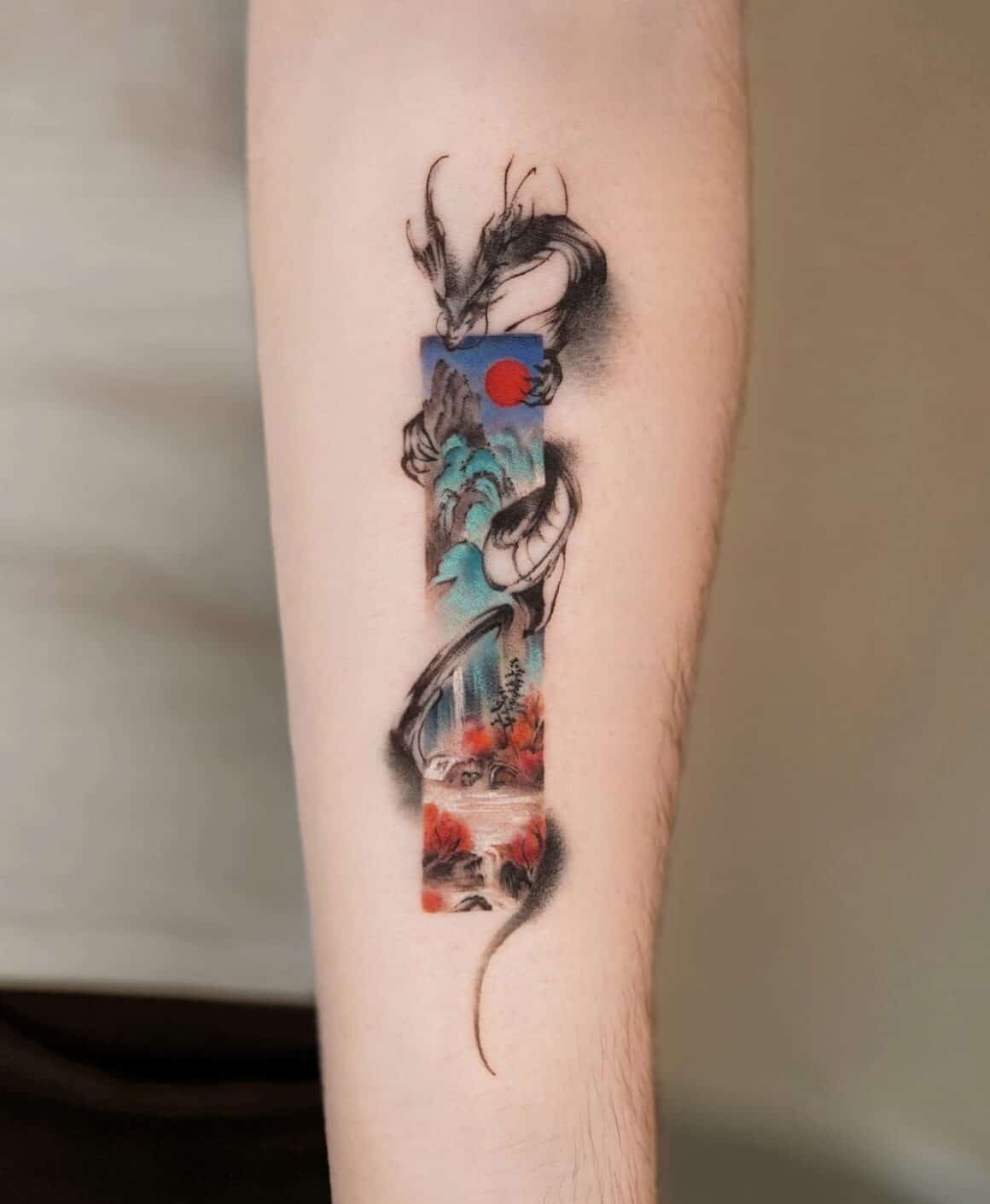 I love the artistic and illustrative approach this tattooer took when making this absolute monster of a specimen! The color palette used here is phenomenal. I love the turquoise and red combination; they complement each other very well. Great shading technique to make the dragon appear soft and elusive to the eye!
19. Floral Dragon Back Piece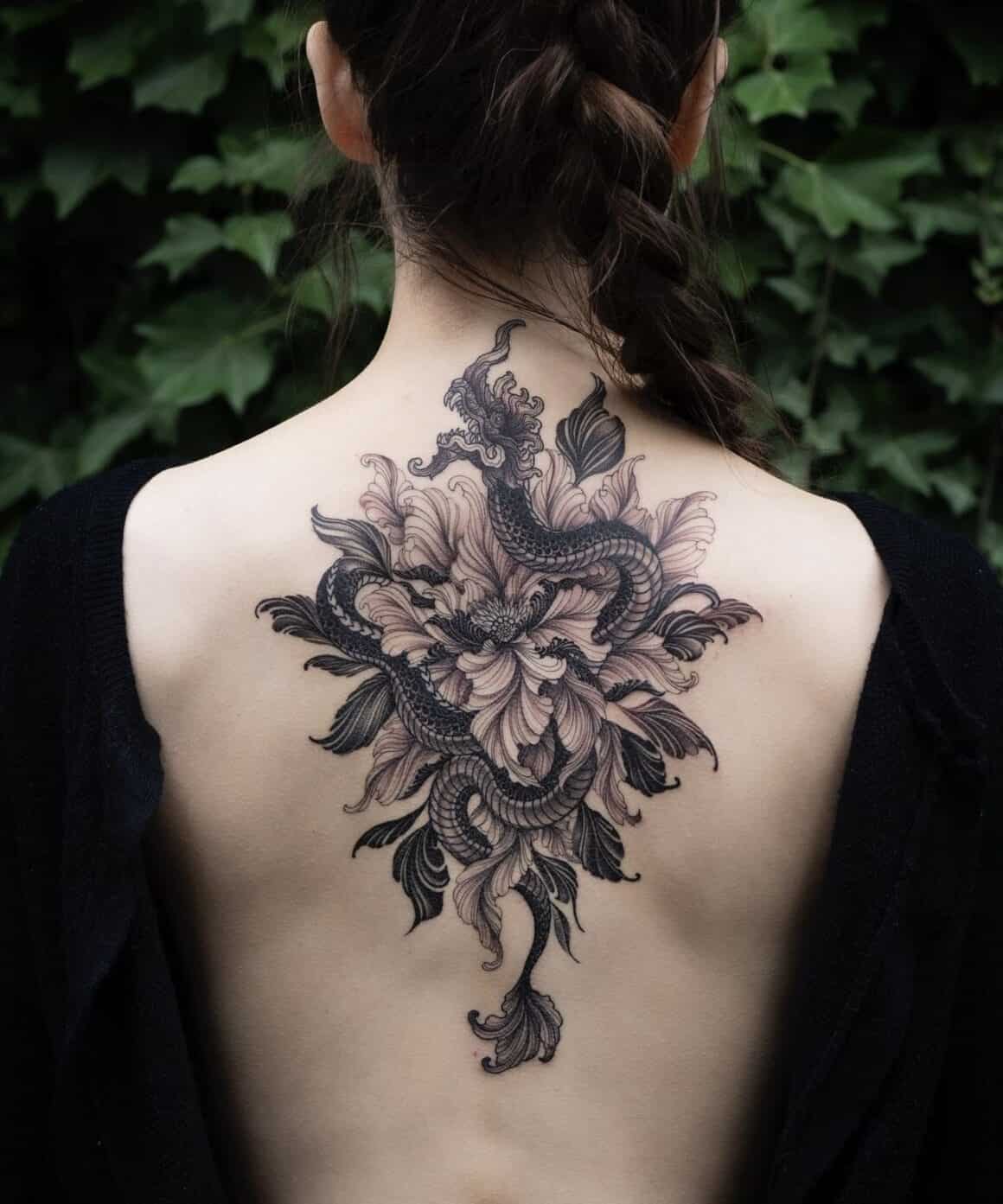 This is a beauty to feast our eyes upon. I love the intricate details of the dragon intertwined between the flowers. The thing that stands out the most to me in this piece is the dragon's unique head; I have never seen a dragon head quite like it!
The lines are clean, and the shading is immaculate. Let's not forget to mention the accuracy of the placement of this piece too!
20. Dragon Skeleton Tattoo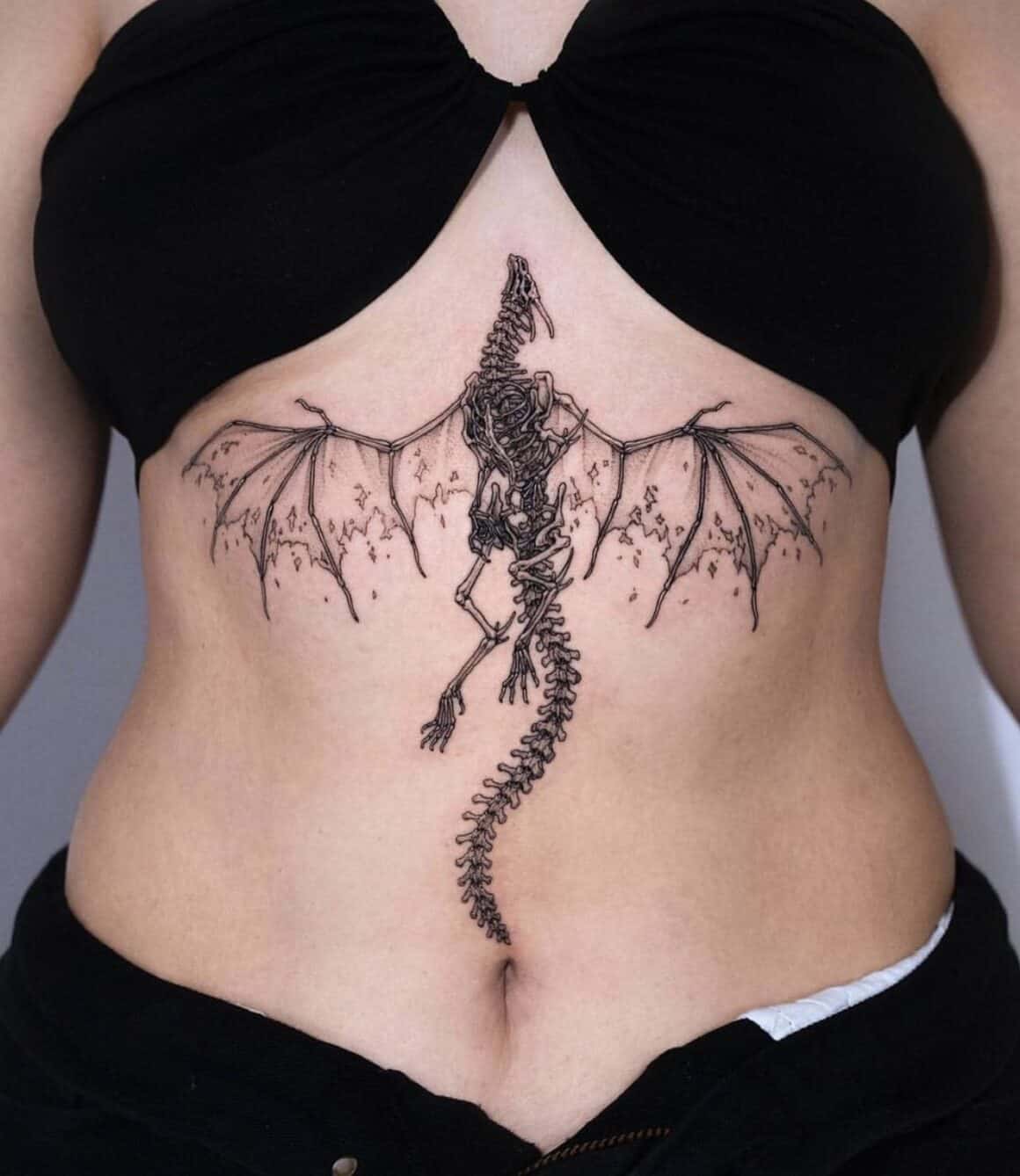 This is a unique piece, indeed! I love the element of death represented by the dragon's skeleton; it adds character to this guy. Looking at the technicalities of this piece, we can easily say that the lines are smooth, like butter, and the shading is spotless. A remarkable job!