Sagittarius tattoos allow for a lot of creative exploration. As the ninth sign of the zodiac, it governs those born from November 22nd to December 21st. The sign is represented by an arrow drawn across a bow, and also a centaur shooting a bow and arrow.
There are endless ways that these can be translated, and we've curated a list to showcase some of that variety. Take a look at some of our favorite Sagittarius tattoos.
1. Cute Doll-Faced Girl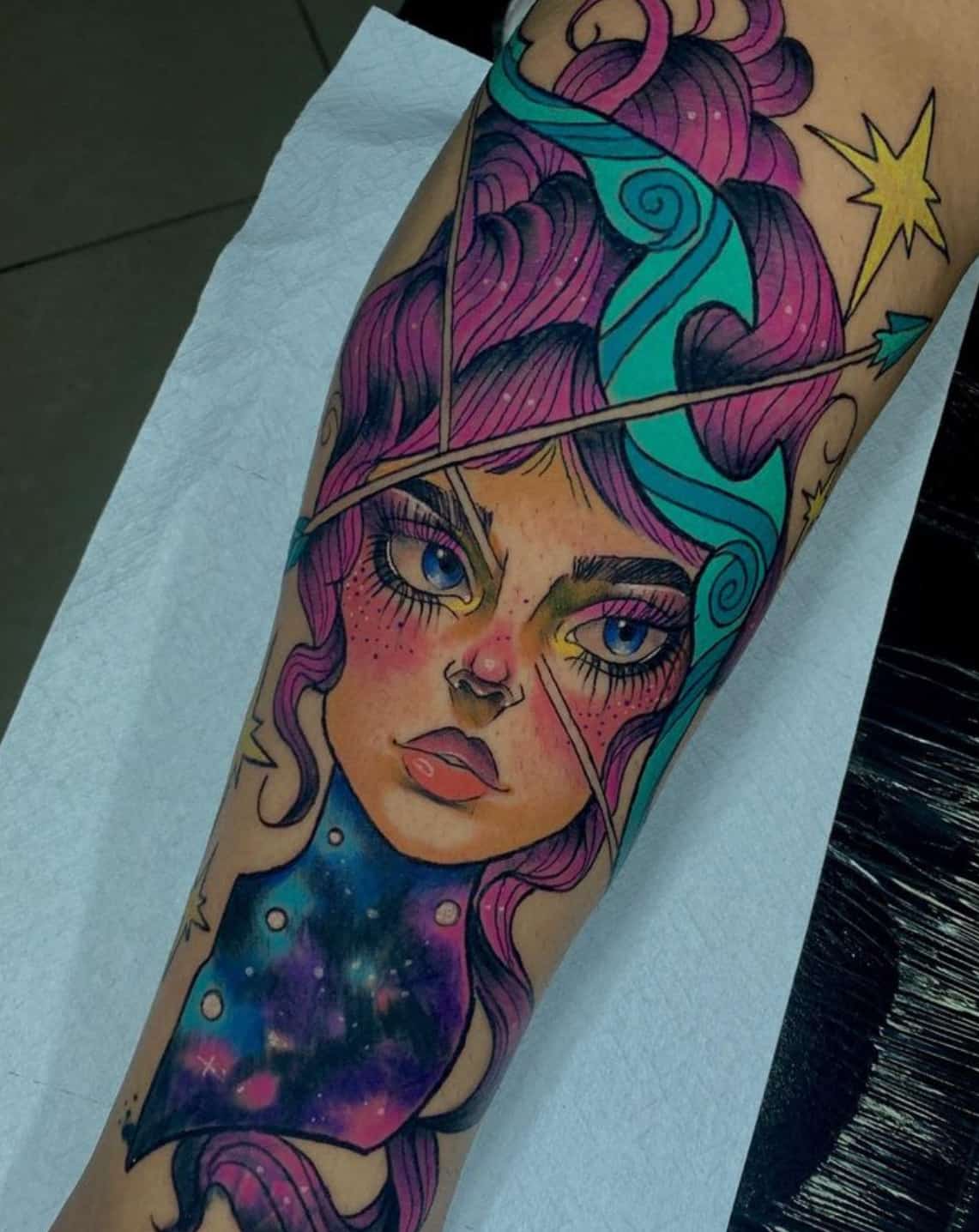 We didn't find a ton of cute Sagittarius tattoo designs, but the vivid colors in this one are giving candy and comic book vibes. You just want to keep looking at each part of it. The dreamy eyelashes, the sunshine yellow on the inner corner of the eyes, even the glossy shine on that bottom lip.
If I was a kid, I would be pretending I was this girl (or maybe even still as an adult).
2. Anatomical Archer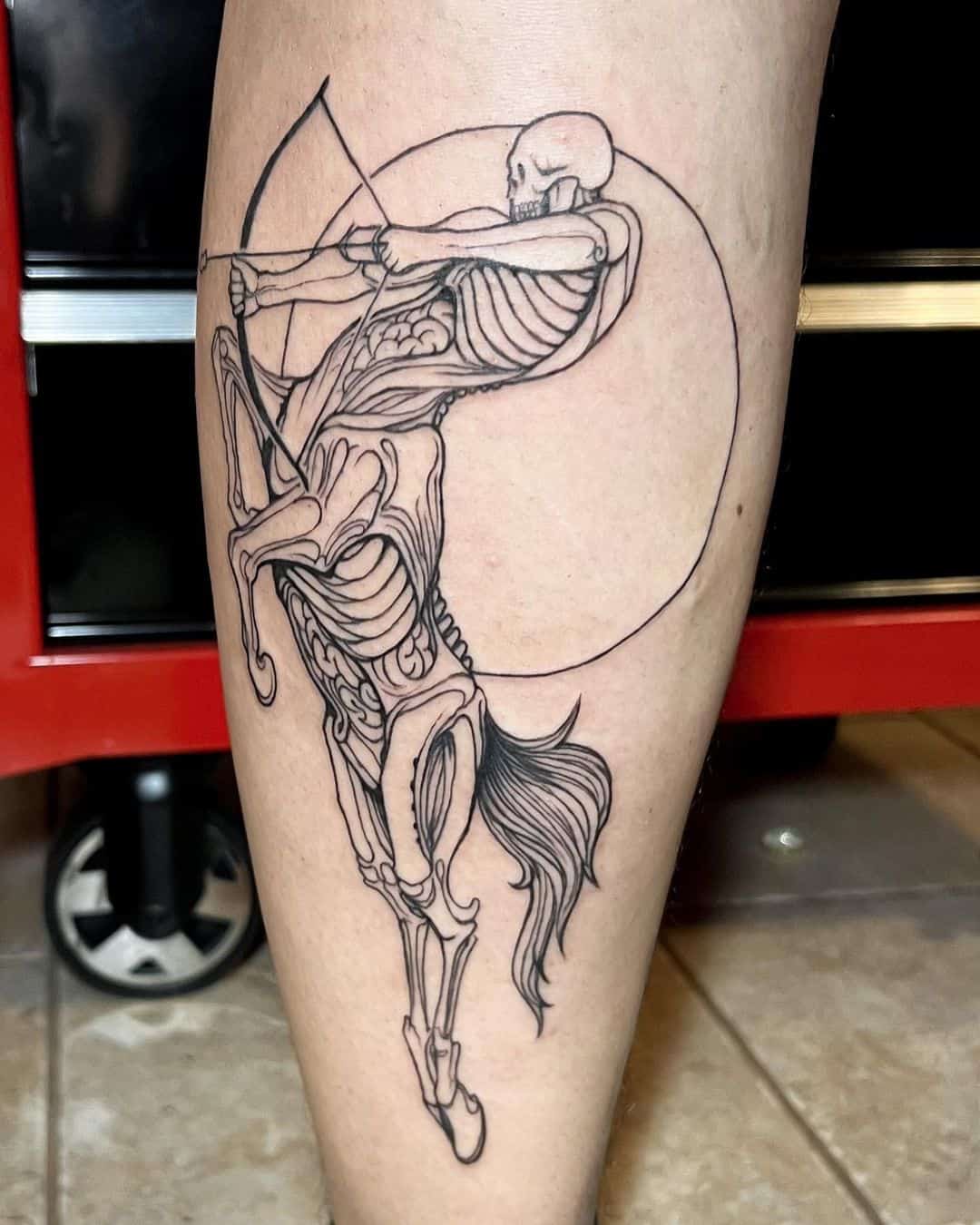 A bit out of the box from your typical Sagittarius bow and arrow tattoo, this piece grabbed my attention immediately. These visual details in the muscles, going so far as showing the intestines, are really sealing the deal. I find myself imagining the scene where this is happening.
3. Jupiter in Motion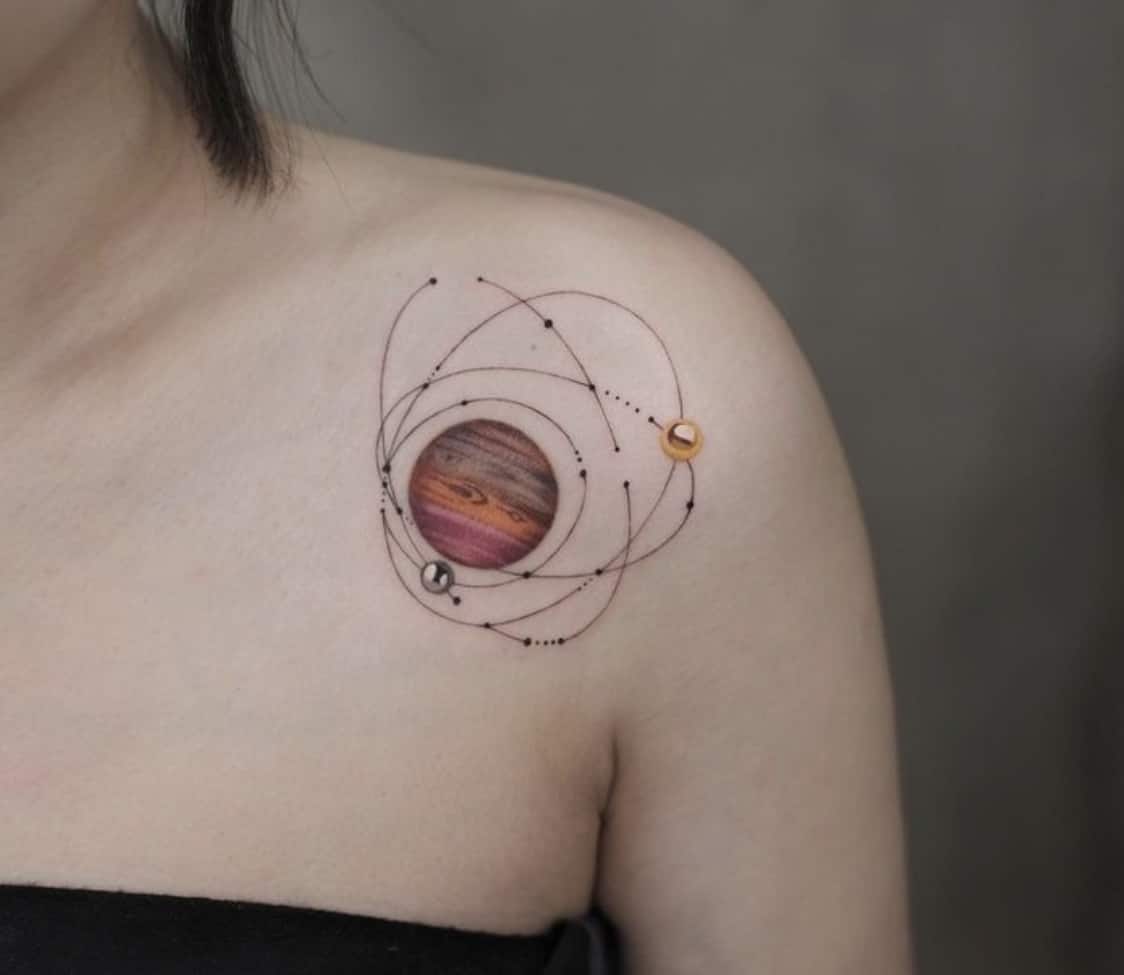 Look at the shine on the gold and silver spheres on this Jupiter piece. Does anyone else feel like they would try to pick those up off the skin? Just me?
4. Red Ink Tarot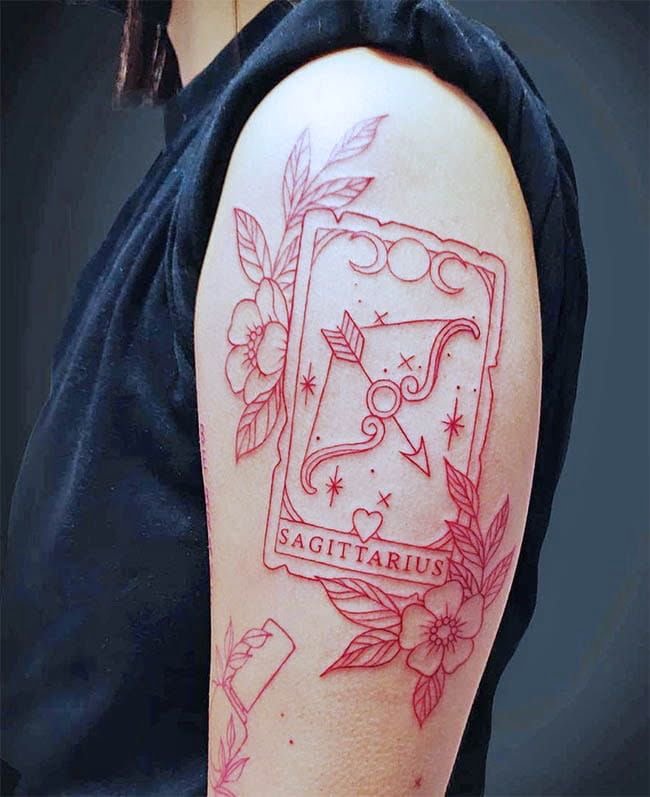 If you're looking for a Sagittarius tattoo that stands out, this red ink creation is it. The tarot mystical style is a great theme here, and the addition of flowers provides a delicate element that ties it all together beautifully.
Like monochrome tattoos? We've got a cultivated list of our favorite red ink tattoos here.
5. Severed Sagittarius Man Tattoo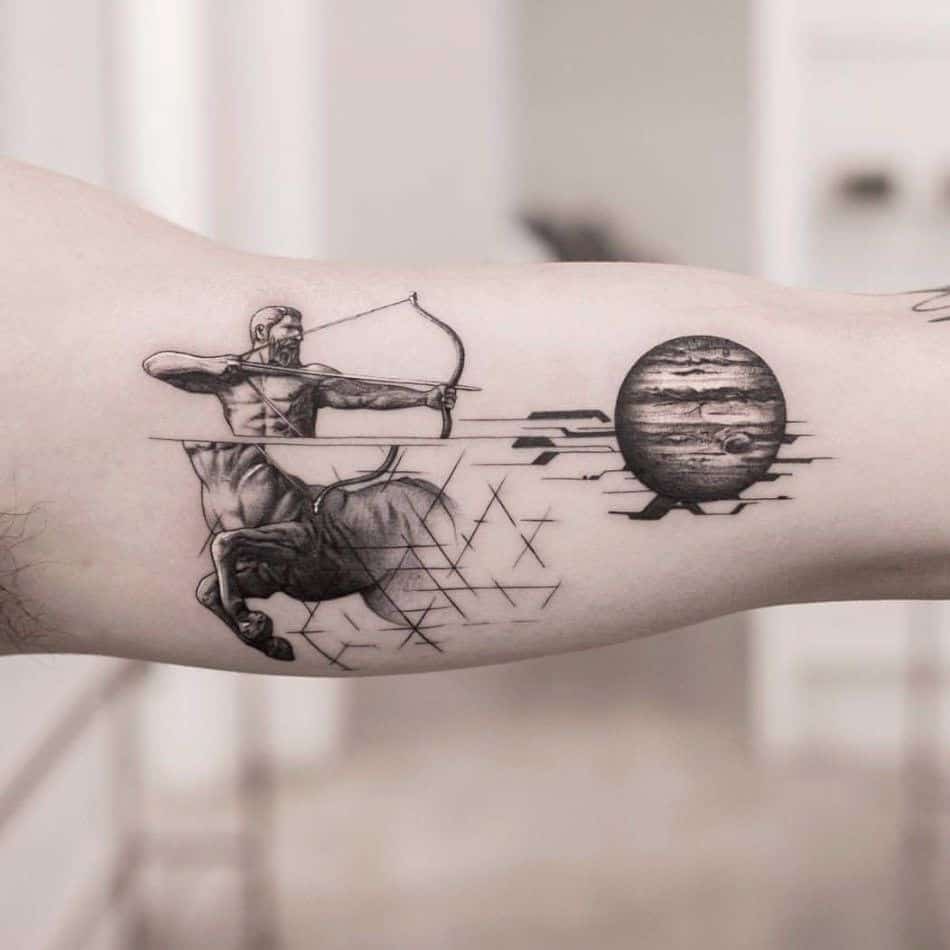 The disconnection in this tattoo gives a sense of action, so obviously I'm deciding that there's a major battle happening here. And also obviously, he wins, because look at him.
Bonus points for the subtle hex-geometric-glitch details to encourage the imagination even more.
6. Sagittarius Symbol Tattoo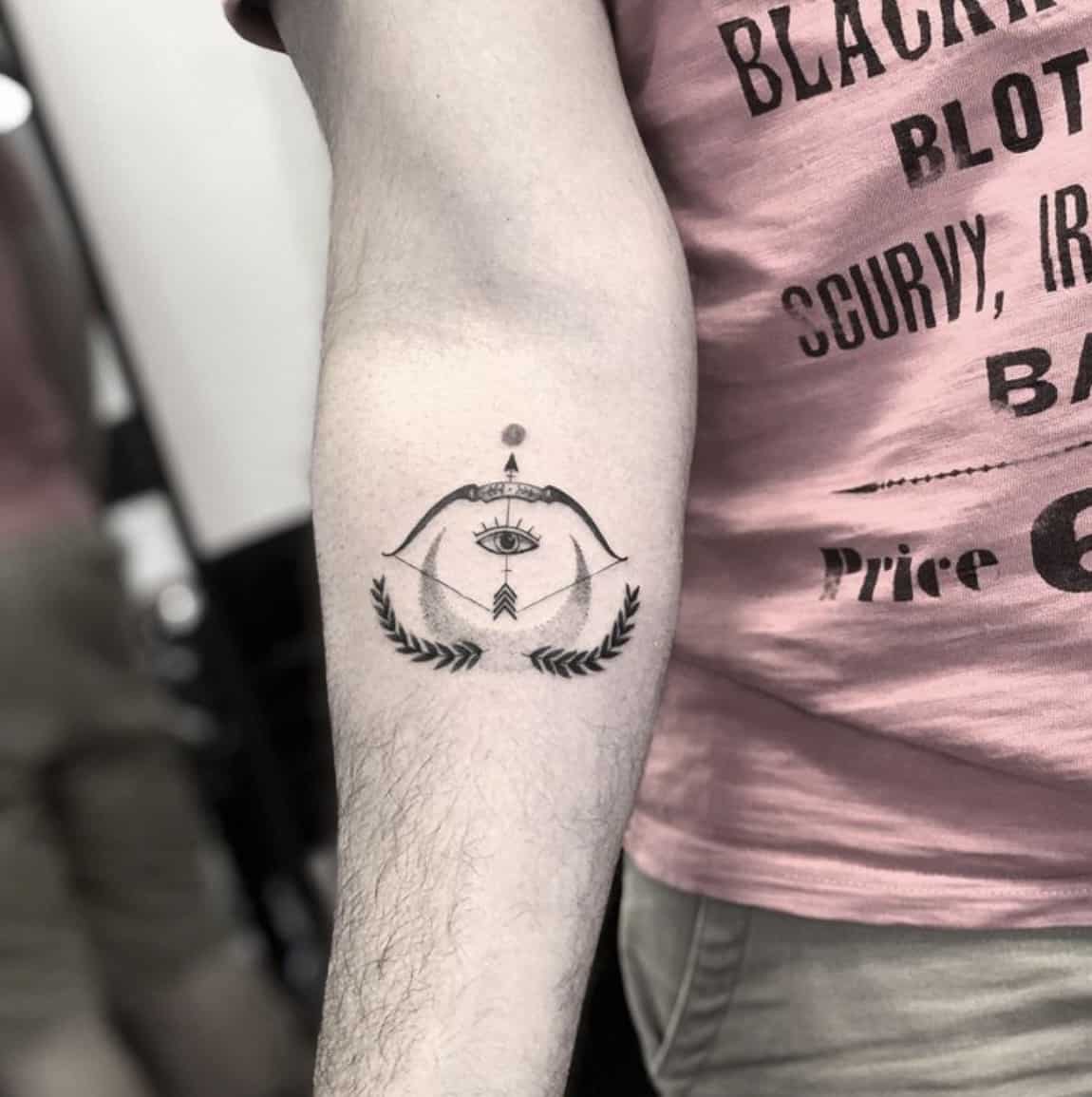 This is a nice, uncomplicated symmetrical piece. The fade-out of the crescent moon with the bold wreath on top allows for just the right amount of contrast.
7. Sagittarius Virgo Collab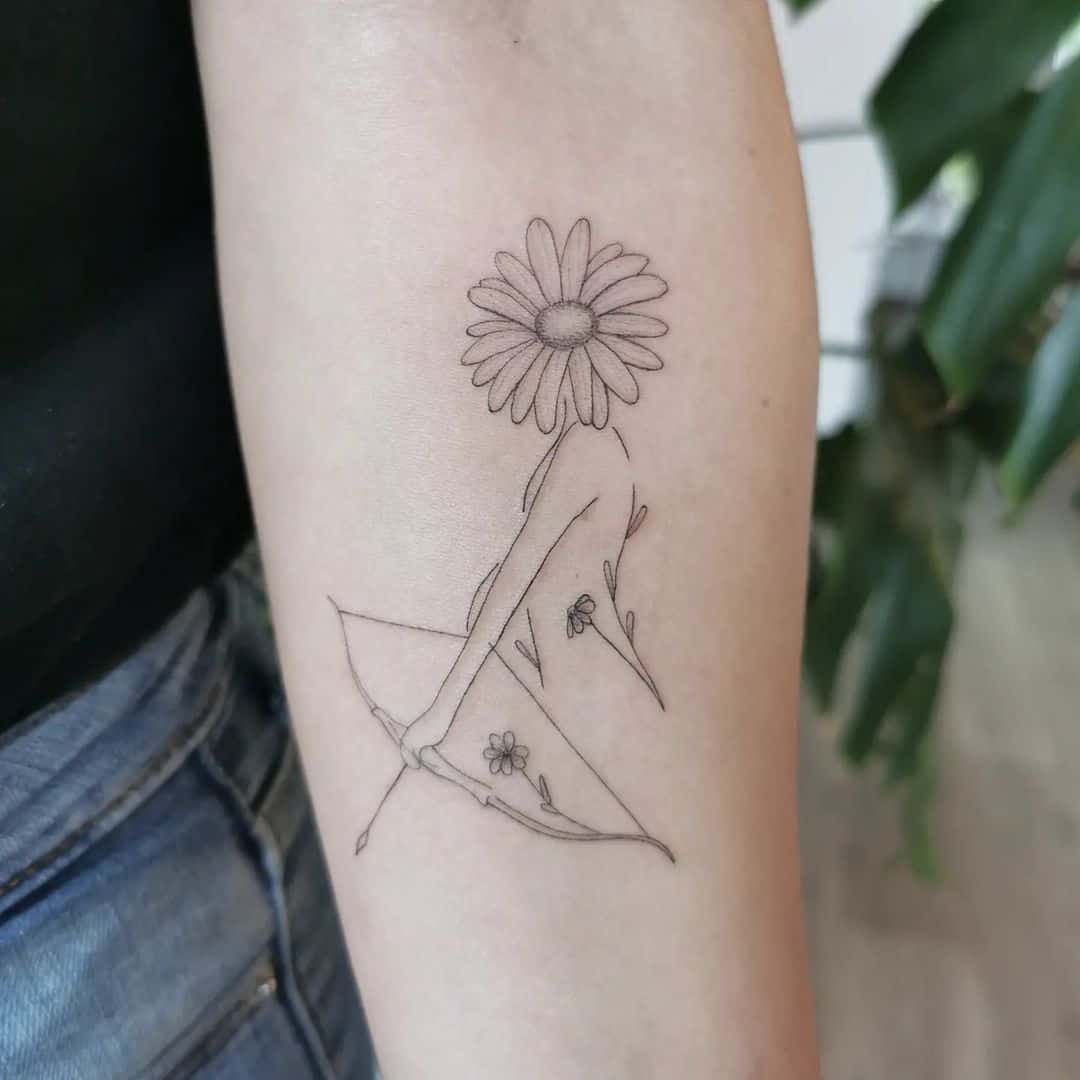 This piece is a combination of the Sagittarius and Virgo signs, and I'm loving how the flowers and the fine lines contribute to its softness.
8. Bold Eye and Arrow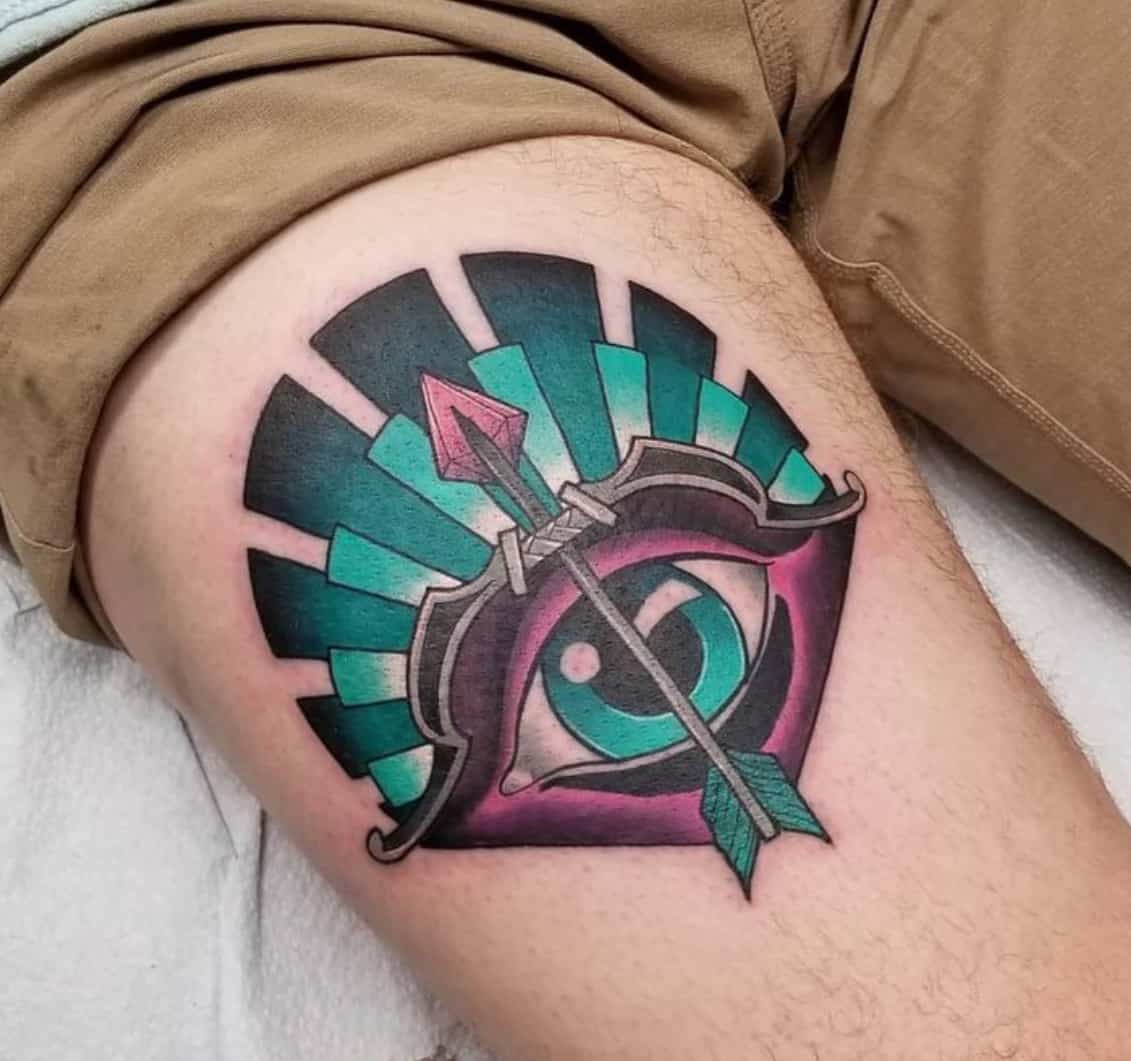 Just look at the vibrant contrast here. These colors play off each other in a fantastic way. I'd love to see how this looks after years of fading, I think it would still be pretty cool.
9. Fantasy Bow and Arrow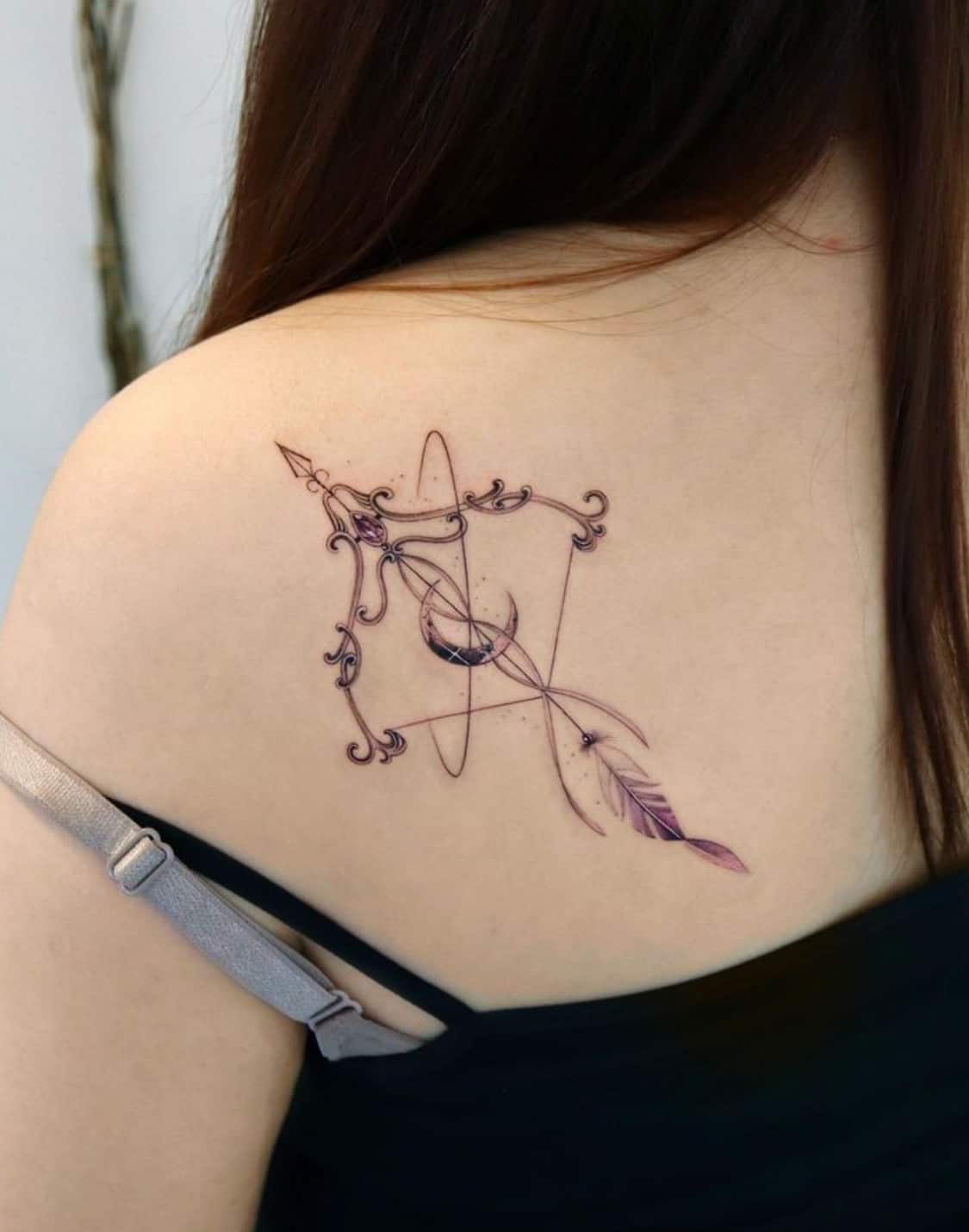 The colorful feather and gemstone give this piece a fun whimsical feel, and the swirling lines seem to put it in motion, flying towards its target.
10. Sagittarius Star Constellation Tattoo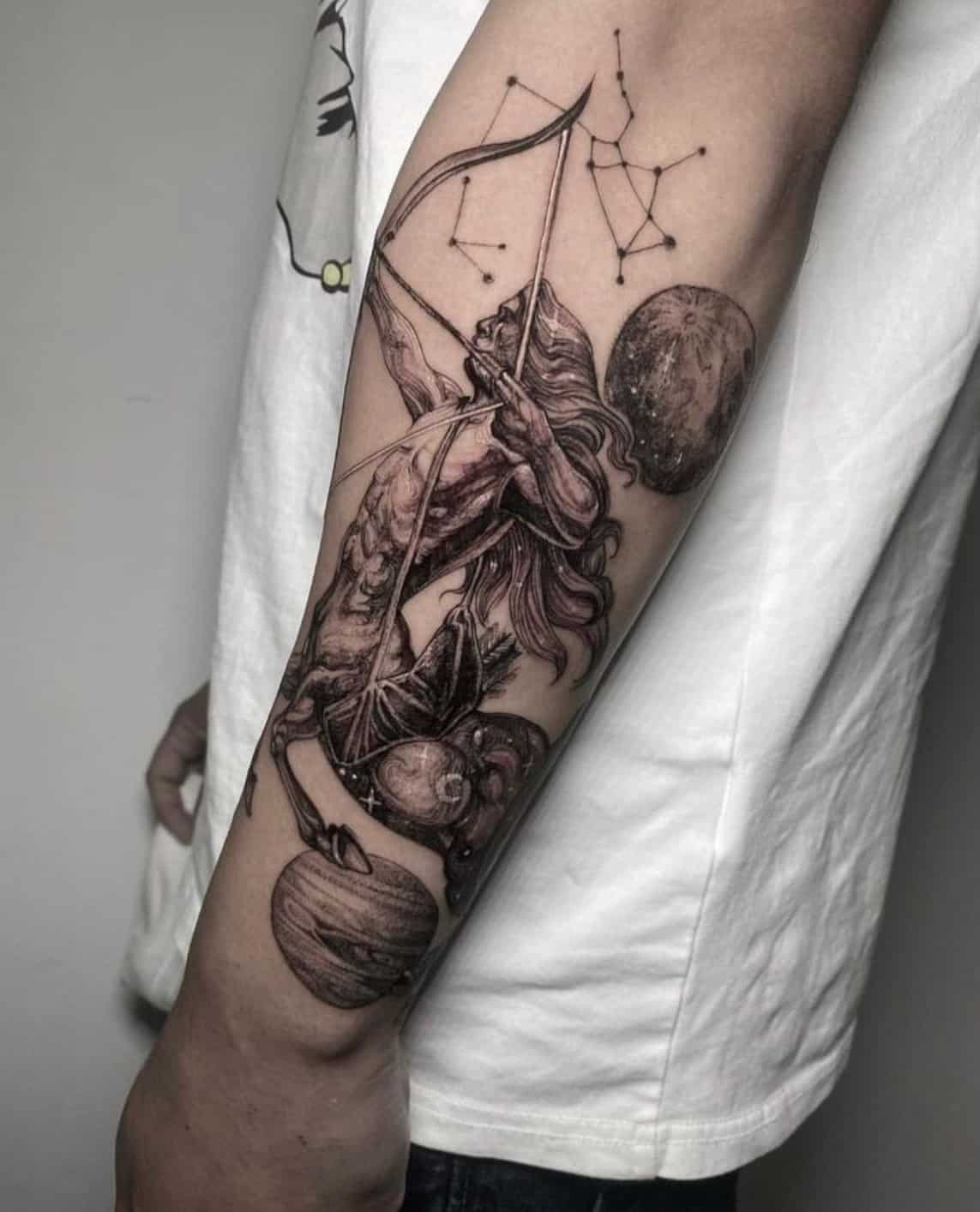 I don't think you can encompass more Sagittarius than this. The shading is well done, and the textures are excellent, but I have to be honest… this is hair goals if I've ever seen it.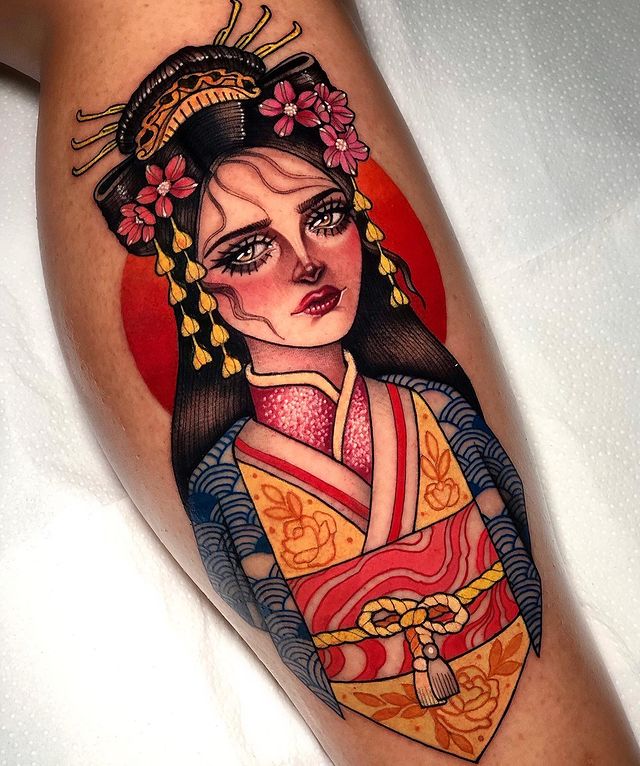 11. Sagittarius Flower Tattoo Design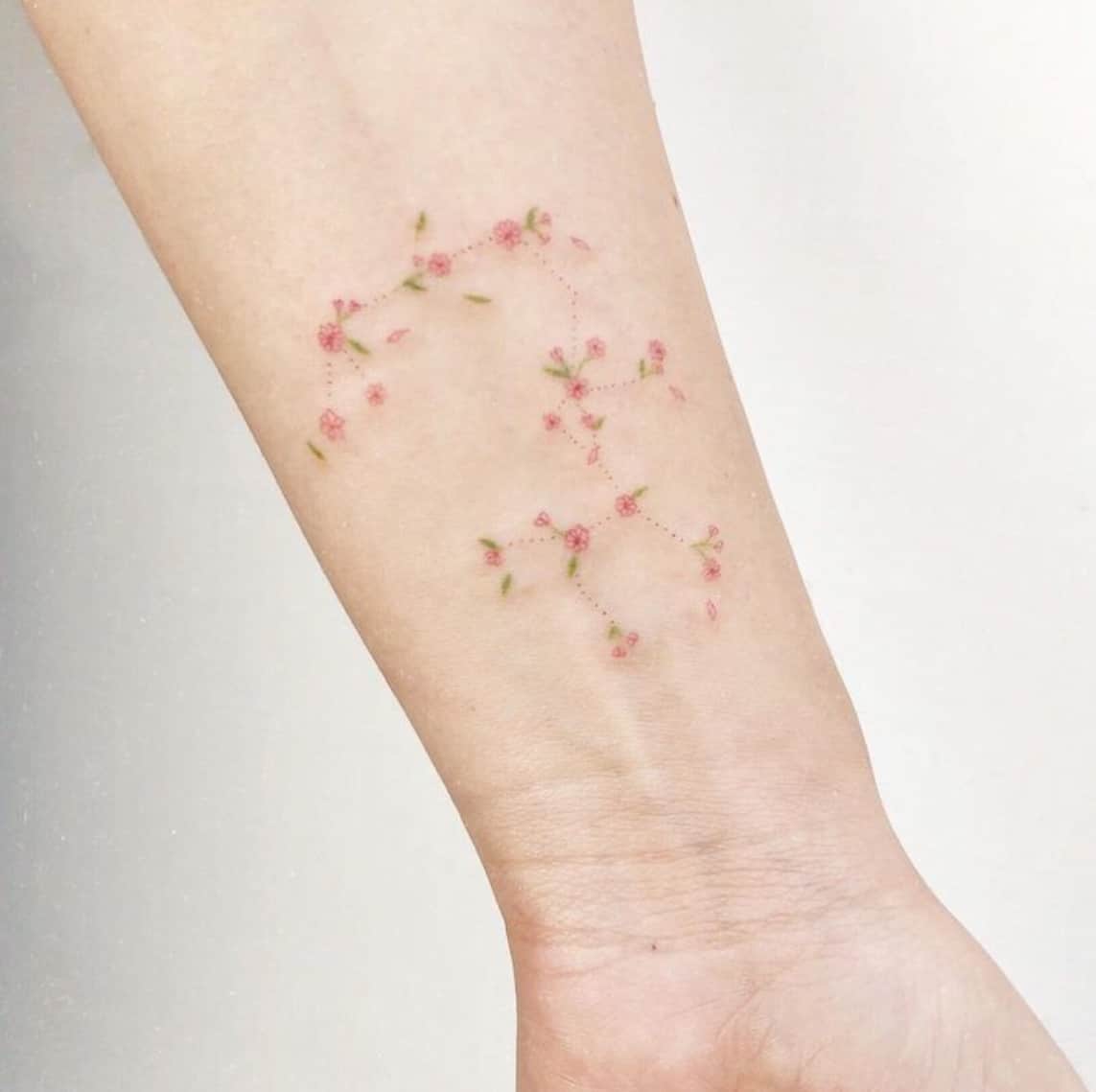 Delicate and soft, this is a lovely take on the constellation concept. If you're looking for more flower tattoos, take a minute to look at our daisy tattoo list.
12. Fine-Line Lady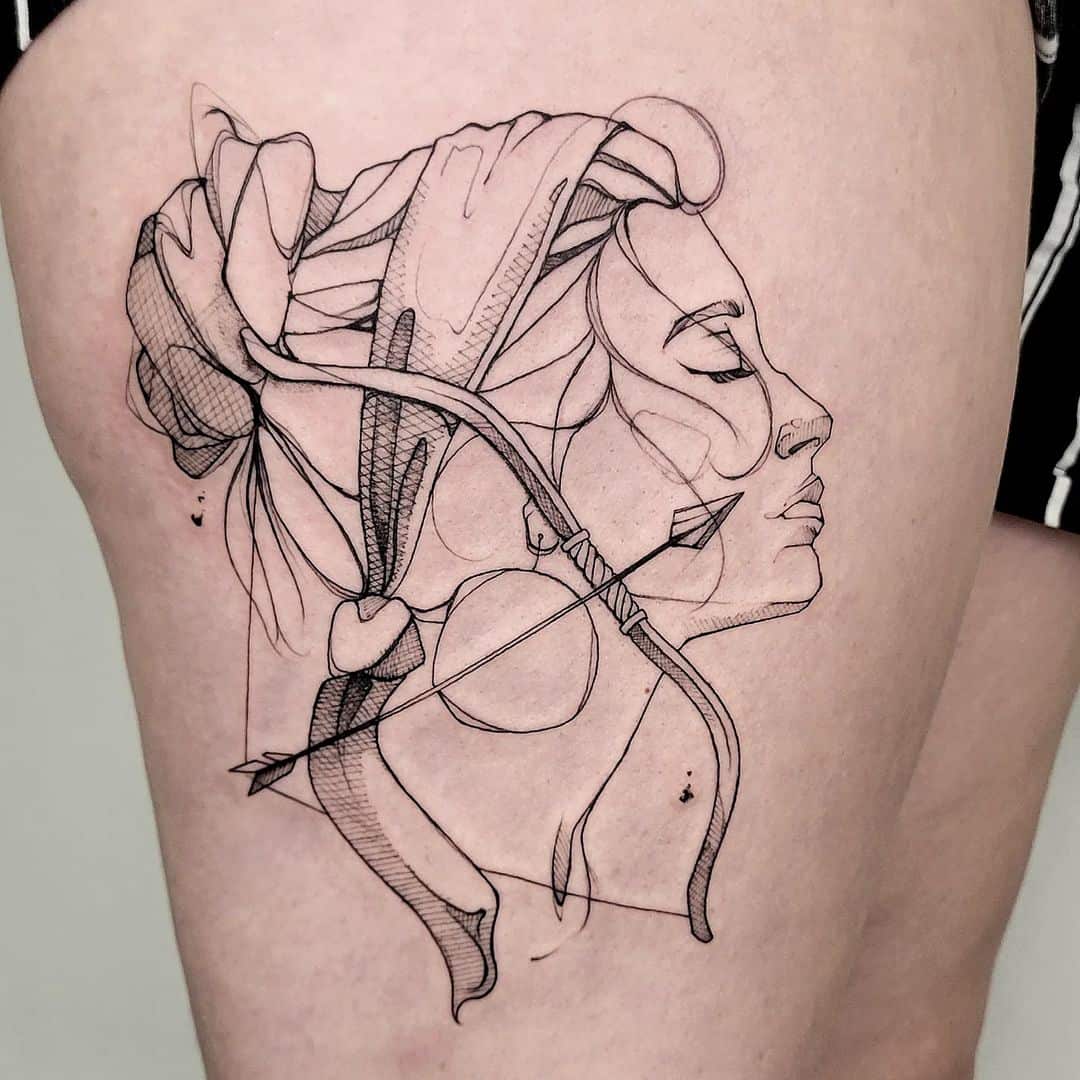 This fine-line style looks fantastic here. The cross-hatching to add texture without going overboard is the perfect complement to the style. I definitely get a sense of depth from this artist's work.
13. Small Sagittarius Tattoo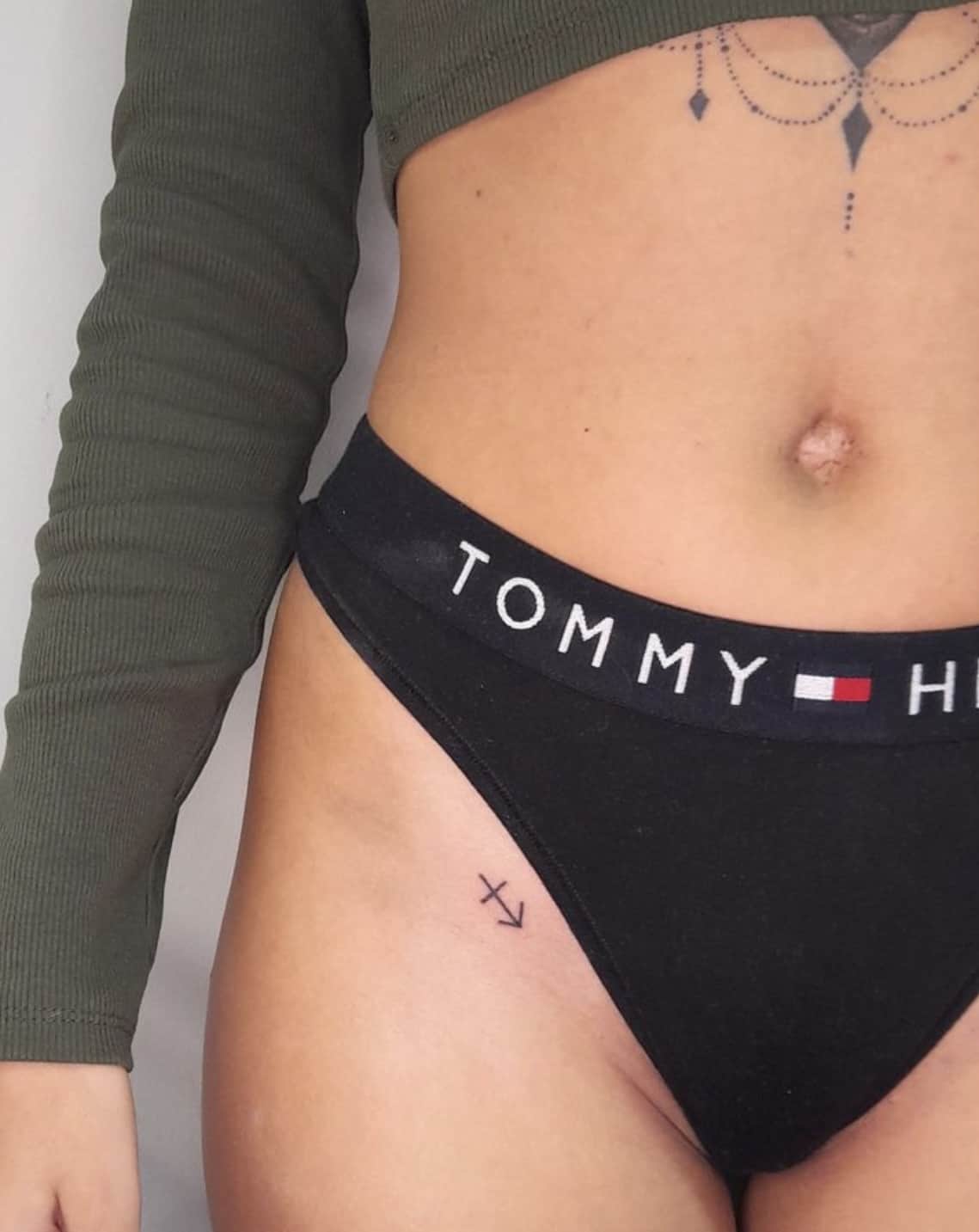 Minimal and simple, I love this one.
14. Mythical Goddess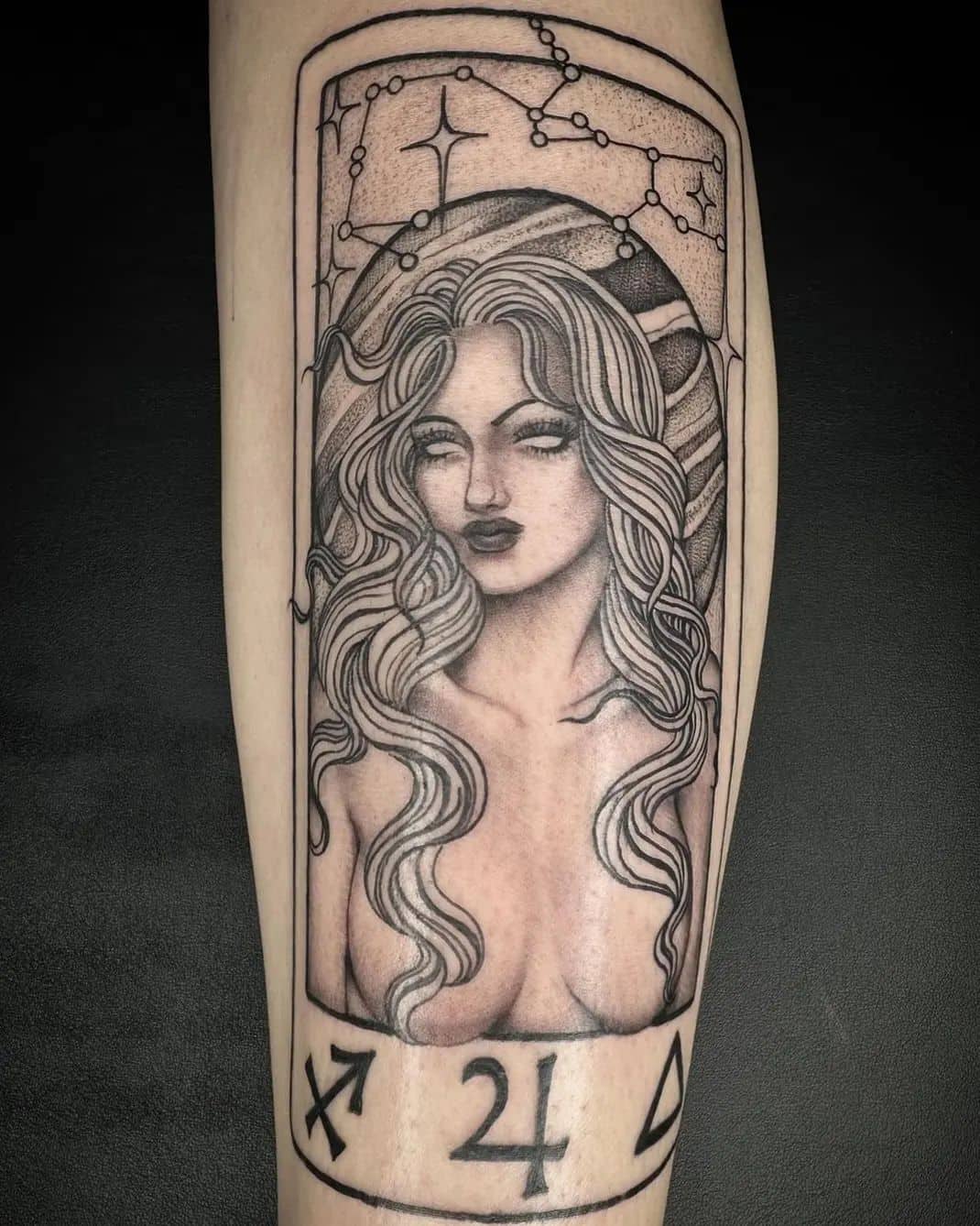 This looks like the goddess lives in a giant stone cave on the side of a hard-to-reach cliff with potions, books, and moonlight glowing in a jar. Would you go in? I sure would.
15. Noble Centaur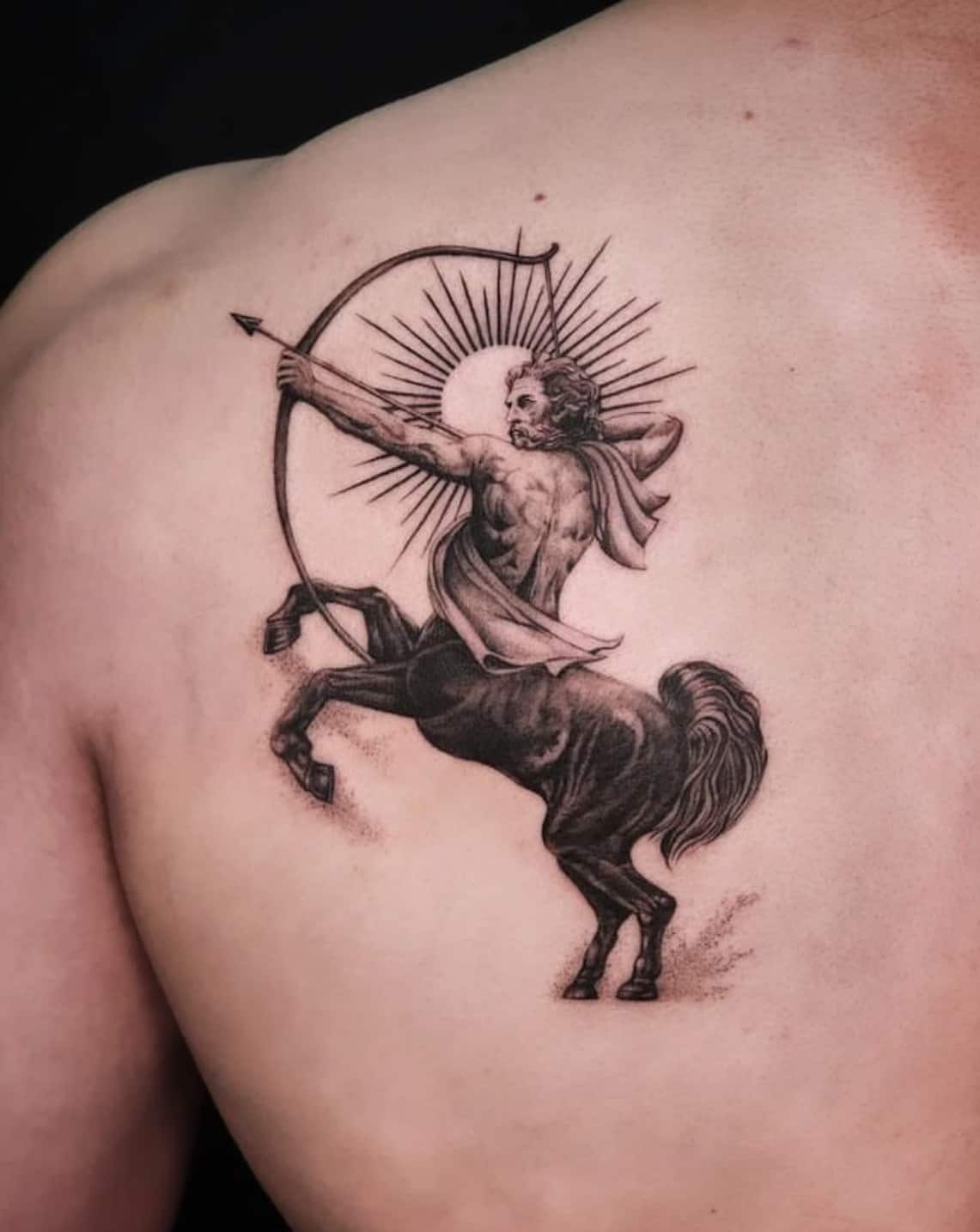 There are varying opinions on who the Sagittarius centaur represents. Regardless, this is pretty badass and dude is ripped, and the beaming sun in the background adds another level of epic.
16. Sagittarius Flower Tattoo Design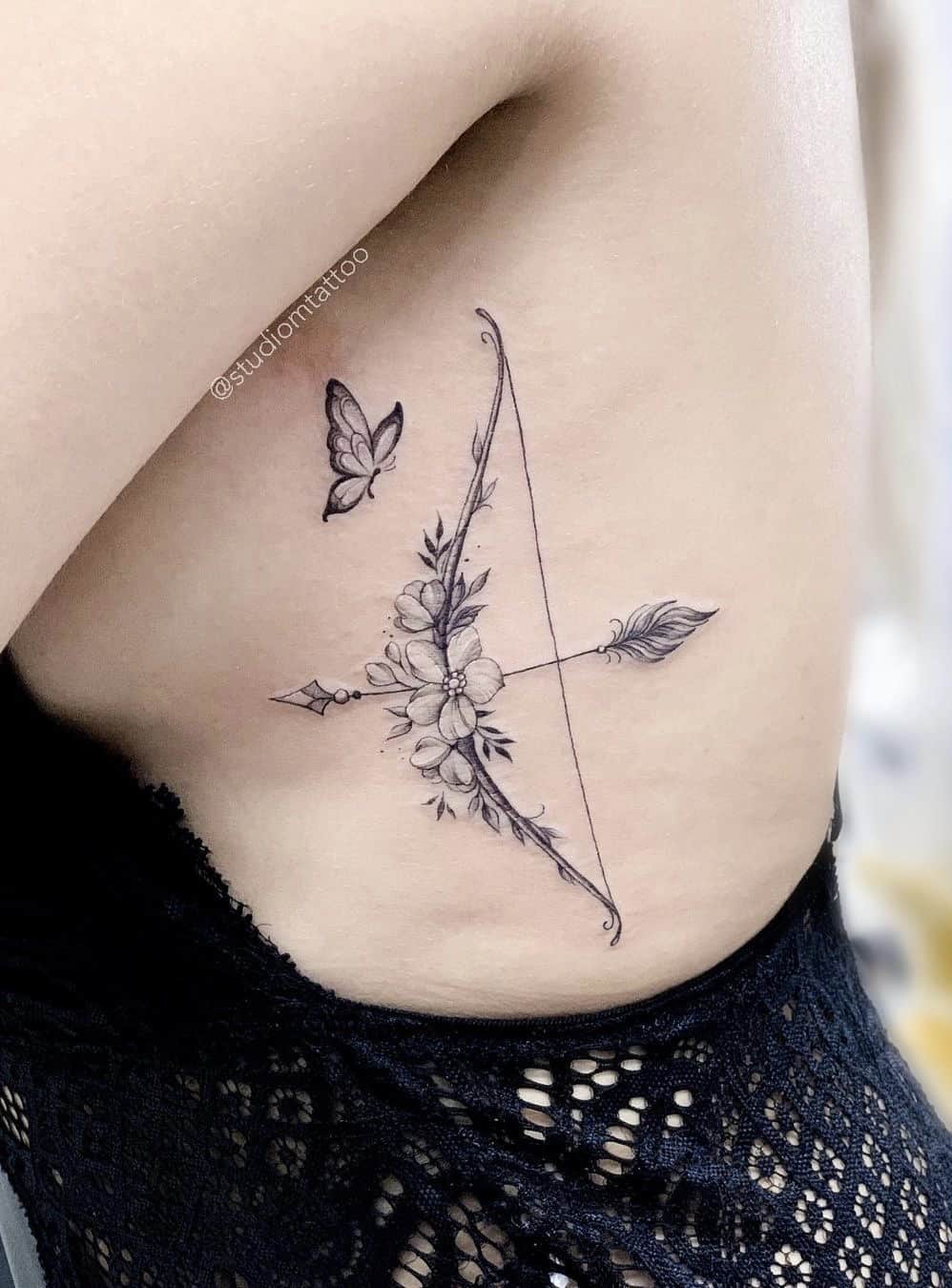 This flowered bow with a sweet little butterfly is just lovely. The contradiction of the softness of the flowers, with the strength of the bow is easy to appreciate.
17. Sagittarius Woman Tattoo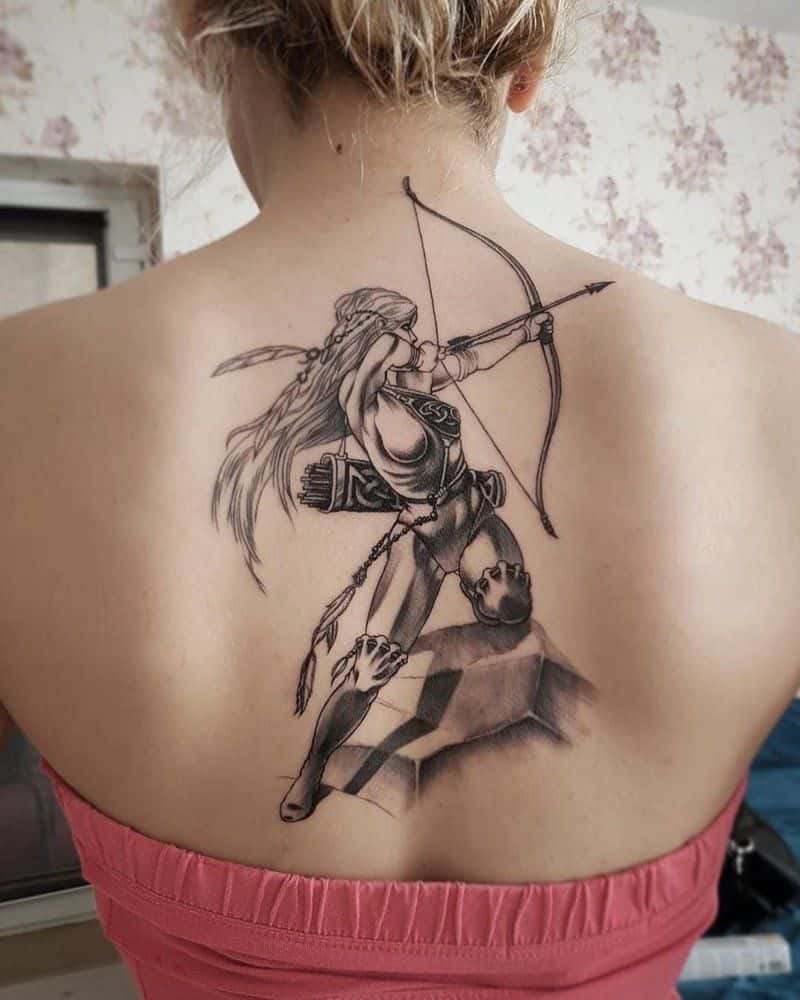 This warrior shows so much strength. The movement of her hair, and the twisted body positioning implies that we're looking in on a moment of action, something I always enjoy in a tattoo.
18. Hand with Bow and Arrow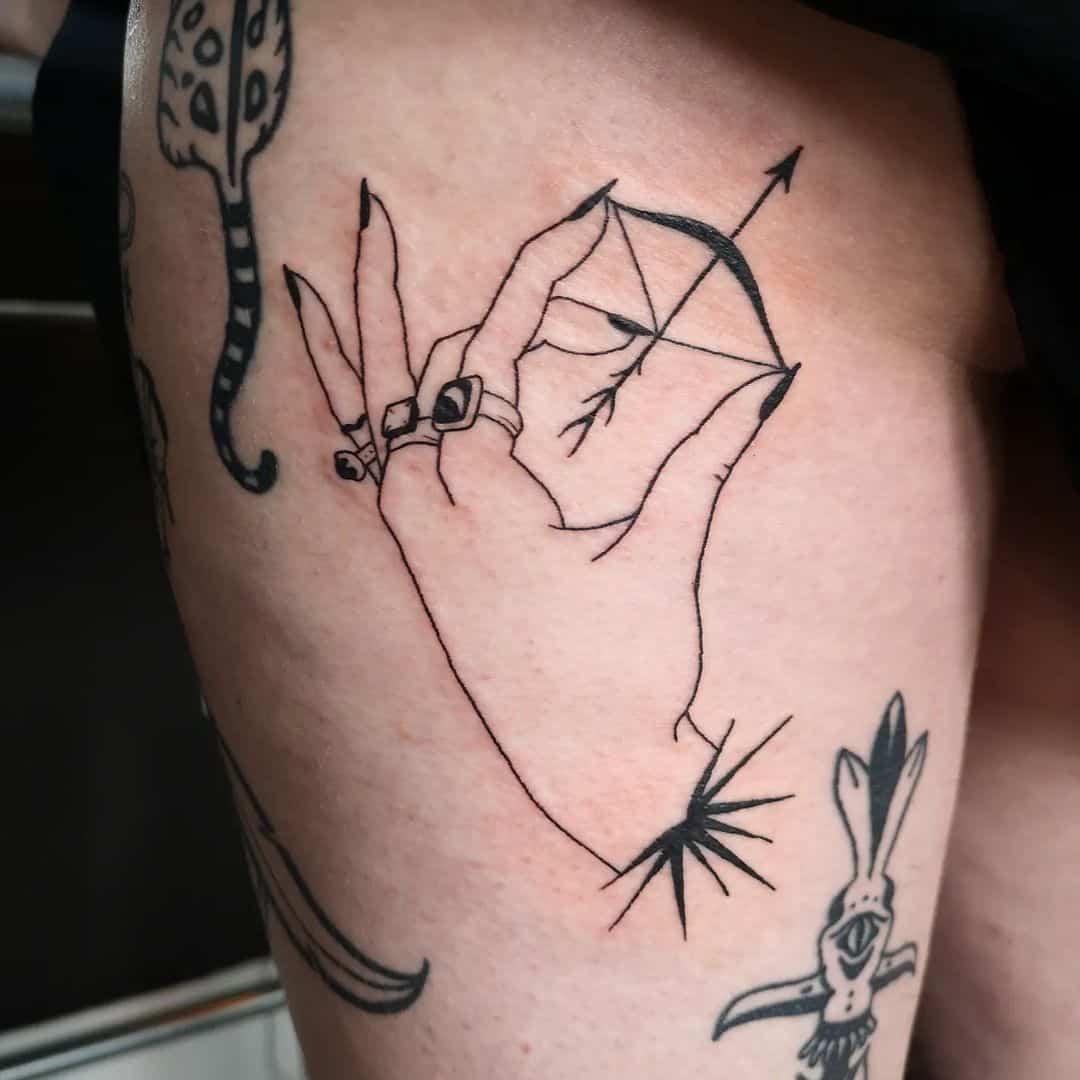 This artist has a great style (all other work in this image is theirs as well), and this is no exception. Crisp and simple lines with punchy black work looks fantastic.
19. Magical Sagittarius Woman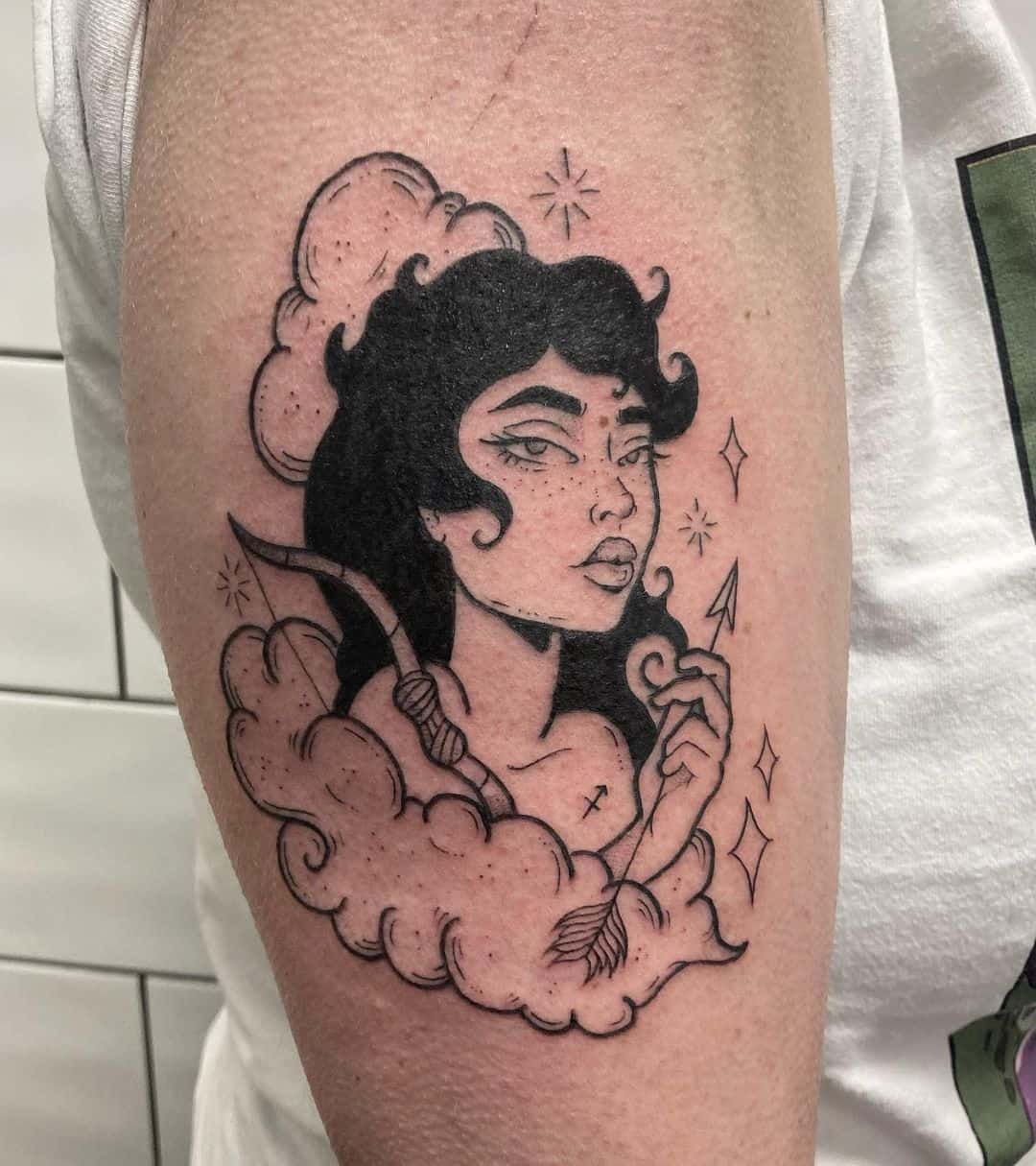 So dreamy! Every part of this brings me job. Clouds and twinkles? Yep. Wild, curly hair and freckles? Yep. She has her OWN Sagittarius tattoo? YEP. We're BFF's now.
20. Sagittarius Tribal Tattoo Design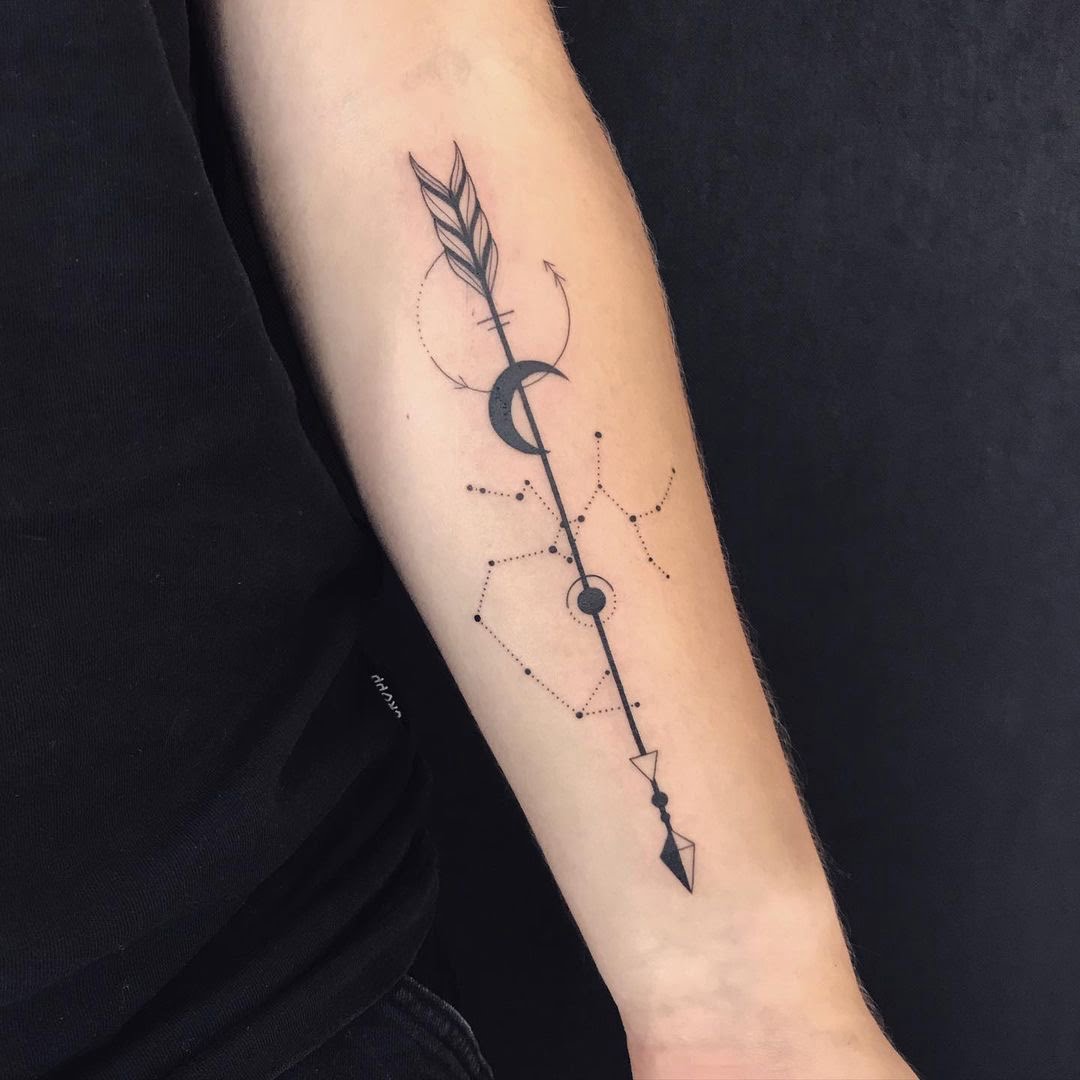 There's something almost primitive about this piece, the subtle boldness with small touches of almost sacred geometry that feel like they come from some alchemist's book.
21. Crescent Moon with Arrow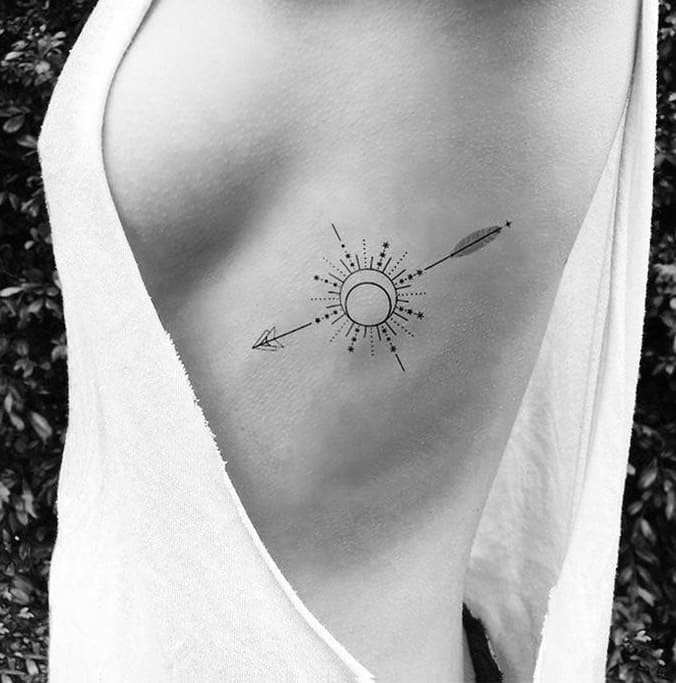 I'm getting dainty but also courageous vibes from this one, and I really like the addition of the styled lines going out from the moon.
22. Centaur Astronomy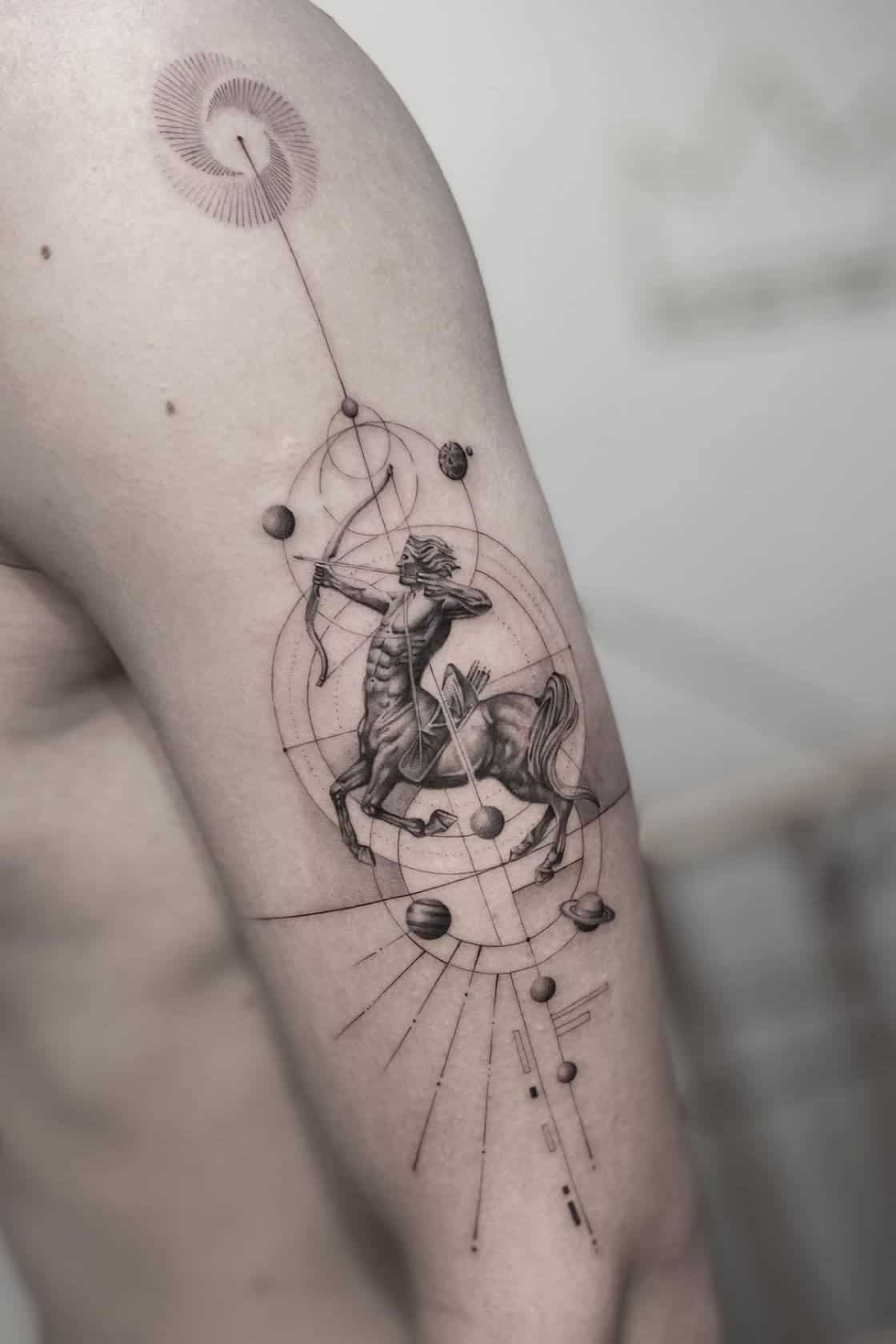 There's a lot of otherworldly coolness going on here. I like how the details are adding to the piece as a whole, but not taking away from the focus of the centaur archer.
23. Tribal Sagittarius Queen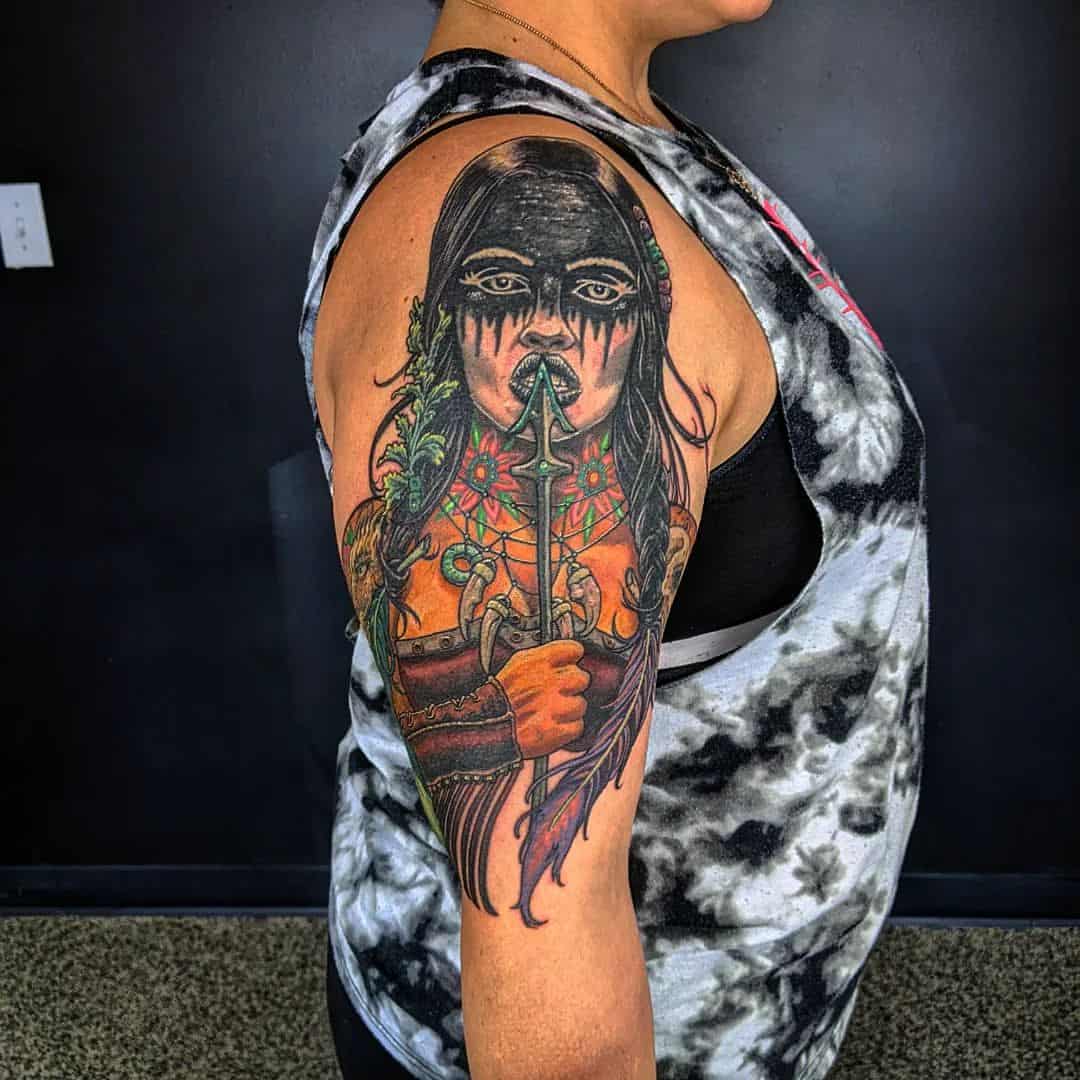 I honestly don't think there's anything about this piece that I don't love. I keep noticing more details the longer I look, like her necklace of claws, flowers woven into her plaits, and even the leather tassle coming off her wristband. If you click into the post itself, you can get a better look at the animals on the sides as well.
24. Blackwork Sagittarius Archer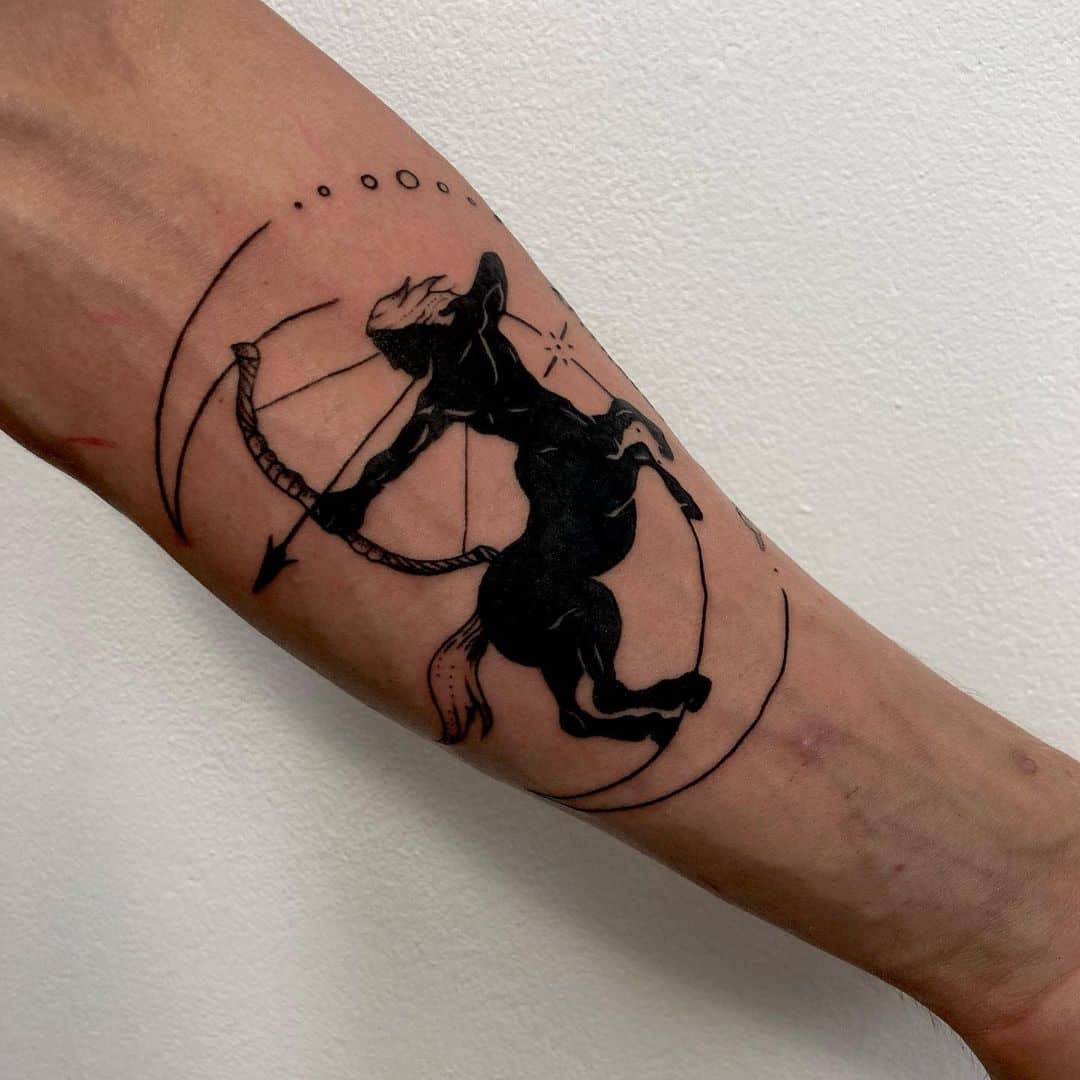 Maximum impact here. The black is so beautifully dark, and it gets the point across perfectly without too much detail. If you're a fan of bold black ink, head over to our blackout tattoos article for some inspiration.