Who would get a Gemini tattoo? Well, all of them. Because if they're a Gemini, you're going to hear about it. Born between May 21 – June 20, these special humans are known to be chatty, busy, buzzing socialites. With all that energy comes … "enthusiasm". What that means is up to the Gemini themself. For an air sign, they sure can be fiery.
The first person who I think of in my friend group who is a Gemini, is the most outspoken, demanding person I've ever met. She never slows down, she's got a lot to say, and you're going to hear her whether you want to or not. Luckily, these are features that make her one of my most beloved friends. She'll tell you what you need to hear, and she'll stand up for anyone. Just watch out, you might be in the line of fire, and it can sting.
We love the supernova that is a Gemini, so we had to make a tattoo list dedicated to them. Scroll on friend, for our hand-picked list of Gemini tattoos.
1. Gemini Twin Tattoo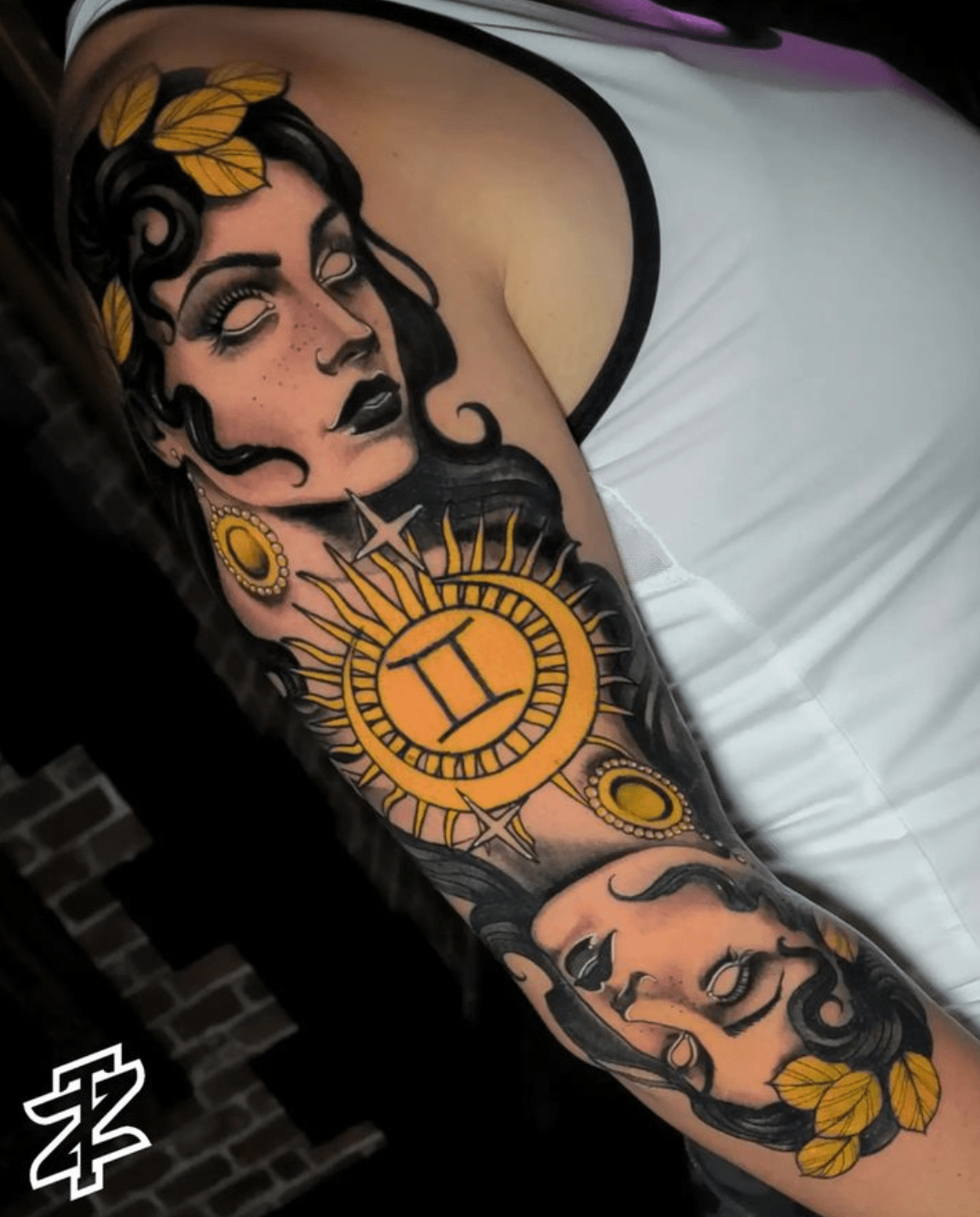 The contrast between the black and yellow ink in this Gemini tattoo is hypnotizing. This color combo is excellent, and the subtle shading and negative space help the colors stand out just that much more without adding busyness.
I adore this tattoo.
2. Gemini Butterfly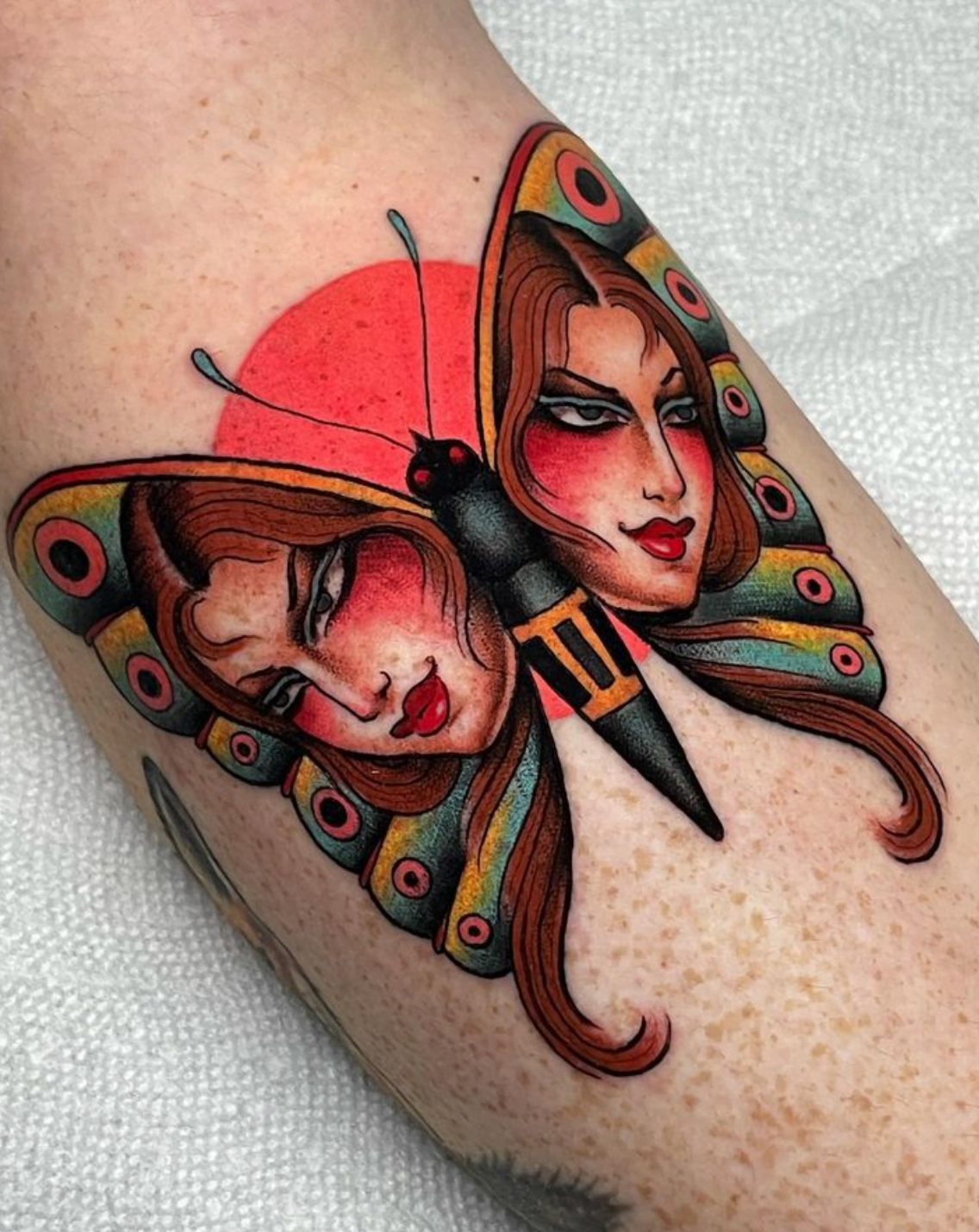 Butterfly wings are a creative take on a Gemini tattoo, applying the duality to the symmetrical wings. Can we talk about how the wearer's freckles give the tattoo freckles? What a happy accident.
The color in this is so vibrant as well, and that burst of red ink without an outline is gorgeous, something that always gets my gears going.
If you're like me and can't get enough of that effect, do yourself a favor and check out our red ink tattoos list.
3. Two-Faced Gemini Tattoo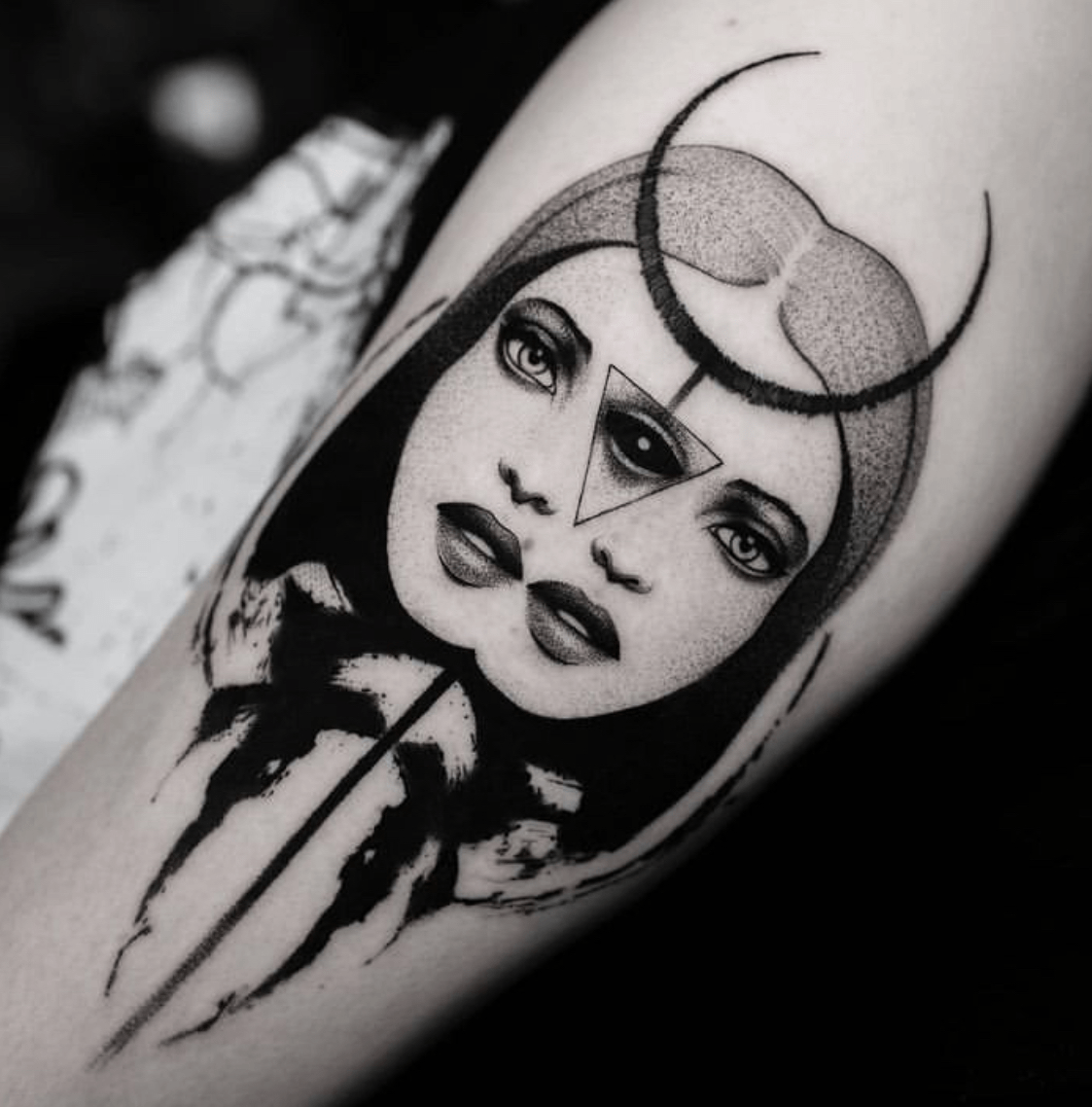 This piece looks like the Rorschach test of my dreams. It's so symmetrical, and another super creative concept for a Gemini tattoo. There's something so eerie about the ink-blot effects, and I'm mildly obsessed with it.
4. Simple Gemini Tattoo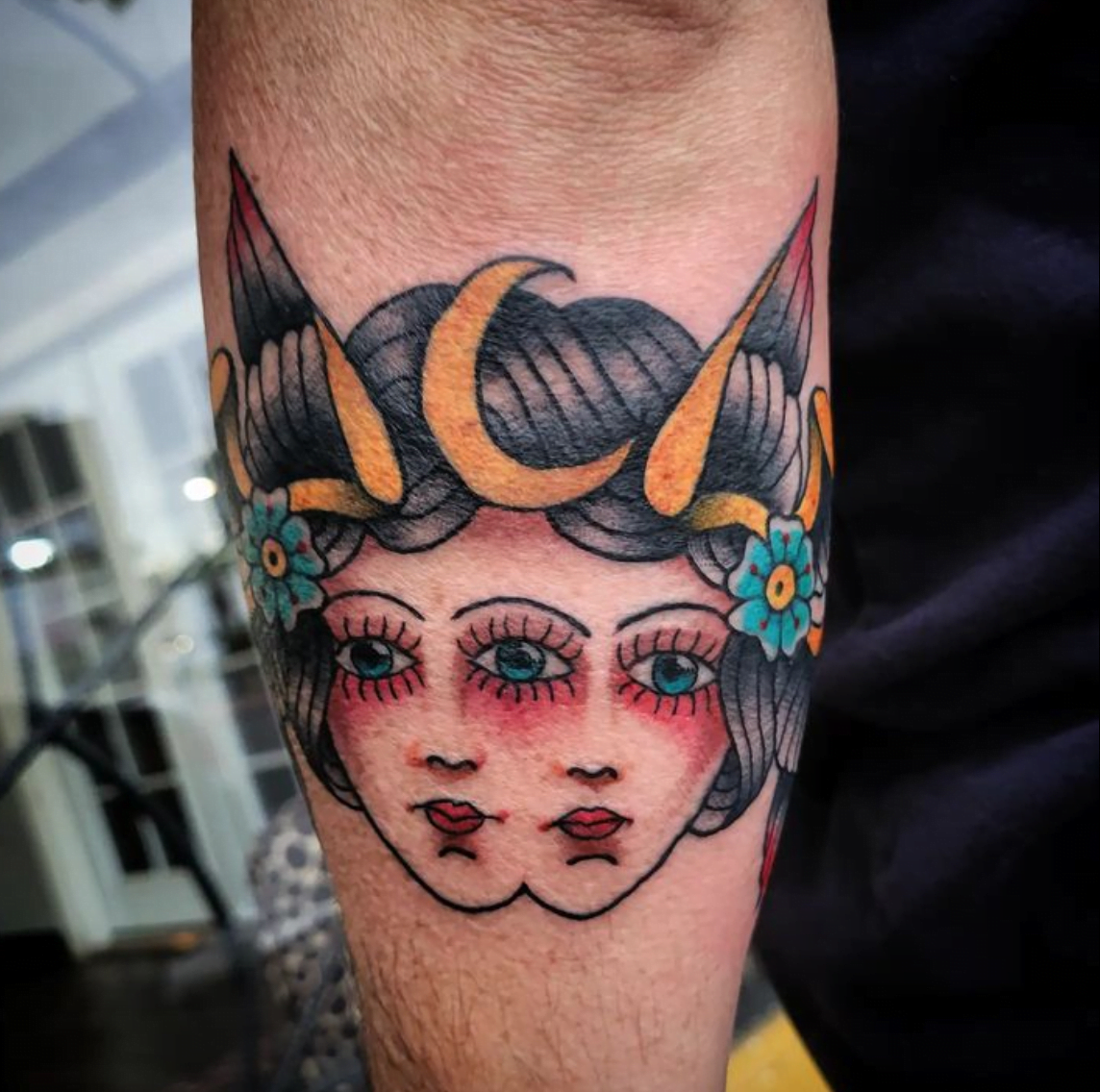 For our traditional-style Gemini, we give you this simple piece with clean lines and bright vintage coloring. It never gets old.
5. Illustrative Gemini Tattoo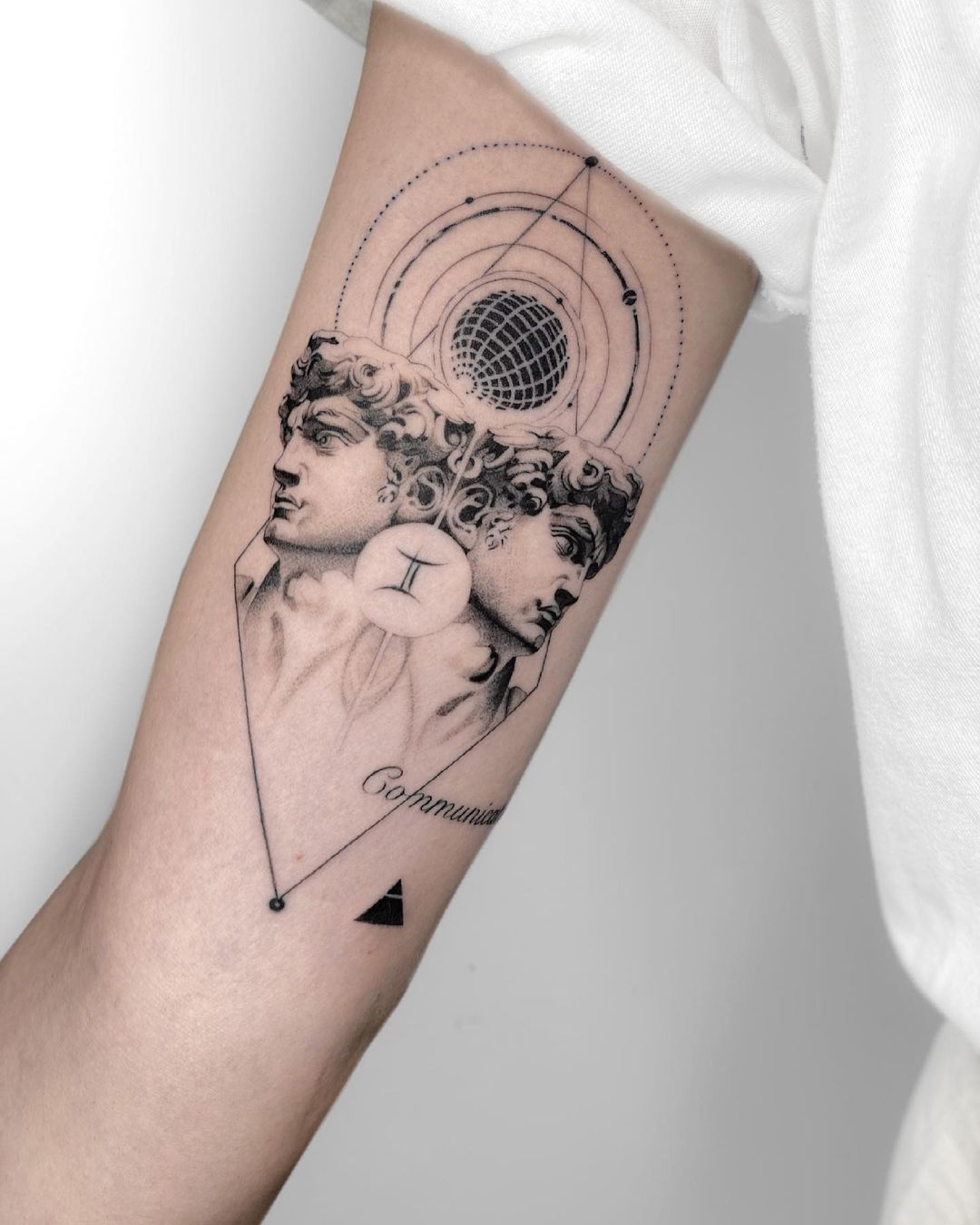 Absolutely beautiful. This artist's illustrative style blows me away, and as you can see by their page, it can create some incredible visuals for a cohesive larger theme. I really enjoy the historical element, as it ages so well.
6. Traditional Gemini Twins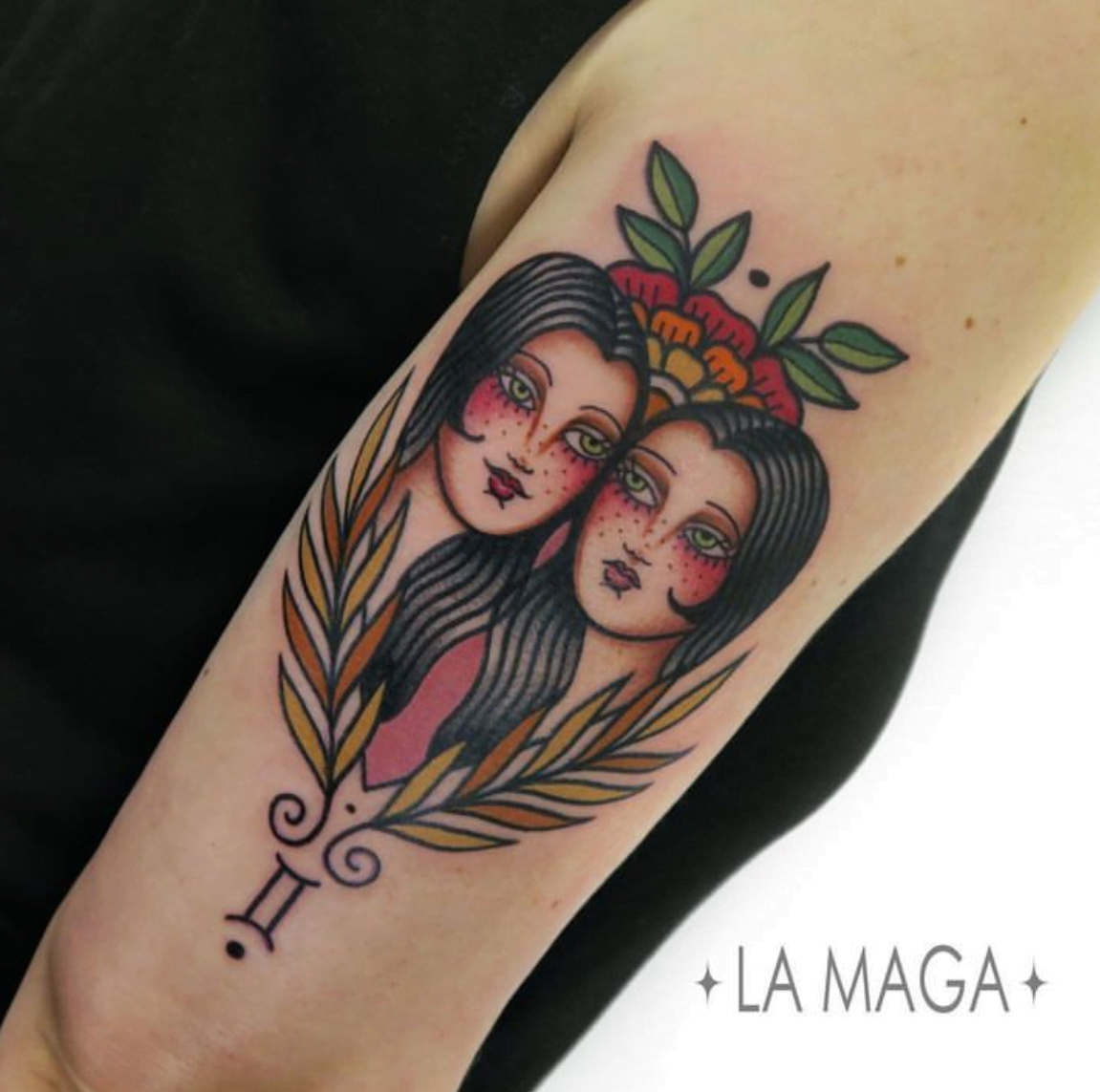 Possibly the most satisfying tattoo on our list, these Gemini twins are entirely flawless.
The line work is so bold without overtaking, and the understated pops of color in the surrounding accents are the perfect complement.
7. Dark And Light Gemini Tattoo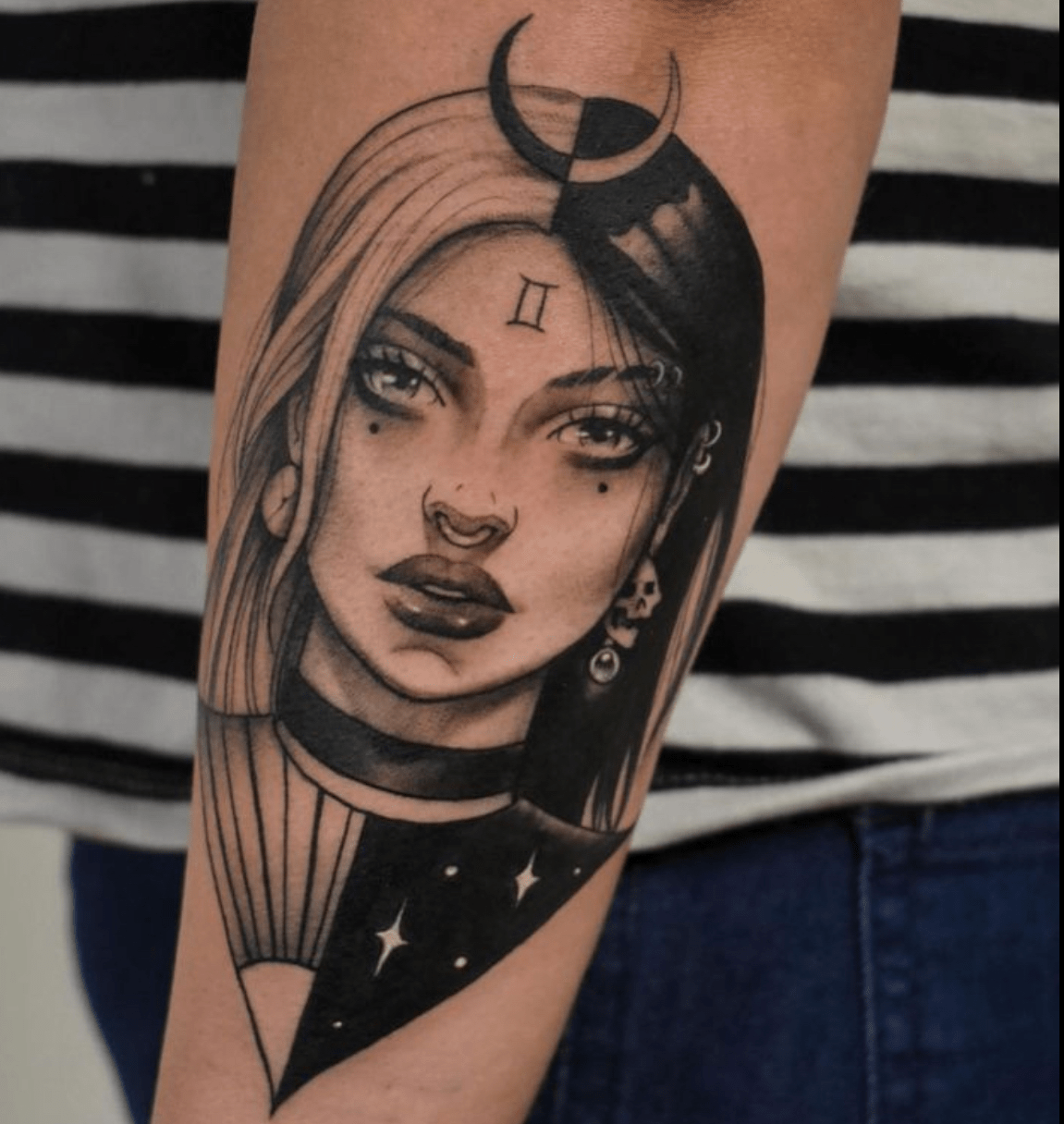 I love this tattoo's dark and light concept, showing two sides of the same person. Whether opposition, balance or being torn between two elements, this suits the Gemini personality perfectly.
8. Gemini Snake Tattoo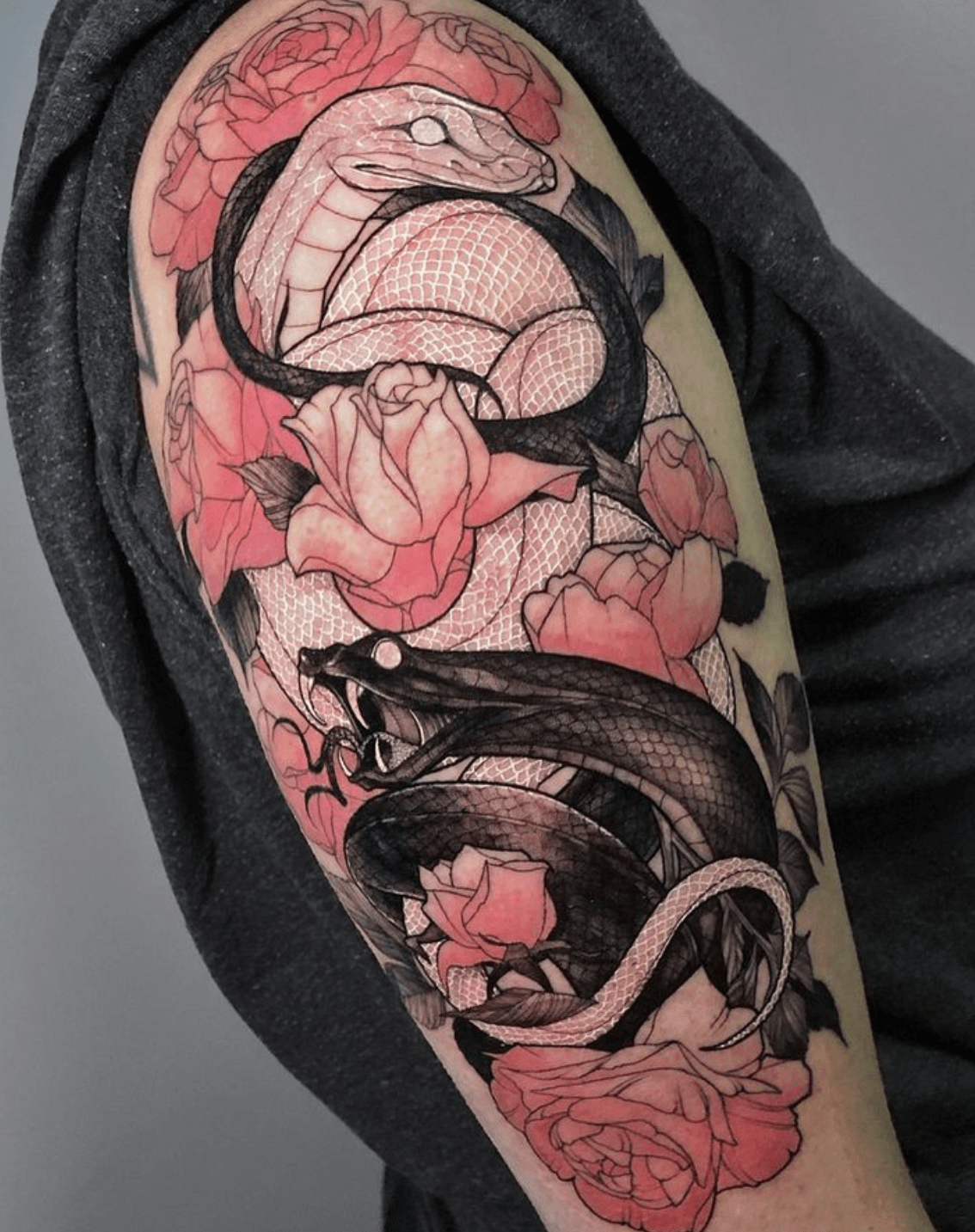 At first glance, you may not see this as a Gemini tattoo, but it sure is. The juxtaposition of the black and white snakes is gorgeous, but what took me a moment to pick up on is their expression.
The black snake is hissing and reactive, while the white snake is calm and watchful. This speaks to the conflicted personality of the Gemini in a unique way.
9. Gemini Energy Tattoo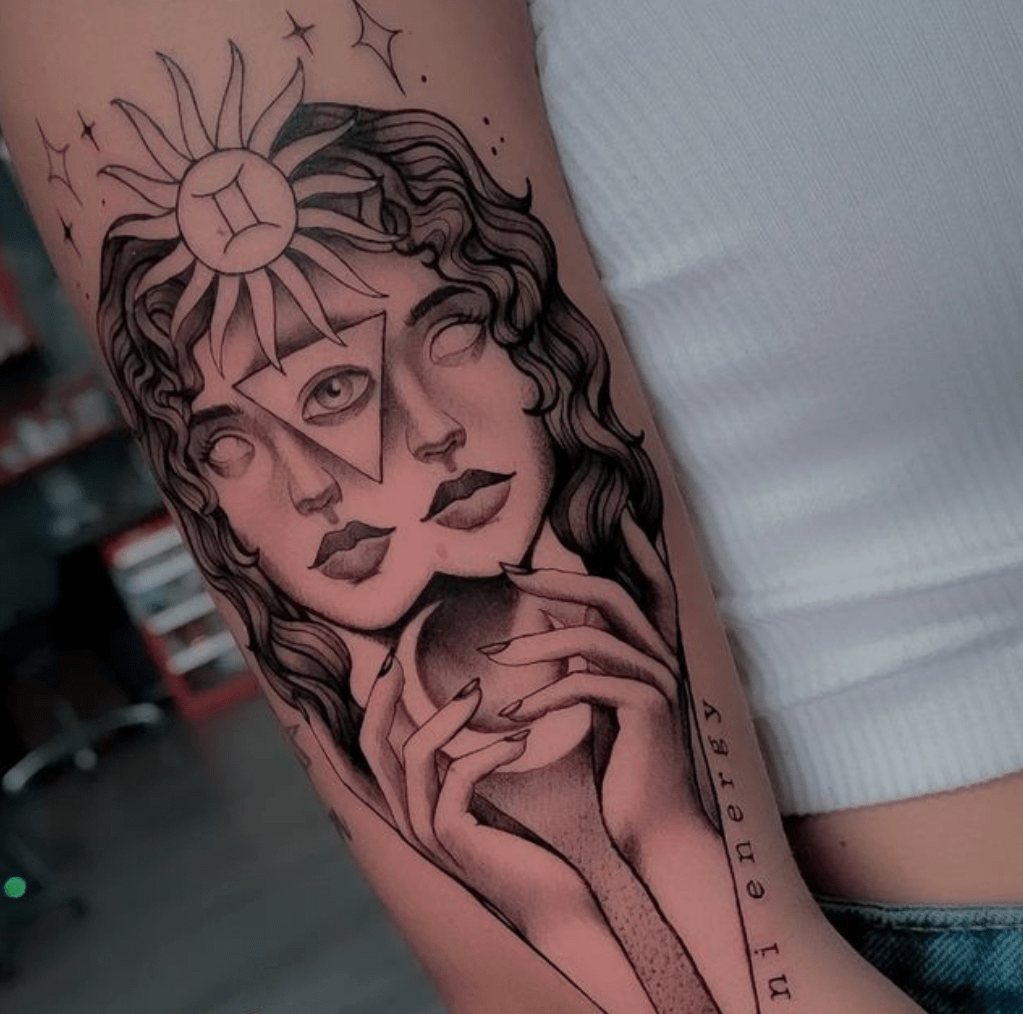 This stunning tattoo is fantastic. I always love negative space, which we see in the crescent moon in her hands, and more so in her vacant outer eyes.
Bonus points for the frame element, as you can see in the bottom "V" shape encasing the woman's arms. When done well, this is a styling that I always like to see. It's a nice way to tie off a piece with intention.
10. Minimalist Gemini Tattoo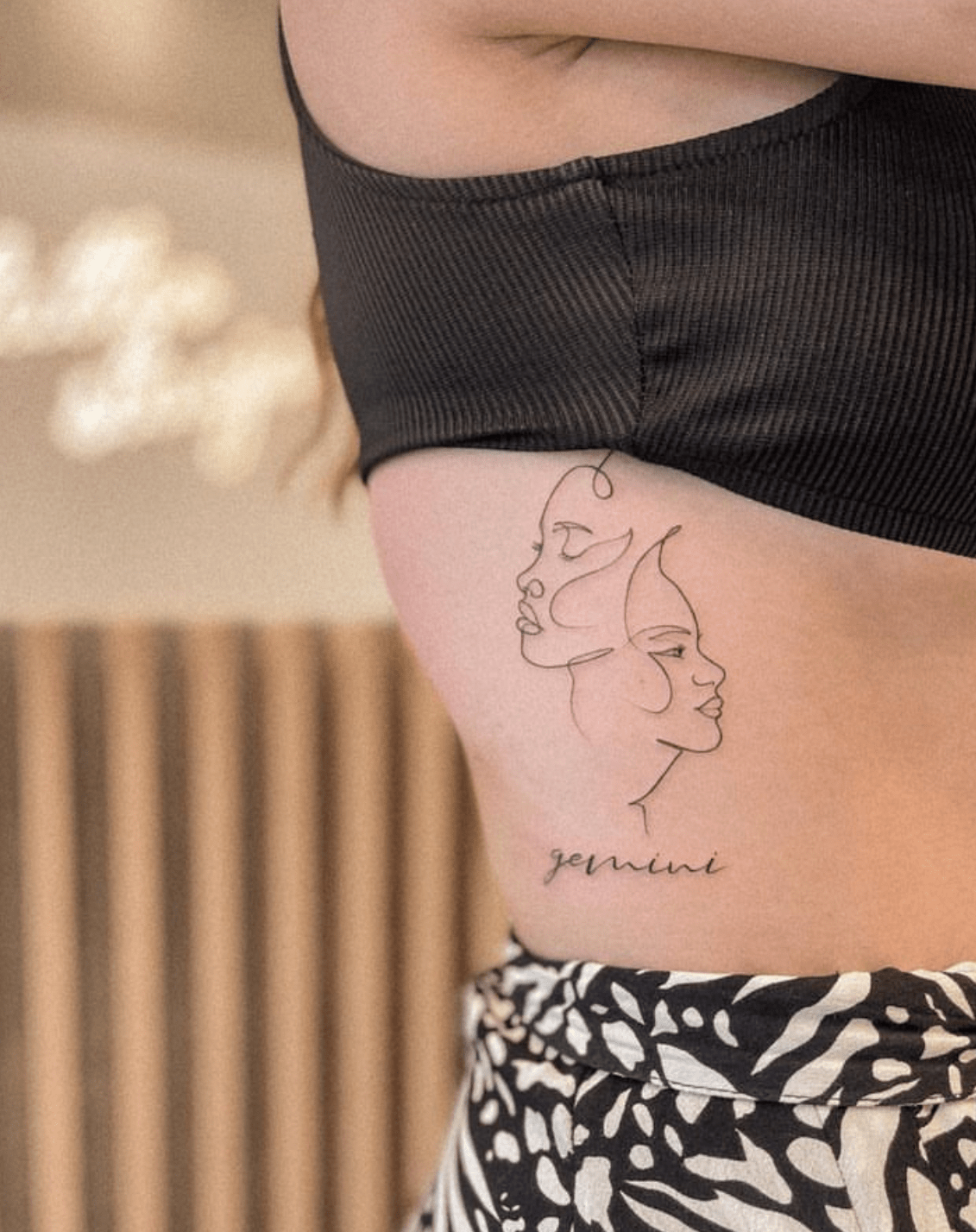 The first thing I noticed in this lovely line-work piece is the contrast of eyes open on one person, and eyes closed on the other.
To me, this represents inward vs outward thinking and observing. Geminis are known for their dualistic ways, which I interpret as extroverted and outgoing, while also turning towards their inner curiosity.
11. Gemini Sign Tattoo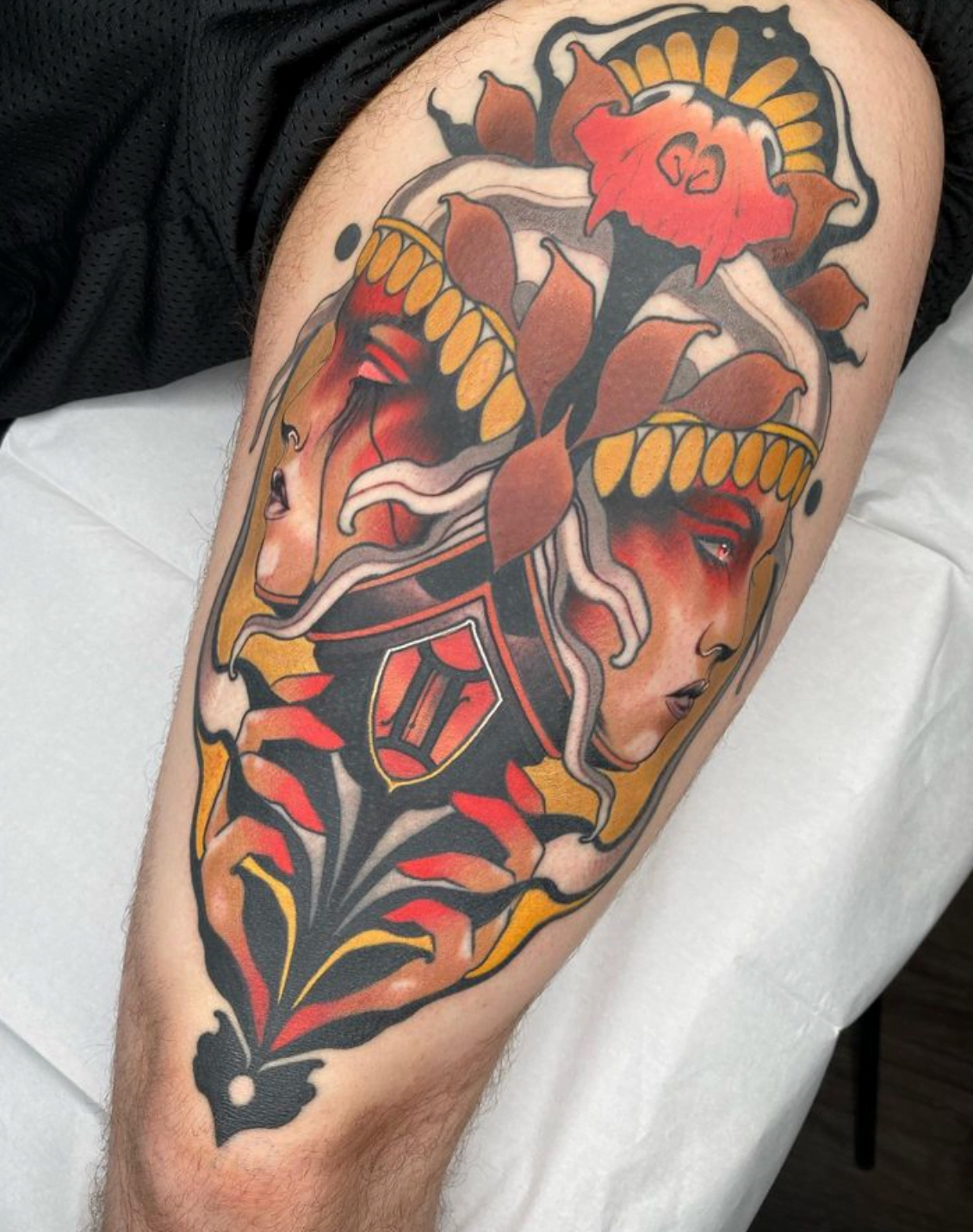 Again we've got the open and closed eyes here but in a very different fashion! Intense vivid colors combined with the shape and layout is creating a crest-like piece, which is a powerful statement in itself.
Definitely feeling the fierce Gemini energy with these warrior women.
12. Black And White Snakes Tattoo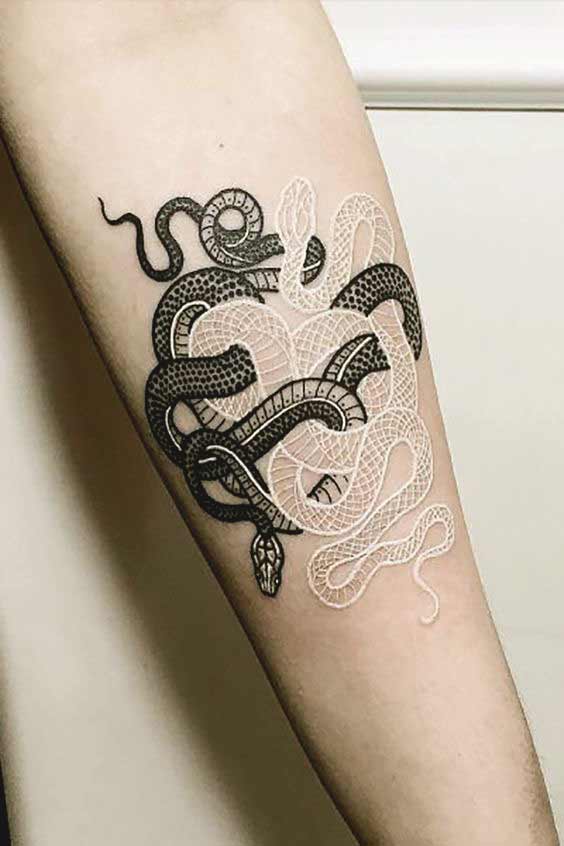 Let's talk about the POP of that white ink snake! It feels like it's a separate piece laying on the skin. The lack of outline of any other color really helps it stand out like crazy.
I'm really feeling the contradiction of these two serpents, what a fantastic tattoo.
13. Conjoined Gemini Twins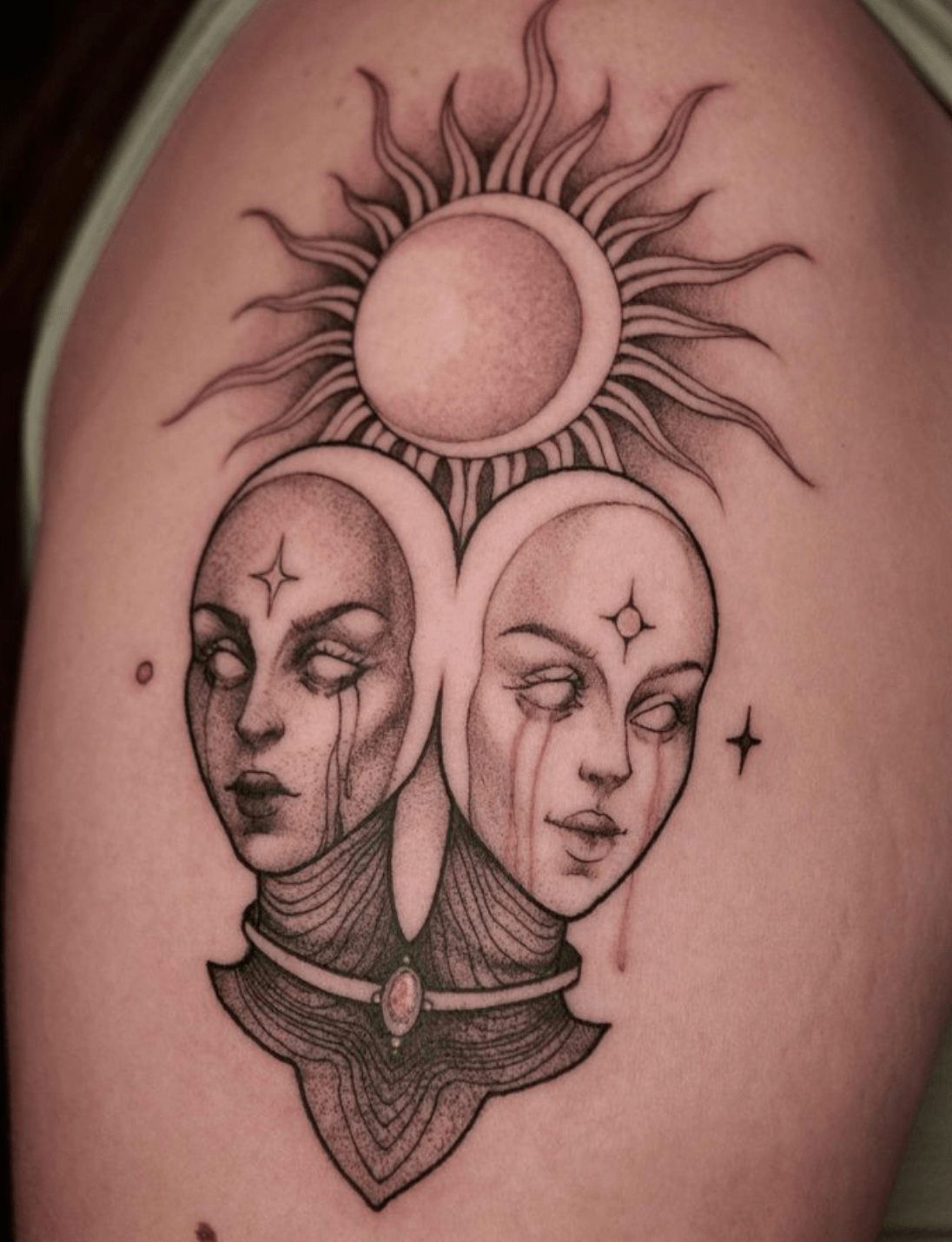 When I noticed these two beauties are sharing a necklace, I immediately thought of conjoined twins, which, the more I think of it, is a good interpretation of this category.
Representing day and night, also shown by the celestial addition above, this is a marvelous take on our darling Geminis.
14. Athena and David Gemini Tattoo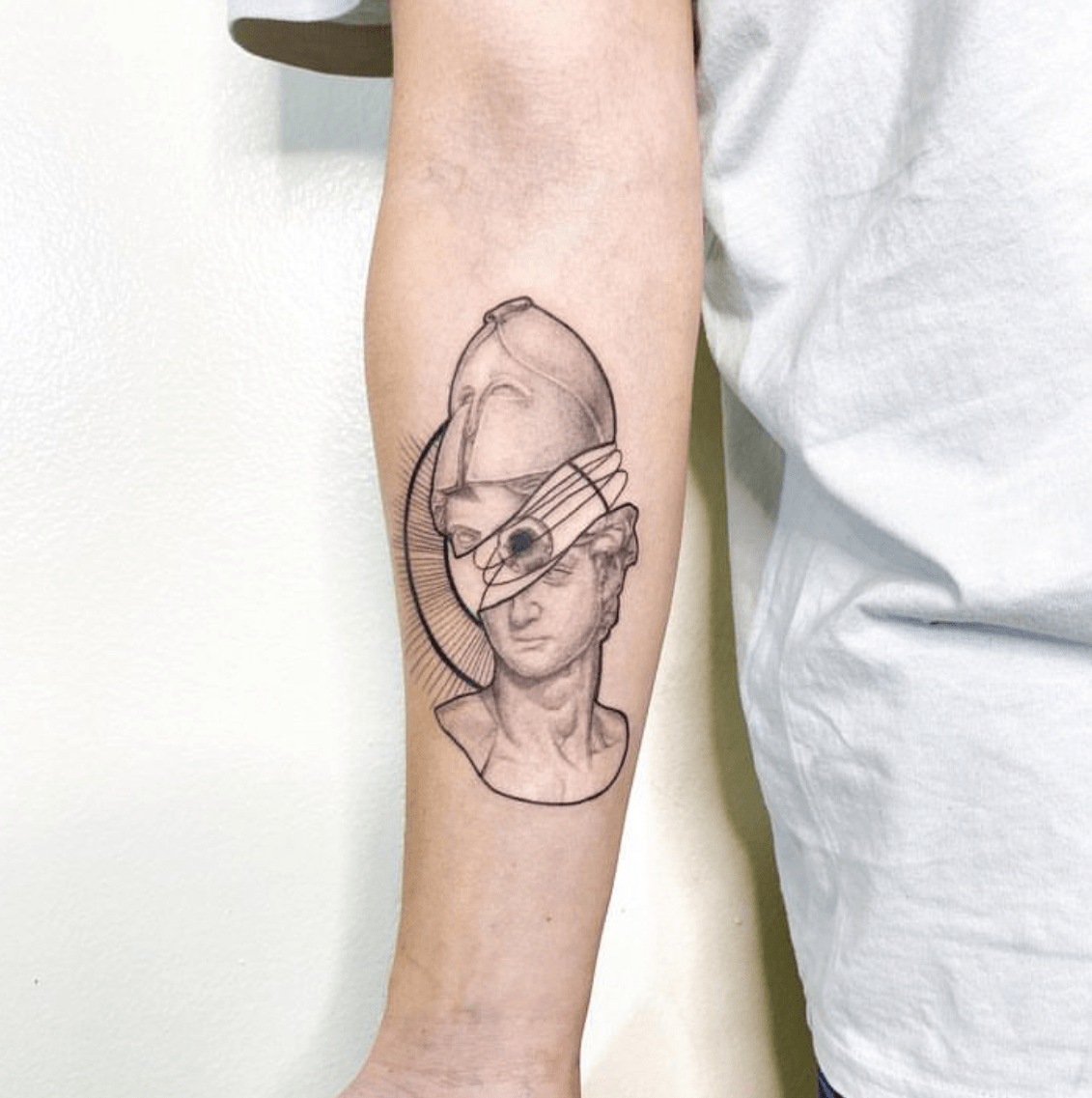 This piece showcases the most delicate dotwork, highlighted with lines just bold enough to provide structure. Excellent results.
This type of delicate work is often represented in micro-realism tattoos. Check out our carefully curated list here.
15. Gemini Flower Tattoo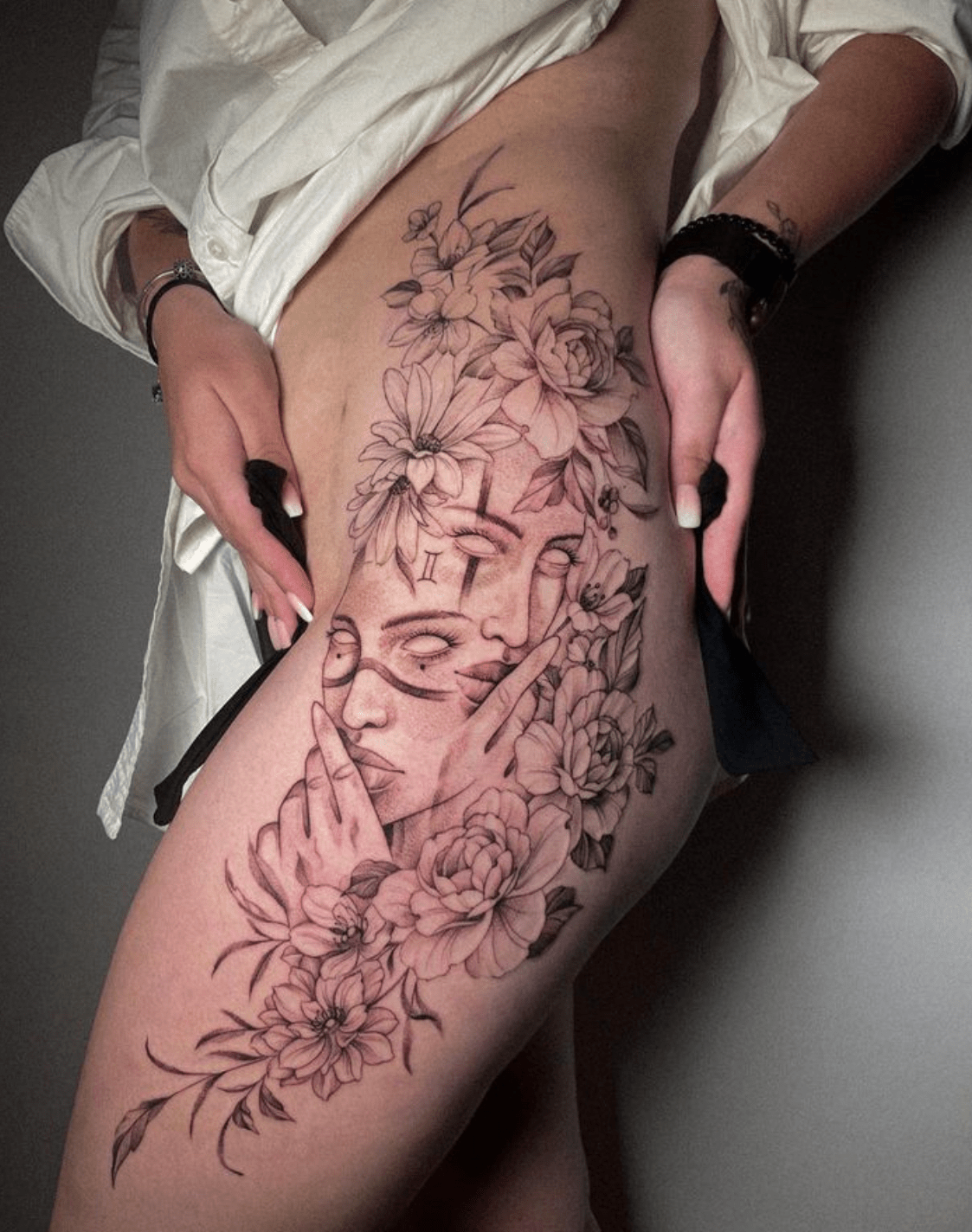 This blackwork thigh piece is gorgeous. The Gemini twins are nestled within the flowers in a way that I can't decide is gentle or sneaky, either of which I would be okay with.
Coincidentally, we've also got a great list of thigh tattoos for women that you should dive into.
16. Gemini Arm Tattoo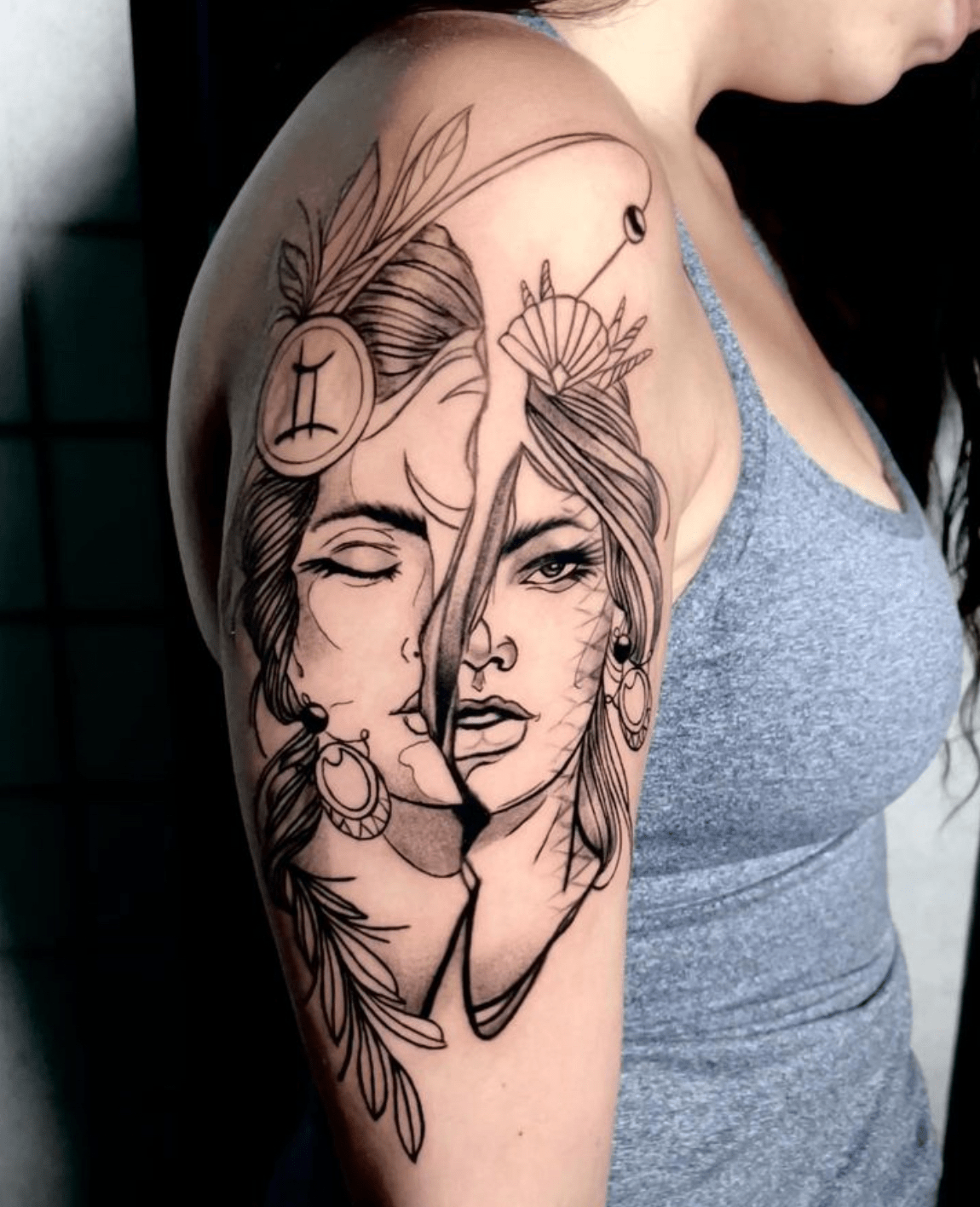 The effect of this Gemini queen being cleaved down the middle is something we haven't seen yet. The style of this woman is almost reminiscent of a comic book, which definitely draws in my attention.
17. Gemini and Aquarius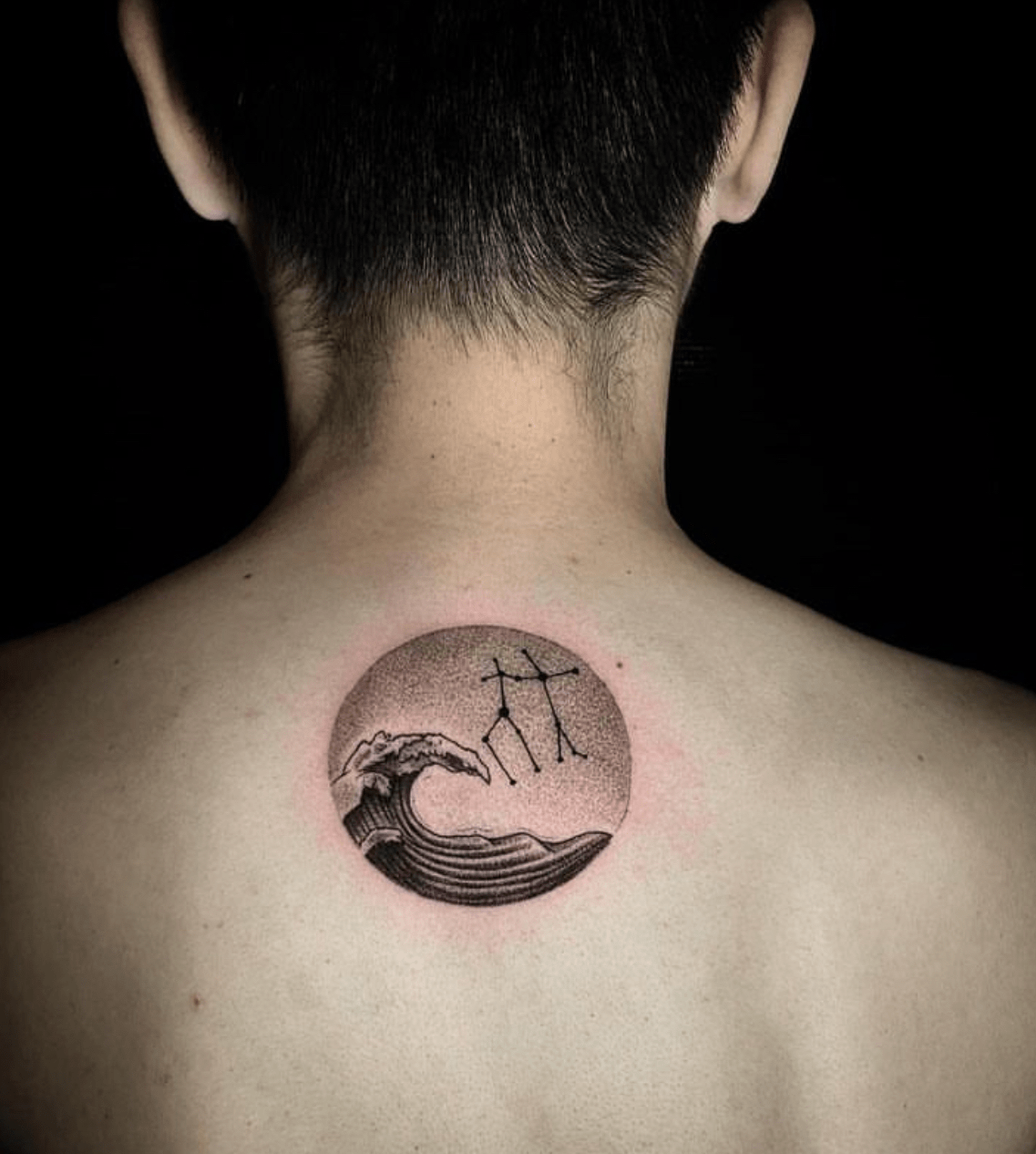 Tattoos with meaning are always so intimate. I don't know the story behind this piece, but if it's bringing in an Aquarius element, you can bet there's a special meaning there.
18. Gemini Tattoo With Flowers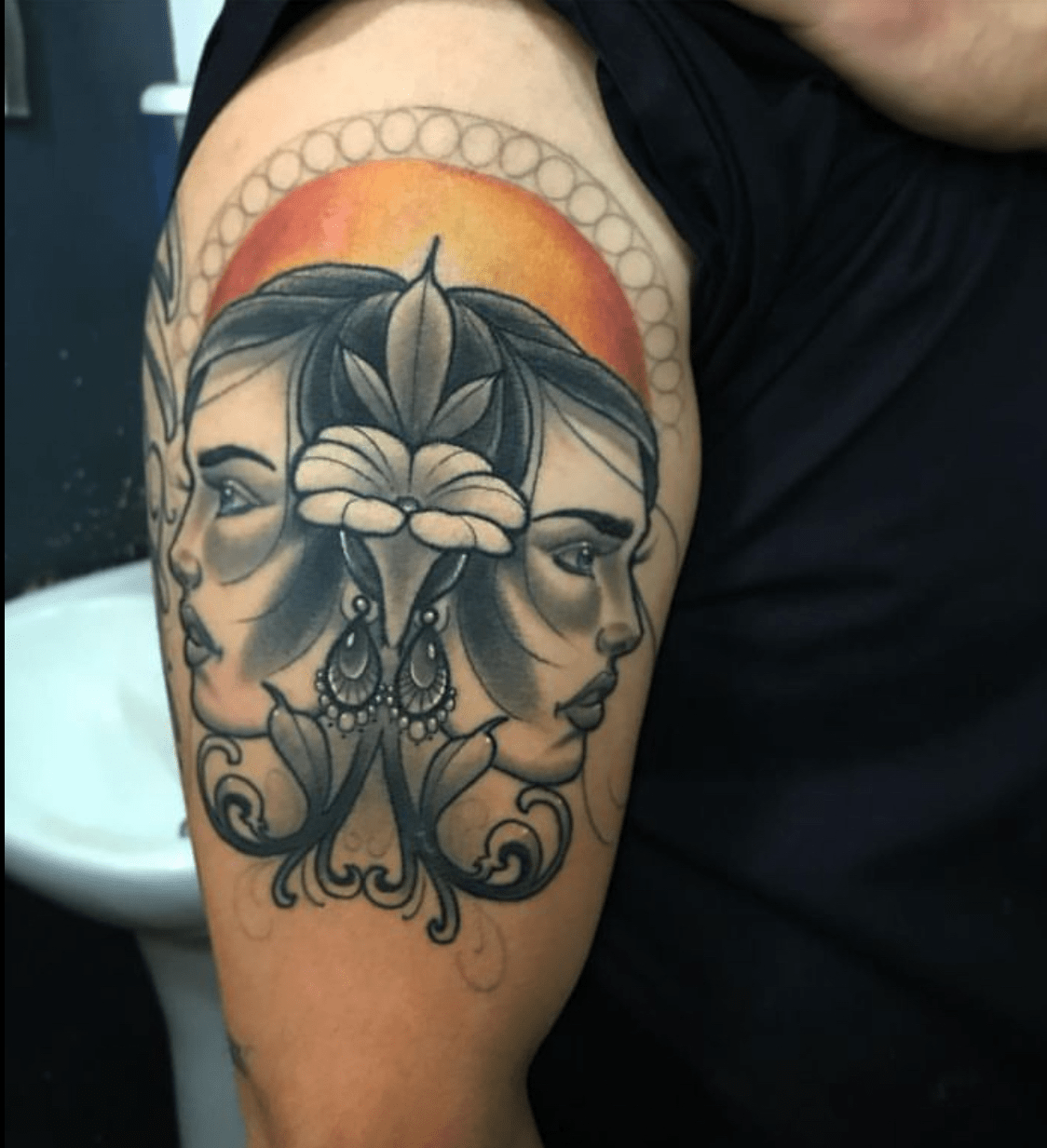 Delightful symmetry in this Gemini tattoo, with creative shading to add dimension.
19. Devil And Angel Gemini Tattoo
What side did you choose today? Angel, or devil? The lightness of sunshine, or the darkness of night?
It depends on the day. And it depends on the Gemini.
20. Zodiac Gemini Tattoo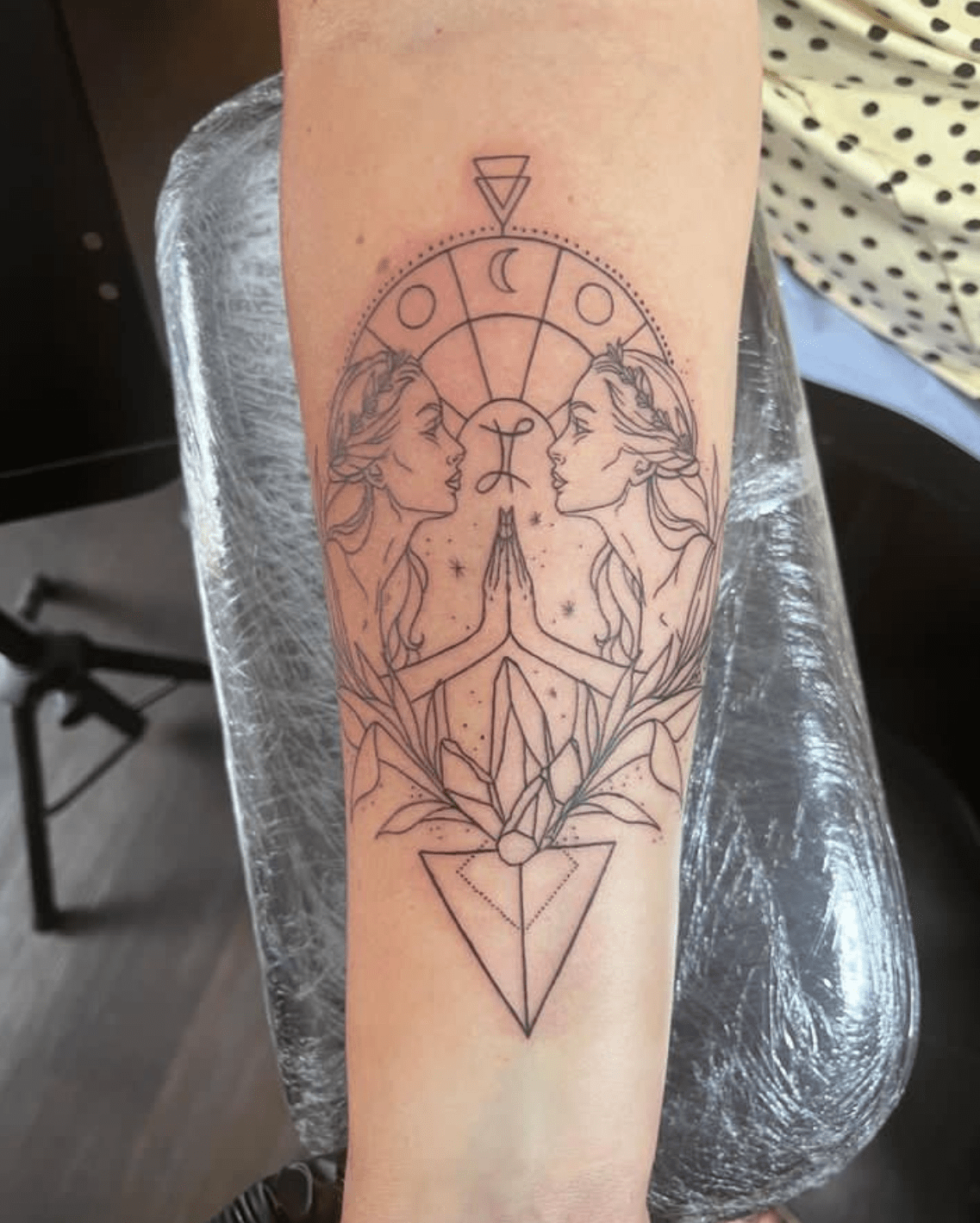 Incorporating the witchy vibes of crystals and geometry, this tattoo is right on trend. We're pretending these twins are communicating telepathically.
Maybe between the two of them, they can make up their mind.
21. Gemini Constellation Tattoo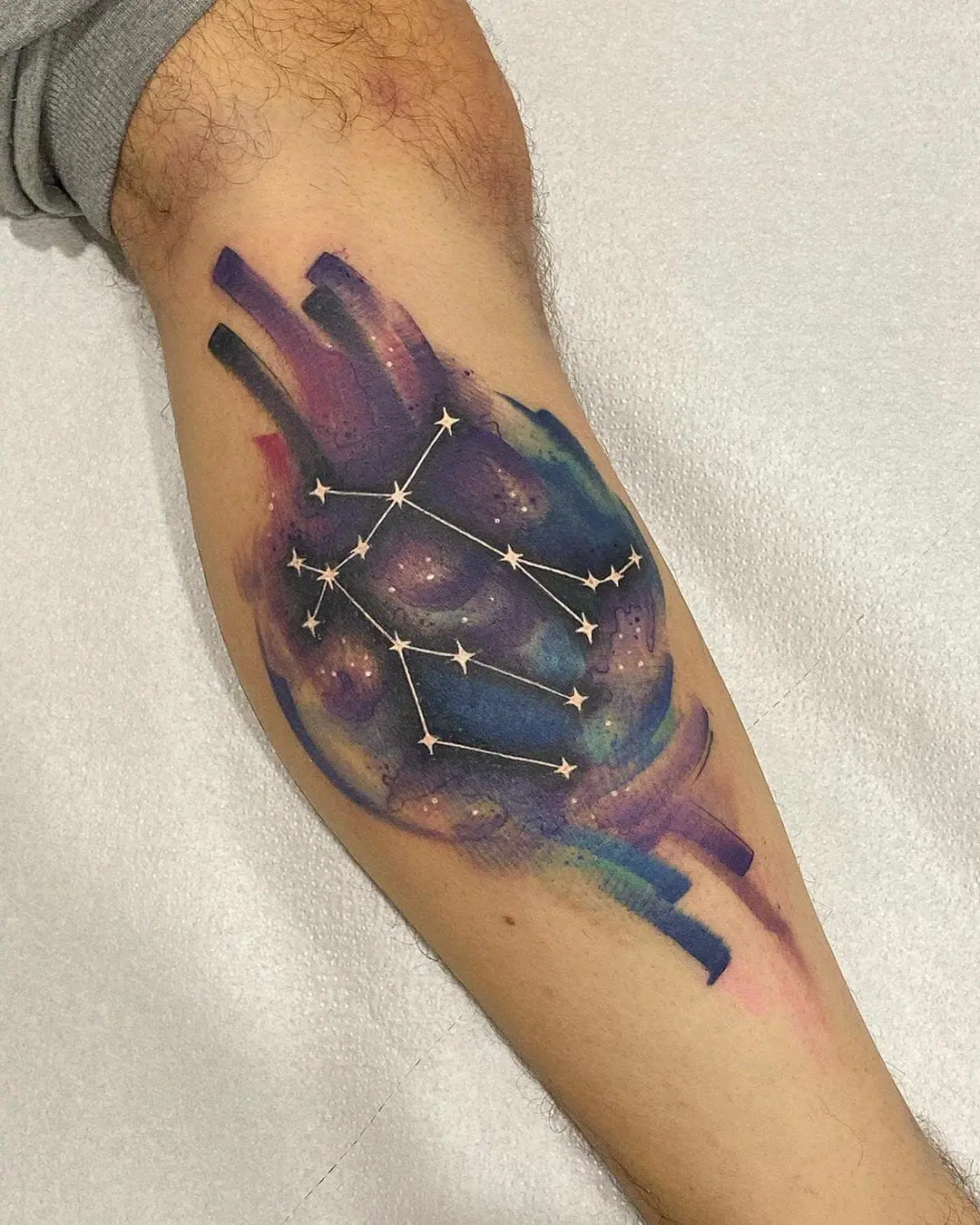 While the constellation is nice and bright with its vivid white ink, I think what I like most about this Gemini tattoo is the background.
The swipes outward give the impression of a marker or pastel crayon, which we don't often see, as watercolor usually dominates this kind of background.
22. Opposing Snakes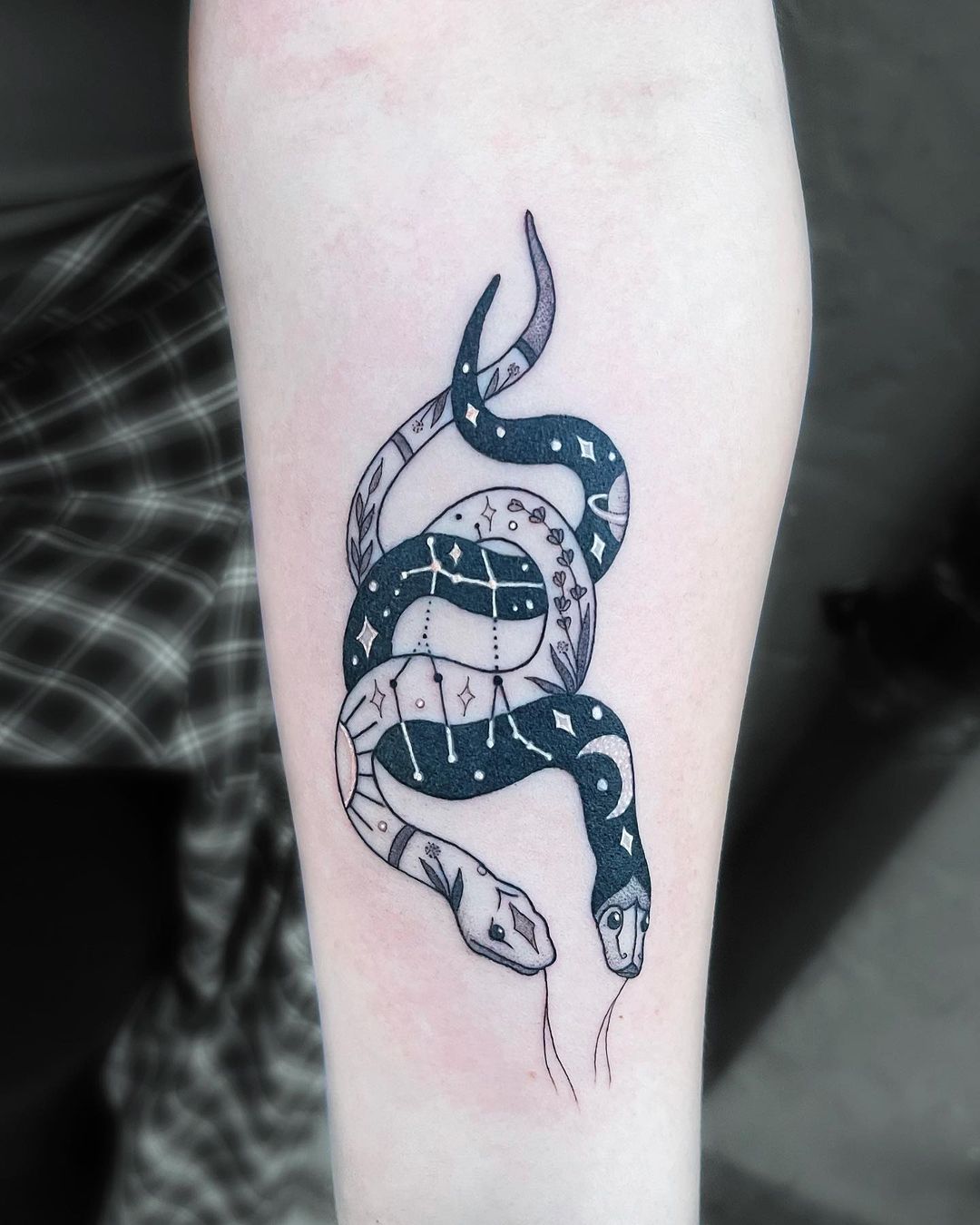 These cutie pie snakes are complementary in their opposition. The Gemini constellation intertwined in reverse colors is an eye-catching way to work it in.
Summary
Let us know what you think about this list! We're always open to suggestions.
If you're a Gemini, hopefully this has given you some inspiration for your tattoo! And if you're not a Gemini, show this to your Gemini friends. They're probably dying for some social interaction, as always.
Also for our non-Gemini readers, be sure to check out our other astrology tattoo lists: Pisces, Sagittarius, Taurus, Aries, and even Tarot cards.